Not wanting to be left out of the news cycle, Nextiva has just announced this week the release of their latest addition to their integrated portfolio, a new Cloud Contact Center solution. This new Nextiva Contact Center helps put the provider in a comparable position to their competitors as a new focus on CCaaS solutions is beginning to form within the industry.
With some interesting Artificial Intelligence, and a strong focus on providing a positive and simple experience, under their belts, the Nextiva Contact Center is positioned to be a strong contender right out of the gate. Now, the market is quickly becoming very competitive, so it will be interesting to see how Nextiva will grow their platform.
But for now, let's take a closer look at exactly what the Nextiva Contact Center solution provides organizations, and how it stands along the provider's existing solutions.
What Is It?
Of course, this is a fairly simple question to answer and a bit self-explanatory. Nextiva has released their own Cloud Contact Center solution, providing organizations of all sizes with a complete platform to manage not only phone interactions with clients, but multi-channel digital capabilities, as well.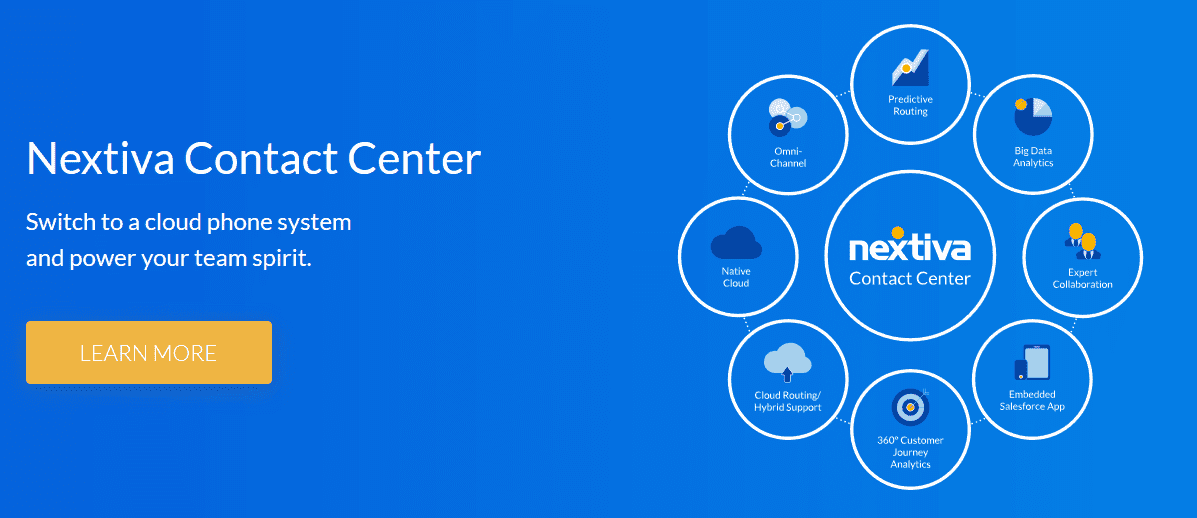 Users gain access to the expected Contact Center functionality, with an IVR, advanced routing, and multi-channel management as I mentioned. Overall, the platform hits all the nails on the head for a modern CCaaS solution, for example some benefits outlined by Nextiva include:
Workforce Automation (WFO): Gives insight into contact center operations through a full data picture. Nextiva Contact Center provides enhanced capabilities including quality management, workforce management, and WFO analytics.
Speech-enabled IVR: Adds advanced speech technologies like automatic speech recognition (ASR) in multiple languages, user verification via voice biometrics, and natural language integration to improve end user experience and adoption.
Omni-Channel Support: Nextiva Contact Center supports a multitude of customer interactions including voice, email, and chat in a unified environment for agents, managers, and administrators that provides a seamless customer experience.
During their announcement, Nextiva's Chief Product Officer, Charles Ingram, explained that "Nextiva Contact Center is a feature-rich solution that offers robust CCaaS functionality to businesses across the board."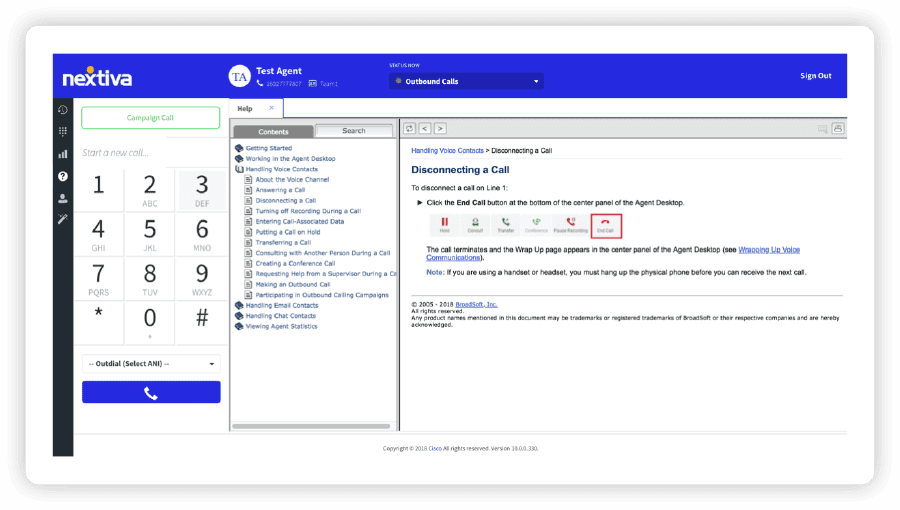 Simply put, Nextiva's Cloud Contact Center is just that, a new multi-channel Cloud Contact Center solution deeply integrated into the existing Nextiva portfolio, capable of leveraging some powerful features and functions like those found in the provider's NextOS platform.
Why a Contact Center, Why Now?
But, now that we know what it is we're talking about, it begs the question: why did Nextiva release a Cloud Contact Center solution, and why now of all times? Well, the first one is pretty easy to answer: a CCaaS offering helps further round out Nextiva's solutions, and offers capabilities we have been seeing within their competitors.
Nextiva's platform is already about bridging the gap between channels and communications, just look at NextOS as that is what it is all about. So, CCaaS is of course a natural extension for a powerful UCaaS solution such as Nextiva's, enabling organizations to manage not only internal but external communications as well.
But the second question requires a bit more context: why now?
Well as I explained when we saw RingCentral's announcement just two days ago, it seems as if the Contact Center market is going to be one of the latest battlegrounds for UCaaS and UC providers as a whole. CCaaS tools aren't necessarily new, but what is new is a shift to focus on improving Customer Engagement within the last few years.
This trend has shifted focus from just providing a number to call, to providing a complete powerhouse of support to truly help customers — just look at the shift from outsourced to in-house support, organizations have realized that customers demand a positive experience.
So, the demand for a new focus is there from the customers, and providers are now quickly rising to the demand, just as Twilio, RingCentral, and Vonage have done recently, just to name a few others. Seeing your competitors ratchet up the focus is just another compelling reason to make the move, just as Nextiva did here.
What Does Nextiva Bring to the Table
Now begs the question, what makes Nextiva's solution unique? After all, we're seeing even smaller providers like Dialpad offer some impressive AI tech, and competitors like Ring Central and Vonage make some interesting acquisitions to bolster their existing CCaaS solutions.
Nextiva is kind of playing catch up here, but they're not left in the dark ages at all. As I pointed out before, Nextiva already places a strong focus on providing a seamlessly integrated portfolio that works together. The provider has recognized that combining everything into one connect platform, users can gain better control over their communications and interactions.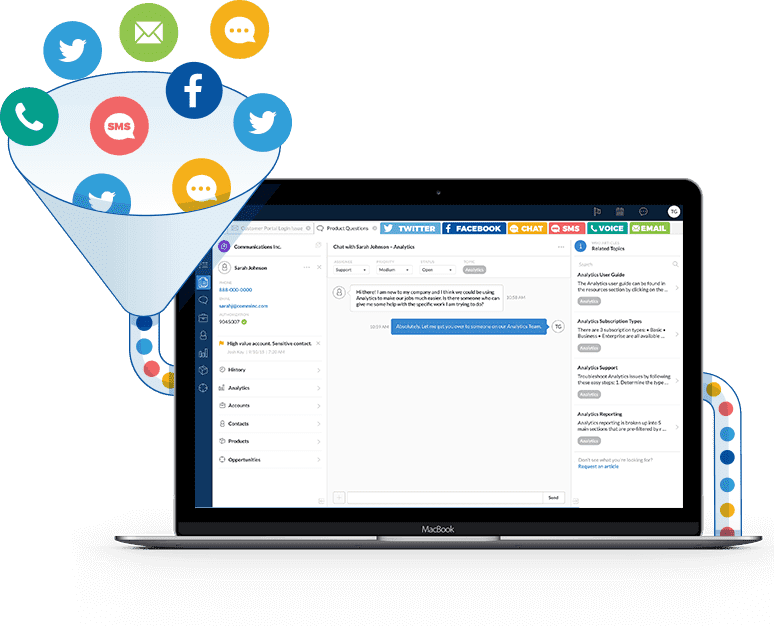 This extends into the Contact Center, as well. According to Nextiva:
"Midmarket and enterprise contact centers have historically relied on expensive applications from multiple vendors to power operations, creating disparate data and making it difficult to gain complete, 360-degree views of contact center operations and customer experiences."
So of course, a Cloud Solution makes sense to come in and save the day, and provide these capabilities at a much more accessible level.
This also coincides with our previous thoughts on RingCentral: it's all about providing agents with the tools they need to create a consistent customer experience. This in turn enables representatives to provide better service to their clients and customers. As these Contact Center platforms help your agents do better work and can provide customers with a better experience, leaving them happy; it's a win-win situation. Agents can then also focus on improving their own critical skills, and not familiarity with a platform.
So I think Nextiva has a particularly strong focus here, already working to innovate the market by uniting solutions into a seamless platform with NextOS. Based off of existing Nextiva tools, other functionalities of Nextiva's new Cloud Contact Center solution include:
CRM Integrations – The Nextiva Cloud Contact Center is capable of integrating directly and seamlessly with some of the most popular CRM options on the market, for example Salesforce, Zendesk and Oracle.
Call Monitoring and Recording – A crucial aspect for almost any business, Nextiva of course also provides call recording along with live monitoring to provide real-time visibility into call, IVR, and queue volumes. Organizations can then better optimize their center's processes to compensate wherever necessary.
Outbound Campaigns – Manage and automate your outbound campaigns with powerful features and tools like predictive and automated dialing.
Cross-Channel Analytics – As their platform enables contact centers to manage their omnichannel experiences, Nextiva also included predictive call center analytics to help anticipate the needs of customers on any channel while routing them to the best possible agent for the task. This is also called skill based routing.
This also doesn't include some of Nextiva's existing AI tech and functionality, which has quickly become another incredibly critical aspect of Contact Center development in the last year or so.
Leveraging Existing AI Functionalities
While not a central focus of their Contact Center solution just yet, I think it is important to remember that Nextiva is already leveraging some powerful call center focused Artificial Intelligence within their platform. As I've mentioned previously, AI is quickly becoming a hot topic and deciding factor among this growing CCaaS battle, with even names like Dialpad injecting some AI into their solutions.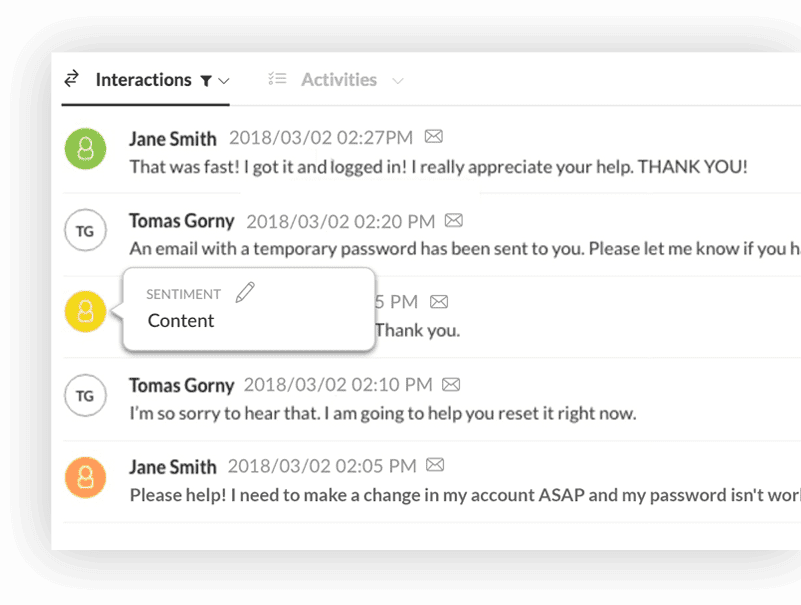 Nextiva utilizes AI a bit more behind the scenes, and understand the power it brings to analytics, helping us better understand our data and the information in front of us. For example, their predictive analytics is based on AI, and even includes functions like "Temperature Readings."
With Sentiment Analysis AI, Nextiva's predictive analytics can read the "temperature" of a conversation, and rate that interaction as positive or negative depending on how the participants felt, based on what was said.
With predictive analytics, and even predictive dialing, already built into the Nextiva platform, their Cloud Contact Center solution already almost has a leg-up on other platforms that are now scrambling to snatch up some AI functionalities.
This isn't to say Nextiva is a head of the game per-say, a lot of vendors are making some really strong acquisitions, but I think it shows that Nextiva has their eyes on the prize, as well.
A Contact Center Battleground
Which brings me to this point once again, as a follow up from my discussion RingCentral's latest announcement. There is an obvious trend emerging here, without a doubt — vendors see that the CCaaS market is ripe for growth, and ripe for an injection of the latest technologies like AI.
Within just the last half year, there has been a very obvious emphasis being placed on these solutions, and I'm of course not surprised to see Nextiva join in on that battle. I think Jonathan Rosenberg put it well when discussing his move to Five9, in that these solutions offer a unique opportunity to leverage some of these latest technologies.
As organizations continue to place this intense focus on Customer Engagement, aiming to provide the best experience possible, we will see CCaaS continue to grow at a rapid pace.
The Bottom Line
The consolidation of multiple channels and channel management tools echoes the unification of internal communications as well within UCaaS, and CCaaS seems like a natural extension for these platforms to evolve into.
I'm very curious to continue watching Nextiva in particular, as I noted it seems like they are playing a little bit of catch up here. While other competitors in the market are expanding an existing solution, specifically through some impressive acquisitions of some powerful tech and tools, Nextiva seems to just be entering the race.
However, it is a strong entrance, and Nextiva is of course known for their high level of innovation — so to me it will be very curious to watch exactly what kind of tricks they might have up their sleeves.