Cloud-based VoIP provides a host of benefits over traditional PSTN phone systems.
These advantages include HD high-quality calling, scalability, and – most important for today's highly mobile workforce – flexibility.
Plus, VoIP doesn't require a lengthy setup and installation process, as it works with the equipment you already have.
Top cloud phone system providers like Zoho Voice make switching to VoIP a stress-free experience. Thanks to a robust set of powerful core features, extensive third-party integrations, and competitive pricing, Zoho Voice has become a popular choice for small business owners.
In this post, we'll explain what sets Zoho Voice apart from competitors – and how it helps your business run more efficiently.
Jump to ↓
What is Zoho Voice?
Zoho Voice is a cloud-based phone system that offers SMBs affordable local and international business phone numbers with advanced calling features.
Zoho Voice includes a versatile yet intuitive user interface that displays real-time and historical call statistics, a customizable sidebar, and a softphone that lets users make and receive calls across devices with an active Internet connection.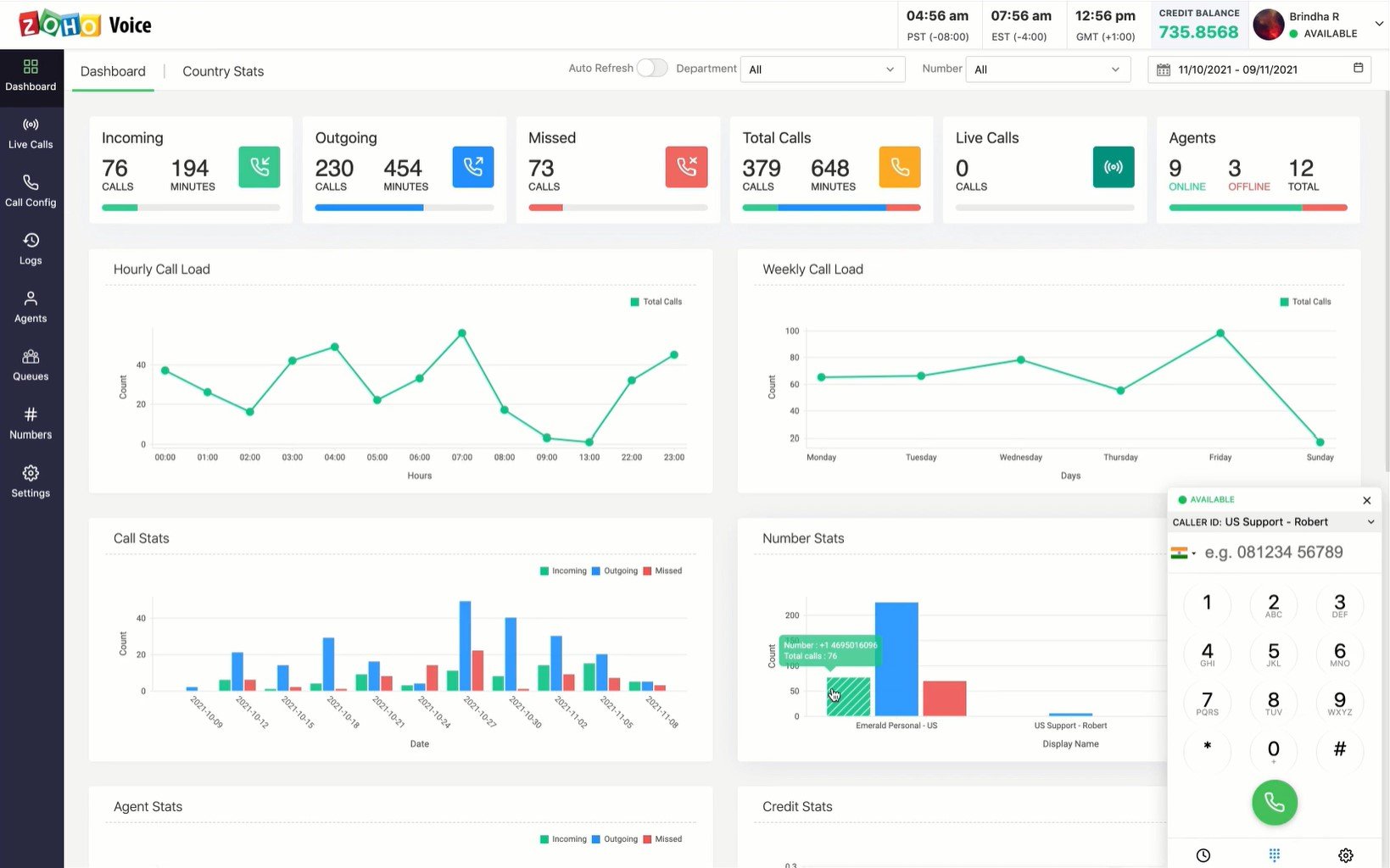 Though Zoho Voice is specifically designed to integrate with other Zoho business software, like Zoho CRM and Zoho One, it also works as a standalone cloud PBX solution.
Zoho is compatible with standard web browsers like Safari, Chrome, Opera, Firefox, and Microsoft Edge in addition to Apple iOS and Android mobile devices.
In late 2021, Zoho introduced the ZDialer web browser extension for Chrome, Firefox, and Microsoft Edge, allowing in-browser inbound call popups and click-to-call accessibility.
Zoho Voice Essential Features
Below, we've listed Zoho Voice's top features.
Toll-Free and International Phone Numbers
To make local or international calls using Zoho Voice, an agent must have an assigned phone number, which can be purchased via Zoho Voice or ported in from a different account or provider. Zoho Voice offers three types of numbers–toll-free numbers, personal numbers, and local numbers–each with a unique function and pricing structure.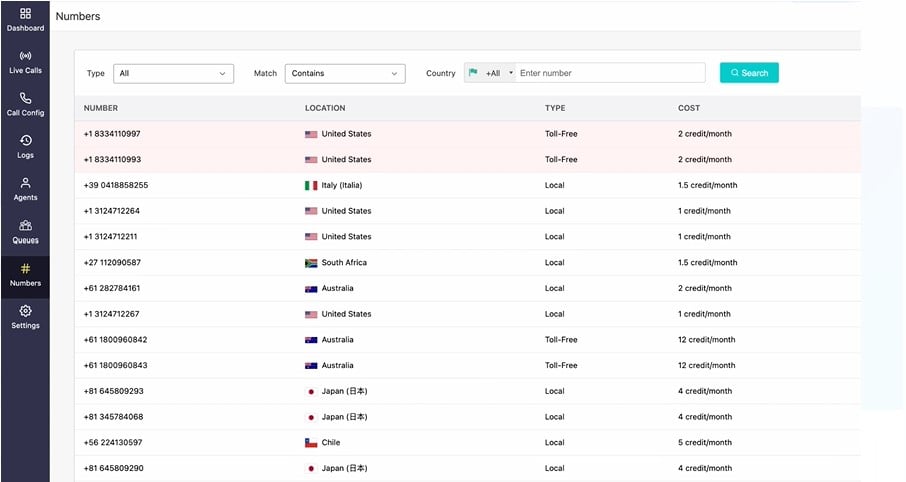 Local Numbers: Local numbers provide customer familiarity within the United States and internationally by offering business phone numbers with country and state area codes. The cheapest Zoho Voice monthly subscription, local numbers are charged according to pre-set international and local provider rates. This means both the Zoho Voice user and the caller are charged for calls made to the number.
Toll-Free Numbers: Toll-free numbers are more expensive than local numbers, as businesses are responsible for the cost of both inbound calls from customers and their own outbound calls. Toll-free numbers have number prefixes like 800, 888, 877, etc.
Personal Numbers: Personal numbers only support one user and have the greatest monthly subscription cost. However, incoming callers from anywhere in the world do not incur charges.
Both local and toll-free numbers can be assigned to multiple users and handle multiple simultaneous calls, so you can use a single phone number for your entire team.
Personal numbers are ideal for individual callers, or agents who handle large numbers of incoming calls.
Call Configuration
Purchasing, configuring, and assigning numbers to agents in Zoho Voice is easy: click Buy Number, wait for approval from Zoho Voice, enter an agent's information and role (Telephony Agent, Technician, Admin, or Supervisor), and assign the number to the agent, which triggers an invite email.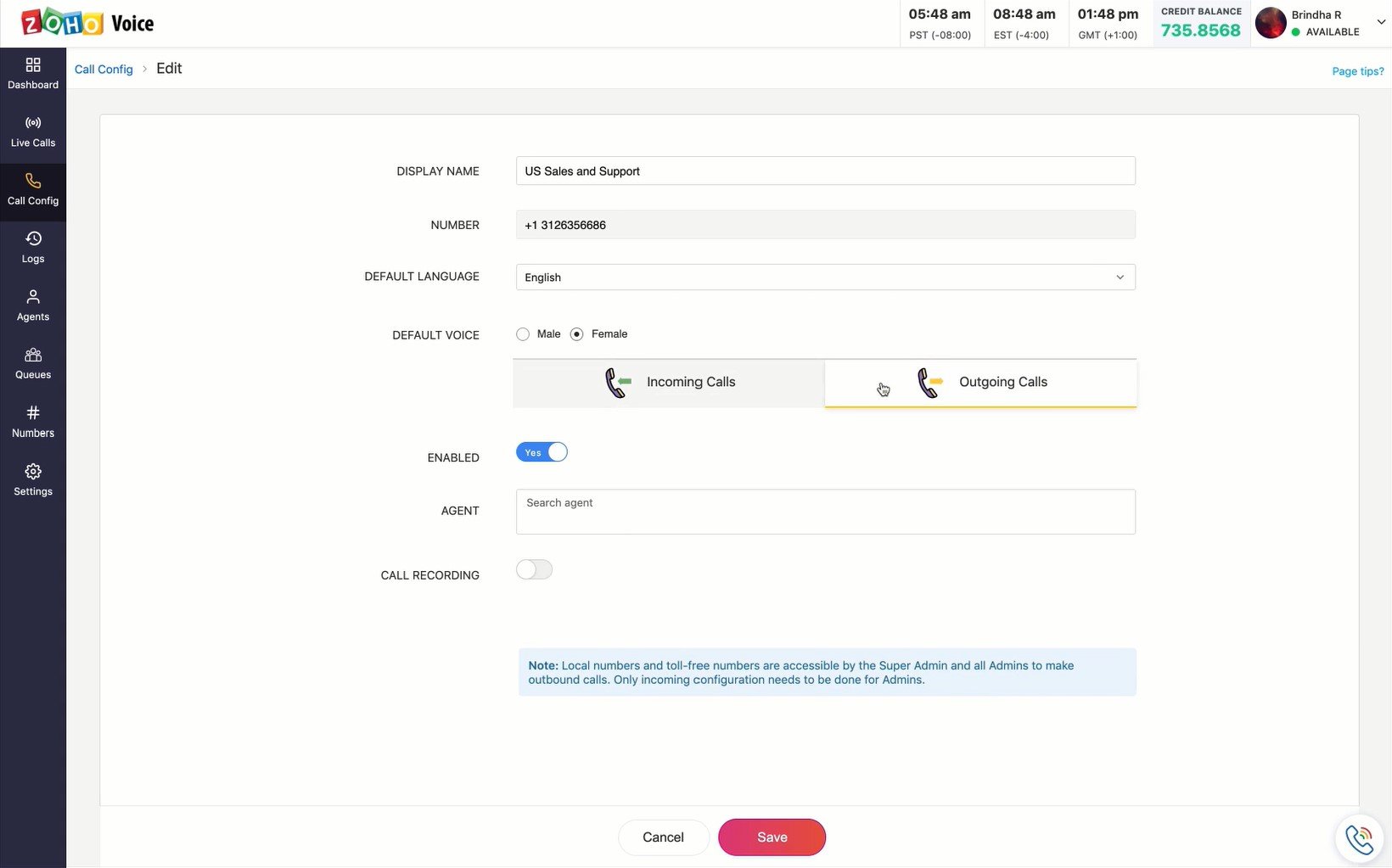 Within the Call Configuration Tab, admins can customize:
Incoming and outgoing status
Agent, queue, or IVR assignment and settings
Call recording and recording sharing
Call forwarding
Business hours/agent schedules (Available hours/days/timezones/holidays, automated off-duty messages)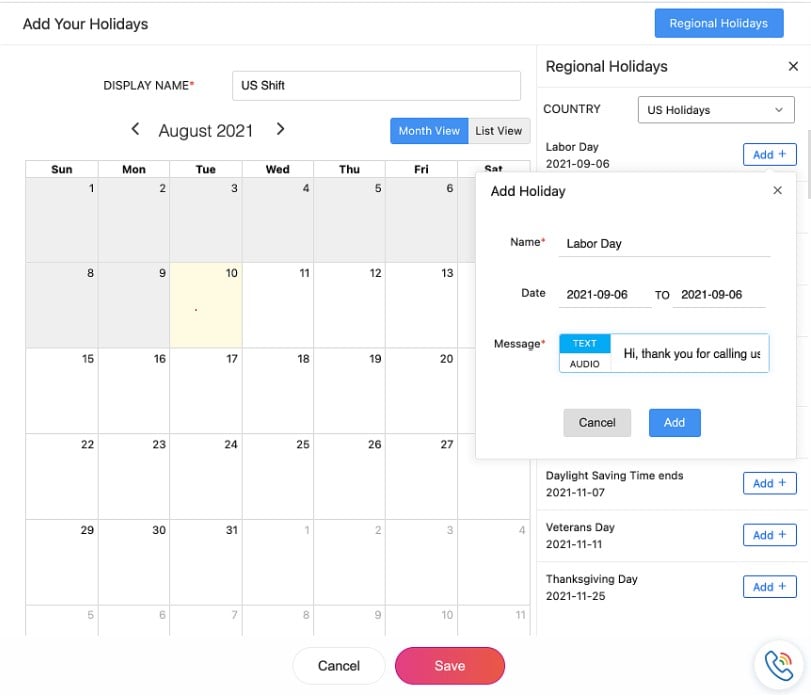 Users can set up direct-extension dialing for local and toll-free numbers by configuring one number as a Board Number and choosing Dial Extension mode. When a customer calls this number, a menu prompts them to key in an extension, routing them to select agents, surpassing queue wait times and allowing customers to easily reconnect with prior agents.
The Voicemail Drop feature allows agents to leave pre-recorded outbound voicemail messages for leads. Rather than take the time to individually record a voicemail for each call, agents can select one to drop from a bank of self-recorded voicemails. To drop a voicemail, agents only need to click the Voicemail Drop button on the live call dial pad.
Number Porting
Zoho Voice allows users to port pre-existing numbers from a different provider into Zoho. Note this process can take up to four weeks.
Porting numbers into Zoho Voice requires 5 steps:
1. Send an email to support@zohovoice.com
2. When prompted, send the required information about the phone numbers and provider
3. Wait for Zoho to check the feasibility of porting the numbers
4. Fill in the porting form to confirm your porting request
5. Port your numbers and start calling
Intuitive Dashboard with Call Statistics
The user's dashboard has a comprehensive interface and menu, with visualized statistics and easy access to core functions and settings.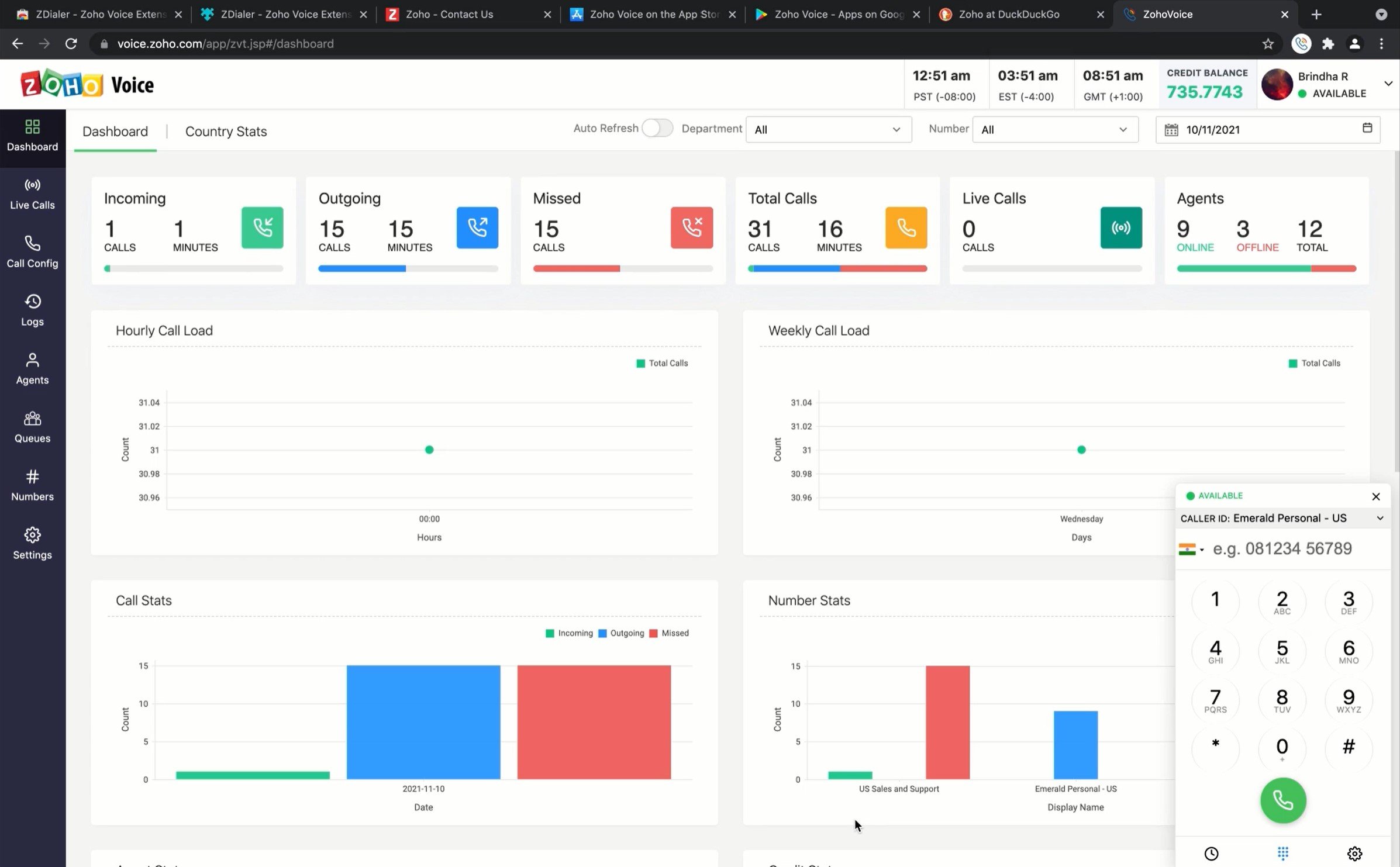 Dashboard Menu
In the dashboard left-hand menu, users can access and manage the following:
Live Calls: Active and recent call data (involved agents, contact information, queue status, call start time and duration, call status, etc.)
Settings: User information (number assignment, extension, status), documents, blocked numbers, integrations, and more
Call Configuration: Settings and details for IVR menus, ingoing/outgoing status for each number, and each number's business hours
Logs: Call logs, voicemails, and company internal communication logs, filtered by date, number, or contact name. Daily logs, automatically emailed to supervisors, contain the following information:

Call to
Call from
Agents involved in call
Queue name
Call duration
Call date/time
Call recordings
Customer call rating via customer feedback
Voicemail transcription
Users: Profile information for each user within the phone system
Queues: Information for all queues
Integrations: All integrations
Settings: Account information about time zones, language, default country, and more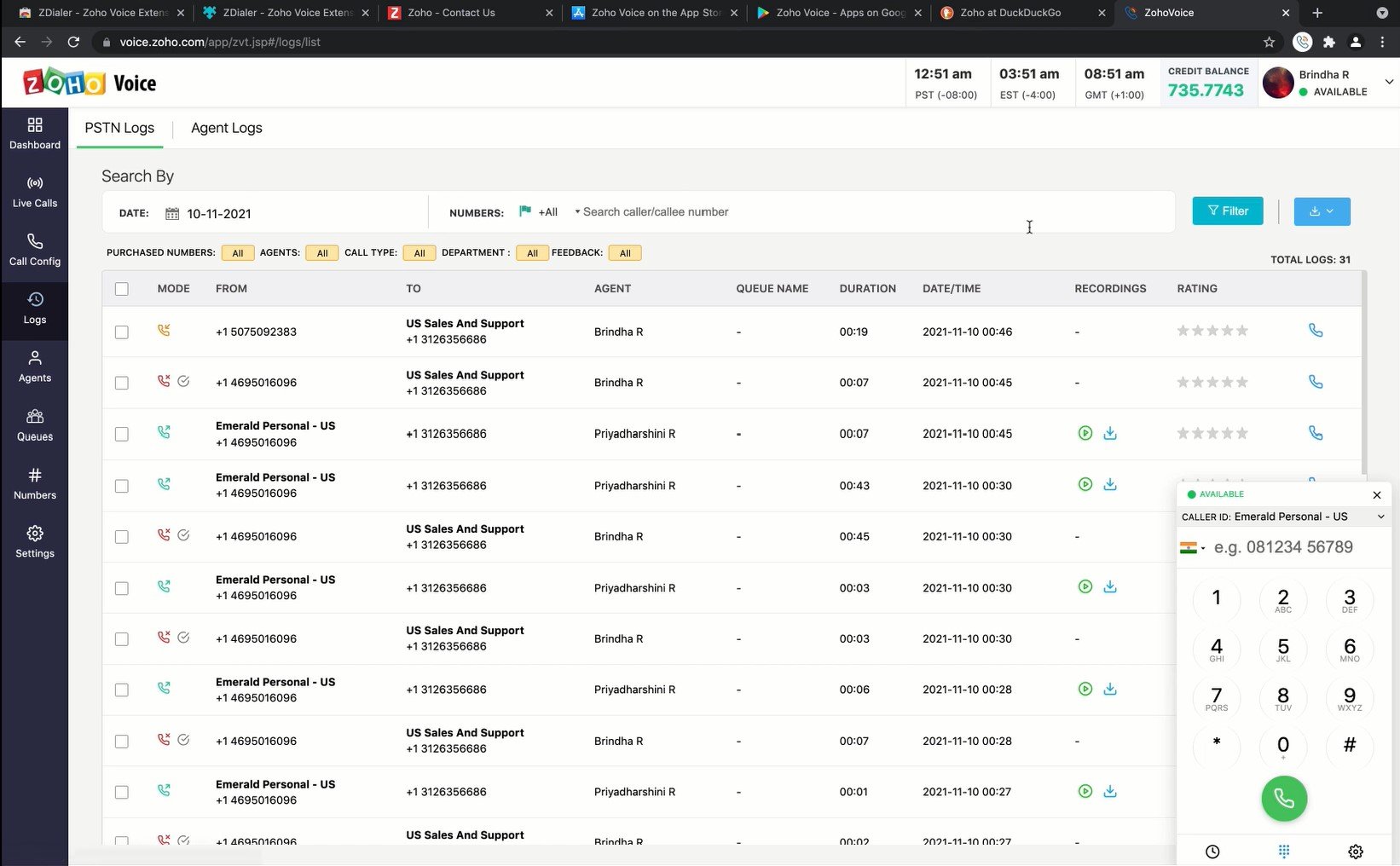 Dashboard Statistics
The main dashboard presents call and business communication statistics, visible depending on the user's role, across real-time, daily, weekly, monthly, or yearly time frames.
View color-coded charts, tables, and graphs for the following live metrics:
Incoming calls and minutes
Outgoing calls and minutes
Total calls and minutes
Missed calls
Live calls
Agent status: online, offline, and total
Hourly call load
Weekly call load
General call statistics for recent dates
Call count for each number and queue
Incoming call location and popularity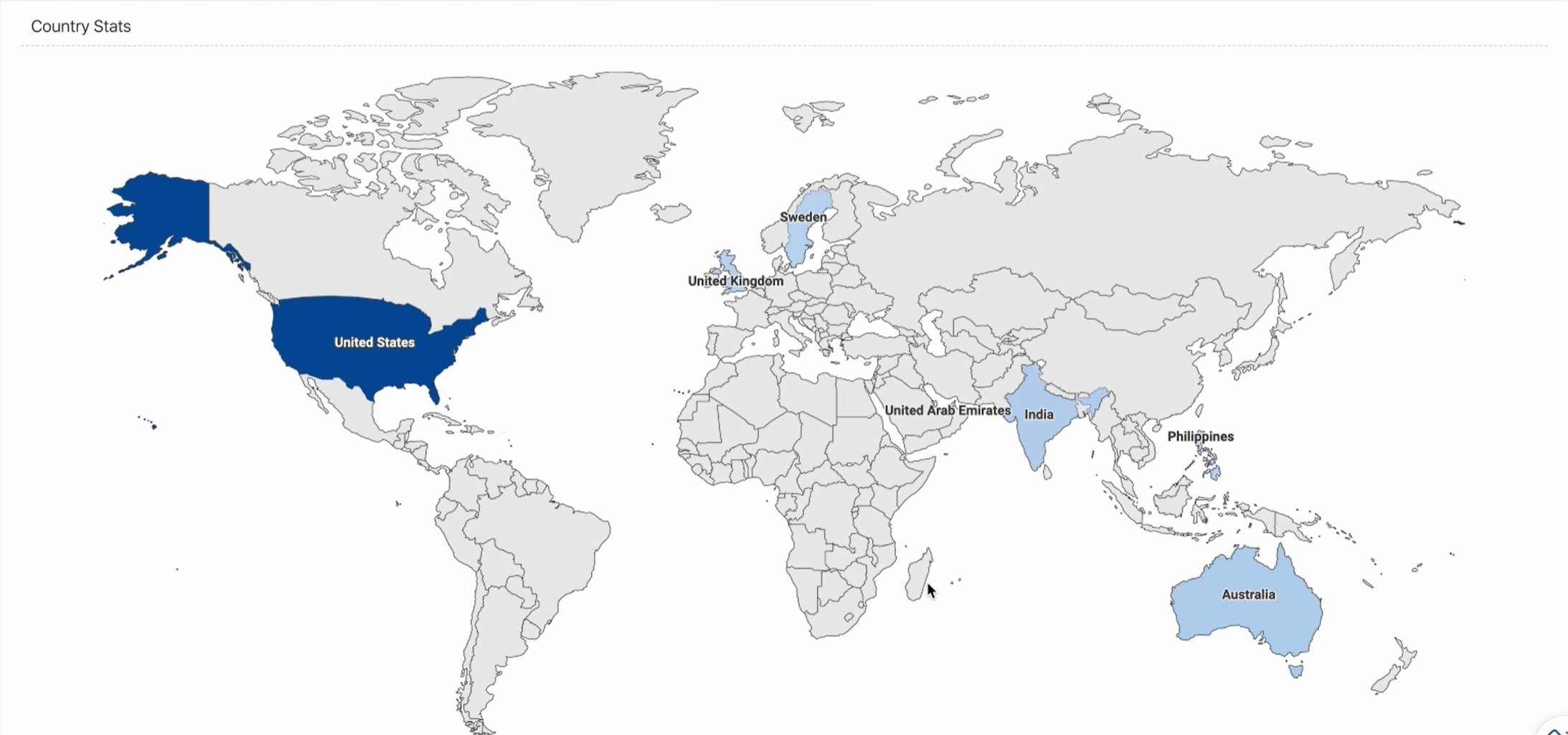 Agents can use these statistics to monitor their own progress. Supervisors can monitor data for agents over time, using it for agent evaluation and feedback.
Interactive Voice Response (IVR)
Zoho IVR lets users create an automated customer self-service system, with a virtual voice menu that interacts with incoming callers, provides options, and routes them to the correct destination.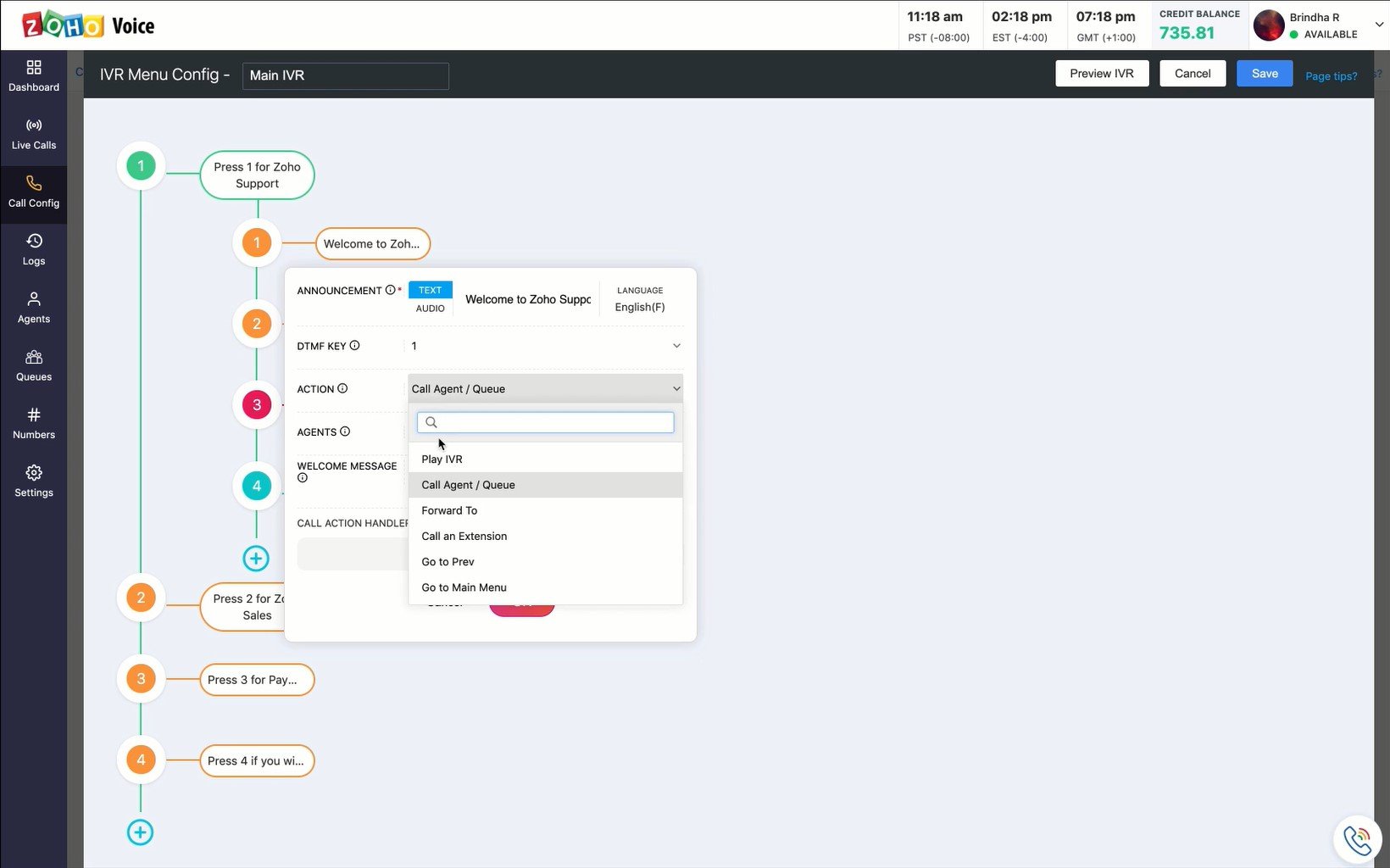 After assigning one of your company's Zoho Voice numbers to IVR, create an IVR tree that maps all possible customer call flows, with menu options that customers navigate using dual-tone multi-frequency (DTMF).
IVR auto attendants are useful for companies that receive calls for a variety of reasons, such as:
Sales
Customer service and technical support
Billing
FAQs like store hours or locations
Returns or complaints
Plan or product information
Users can customize the following within a Zoho Voice IVR tree call flow:
Opening Menu: Use text-to-speech or uploaded audio to personalize the greeting customers hear upon calling the IVR-assigned number.
Example: Thank you for calling PA Tile Co. For store hours, press 1. For billing questions, press 2. For questions about a product, press 3. To speak with a representative, press 4.
DTMF Key: Customize IVR menu options for customers, including key assignment. You can provide up to 12 menu key options (0-9, *, and #), but we recommend limiting it to 5 to avoid overwhelming customers.
Action Response: Customize the response action for each menu key. Depending on a customer's selection, route them to: an IVR submenu, a phone number or agent, an extension, a voicemail box, an automated audio message, the previous menu, or the main menu.
Welcome Message: Customize the message customers hear upon making a selection and reaching a new menu destination.
Example: You selected 1 for sales.
Call Handling: Set backup routing destinations if the first is unavailable.
When IVR attempts to reach an assigned live agent's number, it first confirms the agent's availability. If unavailable, the IVR system can automatically route to an alternate number, allow the caller to leave a voicemail, or redirect back to the menu's beginning.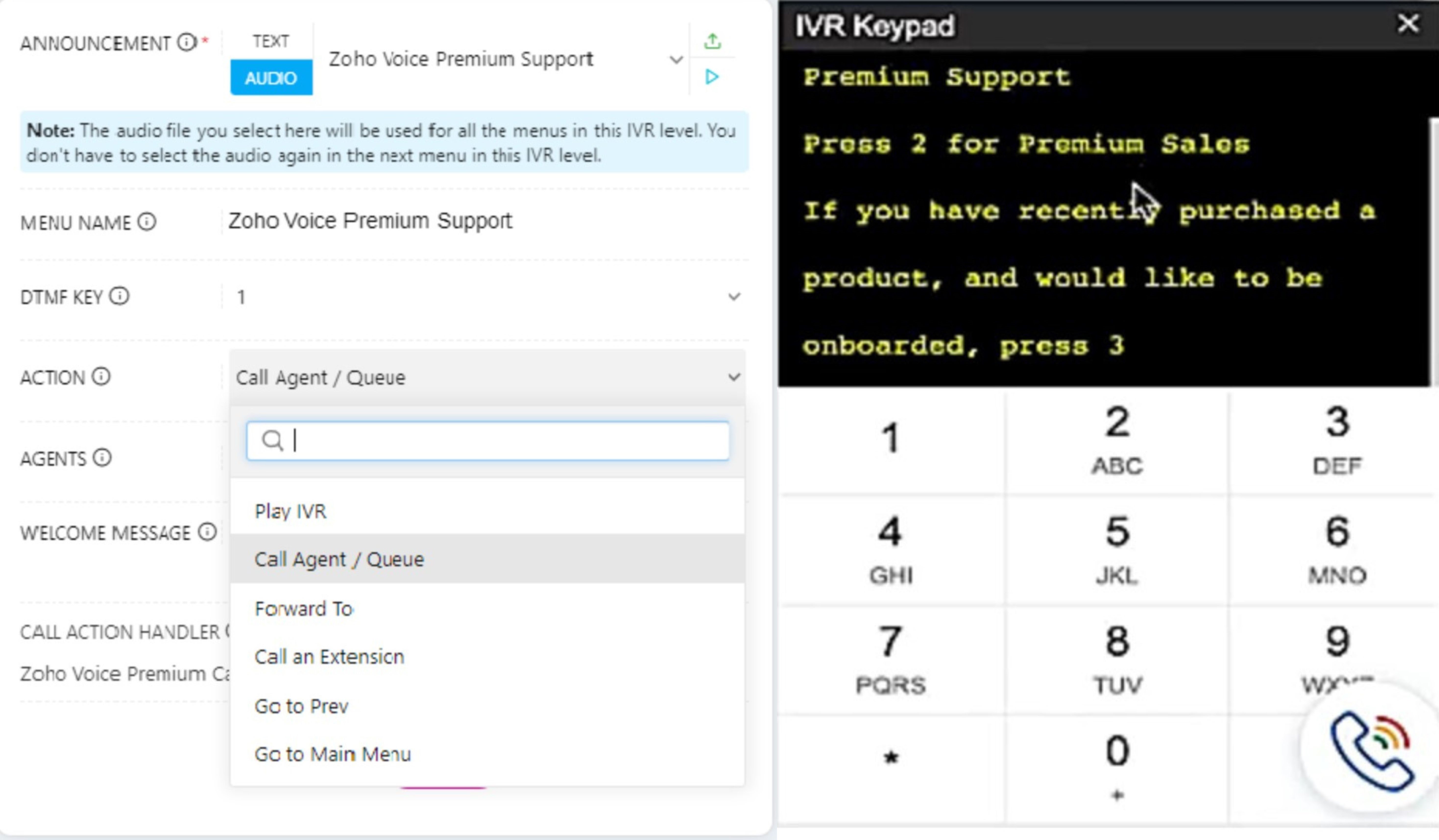 Within Zoho Voice IVR configuration, users can clone IVR menus to reuse with new numbers, and users can preview IVR call flows to ensure the customer's journey goes according to plan.
Single-level IVR comes with all Zoho Voice Business Phone plans, and multi-level IVR–multiple layers of submenus–comes with all Enterprise Telephony plans.
Voicemail Transcription
Zoho Voice provides automatic voicemail transcription–text-transcribed copies of all received voicemails. Users can access these transcriptions on the Logs page and can receive automated emails containing the audio file and transcription.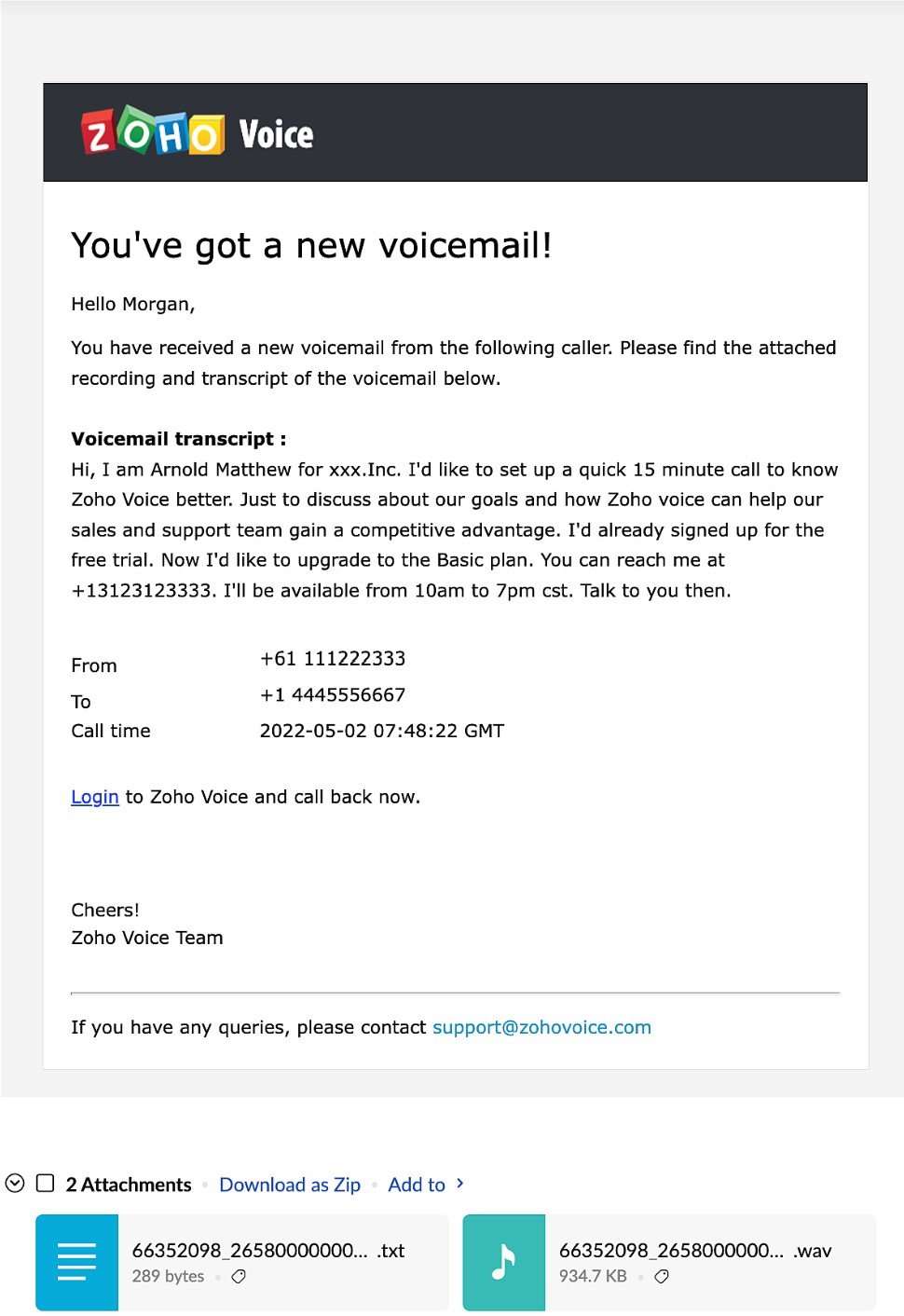 Transcribed voicemails, enabled with one click on the Call Configuration page, allow agents to quickly sort, read, and understand customer voicemails, without having to listen to them. In settings requiring silence or on phone calls, agents can catch up on missed calls and prioritize responses.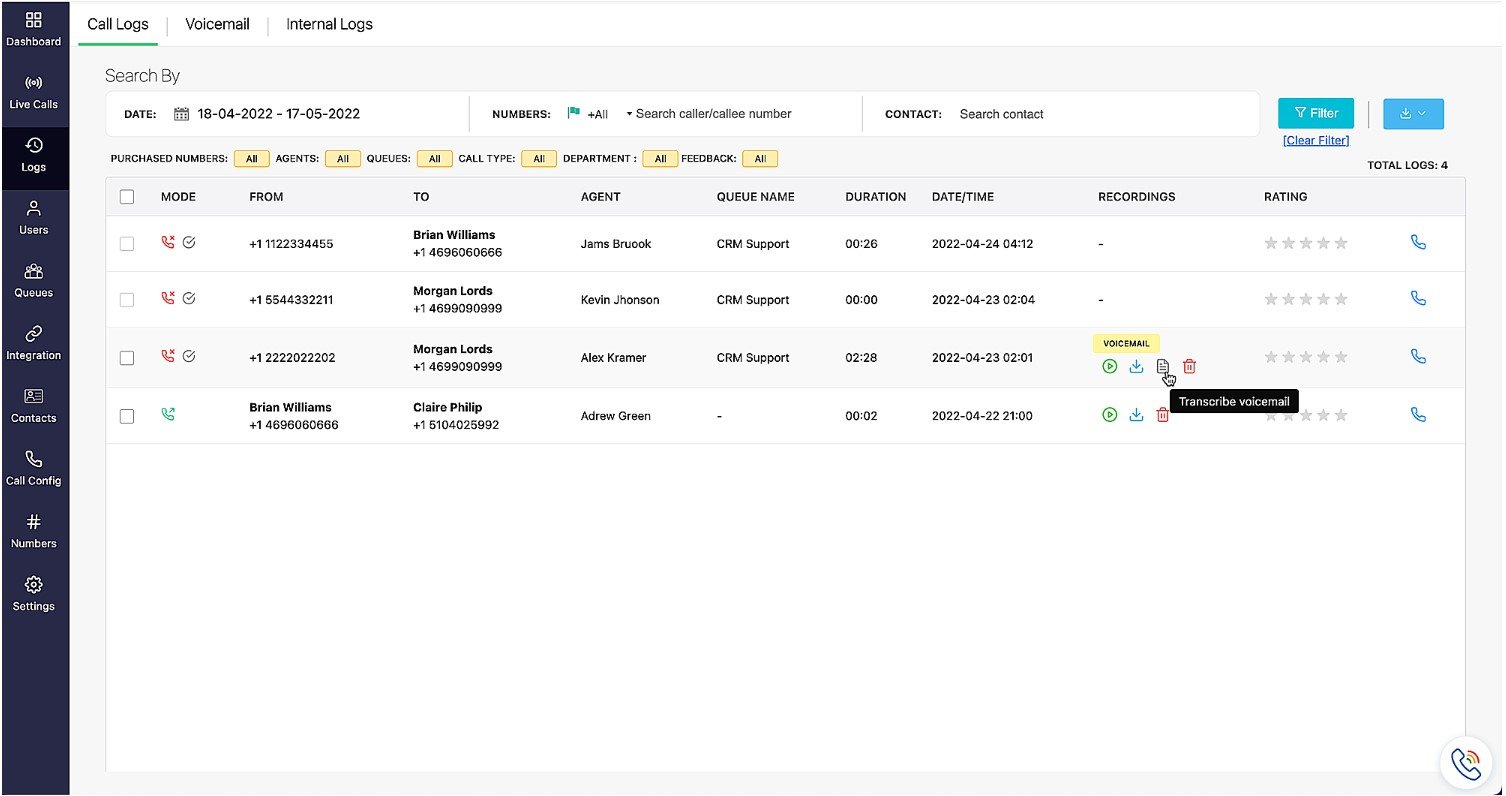 While Zoho Voice charges $.05 per minute of voicemail transcription and each voicemail has a five-transcription limit, voicemail transcriptions are retained forever and can be transcribed in five languages: US English, UK English, Japanese, Portuguese, and Spanish.
Call Queues
Within the Queues tab in the Zoho Voice menu, group agents into teams to receive routed calls under a shared number. Queues, available in all Zoho Voice plans, allow organizations to route incoming calls or IVR menu selections to whole groups of agents–rather than individuals–organized by call type, specialty, role, caller or branch location, or sales tier.
Possible queue groups:
Agents who share the same customer
Sales teams
Customer service teams
Human resources teams
Specialists on various products
Customize ring and notification settings for each queue team: ring all agents simultaneously or sequentially, customize business hours, set up call handling options if the first agent is unavailable, and record or type welcome, goodbye, and feedback/survey messages.
The Call Wrap-Up Time option designates an opportunity for queue agents to reflect, debrief, and complete activities related to a call–notes, updates, etc.–before jumping into a new one. Administrators can set a wrap-up time duration, ranging from 1 to 10 minutes, and a max number of allowable queued calls to initiate wrap-up time.
ZDialer Extension for Browser and Mobile
ZDialer, Zoho Voice's browser extension, allows users to access basic voice and calling functions–from any Voice number registered to them–without opening the Zoho Voice tab. After downloading ZDialer from the app store, clicking the toolbar icon opens a pop-up containing the following functions:
Call logs
Dial pad
Settings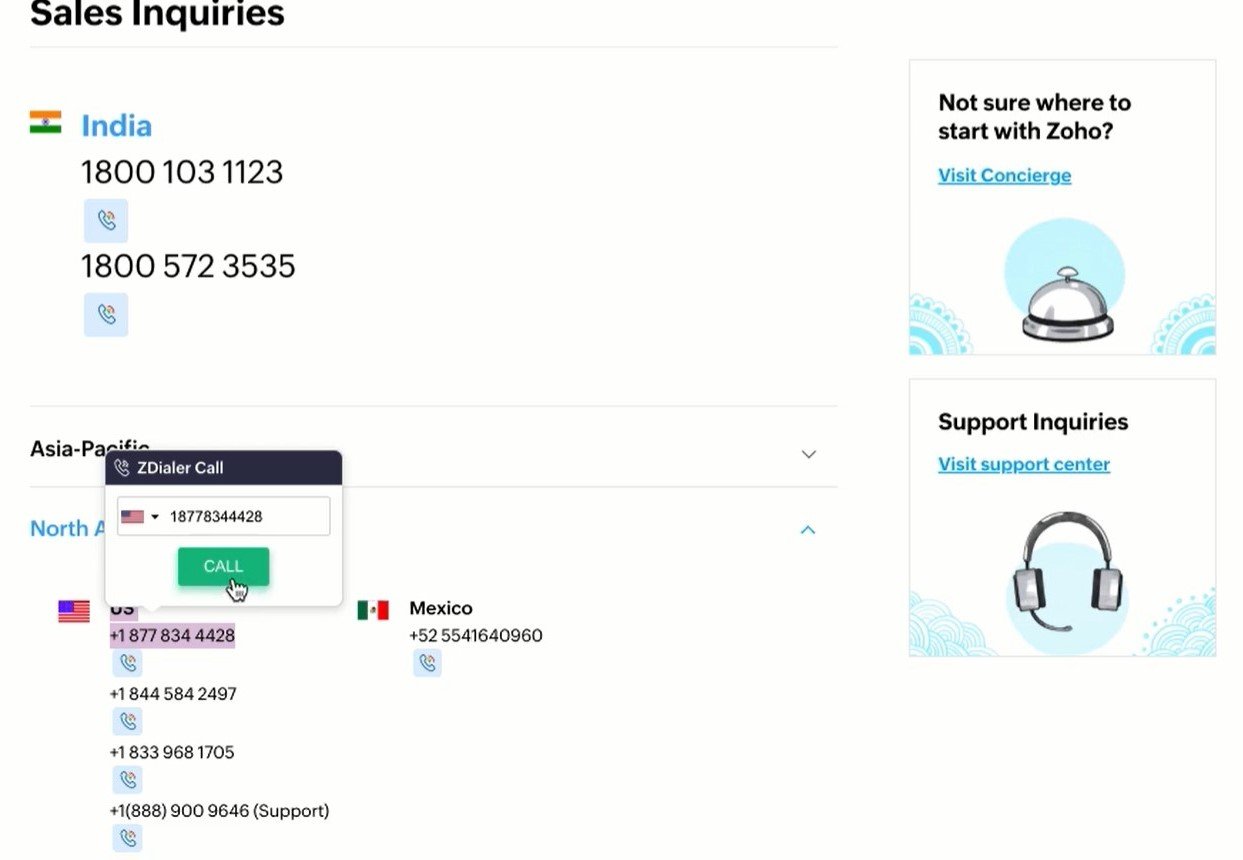 With ZDialer, incoming calls automatically trigger a pop-up for agents. Additionally, ZDialer's click-to-call function enables users to call any phone number listed on the browser screencast by hovering over it, which triggers a Call pop-up. Agents can switch their numbers in a dropdown menu from the dial pad.
In the Settings tab, enable Silent Mode, Do Not Disturb, and customize which tabs show ZDialer pop-ups.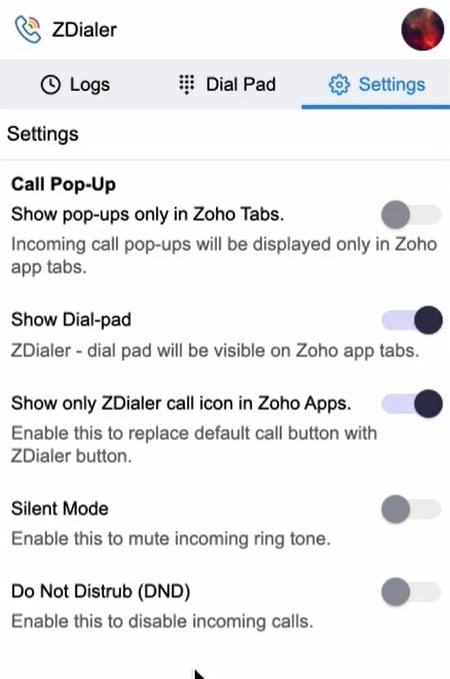 This extension is also available as a ZDialer mobile app, which utilizes the device's microphone and contact list for the same functions as the browser extension, sending push notifications prompting agents to answer incoming calls.
Mobile ZDialer users can make and receive calls from any Zoho Voice number registered to them and can use ZDialer for call transfers to other agents.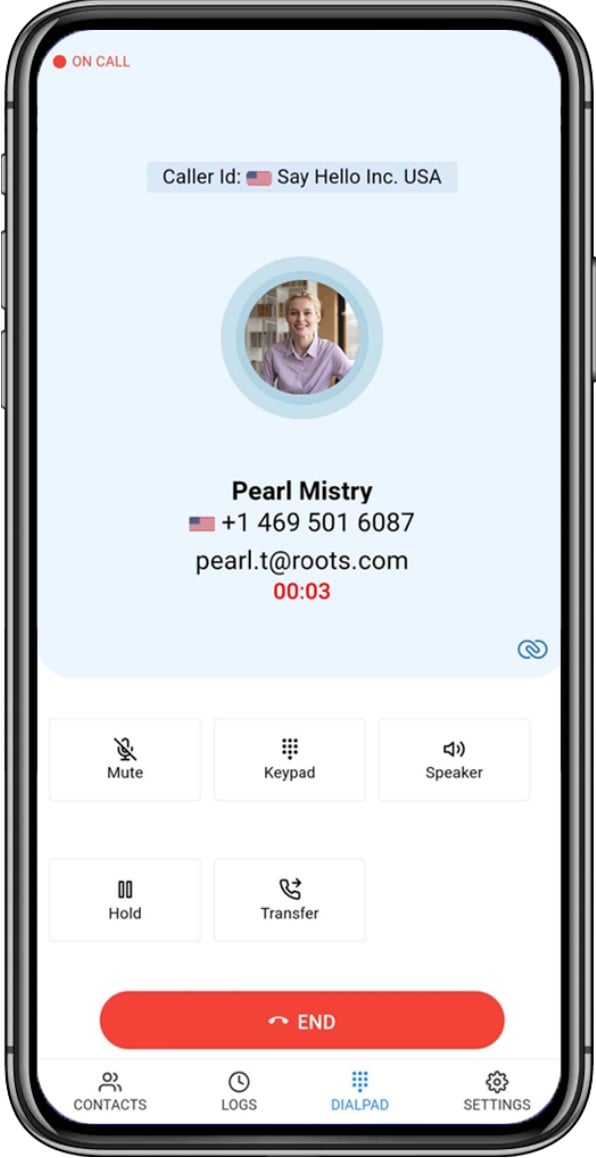 Zoho Voice Mobile App
Zoho Voice's mobile app offers an on-the-go option for agents or supervisors away from their desktops.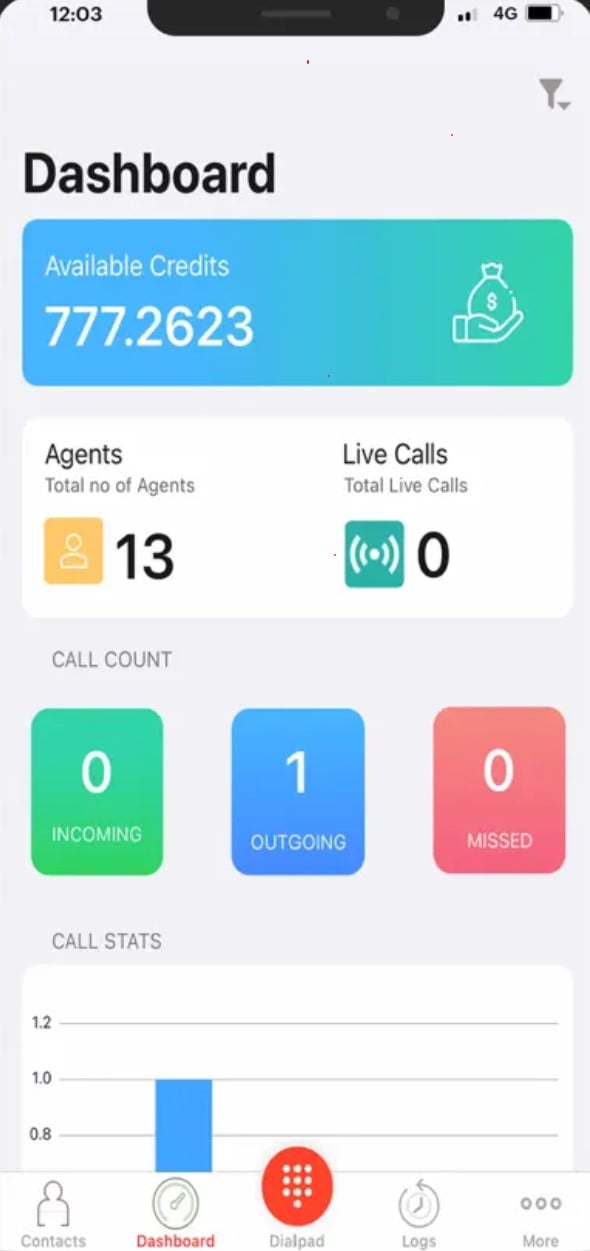 The Zoho Voice mobile interface provides nearly all the same features as the desktop version: visualized statistics, in-call options that fit the screen intuitively, and a dashboard menu with primary settings such as Call Configuration and Agent Management.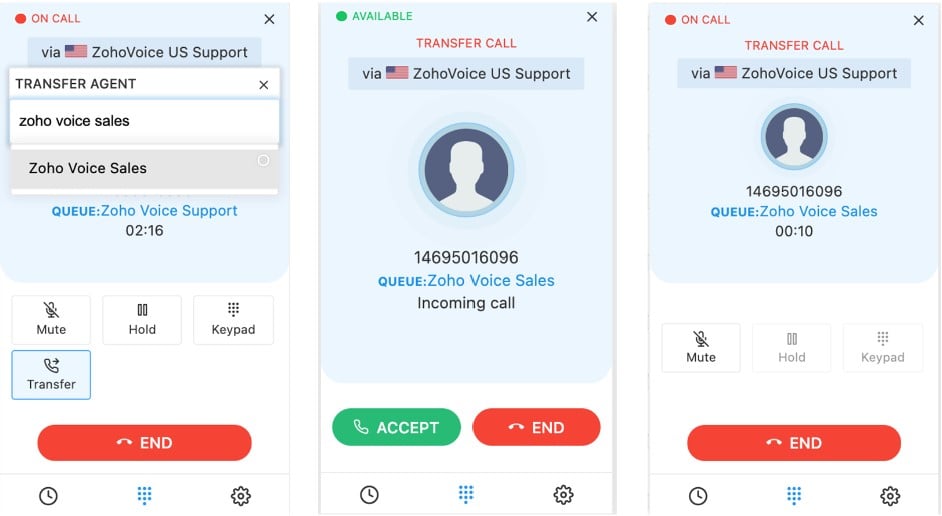 Zoho Voice Integrations
Users can integrate Zoho Voice with all other Zoho products via one of two methods: Native Integrations using ZDialer, and Zoho Telephony using the PhoneBridge integration platform.
Native Integrations
Through the ZDialer extension, Zoho Voice integrates with several other Zoho platform solutions, including:
Zoho CRM
Zoho Bigin (CRM for small business)
Zoho Desk (omnichannel customer service software)
Benefits of Zoho Voice Native Integrations
Integrating Zoho Voice with any of these native platforms allows you to manage calls from within CRM or customer helpdesk, making it easier for your team to stay on top of tasks and information.
Voice integrated with Zoho CRM and Bigin allows agents to handle calls directly within CRM, utilizing ZDialer's click-to-call to dial prospective leads, generating more conversions. Agents can auto-log call records for leads and customers, link phone numbers, and populate customer profiles with just a few clicks.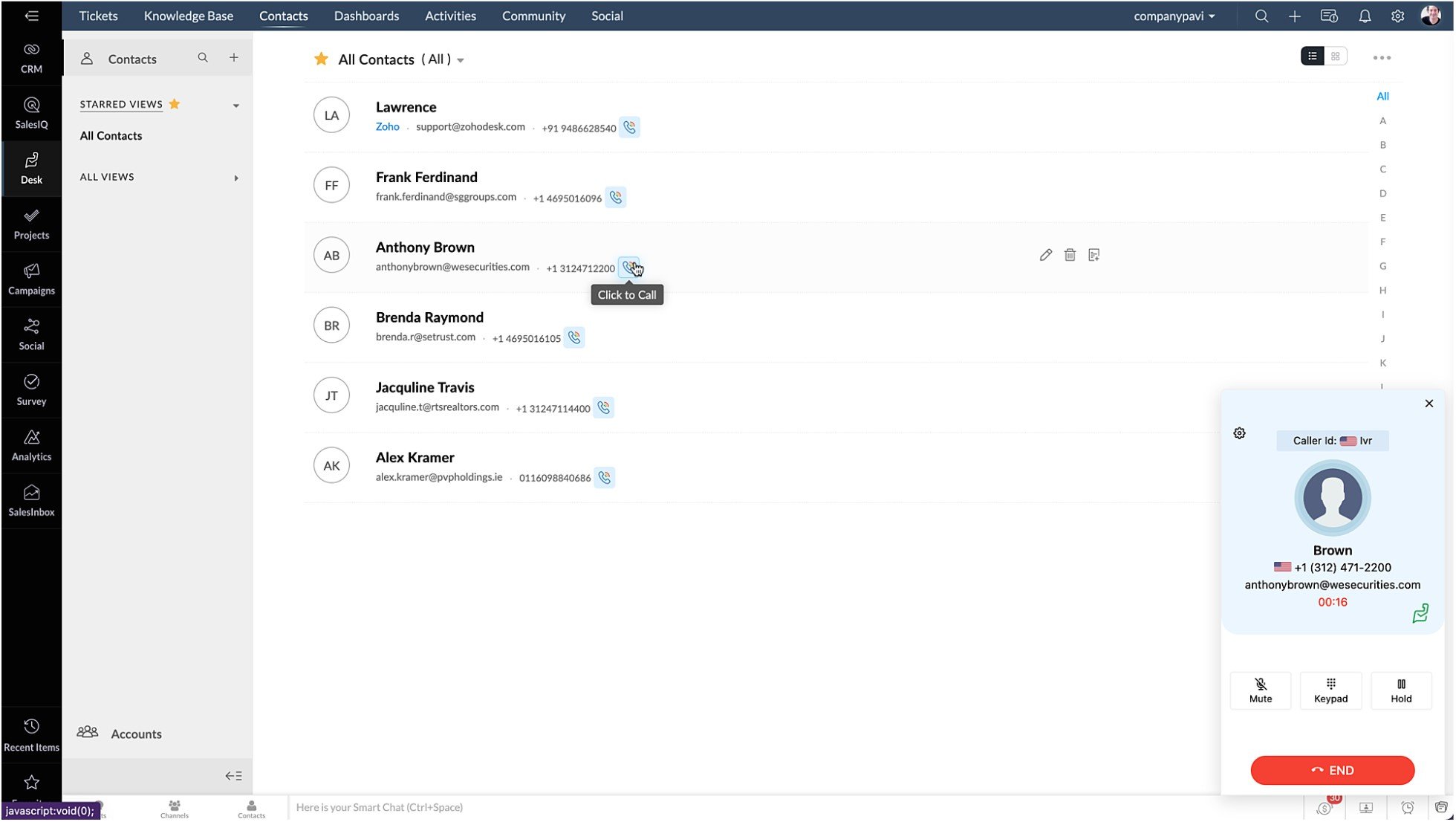 When integrated with Zoho Desk, Voice allows agents to better utilize phone calls in conjunction with customer support efforts. Quick customer lookup enables agents to find and call select customers instantly, and ZDialer's one-click dial pad widget lets agents type and make calls to unsaved numbers.
Additional benefits of Zoho Voice integrations:
Contact lookup: Customer information pops up onscreen during interactions, providing relevant context
Easy access to recordings: Download all recordings from Desk and CRM to listen to and transcribe in Voice
Bulk import agents: Import agents in bulk from CRM and helpdesk, adding them as Voice users
How to set up Native Integrations
The below steps outline how to set up native integrations with Zoho Voice:
1. In the Integration tab, choose your CRM or Desk portal
2. Import your sales or support agents, and add them as users in Zoho Voice
3. Install ZDialer from the app store for your browser
4. Select phone numbers to use with ZDialer
5. Customize call settings
Zoho Telephony (PhoneBridge)
Zoho Telephony, also called PhoneBridge, is an integration platform that connects cloud telephony systems with any Zoho app, allowing users to enjoy the following benefits across Zoho apps:
Advanced call features: IVRs, call queues, call recording
Click-to-call: Click on-screen phone numbers for instant calling
Call pop-ups: Receive caller details instantly with screen pop-ups
Call detail records: Log call details in Zoho apps, tracking all calls made
Call notes: Add notes about each call, right on the pop-up screen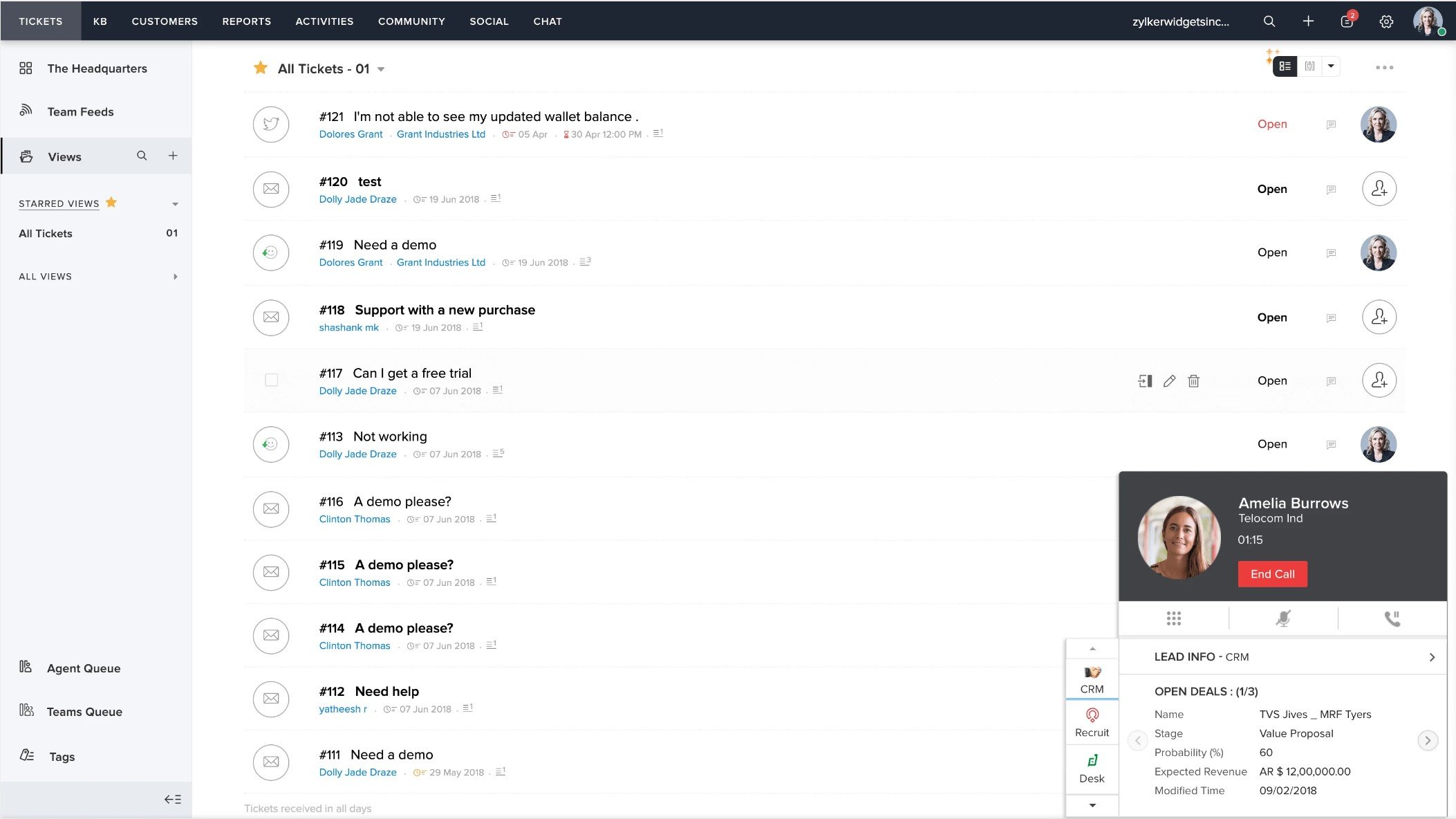 PhoneBridge, available only through Zoho's Enterprise Telephone Standard plan with admin privileges, enables you to connect Zoho Voice (and other cloud telephony systems like Vonage, Nextiva, and RingCentral) with many Zoho apps, including:
Zoho CRM and Bigin
Zoho Recruit
Zoho Mail
Zoho Desk
Zoho Creator
Zoho Analytics
Zoho Projects
Zoho Connect
Zoho Forms
Zoho Bookings, and many more
Zoho Voice Pricing and Plans
Zoho Voice offers a 15-day free trial and has two general phone pricing plans, each with tiered options:
Business Phone: contains 4 plans with slab-based pricing, ranging from free for one user to $1000 monthly for up to 100 users
Business Phone plans do not offer any admin configuration, meaning users lack full customization for many of the settings in the Call Config tab–business hours, ring type, call action handling, queues, and more.
Enterprise Telephony: contains 2 plans with user-based pricing, ranging from $34 to $49 monthly per user
The Basic Enterprise Telephony plan does not allow any admin privileges, but each Standard plan license supports one admin and ten voice agents.
In addition to phone licenses, Zoho Voice charges per-minute calling rates for ingoing and outgoing calls:
Outgoing calls (personal, local, or toll-free numbers): $0.0125/minute
Incoming calls (personal): free
Incoming calls (local): $0.0085/minute
Incoming calls (toll-free): $0.02/minute
In the below table, we've outlined the key features included in Zoho Voice pricing plans:
Plan

Business Phone
Enterprise Telephony
Tier
Solo
Team
Office
Corporate
Basic
Standard
Monthly Cost
Free, one user
$100 monthly, up to 10 users
$300 monthly, up to 30 users
$1000 monthly, up to 100 users
$34/user
$49 per admin and 10 Zoho Agents

All features configured by admin

Pricing Model
User-based
Slab-based
User-based
Free Incoming Calls on Personal Numbers
Unlimited
Unlimited
Free incoming Calls on Local Numbers
X
1000 mins
Free Outgoing Calls to US, UK, Aus
X
1000 mins/month
2000 mins/month
5000 mins/month
250 mins/user/month
250 mins/admin user/month
ZDialer Browser Extension 
✓
✓
✓
✓
ZDialer Dial Pad in Zoho Apps
✓
✓
✓
✓
Native Integrations
✓
✓
✓
✓
Zoho Telephony (PhoneBridge) Integration
✓
✓
Zoho Voice Web Interface
✓
✓
✓
✓
Zoho Voice Mobile App
✓
✓
✓
✓
Call Queues
✓
✓
✓
✓
Ring-Type Selector
✓
✓
✓
Live-Call Monitoring
✓
✓
Call Recording and Blocking
✓
✓
✓
✓
Call Transferring
✓
✓
✓
Interactive Voice Response (IVR)
Single-level
Multi-level
Multi-level
Welcome Greeting
Only text
Only text
Text and audio
Text and audio
Business Hours
✓
✓
Holidays
✓
✓
Voicemail
✓
✓
✓
✓
Call Forwarding (Inside IVR)
✓
✓
✓
Call Action Handler
✓
✓
✓
✓
Zoho Telephony (PhoneBridge)
✓
✓
Call Metrics
✓
✓
✓
✓
Call Detail Records
✓
✓
✓
✓
Agent Stats
✓
✓
✓
✓
Country-Based Stats
✓
✓
✓
✓
Dashboard
✓
✓
✓
✓
Zoho Voice Customer Support
Zoho Voice provides its customers with several support options, listed below.
Zoho Knowledge Base
The Zoho Voice knowledge base, help.zoho.com, features over a dozen articles addressing fundamental processes and questions.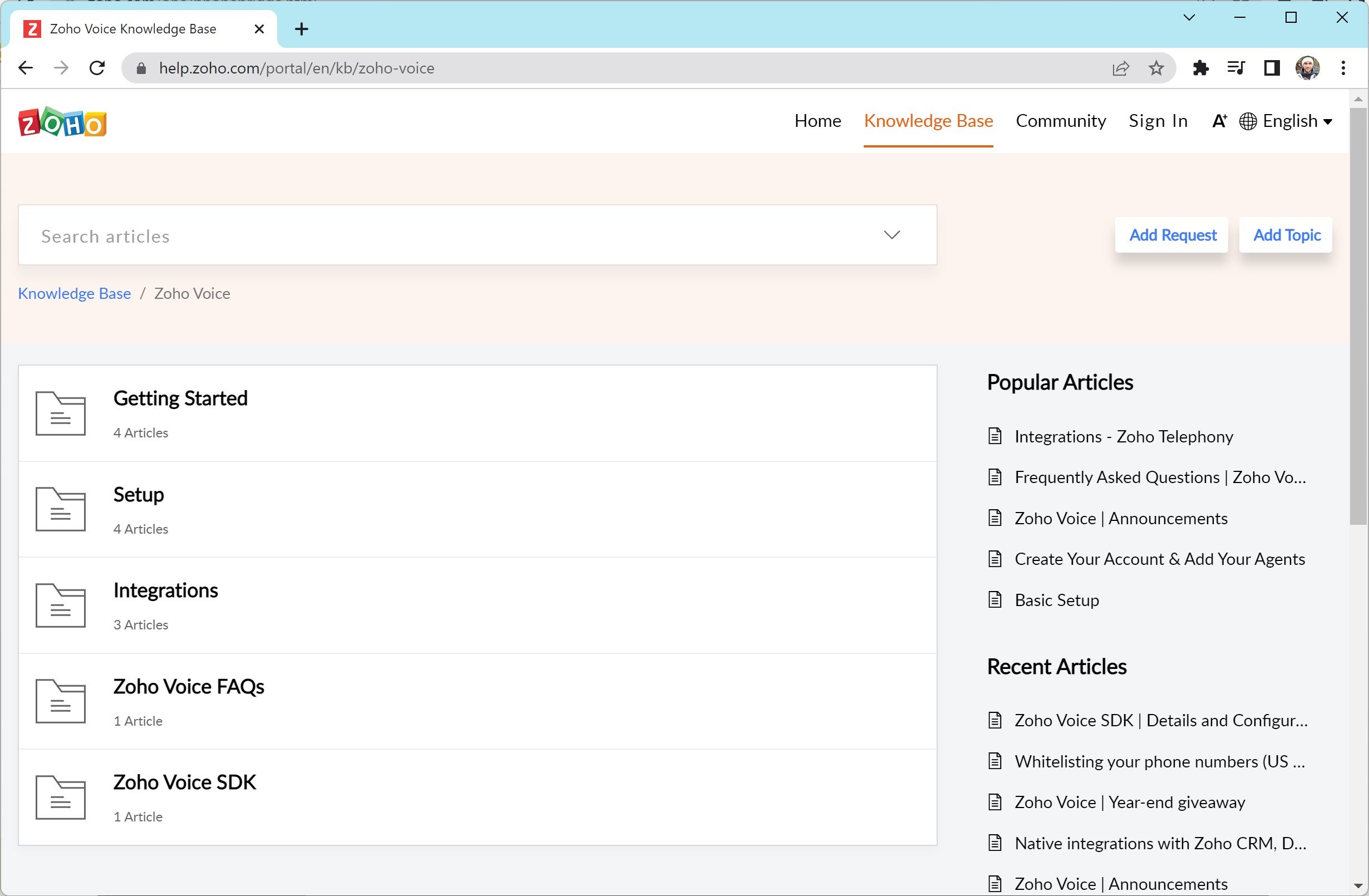 Within the knowledge base, customers can find materials like the latest announcements from Zoho, how-to guides for setting up accounts and adding agents, the HIPAA Compliance Guide for Zoho Voice, a comparison between Zoho Voice and Zoho Telephony, the various types of phone numbers in Zoho Voice, how to whitelist phone numbers, and more.
Zoho Help Community
The Zoho Help Community features thousands of Zoho users–staff and customers with all levels of experience–in a forum devoted to Zoho questions, answers, and information.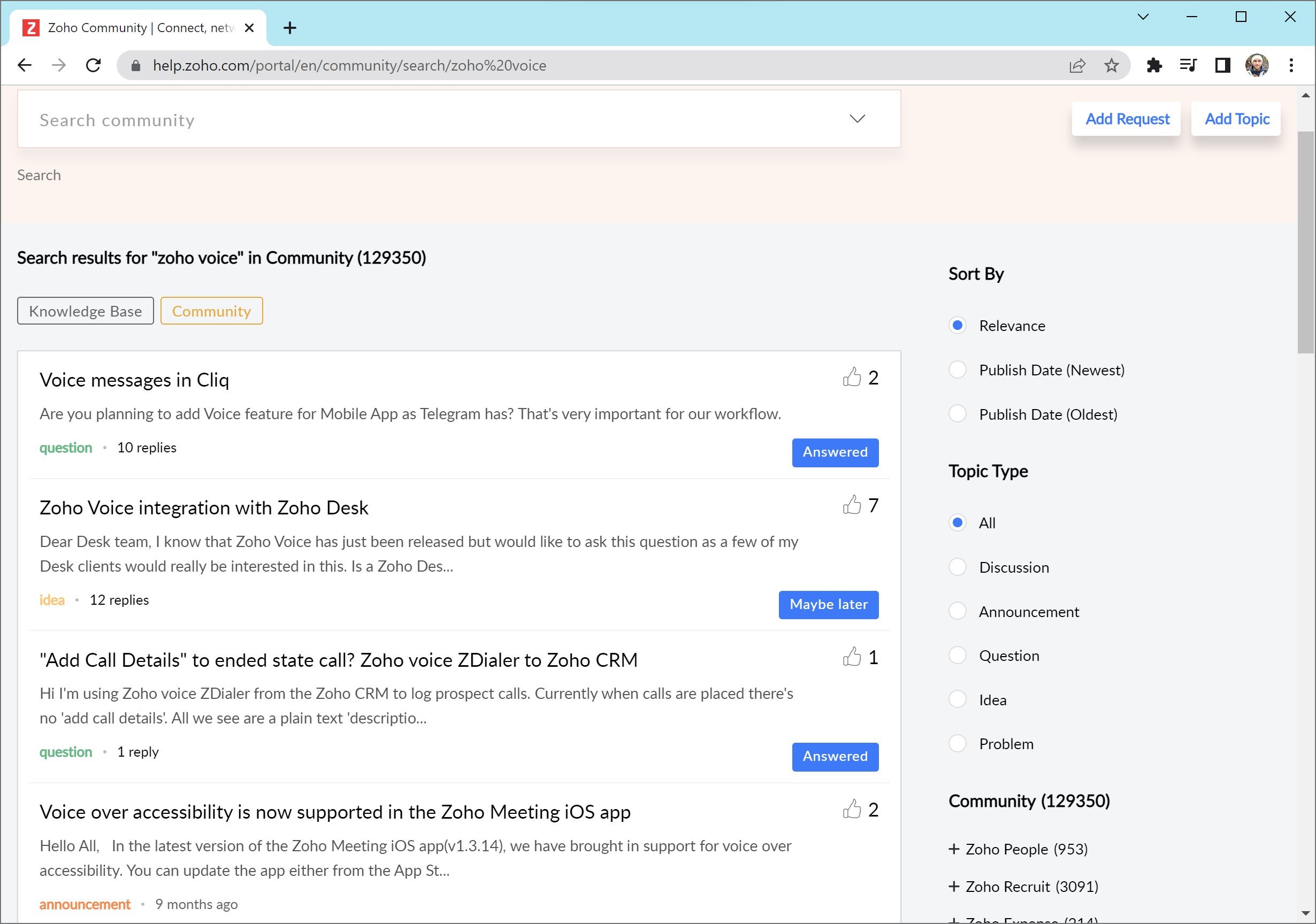 The community topics are divided into dozens of subtopics, and while it does not have a designated Zoho Voice subtopic, the forum does have a Zoho PhoneBridge subtopic.
Users with questions can search the forum for "Zoho Voice" or a more specific topic, see if their question has already been answered, and can pose new questions to the experienced forum audience.
Zoho Voice Support
For help directly from the Zoho Voice team, you can contact support via email, support request, or phone call.
Email any relevant screenshots and account details to:
Support: support@zohovoice.com
Sales: sales@zohovoice.com
Submit a support request at help.zoho.com/portal/en/newticket
Or give Zoho Voice support a call:
USA: +1 312-471-2200
UK: +44 161-619-9544
Alternatives to Zoho Voice
The below table overviews Zoho Voice's top alternatives, with pricing, key features, and use cases.
| | | | | | | |
| --- | --- | --- | --- | --- | --- | --- |
| Provider | Free Trial | Pricing | Top Features | Integrations | Best For | Reviews and More Information |
| Nextiva | 7-day free trial for Essential business phone plan | Three plans at $19, $23, or $33 monthly per user | Call recording and unlimited video calling on basic plan | Microsoft Outlook, Google Contacts, Salesforce, HubSpot, Microsoft Teams, and more | Companies looking for internal collaboration tools alongside customer calling | https://getvoip.com/reviews/nextiva/#reviews |
| Dialpad | 14-day free trial for Standard and Pro business phone plans | Two plans at $15 or $25 monthly per user | Hold queues and local number support in over 50 countries | G Suite, Microsoft Office 365, and more | Companies with employees spread remotely throughout the world | https://getvoip.com/reviews/dialpad/#reviews |
| RingCentral | 15-day free trials for all plans | Three plans, at $20, $25, or $35 monthly per user | Team messaging and document sharing | Microsoft 365, Google Workspace, Slack, Salesforce, Zendesk, and more | Companies that prioritize internal communication | https://getvoip.com/reviews/ringcentral/#reviews |
| Zoom Phone | None | Three plans at $10, $15, or $20 monthly per user | Internal and external chat, call recording | Salesforce, Slack, contact center software, Microsoft, G Suite, and more | Companies wanting basic VoIP features and internal chat | https://getvoip.com/reviews/zoom/#reviews |
| GoToConnect | 14-day free trial for Standard and Premium business phone plans | Two plans at $24 or $29 monthly per user | Automatic instant text response and detailed call reporting | Skype | Companies who want extensive calling features but don't need integrations | https://getvoip.com/reviews/grasshopper/#overview |
Who Can Benefit from Zoho Voice?
Zoho Voice works best for small and medium businesses looking to expand a pre-existing virtual phone system or transition to VoIP for the first time. Since Telephony Integrations connect Zoho Voice across Zoho apps, companies already using other Zoho solutions should consider Zoho Voice.
With a host of basic telephony features like call forwarding, internal calling, and call transferring, and customizable advanced tools like IVR, call statistics, and call queueing, Zoho Voice enables users to create a dynamic, cost-effective, and personalized business phone system.
To learn more about VoIP phone systems, check out our reviews and coverage of the best business VoIP providers.