Whether you're investing in VoIP software for the first time, or if you're looking to upgrade your current business phone system, you know that RingCentral and GoTo Connect are consistently at the top of the list when it comes to the best VoIP providers.
This extensive comparison of GoTo Connect vs RingCentral offers a head-to-head breakdown of key features, overall user experience, pricing, and more to help you make the right choice in your search for the ideal business communications provider.
An Overview of GoTo Connect vs RingCentral
RingCentral MVP (formerly RingCentral Office) is a cloud-based phone system streamlining phone, video, and messaging capabilities into a single application.
In August of 2021, RingCentral introduced a series of security and feature updates designed specifically for small to medium-sized hybrid workspaces.
GoTo Connect (formerly Jive) is a virtual phone system that, like RingCentral, also offers VoIP phone service, video calling, and messaging in a unified workspace.
It's a highly customizable solution mostly geared towards smaller remote teams of 25 or fewer.
The below table provides a brief comparison of RingCentral vs GoTo Connect.
RingCentral »
GoTo Connect »
Pricing
3 Paid Plans for 1-999+ Users

Annual Pricing: $20-35/user per month

Monthly Pricing: $30-45/user per month

14-Day Free Trial for 20 Users

2 Paid Plans for 1-101+ Users

Annual Pricing: $22-29/user per month

Monthly Pricing: 

$27-32.00/user per month

14-Day Free Trial

Available Communication Channels
Voice Calling, SMS Texting, Virtual Faxing, Team Chat Messaging, Video Calling, Audio Conferencing
Voice Calling, Video Calling, Virtual Faxing, Audio Conferencing, Team Chat Messaging
Top Features
Recent video communication updates like Presentation Mode, Team Huddle, and Breakout Rooms, alongside robust team chat messaging and task management tools
Dial Plan Editor for easy call flow design, call filtering, video conferencing tool
Integrations and APIs
Third-Party App Gallery Open APIs, SDKs, Developer Community
Third-Party App Marketplace, GoTo APIs, GoTo Developer Center
Compatible Desk Phones
Sells: Unify, Cisco, Polycom, Yealink

Compatible With: RingCentral is only compatible with devices from the above providers

Sells: Cisco, Yealink, and Polycom Phones

Compatible With: Aastra, Polycom, VTech

Customer Service and Support
24/7 Phone Support for Top 3 Plans, Chatbot and Live Agent Website Chat, Online Knowledge Base, Online User Forum
24/7 Support for Top 2 Plans, Website Chatbot, Online Knowledge Base, Online Case Support, Email, Phone Support
Best For
Remote/Blended Teams of 10-50 that prioritize high security, detailed analytics, and superior team messaging and collaboration tools – and are willing to pay more to get it
Mostly in-house teams of 1-10 that primarily communicate via phone and video calling and prefer an affordable, intuitive business phone system
How We Compared GoTo Connect vs RingCentral 
In order to make a detailed comparison, we evaluated the below criteria and determined a clear "winner" for each feature/functionality.
Pricing: What is the overall value and scalability of each provider's available plans? Which features are included, and which ones are add-ons?
Voice Calling: What standard virtual telephony features are included, and which provider offers better overall call management? What audio-only conference call capabilities are provided?
Virtual Receptionist/IVR: What is the quality of the virtual receptionist feature offered by each provider, how customizable are IVR call paths? Do auto-attendant features allow for a higher level of self-service?
Video Calling: What are the video meeting time limits and maximum capacities? What features are available during video calls? What views does each provider offer? How is video meeting access protected?
Messaging and Team Collaboration: How are instant chat messages organized, what custom channels are available, and how are message notifications received? What team collaboration tools are included?
Call Quality and System Performance: How is call quality monitored and managed? What is each provider's guaranteed uptime and how is it maintained?
Analytics and Reporting: What historical and real-time analytics does the provider offer? What types of reporting templates are available?
Platform Security: What steps are in place to keep data secure, is end-to-end encryption offered, what security certifications does each provider have? If a breach happens, what steps are initiated?
Hardware: What hardware is available for sale, and what hardware is compatible with each system?
Integrations: What third-party CRM, team collaboration, and business communication software integrates with the platform? What is the API development community like?
Mobile Application: What features does the mobile application have, and how does it compare with the complete desktop app?
Ease of Use: Is the look of the platform uncluttered, is it intuitive to use, is there a large learning curve? Does the provider offer user training?
Customer Support: What support channels are available, what are their operating times, and what is the quality of the support?
GoTo Connect Vs. RingCentral: A Head-to-Head Feature Comparison 
Below, we compare RingCentral and GoTo Connect top features and declare a clear winner for each functionality.
RingCentral Voice Calling
RingCentral's business phone system provides SMBs with an enterprise-level communication experience for a fraction of the cost, offering an unusually robust number of standard VoIP features.
Each user has their own dedicated phone number and/or extension that works across multiple devices and offers unlimited US/Canada calling. It also offers local numbers in over 200 area codes, toll-free and vanity numbers, and international phone numbers in over 100 countries.
User presence updates/HUD lets you know which coworkers are available, on hold, on a call, or away to speed up communication and keep track of agent activity.
Call delegation also helps to prevent communication bottlenecks and keep key team members free by allowing up to 10 agents to place calls on behalf of managers, executives, and other coworkers.
Call forwarding lets users choose several different phone numbers — their own or those of coworkers — for calls to be sent to if they don't pick up their office phones. As shown in the image below, users can also set the number of rings before a call is sent to another number and reorder the call forward path at any time.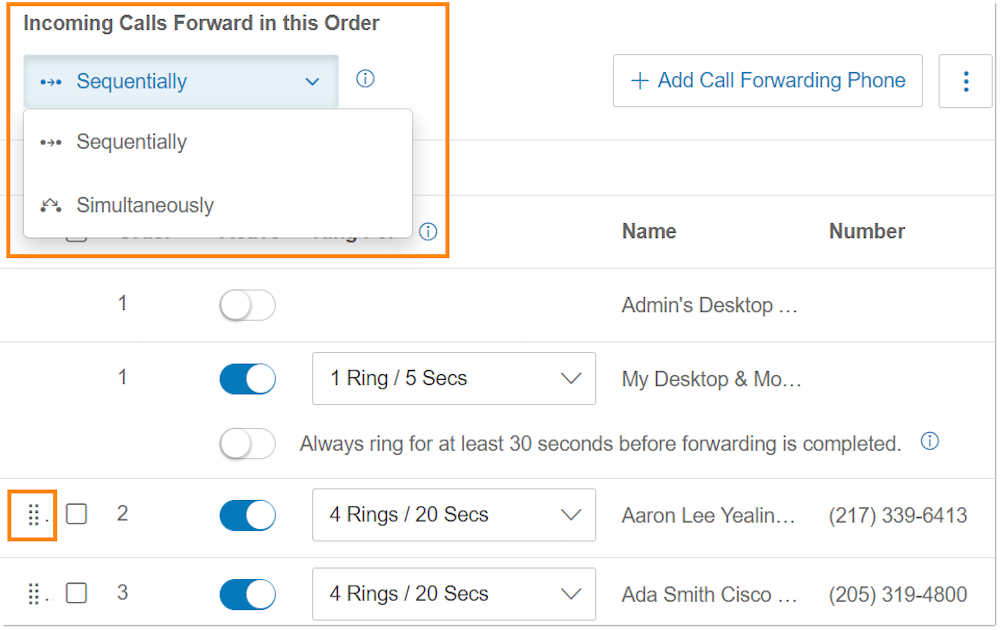 RingCentral offers an unusually high audio conference participant cap of 1,000, meaning it's a great option for audio-only presentations, lectures, or meetings between multiple branches/locations.
Users can flip between devices, join an audio conference with one click from an SMS invite, or join via email or Call Me access.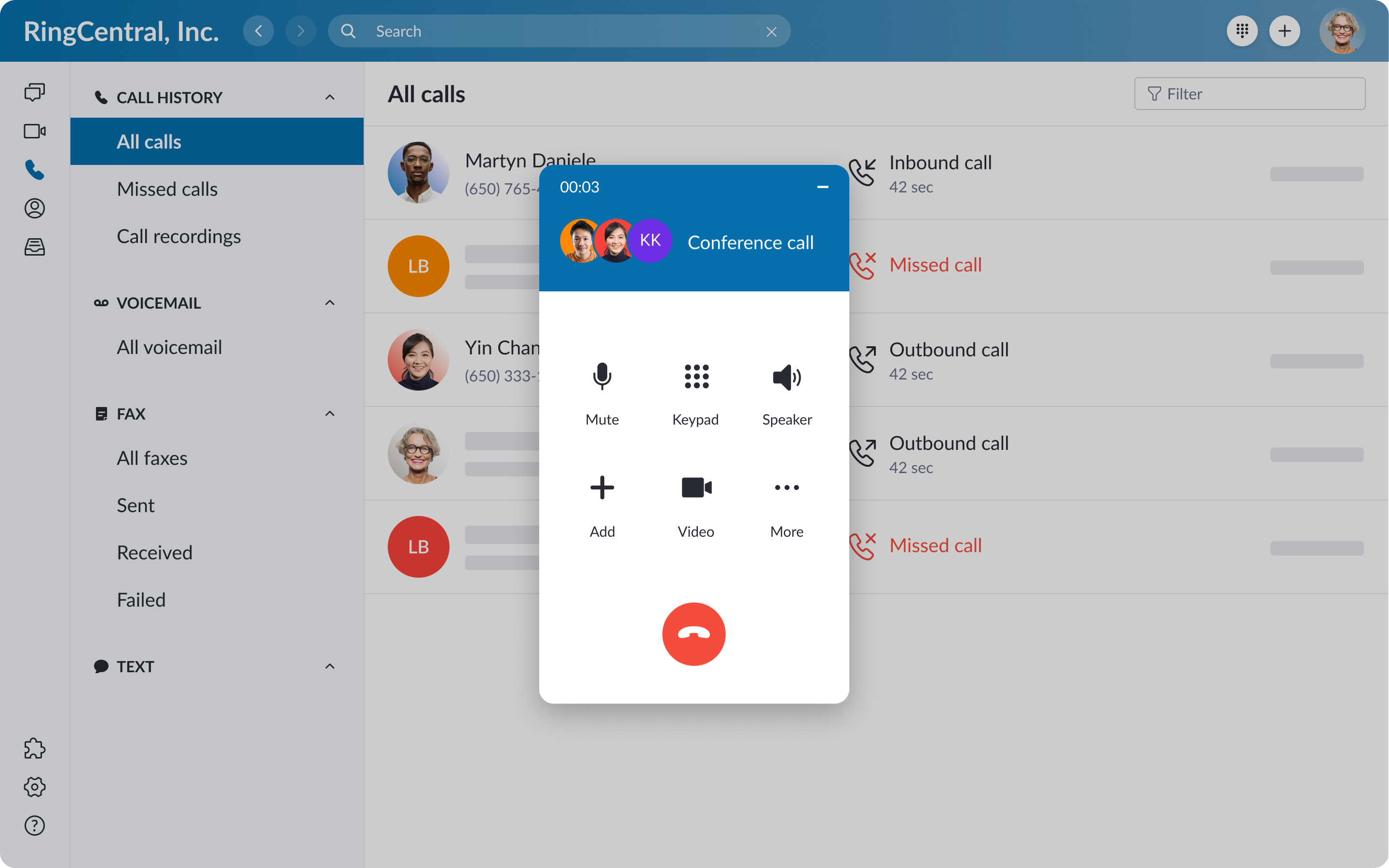 Other standard RingCentral voice calling features include:
Call park, call flip, call transfer, call forwarding, hot desking
Ring groups and shared lines of up to 16 desk phones and 8 lines
Custom voicemail and hold music
Voicemail-to-text, voicemail-to-email
Caller ID, call blocking, spam filtering
Dial-by-name directory
Unlimited MMS and SMS (1:1 and group) in the US and Canada
Manual and automatic call recording
Call queues
Call monitor, call whisper, call barge
GoTo Connect Voice Calling
GoTo Connect's Cloud PBX offers over 100 VoIP calling features for small businesses that don't need more advanced calling functionalities, prioritize scalability, and want to avoid a high learning curve.
It also offers multi-device compatibility, unlimited user extensions, and unlimited calling in the United States and Canada.
In addition to free local numbers, toll-free phone numbers and vanity numbers are available as add-ons across all GTC plans (toll-free and international minutes are sold in blocks or on a per-minute basis.) Number porting is available.
Note that on-demand and automatic call recording are offered only on the top two plans, and audio-only conferencing is available for up to 10 users only.
The calling app (pictured below) allows users to assign favorite contacts, view current parked calls, view coworker presence status, access the softphone to place a call, and much more in an uncluttered, intimidating interface.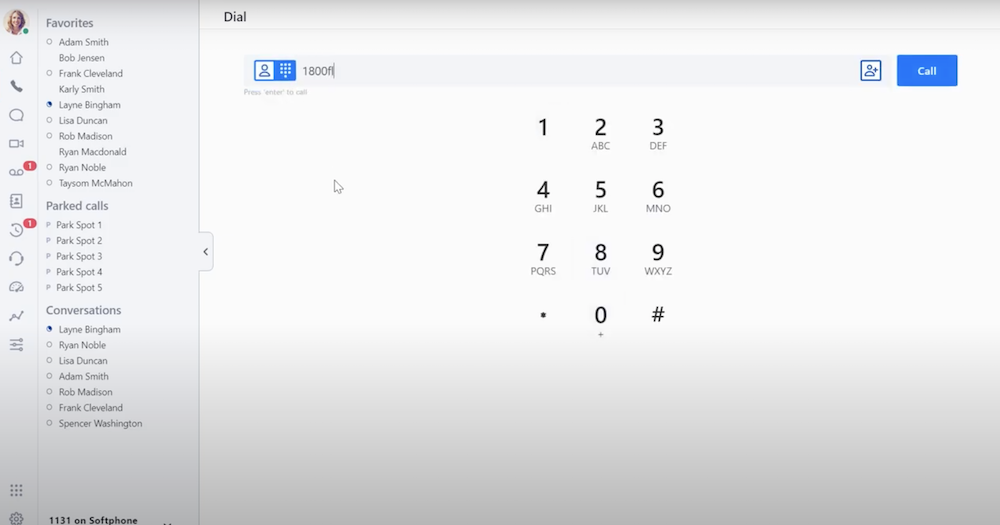 GoTo Connect also offers a superior voicemail experience, allowing for both individual and shared voicemail inboxes.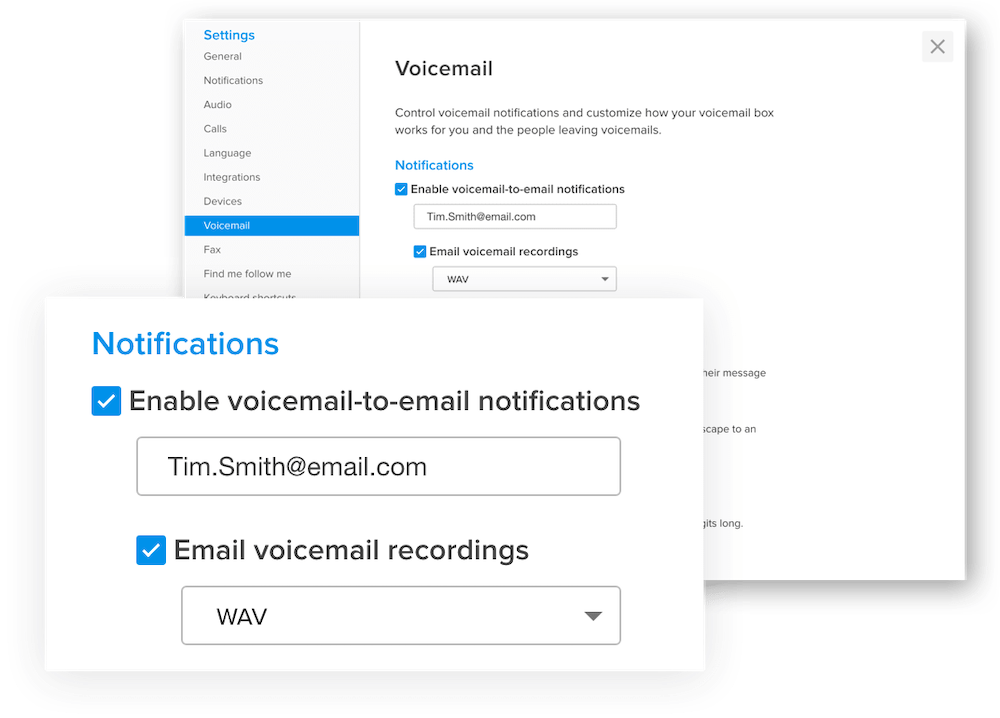 Users can access voice messages on any device. In addition to letting users check voice calls on desktop, forward these messages to other inboxes, and even call a remote number to access their voicemail box from anywhere. Virtual voicemail stores both audio recordings and voicemail transcriptions in the cloud and can be shared via email.
GoTo Connect call filtering solutions allow users to whitelist/automatically direct or accept calls from specified phone numbers, automatically divert specific calls to a preset extension/dial plan, or automatically reject the call.
Additional voice features include:
Call queues, call waiting, call hold, Message Waiting/Missed Call Indicator
Unlimited extensions, unlimited ring groups, simultaneous ringing
Customized hold music, including custom playlists, greetings, and messages
Find Me, Follow Me (remote call forwarding)
Hot desking, call flip, call forwarding, call parking, shared line appearance
Unlimited MMS/SMS
Virtual faxing
Call logs
Directory Assistance
Winner: GoTo Connect
Though RingCentral's voice calling features are impressive, they're not quite as extensive as GoTo Connect's are.
What really puts GoTo Connect over the top here though, is its overall ease of use when it comes to phone calls. The beginner-friendly desktop application makes it easy to find all the functionalities you need while also offering a high level of customization. 
RingCentral Virtual Receptionist/IVR
RingCentral allows for up to 250 single and multi-level IVR menus and submenus with customizable pre-recorded phone prompts and hold music. Skills-based, priority-based, round-robin, time-based, and fixed order call routing are also available.
Natural Language Processing (NLP) and AI recognize keywords and phrases when responding to prompts by dial pad or voice, directly their call to the best available agent or department. RingCentral also accepts PCI payments.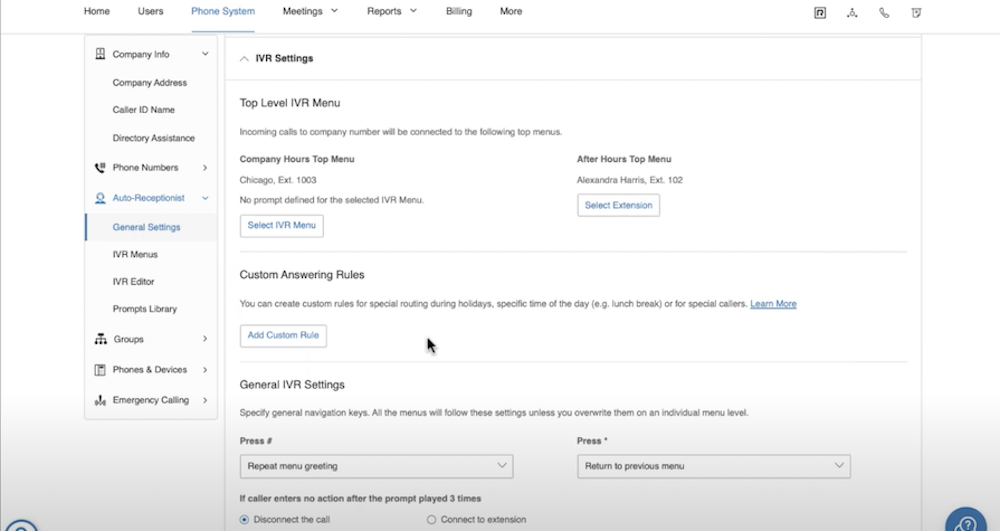 Though the capabilities of RC's IVR system are excellent, the overall ease-of-use of its Visual Dial Plan Editor tool is not. While the drag-and-drop call flow editor is helpful, the tool is overly complicated, cluttered, and comes with a major learning curve.
It's no secret that IVR configuration is a time-consuming and often-frustrating process, but given all the recent updates, it's puzzling that RingCentral didn't think to make their IVR setup more intuitive.
RingCentral's IVR does allow for a high level of specificity and call flow design, so it's worth fighting through. But those without an in-house IT team or call path setup experience will find the process time-consuming and daunting.
GoTo Connect Virtual Receptionist/IVR
GoTo Connect is especially famous for its Dial Plan Editor and IVR call routing strategies, seen below. This is a welcome relief compared to RingCentral's complex setup.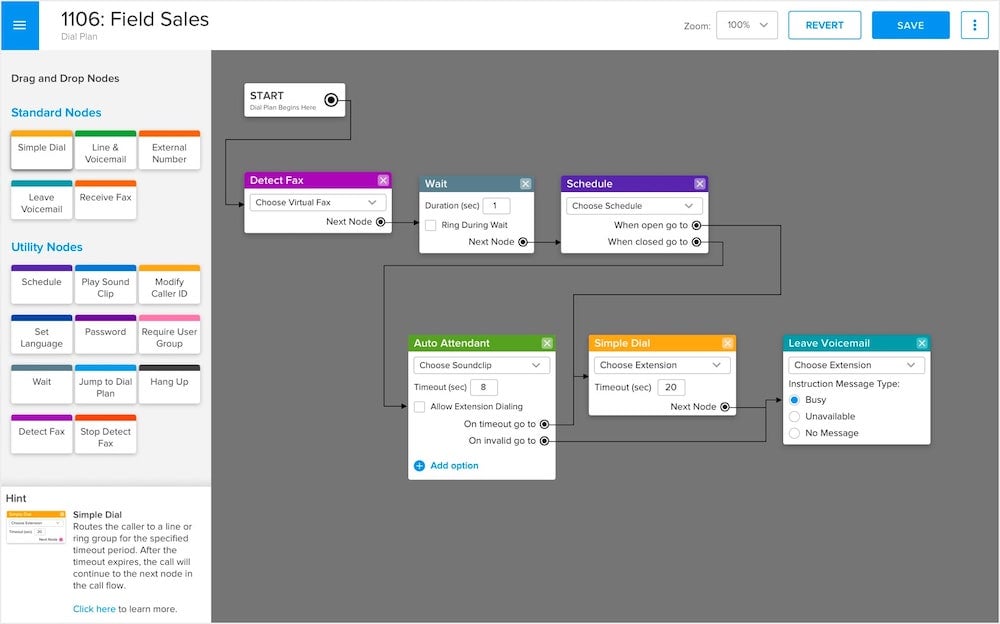 With its drag-and-drop interface and advanced call routing options displayed in "utility nodes," it's easy to create and adjust call routing strategies according to agent preference/availability, schedules, current call volume, and more.
In other words?
You won't lose hours trying to figure out how to set up a call flow as you might with RingCentral.
Plus, GoTo Connect's Standard plan offers an unlimited number of auto attendants/submenus. Users can record their own greetings or choose from a series of premade templates.
That said, it doesn't offer as many call flow management options — especially when it comes to AI — as RingCentral. However, given that GoTo Connect is generally designed for smaller businesses than RingCentral is, this shouldn't be much of an issue.
Winner: Draw
The winner here really depends on whether you prefer having lots of call flow/IVR menu options that are difficult to configure or easy-to-configure call flow designs that don't offer quite as many options.
RingCentral Video Calling
Recently, RingCentral has made major updates to its video calling tools, elevating its video conferencing capabilities to those of video communication giants Zoom and Microsoft Teams.
These new additions make it clear that RingCentral has been listening to user feedback and is willing to evolve and adapt to changing user needs.
One of the most exciting new features is the Presentation Mode feature, which lets presenters share live video streams of themselves on top of or behind presentation slides instead of showing their slides or screens alone. Presenters can adjust their image transparency, reposition their location, and resize themselves. This makes remote presentations much more personal and engaging, as illustrated in the image below.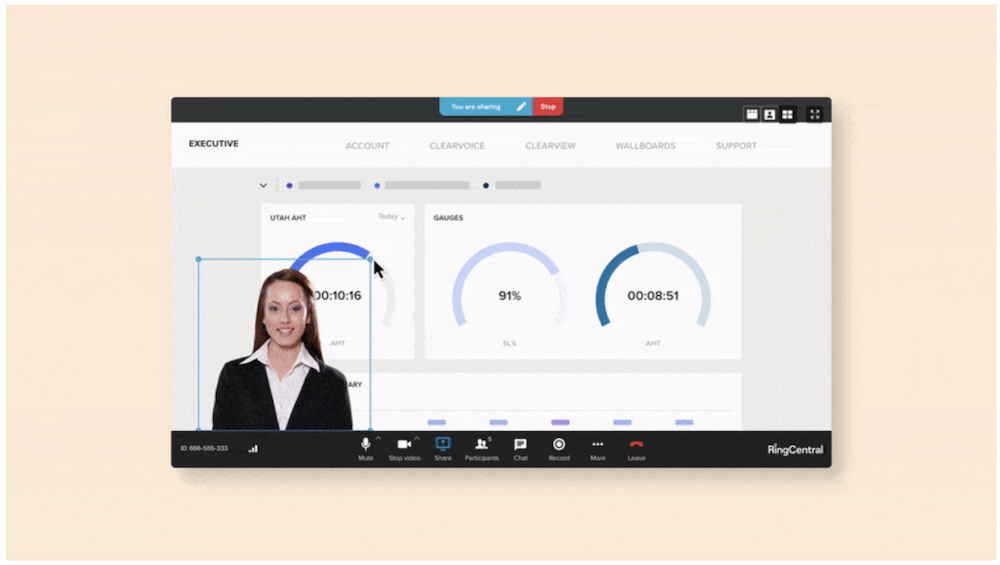 Also on the menu?
The ability to touch up your appearance during video calls with filters, adjust lighting levels, and use AI-based automated framing to keep yourself at the center of your video stream at all times.
RingCentral has also added breakout rooms, which allows them to compete on the same level as video conferencing giants like Zoom and Microsoft Teams.
Finally, the new Team Huddle tool provides an "always-on" live video or audio meeting, so users can quickly jump in to get quick answers, clear up something face-to-face, or just feel more in-tune with their fellow team members when working remotely.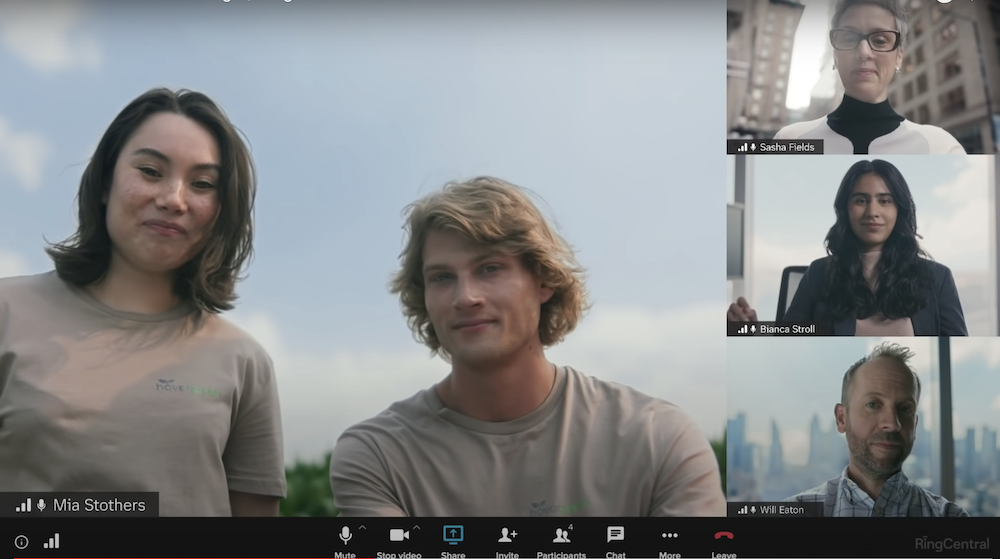 These new features make RingCentral especially attractive to primarily remote teams.
Video calling features include:
Unlimited meeting duration for up to 200 participants
Screen sharing, (desktop and app) screen annotation, remote screen control
In-meeting public/private chat messaging
No-download, browser-based access, dial-in access, Call Me access, instant and scheduled meetings
Cloud recordings and storage
Active Speaker view, closed captions, virtual backgrounds
Host controls (meeting password, meeting lock, mute participants, remove participants, etc.)
Ability to switch between devices during meetings
GoToMeeting Video Calling
GoTo Connect's included video communication tool, GoToMeeting, is equally impressive.
Now, users can access Breakout Rooms in larger meetings, creating up to 50 small groups per session for more focused brainstorming. In addition to adding virtual hand raising, (a long overdue update) GTC automatically queues participants in the order in which they raised their hands to speak — saving meeting organizers stress and ensuring no one's comment gets overlooked.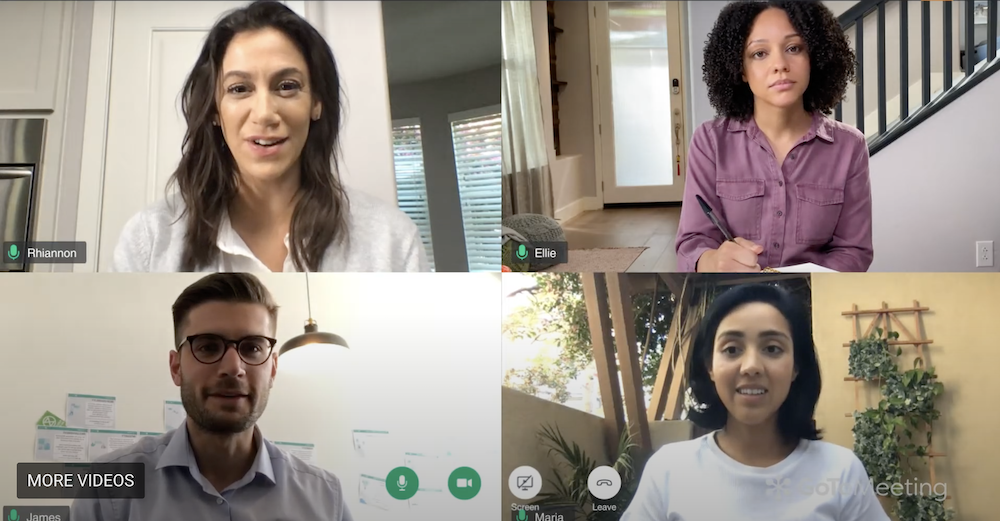 The new Slide to PDF feature automatically scans, stores, and sends multiple slide (PowerPoint, etc.)  presentations to meeting attendees in chronological order in PDF form for easier access to materials.
GoTo Connect's Note Taking feature lets users take in-app meeting notes and then automatically shares them with all meeting participants post-call. The notes are also automatically stored for long-term instant access.
The top new feature is certainly the Smart Assistant tool, which harnesses the power of AI and machine learning to automatically determine meeting Action Items and video session highlights. This is a huge help to attendees as well as to those who were unable to make the meeting.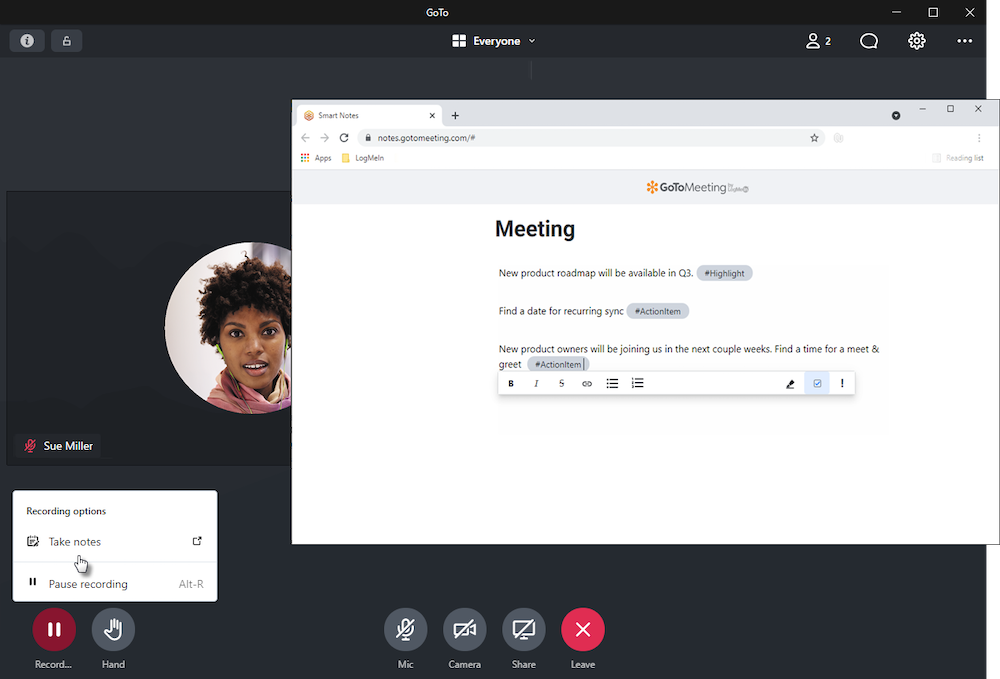 Additional video calling features include:
Unlimited meetings for up to 150 attendees
Meeting recording and transcriptions
Recording storage
Toll-free and international dial-in and Call Me access
Up to 25 simultaneous webcams
Recurring meetings
Calendar tool synching
Screen sharing (including mobile screen share)
Meeting Co-Organizers
Personal Meeting Room
Meeting locks, password-protected meetings
In-meeting chat messaging
Winner: Draw
Both RingCentral and GoToMeeting have two of the most complete video meeting tools out of any UCaaS platform, and the fact that both companies are only improving these tools is a great sign.
GoTo Connect does offer slightly higher meeting attendance caps than RingCentral but lacks features like the always-on Team Huddle of RingCentral. In this case, it's about which features will be the most useful to your team.
RingCentral Messaging and Team Collaboration
RingCentral's Message Toolbar provides intuitive options to improve the team messaging experience that mimic familiar messaging tools like Slack, so users may not need to integrate any third-party messaging tools into RingCentral.
Users can italicize, underline, strikethrough, and bold text and attach files via storage system/desktop uploads or drag-and-drop (file previews are shown.) Users can pin the most important messages, files, and images to channels to ensure they aren't overlooked.
There's no size limit to file uploads, and all images and files uploaded are neatly organized in an always-visible sidebar to prevent you from having to dig through old messages.
RingCentral also offers a feature many UCaaS systems don't — task creation and management directly within the Messaging dashboard. As shown in the image below, users can title and describe tasks, attach files, tag multiple assignees, set a due date and time, categorize and color-code tasks, and set them as recurring.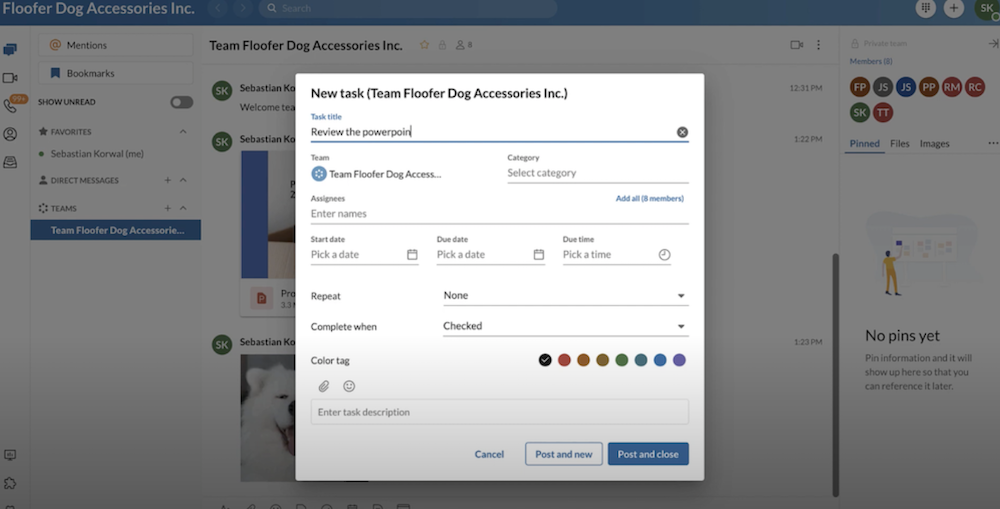 Again, this means third-party task management tools like Asana or Basecamp may not need to be integrated.
RingCentral has one of the most complete, and easiest-to-use, messaging tools we've ever reviewed.
Additional messaging and collaboration tools include:
Direct messages, channel creation (public and private)
Whiteboarding
Favorite contacts
GIF and emoji reactions
Add and color-code calendar events
Create and upload notes with images, tables, links, and more
Insert code snippet into conversation
Tag users and bookmark files/conversations
Sort by unread messages only
Invite external guest users
GoTo Connect Messaging and Team Collaboration
Unfortunately, GoTo Connect native chat features are not quite as extensive as RingCentral's are — and more advanced chat capabilities are available only via a Microsoft Teams integration.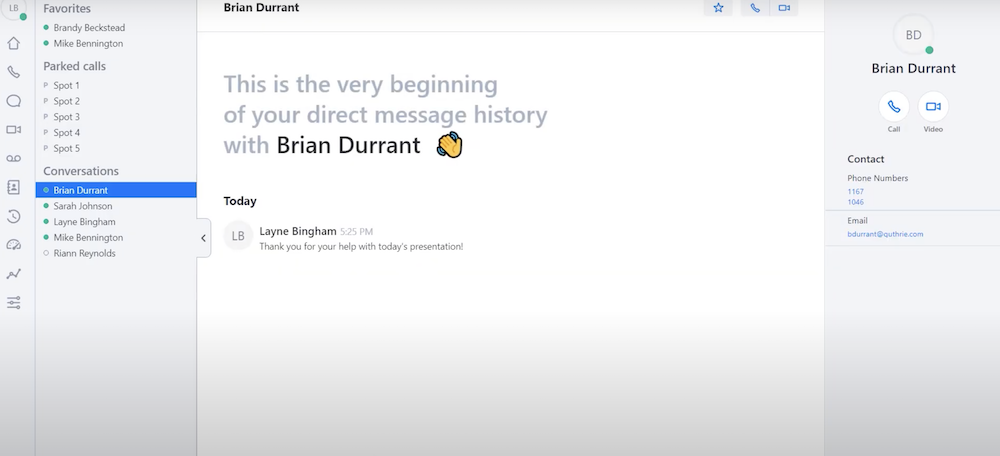 The chat tool is accessible both in and out of video meetings and is accessible in the homepage sidebar of the GoTo Connect app. Unfortunately, it is difficult to find much information about chat messaging capabilities on the GoTo Connect website, YouTube video tutorial pages, and in the online support database.
Users can send both private and group chat messages and share files, but don't seem to be able to do much else without a Slack or Teams integration.
Winner: RingCentral
Given that GoTo Connect doesn't offer much insight into their team chat messaging — and that it lacks basic features — it's easy to declare RingCentral the winner here.
RingCentral Analytics and Reporting
Businesses looking for a platform with detailed, customizable historical and real-time reporting that provides both a bird's-eye view and big-picture insight into agent activity will get a lot out of RingCentral.
Its phone system analytics are incredibly thorough, providing information on meetings, Quality of Service, agent performance, user activity, and more. Admins can set up custom real-time alerts to solve issues quickly and set up automated reports via email at a frequency of their choosing.
Reports are easy to customize thanks to 30+ premade KPIs and filters, but report templates are also available. Data can be filtered by date, call type, call queue, call length, by specific agent, and by department/groups.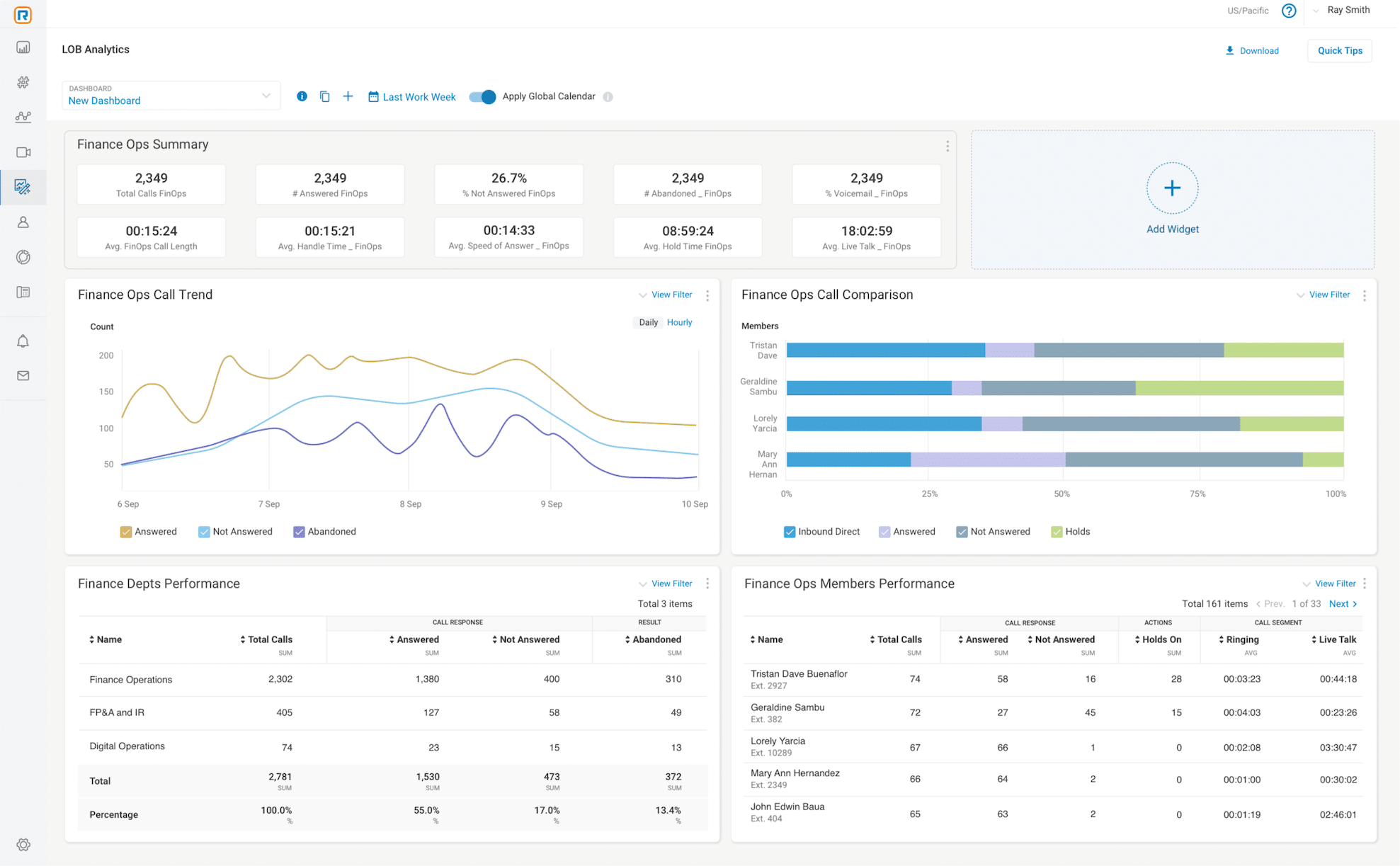 GoTo Connect Analytics and Reporting
GoTo Connect also offers a variety of historical and real-time analytics, but the downside is that more advanced data requires the purchase of the Contact Center add-on, which has custom pricing tiers.
Basic users can access call logs/call history, as well as limited data like call length and volume, call queues, available agents, longest wait and talk times, and call response.
Top Contact Center add-on analytics include Caller Perspective, Agent Experience, Agent Effectiveness Analytics reports and real-time queue management.
GoTo Connect stores data from the past 90 days and provides customizable and pre-made reporting templates that can be filtered by date, time, queue, and agent.
Additional support metrics include:
Average answer speed
Contact resolution totals
Number of calls abandoned, timed out, handled, etc.
Agent Summaries
Account usage reports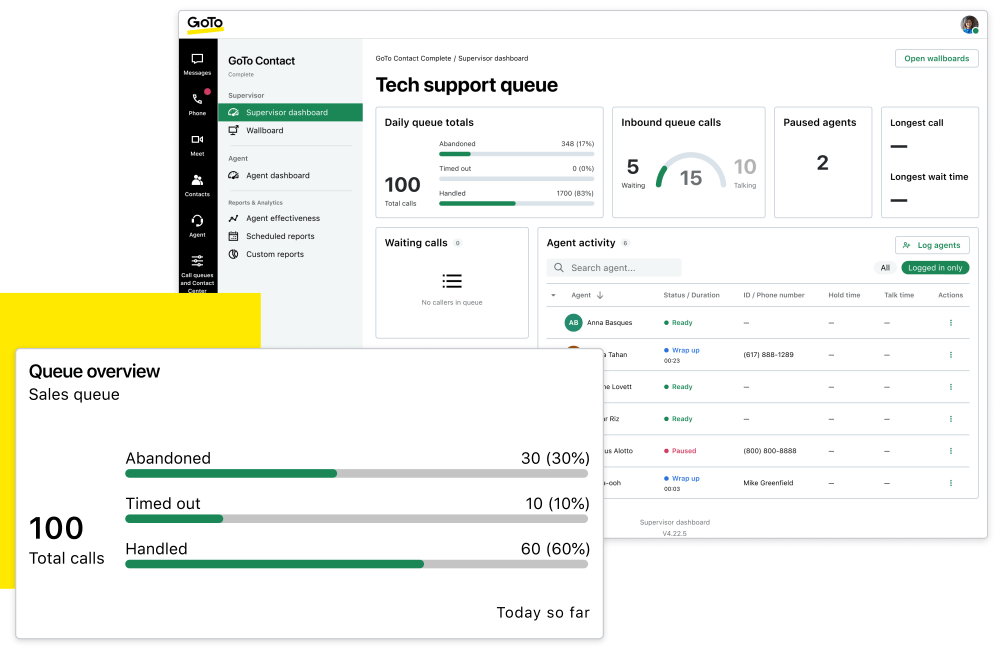 Winner: RingCentral
RingCentral offers a higher number of overall analytics and reports without requiring an additional purchase like GoTo Connect does.
RingCentral Platform Security and Call Quality
RingCentral has comprehensive 7-layer security and privacy strategy that serves as a leading example in the VoIP industry.
RingCentral is GDPR and HIPAA compliant, has several third-party security certifications (HITRUST CSF, C5: 2020, SSAE-16 SOC 2, etc.) and its physical servers are housed in a facility with 24/7 monitoring and security.  It offers 24/7 network monitoring, firewall protection, access management, SRTP/TLS 1.2 encryption, and geographic redundancy.
RingCentral has recently implemented end-to-end encryption for audio and video.
RingCentral users benefit from strong security features like SSO, two-factor authentication, and admin controls that let you manage team member access.
RingCentral's 99.999% guaranteed uptime means users should experience a maximum of 26 seconds of downtime per month.
The platform also offers superior call quality with background noise reduction thanks to its HD Voice and Video powered by the OPUS Interactive and G.722 codecs.
GoTo Connect Platform Security and Call Quality 
GoTo Connect provides TLS/AES-256 encryption, GDPR, HIPAA, and CCPA compliance, and SOC2 Type II, SOC3, and C5 certification. Its servers are physically monitored in an access-controlled facility, offers malware and firewall protection, and two-factor authentication.
GoTo Connect's 99.996% guaranteed uptime falls short of the "five 9" gold standard, but still performs well thanks to low bandwidth usage.
Like RingCentral, GoTo Connect uses the OPUS and G.722 codecs to provide HD audio and video. Plus, with 10 global data centers, jitter and latency remain low.
Winner: RingCentral
GoTo Connect does not provide nearly as much transparency and information on VoIP security practices as RingCentral does. The data GoTo Connect does provide is disorganized and scattered across multiple whitepapers, making it difficult to tell which practices are currently in effect for which product.
Plus, RingCentral provides end-to-end encryption, (GTC does not) 24/7 network monitoring, and a higher overall uptime.
| | | |
| --- | --- | --- |
| Feature | RingCentral | GoTo Connect |
| Uptime | 99.999% | 99.996% |
| End-to-End Encryption | ✓ | TLS and AES-256 only |
| SSO and Two-Factor Authentication | ✓ | ✓ |
| Network Monitoring | 24/7 | Unlisted |
RingCentral Hardware
RingCentral sells a variety of desktop, cordless, receptionist, and conference phones in addition to headsets.
These compatible phones are from trusted brands like Cisco, Yealink, and Polycom, ranging in price from under $100.00 to over $400.00. Phones and other VoIP equipment are also available to rent for a minimum of 24 months.
RC assists with provisioning for all devices they sell as well as select models from Cisco, Yealink, and Polycom. RingCentral will work with a select number of devices from Snom, Aastra, Grandstream, and Panasonic. Note that hardware from Shoretel, Mitel, 3Com, and XBlue will not work with RingCentral.
Our piece on RingCentral compatible phones offers more information.
GoTo Connect Hardware
GoTo Connect also sells desktop, conference, and cordless phones from trusted names like Yealink, Cisco, and Polycom. Offers range in price from $119.00 to $615.00. GoTo Connect does not offer phones for rental, but the good news is that the system is compatible with many more devices than RingCentral.
Aastra, VTech, Snom, Panasonic, Grandstream, Linksys, and Audicode phones all work with GoTo Connect, and any headphones that work with your computer will work with the platform.
Winner: GoTo Connect
Even though RingCentral sells more affordably-priced desk phones, the fact that it isn't compatible with a variety of popular phone models and will therefore require many customers to purchase a phone directly from RingCentral makes GoTo Connect the winner.
Plus, for businesses that primarily communicate via telephone, investing in a quality, reliable phone with advanced features is worth it. Those that don't want to purchase a new phone will likely find that their existing phone, as well as exiting headsets, are compatible with GoTo Connect.
| | | |
| --- | --- | --- |
| Features | RingCentral | GoTo Connect |
| Compatible Systems | Cisco, Polycom, Yealink, Snom, Aastra, Grandstream, Panasonic | Cisco, Polycom, Yealink, Aastra, VTech, Snom, Panasonic, Grandstream, Linksys, Audicode |
| Offers Hardware Rental | ✓ | X |
| Hardware Price Range | $100.00-$427.00 | $119.00-$615.00 |
RingCentral Integrations
RingCentral recently launched their new "Add-Ins" tool, which lets RC users integrate third-party apps or build their own bots directly within the Team Messaging interface. This means users can receive reminders and complete tasks from other apps without having to switch from the Messaging interface.
For example, users can now sign DocuSign documents directly in the message threads, as shown in the image below.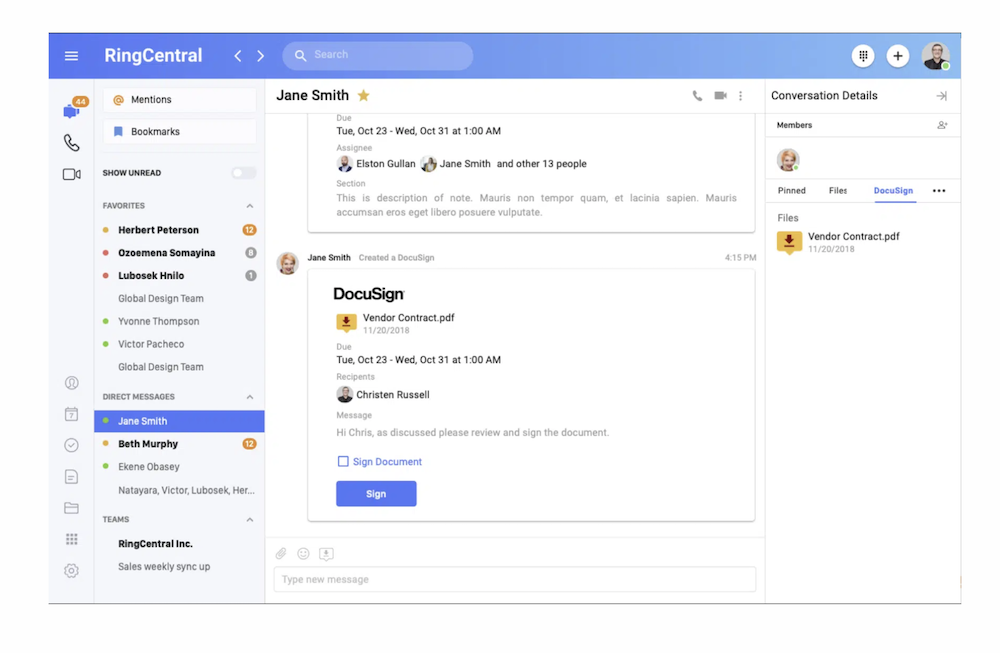 Top RingCentral integrations available in the RingCentral App Gallery include:
Salesforce, HubSpot
Slack, Asana, EverNote, Trello
Canvas, Post Call, Bitrix, Chorus.ai, MailChimp
Microsoft Teams, Microsoft Outlook, and Microsoft 365
Dropbox, Box, OneDrive
Google Chrome, Google Drive, Google Workspace, Gmail
Zendesk, Freshdesk, Zoho CRM, SugarCRM
Zapier, GitHub
RingCentral also has a thriving developer community, open source APIs and SDKs, and more.
GoTo Connect Integrations
The GoTo App Marketplace offers fewer integrations than RingCentral does, and its Basic plan offers only GSuite and Outlook integrations. Plus, industry-specific, advanced integrations are available only on the most expensive plan.
The upside is its active GoTo Developer community, accessible to users within the entire GoTo universe (GoToWebinar, GoToMeeting, etc.) Popular APIs include screen pops, call reporting, and click-to-call.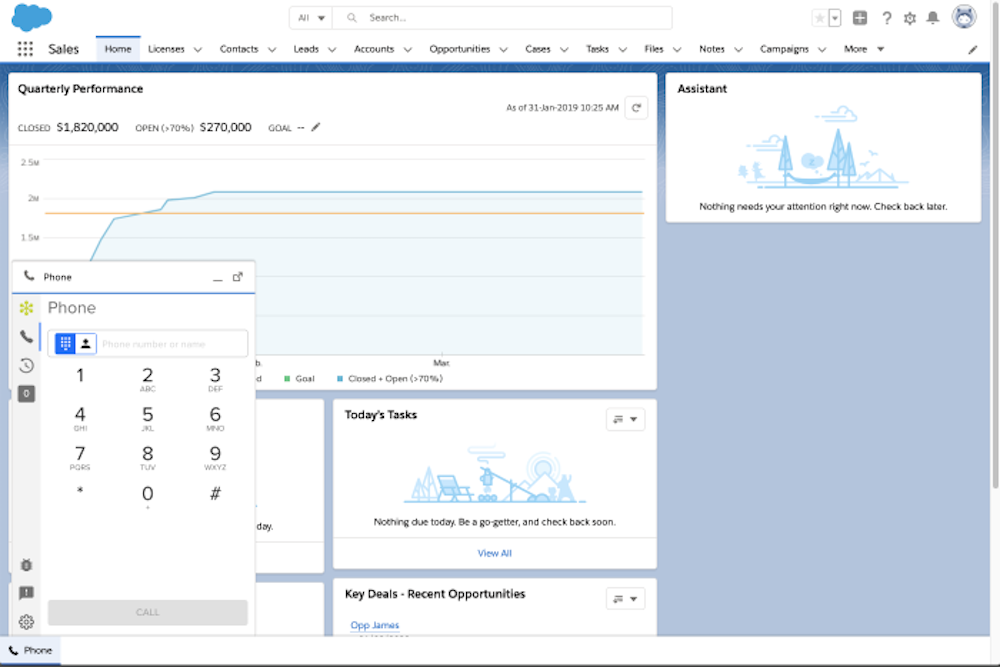 As of this writing, GoToMeeting integrations are limited to:
Salesforce, HubSpot, ZohoCRM, Zendesk
Slack
Zapier
Microsoft Teams
Google Workspace
CirQlive, Redtail, Clio, Curve Dental, Vet Pawer, Catapult EMS
Purple Cloud, Swell, Momentum, Blue Butler, Revenue Well
CallerID.com, MacPractice, LawGro, Call Cabinet
Winner: RingCentral
RingCentral takes the win here as it offers a higher number of integrations than GoTo Connect. Plus, the recent Add-In tool simplifies the integration process for RC users as a whole.
That said, since GoTo Connect is geared towards smaller businesses with fewer integration needs and relies on just one business communication software instead of many, the lack of integrations may not be an issue.
RingCentral Mobile Application
The RingCentral App offers a mobile application for iOS and Android devices. The mobile app has a clean interface designed to mimic the look and functionality of the desktop application as closely as possible.
Users can bring their own devices (BYOD) and separate personal contacts from business ones.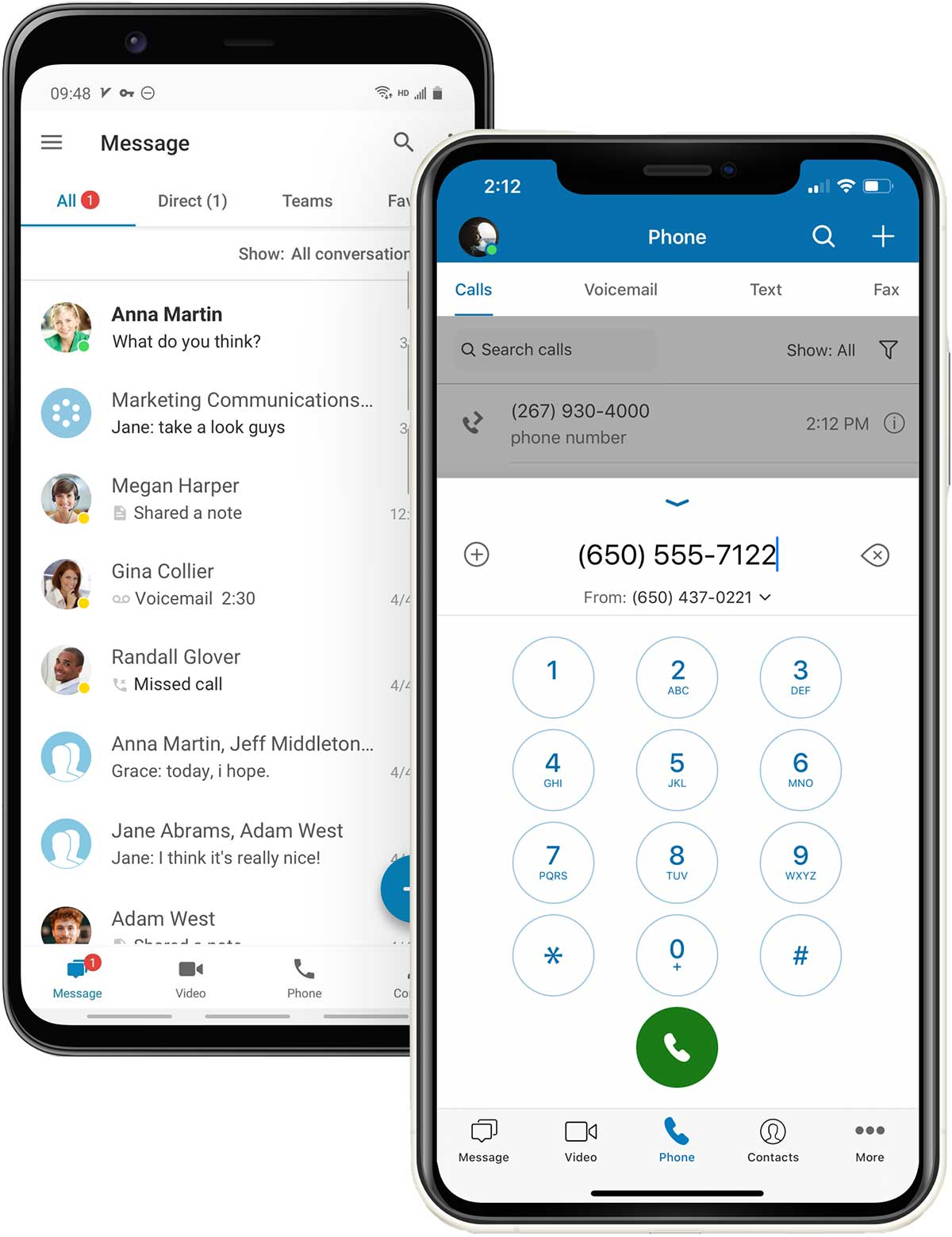 Mobile app capabilities include:
Team chat messaging, team/channel creation, link and file sharing
Host or join instant or pre-scheduled HD video meetings with dial-in, calendar, or link access
Business voice calls, SMS texting, online faxing
Basic call logs
Host/join audio conference call, access virtual/audio voicemail messages
GoTo Connect Mobile Application
GoTo Connect's mobile app is also available for iOS and Android users.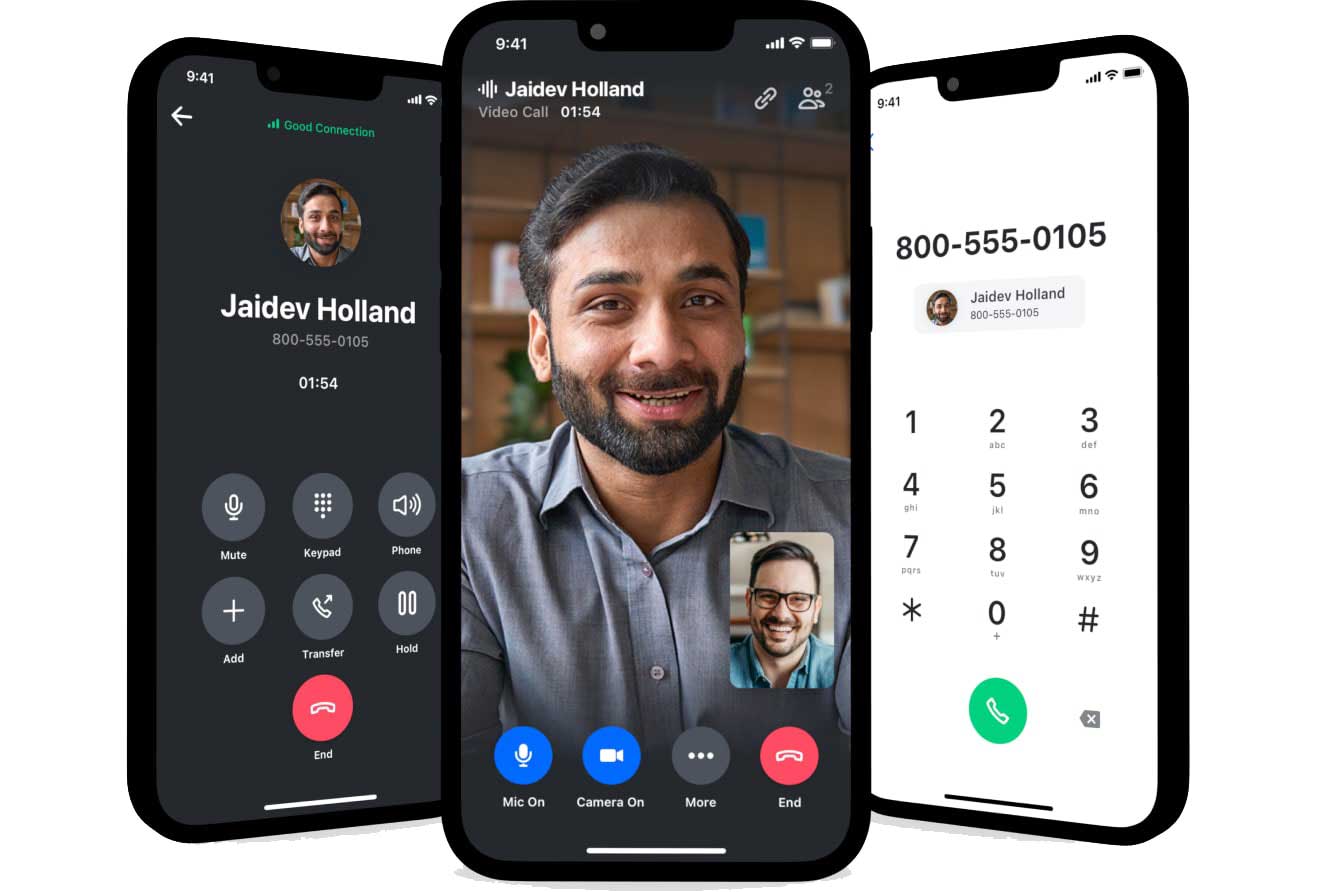 The app's homepage displays upcoming events and recent communications history that can be filtered by type (voicemail, calls, etc.) Push notifications and in-app notifications are also available.
Key features like Do Not Disturb, extension selection, and Hide Caller ID are also available from the home screen.
Other mobile features include:
SMS/MMS messaging
Mobile video meeting access
Contact synching
Meeting calendar
Voice calling, three-way calling, warm/cold transfers, hold
Notifications
Winner: GoTo Connect
The simplicity of GoTo Connect's mobile app — especially when it comes to its well-organized and intuitive homescreen.
However, GTC mobile users will not be able to access team chat messaging or screen sharing in the mobile app (though screen sharing is available in the browser-based version.)
RingCentral Ease of Use
RingCentral users can customize their dashboards according to personal preference, create and edit IVR call paths via a drag-and-drop interface, and take advantage of one-click video and voice calling.
RingCentral's RingOut feature lets users make calls by clicking any phone number on a web page, in contact lists and documents, within messages and call logs, and even in third-party applications. The RingOut feature then dials your phone and connects you to the desired party, allowing you to save money by charging you for an inbound, not outbound, call.
In terms of installation, RingCentral offers free detailed onboarding documentation as well as paid implementation, integration, and migration services. RingCentral University also provides a series of free on-demand and live training courses.
Though RingCentral offers numerous "bells and whistles," these extra features come at a major cost — overall ease of use.
GoTo Connect Ease of Use
This is where GoTo Connect really shines, especially when it comes to its voice and video calling application interfaces. The user dashboard includes a list of recent contacts, always-on visual notifications in the side bar, and expandable, clear icons of other key calling features like voicemail and SMS.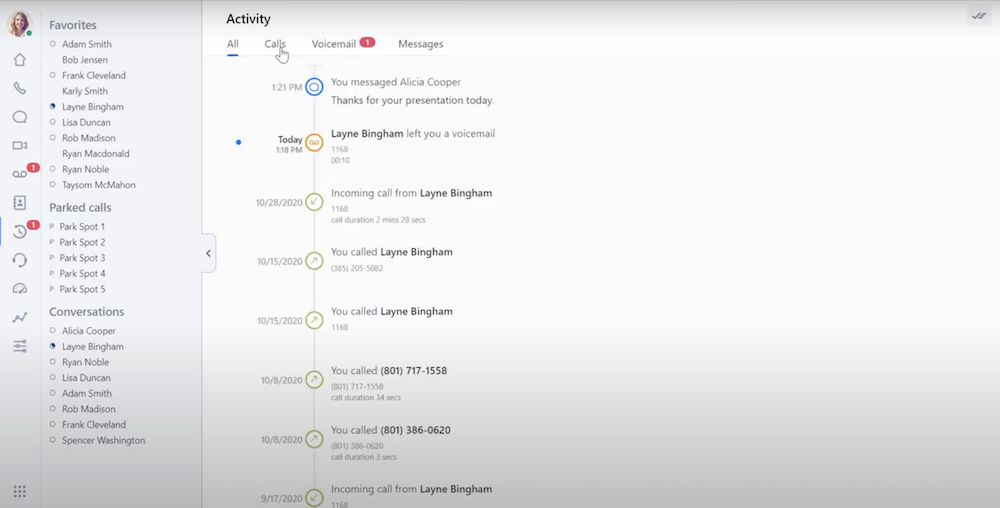 Best of all, GoTo Connect's "Activity Stream" (seen above) provides a clear overview of all recent activity — not just recent call logs. Users can see all of their recent activity (calls, voice messages, chart messages, etc.) or filter them accordingly.
Winner: GoTo Connect
Everything is intuitive and simple with GoTo Connect, from accessing recent call history to scheduling an upcoming video call. The platform's overall ease of use is expressed best in its drag-and-drop Dial Plan Editor and Activity Stream tools.
RingCentral Customer Support
RingCentral offers 24/7 phone and chat support to Core, Advanced, and Ultra users. Users can also open a Support Case online and check its status, use the extensive online knowledge base, or ask other users for support in the Community forum.
We tested RingCentral's automated support chatbot, RChee.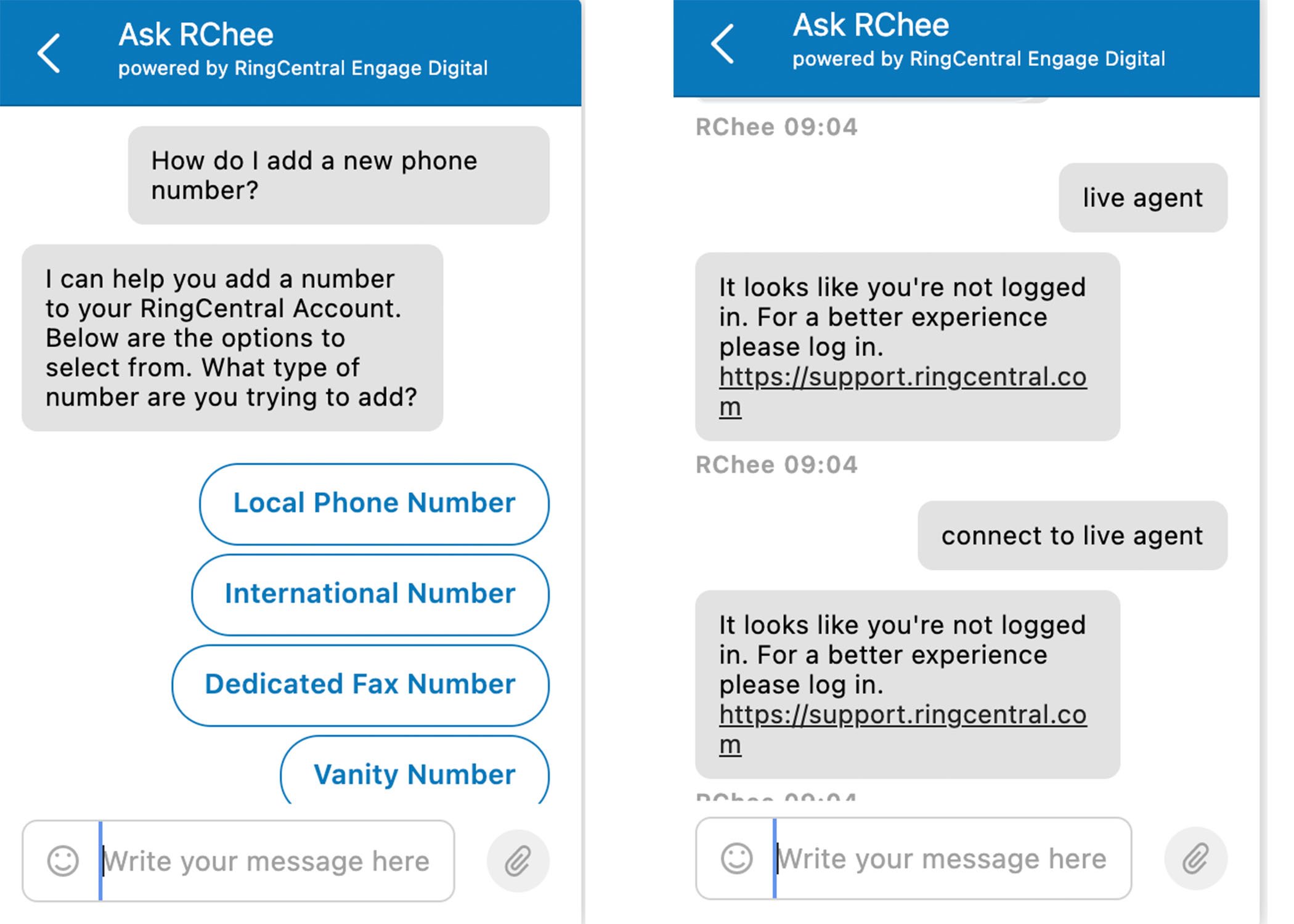 The bot recognized keywords and asked questions to connect us to relevant knowledge base articles, but connecting to a live agent via chat seems to require a login.
Our hands-on review of the best ways to reach RingCentral customer support offers additional information.
GoTo Connect Customer Support
GoTo Connect advertises 24/7 support heavily on its website, but fails to mention that the 24/7 phone and email support are only available to Standard customers.
While all users can always access the information in the GoTo Connect Support Center online knowledge base, the truth is that much of the information there is outdated, incomplete, or difficult to find.
Especially when compared to other providers' knowledge bases, which offer detailed tutorials and easy-to-follow user guides, the GoTo Connect online support database is seriously lacking, filled with only a handfull of truly helpful video guides.
To make matters worse, GoTo Connect's online chatbot is, to put it mildly, barely functioning — especially when compared to RingCentral's. The bot, as illustrated in the image below, failed to recognize and assist with even the most basic information.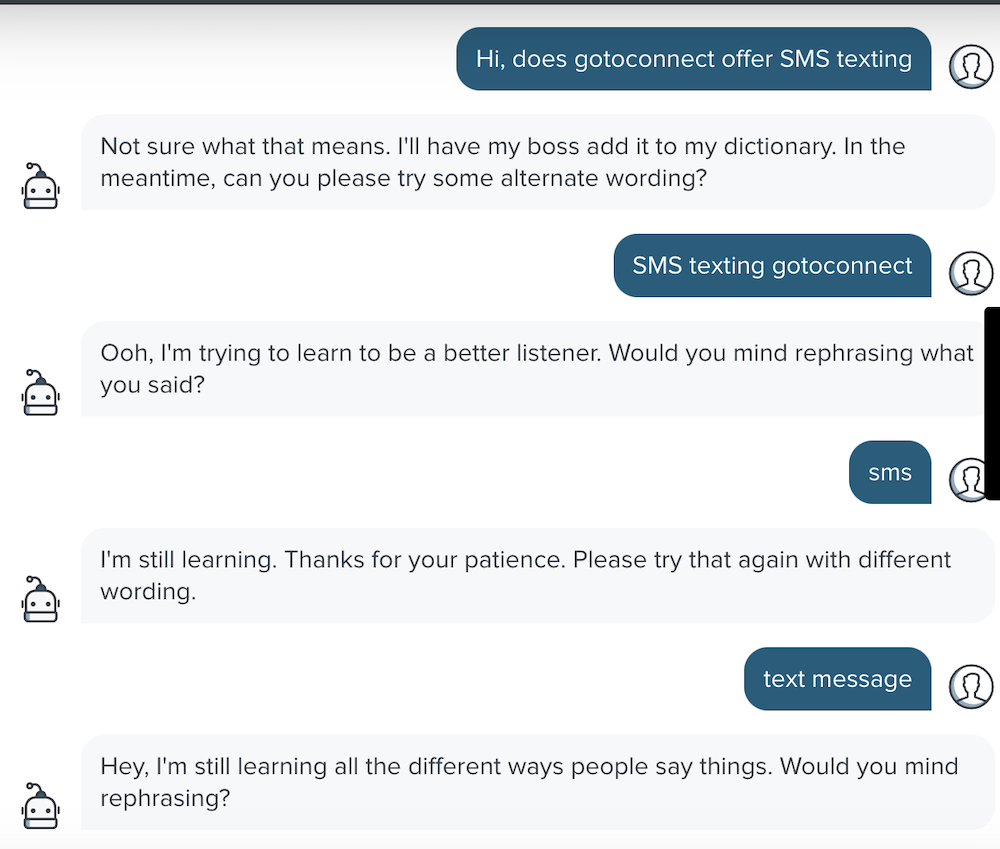 To GoTo Connect's credit, they are in the process of updating their user support knowledge base — but there's no timeline on when that will be completed.
Winner: RingCentral
RingCentral offers more detailed and more accessible customer support than GoTo Connect in every aspect.
Pricing and Plans: GoTo Connect vs RingCentral
Below, we've outlined the available pricing and plans for GoTo Connect and RingCentral.
RingCentral Pricing and Plans
RingCentral MVP offers three paid plans, payable on a monthly or annual basis.
A 14-day free trial is available for up to 5 users.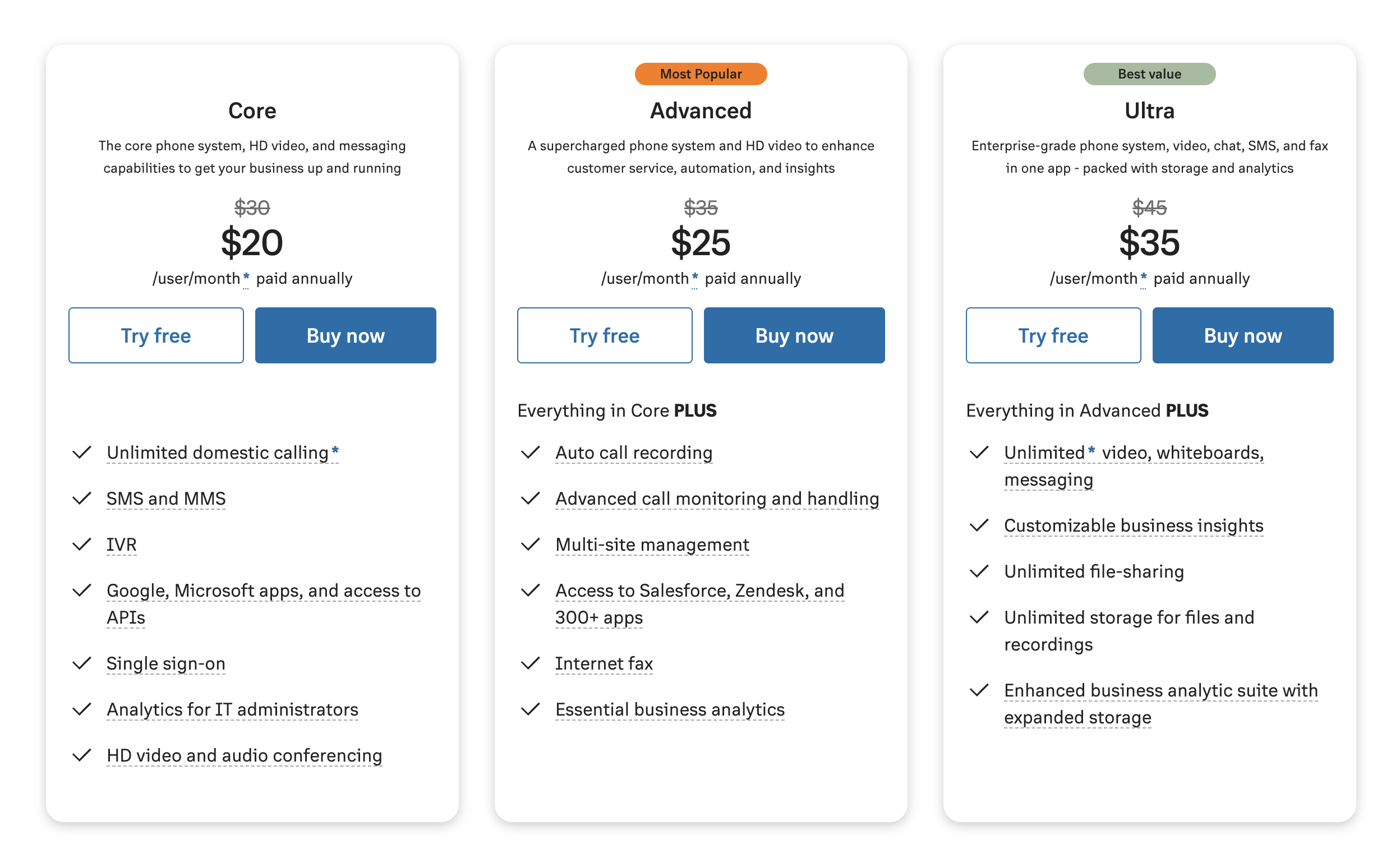 The Core plan includes all core communication channels — VoIP calling, SMS, web chat, and video conferencing for up to 100 participants — plus team chat collaboration rooms, with file sharing, task management, and team huddle. However, it limited each user to just 25 texts per month. The Advanced plan adds call monitoring, advanced routing rules, 1000 toll-free minutes, lets each user send 100 texts per month, and adds a few advanced analytics features. The Ultra plan expands the video meeting capacity to 200 users, supports unlimited file storage, and lets each user send 200 texts per month.
A limited number of add-ons are available, outlined in the image below.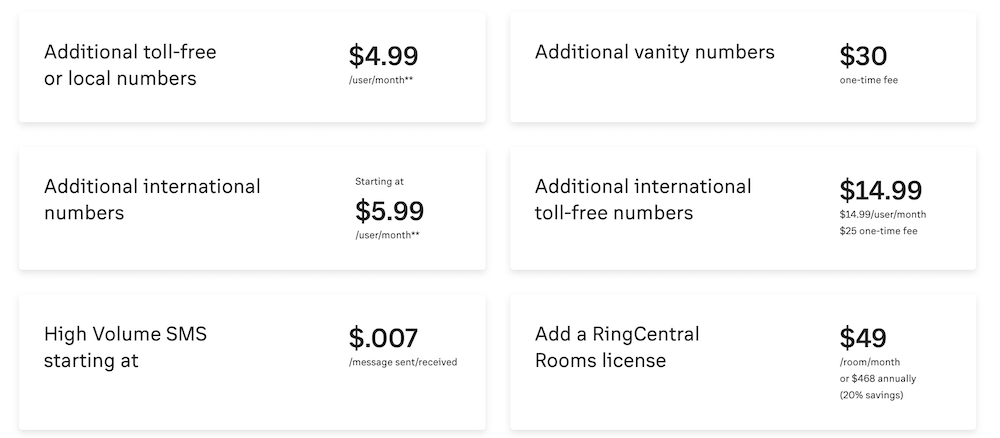 GoTo Connect Pricing and Plans
GoTo Connect offers two plans payable on a monthly or annual basis. Like RingCentral, pricing is determined by the number of users, available in blocks of 1, 2-10, 11-20, 21-50, 51-100, and 101+.
The provider offers a 14-day free trial of the Standard plan with ring groups, call queues, dial plans, and auto-attendants.
Pricing for 2-10 users, the most popular choice, is outlined below.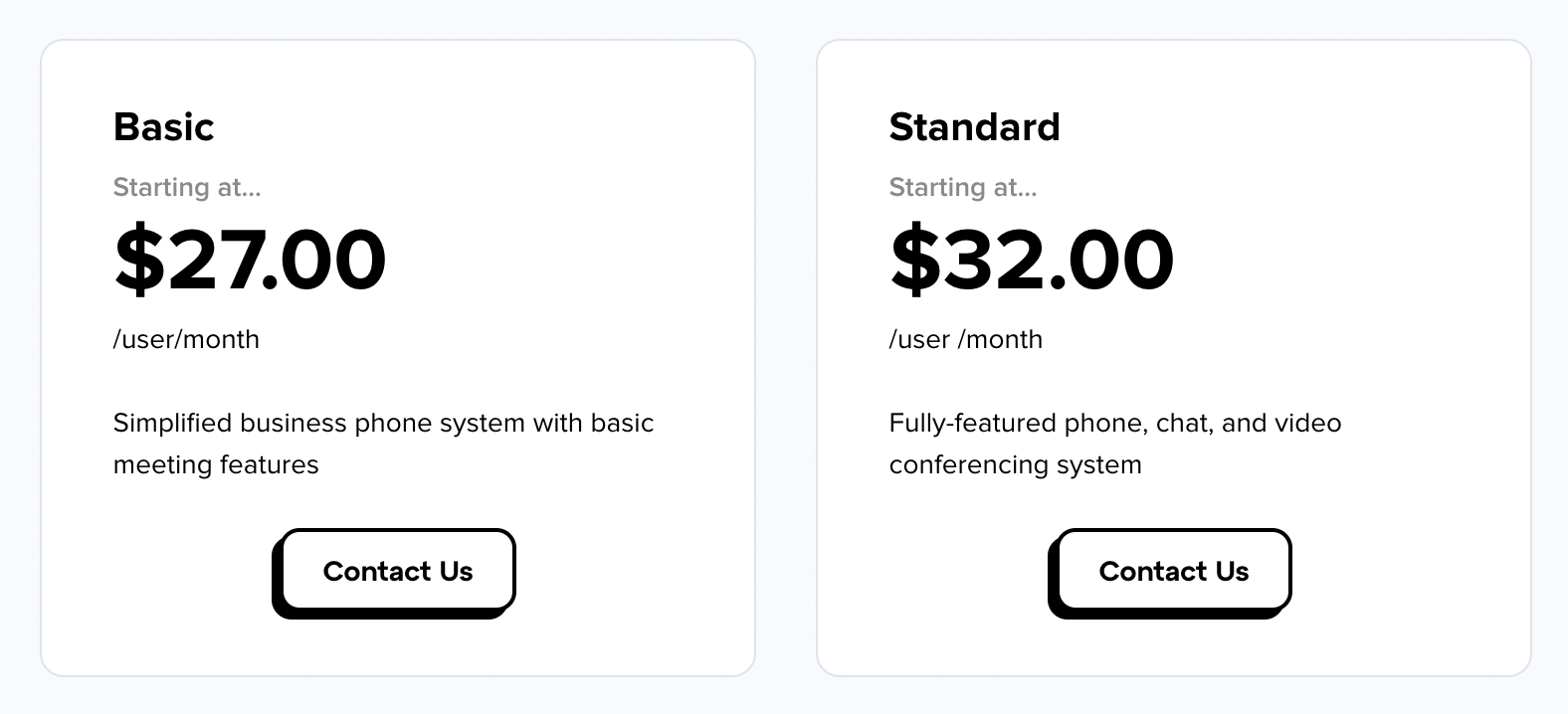 All of GoTo Connect's plans come with video conferencing capabilities — but the Basic plan allows for a maximum of 4 attendees to meet for up to 40 minutes only.
The Basic plan does not include call recording and allows for only 1 IVR menu, customized dial plan, call queue, and ring group. Therefore, the Basic plan really only benefits new or micro businesses with simple communication needs.
The Standard plan offers unlimited queues, ring groups, dial plans, and auto-attendants. It also includes 1,000 toll-free minutes, real-time analytics and call reports, and unlimited video meeting durations for 150 participants. Add-ons include customer engagement features, contact center features, and additional phone numbers for $5.00/number per month.
Winner: RingCentral
Though GoTo Connect is the cheaper option, RingCentral provides a greater overall value for less than $10 more per month. At $25/user per month, RingCentral's Ultra plan includes 1000 toll-free minutes, voicemail-to-text/email, advanced and real-time analytics, and 24/7 support.
Comparable features and functionalities are available only with GoTo Connect's $29/user per month Standard plan. Even then, RingCentral offers a stronger feature set and has more available add-ons.
GoTo Connect Pros and Cons
GoTo Connect offers over 100 standard voice calling features that somehow still manage not to completely overwhelm the user. Its interface is intuitive, uncluttered, and just as effective in mobile format as it is when used with desktop computers.
Though GoTo Connect is much more user-friendly and less intimidating than many other UCaaS software solutions, the lack of adequate customer support is an enormous issue.
Users should expect to have to rely on in-house IT teams or assistance/videos from other GoTo Connect users or third-party specialists for day-to-day issues.
The below table shows GoTo Connect's biggest pros and cons.
| | |
| --- | --- |
| GoTo Connect Pros | GoTo Connect Cons |
| Both plans include video conferencing | Key features like call analytics, call monitoring, and real-time data are only available on the Standard plan or as an add-on |
| Integrates with over 180 desk phone models and devices | Limited third-party software integrations, especially when compared to most other VoIP providers |
| Easy-to-use, well-designed mobile application provides the most essential information on the app home page | Customer support is seriously lacking in all forms, especially when it comes to its online knowledge base and support chatbot |
| Advanced Dial Plan Editor provides a refreshingly intuitive call path design strategy | An overfocus on industry-specific integrations instead of integration with key/standard business communication and team collaboration tools like Asana, EverNote, Dropbox, etc. |
RingCentral Pros and Cons
In terms of overall user experience, RingCentral gets a lot of things right — most notably, video communication and team chat messaging.
Plus, the sheer amount of features and high level of customization RingCentral offers makes it attractive to small businesses looking for a scalable and specialized business communication solution.
Ironically, telephone communication is where RingCentral MVP is lacking.
Overly complex interfaces and configuration options are puzzling given the relatively standard voice calling features RingCentral offers. In an attempt to keep up with competitors regarding voice and messaging, it seems RingCentral has failed to adequately update its virtual telephony features.
The below table highlights RingCentral's top pros and cons.
| | |
| --- | --- |
| RingCentral Pros | RingCentral Cons |
| Superior team chat messaging and team collaboration tool that negates the need to integrate third-party messaging and collaboration systems | Each plan caps a user's monthly text allowance, with high-volume texts reserved as an add-on |
| Recent video conferencing updates offer major advantages to remote or blended teams and put RingCentral on the level of top video calling tool competitors | Frustrating, non-intuitive IVR setup and call flow design process |
| High level of security measures, transparency regarding security and privacy management policies | Limited hardware compatibility will require most businesses to purchase a new business phone from RingCentral |
| Advanced, highly-customizable analytics make it easy to drill down data and better identify bottlenecks and recurring issues | Though RingCentral Support is available 24/7, getting connected to an agent with the training to assist with your specific issue takes too long and often requires multiple support interactions |
Which Provider is Right for Your Business?
The below comparison tables offer insight into who should use RingCentral and who should use GoTo Connect, as well as advice about the types of businesses that should seek alternatives to each platform.
| | |
| --- | --- |
| RingCentral Is Best For | RingCentral Is Not Right For |
| Remote or blended geographically diverse teams that need to closely replicate the in-office experience | Businesses whose primary communication channel is voice calling |
| Small to medium-sized businesses of between 10-100 employees | Newer businesses on a budget that need affordable month-to-month plans without signing a lengthy contract |
| Businesses of any size that need a unified communications solution that integrates with third-party software their teams already use and don't want to migrate away from | Enterprise-level, large-scale businesses with complex IVR system setup needs |
| Businesses in the healthcare or government sectors that prioritize platform security and privacy | Small in-house-only teams of ten or fewer hat likely won't need the extensive features RingCentral offers and could get everything they need out of a more affordable software |
| | |
| --- | --- |
| GoToConect Is Best For | GoTo Connect Is Not Right For |
| Small teams, startups, solopreneurs, or micro businesses of between 2-10 employees | Companies of any size with a high daily call volume |
| In-house teams with only a few remote/blended employees that communicate primarily by voice calling, secondarily via video calling | Large-scale, geographically diverse enterprises that communicate internally and externally across multiple channels throughout the day |
| Businesses that want to rely primarily on a single business communication platform | Companies using business communication/collaboration/task management tools they want to continue to use with GoTo Connect |
| Small businesses that don't need "fancy" VoIP phone system features, but are more concerned with finding an affordable, easy-to-use system | New businesses that need a VoIP provider with long-term scalability and advanced communication features available a la carte or in a higher plan tier |
RingCentral provides a greater overall value at a cheaper monthly price. At $25/user per month, RingCentral's Advanced plan includes 1000 toll-free minutes, voicemail-to-text/email, advanced and real-time analytics, and 24/7 support.
Comparable features and functionalities are available only with GoTo Connect's $29/user per month Standard plan or the contact center add-on. Even then, RingCentral offers a stronger feature set and has more available add-ons.
Alternatives to RingCentral and GoTo Connect
If this comparison of GoTo Connect vs RingCentral left you feeling unsatisfied with both providers, or if you're interested in learning about other options, we can help.
Our overview of top business VoIP providers includes information on user experience, features, and pricing for popular tools like Nextiva, Vonage, Dialpad, and more. For more detailed comparisons, check out our other head-to-head comparison articles, like RingCentral vs. Nextiva or RingCentral vs Phone.com.