Phone.com and RingCentral are two of the most popular UCaaS solutions, each providing voice, video, and messaging functionality streamlined in an omnichannel dashboard.
In this head-to-head comparison of RingCentral MVP vs Phone.com, we'll explore each business communication system's key features, pricing and plans, integrations, and user experience.
Phone.com vs RingCentral: Overview
Here is a quick overview of Phone.com vs RingCentral.
Phone.com
RingCentral
Pricing
$11.99-$29.99/user/mo
$20-$35/user/mo
Key Features
– Video Conferencing up to 100 participants

– Call Queues

– Call Recording

– SMS Text Messaging

– 99.999% SLA Uptime

– Single Sign-On and TLS encryption/SRTP

– Real-Time Analytics

Integrations
5 integrations including Zoho, Zapier, AllProWebTools, Chrometa, and Comm100
250+ integrations including Salesforce, Zoho, Zendesk, Hubspot, and Slack
Compatible Phones
Cisco, Grandstream, Poly, and Yealink
Poly, Unify, Cisco, Yealink, Avaya, and Poly
Support Options
Phone, Email, Live Chat, and Self-Service
Phone, Live Chat, Self-Service
Best for
Entrepreneurs, Startups, SMBs
Large Businesses, Enterprises, and Call Centers
Phone.com vs RingCentral: Feature Comparison
In this section, we'll compare each provider's top features, declaring a winner for each.
Phone.com Voice Calling
For every user, Phone.com provides one toll-free, vanity, or local number per user, along with number porting for existing business phone numbers.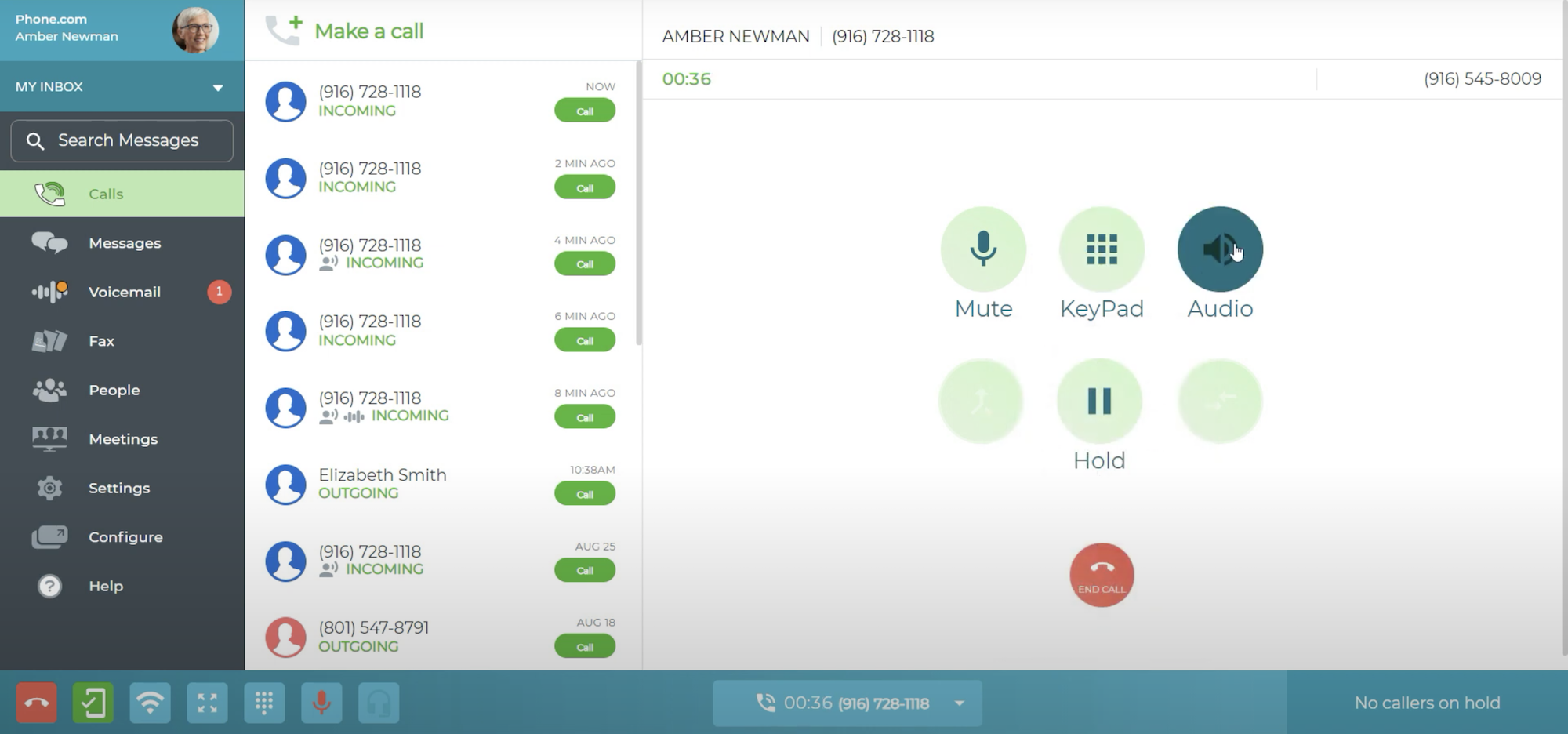 Phone.com plans bill international calling to some countries–including Canada, France, Germany, Israel, Italy, the United Kingdom, and iNUM global numbers–at local U.S. rates.
Calls to other countries are paid on a per-minute basis at the country's international calling rate, and global numbers with a local presence are available as paid add-ons.
One of Phone.com's key call handling features is Text to Greeting, where users transform typed greeting messages into customized audio files with 40+ automated voice personalities and sound effects.
Advanced call screening features like caller ID and Voice Tagging let agents hear a caller's IVR (Interactive Voice Response) menu selections before connecting them, ensuring the best possible support.
Other Phone.com VoIP phone service features include:
Call Screening
Hold Music
IVR
Call Queues
SMS Text Messaging
Voicemail Transcription
Upgrade to Unlimited Extensions
RingCentral Voice Calling
Though none of RingCentral's MVP plans include international calling outside the U.S. and Canada, users can purchase bundled international calling minutes with volume discounts or pay-as-you-go pricing. Unlimited outbound calling/messaging to 100+ countries are available via RingCentral's Global Unlimited MVP plan.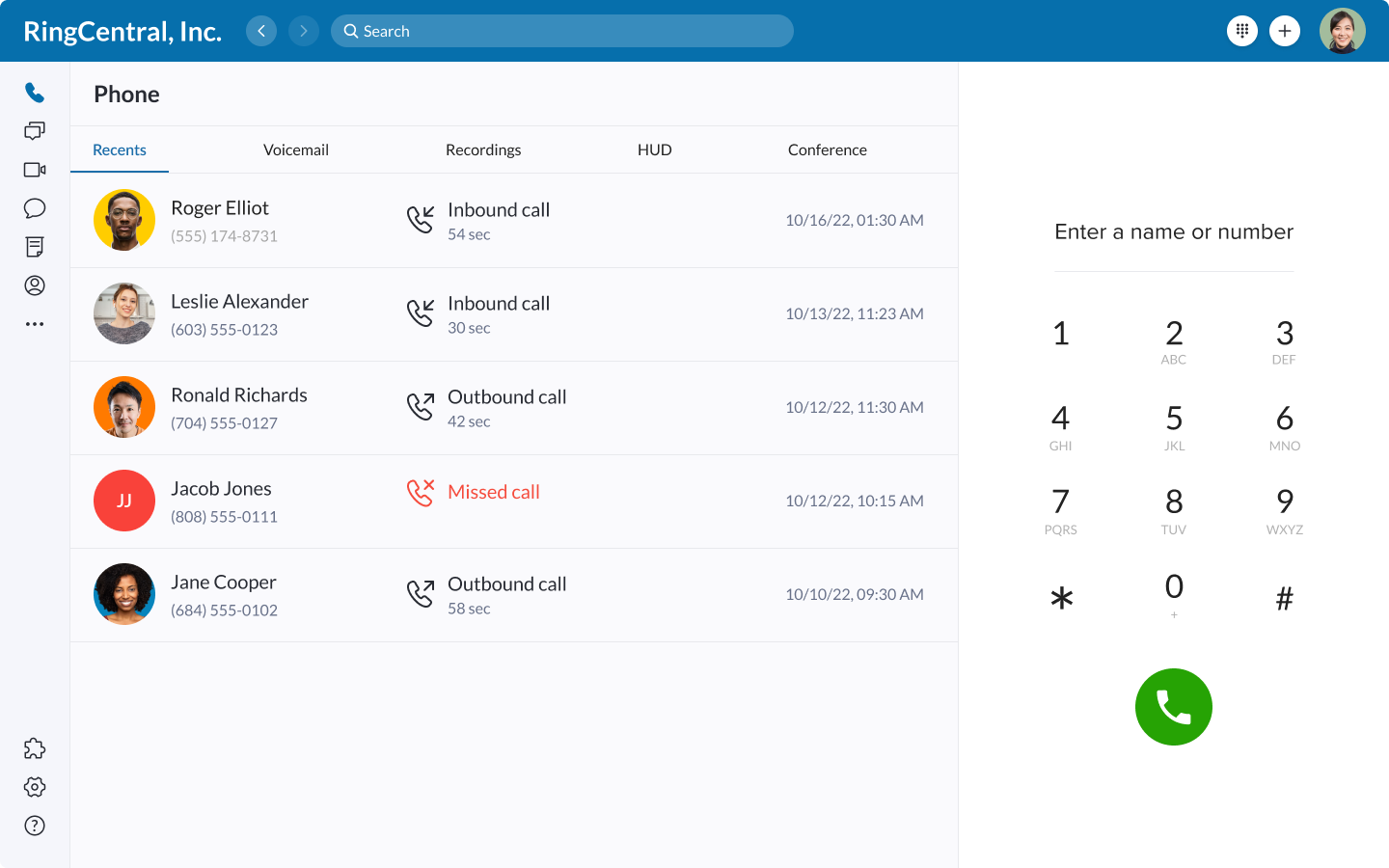 Local, vanity, international, and toll-free numbers are offered, alongside number porting.
Thanks to its 99.999% uptime guarantee, RingCentral has more reliable voice calling than Phone.com. While both providers are HIPAA compliant,
RingCentral includes additional security features like:
Single Sign-On
AI-based Spam Blocking
Robocall mitigation using STIR/SHAKEN standards
Number Masking
TLS Encryption
RingCentral's more expensive plans offer more advanced calling features than Phone.com, including hot desking, call monitoring/whisper/barge, and in-depth real-time analytics.
However, MVP's, Essentials plan lacks call queueing and IVR–both of which are included in all Phone.com plans.
Winner: Draw
The winner for voice calling depends largely on your business needs. Larger businesses reliant on high security, uninterrupted service, and a plethora of advanced features will benefit more from RingCentral; while small businesses may get more value from Phone.com.
Phone.com Video Calling
Phone.com includes video conferencing for all customers, and the maximum number of participants and in-meeting features increase with each plan.
Phone.com's Basic plan allows for 10 participants, unlimited meetings of unlimited duration, and basic features such as screen sharing and in-meeting team chat messaging.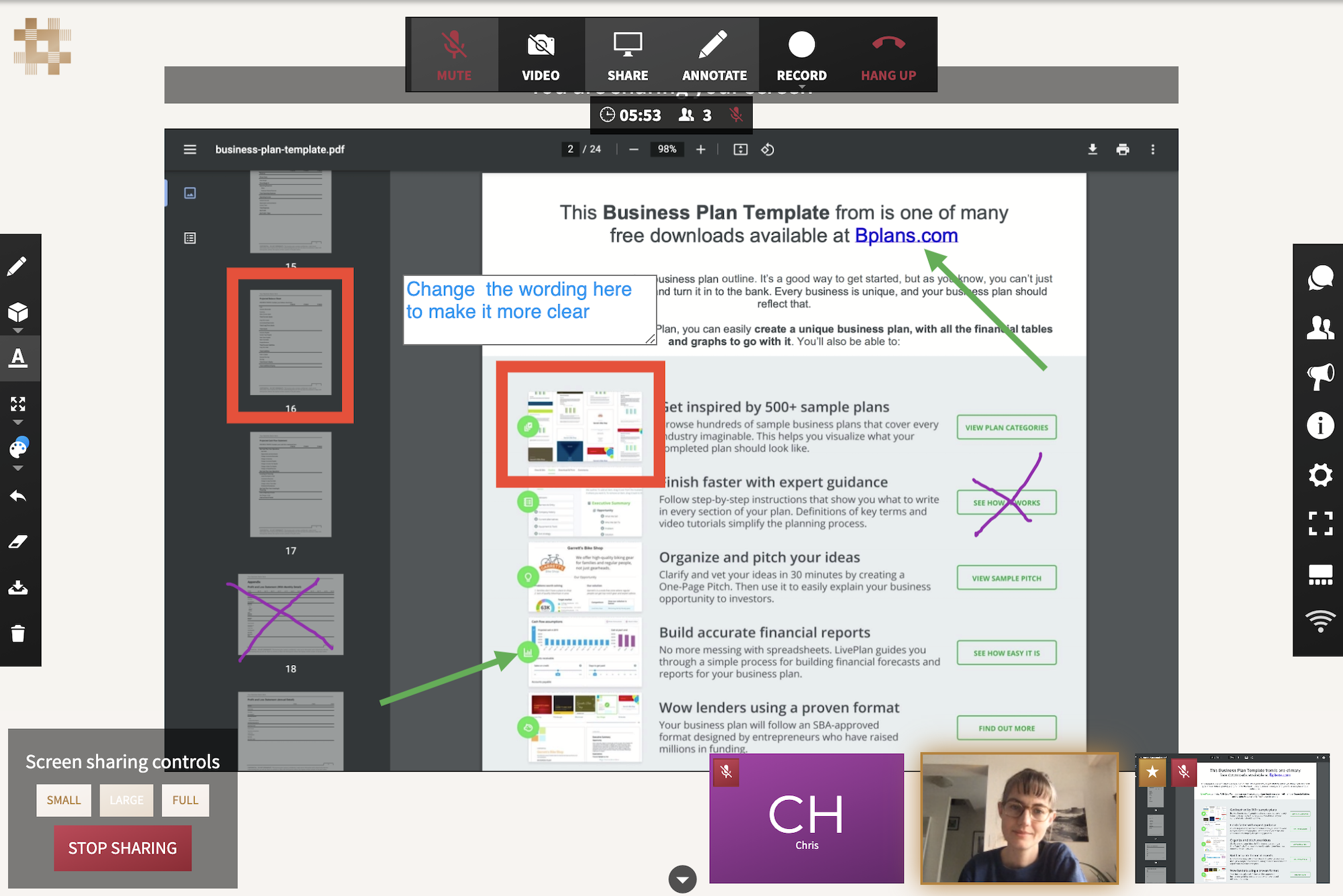 Plus plan users can host up to 25 participants and access to additional features like Audio/Video Recording, Whiteboarding, and HIPAA-compliant video calling.
Pro plan users can meet with up to 100 participants and access advanced features including AI-powered meeting transcription, Conference Summaries, and Breakout Rooms.
All Phone.com video meetings are secured with AES 256 Bit Encryption, but as of this writing, end-to-end encryption is unavailable.
RingCentral Video Calling
RingCentral's video conferencing platform is secured with dynamic End-to-End encryption and packed with advanced features such as live transcription and document sharing.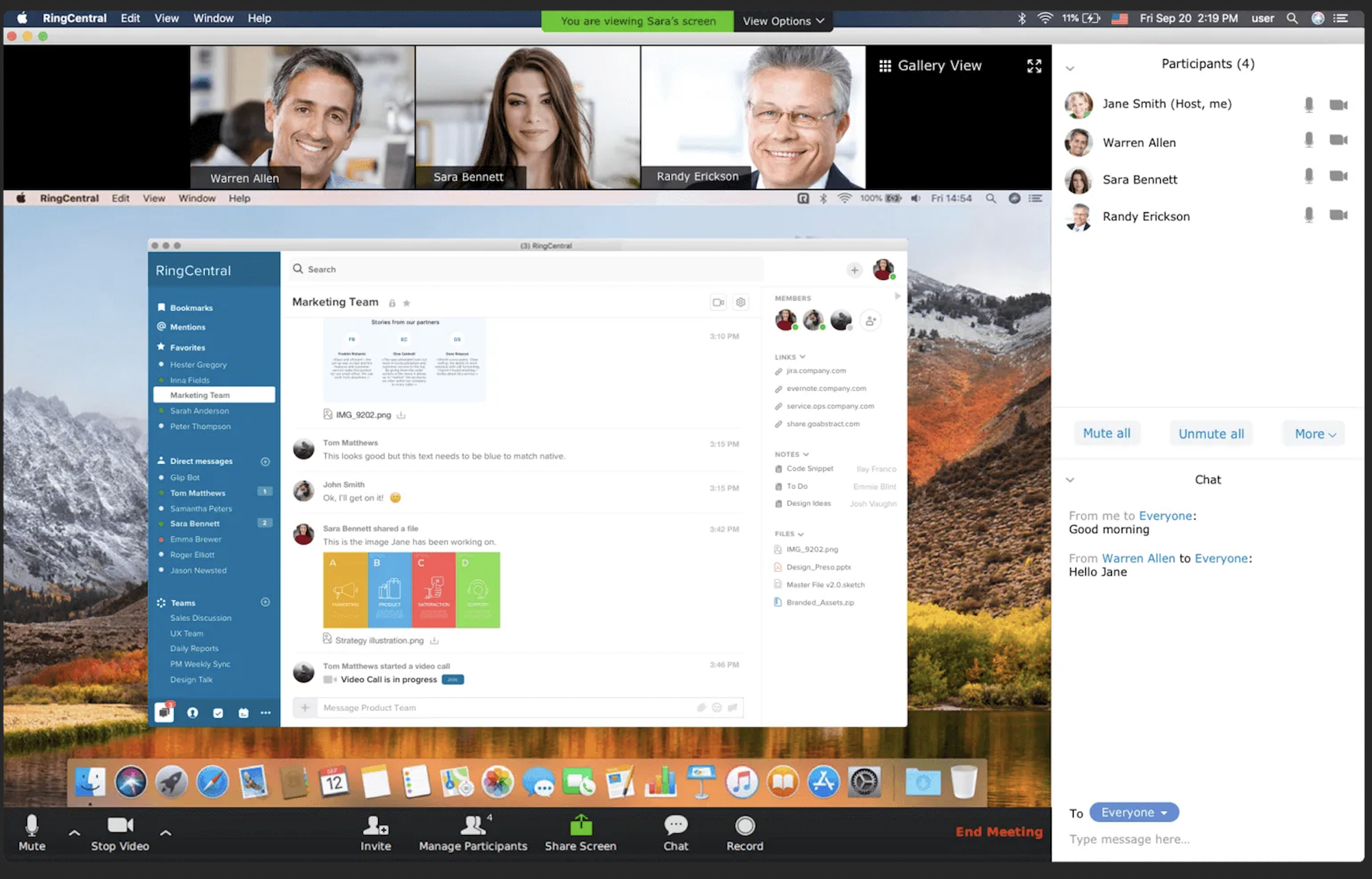 As with voice calling, however, RingCentral's robust video platform comes with a steep price compared to Phone.com.
Video meetings can have up to 100 participants in the Standard plan and up to 200 participants in Premium and Ultimate plans. All of RingCentral's many video features are included in the Standard Plan and above, and all video meetings are unlimited in number and duration.
RingCentral's advanced video conferencing features include:
Advanced Meeting Insights including summaries, keywords, and highlight reels
Live transcription with speaker identification
AI-powered noise reduction
Presentation mode (allows a speaker to share their screen and customize the size and location of their headshot)
Auto Follow (enables the camera to follow the speaker's movements and keep their video centered)
Team Huddle (persistent video meeting room where participants can come and go)
Participant Reactions
Virtual Background
Winner: RingCentral
Although Phone.com has an impressive video conferencing platform for the price, RingCentral video meetings offer deeper insights, more collaboration functionality, a higher participant cap, and a higher level of security.
Phone.com Auto Attendant 
Phone.com's auto attendant is available on all Phone.com plans and includes unlimited personalized greetings, a dial-by-name directory, and call forwarding to an extension, voicemail box, call queue, or external phone number.
Multiple options can be forwarded to the same phone line, and agents are informed of the customer self-service IVR menu responses–including a recording of their name– before connecting with them.
Dial by extension can be enabled, allowing inbound callers to bypass the call menu.
RingCentral Auto Attendant
RingCentral's auto attendant includes a dial-by-name directory, extension dialing, IVR, and Automatic Call Distribution (ACD) for fast call transfers.
Calls can be forwarded to additional phone numbers, ring groups, call queues, external lines, or voicemail. RingCentral provides professionally recording greetings and on-hold messages for an added fee.
RingCentral's Auto Attendant is available in all MVP plans.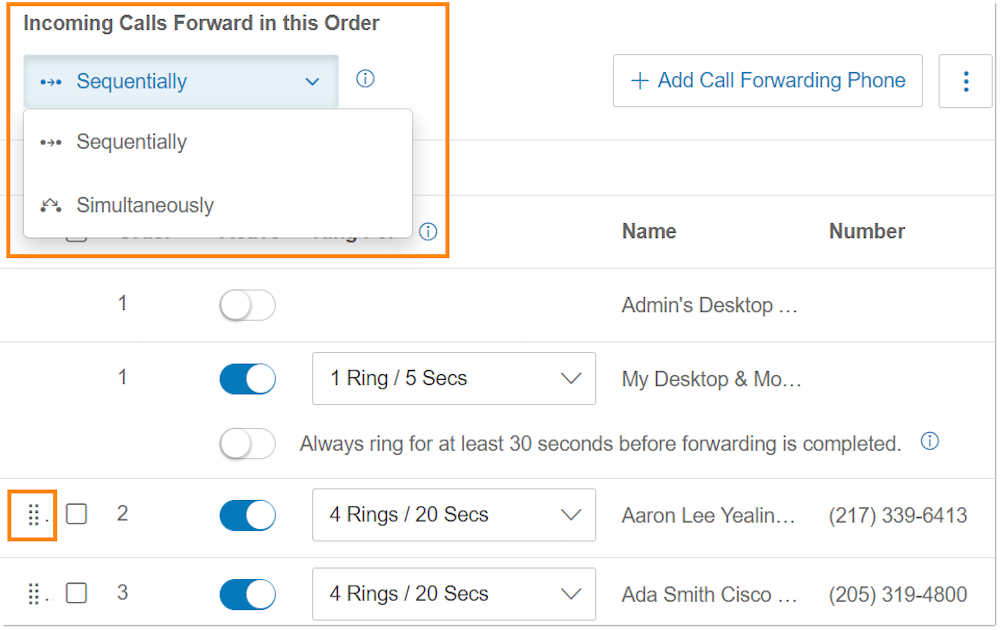 Winner: Phone.com
The auto attendants for RingCentral and Phone.com are incredibly similar, but Phone.com offers this feature at a significantly lower price point.
Phone.com Analytics & Reporting
Phone.com analytics are straightforward and provide historical call data.
Searchable call logs are organized chronologically and can be filtered by call date/time, number, and name.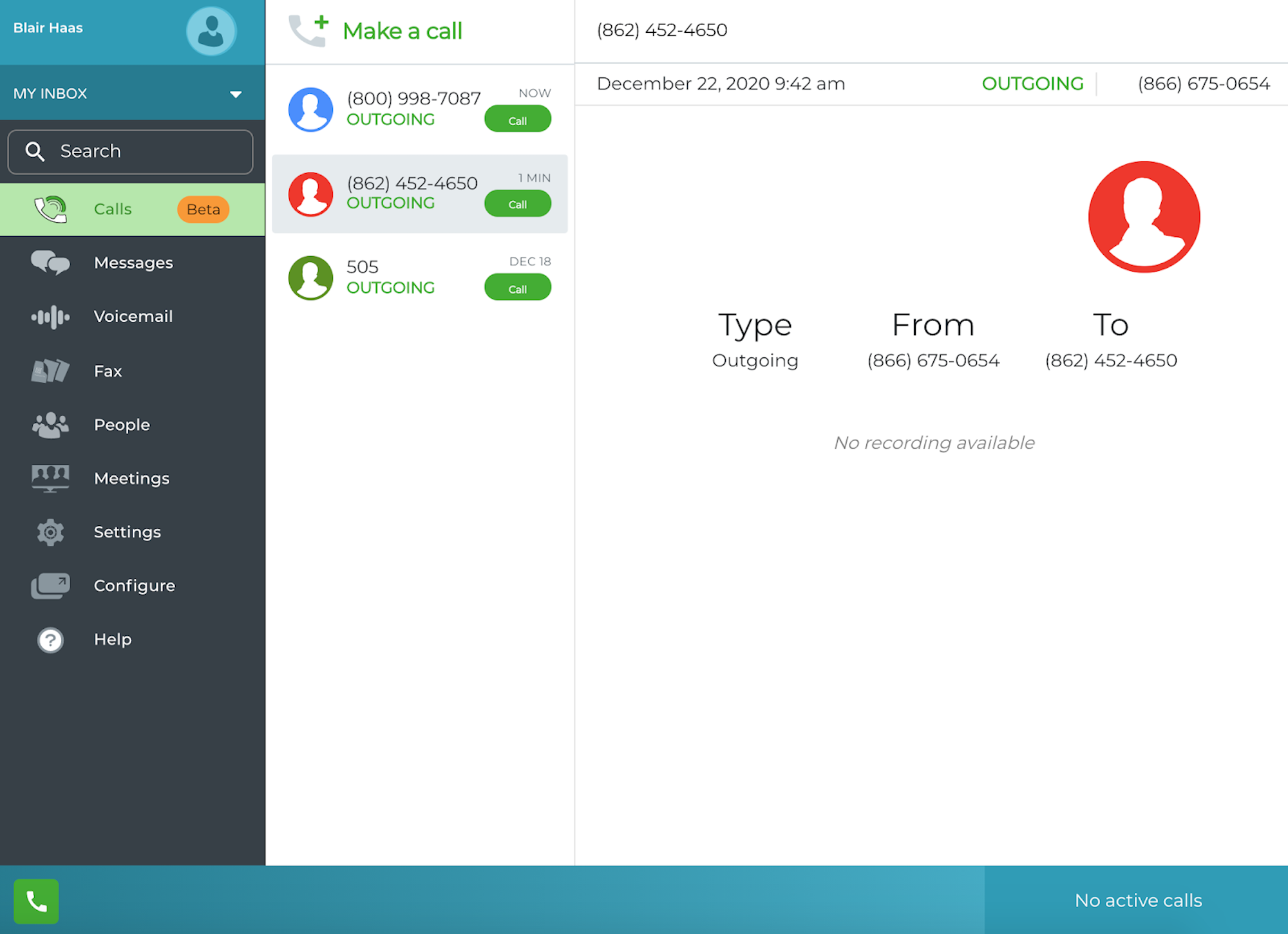 For more detail on a particular call, users can click the entry to gain access to the call recording and learn which company number was used during the call.
With the Pro plan only, Phone.com users have access to a company-wide, bird's eye view of caller data breakdowns by:
New and returning calls
Extension/number
Call direction
Call duration
Peak call time analysis
RingCentral Analytics & Reporting
All RingCentral users have access to customizable historical call reports based on a number of call center metrics including:
Call Queues
Users
Company Numbers
Device Status
Standard, Premium, and Ultimate plans can access Quality of Service (QoS) reports, which display near real-time information on call and video meeting quality by measuring jitter, packet loss, and latency. These reports, displayed on an interactive graphical dashboard, allow admins to isolate and troubleshoot quality issues.
Live Reports, which display a snapshot of call activity in near real-time, are available to Premium and Ultimate users. Live Reports are customized by the organization to include data on over 30 different call center KPIs.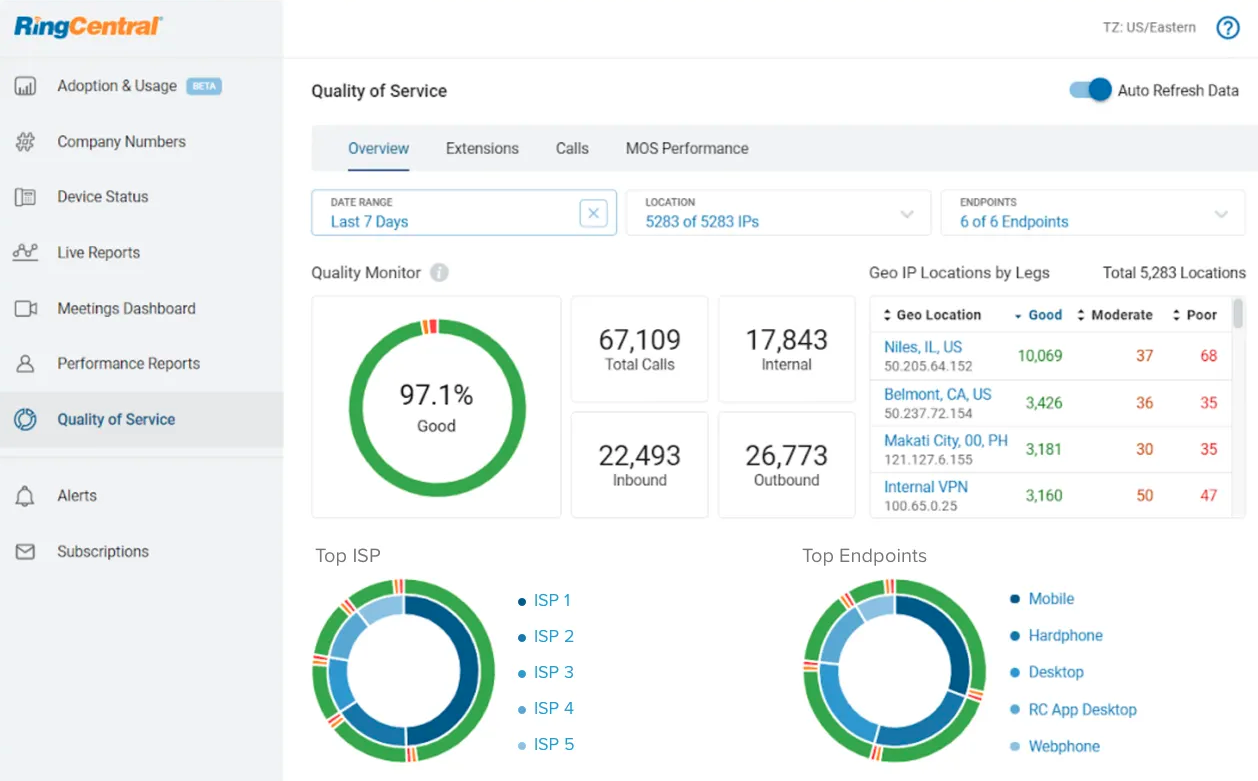 Real-time data is aggregated and made available for 24 hours. Admins can customize permissions to allow users full access, view only, or no access. Reports are set up using templates or customized from scratch. Users can subscribe to a report or receive alerts.
Trackable metrics include:
Call Volume
After Hours Time
Transfer Rate
Talk Time
Agent Status
Winner: RingCentral
With QoS Reports and Real-Time Analytics displaying over 30 KPIs, RingCentral wins.
Integrations
RingCentral has one of the most robust integration ecosystems with over 250 third-party applications, including popular CRM software and business tools like:
Salesforce
Microsoft Teams
Google Workspace
HubSpot
Slack
Asana
Zoho CRM
Users can also build custom integrations using RingCentral APIs and SDKs.
Conversely, Phone.com integrates with only five applications: AllProWebTools, Chrometa, Comm100, Zoho and Zapier.
It does not have a way to build custom integrations, but it does have a public API that can be integrated into other applications such as Salesforce.
Winner: RingCentral
With 250+ out-of-the-box integrations along with APIs and SDKs, RingCentral is the clear winner here.
Supported Hardware
RingCentral Phones, along with compatible hardware, is designed to work out of the box with RingCentral platforms.
MVP users can also use their current devices if they are unlocked and have a valid device certificate.
Supported RingCentral phones include models from:
ALE
Avaya
Cisco
Mitel
Poly
Unify, and
Yealink
Phone.com sells desk phones, conference phones, and accessories on its website from Poly, Yealink, and Grandstream.
Additionally, Phone.com has tested 50+ phones for compatibility and created a list of popular phone models divided into 5 categories: Supported, Accepted, Untested, End of Life (no longer made/supported by the manufacturer), and Unsupported.
Phone.com supports and accepts phones models from:
Cisco
Grandstream
Poly
Yealink
Algo (accepted), and
Vtech (accepted)
Winner: Phone.com
Although RingCentral has compatibility with a greater variety of phone brands and models, Phone.com has tested and ranked the compatibility of many popular models.
Phone.com vs RingCentral: Pricing and Plans
RingCentral and Phone.Com both have scalable tiered pricing structures with volume and annual discounts.
While Phone.Com is the more affordable choice–especially for small businesses focused on phone communication–RingCentral offers a higher value thanks to advanced VoIP features and 250+ third-party integrations.
Both providers offer softphone desktop apps and Apple iOS and Android mobile apps (iPad, iPhone, Galaxy, etc.)
Phone.com Pricing
Phone.com offers some of the most affordable business VoIP plans, with its Basic tier starting at $8.99/user/month for 25 or more users.
Phone.com's "mix and match" pricing structure helps keep operating costs low by allowing businesses to purchase higher-tiered plans only for users that truly need them. For example, businesses could purchase the Basic plan for all entry-level agents and the Pro plan for top executives and high-performing team members.
Here is a quick breakdown of Phone.com plans.
Basic
Plus 
Pro
Annual Pricing 
$8.99-$11.99/user/mo.
$14.99-$15.99/user/mo.
$21.99-$23.99/user/mo.
Monthly Pricing
$14.99/user/mo.
$19.99/user/mo.
$29.99/user/mo.
Number of Minutes
500
Unlimited
Unlimited
Integrations
No
No
5 Integrations
Key Features
– Video Conferencing with 10 participants- 50+ VoIP features including Auto Attendant, Call Queues, and IVR
– HIPAA-compliant Video Conferencing and Video Recording for 25 participants- IP Desk Phone Compatible

– Conversational text messaging

– Call Recording

– Voicemail transcription

– Call Analytics

– Video Conferencing with 100 participants, meeting transcriptions, and whiteboarding
RingCentral Pricing
RingCentral MVP is significantly more expensive than Phone.com and does not allow companies to "mix-and-match" plans.
RingCentral does not include video conferencing in its lowest tier, while Phone.com offers video conferencing to all users. On the other hand, RingCentral has unlimited calling and messaging in all plans, while Phone.com caps minutes in its Basic plan.
Below is a breakdown of RingCentral pricing.
Core Plan
Advanced Plan
Ultra
Annual Pricing 
$20/user/mo
$25/user/mo
$35/user/mo
Monthly Pricing
$30/user/mo
$35/user/mo
$45/user/mo
Number of Minutes
Unlimited
Unlimited
Unlimited
Integrations
Google, Microsoft apps, and access to APIs
Access to Salesforce, Zendesk, and 300+ apps
Access to Salesforce, Zendesk, and 300+ apps
Key Features
– Unlimited Calling in the U.S. and Canada
– IVR
– SMS and MMS
– Single sign-on
– Auto call recording
– Multi-site management
– Essential business analytics
– Unlimited HD Video, whiteboards, messaging
– Customizable business insights
– Unlimited storage for files and recordings
Phone.com vs RingCentral: Pros & Cons
| | |
| --- | --- |
| What Users Like About RingCentral | What Users Dislike About RingCentral |
| Highly secure and reliable | Can be difficult to contact RingCentral customer service and support |
| Advanced call center features such as Real-Time Analytics | Expensive compared to competitors |
| 250+ integrations | Video conferencing is not included in all plans |
| Ability to scale up to any size with global plans and contact center software | International calling is not included |
| | |
| --- | --- |
| What Users Like Phone.Com | What Users Dislike About Phone.Com |
| Very affordable compared to competitors | Lack of real-time analytics |
| Advanced features like Call queues, video conferencing, and IVR included in all plans | Limited integrations |
| A flexible pricing structure that allows businesses to "mix-and-match" users and plans | No uptime guarantee/SLA |
| International calling to 7 countries outside the U.S. plus iNUM global numbers included | No end-to-end encryption for video meetings |
Phone.com vs RingCentral: Which Should You Choose?
RingCentral is best for large businesses and enterprises with a high daily call volume and strict compliance regulations.
Advanced call monitoring tools, 200 participant video meetings, and customizable analytics help large organizations stay unified and productive.
Phone.com boasts low prices, flexible calling plans, and live customer support: three things startups and SMBs rely on.
Features such as call recording, IVR, and web conferencing are especially great assets for remote or hybrid teams in need of a VoIP provider.
International calling to 6 countries outside of the U.S./Canada makes Phone.com perfect for global teams.
Frequently Asked Questions
Below, we've answered the top RingCentral vs Phone.com FAQs.