eVoice and Grasshopper are two VoIP providers offering cloud-based phone systems with voice and texting. Their solutions feature virtual phone numbers, routing capabilities, voicemail, analytics, and more.
This article compares eVoice and Grasshopper, outlining their pricing, features, pros, and cons.
eVoice vs. Grasshopper at a Glance
eVoice and Grasshopper both offer phone systems with unlimited VoIP calling, but eVoice has diverse routing features while Grasshopper includes business texting.
eVoice
Grasshopper
Pricing
One plan at $12 or $14 monthly per user
4 plans from $26-$80 monthly per account
Key Features

Auto attendant
Call forwarding
International phone numbers
Custom ring style

Instant SMS response
Simultaneous call handling
Voicemail transcription

Available Communication Channels

Phone
Fax
SMS (add-on)
Video (add-on)

Integrations
None
Google Voice and Skype
Customer Support Options

Knowledge base,
24/7 email support
Live chat and phone support Monday–Friday

Knowledge base
24/7 email

Best For
Small US-based companies seeking an affordable phone-only solution with call routing
Small US-based companies seeking a basic phone system with texting
What is eVoice?
eVoice is a virtual phone system with built-in voice, also offering texting and video conferencing as add-ons. Accessible via browser and mobile app for iOS and Android, eVoice includes basic call management features, business hours, voicemail and greetings, queueing, routing, customizable ring options, and SMS texting.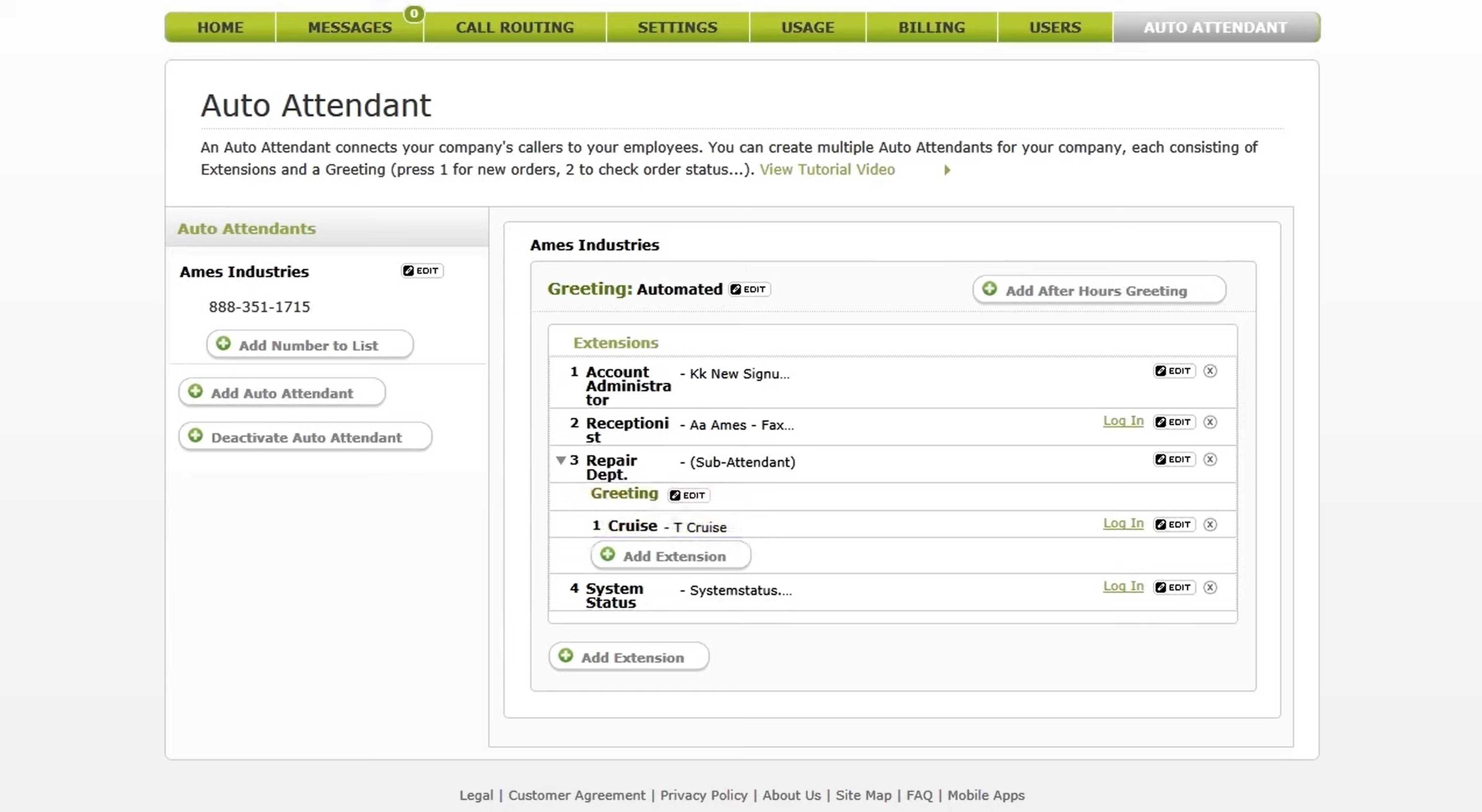 What is Grasshopper?
Grasshopper is a cloud-based VoIP solution intended for small businesses, with unlimited calling and texting in North America. Available in a desktop or mobile app, the solution includes basic call center features like virtual fax, voicemail with transcription, phone extensions, instant automated text responses, call handling, and call reports.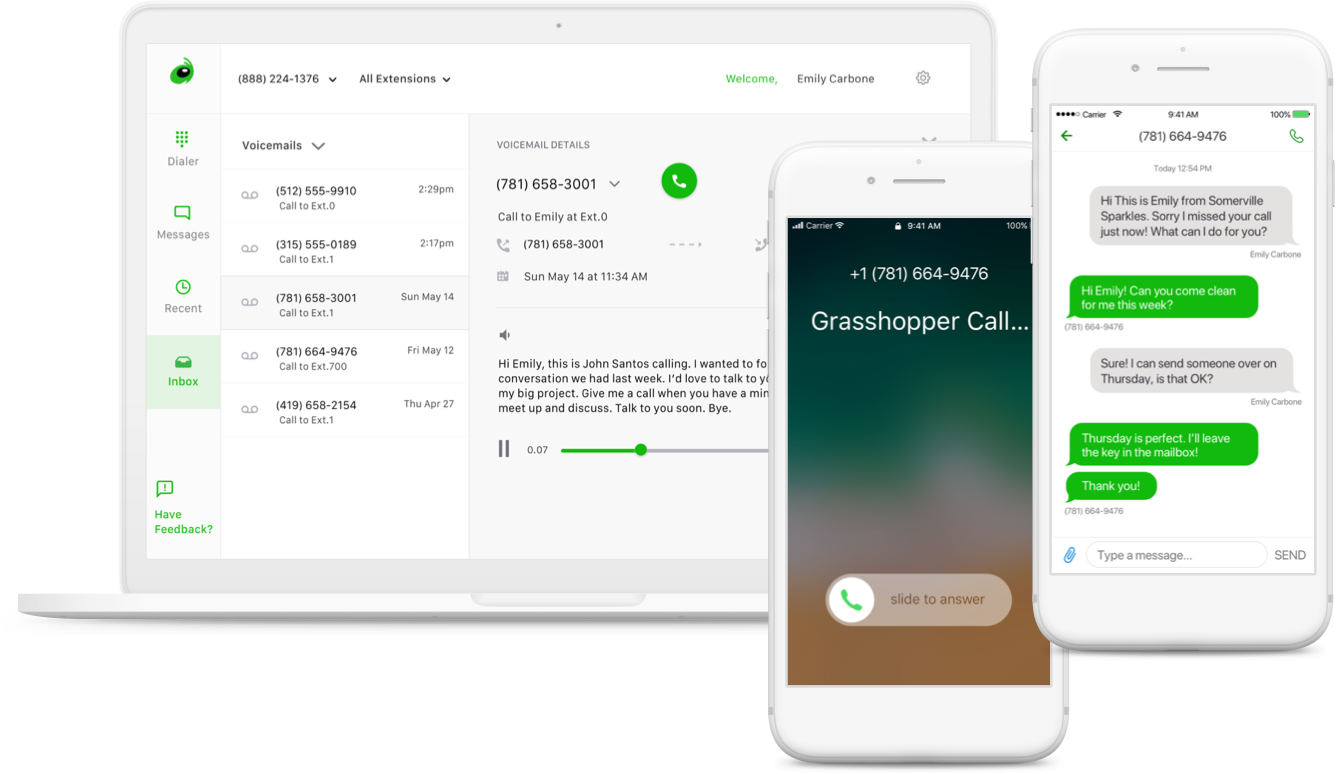 eVoice vs Grasshopper: Pricing Overview
eVoice offers four pricing plans ranging from $8.33 to $12 monthly per user when billed annually. The plans vary according to the number of available users and phone numbers, but each plan includes the same features: desktop and mobile apps, 30,000 VoIP minutes monthly within the US, unlimited extensions, voicemail, advanced routing, and call queueing.
Elite Annual ($12 monthly per user): 1 user, 3 toll-free or local numbers
Elite 6 Annual ($10.83 monthly per user): 6 users, 18 toll-free or local numbers
 Elite 10 Annual ($8.33 monthly per user): 10 users, 30 toll-free or local numbers
Elite 11 Annual ($11.25 monthly per user): 11 users, 33 toll-fre or local numbers
Grasshopper's pricing plans are unique because they charge by the account, not by the user. The plans range from $14 to $80 per account, and each includes a preset number of business phone numbers, extensions, and a user limit. All plans include mobile and desktop apps, unlimited VoIP calling and texting in the US, IVR, call forwarding, call transfer, and automated SMS responses.
True Solo ($14 monthly): 1 user, 1 phone number, 1 extension
Solo Plus ($28 monthly): Unlimited users, 1 phone number, 3 extensions
Partner ($46 monthly): Unlimited users, 3 phone numbers, 6 extensions
Small Business ($80 monthly): Unlimited users, 5 phone numbers, unlimited extensions
eVoice vs Grasshopper: Feature Comparison
Here, we outline key features for eVoice vs. Grasshopper.
eVoice Phone System
We've split the eVoice phone system into three sections: Calling Network and Phone Number Options, Call Controls and Voicemail, and Routing Features.
Calling Network and Phone Number Options
Setting up an eVoice account is quick–choose a subscription, select or port in phone numbers, customize a voicemail greeting, and you're ready to make calls. eVoice plans include unlimited business phone service within the United States and Canada, and metered per-minute international calling worldwide.
The eVoice app supports softphone functionality–with a dial pad or click-to-call functionality –so users can make phone calls from any device, with no extra hardware required.
eVoice offers a free US-based phone number with each account signup, plus available toll-free, local, and vanity numbers around the world.
eVoice International Calling Rates for Popular Destinations
Australia: $0.08 per minute
Call Controls and Voicemail Features
eVoice offers live and automated agent call-control tools: caller ID, do not disturb, call blocking, call screening, mute, hold with music, and call transfer.
Agents can schedule and join conference calls with up to 94 participants, generating a dedicated phone number and access code, and inviting participants via email or text.
eVoice Voicemail Features:
Virtual voicemail: A voicemail inbox that organizes call logs and voicemail messages, for access and one-click callback through the eVoice app on any device
Voicemail transcription: eVoice includes 40 automated voicemail transcriptions per month, with unlimited transcriptions available via add-on. Users can read transcriptions in the eVoice app, or access them via email and text.
Voicemail-to-text and voicemail-to-email: Automatically send voicemail notifications–with audio and transcription–via SMS text and email
Routing Features
eVoice offers basic routing features including call forwarding, business hour schedules, call queueing, auto attendants, and custom ring styles. Plans include unlimited extensions that can share phone numbers and call responsibility, linking departments or user groups.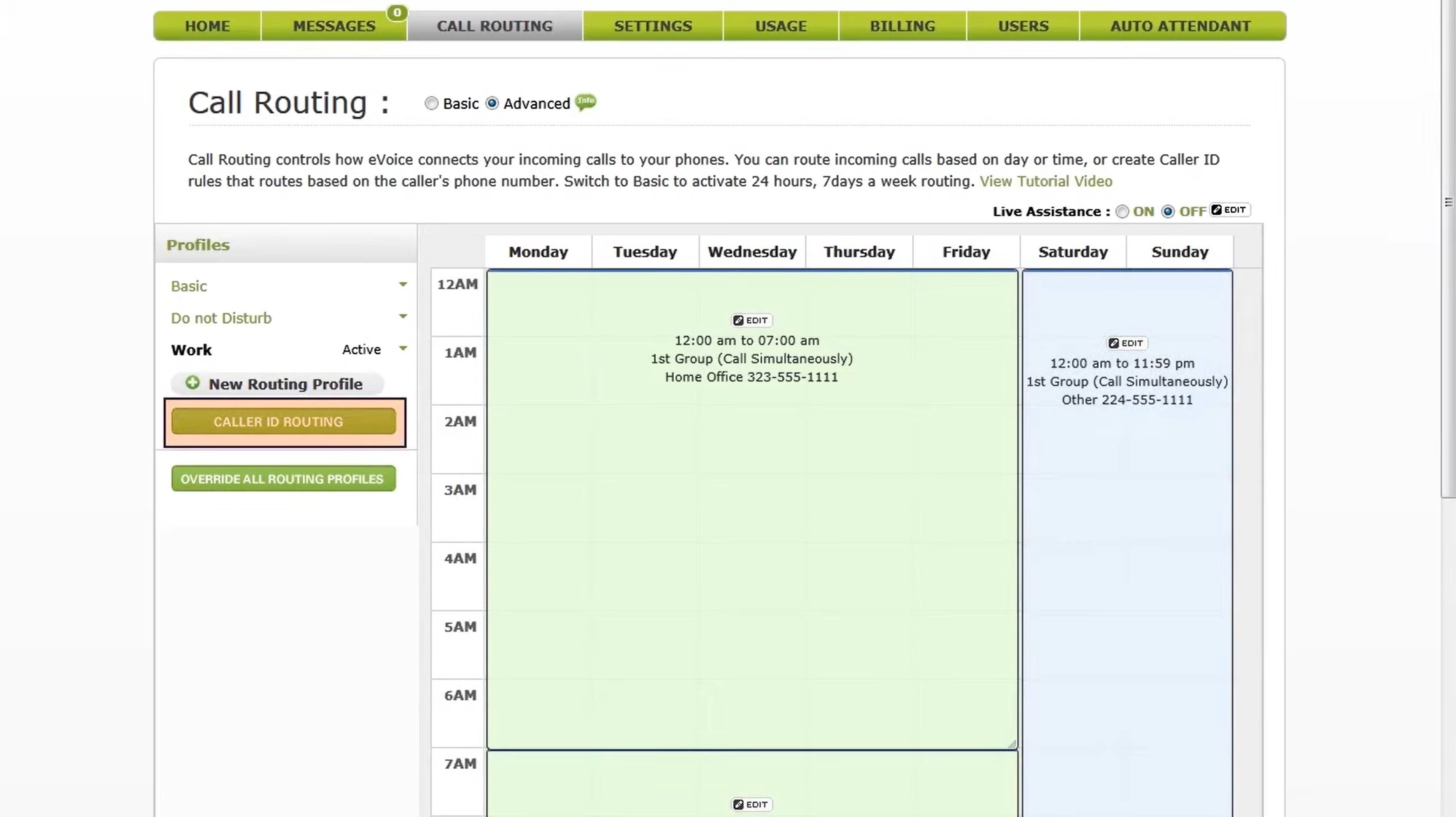 Users should note that eVoice lacks some important routing features that competitors like RingCentral and Nextiva offer–such as ring groups, multiple simultaneous call queues, and skills-based routing.
Key Routing Features:
Auto attendant: Design a self-service IVR phone menu that routes customers to the appropriate agent, voicemail, or message. Record custom menu items and announcements, and give customers dual-tone multi-frequency (DTMF) options to reach various users and queues.
Call forwarding: Manage inbound calls with automatic forwarding–to various devices or other users, even international numbers. Set call forwarding based on business hours, or forward all of a number's calls with a custom ring style.
Custom ring style: Link numbers together with a sequential or simultaneous ring, to create makeshift ring groups that share call responsibility. Sequential ring calls users one at a time in a custom order, while simultaneous rings all users at once until one answers.
Routing by business hours: Create custom business schedules down to the minute, routing calls to specific users, devices, voicemails, or auto attendants based on the hour
Call queueing: When callers reach a busy number or group of numbers, place the call in a hold queue with custom hold music or an announcement. When available, agents can retrieve the call from the queue.
Grasshopper Phone System
We've split Grasshopper's business phone system into three sections: Calling Network and Phone Number Options, Call Controls and Voicemail, and Routing Features.
Calling Network and Phone Number Options
Grasshopper plans support unlimited calling in the United States and Canada, with metered rates for international calling. They provide toll-free, vanity, and local numbers throughout the US and Canada, plus the option to port pre-existing numbers. Grasshopper number extensions allow multiple users to share phone numbers.
Grasshopper International Calling Rates for Popular Destinations:
Australia: $0.10 per minute
Call Controls and Voicemail Features
Grasshopper's interface unites calling with softphone capabilities, texting, voicemail, analytics, and agent call controls–all with a few clicks.
Use the dial pad or click-to-call from any contact's name or number, with on-call options to mute, hold with music, transfer calls, and forward. Set customized SMS instant responses for missed calls.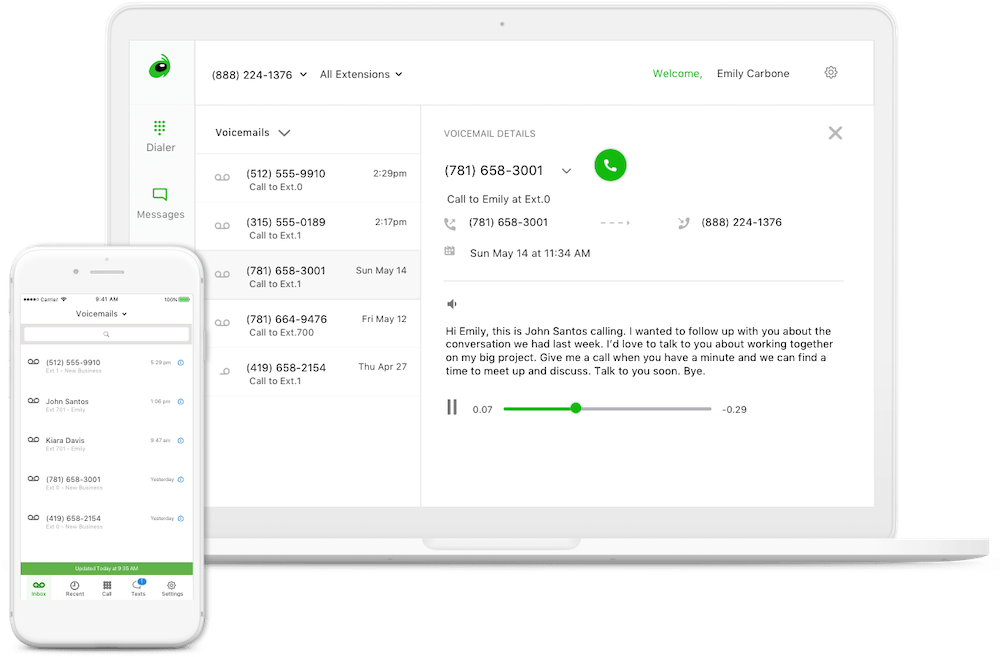 Grasshopper Voicemail Features:
Virtual log: A time-organized log of voicemails, including call time, voicemail length, audio playback, and caller information
Custom greeting: Each agent can record a custom greeting and announcement
Voicemail transcription: Automatic transcription for all voicemails
Voicemail-to-email: Forward transcriptions, audio, and call information to a customized list of email addresses
One-click callback and text back
Routing Features
Grasshopper's phone service includes basic routing features: business hours, call management tools, call forwarding that can emulate ring groups, and a call-blasting add-on for simultaneous ring.
While users can attach phone extensions to greetings and announcements for a build-your-own IVR system, note that Grasshopper does not offer built-in auto attendant menus, call queues, or customized routing styles.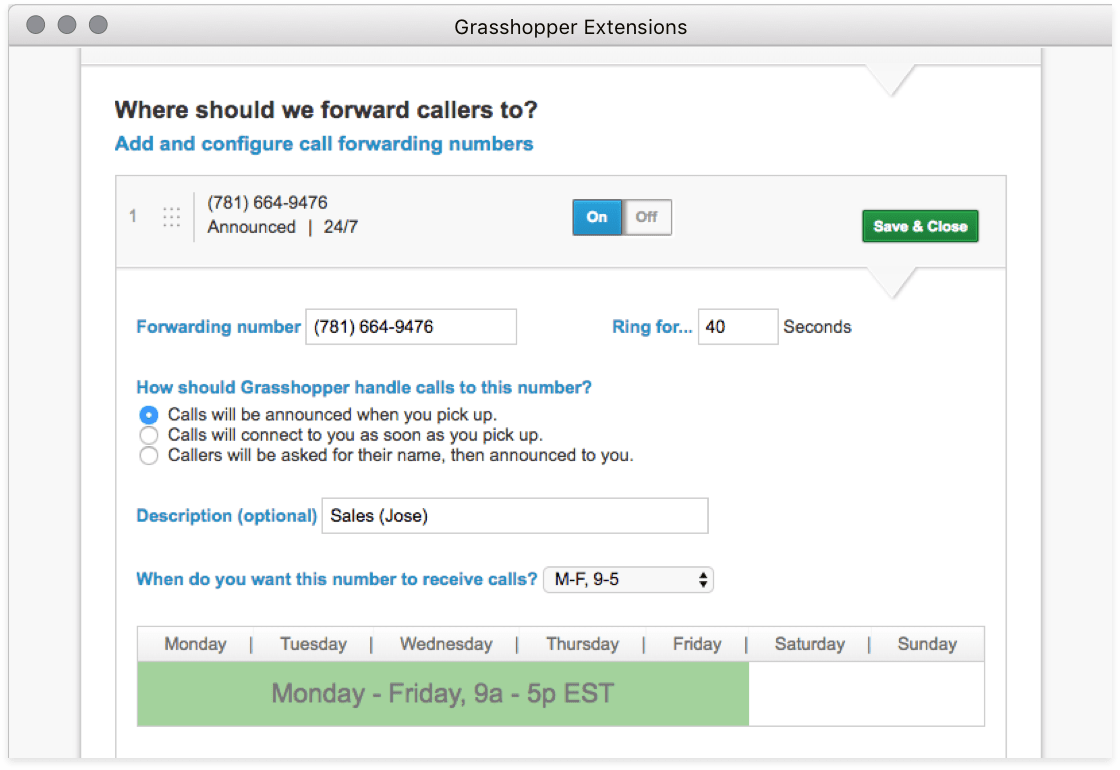 Grasshopper Routing Features:
Call forwarding: Set up automatic call forwarding for any number or extension, so that inbound calls automatically redirect to another user, voicemail, greeting, device, or extension. Customize forwarding based on each number's call schedules
Extensions: Grasshopper plans include multiple extensions per phone number. Administrators can record greetings enabling customers to route themselves to other extensions–"Press 1 for Sales. Press 2  for Customer Service…"– but this format can be difficult to set up and manage, compared to alternative providers' IVR menus
Simultaneous call handling: If a customer dials a busy number, automatically forward it to the next available agent, continuing until an agent picks up
Incoming call control: Customize availability hours, forwarding settings, announcements, and greeting messages for each number and extension
Call blasting ($10 per month): An add-on to simultaneously ring up to 15 user numbers at once, creating makeshift ring groups
eVoice Messaging
Send and receive SMS text messages from your business phone number through the eVoice app on desktop or mobile. SMS texting is an add-on, not included with regular eVoice plans.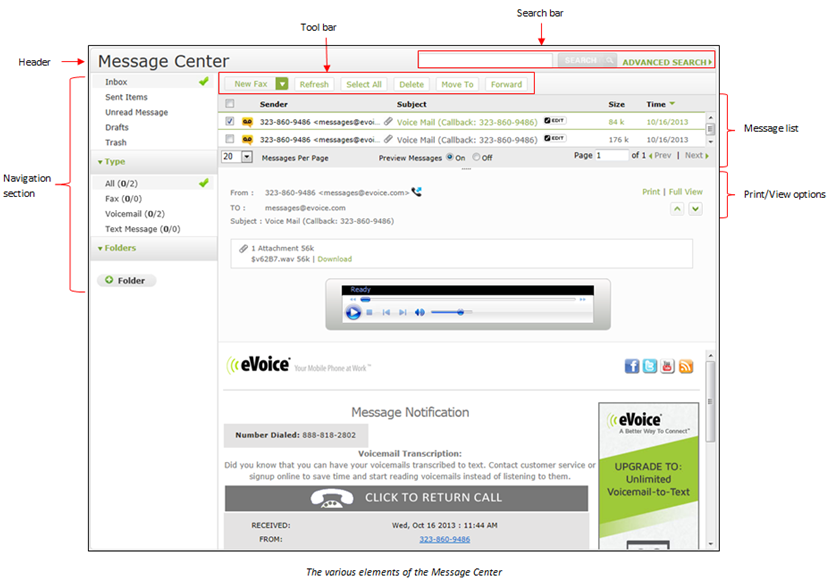 eVoice's Message Center Inbox organizes all of a user's text-messaging conversations alongside their voicemail and call logs, with notifications indicating new activity. The add-on enables unlimited texting within the US and Canada, with international rates for texts outside this area.
Grasshopper Messaging 
Grasshopper plans include unlimited SMS and MMS texting within the US and Canada–from all local, vanity, and toll-free numbers. The hosted PBX phone system does not support texting to international numbers.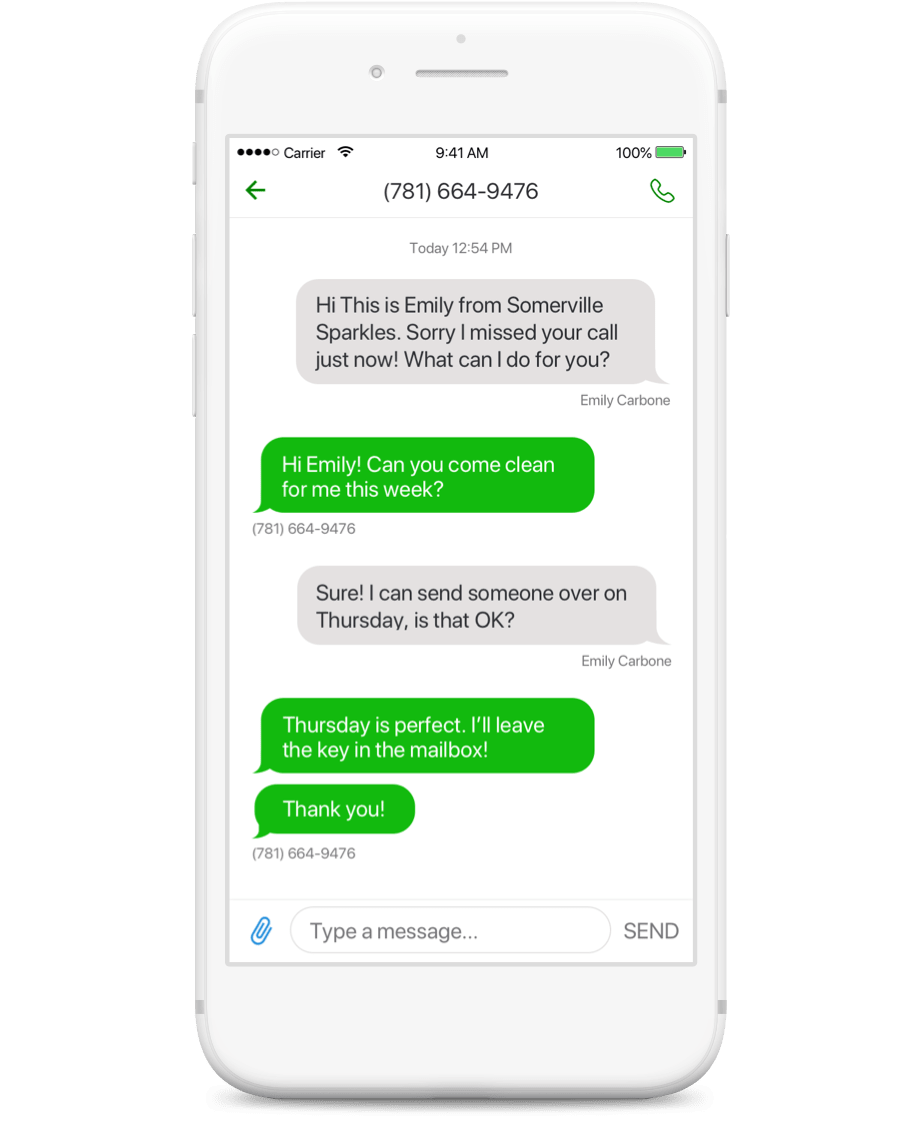 The Grasshopper app's Messages tab organizes all of a user's texting conversations in a searchable log, with notification pings for new activity. Users can text teammates or customers with one click, and send follow-up messages instantly in response to business calls, voicemails, or inbound texts.
Grasshopper Business Texting Features:
Instant response: Set up automatic SMS responses to missed calls, allowing customers to text back with contact details
Hyperlinks: Embed hyperlinks into business texts
eVoice Reporting 
The eVoice app's Advanced Reports dashboard displays call logs, tracking metrics, and KPIs–arranged in tables and charts, with customized viewing by agent and historical time period. Reports are downloadable and feature a 14-month rolling record of call activity.
eVoice Advanced Reports: 
Inbound numbers: Summary of called numbers over a specified time period, including the busiest daily time periods and numbers most frequently called
Call outcome: Organizes calls into 4 categories–Answered, Not Answered/Voicemail, Busy, and Abandoned
Call origination: Organizes caller information by region, showing where customers call from–down the area code
Customizable: Choose the call data that you want to arrange into a report
Grasshopper Reporting and Analytics
The Grasshopper app offers metrics and KPIs in various report types–customizable over custom historical timeframes and for particular agents or groups.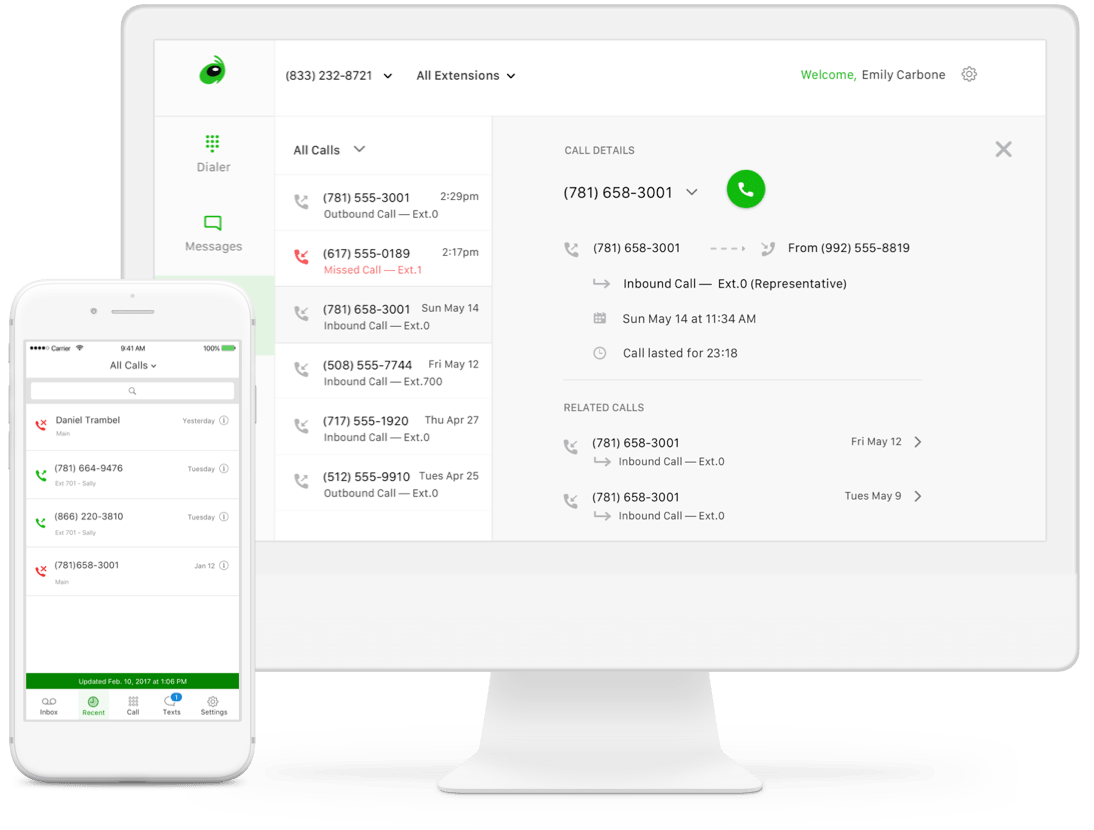 Grasshopper Report Types:
Usage reports: KPIs like total and average calls answered, total and average missed calls, average call length, and more
Detail reports: Information about calls during a time period, such as caller ID, time of day, where they called from, and the agent that answered
Activity reports: Sorts calls by type–calls answered, voicemails, abandoned, hang-ups, and faxes
eVoice Pros & Cons
| | |
| --- | --- |
| eVoice Pros | eVoice Cons |
| Offers international business phone numbers | Some key features are only available as an add-on: texting, video conferencing, voicemail transcription |
| Affordable plans | No team chat |
| Unlimited extensions | Lacks integrations with 3rd party apps, like CRM systems |
Grasshopper Pros & Cons
| | |
| --- | --- |
| Grasshopper Pros | Grasshopper Cons |
| Dashboard ease of use | No team chat or video available |
| Accessible via desktop and mobile app | Does not offer business numbers outside North America |
| Unique account-based pricing structure can be a budget option | Lacks important features: IVR, call queues, AI support, call parking |
Which Phone System Should You Choose?
The best virtual phone system for your company depends on your business needs: the communication channels, collaboration features, routing options, and phone number offerings that meet your budget.
US-based small businesses seeking a phone system with SMS texting should choose Grasshopper because it offers built-in messaging.
On the other hand, small companies seeking to purchase an international phone number–or those with high call volumes–should favor eVoice, because of its IVR and call queueing, in addition to international number offerings.
Companies seeking team collaboration–with instant chat and video–or those who want unlimited international calling, should consider alternatives, such as UCaaS providers.