If your business is handling a large number of inbound calls then you might be using a business VoIP phone service like Grasshopper to keep up with all of them.
Not only does VoIP make your business communications more efficient, but it also boosts your credibility. When someone calls your business and is greeted by an automatic system ala "press 1 for billing", they'll perceive your company to be much larger than it is.
But what if you don't like Grasshopper?
Whether it's due to the pricing, features, reliability, or customer support, you may be looking to switch to one of the alternatives to Grasshopper. In this article, we're going to look at the following options:
What is Grasshopper?
Grasshopper is a business phone system beloved by single operators of small businesses or growing teams. By offering freemium and low-cost features, their VoIP solution is a powerful tool for competitive business operators and managers of small teams.
Grasshopper offers voicemail transcription and number porting, which takes communications to the next level of efficiency and personalized customer experience. Small businesses appreciate the reliability and the opportunity to show their customers with high-end service for a low price.
However, for larger teams or businesses who need more than their freemium services provide, there are some great alternatives out there.
Vonage Business Communications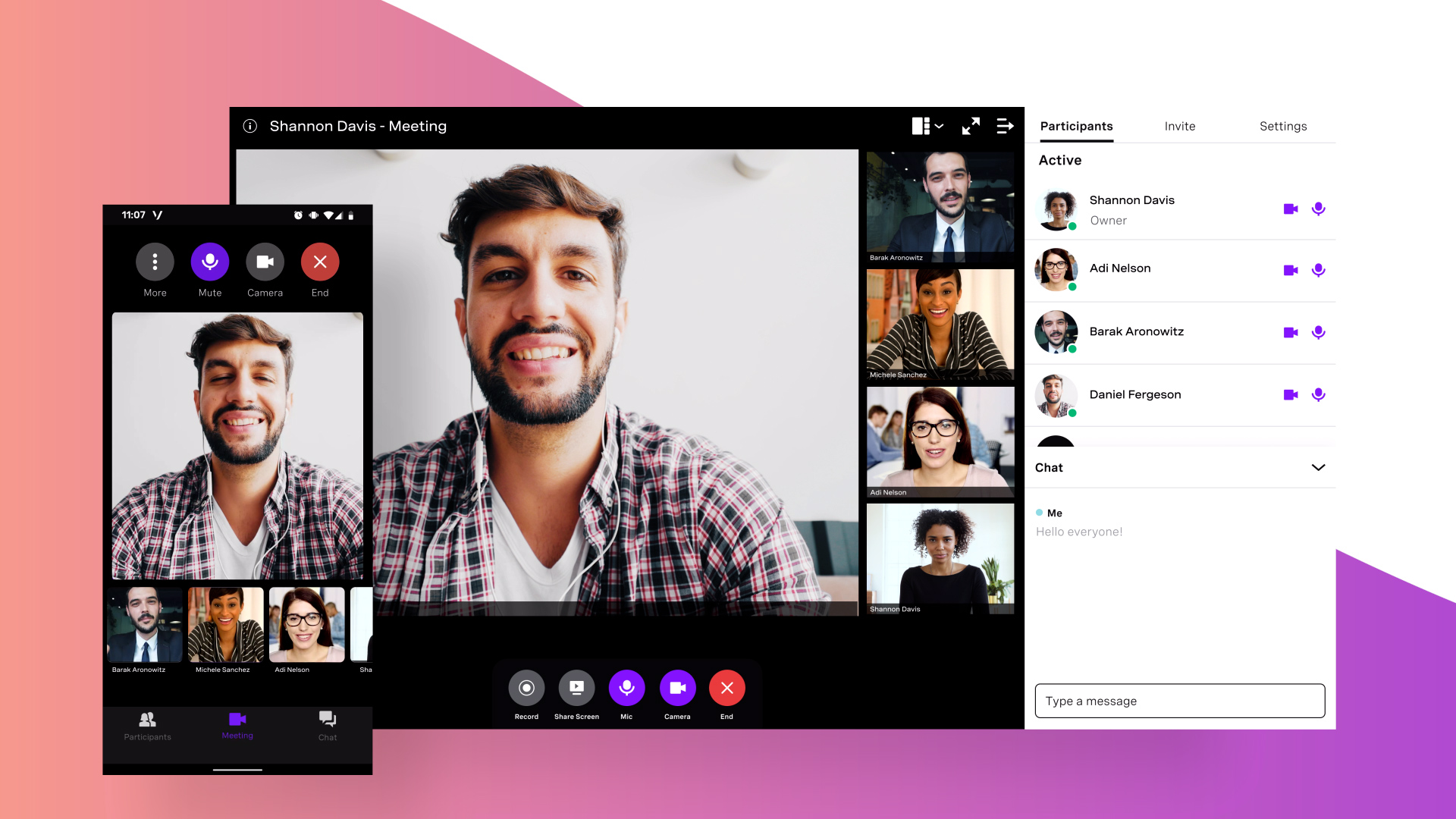 Vonage was one of the earliest entrants to the VoIP industry — getting its start in 2001 and managing to stay at the top over the past two decades. As of the end of 2018, the company had over 50,000 business customers powering their phone service.
Features
Vonage offers its mobile and desktop apps to users who subscribe to any plan, even the cheapest one. This makes it easier for you to keep an eye on things regardless of where you are.
Vonage's unified communications tool offers team messaging to ensure that you can stay in touch with your team while on vacation or abroad on business.
Users who get the premium and advanced plans will be able to utilize Vonage's auto attendant feature which ensures that your callers get routed to the correct department through a self-selection system.
Advanced users will even be on-boarded by a team of experts and have the account setup process done for them.
Perhaps the most intriguing feature that's exclusive to their advanced plan is visual voicemail. With this, you have the option to transcribe voicemails into text form and email or text them to yourself or anyone else.
Sure, you could accomplish the same feat by hiring a transcriber and VA off Fiverr, but that'll end up costing you more than the advanced plan itself.
Customer Support
When it comes to customer support, Vonage ranks high up on our list. Not only do they provide 24/7 live chat access for your online account, but you'll find that the wait time to talk to an agent is practically nonexistent.
We tested the response time for their live chat and, after 10 separate trials, found that it took just over 12 seconds on average to be connected to an agent.
The agents on their live chat are helpful and also quite honest as they'll tell you when they can't fix an issue so that you can call their hotline instead of wasting time.
Overall, I'd say that Vonage is my second-favorite company in terms of customer support — second only to SiteGround.
Pricing
If the pricing of Grasshopper is what drove you to leave then you'll be happy to hear that Vonage is much cheaper. Its cheapest plan only costs $19.99 monthly per user while the middle tier costs $10 more.
The advanced plan — which is the most expensive option — will put you out by $39.99 monthly per user. These prices drop as you scale up.
If you get more than 20 lines then the monthly per-user cost drops to $14.99. Vonage isn't objectively the best of all Grasshopper alternatives, but you just can't beat the affordable price point.
Whether you're a small business with a limited budget or a large company looking for bulk pricing, Vonage Business plans are the best option to keep operating costs low.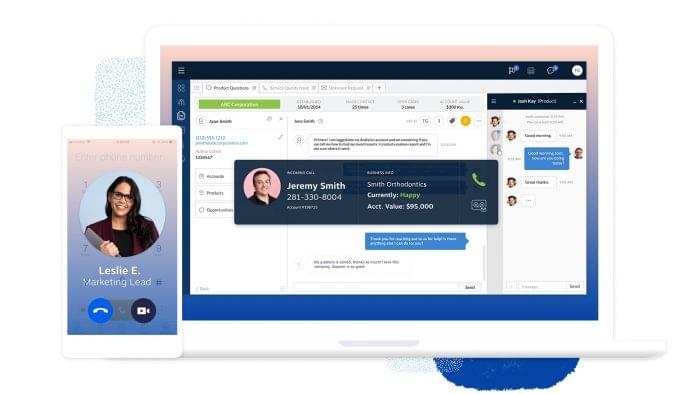 Nextiva was founded by tech entrepreneur Tomas Gorny in 2006 and has since become a top name in the hosted phone industry. There are quite a few benefits to using it over Grasshopper, and we'll go over each one.
Features
Even the basic plan has most things that a business would need. You'll get unlimited calls and SMS capabilities as well as a voicemail service that notifies you via email whenever a new message comes. You'll also get a local and toll-free number at no additional cost.
The enterprise plan includes a live chat feature for your website — which is a big plus because studies show that the customer satisfaction rate for live chats lies at 73% compared to 44% for phone calls.
Any user with a pro plan or higher can also add surveys to the end of each call. This makes it easier for small businesses to collect data on their customers without spending a fortune on market research.
To use Nextiva's iOS, Android, and desktop apps, you'll also need a pro plan or higher.
Customer Support
As you would imagine, Nextiva does have live chat support available on its website. After all, it wouldn't set a very good example if they didn't use one of their premium features.
Phone support is also available seven days a week. The operating hours are 5 AM to 6 PM on weekdays and, while most companies would be unavailable on weekends, Nextiva's support team just opens an hour later on Saturdays and Sundays.
Most people who use the service have said that the representatives are helpful and make the setup process a breeze, making this one of the better alternatives to Grasshopper.
Pricing
Nextiva Essential, which is their base-level plan, costs $19.95 per month, per-user. The Professional and Enterprise plans are also very inexpensive — costing $20.94 and $27.95 monthly, per-user respectively.
The company also provides bulk pricing meaning that the per-user cost will drop as you add more people to your plan. Once you pass the 100-user mark, your enterprise plan will cost just as much per user as the starting price for the basic plan.
This makes Nextiva a great option for large businesses that are looking into Grasshopper alternatives because of the number of caps. Nextiva supports expansion without being too pricey in the grand scheme of things.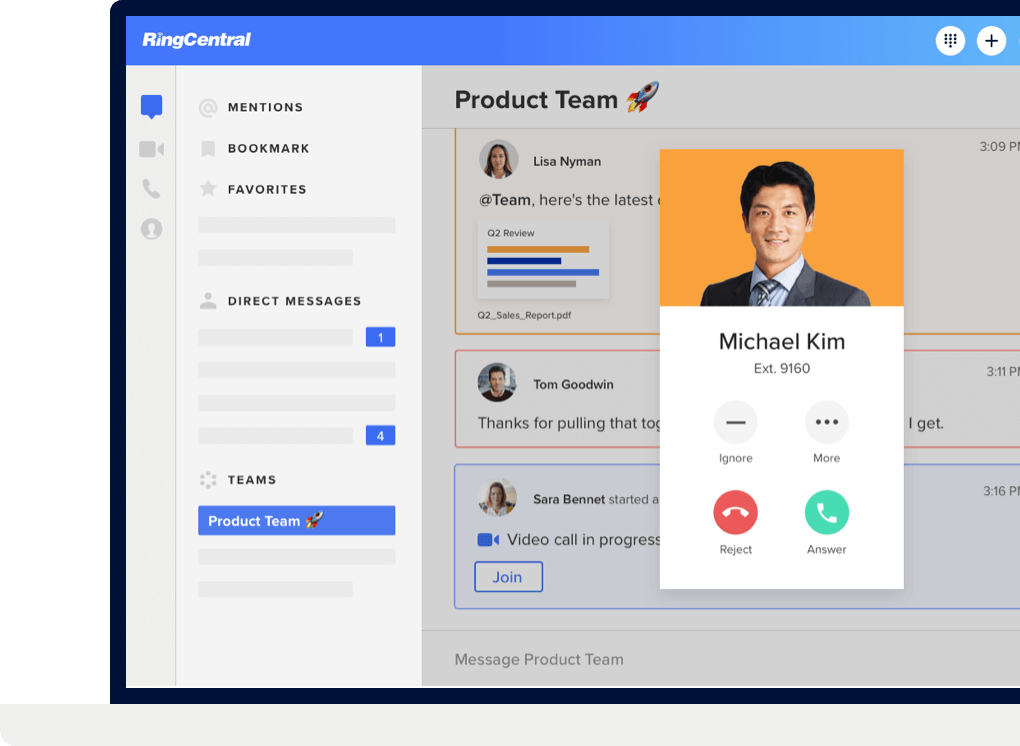 RingCentral was founded in 1999. For reference, that's just a year after PayPal. Throughout the first seven years, the company was bootstrapped. It finally landed some investors in 2006 after already having "a couple of million in revenue" according to CEO Vlad Shmunis.
Features
All tiers of RingCentral provide unlimited phone calls within the United States and Canada. It's worth noting, however, that this offer is only valid if you have 50 or fewer lines active.
Unlike Vonage, the voicemail-to-text feature on RingCentral is accessible to users on all plans. If you were primarily interested in the VTT feature but wanted for less, you'll be pleased with RingCentral pricing.
You can also get unlimited internet fax capabilities, but this feature is reserved for users with a standard plan or higher.
Customer Support
RingCentral offers 24/7 customer support. You can reach them through the live chat feature on their website or by calling their hotline.
As the reviews on their website can attest to, the customer support team is quite helpful and responsive.
I don't know about you, but any company brave enough to let their users submit public reviews must be pretty confident in their customer support capabilities.
Pricing
The essentials plan — which is the cheapest option RingCentral offers at $29.99 monthly per user — will get you both a local and toll-free number.
Under this plan, you'll get 100 toll-free minutes each month which should be more than enough if you don't get too many calls.
For only $5 more per user, you can upgrade to the standard plan and increase your toll-free minutes tenfold to 1,000 minutes each month.
The bulk pricing on RingCentral is also rather affordable with the standard plan only costing $19.99 monthly per user if you have 1,000 users or more. RingCentral is one of the more popular Grasshopper alternatives on the market.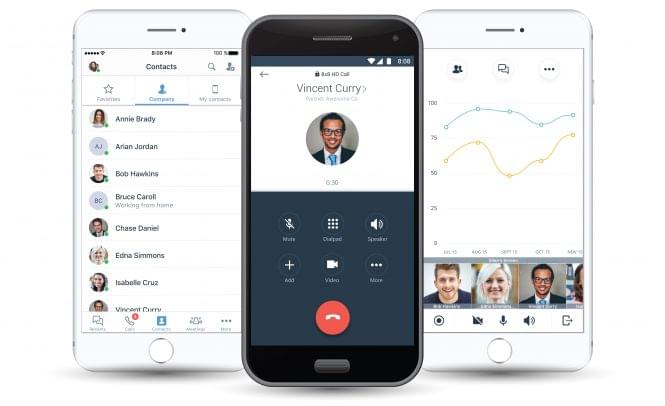 8×8 is the second-oldest company that we're going to cover in this article. It was founded in 1987 as IIT. That being said, the company didn't get into the VoIP industry until its 2002 relaunch. It was listed on Nasdaq the same year and has been growing ever since.
Features
There have been quite a few unique advantages to each of the Grasshopper alternatives that we've covered thus far, but the international coverage of 8×8 blows all that out of the water if your company serves a global audience.
You get unlimited calling within 14-47 countries depending on your plan (which we'll go into later.)
If you recall, the auto attendant feature on Vonage is restricted to premium and advanced users. In contrast, 8×8 offers it on all plans — even the cheapest one.
You'll also get between 1 GB and 10 GB of media storage depending on your plan.
Customer Support
When it comes to customer support, 8×8 falls short. First of all, there's no live chat immediately visible on their website.
You have to navigate what might as well be a labyrinth just to get to this page where you can finally get in contact with an agent.
But the horror doesn't end when you start talking to the agent. While they can guide on basic issues, they aren't capable of giving tailored solutions for complex problems.
If 8×8 were to overhaul their customer support system and make it as good as their global coverage then they'd be a stronger candidate in the quest for Grasshopper alternatives.
Pricing
The cheapest plan that 8×8 offers — which is the X2 — will cost you $25 monthly per user and gives you a range of 14 countries.
The X4 plan costs $45 monthly per user but will give you access to the full 47-country range of 8×8.
Sadly, the bulk pricing isn't as good as some of the other options we've covered — with only a $4 reduction on the X2 plan if you have 1,000 or more users, and a measly $2 if you have between 100 to 999.
If you're looking for affordability on a large scale then 8×8 isn't the best pick. However, if global coverage is your top priority then there's no beating this company in your search for alternatives to Grasshopper.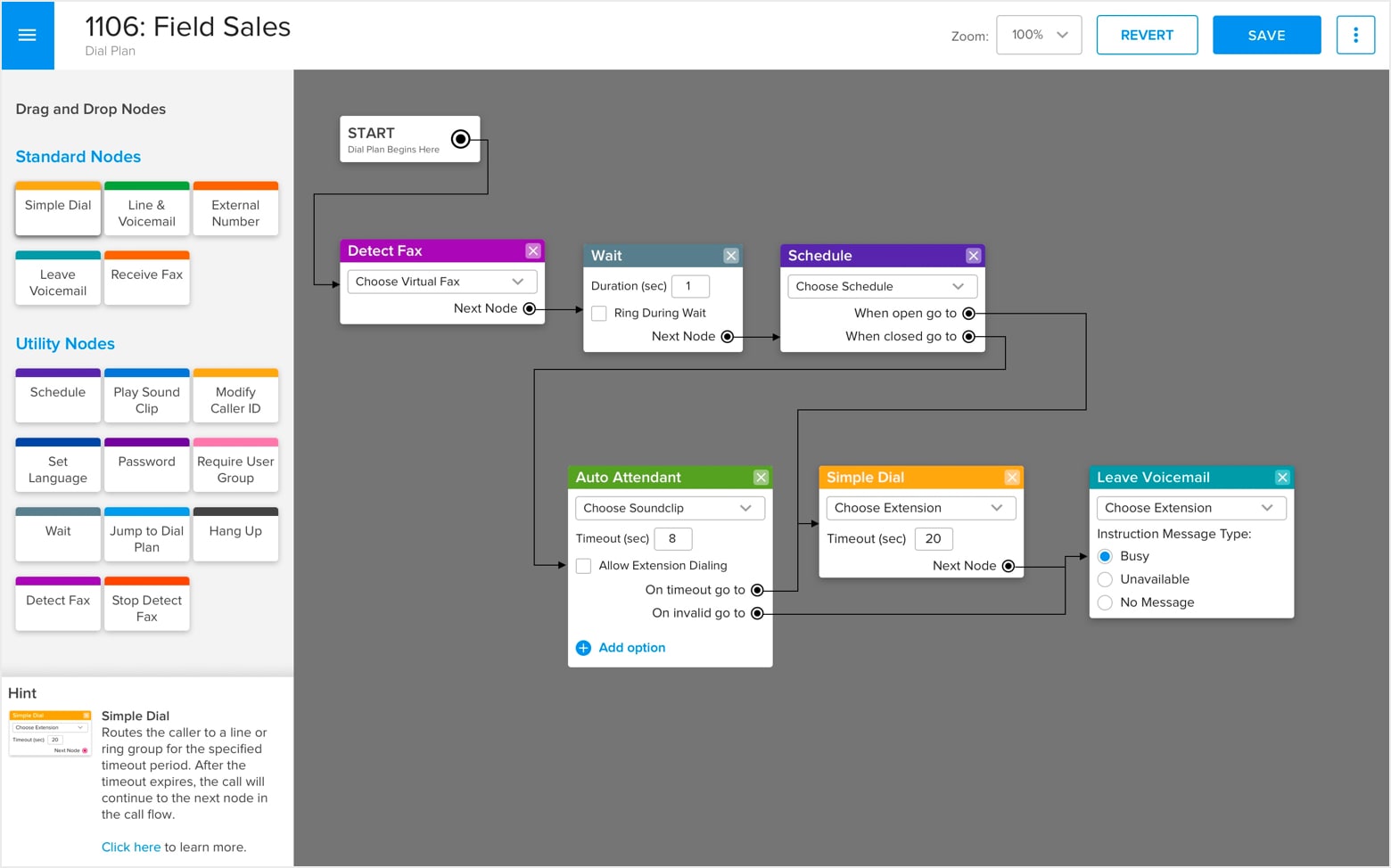 GoToConnect is owned by LogMeIn which was formerly known as 3am Labs, Inc. before 2006. The company went public on Nasdaq in 2009 and reached over $44 per share by the end of 2010 despite opening at only $20 following the IPO. It acquired Jive for $342 million in 2018, which became GoToConnect in 2019.
Features
GoToConnect is a bit of an outlier when it comes to the features provided. This is because there are no plans. All features are available to all users, and the pricing changes based on how many people are using the system.
This makes it a great option for small businesses who can't afford the feature-packed premium plans of other providers.
There are more than 80 features according to GoToConnect, and every single one of them is available to all users since there aren't any premium plans. Much like Vonage and 8×8, GoToConnect provides the auto attendant feature that most businesses need.
You can even set up call forwarding and enable custom hold music that best suits your company's personality. Another handy feature is call on hold which is great for businesses that get a lot of calls daily.
The 80+ features of GoToConnect would take too long to list and frankly, warrant an article of their own, so check out the company page instead.
Customer Support
GoToConnect offers a virtual assistant chatbot to narrow down your support request. The virtual assistant can answer questions on any of GoToConnect's products. Once it's gathered enough information, it can connect you to a live agent.
Pricing
The pricing of GoToConnect is entirely based on how many users you have. If you have between one and four users then you'll be paying $29.95 monthly for each user. If you get to 50 or more users then that price drops to $19.95.
GoToConnect also states on its pricing page that custom quotes are available for companies with 100 users and above.
This usage-based pricing system is both simple and fair which makes Jive desirable for companies of all sizes.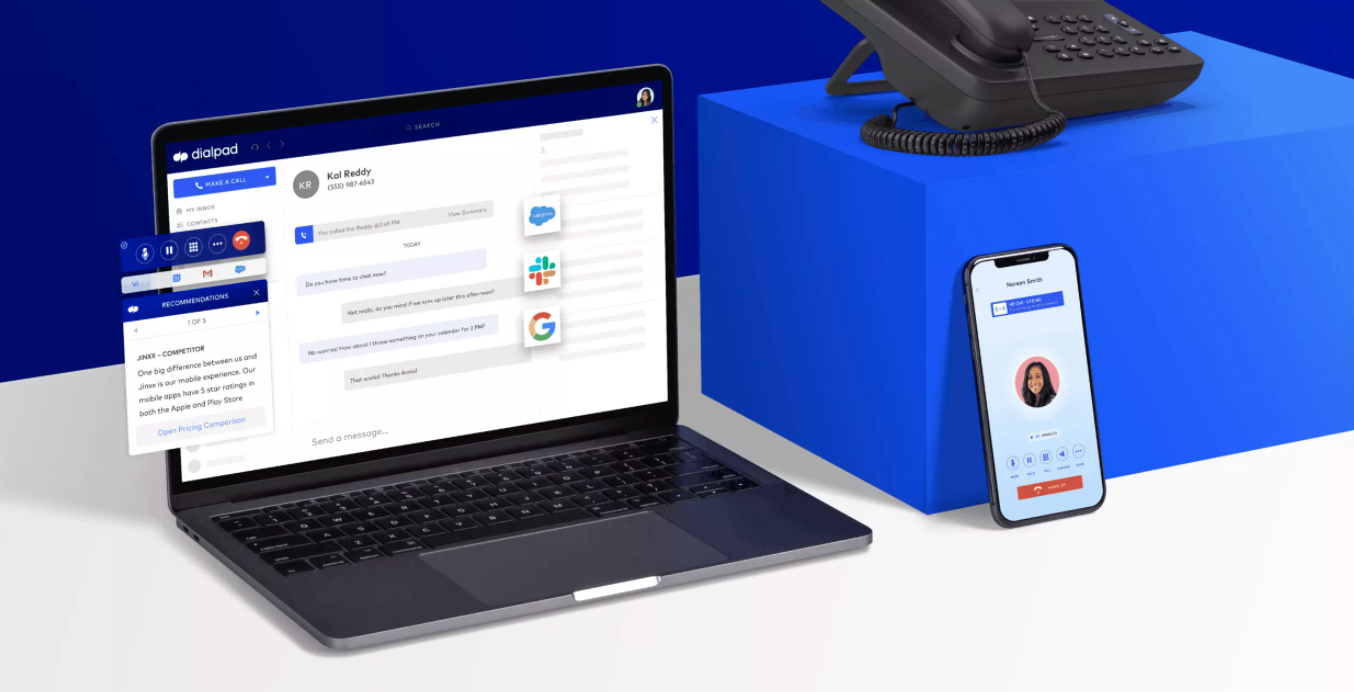 Dialpad is younger than some competitors as it was founded in 2011. It raised $50 million last year in Series D funding. There are a little over 300 employees meaning that it generates over $150,000 per capita. The 2018 GDP per capita of the United States was $62,641.
Features
All Dialpad Talk plans provide unlimited calls within the United States and Canada. The key feature that makes Dialpad so desirable is the fact that it can integrate with G Suite.
Over five million companies use G Suite so the ability to use Dialpad with it is a major bonus for many businesses.
Pro users can also use it to get international numbers. Both standard and pro users get local and toll-free numbers with their plan — along with call forwarding, voicemail transcription, and HD video calls.
Hold queues are limited to pro users though which could pose an issue if you get a lot of incoming calls.
Customer Support
The biggest drawback of Dialpad is the fact that its customer support is dependent on how much money you're giving them.
If you're a standard user then you won't get any phone support at all. Even pro users only get phone support five days a week. You'd have to be on their enterprise tier to get 24/7 phone support and the price for that isn't even listed on the website.
We understand that they'll prioritize those who pay a premium, but depriving standard users of phone support is taking it too far — especially when most of their competitors provide 24/7 support for all users regardless of their plan.
Pricing
The standard plan of Dialpad Talk costs $20 monthly per user while the pro plan is $10 more expensive. You'll have the option to pay on an annual or monthly basis.
Unlike most business phone service providers, you won't find any bulk discounts when using Dialpad. This means that whether you have 20 users or 99, you'll still need to pay full price.
They do offer an enterprise tier for those with 100 users or more, but the pricing isn't visible on their website so you'll need to contact them if you want to get a quote.
While the pricing is fixed, Dialpad is once of the viable Grasshopper alternatives for business because the standard plan isn't too expensive.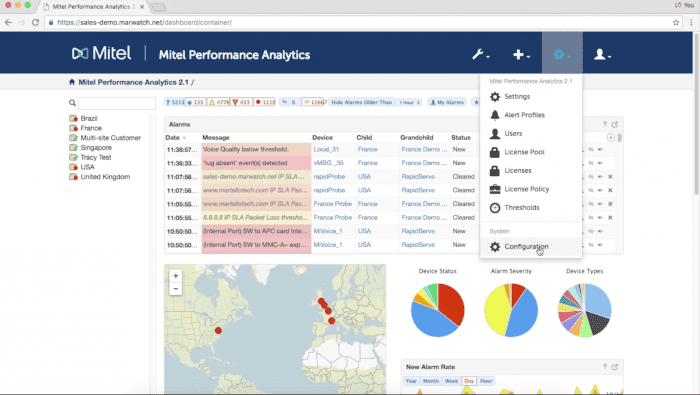 Overview
Mitel is the oldest company covered in this article, having been founded in 1973 by Terry Matthews and Michael Cowpland. Its sole focus became VoIP products after a 2001 change in ownership. With over $1.3 billion in revenue, Mitel is a major player in the industry.
Features
Even the cheapest plan on Mitel is packed with useful features. From instant messaging and mobile apps to a softphone and even G Suite integration, Mitel has it all. Sadly, voicemail transcription is reserved for premier and elite users.
The app supports audio conferencing, group video calls, and screen-sharing. It's worth noting that the cap on how many users can join in on your conferences varies based on which plan you have. This is an important consideration for businesses on the hunt for Grasshopper alternatives.
For instance, essentials members can have up to eight people in their video conferences. In contrast, premier and elite users have more spacious accommodations with limits of 12 and 24 users respectively. Take a look at the full capacity details here.
If you want to make use of the operator feature that Mitel provides then you'll need to get the elite plan which could be pricey for some smaller businesses.
Customer Support
We ran a few trials to see how effective Mitel's customer support was. After multiple emails and phone calls, we can say without a doubt that their customer support team is both helpful and efficient.
Our support calls were answered pretty much instantly. They would then get the necessary information and transfer us over to a specialist. These specialists truly lived up to their name by answering all our questions with clarity and great depth.
The emails also yielded prompt and helpful responses. Mitel support is available 24/7 year-round.
There's no downtime, not even on holidays. If your business phone service goes down on Christmas Eve then you'll still have helpful representatives on call who can resolve the issue promptly.
Pricing
Mitel has three plans: essentials, premier, and elite. They cost $20.99, $26.59, and $38.49 monthly per user respectively.
Their pricing page does let you enter the number of users that will be using the service but there are no visible updates to the per-user costs — which could be a bug on their end. In any case, the essentials plan is relatively affordable and still provides unlimited minutes per month.
If you find the premium features worth the extra cost to you — and it doesn't break the bank — then you always have the option of upgrading.
Grasshopper Alternatives Power SMBs to Enterprises
As you can see, there's no shortage of business phone service providers. To say that one company is better than the other would be rather unfair — as well as impossible because everyone has their own needs.
All you can do is take an objective look at all the pros and cons then see which one of these Grasshopper alternatives is the right fit for you.
Yes, most companies offer free 15-30 day trials before making you sign a contract. Just ensure that you cancel the trial before they charge you. Check out our guide to the top business VoIP providers for an even more robust comparison.