Today's contact center solutions offer a variety of real-time historical analytics with pre-made reporting templates to make monitoring agents and customer communication easier than ever.
But with such an abundance of information available, it can be challenging for managers to determine which metrics offer the most insight.
Enter wallboard call center software – the solution to making sense of your metrics.
Read on to learn what wallboard software is, the benefits it offers, top providers, and which KPIs to keep a close eye on.
Find the right
wallboard software
for your business
Jump to ↓
What Is a Call Center Wallboard?
A contact center wallboard is a visual tool displaying essential real-time performance and call center activity metrics to agents and managers through graphs, pie charts, notifications, and key statistics.
These wallboard displays can be seen on individual agent desktops, mobile apps, in team-wide channels, or even on larger screens visible to the entire office. You may hear wallboards referred to as performance dashboards or live agent monitoring.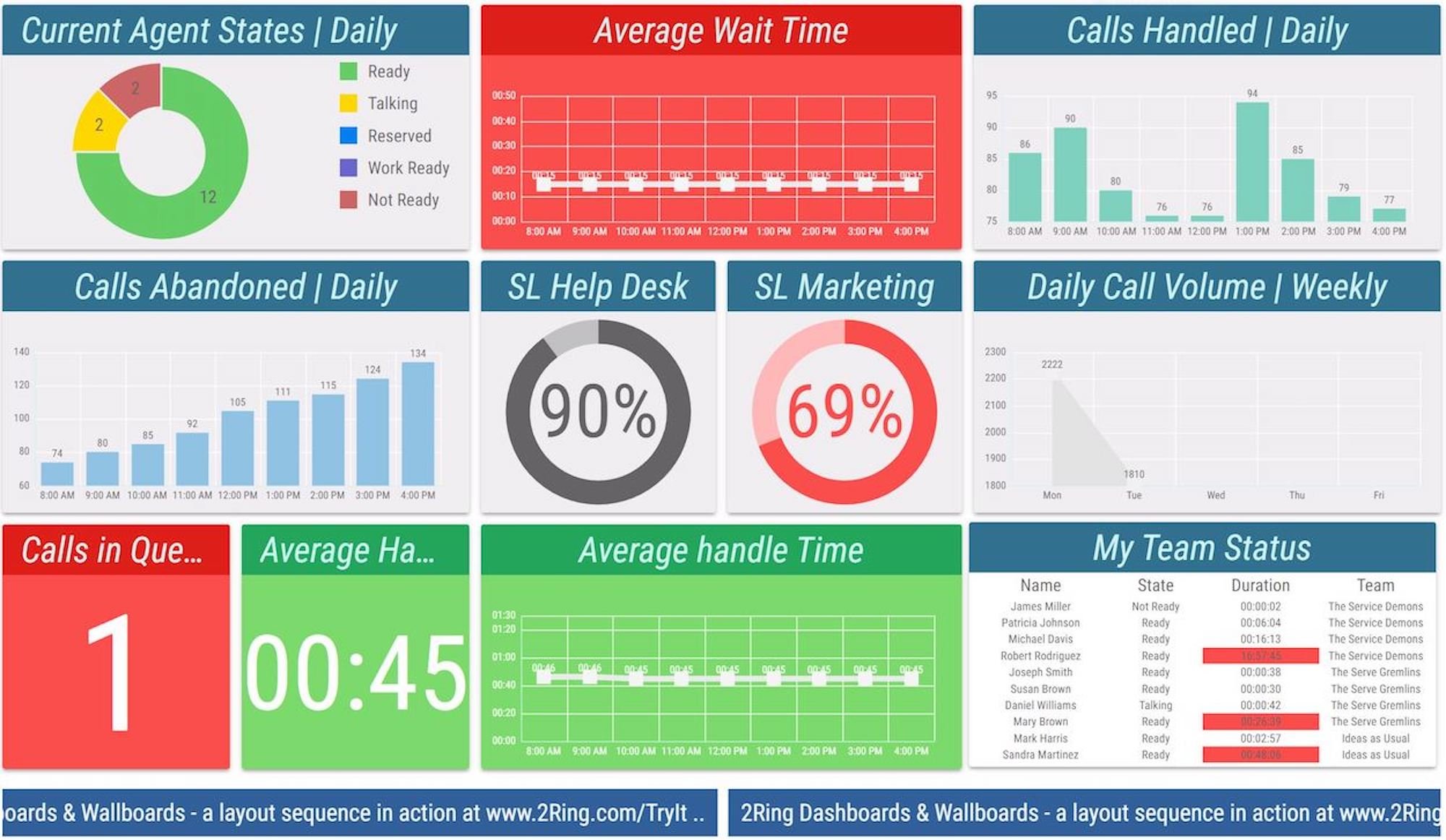 The above image shows contact center software provider Five9's wallboard, which includes a wide variety of interactive KPIs.
The purpose of a wallboard is to provide managers with a birds-eye view of the most current performance statistics across their organization, offering insight into both agent and customer behavior.
These wallboards can usually be customized according to selected metrics, specific agents or departments, and even reporting type.
Instead of having to sort through pages of reports to identify trends and potential issues, managers have essential information at their fingertips. This makes it easier to fix common call center problems before they spiral out of control, and to understand where agent training may be lacking. managers can automate data updates at preset intervals, and receive notifications of agent performance shifts (custom alerts can also be set.)
Wallboards also help to motivate agents to keep pace with or exceed expected productivity levels, especially given the ways in which these tools gamify performance metrics.
Benefits of Using Call Center Software Wallboards
Using a wallboard in your call center offers many benefits, but four stood out as the most noteworthy:
1. Make Data-Driven Decisions in Real-Time
Wallboards display call center KPIs (Key Performance Indicators) in real-time, allowing managers to quickly and accurately monitor call center status and activity levels at record speeds.
In addition to displaying raw metrics, the wallboard shows how close current performance compares to pre-set targets–and alerts managers when teams are approaching performance lower thresholds.
2. Keep Your Agents Motivated
Knowing wallboards display agent productivity statistics to the entire office may be intimidating at first, but it's an excellent way to empower agents to maintain high productivity levels and keep customer service skills sharp. 
It also makes it easier for managers to identify top talent – and more importantly, ensure the entire team recognizes their efforts by showing their names on company-wide leaderboards.
To avoid publicly "calling out" low performers, admins can, for example, set wallboards to only display the top 3-5 most productive agents. This makes the competition friendly and allows managers to address lower agent performance levels privately.
3. Try Call Center Gamification
Call center gamification is yet another way to encourage agents to go the extra mile with every customer support ticket they handle.
Gamification takes recognizing top performers to the next level, as instead of simply displaying their names, agents can compete with one another to win prizes and rewards.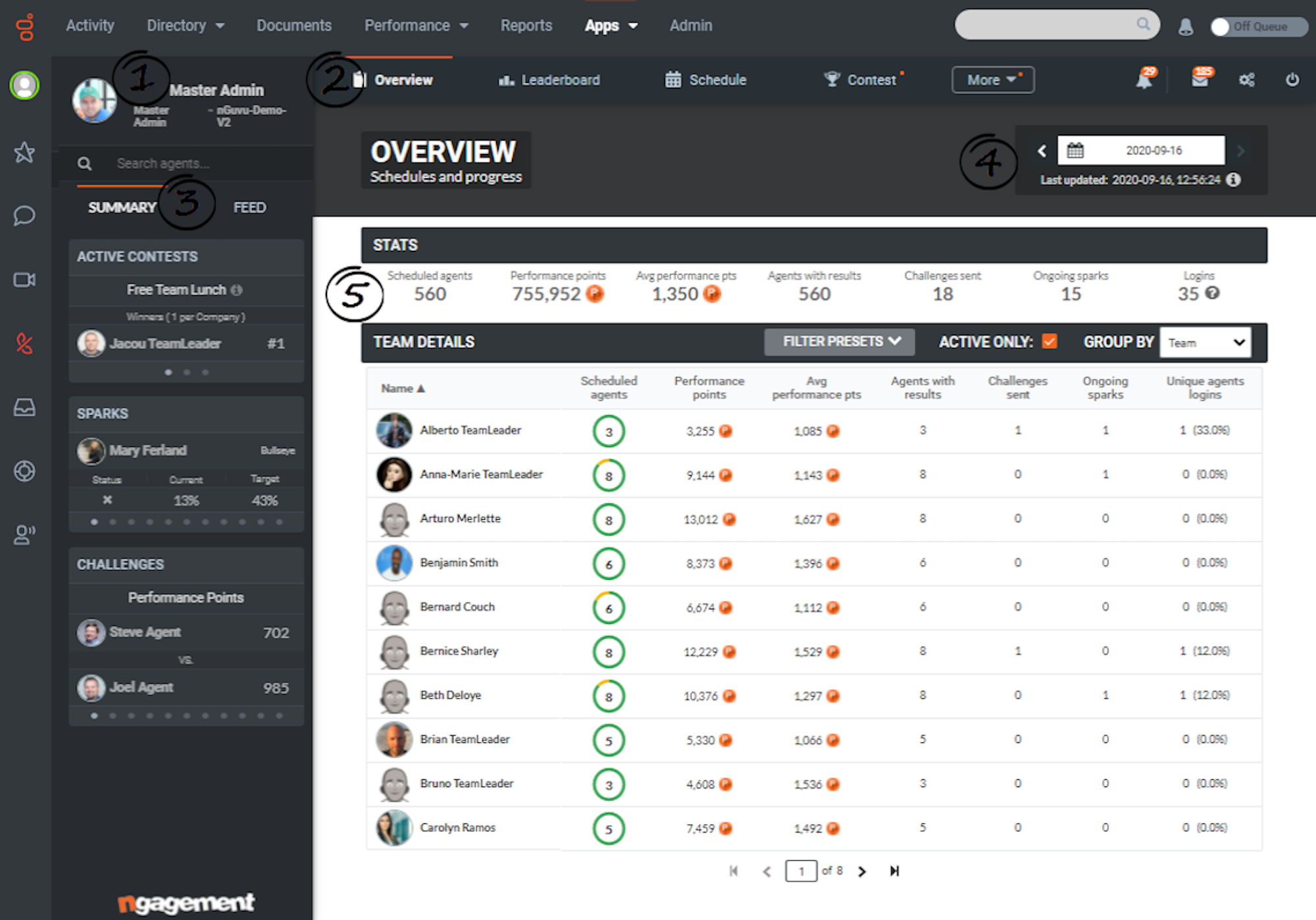 The image above displays the Genesys wallboard with gamification features like "Active Contests on the right-hand menu bar.
Popular metrics to gamify include average handle time (AHT), the number of sales and sales revenue, first call resolution rates, and customer experience and satisfaction ratings.
Admins can add daily, weekly, monthly, and quarterly rewards to encourage consistently high performance levels.
If you want to take the gamification to the next level then you could add daily, weekly, or monthly rewards for the top performers who manage to climb the leaderboards. A free lunch, spa voucher, or company merch are all popular rewards — as are additional vacation days.
4. Track All Metrics In One Place
Rather than having to hop between multiple tools and dashboards, call center managers can view every relevant metric from a single, unified wallboard.
This way, managers won't waste time switching tabs and can identify and react to negative performance trends much faster.
What Metrics Can You View on a Call Center Wallboard?
Essential wallboard metrics include:
Average Wait Time: The average number of minutes before a call is answered by an agent
Maximum Wait Time: The longest wait time (in minutes) that a customer had to wait before connecting to an agent.
Call Abandonment Rate: The total number of calls that were disconnected before an agent picked up.
Inbound-Outbound Call Ratio: The number of inbound calls received in comparison to the number of outbound calls made
Call Queues: The number of active calls, live agents, and answered calls for specific call groups
First Call Resolution Rate: The percentage of inbound tickets that were resolved without the need for a follow-up call.
Average Handle Time (AHT): The average amount of time it takes each agent to resolve the tickets assigned to them — an invaluable metric for comparing agent-to-agent efficiency.
Sales Performance: The number of total sales made by each agent over the phone.
Call Center Software With Wallboards
Bellow, we'll outline the top call center software with wallboard features:
Five9's agent dashboard serves as a color-coded native wallboard.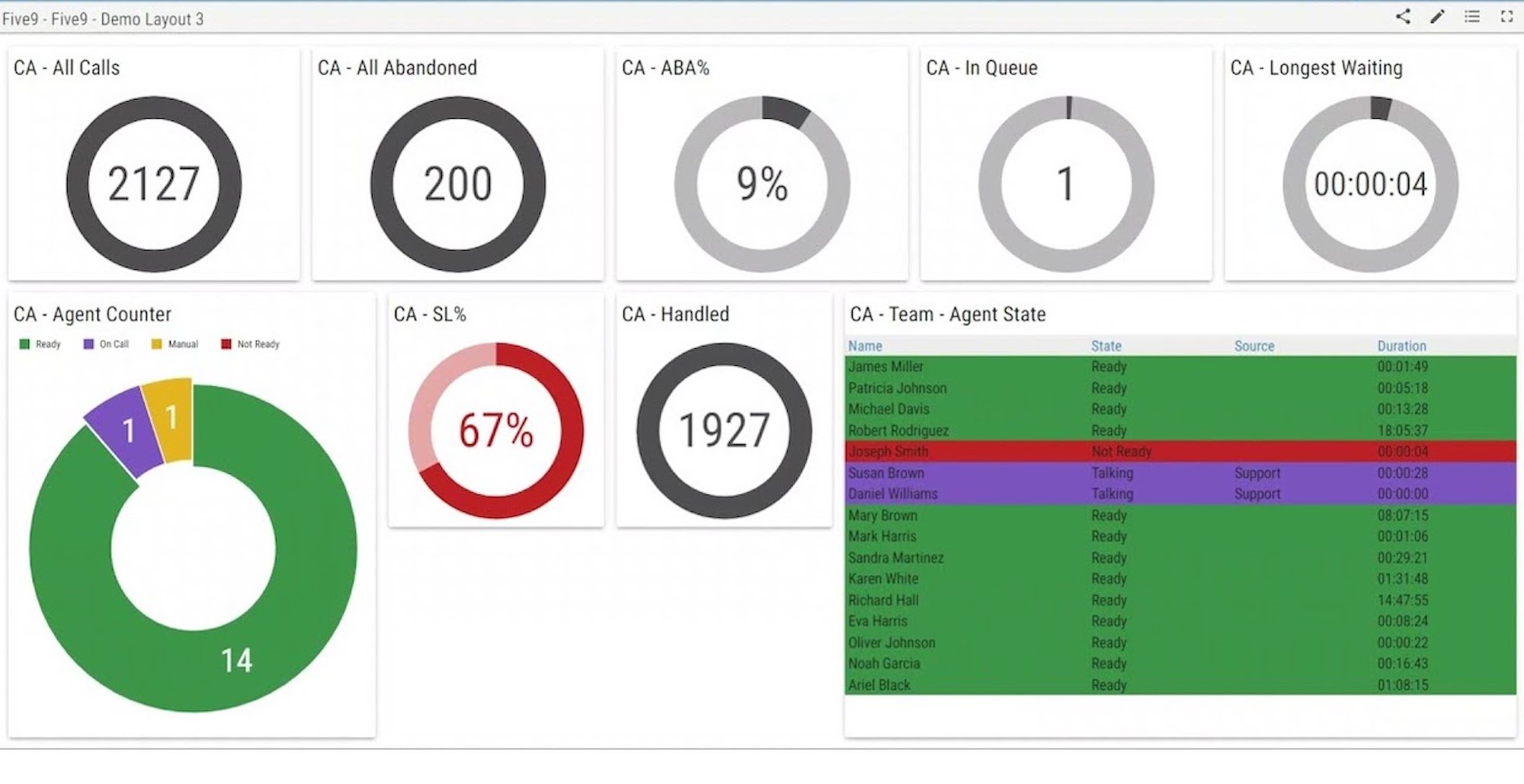 While it includes a high number of statistics, the volume of data means there is less diversity when it comes to how the statistics are shown. It relies too heavily on spreadsheet-like data representation instead of adding more graphs and charts for better visualization.
That's why we recommend that you purchase the Five9 Dashboards & Wallboards add-on.
Its wallboards have a more modern look and add additional graphs and charts that make it extremely easy to digest key details.
2Ring's Five9 wallboard also has a "my team status" tab that shows real-time data on the name, availability, assigned team, and average handle time for each agent. This makes it easy to spot agents that are lagging behind and help them course-correct.
Key Features
Real-time reporting with a flexible layout
120+ historical report templates to choose from
Agent and department-level views
Pricing
Five9 pricing offers four paid plans — Core, Premium, Optimum, and Ultimate — ranging from $149 to $229 per month. There is no free plan nor free trial available, so those interested should start with the Core plan to see if they want to continue/upgrade their subscription.
Talkdesk offers a minimalistic layout, optimized use of color-coding, and large numbers that make real-time data visualization a breeze.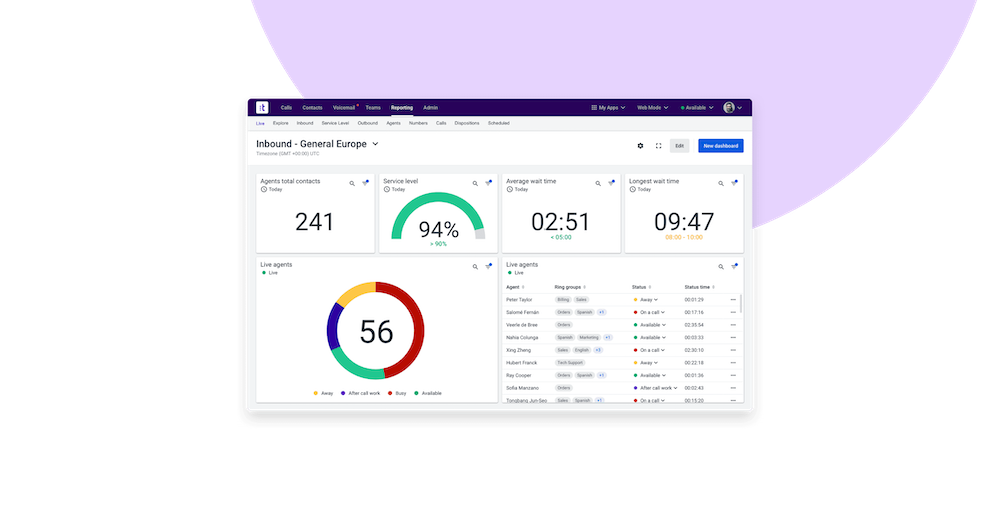 The drag-and-drop editor lets you select the KPIs that matter most to your company and customize an ideal layout for your team. If you don't want to start from scratch, you can choose one of the prebuilt wallboards in Talkdesk's library.
Lastly, switching on the dark mode for your wallboard's background color palette makes it easier for your call center agents to stay on top of their real-time metrics at night.
Key Features
Excellent UI
Drag-and-drop editor
Prebuilt wallboard templates
Pricing
Talkdesk has four paid plans for CX Cloud. The first three — Essentials, Elevate, and Elite — cost between $75 and $125 per month for each user while the enterprise "Experience Clouds" tier uses quote-based pricing.
There is no free plan or free trial available but you can request a demo.
Instead of using graphs and charts, Dialpad uses a real-time table format to help you track the hold queue, agents, inbound/outbound calls, and other metrics for each team. Call center alerts can be triggered when certain criteria are met.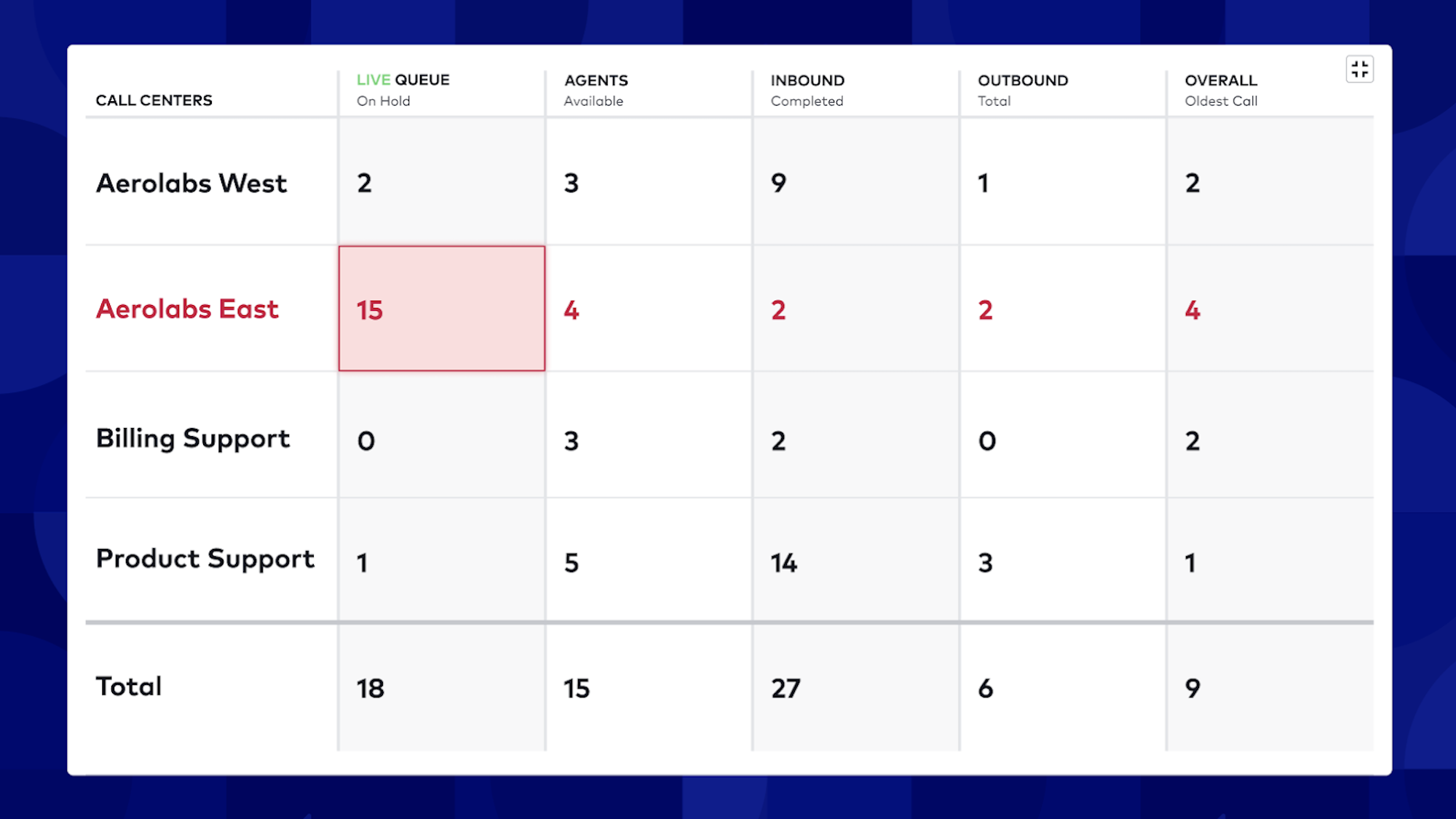 These alerts will turn either a specific cell or entire row red depending on the severity of the backlog. The KPIs you can add to columns include:
Call center name
Abbreviated name
Longest wait time
Number of agents available
Number of agents in wrap up
Number of inbound calls completed
Number of inbound calls abandoned
Number of inbound calls missed
Number of voicemails received
Number of outbound calls connected
Number of outbound calls canceled
Average wait time
Service level
Average call duration
Link to dashboard
Key Features
Live table-style wallboard
Visual alerts
Six timeframes to choose from (entire day, past eight hours, past four hours, past two hours, previous hour, and current hour)
Pricing
Dialpad has three paid plans. The Standard and Pro plans cost $23 and $35 per month respectively but both have discounts when billed annually. The Enterprise plan – with a 100% uptime SLA – uses quote-based pricing.
There is no free plan available (except for Dialpad Meetings) but you can sign up for a 14-day free trial to test the platform before subscribing to a paid plan.
While the CXone wallboard looks a bit messier than the other options we've covered, it does manage to get plenty of KPIs onto a single interface.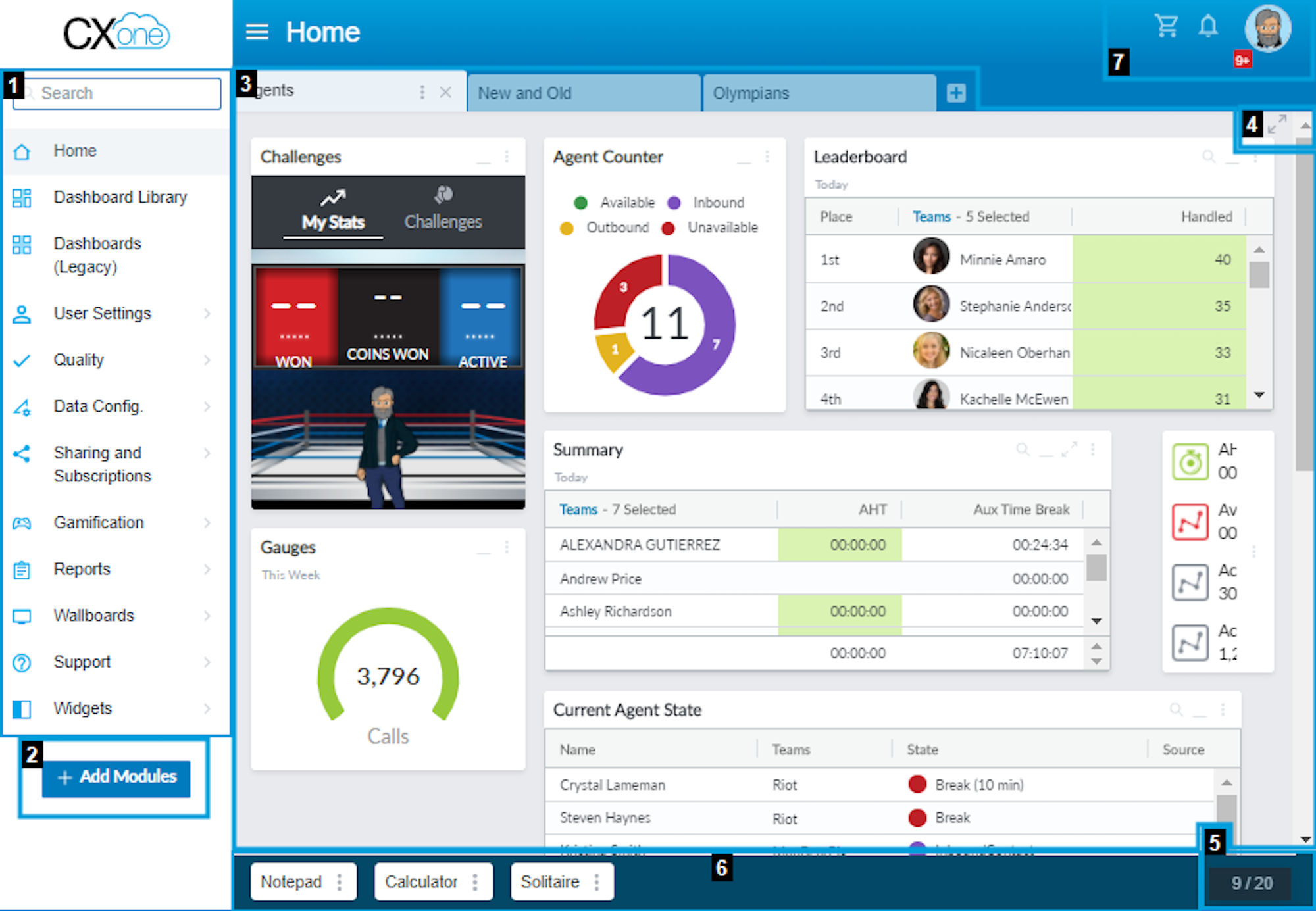 Its performance gauge tracks how many calls have been made and how close the call volume is to weekly targets.
The challenge widget helps with gamification, but the graphics could use an update to make it look more professional. You can also add a live leaderboard that ranks agents based on how many calls they've handled.
Other gamification features include coins, badges, and XP progression that makes your agents feel like they're leveling up in a video game. You can see all your active gamification campaigns under the Command Center of the Performance Management menu.
Other data you can attach to your wallboard include employee birthdays, new hire spotlights, team member awards, YouTube videos, and custom company messages. The entire user experience is more casual than most solutions but still helpful overall.
Key Features
Live leaderboard tracking calls handled
Gamification widgets
Award and achievements system
Pricing
NICE CXone offers six contact center plans that range from $71 to $209 monthly per user. The three highest-tier plans include highly customizable reports, with advanced real-time KPIs and wallboards.
Genesys offers highly-customizable wallboards that can be used for sales teams, call centers, and omnichannel outbound marketing campaigns. A nice feature is a fullscreen mode that automatically cycles through multiple wallboards when enabled.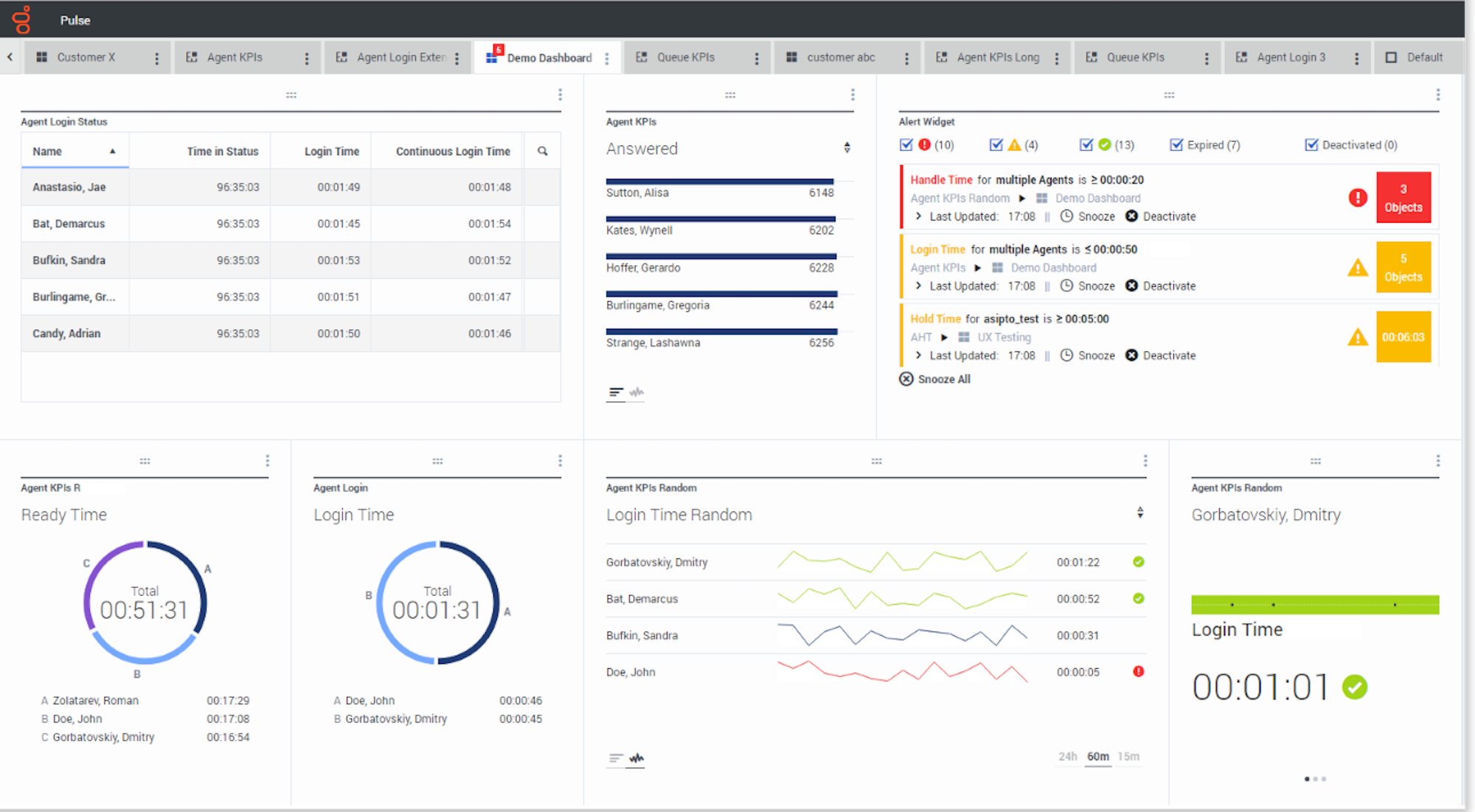 For alerts, Genesys wallboards have a dedicated widget that will show you how many objections there are, how severe the situation is, and let you snooze the notification if you're currently preoccupied.
The platform also offers a simplified view for teams with only a few KPIs to track:
Key Features
Customizable layout for multiple use cases
Fullscreen wallboard cycling
Alert widget
Pricing
Genesys has five paid plans. Three of which — Genesys Cloud CX 1, 2, and 3 respectively — are priced between $75/month and $150/month. Genesys Choice and DX use quote-based pricing.
There is no free plan available but you can sign up for a 30-day free trial to test the platform before subscribing to a paid plan. Hourly pricing is also available on selected PBX plans with listed prices ranging from $0.68 to $1.35 per hour.
8×8 has rather low-quality data visualization, given the interface mostly consists of rows, columns, and raw data.
There isn't much in the way of color-coding either, which further adds to the bland, unintuitive UI.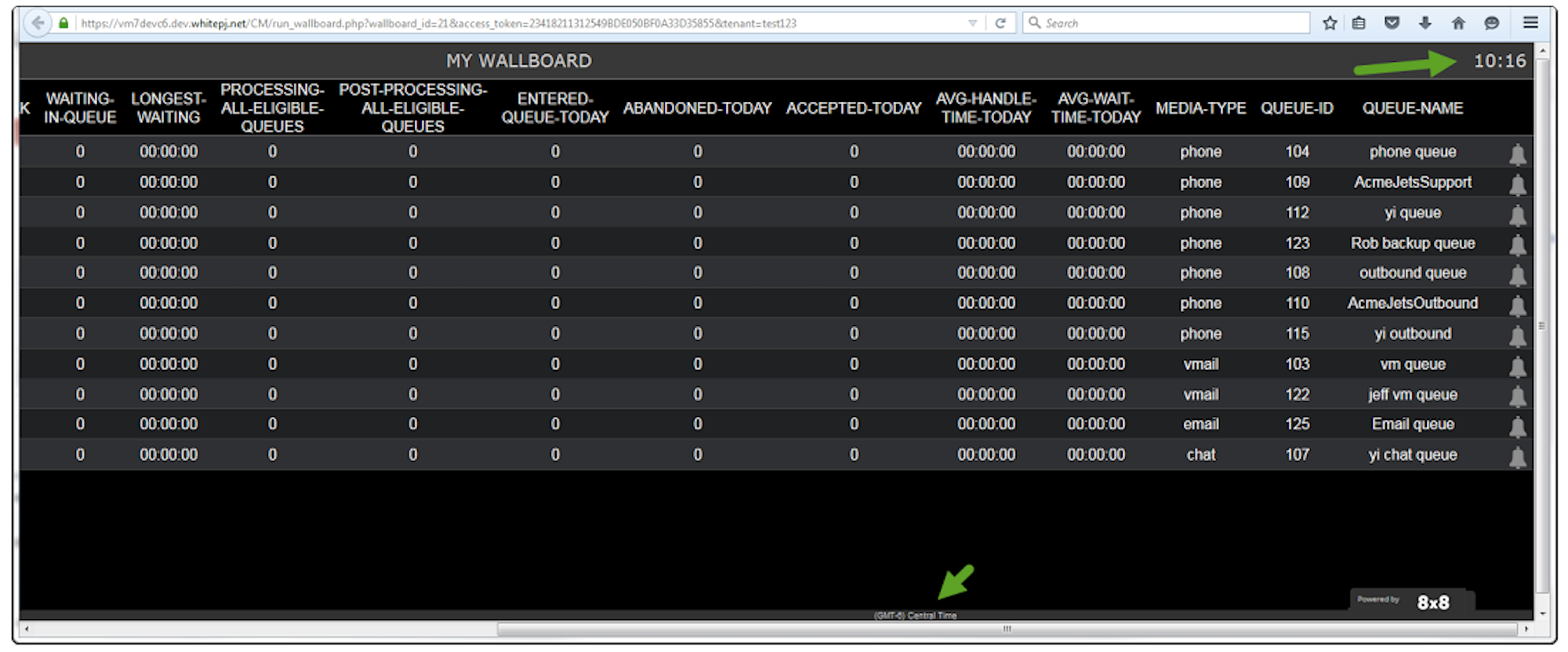 On the bright side, setting a wallboard up with 8×8 is very easy and only takes a couple of minutes. Simply click on "Add Wallboard", fill in the name/description/timezone, add queues, and then select your background color of choice.
After saving your changes, you can then copy the URL to display the wallboard in a browser. The simplicity hardly makes up for the lack of UI/UX design, but you'll still be able to track key metrics like abandoned calls, queue length, average handle time, and more.
Key Features
Easy setup
URL for browser display
Pricing
8×8 has three primary paid plans — Express, X2, and X4 — that cost $15 to $57/month per user.
The Express plan is closer to a lite version, as it is limited to teams of 10 or fewer and doesn't offer video conferencing, team messaging, business SMS, integrations and APIs, or an SLA-guaranteed uptime, Though 8×8 doesn't offer a free plan, interested users can sign up for a free 30-day trial.
Nextiva wallboards have a simple-yet-flexible UI layout with color coding for each KPI.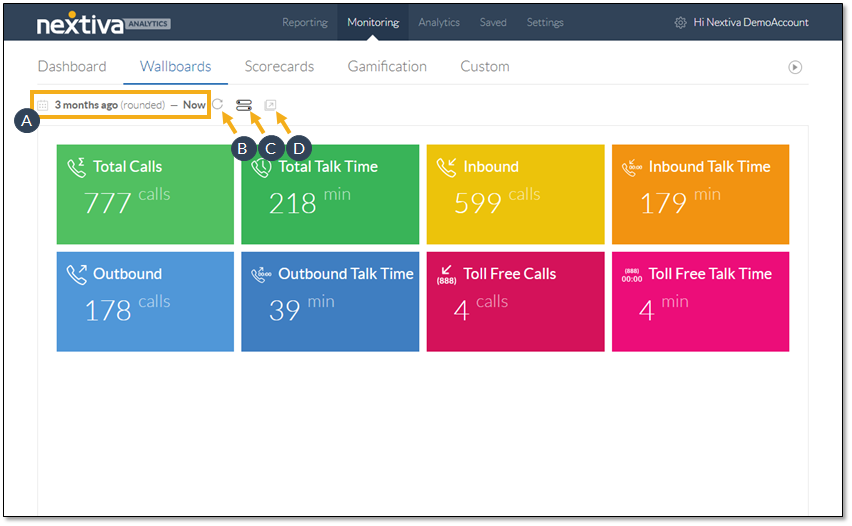 This makes it easy to track metrics like:
Total calls
Total talk time
The number of inbound calls + total inbound talk time
The number of outbound calls + total outbound talk time
The number of toll-free calls + total free talk time
You can add "metric tiles" in just a few clicks. Metrics tiles are customizable by tile and arrow color, display either a percentage or value, set it to count/sum/average, and choose between Nextiva CRM, Voice, or both as the data source.
Key Features
Modern, color-coded UI
Metric tile customizability
Data source selection (CRM/Voice/both)
Pricing
Nextiva has three paid plans: Essential, Professional, and Enterprise. They cost $31, 36, and $46 per month respectively. However, the prices drop significantly if you switch to annual billing and buy 20+ licenses. There is no free plan, but a 7-day free trial is available.
Customizing CloudTalk live wallboards to suit your needs is easy. Data can be displayed as a title or a list, and users can choose between light and dark themes. Admins can also set specific time periods to track and monitor metrics.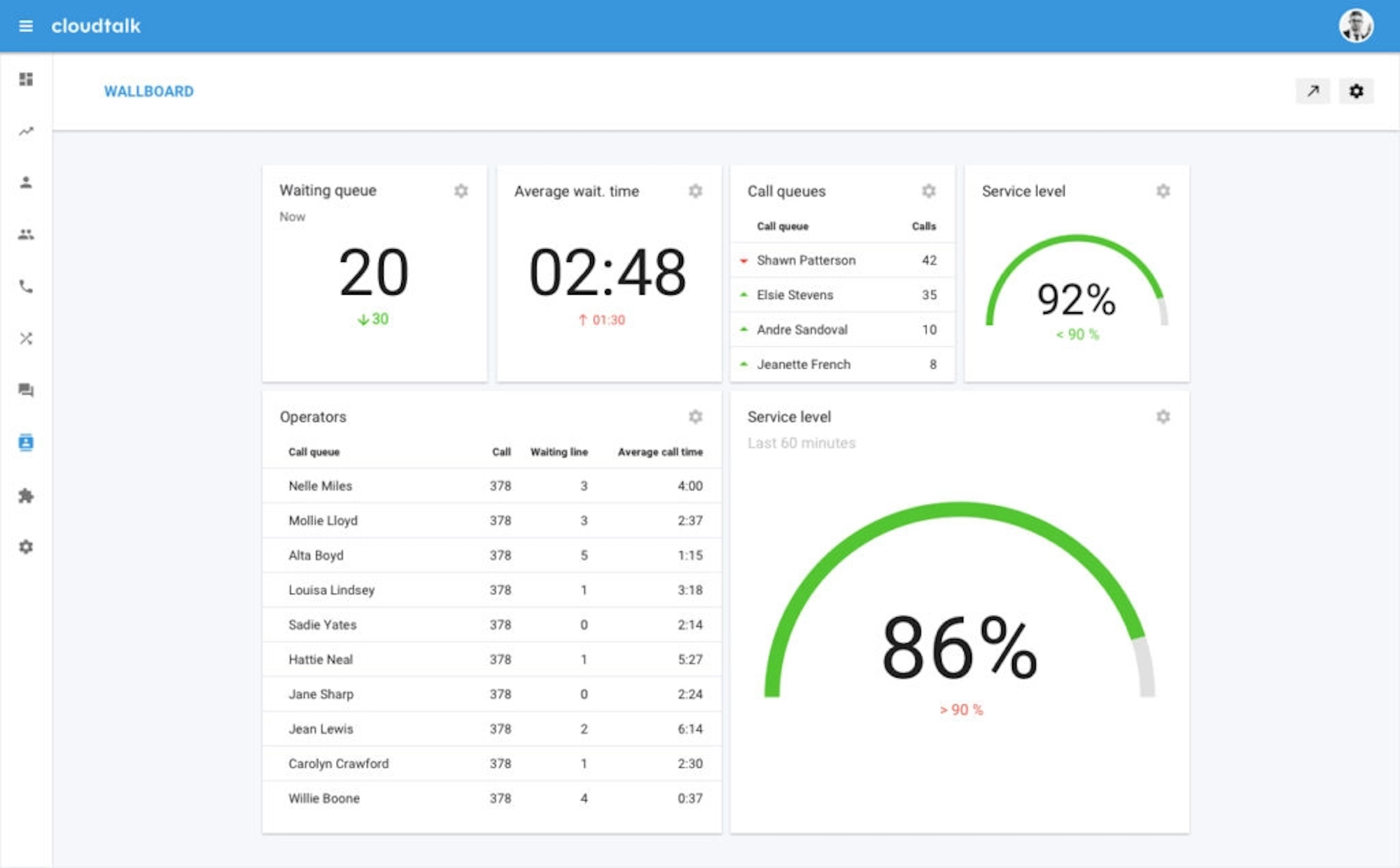 Every metric tile also shows you how close the current call center performance is to target values and if it's trending upward or downward. Admins can also sort data by the individual agent to see agent name, number of answered calls, and current call duration, among others.
Key Features
Light and dark mode UI options
Granular agent performance tracking
Modern, customizable interface layout
Pricing
CloudTalk has four paid plans — Starter, Essential, Expert, and Custom — costing between $30 to $60 per month for each user or custom pricing for the fourth plan. Annual billing reduces the monthly per-user cost by 25%.
There is no free plan but a 14-day free trial is available.
Which Call Center Software is Right For You?
Wallboards are immensely helpful in terms of data visualization, quick summaries of call center activity, and the reasons behind current customer satisfaction ratings.
The functionalities they offer equally benefit agents and managers, keeping teams productive and ensuring supervisors are instantly aware of any workflow issues.