Virtual conference platforms help businesses reduce expenses, reach a wider audience, and simplify the process of planning and executing business events.
Webinar software features like in-meeting polling and sales offers, live Q&A sessions, and attendee chat messaging replicate the experience and engagement of in-person events. Online conferences also offer detailed participant analytics and insight into a virtual event's overall effectiveness  – data difficult to collect in-person.
However, the success of a webinar depends just as much on the webinar software you choose as the content you present.
In this article, we'll review the best virtual conference platforms, outlining features, use cases, pricing, and available plans.
An Overview of the Best Virtual Conference Platforms
The below table offers a brief overview and comparison of the best virtual event platforms, virtual conference platforms, pricing, and top features.
| | | | |
| --- | --- | --- | --- |
| Platform | Pricing | Top Feature | Best For |
| WebinarJam | 3 paid plans from $39/month for 500 attendees to $379/month for 5,000 attendees | Panic Button and active offer tools | Companies looking for an affordable webinar tool |
| vFairs | Contact for a custom quote | Immersive and realistic virtual convention environments | Companies hosting virtual fairs/trade shows, hybrid events |
| BigMarker | 4 paid plans from $79/month for 100 attendees to $299/month for 1000 attendees | Automatic in-event offers, stream live from company website | Businesses that want to host webinars on their own websites or use webinars for marketing |
| WorkCast | 3 plans from $499/month for 500 attendees to $999/month for up to 5,000 attendees | Virtual booth tours with vendor communication | Presentation-based webinars with little to no audience collaboration |
| Demio | 3 plans from $39/month for 50 attendees to over $69/month for 1000 attendees | Detailed analytics that track every attendee click | Companies hosting public webinars with smaller audiences |
| Livestorm | 3 plans from free for 10 attendees to over $99/month for 3000 attendees | Pre-built templates for registration pages to make customization easier | Companies looking to combine external and internal-facing conferencing |
| Whova | Contact for a custom quote | Artifact Center designed for gallery-style exhibition | Companies looking to add a virtual aspect to in-person or hybrid events |
| Airmeet | 6 plans from free to over $99/month | Customizable and interactive sponsor booths | Companies looking to prioritize attendee networking |
| Hopin | 4 paid plans from free for 100 attendees, to $799/month for 100 attendees and more hosts | Event templates for 8 internal or external event types | Companies that use paid webinars to generate revenue |
| Zoom Video Webinars | 6 plans from $79/month for 500 attendees to $6490/month for 10,000 attendees | Live language interpreters and translation | Conferences with a large amount of audience collaboration, especially breakout rooms |
Jump to ↓
What Are the Different Types of Virtual Events?
When choosing a virtual conference platform, your first step is to consider the types of online events you plan to host.
Popular event types include:
Online Training Sessions: Continuing education, employee training, external software/product training for clients
Virtual Trade Shows: Online trade shows and expos with interactive virtual booths
Online Fairs: Job fairs, volunteer/internship fairs
Webinar as a Product: Paid-entry webinars to generate revenue (educational or industry resources, expert panels, certification trainings, networking events with breakout rooms, etc.).
Sales and Lead Generation Events: Free-entry sales webinars open to the public (often advertised via social media or email) designed to generate and filter leads or make sales with special in-webinar-only offers
Hybrid Events: A combination of in-person and virtual events, usually for company-wide or industry-specific events. May host panels, have keynote speakers, encourage mingling and networking with breakout sessions and Q&As
Essential Virtual Conference Platforms Features
Whether you're creating an employee training webinar or hosting an industry-wide conference, the virtual conference software features below improve sales outcomes, keep trainings effective, and influence future conference attendance.
When shopping for webinar software, look for: 
Live and pre-recorded video streaming
Mobile accessibility (Apple iOS and Android)
Instant chat messaging
File-sharing capabilities
Virtual whiteboards
Virtual waiting room
Breakout rooms
Webinar registration tools, including personalized invitations
Engagement features (polling tools, virtual hand-raising, Q&A tools, broadcast messages, reaction emojis, virtual handouts)
Third-party business communication tools integration
Audio and video recording
In-app conference registration
Automated event reminders
Engagement analysis on attendance and lead generation
Live product offers
Integration with live streaming social media platforms
Active speaker view
AI and gamification features
Backgrounds to create a branded virtual environment
Evergreen webinars, viewable asynchronously
The Best Virtual Conference Platforms
Below, we've outlined the current most-popular virtual conference platforms–each with hundreds of thousands of worldwide users.
WebinarJam
WebinarJam is a broadcasting technology that can host up to 5,000 viewers with six presenters. Its intuitive interface and robust features ensure all users – regardless of experience – can quickly and simply create, plan, and host effective and profitable webinars.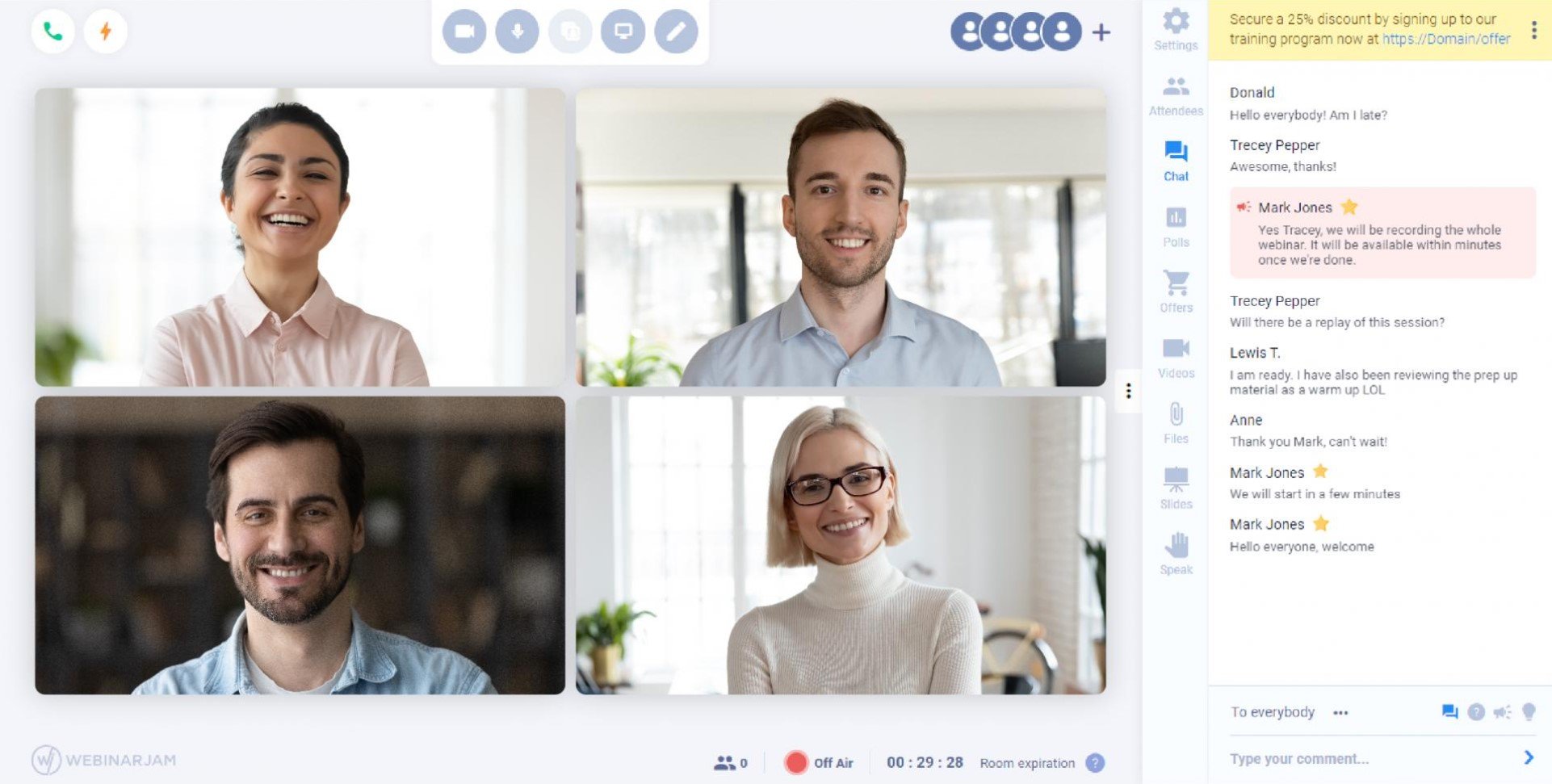 Those who want to provide asynchronous, pre-recorded webinars can use WebinarJam's comparison platform, EverWebinar, which specializes in evergreen virtual events and uses many of the same features: These include polls, audience chat, real-time product offers with urgency modifications, a hybrid option to add live Q&As after prerecorded sessions, and much more.
In presentation, an easy-to-use top bar places essential functions like the virtual whiteboard right at the presenter's fingertips, while the panic button lets the presenter switch the entire presentation–audience, files, slides, videos, and all–to a new link if there are unexpected technological issues or video bombing.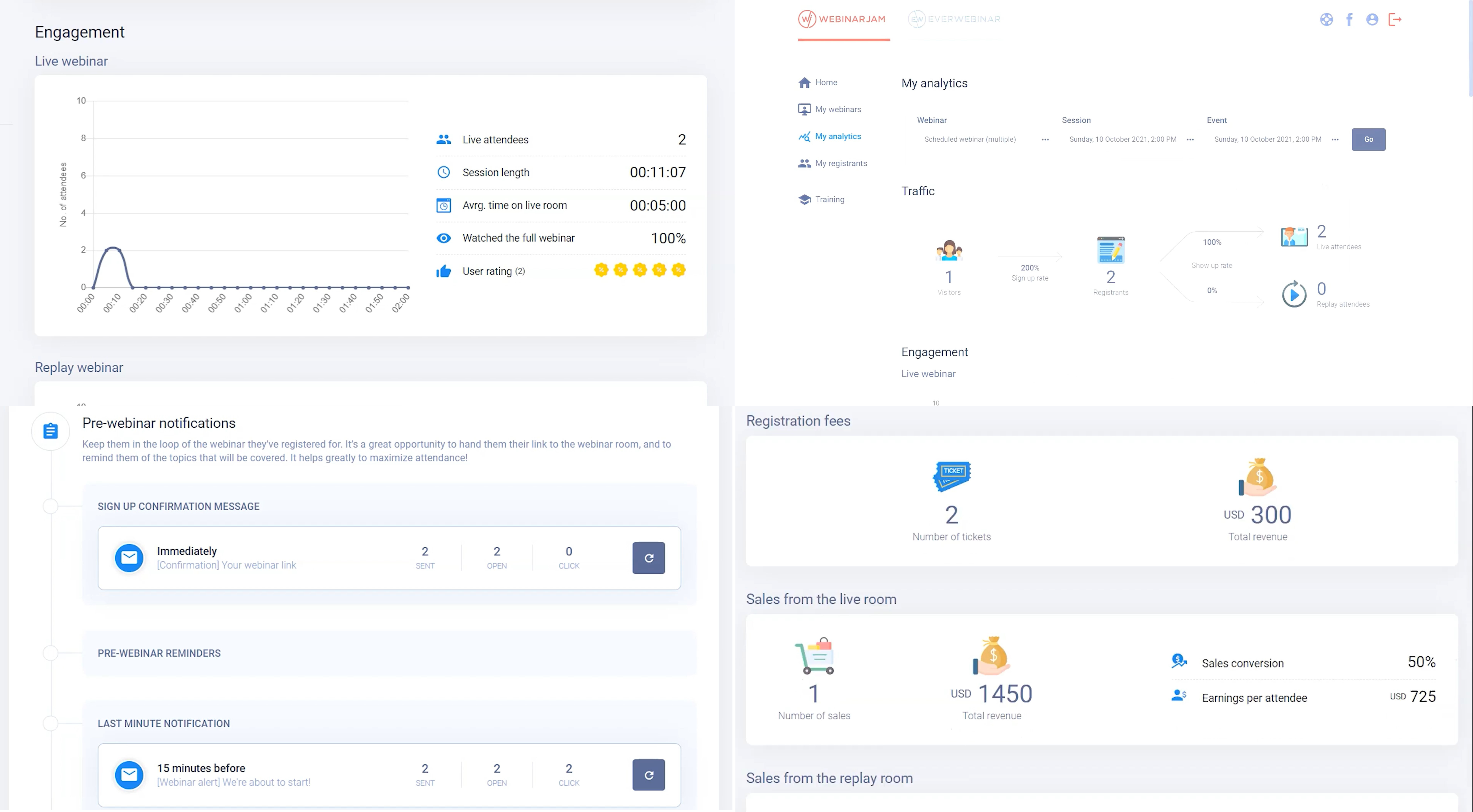 During webinars, WebinarJam's control panel gives moderators access to numerous interactive and customer support tools: They can invite attendees into the spotlight, feature or respond to chats and audience questions, inject videos, and share files or presentations themselves, taking responsibility off of the presenters themselves.
Additional WebinarJam features include:
One-click registration
Integrations with Zapier, Mailchimp, Constant Contact
Screen sharing and remote screen control
Step-by-step webinar-creation walkthrough
PDF, PDG, Excel, and Google doc file compatibility
Virtual or blurred backgrounds
Flexible scheduling
Replayable webinars
Always-on rooms
Automatic conference recordings
Performance analytics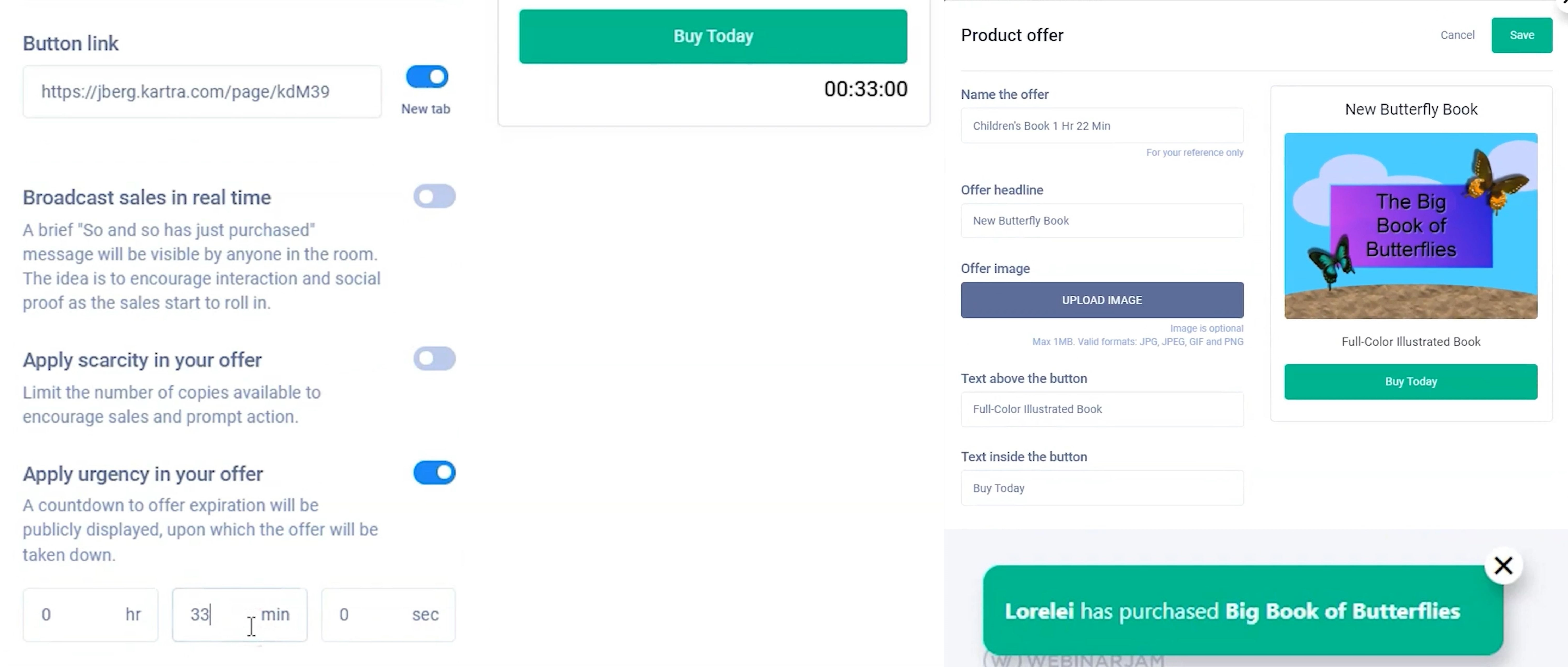 Though WebinarJam does place a four-hour maximum time limit on virtual events, its pricing and plans still present the best value for businesses wanting affordable virtual conference platforms.
WebinarJam Plan Options
Starter ($39 monthly): 1 user and up to 100 attendees
Basic ($79 monthly): 2 users and up to 500 attendees
Professional ($229 monthly): 4 users and up to 2000 attendees
Enterprise ($379 monthly): 6 users and up to 5000 attendees
EverWebinar ($41.50 monthly): 6 users and unlimited asynchronous attendees
vFairs
vFairs is a virtual and hybrid events solution offering both live and pre-recorded webinars, trade shows, job fairs, and more.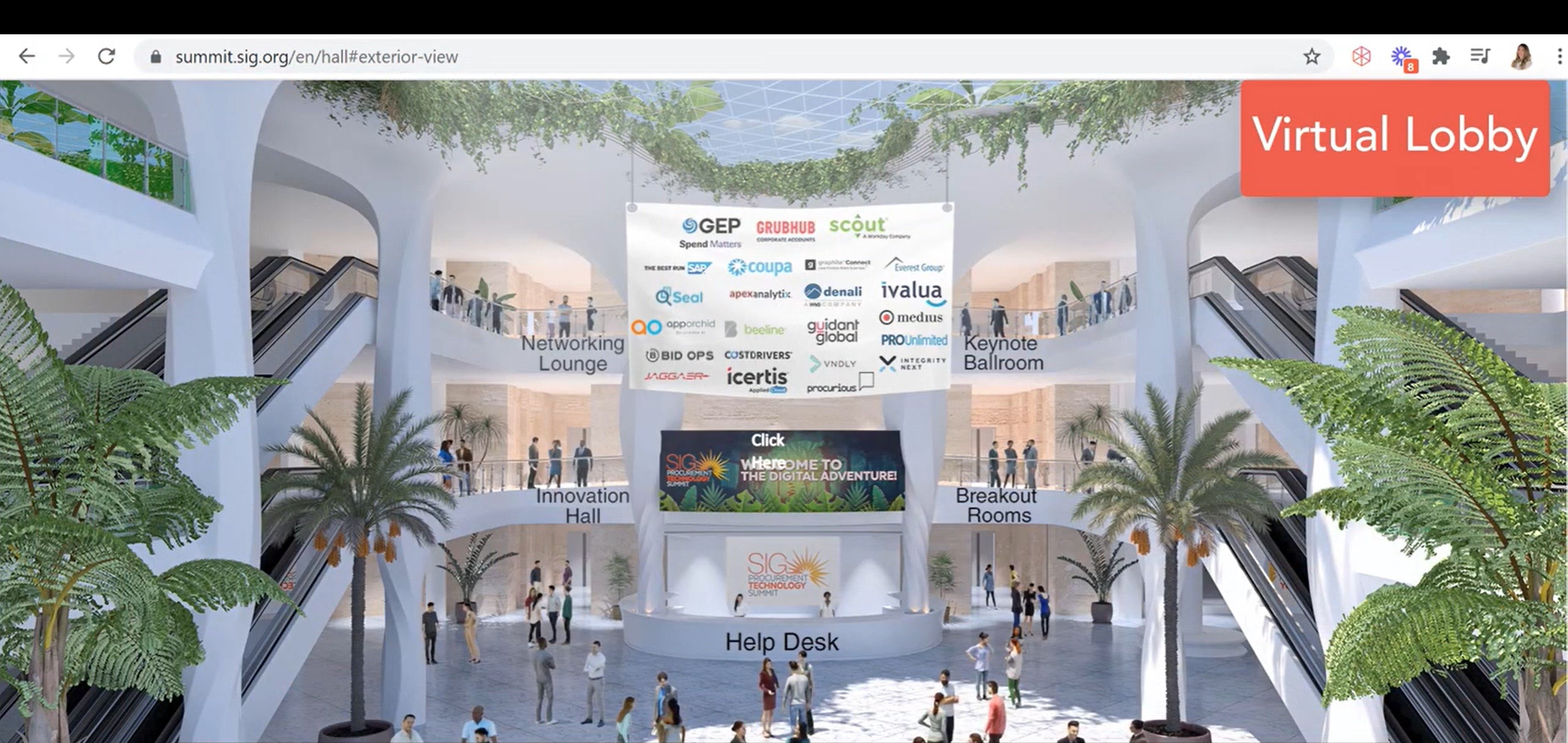 The vFairs Event Builder, supported by your dedicated project manager, guides hosts through customizing every step of the event setup: creating webinars, realistic and immersive virtual environments, integrations, landing pages, email marketing campaigns, document hosting, and chat rooms.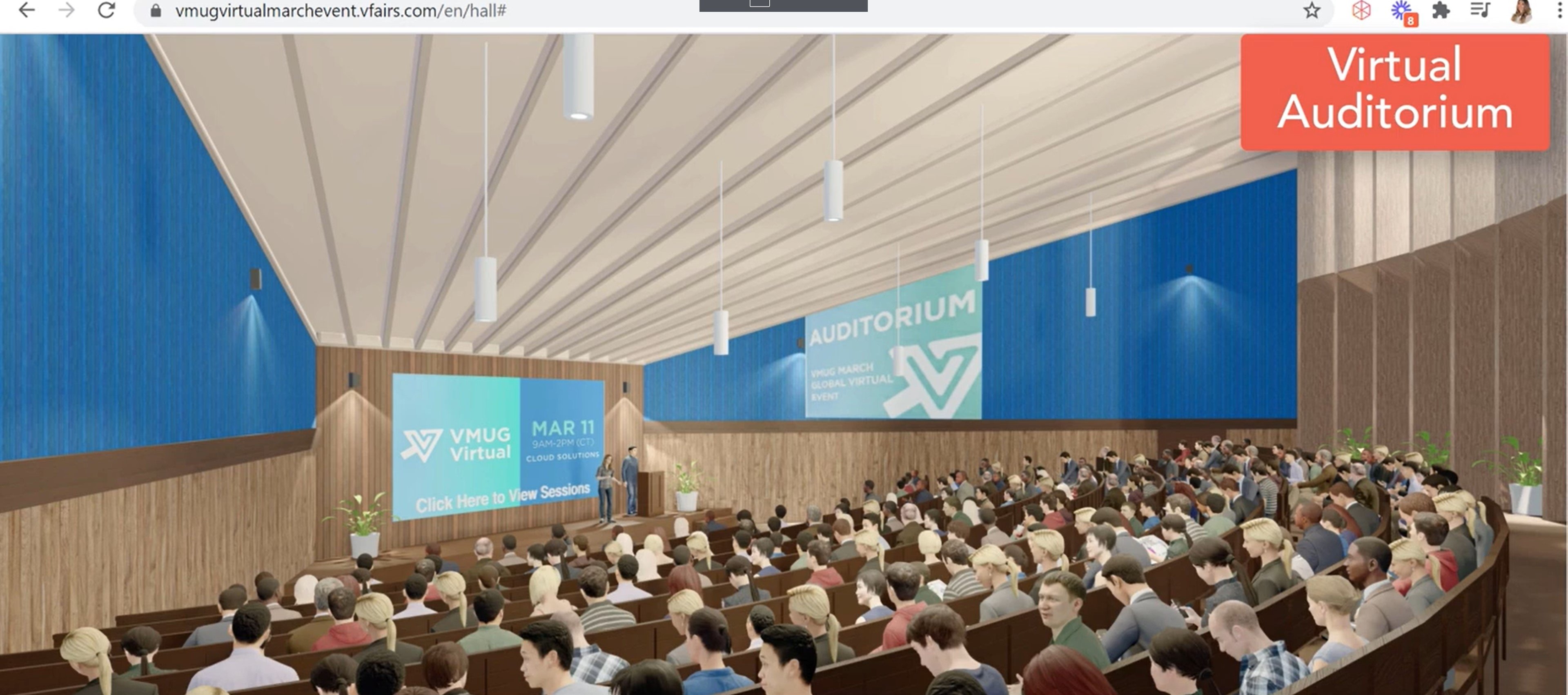 When the event begins, attendees hop from the landing page to the virtual lobby, from where eventgoers have four main areas to navigate:
Virtual Auditorium: Where the event agenda, list of speakers, events, and corresponding descriptions and links are posted. Speakers can also host private sessions with embedded Zoom modules.
Exhibit Hall: A collection of browsable, interactive booths hosted by event vendors, partners, and sponsors. Attendees can chat with booth hosts, download handouts, and even apply for jobs with just a few clicks.
Each virtual booth has its own branding and avatars, as well as unlimited branded content that attendees can quickly compile in a virtual bag. Attendees can leave business cards if the booth vendor is unavailable.
Networking Lounge: Here, attendees can network with each other–instead of the vendors–using the embedded chat and private room features, with text, video, and audio. Pre-created chatrooms on relevant topics can help inform attendees about key event topics.
Info Desk: Where attendees and sponsors can reach out to event hosts via live chat, phone call, or email, with questions or tech support requests.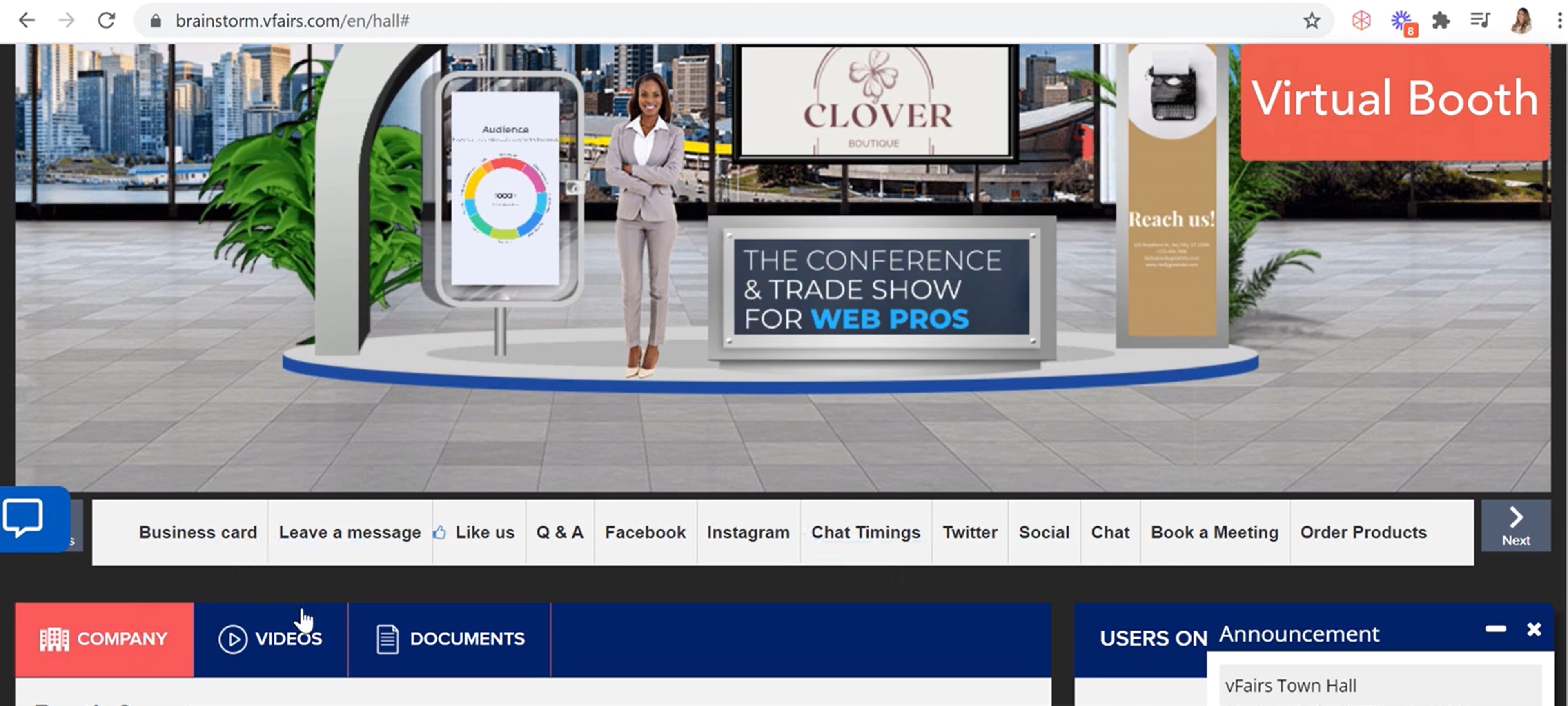 vFairs has gamification features like a live leaderboard, trivia quizzes, and virtual scavenger hunts, with moderator-chosen prizes, to make events memorable, engaging, and fun for attendees.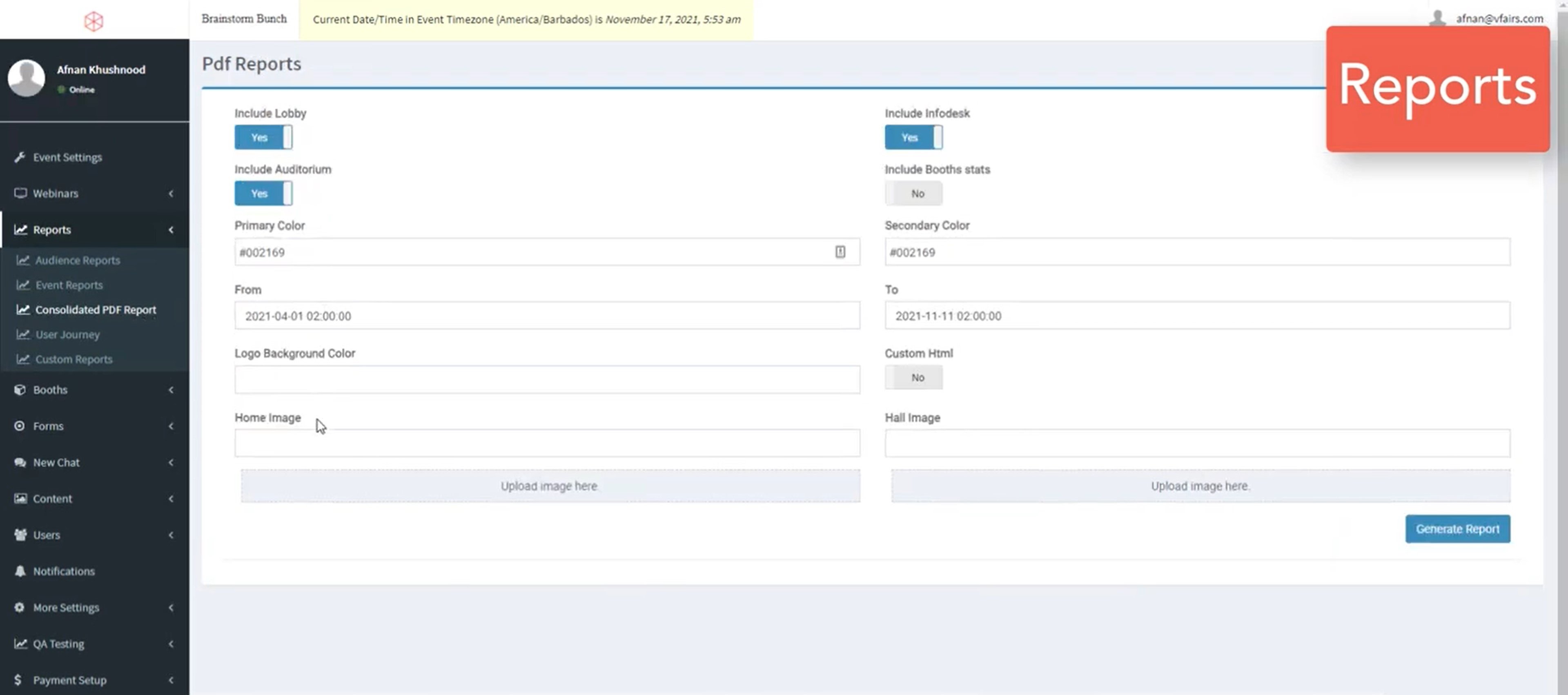 Additional vFairs features include:
Keynote speakers
SMS and email reminder notifications
Attendee profiles
Downloadable presentations and videos
Live Q&As, polls, and audience participation features
Breakout sessions
Custom registration forms
Integrations with Zapier, Single sign-on (SSO), PayPal, and Stripe
Embedded Zoom modules for private sessions.
Real-time translation to multiple languages
Chat slot reservations for booths
Tracking and reporting all clicks, downloads, chats, and interactions from the exhibit
Attendee photo gallery
Social media wall, compiling all event-related social media posts
Dedicated project manager and customer success manager help users manage the process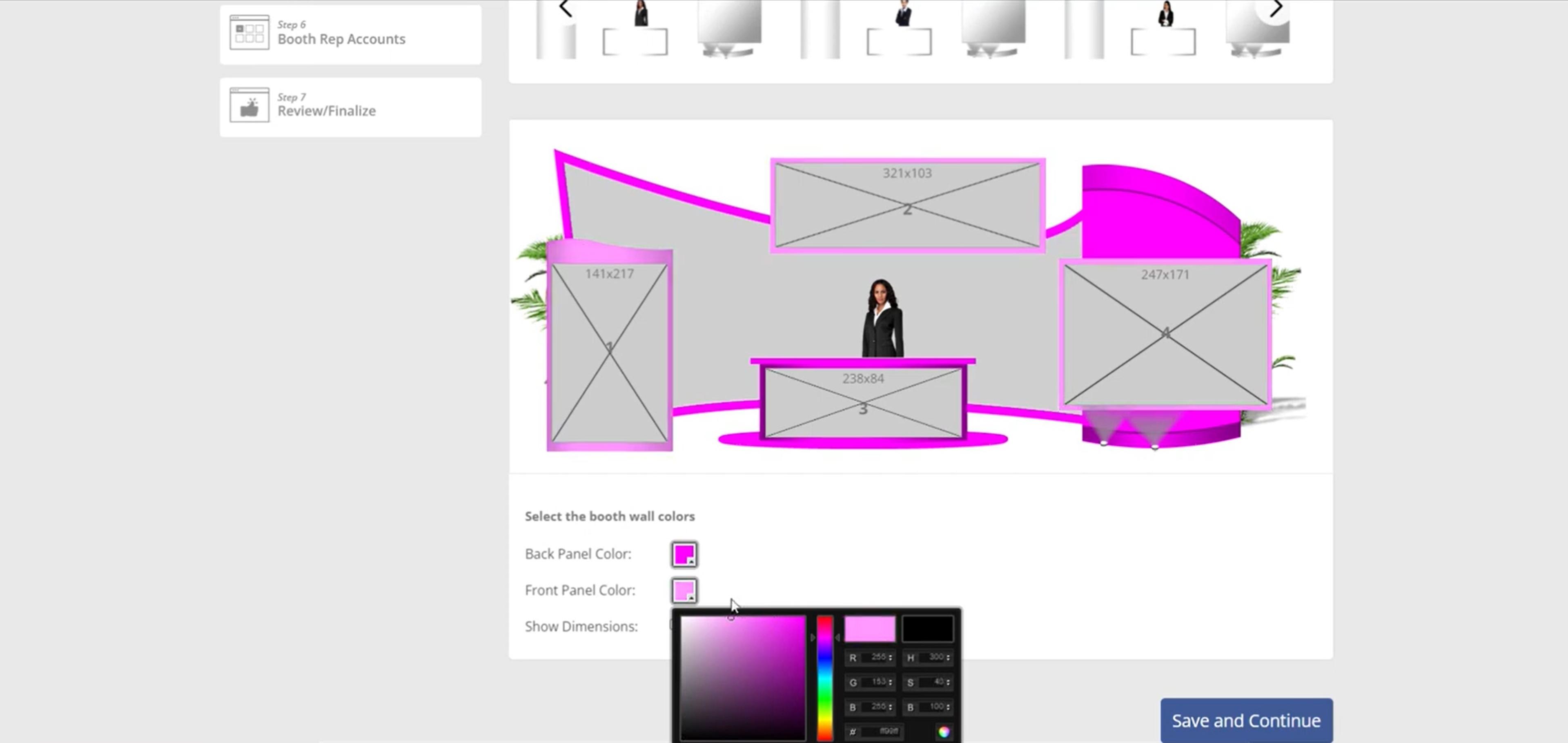 vFairs is ideal for companies that want to host exhibit-type events, shows, or conferences– especially those with booth-based demonstrations and sponsors.
vFairs Pricing
vFairs pricing is quote-based, so companies will need to directly contact the provider for a pricing quote, based on event length, expected number of attendees, and desired number of hosts.
BigMarker
BigMarker is a virtual conference platform built especially for marketing events, used by top companies like Bose, Pandora, and Samsung.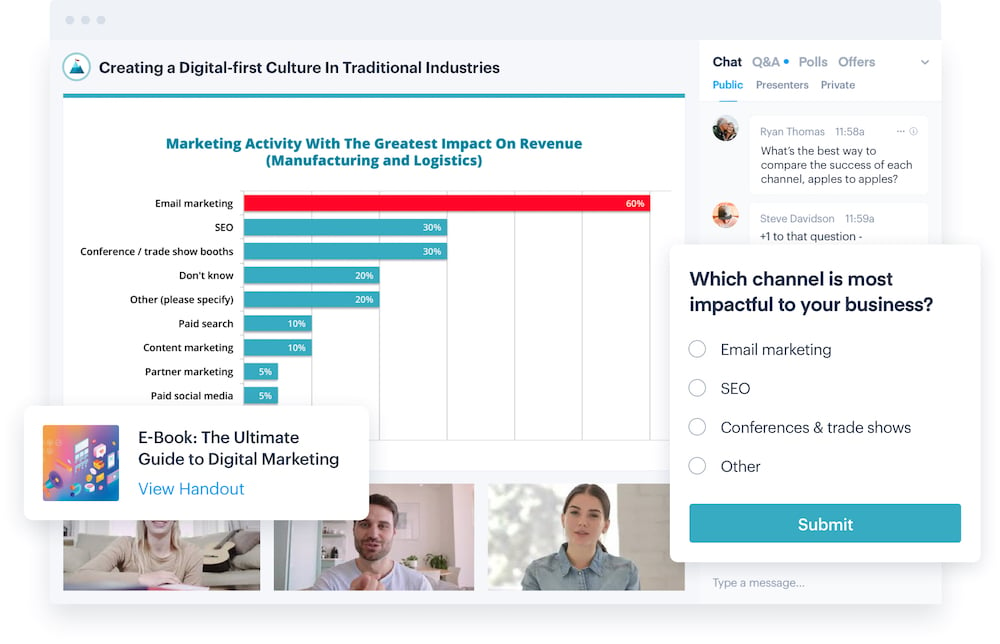 With scalability up to 50,000 attendees, BigMarker provides a range of webinar types to meet your marketing vision: simulive webinars hosted on autopilot, evergreen asynchronous webinars that viewers can access anytime, live streams, 24/7 webinar rooms, and webinar series with one-time sign-up.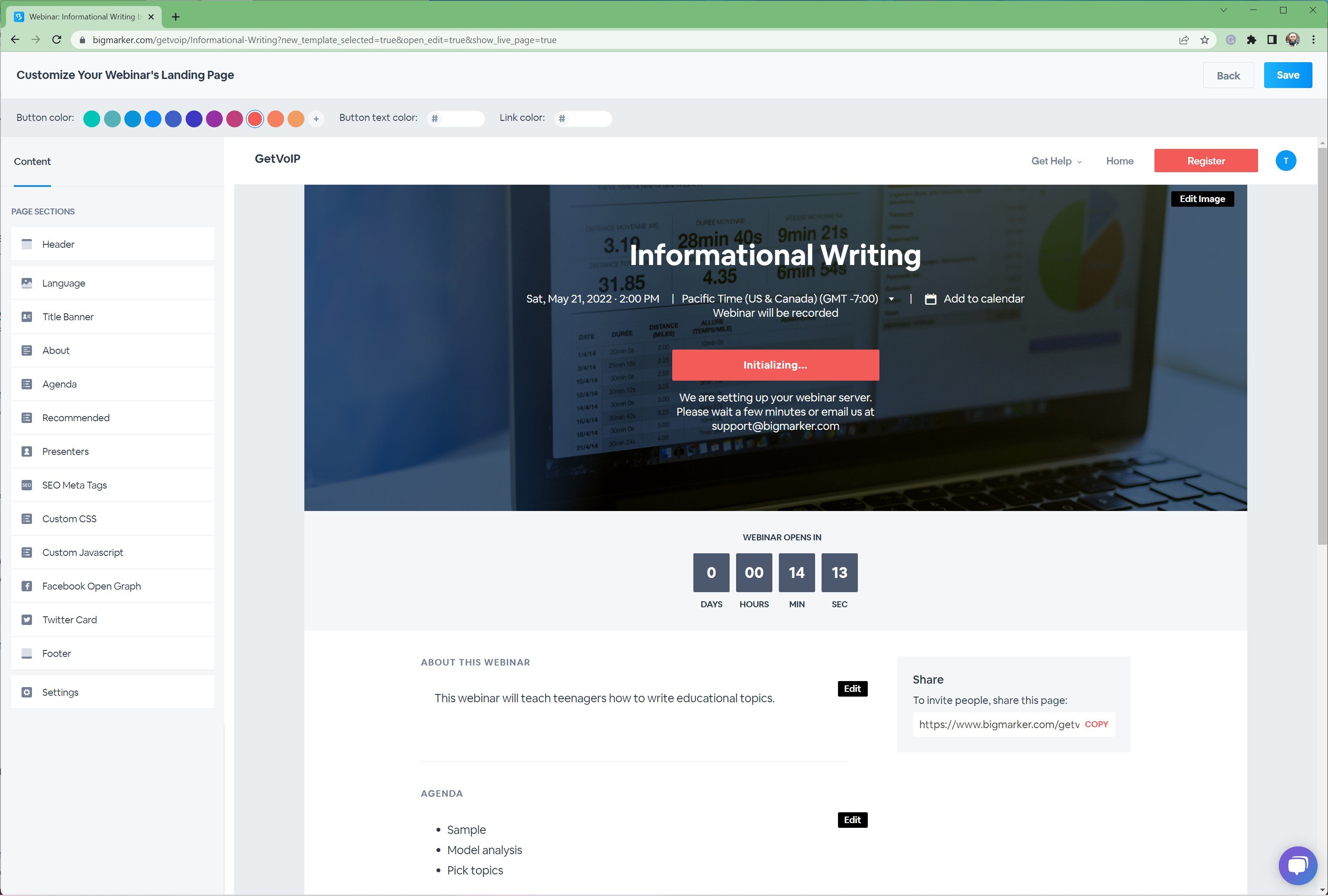 15+ customizable landing page templates allow you to brand registration and sign-ups. With full control over audience reminders and invites, and customization of your webinar room, you can design and brand the entire customer journey.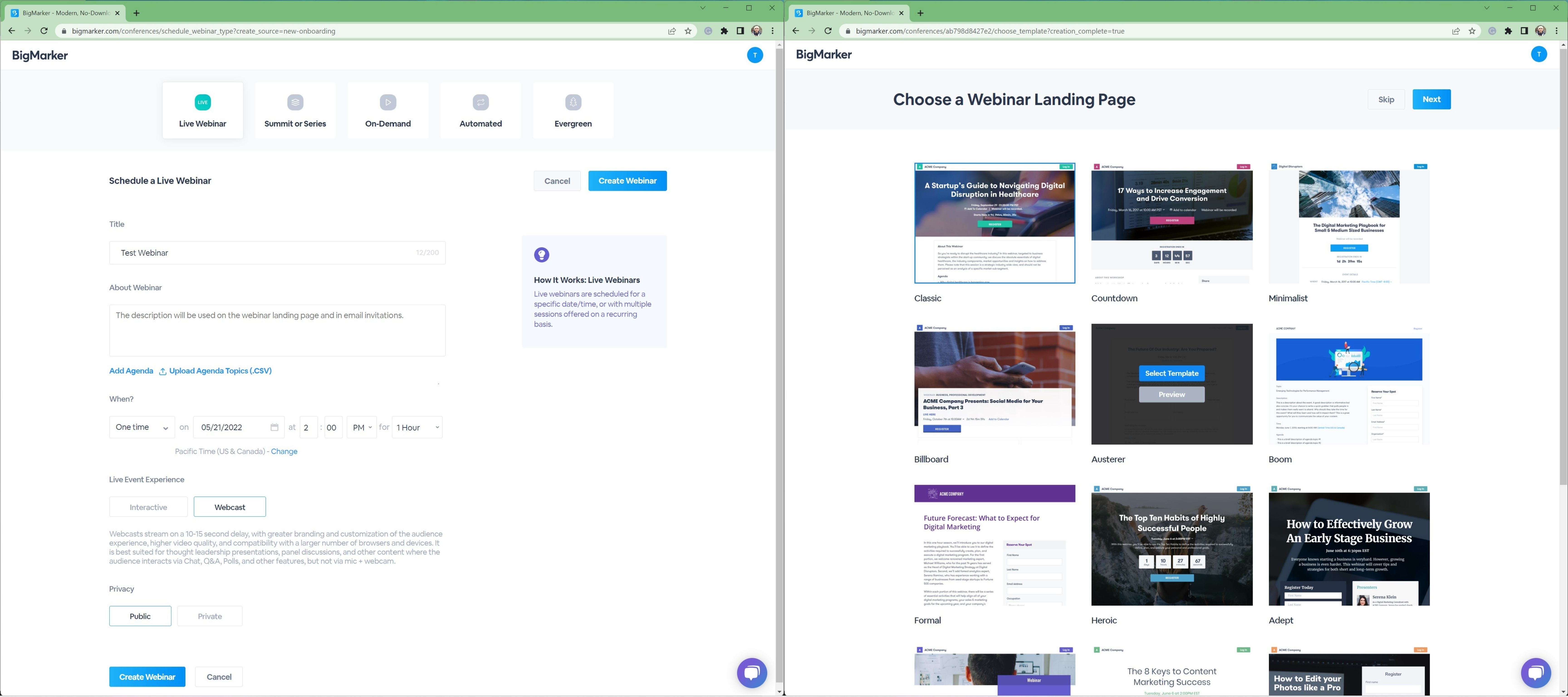 Additional BigMarker features include:
Live and pre-recorded video
Screen sharing
Whiteboard tool
Pre-loaded live polls with real-time results
Google Form surveys
Automatic and manual pop-up offers and CTAs
Webinar landing page templates
Customizable email invitations
Built-in translation
Payment collection via PayPal and Stripe
Event recordings
Password protection
Dial-in access
Live chat messaging
Presentation and file sharing
Breakout rooms
No presenter limit, promote attendees to presenters live
Customize and brand webinar room
HD audio and video
Q&A with upvoting
Highly brandable audience-facing pages, registration forms embeddable into your company's pre-existing website, call-to-action pop ups, and analytics geared toward maximizing lead conversion make BigMarker a great fit for companies using webinars for marketing, rather than for educational purposes.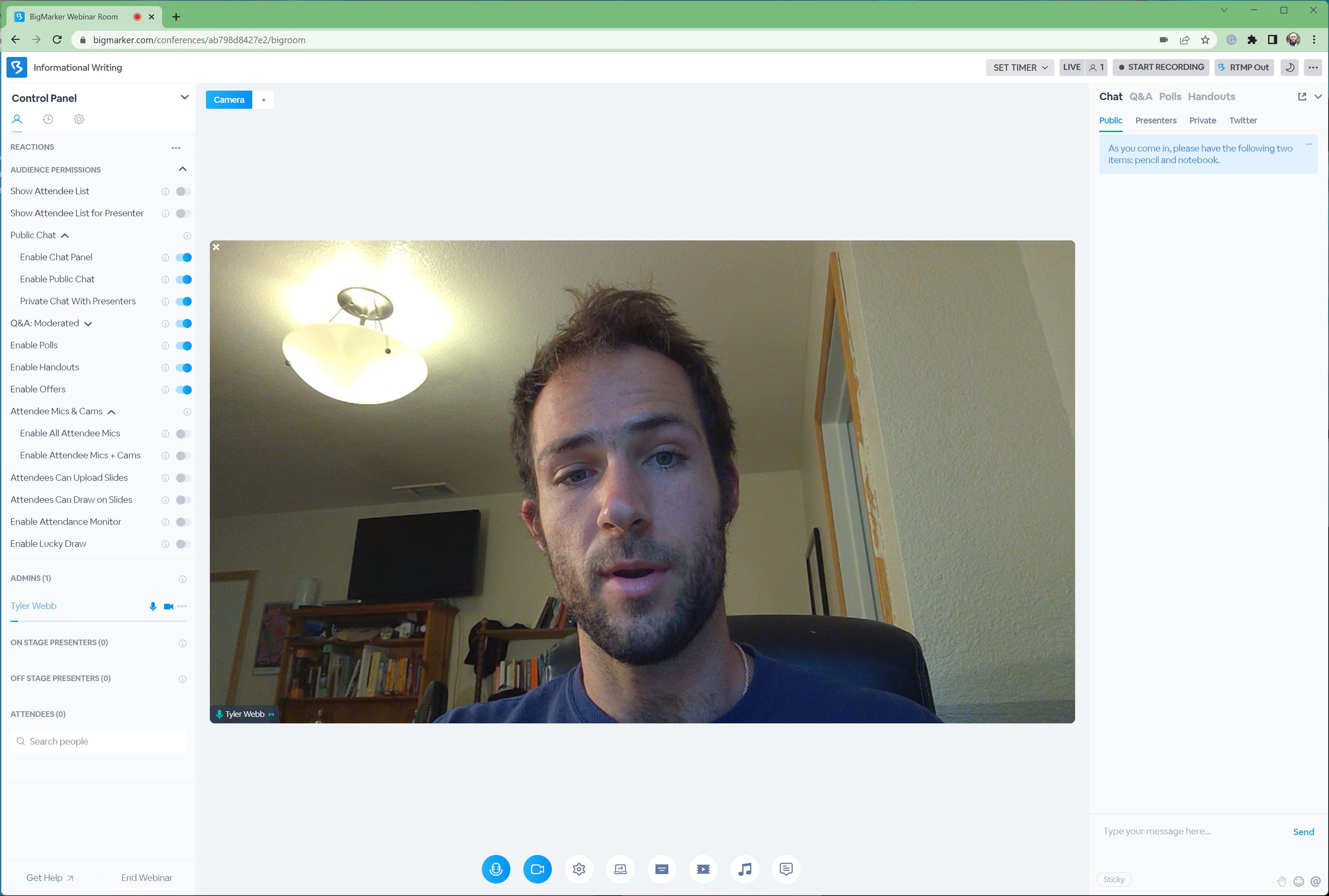 BigMarker Plan Options
Starter ($99 monthly): 1 user and up to 100 attendees
Elite ($199 monthly): 2 users and up to 500 attendees
Premier ($499 monthly): 3 users and up to 1000 attendees
White Label (custom price): Up to 100,000 attendees
WorkCast
WorkCast is one of the top cloud-based, no-download virtual conference platforms accessible on both mobile and desktop devices.
It can host up to 50,000 participants and offers live, pre-recorded, and on-demand digital conferences. WorkCast integrates with PowerPoint, Marketo, Salesforce, Hubspot, and other popular CRM tools.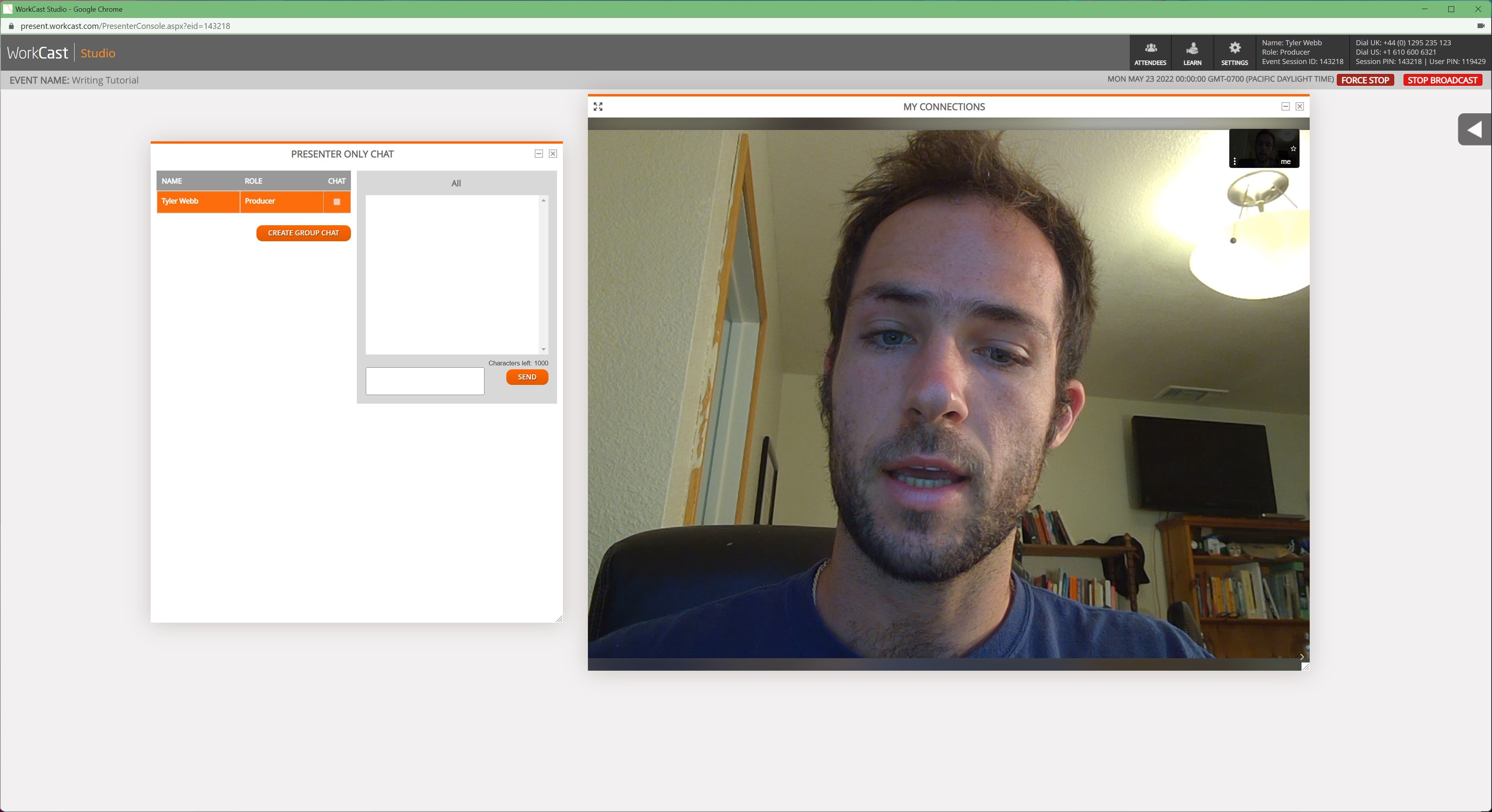 Up to three simultaneous video feeds allow multi-session events, where your company can offer simultaneous rooms with different purposes: discussion rooms, demonstration rooms, and rooms devoted to different products or speakers.
Event management features include online and email registration and reminders, as well as live event support.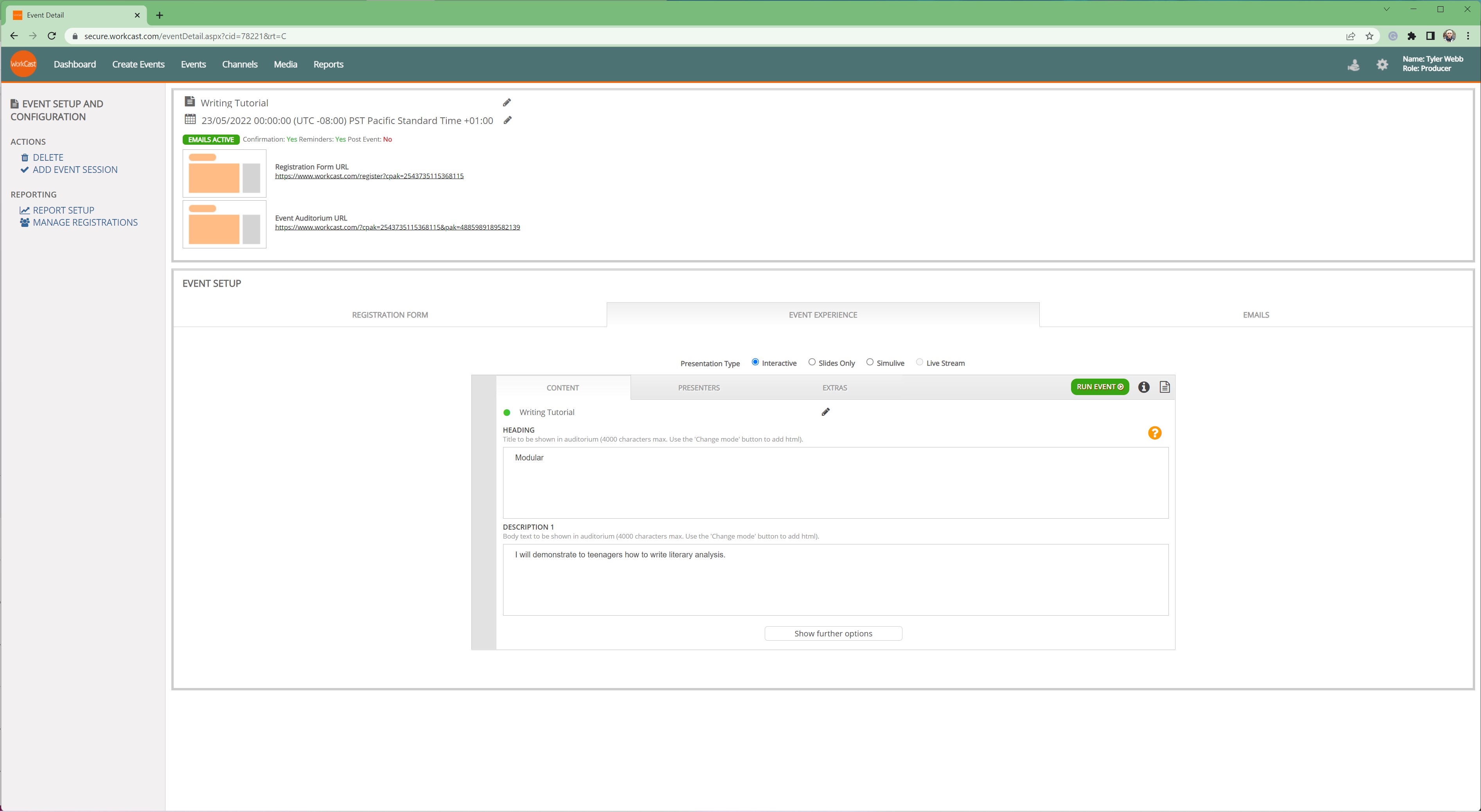 Other WorkCast features include:
Unlimited monthly webinars
Unlimited panelists
Event lock
Q&A feature
Dial-in access
Host bios
File, presentation, and video sharing
Attendance and registration reporting
Webinar templates
Live polling
Broadcast messaging
Conference recording
WorkCast support, including onboarding, pre-event check, and a knowledge base
Chat rooms and attendee networking
Attendee profiles
One-to-one video breakout rooms
Audience reactions, with emojis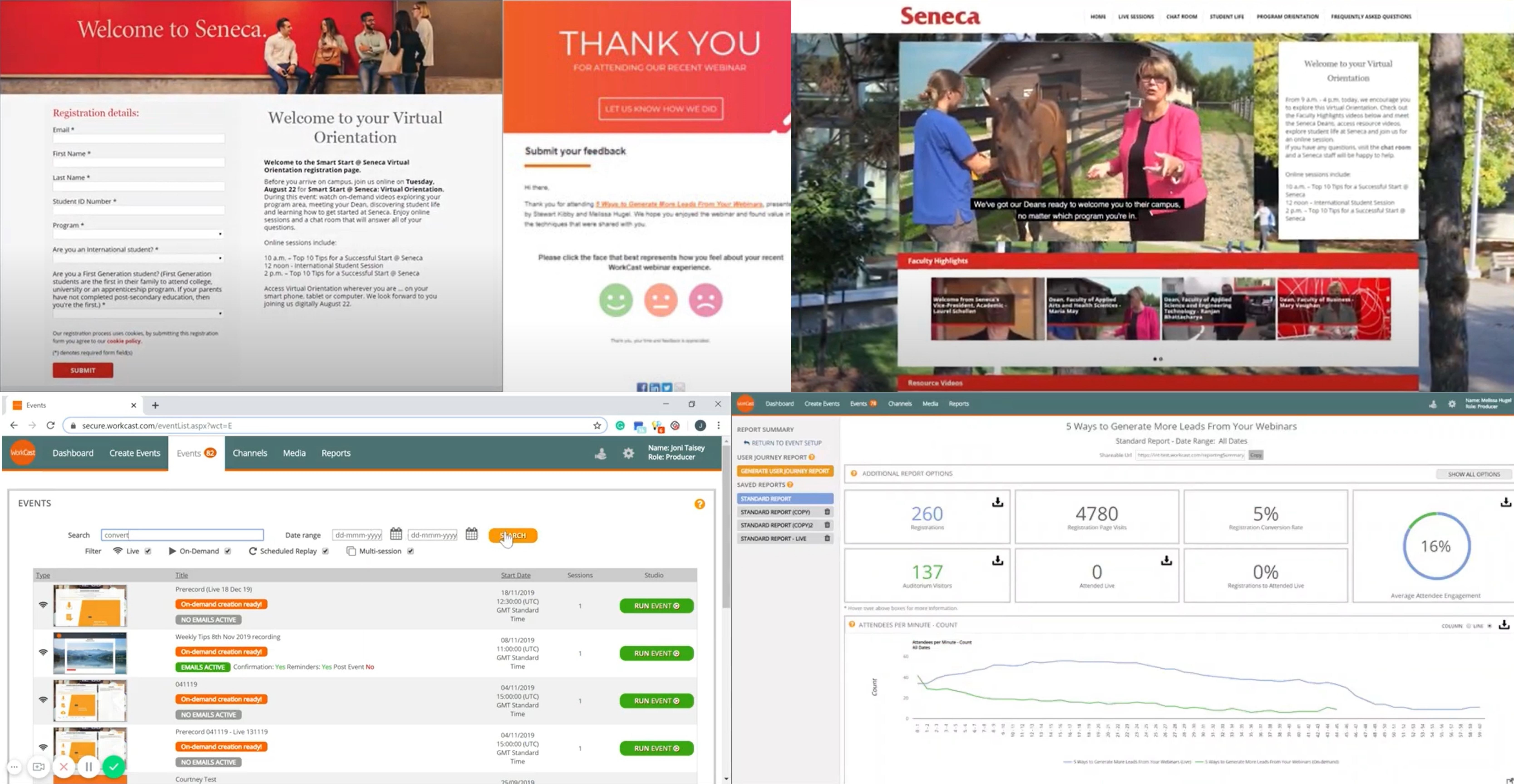 As of this writing, WorkCast doesn't offer online note-taking features, so you'll need to use another online whiteboard tool. It's best suited for conferences that rely less on audience collaboration and more on presentations alone.
WorkCast Plan Options: 
Solo ($2,199 for a single event): 1 user and up to 500 attendees
Lite ($499 monthly): 2 users and up to 500 attendees
Pro ($999 monthly): 5 users and up to 5000 attendees
Enterprise (custom quote): Up to 50,000 attendees, by agreement
Demio
An event platform intended to help businesses scale while connecting with customers personally, Demio offers all sorts of event types: live events with real-time HD streaming, event series with one-time user registration, and autopilot asynchronous, prerecorded events–all with up to 1000 attendees per event.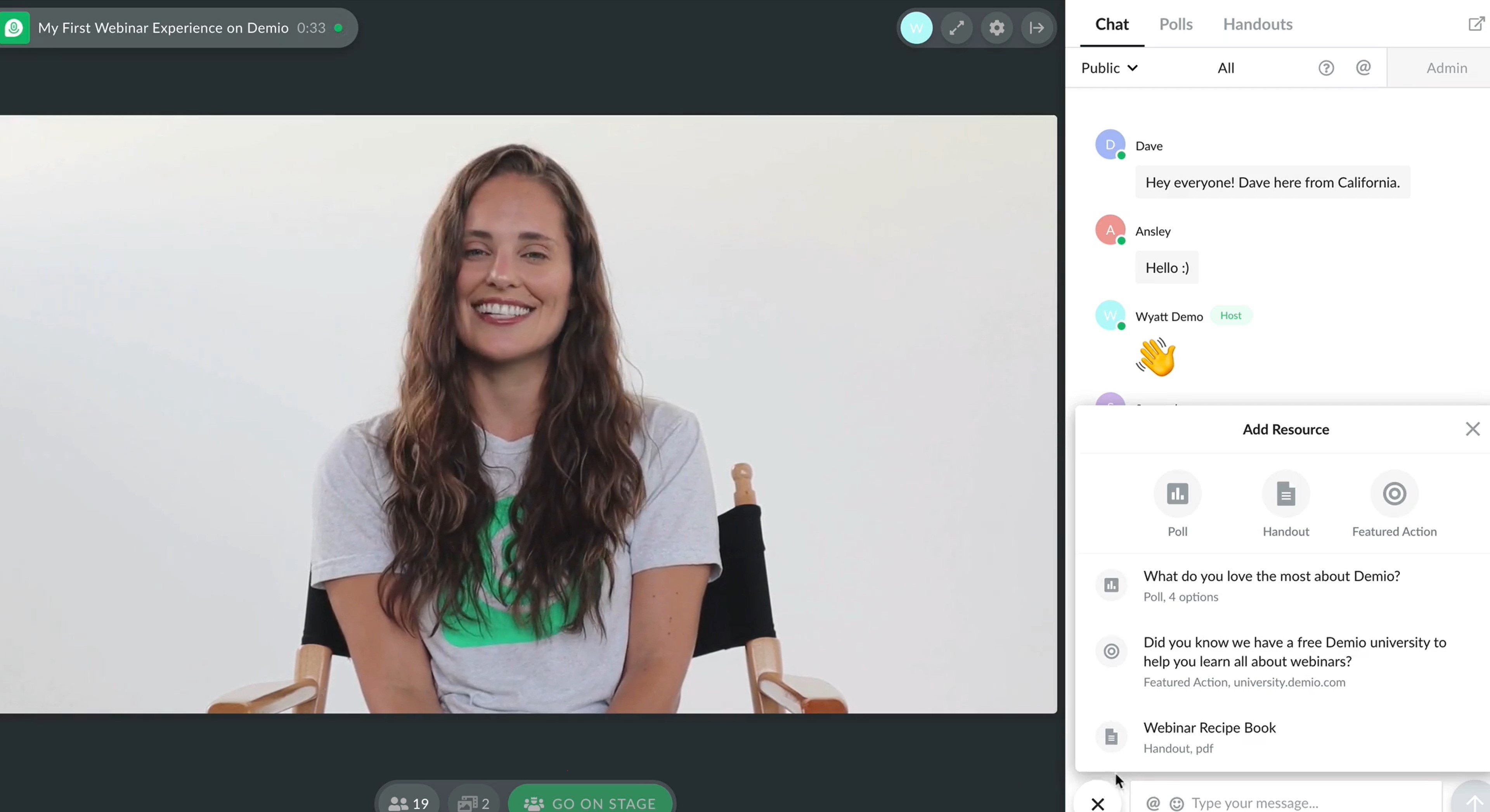 Demio's page-customization tools let users quickly create visually appealing, branded registration pages and event rooms.
Embeddable registration forms can be customized with fields that let businesses collect key attendee information like status and contact information.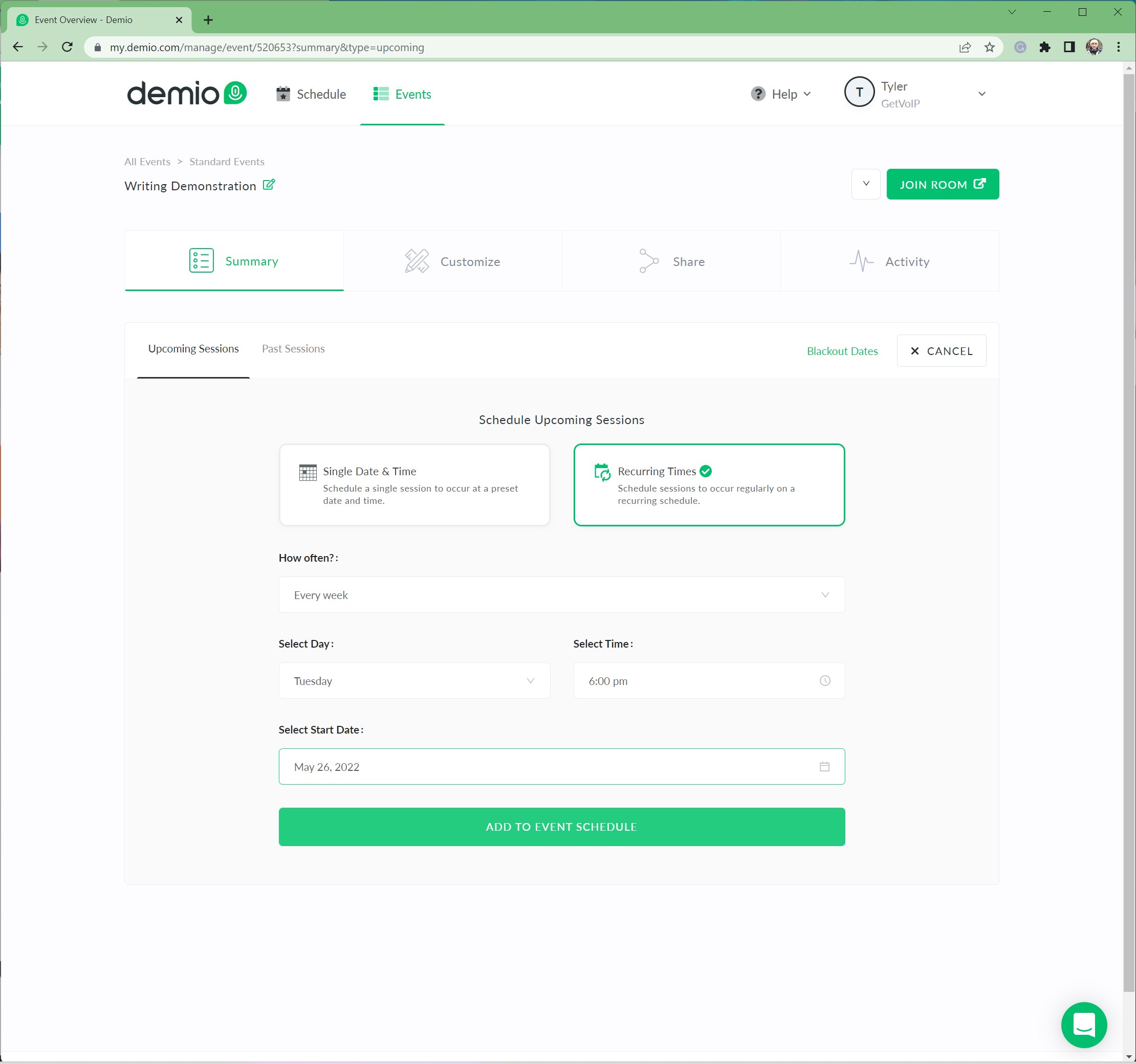 During Demio sessions, engage audiences with interactive tools like live offers, calls to action, shared gifts, handouts, and bonuses, live one-on-one interviews, Q&As, interactive polls, private and public chat, and updates about new products.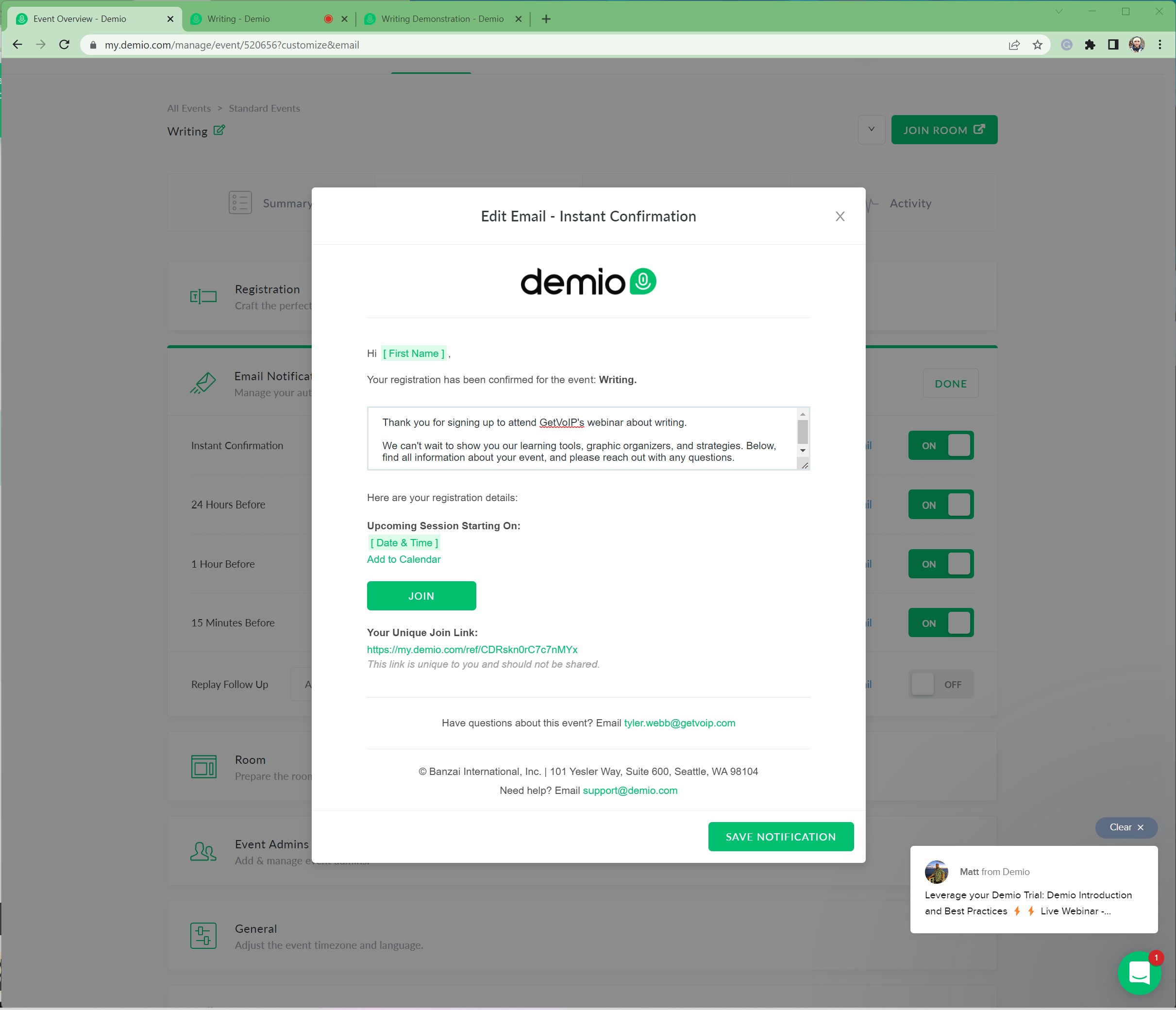 With detailed analytics, tracking, and reporting about every click before, during, and after your event, you can monitor every part of the customer experience. Registration graphs show registration numbers per set time period, changes in audience engagement, plus poll results and other data from attendees. All this information is exportable and downloadable.
Additional Demio features include:
Email branding
Sessions between 3-8 hours
Custom domains
Dedicated account manager
Automated email reminders and notifications
Integrations with 50+ apps, like HubSpot, Marketo, Mailchimp, Salesforce, and more
Demio is affordable but only supports up to 1000 users, so it's a great fit for companies planning on hosting moderately sized webinar events.
Demio Plan Options
Starter (34$ monthly): 1 user and up to 50 attendees per event, 3-hour event limit
Growth ($69 monthly): 5 users and up to 150 attendees per month, 8-hour event limit
Premium (custom price): Unlimited users and up to 1000 attendees per month, 10-hour event limit
Livestorm
A video engagement platform geared toward both internal and customer-facing communication, Livestorm provides solutions to manage meetings, webinars, and virtual events, with automated and autopilot webinars as well. Since Livestorm supports meetings between 2 and 3,000 people, it provides a lot of versatility.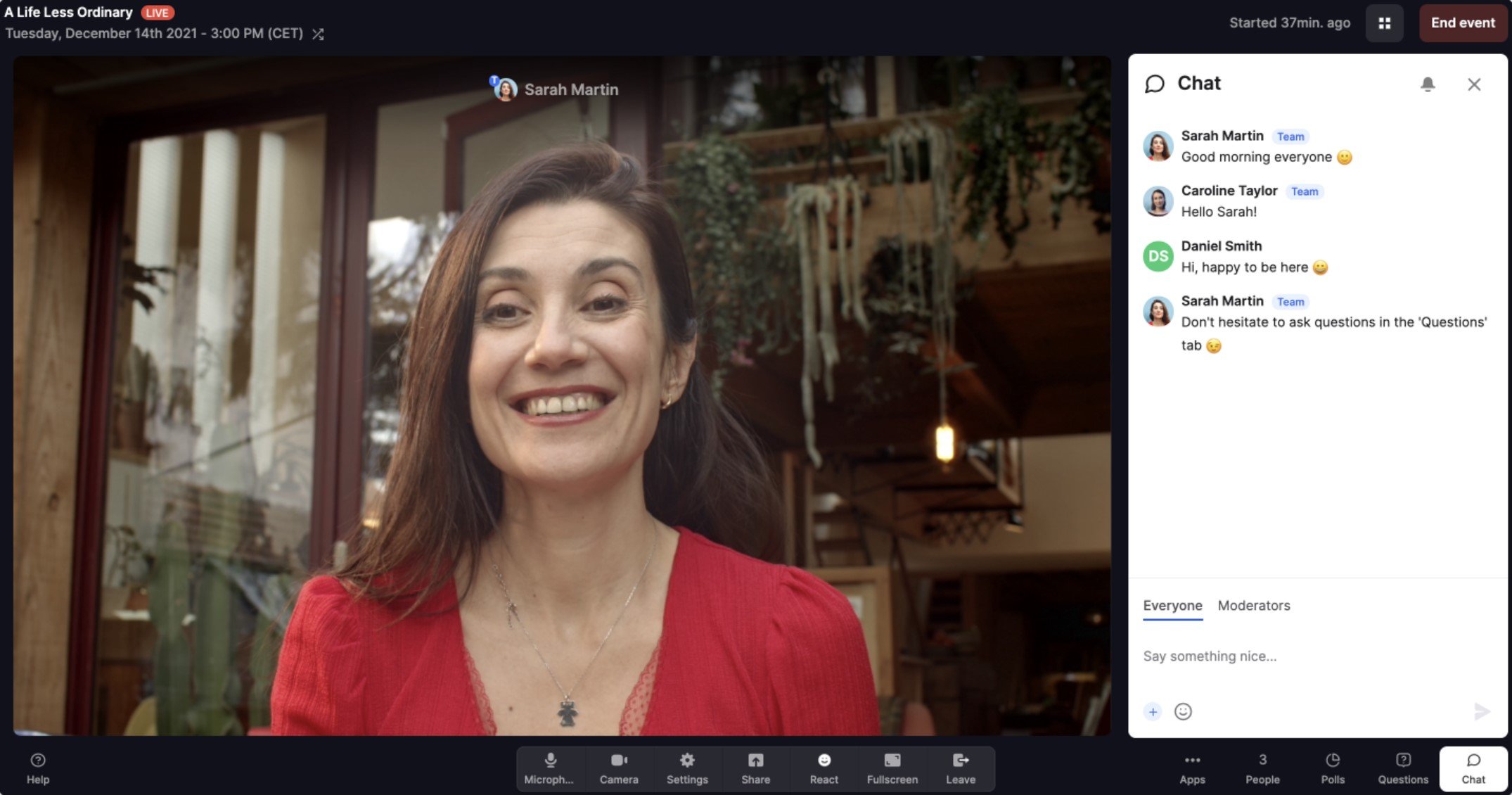 Unlike other webinar solutions, Livestorm supports company internal meetings, allowing conferencing from 1-on-1 all the way to 16 simultaneous live speakers. Administrators can routinize video meetings, with preset recurring schedules along with email reminders and follow-up reminders to debrief. Customize color, images, and background for all Livestorm virtual rooms and events.
Virtual backgrounds, file and media sharing supporting videos and PDFs, and virtual whiteboards available to all participants (upon moderator discretion) empower internal meetings with engagement and collaboration, also supporting live and responsive webinar tutorials.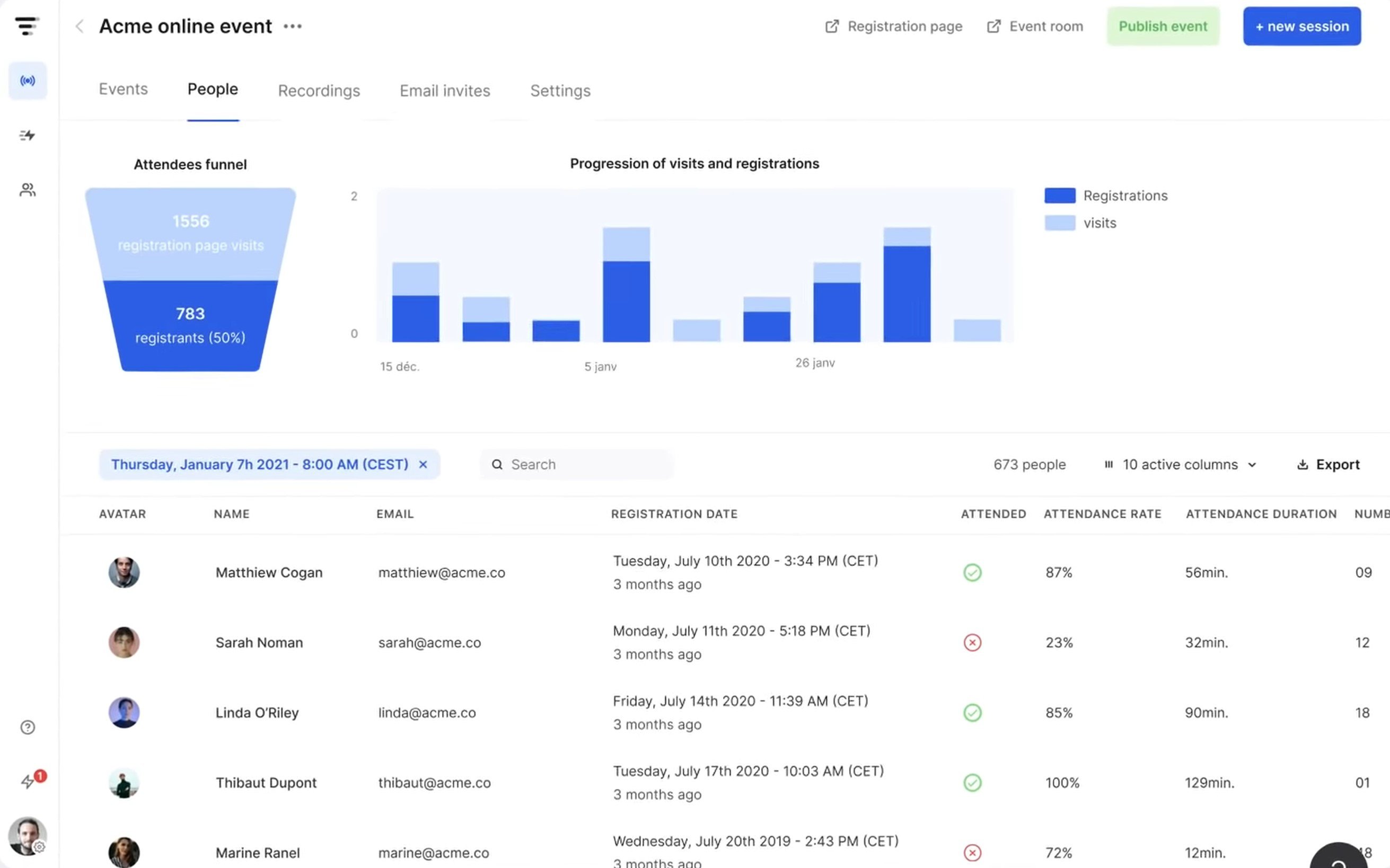 Livestorm's analytics dashboard visualizes metrics including participation rates, attendance time, and more, with saved instant replays so users and hosts can revisit important points.
During webinar creation, Livestorm has pre-built and customizable registration pages to personalize design and content. If you want your event to be a series, set as many recurring events as you want.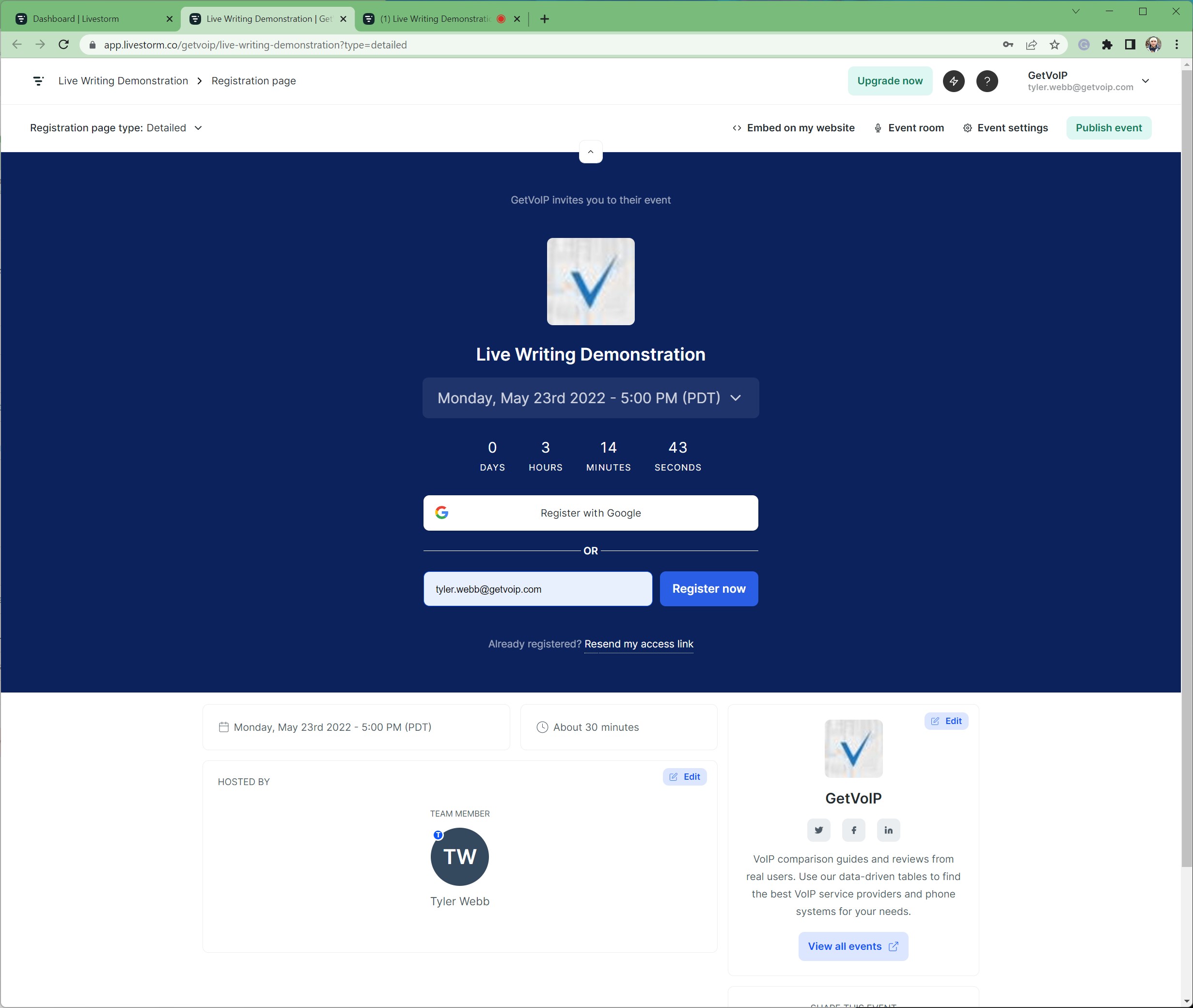 Send mass emails and event reminders at once, or share registration pages on social media or your company website via an embedded one-click widget.
Additional Livestorm features include:
Email delivery status
Registrant moderation
Email filtering
Screen sharing
Blurred and virtual backgrounds
Question upvotes
Phone dial-in
Multi-language support
Unlimited replays
Integrations and plug-ins
Livestorm makes a great fit for companies that plan to take advantage of external events as well as internal conferencing.
Livestorm Plan Options
Free: Unlimited users and up to 10 attendees, 20-minute event limit
Growth ($99 monthly): 1 user and up to 100 attendees, 4-hour event limit
Enterprise (custom price): Unlimited users and up to 3000 attendees, 4-hour event limit
Whova
Whova is an all-in-one event app and management solution for in-person, hybrid, and virtual events.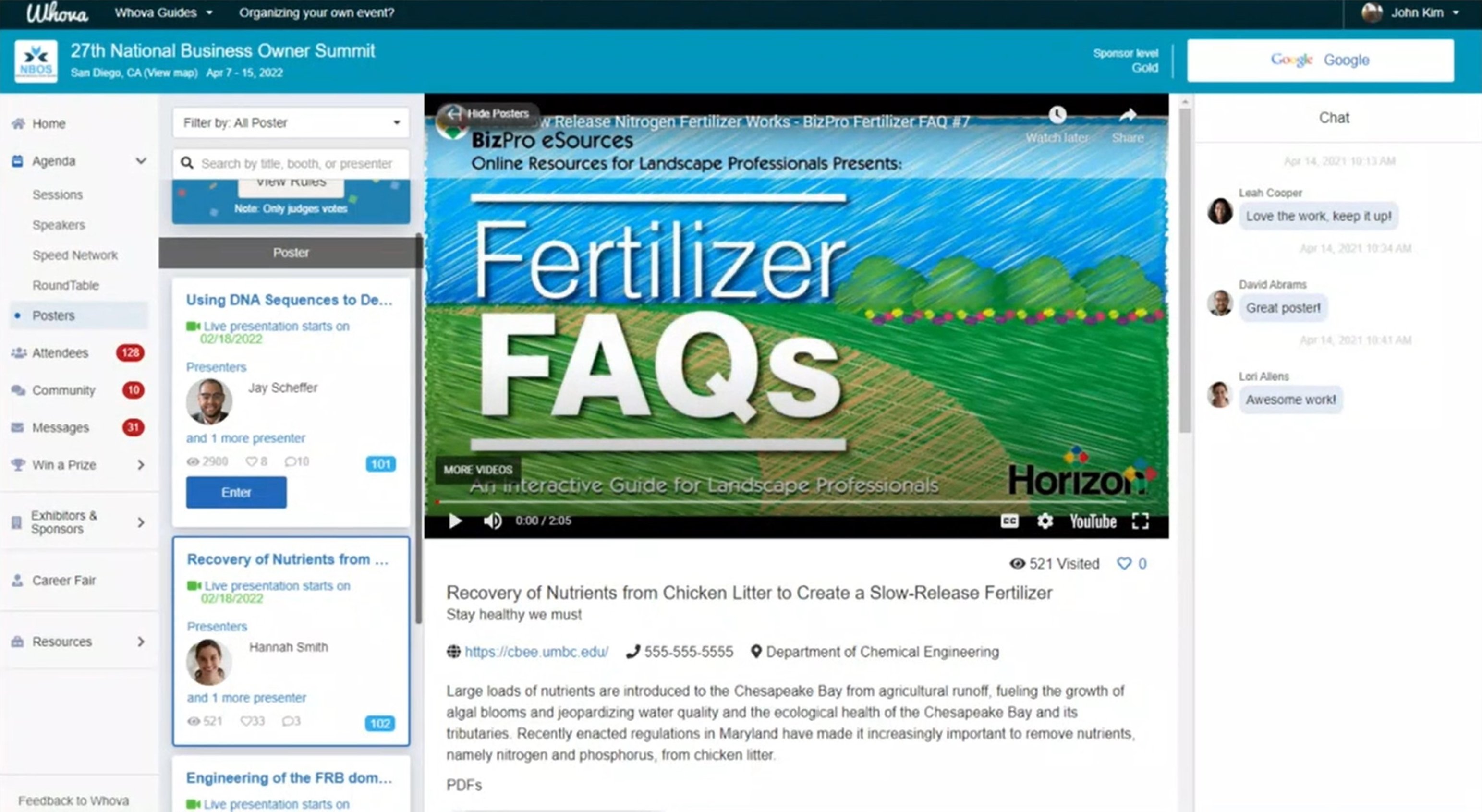 Virtual events support live streaming as well as pre-recorded videos, allowing presenters to manage sessions and videos all in one place. These events are accessible to audience members on mobile and laptop devices, web browser, or Whova's mobile app.
Whova's Artifact Center allows users to host virtual art galleries and poster sessions–supported by link sharing, company information, live audience chat while browsing, and live or prerecorded videos from the host. During these events, hosts can make sales pitches, explain the exhibit or artwork, or answer audience questions. Presenters can post up to 50 images in a gallery, along with background and company information for each, with links to presenter websites.
Tiered ticketing grants certain audience groups discounts or unique access to event rooms and features.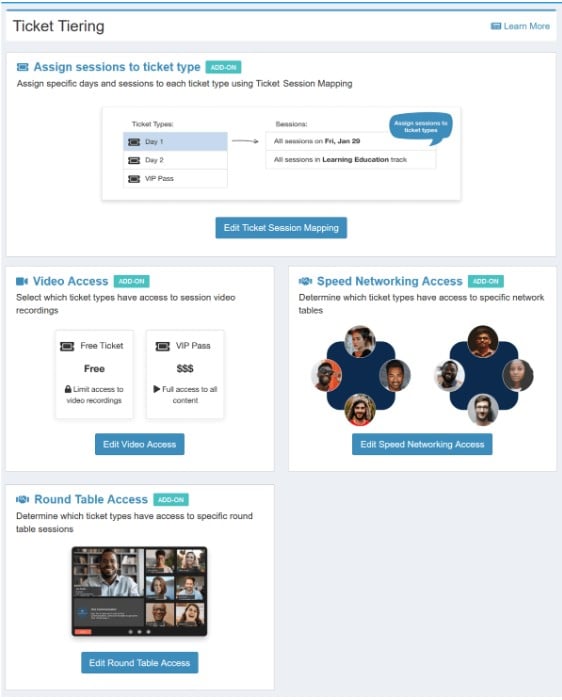 Users can increase audience engagement by taking advantage of Whova's 9 pre-made survey templates, sendable through Whova's app or email.
Whova's Social Wall feature allows presenters to display event activities–like tweets, announcements, attendee photos, sponsor logos, and reminders–in one place.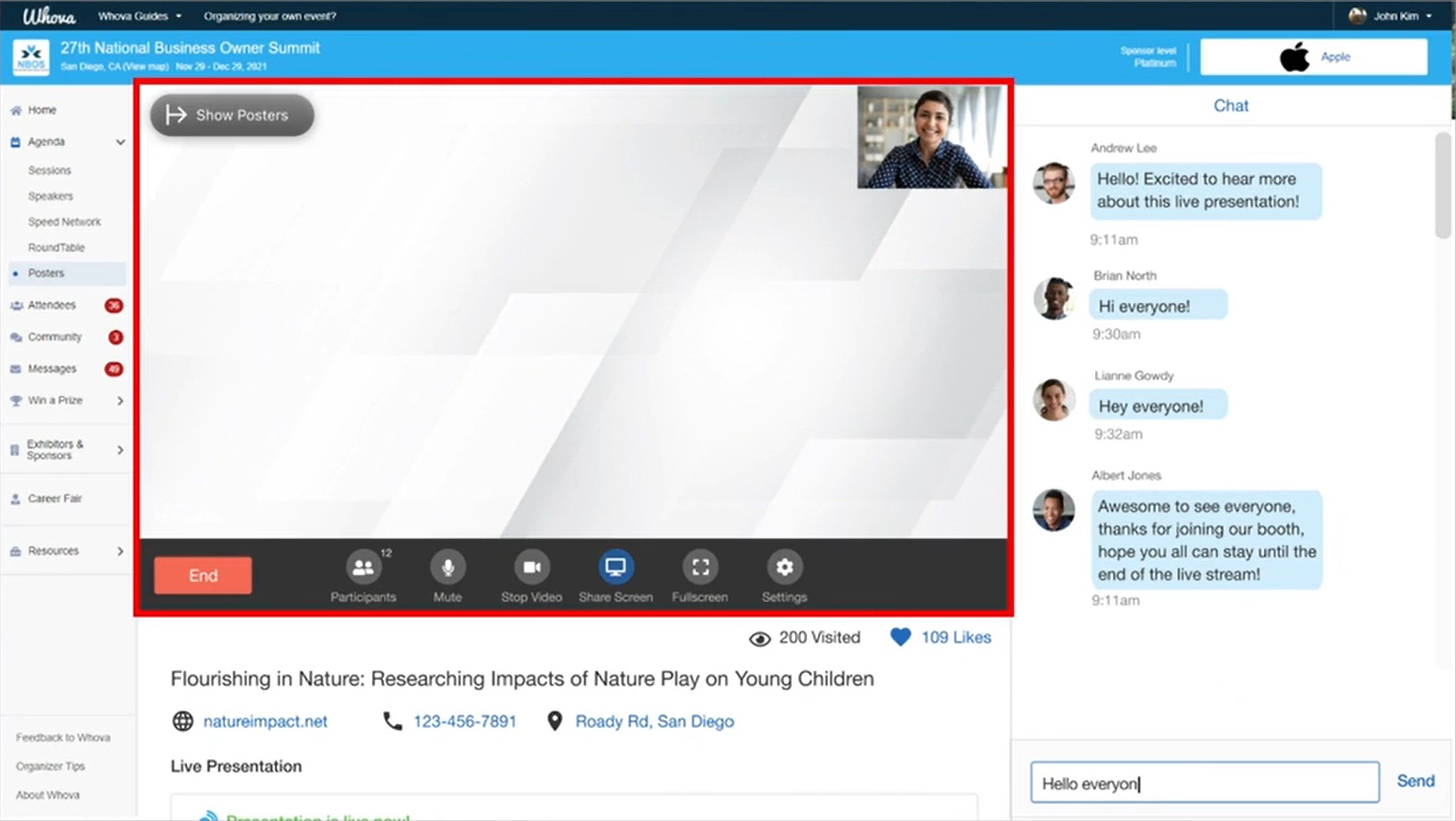 Additional Whova features include:
Quick data importing from event management and registration systems
Easy-to-access event list
Attendee password
Attendee-built event agendas
Embeddable GPS guidance for attendees
Sponsor lists
Custom-created tickets
Categorize attendees based on ticket type or questions
Branded webpage
Audience hand-raising
Registration email campaigns
Tracked ticket sales
Some great Whova features–such as printed custom name badges, waiver forms, and technology geared toward expediting in-person check-in–apply exclusively to in-person events: Therefore, while Whova can work for virtual events, it makes a stronger fit for in-person and hybrid events.
Whova Plan Options
Whova offers custom quote-based pricing for their in-person, virtual, and hybrid plans, depending on your event length, frequency, type, purpose, and audience size. Contact them through their website for a customized price.
Airmeet
Airmeet is an all-in-one software platform for virtual and hybrid events, conferences, webinars, and workshops with up to 100,000 attendees and all sorts of use cases: job fairs, award ceremonies, product launches, trade fairs, hackathons, intercompany communication and collaboration, and even casual social group meetups.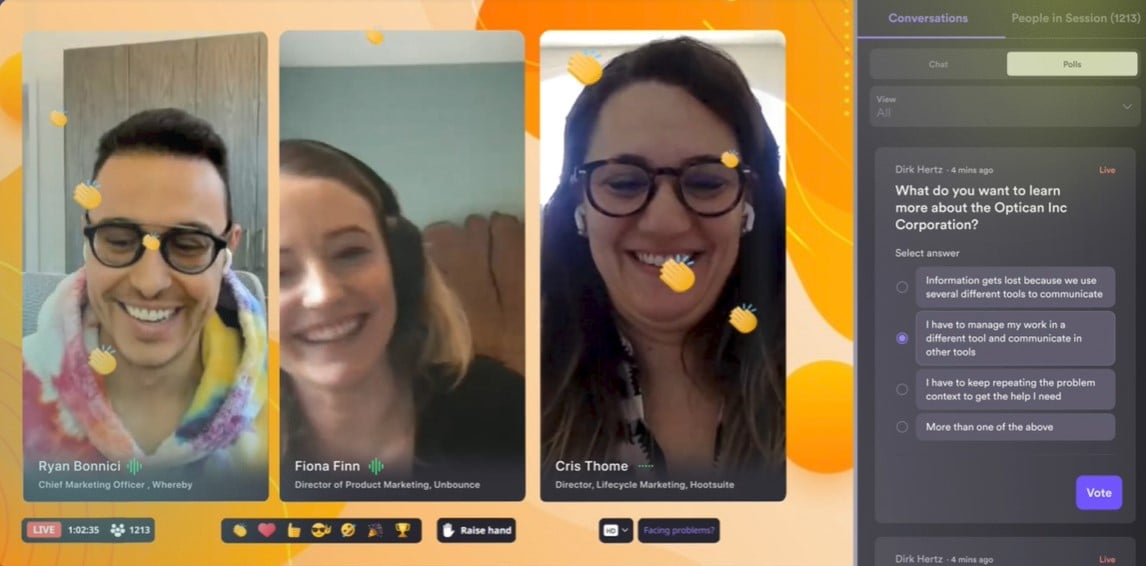 Depending on your event's needs, you can pick and choose among Airmeet's room setups and broadcast features: reception, stage, social lounge, speed networking, exhibitor rooms, branding, sponsors, stream-in, and stream-out.
Airmeet provides step-by-step resources to guide creators through the whole event process. Landing page builders and custom form design, with branding and customized sections, let creators collect exactly the information they want from attendees.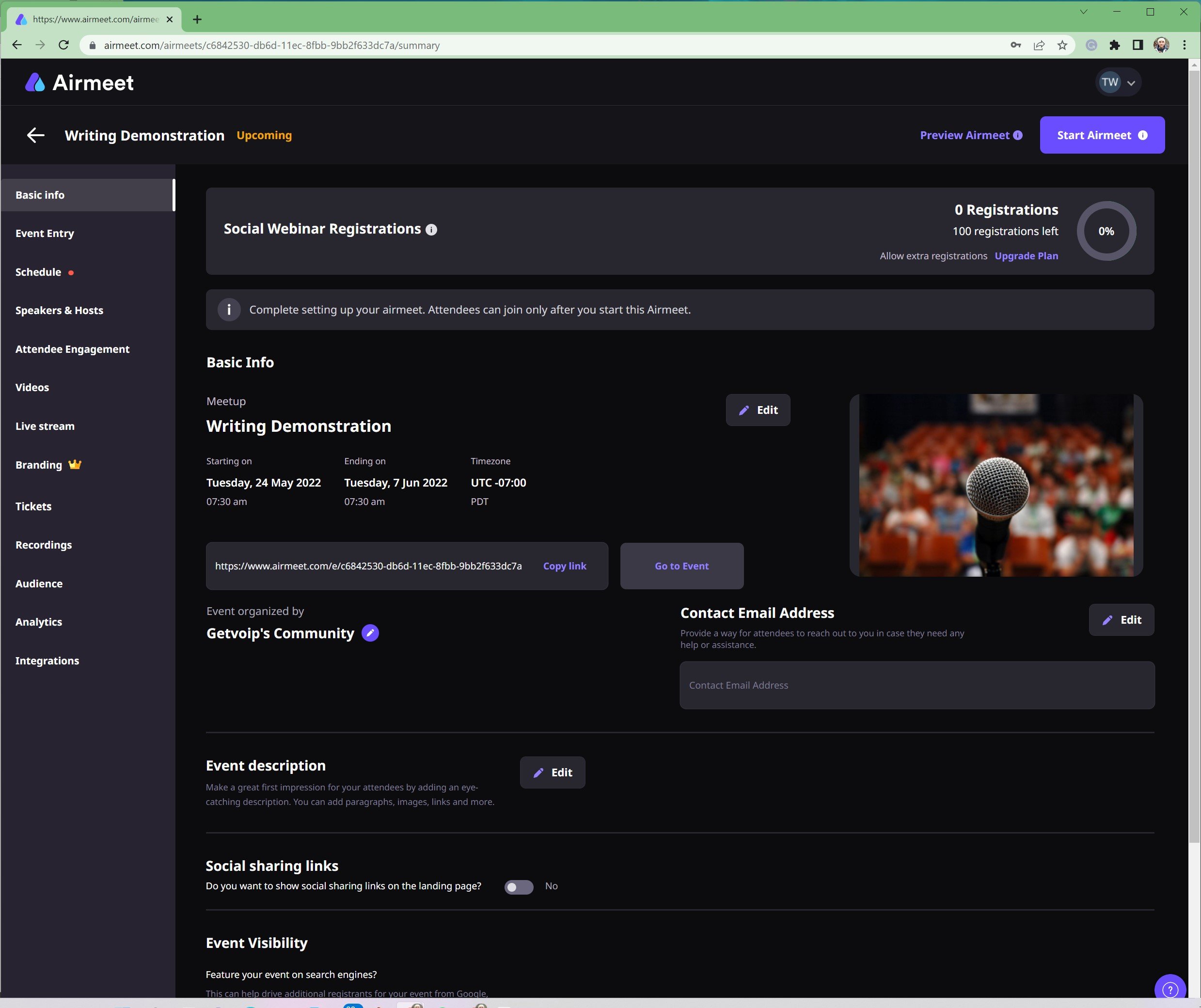 Live booth workshops let sponsors attract audiences by setting up intriguing art or images, handing out downloadable resources, or giving sales pitches. Booths are easy to set up–with drag-and-drop customization and various style or setup options. Booth lounges allow sponsors to strike up conversations with multiple visitors at once.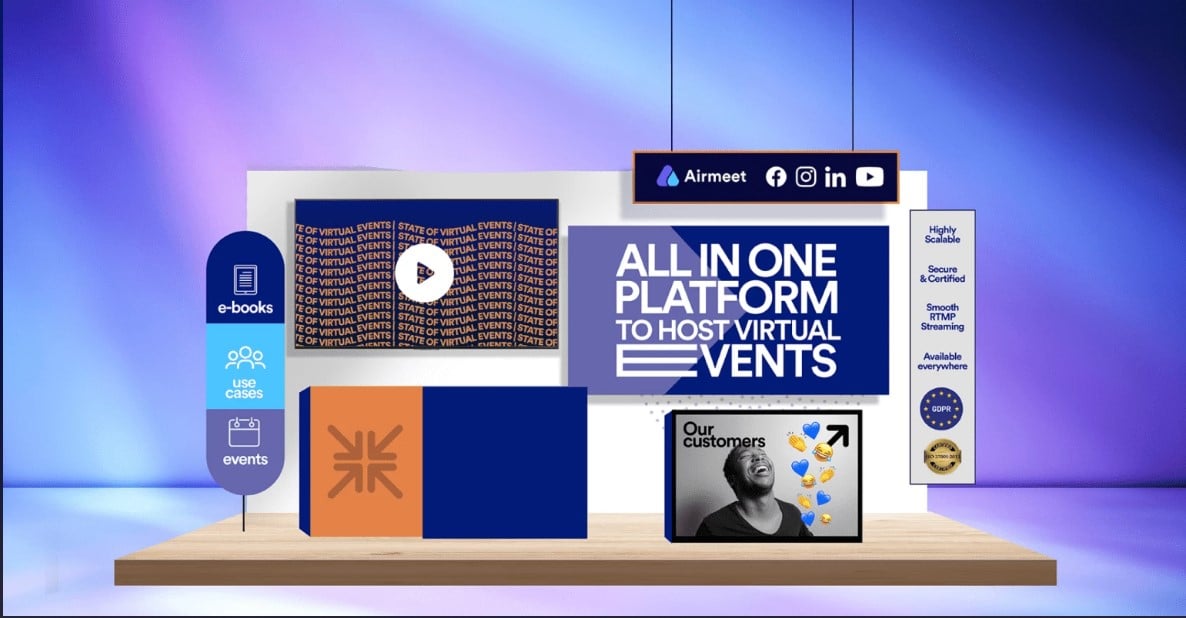 Airmeet analytics tracks which leads are most engaged with your event, in real-time and across multiple event sessions or days, for rapid post-event follow-up. Attendant-behavior reporting identifies visitor patterns, which you can segment into communication groups to target with individualized outreach strategies or messages.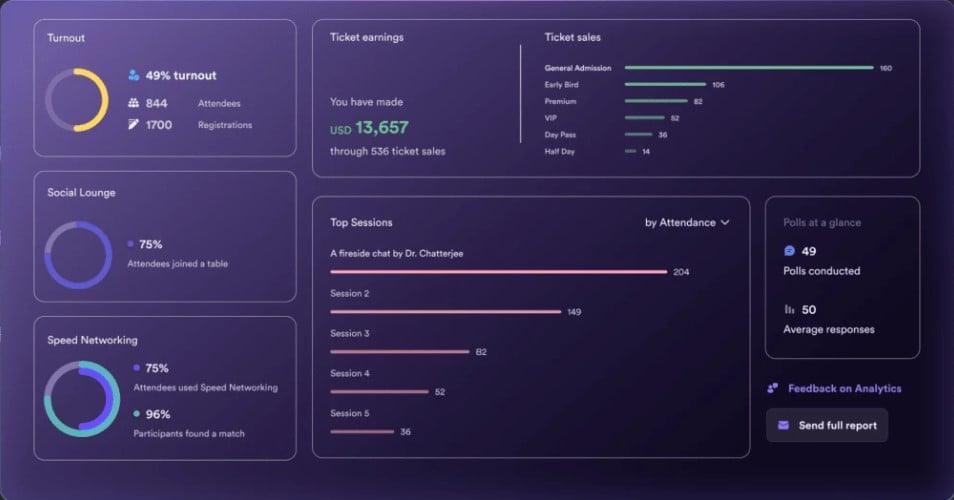 For speakers and presenters, Airmeet's backstage area allows the opportunity to meet, practice, and ensure everything goes according to plan. During presentations, speakers can highlight audience responses and questions and even invite audience members onstage. Airmeet also allows hosts to delegate co-hosts to manage logistic and audience outreach channels, freeing presenters to focus on their presentation.
Additional Airmeet features include:
Dedicated sponsor areas
On-demand sessions
Custom ticketing and entry rules
Event preview mode
Keynote speakers
Multilanguage support
ISO and GDPR for data protection
Sponsor ROI tracking
Audience ice breakers and "speed dating" networking
Breakout sessions
Audience huddles
Personalized and branded reception area
Email invites and reminders
Audience interactive features: Q&A, hand-raising, polls
Airmeet can serve essentially any customer-facing purpose, but works best for networking-related events, due to its features geared toward audience connection.
Airmeet Plan Options
Airmeet has three plan categories, sorted by event type:
Social Webinar: Three plans, ranging from free to over $99 monthly
Conference: Two plans–one free and one premium with a custom price
Job Fairs and Trade Shows: Custom price plans
Hopin
An all-in-one online events platform that hosts virtual and hybrid events, Hopin offers essentially every form of virtual event you can imagine, including:
Webinars
Conferences and summits
Internal company events
Expos and tradeshows
Courses and workshops
Meetups
Recruitment fairs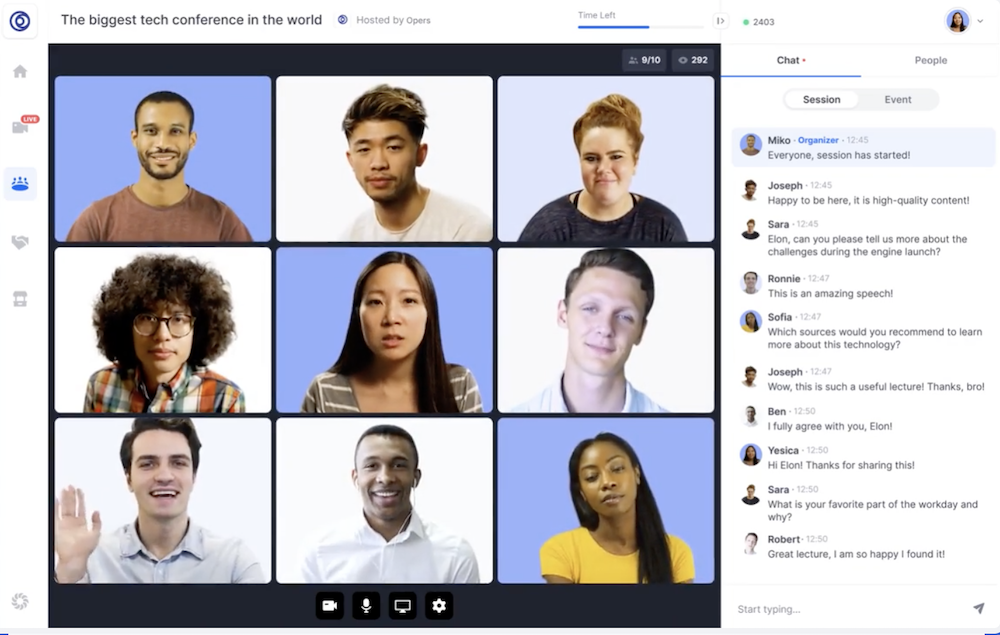 Creating events with Hopin's Event Builder is easy–a new user can follow the guided process and have a ready-to-go virtual event in just a few minutes.
A step-by-step guide walks creators through setting up event details like scheduling, length, type of event, and payment settings. You can directly invite your audience, create tiered ticket types, set up automated emails, brand and customize all the event-related pages, and publish–as simple as that.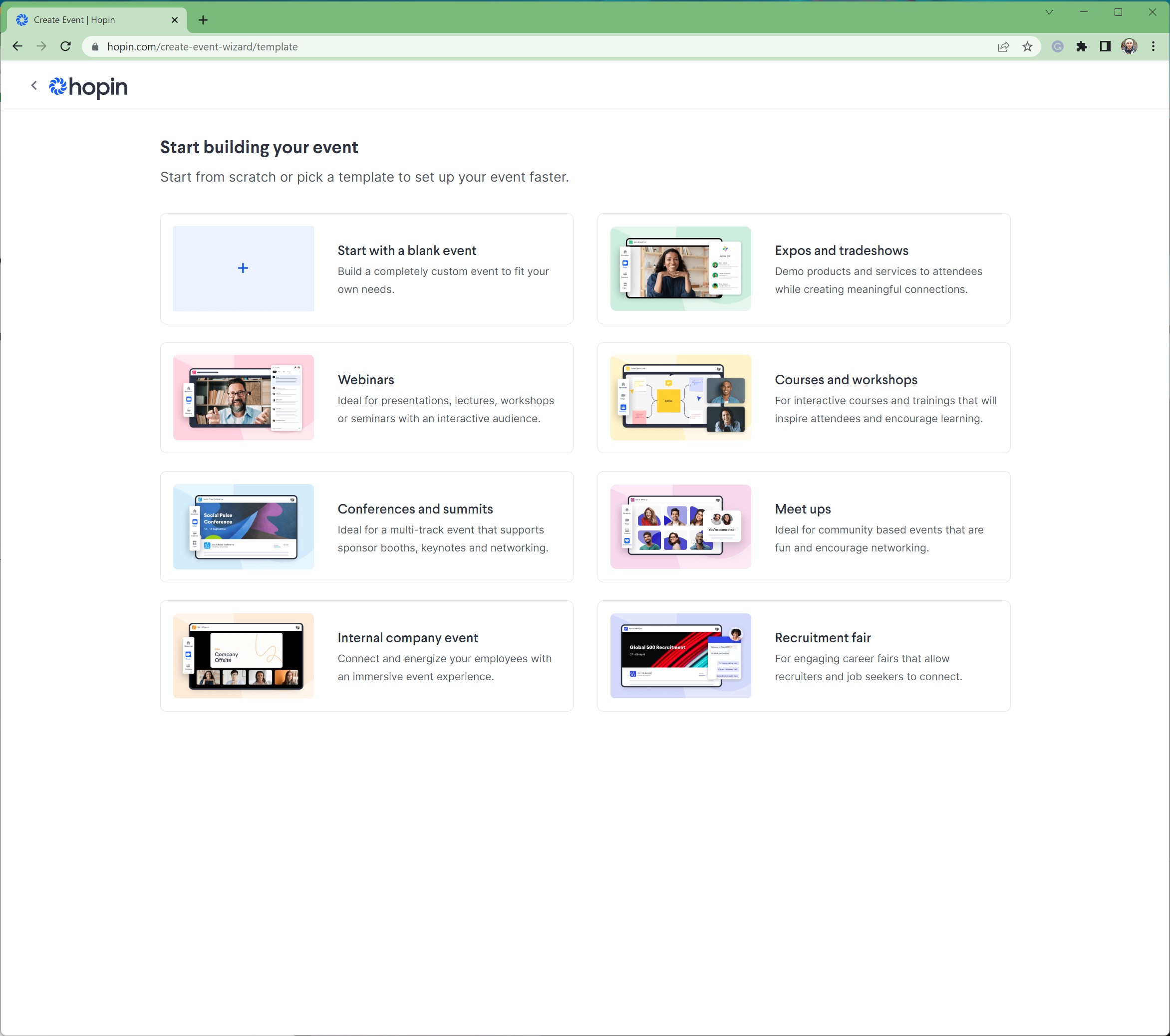 Hopin Event Marketing lets you customize every step of your attendee's journey. Create a landing page that pops, choosing images, colors, header, button, and a "Who We Are" section that draws customers toward your company. Add sales, discounts, and unique options for particular types of users, such as student discounts, VIP access, and 10%-off coupons.
Hopin Canvas, with modular blocks in a drag-and-drop format, allows users to customize page blocks just the way they want, and users can import data and information about speakers, sponsors, and content directly into event pages.
During the event, track real-time analytics like attendance for specific rooms, booths, speakers, stages, and networking connections. After the event, access full data about attendee interactions with each other, booths, and their level of engagement.
Hopin StreamYard lets you share live or pre-recorded videos within your event, with a stream page customized with logos, banners, and overlays–all supporting a 1080p resolution HD stream quality video. Further, Hopin lets you store and edit all uploaded videos right in your Hopin portal.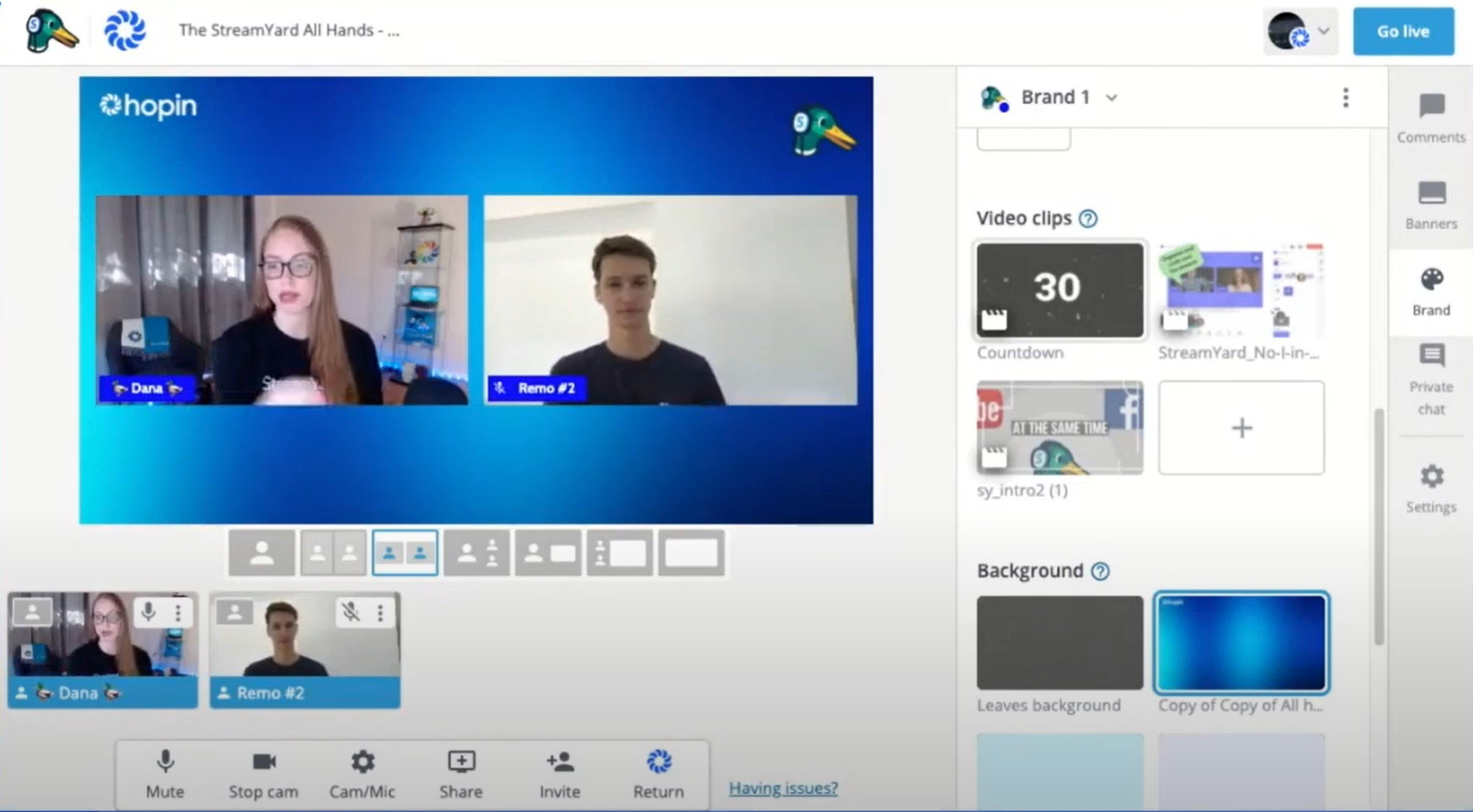 Up to 5 speakers or organizers can host events that last up to 72 hours for 100,000 maximum attendees. (Hopin can customize a unique plan for larger needs.)
Hopin helps users recruit event sponsors and enables ticketing in any currency for online events like courses, fairs and trade shows, workshops, and hybrid events.
Additionally, Hopin provides its own unique online event page where you can list your event and browse upcoming ones relevant to your interests—making networking and audience expansion even easier.
Other Hopin features include:
Virtual lobby with event schedule
Event-wide and private chat messaging
One-on-one breakout sessions
Unlimited concurrent live sessions
Third-party integration (Magneto, Salesforce, HubSpot, Zapier, etc.)
No-code event building platform
Networking feature to connect specific attendees
Enable bulk purchases for scaled registration
Virtual greenroom
10 people on screen at once
Video templates
Breakout sessions
One-on-one and group networking sessions
Add media–videos, PDFs, presentations, playlists–right into your event
Hopin Plan Options
Free: 1 user and up to 100 attendees per event, 2-hour event limit
Starter ($99 monthly): 1 user and up to 100 attendees per month +$.50 per additional registration
Growth ($99 monthly): 5 users and up to 100 attendees per month +$2 per additional registration
Business (custom price): Custom number of users and attendees
Enterprise (custom price): Custom number of users and attendees
Zoom Video Webinars
Zoom Webinars can host up to 50,000 viewers and a maximum of 100 live video panelists in single webinar sessions.
Zoom Events, another event-hosting solution, allows you to connect multiple webinar sessions and integrate Zoom Meetings for fully dynamic sessions.
In addition to broadcasting online conferences on YouTube Live and Facebook Live, Zoom Events and Webinars also integrate with Salesforce, Marketo, HubSpot, and DropBox.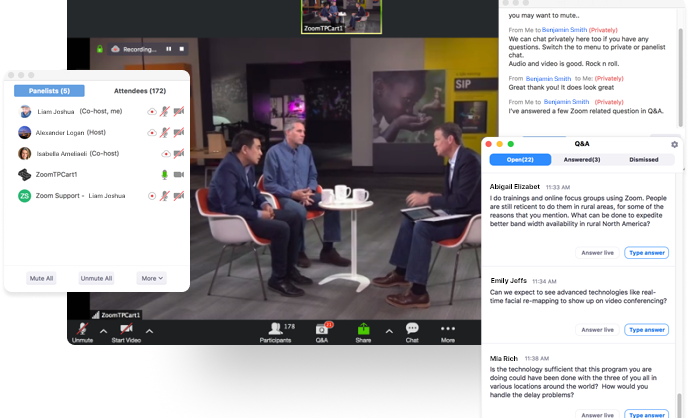 Zoom provides plentiful opportunities for hosts to improve audience event experience through tools like promoting live attendees to panelists, studio filters that add entertainment and branded backgrounds, and real-time polls and surveys.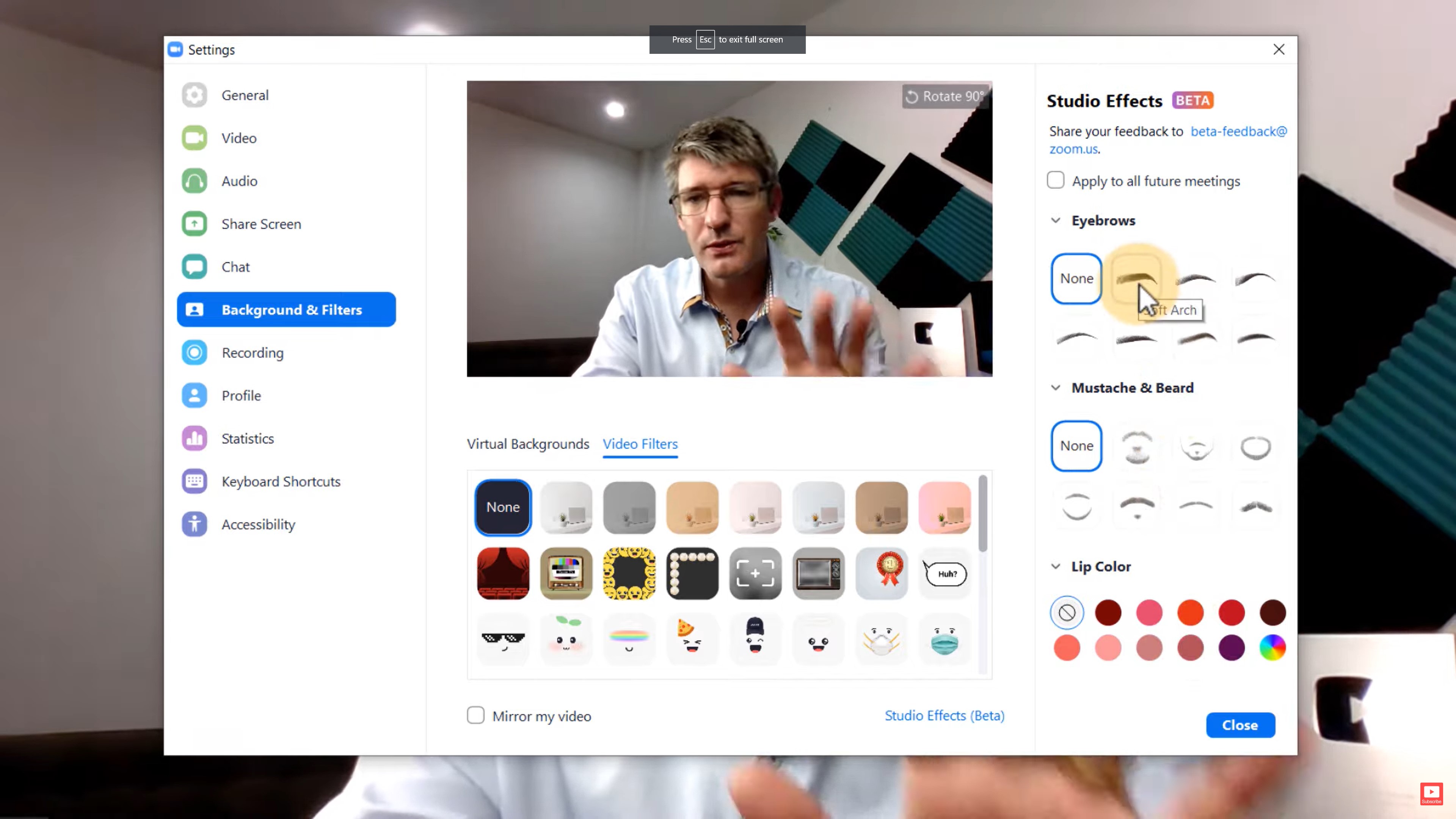 To overcome language barriers, hosts can appoint attendees as broadcasted interpreters, and viewers can select a language during the webinar for live translation, no matter the presenter's language. Users can even overlay the original audio with the translated audio, with full volume control.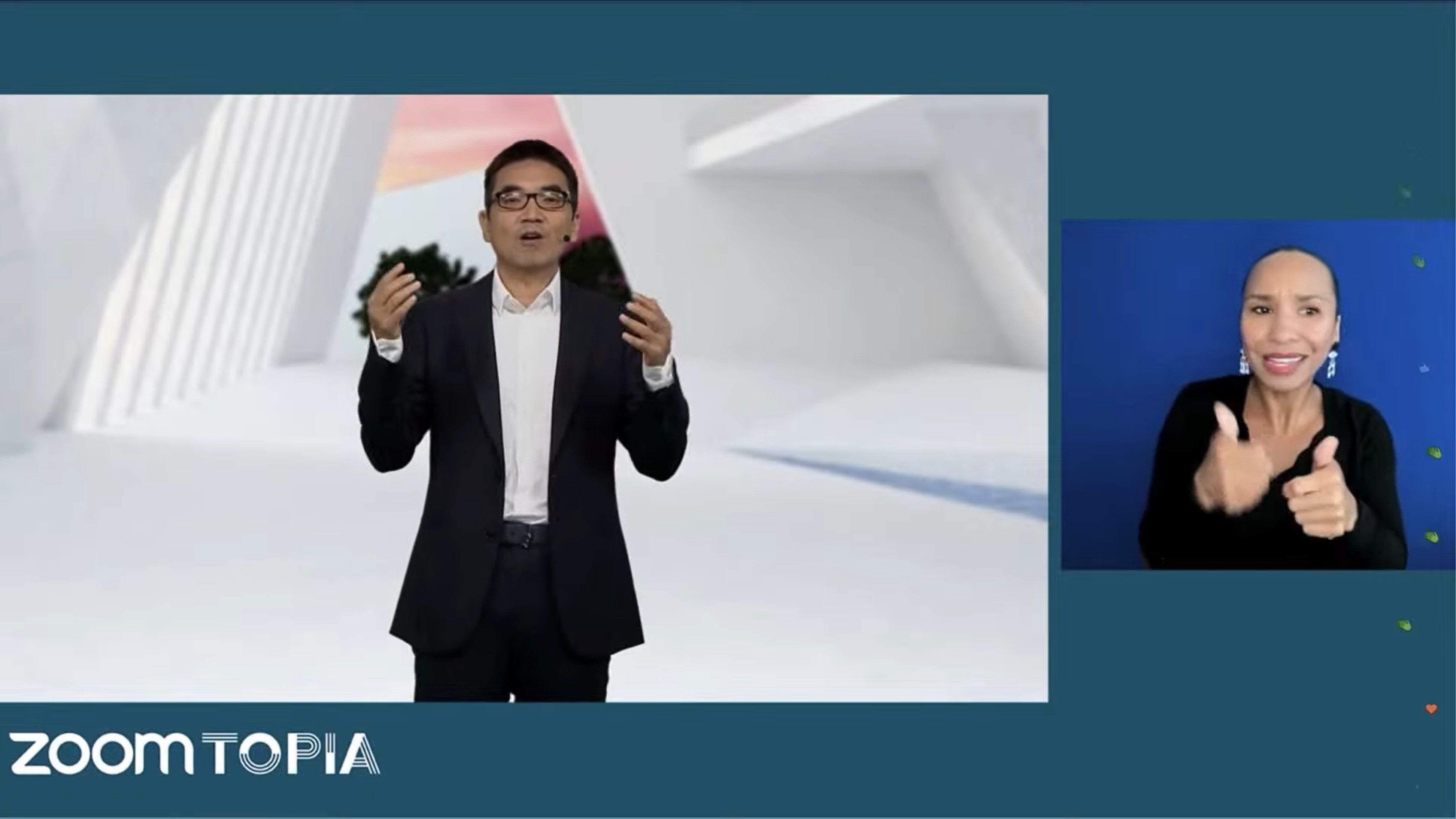 Additional Zoom Webinar features include:
Pass presenter features
Q&A tools
Attendee engagement analysis
Reporting metrics
Dashboard data
Screen share capabilities
Chat messaging
Active speaker view
Local and cloud recording
Whiteboard tool
Noise suppression
Practice sessions before events allow useful run-throughs for hosts and panelists, and Zoom breakout rooms let hosts easily control who goes into breakout rooms and when, for audience engagement, brainstorming, networking, and company-wide learning or training.
Zoom Webinar Plan Options:
Zoom offers two general webinar plan types: Zoom Webinar, with all the core webinar features mentioned above; and Zoom Events, which combines Zoom Webinar and Zoom Meetings, tailored toward managing large-scale multi-session, multi-track, multi-day events.
Each plan type has pricing 6 pricing options, depending on the intended number of attendees:
Zoom Webinar: $79/monthly for 500 attendees, $990 monthly for 3,000 attendees, and $6,490 monthly for 10,000 attendees
Zoom Events: $99/monthly for 500 attendees, $1,290 monthly for 300 attendees, and $8,440 monthly for 10,000 attendees
Small-Scale Virtual Conferencing Alternatives
The virtual conference platforms covered above are ideal for large-scale online events and webinars, for companies that want to replicate face-to-face conferences.
Smaller companies and online conferences that don't need to host thousands of attendees will find standard online meeting and web conferencing software best suits their needs. Many of these tools work well for intercompany collaboration.
Our comparisons of popular software for video calls like Zoom vs WebEx break down these virtual conference platforms' top features and functionalities, integrations, and overall user experience, allowing companies to find the perfect fit.
Virtual Conference Platforms FAQs
Below, we've answered some of the most commonly asked questions about virtual conference platforms.
Top ways to promote your online events include: 
Social media
Advertise a live drawing during the event for a free product, gift certificate, or other giveaways
Email marketing
Get an event sponsor
Use an online event planner
Create a unique panel, and urge panelists to advertise the event
Make a video advertisement for the webinar, or write and distribute a press release
Work with industry influencers, and have one influencer as a panel or keynote speaker if possible
The most important thing to do is to start planning your event as early as possible. Depending on the size and scope of your event, you'll likely need anywhere from 2-10 weeks to effectively prepare materials and speakers, create content, advertise your event, and gain registrations. 
Additional webinar best practices include: 
Practice in a virtual practice room before the event
Keep attendees engaged with Q&A and breakout sessions, along with virtual handouts, and gamification
Develop an effective registration landing page
Create several hyper-focused and segmented virtual sales events tailored to specific audiences as opposed to one large general sales event
Make live event recordings available, and offer on-demand webinars for training materials especially
Aim for and highlight event sponsorships to defray webinar costs
Always ask for and review attendee feedback
Webinars typically last around one hour, while conferences and exhibits usually last 3 or 4 hours.
Research shows that the best time to host a virtual event is between 1:00 and 3:30 pm on Monday or Friday.
A webinar is an online seminar or event that centers on audience engagement and two-way communication, while a webcast is a live video stream of an online event, usually on social media platforms like YouTube or Facebook Live.