With increases in remote work, business competition, and customer service expectations, the importance of  business communication can't be overstated. Modern business communication solutions should include much more than just telephony–video conferencing, texting, and team messaging capabilities are equally crucial.
Ooma is a popular unified communications provider best known for its cloud-based business phone system, Ooma Office. Ooma Office offers affordable rates, over 50 standard VoIP features, and toll-free business phone numbers.
It is not a perfect fit for every business, however. The seven Ooma alternatives outlined in this article offer features, pricing options, support options, and other functionalities that Ooma lacks. Read on to discover which of these Ooma competitors may be a better fit for your business.
Why Look for  Alternatives to Ooma?
Ooma is a solid choice when it comes to phone service, offering advanced features and integrations at more affordable prices than its competitors.
However, Ooma is still a relatively young UCaaS provider, lacking the high-level security features and reliability of more seasoned providers. With a focus on small businesses, Ooma also may not have the features needed for larger enterprises and call centers. Fortunately, there are a number of excellent alternatives for every type of business.
Best Ooma Alternatives
Here's a quick look at some of our favorite providers and how they stack up against Ooma regarding features, customer support options, pricing, and user experience.
1. Nextiva
Nextiva is an established small business UCaaS provider offering voice and video calling, SMS texting, and team chat messaging alongside high-level customer service and support. Every Nextiva customer has access to 24/7 customer service. Nextiva is also highly reliable with 99.999% uptime and highly secure with encryption and SOC 2 compliance.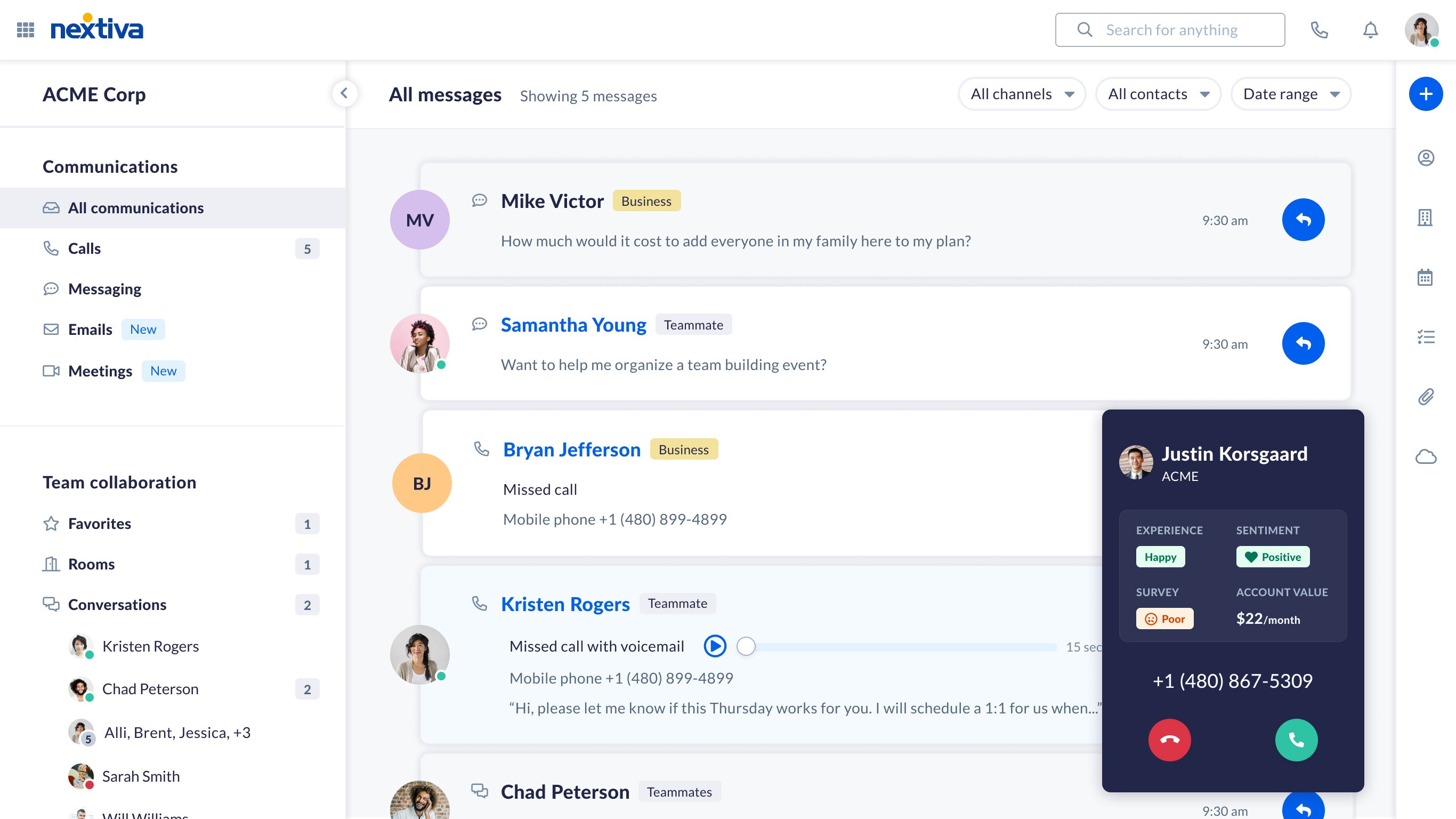 Pricing & Plans
Nextiva offers three pricing plans, outlined below.
Essential
Professional
Enterprise
Annual Price
$17.95-$23.95 per user/mo.
$21.95-$27.95 per user/mo.
$31.95-$37.95 per user/mo.
Monthly Price
$24.95-$30.95 per user/mo.
$29.95-$35.95 per user/mo.
$39.95-$45.95 per user/mo.
Key Features

Unlimited US/Canada calling
Video conferencing (max. 45 minutes/call, max. 250 participants)
Toll free numbers
Call forwarding
Voicemail-to-email
Calll groups
Team chat messaging

Audio conference calls (max. 40 particiapnts/call)
Screen sharing
Multi-level auto attendant
Mobile SMS/MMS
CRM integrations (Nextiva CRM, Salesforce, Zendesk, HubSpot, etc.)

Unlimited conference calls
12,500 toll-free minutes/month
Call recording
Salesforce Lightning and Service Cloud, MS Teams, Oracle integrations
Voicemail transcription
Single Sign On
Standout Features
Nextiva's auto attendant allows companies to create customized greetings, prioritize certain calls, and route calls. Auto attendant is offered in professional and enterprise plans.
Nextiva's call recording feature offers has several recording options. Users are able to choose whether calls are recorded always, always with pause/resume, on demand, on demand with user initiated start, or never. Users can also set up call recording announcements to play automatically or on demand and save recordings. Call recording is only available in Nextiva's enterprise plan.
Nextiva's professional and enterprise plans offer mobile and desktop SMS/MMS. With the SMS tool, users can select contacts, send messages to multiple recipients or individuals and attach images or audio files. Messages over 160 characters are split into multiple messages on the receiver end.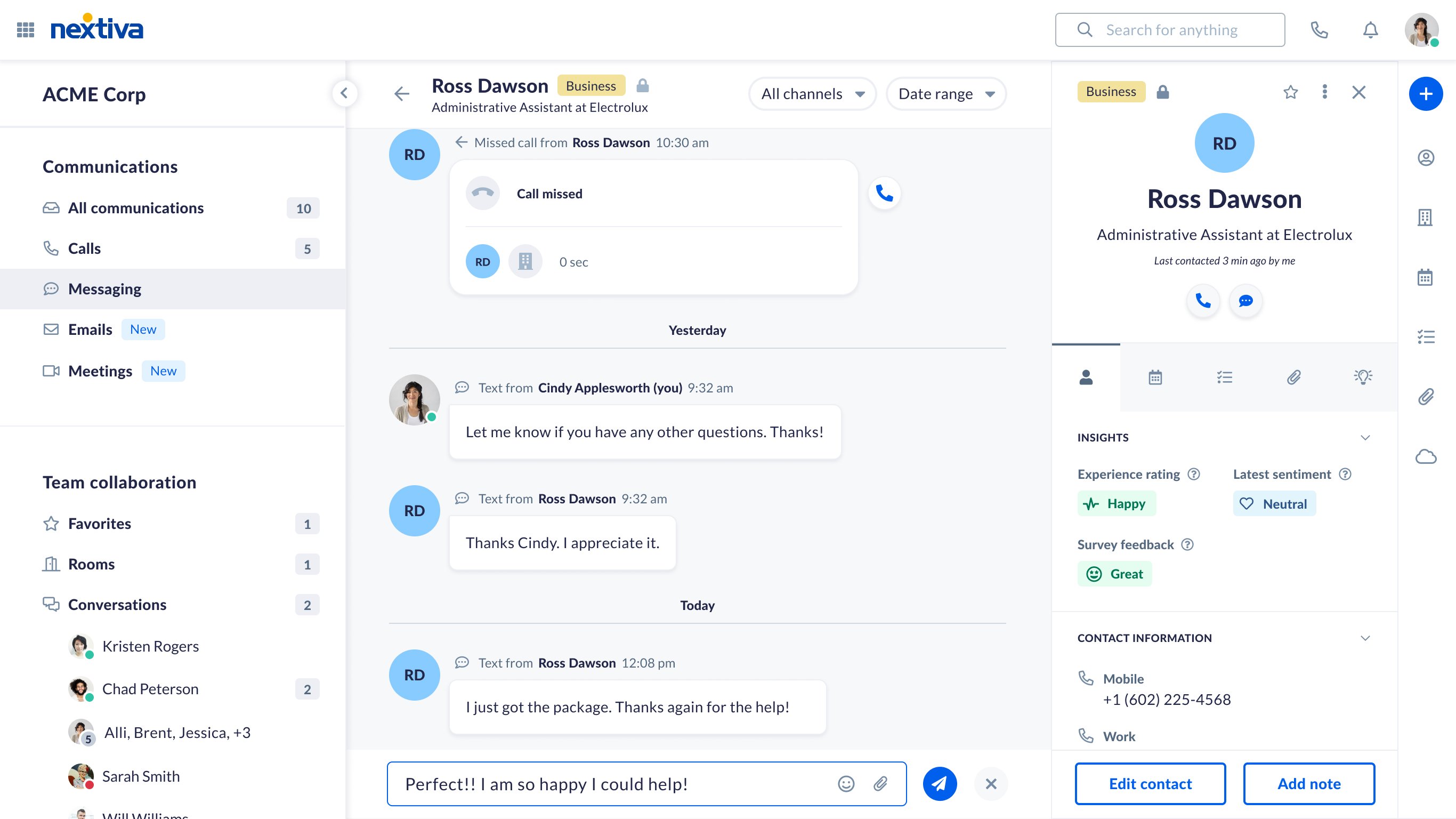 Support Options
Nextiva takes pride in a higher level of customer service than its competitors. All users have access to 24/7 phone and live chat support. Nextiva also has self-service options that include how-to videos and articles. For non-emergencies, Nextiva customers can submit a ticket through the Nextiva website.
Why We Picked It
Nextiva is similar to Ooma in that it has affordable pricing and caters mostly to small businesses. Nextiva does, however, offer a higher level of security and reliability when compared to Ooma. Unlike Nextiva, Ooma does not have a stated uptime guarantee. There are also some differences when it comes to video conferencing. Nextiva offers video calling to all customers while Ooma limits video conferencing to its Pro and Pro Plus users. Nextiva limits video calls to just 45 minutes in all plans, whereas Ooma has a 12 hour limit on video meetings. Finally, Ooma caps participants at 100 while Nextiva caps participants at 250.
2. RingCentral
RingCentral is one of the most well-known business VoIP and UCaaS providers out there. RingCentral's business communication solution (RingCentral MVP–Message, Phone, Video) is highly secure and reliable with end-to-end encryption and 99.999% uptime SLA. RingCentral also offers a plethora of advanced features including a robust video conferencing platform.  The main downside to RingCentral is price. Although it offers an affordable plan, the "essentials plan" does not include video conferencing, internet faxing, call recording or auto-attendant. For this reason, and due to the significant volume discounts RingCentral offers, this platform is best for larger businesses, contact centers and enterprises.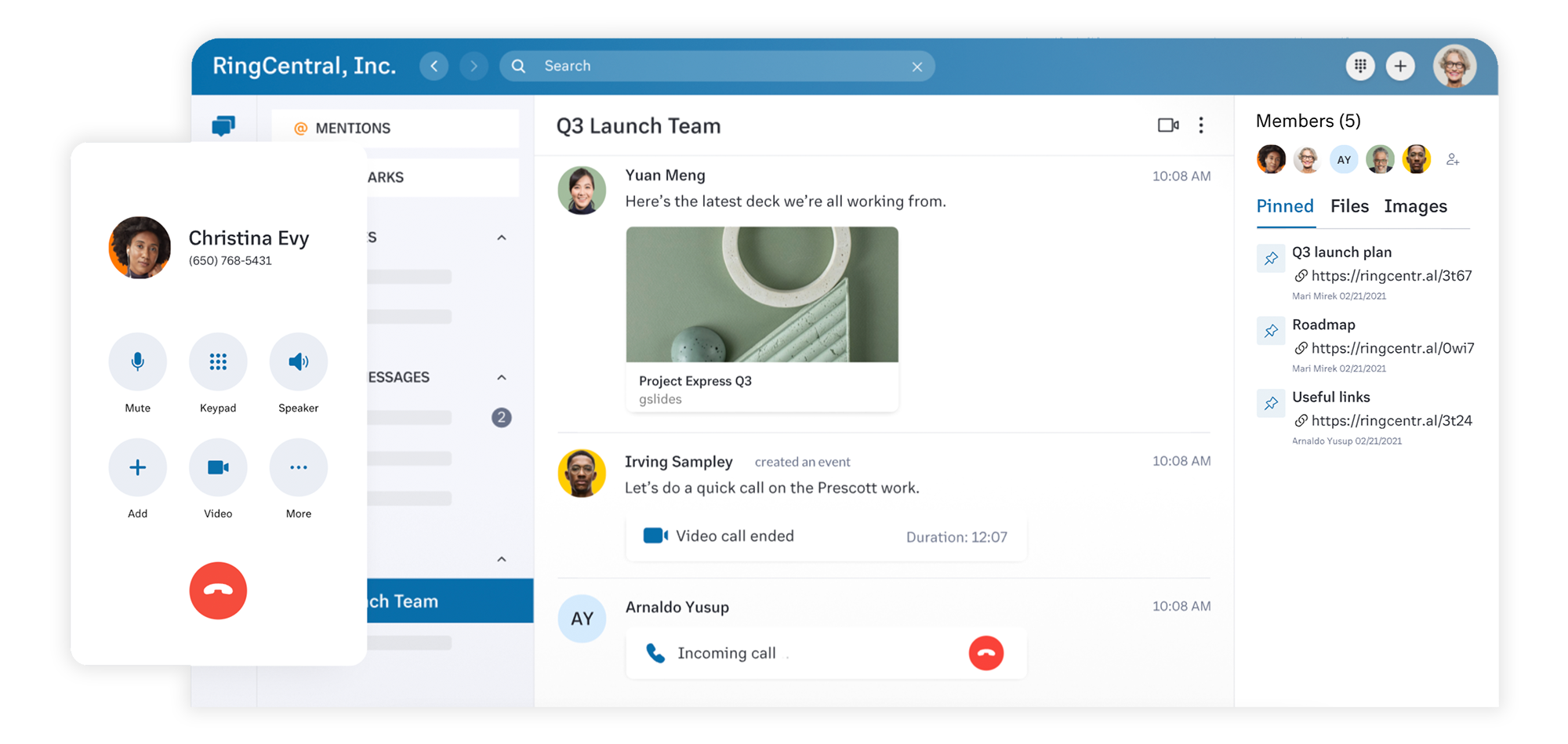 Pricing & Plans
RingCentral offers three different pricing plans with annual and volume discounts. Below is a breakdown.
 
Essentials
Standard
Premium
Annual Price
$20 per user/mo.
$25 per user/mo.
$35 per user/mo.
Monthly Price
$30 per user/mo.
$35 per user/mo.
$45 per user/mo.
Main Features

Unlimited US/Canada calling
Enhanced business SMS
Team messaging with document sharing
Caller ID

Phone numbers in 100+ countries
Video meetings (100 max. participants)
Quality of service reports
Unlimited audio conferencing

Hot desking
Real-time analytics
Single Sign On (SSO)
Automatic call recording
Call whisper, call barge
CRM integrations
Standout Features
RingCentral's team messaging feature helps businesses organize conversations into folders and threads based on projects, topics or teams. Customers and partners can also be invited to join. Users can send files, documents and connect with other collaboration or productivity apps. Team members can also open a voice or video call directly from the team chat space. Other features include built-in task management, bookmarking, group messaging, and filter/search.
RingCentral's video conferencing platform enables users to host video meetings with up to 200 participants for up to 24 hours in duration. AI-powered features include live transcription, noise reduction and advanced insights such as meeting summaries, topics and video highlights. RingCentral's presentation mode feature allows users to share their screen and place a profile picture anywhere on screen so participants know who is presenting. The auto-follow feature lets the camera follow each movement of the person who is presenting. Video collaboration tools include whiteboard, participant reactions, breakout rooms and team huddle (an ongoing meeting where users can come and go as they wish). Security features include dynamic end-to-end encryption, password protection, waiting room, and host controls.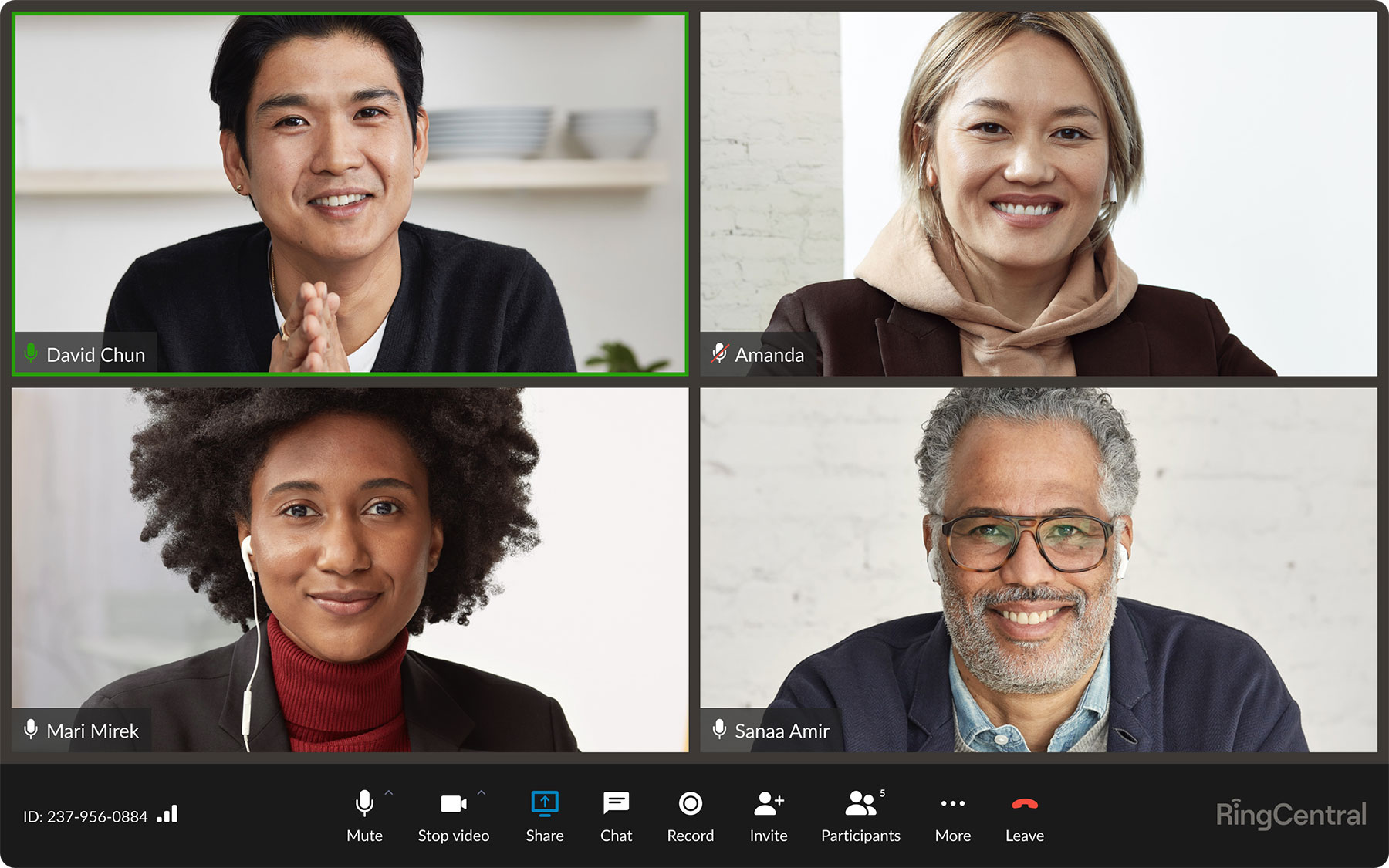 RingCentral's real-time analytics allow users to optimize call coverage and improve the customer experience by providing actionable insights such as service level, idle/active agents, and calls queued or on-hold. Dashboards are fully customizable through the use of drag-and-drop widgets and can be shared or displayed on a wallboard. Real-time analytics are available to Premium and Ultimate plan users only.
Support Options
RingCentral customers can get support via phone, live chat or, when time is not of the essence, by filing a case online. RingCentral also has a self-service knowledge base available with helpful articles and demo videos. Standard plan users and above have access to 24/7 live customer support.
Why We Picked It
RingCentral is more expensive than Ooma, however, it offers more features along with a higher level of security and reliability. RingCentral is a better option for larger businesses than Ooma because RingCentral offers real-time analytics, multi-site admin, 8-digit extensions, and over 250 integrations. Ooma, alternatively, has a limited number of integrations and only offers historical analytics without the ability to filter by location or individual user. RingCentral also has a more advanced video conferencing solution which makes it a better choice for global companies, remote/hybrid teams, or other businesses that engage in video calling frequently.
3. Zoom
One of the most recognizable video conferencing providers, Zoom has recently risen up the ranks in the UCaaS space, now offering an all-in-one platform that includes voice, messaging and, of course, video communication tools. As a newer UC provider, Zoom Phone does not have a guaranteed uptime like more established brands. It also doesn't offer some advanced VoIP features such as sentiment analysis. The number of integrations is also limited. However, Zoom has some of the most affordable prices in the industry and a solid stack of voice, video and collaboration capabilities.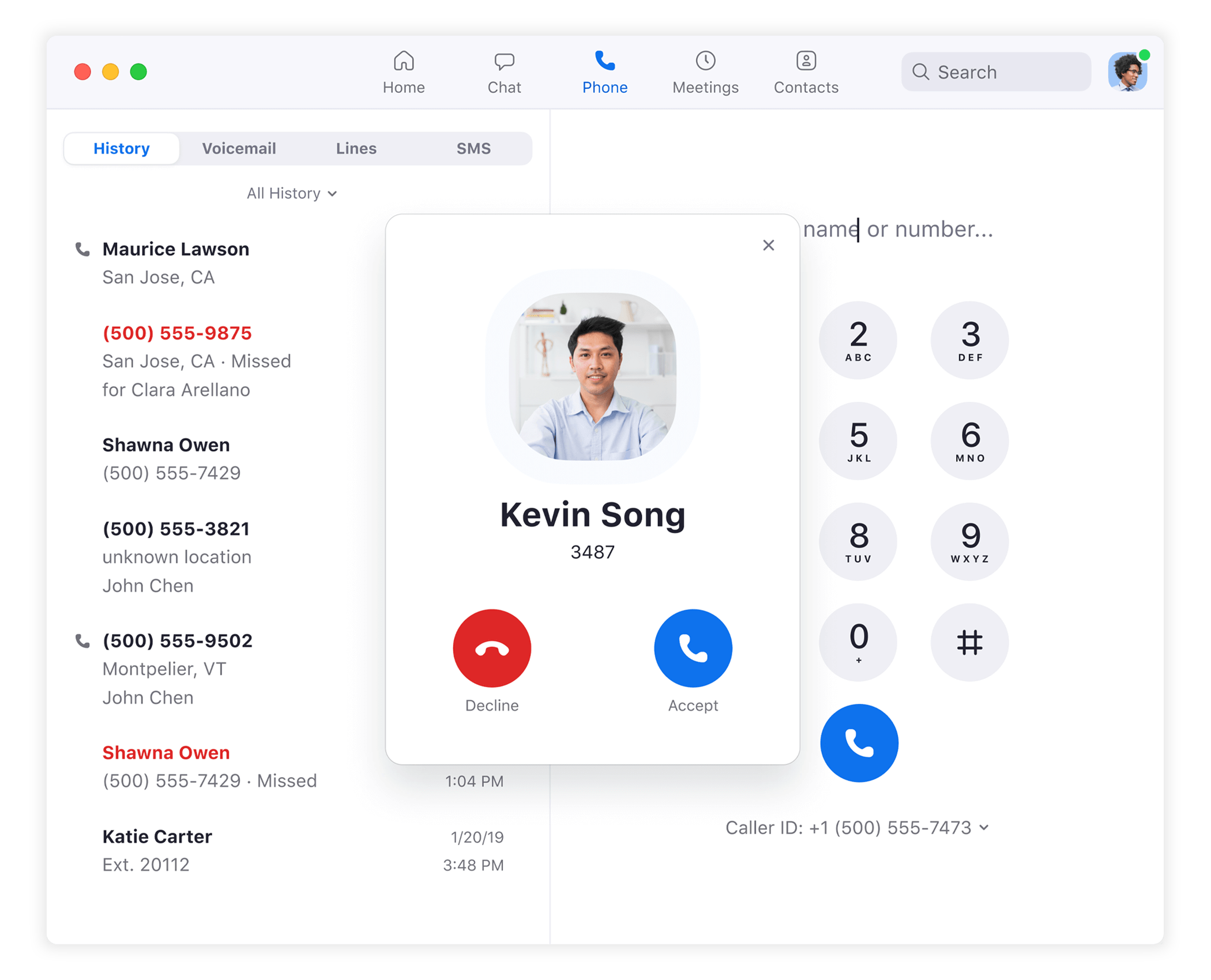 Pricing & Plans
All Zoom Phone features are included in all plans, but the plans vary in regard to calling area and call pricing style. The US & Canada Metered plan is pay-per-minute for all calls, the US & Canada Unlimited plan offers unlimited calling in the US and Canada, and the Pro Global Select plan offers unlimited calling domestically in one supported country of your choice. Mixing and matching plans is allowed.
US & Canada Metered
US & Canada Unlimited
Peo Global Select
Annual Price
$8 per user/mo.
$15 per user/mo.
$20 per user/mo.
Outbound Calling
Metered everywhere
Unlimited
Unlimited
Key Features

Toll free numbers
Automatic and manual call recording
IVR

Unlimited outbound calling in US/Canada
Option to add on unlimited calling to 19 countries

Unlimited domestic calling in one of 40+ countries
Direct dial number
Standout Features
Zoom's call queues feature allows admins to route incoming calls to a group of users such as a specific department. Each queue has a maximum of 50 members. There are five options for distributing incoming calls:
Simultaneous: Rings all members of the queue at the same time
Sequential: Rings each available member one at a time in the same order each time
Rotating: Rings each available member one at a time in a changing order so that calls are evenly distributed
Longest Idle: Rings the available member who has been idle the longest first
Group Rotating: Rings designated groups of members simultaneously
Zoom's SMS/MMS feature allows users to send and receive text messages (SMS) using the Zoom desktop client, mobile app (iOS and Android), or Zoom PWA. With the purchase of the "power pack" add-on, Zoom Phone admins can also enable SMS for call queues and auto receptionists, allowing incoming text messages to be received by a group of users (or department). All members of the group will be able to respond to the message. Images can be sent in .jpg .png or .gif format. SMS/MMS is only available in the metered or unlimited plan and only for US/Canada numbers.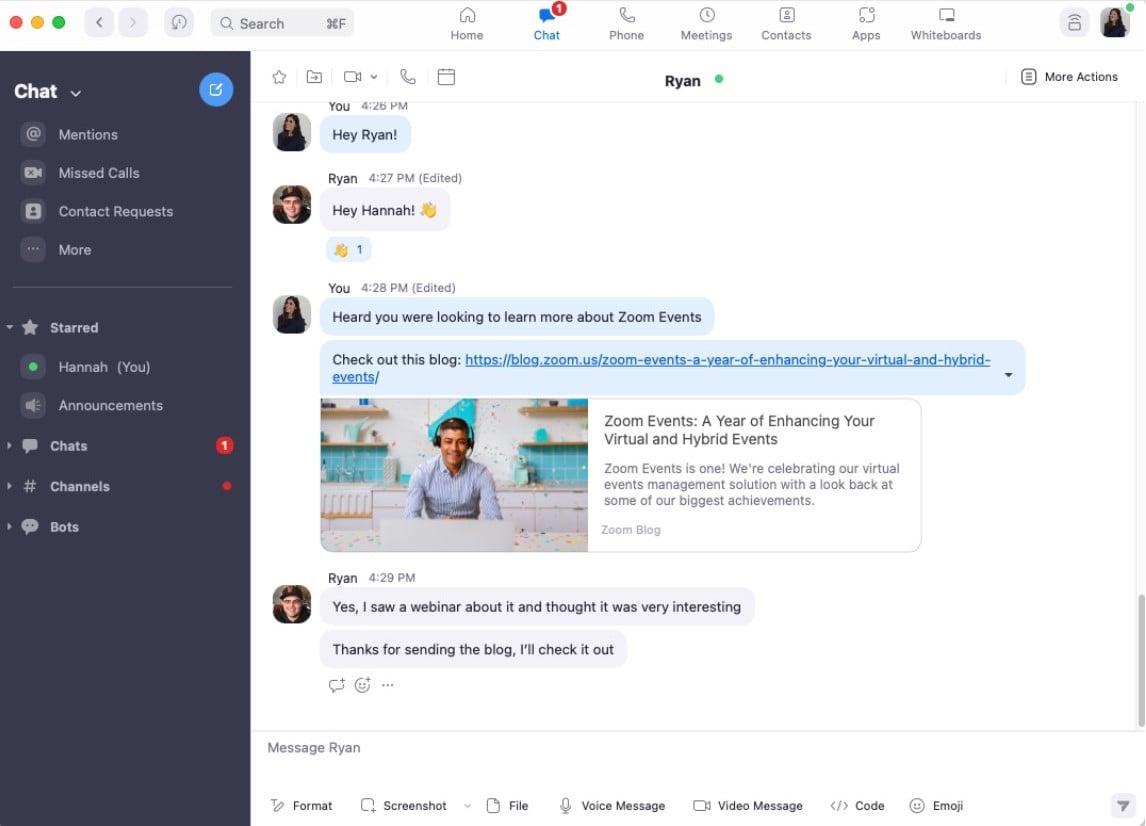 Zoom's call monitoring features have a number of possible uses, such as enabling a supervisor to listen in on agent calls for training purposes and allowing a front desk receptionist to interrupt an employee on the phone if an important call comes in. Zoom Phone offers five call monitoring features:
Listen: Allows user to listen to a phone call without the parties being aware
Whisper: Allows user to speak to an agent without the other parties being aware
Barge: Allows user to join the call and speak to all parties
Take over: Allows user to take over the call from an agent.
Conference Barge: Allows user to take over a shared line group call (up to 10 total members can join the call)
Support Options
Zoom has a number of customer self-service options such as a community board, a chatbot and a knowledge base. Zoom users with subscriptions that are over $50 per month also have the option to use live chat for customer support. Owners and admins (not regular users) can get live phone support with subscriptions that are over $200 per month.
Why We Picked It
Zoom is even more affordable than Ooma, so for companies that are considering Ooma because of its prices, Zoom is a great alternative. Particularly for companies who don't do much outbound calling and can benefit from Zoom's metered plans. Also like Ooma, Zoom does not have a lot of unnecessary features, but still has all the essentials for business communication including auto attendants, ACD, team messaging and hot desking.
4. Vonage
Vonage is a VoIP service provider that is best for SMBs that need a high level of customization. Its UC product, Vonage Business Communication (VBC), is an all-in-one platform with voice, messaging and video capabilities. Vonage's platform has a high level of call quality, with a 99.999% uptime. It is also an affordable option, if add-ons are not needed, with plans starting at $14.99 per user/mo.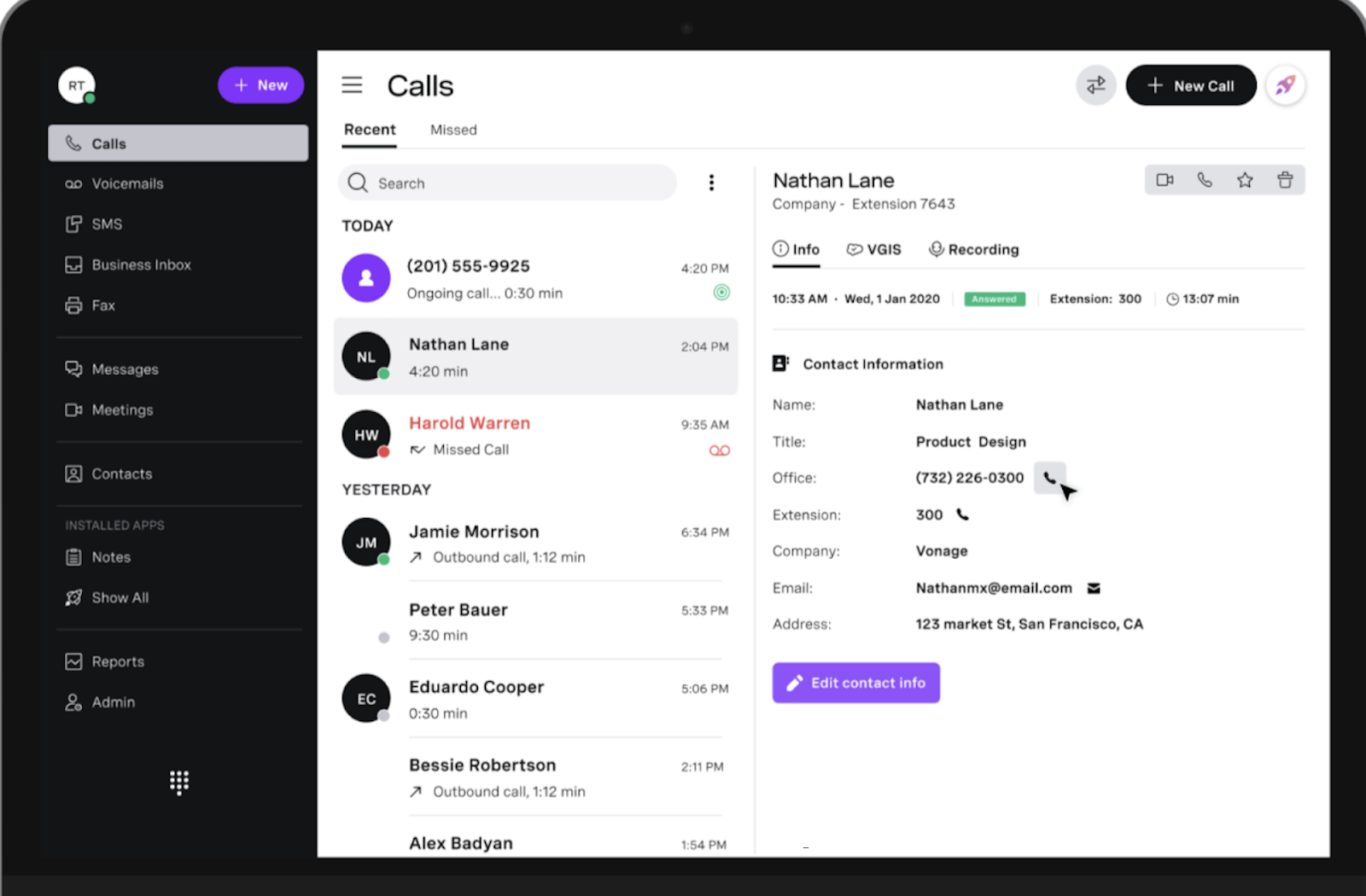 Pricing & Plans
Vonage has a traditional three tiered pricing structure with volume discounts. Many of Vonage's advanced features are offered as add-ons allowing more customization than other competitors. Below is a breakdown of Vonage pricing.
Mobile
Premium
Advanced
Annual Price
$14.99-$19.99 per user/mo
$24.99-$29.99 per user/mo
$34.99-$39.99 per user/mo
Main Features

Team messaging
Unlimited calling and SMS
Mobile and desktop apps

Video meetings
Multi-level auto attendant
IP desk phone capability

On demand call recording
Call group
Visual voicemail
Standout Features
Vonage's Virtual Receptionist is an automated answering service with a variety of options including playing an IVR menu, trying a live operator first, forwarding to an extension or forwarding to voicemail. Vonage admins can also set a schedule to have different actions occur during the work day, after hours and on weekends/vacations. Vonage users can set up multiple virtual assistants and the feature is available in all Vonage plans.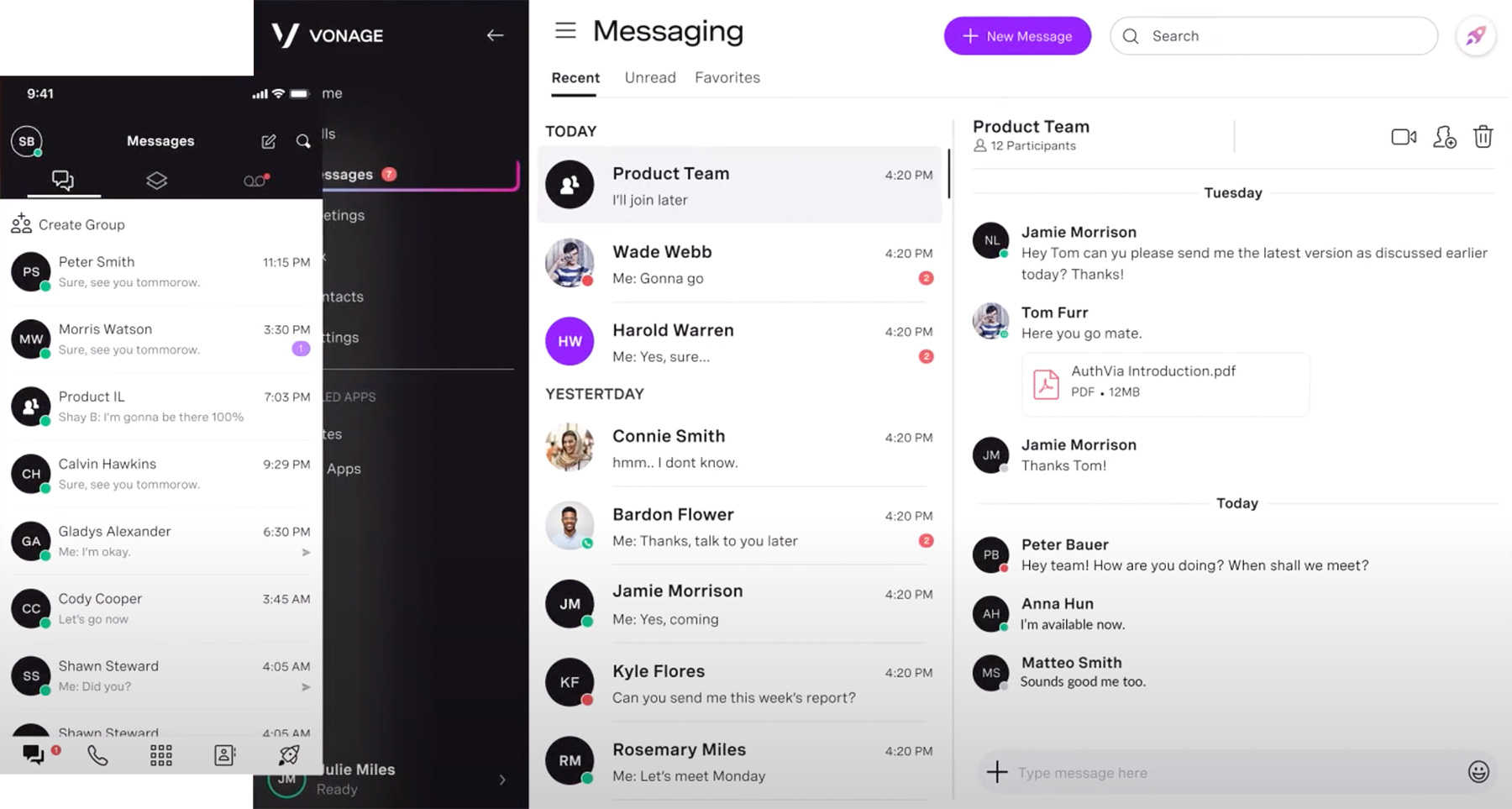 Vonage Call Queues are virtual waiting rooms, giving callers the option to stay on the line until an agent becomes available. Vonage users can set up a sequence of prompts for callers to go through before their call is answered. Users can also select on-hold music or other audio content to play while callers wait. Admins can monitor call queue activity and generate reports. Call queues are not included in Vonage plans and must be purchased as an add-on either $250 per queue per month with unlimited wait time or $14.99 per queue per month plus $.03 per minute wait time.
Vonage's Business Inbox aggregates text based communication from SMS, MMS and Facebook Messenger into one space. Admins can select which users will have access to Business Inbox. Employees with access have the ability to send and receive text messages from the main business number or toll-free number. Business Inbox must be purchased as an add-on for $9.99 per month.
Support Options
Vonage offers live customer support to all users by phone. There is also a knowledge base online with articles, a community forum and a chatbot.
Why We Picked It
Vonage offers prices that are even lower than Ooma, with better reliability. Similar to Ooma, Vonage is best for medium and small businesses. The main difference between the two VoIP providers comes down to included features. For example, Ooma includes a conference bridge in all its plans, while Vonage charges extra for the feature. Ooma includes call queues with its Pro Plus plan while Vonage offers call queueing as an add-on feature. Vonage is therefore better for companies that would rather pick which features they need a la carte while Ooma is better suited for businesses that would rather have an out-of-the-box solution.
5. GoTo Connect
GoTo Connect is a cloud phone system with messaging, voice and video functionality. GoTo Connect's platform is highly reliable with 99.999% uptime and distributed cloud architecture and HIPAA ready. With a full suite of products including CCaaS and webinar software, GoTo Connect is perfect for scaling.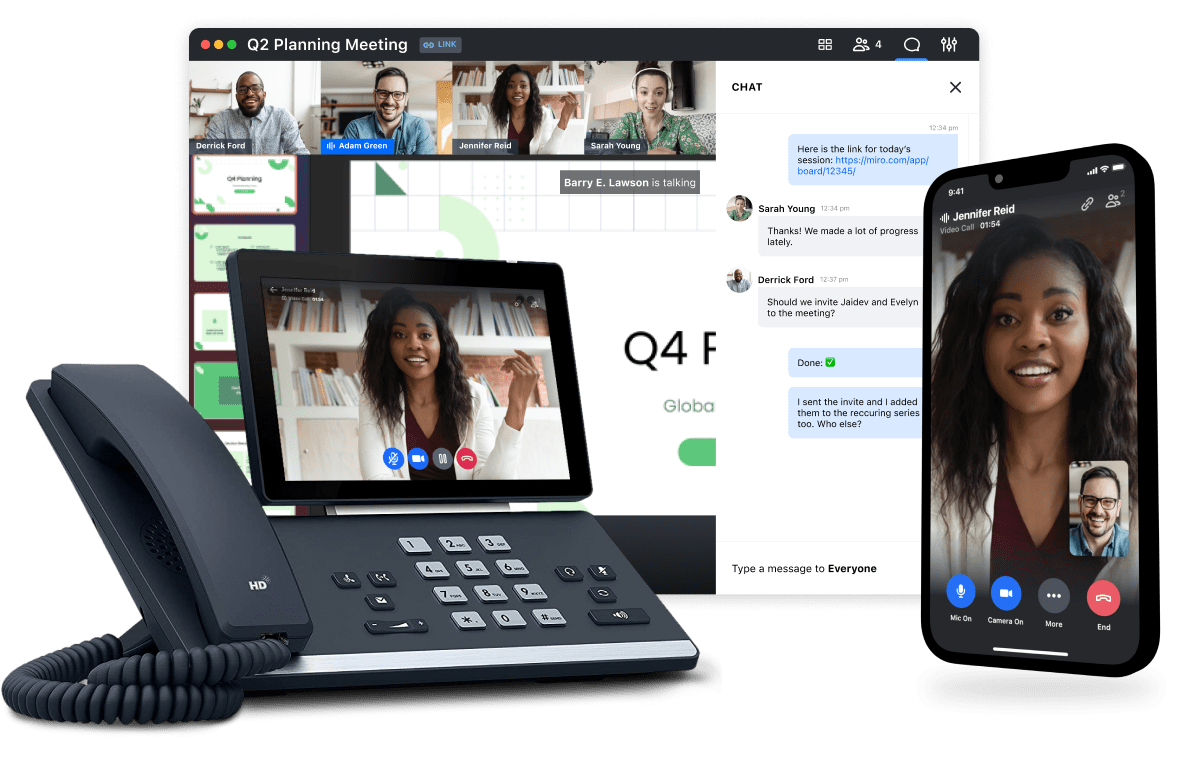 Pricing & Plans
GoTo Connect offers three different pricing plans with annual and volume discounts. Below is a breakdown.
Basic
Standard
Annual Price
$24 per user/mo
$29 per user/mo
Monthly Price
$27 per user/mo
$32 per user/mo
Key Features

Toll free numbers
Smart call routing
Video calls with a limit of 4 participants

Unlimited call queues and auto attendants
Voicemail to email
Call recording
Standout Features
GoTo Connect's visual dial plan editor allows users to create custom call flows using drag and drop. The editor enables users to create auto-attendants, set schedules and rules for business hours and add custom greetings. Admins can also generate performance reports with call volume analytics.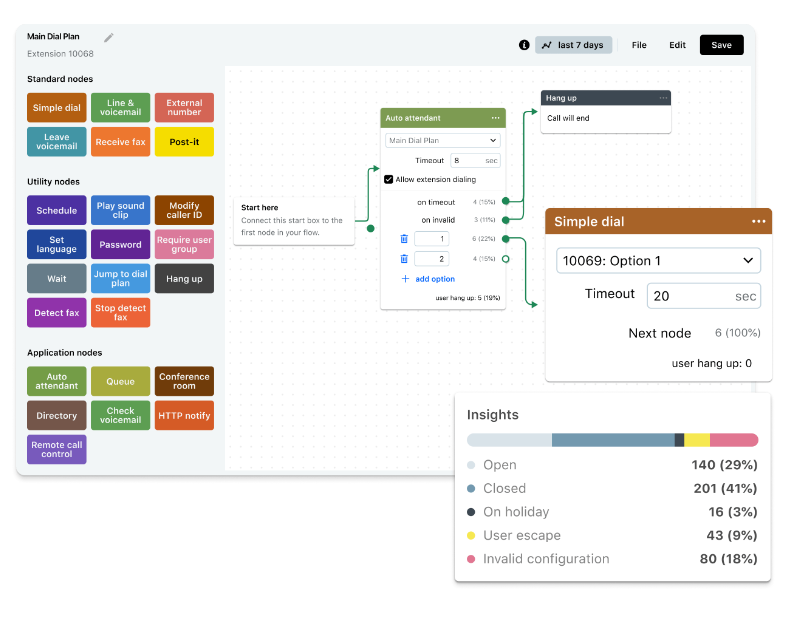 GoTo Connect's screen sharing feature allows users to display content during video meetings. GoTo Connect gives users complete control over what other participants will see and anyone in the meeting can be permitted to share their screen. Participants can also give live feedback using drawing tools.
GoTo Connect's find me/follow me feature allows users to route incoming calls to multiple phones in a specific sequence. Each user creates a unique call flow and failover for their extension by listing numbers in their user portal. These numbers can include a home landline, work or personal cell phone, or even a spouse's cell phone.
Support Options
GoTo Connect offers customer self-service support with an online knowledge base, community forum and chatbot. For live support, customers can submit a ticket online 24/7 and wait for a return call or email.
Why We Picked It
GoTo Connect is more expensive than Ooma, but it has more to offer. As a more established company that has benefitted from the technology created by both Jive and LogMeIn, GoTo Connect is a highly secure and reliable platform, with many advanced features such as team messaging and real time call queue updates. While Ooma is a great option for small businesses, GoTo Connect may be a better choice for SMBs that are looking to scale in the future.
6. OpenPhone
OpenPhone is a cloud-based business communications provider offering voice calling and messaging services in the U.S. and Canada. OpenPhone has some of the lowest prices in the VoIP space and is therefore a great choice for startups and small businesses. Although OpenPhone's platform does not have video conferencing, it does offer some more advanced VoIP features including IVR, analytics and call whisper.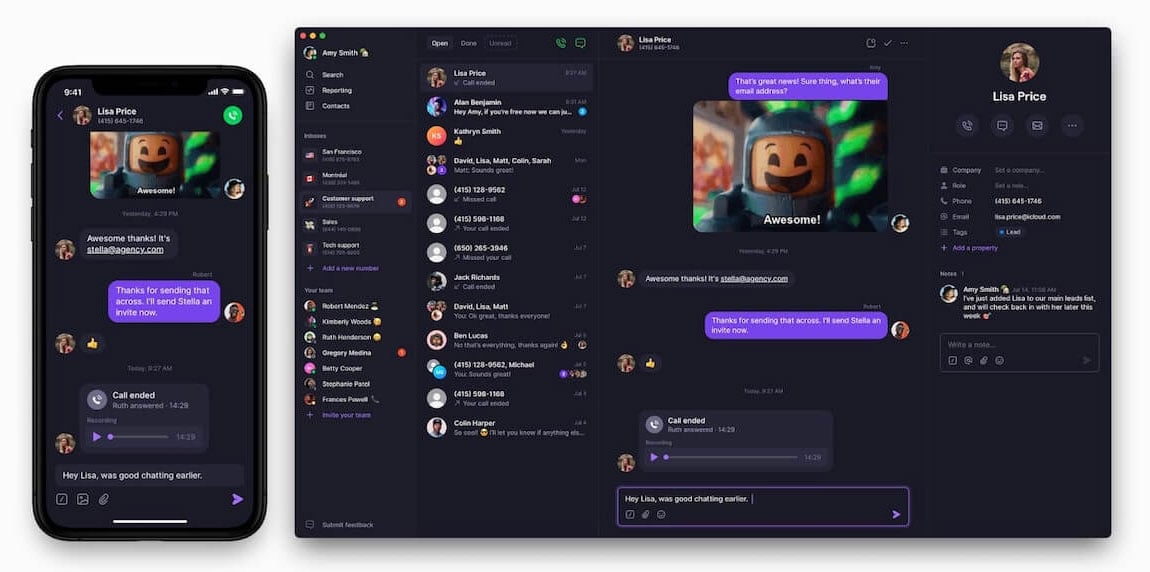 Pricing & Plans
OpenPhone offers three pricing plans. Below is a breakdown.
 
Standard
Premium
Enterprise
Annual Price
$13 per user/mo
$20 per user/mo
Contact OpenPhone
Monthly Price
$17 per user/mo
$25 per user/mo
Contact OpenPhone
Main Features

Voicemail to text
Call recording
Basic IVR

Analytics and reporting
Advanced IVR
Call transfers

Dedicated account manager
Audit log
Priority support
Standout Features
OpenPhone's advanced IVR feature is available to Premium and Enterprise plan users. This feature enables users to direct incoming calls to six different destinations including internal and external numbers and voicemail. Users can also create an audio file that will play when callers select a specific option.
OpenPhone analytics enable admins to track a number of KPIs including call and text volume, total number of minutes and total number of unique conversations. Data is gathered onto a dashboard that can be customized to display information as bar graphs, charts, or heat maps. Information can also be filtered by day, week, a specific time period, or phone number.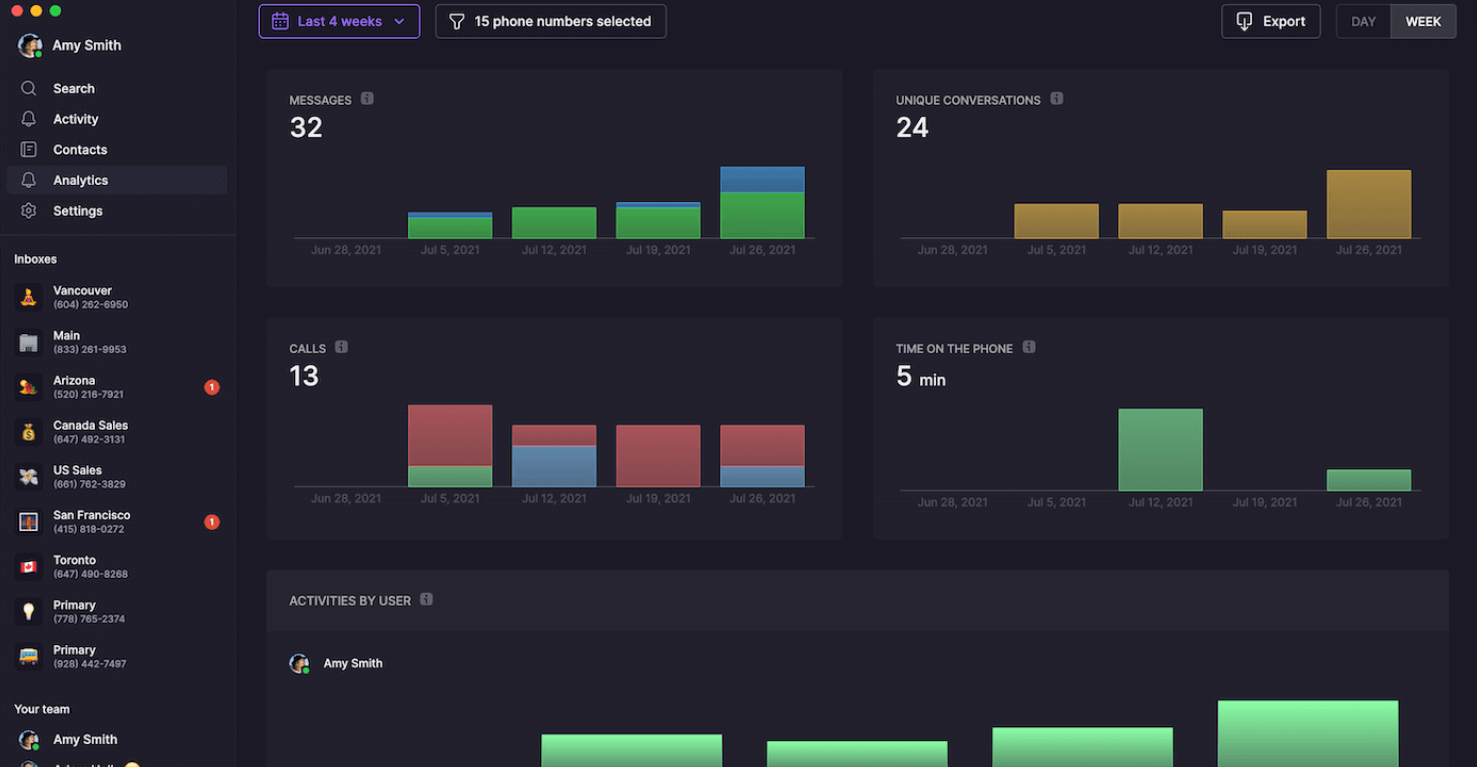 Support Options
OpenPhone offers customer self-service with online tutorials and occasional live Q&A sessions. Standard and Premium plan users can also email customer support. Enterprise users have access to a dedicated support manager and priority support.
Why We Picked It
OpenPhone has lower prices compared to Ooma, making it a great alternative for small businesses that are on a budget. Unlike Ooma, OpenPhone does not have a video conferencing platform, so for companies that only need voice and messaging capabilities, OpenPhone is an affordable choice. Like Ooma, OpenPhone does not have a guaranteed uptime so it may not be suitable for larger companies and enterprises.
7. Dialpad
Dialpad is a unified communications provider specializing in innovation. Investing heavily in artificial intelligence and NLP research, Dialpad's platform offers many advanced communication features powered by AI including real-time voice transcription, post call summaries and sentiment analysis. Dialpad is also one of the only VoIP solutions that has a 100% uptime guarantee. Its platform includes voice, messaging and video capabilities, all for an affordable price compared to competitors.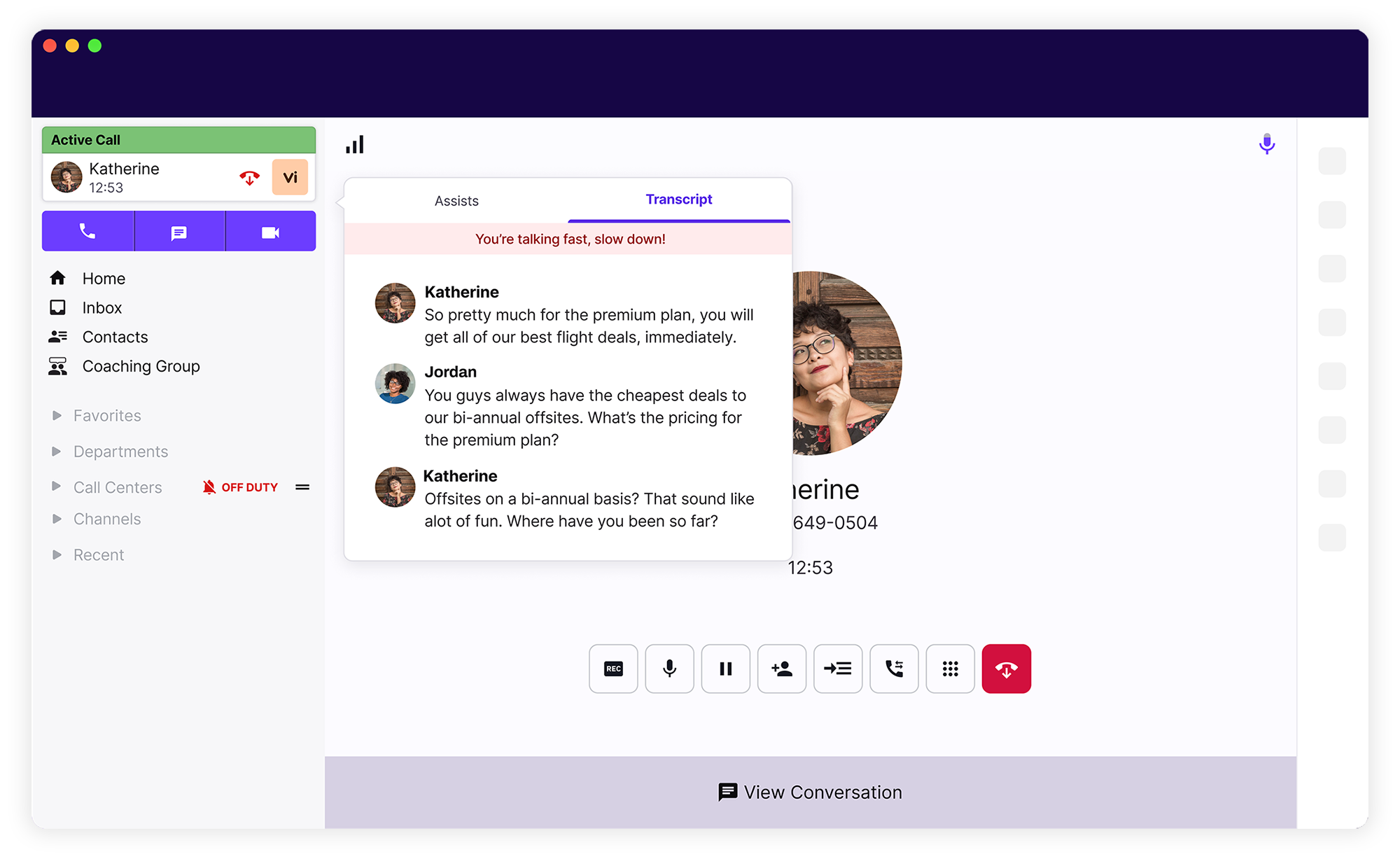 Pricing & Plans
Dialpad offers three pricing plans. Below is a breakdown.
Standard
Pro
Enterprise
Annual Price
$15 per user/mo
$25 per user/mo
Contact Dialpad
Monthly Price
$23 per user/mo
$35 per user/mo
Contact Dialpad
Key Features

Video meetings
Call and voicemail transcripts
Unlimited calling, SMS, MMS

Ring groups
Global SMS
Open APIs and CRM integrations such as Hubspot, Microsoft, Zendesk, and Salesforce

100% uptime guarantee
SSO
Dial-by-extension
Standout Features
Dialpad's call summary feature compiles a searchable transcript, action items, and notes into a concise overview that is emailed to admins. If desired, call summaries can be sent automatically to all members on the conference call being summarized, or all participants of a video meeting.
Live speech coaching by Dialpad is an AI-powered feature that displays suggestions to agents while they are on calls, in real time. If an agent is speaking too quickly or too much without waiting for the customer to respond, the coaching feature will automatically display a reminder to slow down or speak clearly. Live speech coaching is included with all plans.
Dialpad's business messaging feature allows users to text with team members or outsiders on one app and from any device. Users can attach files of any size using drag and drop and set up custom notifications. Users can also start a voice call from any 1:1, group chat, or channel, or set up a persistent audio room where team members can drop in at any time.
Support Options
DIalpad offers self support options to all users including a knowledge base, community forum and web-based chatbot. Live support is also available for all users. Standard plan users have access to 24/5 live support while Pro and Enterprise users have access to 24/7 live support.
Why We Picked It
Dialpad has affordable prices similar to Ooma but offers additional features, higher reliability and better security. Dialpad also offers more integrations and better options for international numbers. For these reasons, Dialpad is a better choice for enterprises and growing businesses.
Which Ooma Alternative Should You Choose?
The best communications platform for your business depends on several factors. The size of your business and its budget are probably the most important, but it's also necessary to consider what features you need as well as what level of security and reliability is necessary for your company.
If your business needs a straightforward voice solution, OpenPhone is a great option with a low price tag. If you need reliable video conferencing along with other VoIP functionality, GoTo Connect and Zoom have excellent video meeting features. If security is a priority, RingCentral is an excellent choice. If customer service is a high priority, Nextiva might be the best option. Keep in mind that the above article is not an exhaustive list. Some other service providers to consider would be Magicjack, Google Voice and Grasshopper. Although there is no perfect solution out there, there is very likely a perfect fit for your company.