The convenience, cost-savings, and advanced features of Voice over Internet Protocol (VoIP) are just some of the reasons why VoIP has far surpassed wired PSTN telecommunications.
VoIP apps let users access their virtual phone system from anywhere, on any device–including smartphones, tablets, and even desktop computers via a softphone interface.
VoIP capabilities aren't limited to basic landline features like calling, voicemail, and call hold.
Today's VoIP apps empower multichannel communication via voice and video calling, SMS/MMS text messages, virtual faxing, and even internal chat messaging. They also offer advanced call management strategies, call tracking and analytics, file sharing, and customer self-service.
Read on for a comparison of our ten favorite VoIP app providers.
Overview of Best VoIP Apps
Provider
Pricing
Supported OS
Key App Features
Best For
Nextiva
$18.95-$32.95 per user/mo
Windows 7 SP1, Windows 8/8.1, or Windows 10 (Classical view only) or newer. Apple iOS 12.0 and newer. Android 4.4 and newer.

Unlimited internet fax
Multi-level auto attendant
Call recording

Small businesses and SMBs
RingCentral
$20-35 per user/mo
Android 8.0, or later

iOS 13.0, or later

Windows 8.1 (64-bit), or later

macOS 10.13 (High Sierra), or later

Intel Skylake-class 6th Gen i3, i5, or i7 processor, or later

Team messaging
Phone numbers in 100+ countries
Real-time analytics

Medium-sized businesses and global  enterprises
Dialpad
$15-35 per user/mo
Windows 8, 10, 11 (32- and 64-bit)

Mac OS X, macOS 10.11 (El Capitan) or late

iOS 14 or later

Android 8.0 Oreo or later

Global SMS functionality
Live speech coaching
Automated post call summaries

Large businesses and enterprises
GoTo Connect
$24-$29 per user/mo
macOS 10.11 or higher

Windows 7 or higher

Android: Android 8.0 or newer.

Apple: iOS 12.0 / iPad OS 12.0

Call routing and queues
Video meetings up to 250 participants
Call monitoring (Listen/Whisper/Barge)

Large businesses and small enterprises
Vonage
$19.99-$39.99 per user/mo
Windows 7 or higher

Mac OS X 10.9, 10.10 or 10.11

Apple 4 and higher (iOS 6 and higher)

Android Phones (OS 2.1 and higher)

Call flip
On-demand call recording
Shared line appearance (SLA)

Startups and SMBs
Zoom Phone
$10-$20 per user/mo
macOS X with macOS X (10.10) or later

Windows 7 or later

iOS 8.0 (iphone 4.0) or later

Android 5.0x or later

Dial by name directory
Holiday and business hours routing
Unlimited auto attendants/IVR

Startups and small remote teams
8×8
$24-$44 per user/mo
Windows 8 and newer

Android 8.0 (Oreo) or later

iOS 13 or later

SMS, MMS and team chat
Audio and video conferencing for up to 500
Supervisor analytics

Businesses of any size and contact centers
Grasshopper
$28-$80 per mo (not per user)
Windows 7 – Windows 10.

Mac OS X 10.9 (Mavericks) – macOS High Sierra (10.13)

iOS 10.0 or later

Android 5.0 Lollipop or later

Custom greetings
Call forwarding
Business texting

Startups and small teams
Ooma Office
$19.95-$29.95 per user/mo
Mac OS X 10.10 Yosemite (or later):

Windows: Windows 10 and above

iOS version 8.0 or later

Android version 4.4 and later

Caller info match
Enhanced call blocking
Advanced call flows

Startups and small businesses
Google Voice
$10-$30 per user/mo
Apple Mac

Microsoft Windows

Android (latest 2 versions)

Apple iOS (latest 2 versions)

Usage and activity report
Call forwarding
SIP link

Startups and small businesses
Nextiva
Nextiva is an all-in-one business communication platform that provides internal and external communication tools including VoIP calling, video conferencing, team messaging, and more.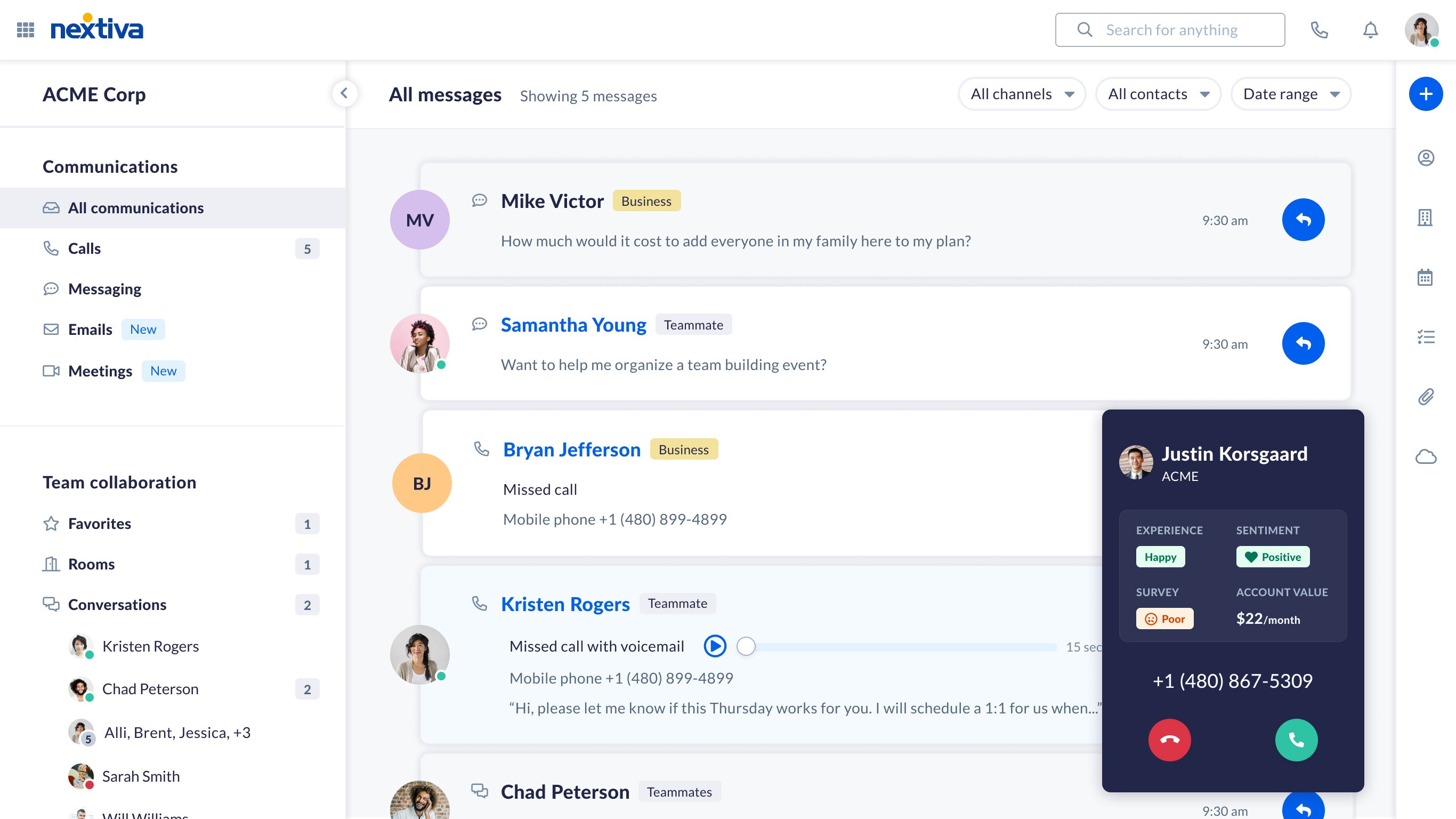 Pricing
Nextiva offers users three levels of pricing plans. Below is a quick breakdown.
Essential
Professional
Enterprise
Annual Pricing
$18.95 per user/mo
$22.95 per user/mo.
$32.95 per user/mo.
Monthly Pricing
$25.95 per user/mo
$30.95 per user/mo
$40.95 per user/mo
Main Features

Unlimited voice calls
Unlimited Internet fax
Toll-free numbers

Unlimited video conferencing
Multi-level auto-attendant
Mobile SMS/MMS

Call recording
Video recording
Voicemail transcription
Standout Features
Nextiva specializes in ease of use and stellar customer support.
When it comes to collaboration, Nextiva's native team chat space allows users to create rooms based on topic, project, or team. Teammates can message one-on-one in groups or in rooms. Files, links and conversations are searchable so nothing gets lost.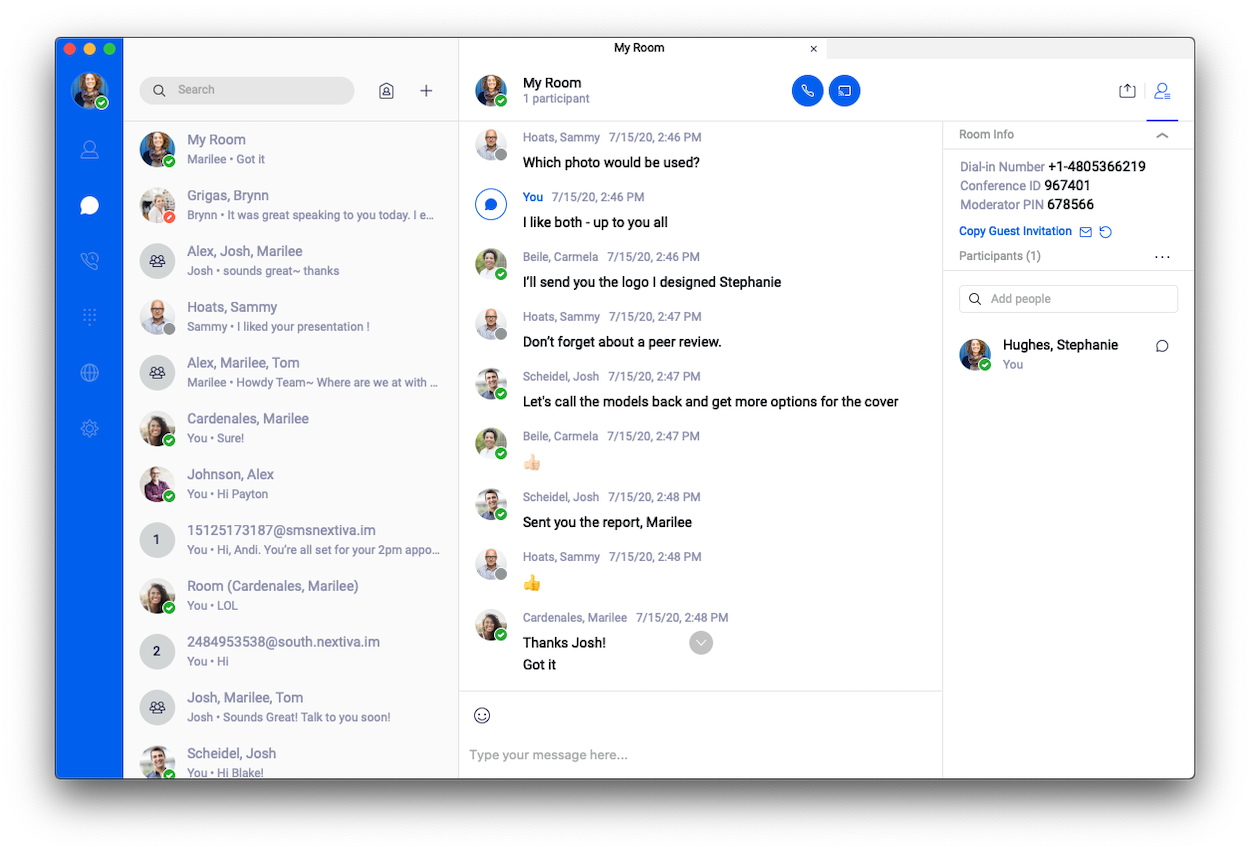 Nextiva's multi-level auto attendant feature enables users to direct incoming calls and optimize call flow paths using custom greetings, menu options and submenus. Menus and greetings can be set to change automatically based on business hours.
Nextiva's automatic and on-demand call recording feature allows users to record all incoming and outgoing calls and set up call recording announcements.
Call recordings are archived for up to 6 months.
Who is the Nextiva VoIP App Best for?
Nextiva is a great choice for small and growing businesses thanks to its 99.99% uptime, advanced customer support, and native team collaboration tools.  Larger businesses and enterprises may be disappointed with Nextiva's limited video conferencing software and lack of advanced features such as conversational IVR.
RingCentral
RingCentral is a cloud-based business communication provider offering several products. Its main UCaaS offering, RingCentral MVP, is a unified communications platform including messaging, video, and phone capabilities.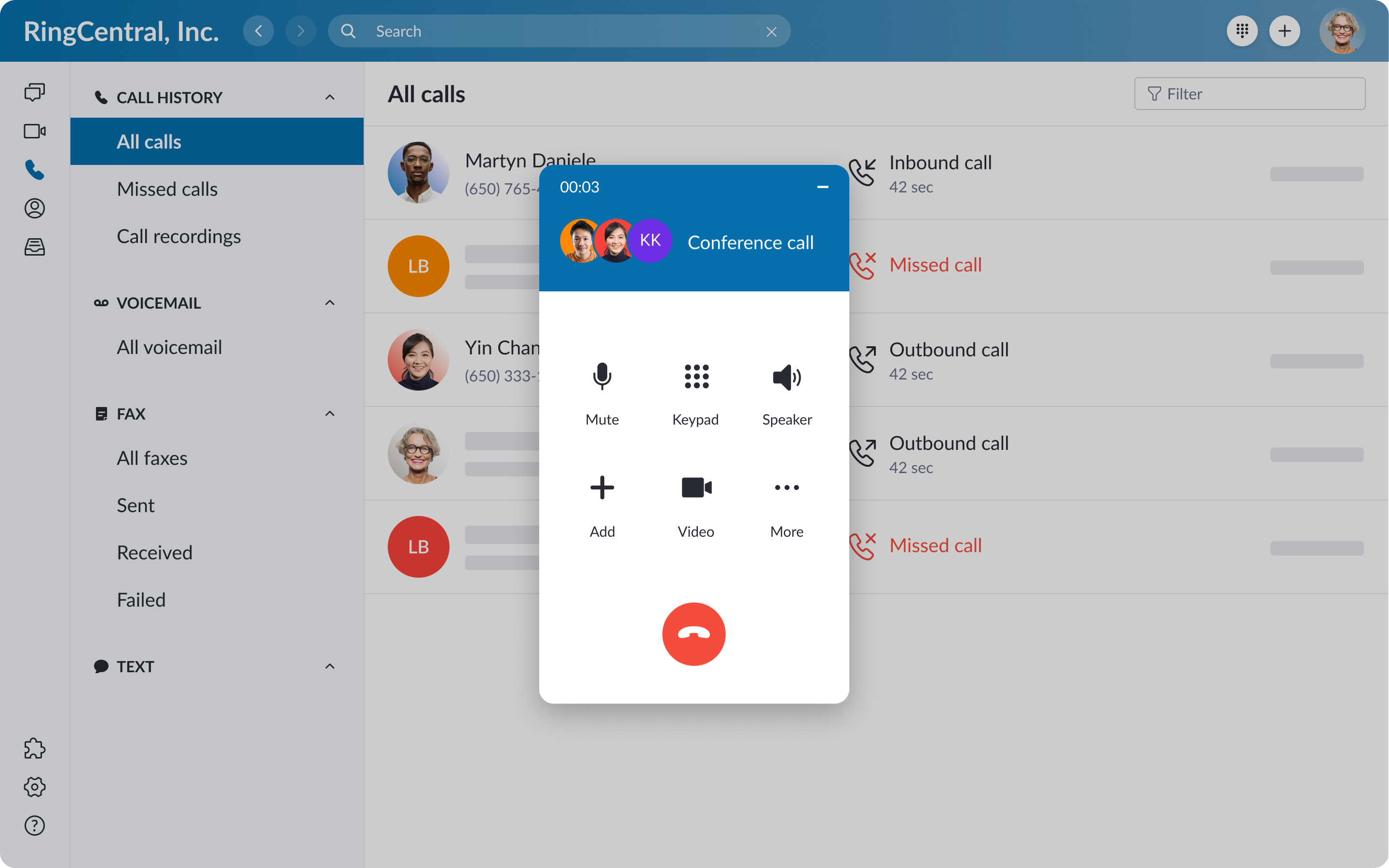 Pricing
RingCentral offers three different pricing plans, below is a breakdown.
Essentials
Standard
Premium
Annual Pricing
$20 per user/mo
$25 per user/mo
$35 per user/mo
Monthly Pricing
$30 per user/mo
$35 per user/mo
$45 per user/mo
Main Features

Enhanced business SMS messaging
Voicemail-to-text
Document Sharing

Unlimited audio conferencing
Video meetings
QoS reports

Multi-Site admin management
8 digit extensions
Hot desking
Standout Features
RingCentral offers a robust video conferencing platform with features like screen sharing, whiteboarding, and breakout rooms. Using powerful AI software, RingCentral meetings provide noise suppression, live transcription, and meeting insights.
RingCentral MVP Analytics empower users with live and historical quality of service reports, real-time alerts and customizable dashboards.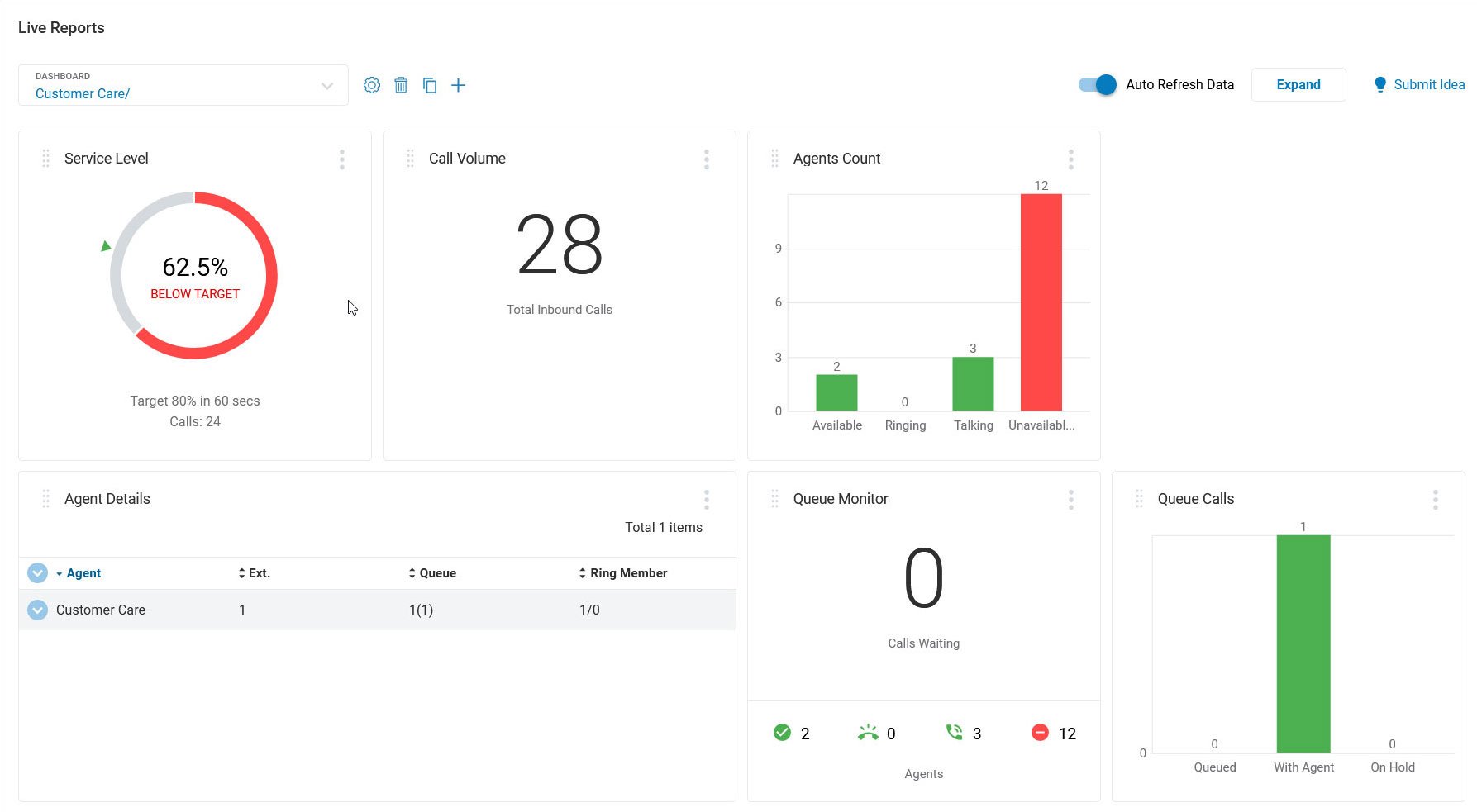 RingCentral's business SMS feature allows users to easily message clients or send out promotional texts. Design-heavy text, images attachments and files can also be sent. Business texts, along with faxes, email and calls are all managed in one place so that every team member has context.
Who is the RingCentral VoIP App Best for?
RingCentral is a great choice for SMBs and enterprises with high-level security needs,  thanks to its end-to-end encryption, AI-based spam blocking, and single-sign-on. RingCentral offers high call quality, a 99.999% guaranteed uptime, and advanced features like hot desking and call whisper useful for larger organizations.
Dialpad
Dialpad is an AI-powered, self proclaimed, "customer intelligence platform".
The moniker is appropriate as Dialpad's UCaaS platform offers voice, video, and messaging capabilities with a wealth of AI features including voicemail transcription, post call summaries, and live coaching.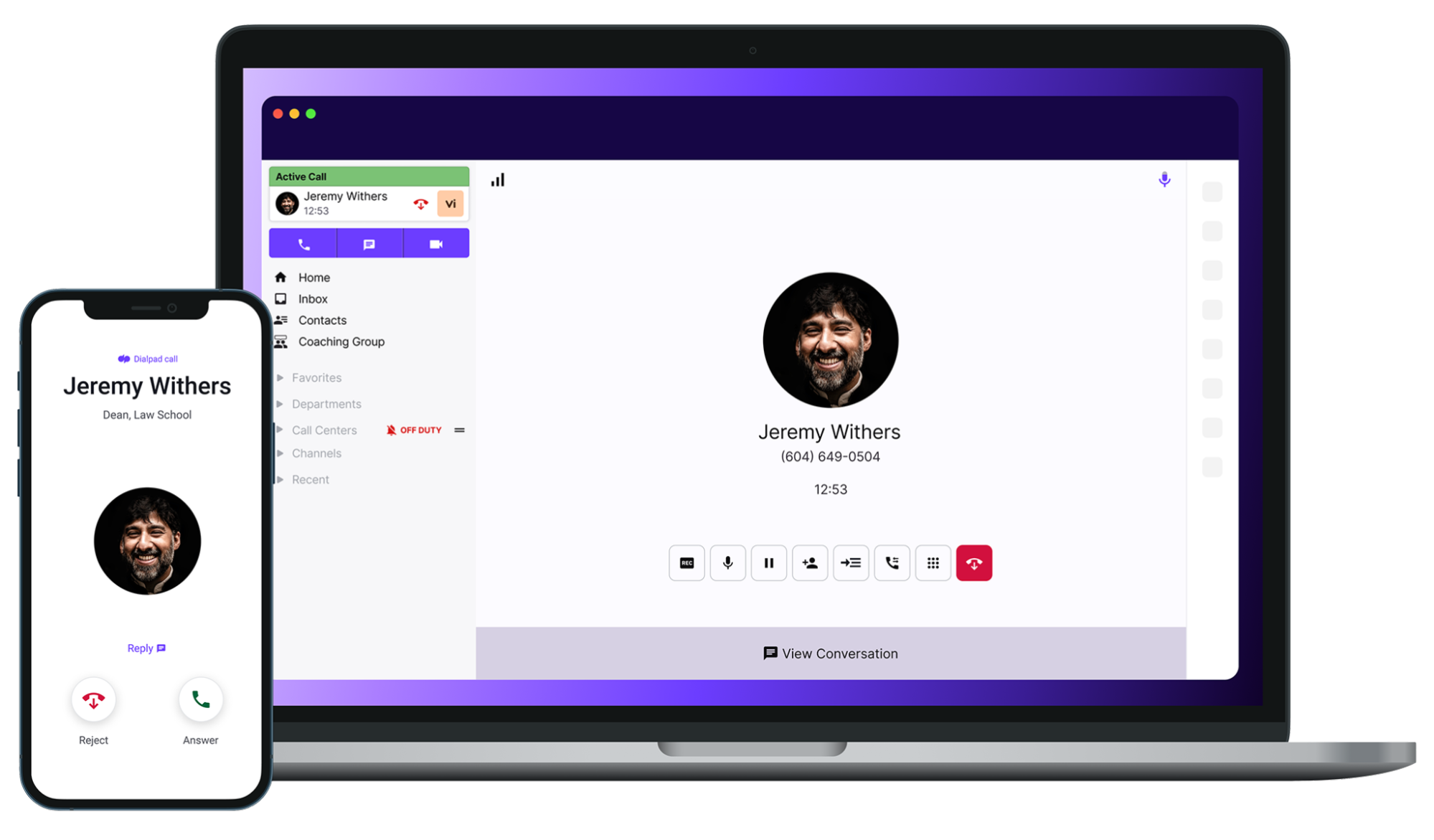 Pricing
Dialpad offers a traditional three-tiered pricing model. Below is a breakdown.
Standard
Pro
Enterprise
Annual Pricing
$15
$25
Contact Dialpad
Monthly Pricing
$23
$35
Contact Dialpad
Main Features

Topic-based team messaging
HD video meetings
Real-time analytics and reporting

Open APIs and webhooks
25 ring groups
International SMS

Dial by extension
Data retention policies
100% uptime guarantee
Standout Features
Dialpad has devoted countless hours and funds into developing its state-of-the-art AI features. As a result, Dialpad's speech recognition software is second to none–and Dialpad users reap the many benefits.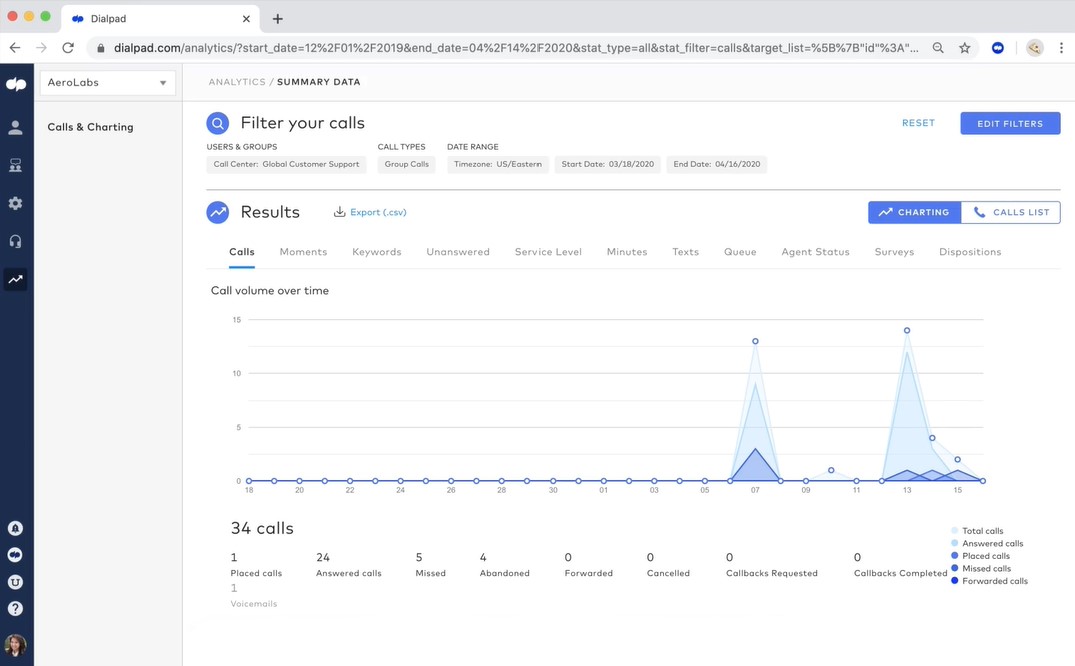 Dialpad's real-time speech coaching displays suggestions to agents during a call reminding them to speak clearly, slow down, or speak less. This feature is available in all Dialpad plans.
Dialpad's Post-Call Summaries gather and display the important highlights of a call including clearly defined tasks, email addresses and recommendations. Dialpad call summaries are searchable and shareable.
Dialpad's built-in analytics (included in all plans) feature heat maps that show call patterns, call transcripts, and IVR analytics that display metrics such as menu option usage percentage.
Who is the Dialpad VoIP App Best for?
Dialpad is a highly secure platform. It is also one of the only VoIP phone providers to offer a 100% uptime guarantee. This combined with its advanced feature set and HD video conferencing platform make Dialpad a great choice for enterprises, large businesses, and contact centers.  
GoTo Connect
GoTo Connect is a flexible cloud phone system with messaging and video conferencing capabilities. GoTo Connect is one of several "GoTo" products including GoTo Meeting, GoTo Webinar and GoTo Contact Center. GoTo Connect combines features from all of these other products to create a unified business communication platform.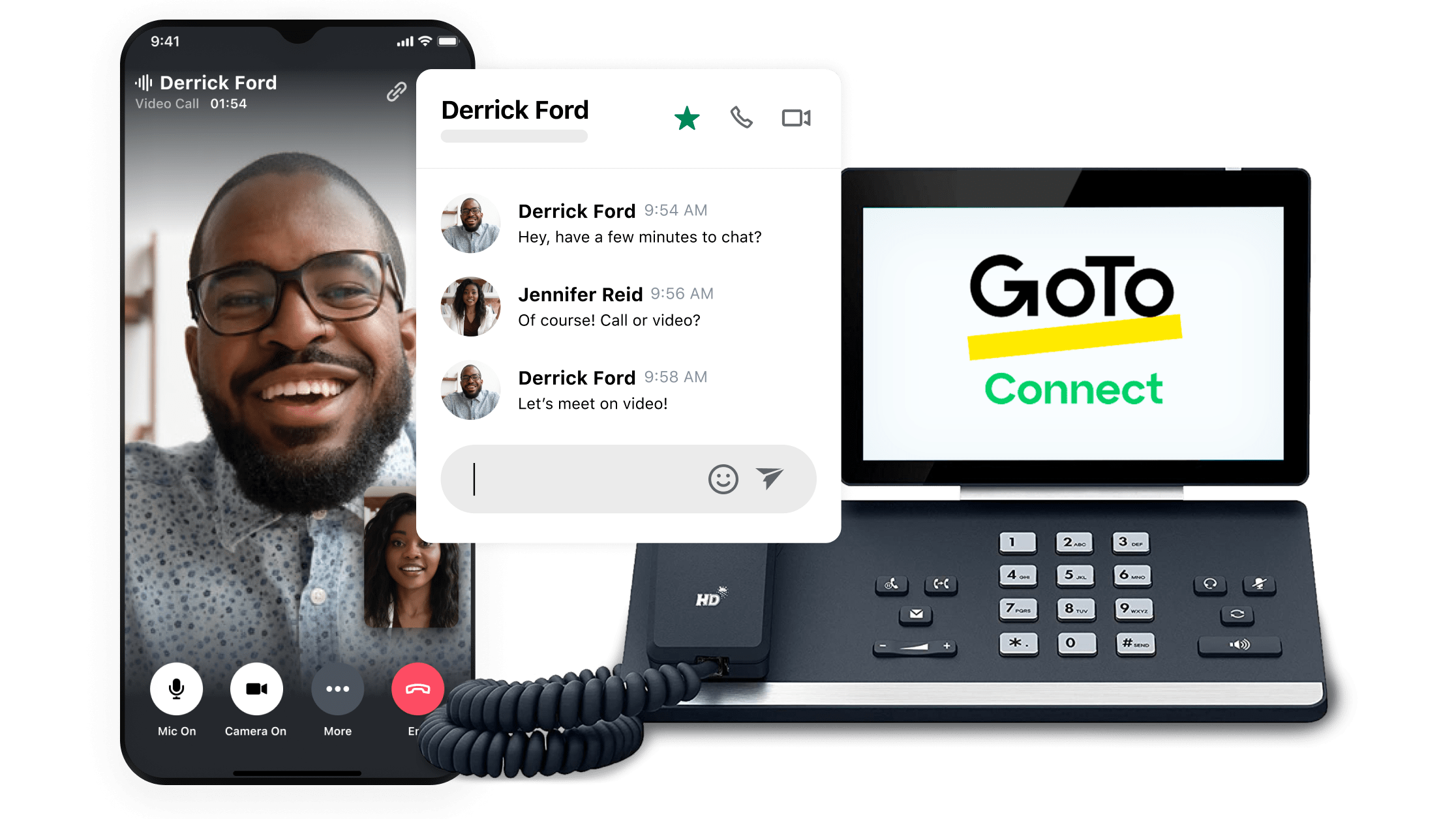 Pricing
GoTo Connect offers a traditional two-tiered pricing model. Below is a breakdown.
Basic
Standard
Annual Pricing
$24 per user/mo
$29 per user/mo
Monthly Pricing
$27 per user/mo
$32 per user/mo
Main Features

Toll free numbers
Microsoft Outlook integration
Video meetings up to 4 participants

Unlimited auto attendants
E-fax
International calling to 50+ countries
Standout Features
GoTo Connect's call transfer feature lets users forward calls to the right agent without sending them back to the main menu. The warm transfer feature lets users speak with the caller and the agent they're transferring the call to before connecting them, ensuring everyone's on the same page.
GoTo Connect's video meetings include screen sharing, which allows users to control what meeting participants see when they share their screen. Participants can also edit and modify documents using drawing tools during the screen share. Screen sharing can be done on the mobile app for Android devices or iOS devices.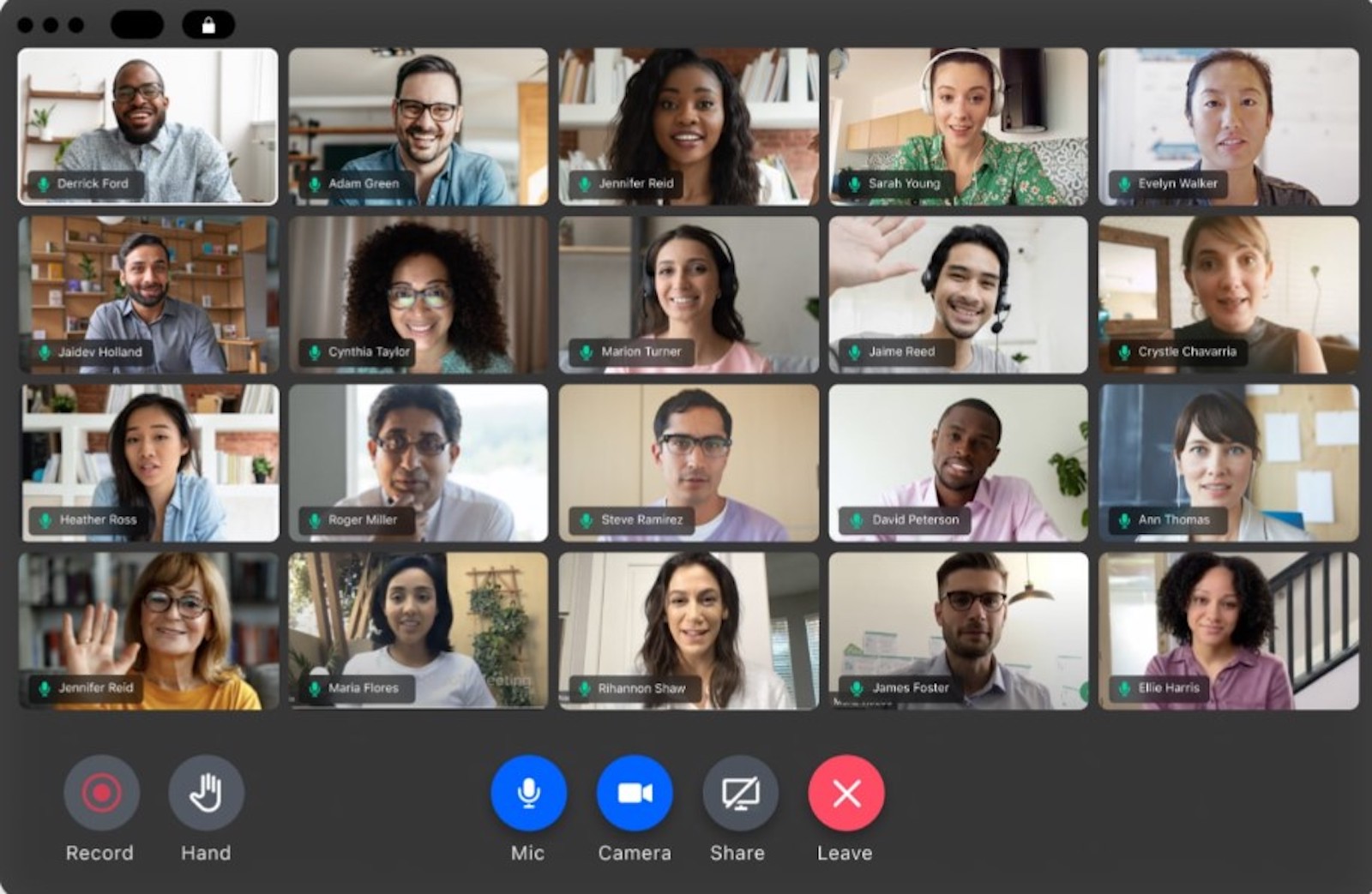 GoTo Connect's hot desking feature enables users to login remotely to any office phone or work station so that they can receive calls from anywhere and share workstations easily.
Who is GoTo Connect VoIP App Best for?
GoTo Connect has a slightly higher price tag than most competitors, but it includes several advanced features such as real-time analytics. It also offers unlimited calling queues and auto attendants for most plans. This makes it a great choice for enterprises. International calling is also included in 50+ countries, which makes GoTo Connect a solid option for global teams.
Vonage
Vonage Business Communications (VBC) is a unified communications platform that offers voice, messaging, SMS and telephony capabilities. Vonage's platform is affordable and extremely flexible, enabling customers to add-on the features they need without having to pay for the ones they don't. Vonage has guaranteed uptime of 99.999% and offers HIPAA compliance.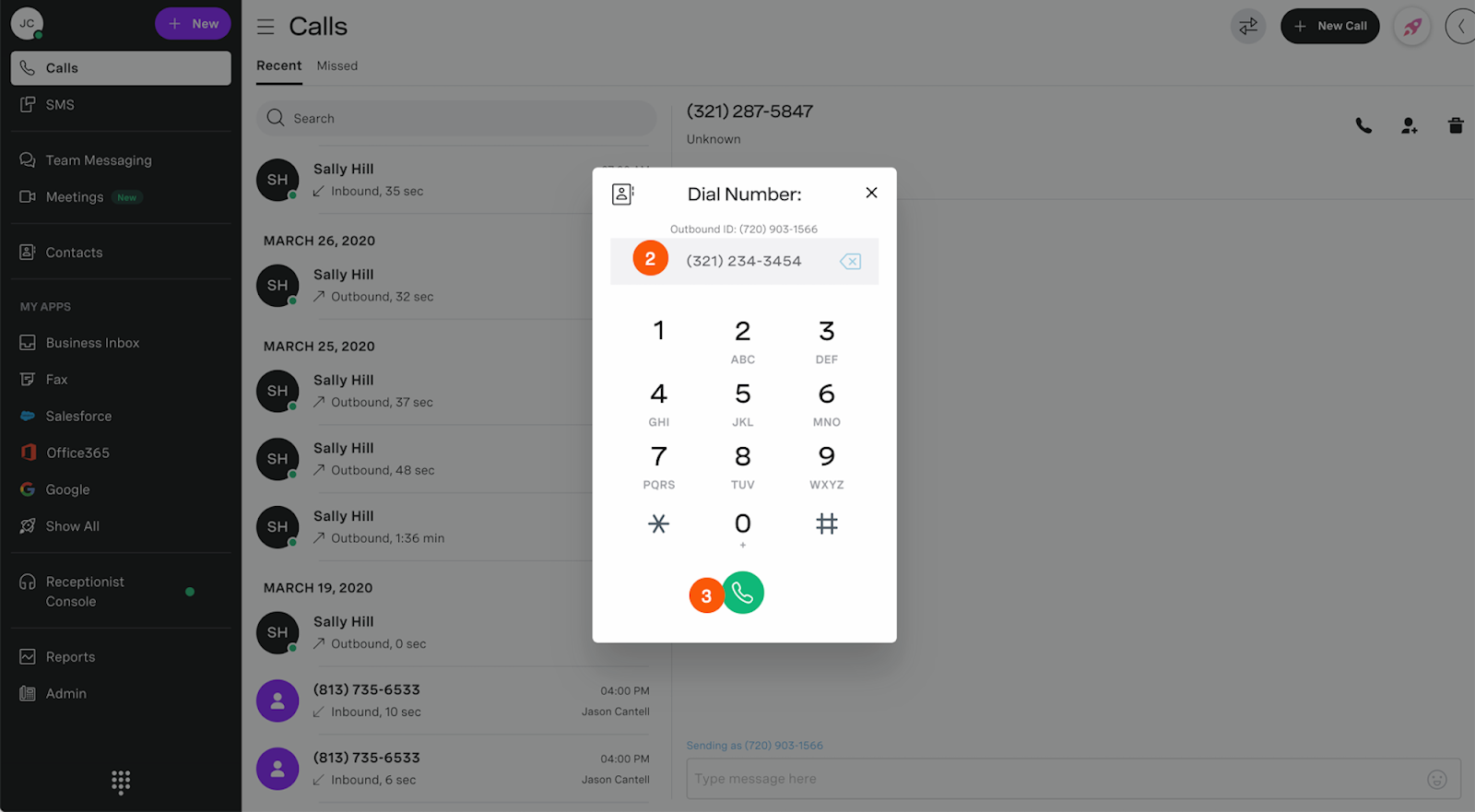 Pricing
Vonage's VoIP app offers users 3 different plans with the option to add-on features such as business inbox, conference bridge, secondary line appearance, and more.
Mobile
Premium
Advanced
Price
$14.99-$19.99 per user/mo
$24.99-$29.99 per user/mo
$34.99-$39.99 per user/mo
Main Features

Unlimited calls and SMS
Unlimited team messaging
Vonage app center

Unlimited meetings for up to 100 participants
Multi-level auto-attendant
IP desk phone capability

On demand call recording
Visual voicemail
Call groups
Standout Features
Vonage's UC platform focuses on flexibility and customization and offers several advanced communication features.
Vonage's visual voicemail feature converts voice messages to text automatically and delivers them via email along with the audio file attachment. Visual voicemail is included with Vonage's Advanced plan.
Vonage's video conferencing platform, Vonage Meetings, is included in all plans and features screen sharing, whiteboard, meeting lock, and video recording.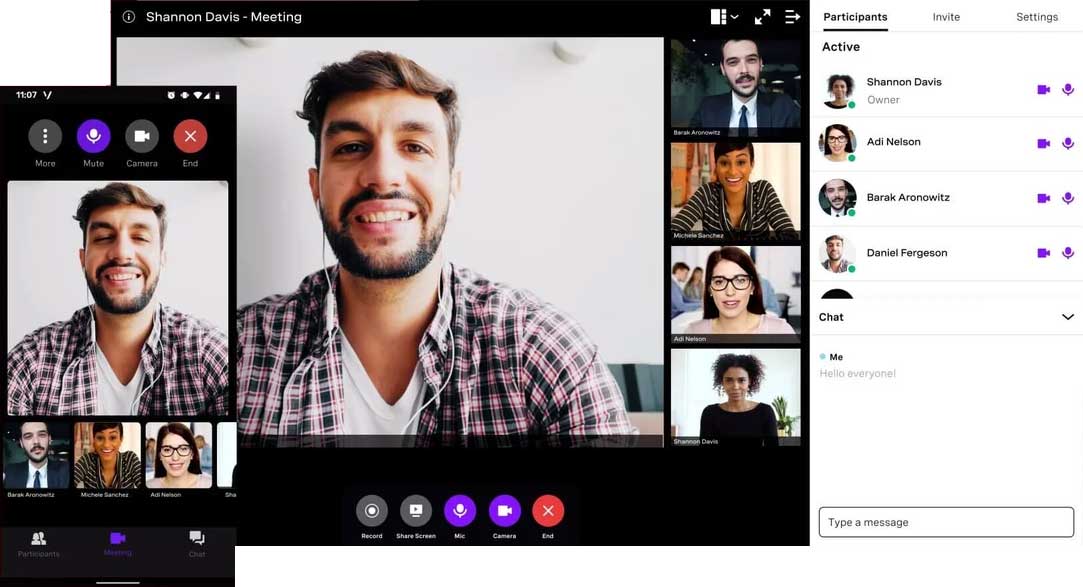 Vonage's call flip feature enables users to transfer a call from desktop to mobile phone and vice versa seamlessly. Calls that are forwarded to a cell phone automatically using a feature such as call forwarding, simultaneous ring or follow me can be transferred back to a designated deskphone with a single touch.
Who is the Vonage VoIP App Best for?
Vonage is best for small teams and SMBs that need a low-cost solution. Due to the flexibility of Vonage's platform, businesses have the option to add-on advanced features as they grow. Thanks to its HIPAA compliance, Vonage is a good choice for healthcare-based businesses.
Zoom Phone
Best known for its video conferencing platform, Zoom now offers a number of cloud-based communication products.
Zoom Phone is a business VoIP service that includes a number of advanced features as well as video meetings, SMS/MMS and team chat.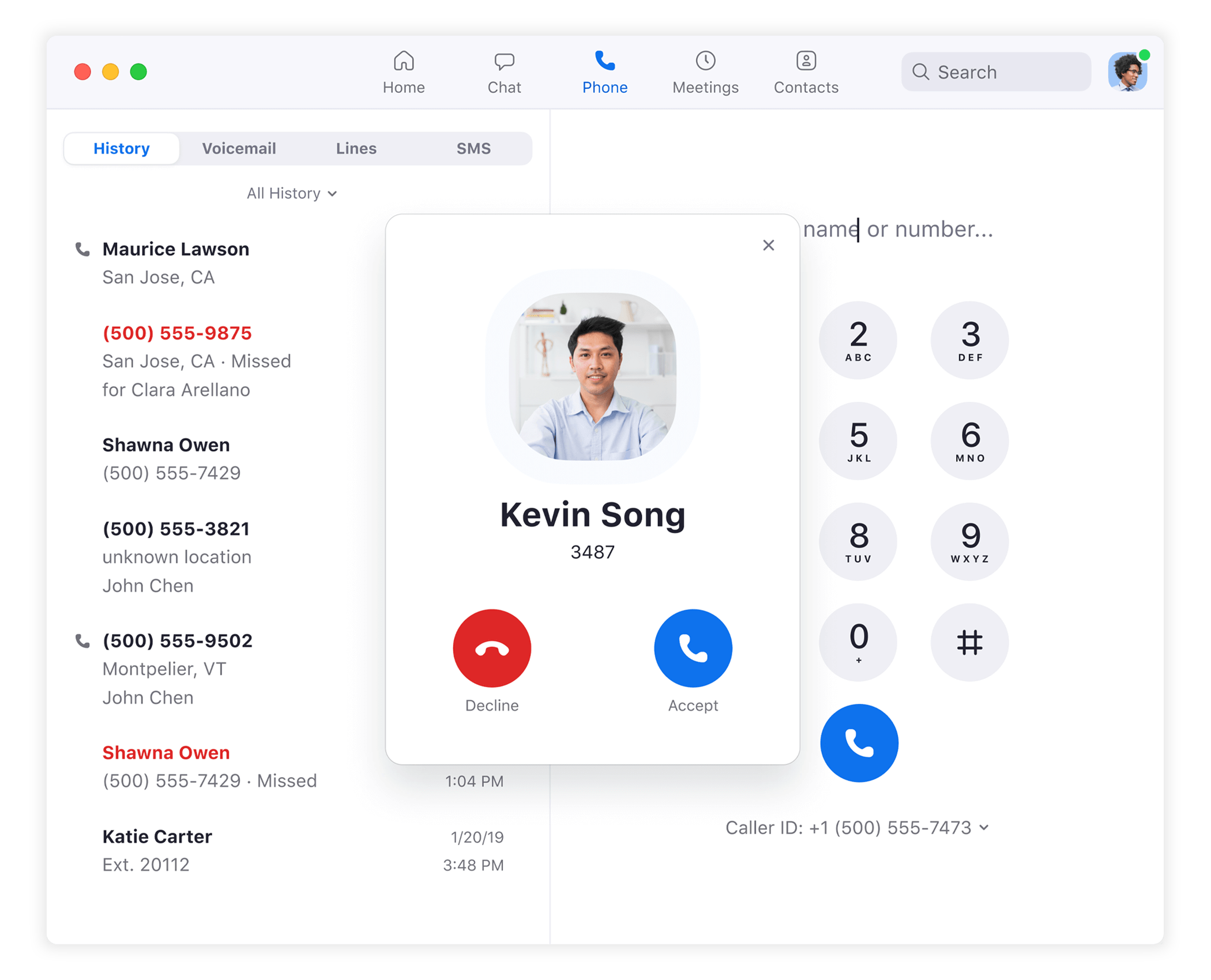 Pricing
Zoom Phone plans are based primarily on whether International calls are permitted and whether outbound calling is unlimited or metered. Additionally, Zoom Phone users can mix and match plans for employees. Not everyone in the company has to be on the same plan, which allows for flexibility.
Metered
Unlimited
Select
Price
$10 per user/mo
$15 per user/mo
$20 per user/mo
Main Features

Automatic call distribution (ACD)
3 way ad-hoc conference calls
Unlimited inbound and metered outbound calling

Unlimited inbound/outbound calling in the U.S. and Canada
Domestic SMS and MMS
One management portal

Unlimited calling in one of 40+ countries
Direct dial number
Unlimited outbound calling
Standout Features
For team collaboration, Zoom team chat enables users to create channels and send direct messages. Users can also search for colleagues on other platforms such as Microsoft Teams, WebEx and Slack, and message them directly from Zoom or invite them to a Zoom chat channel.
Zoom's IVR feature is included in all plans and allows users to set up customized routing menus for incoming calls. Calls can be forwarded to a zoom room, user, auto receptionist, call group, shared line group or external number. Users can also add a dial-by-name directory.
Zoom's call monitoring feature allows supervisors to listen in on agent calls and provide assistance or feedback in real-time.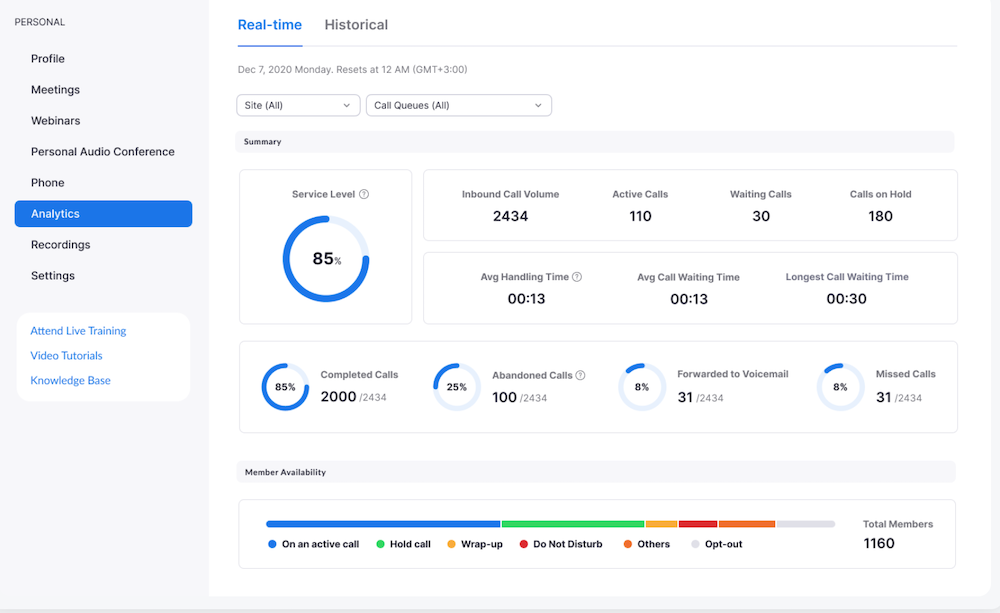 Call monitoring is available on all Zoom phone plans and includes the following features:
Listen: Allows the supervisor to listen to a call without the parties awareness
Whisper: Allows the supervisor to listen and talk to the agent without the customer's awareness
Barge: Allows the supervisor to join and turn the call into a 3-way call
Takeover: Allows the supervisor to takeover the call and disconnect the zoom phone user
Conference Barge: Allows the supervisor to take over a shared line group call
Who is the Zoom Phone VoIP App Best for?
Zoom Phone is best for small teams, startups, and SMBs with a high inbound call volume. Zoom Phone prices are some of the most affordable in the business VoIP space, while still offering a number of contact center features.
8×8
8×8 is a cloud-based PBX platform that combines contact center, voice, chat and video capabilities. 8×8 has a 99.999% uptime SLA and over 35 data centers. The platform is highly secure and adheres to several security standards including HIPAA, GDPR, and STIR/SHAKEN.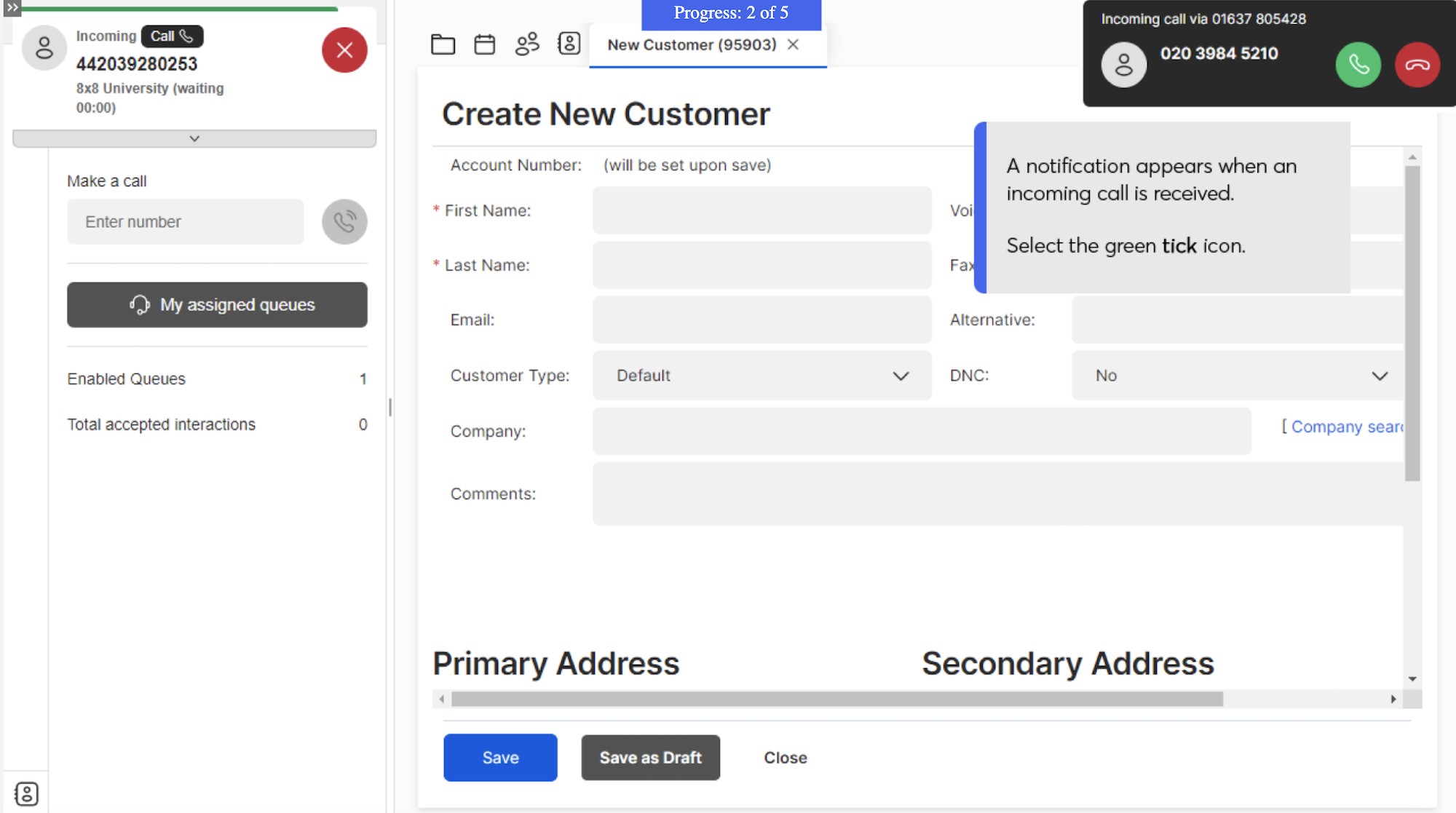 Pricing
8×8's product, the eXperience Communications Platform, has 5 pricing levels. The first two focus on business communication, while the latter three integrate more contact center features.
X2
X4
X6
X7
X8
Annual Price
$24 per user/mo
$44 per user/mo
$85  per user/mo
$110  per user/mo
$140  per user/mo
Monthly Price
$28 per user/mo
$57 per user/mo
Unavailable
Unavailable
Unavailable
Main Features

Call handling
Presence detection
Single Sign On

Speech analytics
Advanced moderator controls
Private/public live streaming

Skill-based Routing
IVR
Reporting and analytics

Social media Support
Co-browsing
Chat/email/SMS support

Quality Management
Speech and text analytics
Standout Features
8×8 has a robust video conferencing platform for up to 500 participants. Features include content sharing, virtual backgrounds, mobile support, cloud recording, YouTube streaming, analytics and advanced moderation controls such as virtual lobby.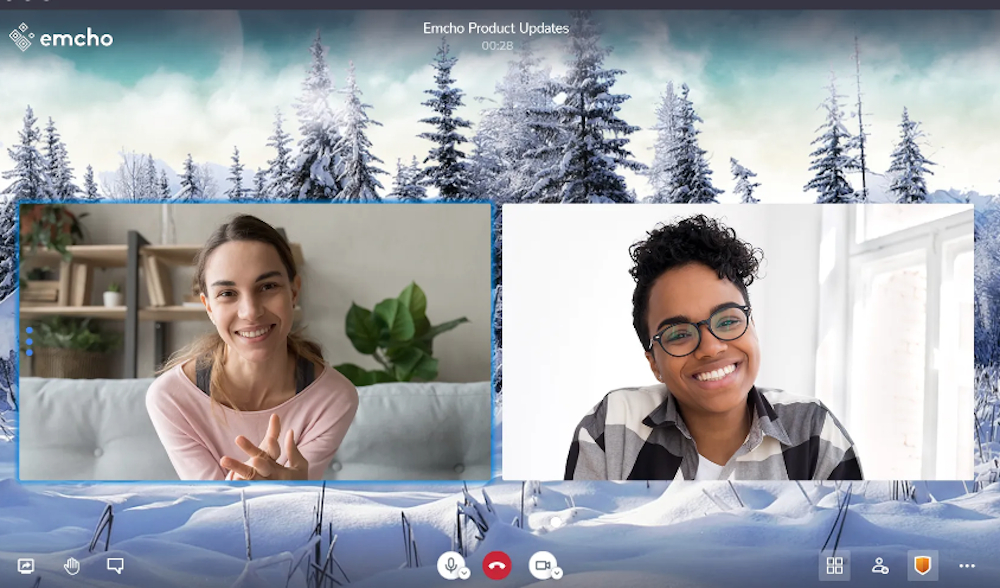 8×8's team chat space provides a unified chat space that users can access through the mobile VoIP app or desktop app. Audio and video calls can be launched directly from team chat with a single click. Features include file sharing, group chat and 1:1 instant messaging.
8×8's UC analytics provides real-time and historical insights into call queues, ring groups, and call/device quality. A company summary is generated with data on KPI metrics such as call volume, average caller wait time, number of answered/unanswered calls, and more.
Who is the 8×8 VoIP App Best for?
Due to its wide variety of plans, 8×8 is a solid choice for businesses of any size. The Express Plan is a great value for startups and small businesses that need an affordable solution with basic features such as auto attendant and on-hold music. The X6, X7, and X8 plans are great options for small or large contact centers.
Grasshopper
Grasshopper is a virtual phone system that provides a number of communication tools meant to help small businesses grow. Grasshopper caters to small businesses and offers basic VoIP features for an affordable price without any bells and whistles. Grasshopper does not offer video conferencing.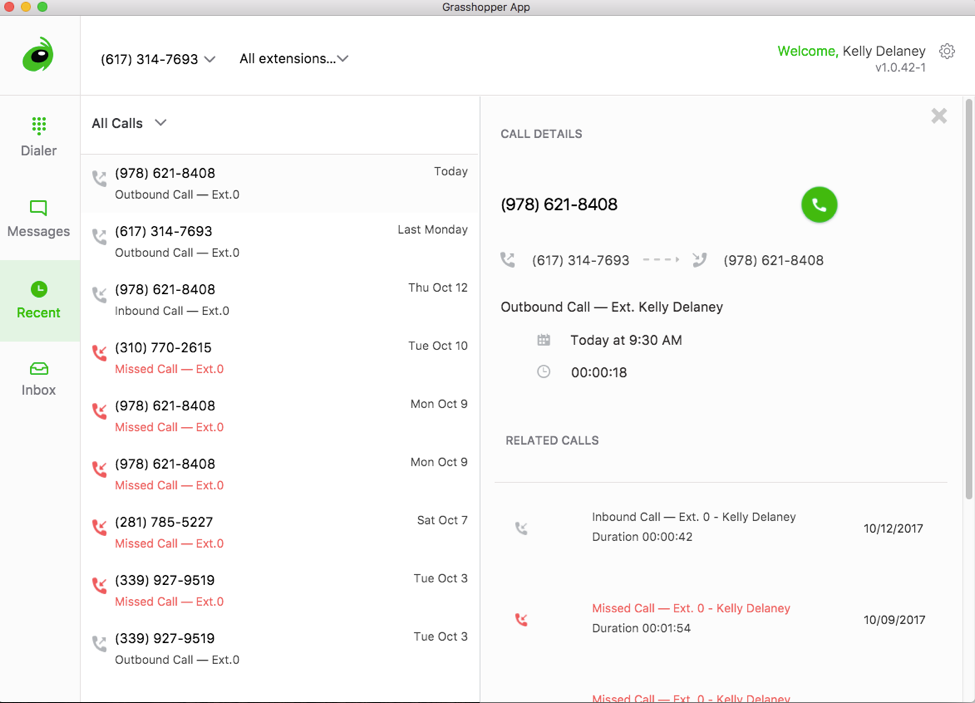 Pricing
Due its focus on small businesses, Grasshopper does not charge by the user, it instead charges a flat monthly fee and limits the number of phone lines and extensions according to the plan. Each plan includes all of the features that grasshopper offers. A pricing breakdown is below:
| | | | |
| --- | --- | --- | --- |
| | Solo | Partner | Small Business |
| Price | $28 per mo | $46 per mo | $80 per mo |
| Phone Numbers | 1 | 3 | 5 |
| Extensions | 3 | 6 | Unlimited |
Standout Features
Grasshopper focuses on simplicity and includes all of the essential VoIP features without any extras.
Grasshopper's custom greetings feature allows users to record phone greetings that can be played when a customer calls, as a voicemail greeting or as an away message.
Grasshopper reporting tracks usage metrics such as average call length, details such as caller ID and activity metrics such as call type overview.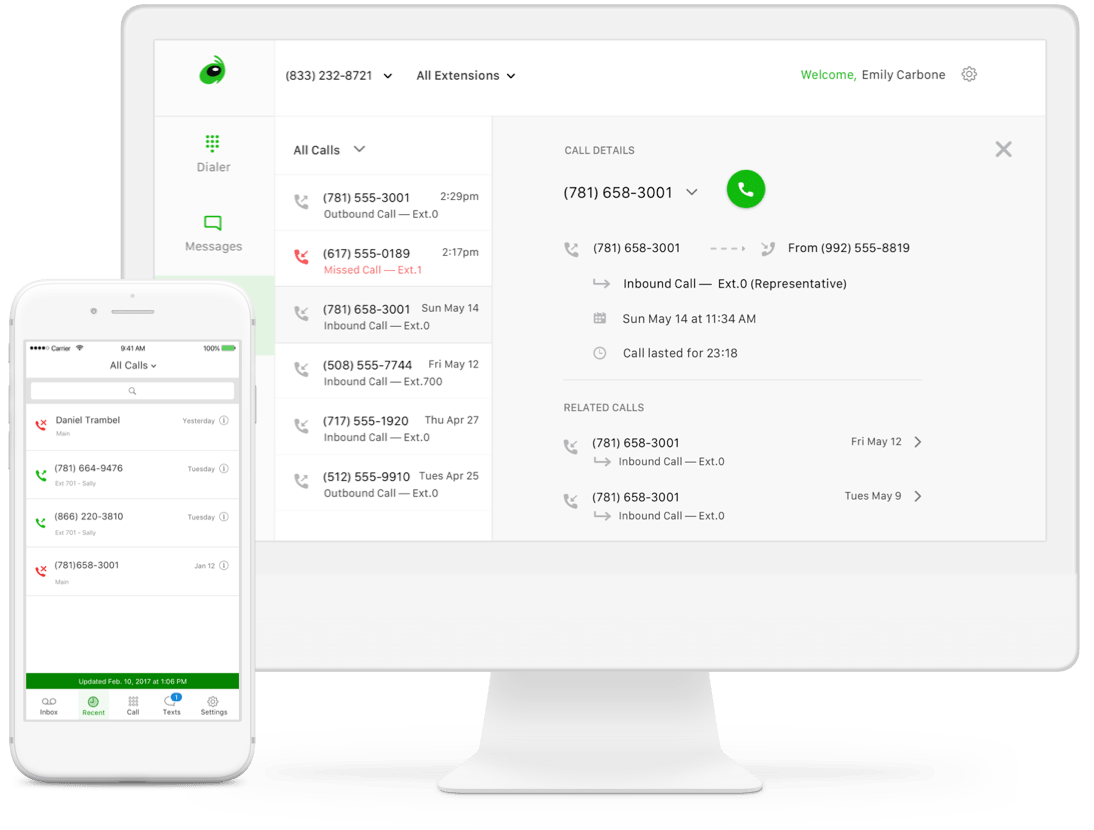 Grasshopper instant response automatically sends a text message to callers when their call can't be answered.
Other Grasshopper features (included in all plans):
Business Texting
Call Forwarding
VoIP + WiFi Calling
Virtual Fax
Voicemail
Read Your Voicemail
Call Transfers
Simultaneous Call Handling
Incoming Call Control
Who is Grasshopper VoIP App Best for?
Grasshopper was created for small businesses and is best for companies with under 20 employees.
Ooma Office
Ooma Office is a business phone system with over 50 essential VoIP features including video. Specializing in ease of use, Ooma's platform can be up and running in minutes. All plans come with a free toll-free number.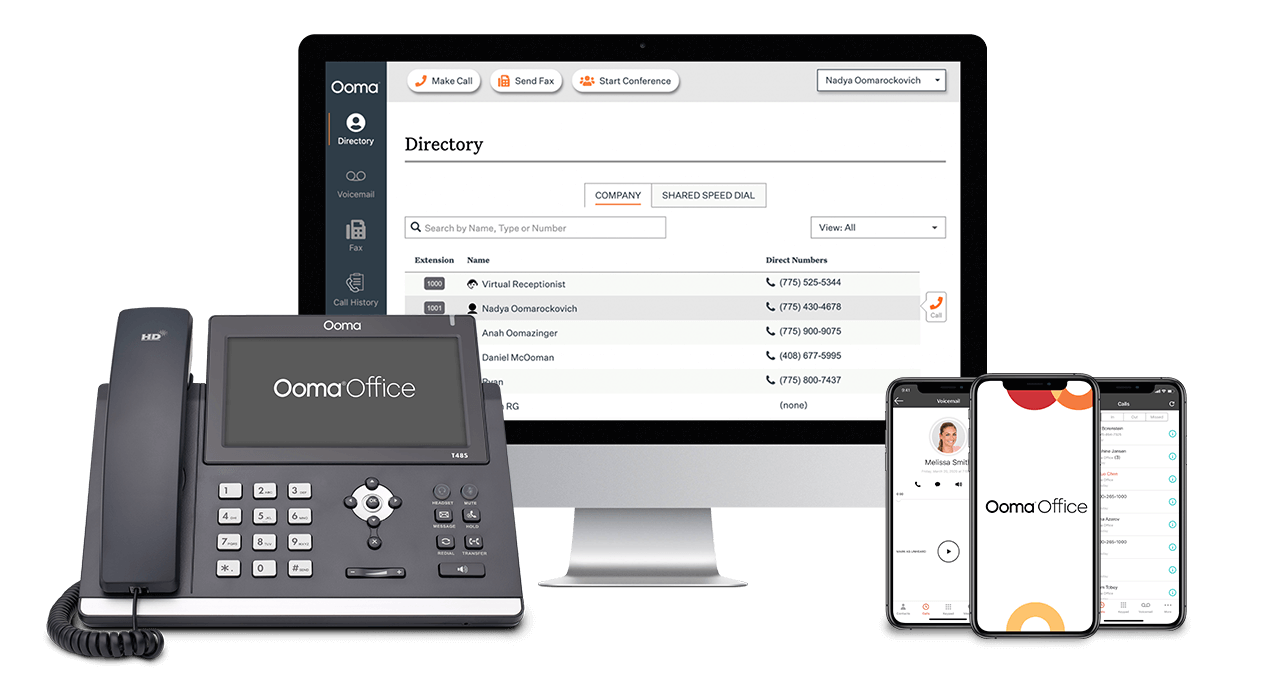 Pricing
Ooma offers a traditional 3-tiered pricing structure. Below is a breakdown.
Essentials
Pro
Pro Plus
Price
$19.95 per user/mo
$24.95 per user/mo
$29.95 per user/mo
Main Features

Ring Groups
Email audio attachments
Virtual receptionist

Enhanced call blocking
Dynamic caller ID
Call analytics

Call queuing
Advanced call flows
Video conferencing recording
Standout Features
Ooma plans include essential business communication features such as call forwarding, music on hold and intercom.
Ooma ring groups allow users to designate several phone numbers that will be alerted whenever a call comes in. This is especially helpful for customer support or sales teams. Users can choose whether an incoming call will ring all numbers in the ring group simultaneously or sequentially until the call is answered.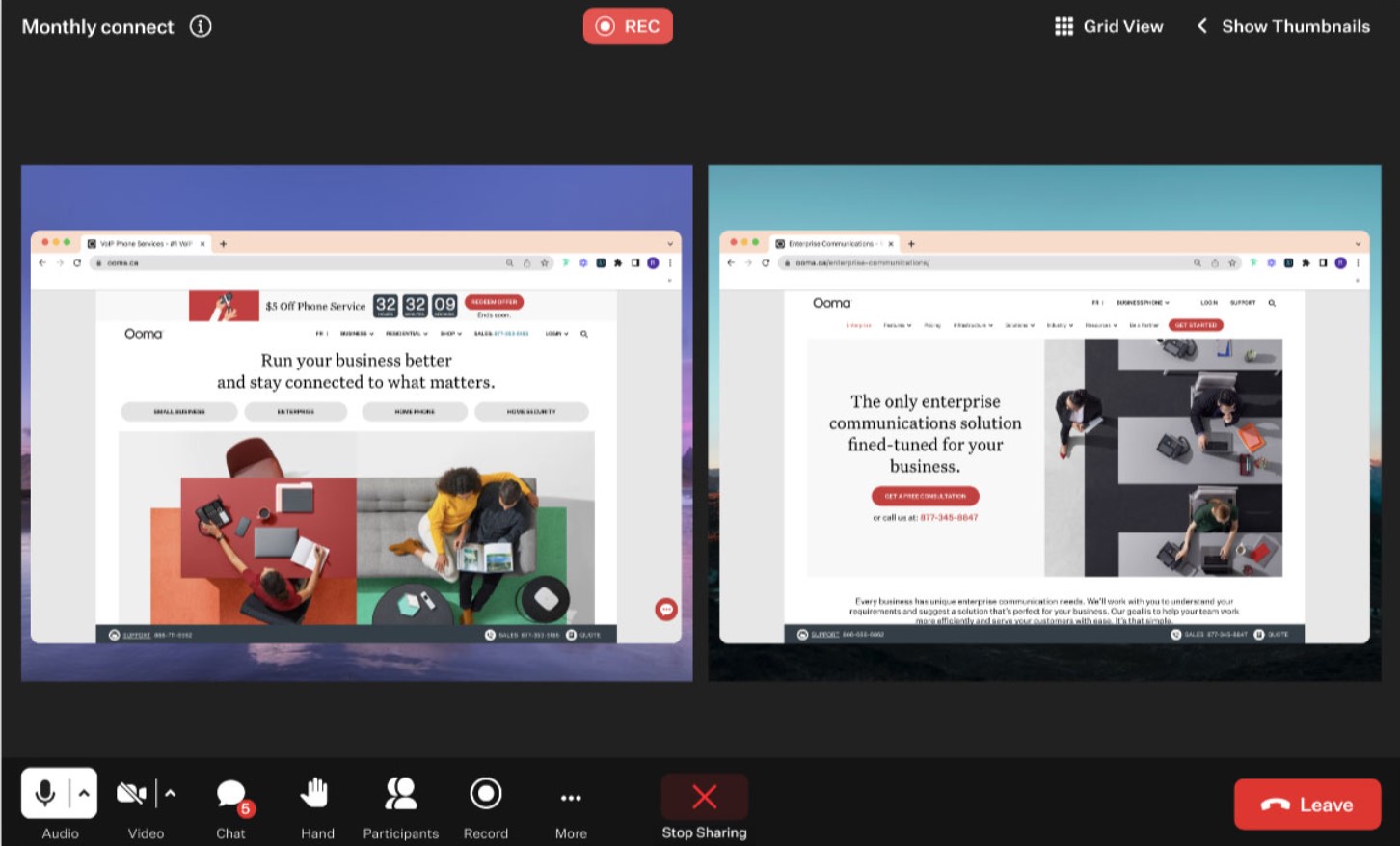 Ooma's virtual receptionist enables users to create custom messages, route calls to extensions or ring groups, create menu options for different languages and add business hours.
Ooma offers both on-hold music and transfer music, allowing users to upload an audio file that can be played in lieu of a ringtone during a transfer. The audio file can be music or an announcement. Files can be in .mp3 or .wav format up to 5MB.
Who is Ooma VoIP App Best for?
Due to its affordable prices, easy setup and lack of advanced features such as real-time analytics, Ooma is best for small businesses and SMBs.
Google Voice
Google Voice is a VoIP app that integrates seamlessly with additional Google Workspace tools (Google Docs, Google Meet, Google Sheets, etc.) to create a complete UCaaS solution. Google Voice users must have a Google Workspace plan to access Google Voice.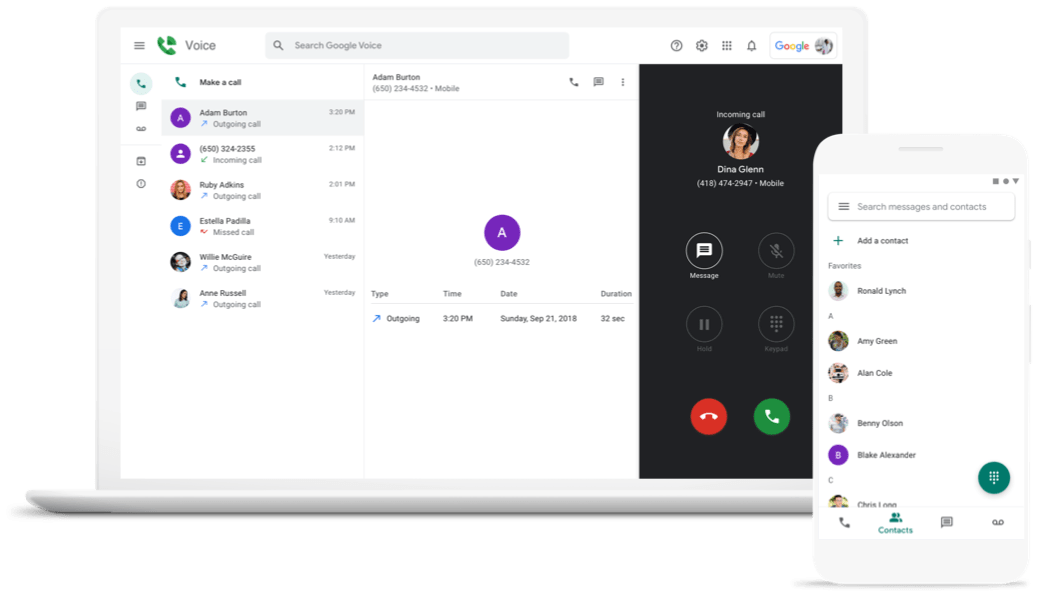 Pricing
Starter
Standard
Premier
Price
$10 per user/mo
$20 per user/mo
$30 per user/mo
Main Features

Voicemail transcription
SLA
Call forwarding

Multi-level auto-attendant
SIP link
Desk phone and ATA support

Advanced reporting
Automatic call recording with custom rules
Unlimited international locations
Standout Features
Google Voice's auto-attendant or IVR feature enables users to customize call flows using an intuitive interface. Welcome messages can be added by using text-to-speech (with options for language, voice type and speed) or by adding a pre-recorded welcome message.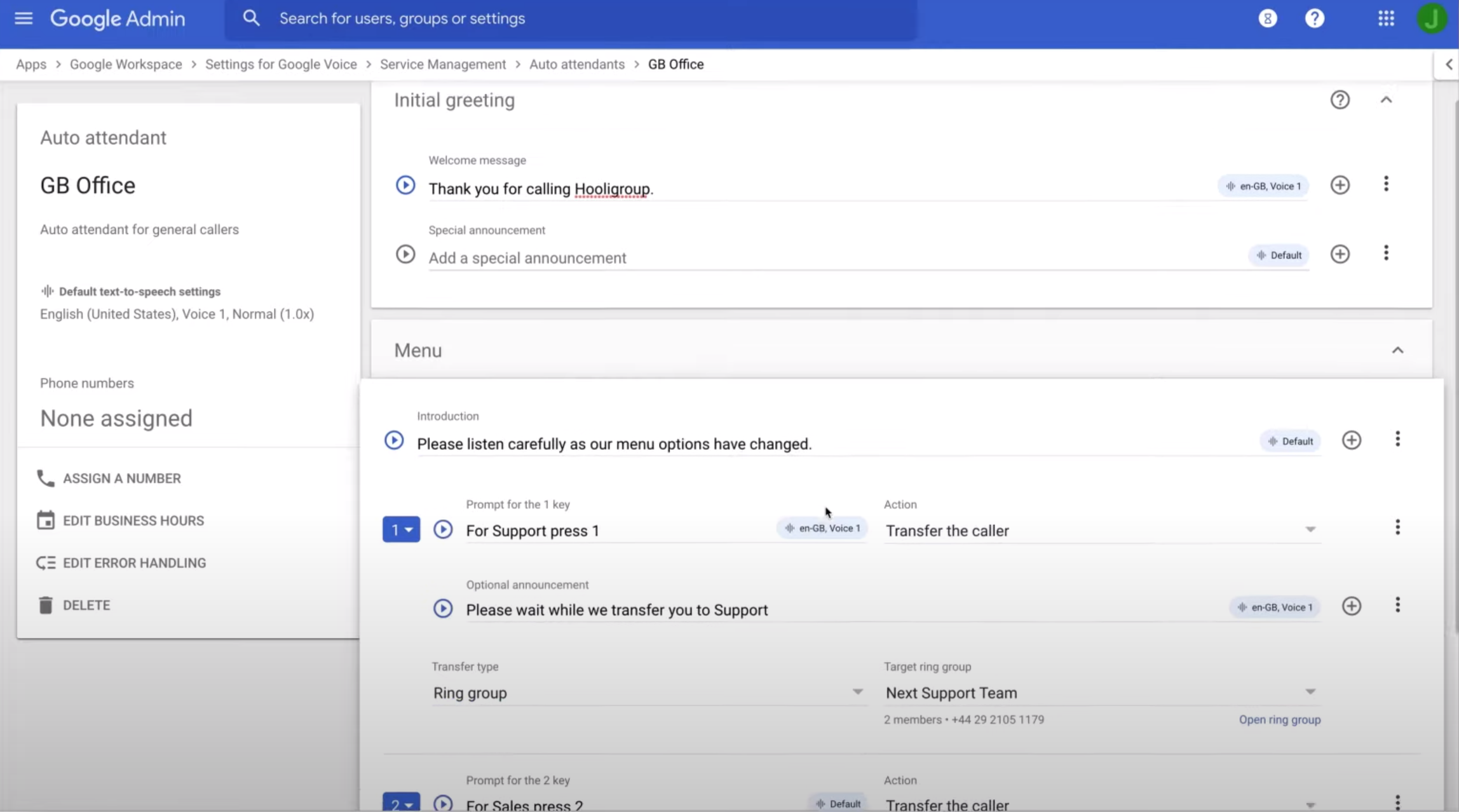 Google Voice provides analytics through BigQuery, a cloud-based analytics tool that reviews historical data and generates reports. Using BigQuery, users can analyze team members' activity across all Google Workspace platforms and combine activity reports.
Google Voice offers ad-hoc user call recording which enables users to record manually or automatically. Recordings can be accessed in call logs and are kept for the length of time set by the organization.
Who is Google Voice VoIP App Best for?
Due its low prices, lack of advanced calling features and intuitive interface, Google Voice is the perfect option for small businesses, especially those already using other Google services such as Google Meet.
Why Businesses Switch to Using VoIP Apps
Most companies switch to a business VoIP phone because virtual phone systems are much more cost-effective than traditional landlines.
The price of a VoIP system is a tiny fraction of the cost of a landline. Phone lines are cheaper, long-distance and international calling costs are less, and equipment and maintenance costs are nearly non-existent (all you need is a strong Internet connection to get your VoIP phone service up and running.)
Additionally, VoIP offers more features than traditional telephony ever could, including such as video chat, real-time analytics, and AI-powered voice transcription.
Another benefit of VoIP is that it is incredibly easy to scale. Adding more employees doesn't require more equipment, as employees can use VoIP apps on their own devices with a BYOD policy.
Finally, VoIP solutions are easily integrated with other third-party business software like CRM systems and team collaboration apps.
How to Choose a VoIP App for Business
The VoIP app market is exploding–and therefore highly competitive.
The best VoIP app for your business will depend on the size of your business, your budget, the features that you require and want, and whether your business requires a customizable flexible solution (such as Vonage) or a more straightforward "out-of-the box solution" (such as 8×8).
Researching different VoIP service providers and reading user reviews is a great way to find the perfect platform for your unique business.
FAQs
Yes there are several voip apps that can be used to make free calls including Zoiper, Skype, Whatsapp, FB messenger and Viber.

Yes, any type of phone can call a VoIP number.

Sign up with a VoIP provider, download their app, obtain a VoIP number (or transfer an existing number) and then make and receive calls as normal.