When researching business VoIP (Voice Over Internet Protocol) you'll come across two common terms: Hosted PBX and SIP Trunking.
Traditional PBX (Private Branch Exchange) relies on premise-based equipment to manage internal and external calls via the PSTN. Hosted PBX streamlines and simplifies standard PBX phone systems by managing calls via an offsite, third-party provider.
SIP (Session Initiation Protocol) Trunking makes it possible for a business's existing, on-premise PBX hardware to operate as a cloud-based phone system — meaning SIP Trunk users will have access to advanced VoIP features.
Still confused about the differences between SIP Trunking and Hosted PBX? We don't blame you.
This post breaks down key differences between Hosted PBX vs SIP Trunking so you can understand which option is right for your business.
PBX and SIP from
top providers
What is Hosted PBX?
Hosted PBX (Private Branch Exchange) is an offsite business VoIP phone system managed by the third-party Internet Telephony Service Provider, (ITSP) not the end-user.
Businesses using hosted PBX don't need any on-premise PBX equipment, nor will they need an in-house IT staff to manage and maintain their phone system.
Instead, the provider hosts, upgrades, and monitors the cloud-based PBX system, managing calls over the Internet/IP Network.
Think of hosted PBX like a website hosting platform.
While you can build out your website, update it, and use all its features and functionalities when you want, you don't have to worry about having an on-premise server.
The same thing goes for your virtual IP PBX solutions — you're "outsourcing" the technical side of your business phone solution to the third-party provider.
Hosted PBX users have more minor responsibilities, usually related to internal changes like adding new features, scaling monthly plans, or increasing the maximum number of users.
Teams can access their business phone system from any Internet-connected device, regardless of their current physical location.
The image below provides additional insight into how Hosted PBX technology works: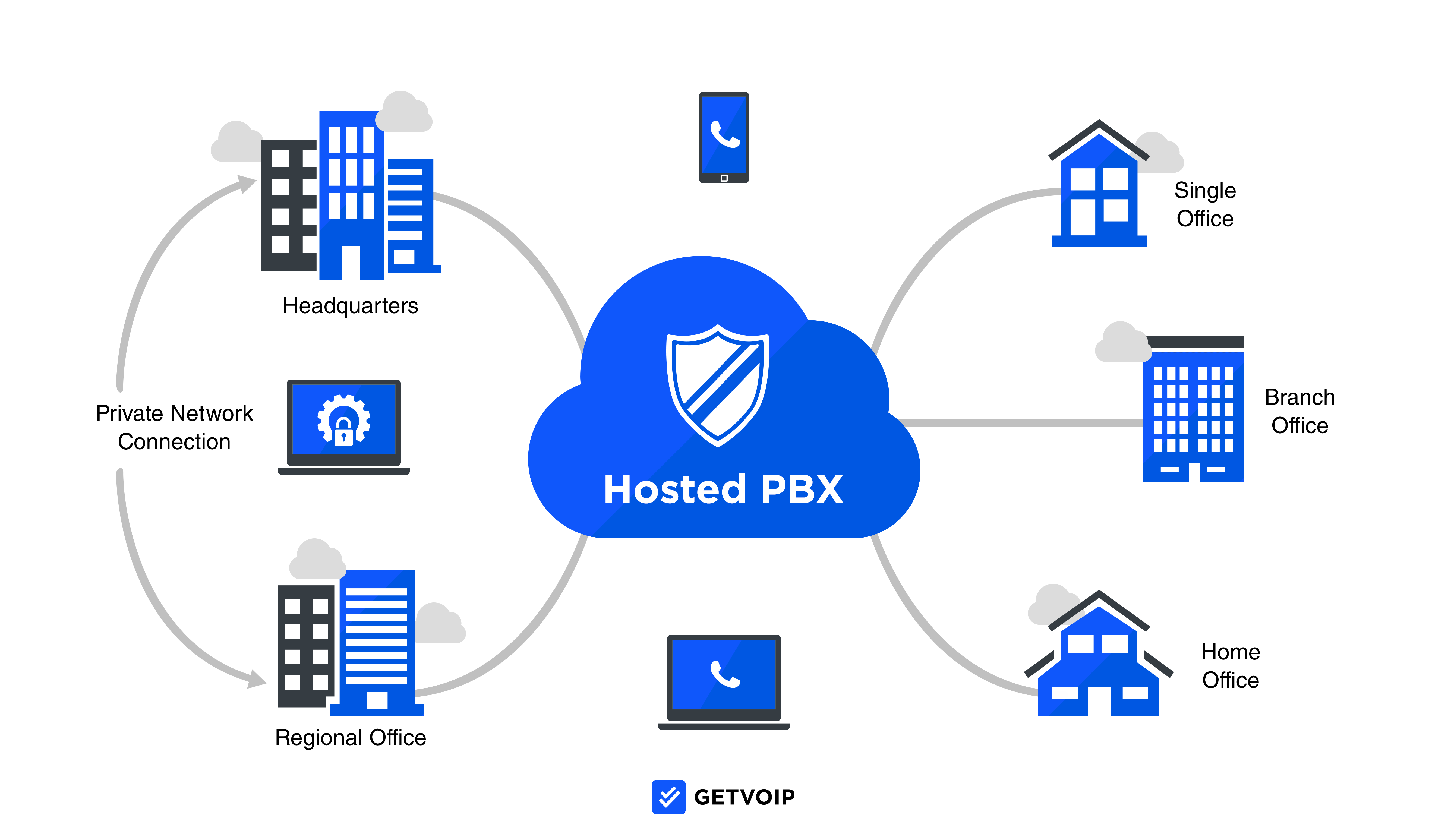 To get started with Hosted PBX, users need only:
Preferred communication devices (smartphones, desktop computers, tablets, laptops, VoIP desk phones)
Broadband Internet connection
Wireless routers
What is SIP Trunking?
SIP Trunking is a gateway that directly connects an existing on-site PBX system to the virtual network, bringing previously unavailable advanced VoIP features to the business phone system.
With SIP Trunking, a business is responsible for buying its own on-site PBX and other relevant hardware.
The business itself — not the PBX provider — upgrades, maintains, and restores service to its premise-based PBX. These advanced responsibilities necessitate an in-house IT staff and the purchase of additional hardware.
Note that a PRI (Primary Rate Interface) phone system creates a physical connection to the PSTN, allowing multiple phone lines to connect to up to 23 voice channels per trunk. In contrast, SIP trunking offers a virtual connection.
The image below provides additional insight into how SIP Trunking works: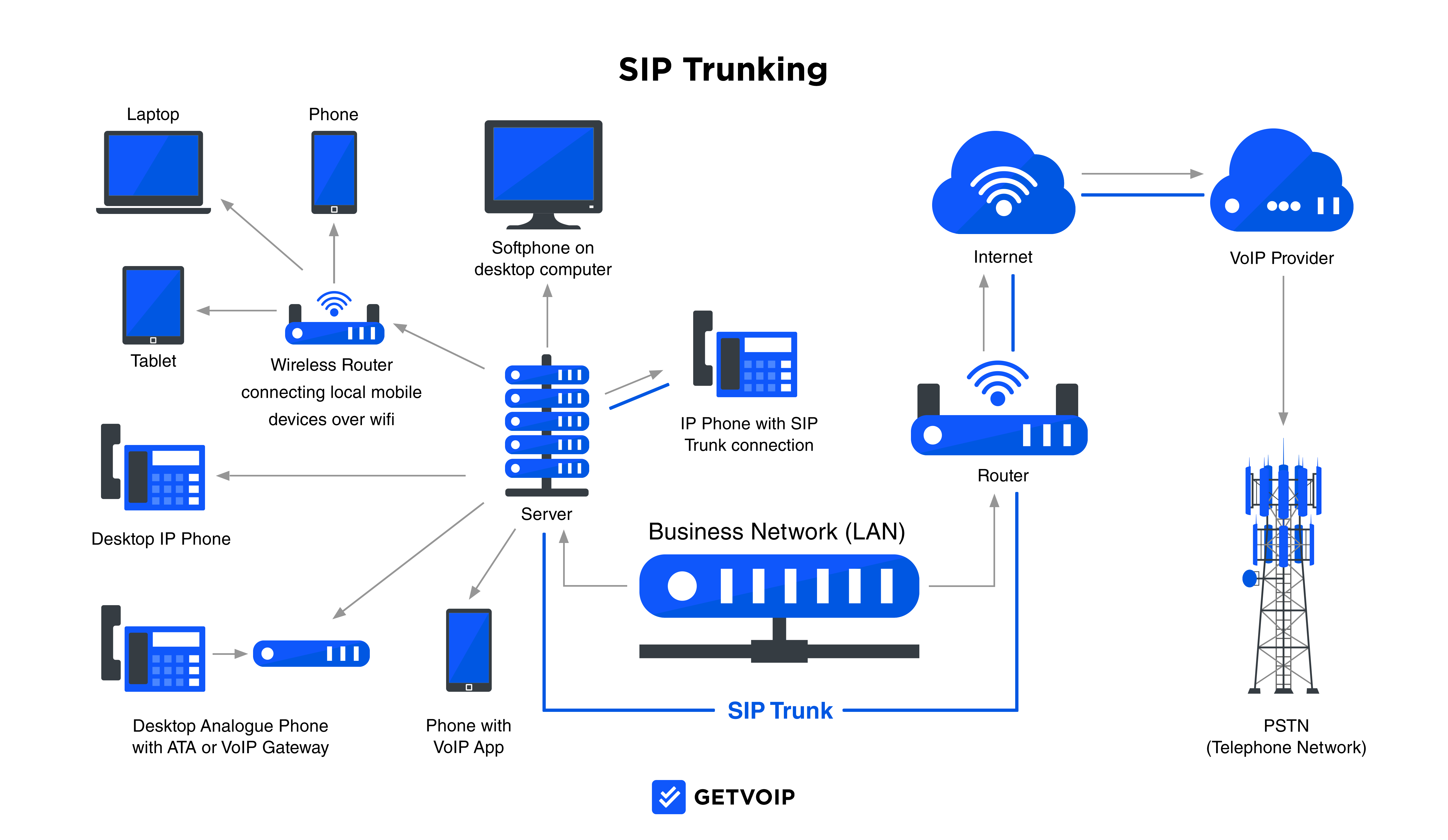 SIP Trunk users can add numerous telephone lines and simultaneously access several communication channels without relying on separate structures for different types of communication.
The majority of companies that have on-premise PBX equipment make the switch to SIP trunking.
Difference Between Hosted PBX vs SIP Trunking 
The main difference between Hosted PBX vs SIP Trunking is that Hosted PBX is a business phone system managed entirely by an offsite third-party provider, while SIP Trunking brings advanced VoIP phone system capabilities to your existing on-premise PBX equipment.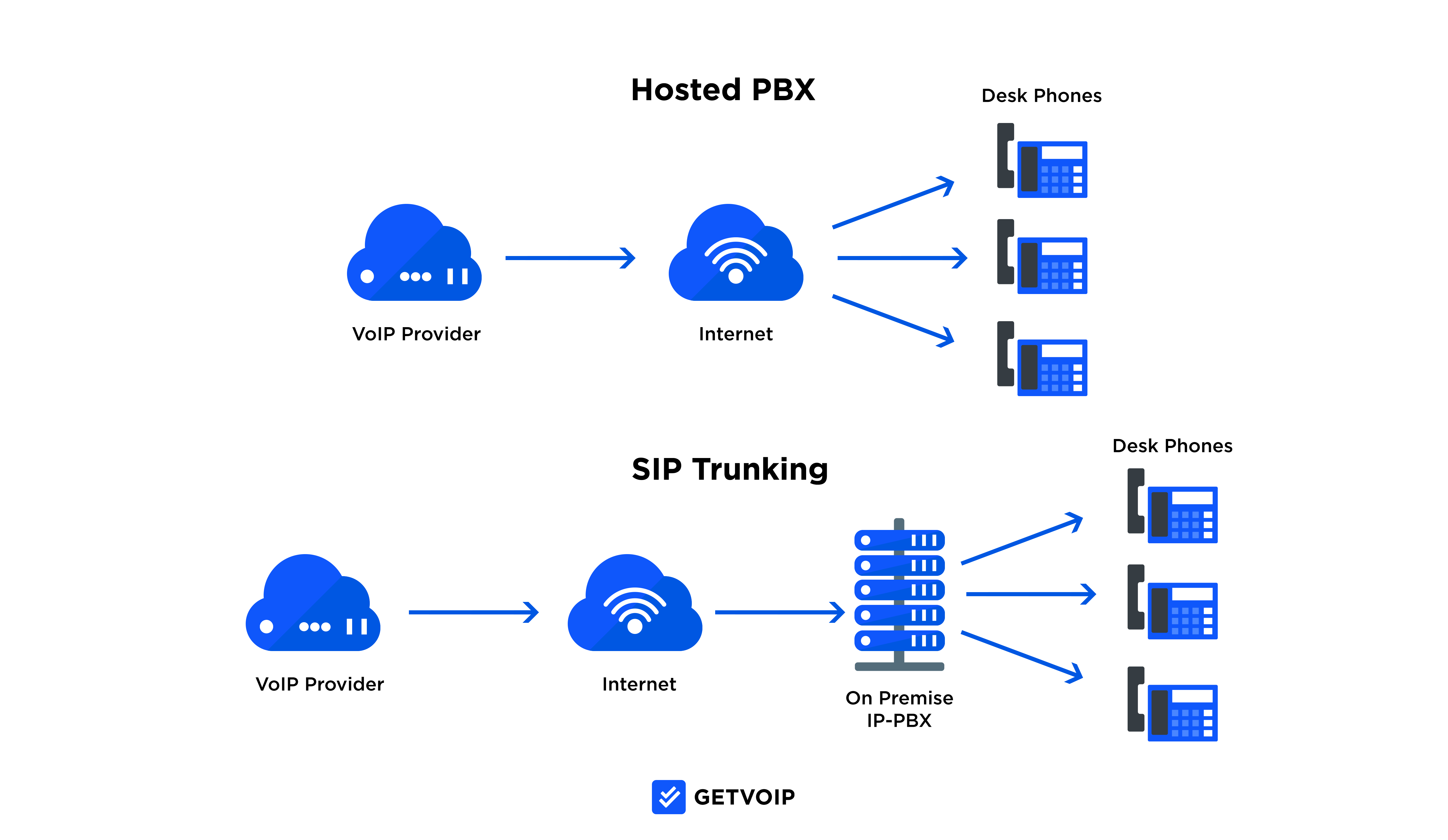 Think of a SIP Trunk as a virtual bridge between VoIP technology and the more limited traditional landline network (the PSTN.)
SIP Trunking works with all the equipment and hardware you've already purchased, installed, and rely on your in-house IT team to upgrade and maintain. SIP Trunking allows your physical phone system to do much more than it could if it operated solely via the PSTN because now, it has all the benefits of VoIP.
Hosted PBX, on the other hand, provides you with a completely new cloud-based VoIP phone system managed by an offsite third-party provider.
With hosted PBX, the user doesn't have (or wishes to no longer use) any existing physical on-premise PBX equipment. They also don't have or want an in-house IT team. Instead, they rely on the hosted PBX provider to connect, upgrade, and maintain their VoIP phone service.
The below table offers a quick look at the top factors differentiating SIP Trunking and Hosted PBX.
Factor
Hosted PBX
SIP Trunking
Costs
– Lower startup costs, especially because little to no new hardware/equipment is required

– The provider, not the business using it, is responsible for ongoing maintenance costs

– Bundled monthly plans range in price from $20.00-$50.00/user per month

– High startup costs, especially given the expenses of on-premise equipment

– Business must pay for its own in-house IT staff to manage system upgrades, maintenance, and installation

– Monthly service fee from $15.00-$30.00/line per month

Ongoing Maintenance and IT Management
– Handled by the Hosted PBX Provider

– Depending on plan and add-ons, may need to wait to receive assistance

– Handled by an in-house IT staff

– Always "first in line" when there's an operating or maintenance issue

Scalability and Flexibility
– Offers good scalability/flexibility, but changes take longer to implement

– Third-party provider offers tiered, scalable feature bundles or a la carte add-ons

– Fast, high-level scalability/flexibility thanks to unlimited connectivity

– Compatibility with Operating Systems and applications may be limited by the premise-based PBX provider

Call Quality
Security
The business relies on the quality of the third-party providers for security and privacy practices
The business has total control over security strategies and privacy policies
Best For
SMBs with 50 or fewer employees that don't want/can't afford expensive premise-based PBX hardware, and prefer a third-party provider to manage their business phone system
Enterprise-level companies of 50+ employees with existing premise-based PBX hardware that need more control over their business phone system
Let's take a closer look at the differences between SIP Trunking and Hosted PBX.
Cost Factors and Pricing 
There are three main cost factors to examine when it comes to evaluating Hosted PBX and SIP Trunking:
Monthly Service Fees
Equipment/Hardware Costs
Installation and Maintenance Costs
PBX Costs
Since PBX systems only require Internet access and a device with Internet access like a smartphone, desktop computer, or tablet, businesses that already have these in place will pay no hardware/equipment fees at all. Plus, team members can safely use their own personal devices, as the VoIP system provides them with business phone numbers separate from their private cell or home phone numbers.
For reference, Internet access costs roughly $50-$70.00/month, while desktop computers range in price from $600-$800.00 and up, pending features. An analog desk phone can be purchased for under $200.00 and may come with a one-time installation cost of anywhere from $100-$300.00.
However, again, these purchases aren't always necessary.
A huge PBX cost savings is the fact that the third-party provider, not the end user, is responsible for maintenance and upkeep costs since the server is hosted completely offsite.
Monthly PBX services fees will vary based on features and the number of users, but usually cost between $20.00-$50.00/user per month.
SIP Trunking Costs
The biggest SIP Trunking expenses are the on-premises phone system equipment, and the in-house IT team needed to manage it.
On-premises hardware alone costs between $3,000-$5,000 and up – already costing more than the complete Hosted PBX experience. Installation fees could cost between $1200-$3000, depending on the complexity of the system.
Then, there are the maintenance and upkeep costs. Depending on your system's age and model, maintenance expenses could be manageable at $100 or less a month, or could easily cost in the thousands if there's a serious issue.
Plus, SIP Trunk users will also need to pay for in-house IT staff to ensure the system runs smoothly. This could cost between $40,000-$70,000 and up for a year's salary.
Finally, don't forget those monthly service fees, which usually cost between $15.00-$30.00/line per month.
The Verdict
SIP Trunking for an on-premise PBX system has a much greater initial investment than a Hosted PBX solution.
Hosted PBX solutions have lower installation fees, don't require expensive on-premise equipment/hardware, and businesses won't have to worry about hiring an IT team to handle upkeep and maintenance.
Scalability and Flexibility
Scalability and flexibility are essential factors to consider when evaluating the type of phone system you need.
Scalability gives users the ability to "scale" their business phone service up or down according to needed features and number of users. Flexibility refers to overall system mobility, often physically. It also deals with the types of devices users can rely on to connect to the system.
SIP Trunking Scalability and Flexibility
Although it might seem counterintuitive because it works alongside on-premise equipment tied to a specific location, SIP Trunking offers a good amount of flexibility and scalability, even for remote or blended teams.
Why?
Because SIP combines both voice and data communications into one line instead of requiring several separate phone lines and numbers.
SIP Trunks make it possible for users to communicate not only via voice calling, but also video conferencing, instant chat messaging, emailing, and other channels with one phone number. They also offer fast scalability, key for rapidly-expanding businesses.
The downside here is that on-premise PBX systems often impose licensing regulations that limit the types of applications and platforms that SIP Trunk users have access to.
Hosted PBX Scalability and Flexibility
Hosted PBX phones also offer a good degree of scalability and flexibility, though not quite at the level of SIP Trunking.
Instead, Hosted PBX is about letting users communicate on numerous devices – as long as they have Internet connectivity – across a wide variety of Operating Systems. Hosted PBX users aren't limited by the licensing regulations of on-premise equipment.
Smaller, but mobile teams that don't have plans for a massive expansion overnight will get the most out of Hosted PBX.
They'll also be able to choose from scalable, tiered bundled plans from their provider instead of having to rely on an in-house team to manage communication capabilities and features.
The Verdict
Larger teams or SMBs that plan to quickly expand across multiple locations and require a phone system with unlimited connectivity should rely on SIP Trunking.
SIP Trunk users need a solution with a level of flexibility that keeps up with the pace of business growth, and their customers need to be able to reach any employee through just one phone number.
Smaller, mobile teams that need to access their business phone system across multiple devices and multiple Operating Systems, even if these teams are based primarily in one location, should choose Hosted PBX.
Hosted PBX users will probably remain as small businesses, and if they do expand, they'll do so slowly. They need a phone system that lets them continue to work with different operating systems and use existing applications.
Call Quality and System Reliability
Hosted PBX call quality depends entirely on the strength and reliability of the end user's Internet connection.
Weaker Internet connections severely impact call quality and can cause a temporary loss of service.
Other factors like weather conditions, an unexpectedly high number of phone calls, insufficient bandwidth, (generally anything less than 500kpbs) and reliance on WiFi as opposed to Ethernet connections can also influence call quality with a Hosted PBX.
SIP Trunking is celebrated for its high call quality because it automatically switches to backup power sources if needed and offers dedicated phone lines.
However, ensure that the SIP Trunk provider you choose works with Tier-1 data carrier IP networks like AT&T, T-Mobile US, Verizon Enterprise Solutions, or Lumen Technologies. (Most do, but always check.)
The Verdict
Companies prioritizing a high call quality – especially larger businesses with a high daily contact volume and a high number of concurrent calls – should opt for SIP Trunking.
Security
Hosted PBX users are, in a sense, at the mercy of their third-party offsite providers when it comes to security and privacy.
Although third-party providers will have strong VoIP security measures in place, like end-to-end encryption, SOC II Certification, and GDPR Compliance, ultimately, it's the provider's job to keep the environment secure.
That means if your Hosted PBX provider has a security issue, so too will you – and all your customers.
Hosted PBX users will also share server space with other customers of the provider, meaning you'll be vulnerable to their security issues, as well.
SIP Trunking gives users the benefit of much more control over their own security, especially given the presence of a dedicated in-house IT staff that will always prioritize your company's security issues – because your company's security issues are all they have to worry about.
Additionally, SIP Trunks are not connected to the Public Internet, unlike Hosted PBX, which can leave ports open and vulnerable.
The Verdict
Teams prioritizing security or those working in heavily regulated industries (healthcare, finance, etc.) should strongly consider SIP Trunking instead of a Hosted PBX solution.
Not only will SIP Trunk users have a dedicated server that is all their own, they'll also benefit from stronger redundancy and more stable, customizable system and data backups. In short: they'll have much greater control over their privacy and security practices than Hosted PBX users will.
Note, however, that this control does mean that SIP Trunk users can't "blame" the third-party provider if there's a major security issue: instead, the responsibility of data breaches and other hacks falls to the SIP Trunk users themselves.
Hosted PBX vs SIP Trunking: Pros & Cons
The biggest advantage of hosted PBX is that someone else (the third-party provider) hosts and manages the offsite phone system server.
Installation is fast, setup costs are low, and there's no need for an in-house IT team.
However, Hosted PBX call quality depends almost entirely on the strength of the existing Internet connection. Without a stable Internet connection and an accurate estimate of potential call volume, audio quality decreases while the number of dropped calls increases.
The biggest advantage of SIP Trunking is high-level end-user control, especially when it comes to security.
SIP Trunking offers better security because it doesn't connect via the public Internet. Users will even enjoy the added benefit of lower bandwidth use.
However, SIP Trunking startup costs can be prohibitively high, especially when compared with Hosted PBX.
Users will need to purchase on-site equipment and hardware, hire an in-house IT team, and cover the costs of maintenance and upgrades entirely on their own.
Who Should Use Hosted PBX?
Hosted PBX is best for remote or blended SMBs that don't have or can't afford the costs of on-premise PBX system equipment and in-house IT maintenance.
Businesses using Hosted PBX prefer that the third-party provider installs and manages nearly all aspects of their phone systems.
Hosted PBX users also prioritize flexibility, mobility, and scalability. However, they are willing to compromise in areas like the number of concurrent voice calls and complete control over security.
Though they may need to add more advanced VoIP features in the future, businesses using Hosted PBX will probably remain small-to-medium-sized.
Who Should Use SIP Trunking? 
SIP Trunking is best for enterprise-level, in-house teams of 50 or more that either want to continue using their existing phone system equipment or that are established enough to need – and to afford – their own separate in-house PBX solution.
SIP Trunking users may be small or medium-sized businesses now, but they often don't plan to stay that way. As they grow, they need their phone system to let them add phone lines one at a time instead of in bulk.
Teams using SIP Trunking prioritize high call quality and a secure, premise-based phone system that allows them to have much greater control than they would with a third-party provider.
FAQs: SIP Trunking and Hosted PBX
Below, we've answered some of the most common FAQs about SIP Trunking and Hosted PBX.