Call screening is an important business VoIP system feature that makes it easy to instantly identify priority clients, filter out annoying spam calls, and increase overall productivity levels.
This article will outline call screening, including how it works, key features, benefits, and the best phone systems for call screening.
Quick Links:
What is Call Screening?
Call screening is the process of identifying an incoming caller and choosing how to respond to that specific call.
Caller identification, the most familiar part of the call screen process, determines the caller's name, phone number, geographic location, and potential spam status. If Caller ID fails to determine the caller's name, the Call Screening setting on your mobile device or VoIP app automatically prompts for the caller's name, relaying this information to the agent.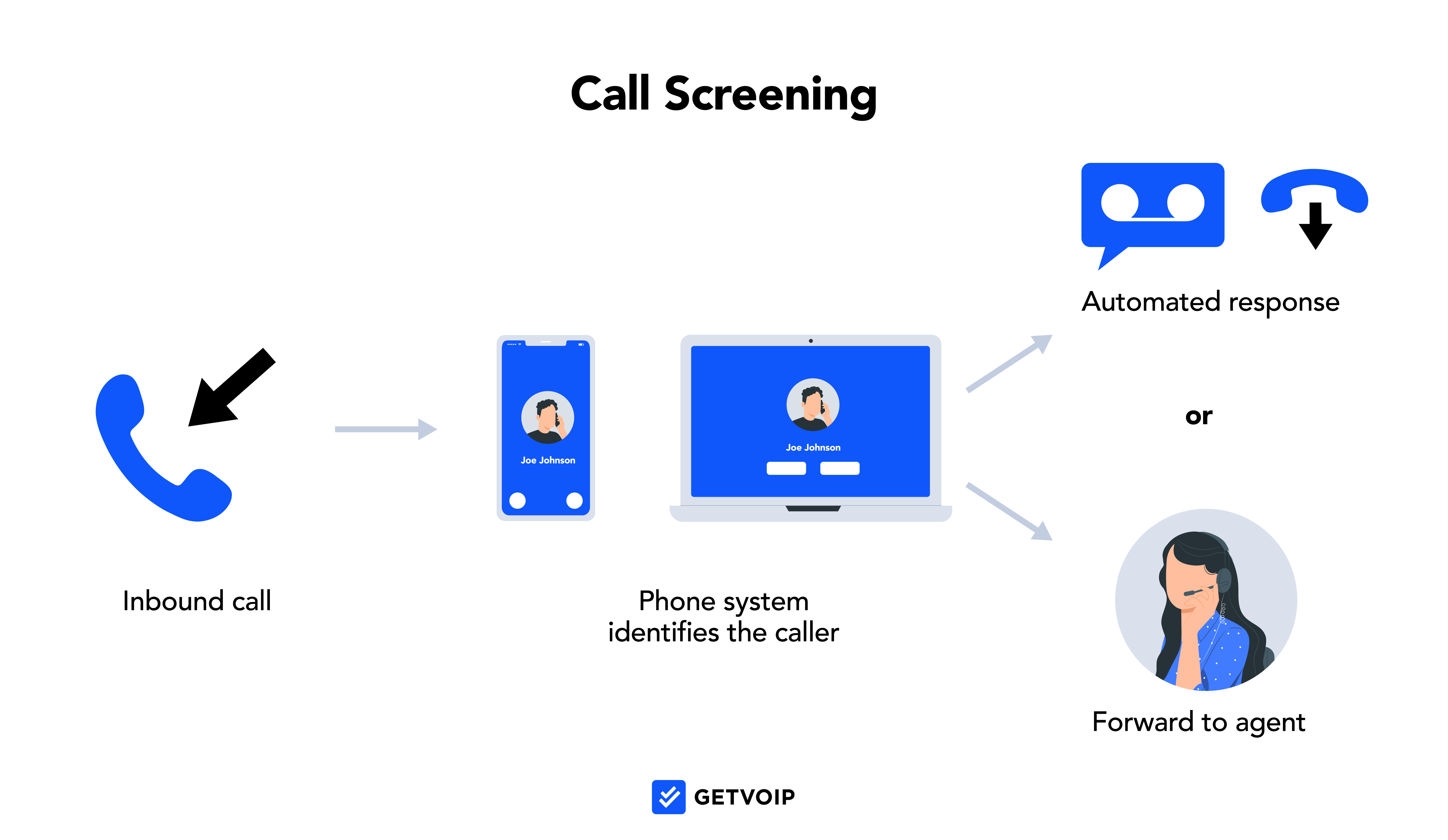 In a small business phone system, routing features like automatic call distribution (ACD) and interactive voice response (IVR) provide advanced call screening capabilities by connecting callers to an automated virtual attendant that prompts for their name and reason for calling, before transferring them or playing an announcement.
Based on the caller's identity, agents can make more informed decisions about how to respond–forwarding the call to a teammate, blocking it, or replying with an SMS. Companies can preset call screening rules that intelligently block or route calls based on the caller's information. Whether a screened call is manually or automatically addressed, call screening provides companies with the information to quickly handle inbound phone calls.
How Call Screening Works
Call screening works by identifying the inbound caller via CNAM database or prompt, then displaying the caller's information for the agent. Call screening can also initiate an automated response: sending the call to voicemail, blocking the call, or announcing the caller's name.
Here's a breakdown of how call screening works within your phone system:
Receive the caller's number: Your phone system receives the inbound caller's number along with the call
Identify the caller's name: Your carrier searches the inbound number in a CNAM (Calling Name) database for the associated name. If the CNAM has a matching name, your carrier displays it alongside the number.
Prompt for the caller's name: If your phone carrier cannot identify the caller's name, it might simply display their phone number. If you have Call Screening enabled, the phone system will play a message prompting the caller for their name. The phone system announces the caller's name before connecting the call.
Identify spam status: Your phone system can also check the number in spam or robocall databases, to determine if it has been blacklisted or reported
Automated action: Depending on the inbound caller's identity, you can preset automated call screening responses–like rejecting the call, forwarding it to IVR, responding with a text, or transferring it to a live agent
Forward to live agents: If the call reaches a live agent, the phone system displays the Caller ID or whispers the caller's name aloud, allowing the agent to choose how to respond
How to Set Up Call Screening
Most virtual phone systems and mobile devices include built-in settings for call screening, along with Caller ID and automated responses.
Here's how to set up call screening on VoIP or mobile:
VoIP Phone System
Here's how to set up call screening on your VoIP phone system:
Log into your VoIP desktop or phone app and navigate to the Settings menu
Ensure that Caller ID is turned on
Under Call Blocking & Spam Prevention, choose the types of calls that you want to automatically block, and how you want to respond. Choose any of the following responses to unknown numbers, first-time callers, and callers with a high spam score:

Send directly to voicemail in a spam folder
Send to voicemail and notify the user about the transcription
Ask new callers to state their name, and announce it to the agent
Mobile Phone
Mobile devices automatically display the inbound Caller ID, but you can turn on call screening to prompt for the caller's name.
Here's how to turn on call screening on mobile, such as iPhone, Pixel phone, or Android.
Navigate to the Settings menu
Click Calls, then toggle Screen Calls on
When you receive an inbound call, the phone will record the caller's response and announce this information before connecting the call
Call Screening Features to Look For
In addition to standard Caller ID, here are the top virtual phone features that support call screening:
Call Routing and IVR
Call routing and interactive voice response (IVR) are essential call-screening tools that ensure each caller reaches the right destination.
IVR: When customers call in, the IVR menu presents them with self-service options to navigate to the agent, department, or announcement that best meets their needs. In addition to determining the caller's intent, IVR menus can also gather information like the caller's name, transferring this information to a live agent.
Routing: A routing system distributes callers to the optimal agent. Intelligent call routing software directs calls based on more specific factors like business hours, agent availability, previous customer-agent relationships, or a custom order.
Remote Call Forwarding
Remote call forwarding connects incoming callers to the appropriate representatives by forwarding business calls to additional phone numbers if the originally dialed number doesn't answer within a certain number of phone rings. This helps screened calls reach the best available agent, without getting sent to voicemail.
Call Blocking
Call blocking rejects unwanted inbound calls from specific phone numbers, area codes, or zip codes.
VoIP phone systems enable you to customize which calls get blocked:
Spam numbers and robocalls: Automatically decline robocalls and spam callers from numbers found on telemarketing blacklists and databases
Anonymous callers: Reject all calls that do not provide caller ID information
Particular users or area codes: Create a list of blocked numbers and area codes
Manual blocking: Agents can instantly reject any incoming call upon
Do Not Disturb
When an agent does not wish to receive incoming calls for a few hours, but doesn't want to block calls altogether, the "Do Not Disturb" call screening service automatically forwards calls to voicemail or other agents for a set amount of time.
Automated SMS Response
Some VoIP phone systems enable agents to set automated or canned response texts to missed calls. This way, if a call gets screened or goes to voicemail, agents can still keep in contact with the caller.
Customize SMS auto-replies based on the type of caller:
First-time callers
VIP customers
Returning customers
Users already in the CRM database
Automatic Callback
Automated customer callbacks let inbound callers schedule their preferred callback time, whether that's later the same day or later in the work week. In addition to providing convenience for customers, these callbacks save serious time by eliminating the need for a phone tag.
Call Center Analytics and Reports
Cloud-based phone system analytics track relevant KPIs and metrics, including your call center's total inbound call volume and percentage of calls blocked. Call logs and reports provide detail about each blocked call.
These real-time tools enable supervisors to notice trends about who calls in and how many calls get blocked, or drill down into particular blocked calls if the system made a mistake.
Visual Voicemail and Voicemail Forwarding
When an inbound call is automatically or manually screened, it can be helpful to send the call to voicemail rather than completely block it. This way, in case the system or agent made a mistake, they can revisit the voicemail to confirm the caller's identity.
Visual voicemail: Visual voicemail provides a full transcription of voicemail audio, so agents can briefly read the screened caller's voicemail before deciding to reply
Voicemail-to-email and voicemail-to-text: These tools forward voicemail transcription and audio playback to the user's email address, or as an SMS
The Benefits of Call Screening
Here are the top benefits of call screening:
Saves time: Since call screening automatically or annually rejects some calls that agents don't want–such as spam calls or callers on a block list–screening helps agents focus more time on calls they want
Improves efficiency: Automated screening and routing tools like IVR determine the caller's identity, getting each caller to the right agent or destination on the first routing attempt
Strengthens customer service: Call screening helps identity callers, getting them quickly to the agent best suited to help. This leads to faster and more customized customer service.
Boosts agent morale: Since call screening blocks unwanted calls and spam, it frees agents to spend more time productively serving customers
More security and privacy: Call screening systems identify blacklisted callers, including spam calls, phishers, and attempts at call center fraud. This leaves your phone system better protected against bad actors.
Call Screening Best Practices
When setting up your phone system to optimize call screening, consider the following best practices:
Utilize automatic call screening: While agents can effectively screen and reject calls using Caller ID, many phone systems offer automatic call screening rules that enable you to block calls from numbers that meet certain conditions. Compared to manual call screening, automatic call screening saves agents substantial time and effort.
Use robust CRM software: Advanced CRM applications like Salesforce and Hubspot track advanced customer data like call history and customer journey, allowing you to create contact lists and strong customer profiles that guide more intelligent call filtering
Evenly distribute your IVR call flows: When setting up your IVR system, aim to create a call flow that distributes inbound call volume evenly among agents. This way, queue wait times never get too long.
Turn on voicemail notifications: Ensure that your phone system notifies agents when they receive a voicemail. This way, in case a call gets accidentally screened, agents can receive the voicemail and call the contact back.
Keep IVR menus concise: IVR menus can be very helpful for call routing, but customers become frustrated if they have to wait through a long IVR menu. Keep menu options simple so customers can easily navigate to their preferred destination.
Business Phone Systems Offering Call Screening
The below VoIP phone providers and plans offer the top advanced call screening and call filtering features:
Nextiva
RingCentral
Vonage
Nextiva's business phone service and unified communications platform includes call screening and blocking as standard features.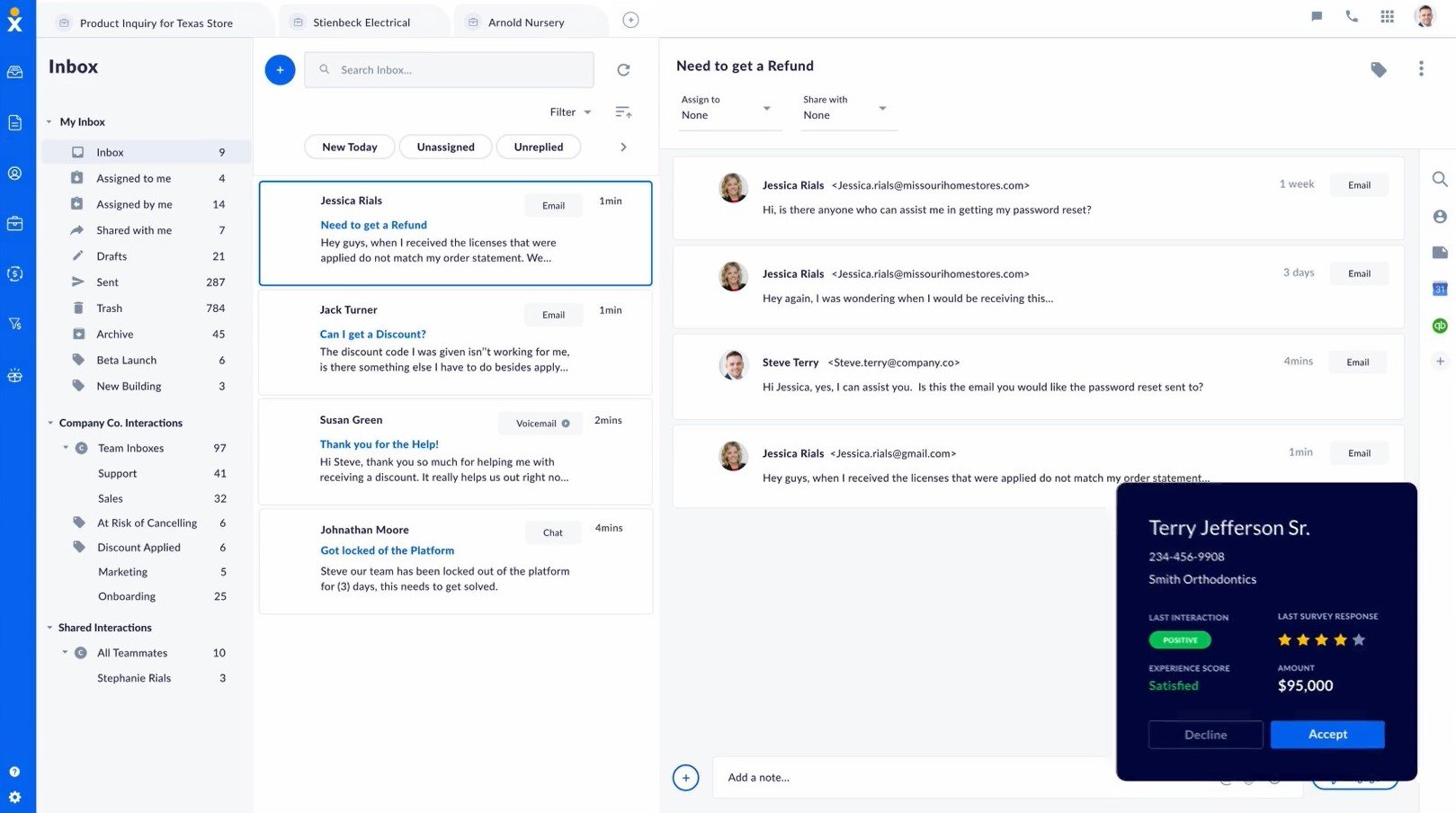 The software offers the following features on UCaaS plans ranging from $18.95 to $32.95 monthly per user:
Anonymous call rejection and blocking: Any anonymous inbound calls are automatically blocked
Selective call rejection: Automatically reject or block calls from specific numbers, area codes, or during certain times (after hours, holidays, etc.)
Voicemail transcription: Send rejected calls straight to voicemail, with automated transcription
Change caller ID: Customize how your caller ID appears on recipients' phones
Call Pop: Inbound calls display with the caller's name and other CRM-extracted profile information like company, recent sentiment score, and more
RingCentral MVP is a UCaaS platform that offers three plans ranging from $20 to $35 monthly per user.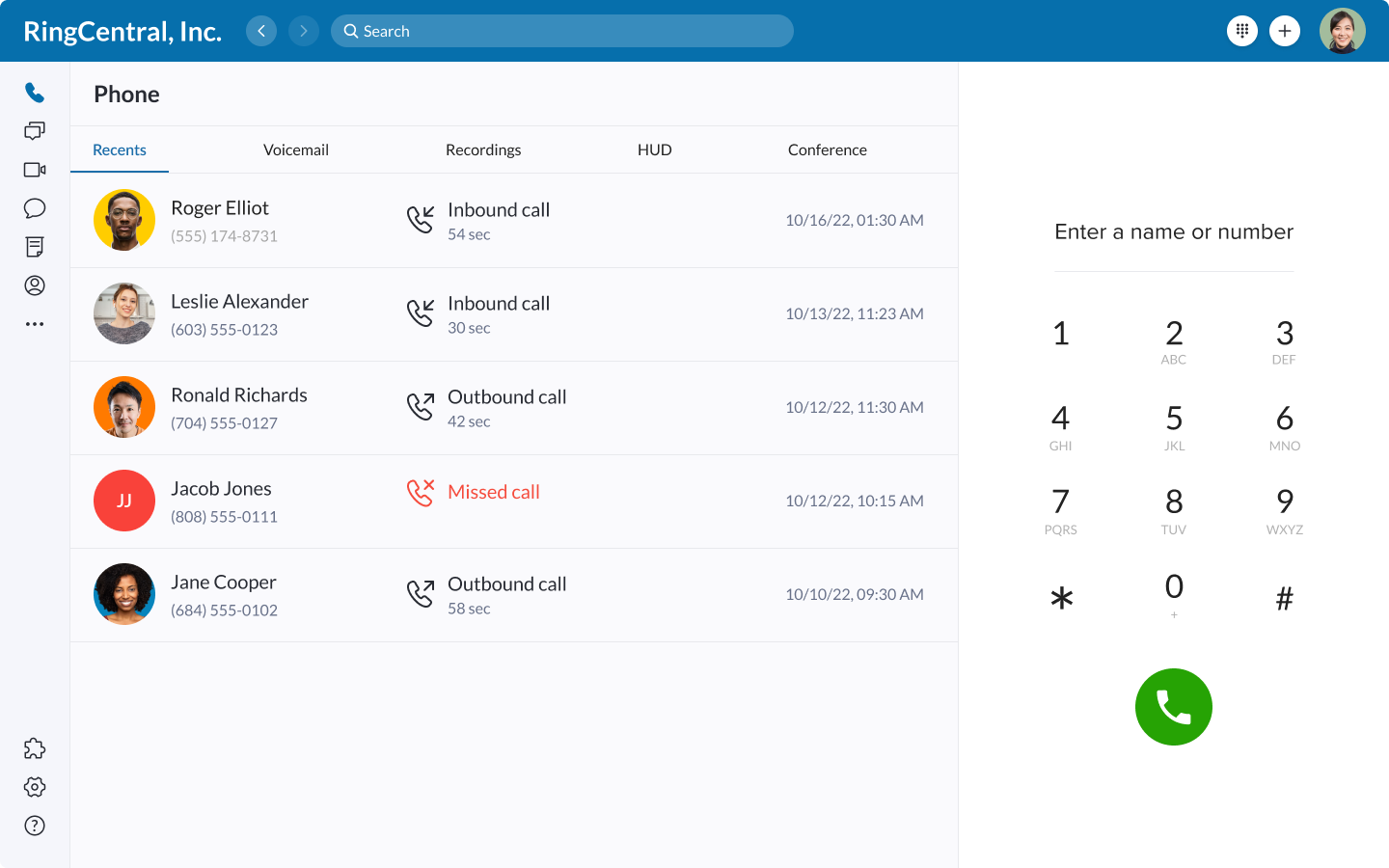 The software includes call screening and call blocking on all plans, plus other useful screening-related features: 
Answering rules: Create automated rules that handle inbound calls based on caller ID. Hang up, send to voicemail, transfer, or forward calls to particular agents based on the inbound contact.
CRM integrations: RingCentral supports enhanced caller profiles via integrations with CRM tools like Salesforce and HubSpot
Shared line appearance: Agents can set other teammates to cover them when busy. Inbound calls automatically transfer to a teammate, who can accept the call under the originally dialed agent's number
Business analytics: Advanced analytics on call volume and activity, with the option to drill down into specific calls to view the caller's ID and information
Vonage offers call screening and blocking as a part of its Vonage Business Communication cloud platform.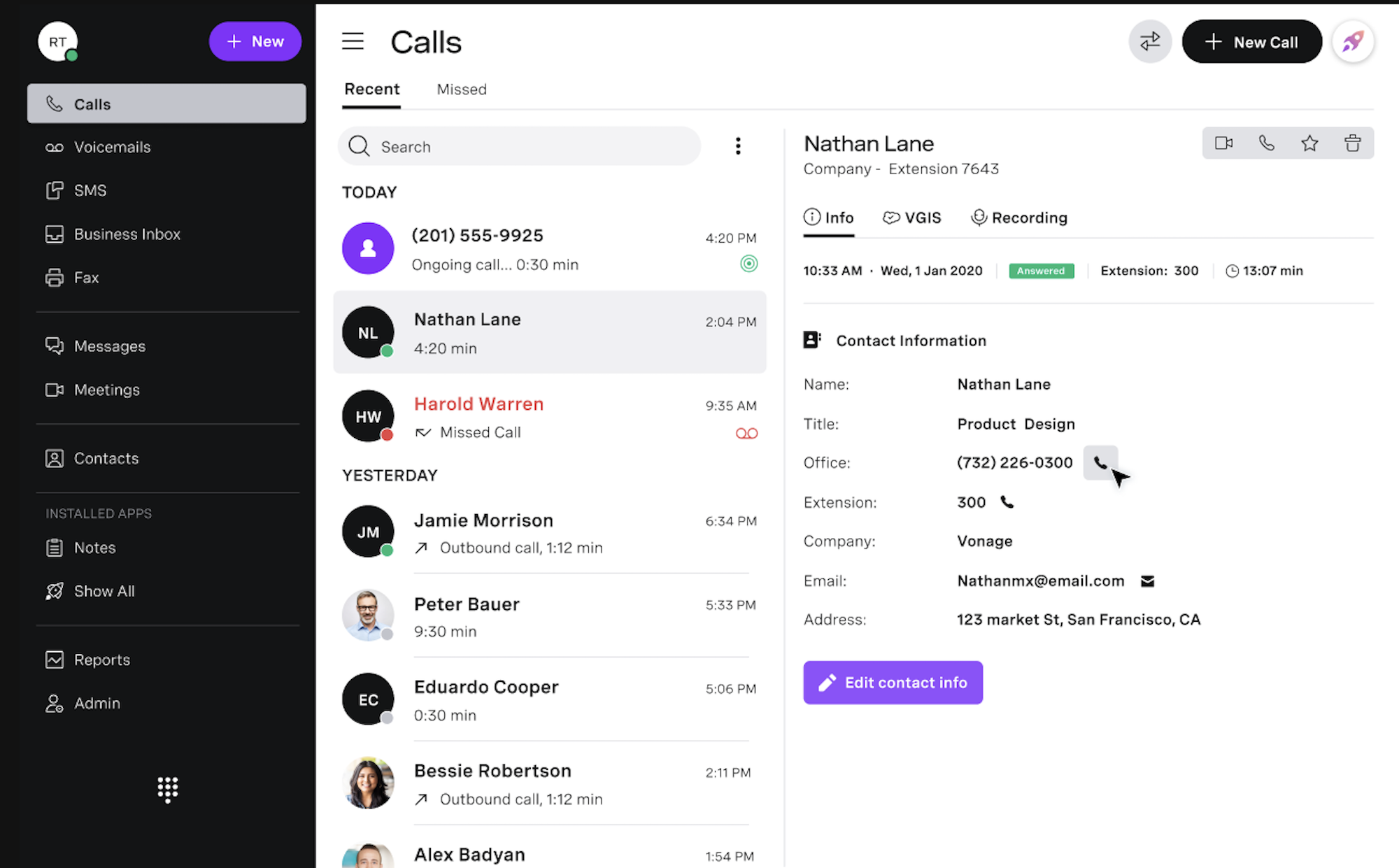 Vonage plans $19.99 to $39.99 monthly per user and include the following call screening-related features:
Follow me: Agents receive inbound calls across all their linked devices, enabling agents to choose which calls they want to screen while reducing missed calls
Simultaneous ring: Create ring groups with multiple agents who receive the inbound call simultaneously. If one agent is busy, one of the others in the group can answer the call
Auto attendant: Create an IVR menu that gathers caller intent and information, routing calls to the best and most available agent
Call screening menu: Record a custom call screening menu that prompts for the caller's name. The software then announces the caller's name and intent to the agent, allowing the agent to choose how to respond
Call Screening FAQs
Below, we've compiled a list of the most common frequently asked questions about call screening.