Traditional landline PBX systems are a hassle to maintain–wires, new phone jack installations, frequent upgrades and downtime, and phones that require agents to remain at their desks during and while waiting for calls.
Virtual PBX offers a solution: no wires or hardware maintenance, phone number options from around the world, and the ability to take calls and use VoIP features on the go.
This article will outline the Virtual PBX phone system, discussing how it works, its benefits, features, and what to look for in a virtual PBX system.
Quick Links: 
What Is A Virtual PBX?
A virtual PBX is a VoIP phone system that connects callers by transmitting digital audio signals over the internet, rather than via the physical wiring of traditional landlines.
A traditional PBX (Private Branch Exchange) system is physically hosted on-site and requires bulky, expensive hardware–and an in-house team to maintain it.
By contrast, a virtual PBX system is hosted offsite, in the cloud, by a third-party VoIP (Voice over Internet Protocol) provider. Since virtual PBX is wireless, users can access their business phone system anywhere with an internet connection on any VoIP-compatible device, including desk phones, desktop computers, or smartphones.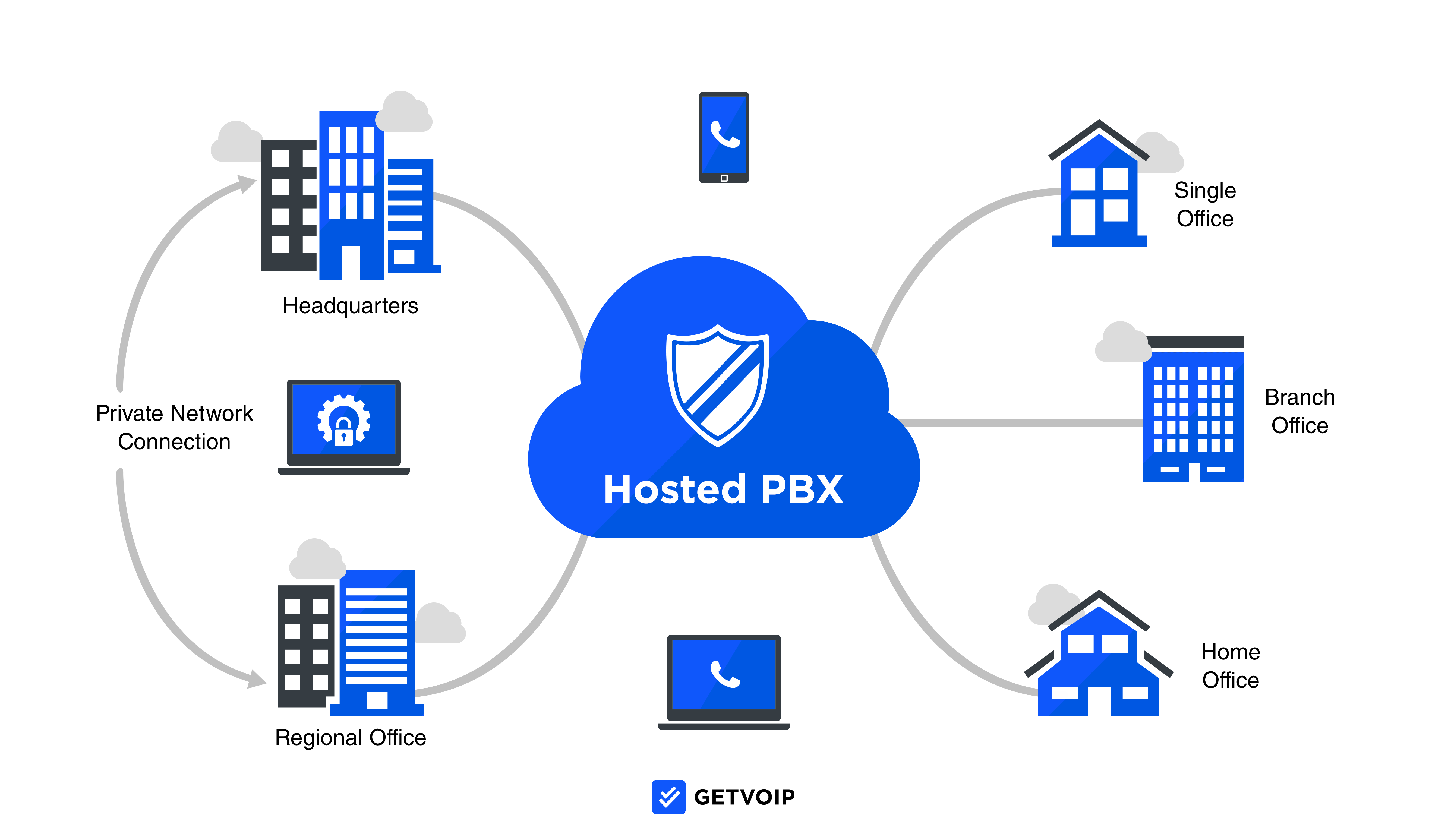 Businesses using virtual PBX systems don't have to purchase, install, or maintain their own premise-based hardware. Instead, system updates, maintenance, and storing and securing servers at data centers are all handled by the third-party VoIP provider.
Virtual PBX systems, also known as Cloud PBX, IP PBX, or hosted PBX services, provide phone numbers from international, local, and toll-free area codes. Users can also port in their pre-existing business phone numbers. Users within a company can share virtual PBX numbers and utilize a plethora of other virtual PBX features, including auto-attendants, HD voice, ring groups, internal team chat, video calling, and more.
How Does a Virtual PBX Work?
Virtual PBX works by compressing a speaker's audio signal into digital data packets,  transmitting these packets to the recipient via the internet, then decompressing that data back into audio signals for the recipient to hear.
Software audio codecs like Opus and G.772 carry out two-way VoIP data transmission via wideband signal frequencies, which provides natural-sounding HD voice and audio.
Virtual PBX vs Traditional PBX
Virtual PBX systems are hosted off-site, in the cloud, and use the internet to transmit an audio signal via digital data.
Traditional (Legacy) PBX systems are hosted on-site with compatible hardware, and transmit analog audio signals through a series of wired PSTN switchboards.
Traditional PBX systems do not use high-tech codecs, leading to poor sound quality without HD voice.
These on-premise legacy PBX systems require constant updates, take up lots of (expensive) physical office space, and require wiring that connects to every phone in the building. Agents can't receive calls away from their desks or access business phone systems via multiple devices.
Additionally, traditional PBX systems rely on pre-assigned landlines linked to local addresses, so companies must use the local number already assigned to their address. Adding a new landline number requires the arduous process of installing new physical phone lines, whereas VoIP phone numbers can be added in minutes online.
Virtual PBX
Traditional PBX
Connection Medium
Internet
PSTN landline
Mode of Transmission
Digital data
Analog signal
Host
Off-site, hosted and maintained in the cloud by the VoIP provider
On-site, hosted and maintained by the business using it
Sound Quality
High
Low
Transmission Speed
Fast
Slow
Benefits
– No IT maintenance required

– Provides international numbers

– HD voice

– Wireless connectivity on mobile or desktop

– Easy setup

– Can use pre-existing landline phone system
Benefits Of A Virtual PBX
Here are our favorite benefits of using a virtual PBX phone system:
Minimal Hardware and Lower Cost
HD Voice
Scalability
On-the-Go Calling and Remote Team Support
Local Presence
Suite of Features
Minimal Hardware and Lower Cost
Cloud PBX systems are hosted offsite by your VoIP service provider, so companies using virtual PBX don't need to maintain the system themselves.
Legacy PBX systems require near-constant updates, the purchase and installation of new hardware, and frequent connectivity issues that require in-house IT technicians to fix.
Virtual PBX VoIP providers handle all the software and hardware updates, tackling any issues that arise and saving small businesses the costs of IT staffing.
While the upfront cost of premise-based PBX systems for a team of 15-20 can easily reach up to $20,000, virtual PBX solutions have an average startup cost of under $2,000–making it a clearly cost-effective solution.
HD Voice
Traditional landline PBX systems only support the outdated G.711 audio codec, which only transmits sound frequencies in the middle range of the human voice.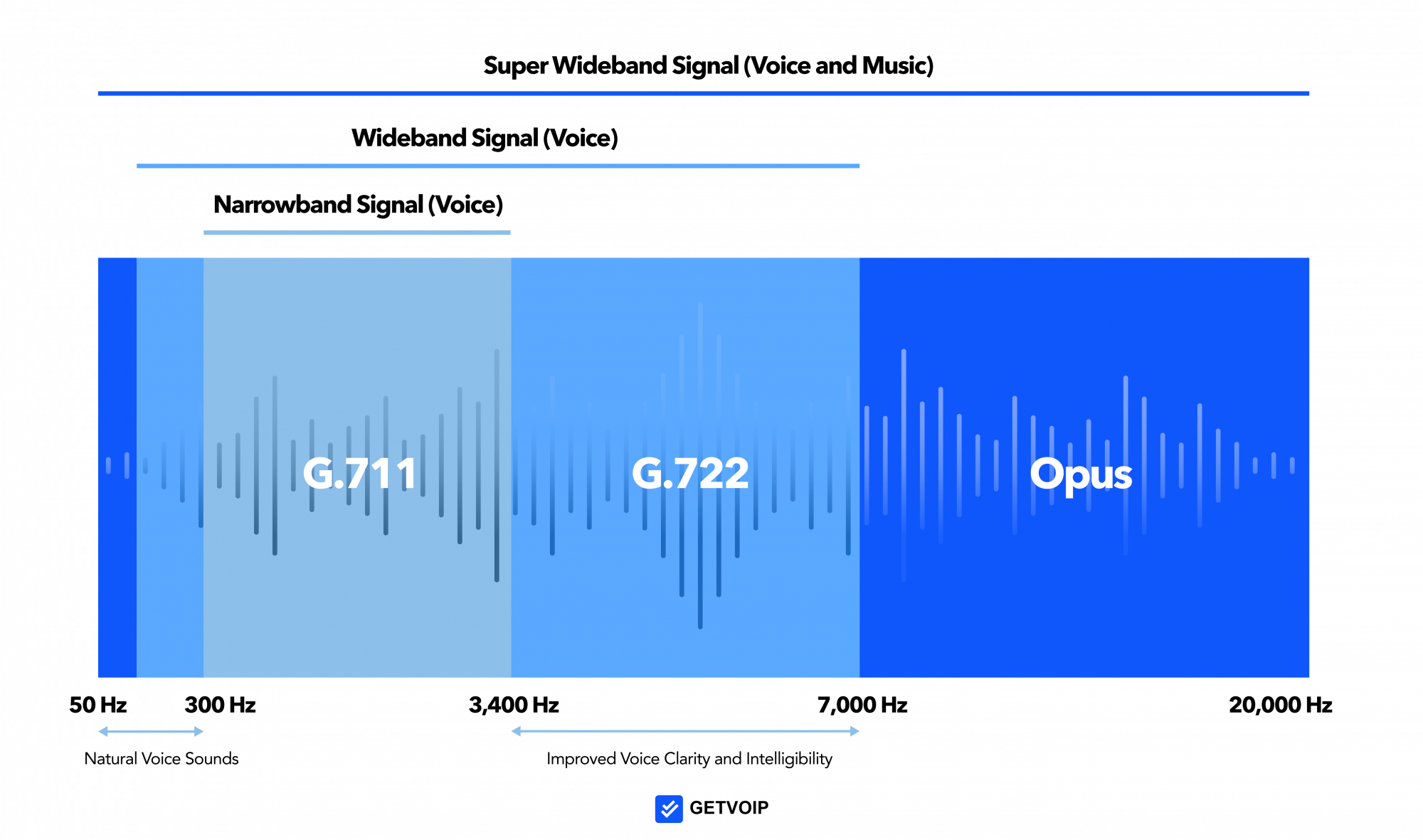 In contrast, many virtual PBX software supports the more modern G.722 and Opus codecs, which transmit sounds at the lowest and highest ranges of the human voice in high-definition (HD.) HD Voice provides much more natural-sounding audio, increased clarity, and background noise suppression.
Scalability
Adding new users to a traditional PBX system is a painstaking process: purchasing new phones and desk space, installing new phone jacks into the walls, and connecting them by wire to the PBX system.
With a VoIP system, scaling and adding new users requires just a few clicks.
You simply register a new account user online, purchase a license, and that's it–the new user can begin calling.
You won't even need to buy hardware if the new agent plans to use their mobile device or desktop computer softphone, or if you want to use existing IP phones.
On-the-Go Calling Supports Remote Teams
Agents using VoIP can make calls from any internet-connected, calling-capable device: desktop, mobile, handset, or headset.
Since agents can access VoIP services through their Apple iOS or Android mobile phones, agents are not limited to making and receiving calls at their desks–they can make calls at home, in the car, and anywhere else.
The mobility and flexibility of cloud PBX is a much better fit for today's remote workforce than traditional PBX.
Local Presence
Newer, smaller businesses and startups may struggle to build up a reputation for themselves – something solved by virtual PBX.
Businesses can choose virtual phone numbers with local area codes that are familiar to target markets, and even choose multiple local numbers for each location.
Toll-free numbers establish legitimacy and increase brand recognition (we're willing to bet you remember your fair share of toll-free vanity numbers.)
Suite of Features
With a traditional PBX landline system, users get phone service–audio calling, voicemail, and if you're lucky, a few extensions.
However, virtual PBX providers offer advanced VoIP feature suites as a part of their phone plans–and these features include far more than just calling alone.
PBX users enjoy other useful business communication tools like call recording, IVR and auto-attendants, ring groups, voicemail transcription, real-time analytics, and more advanced features like video conferencing, call queues, and SMS texting.
Virtual PBX Essential Features
Here are some of our favorite features offered in virtual PBX plans:
Voicemail and Call Transcription
Mobile and Desktop Apps
Local, International, and Toll-Free Numbers
Auto Attendants (IVR)
Call Monitoring
Integrations
SMS and MMS Texting
Ring Groups
Call Logs and Reports
Video Calling
Voicemail and Call Transcription
Voicemail and call transcription uses AI-powered natural language technology (NLT) to transcribe calls and voicemails into text format, delivering the transcription to the user via email and/or voicemail along with the audio recording.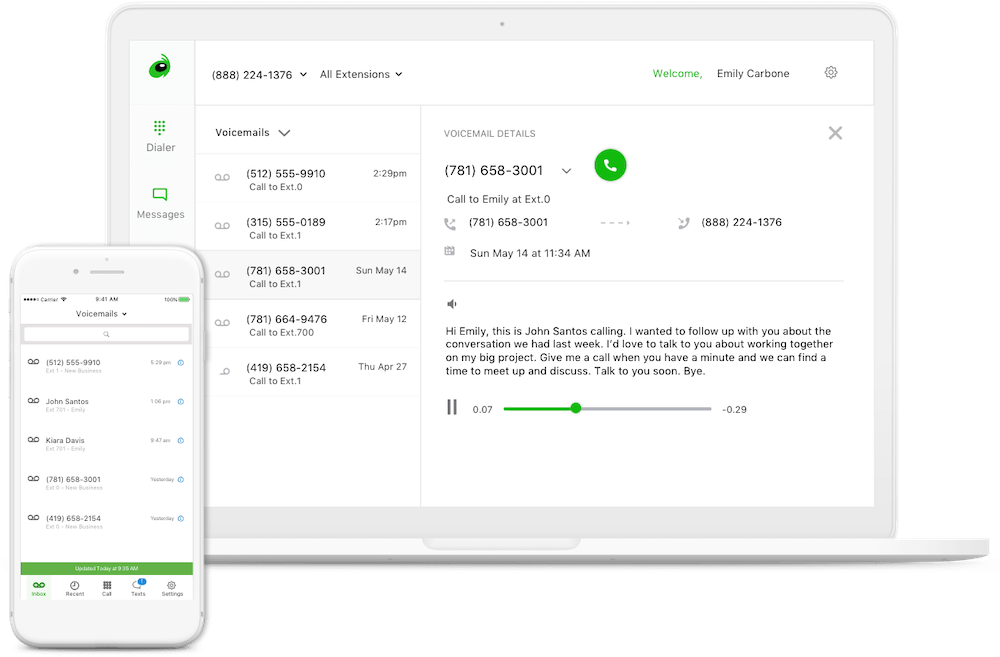 Transcriptions are archived, can be password-protected, and are typically searchable by keyword or caller.
Voicemail transcription is especially useful for teams with a high inbound call volume that makes listening to every voicemail and prioritizing callbacks a struggle. Users can see the subject of the voicemail message without having to listen to the entire thing.
Call transcriptions also offer insight into agent activity, common customer concerns or issues, and valuable conversation analytics like sentiment analysis. This way, managers and business owners can improve coaching and training materials, while supervisors can provide individualized feedback to agents.
Mobile and Desktop Apps
Most virtual PBX service plans provide access to both a desktop and a mobile app, which streamline all messages, notifications, settings, and communication channels (phone, messaging, video, and chat) into one unified interface.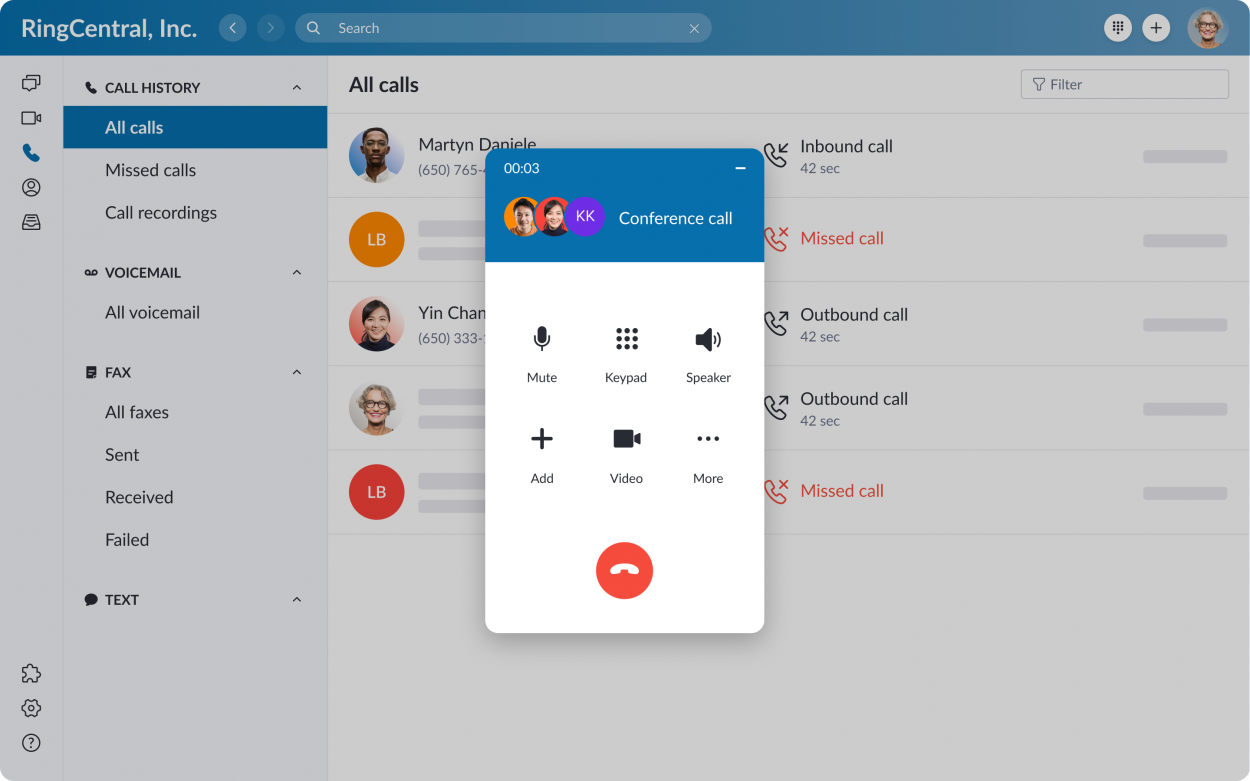 The mobile app distinguishes between a user's VoIP numbers and regular phone numbers, so agents can keep business and personal connections separate.
Local, International, and Toll-Free Numbers
Most virtual PBX providers allow you to select and purchase virtual phone numbers, with options from area codes around the world.
Users can purchase local numbers, which abide by local calling rates in the phone number's region, or toll-free numbers (beginning with 800, 888, 877, etc) that prevent the customer from accruing any charges on phone calls.
International numbers are helpful for companies who do business worldwide and want to establish a local customer service or sales presence.
International agents can use and even share company numbers, strengthening the customer's perception of company unity.
Auto Attendants (IVR)
Auto-attendants, or IVR, let users create an automated customer self-service menu that plays instantly whenever a customer dials the company number–often without needing to involve a live agent at all.
Using pre-recorded call menu options and messages, call center IVR systems automatically analyze customer speech or DTMF input to direct the call to the appropriate agent, department, voice mailbox, ring group, or sub-menu.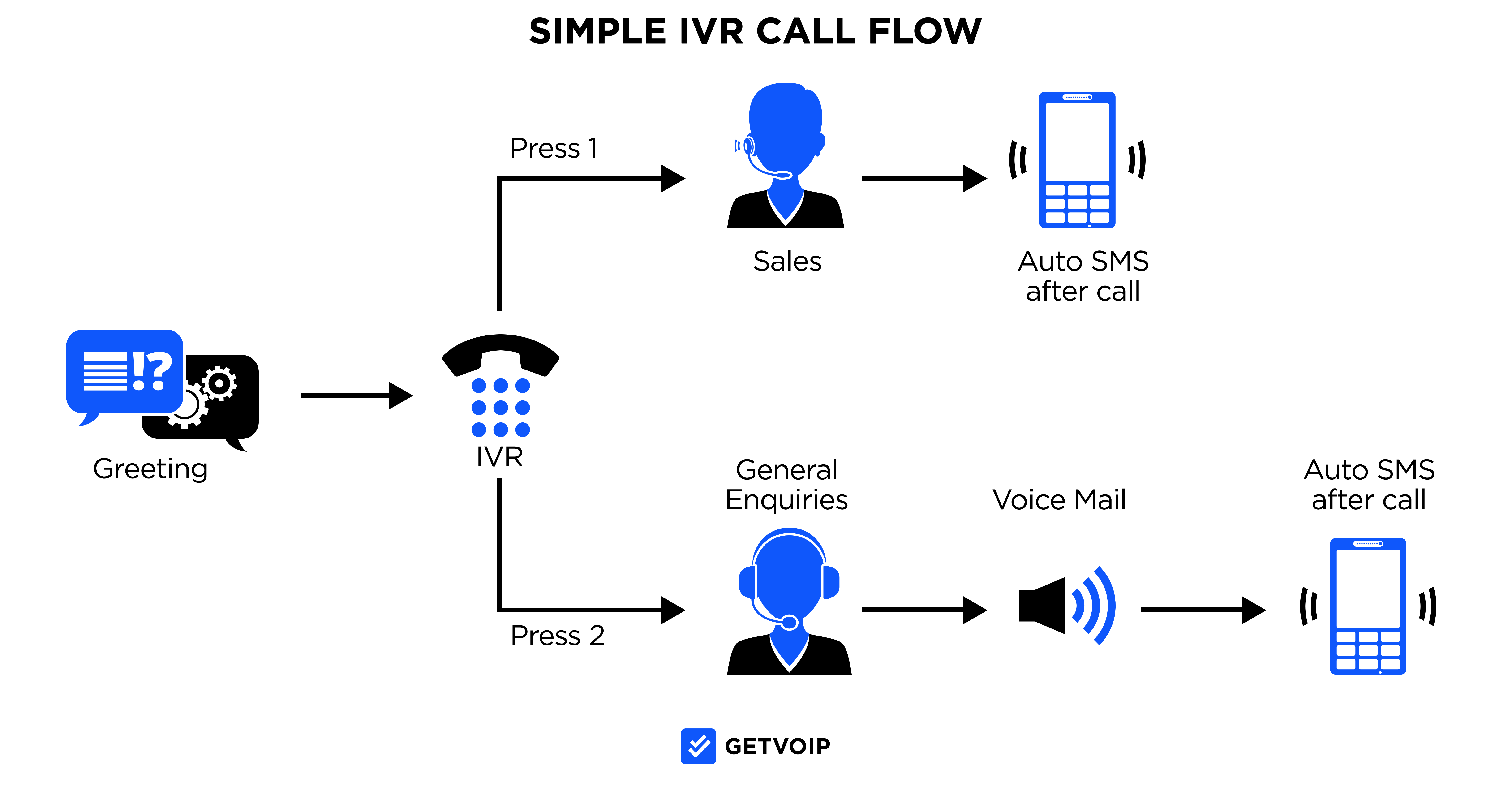 Admins can set up complex or simple call routing or call forwarding strategies. Popular routing strategies include round-robin routing, skills-based routing, schedule-based routing, list-based routing, most-idle routing, or even relationship-based routing to ensure clients always connect with their preferred agent.
Typically, companies offer menu options for popular customer query destinations, sounding something like:
"Press 1 for Sales, 2 for Customer Service, 3 for Billing…"
Call Monitoring
Many virtual PBX VoIP providers offer automatic and on-demand call recording, which allows you to save thousands of call recordings per account.
Users can download these recordings for months afterward or set them up to automatically delete after a set period of time. As with call transcriptions, call recordings are incredibly useful for training and feedback purposes–as well as for compliance.
Other call monitoring tools include call whisper, (in-call coaching from supervisor to agent that the customer can't hear) call barge (supervisor instantly takes over an agent's live call), or standard call listening (supervisors listen to live agent-customer calls announced or unannounced.)
Integrations
While traditional legacy PBX systems do not support integrations with additional software, most virtual PBX systems support a range of integrations with popular third-party applications and tools.
Integrations allow users to make calls, send messages, start meetings, access contacts, and utilize calendar functions within apps like Salesforce, Slack, Zendesk, Microsoft 365, Zapier, Kustomer, Hubspot, and more.
SMS and MMS Texting
Along with voice calling, many hosted PBX providers offer business SMS and MMS texting.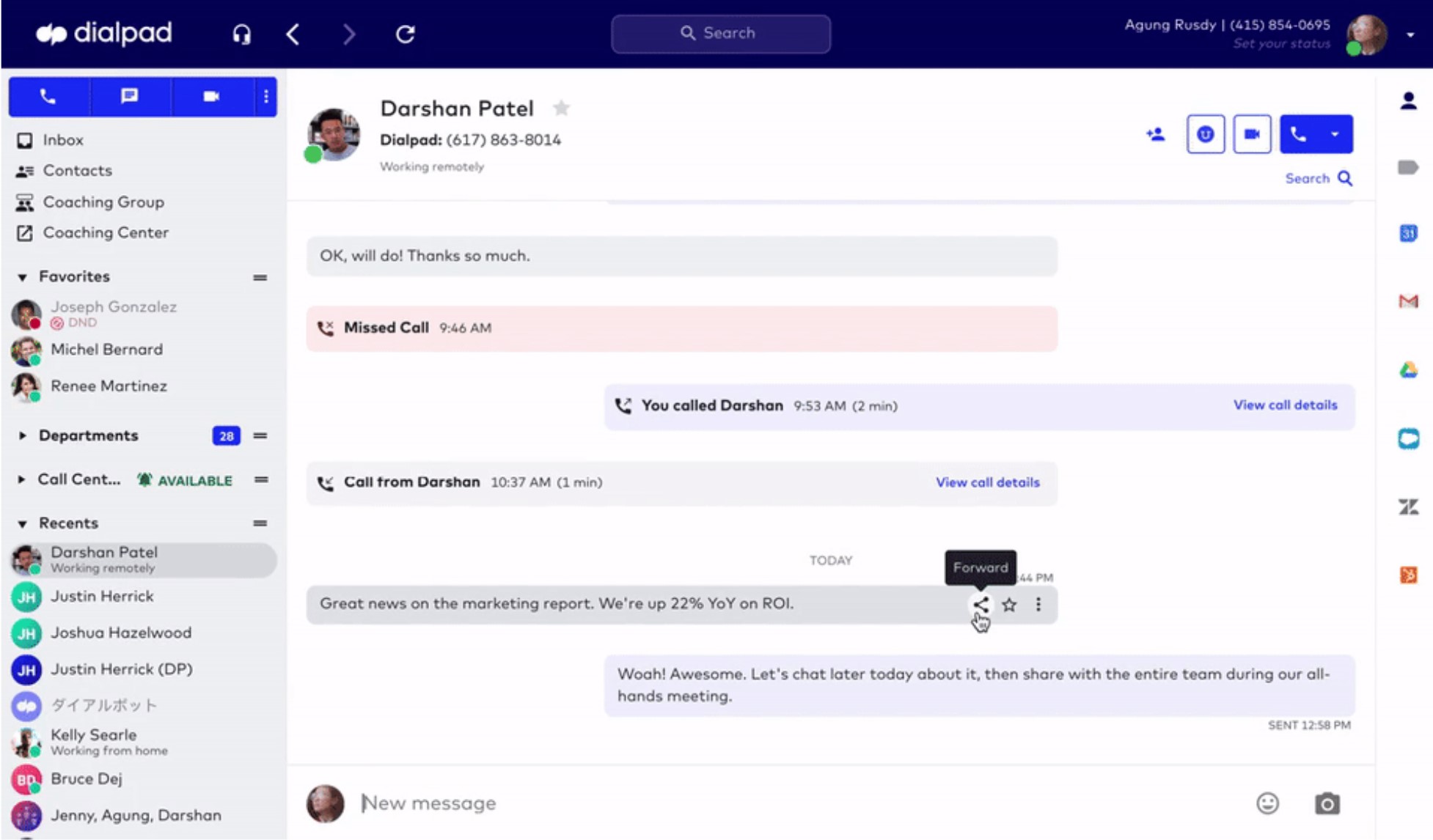 Users can send texts from their business number–via either desktop or mobile–containing standard texts, videos, images, and multimedia files to internal team members, clients, and entire groups or departments.
Ring Groups
Ring Groups let admins create and manage groups of agents that simultaneously receive inbound calls, increasing the likelihood of a faster speed of answer and a higher first call resolution rate.
Ring Groups (also called Call Groups) are especially useful when agents receive incoming calls for a similar purpose: a sales team, customer service team, or backend team, for example. Ring groups provide quick service and distribute workload evenly throughout a team, preventing excessive queues for busy agents.
Call Analytics and Reports
Analytics provide administrators with valuable data about VoIP service usage and overall agent performance and activity historically and in real-time.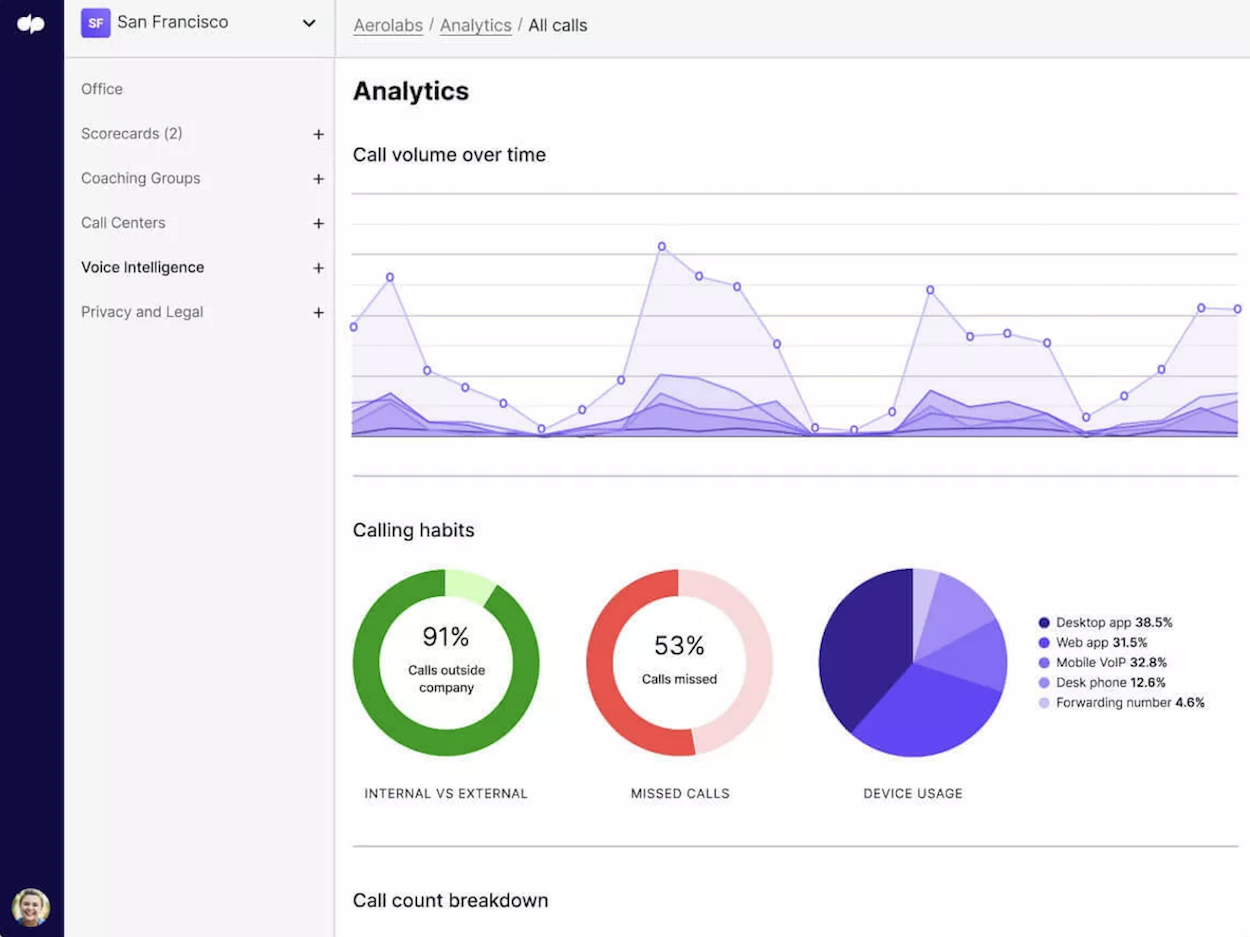 Customizable or pre-made reporting templates help identify trends, workflow bottlenecks, drops in performance, and popular reasons for customer calls.
Analytics tracks critical key performance indicators (KPIs) like dropped call rate, average ticket time, and first call resolution, with the option to set alerts when important thresholds are breached.
Quality of service reports provide a dashboard depicting call quality–including jitter, audio packet loss, and overall call quality score–for each agent, device, and the team as a whole.
Top Providers Offering a Virtual PBX
The table below outlines 5 top virtual PBX providers.
Provider
Pricing
Key Features
Integrations
Best For
RingCentral
4 plans from $19.99 to $49.99 monthly per user
-Call recording -Video meetings -Call logs

-Real-time analytics

-SMS texting

-Salesforce

-Zendesk

-Slack

-Google Workspace

-Microsoft 365, and more

A well-rounded set of features with high-quality video supporting groups up to 200
Nextiva
3 plans from $18.95 to $32.95 monthly per user
-Auto-attendant

-Video conferencing with screen sharing, video recording, and unlimited participants on the Enterprise plan

-Voicemail transcription

-Salesforce

-HubSpot

-Microsoft Teams

-Outlook

-Google Contacts

Teams hosting video conferences with large audiences
Dialpad
3 plans from $15 to customized plans over $25 monthly per user
-Local numbers in over 70 countries

-100% uptime

-Unlimited calling, SMS, and MMS

-Salesforce

-HubSpot

-Zendesk

-Google Workspace

-Microsoft 365

-Okta, and more

Companies looking for calling, texting, and small-group video conferencing at a budget price
GoTo
3 plans from $22 to $39 monthly per user
-Advanced contact center

-Auto attendants

-Video meetings

-Team messaging

-Call analytics

-Ring groups

-Salesforce

-HubSpot

-Outlook

-Google Workspace

-Microsoft Teams

-Informacast, and more

Companies prioritizing calling-focused features
Zoom
3 plans from $10 to $20 monthly per user
-SMS and MMS

-Unlimited auto attendants

-Call recording

-Voicemail transcription

-Team chat

-Ring groups

-Salesforce

-Slack

-Contact center platforms

-Microsoft

-Google

Best value overall
What To Look For In A Virtual PBX System
The best PBX system is the one that fits your business needs.
When choosing a provider, consider all benefits and features and select a plan that checks your most important boxes.
For example, if your company hosts frequent conference calls and prioritizes call clarity,  look for a provider that supports G.722 and Opus codecs with HD voice.
Remote and hybrid teams or call centers with a geographically diverse workforce and clientele across multiple time zones should select a plan including local, international, and toll-free numbers.
Businesses looking to optimize available agents or understand the reasons behind drops in sales or increases in customer service calls should prioritize PBX systems with advanced analytics and reporting tools.
For a high degree of collaboration, choose SMS messaging, which is often free between users on the same VoIP network.
Finally, if your company wants to keep current CRM, calendar, or collaboration tools, choose a VoIP plan that integrates with your preferred third-party software and platforms.
Virtual PBX FAQs
Below, we've answered some of the most common questions about virtual PBX systems.
No. PBX (private branch exchange) refers to a phone system, which can be an on-premise PBX or a cloud-hosted virtual PBX. VoIP is the audio calling technology that utilizes a virtual PBX.
3. Traditional legacy PBX is hosted on-site, virtual PBX is cloud-hosted by a third-party provider, and SIP trunking provides a legacy PBX with cloud phone-system benefits.
Traditional PBX, or legacy PBX, uses a landline connection to transmit audio via the PSTN telephone network.
PBX stands for private branch exchange and PABX stands for private automatic branch exchange. While traditional PBXs systems require operators to manually switch phone lines within a network, PABXs make the switch automatically–every modern PBX system is a PABX.