In an increasingly connected world, customers have come to expect a stellar customer experience built on fast, efficient, and personalized support and service.
Most importantly, consumers want to connect with knowledgeable, well-trained agents that resolve their issue on the first call. Call center software tools like call whisper help make this happen.
Read on to find out what call whisper is, how it works, and how to leverage this essential CCaaS feature to improve customer service, streamline contact center operations, and increase profits.
Compare call center software from
top providers
What is Call Whisper? 
Call whisper is a call handling feature that, without the caller's knowledge, provides agents with key customer information (like CRM data or IVR input) either directly before or during the live customer-agent interaction. 
Agents receive this conversation-specific information via CTI screen pops or voice recordings before accepting the call (Standard Call Whisper), or via in-conversation coaching from a manager that only the agent can hear (Live Call Whisper/Manager-Led Call Whisper).
Enabling in-call coaching or pre-call data sharing ensures the agent is as prepared for the call as possible, enables a highly personalized support experience, increases First Call Resolution (FCR) rates, and lowers the likelihood of customer callbacks or call transfers.
Relevant information provided to agents during the Call Whisper process includes: 
Customer phone number, contact information and demographics
Account value and priority level
A brief description of the customer service or support issue
Recent and past orders
Customer Sentiment
Customer Satisfaction Score
Omnichannel customer interaction history
Notes from other agents
The specific marketing campaign the customer is responding to
Additional information from native or integrated CRM tools
The business phone number that was dialed
Call Whisper is an effective tool for:
New Call Center Agent Training and Onboarding
Agent Performance and Quality Monitoring
Avoiding escalating calls to upper management
Assisting with difficult calls
Identifying common caller pain points, customer journey roadblocks, and gaps in agent training
Improving lead qualification and customer segmentation
Optimizing IVR menus, call routing strategies, and call paths
Gaining deeper insight into the customer base
Identifying which products, services, and campaigns are the most and least successful
Understanding other call center analytics and KPIs (Average Handling Time, Average Talk Time, Cost Per Call, CSAT and NPS Scores, Call Abandonment Rate, FCR, etc.)
How Does Call Whisper Work? 
The call whisper feature works in tandem with other on-premise or cloud-based call center software features such as call routing, campaign management, auto dialer tools, and CRMs.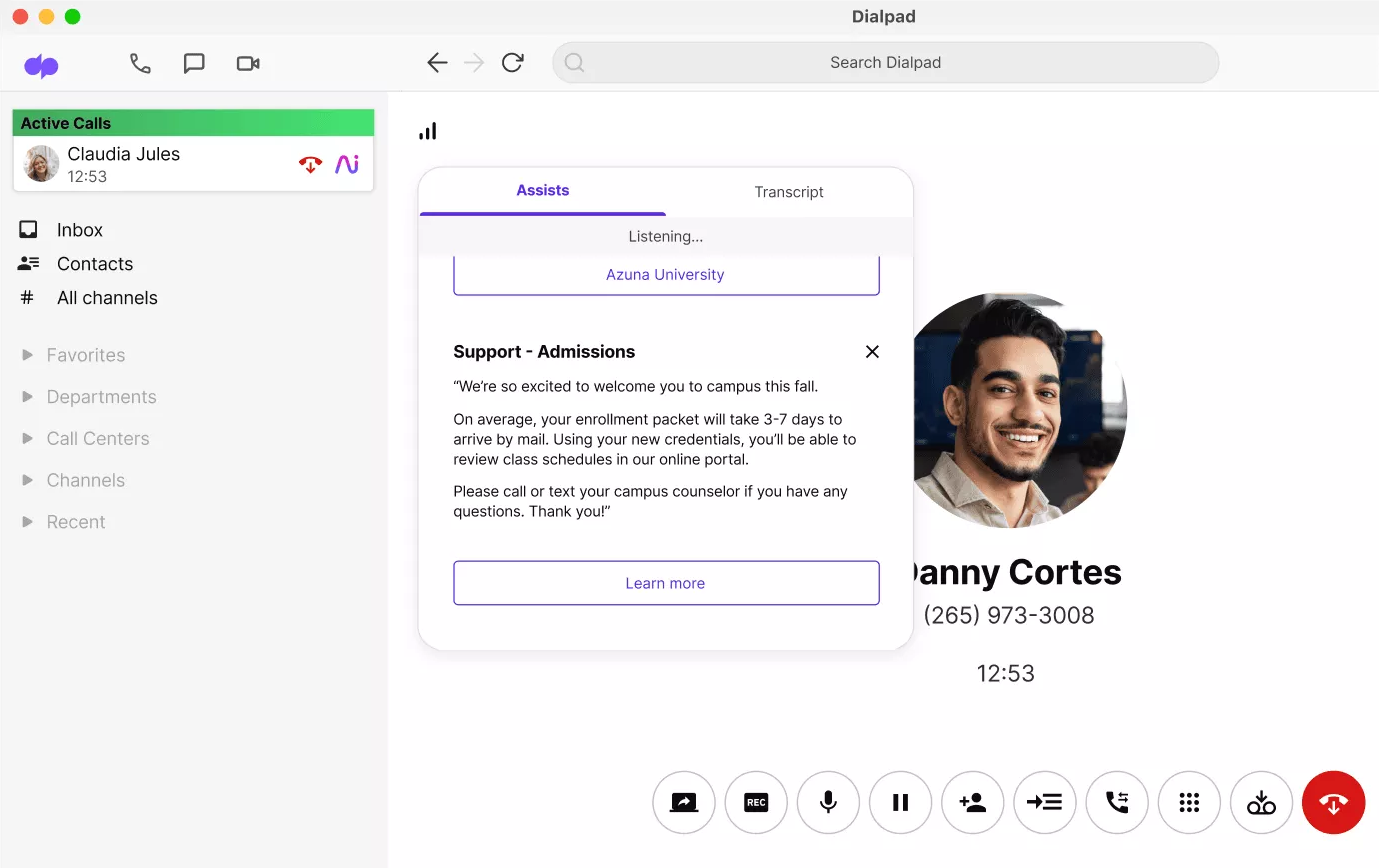 The call whisper step-by-step process is:
Step One: An inbound call comes into the call center
Step Two: The customer interacts with the Interactive Voice Response (IVR) menu or auto attendant to direct their call to the ideal agent/department
Step Three: The incoming call is sent to the best available agent according to routing strategies, business rules, and customer responses to IVR prompts
Step Four: The selected agent receives a call whisper message (audible only to the assigned agent) or CRM screen pop (visible only on the assigned agent's screen) containing relevant customer information
Step Five: After reviewing the information, the agent a) accepts the call and is connected to the customer for live support or b) the agent is connected to the customer and receives advice from a supervisor or manager (that only the rep, not the customer, can hear) during the call
Step Six: The agent resolves the call and updates the CRM (schedules a callback/transfers/escalates the call if needed)
While the exact call whisper process varies according to business size, call volume, the number of available agents and managers, or even the specific customer on the phone, this is the most common course of action.
Some call center software platforms include AI-powered bots that pull up customer CRM information and whisper it to the agent before or during a call without needing to involve a human manager.
Another popular AI feature, Agent Assist, provides automatic in-conversation agent support by using Natural Language Understanding to determine customer needs and display relevant call scripts, canned responses, and internal knowledge base information on agent screens.
Regardless of your business's specific approach to the call whisper functionality, the information it delivers improves support quality, customer engagement, and productivity levels.
Call Whisper vs. Call Tracking vs. Call Monitoring 
VoIP phone systems offer a variety of features designed to make the call process more efficient and improve agent performance.
While some features may seem synonymous, there are some important distinctions to be aware of.
Here's a breakdown of how call whisper differs from call tracking and call monitoring.
Call Whisper vs. Call Tracking
Call tracking is a feature that saves and organizes vital metrics from all incoming and outgoing calls, like call duration, caller name, the date and time the call was received, the agent handling the call, and the call outcome. Call tracking also provides an audio recording and transcription of the call, making it easy for managers and agents to review at any time.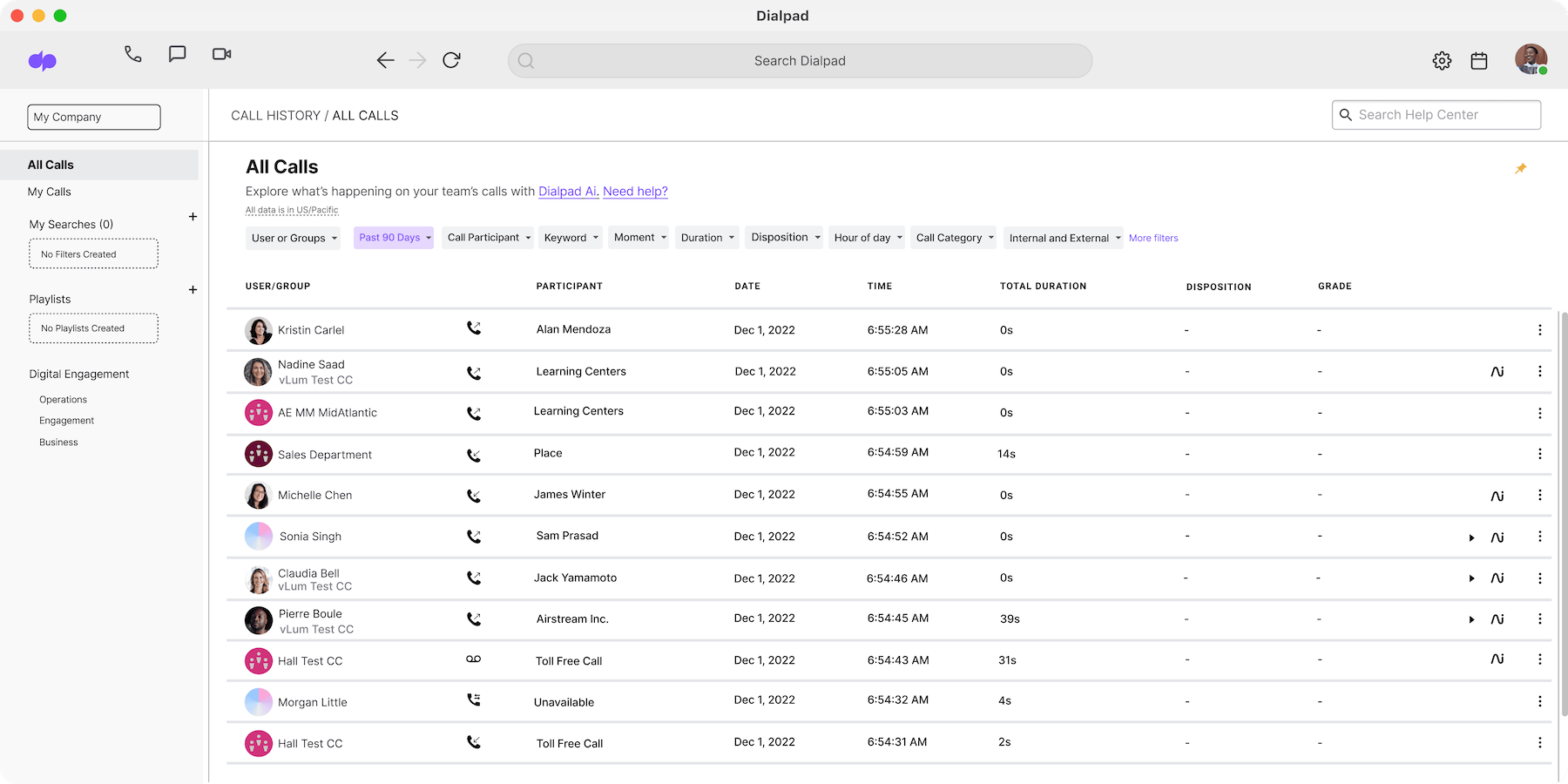 Call whisper and call tracking only slightly overlap.
Call tracking is a part of the call whisper process, but the two features serve different purposes.
Call tracking is focused primarily on analytics, giving call center managers and business owners a birds eye view of operations. Call Whisper is more about real-time agent training and assistance, increasing operating efficiency, and improving support quality.
The call tracking component of call whisper is only there to give supervisors as much context as possible before jumping in on a call.
Call Whisper vs. Call Monitoring
Call monitoring is a call center software feature that enables managers to listen in on agent calls for quality assurance and/or training purposes (with or without the agent's knowledge.)  Call monitoring is often used as a broad term encompassing several call center features, including call whisper.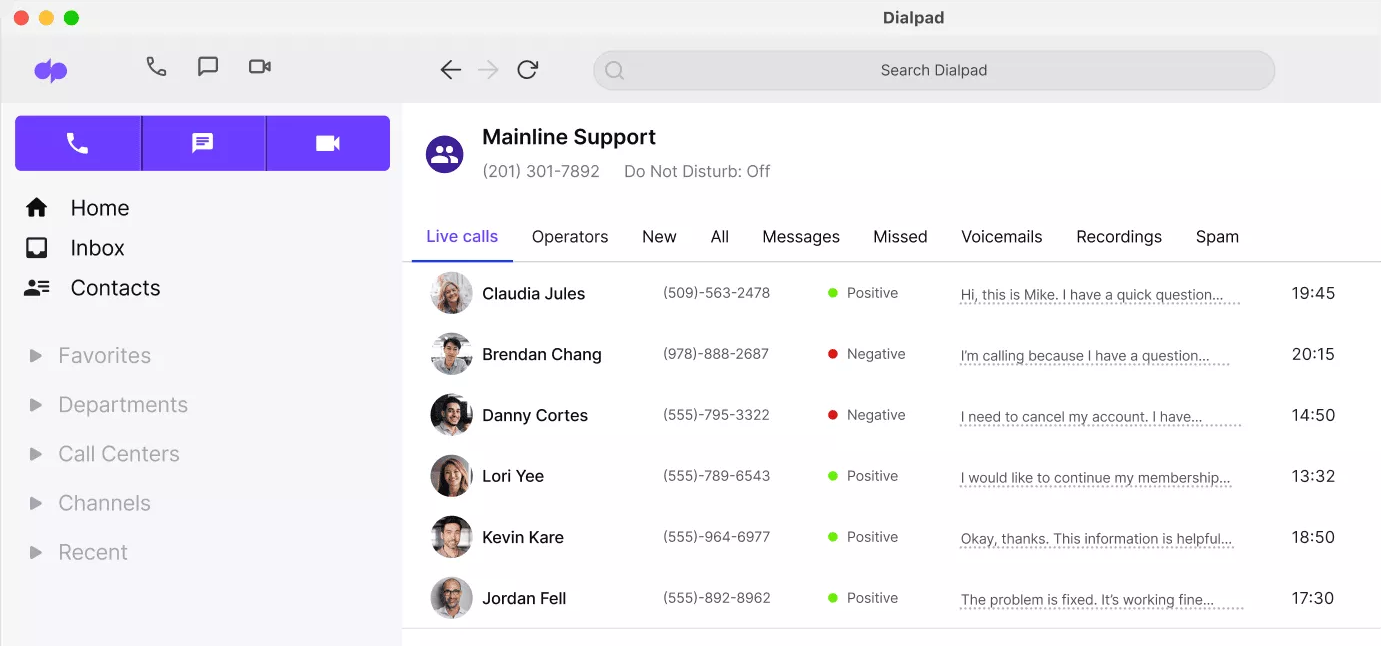 Call monitoring can also refer to tracking communication from other communication channels in real-time (live chat, social media messaging, SMS/MMS, email, etc.)
Call monitoring includes features like:
Listen: Allows managers to listen in on agent calls without the awareness of either party
Barge in: Call barging enables supervisors to intervene on an agent call, essentially turning it into a three-way conference call
Take-Over: Allows managers to take over the call and disconnect the agent
Call recording
Sentiment analysis
Benefits of Using Call Whisper 
Call whisper can be utilized in a number of different ways to help call center managers improve the customer experience and agent performance.
Here are some benefits and use cases for using call whispering:
Benefits for Call Center Managers 
Call center managers are responsible for monitoring multiple agents and simultaneous conversations, training new hires, creating and optimizing employee schedules, and maintaining a high quality of customer service.
In short?
It's easy for managers to be spread thin, so they often use call whispers to automate the delivery of necessary customer information to agents before each call. Managers can choose exactly what data and which call scripts are displayed to agents, reducing the number of escalations and unhappy customers as a result.
Call whisper benefits to managers include: 
Streamlines agent training
Allows managers to monitor multiple agent calls at once
Reduces the need for escalation
Enables managers to track how multiple agents are handling calls
Allows managers to talk an agent through a difficult call
Managers can easily measure agent efficiency
Benefits for Call Center Agents 
Although call whisper is mainly a tool for managers, it also offers many benefits to agents as well.
Throughout the workday, call centers take calls in quick succession, complete after-call work, collaborate on projects, provide complex technical support, and make outbound sales or follow-up calls.
All this work leads to agent burnout, high employee turnover rates, and a lack of overall employee engagement.
And if agents have to keep callers on hold while searching for internal knowledge base information, CRM data, or other account and customer service details?
Customer frustration and cost per phone call will increase, customer retention rates will decrease, and your call center will become much less productive.
Call whisper addresses these issues for agents, instantly giving them the information they need without forcing them to switch between applications or look for support docs.
Other call whisper benefits to agents include:
Easier to personalize customer service
Reduces the number of frustrated/angry callers
New agents can take calls with more confidence with a manager on the line
Eliminates the need to search for answers while on a call
Live call coaching leads to improved communication skills
Top VoIP Providers that Offer Call Whisper 
Provider
Pricing
Main Features
Best For
RingCentral
Custom quote-based plans averaging $85 monthly per user

Advanced IVR with visual flow designer
Advanced voice recording
Workforce and performance management

Large businesses and enterprises that need a high level of security and advanced business features such as IVR
Twilio
5000 hours free. $1/active user hour or $150/named user per month

Intelligent routing
100+ integrations including Zendesk, Salesforce, billing systems, ERPs, etc.
Intelligent self-service

Sales and support teams of any size that need a flexible and custom solution
Vonage
Two quote based plans and several add-on features

IVR, Skills-based Routing, SLA Optimizer
Single sign-on
Dynamic Routing, Queued Callback
Gamification

Small businesses and SMBs that need a flexible platform good for scaling
Aircall
Bundled plans from $30 to $50 per user/month

Ring groups
Call recording
IVR
Smartflows call routing
Custom music and messages

Small sales teams and global call centers that make international outbound calls
Dialpad
Bundled plans from $15 to $35 per user/month

100% uptime
unlimited video meeting
Real-time analytics and reporting
HIPAA compliant

Businesses of any size that need a high level of security and reliability such as those in the healthcare industry
Does Your Business Need Call Whisper?
Call whisper is an essential feature for any contact center platform. The tool leads to higher performing managers, more confident agents, and most importantly, happier customers.
Without the need to search for the answers and data they need, call center agents are free to concentrate on higher-value activities like cross-selling and upselling products and services.
Similarly, call whisper streamlines processes for managers by enabling them to monitor multiple calls at once so they can see immediately where they are most needed, saving everyone time.