Nextiva and Ooma are two of today's top VoIP service providers. Both business phone systems feature multiple communication channels–voice, video, SMS texting, and sometimes internal team chat–plus call routing, analytics, and built-in calendar scheduling.
However, the two VoIP providers have some distinct differences.
This article will take a closer look at Nextiva and Ooma, comparing their pricing, features, pros, and cons.
Jump to↓
Nextiva vs Ooma at a Glance
While Nextiva and Ooma both offer business phone systems, Nextiva's solution emphasizes team collaboration and unified communications while Ooma Office offers queueing and a larger unlimited calling area.
Nextiva »
Ooma »
Pricing
3 plans from $18.95 to $32.95
3 plans from $19.95 to $29.95
Key Features

Auto attendant
Call recording
File sharing
Built-in calendar functionality

Advanced analytics
Call queueing
Call recording
Screen sharing

Available Communication Channels

Voice
SMS
Team chat
Video

Integrations
19 integrations including contact centers, CRMs, and calendar apps
4 integrations: Salesforce, Microsoft Dynamics 365, Office 365, and Google Workspace
Customer Support Options
24/7 email, chat, and phone support
24/7 email, chat, and phone support
Best For
Teams looking for an internal collaboration platform or UCaaS solution
Teams that want multiple call queues or who frequently call Mexico
What is Nextiva?
Nextiva is a VoIP phone system and unified communications software that unites multiple communication channels–voice, SMS, internal team chat, and video meetings–into one application for agent collaboration, customer service, and supervisor monitoring.
The NextivaONE app–available on desktop, browser, and mobile–unites an agent's tools and channels into one dashboard, with the ability to handle multiple customer interactions across channels, make VoIP calls around the world, view and build customer profiles, create video meetings and calendar events, and assign tasks to teammates.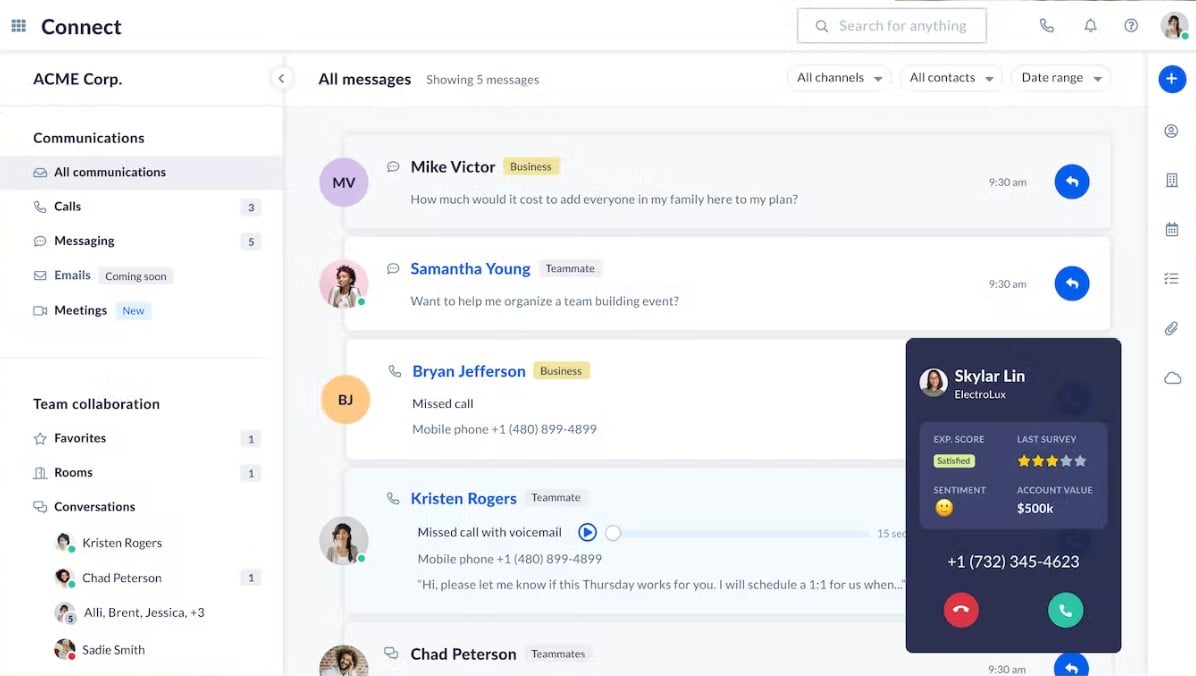 What is Ooma?
Ooma Office is a business phone system with VoIP, SMS, and video conferencing. The provider's virtual phone system includes voicemail transcription, routing features like auto attendants and ring groups, advanced analytics, and call queues.
The Ooma app is available on desktop, browser, and mobile, and video meetings are accessible on any device, with video collaboration features.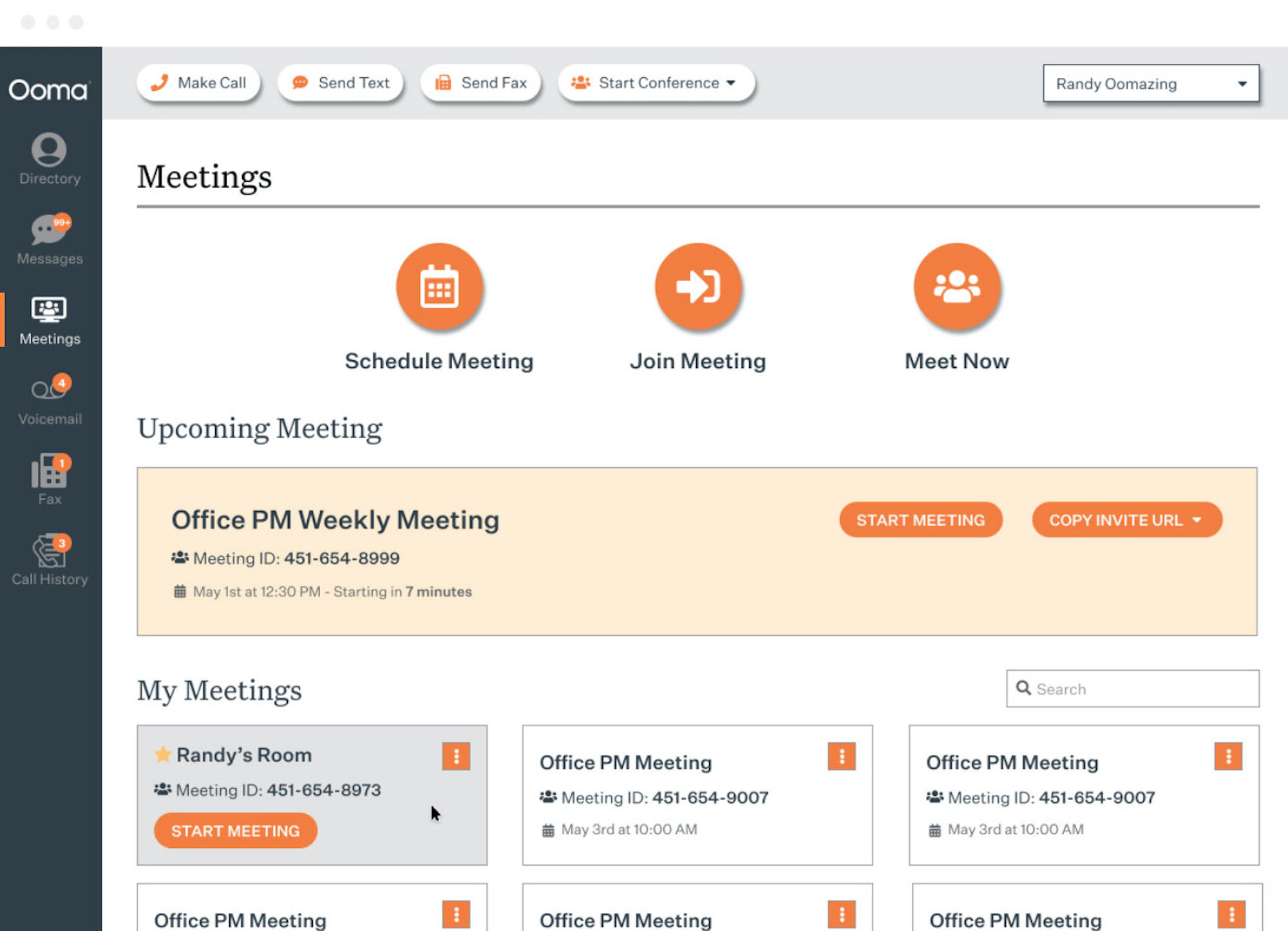 Nextiva vs Ooma: Pricing Overview
Nextiva offers three business communication pricing plans, two contact center plans, and two social media management plans.
Nextiva Business Communication plans, which emphasize multichannel internal and external communications, range from $18.95 to $32.95 monthly per user.
The Essential plan includes VoIP calling–with unlimited calling in the US and Canada–basic routing tools like auto attendants and ring groups, 3 team collaboration rooms, unlimited team chat, and 1:1 video calling
The Professional plan adds expanded conference calls and video conferencing with 40 participants, video-collaboration tools like screen sharing, multi-level IVR, and CRM integrations like Salesforce and HubSpot
The Enterprise plan expands video meeting capacity to 250 participants, adds call and video recording, and includes voicemail transcription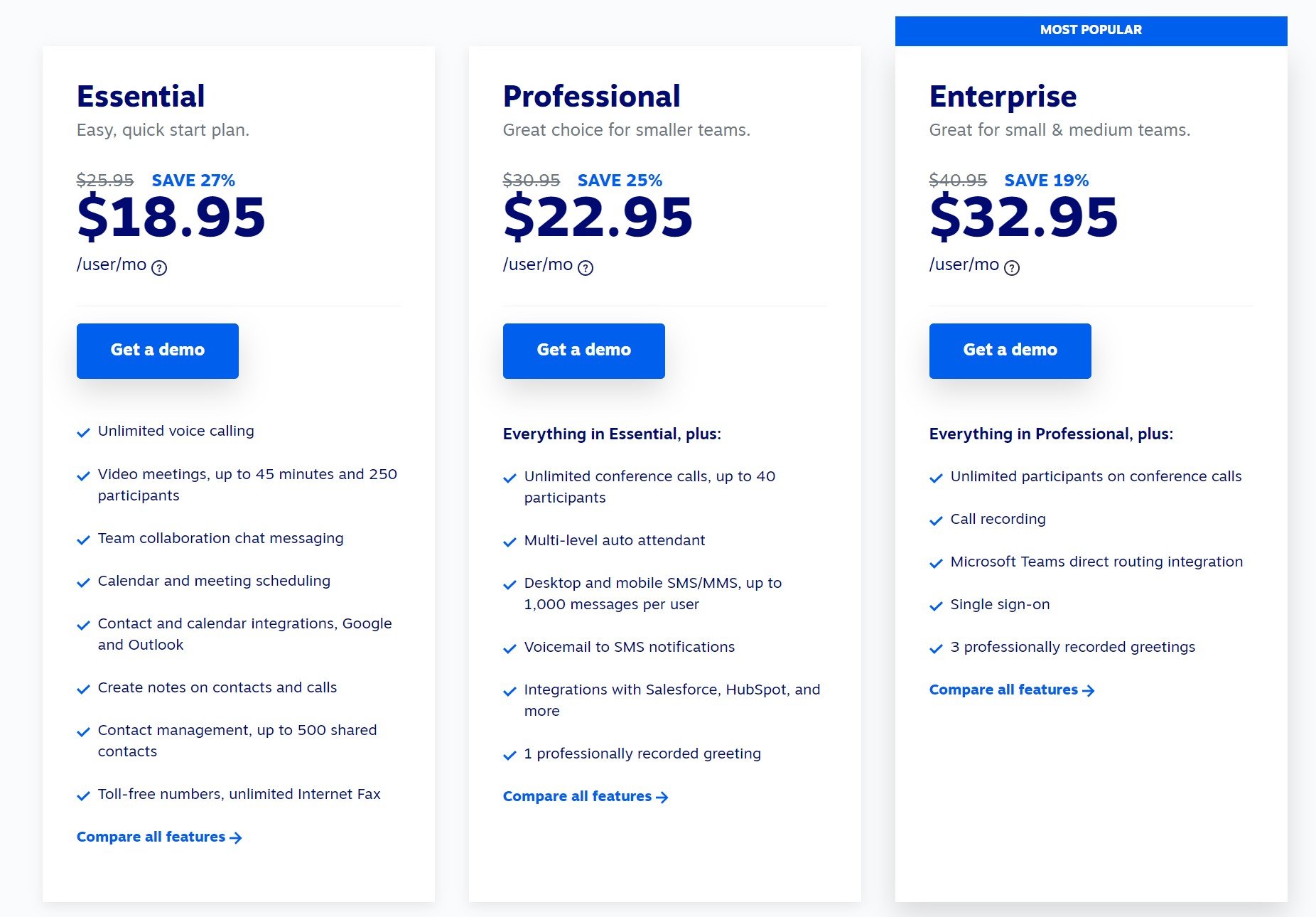 Ooma Office offers three business phone plans, ranging from $19.95 to $29.95 monthly per user.
The Essentials plan includes phone only, with the Ooma browser and mobile app plus routing features like IVR and ring groups
The Pro plan builds a multichannel solution, adding Ooma's desktop app, text messaging, video conferencing, analytics, and call recording
The Pro Plus plan adds call-center functionality with a Salesforce integration and call queueing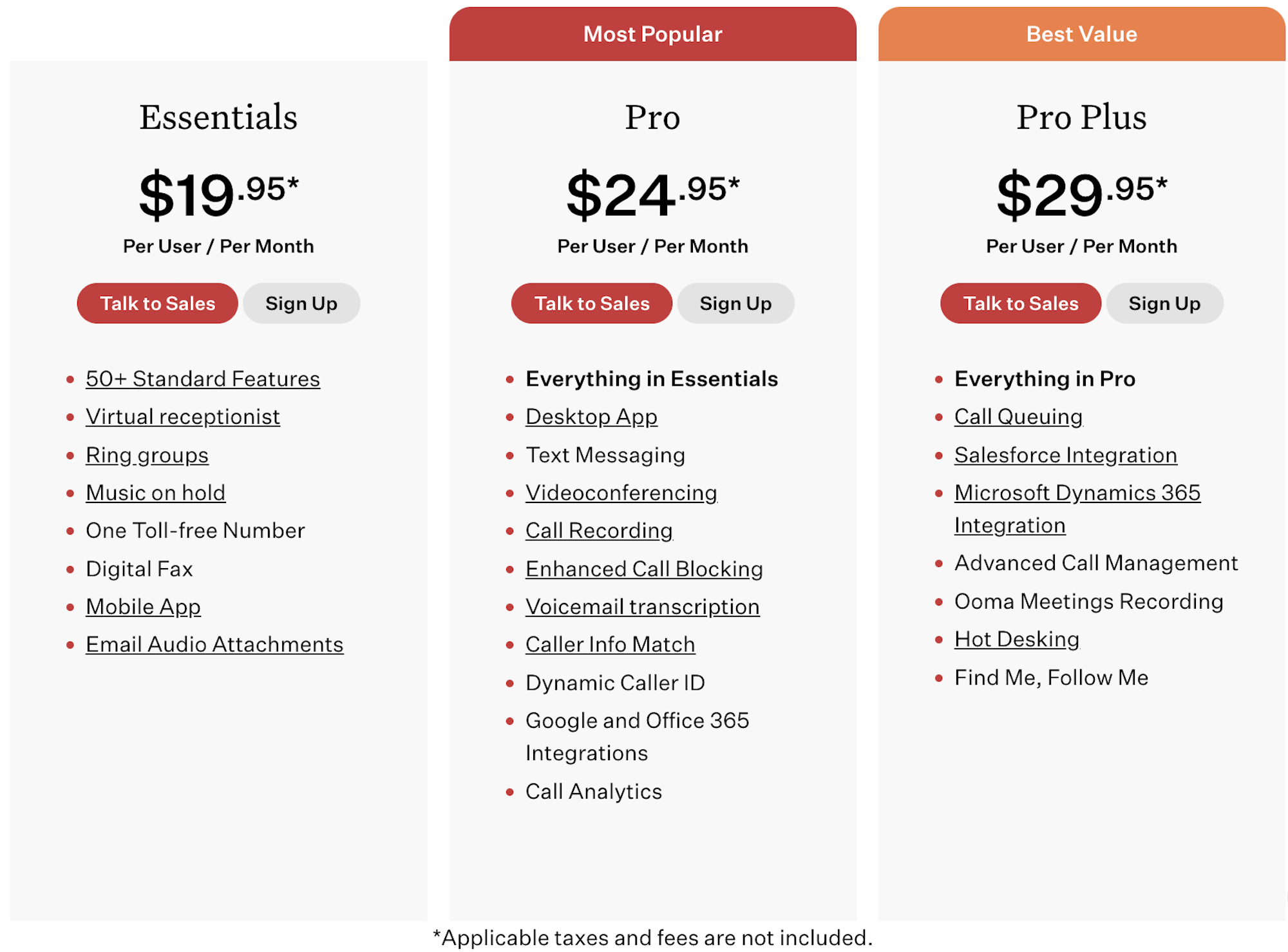 Nextiva vs Ooma: Feature Comparison
Below, we've compared Nextiva vs Ooma based on key phone-system features:
Phone system
Messaging
Video Conferencing
Analytics
Nextiva Phone System
Nextiva is a cloud-based VoIP phone system–capable of calling anywhere in the world–with routing tools like multi-level IVR, ring groups, virtual voicemail, conference calling, and voice analytics.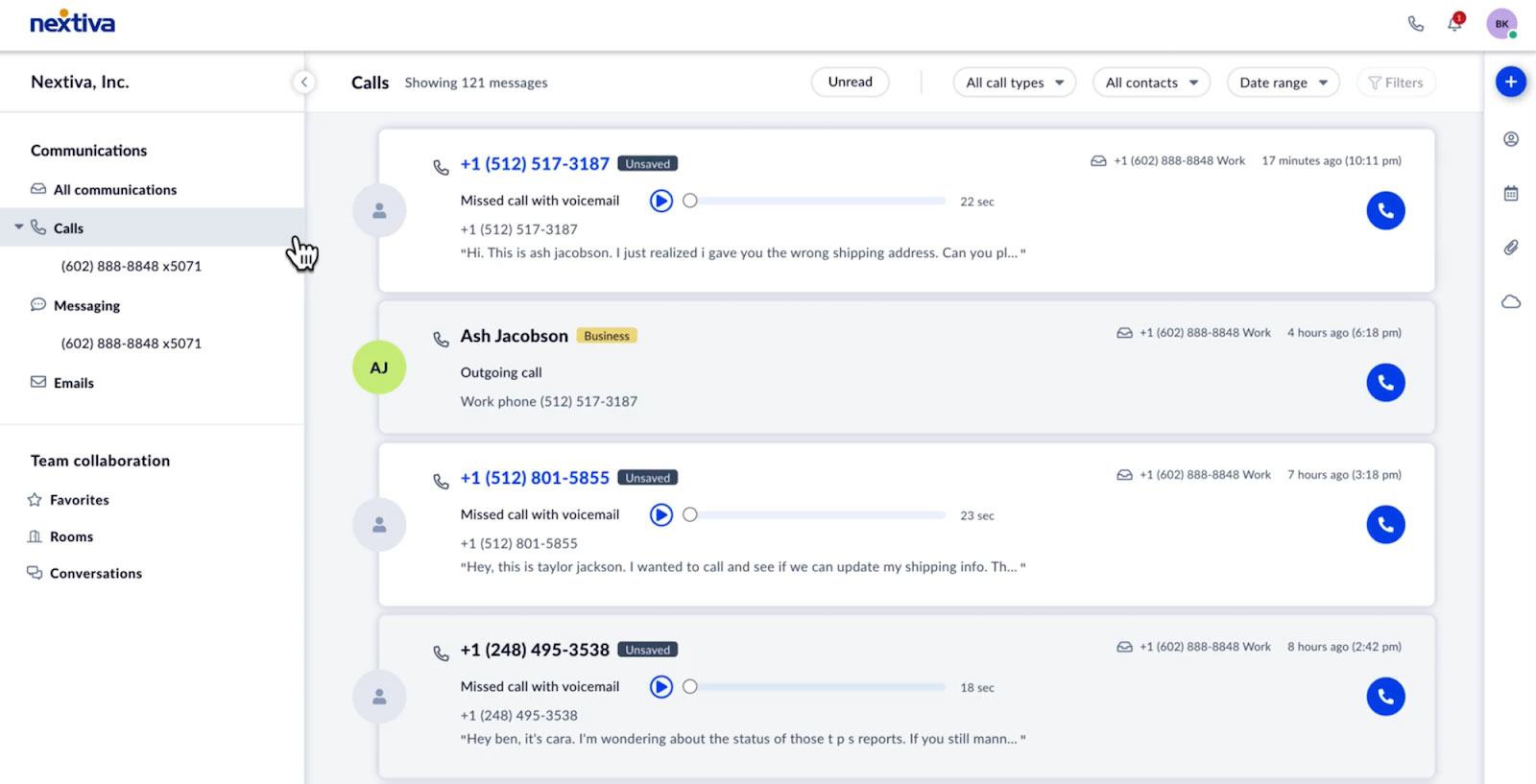 Each Nextiva plan sign-up includes a free local and toll-free number within the US and Canada. Users can also purchase local and toll-free DID numbers all throughout the US–or port in your pre-existing numbers–for unlimited calling and SMS texting within the US and Canada. Nextiva plans include up to 12,500 toll-free minutes. Add contacts directly from Google and Microsoft Outlook, managing contact profiles with CRM information and custom notes.
International Calling Rates to Popular Destinations 
China: $0.06/minute
United Kingdom (UK): $0.01/minute
Australia: $0.03/minute
India: $0.09/minute
Spain: $0.02/minute
The NextivaONE app supports click-to-call functionality and acts as a softphone, allowing you to make calls from any device–desktop, browser, or mobile on iOS and Android. Flip calls between devices mid-call, such as from computer to mobile, and transition communication channels mid-call as well. One-click call controls enable agents to transfer, mute, park calls, send a message–even switch the call to a video meeting. NextivaONE's dashboard menu pings agents with new messaging and call activity, including voicemails and missed calls accessible with just a few clicks.
Nextiva calls are all HD voice, with conference calls that can support unlimited users.
Nextiva Routing, Voicemail, and Administrative Features:
Multi-level auto attendant: Build a self-service IVR menu that allows customers to route themselves to the right agent, using DTMF menu options. Customize your menu with recordings, announcements, sub-menus, extensions, phone numbers, and business hours.
Call logs and history: A supervisor tool, call logs and history display core call information–name, phone number, call duration, and date/time
Call pop: Inbound calls trigger an instant pop-up on the agent's screen containing relevant contact profile information–phone number, recent experience metrics, survey response, and importance
Ring groups: Also known as call groups, ring groups allow you to group multiple agents together to share inbound call responsibility. A great tool for departments and teams, ring groups let you customize ring order: simultaneous or a custom sequence.
Call recording: Set up automatic call recording for all calls, or enable on-demand call recording that agents can activate during calls
Virtual voicemail: Voicemails are organized in a visual log with transcription, and agents can forward their voicemail by email or SMS.
Ooma Phone System
Ooma's business VoIP phone system supports telephony throughout the world and includes an unlimited calling area spanning the US, Canada, and Mexico.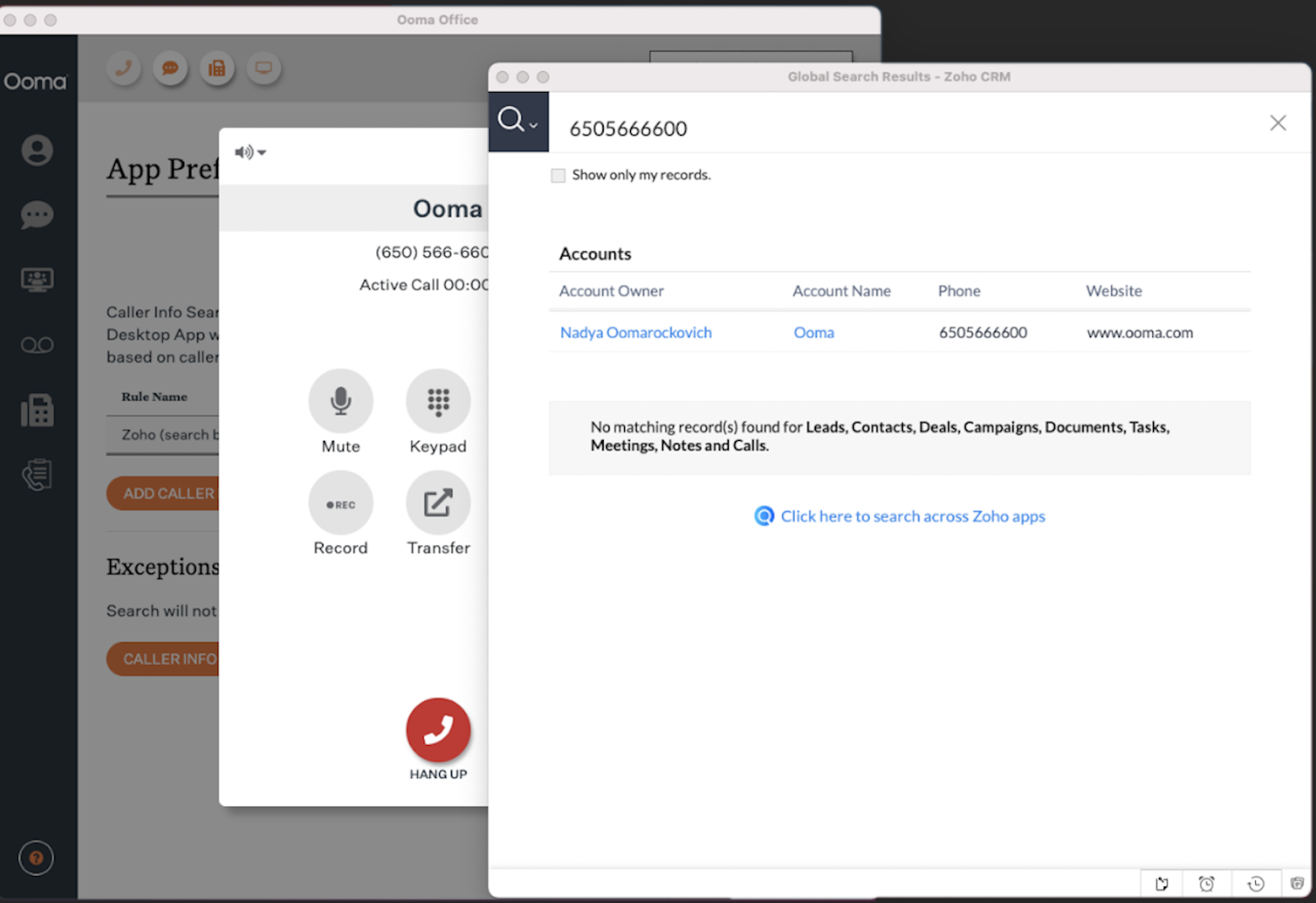 All Ooma plans include a DID number for each user and a toll-free number. Ooma also offers virtual phone numbers in area codes throughout the United States, or the option to easily port in your pre-existing phone numbers.
International Calling Rates to Popular Destinations:
China: $0.025/minute
United Kingdom (UK): $0.028/minute
Australia: $0.038/minute
India: $0.029/minute
Spain: $0.022/minute
Ooma's hosted PBX system supports queuing and routing, with grouped call queueing, a customizable auto attendant, ring groups to distinguish departments, and advanced call management.
The agent dashboard allows users to manage multiple calls at once, jumping between channels as needed. Send texts to customers while on call, or initiate video. New-activity pings keep agents informed about call log, voicemail, and messaging to-do items. While on call, agents have access to a variety of call-control features: transfer, on-demand recording, caller ID, call parking, call forwarding, call blocking, and the ability to flip calls between devices.
Ooma Voicemail, Routing, and Queuing Features:
Call queueing: Organize and group agents into call queues, which automatically place callers in an organized hold queue when agents are busy. Administrators have a live view in the queue dashboard, which displays the number of queued calls, wait times, and agent availability.
Virtual receptionist: Build a multi-level self-service IVR menu that routes customers to agents, extensions, voicemails, submenus, or announcements. Customize your IVR according to business hours.
Ring groups: Group agents together for shared call responsibility, with a simultaneous or custom sequential ring. Choose ring duration and what happens to the call if no agent answers in time.
Virtual voicemail: A visual voicemail log, with voicemail transcription on the Office Pro plan and up. Automatically forward voicemail audio files to email.
Nextiva Messaging
NextivaONE supports collaborative team chat at multiple levels: 1:1, group chat, and chat rooms with file management and task management.
Create unlimited chat-messaging channels, both in a 1:1 and group messaging format. A user's conversations are organized in their Messaging menu, with notifications when tagged or directly addressed. Add teammates, customers, leads, and partners to messaging groups by email–sharing everything from voicemails, to contact profiles, to file attachments, to emojis.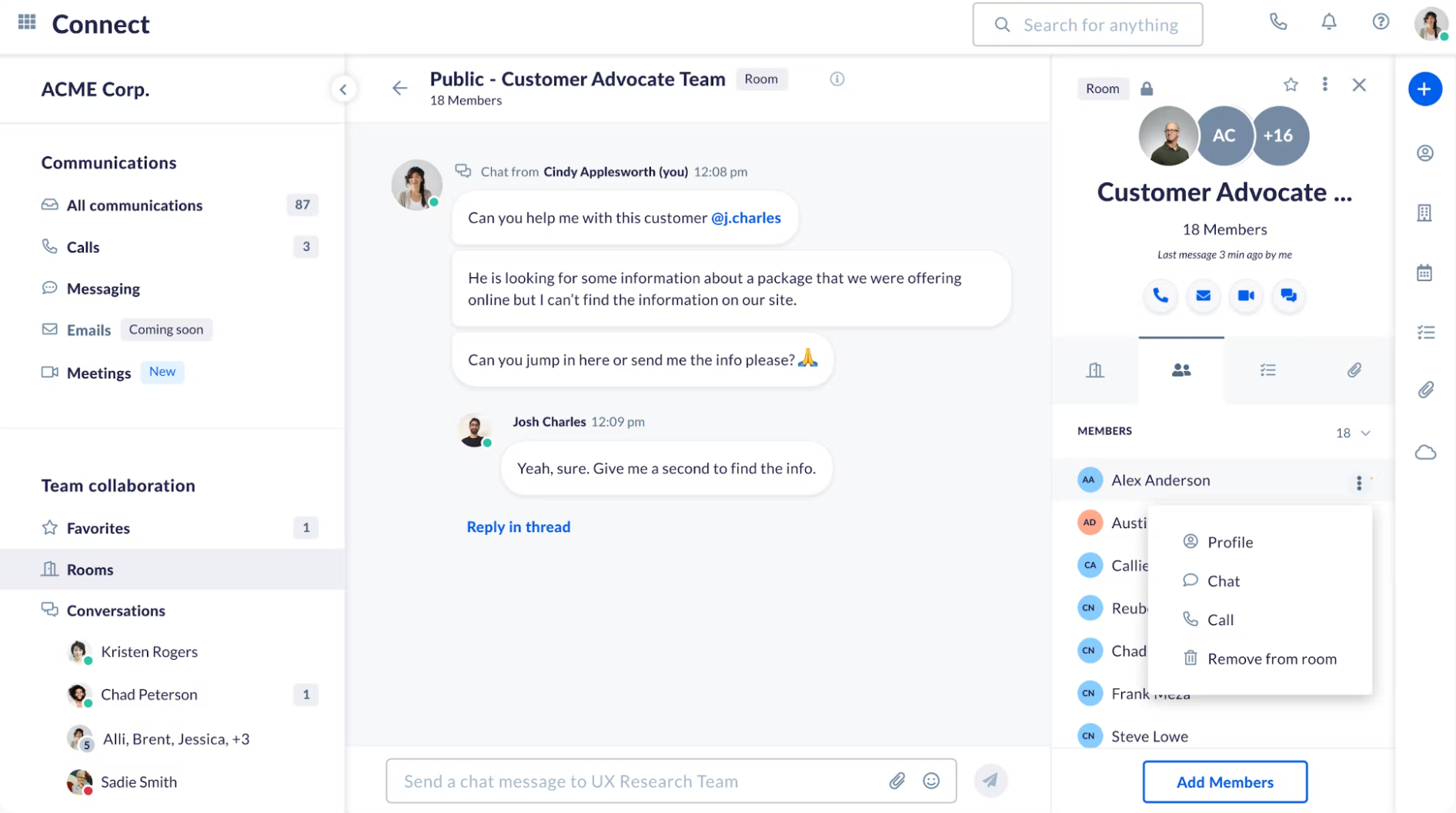 While Nextiva plans include unlimited team chat, they only support three dynamic collaboration rooms, called Cospaces. Cospaces work great for large intracompany groups, such as departments or the whole staff.
Nextiva rooms include advanced collaboration features:
Threads: Create smaller conversation threads that branch off from the main conversation, creating subtopics
Video and call buttons: Ongoing meeting and voice rooms, where users can hop in anytime for impromptu huddles
File, recording, and link storage: Any files or recordings shared in a room are automatically organized in a right-hand menu, where agents can search and access them later
Customer Communication Log
Clicking on a contact's name opens up the multichannel communication history–a scrollable inbox logging that customer's calls, messages, voicemails, and queue history–all with one-click interaction buttons.
Screen right displays the customer's profile with contact information, details, any notes left by teammates, and buttons to contact that customer via phone, message, and video.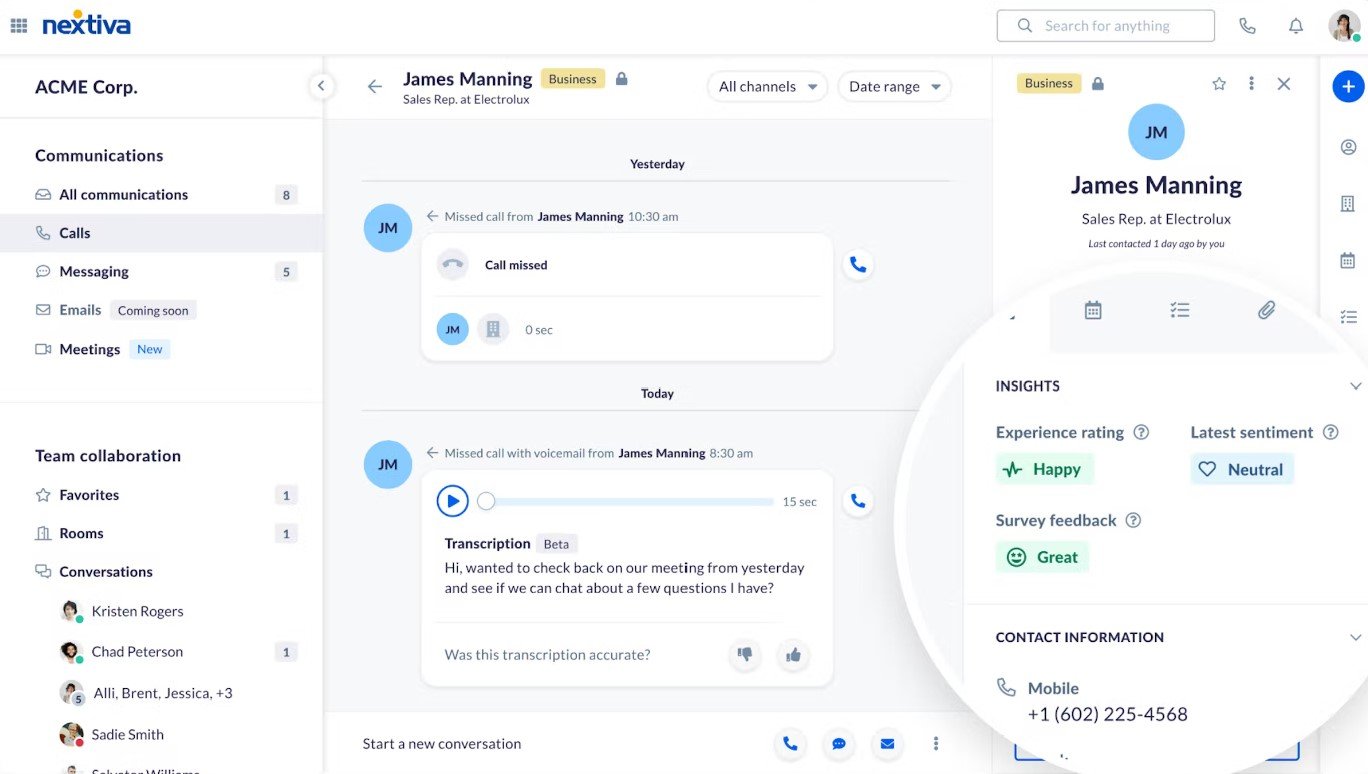 Ooma Messaging
While the Ooma Office app does not support internal team messaging, it does allow users to easily send and receive SMS texts in the Messages tab, accessible on desktop, browser, and mobile.
The interface organizes all of a user's messaging conversation histories in a scrollable menu, with ping notifications flagging all new activity. A user can send a new message by clicking on a conversation log, typing in a contact's name, or entering a phone number. Texting applies to any US- or Canada-based number.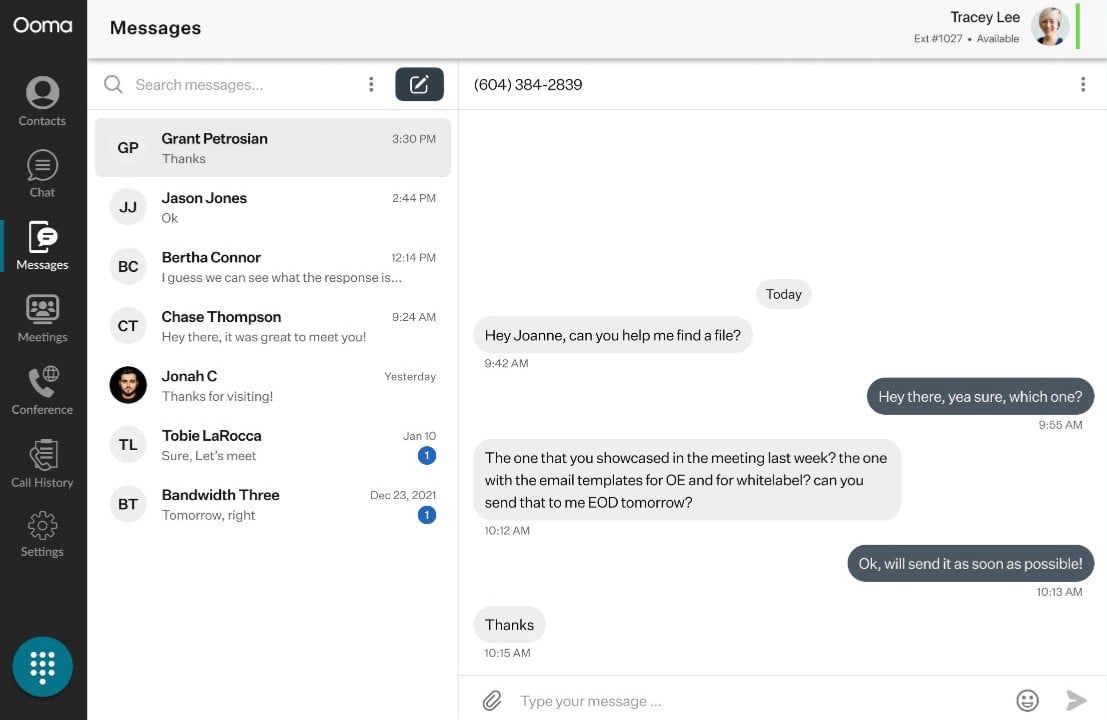 Users can text from multiple phone numbers from one interface, and call groups can share texting responsibilities and conversation logs.
Nextiva Video Conferencing
Nextiva video conferencing comes with every plan: the Essentials plan supports 1:1 meetings, the Professional plan supports up to 40 participants, and the Enterprise plan supports 250 participants.
Video conferencing is accessible via browser or mobile, requiring no download.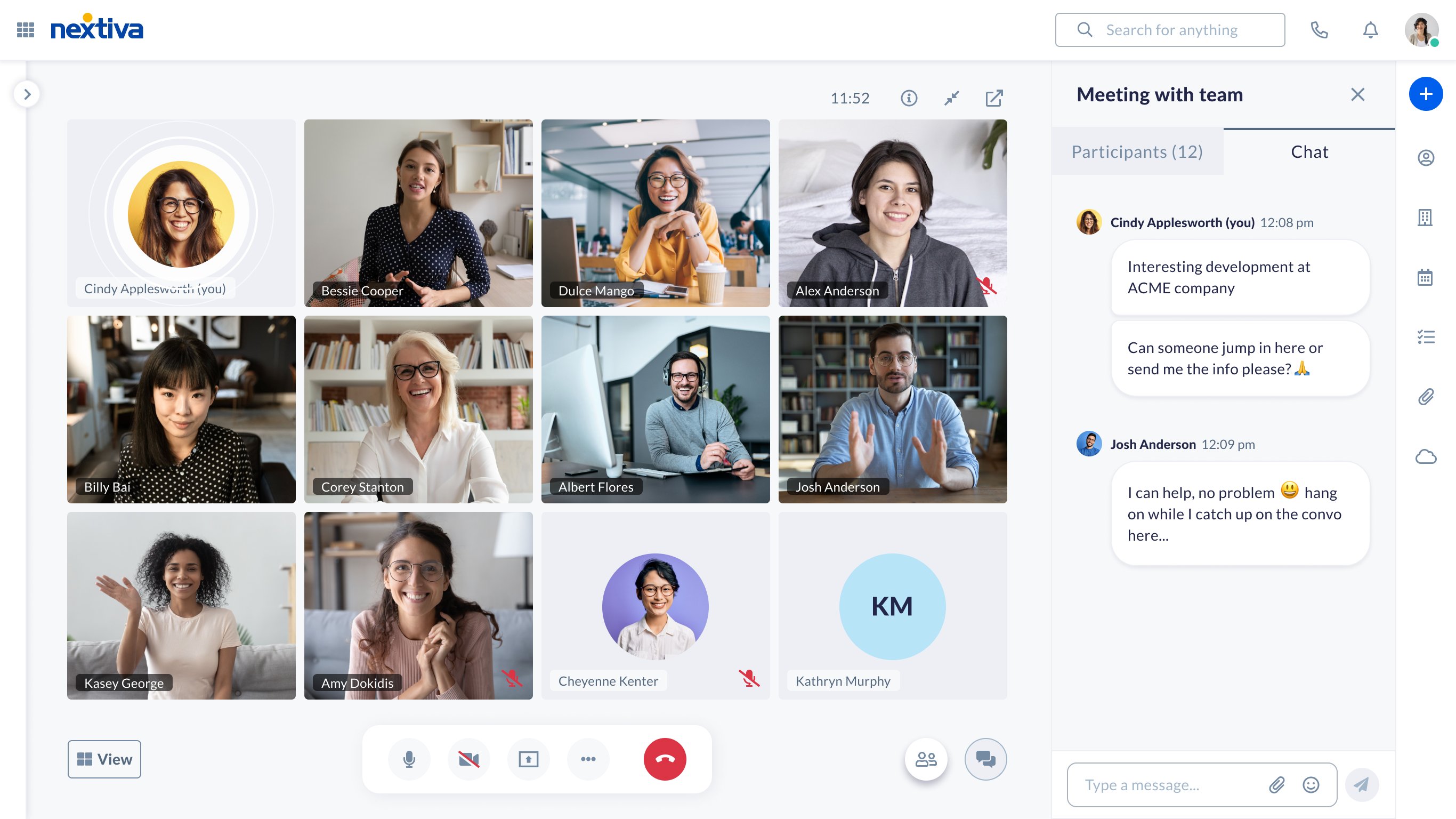 Create and schedule HD video meetings directly within NextivaONE's Meetings tab–customizing settings, inviting participants, and sharing links via email, SMS, or chat. Nextiva integrates with calendar apps like Google and Microsoft Outlook for calendar scheduling and synchronization right within the app. Jump from a chat conversation into a video meeting with anyone–including customers–using the conversation's built-in video meetings button.
Nextiva Video Conferencing Collaboration Features:
Chat: An ongoing team chat during the live meeting
Screen sharing: Team members can share their screens for presentations or ideation
Streaming: Stream videos live to YouTube, for webinars or demonstrations
Ooma Video Conferencing
Ooma video conferencing, accessible via the desktop app or web browser, supports collaborative video meetings with 25 participants in Office Pro and 100 participants in Office Pro Plus. Invite teammates or customers, who can join Ooma meetings via browser with no download required–even if they don't have Ooma themselves.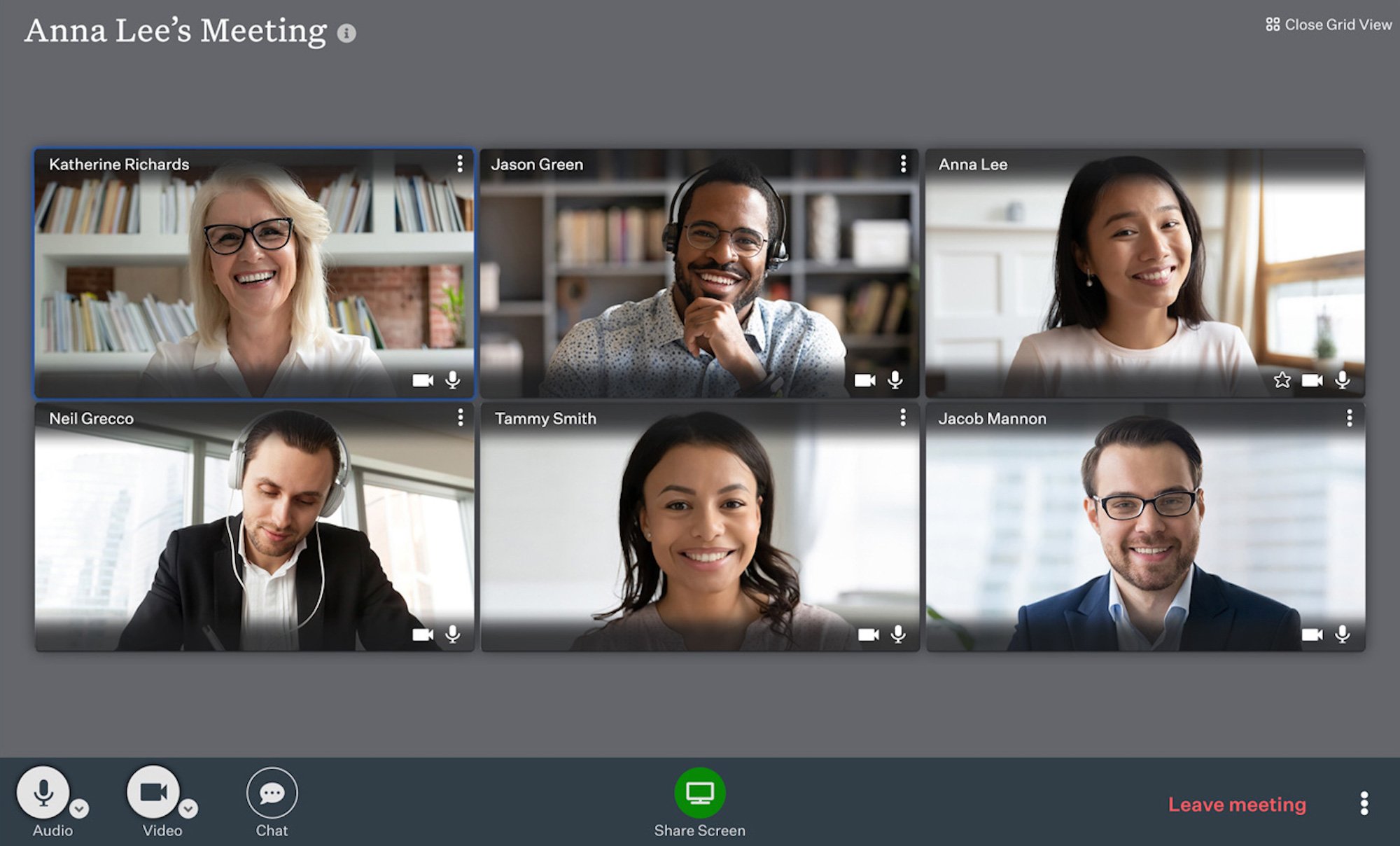 Any Ooma user can create, schedule, join, or manage video meetings in the app's Meetings tab. The tab displays one-click buttons to Schedule Meeting, Join Meeting, or Meet Now for impromptu drop-in meetings at any time. This tab displays all of a user's upcoming and scheduled meetings, including those meetings on a recurring schedule.
Create meetings, invite users, schedule meetings, and synchronize meetings via the Google Workspace calendar integration.
Ooma Video Conferencing Collaboration Features:
Screen sharing: Multiple users can share their screens at once
Chat: A running participant chat during meetings
Password protection: Choose to require that users enter a password to join your meeting
Host controls: Record meeting or mute participants
Meet now: Join ad hoc meetings at anytime
Nextiva Reporting, Analytics, and Automations
Nextiva's regular plans include just call logs with basic information: call participants, date and time, duration, and recording.
The Nextiva Analytics add-on provides a diverse suite of dashboards and reports, offering historical and real-time views of call center metrics and KPIs. Reports cover call center activity, agent performance, customer demographic details and location, and more–viewable as bar graphs, line graphs, charts, and statistics.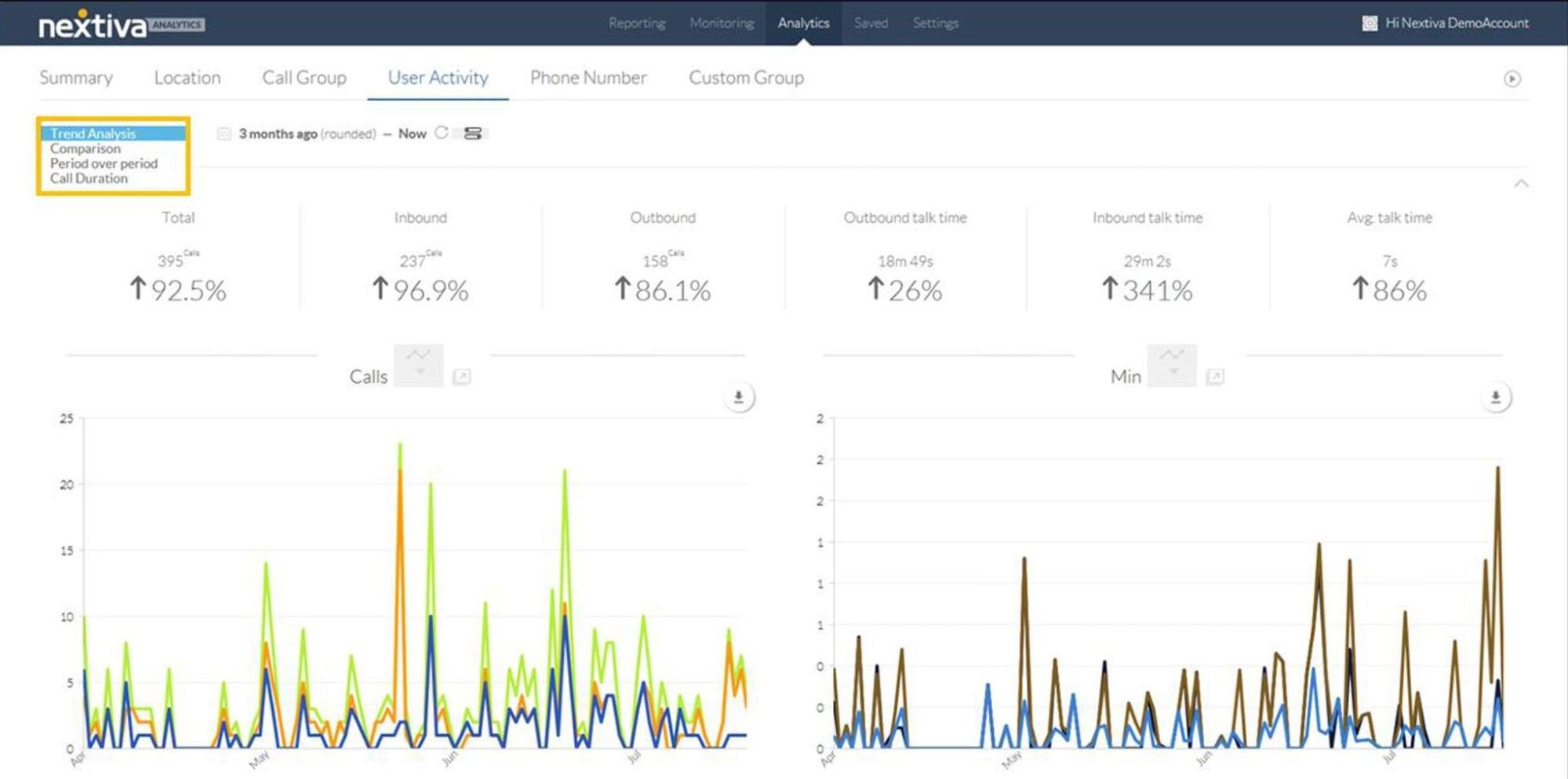 Nextiva Analytics Reports and Features:
Interactive maps and graphs: Drill down into metrics like inbound call location distribution, and the distribution of call types over a timeframe. Hover over the visual to sort and zoom into statistics.
Call summary reports: View agent multichannel activity including call volume, call types, number and percentage answered, and more
Call recordings: Access call recordings within call reports, with the supervisor's ability to leave notes and give calls a rate
Wallboards: Create custom colorized wallboards with the real-time metrics you want to focus on, tracking metrics for particular users or departments
Custom dashboards: Create graphs and visuals for the metrics you want to compare, even placing them side by side. Compare agents, locations, or time periods.
Ooma Reporting and Analytics
The Ooma app features agent call logs, and supervisor call analytics. Call logs display basic call information–participants, date and time, duration–that users can share or download as a CSV.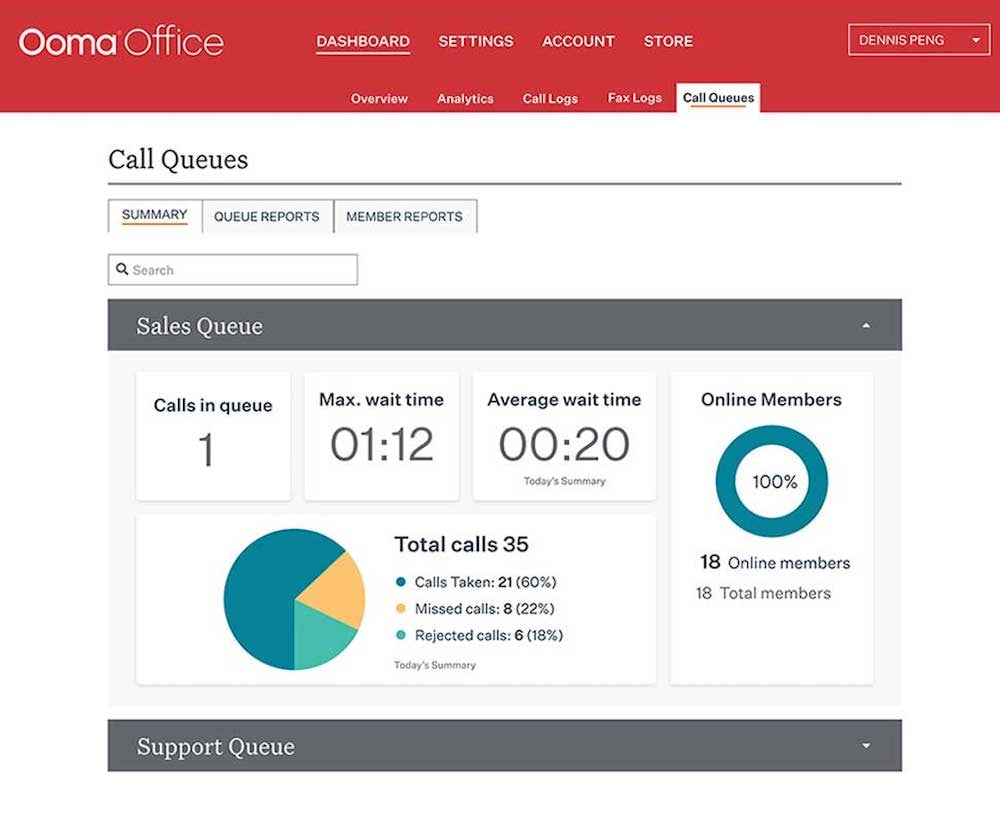 Ooma advanced call analytics–included with the Office Pro and Pro Plus plans–include reports, metrics, and KPIs that track calling trends, user productivity, and staffing demands. The data below are sortable over custom historical timeframes.
Ooma Analytics and Metrics:
Call volume: Daily call volume summaries, filterable by date, user, and call type–inbound vs outbound, toll-free, missed
Queue reports: A live view of queue activity, including active agents, calls in queue, and wait time
Weekly and daily call metrics: Major call metrics, broken down by 3-hour daily intervals or day of the week
Call distribution: A heatmap displaying call activity by time of day, spread throughout the week
Nextiva Pros & Cons
| | |
| --- | --- |
| Nextiva Pros | Nextiva Cons |
| All plans include voice, chat, and video | Essentials plan only has 1:1 video meetings |
| Team chat rooms offer advanced collaboration features | Analytics only available as an add-on |
| Plans include a free local and toll-free number | No international phone numbers |
Ooma Pros & Cons
| | |
| --- | --- |
| Ooma Pros | Ooma Cons |
| Includes call queuing | No team chat |
| Unlimited calling area includes Mexico | Video meetings lack some advanced features, like whiteboards |
| Built-in meeting scheduling | No video or text on basic plan |
Which Phone System Should You Choose?
You should choose the small business phone service that fits your business needs: your collaboration demands, frequent calling area, call volume, and your budget.
For team chat and collaboration, Nextiva offers a superior phone system–especially with its Rooms feature and large-capacity video meetings. For call queues and unlimited calling to Mexico–as well as international calls to China and India–Ooma's VoIP solution makes a great fit.