Google Voice provides cloud-based VoIP calling with useful basic features and seamless integration with pre-existing Google applications.
While ideal for solopreneurs and micro-businesses, Google Voice doesn't offer the extensive features most look for in a business phone system. For example, as of this writing, Google Voice doesn't offer 1-800 numbers, shared phone lines, AI-powered analytics, or extensive integrations with third-party software.
If you're ready to move on from Google Voice, this list of the best Google Voice alternatives is the right place to start.
We'll rank our favorite alternatives to Google Voice and give you quick provider overviews with insights into features, pricing,  pros and cons, and more.
The Best Google Voice Alternatives
Here's the list of the best Google Voice alternatives:
RingCentral, a cloud-based VoIP, unified communications, and collaboration platform, offers much more than a virtual phone system.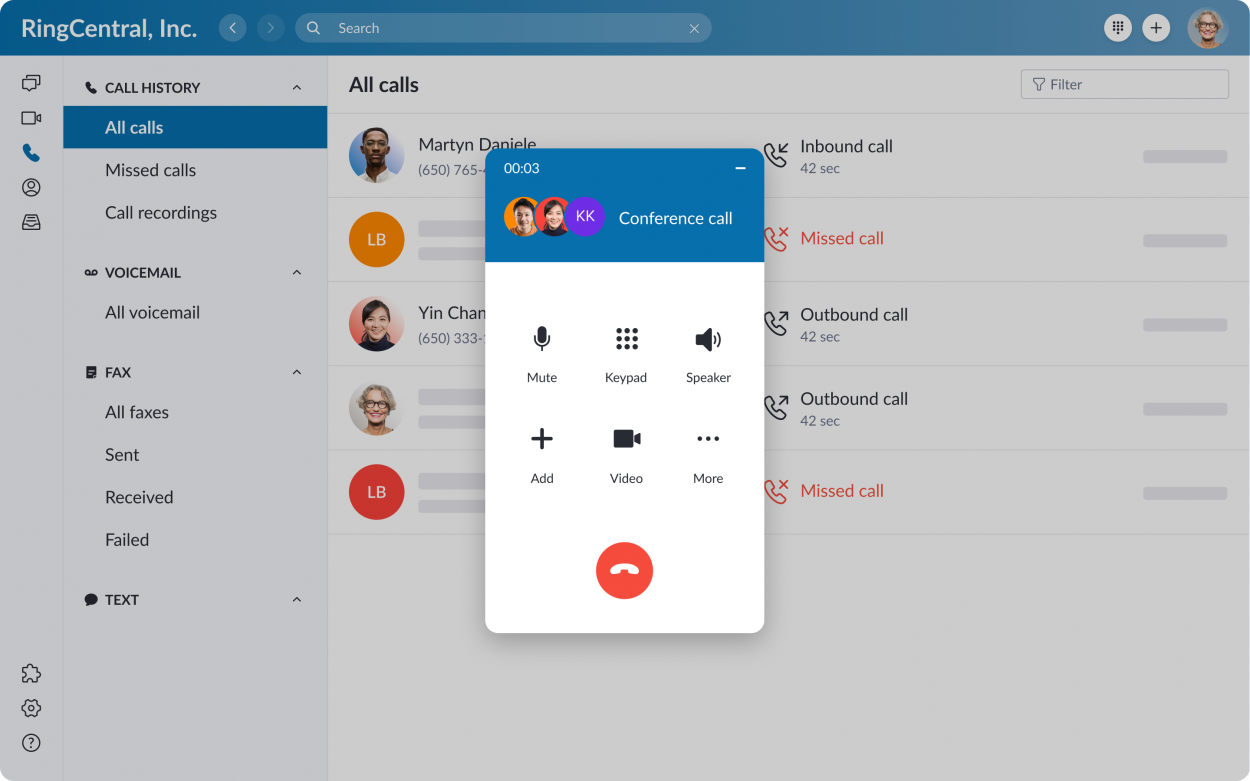 RingCentral's MVP (message, video, and phone) pricing plans offer three modes of communication, each with its own features and internal collaboration options, like internal 1:1 and group SMS messaging, whiteboard during video meetings, and multi-level IVR.
RingCentral's simple and intuitive dashboard helps agents manage all three modes.
Key Features
Team Messaging: More than just a team chat app, RingCentral team messaging places internal and external messaging in one place. It includes options for private 1:1 messaging, or team messaging that includes customers, allowing participants to pin important messages and exchange documents.
Flexible Phone System: With HD voice across devices, RingCentral's cloud phone system offers international, local, vanity, and toll-free numbers in over 200 area codes, which multiple users can share.
Advanced Call Routing: Users can create a multi-level IVR system, use automatic call distribution, and take advantage of advanced call routing based on agent skill and priority. Ring group members simultaneously, round-robin style, in a fixed order, or on a set time schedule.
Video: Host video conferences with up to 200 participants for up to 24 hours, on both mobile and desktop. Participants can share screens and use virtual whiteboards with options for text and preconfigured shapes, which can be saved and shared. Hosts can schedule routine meetings and control participant options.
Additional Features
Call forwarding and screening
Automatic call recording
Team collaboration supports note-taking
Analytics
Chat during video calls
Virtual faxing
RingCentral MVP Pricing & Plans
Core
Advanced
Ultra
Price
$20/month per user
$25/month per user
$35/month per user
Integrations
Office 365, Google Workspace, Slack,

and more

CRM integrations like Salesforce, Zendesk, and more
Same as Advanced
Video Conferencing
100 participants
100 participants
200 participants
Learn more about
RingCentral Pricing & Plans
User Experience
Below, see what users like and dislike about RingCentral's MVP plans.
| | |
| --- | --- |
| What Users Like | What Users Dislike |
| Dashboard with unified communication channels: voice, text, video, fax | Customer service difficult to reach |
| Easy to use and set up | Poor troubleshooting when problems arise |
| Quick flipping from desktop to iPhone or Android | Some configuration options not user-friendly |
| Simple and intuitive interface | Unable to add agents to a conversation |
| Easy to share contacts and numbers among team members | Complicated to port existing numbers from landline |
| One-click scheduling in Calendar | Mobile app lacks many desirable features |
What Makes RingCentral a Better Google Voice Alternative?
RingCentral offers communication channels and collaboration features that Google Voice does not. Unlike Google Voice, RingCentral offers shared phone numbers for agents and toll-free vanity numbers.
With RingCentral, agents can use high-quality video conferencing packed with features like participant polling, screen sharing, remote screen control, and in-meeting file sharing to facilitate engaging team meetings.
Nextiva, a business phone system provider that goes beyond phone numbers and unlimited calling, offers a do-it-all option that helps teams prioritize team collaboration and customer relationship management at an affordable cost.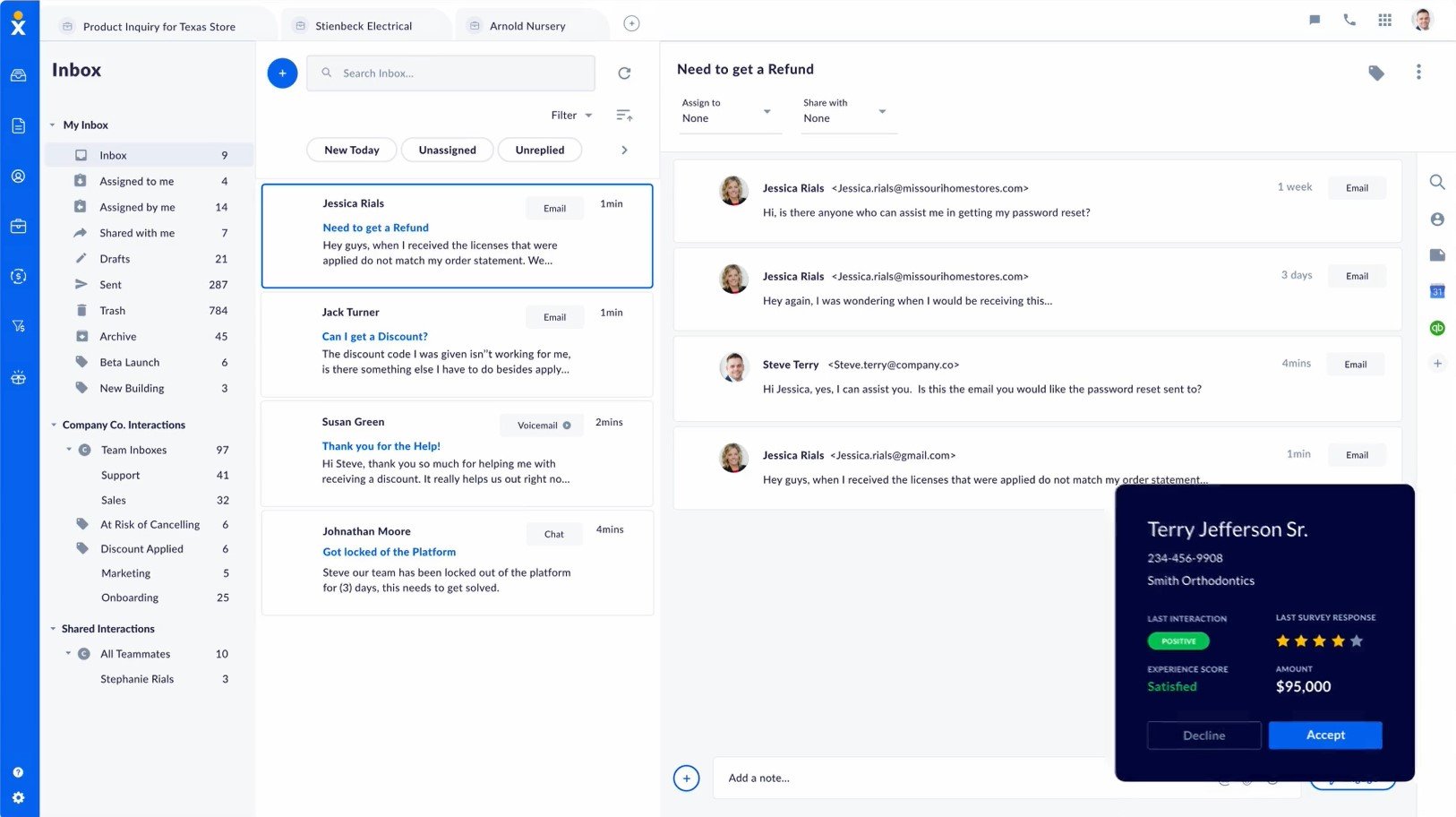 Their three business communication plans pull together a variety of unified channels–email, live chat, video conferencing, and SMS texting–along with agent-facing features like an interactive dashboard, CRM, analytics, and workflows.
Key Features
Easy-to-Use Calling Tools: During a call, Nextiva places a variety of one-click tools at an agent's fingertips: call forwarding, screening, routing, recording, and conference calling.
Video Calling and Conferencing: Nextiva's Enterprise and Professional business phone plans enable video conferencing with up to 250 participants for webinars, online events, staff collaboration, and scheduled video meetings.
Intuitive Dashboard: With Nextiva's dashboard, agents can monitor all tickets–email, voicemail, live chat, and SMS text–with a singular, unified inbox sorted by ticket assignment status and ticket categorizations like New Today, Unassigned, and Unreplied.
Nextiva CRM and Call Pop: Nextiva's business phone plans come with Nextiva CRM, which provides omnichannel customer support, sales support, case routing, and workflow automation. Customer information updates populate on all channels and pop up immediately on an agent's screen upon customer outreach.
AI, Automation, and IVR: During customer interactions, natural language technology AI generates customer experience scores. Customer cases are automatically routed based on priority and agent workload, and Nextiva allows users to create an IVR call flow with multiple levels of submenus.
Additional Features
Local, international, and toll-free numbers
Unlimited VoIP calls in USA, Canada, and Puerto Rico
Cospace collaboration workspace
Analytics
Easy ticket reassignment
Live chat and chatbots
Video conference recording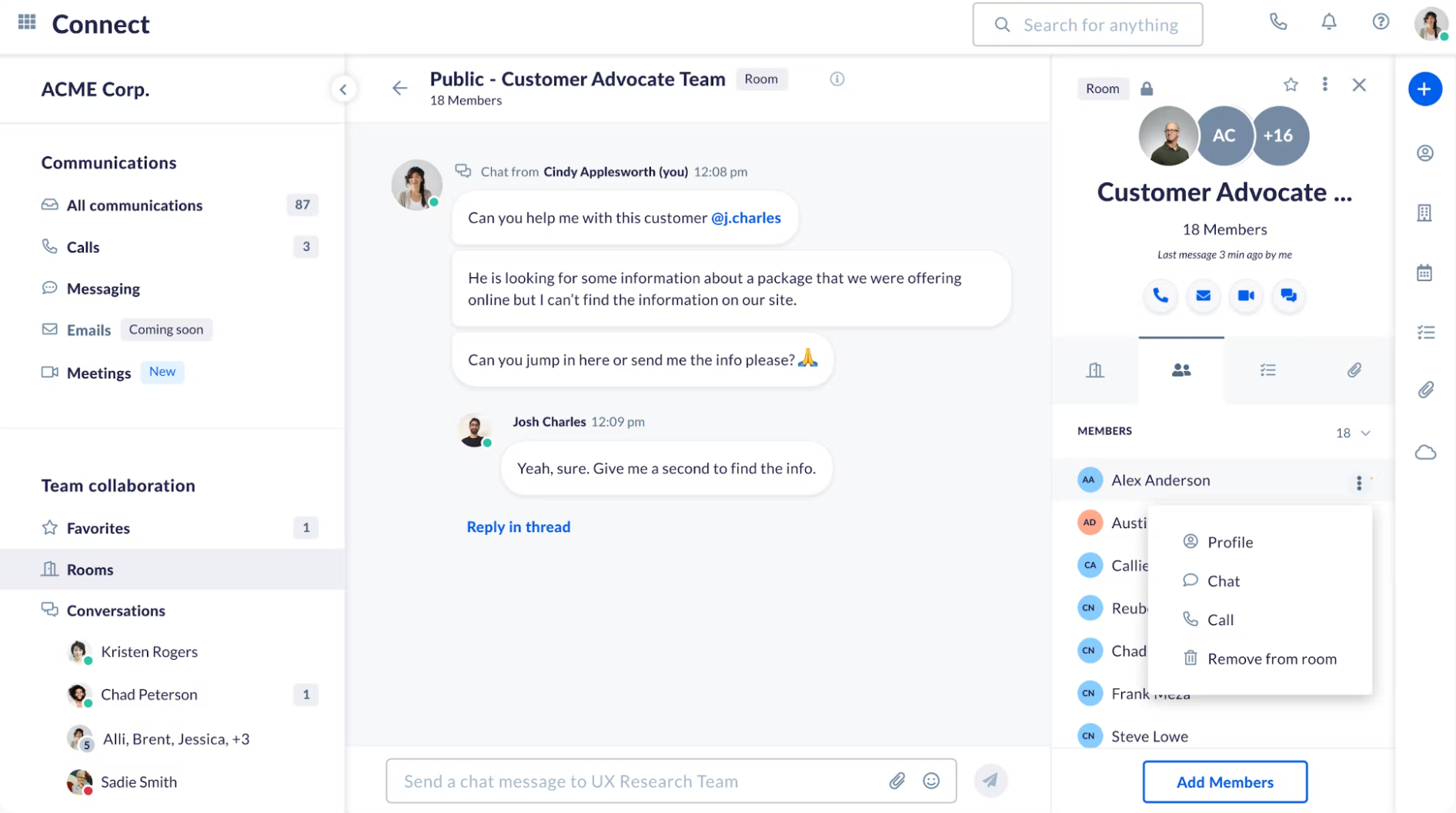 Nextiva Pricing & Plans
| | | | |
| --- | --- | --- | --- |
| | Essential | Professional | Enterprise |
| Price | $18.95/month per user | $22.95/month per user | $32.95/month per user |
| Integrations | Outlook and Google Contacts | Salesforce, HubSpot, and Zendesk | Microsoft Teams, Oracle Sales Cloud, and ServiceNow |
| Video Conferencing | 1-on-1 | 250 participants | Unlimited participants |
Learn more about
Nextiva Pricing & Plans
User Experience
Here's what people like and dislike about Nextiva's business phone plans.
| | |
| --- | --- |
| What Users Like | What Users Dislike |
| Superior customer service compared to other VoIP business phone systems | Lengthy onboarding and training process |
| Ease of use and intuitive NextOS interface | High cancellation fee |
| Robust mobile app | Lengthy, problematic contracts |
| Reduces the number of communication/collaboration tools needed | Few integrations with other business tools/software |
| Excellent audio call quality | The high cost of premium features |
| Software training for Nextiva customers | Recordings deleted after 30 days |
What Makes Nextiva a Better Google Voice Alternative?
Nextiva is one of the best Google Voice alternative solutions because offers multiple advanced telephony features–CRM, analytics, video conferencing, AI, and automation–which make their business phone system a collaboration and customer-outreach powerhouse.
Nextiva's pricing model makes it the prime candidate for companies and startups who want a cost-effective way to scale up. The Professional plan includes 3,000 toll-free minutes and 250-participant video conferences–all for only $23/month.
Grasshopper, a business phone service for both in-house and remote teams, offers calling plans without many extra bells and whistles.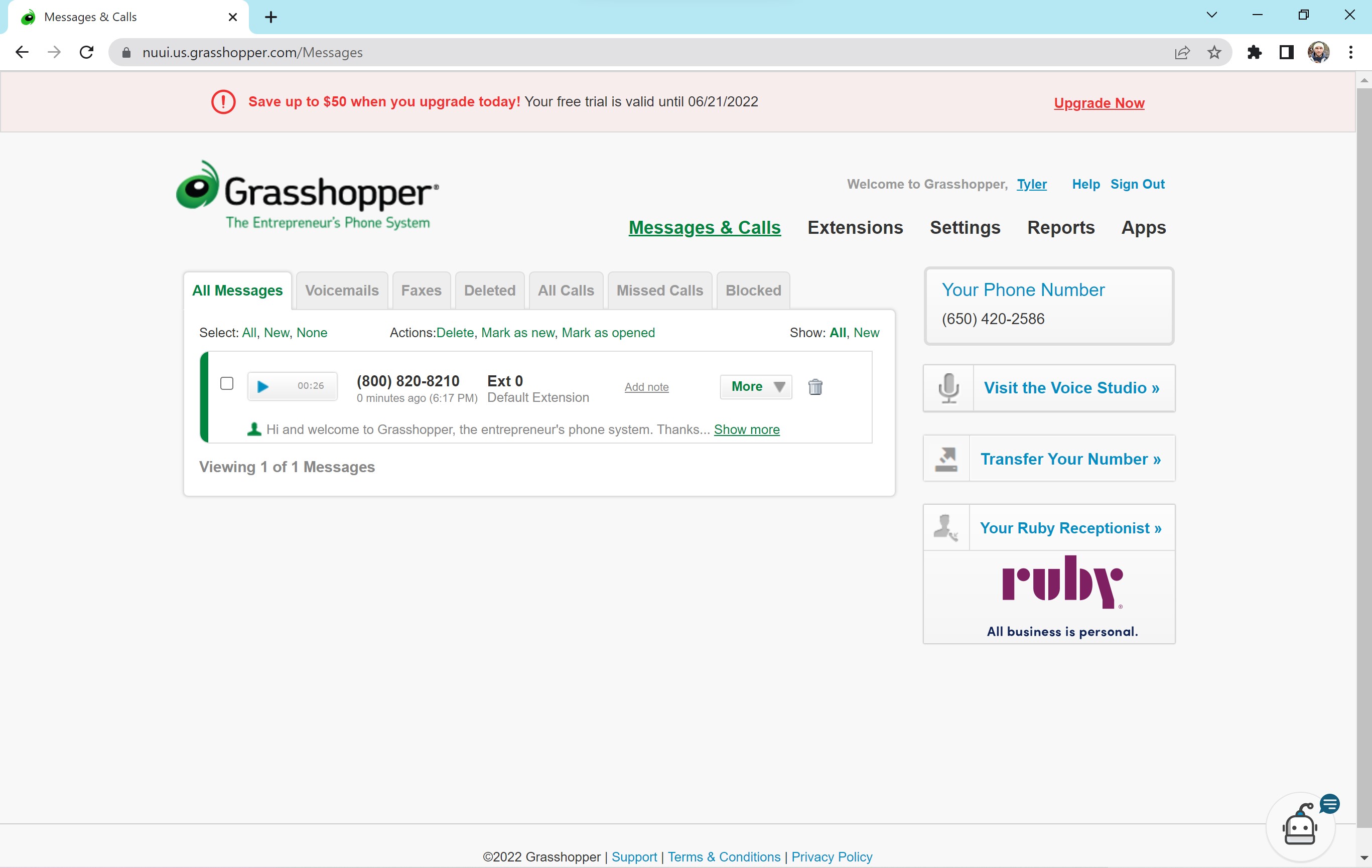 Grasshopper provides three types of business phone numbers, each capable of sharing multiple extensions. In fact, Grasshopper's Small Business plan offers unlimited extensions for 5 numbers, which can support a whole company–making it one of the most affordable options for companies planning to use many extensions.
For companies looking to establish a professional presence with standard features–texting, IVR, and shared numbers–for an affordable monthly rate, Grasshopper is one of the best options.
Grasshopper Features
Custom Phone Numbers: Grasshopper offers toll-free, vanity, and local phone numbers allowing users to include a word or phrase in their business phone number (like 1-800-BATTERY). Users can also port numbers from a previous provider.
Virtual Receptionist (IVR): Create a self-service voice menu that provides incoming callers with routing options. With Grasshopper's Ruby receptionist, users can link numbers to a live receptionist who can answer questions, schedule appointments, and resolve payment issues, even after regular business hours.
Business Texting: Send and receive text messages, internally and externally, on mobile or desktop. While grasshopper charges for customer texting, agents and colleagues using the same grasshopper plan can text for free.
Voicemail Transcription: Visual voicemail transcribes voicemails into text, emailing users the text transcript and audio file through email, text, or Grasshopper app.
Automated Greetings: In addition to self-recording an IVR, Grasshopper users can use crystal-clear, professional-sounding recordings from Grasshopper's voice studio–great for main greetings, away messages, voice mailboxes, and welcome/confirmation messages.
Additional Features
Grasshopper 24/7 support
Mobile apps
Call and SMS records stored on Grasshopper app
Call transfer and forwarding
Anonymous call blocking
Automatic SMS response to unanswered phone calls
Simultaneous call handling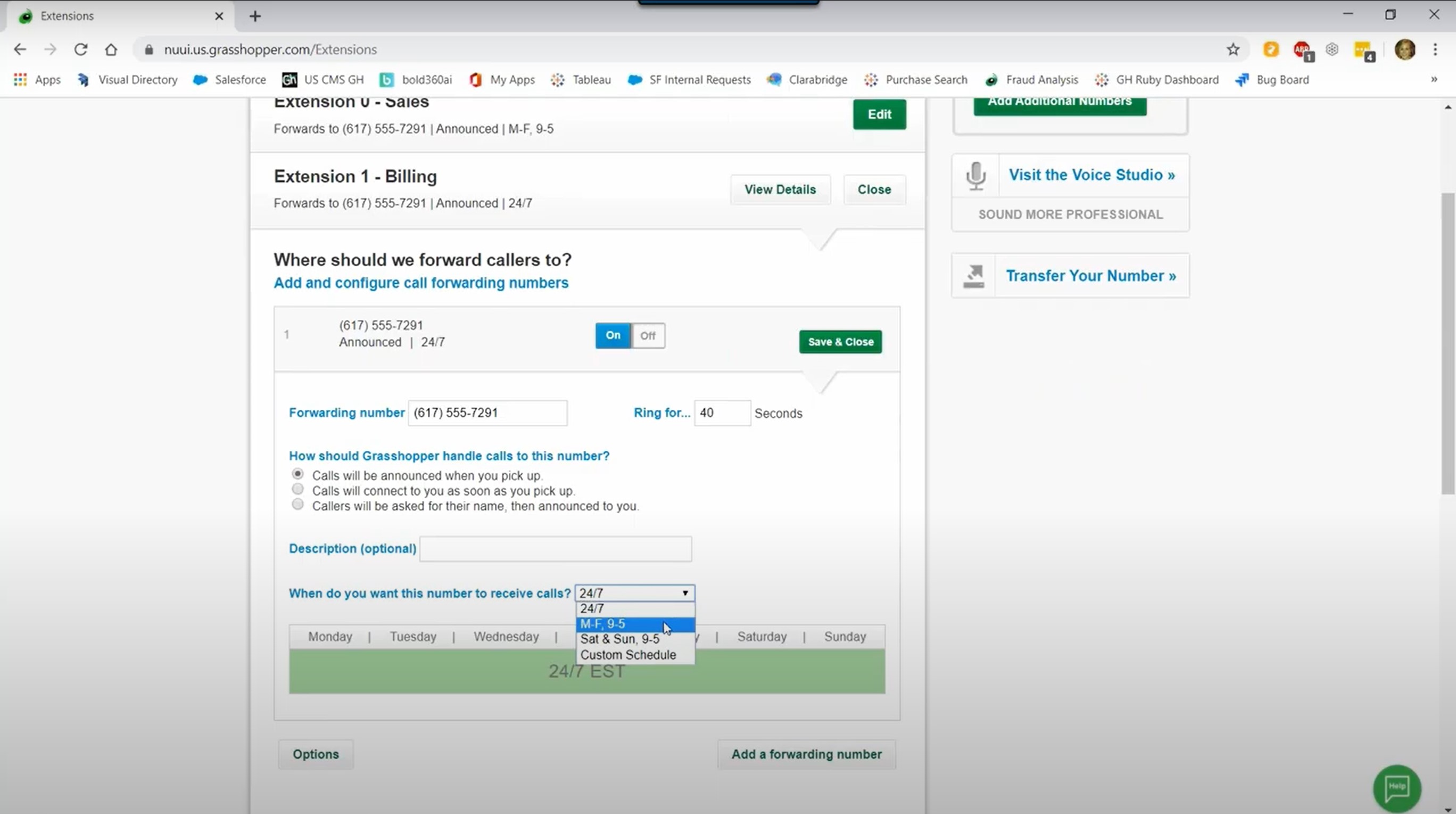 Grasshopper Pricing & Plans
| | | | |
| --- | --- | --- | --- |
| | Solo | Partner | Small Business |
| Price | $28/month for one number with 3 extensions | $46/month for 3 numbers with 6 extensions | $80/month for 5 numbers with unlimited extensions |
| Integrations | Skype and Google Voice | Skype and Google Voice | Skype and Google Voice |
| Video Conferencing | None | None | None |
User Experience
See what users like and dislike about Grasshopper's virtual phone plans.
| | |
| --- | --- |
| What Users Like | What Users Dislike |
| Affordable price, with the small business plan coming out to less than $12 monthly per user | Few integrations |
| Separate storage of phone calls and texts on mobile devices | No video conferencing |
| Ruby 24/7 virtual receptionist | Does not offer queuing or ring groups |
| Simple interface | Difficult to configure ring time |
| Can import contacts | Call display doesn't always show incoming caller ID |
| Can read voicemail transcriptions on phone or desktop | Auto-attendant sometimes misunderstands customer speech and misroutes |
What Makes Grasshopper a Better Google Voice Alternative?
While Google Voice offers slightly cheaper costs per number than Grasshopper, Grasshopper allows for number sharing via multiple extensions per number.
Grasshopper has long focused on offering simplicity, affordability, and reliability instead of implementing extra features. It lacks the bells and whistles that most of its competitors add, but it's a great option if you're looking for a calling solution and a business number.
Dialpad makes a great Google Voice alternative fit for small businesses or those looking for some advanced features at a budget price.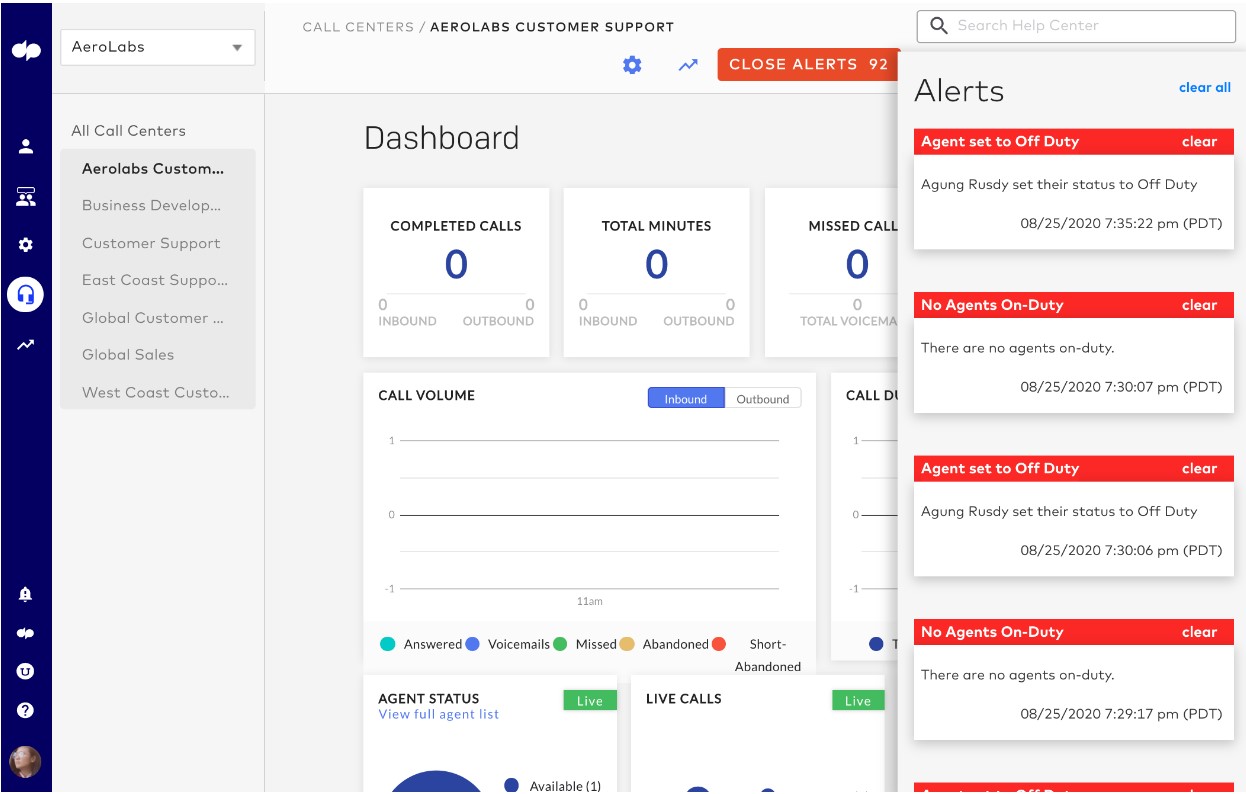 With a real-time updated dashboard displaying a user's relevant internal and external information, texting capabilities, and 10-participant video conferencing, DialPad's virtual phone system goes above and beyond standard VoIP features while maintaining competitive prices.
Dialpad Features
Video Conferencing: Unlimited HD-video meetings with up to 10 participants for up to 5 hours. Videos include screen sharing on desktop or mobile, personal meeting IDs, in-meeting chat, a waiting room, and whiteboarding.
SMS Messaging: Message in 1:1 format or group chats, sending texts, photos, or videos externally or internally.
Call Transcriptions: Dialpad Voice Intelligence (VI) records and transcribes each call, capturing highlighted moments (action items and questions) and emailing to agents, along with the audio recording and comment sidebar.
Access Past Conversations: Every call summary transcript, text, chat, and contact is stored in real-time and accessible forever, searchable by keyword or contact name.
Unified Platform: The DialPad dashboard lets agents make one-click calls and access contacts, inboxes, to-do items, and company departments. When a call pops up, the screen displays in-call routing options, customer information, interaction history, recent emails, relevant events, and related documents.
Additional Features
Call recording
Easy switching between devices
Multi-level auto-attendant
Custom routing
Automatic spam detection
Number Porting
Many integrations
Toll-free numbers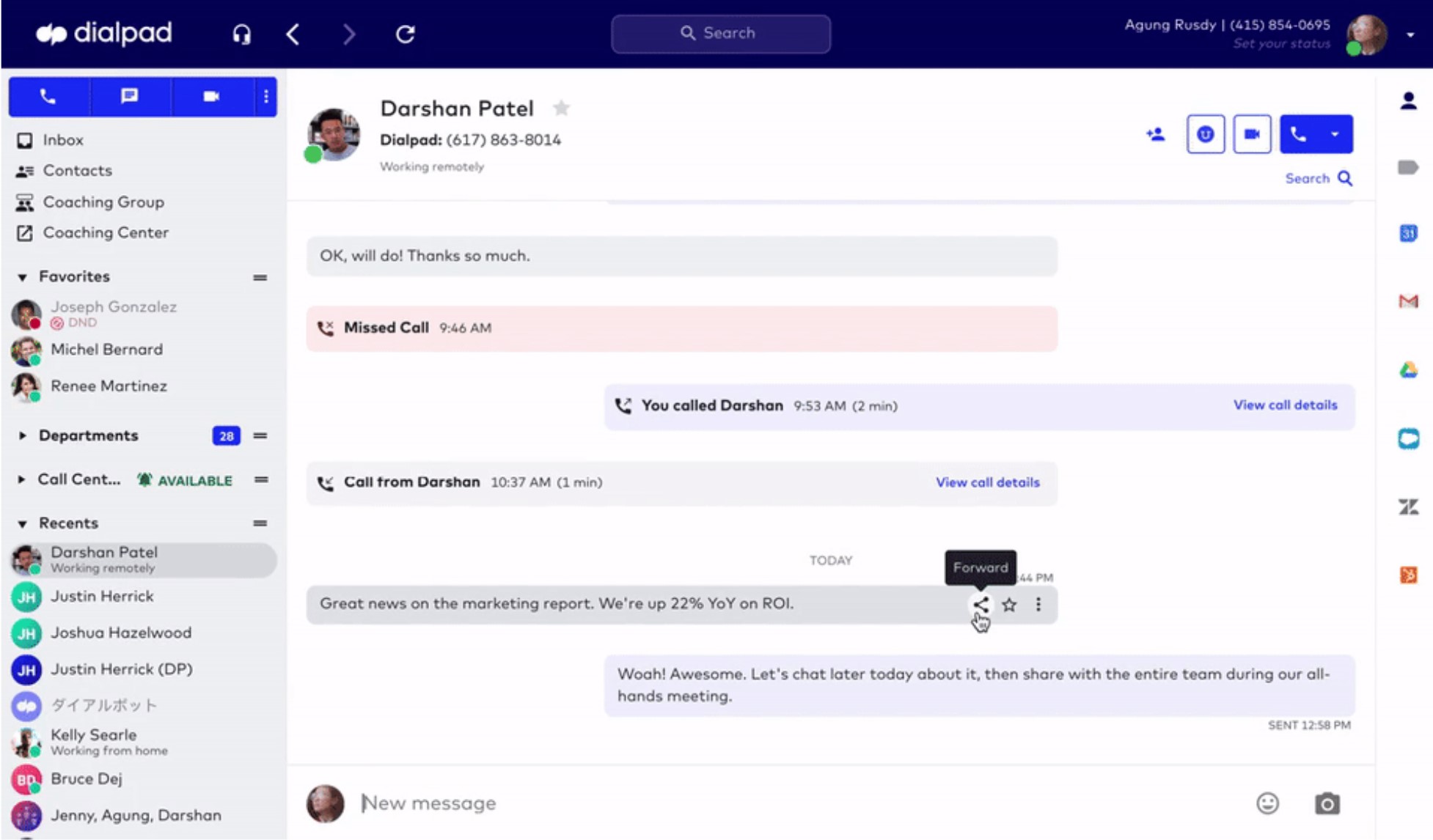 Dialpad Pricing & Plans
| | | | |
| --- | --- | --- | --- |
| | Standard | Pro | Enterprise |
| Price | $15/month per user | $25/month per user | Custom |
| Integrations | ServiceNow, APIs, Outreach | Salesforce, Zendesk, Hubspot, and more | Okta, Zapier, G Suite, and more. |
| Video Conferencing | 10 participants | 10 participants | 10 participants |
User Experience
Here's what users like and dislike about Dialpad's business phone system.
| | |
| --- | --- |
| What Users Like | What Users Dislike |
| Free video conferencing | Only 10 participants per video meeting |
| Accurate voicemail transcription | Requires a strong internet or WiFi connection for optimal results |
| Useful Chrome extension | Support team doesn't always respond quickly |
| Consistent performance and call quality | No way for agents to text from the company's main line instead of their individual office line |
| Highly configurable | Can't choose between HD calling and carrier calling |
| Great support during implementation | Mobile app functionality is disappointing and can even prevent calling |
What Makes Dialpad a Better Alternative to Google Voice?
Dialpad has some unique benefits, like its Chrome extension and free video conferencing, but affordable pricing stands out, allowing small teams to access features like voicemail transcription, texting, and an auto-attendant at a low monthly cost.
While Dialpad does not offer any CRM or knowledge-base options, it integrates with many of the main providers who do, fitting into a company's larger customer-support plan. Companies willing to pay a little more for features beyond voice alone should consider Dialpad.
GoToConnect, the cloud phone system from LogMeIn's GoTo family of apps is another great alternative to Google Voice. It offers a wide variety of telephony features–number porting, routing, call filtering, internal and external messaging and audio conferencing– as well as HD video and conferencing.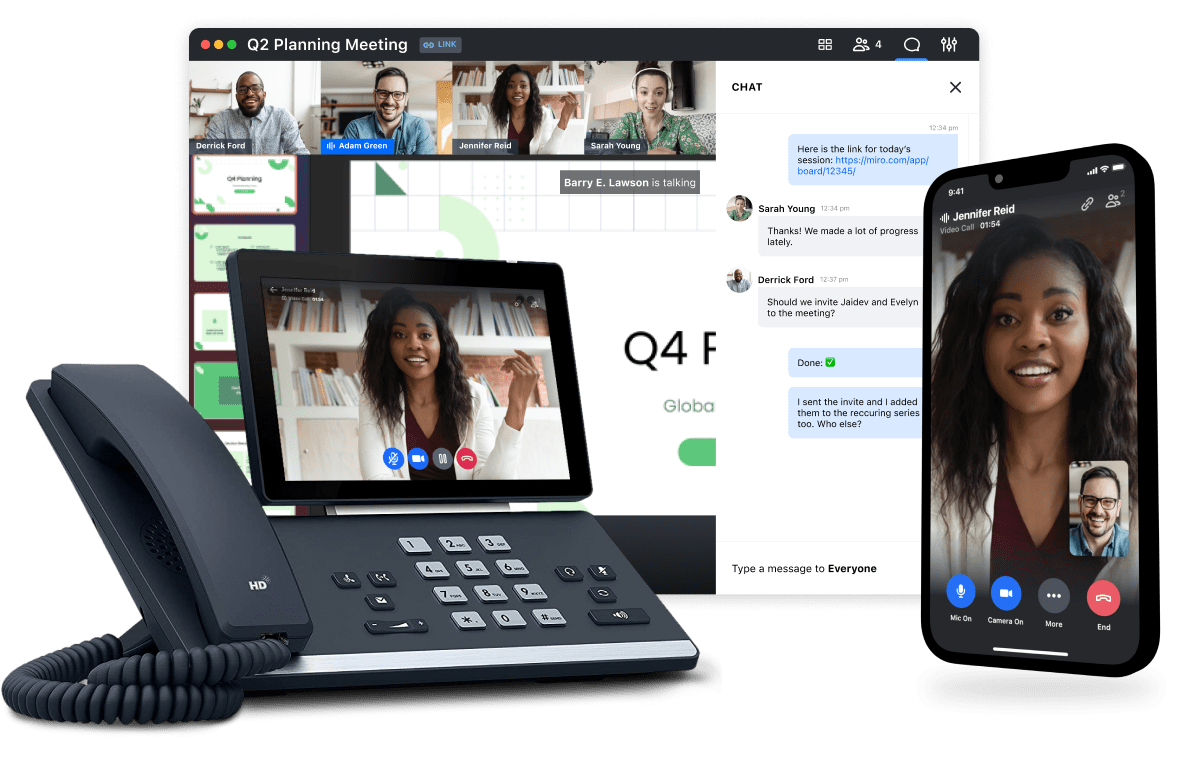 Additional features that set GoTo Connect apart from Google Voice, like call analytics, a supervisor dashboard, CRM integrations, or unlimited video conferencing meeting duration, require a Standard or Premium GoTo Connect plan.
Still, with a well-rounded suite of tools and the ability to share a number among unlimited users, GoTo Connect is a good choice for companies looking to unify calling, video conferencing, and internal team collaboration.
GoTo Connect Features
One-Click Video Conferencing: With video meetings built directly into GoTo Connect desktop applications, agents can jump directly from chat into an impromptu HD video conference with up to 250 customers or colleagues. Users can schedule routine or standalone meetings with recording and screen sharing.
Call Monitoring, Whisper, and Barge: Admin can listen in on any extension's calls without interruption, privately feed agents information during the call, and even join the conversation to assist.
Call Center Analytics and Reports: GoTo Connect desktop analytics assess all customer interactions to provide micro and macro reports and call patterns, sortable by day, week, time, length, location, agent, and issue. These analytics and key performance indicators (KPIs) come in several reports: Contact Resolution, Agent Summary, and Abandoned Calls.
Customizable Call Flows: Administrators can design call flows via a drag-and-drop interface, setting conditions and business hours, and creating routing paths between auto attendants, voicemails, and agents.
 Additional Features
Call routing, forwarding, and hold
Virtual voicemail with transcription
Auto attendants/IVR
Call filtering
Conference rooms
Virtual fax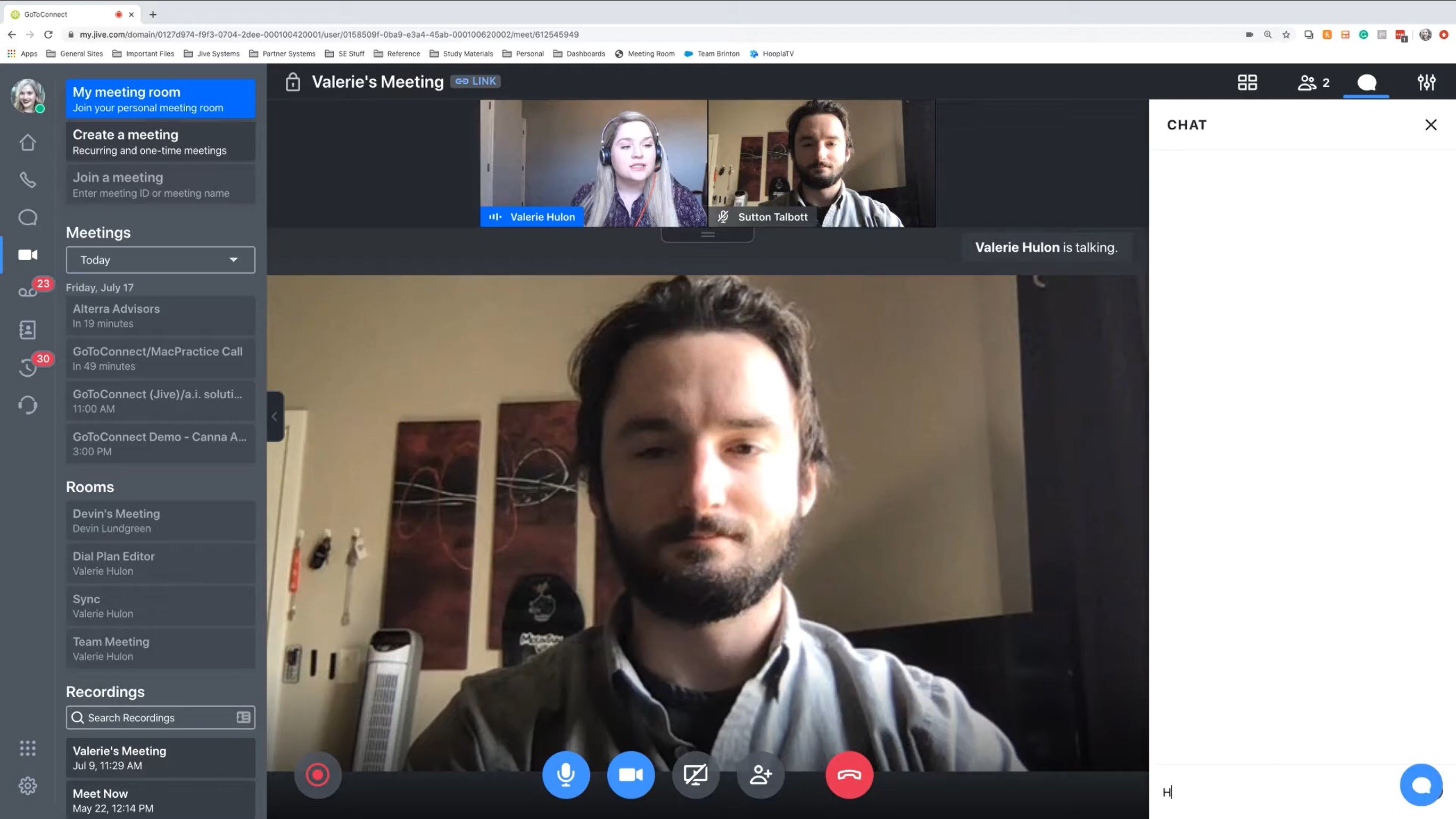 GoToConnect Pricing & Plans
| | | |
| --- | --- | --- |
| | Basic | Standard |
| Price | $24/month per user | $29/month per user |
| Integrations | Outlook and Google Workspace | Salesforce, Hubspot, and more |
| Video Conferencing | 4 participants (25 webcams) | 150 participants (50 webcams) |
User Experience
Here's what users like and dislike about GoTo Connect's cloud phone system plans.
| | |
| --- | --- |
| What Users Like | What Users Dislike |
| Extensive hardware support | Some reports lack detail |
| Diverse integration gallery | After a reboot, personalized settings can be lost and reset to default |
| Easy installation | Frequent app redesign requires users to re-learn settings |
| Quick number porting | Randomly logs users out |
| Good voice quality | Some features are difficult to enable or don't work properly |
| Easy-to-use administration interface | Help functions are difficult to access |
What Makes GoTo Connect a Better Google Voice Alternative?
Unlike Google Voice, Dialpad offers video conferencing, even on the basic plan, along with unlimited extensions, which make it an affordable option for teams sharing numbers.
However, many of GoToConnect's strongest features–large video conferences, popular integrations, ring groups, and auto attendants–require a Standard or Premium plan.
For those prioritizing video conferencing and number sharing, GoTo Connect makes a strong option. However, teams prioritizing ring groups should consider Google Voice.
Zoom Phone, a native product within the Zoom platform, brings together Zoom meetings, chat, video, voice, and conference rooms along with integrations for over 1000 external platforms and applications.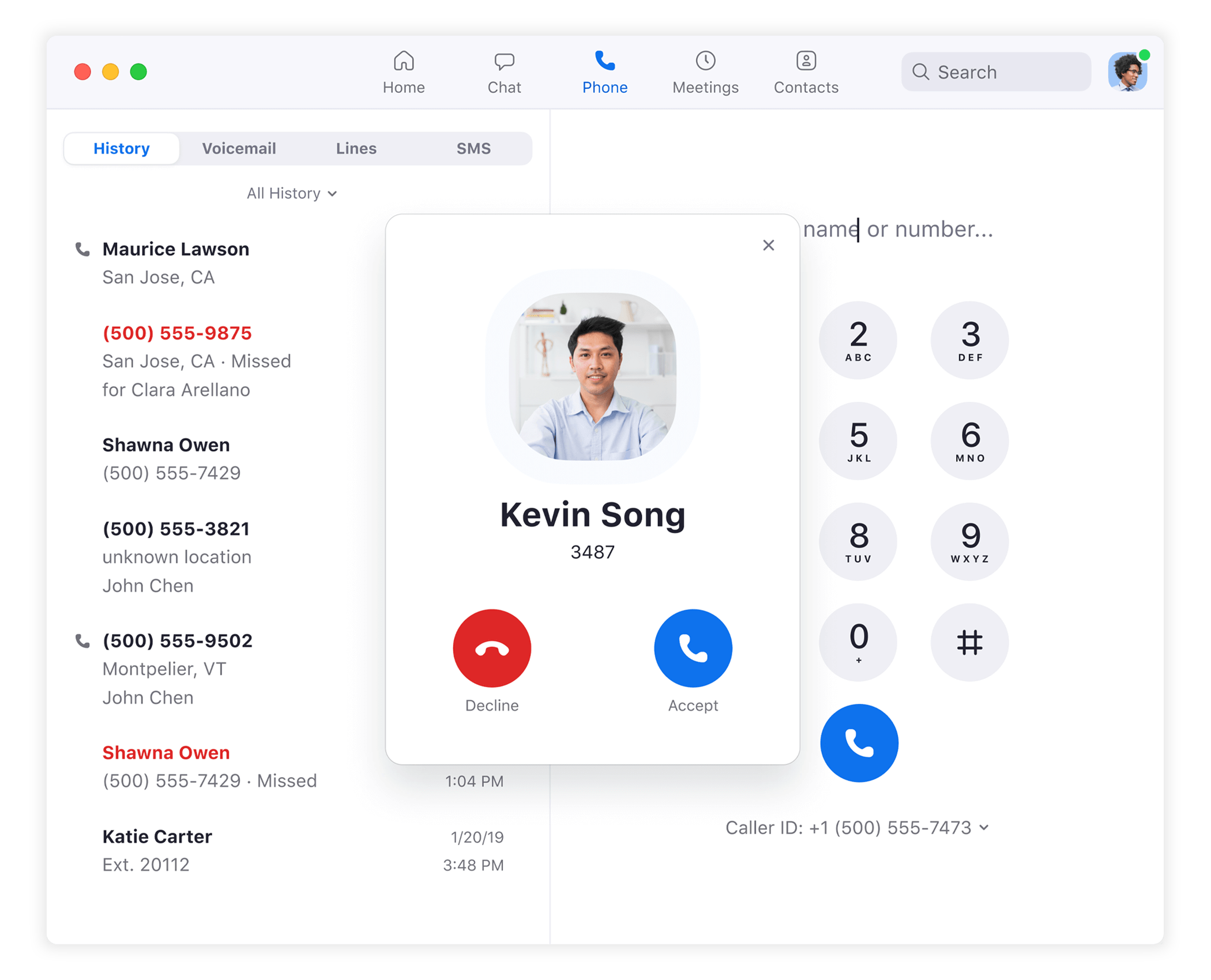 With a desktop and mobile app, Zoom's users can make voice calls anywhere they have internet, using the app interface as a softphone or using a hard phone.
Let's take a look at what Zoom Phone offers.
Zoom Features
Elevate to Meeting: Agents can elevate calls to an HD Zoom meeting or video call, with one click, automatically transporting participants to the video meeting without having to join.
Quality of Service Dashboard: Zoom displays the overall quality of voice calls, filtered by phone, user, common area phone, call queue, auto-receptionist, or Zoom room. Within any of these filters, users can view call quality by device, codec, ISP, and network. Overall call quality is given a Mean Opinion Score MOS).
Monitor, Whisper, Barge, and Takeover: Administrators can monitor and listen silently to agents' calls, speak to the agent privately, and join the call as a 3rd party to continue the conversation and provide assistance.
Usage and Adoption Analytics: Users can access information, charts, and graphs for a variety of call center metrics: inbound calls, outbound calls, call time, internal calls, completed and missed calls, answered and unanswered calls, VoIP and international call time, and the overall call volume by day, week, or month.
Additional Features
Call logs
Call queues
Auto-attendant
Call handoff between devices
3-way ad hoc conference calls
Internal chat
SMS and MMS texting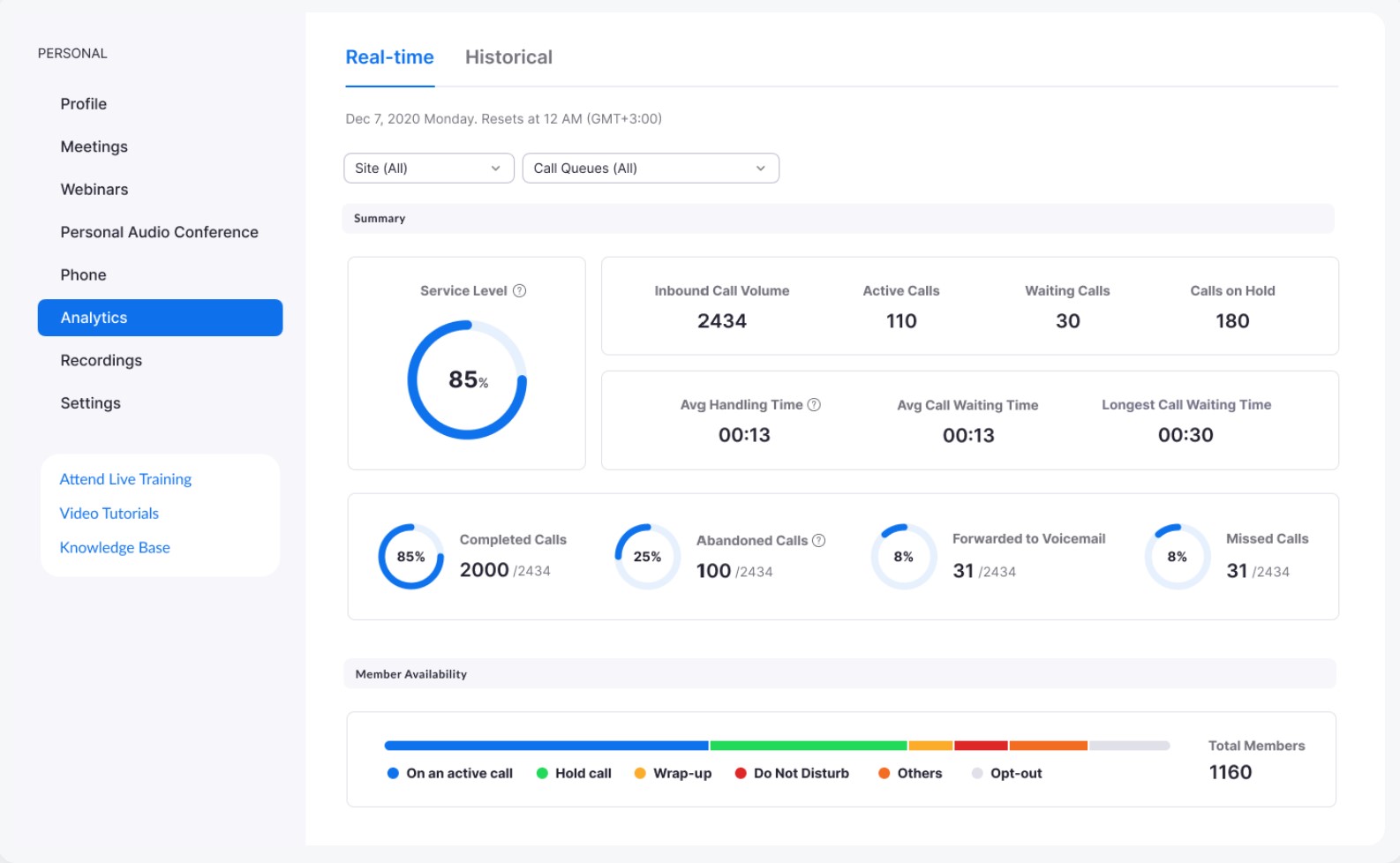 Zoom Pricing & Plans
| | | | | |
| --- | --- | --- | --- | --- |
| | Basic | Pro | Business | Enterprise |
| Price | Free | $10/month | $15/month | $20/month |
| Integrations | Salesforce, Slack, HubSpot, Hive, and over 1,000 more | Salesforce, Slack, HubSpot, Hive, and over 1,000 more | Salesforce, Slack, HubSpot, Hive, and over 1,000 more | Salesforce, Slack, HubSpot, Hive, and over 1,000 more |
| Video Conferencing | 100 participants | 100 participants | 300 participants | 500 participants |
User Experience
Here's what users like and dislike about Zoom Phone plans.
| | |
| --- | --- |
| What Users Like | What Users Dislike |
| Easy to use | Better reporting capabilities, with live updates |
| Quick response for support issues | Voicemail handling for queues and groups can't have their own shared voicemail box |
| Easy to add and remove users | 40-minute time limit for video meetings on Basic plan |
| Easy for administrators to manage | Salesforce integration can use improvement |
| Strong phone routing features and flexibility | Limited number of greetings per user |
| Screen sharing during video meetings | Can't assign a phone number to a group |
What Makes Zoom Phone a Better Google Voice Alternative?
Unchallenged in integration capabilities, Zoom's gallery features over 1,000 integrations available on each plan, which ensures your entire tool stack will be compatible with Zoom.
Zoom Phone brings together several internal and external communication channels that Google Voice does not–HD video for conferencing and meetings, as well as internal chat–making it a strong alternative to Google Voice.
8×8, a unified platform that serves international customers in up to 48 countries with its contact center, business phone, video, and chat, offers three primary pricing plans: Express, X2, and X4.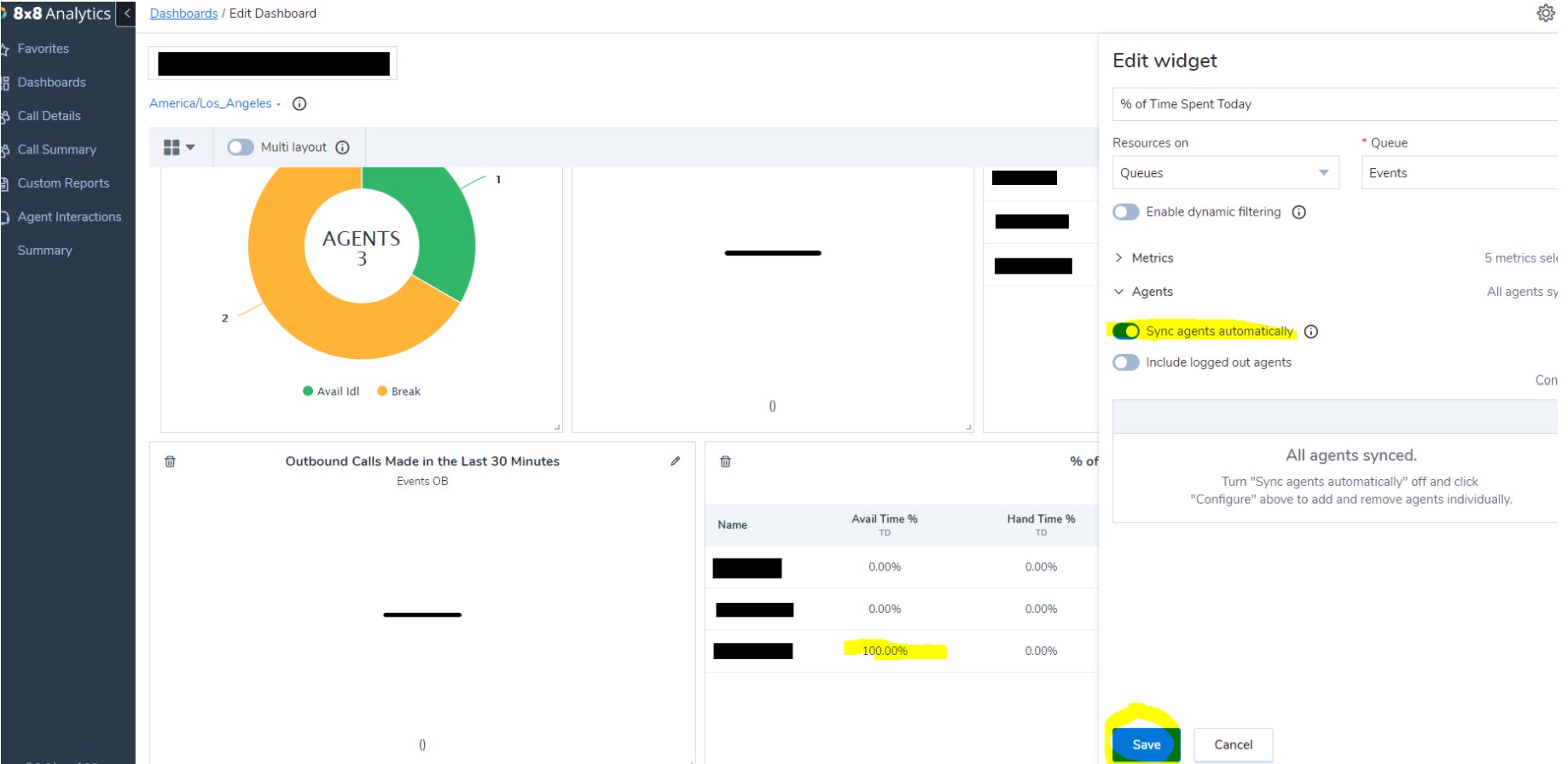 The Express plan offers standard telephony, video, and chat features, and the X-series plans add advanced features, including analytics, surveys, quality management, and SMS messaging.
8×8 Features
Dynamic Video Conferencing: All 8×8 plans include video conferencing with 100 participants or more, with meeting recording, transcription, screen sharing, document sharing, and a custom background, logo, and vanity URL for meetings.
Personalized Greetings: Create a professional greeting via voice recording or text-to-speech, and use branded hold music to give your company a unified feel.
8×8 Work Mobile App: With 8×8 Work, users can take their number and voice calls anywhere. Seamlessly switch calls between devices mid-call by clicking the Flip button on the device you want to use, without interrupting the conversation.
Speech and Text Analytics: Speech analytics identify a call's topic, emotional tone, and urgency, identifying which calls need attention and providing interactive graphics that drill down important details for agents to consider and mention.
AI-Powered Feedback: Analytics provide agents feedback with examples about how they can improve, such as trends in speech patterns, empathy, solutions provided, and more.
Additional Features
Intelligent IVR
Quality management actionable insights
Post-call surveys
Voicemail transcription
Call queues
Presence detection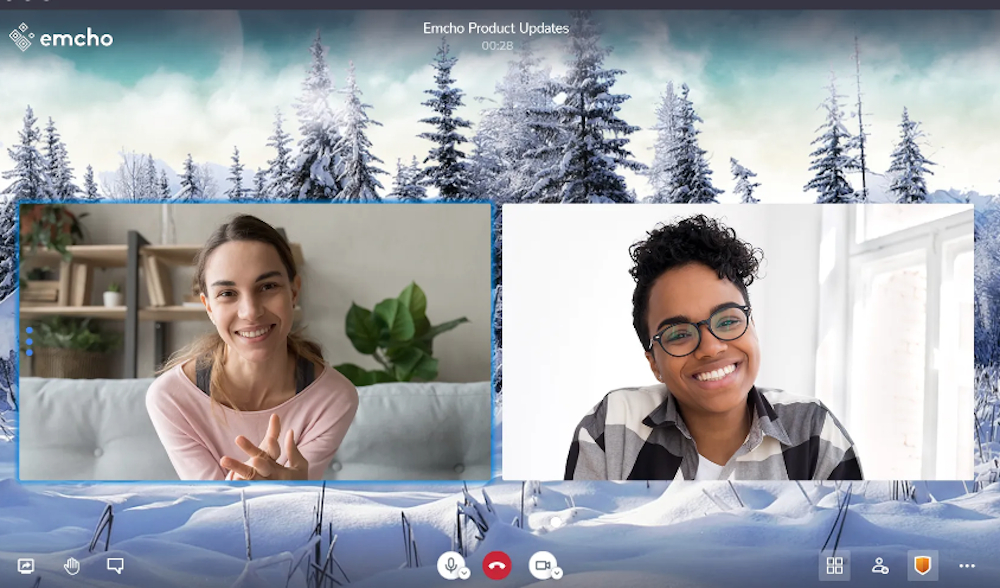 8×8 Pricing & Plans
| | | |
| --- | --- | --- |
| | X2 | X4 |
| Price | $24/month per user | $44/month per user |
| Integrations | Microsoft Teams, Google Workspace, Salesforce, Freshdesk, Zendesk, Zoho, HubSpot, Slack, Skype, ServiceDesk, Okta, Flowdeck, and more | Same as X2 |
| Video Conferencing | 500 participants | 500 participants |
User Experience
Here's what users like and dislike about 8×8 Business Phone plans.
| | |
| --- | --- |
| What Users Like | What Users Dislike |
| Up to 500 participants for X Series video conferences | Lack of concern from customer support |
| Detailed real-time analytics and coaching features | Difficult to set up voicemail |
| 8×8 sends emails when new features or programs are available | Connectivity not good in some areas |
| Unlimited calling to 48 countries on X-Series plans | Invite emails come from 8×8 instead of the user's company |
| Very easy to use and navigate | Lacks the ability to delete old chat/SMS messages |
| 8×8 Work app functions well | Can't assign a phone number to a group–have to use a specific user |
What Makes 8×8 a Better Google Voice Alternative?
Companies with a global customer base will find that 8×8's X Series plans–offering unlimited calling to up to 48 countries–are the ideal solution
Even 8×8's most basic Express plan offers a more diverse array of features than does Google Voice–not just voice, but chat and video conferencing with up to 100 people.
Users should strongly consider 8×8 as an alternative to Google Voice.
Ooma, a VoIP service provider focused on out-of-the-box-ready small business solutions, offers three plans–Ooma Office Essentials, Ooma Office Pro, and Ooma Office Pro Plus–each with at least 50 essential business phone features.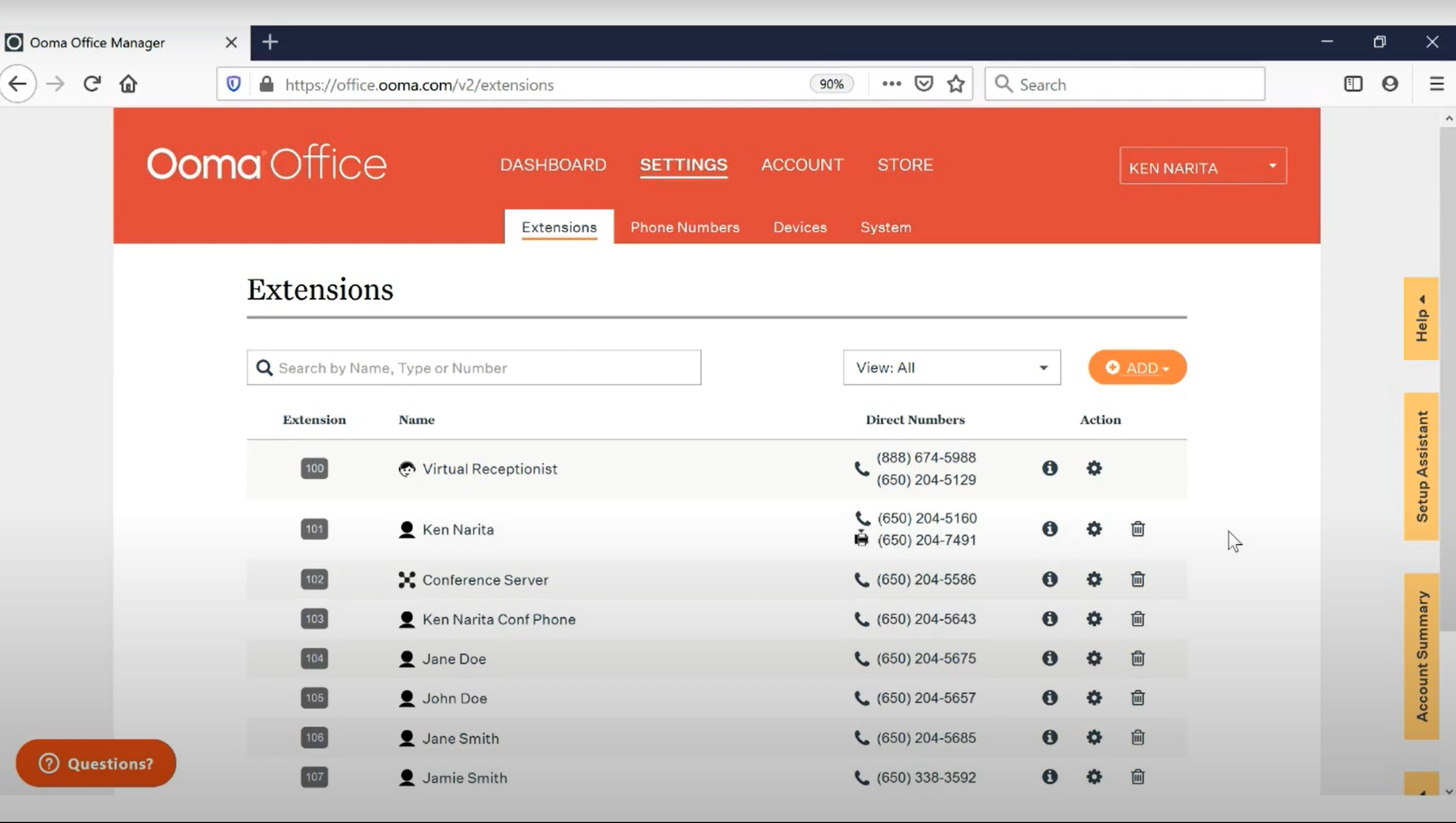 Ooma's Office Essentials plan focuses on voice and calling features. The Office Pro plan incorporates video conferencing, a desktop app, and more advanced calling features. Finally, the Office Pro Plus plan offers a Salesforce integration, call queuing, and hot desking.
Ooma Features
Easy Installation: Quickly port pre-existing numbers from a previous provider or choose a new number for free in many area codes within the US and other countries. Ooma IP phones are plug-and-play, meaning you just plug the IP phone into the internet and you're up and running in minutes.
Mobile App: Enjoy messaging groups, extension dialing, and SMS texting via mobile. The app allows users to easily differentiate between business and personal calls, transfer calls to any other phone number or voicemail, and switch between desktop phone and mobile.
Enhanced Call Blocking: Ooma Office Pro offers enhanced call-blocking features, with automatic call screening against a database of over 2 million known robocall numbers, automatic blocking or voicemail-redirect of anonymous calls, and a custom block list with up to 1000 numbers.
Call Queueing: Create agent groups assigned to numbers, so that incoming calls automatically route to the next available agent. This maximizes agent work time, prevents customer frustration, and saves business time.
Hot Desking: Hot desking, a great way to take advantage of unused hard phones or desks around the office in an on-site or hybrid environment, enables any user to sync a hard phone to their extension simply by entering their extension number and voicemail PIN.
Additional Features
IVR
Multi ring
Ring groups
Video conferencing
Call recording
Call parking
Virtual fax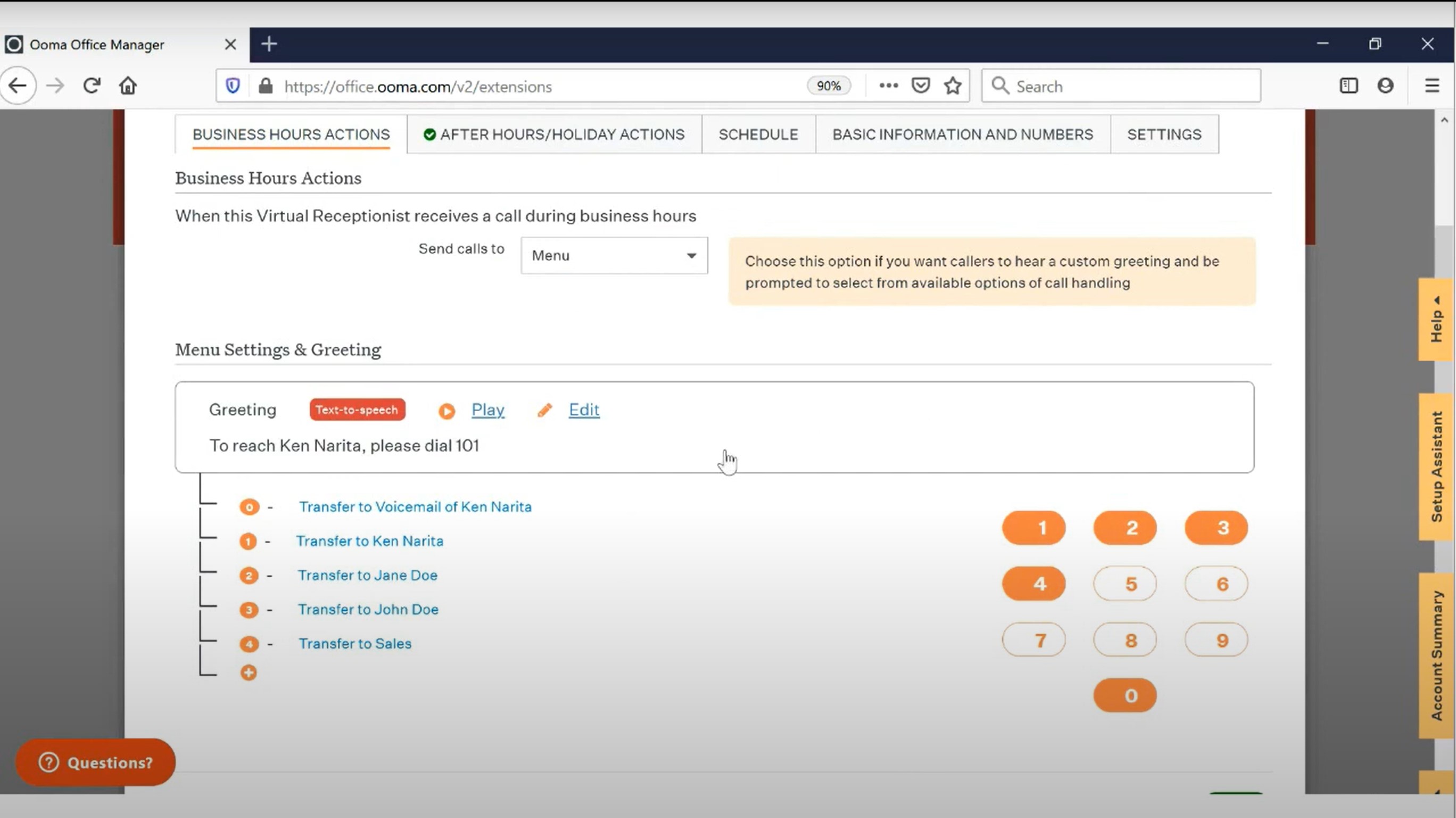 Ooma Pricing & Plans
| | | | |
| --- | --- | --- | --- |
| | Ooma Office Essentials | Ooma Office Pro | Ooma Office Pro Plus |
| Price | $19.95/month per user | $24.95/month per user | $29.95/month per user |
| Integrations | None | Google, Office 365 | Google, Office 365 |
| Video Conferencing | None | 25 participants | 100 participants |
User Experience
Here's what users like and dislike about Ooma Office plans.
| | |
| --- | --- |
| What Users Like | What Users Dislike |
| Live call transfer | Customer service is slow to respond sometimes |
| Call streamlining and routing saves agents time | Logging into the app can be slow on windows and PC |
| Multiple extensions within the same number | Call logs can be cumbersome to review |
| Virtual faxing easy to use | No free calling internationally |
| Can still receive calls on mobile even when the power goes out | No RoboCall blocking in Essentials plan |
| Agents can use their business phone number on a personal device | Setup process can be complicated for beginners |
What Makes Ooma Office a Better Google Voice Alternative?
While Ooma's Office Essentials plan offers features that parallel those of Google Voice, Ooma's Office Pro plan offers several features that Google Voice does not: video conferencing, call recording, and call analytics.
Ooma Office's analog support is a significant cost-saver. Companies with telephone handsets won't need to buy new phones to use their Ooma subscription, which saves upfront expenses during the VoIP transition.
Avaya specializes in cloud communications and offers a dynamic business calling and messaging platform, powered by RingCentral software.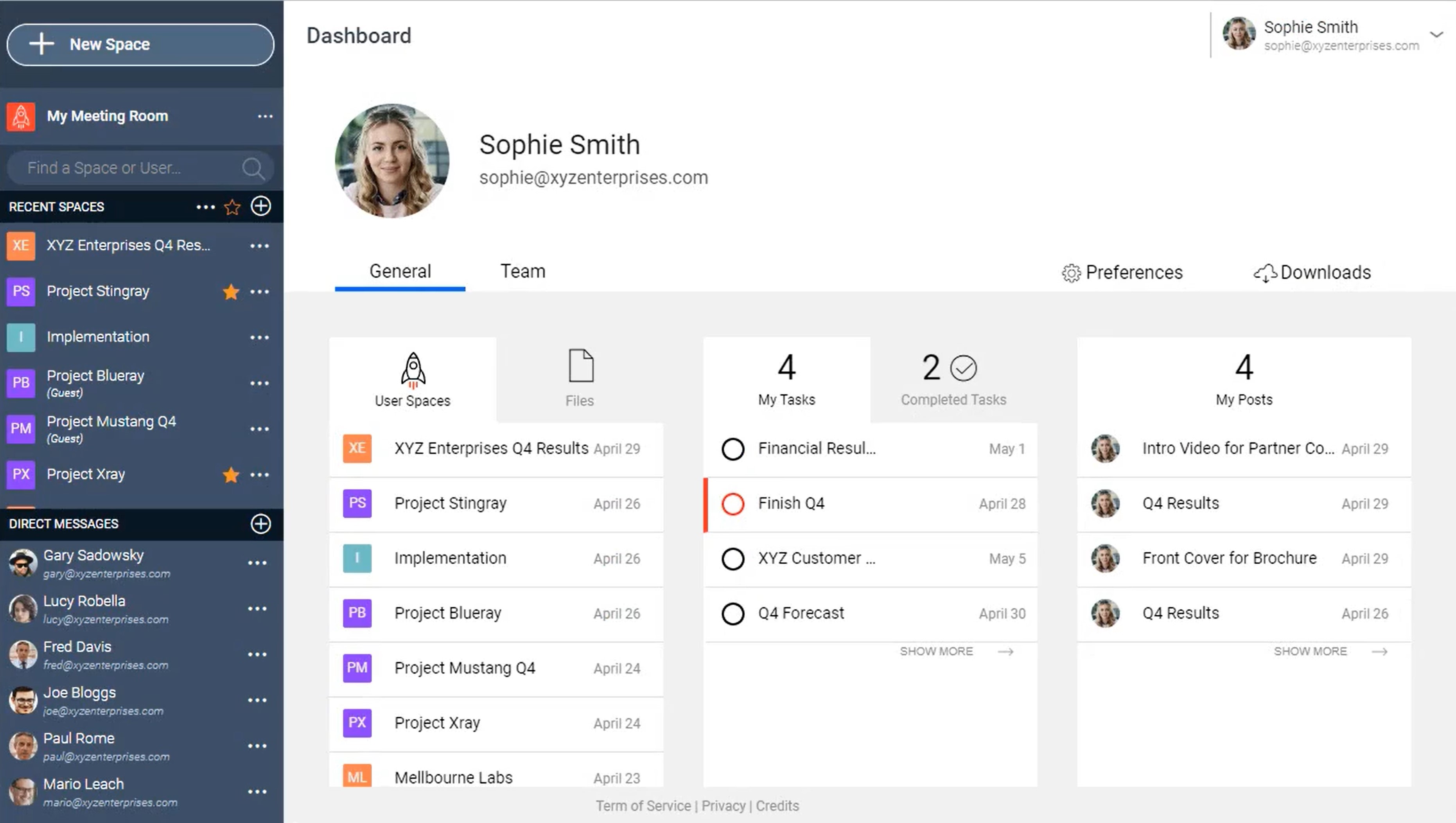 Although Avaya's plans are on the pricier side, they include a strong combination of standard and advanced features: all Avaya plans offer unlimited business SMS, voicemail transcription, team messaging, and document sharing, and the features only build from there.
Avaya Features
Team Messaging: Avaya's chat messaging, capable of both 1:1 and group chats, facilitates strong internal communication, with team messaging, task assignment, and calendar sharing.
Call Management: Administrators can customize the following large group or individual user settings: answering rules, shared lines, call flipping, call transferring, call parking, call forwarding, and more.
Call Log Reports: Receive a full record of all inbound and outbound calls and features, the name of the caller as well as time, date, and call duration.
Quality of Service Reports:  Monitor the health of your Avaya Office system, diagnosing phone service quality issues ahead of time that may impact users. Quality reports provide a holistic quality score measured by location, endpoint, codec, ISP, and more.
Real-Time Analytics: These key-performance indicators (KPIs) provide real-time insights into your Avaya Cloud Office system, providing data, alerts, and reporting metrics to administrators.
Additional Features
Automatic call recording
Hot desking
Single sign-on
Up to 24-hour video meeting duration
Unlimited storage
Mobile app for iOS or Android
Business phone numbers in over 100 countries
Call whisper and barge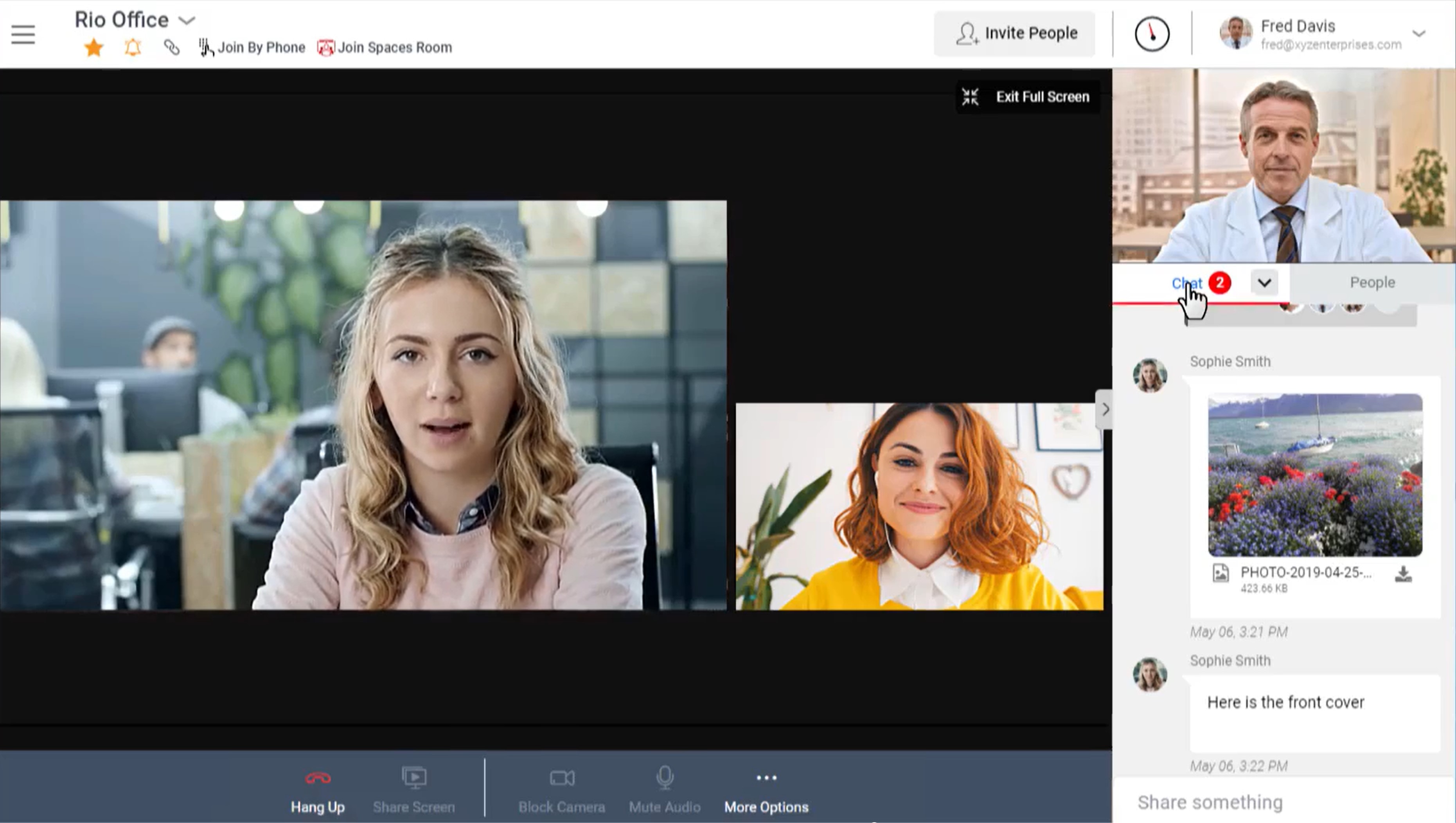 Avaya Cloud Phone System Pricing & Plans
Standard
Premium
Ultimate
Price
$20/month per user
$25/month per user
$35/month per user
Integrations
Office 365, G Suite, Slack,

and more

Salesforce, Zendesk, Canvas, Smarsh, and more
All previous integrations
Video Conferencing
100 participants
200 participants
200 participants
User Experience
Here's what users and business owners like and dislike about Avaya Cloud Phone System plans.
| | |
| --- | --- |
| What Users Like | What Users Dislike |
| Cloud, on-premise, and hybrid deployment options | Deployments can be slow |
| Always-on conference rooms | Mobile app doesn't show which other users are on the call |
| Up to 250,000 users | Frequent security updates |
| Can connect from anywhere | Sometimes outgoing calls show as Spam for customers |
| High-quality customer experience | Video integration needs improvement |
| Tracking KPIs and analytics for sales representatives | Windows desktop app does not integrate with Zoom |
What Makes Avaya a Better Google Voice Alternative?
Avaya offers a more well-rounded office product than Google Voice because of its video conferencing and group chat.
Their hardware, coupled with RingCentral's software, is a truly standout combination.
While Avaya Office plans are more expensive than Google Voice, companies with a high priority for video and internal collaboration should consider Avaya.
OnSIP provides a simple and scalable VoIP platform, available on desktop or mobile, with only two pricing options: their Unlimited plan and their Pay-As-You-Go plan.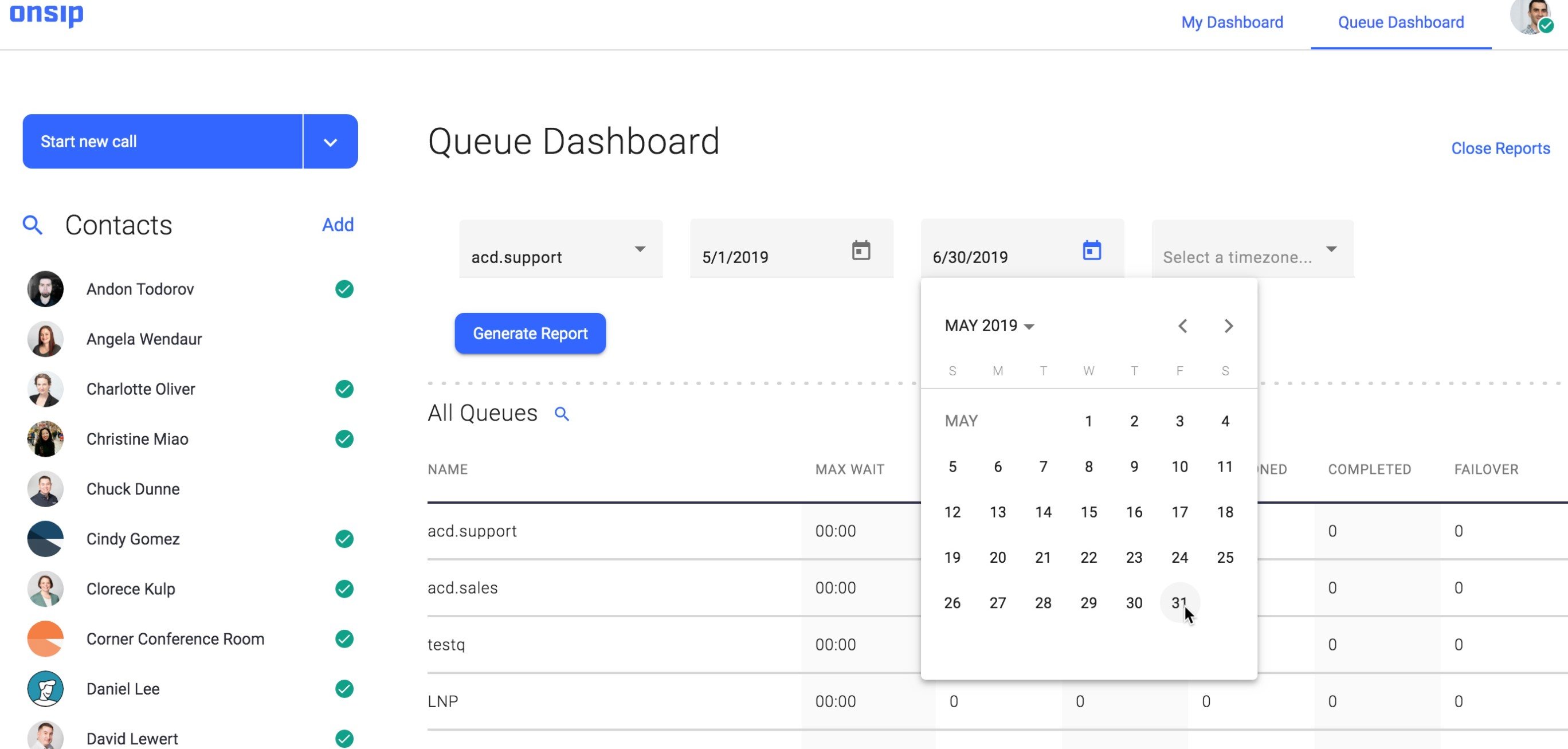 The Unlimited plan, charged per user, is intended for larger call centers with a high call volume. With a 5-user minimum, this plan comes with free desk phones or headsets and offers unlimited usage of all its VoIP features.
OnSIP's Pay-As-You-Go plan, charged per account, is built for small contact centers. Multiple users can share a single account, with limited numbers of each feature: 1 announcement, 3 auto attendants, 1 call recording user, 3 ring groups, 5 voicemails connected to email, and basic hold music. Users must pay to add any more of these features–for example, auto attendants cost $19.95 and ring groups cost $14.95.
OnSIP Features
Video Conferencing: Host video conferences with up to 5 participants, with link generation allowing for repeated meetings and one-click participant joining. In-call host options include hold, mute microphone, and stop video.
Enhanced Queues: Real-time queue overviews give queue supervisors a thorough understanding of what's happening in each queue or ring group, historical queue reports give users customized reports and comprehensive stats about past performance, and queue supervisors are automatically notified when critical queue thresholds are met.
Business Hour Rules: Users can set open and closed hours and days for each user or group, to automatically route calls to a backup destination–a voicemail, menu, user, or ring group.
Drag-and-Drop Call Transferring: While on a call, agents can transfer a customer to another user via the OnSIP dashboard by clicking the Transfer button and typing in the user's name. Additionally, users can drag and drop a caller's profile into a team member's profile or phone number to initiate a transfer.
International Dialing: OnSIP accounts cannot dial extended calling areas by default, but users can enable their account for extended dialing to make calls to nearly any phone number in the world.
Additional Features
Voicemail-to-email
Team page configuration
Dial-by-name directory
Apps for every device
Announcements
Pre-recorded greetings
Auto-attendant menus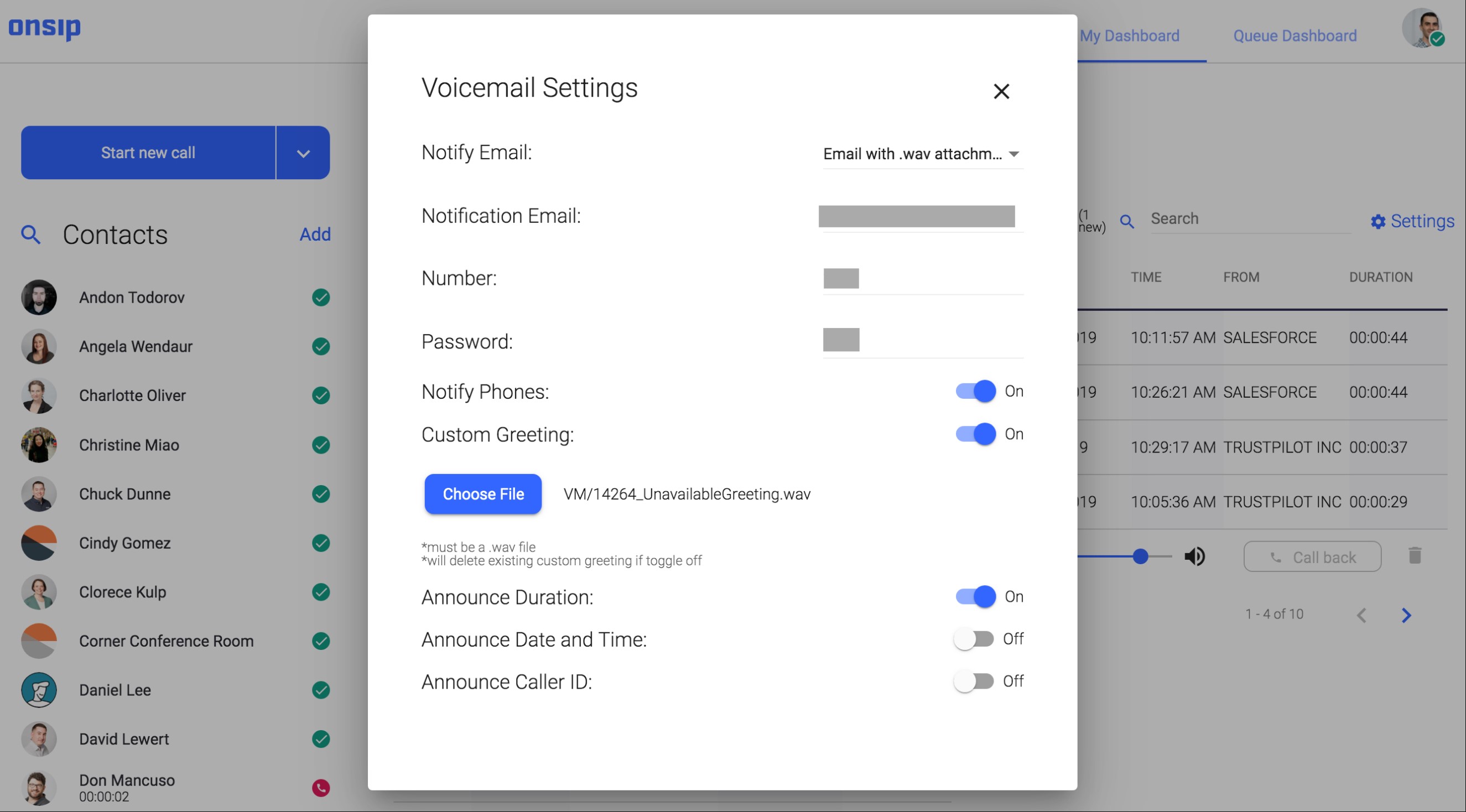 OnSIP Pricing & Plans
| | | |
| --- | --- | --- |
| | Pay-As-You-Go | Unlimited |
| Price | $18.95/month per user | $49.95/month per account |
| Integrations | Slack, Twilio, HubSpot, and Zendesk | Slack, Twilio, HubSpot, and Zendesk |
| Video Conferencing | 5 participants | 5 participants |
User Experience
The below table outlines what users like and dislike about OnSIP plans.
| | |
| --- | --- |
| What Users Like | What Users Dislike |
| Poly phones included in pay-as-you-go plans | Maximum of 5 participants in video conferences, with no screen sharing |
| Quick setup for desktop app | Paying for all the features can add up in pay-as-you-go plans |
| Comprehensive dashboard for staff monitoring | Interface presents a learning curve for new users |
| Video tutorials are helpful | No video conferencing on mobile |
| Voicemail-to-email feature | No text messaging |
| Daily analytics reports for administrators | Pricy per-minute rate ($0.029/minute) on outbound calls |
What Makes OnSIP a Better Google Voice Alternative?
OnSIP offers some features that Google Voice does not: video conferencing, analytics, and reports. OnSIP's pay-as-you-go plan allows companies to capitalize on particular features, without extras they won't use.
However, we were disappointed by the fact that OnSIP does not offer texting, and its video conferencing only supports up to 5 users, without screen sharing or whiteboarding. Some of OnSIP's competitors offer more dynamic video conferencing.
We recommend OnSIP for companies using video for small groups, or those that only want a handful of particular pay-as-you-go features.
Why Google Voice?
Google Voice offers affordable plans with an intuitive interface and easy setup for standard VoIP features: text messages, voicemails, auto attendants, ring groups, domestic and international calling, call forwarding, video calls, and well-designed mobile and web applications.
It has integrations with Google Meet and Google Calendar that are available even on the $10/month entry-level plan, and the more expensive plans support integrations with many other Google apps.
Google Voice Pros and Cons
Google Voice's VoIP system offers a balance between ease-of-use and dynamic features: standard features like local and international numbers for calling, SMS texting, and voicemail, along with more advanced features like ring groups and auto-attendants.
However, Google Voice lacks many features its competitors see as standard.
Before comparing Google Voice to alternative platforms, let's consider its pros and cons.
| | |
| --- | --- |
| Pros of Google Voice | Cons of Google Voice  |
| Easy-to-use: Intuitive agent dashboard on desktop and mobile, especially for users familiar with Google Workspace | Limited communication channels: Google Voice offers voice and text messaging only (no video conferencing or internal chat) |
| Scalable: Admins can quickly and simply add new numbers across multiple area codes | Limited integrations: Few additional third-party integrations outside of Google Workspace (Docs, Sheets, Gmail, etc.) |
| Customizable: Easy to set up custom ring groups and auto attendants | No built-in team collaboration: Doesn't offer native chat messaging and team collaboration tools |
| Cross-platform compatibility: Uniform experience across all devices, so agents can seamlessly switch from desktop to mobile | No analytics: Lack of analytics provides no insights about customers and agents |
| Good for remote teams: With easy number assignment and chosen area codes, administrators can assign remote workers a local number | Requires Google Workspace: Requires the purchase of Google Workspace in addition to a Google Voice plan, increasing monthly costs |
| Artificial intelligence: Google AI powers useful tools like voicemail transcription | No number sharing: Each Voice number can only have one user |
| Price: Compared to alternatives, Google Voice offers some of the most affordable plans on the market | User caps: The $10/month price point for Google Voice's Starter plan is only available to teams of 10 or less |
Should My Company Pick Google Voice or an Alternative?
For VoIP beginners looking for standard features that are easy to set up and use, Google Voice is a great choice–especially true if your company already uses several Google apps.
However, if you're looking for advanced VoIP service features like video conferencing, internal chat messaging, call monitoring, and analytics, consider using an alternative business VoIP provider.
FAQs
Below, we've answered some popular questions about Google Voice.
You can buy a local, toll-free, or international Google Voice number in your Google Voice account, or port in phone numbers you already use.

Google Voice plans range between $10 and $30 per month, depending on how many features you need.

Yes. Google Voice Business accounts can purchase and use unlimited numbers.
Google Voice numbers are permanent as long as you pay the monthly subscription and Google does not terminate the service.