OnSIP combines a VoIP phone system with virtual business communication tools, offering a calling and video solution perfect for small companies.
This article will overview OnSIP's business phone system, including pricing, features, benefits, who it's best for, and alternatives to consider.
Learn more about
OnSIP Pricing
Jump to ↓
What is OnSIP?
OnSIP is a cloud-based phone system bundling VoIP calling, video meetings, and reporting dashboards. OnSIP does not support SMS texting or web chat.
OnSIP's desktop, web, and mobile app interface allows agents to manage external and internal multichannel communications, check voicemail, control and forward calls, check logs, and access records.
Purchase virtual business phone numbers from OnSIP or port in preexisting numbers to make calls on OnSIP's global network with a large unlimited-calling area.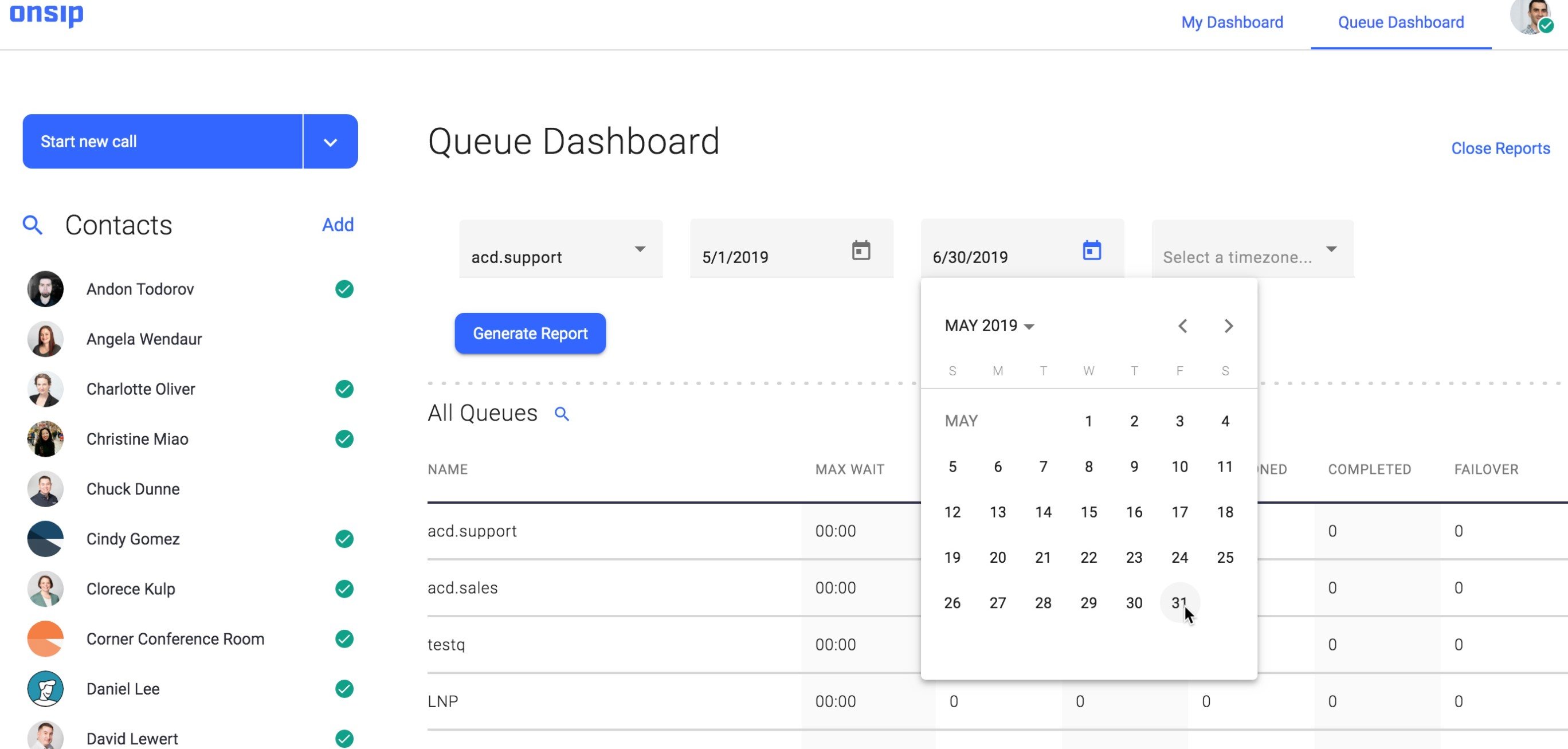 OnSIP Pricing Plans
OnSIP offers two pricing plans: The Basic plan is charged by the account on a pay-as-you-go structure, and the Unlimited plan is charged per user with unlimited minutes.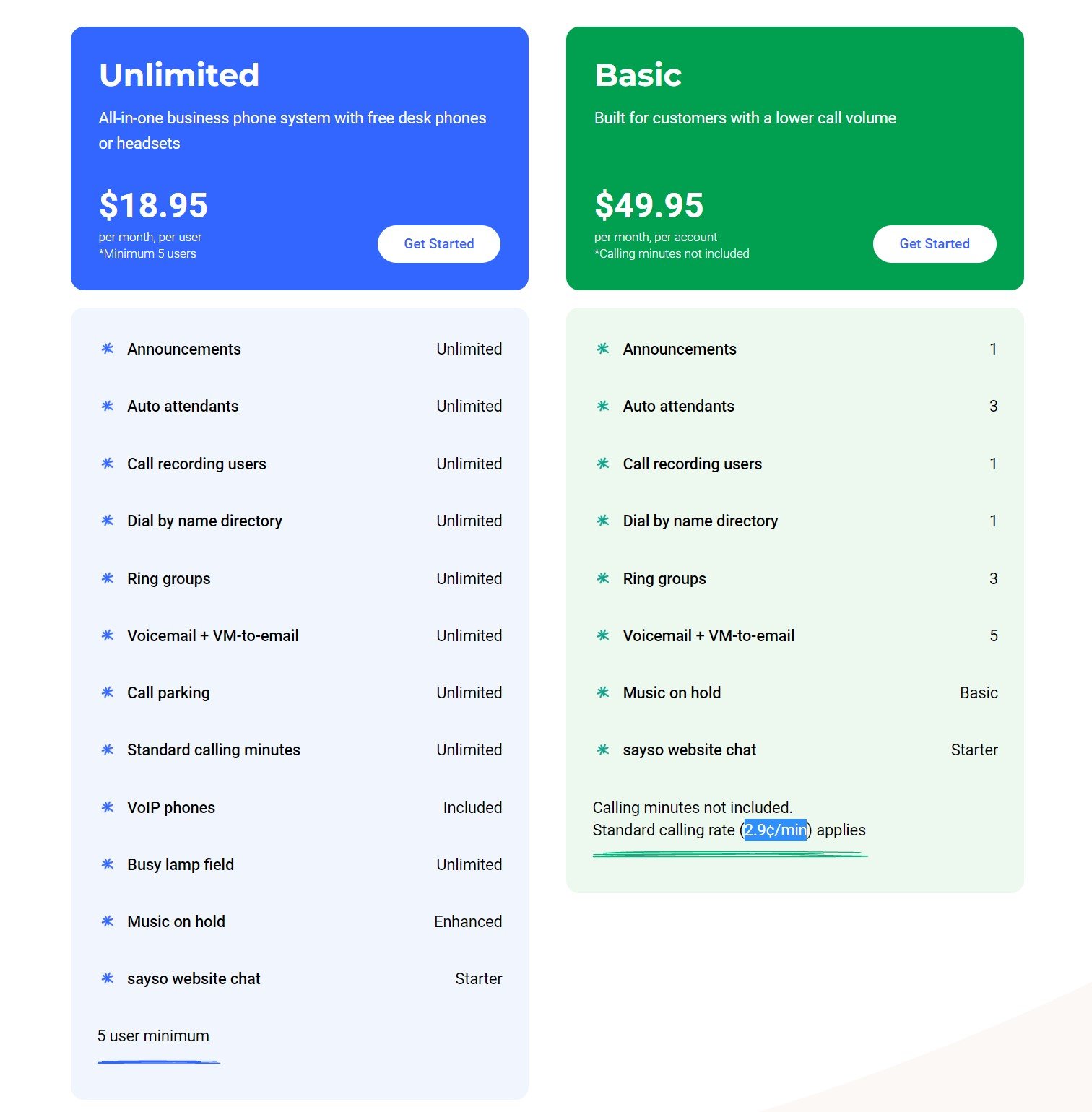 Basic
The Basic plan charges 3.2 cents per minute within OnSIP's 21-country network. Intended for small businesses with low call volumes, the Basic plan has no user minimum and includes limited feature access.
Unlimited
OnSIP's Unlimited plan, charged per user, has a 5-person minimum but offers unlimited calling in OnSIP's standard area network.
The virtual phone system includes unlimited usage of routing, voicemail, and collaboration features, plus free desk phones or headsets.
OnSIP's Standard Calling Area
Unlimited minutes and the Basic plan's 3.2 cents per minute rate apply within OnSIP's standard calling area, listed below. This area includes landline numbers only (unless indicated), and calls outside of this area incur international charges.
OnSIP's Standard Calling Area
Argentina (major cities)
Australia (major cities)
Brazil (Rio de Janeiro)
Canada
Denmark
France (limited)
Germany
Hong Kong
Hungary
India
Ireland
Israel
Italy
Mexico
Poland (limited)
Puerto Rico (limited)
Romania (limited)
Spain
Sweden
United Kingdom (includes some cell phones)
United States (includes cell phones, excludes Alaska)
Individual Feature Rates
In addition to the features listed above, customize any plan with individually purchased features.
Auto attendants: $19.95/menu
Ring groups: $14.95/month/group
Announcements: $4.95/month/announcement
ACD queues: $9.95/month/seat
Enhanced ACD queues: $14.95/month/seat
Call recording: $4.95/month/seat
Phone numbers: $7 one time free, plus $2/month/number
sayso website chat: $49.95/month for upgrade
OnSIP Features
Below, we've outlined OnSIP's key business communications features.
Phone System
OnSIP's cloud-hosted PBX phone service uses VoIP to call any number around the world, with a 21-country standard area network.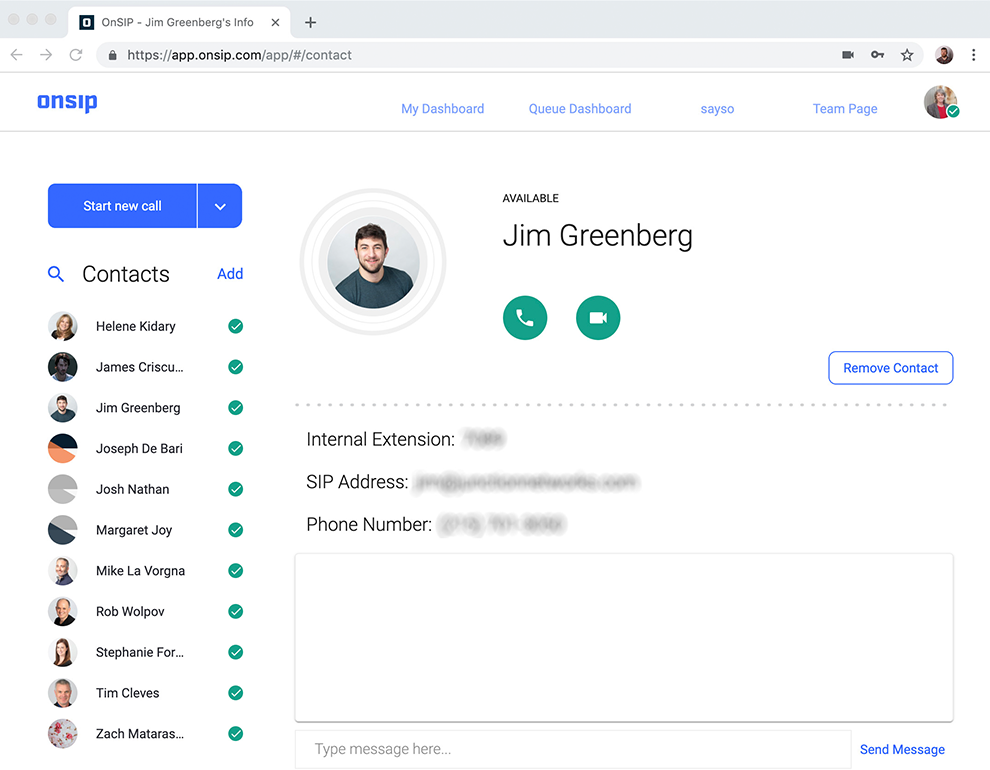 Purchase toll-free and local virtual phone numbers in area codes throughout the US for $2 monthly per number, or port in your pre-existing phone numbers for $2 monthly per number plus a setup fee. All OnSIP phone numbers are direct inward dial (DID) numbers, capable of HD-voice calling and HD conference calls with up to 15 simultaneous users.
The OnSIP app connects with desk phones and headphones, as well as softphone functionality on every device, such as iOS or Android.
Routing Features
OnSIP offers automatic call distributor (ACD) queues, ring groups, and auto attendants, allowing administrators to create an automated routing system using business hour rules. The following features are easy to set up in the Administrator Portal.
OnSIP Routing System Features:
Auto attendants (IVR): Provide a self-service phone menu that distributes incoming calls to the right destination. Set up your IVR menu with text-to-talk or recorded voice messages–mixing announcements, sub-menus, and live users for dynamic options.
ACD queues: Assign agents with similar functions (Sales, customer service, etc.) to queues, distributing inbound call responsibility among them. When an incoming call reaches a queue phone number, it gets routed to an available agent or placed on hold (with music). Customize queue ring style–round robin, simultaneous ring all, or least active agent–to decide how queue agents are contacted.
Enhanced ACD queues: Available as an add-on, enhanced ACD queues provide historical and real-time queue reports, monitor-whisper-barge capabilities, and queue threshold notifications.
Ring groups: Ring groups are similar to ACD queues, but without the option for a hold queue. Choose ring style: simultaneous ring, sequential ring that restarts a preset list after each call, or cyclical ring that restarts the list after each complete cycle.
Announcements: Play prerecorded, customized messages for customers when they reach an IVR, menu option, queue, ring group, or user. Use announcements to communicate hours of operation, upcoming closures or holiday schedules, notifications, and promotions.
Business hour rules: Customize call routing in accordance with business hours, so that calls route to a distinct destination depending if your call center is open or closed.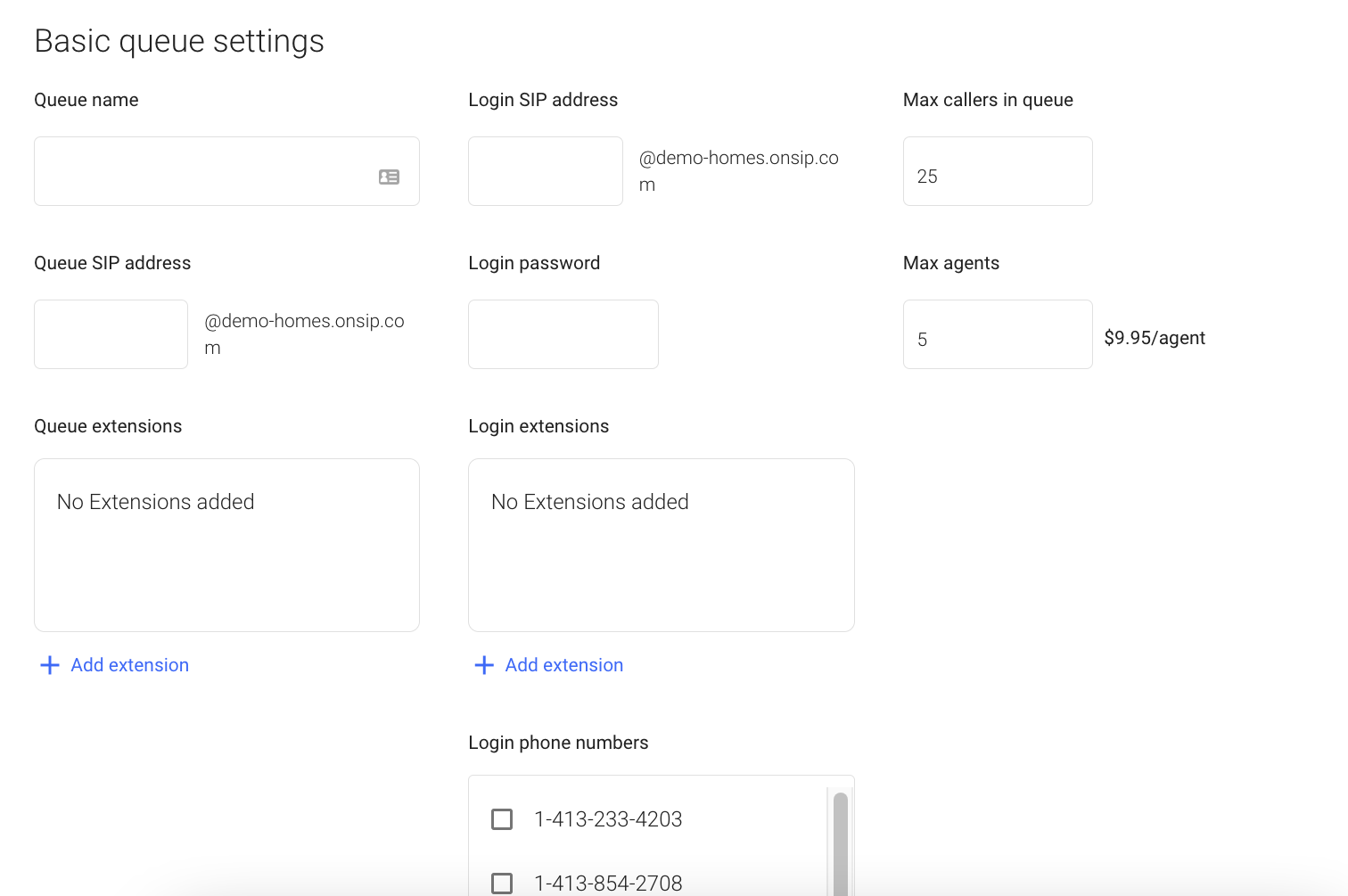 Call Management and Voicemail Features
OnSIP users can manage multichannel communications, contacts, availability, call logs, voicemail, and live call controls.
The dashboard lets agents keep tabs on teammates' availability, jump from call to video with just a few clicks, monitor multiple conversations at once with activity notifications, and pull up any contact's HubSpot profile by clicking on their name.
Call Management Features:
Call recording: Enable call recording for particular users, groups, or call queues
Busy lamp field: Teammates communicate availability via a button that changes from green, to orange, to red. This indicator helps teammates decide where to forward calls.
Call parking: Basically a communal call-hold-and-transfer strategy, call parking allows agents to place a call in a digital "parking spot" where any available teammate can retrieve it.
Call blocking: Block calls from any phone number or caller ID
Basic call controls: Call mute, hold, and transfer
Virtual voicemail: Each user has a virtual voicemail box, with call records indicating who called and when. Voicemail-to-email forwards audio files to your email inbox.
Monitoring and Reporting Features
Regular OnSIP plans include the reporting dashboard and call detail records–which offer a historical, monthly view of general usage statistics. More detailed call center monitoring–like real-time queue and agent performance stats–requires purchasing the Enhanced ACD Queue feature.
Basic Reporting Features:
Reporting dashboard:

A general overview of monthly call usage and billing statistics

. Track total number of users, registrations, internet calling minutes, and PSTN calling minutes.
Call detail records: Call history with basic information for each call, including date and time, call duration, who called whom, and call cost. This information is viewable for the whole contact center or sortable by an individual agent.
Enhanced ACD Queue Features ($14.95 monthly per user):
Real-time queue dashboard: A live overview of queue performance and activity. Displays agent availability, daily call activity, the number of calls currently in queue, max queue wait time, active calls, and abandoned calls.
Historical queue reports: Generate custom reports about historical queue performance. Include metrics like the total number of queue calls, average wait time, maximum wait time, busiest time of day, and time of day with the most abandoned calls. Schedule automatic emails with queue report updates.
Monitor, whisper, and barge: A live call monitoring feature that allows supervisors to listen in on agent calls, whisper private live guidance to on-call agents, or join the call for further support
Queue threshold notifications: Supervisors can set pop-up alerts when a queue metric reaches a critical threshold–such as max call wait time or abandoned calls within a timeframe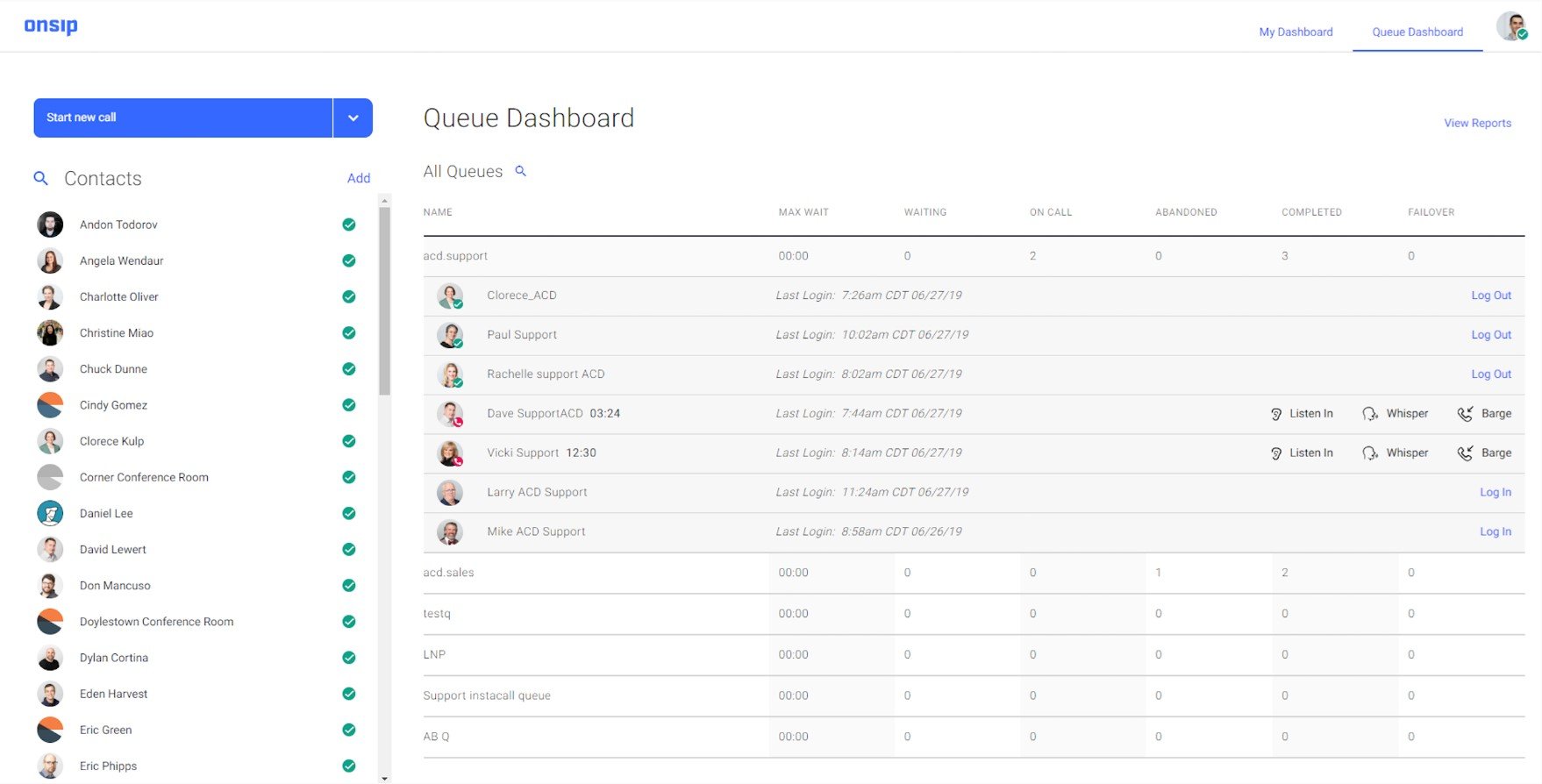 Video Conferencing
Use the OnSIP web and desktop apps–but not mobile–to host video conferencing with up to 5 internal or external participants.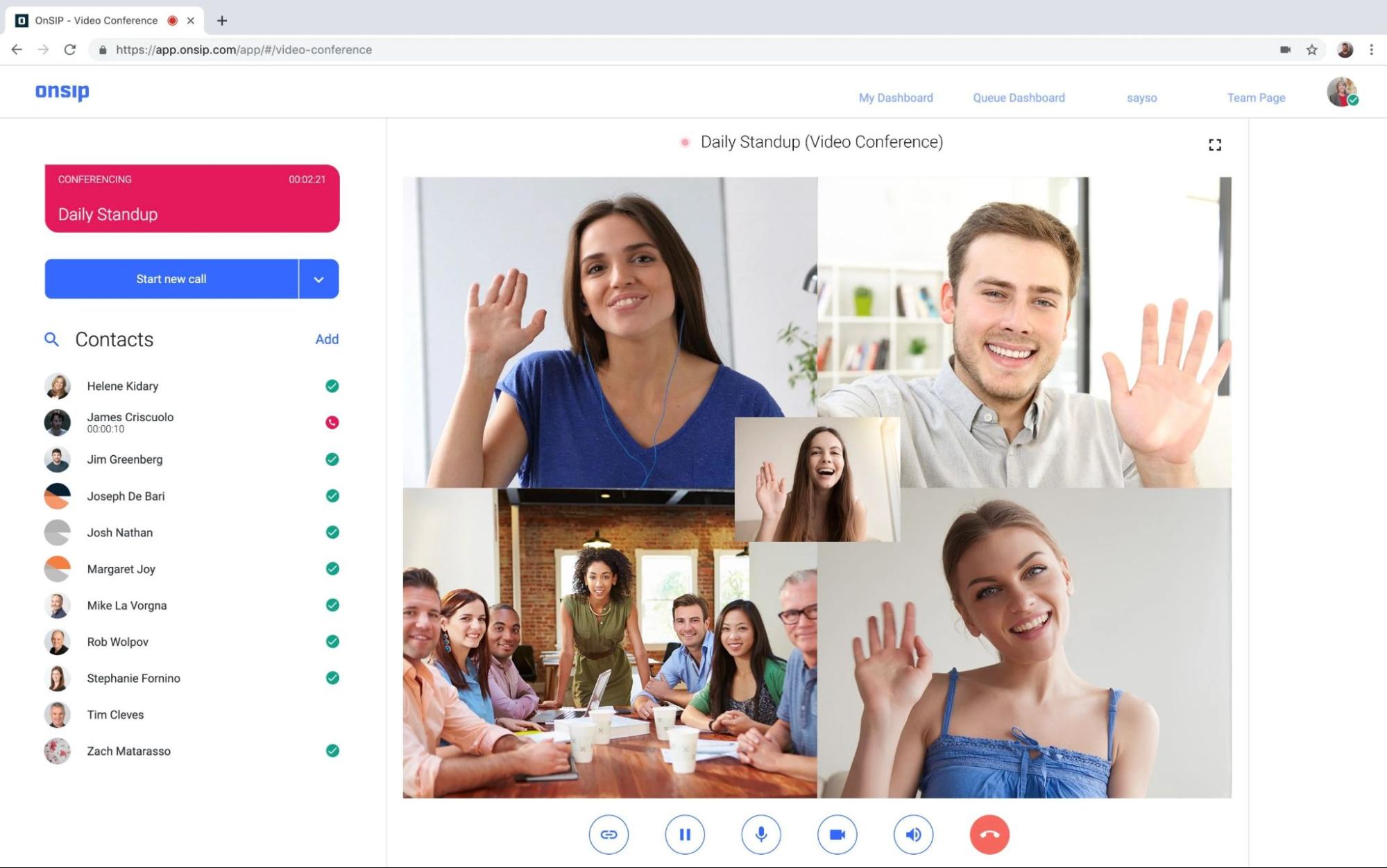 Starting an OnSIP meeting requires just a few clicks. Within the OnSIP desktop or web app, click Start a Video Conference, and launch the call. Teammates can find the meeting automatically in the app interface. To invite external users like customers, copy the auto-generated meeting link and share. Reuse meeting links for recurring events, which users can join at any time with no download.
Although OnSIP meetings do not include advanced collaboration features, they do allow users to pause, mute or unmute, and share or unshare video.
OnSIP Integrations
All OnSIP plans include integrations with HubSpot, Zendesk, and a Google Chrome extension–as well as OnSIP's sayso website chat solution.
sayso Website Chat
sayso, OnSIP's customer-facing web calling solution, is a button you can embed into your website. After your website visitor clicks the button, they choose between customized topic options–Sales, Customer Support, Product Information, etc.–before getting connected immediately to a live rep for a voice or video call.
Agents assigned to the chosen topic receive the inbound call just as they would a regular call, with relevant CRM-generated customer information.
All OnSIP plans include sayso's free version, but OnSIP also offers a paid version with a HubSpot CRM integration, analytics, and removed OnSIP branding.
HubSpot Integration
Integrate your OnSIP and HubSpot accounts so that all inbound calls trigger a pop-up containing the customer's CRM profile and interaction journey.
HubSpot Customer Profile Information:
Recent activity
Notes
Emails
Call Activity
Relevant team tasks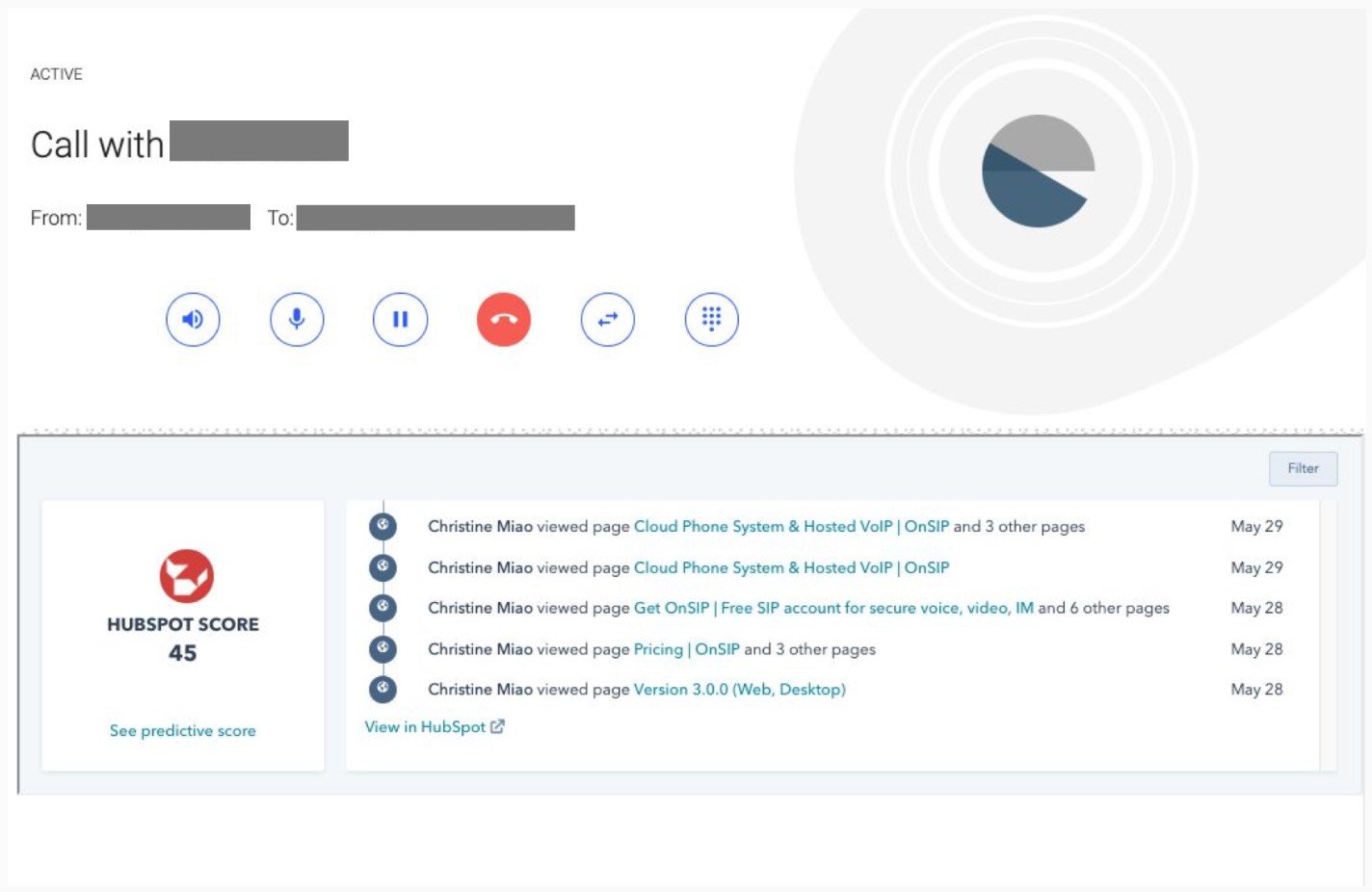 Zendesk Integration
Incoming calls create a Zendesk ticket, which appears on the agent's screen within OnSIP. When the call is completed, the agent can complete any post-ticket tasks or notes before closing out.
OnSIP Assistant for Google Chrome
With the OnSIP Assistant Google Chrome extension, users can click to call any phone number on their screen, immediately dialing the number using the OnSIP softphone, headphones, or desk phone.
The Benefits of OnSIP
The primary benefits of OnSIP are that it offers affordable plans, easy-to-use features, a large unlimited calling network, and plans for teams with low call volumes.
Affordable Plans
Many of OnSIP's competitors offer plans that start at higher pricing points, compared to OnSIP's $18.95-per-user unlimited plan. While competitors offer more communication channels–like chat and SMS–small teams focusing on video and VoIP service can take advantage of OnSIP's budget-friendly rates.
Easy-to-Use Features
While OnSIP's features are basic compared with competitors, companies just starting out with a virtual phone system may appreciate OnSIP's user-friendly setup and interface. The admin portal's simple menus guide the user through setting up routing tools like auto attendants, ring groups, queueing, and voicemail.
Even though OnSIP's video has a small participant capacity and lacks advanced collaboration features, videos are easy and quick to create in a few clicks.
Accommodates Low Call Volume
Teams with low call volumes will benefit from OnSIP's Basic plan.
With many essential routing features like ring groups, one auto attendant, and one announcement, this plan offers the perfect routing setup for a small company just starting with business VoIP. For teams of 5 or more users, the pricing breaks down to under $10 monthly per user–a deal that's tough to beat.
Large Unlimited Calling Network
While many alternative VoIP providers only offer unlimited calling within the US and Canada, OnSIP's unlimited calling network includes 21 countries. However, users should be aware that free unlimited calling to most non-US countries only applies to landline numbers–not cell devices.
OnSIP Alternatives to Consider
Here, we've ranked our top OnSIP alternatives.
Get a custom quote from
top OnSIP alternatives
Nextiva's phone system and multichannel business communications solution features VoIP calling, team chat and file sharing, SMS, a built-in calendar, and collaborative video meetings for up to 200 participants. Their plans start at $14.95-per-month with unlimited voice and video, including tools like video chat and screen sharing.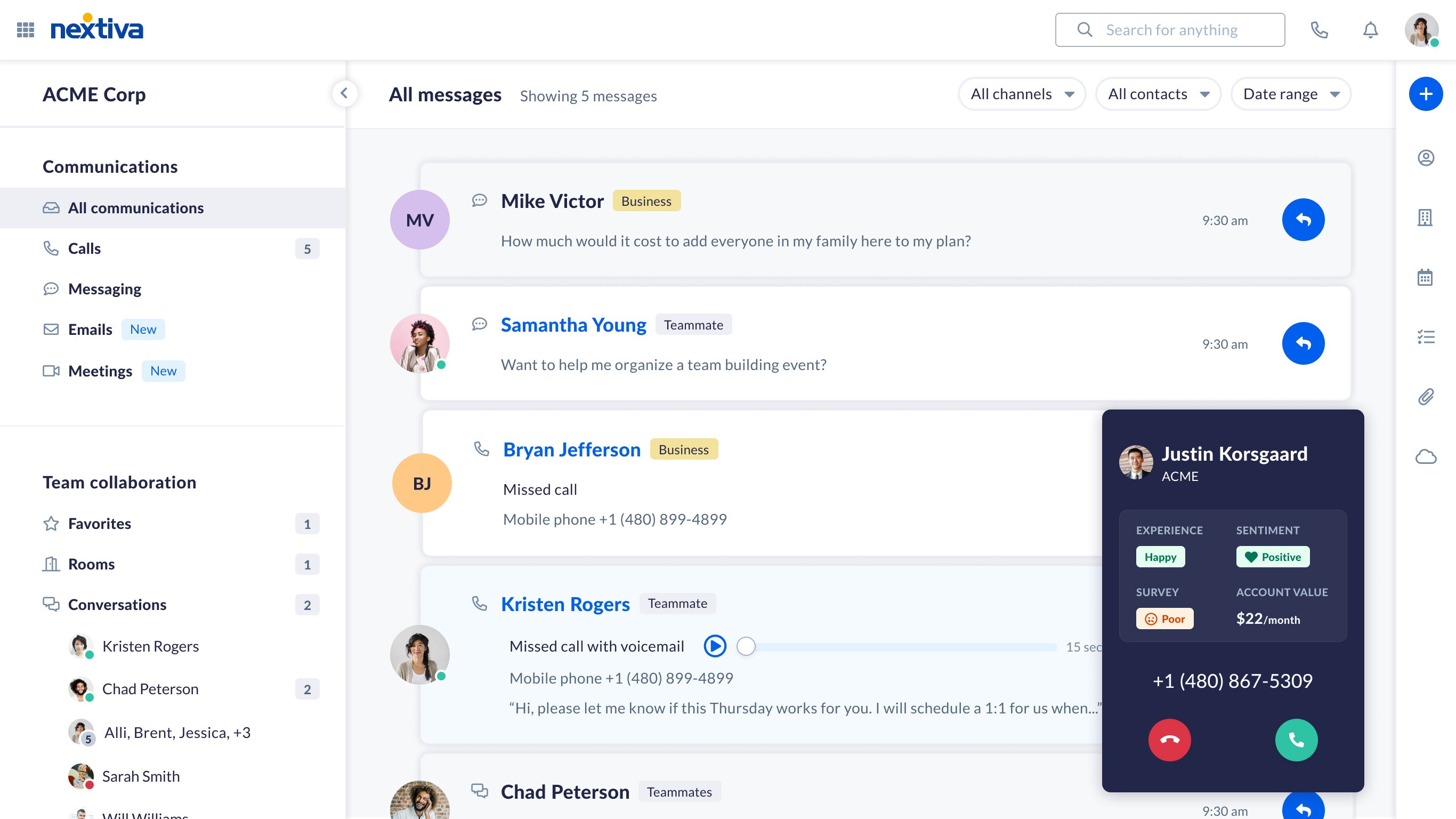 A great fit for small teams, Dialpad's business communication plans include VoIP, SMS texting, team chat, and video meetings with up to 10 participants. Dialpad's video meetings include AI features like live agent coaching, real-time transcriptions, and automated post-call summaries.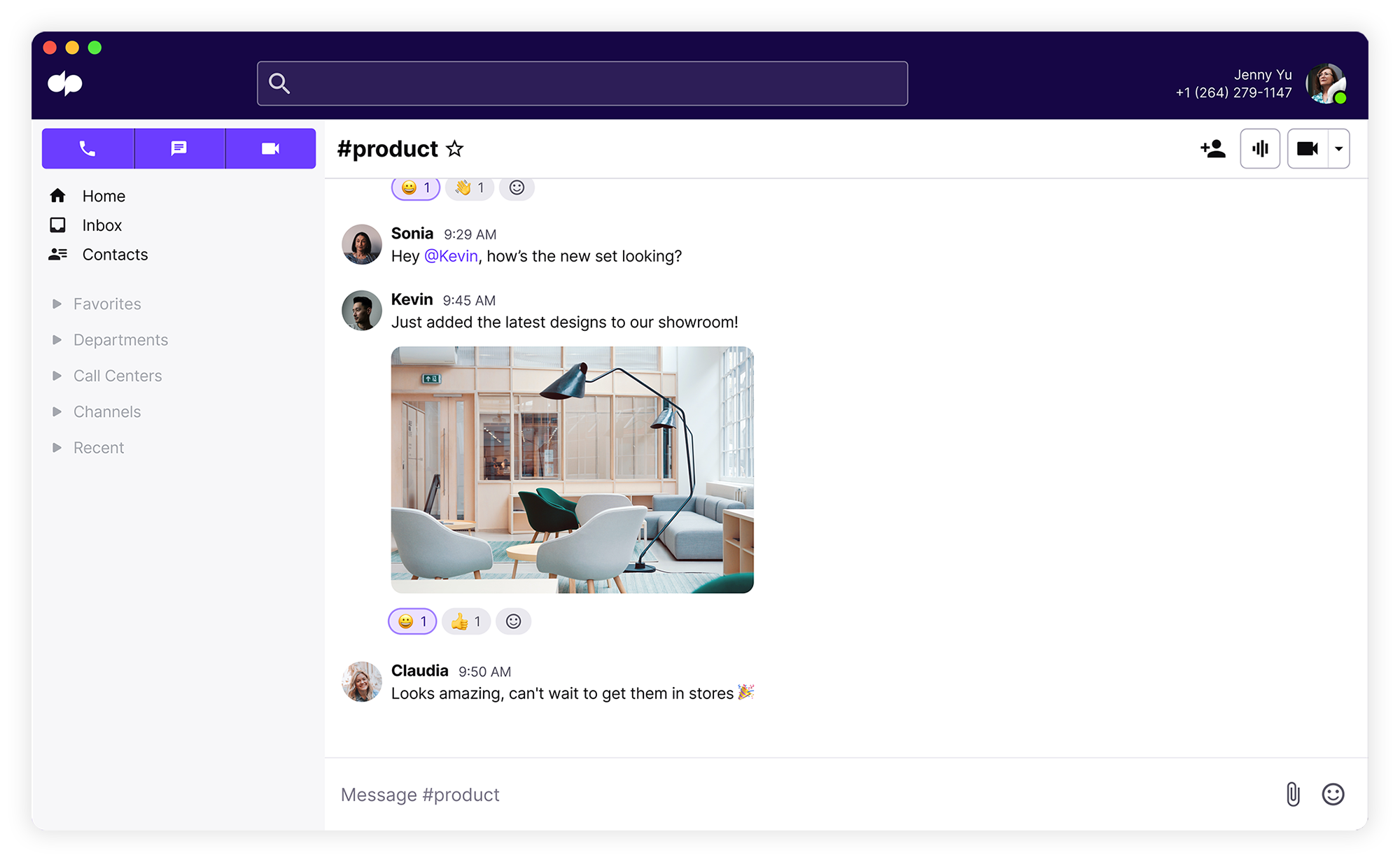 RingCentral's unified communications (UCaaS) plans combine VoIP calling, team messaging, video conferencing, and analytics. While their higher-tier plans cost over $28 monthly per user, they offer a great balance of team collaboration features like video whiteboards, chat-based task management, and file organization.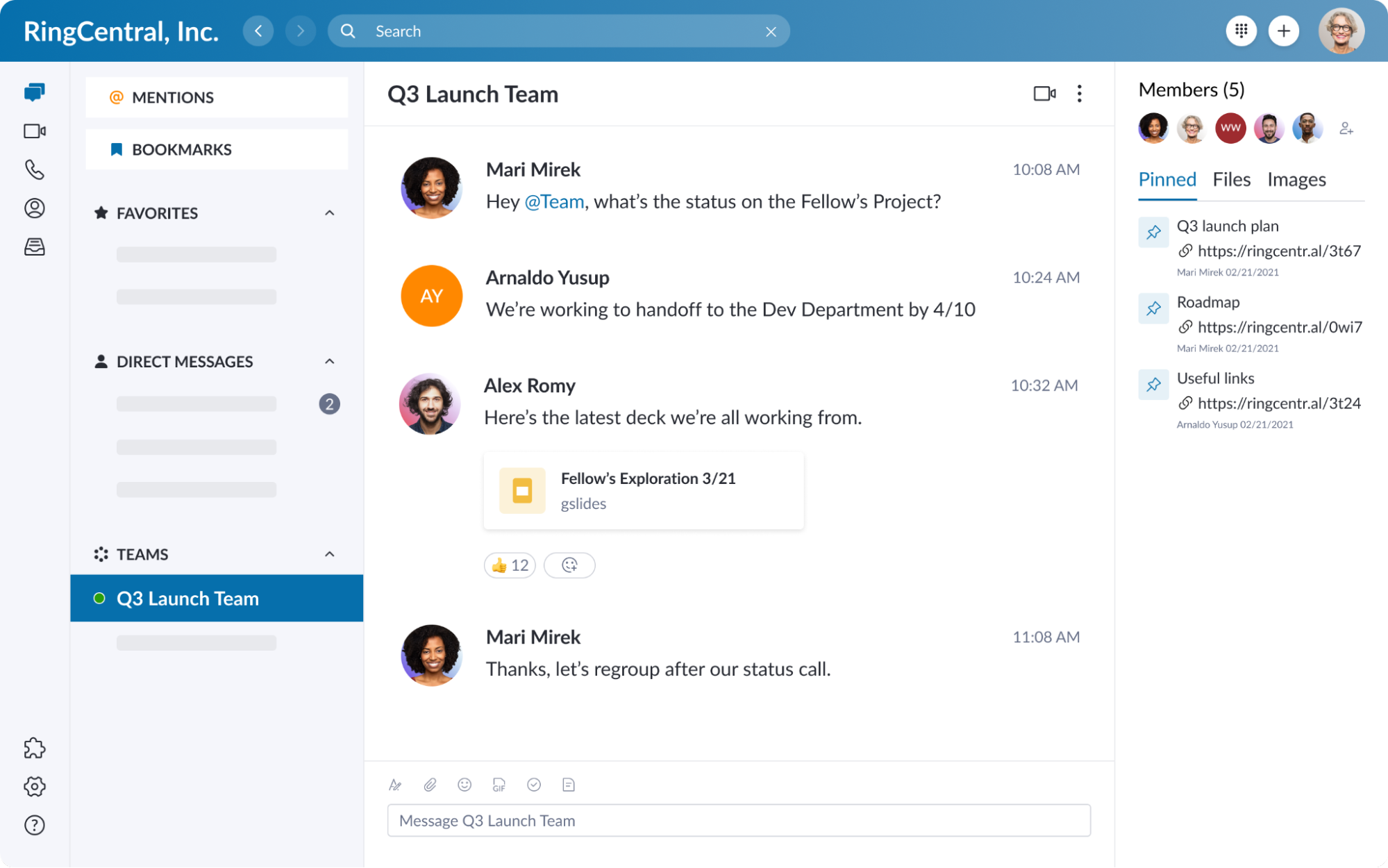 Vonage offers standalone communication APIs that add voice, messaging, or video capabilities to your company's pre-existing app. Additionally, Vonage's UCaaS solution offers calling, SMS, team chat, and video meetings for up to 100 users.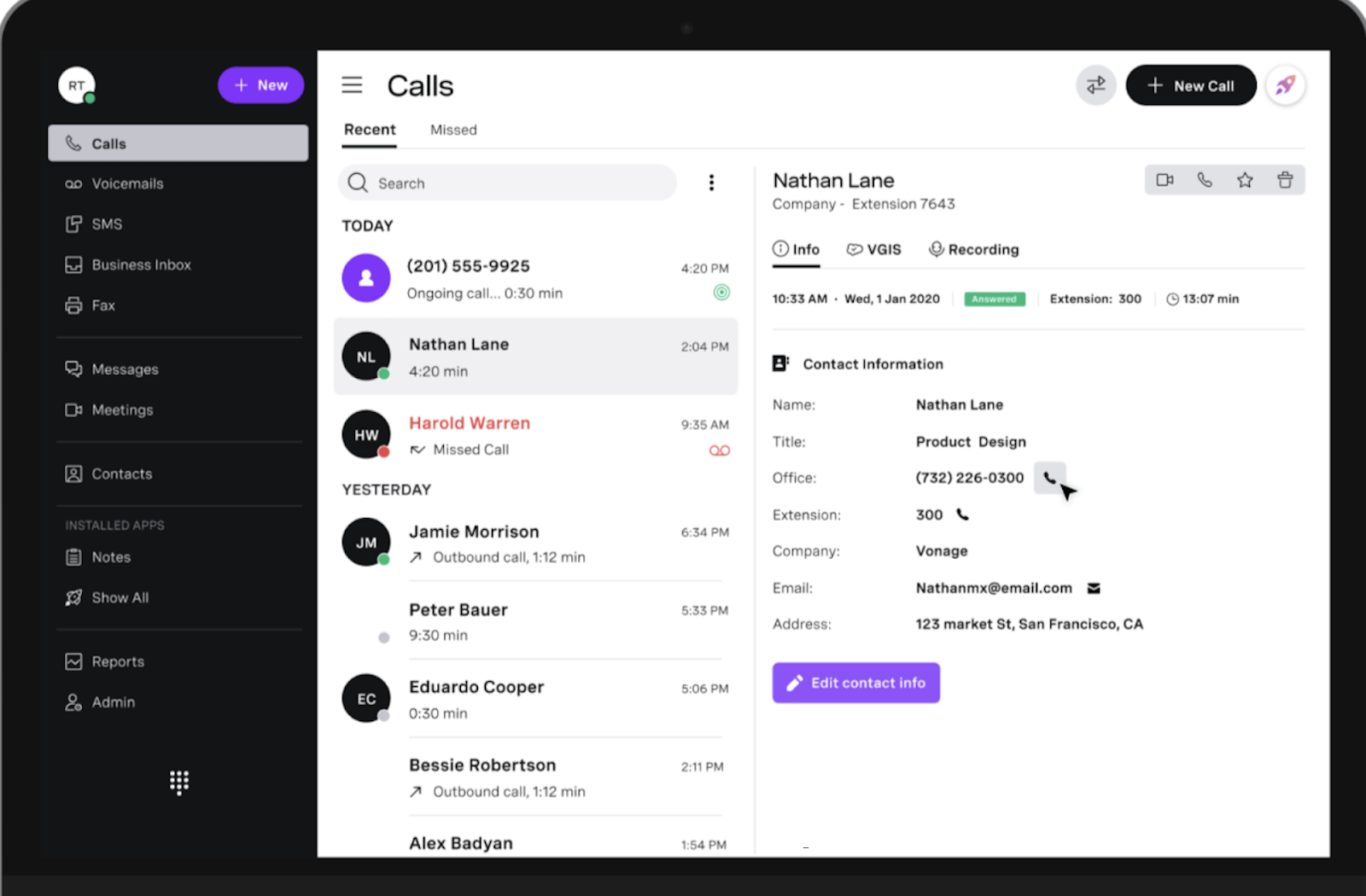 Ooma Office offers 3 business phone plans, with no other channels. However, their phone system does include a well-rounded offering of basic routing features, including IVR, ring groups, and virtual extensions.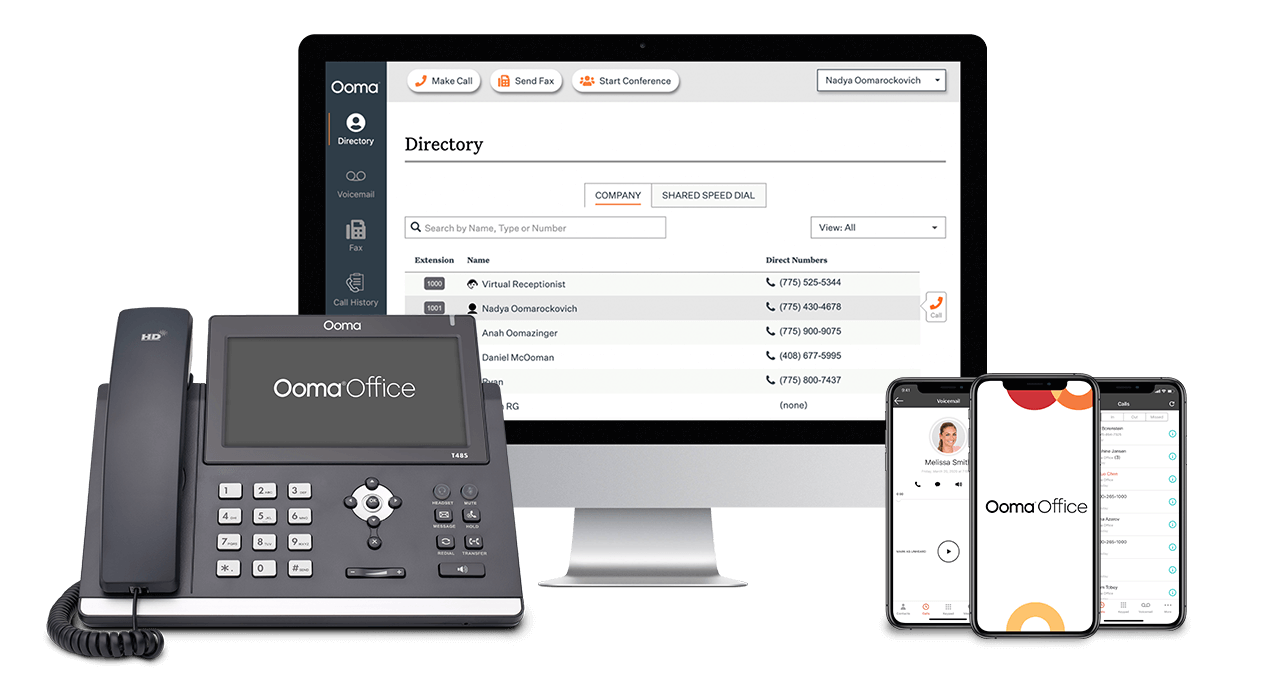 Who is OnSIP Best For?
OnSIP is best for small companies seeking a basic VoIP phone system rather than a multichannel business communication solution. 
Whereas alternatives offer SMS, chat, calendaring, and AI enhancements, OnSIP offers only VoIP, routing features, and 5-participant video meetings. Companies who heavily favor telephony will appreciate OnSIP's simplicity–but companies looking for advanced internal communication will feel disappointed by the basic feature offerings.
Companies with dozens of team members–or those using video for collaboration–should consider alternatives with larger video-participant capacities and collaboration features like whiteboarding, screen sharing, video chat, and polls.
Lastly, companies that frequently interact with PSTN-based international customers should consider OnSIP for its large unlimited calling network.