A business phone system is a VoIP-powered multi-line telephone solution that provides unlimited calling, business texting, call recording, advanced voicemail, conference calls, HD voice and video, and improves overall communication for your customers and employees.
There are over 100 business VoIP solutions on the market, and in this post, we determined the top options for small business needs.
Why you can trust GetVoIP + Our Research Methodology
We follow strict editorial guidelines and are committed to bringing you unique, independently researched, and valuable information.
To finalize our picks for the best business phone systems, we analyzed them according to price and value, system features (basic and premium add-ons), limitations, user experience on both mobile and desktop, call handling and audio quality (for small and medium-sized businesses up to 50 employees), and types of available business calling channels.
All research and ratings were conducted hands-on by our editorial team. Additionally, we've validated every data point by calling the service providers multiple times over the past three weeks.
Our Top Rated Small Business Phone Systems
Based on our research, here are the business phone systems you should consider:
1. Nextiva – Best Overall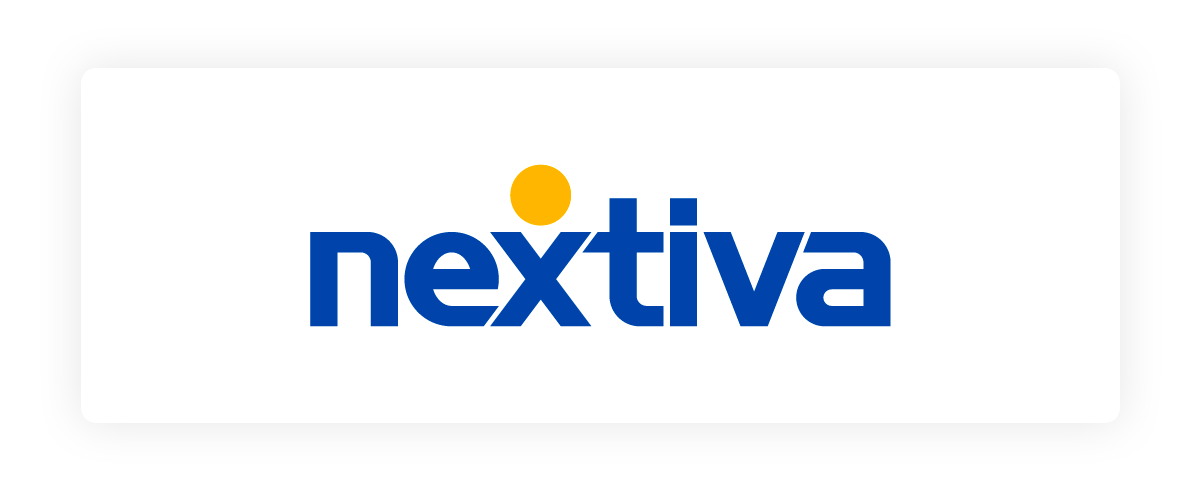 Nextiva has an impressive desktop and mobile app that combines a business phone system, texting, team chat, routing, customer service tools, and many business-friendly features.
Unlike other business phone service providers, Nextiva includes a built-in contact management and calendaring system, along with VoIP, video conferencing, internal team messaging, and SMS. Nextiva users can access features like thread conversations, meeting rooms, file sharing, a multi-level auto attendant, and unlimited calling in the US and Canada. For this review, we only focused on the business phone elements of the platform and did not examine their team collaboration or CRM-like suite.
Why we recommend Nextiva:
Well-rounded web-based phone system: When testing Nextiva's phone system, we logged into the portal from their desktop, mobile app, and iPad Pro to assess accessibility and functionality. The backend portal NextivaONE includes VoIP, team chat, conferencing, and texting in one very clean portal. We were able to successfully set up call routing between two employees in sales and support within the desktop admin portal. Our settings went into effect in about 5 minutes and worked just fine. We did have to call support to configure the extensions. The call took less than 10 minutes, and the rep set this up for us.
User-friendly app for call handling on any device: Nextiva's desktop and mobile app avoids overwhelming bells and whistles while keeping the essential routing and collaboration features–IVR, ring groups, voicemail, quickly accessible and not buried in layers of technical menus. While trying to access some of the call-handling features, we had more success on the desktop app versus the mobile app.
Dedicated numbers and user access: Every user gets a dedicated local number and extension, and each user gets their own portal login. As the admin, we were able to set user roles allowing everyone to set their own hours, voicemails, and settings.
Nextiva Pricing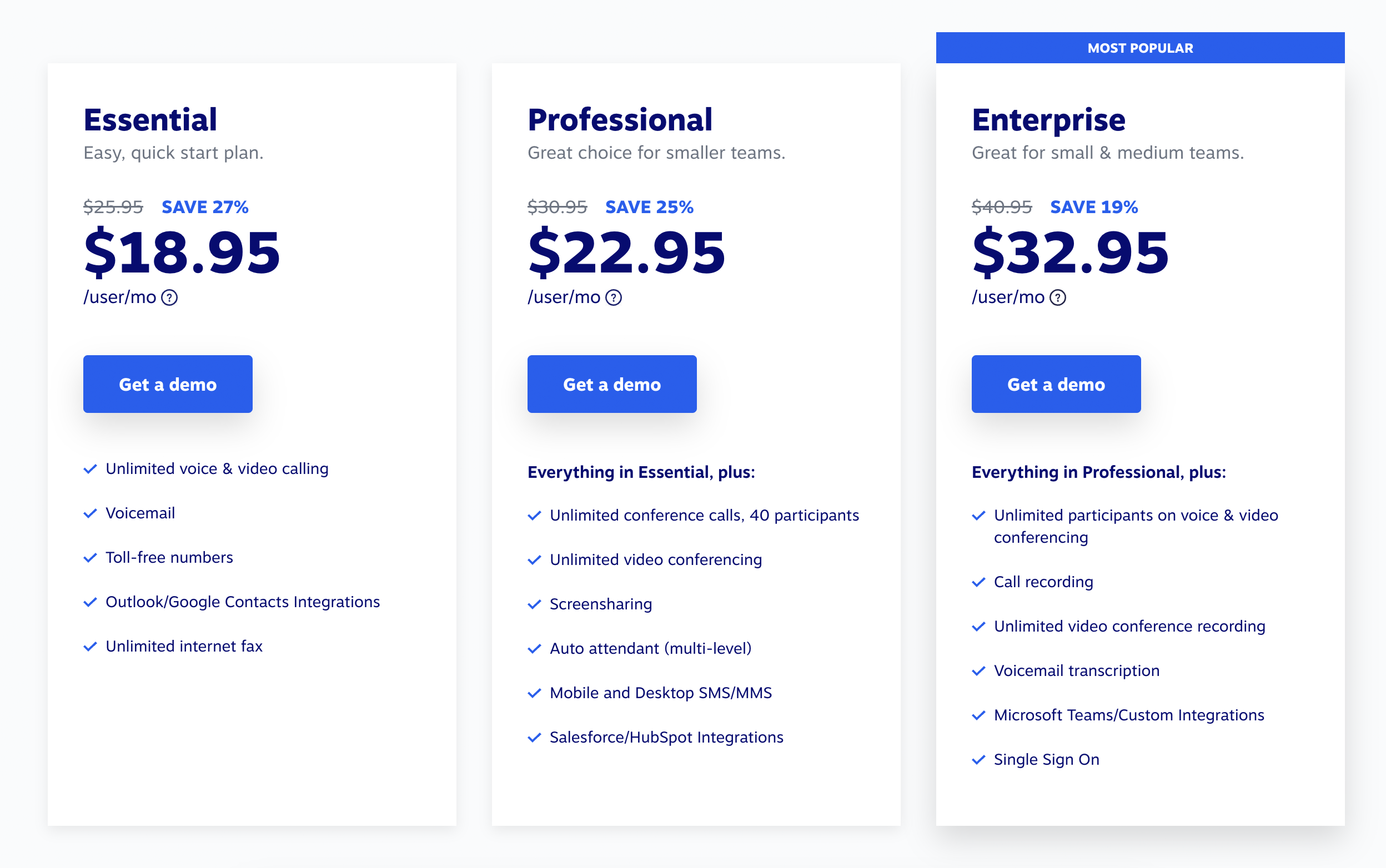 Nextiva pricing ranges from $18.95 to $31.95 per line per month. The provider typically offers a 30-day free trial and three paid plans available on a month-to-month or annual subscription basis. However, during this review, they offered us a 90-day risk-free trial across all their plans as limited time offer.
For more information, check out our review of Nextiva pricing, features, and plans.
Nextiva Drawbacks
Not enough integrations: Nextiva offers only 19 third-party software integrations–far fewer than many competitors, some of whom offer up to 300 integrations
Mobile app alerts: when testing Nextiva's mobile app, we noticed a lag with some notifications. This mainly happened with voicemail alerts. In one instance, it took about 10 minutes to receive an alert for a new voicemail. Alerts for new texts or chats, however, seemed fine. The notifications seemed to be glitchy.
Lackluster video meetings: The Nextiva video meetings include screen sharing and chat but lack helpful collaboration features like breakout rooms and whiteboards, and video meetings are only available with other Nextiva users.
2. RingCentral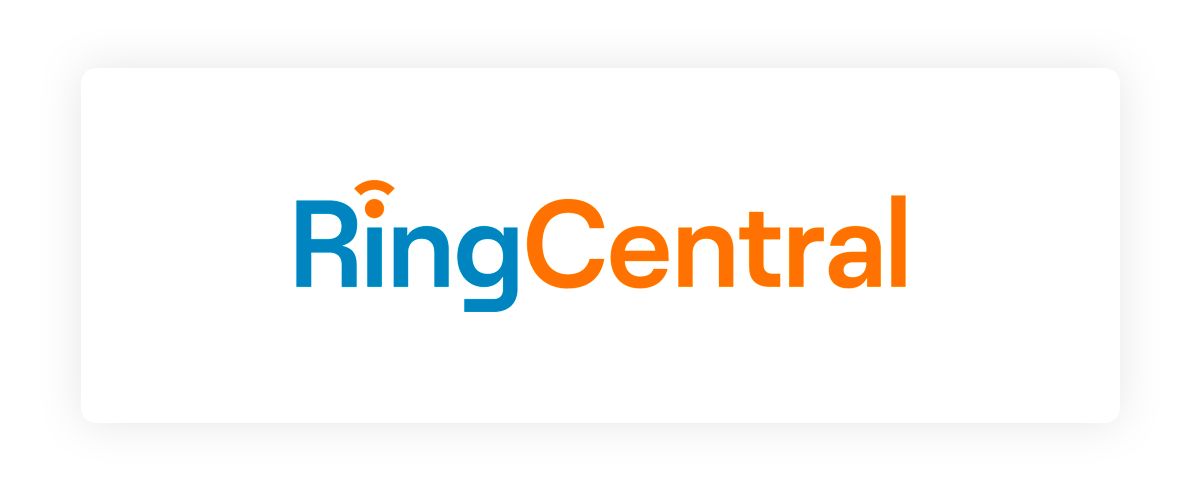 RingCentral MVP is a business communications app with cloud messaging, AI video communications, and a VoIP phone system. Available on desktop and mobile, the app supports multi-level IVR, call monitoring, call queues, and various business phone numbers from area codes worldwide.
Overall, we found RingCentral's phone system features easy to use, even for those new to UCaaS or VoIP. The app is well-priced, with unlimited team collaboration rooms that include task management and file sharing.
Why we recommend RingCentral:
Team collaboration: We are most excited about RingCentral's powerful built-in collaboration features, with one-click buttons for team video huddles that you can send internally and externally in seconds. We heavily utilized the task assignment tools built into chat that let us collaborate with teammates more effectively.
Ease of use: When we first logged in to the RingCentral desktop app, we immediately understood how to use the calling, chat, and texting tools. The interface resembles familiar communication apps like Slack, with notifications in the left-hand column to ensure we never miss a task. Making outbound calls is as simple as clicking on a contact's name.
Business analytics: RingCentral's analytics capabilities are among the most customizable and robust that we have tried. We created dozens of custom dashboards with metrics that measure queue activity, call volume, and user activity for anyone on the account. All this data comes in several visual styles, filtered by date, user, or KPI.
RingCentral Pricing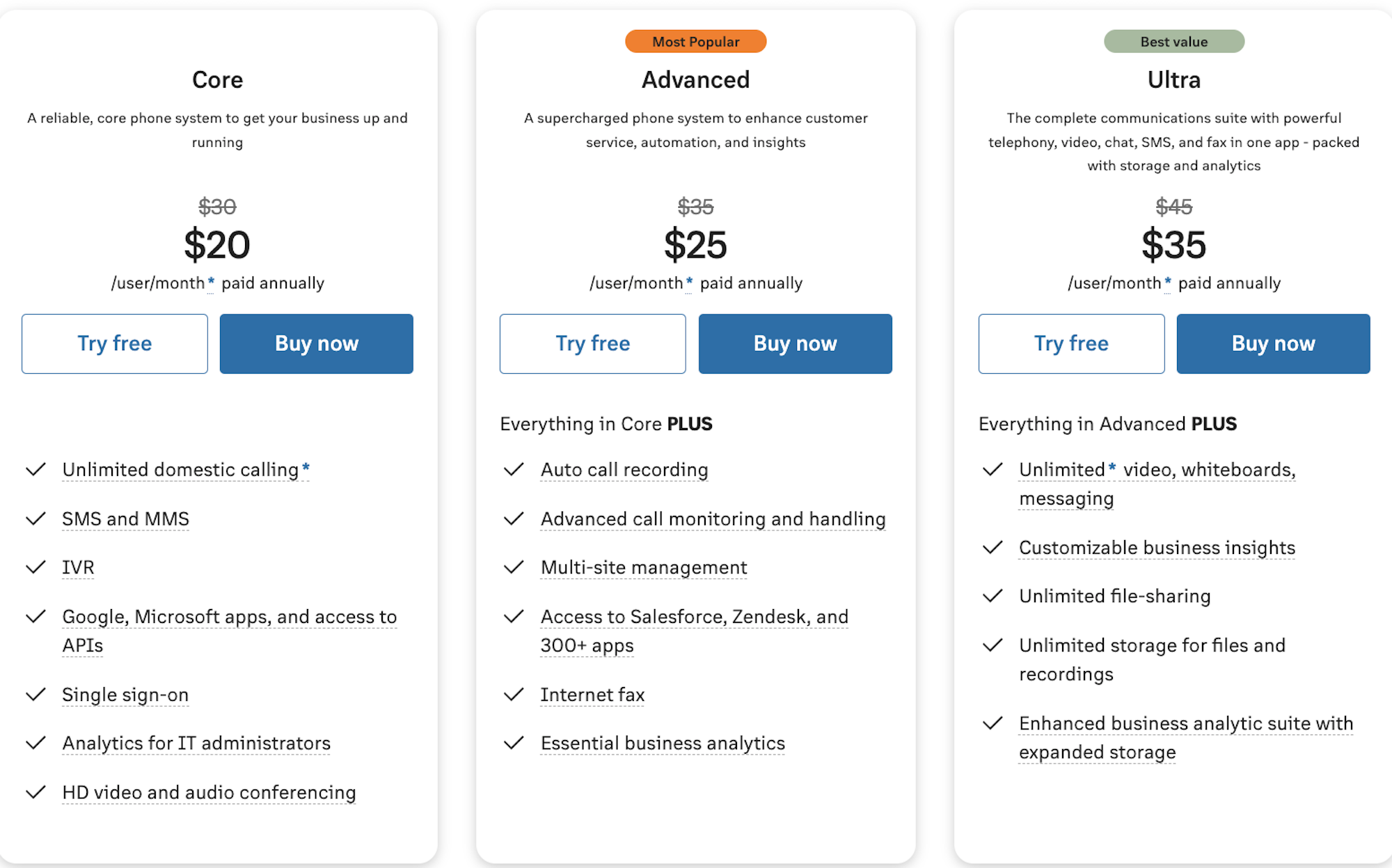 RingCentral MVP offers a free 14-day trial and 3 plans ranging from $20 to $35 monthly per user if billed annually. Month-to-month billing is more expensive and varies from $30 to $45 per user per month.
Further details are available on our RingCentral Pricing overview.
RingCentral Drawbacks
SMS limits: Each RingCentral plan limits a user's monthly text allowance to 25, 100, or 200, depending on the plan. We quickly reached our monthly SMS limit and believe this can be an issue for teams who frequently text their customers.
Analytics and monitoring learning curve: While we found RingCentral's dashboard and basic calling features easy to use, the analytics and call monitoring features are advanced. When we first logged into the analytics page, we felt a bit overwhelmed by all the options available to us.
Poor customer service: We've experienced excessive hold times with RingCentral's customer support, sometimes reaching over 10 minutes on hold
3. Zoom Phone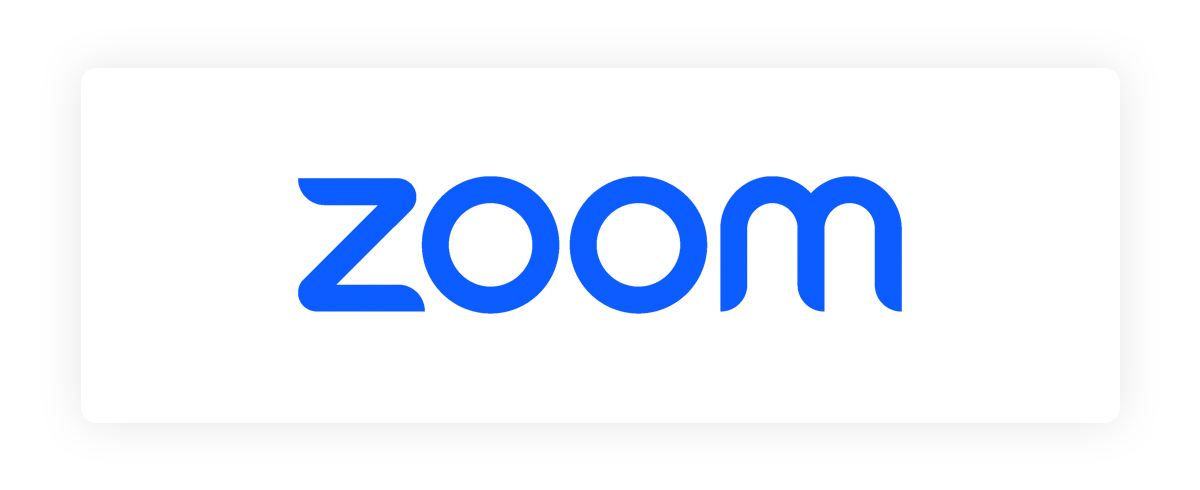 Zoom Phone is a complete VoIP phone system for business with team chat, call monitoring, call queues, IVR, and call analytics on each plan. The desktop and mobile apps are easily navigable, and team chat conversations support file sharing and emoji reactions. The platform also uniquely offers the option for per-minute payment, or the option for unlimited domestic calling in a country outside the US. We felt that Zoom Phone's voice quality was above average, likely due to their use of the Opus codec.
We previously considered Zoom to be a video-focused platform, but we changed our minds while using the software. While video is still the solution's strong point, we felt that Zoom Phone's breadth of features make it a well-rounded business phone system.
Why we recommend Zoom Phone:
Cohesiveness across channels: We were impressed by how seamlessly each of Zoom's channels and collaboration tools integrate. Zoom Phone syncs with Zoom Meetings, enabling us to begin whiteboards or note documents in chat and easily continue them during video conferences.
Domestic calling outside the US: Zoom is one of the few VoIP providers that support unlimited domestic calling outside the US. While most providers only support unlimited calling in North America, Zoom supports unlimited domestic calling in your choice of 40 countries–plus an add-on for unlimited calling in 19 countries.
Intuitive mobile app: After getting familiar with the desktop interface, we found Zoom's mobile app a breeze to navigate. The sidebar menu translates seamlessly across desktop and mobile, so we found it easy to manage chats and call logs across devices.
Zoom Phone Pricing 
Zoom Phone offers 3 plans, which all include the same features but vary according to call pricing style and domestic calling area. Plans range from $10 to $20 monthly. Notably, Zoom also offers an add-on for unlimited calling in up to 19 countries.
Zoom Phone Drawbacks
Lack of analytics: Zoom Phone includes some advanced features, like call queues and monitoring. However, Zoom's real-time analytics dashboard comes as part of their Power Pack add-on. The native platform's reports do not track live call activity.
No feature flexibility: While Zoom offers good value for its features, the pricing structure leaves no room for teams to choose their feature tier. Everybody using Zoom Phone receives the same suite of features.
4. GoTo Connect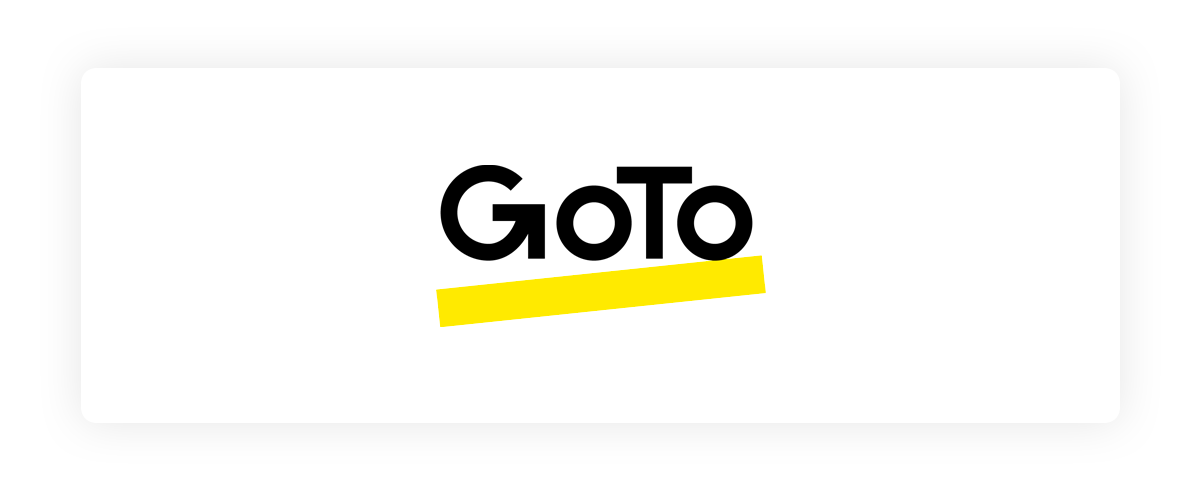 GoTo Connect is a business phone system with cloud-based voice, video, and chat messaging.
We found it easy to set up call distribution with GoTo's dial plan editor, with an intuitive drag-and-drop interface to build an intricate routing system. We linked our entire business phone system with the software's tools like queues, ring groups, voicemails, and announcements. While we used type-to-voice to create the menu, you can custom-record audio as well. Smart call routing ensures that every inbound call reaches an available agent, if the first (or second) option doesn't answer.
GoTo Connect's Basic plan offers just limited access to the routing tools mentioned above, making it a good fit for small teams. Teams of any size can benefit from the unlimited use provided in the Standard plan.
Why we recommend GoTo Connect:
High-volume international calling: We were impressed by the fact that GoTo Connect's Standard plan supports unlimited VoIP calling to over 50 countries, outmatching every competitor we've seen.  Call China, Australia, the UK, and many other popular destinations.
Phone system customization: The Standard plan supports unlimited usage of key call distribution tools–auto attendants, custom dial plans, ring groups, and call queues. These tools made it easy for us to build a custom phone system that helped callers automatically reach their intended destination.
Dial plan builder: GoTo Connect's drag-and-drop IVR flow builder lets you create a customer self-service menu combining all sorts of users and actions. Since it requires no code, our team quickly built a custom routing system. The analytics also includes insights about customer usage and IVR choices.
GoTo Connect Pricing
GoTo Connect doesn't post pricing publicly, so you will need to contact their sales team for a custom quote. They offer two plans and several add-ons for an additional price.
Our GoTo Connect cost breakdown provides additional information.
GoTo Connect Drawbacks
Limited Basic plan: The phone system on GoTo Connect's Basic plan only supports 1 auto attendant, ring group, and call queue. We reached this limit almost immediately and imagined it would majorly restrict large teams.
SMS credit: Each plan offers a preset number of SMS credits per user–40 and 80, respectively–capping how many texts a user can send per month. Some of our users reached the 40-SMS limit quickly and felt restricted.
5. 8×8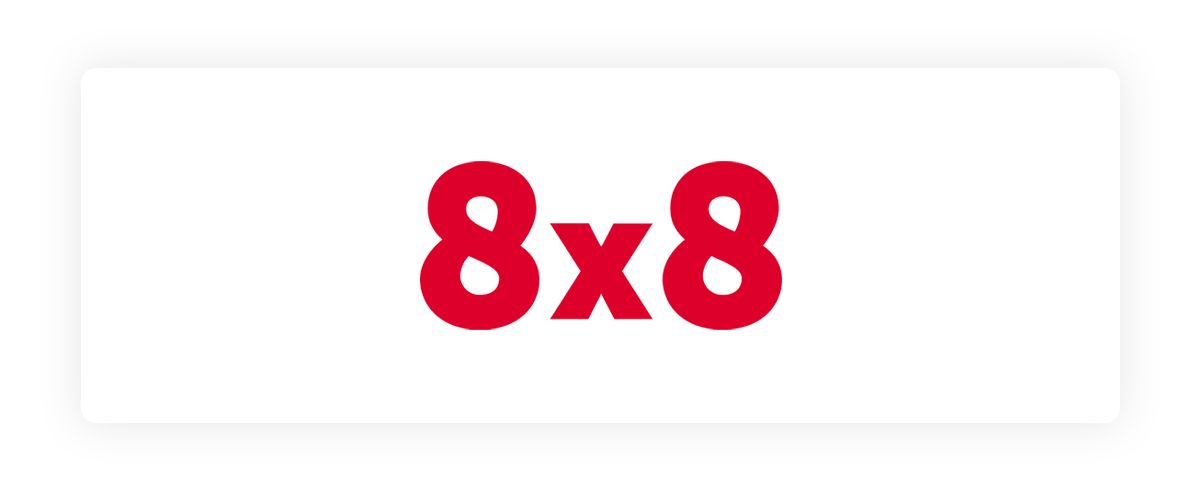 8×8's business phone system offers unlimited local and global calling across 48 countries, plus SMS, team chat, and video meetings. The provider's UCaaS plans transition smoothly into their higher-tier contact center plans, making it a great option for teams that plan to scale customer service.
We found that 8×8's UCaaS offerings provide great supervisor support. Call monitoring with whisper and barge, plus a supervisor analytics dashboard helped our administrators keep an eye on multiple team members at once. The phone system includes all the basic routing tools a small business might need, including call queues, multi-level IVR, and voicemail transcription–even on the basic X2 plan. We were impressed by the platform's 500-participant meeting capacity across all plans.
Why we recommend 8×8:
Receptionist support: 8×8 Frontdesk is an app interface designed explicitly for receptionists and front desk workers. The UI makes it easy for receptionists to handle high call volumes, thanks to an easily accessible contact directory, a live view of queue activity, quick call transfers, and intuitive call controls.
Supervisor support: The X4 plan includes call monitoring with listen, whisper, barge, and takeover. Though our team is small, this feature helped administrators keep an eye on each user's call activity.
Interactive or large-capacity meetings: 8×8's 500-participant meetings include interactive features like emoji reactions, instant polls, and breakout rooms. These features made our remote meetings feel engaging, modern, and fun.
8×8 Pricing

8×8 offers 5 total plans–2 unified communications plans and 3 contact center plans. They don't offer public pricing information, requiring you to contact them for pricing details.
For more information, check out our complete breakdown of 8×8 pricing and plans.
8×8 Drawbacks
International calling limitations: While 8×8 does offer wide international calling areas on both plans–14 and 48 countries, respectively–many of these countries exclude mobile numbers, especially on the X2 plan. Though it costs more, we recommend the X4 plan for true unlimited international calling.
Price: Though 8×8's UCaaS platform offers advanced call center features, it comes at a higher price point than most alternatives. We recommend it only if you plan to use the unique features–call monitoring and international calling.
6. Dialpad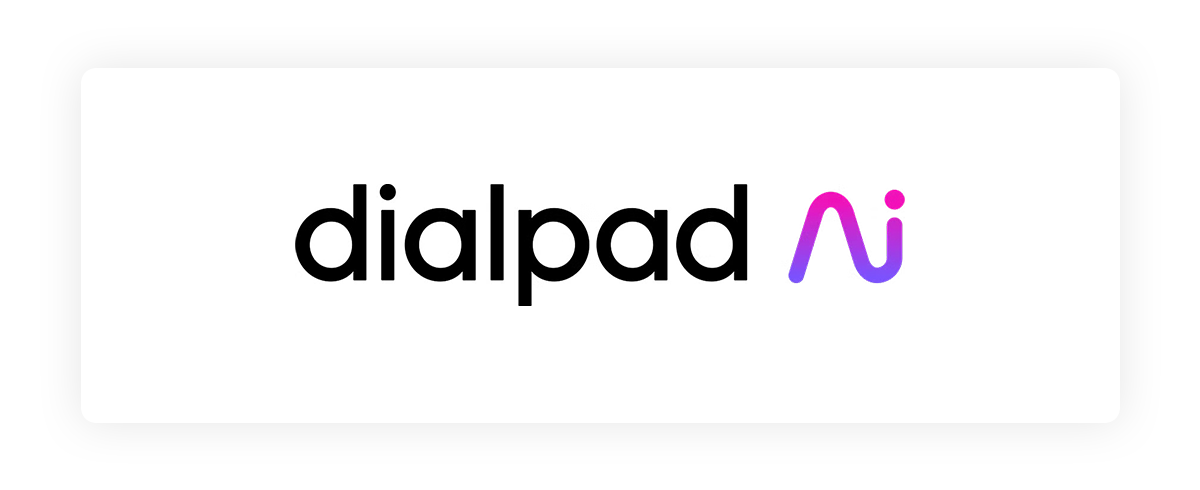 Dialpad's business phone system offers team collaboration and AI support specialized for small teams. It includes voice and video calling, team chat, virtual faxing, and SMS texting.
The desktop app has one of the most user-friendly dashboards of any UCaaS platform. We were impressed that each plan includes live call transcription and real-time analytics, which benefit both agents and supervisors. Most phone systems reserve these features for the highest tier, but Dialpad offers them for $15 monthly.
Additionally, Dialpad includes all the important phone system features: virtual phone numbers around the globe, call queues and multi-level IVR, ring groups, and file sharing in team chat.
Why we recommend Dialpad:
Value: For $15, Dialpad's Standard plan offers exceptional value. It includes advanced features like live call transcription, real-time analytics, and interactive video-conferencing features. For small teams on a budget, these capabilities are hard to beat.
Analytics and AI: Dialpad's analytics dashboard is easy to interpret and understand. Right off the bat, we could see and understand an overview of our call volumes, messages sent, and video meeting records.
User experience: The desktop app has a modern feel, with a UI that feels spacious despite housing a lot of features. While we expected the live transcription feature to feel overwhelming while on-call, it integrated surprisingly well with the active call controls.
Dialpad Pricing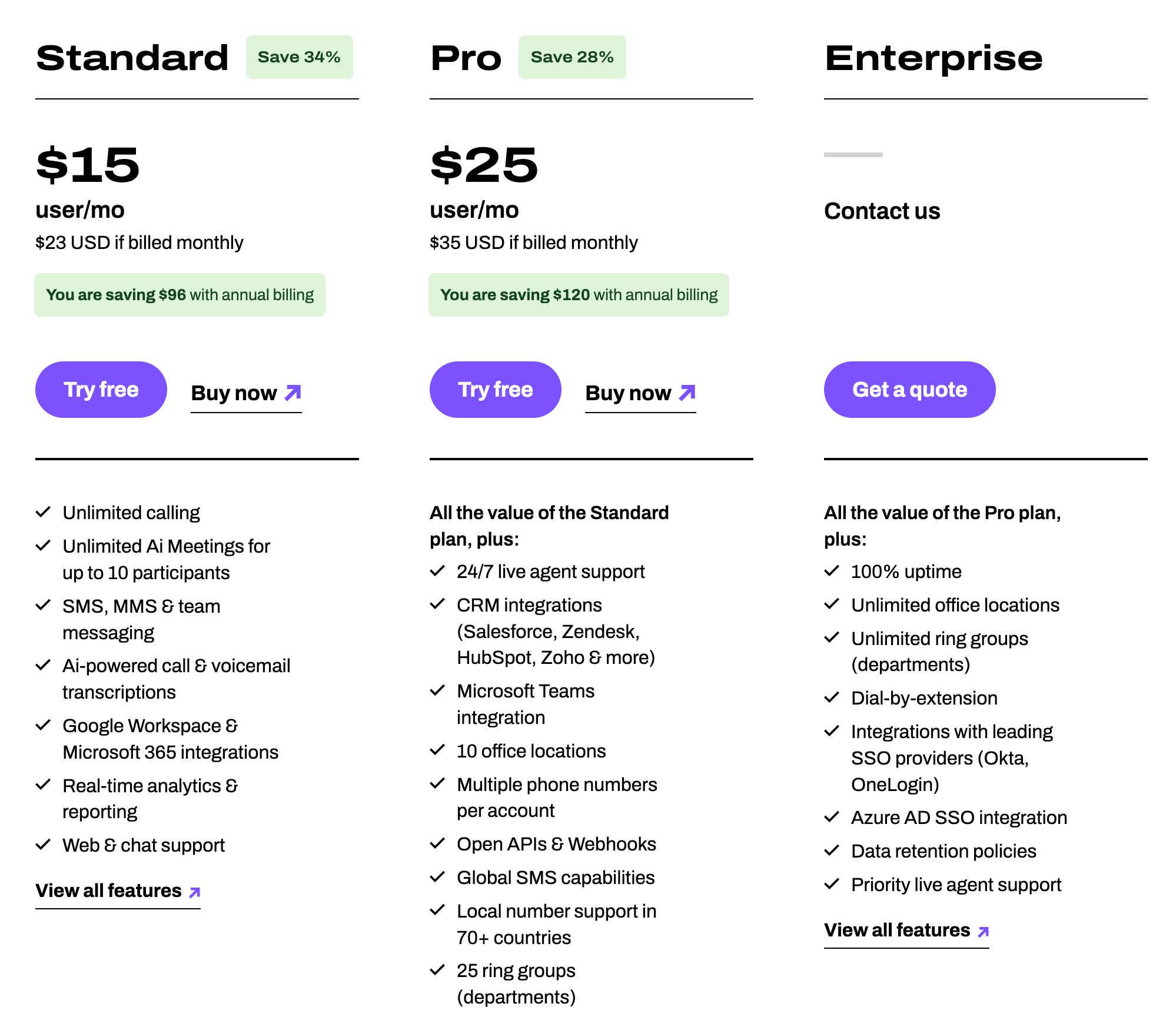 Dialpad offers a free 14-day trial. Annual subscriptions for the unified communications platform range from $15 to $25 per user monthly.
Month-to-month billing varies from $23 to $35 per user.
Our Dialpad cost breakdown offers further details.
Dialpad Drawbacks
Small video capacity: We took advantage of Dialpad Meetings' advanced features like waiting rooms and virtual backgrounds, but the 10-user capacity limited our ability to meet as a team. For some small businesses, this may be fine, but those approaching 20 employees may need larger capacity.
Limited integrations: Dialpad's Standard plan only supports integrations with Google Workspace. If you want to integrate Salesforce or HubSpot like we did, make sure to opt for the Pro plan
7. Vonage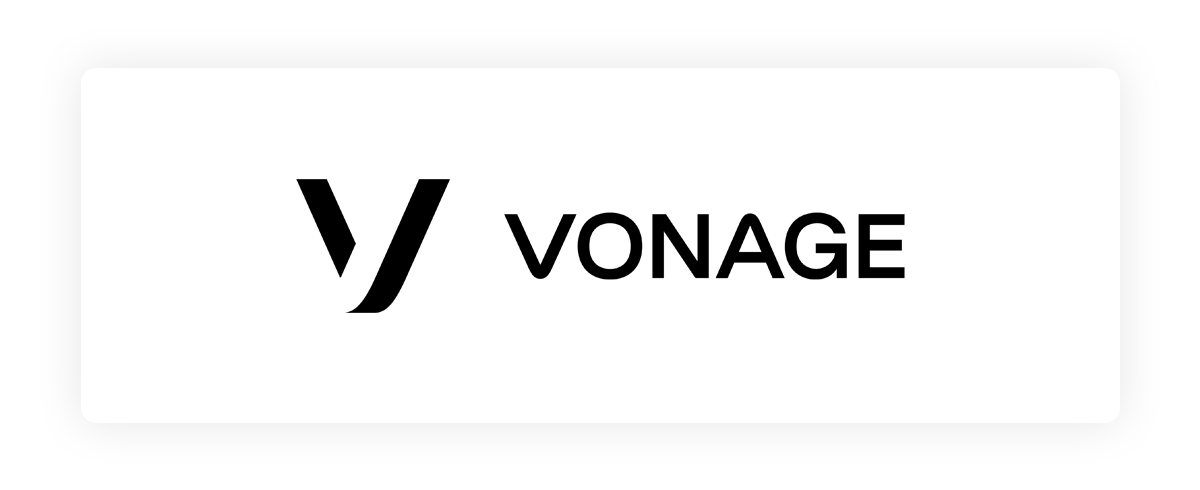 Vonage's Business Communications platform offers a desktop and mobile app with VoIP calling, video meetings, team chat, and SMS. Users can make unlimited calls and texts within the US, Canada, and Mexico, and access basic routing features like IVR, analytics, and call groups.
We were impressed with Vonage's offerings for virtual numbers, which included plenty of toll-free and local options from across North America and dozens of other countries. However, some of our favorite Vonage features, like the shared messaging inbox, are reserved as add-ons.
Why we recommend Vonage:
Unlimited SMS: While using alternatives, we frequently reached our monthly texting limits. This never happened with Vonage, since they support unlimited texting within the US and Canada.
Meeting setup, logs, and usage: While Vonage's video meetings lack some interactive features like whiteboards and breakout rooms, they're easy to schedule and access within the app. Hosts can easily record meetings with one click and view all recordings in the meeting log.
Phone number availability: While purchasing virtual numbers through Vonage, we found an abundance of DID numbers in area codes that we wanted across the US–plus plenty of offerings in international countries
Vonage Pricing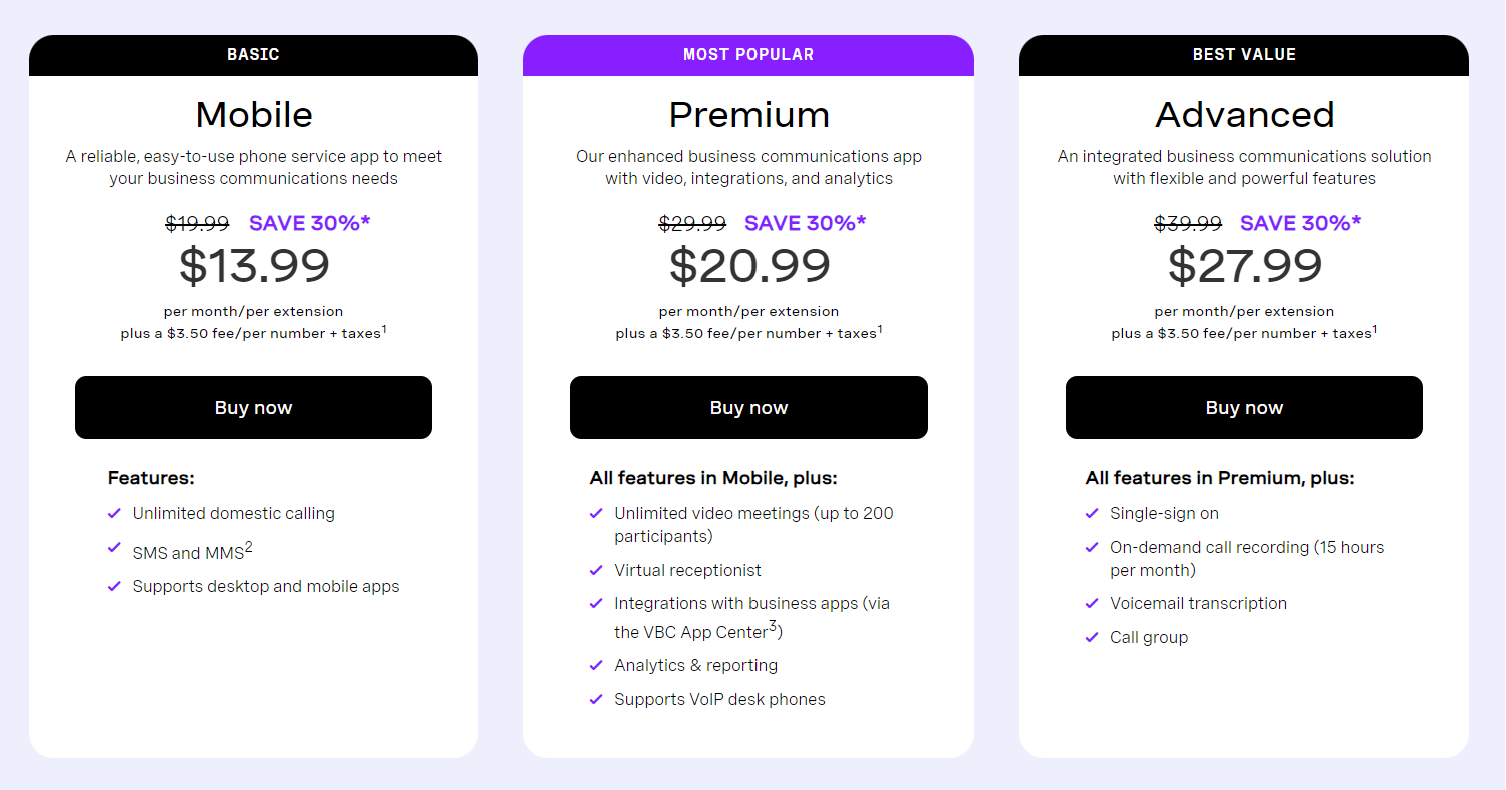 Vonage Business Communication offers three plans. The pricing for 1-20 users ranges from $19.99 to $34.99 per user per month, though they sometimes offer seasonal discounts.
Our extensive review of Vonage Pricing offers more details.
Vonage Drawbacks
Lacks advanced features: Vonage Unified Communications only includes basic business phone system features, like auto attendants and voicemail. While using the app, we wished it included features like file sharing, AI support, call monitoring, and analytics–even call queues require an add-on.
Call recording as an add-on: While many alternatives include automatic call recording as a built-in feature, Vonage offers call recording as an add-on at $4.99 monthly per user
Key features are overpriced: Video meetings and multi-level auto attendants are only included with the Premium plan, costing $29.99 monthly per user. Many competitors include these features in their basic plan for half Vonage's price.
 8. OpenPhone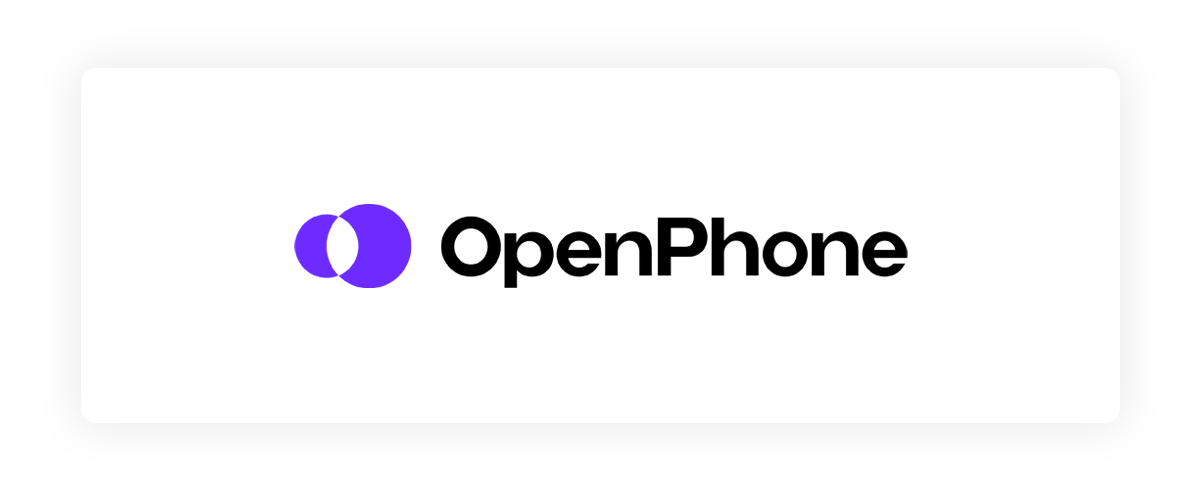 OpenPhone is a flexible and basic small business phone system with voice calling and texting. Though OpenPhone doesn't have video, the platform is user-friendly with unique number-sharing tools that enable collaboration for small teams. Multiple users can make calls and send texts from the same number simultaneously. We had multiple team members share the same number, setting up custom ring orders to optimize call routing. Not only can users share numbers, but hold multiple numbers–jumping between them with a click.
OpenPhone recently added AI features as well–including call summaries and suggested message replies–which we found reliable and useful.
Why we recommend OpenPhone:
Shared phone numbers: Some alternatives don't allow users to share phone numbers, but OpenPhone users can share phone numbers among dozens of team members–even sending texts and making calls from the same number at once. This was a major productivity booster for us.
AI: A few VoIP providers have recently integrated AI, and OpenPhone is at the forefront. The platform uses AI to generate responses to customer texts, also providing call transcription and automated call summaries. We found these call summaries to accurately capture the most important parts of conversations we had.
Collaboration: Of all the platforms we tested, OpenPhone made it the easiest to jump between phone numbers with one click. Within each phone number, users can access messaging and phone inboxes.
OpenPhone Pricing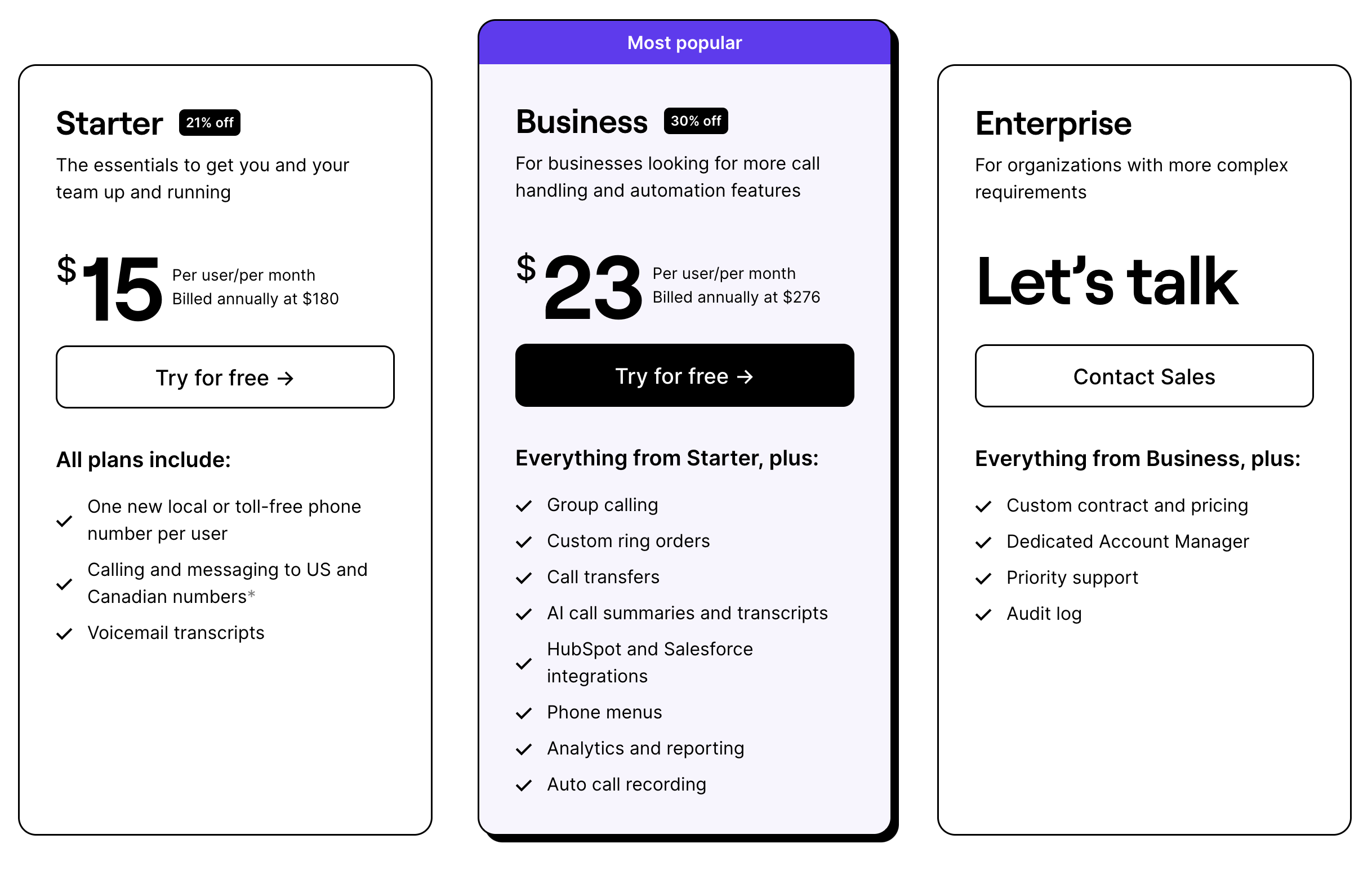 OpenPhone offers 3 plans, which range from $15 to over $23 monthly per user. The low-tier Starter plan includes voice, SMS, group messaging, and voicemail transcripts. The Business plan adds AI call summaries, group calling with multiple users per call, and custom ring orders.
OpenPhone Drawbacks
Lack of analytics: The main thing we found missing from OpenPhone is an analytics option. We couldn't access useful phone system information like inbound vs. outbound calls, missed call percentage, and other important KPIs.
Limited Google integrations: While OpenPhone integrates with Google Contacts, email, and CRM platforms–we wish it integrated with Google Workspace like some competitors.
9. Ooma Office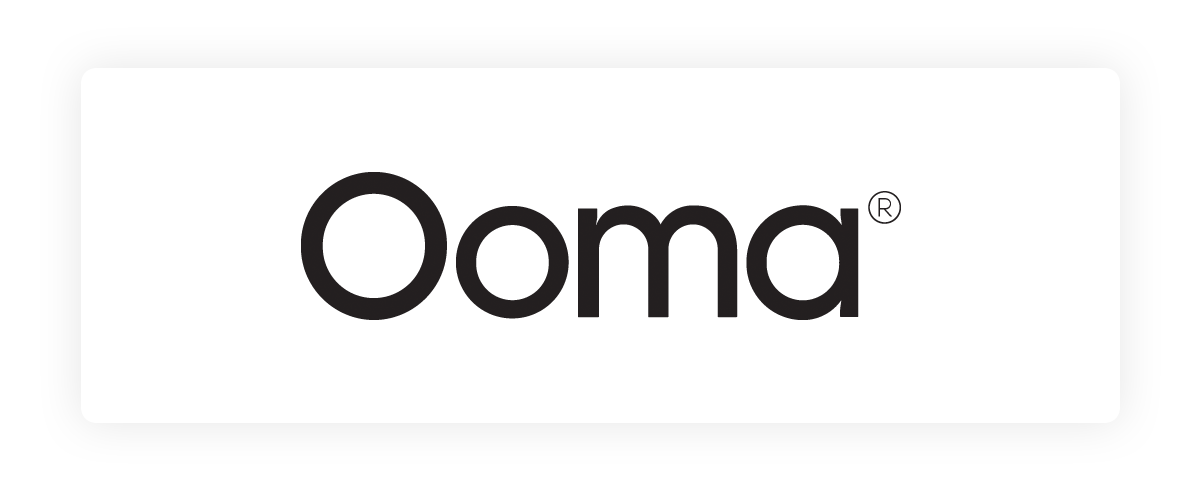 Ooma Office is a UCaaS platform and phone system for small businesses. It supports VoIP calling across North America and Mexico, SMS texting, and video meetings with up to 25 participants. We appreciated how the platform offers a free toll-free number and 500 toll-free minutes with each account signup. The interface feels slightly outdated, and it lacks some useful phone features like call monitoring and AI support tools. The video meetings also include basic features, like chat and screen sharing. Still, we were impressed with the Pro Plus plan's analytics. It was easy to use the call routing tools, which include ring groups and call queues.
Why we recommend Ooma Office:
Simple call controls: While on call, we found Ooma's active controls easy to use: call parking, call hold, and call forwarding. Just one click from the active call interface and the call is transferred.
Multichannel analytics: Some competitors only provide call analytics, but Ooma's analytics platform tracks insights and trends across the phone system and messages. We enjoyed monitoring messaging volume trends by hour of the day and day of the week.
Ooma Office Pricing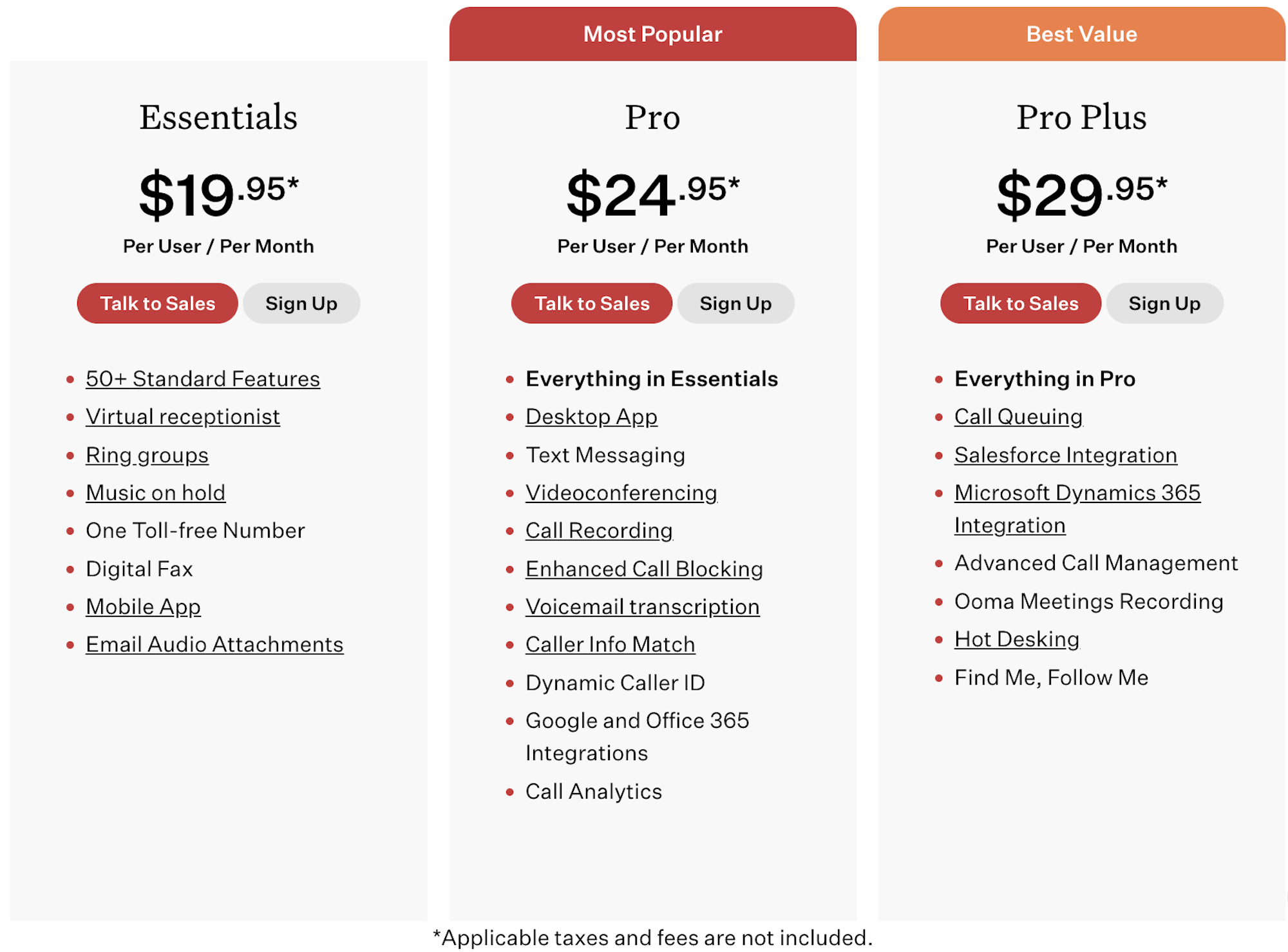 Ooma Office offers 3 plans ranging from $19.95 to $29.95 monthly per user. The Essentials plan offers a mobile-only phone system with IVR, ring groups, and unlimited calling across North America and Mexico. The Pro plan adds video conferencing and the desktop app, while the Pro Plus plan adds call queueing and CRM integrations.
Ooma Office Drawbacks
No team chat: While team chat isn't an essential feature, we missed it while using Ooma. Many alternative phone systems offer built-in team chat, which is helpful for collaboration.
Basic video meetings: Ooma's meetings include screen sharing and recording but lack some interactive tools that competitors have–such as whiteboards or breakout rooms.
10. Grasshopper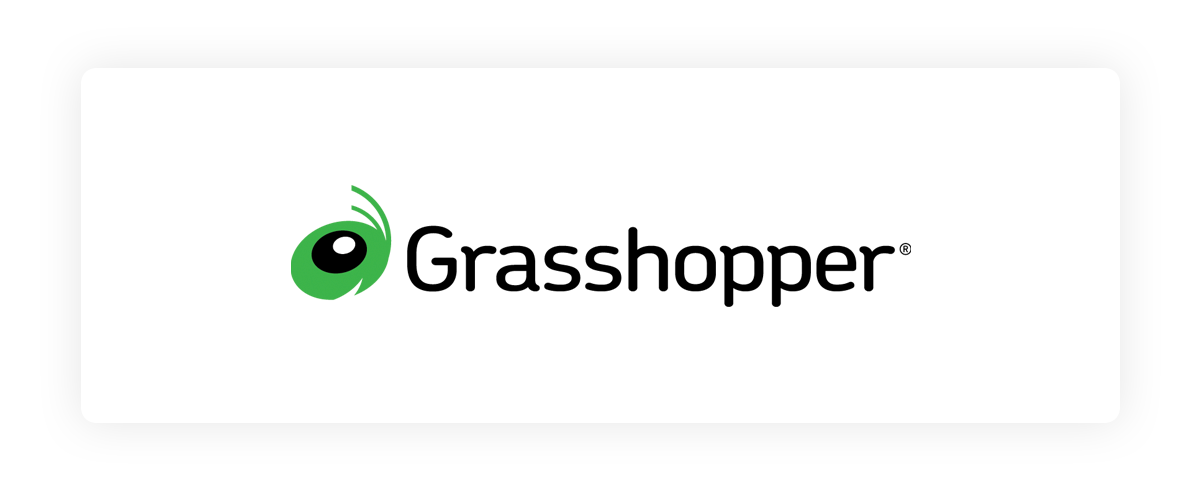 Grasshopper is a simple business phone system with just calling and SMS. With a simple interface, Grasshopper makes a great option for solopreneurs and small teams that don't need a phone system with bells and whistles. The desktop and mobile interface includes a voicemail, call logs, messaging history conversation, and basic call controls like forwarding and hold.
We appreciated Grasshopper's ease of use on desktop, and the fact that it supports unlimited texting in the US.
Why we recommend Grasshopper:
Simplicity: We found Grasshopper to be one of the simplest phone systems out there. The desktop and mobile apps only contain basic features like voicemail and call records, making it easy for new users to call and text.
Unique pricing structure: Grasshopper offers account-based pricing, while all competitors offer user-based pricing. For small teams of 5 to 20 employees that plan to share phone extensions among multiple users, Grasshopper could prove the most cost-effective option. Especially for those who don't want bells and whistles.
Grasshopper Pricing

Grasshopper offers 4 pricing plans, charged by the account. Plans vary by the number of supported users, bundled phone numbers, and extensions. Each plan has the same features–unlimited calling and SMS in the US, desktop and mobile apps, instant text response, voicemail, and call controls.
Grasshopper Drawbacks
Pricing structure: While the pricing structure can be an advantage, it can also be unfavorable for some small businesses. Teams that want each user to have a unique phone number can find more affordable options elsewhere.
Lack of routing features: We consider routing features like IVR and queueing to be essential aspects of a VoIP phone system. While using Grasshopper, we felt limited by not having access to these routing tools.
11. Google Voice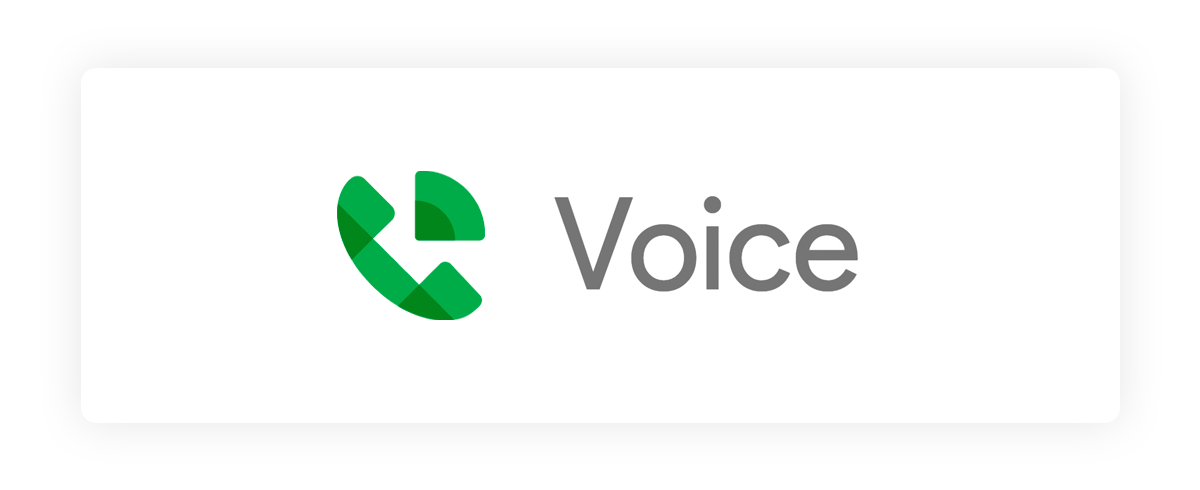 Google Voice offers a VoIP phone system with texting and routing features, accessible via mobile and web apps. Choose virtual phone numbers throughout the United States and access basic features like call controls, multi-level IVR, ring groups, voicemail transcription, and usage reporting. The apps integrate seamlessly within the Google interface and other Google Workspace products, making a great option for companies that utilize Google as part of daily workflows.
Why we recommend Google Voice:
Cost: Google Voice's $10 plan is the cheapest option of all competitors, and it includes a virtual phone number with unlimited calling across the US and Canada
Google integrations: Voice's mobile and web apps integrate extremely well with Google's other products–especially Google Meet and Google Calendar. Since we use Google frequently, this enabled us to streamline scheduling workflows.
Unlimited texting: We appreciated how Google Voice doesn't place a limit on monthly texting, as some alternatives do.
Google Voice Pricing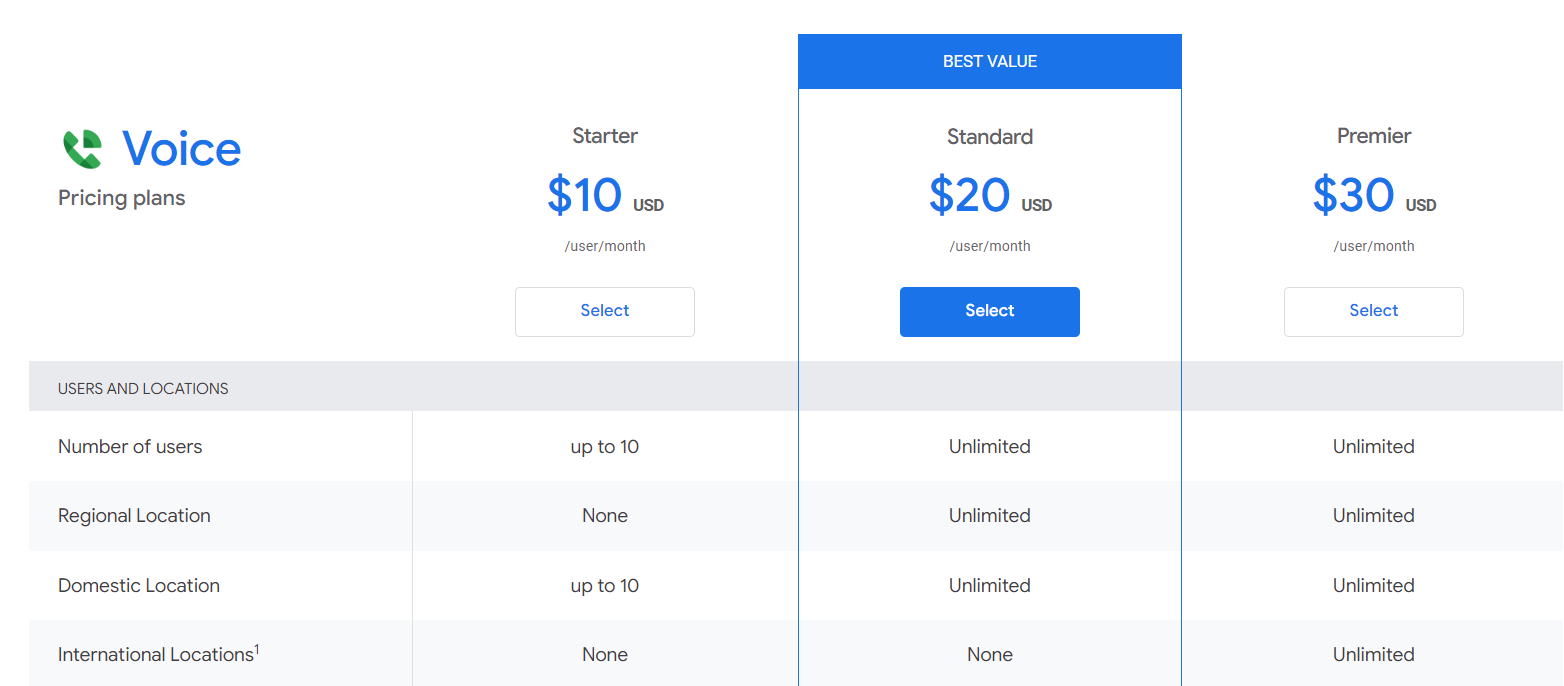 Google Voice offers 3 pricing plans ranging from $10 to $30 monthly per user. The Starter plan includes web and mobile apps, voicemail transcription, plus unlimited texting and calling in the US. The Standard plan adds multi-level IVR and ring groups, while the Premier plan supports unlimited international company locations and advanced reporting.
Google Voice Drawbacks
No toll-free numbers: While Google Voice offers numbers from across the US, the provider does not have any toll-free numbers. Small businesses seeking to provide toll-free calling for customers should look to alternatives.
Lack of integrations: The platform integrates seamlessly with Google Workspace, but it lacks integrations with other key platforms–particularly CRM software like Salesforce and HubSpot.
How to Choose a Business Phone System
Here are the steps to choose the best business phone system for your company:
Step 1: Determine Business Needs
First, note your current business phone system's shortcomings and create a list of business needs – features and qualities for your ideal phone system.
When outlining  business needs, consider the following:
Current phone system shortcomings: What friction points and inefficiencies do you experience? Do you need to use multiple apps? Try to get a feel for your phone system's friction points.
Current phone system usage: Analyze your current call volume, including the times of day and weekdays that you receive or make the most calls. Note your frequent calling destinations–and if they're inside or outside the US.
Business size: Note how many agents you have, where they're located, and your team's remote, in-person, or hybrid status. Consider where your agents work–home, coffee shop, office–and if they need an office phone system with a strong mobile app, or call flipping for on-the-go handling.
Expenses: Record what your current phone system costs you per month, in total, for all users. Generate an average per-user cost.
Step 2: Identify the Features and Channels Your Business Needs
After identifying your phone system's friction points and areas of need, specify the features and channels most important to you in your next business phone system.
Consider the following features and channels:
Communication channels: While VoIP and SMS texting might be all you need, your agents may also benefit from collaboration-focused channels like team messaging and video conferencing. Usually, these features come built-into a VoIP phone system.
Routing features: If you have a complex phone system with multiple departments and specialties–prioritize IVR, call queueing, ring groups, and automatic call distribution (ACD) with skills-based routing
Analytics and monitoring: If your team has a lot of agents, or if your supervisor feels overwhelmed, choose a business phone system that offers advanced real-time analytics and call center monitoring–with listen, whisper, and barge
Collaboration tools: To facilitate team communication, choose a business phone system that offers file sharing and interactive video features like whiteboards, breakout rooms, and polls
Phone number availability: Some VoIP providers offer virtual phone numbers based inside the US, while other providers offer business phone numbers from around the globe.
Unlimited calling area: Most office phone systems support unlimited calling within the US and Canada. However, some providers and plans include expanded unlimited areas with dozens of countries–while some offer this as an add-on. If you frequently make international calls, opt for a provider with a larger unlimited calling area.
Step 3: Set a Budget
A VoIP business phone system typically costs anywhere from $15 to $35 monthly per user. Note what your current phone system costs per month, and use this as a guide to determine your monthly budget for your business phone system.
Keep in mind that VoIP phone systems include dozens of additional features that may potentially replace some of the apps you currently pay for.
Step 4: Compare Features and Pricing
Once you have outlined your budget and desired features, compare each VoIP provider's offerings. Since most providers offer two or three subscription tiers, note the significant features that each tier adds.
Aim to find a plan that not only fits your budget but provides optimal value–including your must-have channels and features, with few excess features that you likely won't use.
Step 5: Utilize Free Trials and Tutorials
Utilize free trials from your top phone system choices, asking agents afterward about their experience with each platform. YouTube demos and tutorials provide a valuable VoIP resource, showcasing each VoIP software's interface, collaboration tools, analytics, and routing setup.
Use free trials and tutorials to research the following:
Interface: The app's interface should be spacious and intuitive for you, with channels and tools available in just a few clicks
Menu: Ensure that the app's menu makes sense to users, with menu tabs for key items like Calls, Contacts, Messaging, and Settings. Notification pings should be easy to spot, for new tasks and messages.
On-call dashboard: Get a feel for the agent's experience live on-call. Practice transferring calls, viewing the queue, and using call monitoring.
Business Phone System Essential Features
Though there are over 100 VoIP features, we've highlighted the most important ones for small businesses below:
Call Routing
Call Routing is a business phone system feature that automatically distributes calls to specific agents, ring groups, departments, or voicemail boxes according to preset rules and/or responses to IVR prompts–without putting the customer on hold or forcing them to hang up call another number.
Popular call routing strategies include list-based routing, skills-based routing, VIP/relationship-based routing, time-based routing, most idle routing, and round-robin routing.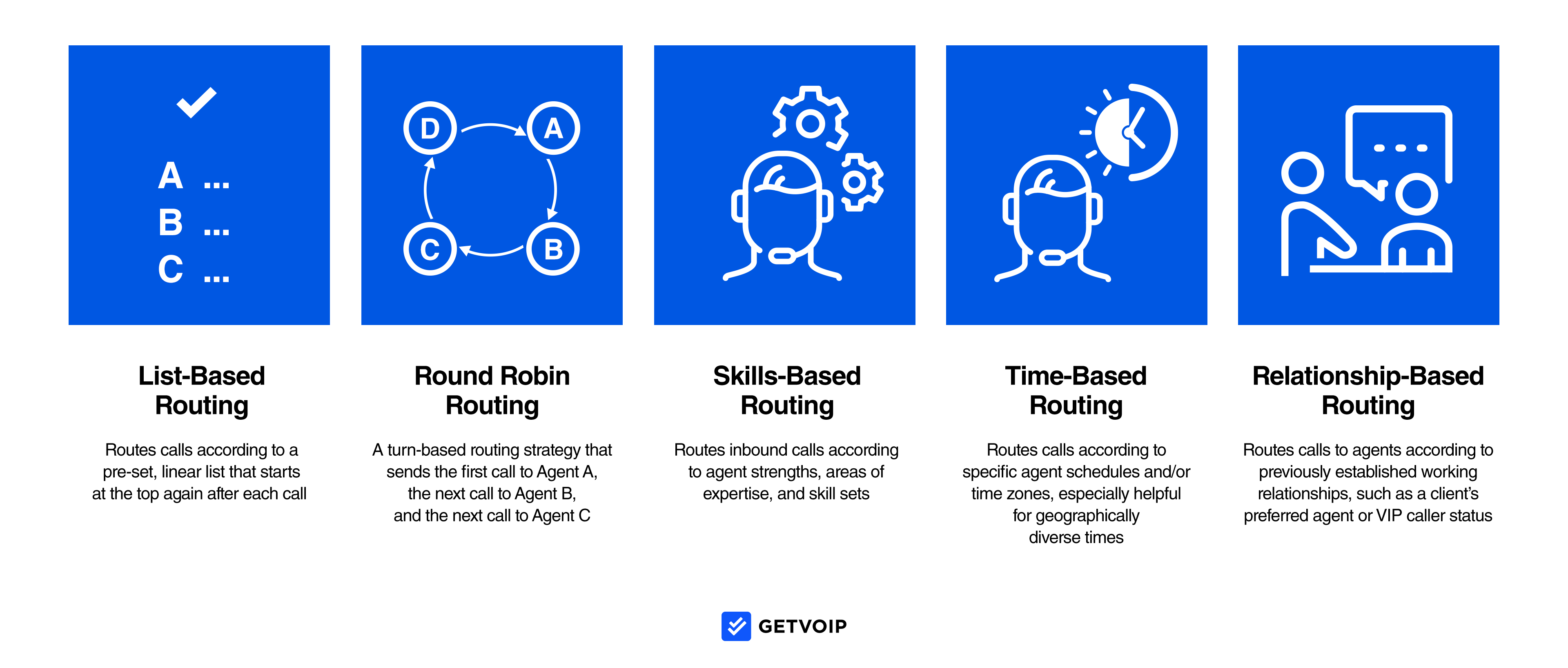 Call Forwarding
Call Forwarding automatically sends (forwards) unanswered calls to additional business telephone numbers instead of sending them to voicemail, ending the calls, or making customers call additional phone numbers themselves.
For example, if you miss a call at your desk phone, call forwarding will instantly forward the call to your mobile phone. If you don't answer on your cell, the call is forwarded to your home phone, your voicemail box, another agent, or the main menu. Call forwarding settings can be customized and edited at any time, and admins can set the number of rings before the call is forwarded to the next number on the list.
Omnichannel Communication
Omnichannel customer service and communication combine all your business communication channels (video, calling, SMS, etc.) into one unified, automatically-synced interface.
Customers and employees can easily switch between channels during a single conversation or support interaction without missing a beat. For example, a customer could start a customer support interaction with a phone call and end that interaction on a video conference with screen sharing for better assistance.
Omnichannel communication not only cuts down on app switching, it also lets customers choose their preferred way to connect with your company. Plus, it makes it easy for multiple reps to work on the same support ticket without the customer needing to repeat themselves each time they speak to a different agent.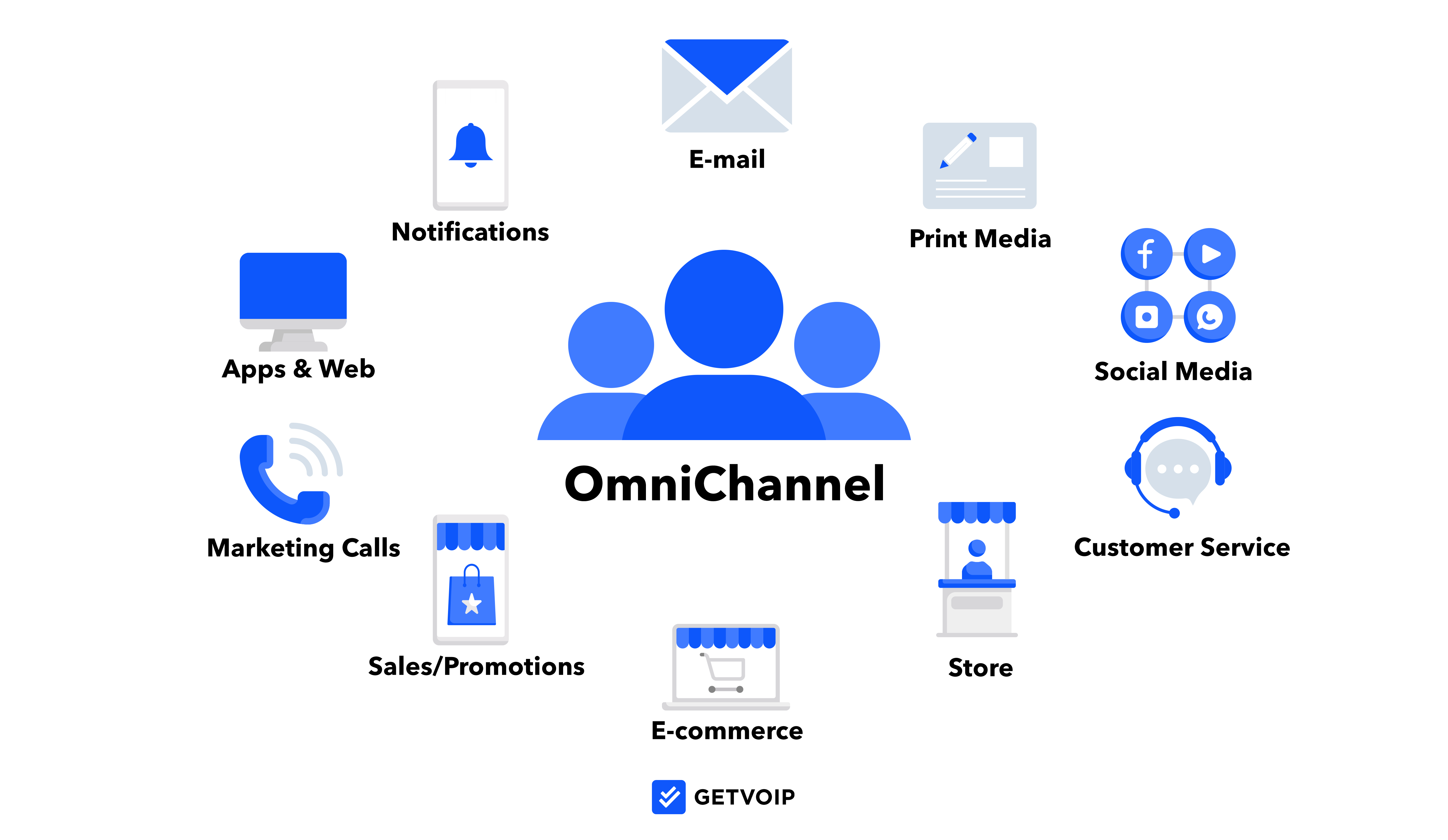 Visual Voicemail
Visual Voicemail automatically transcribes voicemail messages, then sends these transcriptions to agents as emails, text messages, or displays the text directly in the softphone interface.
This way, agents don't lose time listening to longer messages, can better prioritize callbacks, or send reply texts to callers they've missed with relevant information.
Automated Callbacks
Automated Callbacks (also called Customer Callbacks) let customers select their preferred date and time to receive a callback from a business, allowing them to avoid waiting on hold for extended periods or having to call back multiple times until they reach an agent.
Once the customer schedules their callback, the call is automatically placed in a relevant agent's call queue, speeding up the resolution process and keeping customer satisfaction rates high by reducing hold times.
Integrations
Third-party integrations allow businesses to connect existing software and other applications they're currently using to their business phone system, eliminating the need to switch between windows to access multiple tools.
Integrations make it easy for teams to access additional features that the VoIP provider may not offer, while APIs let IT teams customize their own features and apps to integrate with their phone system.
Common third-party integrations include marketing tools like MailChimp, chat apps like Slack, project management apps like Asana, CRM software like Salesforce, and industry-specific apps like Canva, Curve Dental, or Shopify.
Interactive Voice Response (IVR) 
IVR is an interactive call menu that automatically plays when a customer dials your business phone number, providing prompts and information that allows for a higher level of customer self-service.
Callers can enter their responses to IVR system prompts via dial pad touch-tone or speak their responses into the phone directly. NLP (Natural Language Processing) and editable call flow paths analyze the customer's response, sending calls to relevant agents and departments or playing helpful pre-recorded information.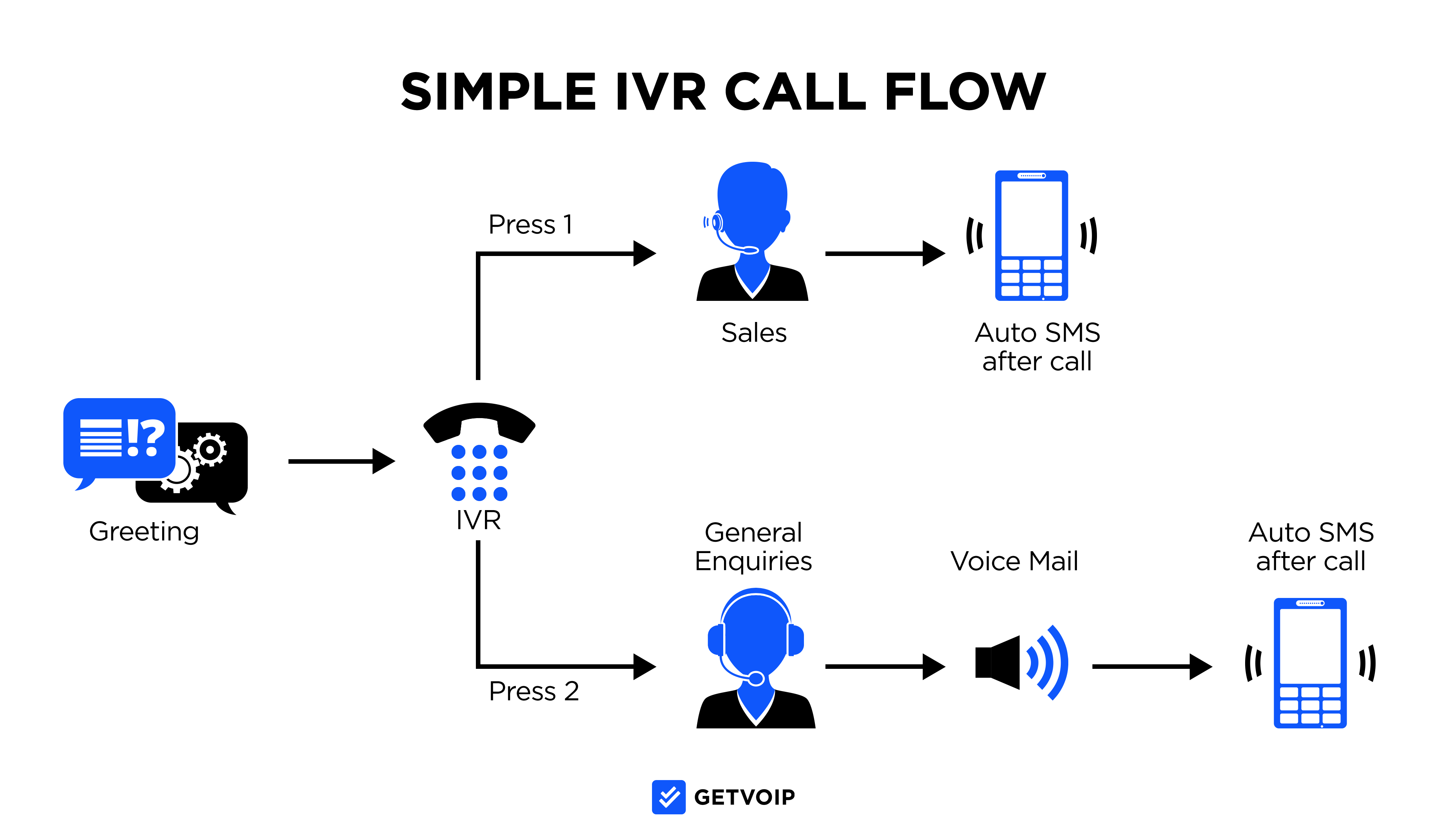 Call Recording and Call Monitoring
Call recording records all business calls automatically or on-demand, saving these recordings in a searchable database that lets managers conduct quality assessments, review call histories, and protect themselves in the event of a false accusation by a client. Many recording tools allow agents and admins to pause and restart recordings during conversations, protecting clients' most sensitive information.
Call monitoring lets managers listen to agent conversations with clients in real-time, while call whisper lets managers advise agents during live conversations (without the caller hearing.) Call barge (call takeover) lets managers immediately take control of any customer-client call that needs a higher-up's intervention.
Call Reporting and Analytics
Most business phone systems offer customizable and pre-made reporting templates that offer insight into customer and agent behavior, call center and contact center activity, and even AI-powered analysis.
These reports can be generated automatically or manually and shared and exported to other team members.
Common metrics to track include:
Daily/weekly/monthly call volume (total number of business calls, calls per department, calls per agent, calls within a specific date range, etc.)
Outbound Calls: Incoming Calls ratio
Percentage of missed calls transferred calls, and calls that went to voicemail.
Call Abandonment Rate
Cost per Call
Average call length
Customer Satisfaction Rating (CSAT)
First Call Resolution Rate (FCR)
Types of Business Phone Systems
Below is the overview of the main types of business phone systems.
Landline
Landline phones systems use the public-switched telephone network (PSTN) to send an analog audio signal from caller to recipient. Landline phone systems require that phones are physically connected to the PSTN.
While landline service is reliable, it has a few drawbacks. For one, the telephony is noticeably slower than VoIP, and the audio quality is lower. Further, each landline phone number is fixed, which means that your business can only use numbers that are physically rooted to your address and local area code.
VoIP
Voice over Internet Protocol (VoIP) phone systems make phone calls over the Internet, rather than landline cables. Instead of landline's analog signal, VoIP transmits voice via audio data packets, which travel from the caller's network through the VoIP provider's server, to the call recipient.
VoIP providers typically offer service through a VoIP, which users can access and use to make calls via desktop, mobile, or browser. Cloud-based calling is typically included within virtual phone systems, unified communications (UCaaS) platforms, and call centers.
Compared to landline, VoIP phone systems offer several benefits:
Better audio quality
Faster sound transmission
Mobility via computer and mobile-based calling
Virtual phone numbers based anywhere in the world
Scalability
On-Premise PBX
On-premise private branch exchange (PBX) is when your company hosts all phone system hardware onsite, in your company office. This means you manage your phones, VoIP servers, wires, and potentially a SIP trunk that connects your VoIP system to the PSTN.
While on-premise PBX systems grant greater control over your VoIP operations, they require frequent IT maintenance and can be costly, compared to cloud-hosted solutions.
Hosted PBX
A cloud-hosted PBX system is when your VoIP service provider manages all the servers and data centers required for digital telephony. As the user, all you need is an Internet connected device and a router. Your hosted PBX provider offers an app, through which your business users can make and receive calls from any device or browser.
Hosted PBX systems tend to be the most popular type of VoIP setup because they're low-maintenance. Since hosted PBX saves your IT team headache and hours of upkeep, hosted PBX is generally more cost-effective than hosting your own on-premise VoIP system.
FAQs
Below, we've answered some of the top FAQs related to small business phone systems.