The cloud communications software market is rapidly growing, and contact center as a service (CCaaS) providers in particular have been developing many new and exciting features.
In the paragraphs below we will take a look at the contact center solutions of Twilio (Twilio Flex) and Five9 (Five9 Contact Center) and compare pricing, key features, pros and cons, and more.
Learn more about
Contact Center Solutions
Quick Links:
Twilio vs. Five9: Overview
The difference between Twilio and Five9 is that Twilio Flex allows users to choose which features to add to their contact center platform using APIs and code, while Five9 Contact Center is an out-of-the-box solution that includes everything you need for an omnichannel contact center.
Twilio and Five9 are two of the biggest players in the call center software market. Both companies offer a wide range of features and integrate with a variety of third-party tools, so choosing between them can be difficult. Here is a quick overview of the two platforms.
Twilio
Five9
Pricing
$1 per active user hour or $150/mo/named user
$149-$229/mo/seat
Key Features
– Agent monitoring and tracking

– Custom reports

– Supports multiple channels such as WhatsApp

– Real-time reporting and admin tools

– No-code intelligent virtual agents (IVAs)

– Automations and workflows

Integrations
Google Contact Center AI, Salesforce, Zendesk, or nearly any other CRM, custom API integrations
Pre-built CRM integrations with Salesforce, ServiceNow, Microsoft, Oracle, and Zendesk. REST APIs for custom integrations
Compatible Hardware
Plantronics and Logitech
Poly, Jabra, and Plantronics
Customer Support
Email and self-service
24/7 live chat and phone support for all customers
Best For
Small and medium-sized contact centers looking to scale quickly
Large companies and enterprises
Twilio vs. Five9: Feature Comparison
Here we will take a look at how Five9's cloud contact center software and Twilio Flex stack up when it comes to some of the most popular contact center features.
Inbound Calling Features
In this category, both Twilio and Five9 are capable of providing their customers with the ability to receive calls from anywhere in the world. Both Twilio and Five9 also provide essential inbound VoIP calling features such as IVR menus and call routing so that users can direct incoming calls where needed (i.e., voicemail or another extension). However, the structure of the two phone systems is different.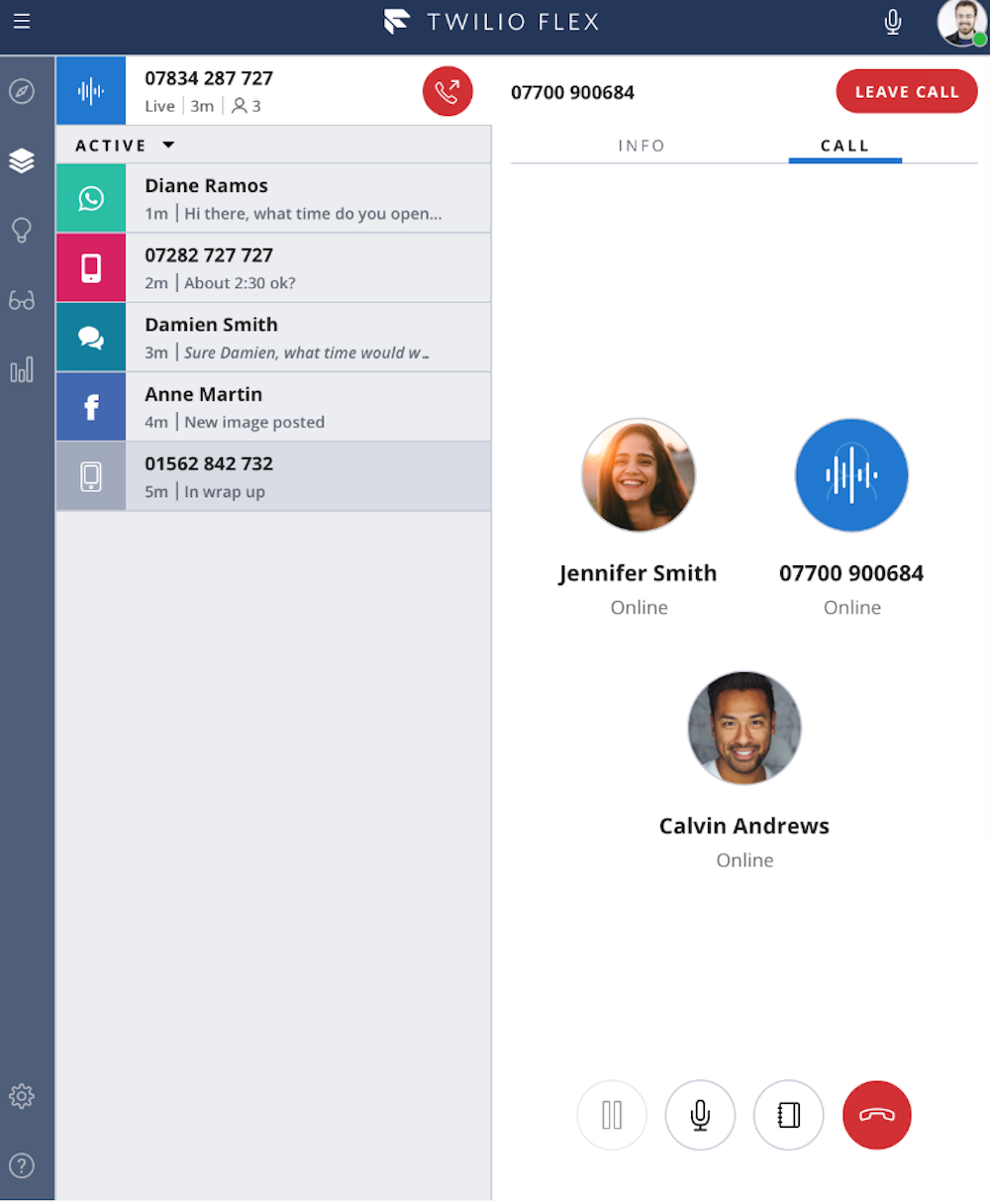 Twilio gives users complete control over their contact center by providing APIs to build call flows from scratch. Setting up a Twilio contact center does, therefore, require coding knowledge. According to user reviews, however, the platform is easy to work with even for novice developers. Using an API called Programmable Voice, Twilio users have access to code samples and developer tools that can be used to set up:
Incoming call flows
IVR systems (including conversational IVR)
Warm transfers for reps
Call forwarding
Call Recording
Automated Surveys
These systems can be built using Java, Python, PHP, Node, Ruby or C#.
Five9's contact center software is an out-of-the-box, no-code solution. Although it doesn't offer the level of customization that Twilio does, users still have a lot of control over inbound call handling. Five9's platform is a blended contact center solution, meaning that users can view both inbound and outbound call queues on the same interface without having to toggle back and forth. IVR systems are set up using a drag-and-drop script designer. Other inbound calling features include:
Priority routing
ACD (Automatic Call Distribution with algorithms)
CTI Screen pops (allows agents to view and manipulate customer data during calls)
Winner: Draw
Both Five9 and Twilio offer robust inbound calling systems with advanced features such as conversational IVR. The best choice will depend on whether the business prefers to build completely customized call flows with Twilio or work with Five9's no-code editor.
Outbound Calling Features
As with inbound calling, Twilio's platform comes with highly customizable outbound calling capabilities, however, Five9 includes more native outbound dialing options than Twilio.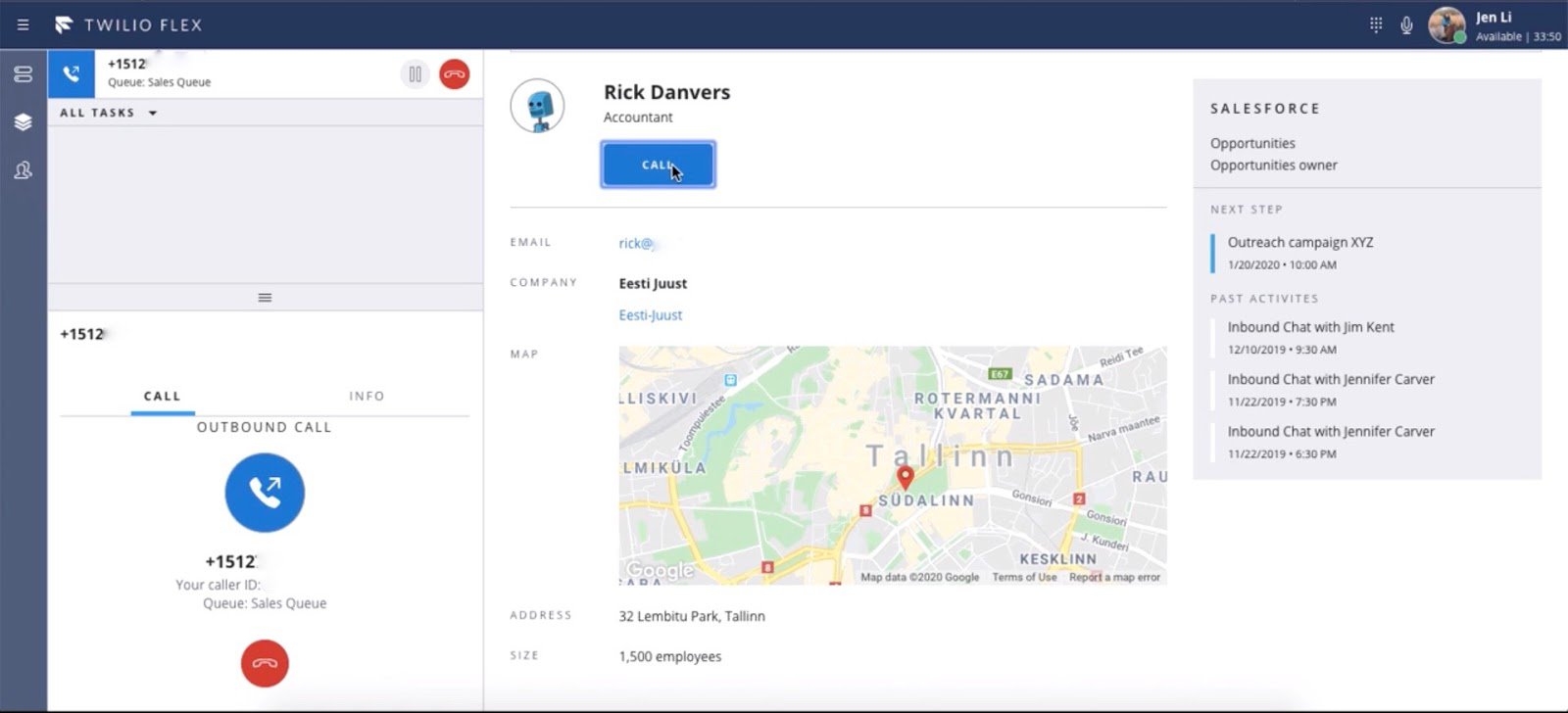 With Twilio's Flex Dialpad, users can create bespoke dashboards for agents to make outbound calls using click-to-dial. Admins can designate what the "to" and "from" numbers will be and customize other information that will be available to agents before they make each call, such as the location map that is shown in the screenshot above. Alternatively, Twilio's Dialpad can be directed to retrieve phone numbers and other customer data from the company's CRM.
Twilio users also have access to a preview dialer plugin. The preview dialer allows supervisors to route preview dialing tasks to available agents or queues. The task then appears on the available agent's dashboard with an overview of the callee's information and when the agent accepts, the dialer automatically calls the target and routes the call to that same agent. For other types of auto dialers such as power dialers, Twilio users can add additional plug-ins.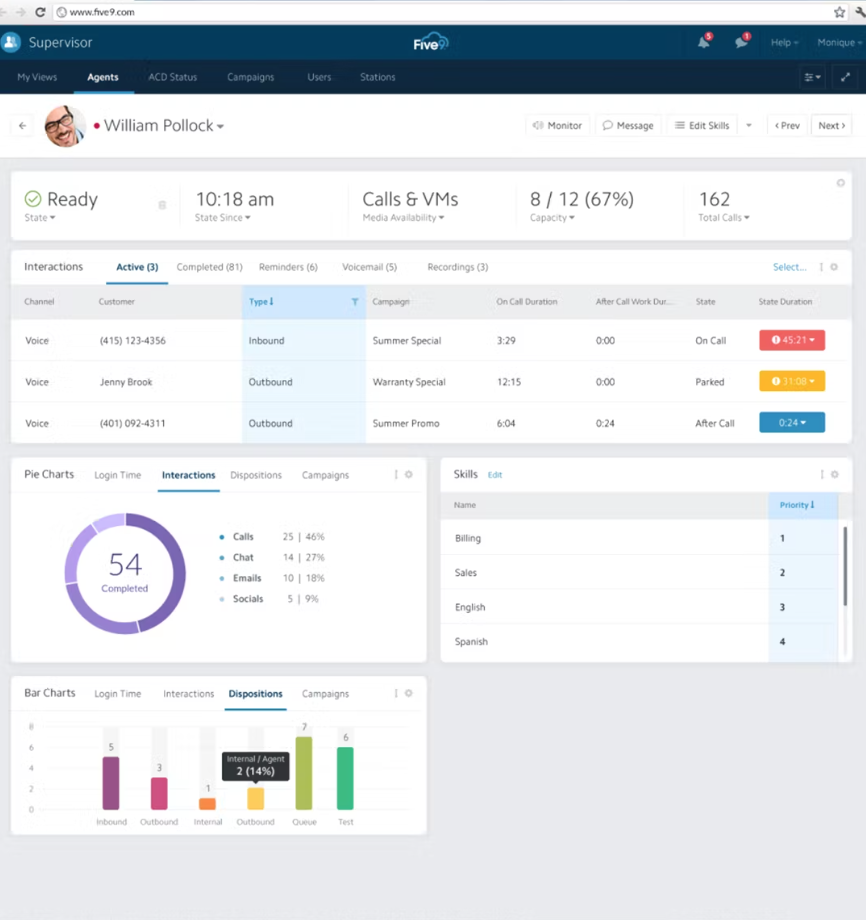 Five9 users have access to four different types of native auto dialers for making outbound calls. In addition to a preview dialer, Five9's platform includes a progressive dialer (automatically dials one call per available agent), predictive dialer (makes outgoing phone calls before agents are available) and power dialer (adds numbers to agent queues and dials them automatically in sequence). TCPA Manual Touch mode can be employed in combination with preview dialing in order to prevent automatic dialing without agent involvement. Additional outbound calling features of Five9's software include:
Certified Caller (STIR/SHAKEN)
E911
CRM Integration
Real-time DNC list management
Answering machine detection
Disposition timers and redials
Winner: Five9
With 4 options for native auto dialers and additional compliance features, Five9 is the winner here.
Omnichannel Calling Features
As more customers are opting to communicate through alternative channels such as chat and text messaging, omnichannel has become essential for customer experience. Twilio and Five9 both offer omnichannel support, but Twilio offers more channels and includes omnichannel functionality for all users.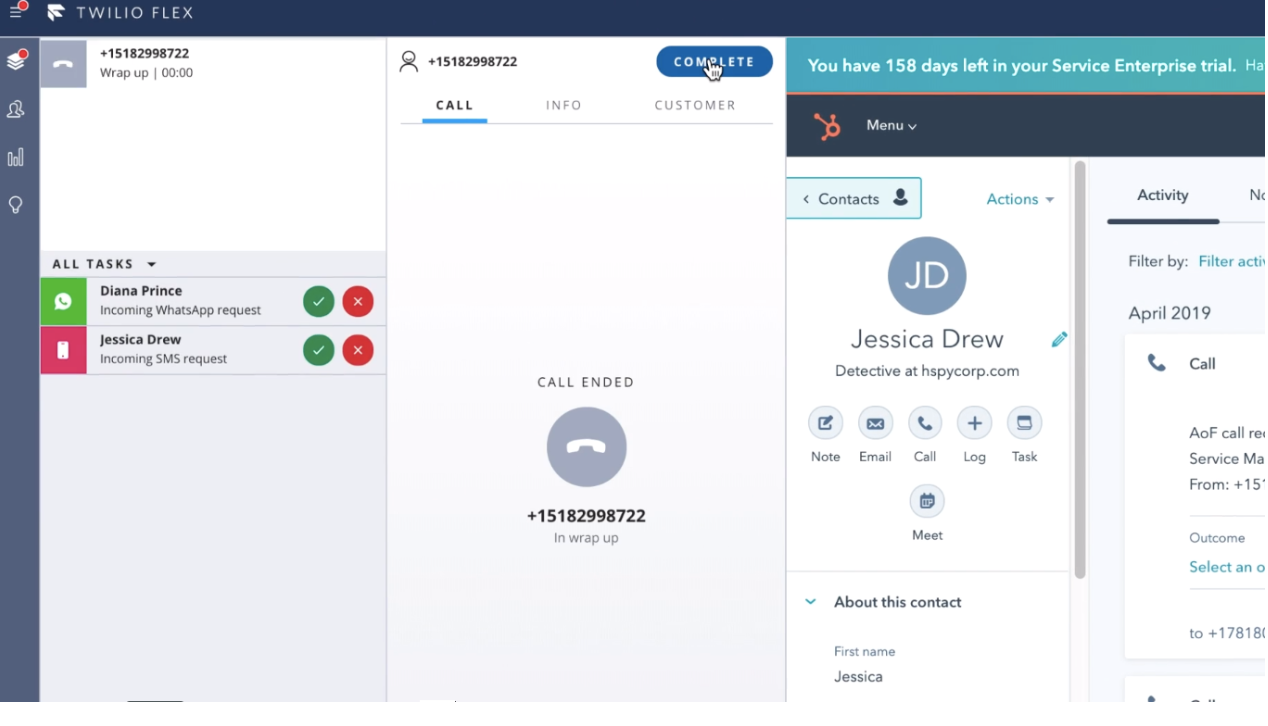 Twilio's agent dashboards give users visibility into communication across all channels so there is no need to keep multiple tabs open. Twilio supports the following channels:
Email
Voice
SMS
WhatsApp
Facebook Messenger
WebChat
Five9's omnichannel tool called Digital Engagement supports voice, email, chat, live video and social media. Voice, chat and email are only available for premium plan users and above, while the social media engagement platform is only available for ultimate plan users. Both Twilio and Five9 platforms will pull contextual history/customer journey information from across channels as well as from the company's CRM.
Five9 includes a Natural Language Processing tool that can be used to filter and organize interactions while Twilio integrates with Google Contact Center AI to provide relevant context from the web along with recommended responses.
Winner: Twilio  
Although their omnichannel platforms are similar and Twilio does not include a native video chat feature, Twilio wins in this category because all users have access to omnichannel capabilities. Five9 only grants access to all omnichannel functionality in the most expensive pricing tiers.
Integrations
Twilo is designed to be precisely personalized to fit the specific needs of a business. As such, Twilio's platform is made to be programmed using front-end SDKs as well as custom plugins such as auto dialers and third-party integrations. Twilio can integrate with any third-party app that has an available API. Additionally, Twilio has created a validation process for common integrations. Some integrations that have been validated by Twilio are:
Calabrio
Salesforce
Zendesk
Google Cloud
Gridspace
Glance
Acqueon
Five9 has several pre-built CRM integrations including Salesforce, ServiceNow and Zendesk. Five9 also allows for custom integrations through the use of REST APIs, reference UIs and other tools, however, these are only for custom CRM integrations, not for other types of integrations such as analytics and workforce management.
Winner: Twilio
While it doesn't have the pre-built CRM integrations that Five9 has, Twilio has a thorough validating system for integrations and offers more flexibility for custom integrations.
Analytics and Reporting
Twilio Flex insights are only available to paid Twilio users. As with all aspects of the Twilio Flex platform, Flex Insights are highly customizable. Users can listen to call recordings, provide feedback and use a drag-and-drop editor to create personalized dashboards that measure whatever KPIs they are most interested in.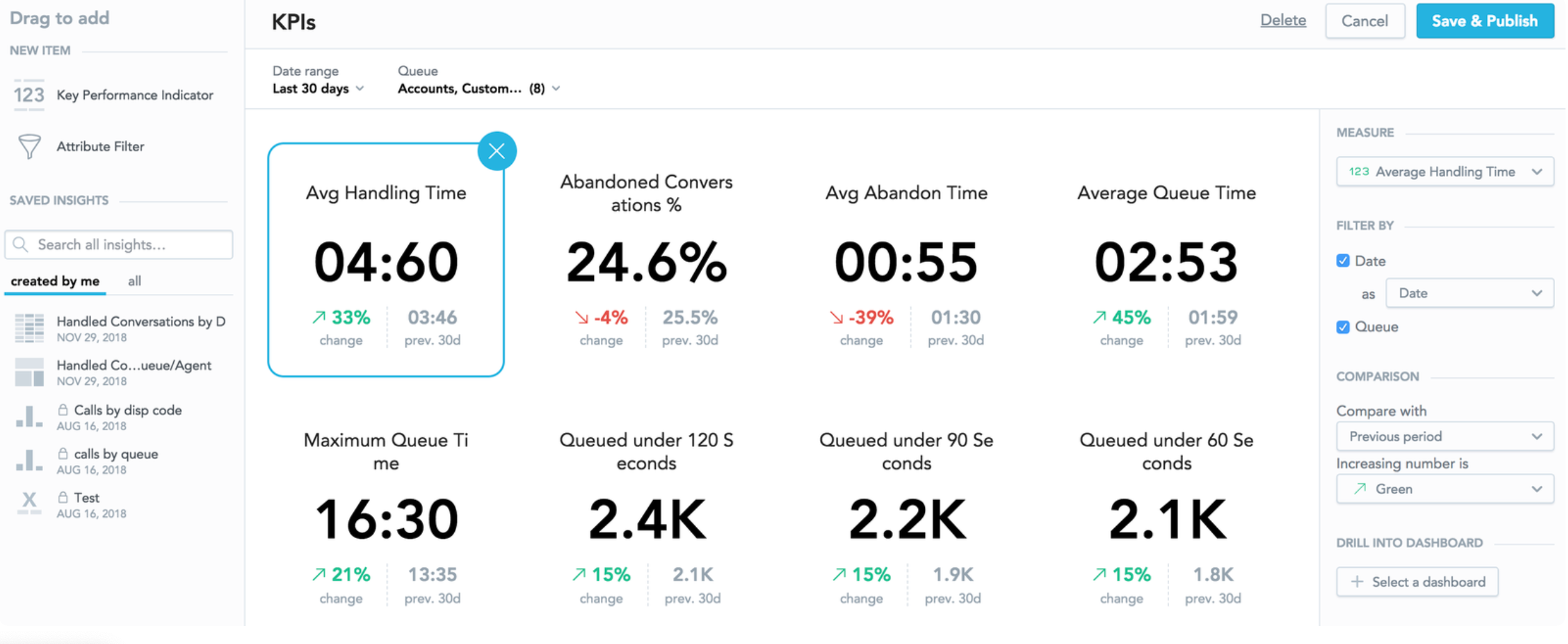 With the analyze view, Twilio customers can slice, filter or change the way data is visualized. KPI dashboards display an unlimited number of selected KPIs over time. Alerts can also be set up. A visual conversation player lets users drill down to the conversation level, listen to recordings, control playback speed and listen to a call in segments.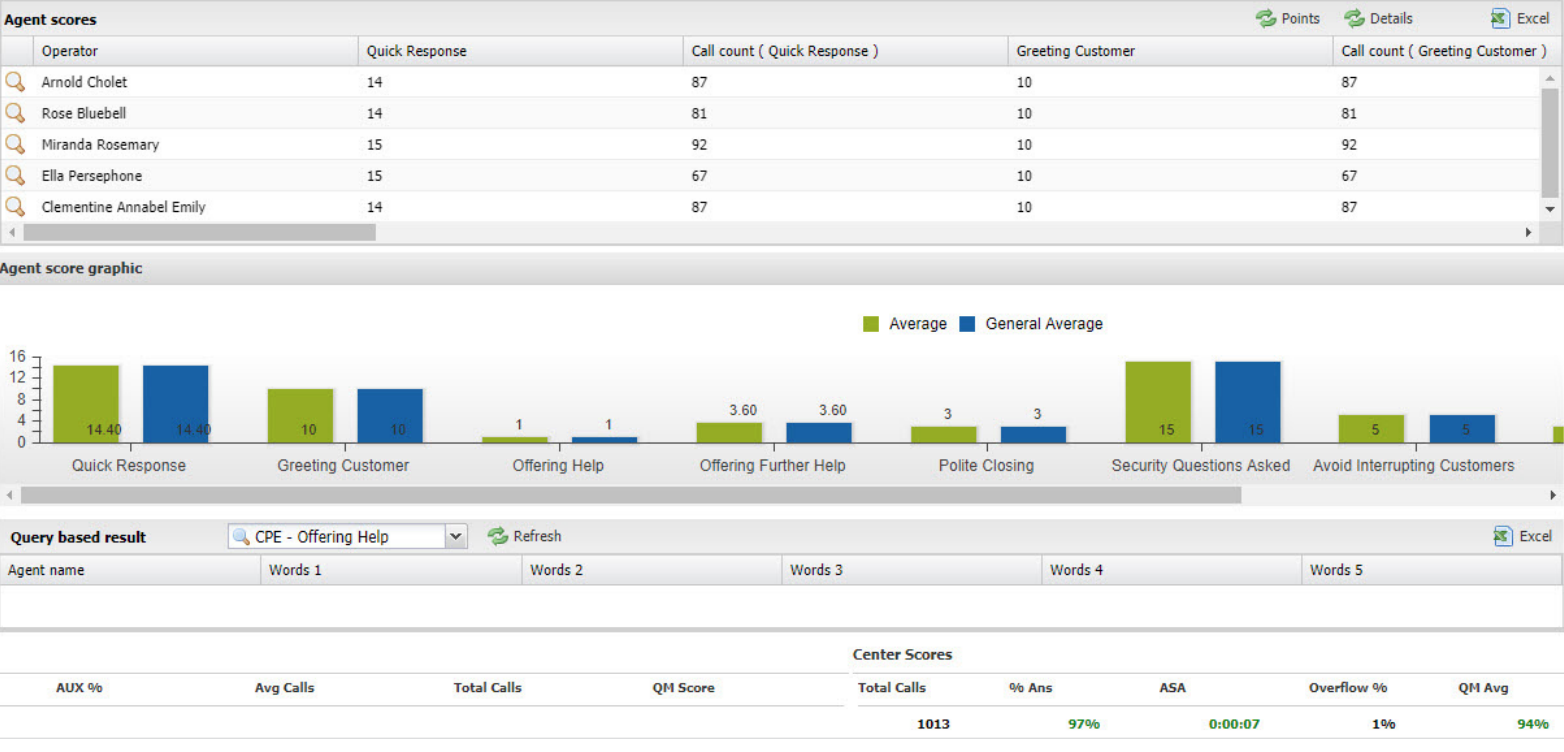 Five9 provides both historical and real-time insights to all users. Users can choose from 100+ standard historical reports or customize their own report. Real-time reports are also customizable and include wallboard, dashboard and flexible layout options. Reports can be scheduled, updated automatically and shared.
For Ultimate plan users only, Five9 offers interaction analytics. Five9's advanced interaction analytics will transcribe and analyze all voice, chat and email communication using natural language processing and AI. Other features of interaction analytics include:
Automatic topic identification
Emotion detention (voice only)
Trend analysis
Automatic quality scoring
Winner: Five9
Five9's AI-powered interaction analytics offer a lot of value for high-volume call centers that need insight across channels.
Twilio Pricing and Plans
Twilio offers two pricing options for Flex. Twilio customers can either pay a flat fee of $1 per active user hour, or a flat fee of $150 per seat, per month. Both options include all Twilio features. If users choose to pay per hour, they can enforce an automatic logout for inactive users after a set amount of time. Twilio also offers a free trial which includes 5000 active user hours but does not include insights or self-hosted UI.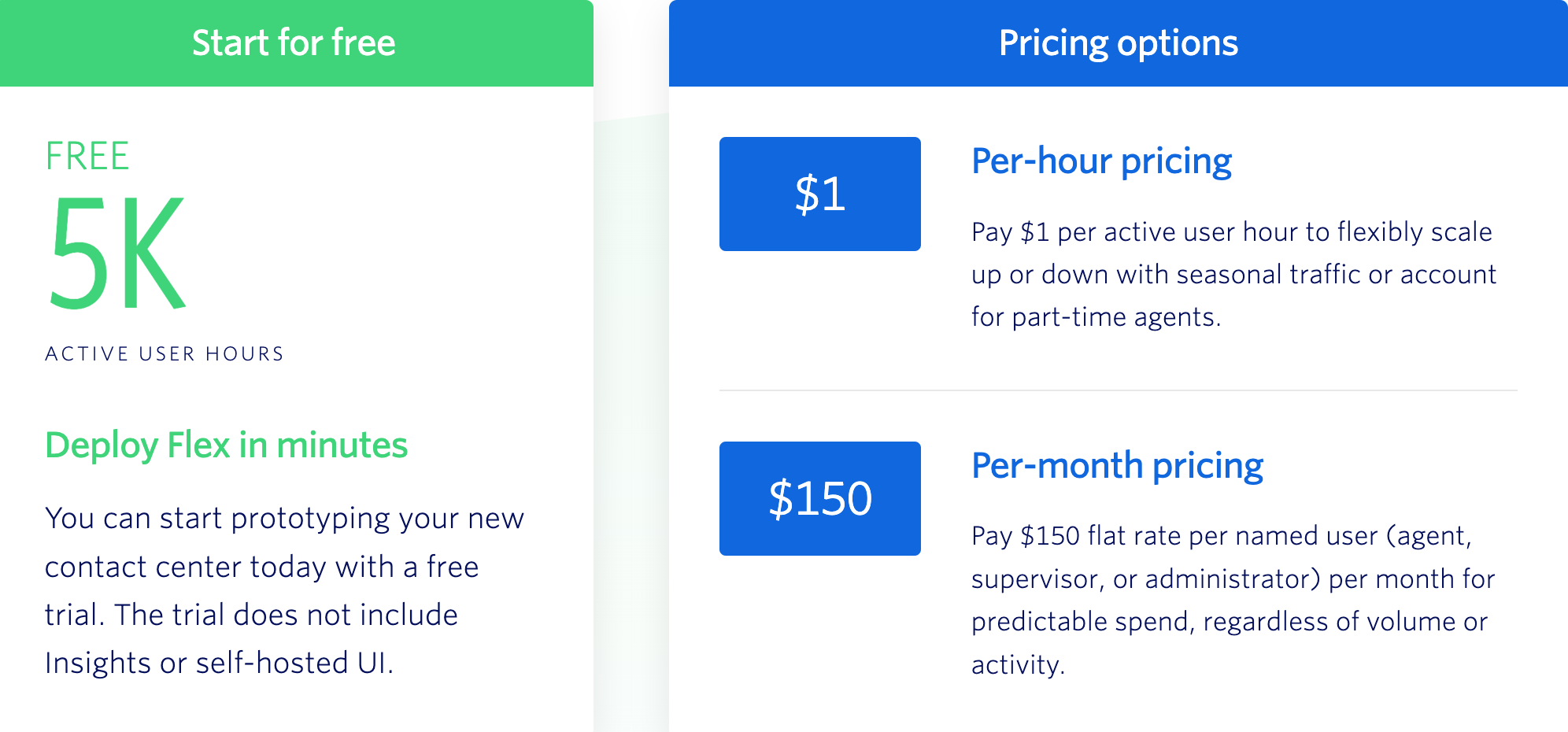 Five9 Pricing and Plans
Five9 pricing is structured into four bundled plans. If requested, Five9 will also create custom pricing plans for clients with a large number of users. Below is a breakdown of Five9 standard contact center pricing.
Core
Premium
Optimum
Ultimate
Price per month, per concurrent user
$149
$169
$199
$229
Key Features

Call Recording
Real-Time Reporting
24/7 Live Support

Essentials Quality Management
Supervisor capabilities
Omnichannel support

Enterprise Workforce Management (scheduling, agent portal, forecasting, etc.)
Enterprise Quality Management
Proactive notifications

Automate repetitive tasks
Full social engagement platform
Interaction analytics

Channels
Voice
Voice, Chat, Email
Voice, Chat, Email, Social Media notifications
Voice, Chat, Email, Social Media Engagement
Twilio vs. Five9: Pros and Cons
Let's take a look at what customers like and dislike about both providers.
| | |
| --- | --- |
| What Customers Like About Twilio | What Customers Dislike About Twilio |
| Users can build completely custom solutions from the ground up | Customer support is mainly self-service |
| Affordable, flexible pricing with a meaningful free trial | The platform requires a developer or someone comfortable using code |
| Ability to customize analytics reports and set up alerts | No native auto dialer and most advanced features require plugins or third-party integrations |
| | |
| --- | --- |
| What Customers Like About Five9 | What Customers Dislike About Five9 |
| Many advanced features including predictive dialer and speech/text analysis built into the platform | Expensive compared to competitors |
| 24/7 live support for all customers | Not many third-party integrations |
| Highly secure and reliable with 99.999% guaranteed uptime | Omnichannel capabilities only at the highest pricing tiers |
Which Provider Should You Choose: Twilio or Five9?
The answer mainly depends on the size of your business and your budget. For small and medium-sized companies trying to cut costs, Twilio might be an ideal solution. It's affordable, easy to customize, and easy to scale with. Its features are limited compared to Five9, but integrations and plug-ins can be added to the platform as your company grows. Further, you avoid having to pay for advanced features that your company doesn't need or use. Keep in mind though that Twilio's platform essentially requires your company to have a developer on the team to build, customize and then update it.
Large contact centers and enterprises looking for advanced features such as call center automation and analytics will likely prefer Five9. Five9's highly secure platform comes with a plethora of features and is easy to set up and customize out of the box. Five9's commitment to 24/7 live support along with its 99.999% stated uptime also decreases the chances of there being a long-term service issue.
Twilio or Five9 FAQs