Cloud-based phone systems like OpenPhone combine voice, chat, and SMS capabilities into one platform. OpenPhone is difficult to beat when it comes to pricing, and it is a solid VoIP solution with many essential features. However, it is lacking in some areas such as customer support, advanced features, and security. OpenPhone is not yet HIPAA compliant, has no stated uptime guarantee, and only provides customer support via email (except for Enterprise plan users.)
If any of these factors are deal breakers, there is no need to settle. We have listed some of our favorite alternatives to OpenPhone in the sections below, outlining pricing, plans, what they provide in comparison to OpenPhone, and where they might fall short.
Best OpenPhone Alternatives and Competitors
Here's the list of the best OpenPhone alternatives:
1. Nextiva
Nextiva is a leading provider of Unified Communications as a Service (UCaaS) for startups and SMBs. Their services include voice and video calling, SMS texting, and team chat messaging, accompanied by top-notch customer service and support. With Nextiva, all customers can take advantage of 24/7, round-the-clock customer service. Moreover, Nextiva boasts exceptional reliability with 99.999% uptime and robust security measures, such as encryption and SOC 2 compliance.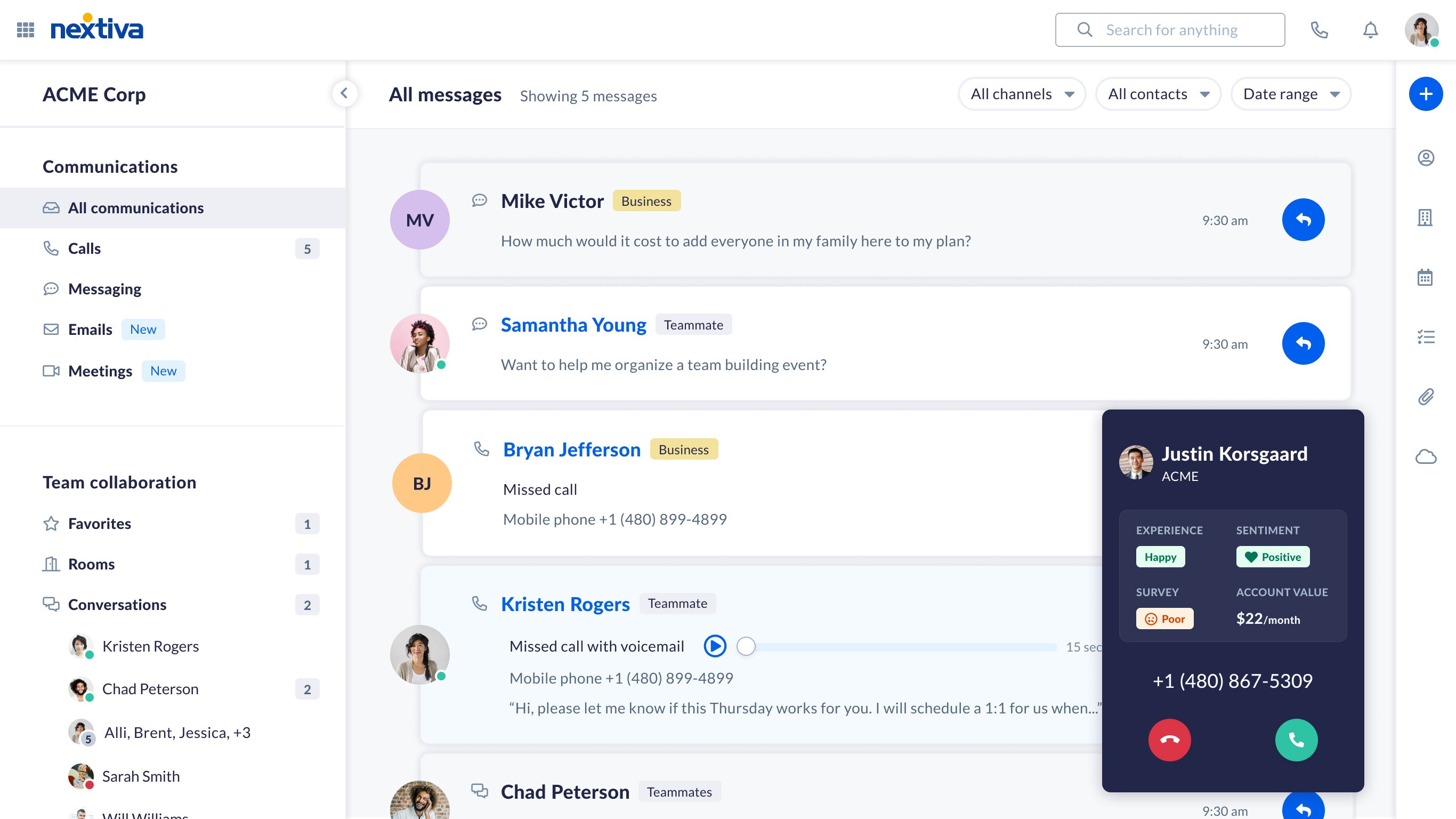 Pricing & Plans
Nextiva offers three pricing plans:
Essential Plan ($17.95-$23.95 per user/mo. paid annually): Includes unlimited calling in the U.S. and Canada, up to 1500 toll-free minutes, and video conferencing for up to 250 participants with a 45 minute duration limit. Features include call forwarding, voicemail-to-email and team chat.
Professional Plan ($21.95-$27.95 per user/mo. paid annually): Includes up to 3,000 toll-free minutes and audio conference calls for up to 40 participants. Additional features include multi-level auto attendant, screen sharing and CRM integrations.
Enterprise ($31.95-$37.95 per user/mo. paid annually): Includes audio conference calls with unlimited participants, up to 12,500 toll-free minutes and additional features such as call recording, voicemail transcription and single sign on.
Standout Features
Here are some key features offered by Nextiva:
Call Pop: Automatically displays key caller and account information and interaction history on agent screens when a call is accepted. Data can include on agent screens when the call is accepted, account value, customer experience score, and customer survey responses
NextivaONE mobile app: Mobile app for iOS and Android smartphones lets users instantly call, conference, chat, video, or share their screen from a cell phone (users can also switch seamlessly between desktop and mobile devices)
Automations: Nextiva automates repetitive tasks and workflows like appointment reminders, follow-ups, initiating campaigns, and assigning tasks
Call Analytics: Allows managers to get Gives managers deep insights into agent performance and operations via historical and live call data, real-time call tracking, pre-made templates and custom reporting, push notifications, and employee performance gamification
Why we picked it
Nextiva offers 24/7 live customer support, video meetings (which are available in all plans), real-time analytics, and automations. Additionally, Nextiva has stronger security, offering SSO for Enterprise plan users and reliability with a 99.999% uptime. Overall, Nextiva is a better choice for SMBs with a high call volume or that need advanced features such as video conferencing. OpenPhone is still a great option for startups that don't need or won't use non-essential phone features.
What Nextiva is Missing
Drawbacks to Nextiva include:
45 minute limit on video calls in all plans
Call recording only including in the Enterprise Plan
Team collaboration rooms are limited to 3 rooms in all plans
2. RingCentral
RingCentral is a leading virtual phone system offering business VoIP, UCaaS, and CCaaS solutions. It's known for its advanced communication suite, RingCentral MVP (Message, Phone, Video). This solution is highly secure and reliable, with end-to-end encryption and a 99.999% uptime service level agreement. One of the most impressive features of RingCentral MVP is its robust video conferencing platform. RingCentral's pricing may be a challenge for smaller businesses, as its most affordable "Essentials" plan doesn't include features like video conferencing, internet faxing, call recording, or auto-attendant.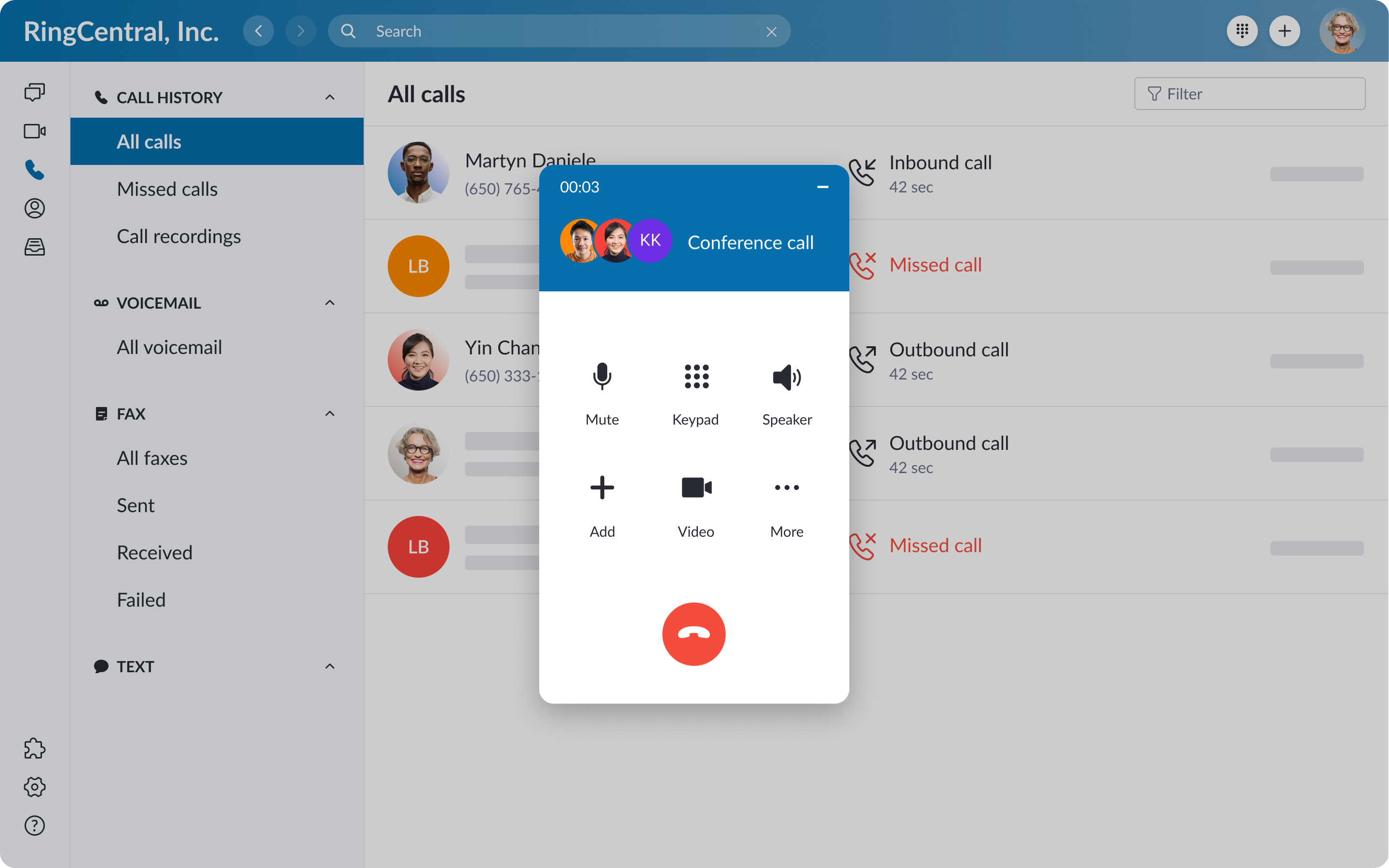 Pricing & Plans
RingCentral offers three different pricing plans. Below is a breakdown.
Core plan ($20 monthly per user): The Core plan includes all RingCentral's basic channels and phone-system features, although some features have limited access. It offers unlimited multi-level IVR, on-demand call recording, and basic call queues. Core video meetings have a 100-participant maximum, and the analytics include call logs.
Advanced ($25 monthly per user): The Advanced plan adds intelligent call distribution and queueing rules, automatic call recording, and the full analytics suite. It also includes RingCentral's full integration set and allows administrators to customize user roles and permissions.
Ultra ($35 monthly per user): The Ultra plan includes enterprise-grade HD video meetings with AI-powered meeting tools, like summaries and live transcription. It also includes enhanced analytics like custom dashboards, weekly report subscriptions, and wallboard views. Intended for large companies, this plan also includes unlimited file sharing.
Standout Features
Below are some of the standout features offered by RingCentral.
Team Messaging: RingCentral's team messaging space enables users to send instant messages, share files, assign tasks, or jump onto a video call from one unified space. Admins can easily add external or internal contacts to group chat. Persistent video chat rooms can also be set up, allowing remote team members to connect whenever they like.
Video Conferencing: 200 meeting participants (Standard plan and above), access to video features like noise reduction, AI-generated topics/summaries/highlight reels/transcripts, Presentation Mode, Auto Follow, Whiteboarding, Breakout Rooms, Participant Reactions, Team Huddle, End-to-End Encryption
Business SMS: Users can send, receive and handle calls, SMS messages, images, attachments, design-heavy texts, and faxes in one place while meeting carrier compliance requirements.
Dial-by-Name Directory: Allows callers to search for any employee name (first and/or last) and reach team members on any device.
Why we picked it
RingCentral is a good option for sales, helpdesk, and support teams already using industry-specific software. It offers many advanced features that OpenPhone doesn't have, including robust video conferencing and team chat platforms. RingCentral also offers high reliability, 24/7 customer support via phone and chat, and 300+ third-party integrations.
What RingCentral is Missing
Drawbacks to RingCentral include:
Expensive compared to competitors
Platform is feature heavy and can have a steep learning curve
Customer support can be difficult to reach
3. Vonage
Vonage is a top hosted PBX provider ideal for small and medium-sized businesses (SMBs) looking for a highly customizable communication solution. Its flagship product, Vonage Business Communication (VBC), offers a comprehensive suite of communication tools, including voice, messaging, and video capabilities. Notably, Vonage's platform boasts exceptional call quality with a 99.999% uptime. In addition to its reliability, Vonage is also a cost-effective option, with plans starting at $14.99 per user per month–making it an attractive choice for SMBs that don't require any additional add-ons.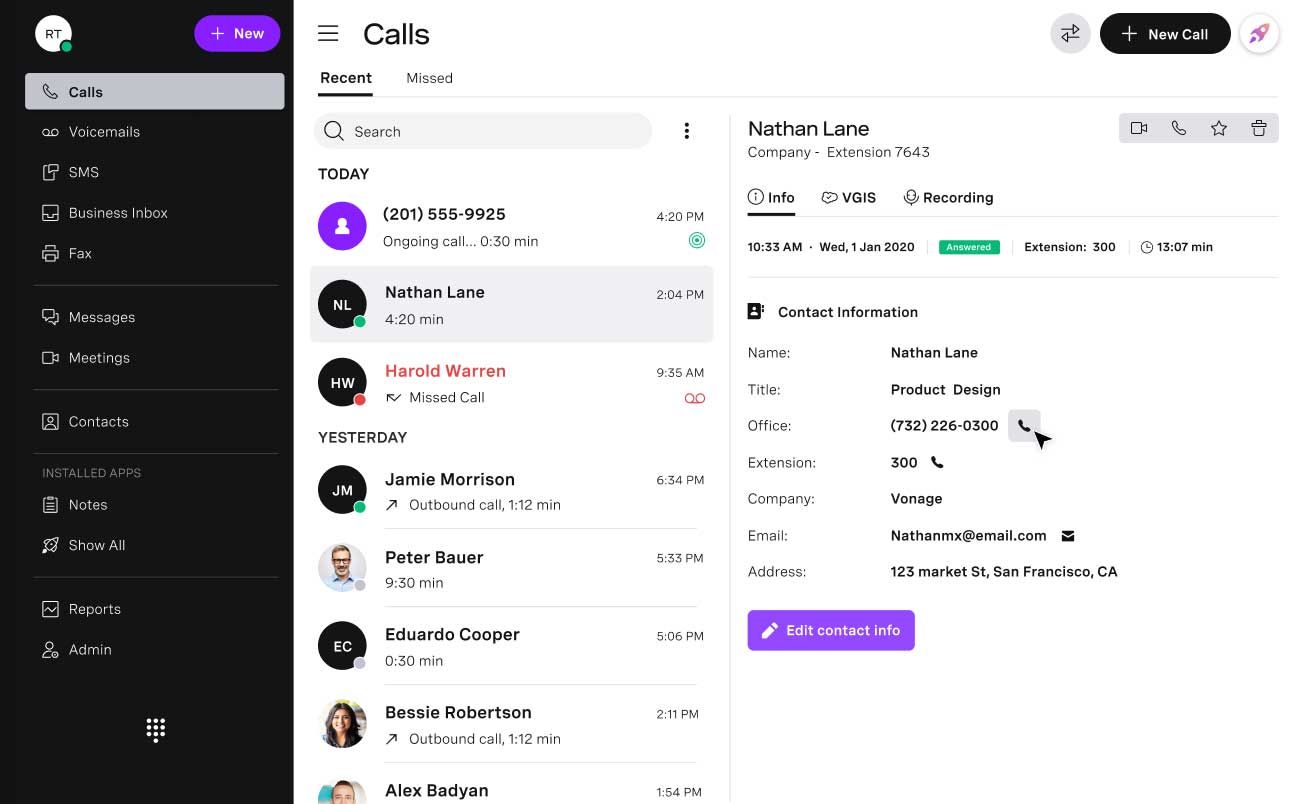 Pricing & Plans
Vonage has a traditional three tiered pricing structure with volume discounts. Many of Vonage's advanced features are offered as add-ons, allowing more customization than other competitors. Below is a breakdown of Vonage pricing.
Mobile Plan ($19.99 per user/mo.): Includes unlimited voice, SMS, and team messaging.
Premium Plan ($29.99 per user/mo.): Includes unlimited meetings up to 100 participants, multi-level auto attendant, and IP desk phone capability.
Advanced Plan ($39.99 per user/mo.): Additional features include on-demand call recording, call groups, and visual voicemail.
Standout Features
Below are some of the key features that Vonage offers.
Virtual Receptionist: Provides callers with a list of pre-recorded call menu options, prompting callers to direct their own calls without a live agent. Admins can configure call routing strategies for holidays, weekends, individual agent schedules and skill sets, after-hours, and emergencies
Call Screening: Allows admins to require inbound callers to identify themselves by recording their name so agents can then decide to answer, forward, or transfer the call accordingly
Business Call Recording: Available as an add-on for $49.99 per month, lets admins create custom and automated call recording rules, store 500 hours of call recordings, download and email recordings, search and replay recordings in the VBC portal
Secondary Line Appearance (SLA): Available as an add-on for $14.99/month, lets users answer and place calls from different extensions via a single desk phone, hold calls on a specific extension or join other extensions
Why we picked it
Like OpenPhone, Vonage is an affordable option for startups and SMBs that includes essential business features without a lot of extras. The Vonage Business Cloud (VBC) platform is priced only slightly higher than OpenPhone, but, unlike OpenPhone, it has an uptime guarantee of 99.999% and is HIPAA compliant. Vonage is also a more customizable system than OpenPhone due its many add-on features and APIs. For small businesses that need to save money but are planning to scale quickly, Vonage is a better option.
What Vonage is Missing
Drawbacks to Vonage include:
Platform is customizable but has a steep learning curve
Many features are offered as add-ons which can make the platform expensive
Video conferencing has a low participant cap
4. Dialpad
Dialpad is a leading VoIP service and unified communications provider that sets itself apart through its focus on innovation. With substantial investments in Artificial Intelligence and Natural Language Processing (NLP) research, Dialpad's platform offers a suite of advanced communication features that leverage AI, including real-time voice transcription, post-call summaries, and sentiment analysis. Dialpad is one of the few service providers that has a 100% uptime guarantee, ensuring uninterrupted connectivity for its users.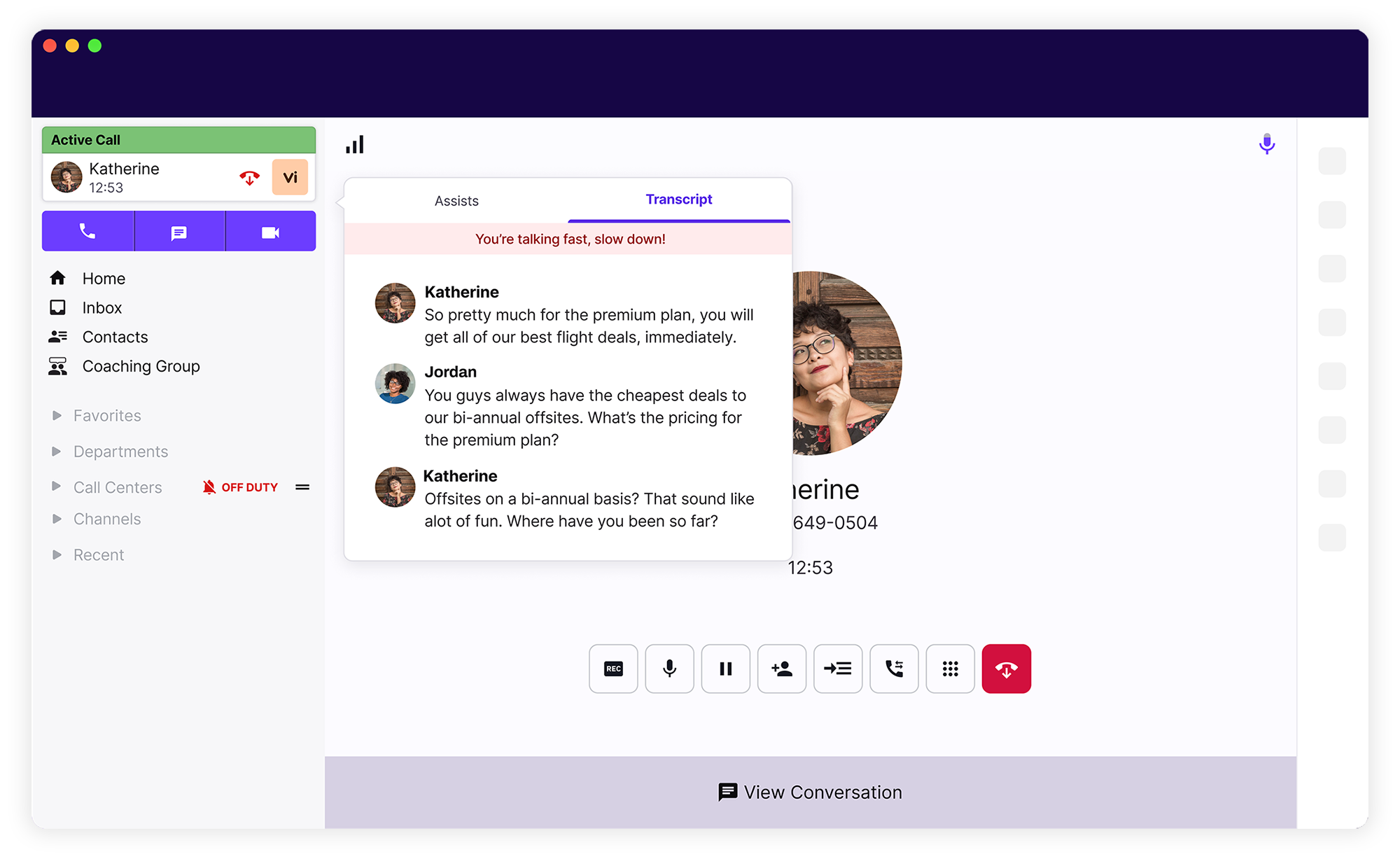 Dialpad's platform includes voice, messaging, and video capabilities, making it a highly versatile solution. One of the most attractive aspects of Dialpad is its affordability, offering its cutting-edge communication tools at a highly competitive price point compared to its competitors.
Pricing & Plans
Dialpad offers three pricing plans. Below is a breakdown.
Standard Plan ($20 per user/mo.): Includes unlimited calling, video meetings with up to 10 participants, three ring groups, and team messaging. Features include multi-level auto-attendant, visual voicemail, and real-time analytics.
Pro Plan ($30 per user/mo.): Includes 25 ring groups and a local or international number for each user. Additional features include international SMS, CRM integrations, and 24/7 live support.
Enterprise Plan: Includes unlimited ring groups. Additional features include extensions, 100% uptime SLA and a dedicated support manager. There is a 100 seat minimum.
Standout Features
Below are some of the key features that Dialpad offers.
Live Speech Coaching: AI-powered tool which displays suggestions to agents while they are on a call, such as reminding them to slow down or speak clearly
Video Meetings: Dialpad video meetings for up to 10 participants to meet for up to 5 hours are available in all plans (Dialpad Meetings, with up to 150 participants, can also be purchased separately for $15.00/user/month.)  Video features include screen sharing, whiteboarding, in-meeting chat, virtual backgrounds, and a meeting waiting room
Multi-Level Auto Attendant: Lets admins create a call management system that automatically routes calls to the appropriate agent. Admins can set custom messages to play during set hours, set call flow priorities, and use various routing methods such as longest idle, skills based and first available agent
Topic-Based Team Messaging: Lets users create dedicated channels based on topics or projects, search by keyword, and share content with internal and external users
Why we picked it
Dialpad pricing is only slightly higher than OpenPhone, but it offers more reliability, better customer support, and more advanced features. As one of the only providers with a 100% uptime, Dialpad is highly reliable. It also features a number of AI-powered tools including real-time call transcription, post call summaries and real-time analytics. These advanced features are included in all plans. Additionally, Dialpad offers live customer support to all users. For these reasons, Dialpad is a great option for organizations with high volume call centers.
What Dialpad is Missing
Drawbacks to Dialpad include:
Uptime SLA is only included in the Enterprise plan
Video meetings are limited to only 10 participants
Phone customer support is not include in the standard plan
5. Zoom
Zoom is a well-known video conferencing provider that has quickly gained recognition in the UCaaS market by offering a comprehensive platform (Zoom One) that includes voice, chat, team messaging, and video communication tools. As a newer UC provider, Zoom does not offer a guaranteed uptime like more established brands, and it lacks some advanced VoIP features, such as sentiment analysis. Nonetheless, Zoom has developed a solid stack of voice, video, and collaboration capabilities, making it a highly attractive option for businesses looking for a reliable and cost-effective communication solution.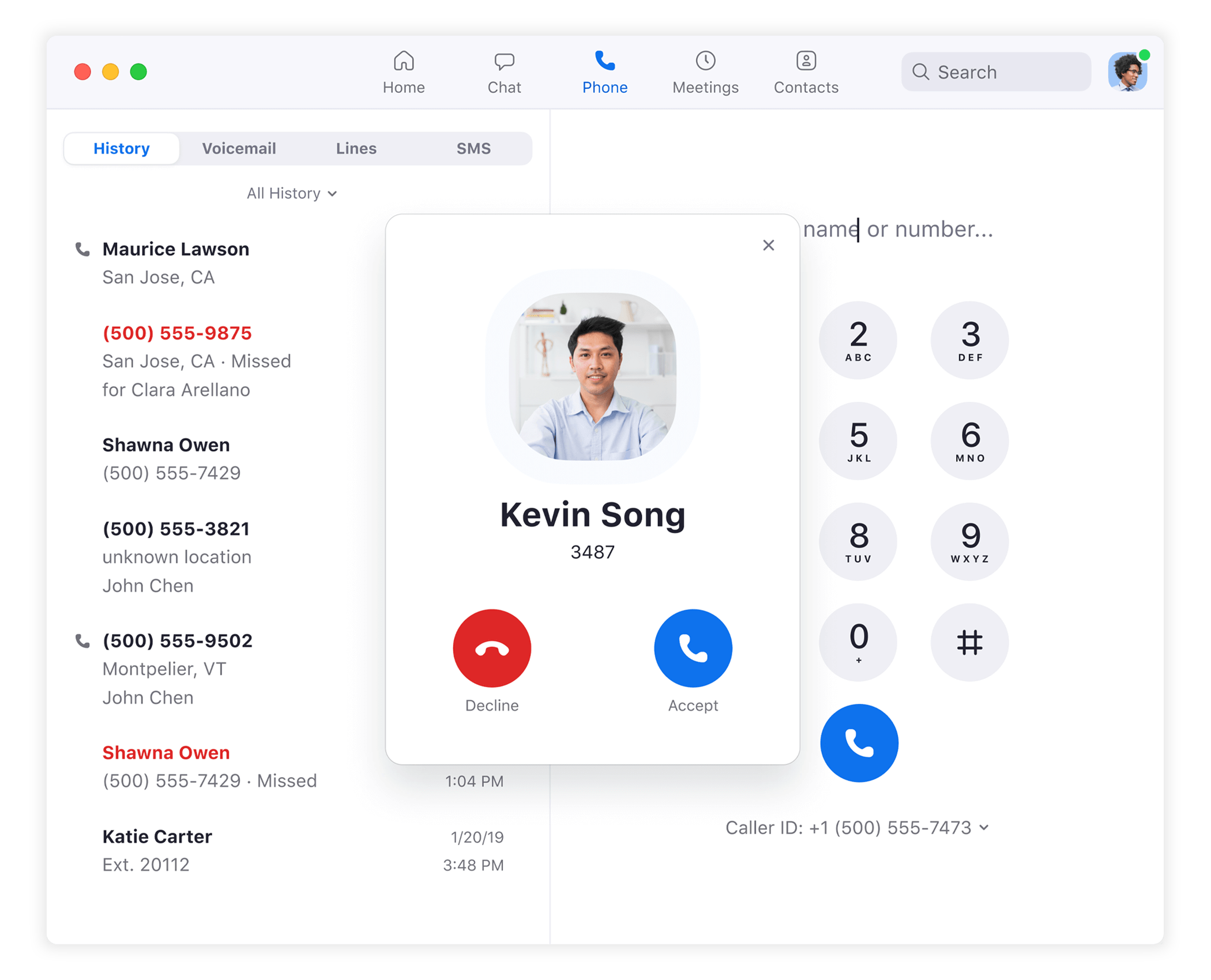 Pricing & Plans
Zoom One offers a free plan and four paid plans. It is important to note that voice features are only included in the Business Plus and Enterprise plans.
Basic Plan (Free): Includes up to three whiteboards, team chat and video meetings with 100 participants up to 40 minutes in length
Pro Plan ($12.50 per user/mo.): Includes video meetings of up to 30 hours and up to 100 participants
Business Plan ($16.65 per user/mo.): 300 video meeting participant cap and includes unlimited whiteboards ad 5GB of storage
Business Plus Plan ($20.83 per user/mo.): Includes unlimited calling, auto attendant, toll-free numbers, real-time reporting and SMS/MMS
Enterprise Plan: Includes Webinar 500, ROI tracking, and video meetings with up to 1,000 participants
Standout Features
Below are some of the key features that Zoom offers.
Call Recording: On-demand or automatic call recording and transcriptions, recording archiving, playback, retrieval
Call Monitoring: Call monitoring (allowing supervisors to silently listen to agent calls), call whisper (allows supervisors to talk to the agent without the other party hearing), and call barge (allows supervisors to transform agent calls into a 3-way call)
Video Meetings: Host video meetings with 100 to 1,000 participants with features like meeting lock, waiting room, admin controls,End-to-End Encryption, virtual backgrounds and custom filters, breakout rooms, handraising and polling, pin participant videos, screen sharing, live streaming
Whiteboard: Real-time team member collaboration with automatic syncing and tools like smart connectors, sticky notes, commenting, and drawing
Why we picked it
For companies that don't have a need for voice features, Zoom One is one of the few UC providers that is cheaper than OpenPhone and even offers a free version. While OpenPhone plans include voice capabilities without video, Zoom is the opposite in its Free, Pro and Business plans: offering video and whiteboard features without voice. For small remote B2B teams that need a secure internal communication space and not much else, Zoom might be perfect. For teams that do need phone service, Zoom One's Business Plus and Enterprise plans and Zoom Phone metered and unlimited plans include many advanced features such as IVR and real-time analytics along with live customer support via chat and phone.
What Zoom is Missing
Drawbacks to Zoom include:
No uptime SLA
Business phone system is only included in the Business Plus and Enterprise plans
Lack of advanced features such as real-time coaching and visual voicemail
6. 8×8
8×8 is a cloud-based communication and call center software platform that provides a suite of features, including voice, video, messaging, and contact center tools at competitive prices. 8×8's platform is designed to help businesses of all sizes improve internal and external communication by providing a seamless platform stacked with advanced features as well as international calling in up to 48 different countries. 8×8 also offers integrations with various business applications, such as Salesforce, Microsoft Teams, and NetSuite, among others, making it a highly versatile and customizable solution for modern workplaces.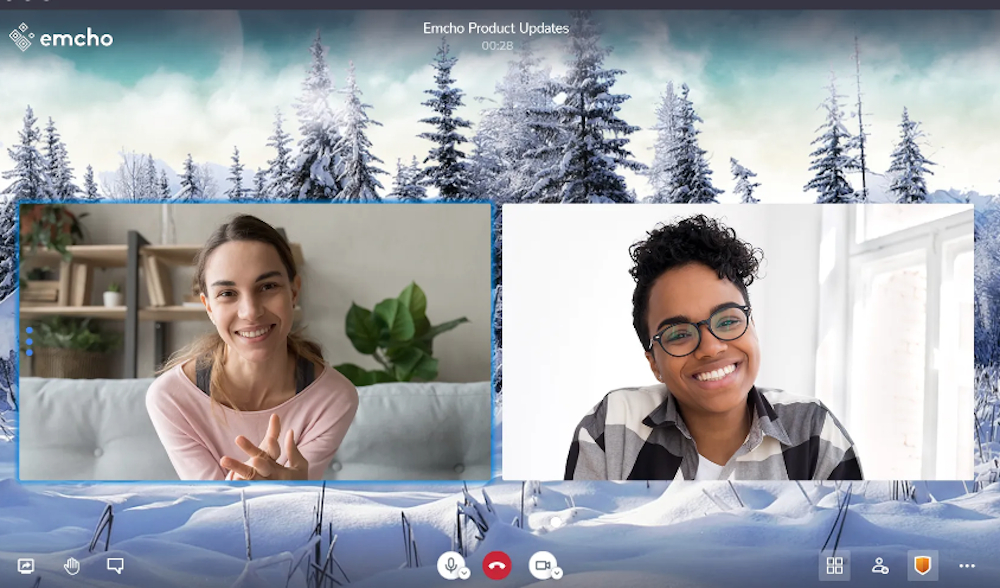 Pricing & Plans
8×8 has 5 different versions of its combined unified communications and contact center platform, but the upper three tiers are geared toward contact centers. The three UCaaS plans are outlined below.
X2 Plan ($24 per user/mo.): Includes unlimited calling in 14 countries plus SMS/MMS, video conferencing, and team chat.
X4 Plan ($44 per user/mo.): Includes unlimited calling in 48 countries plus supervisor analytics and call monitoring (whisper, barge, etc.).
Standout Features
Below are some of the key features that 8×8 offers.
Visual voicemail: Automatically sends voicemail transcripts and recordings  to user email addresses, includes Do Not Disturb feature that sends calls straight to voicemail and lets agents return calls, share, or forward voicemail messages directly within the voicemail dashboard
Team Chat: Unified team chat space automatically adds contacts from the company directory, integrates with other platforms such as Slac,  and allows users to launch video and audio calls directly from any chat thread
Multi-level Auto Attendant: Admins can create multiple nested call menus to direct inbound callers, drag-and-drop call flow design tool, custom greetings and business hour routing available
Video Conferencing: Enterprise-grade security (including end-to-end encryption) with meetings for up to 500 participants, including features like mobile app access, virtual backgrounds, host delegation, meeting lock and lobby, dial-in access from 50+ countries, cloud recording, YouTube live streaming, audio sharing, branded meeting interface, desktop and mobile screen sharing
Why we picked it
8×8's Express plan is priced similarly to OpenPhone, and like OpenPhone, the Express plan does not come with 24/7 live customer support. 8×8 does, however, include HD video conferencing and team chat, which aren't offered by OpenPhone. 8×8 also has better security than OpenPhone, including HIPAA compliance. On the other hand, OpenPhone offers some features–like call recording–in its most economical plan that 8×8 only offers in higher priced plans. OpenPhone also does not set a limit on the number of users for any of its plans, while the 8×8 Express plan is limited to 5 users.
What 8×8 is Missing
Disadvantages to 8×8 include:
Expensive compared to competitors

Not as many integrations as competitors

Lack of user-friendly setup
7. Grasshopper
Grasshopper is a VoIP phone service and communication platform designed primarily for startups, small businesses, and entrepreneurs. The platform provides a range of features, such as toll-free or local business phone numbers, call routing, voicemail, and call recording. It also offers an easy-to-use mobile app that allows users to manage their business phone calls and messages on-the-go.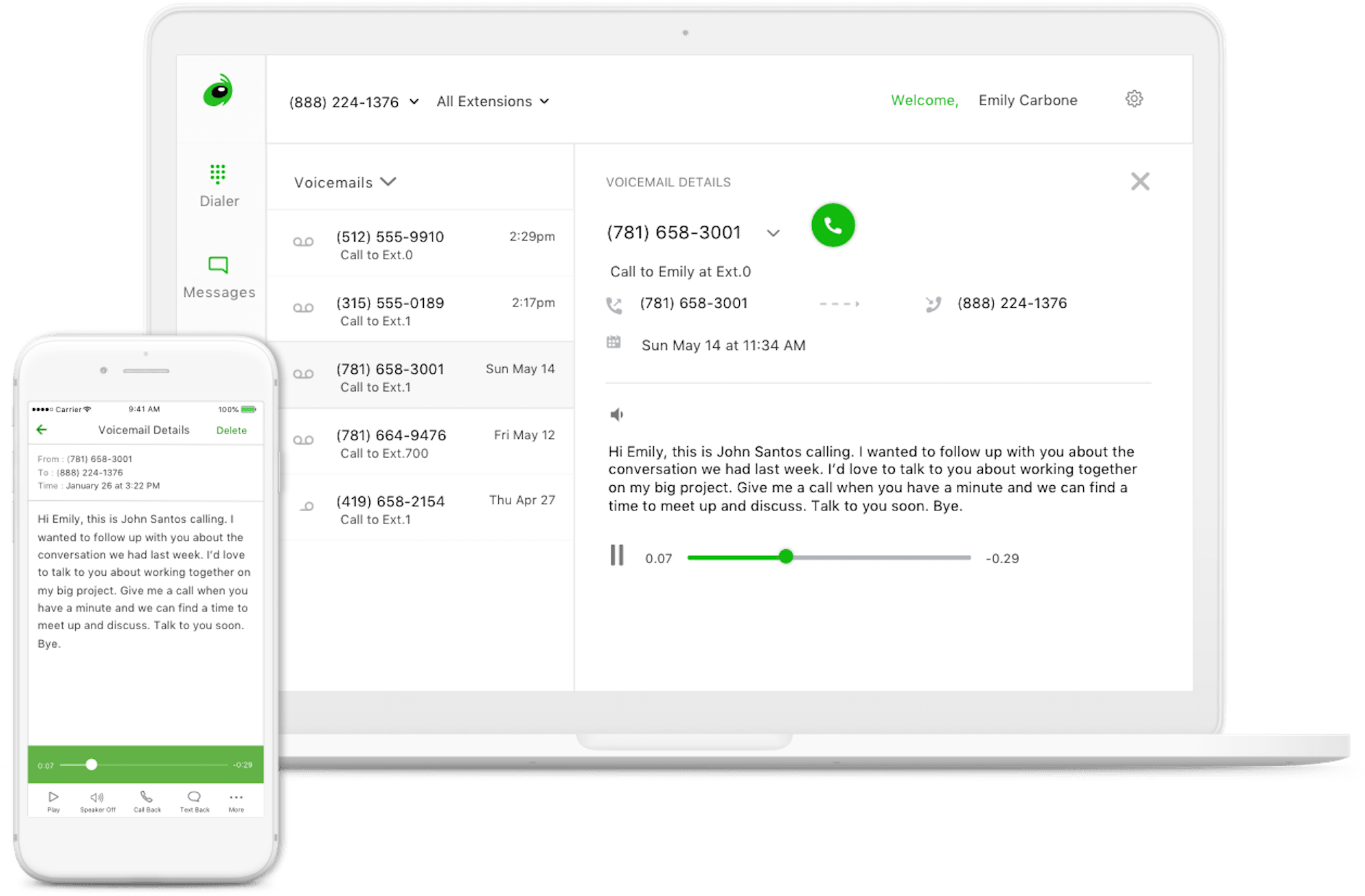 Grasshopper offers low prices and charges a flat monthly fee instead of charging per user like most competitors. Grasshopper is popular with small businesses and solopreneurs who need a professional phone presence but don't need or have the resources for a full-scale UCaaS platform. By providing essential features such as call forwarding, voicemail, and call recording, Grasshopper helps small businesses and entrepreneurs create a professional image and manage their business communications efficiently. However, the number of phone lines is limited to 5, and Grasshopper provides only the most basic VoIP phone features.
Pricing & Plans
Grasshopper includes all features in all plans and charges a monthly flat fee instead of per user. Plans differ according to the number of phone lines and extensions. All plans allow for an unlimited number of users. Below is a breakdown.
Solo Plan ($28 per month): Includes 1 phone line and 3 extensions
Partner Plan ($46 per month): Includes 3 phone lines and 6 extensions
Small Business Plan ($80 per month): Includes 5 phone lines and unlimited extensions
Standout Features
Here are some of the key features that Grasshopper offers:
Business SMS: Agents can send/receive text messages using their business phone number, use an instant reply feature to automatically text missed callers back, and automatically provide call back details or other key information
Call Forwarding: Call forwarding redirects incoming calls to other phone numbers or services such as voicemail, a home phone, or a colleague's smartphone
Live virtual receptionist: (Add-on only) Live, US-based agent virtual receptionist service via a collaboration with Ruby Receptionist to answer incoming business phone calls, take and share call notes, and collect customer information.
Voicemail transcription: Converts voicemails to text so they can be read on a computer, iPhone, or Android device
What Grasshopper is Missing
Disadvantages to Grasshopper include:
No guaranteed uptime

Lack of video conferencing, a feature offered by most Grasshopper alternatives 

Although Grasshopper includes some basic call handling functionality–call forwarding and business hours–it does not offer IVR or auto attendant which many competitors do
Why we picked it
Out of all the providers on this list, Grasshopper is the most similar to OpenPhone. It offers similar pricing, does not include video conferencing and has a similar level of reliability and security. The main difference between the two providers is that Grasshopper limits the number of lines and extensions for each plan, while OpenPhone does not. Unlike Grasshopper, OpenPhone includes an auto-attendant/IVR feature. Grasshopper is therefore better suited to freelancers and solopreneurs with a low call volume, while OpenPhone is a better solution for small businesses with a moderate call volume.
Which OpenPhone Alternative Should You Choose?
Choosing the right communications platform for your business depends on various factors, such as the size of the business, budget, required features, and level of security and reliability necessary.
For businesses that require a simple voice solution at an affordable price, OpenPhone is an excellent option. Dialpad and Zoom are suitable for businesses that need reliable video conferencing alongside collaboration and VoIP features. For those who prioritize security, RingCentral is a great choice, while Nextiva is an excellent option for those who value exceptional customer service. This is not an exhaustive list, and other notable providers include Aircall, Google Voice and Ooma. While there's no one-size-fits-all solution, there's undoubtedly a perfect fit for your business out there.
FAQs
OpenPhone is used to help businesses communicate more effectively with features such as voice calling, text messaging and call forwarding. 

No. OpenPhone is not certified as HIPAA compliant at this time. 

Yes, OpenPhone is a good option for small businesses thanks to its affordable prices and essential features such as IVR, analytics and call recording.