OnSIP and Nextiva are two VoIP software providers offering feature-rich business phone systems with capabilities like IVR, call queuing, and third-party integrations alongside 24/7 customer support.
This article offers a head-to-head comparison of OnSIP vs Nextiva pricing and plans, business communication channels and capabilities, user experience, and more.
Jump to ↓
OnSIP vs Nextiva at a Glance
The main difference between OnSIP and Nextiva is that OnSIP is a voice-focused business VoIP provider that also offers small video meetings, while Nextiva is a UCaaS platform supporting multiple communication channels like voice, SMS, web chat, and video meetings.
OnSIP's Unlimited plan offers uncapped call routing features like auto attendants and ring groups alongside a 20-country unlimited calling area–all for the same price as Nextiva's cheapest plan.
Nextiva's plans are pricier but include advanced multichannel features and automations like in-call agent suggestions, real-time surveys and reminders, and in-app video meeting scheduling.
OnSIP
Nextiva
Pricing
2 plans: One at $18.95 monthly per user, and one at $49.95 monthly per account
3 plans from $18.95 to $32.95 monthly per user
Free Trial
Free SIP account to make voice and video calls, with basic features
30-day free trial
Key Features

Small-group video meetings
Auto attendant
Ring groups
Call recording
20-country calling area

Calendar and meeting scheduling
Video conferencing with 250 participants
SMS and internal team chat

Integrations
HubSpot, Zendesk, Oodo, and Google Chrome browser extension
Salesforce, MS Teams and Outlook, Google Workspace, HubSpot, Zendesk, ServiceNow, Sugar CRM, and more.
Customer Support Options
Extensive knowledge base and 24/7 access to US call, chat, and email support
24/7 email, chat, and phone support team access
Best For
A voice-focused small business solution at an affordable price, with limited video capabilities
A unified communications solution with pricier, advanced options for automated sales and customer support
OnSIP vs Nextiva: Feature Comparison
Below, we've compared key features for OnSIP vs Nextiva.
OnSIP Voice Calling
OnSIP's cloud phone system provides HD voice calling within a 20-country network. The Unlimited plan offers free in-network calling, while the Basic plan charges 2.9 cents/minute. (Out-of-network international calls have additional charges.)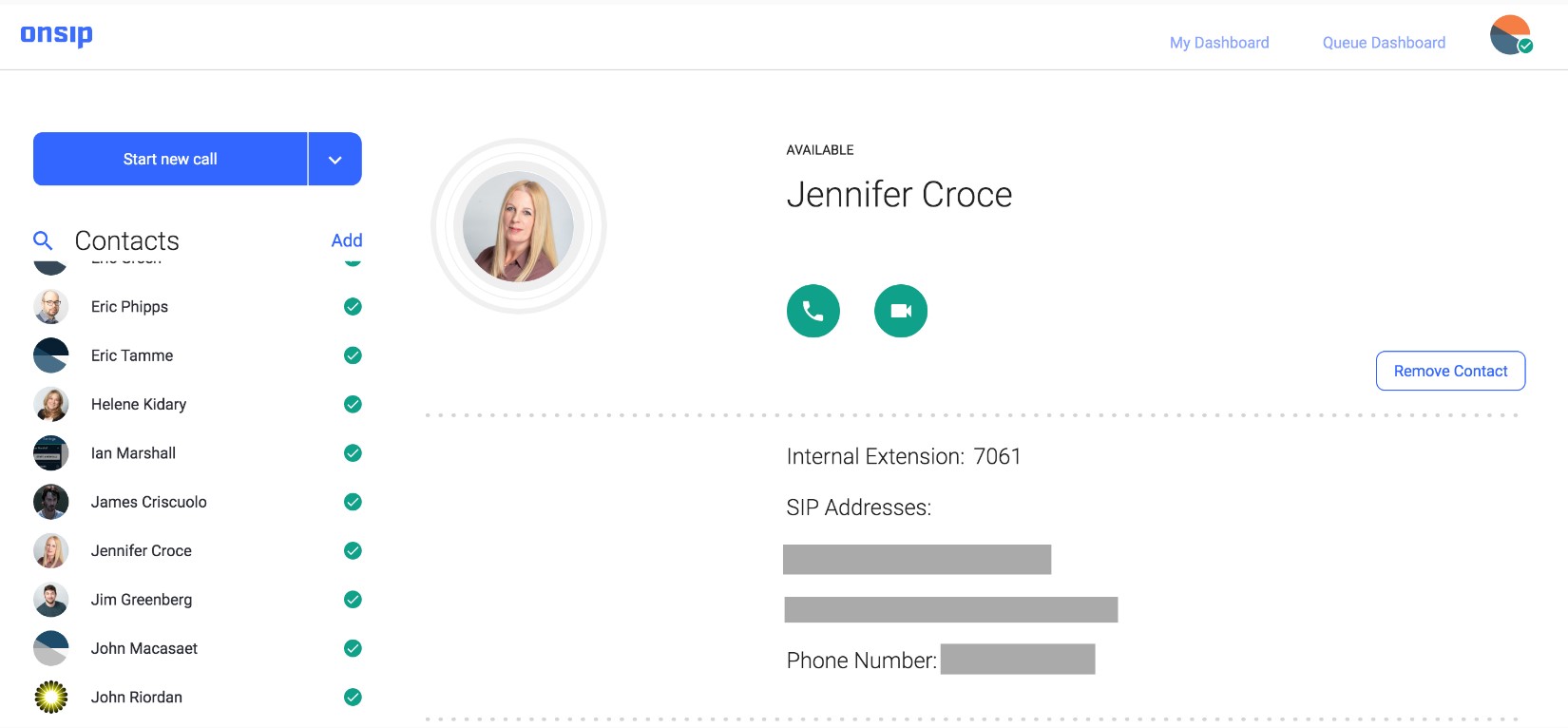 OnSIP-patented network technology registers customer VoIP phones to the data center nearest them, quickly transmitting call data while improving sound quality and reducing latency.
Softphone-powered desktop, web, and mobile apps allow users to make/receive calls from a virtual business number on any device with an internet connection–eliminating the need to purchase additional hardware.
In addition to porting in pre-existing numbers, OnSIP offers toll-free and local business phone numbers from a selection of US and Canada area codes. The intuitive user portal includes, with one-click calling, a searchable contact list, call history, and visual voicemail.
OnSIP Voice Features:
Auto attendants: Create self-service routing menus so customers can reach agents, voice mailboxes, or hear pre-recorded (via voice or type-to-text) announcements/messages
Automatic call distribution (ACD) queues: Create agent ring groups and call queues to optimize the call-waiting process and shorten hold times. Customize hold music and choose from queue ring settings like round robin, ring all, or ring least-active agent. Personal ring strategies let agents choose how long their phone rings before voicemail.
Advanced queue options: Add unlimited users to queue ring groups. Users to log themselves in and out of queues as needed, and callers can "escape" queues to agent voicemail at any time.
Monitor, whisper, barge, takeover: Listen in on any live customer-agent conversation, whisper to offer private agent guidance, barge to join an active conversation, and takeover to assume conversation control
Call management: On-call hold, warm and cold transfers, call blocking, call forwarding, call parking
Voicemail: Set up a visual voicemail box with a custom greeting and voicemail-to-email forwarding
Call recording: Automatic call recording for select agents and queues, storing with any compatible service provider
Simulring: Receive inbound calls and notifications from all OnSIP-registered devices at once
HD audio conference: HD conference calling  with up to 15 users
Click-to-call Google Chrome extension
Nextiva Voice Calling
Nextiva's business phone service boasts 99.999% uptime, unlimited calling within the US and Canada, and 24/7 network monitoring to ensure service availability.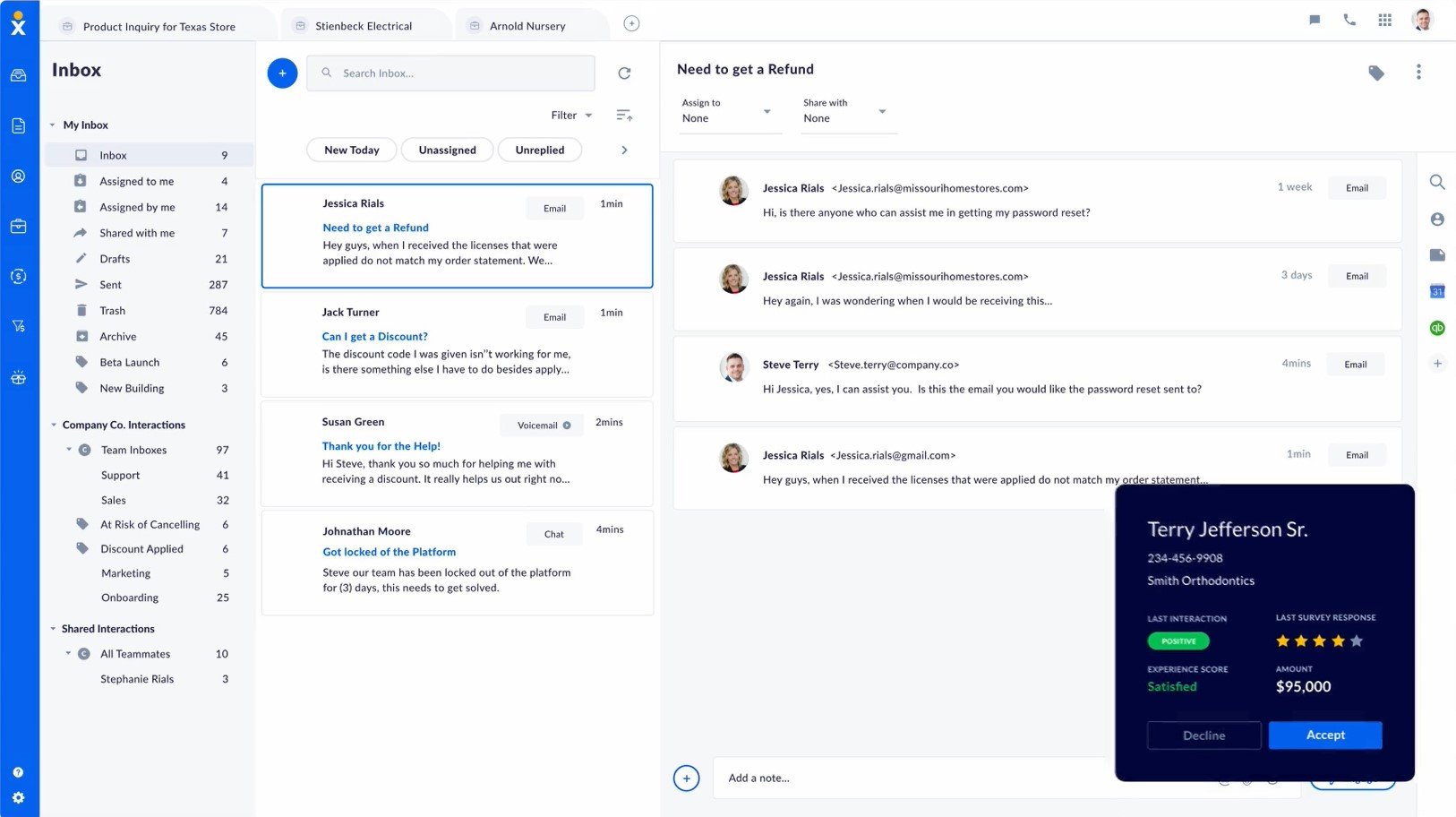 Plans include a free local and toll-free number with between 1,500 and 12,500 toll-free minutes. Port pre-existing numbers for free and take advantage of Nextiva's unlimited internet fax. Nextiva's desktop and mobile iOS and Android apps offer HD-voice PBX calling to any number: mobile, VoIP, or landline.
Nextiva Voice Features:
Voicemail: Virtual voicemail with easy setup, logs with voicemail transcription, and voicemail to email.
Contact integrations: Google and Microsoft Outlook contact-list integration, sharing up to 500 contacts among your whole organization.
Call management features: Call hold, call transfer, call forwarding,  and hold music.
Call queueing: Create queues and call (ring) groups to share incoming calls among departments or users.
Call logs: Call history and logs with caller, recipient, call time, and call duration. The Analytics plugin includes shareable recordings and summaries for each call.
Call recording: Record all calls live, cloud-based recording storage.
Call Pop: Relevant customer information via a pop-up the instant an inbound call is received. Syncs with Nextiva's native CRM tool integration.
Real-time suggestions and feedback: Part of the Analytics add-on, Nextiva AI uses live transcription to offer live-agent suggestions, such as relevant knowledge base articles, tutorials, and answers to customer questions and FAQs. Agents also see live customer sentiment updates thanks to Conversational AI.
Conference calling: The Professional plan includes unlimited conference calls with 40 participants, the Enterprise plan with unlimited participants.
Call Flow Builder with Advanced Auto Attendant IVR
Use the flow designer to create an advanced routing and call management system combining self-service IVR (Interactive Voice Response) menus and custom messages. This makes it easy to direct customers to the right information, action, or user according to pre-set business hours and other calling rules.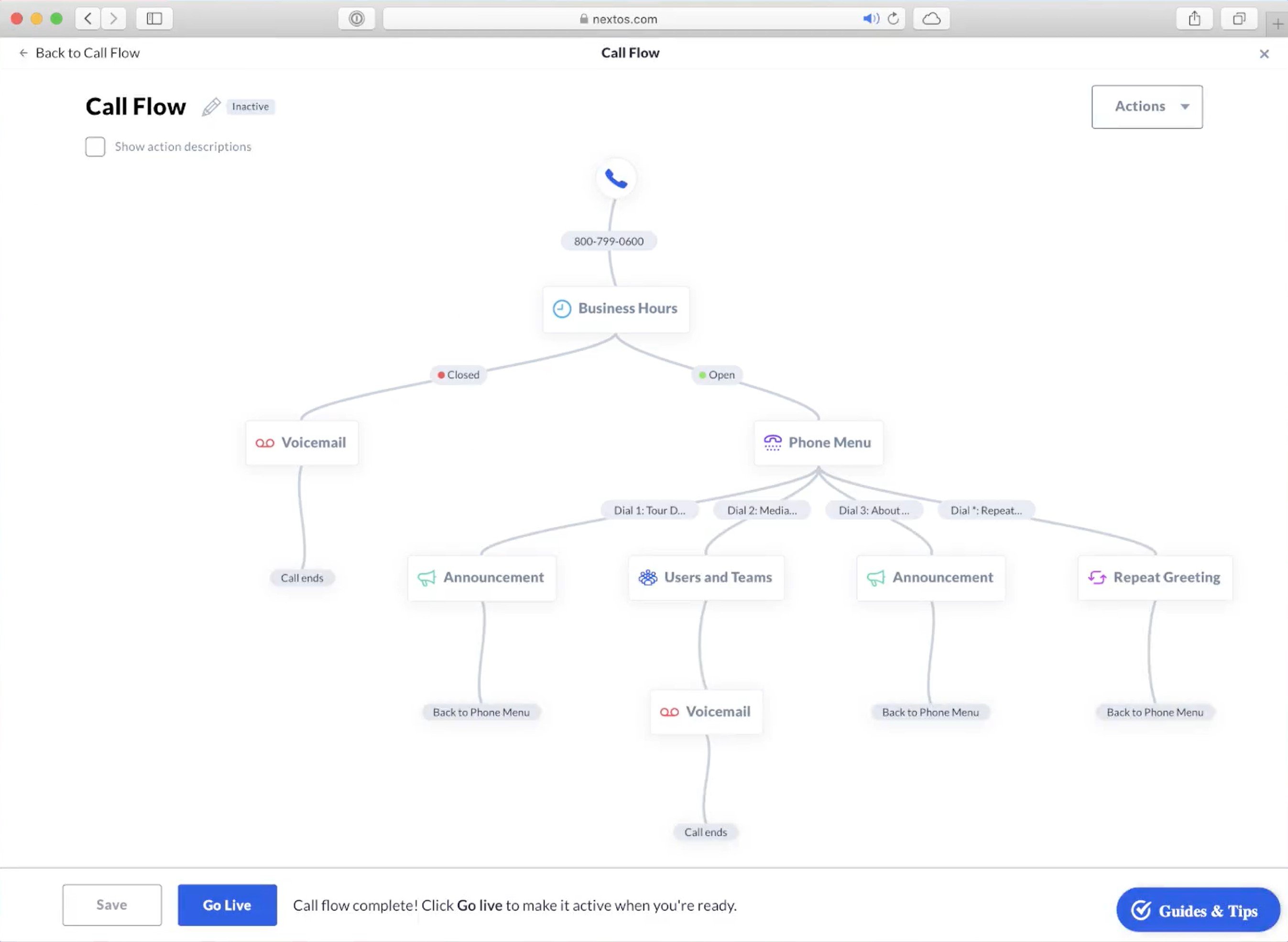 Record custom voice or type-to-text messages for announcements or DTMF menus, from which users can reach a destination or take action like leaving a voicemail, making payments, scheduling appointments, and accessing account info.
Agent Portal
NextivaONE, the agent portal unifying external communications and internal collaboration, offers an omnichannel dashboard where agents can monitor inboxes for voice messages, SMS texts, internal chat messages, and notifications for video meetings and calls.
The All Communications omnichannel inbox aggregates multichannel messages and notifications from customers and teammates with embedded voicemail playback, easy omnichannel callback, and the ability to sort notifications by message type or contact.
Tab switching allows agents to support many open conversations at once and change communication channels with one click.
OnSIP Messaging and Collaboration
OnSIP does not offer any digital messaging channels, like SMS or web chat.
However, OnSIP does offer Sayso, a website-embedded button widget that instantly connects site visitors with your available staff agents via phone or video. While traditional inbound customer calls require a customer to dial the company phone number and wait through the queuing system, Sayso connects website visitors–both customers and leads–to a staff agent instantly.
Customers choose video or voice, select a conversation topic, and begin.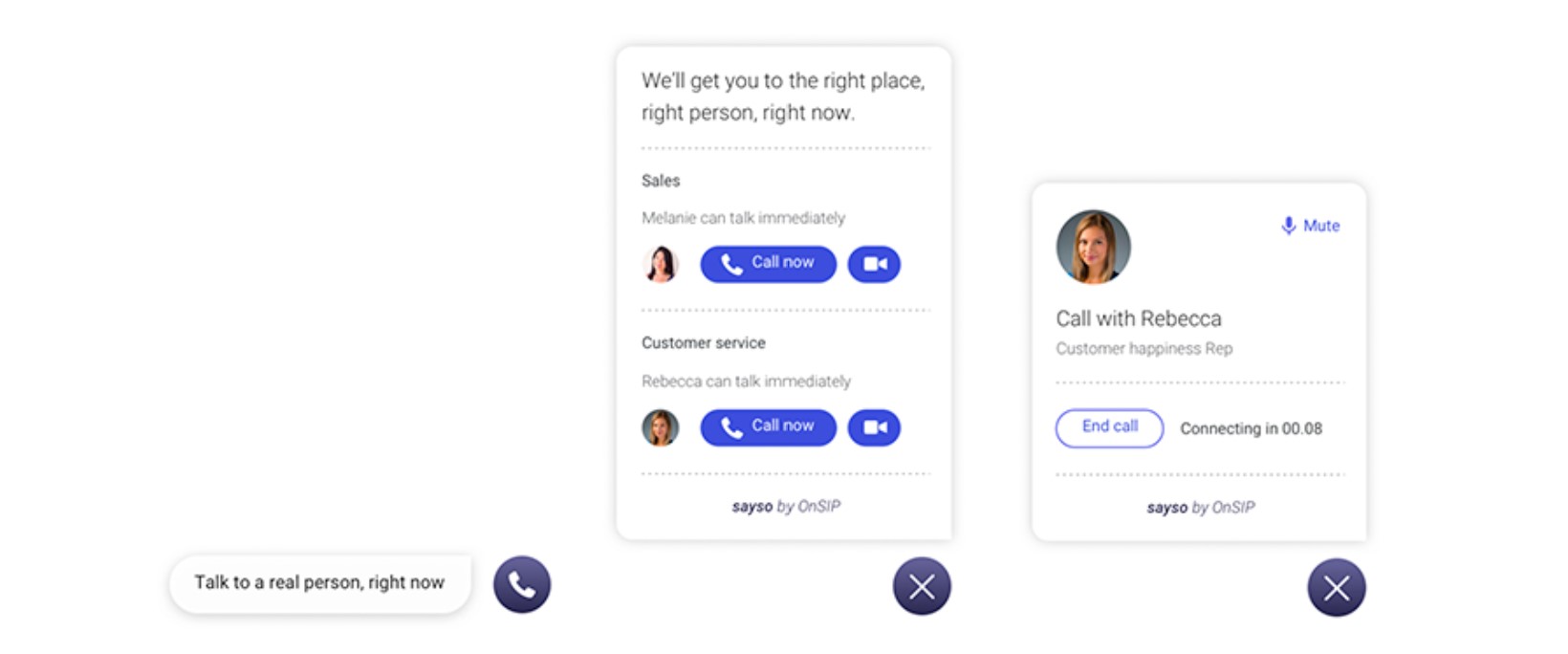 Sayso provides agents with contextual details:
Topic
Web page called from
Web page viewing history
Caller location
CRM record–name, email, phone number
If no agent is available, customers leave their name, phone number, and best callback time. Agents receive the notification with full context and call back at the right time.
Sayso offers a free Starter plan and a paid Pro plan with added features, like analytics and screen sharing.
Nextiva Messaging and Collaboration
NextivaONE enables internal team messaging and SMS texting to teammates or external customers, just by clicking on a user's name, profile, or phone number.
Agents can text images and regular SMS from their business number on Nextiva's mobile or desktop app, with inbound customer texts routed as tickets to the right agent's dashboard–logged as part of the multichannel conversation history and ready for one-click response.
Pre-built messaging templates format automated reminders to teammates.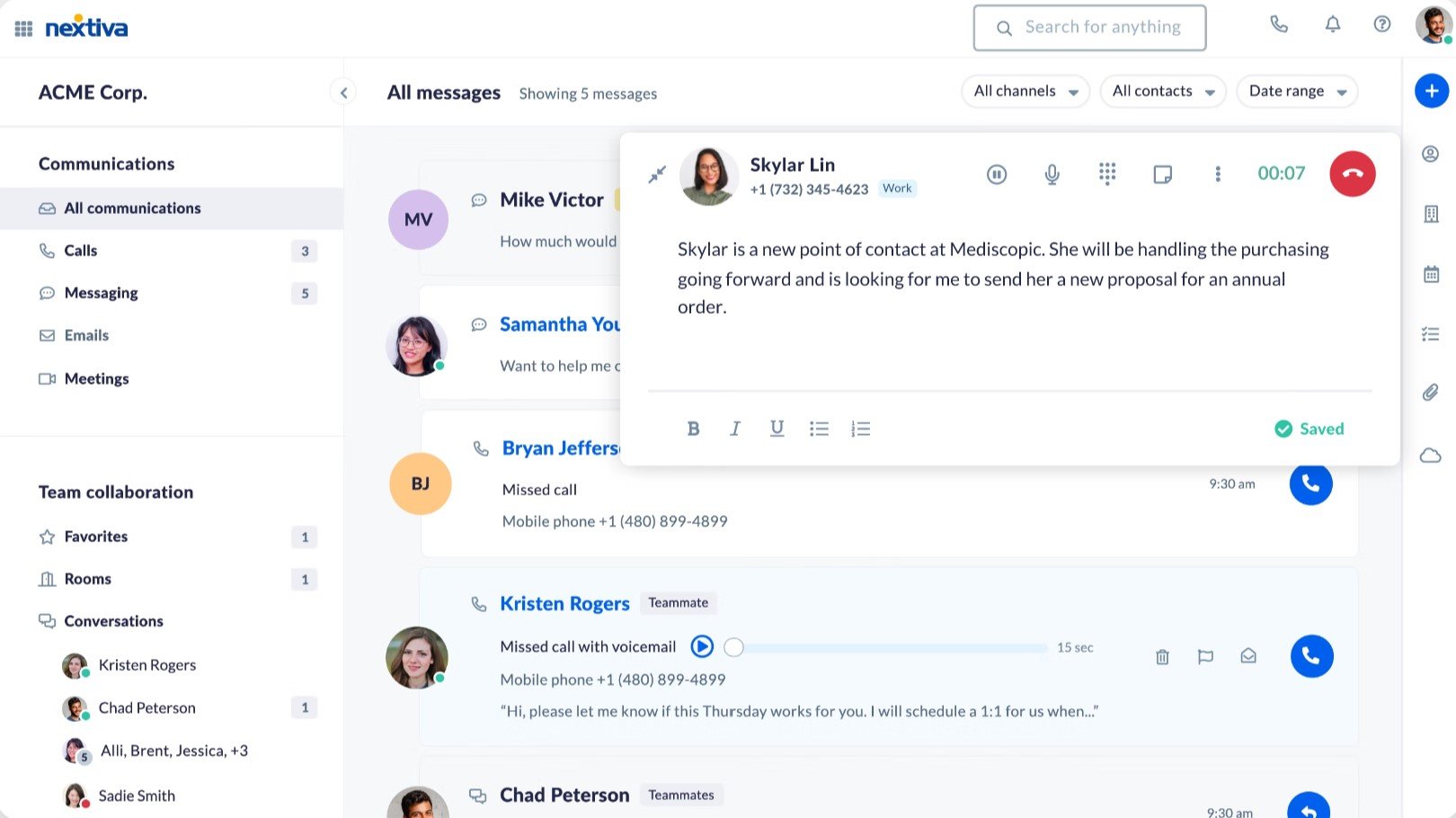 NextivaOne Team Collaboration
In NextivaOne, send 1:1 teammate messages and create team collaboration rooms devoted to particular departments, groups, or tasks. All Nextiva plans include three concurrent collaboration rooms, but the Productivity plugin, with 3 free months, gives access to unlimited collaboration rooms.
NextivaOne includes the following messaging and collaboration features:
Team and 1:1 chat
Integrated calendars
File and attachment sharing
One-click video meeting rooms
Automated Messaging and Multichannel Campaigns
Nextiva's multichannel workflow automations utilize all channels–SMS, email, web chat, voice, and video–to create outbound sequences that improve customer support, create sales campaigns, and connect with customers and leads.
Utilize messaging templates that integrate customer information from your CRM or database, creating a personal tone, and preventing customers from repeating themselves.
Multichannel Automation Capabilities:
Surveys: Automate surveys after customer interactions, low CSAT-score interactions, purchase deliveries, and more.
Welcome messages: Trigger welcome messages after new sign-ups.
Follow-ups: Abandoned cart reminders, new lead follow-ups, check-ins after low-rated interactions.
Reminders: Internal team-member reminders for forgotten tasks or exceeded SLA thresholds.
Notifications: Notify team members or managers of new lead statuses, activity, or assignments. Receive automated messages containing survey feedback.
OnSIP Video Conferencing
OnSIP video conferencing supports up to 5 video participants at once on the web or desktop app.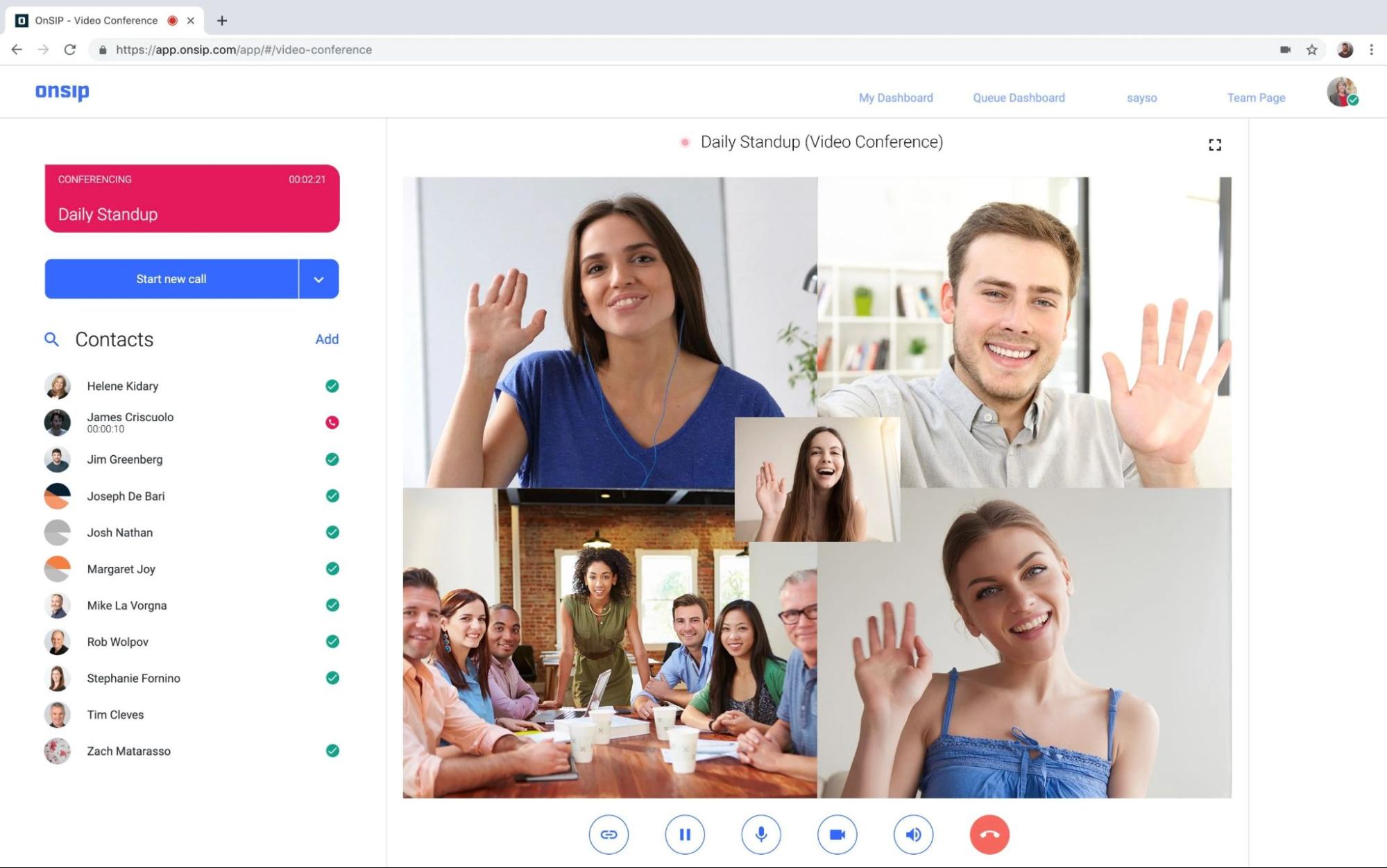 To start a video meeting in the OnSIP dashboard, click the Start a Video Conference link, give the meeting a title, and begin. Once the meeting starts, click the link icon to get a shareable link that enables external users and coworkers to join from their browser with no download necessary.
OnSIP video meetings have no time limits, are end-to-end encrypted, and stay open indefinitely. For recurring meetings, users only need to return to the same link at the agreed-upon time.
All users have the following control options:
Hold
Mute microphone
Mute video
Nextiva Video Conferencing
All Nextiva plans allow users to create, join, and schedule HD-video meetings with up to 250 participants. While all native plans cap video meetings at a 45-minute time limit, Nextiva's Productivity plugin removes this time limit and adds video-meeting recording.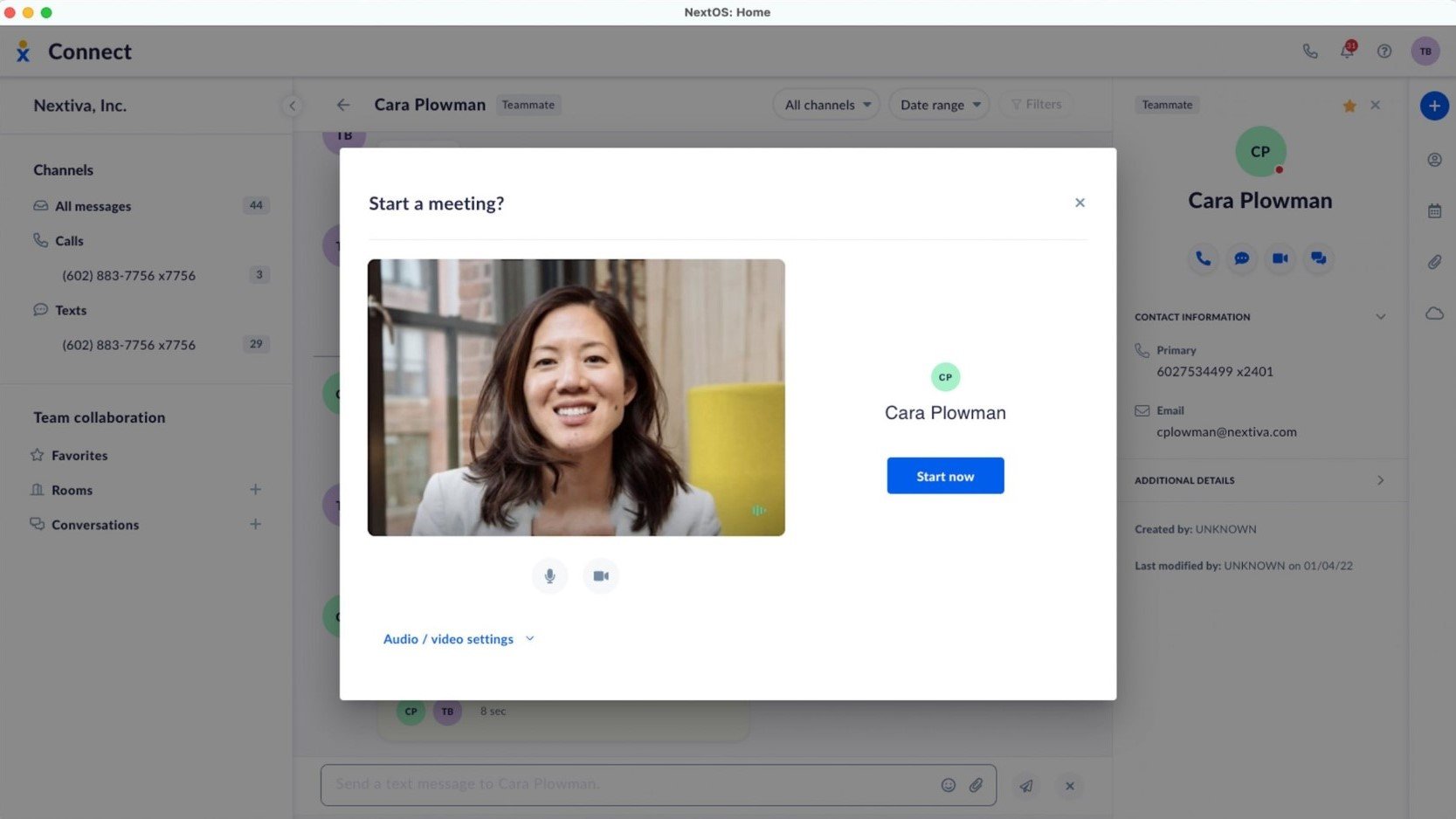 Create, schedule, and invite meeting participants within the Nextiva mobile and desktop app, and integrate with Microsoft Outlook and Google Calendars. Invitees can join video meetings directly from the browser with no download required.
Initiate instant video meetings with teammates via a one-click drop-down menu when you click their name, or join an ongoing pop-in video meeting hangout from within NextivaOne collaborative rooms.
Host webinars and webinar series with expanded attendee counts, along with registration, networking, and audience engagement tools.
Nextiva video meetings include the following features:
Private and public chat
Screen sharing
File sharing
Personal, shareable meeting links
Meeting dial-in
OnSIP Analytics & Reporting
In the admin dashboard, customize and view call center and queue statistics and reports, including historical and real-time usage stats for each agent.
Administrators can access call history logs with each call's detailed records: date and time, call duration, who initiated and who received the phone call, inbound vs outbound vs tool-free status, and total cost. Search call history logs by user or date.
Enhanced Queue Insights
Queue dashboards, available in the OnSIP app, provide administrators with real-time and historical reports about everything happening within network queues.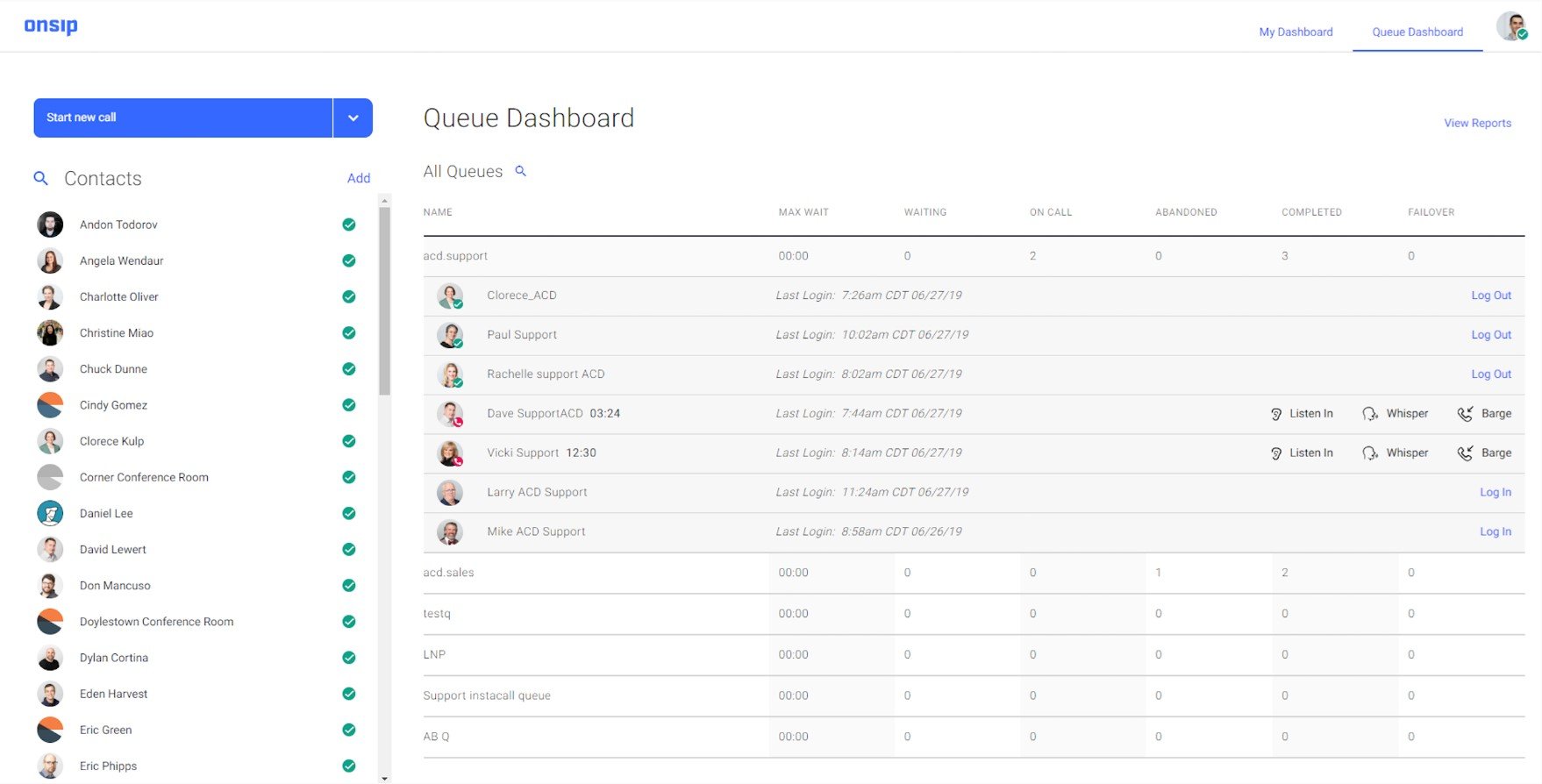 Real-Time Queue Data:
Current maximum wait time
Calls waiting
Active calls
Abandoned calls
Completed calls
Exited or failover calls
Queue dashboards display each agent's availability status, the duration time of their current call, and the date and time of their last login.
Historical queue performance reports display the following data points:
Total number of calls
Average wait time
Maximum wait time
Busiest time of day
Time of day with most abandoned calls
Set queue thresholds for key call center metrics, like wait time and call volume, to automatically notify supervisors via email and browser notification. Automatic queue emails keep select users updated on queue performance.
Nextiva Analytics & Reporting
Nextiva core plans only include Nextiva's base analytics package, with call history, call logs, and basic data accessible for 90 days.
The Call Analytics add-on, costing $5 per user, provides visual call data and insights through customizable reports, wallboards, dashboard panels, and gamification.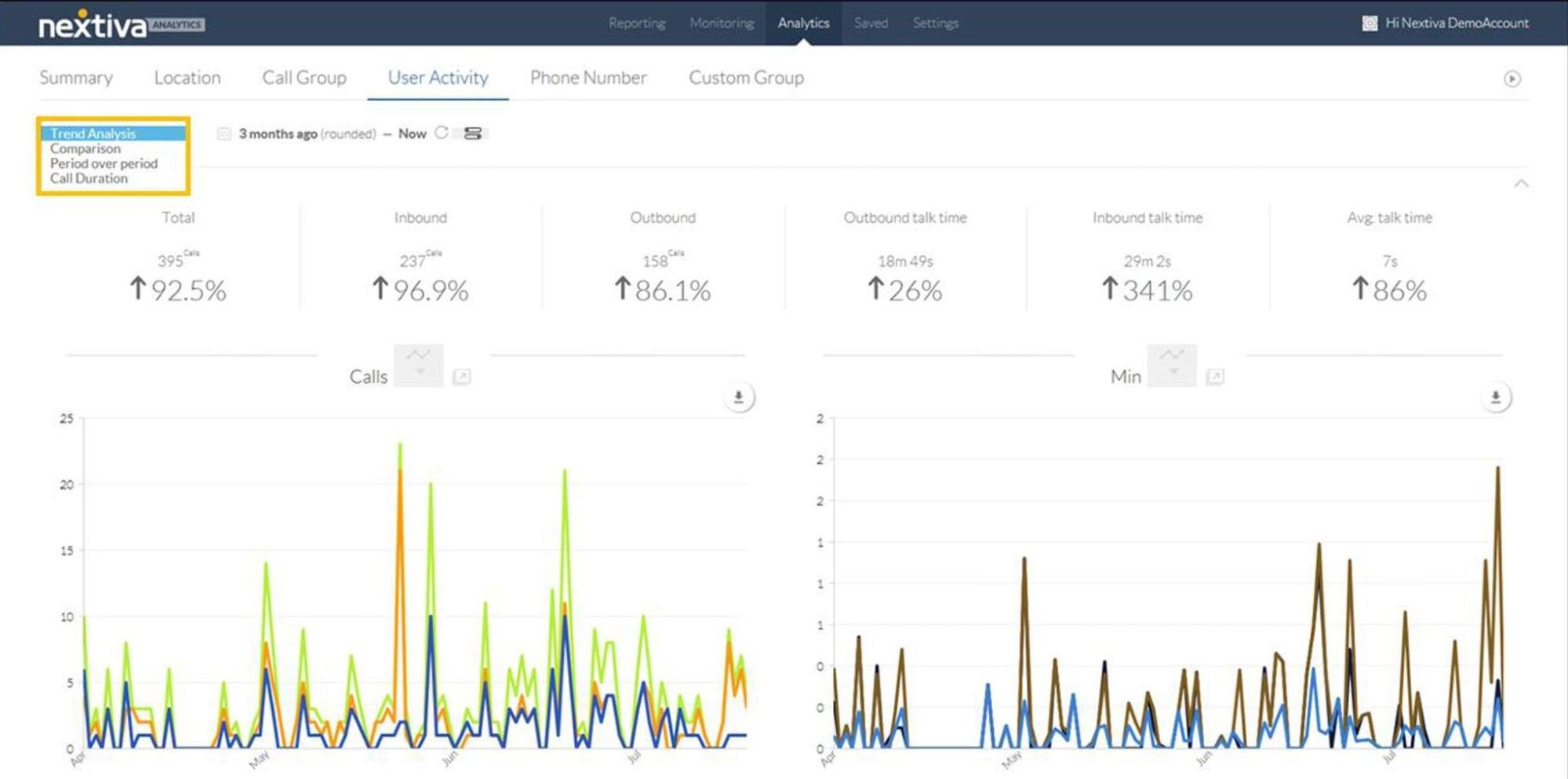 Mount wallboards to display live data for physical contact centers, use the data for agent coaching and feedback, receive routine reports to identify trends and insights about performance, use data to forecast business decisions and staffing needs, and share reports with stakeholders.
Access the following features and reports in Nextiva's Analytics add-on:
Call summary: An overview of calling and messaging activity for departments and users, including total inbound and outbound volume, toll-free calls, answered vs missed calls, and call count by time of dayExamine hour-by-hour activity and zoom the way into an individual call, to see the call report.
Live wallboards: Color-coded real-time wallboards that organize daily performance, sortable by department, location, and user.
Channel activity: Compare channel usage over custom timeframes.
Trend analysis: Percentage change in KPIs and metrics over custom timeframes.
Gamification: Employee rankings and leaderboards based on real-time KPIs
Detailed call reports: Each call report features customer sentiment, plus shareable call recordings and excerpts
Custom reports: Choose the metrics, the analysis format, the time period, and numerical or visual display style
Interactive maps and graphs: View incoming call distribution throughout global regions, and hover your mouse over a map, graph bar, or data points to view more detailed information
Survey reports: Access data and responses from all surveys
OnSIP Integrations
In addition to the Google Chrome click-to-dial integration, OnSIP offers the following integrations:
Zendesk: Integrate OnSIP calling with Zendesk's help desk features, including ticketing, self-service, and customer support.
HubSpot: Inbound OnSIP calls and Sayso requests pull the customer or lead's HubSpot CRM profile information, even just website visitation history, call history, or agent notes. The app screen displays a preview of customer information, along with a link to the full record.
Oodo: Connect OnSIP to any of Oodo's 30 applications.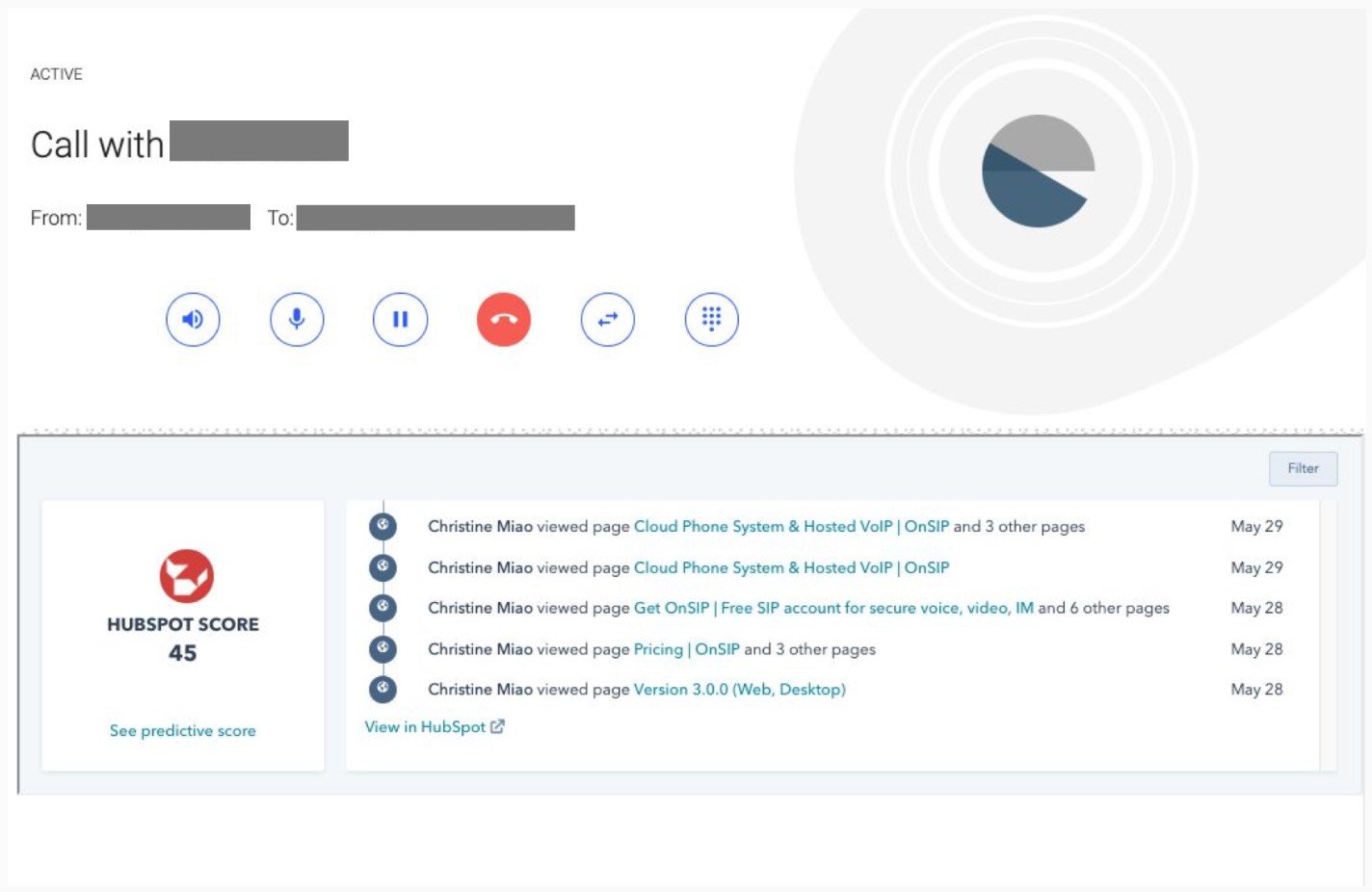 Nextiva Integrations
Many of Nextiva's AI-enhanced sales and marketing automations, analytics and support features utilize data from your CRM system. Call Pop provides agents with a snapshot of relevant incoming caller customer info, lead status, contract amount, and sentiment–instantly pulled from your CRM system.
Nextiva's AI logs customer satisfaction and sentiment as part of the historical journey, integrating this information from Nextiva into your CRM system. Customer surveys and multichannel conversation histories also add to a deeper customer profile integrated within CRM.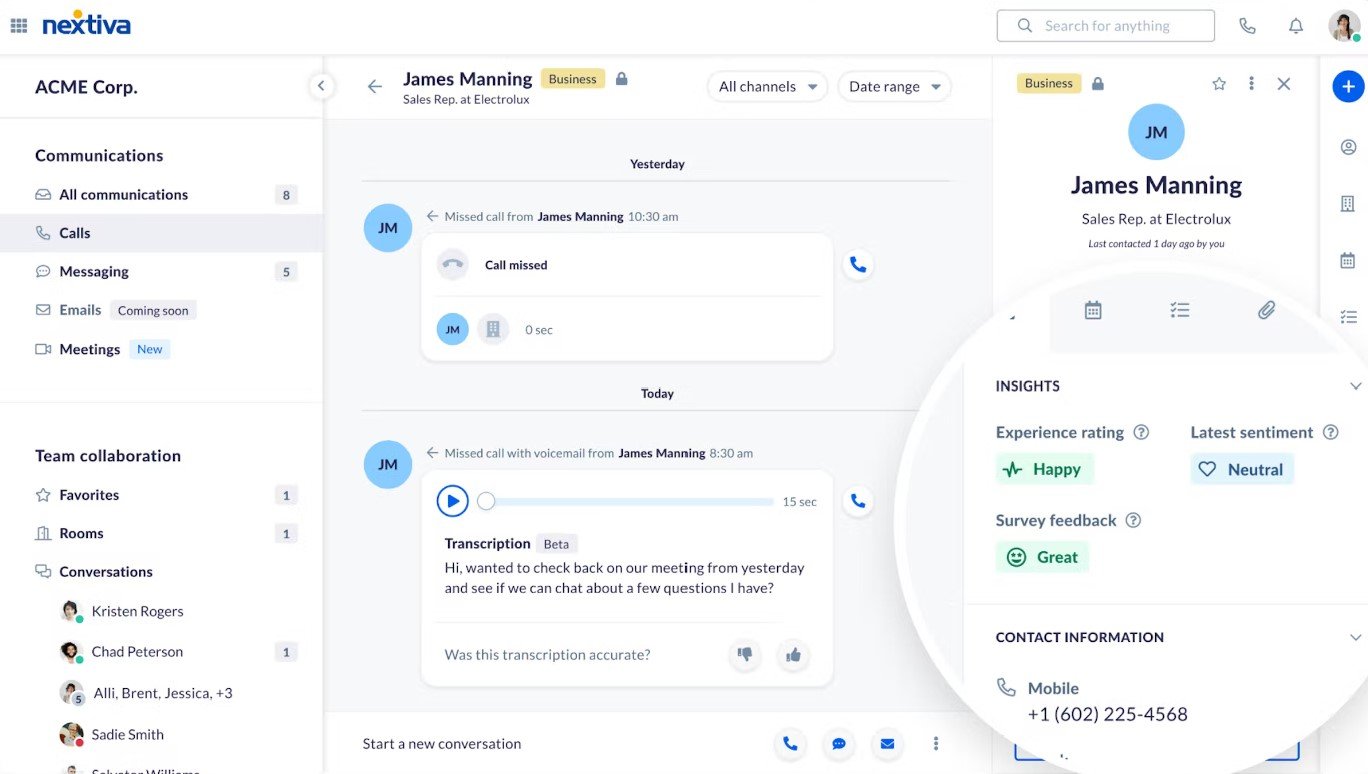 Multichannel automated templates autofill with customer information pulled from your CRM system: name, company name, and product order or appointment information.
Nextiva CRM integrations include:
Zoho
Salesforce
Subspot
Zendesk
SugarCRM, and more
Nextiva also integrates with collaboration apps, contact center software, and calendar apps:
Microsoft Outlook
Microsoft Teams
Google Workspace
Five9, and more
The Essentials plan features calendar integrations, the Professional plan adds CRM integrations, and the Enterprise plan adds more advanced integrations like direct routing with Microsoft Teams. Custom APIs are also available.
OnSIP vs Nextiva: Pricing and Plans
OnSIP's Unlimited Plan costs $18.95 monthly per user and offers unlimited calling within their 20-country calling area. Its VoIP system also includes unlimited usage of most features, like auto attendants and ring groups.
The Basic plan, best for small companies with low call volumes, costs $49.95 per month for the entire account, but charges 2.9¢ per minute for calls and includes limited usage of features.
Many call-center features, as well as Sayso, are available as add-ons.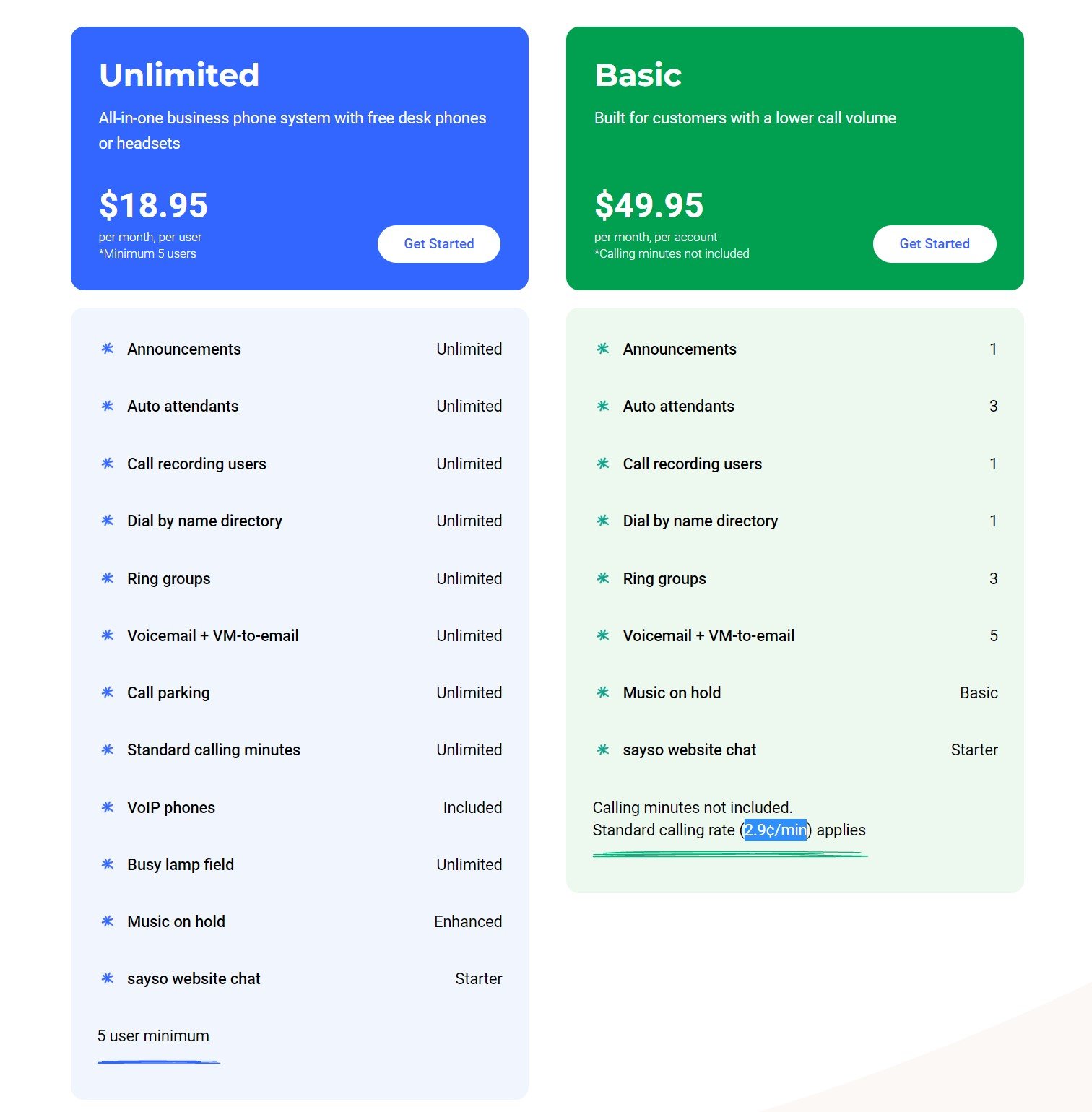 Nextiva's Essential plan includes unlimited voice calling within the US and Canada, along with chat and video. The Professional plan adds conference calling to the VoIP service, expands the auto attendant to multi-level, and adds SMS capabilities. The Enterprise plan includes all integrations, access to many Nextiva automations, and call recording.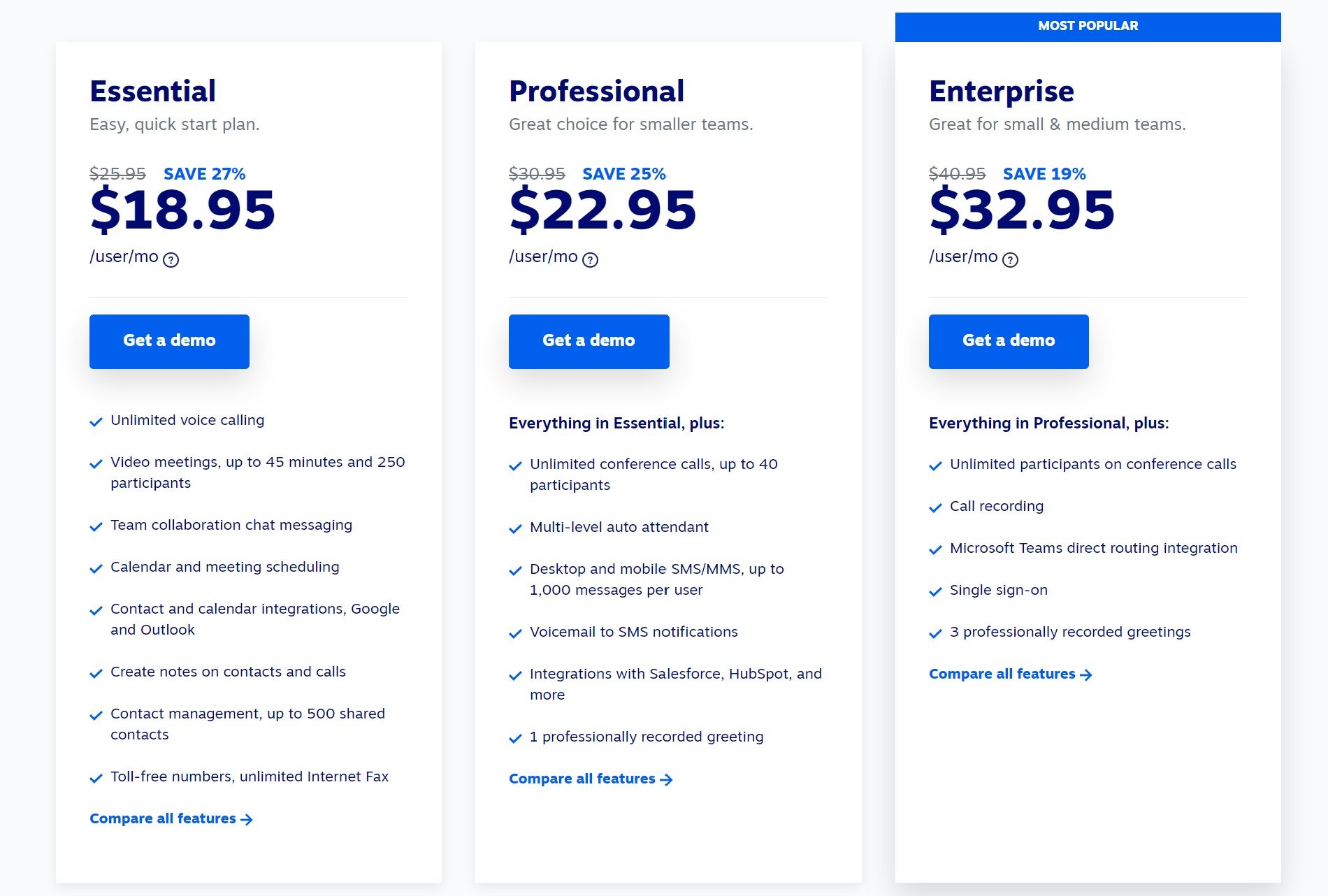 Nextiva's advanced analytics features–like in-depth queue reports and visuals, real-time agent suggestions, and customer journey mapping–and their productivity features–like unlimited teammate rooms, video chat, and video recording–are available as separate add-on plans.
OnSIP Pros & Cons
OnSIP's Basic plan offers an affordable whole-account pricing structure for small teams that can share features like auto attendants and call recording. Their unlimited calling network is larger than most competitors.
However, the fact that OnSIP lacks digital messaging channels is a major drawback, and their integration options are limited.
Nextiva Pros & Cons
Nextiva's automations and analytics facilitate strong sales and customer support use cases, with options for automated surveys, reminders, and follow-up messages. Further, Nextiva's basic plan includes chat and large video conferences hosting up to 250 participants.
On the flip side, Nextiva's higher-tier plans quickly add up in price, and their most useful analytics require an add-on package.