Social media customer service is when businesses offer customer support via social media platforms and/or social media messaging services.
Today's consumers assume businesses offer social media support, and will make support requests on your company's social media pages whether you want them to or not. Your business's social media presence–as well as what people post about your company on their own profiles– influences customer buying decisions, brand reputation, and your bottom line.
This beginner-friendly guide to social media customer service outlines best practices, how to choose the ideal social platforms for your business, the right tools to help, and more.
Quick links:
What Is Social Media Customer Service?
Social media customer service is the business process of providing customer support across one or more social media platforms.
Especially when combined with phone, chat, and other support channels, social media customer service improves the customer experience while building brand recognition. Though different from social media marketing, providing quality social media customer service often produces similar results: increases in customer engagement, sales revenue, and customer satisfaction.
Why Is Social Media Customer Service Important?
Social media customer service helps businesses meet customer expectations, outpace competitors, boost customer loyalty and employee retention rates, and lower operating expenses.
Though adding more customer service channels–especially across multiple social platforms–may initially seem like more work, doing so actually shortens support resolution times, eliminates time-consuming business processes, and frees up customer service reps.
Additional benefits of social media customer service include: 
Increased transparency and consumer trust
Letting customers connect with your business on their preferred channels
More personalized customer service and better customer relationships
Invaluable insights into your customer base from social media analytics
Collect more public business reviews and private customer survey feedback
Publicly respond to criticism and negative customer feedback
Capture qualified leads from follower lists, messages/comments, etc.
How to Choose the Right Social Media Channels
Instead of creating accounts for your business on as many social media platforms as possible, it's much more effective to focus your efforts on the 2-3 social channels your customers use the most.
You can always add more social platforms to your communications stack as you grow and learn how to manage the most important channels. However, it's much more difficult to undo the negative effects juggling too many social platforms can have on your business. Keep your social media content consistent (aside from individual responses to customers) across all social platforms to avoid brand confusion or potential support contradictions.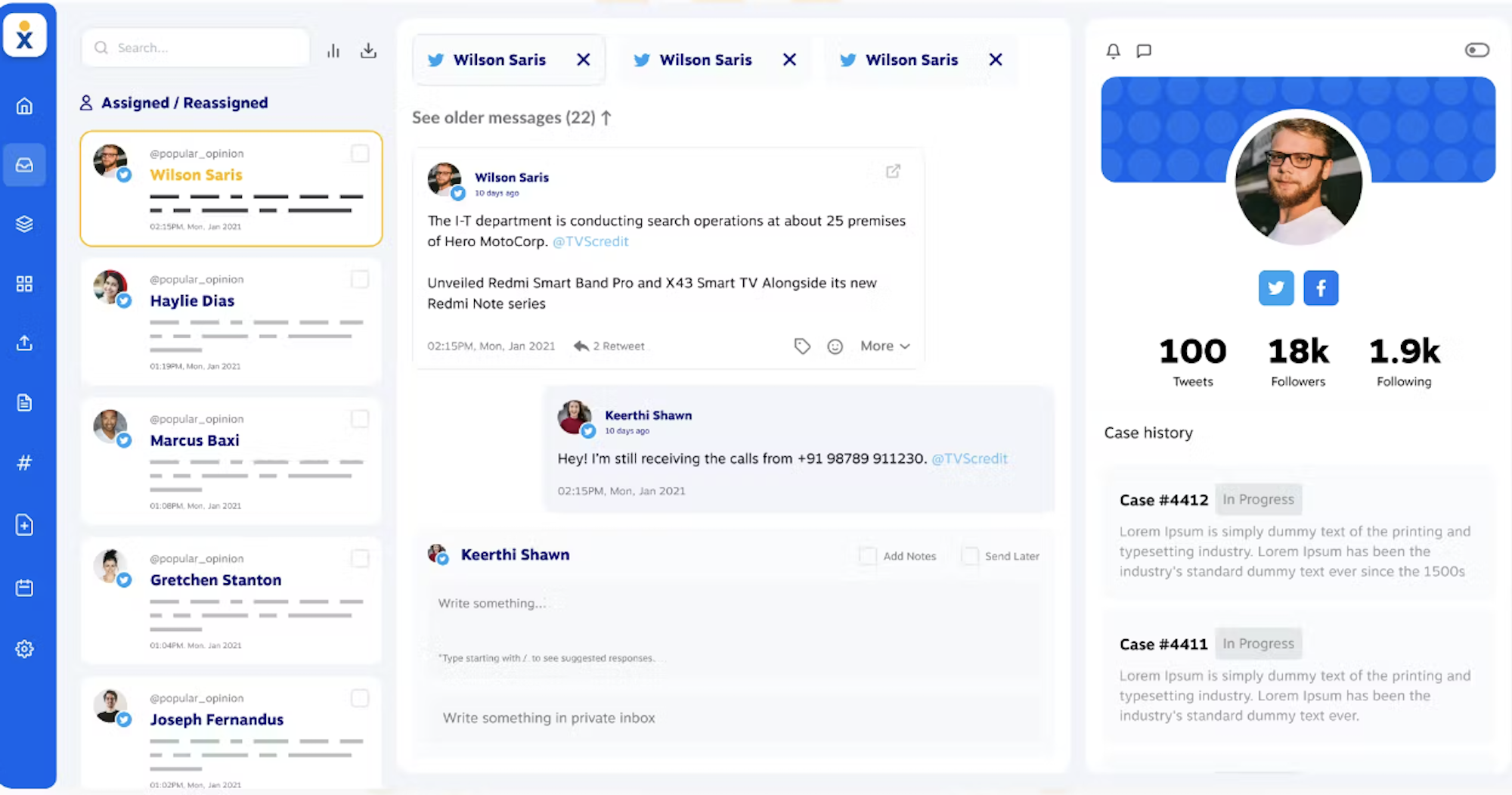 Popular social media channels for customer support include Facebook and Facebook Messenger, Twitter, Instagram, WhatsApp, and LinkedIn. Depending on your specific business, Reddit forums, YouTube comment sections, and even TikTok may also be avenues for customer service interactions.
To find the right social media channel for your business:
Compare follower counts across any existing social channels
Conduct A/B testing across social channels
Monitor customer interaction analytics across multiple channels for a set time period
Send out customer surveys and polls
Compare/contrast the specific features/capabilities of potential channels
Study current customer demographics and target market demographics
Consider your business goals, mission statement, and supported philanthropic causes
Examine competitor social media profiles and follower counts across platforms
Challenges of Social Media Customer Service
Offering customer service on social media is convenient for consumers, but does come with unique challenges. The best way to overcome these potential customer service problems is to identify them, consider the pros and cons of moving forward, and continually improve your customer experience strategy.
The top 5 challenges of social media customer service are:
1. Meeting High Customer Expectations 
Today's customers expect businesses to provide 24/7/365 support across multiple channels–including social media. They also want personalized customer service and fast response times–¾ of consumers expect a support response in five minutes.
The sense of instant gratification associated with social media makes customers even less likely to wait for a support response–and more likely to publicly complain if support quality isn't up to their standards.
2. Increased Risk of Damaged Business Reputation
Many personal and professional reputations have been destroyed by social media, and your business is no exception.
While common-sense tips like avoiding political topics and potentially offensive jokes may seem obvious, hiring a social media manager or post editor helps keep you up-to-date on evolving language, current events, and volatile discussion topics.
Even so, consistently negative comments from customers, poor reviews, or serious gaffes can damage your brand image–and the anonymity and ease of social media does open you up to potential conflict.
3. Failure to Manage Other Customer Service Channels
When businesses launch a social media account for the first time, it's easy to get sucked into liking and sharing, chatting with customers, scrolling through competitor profiles, or feeling the pressure to constantly post new content.
All this activity and effort can cause delays or drops in customer service quality across other support channels–which translates to lost revenue and increased customer churn.
4. Managing Sudden Increases in Customer Interactions
While a sudden influx of customer interactions may feel like a gift, it can spiral out of control and cause serious support delays if not properly managed.
Peak buying times, seasonal sales, special offers, new product launches, or serious company-wide issues all lead to spikes in social media communication–but customers still expect to receive five-star service.
5. Maintaining Consistency Across Channels 
Especially for businesses offering omnichannel customer service, maintaining a consistent brand voice–and ensuring all agents provide the same answers–is difficult.
Keeping training manuals up-to-date, using internal team chat and knowledge bases, and conducting regular customer service audits help resolve the issue, but isn't a foolproof way to maintain the same tone of voice across channels.
Best Practices for Providing Social Media Customer Service
The 10 best practices for providing the best customer service and support on social media are:
1. Automate What You Can
Whether you're a small business or an enterprise-level corporation, facing a high volume of daily customer queries on social media feels daunting–especially when customers expect instant, personalized answers.
Instead of hiring additional agents or leaving customers without a response, rely on automation as much as possible. Immediate auto-responses to social media messages and comments confirm receipt of customer messages. Your auto-responses (especially if public) should include live support hours, links to a direct message box/support email, and a request for essential information like customer name, account number or order number, and phone number/email address.
Automate follow-ups, as well.
Chatbots–especially those with Conversational AI–provide 24/7 customer self-service and keep agents free.
2. Create a Mobile-First Experience
Most people access their social media accounts on smartphones, tablets, or other mobile devices–so ensure your social media support strategy and accounts are optimized for mobile-first use. Include clickable response buttons, enable auto-fill, optimize images/videos for mobile, and avoid overly large or small fonts.
3. Have a Dedicated Support Social Media Account 
Having a business social media account that's solely dedicated to providing customer service–not marketing products/services–is an excellent way to ensure support requests are not overlooked.
Link to your support handles on your main social media accounts, and redirect social media users to the proper handle when necessary. Include links to your support social media accounts in product documentation, service tutorials, customer support ticket portal, and knowledge bases.
4. Practice Social Listening 
Just because customers haven't tagged your social media accounts doesn't mean they're not talking about your company online.
Social listening is the practice of monitoring mentions of your brand on social networks, social media posts, keywords, customer sentiment, follower counts, and other discussions about your business on several social media platforms.
Social listening–accomplished automatically with social media monitoring tools–provides valuable insights about your customer base, their satisfaction levels, and potential issues you may need to publicly address.
5. Use a Shared Inbox
A shared inbox is an omnichannel contact center functionality that automatically streamlines and syncs customer service interactions across channels into one dashboard.
These shared inboxes allow groups of agents to view and respond to all social media customer interactions assigned to their inbox, making it much easier to resolve higher numbers of customer questions. Shared inboxes contain conversation histories across channels, integrate with CRM systems for key customer data, and allow customers to update/add notes to interactions.
6. Create a Social Media Support Team
Especially if your social media account has a larger following, create a customer service team of support agents that exclusively respond to social media support requests. This evens out the workload and ensures other support channels aren't neglected.
7. Post Proactively 
The most effective social media customer service accounts don't constantly respond to customer support requests.
Instead, they proactively post content providing solutions for common support issues, ask customers for feedback, link to FAQs, and upload tutorial videos. This kind of proactive approach increases customer satisfaction, boosts customer engagement on your business's social media, and frees up agents.
8. Review Reporting and Analytics
Monitoring customer service requests, tags/mentions, popular posts, and common topics/keywords on your business social media page offers insight into the customer service experience, helps you anticipate future support issues, and even optimizes the agent scheduling process.
Most CCaaS and social media software platforms offer built-in analytics and custom reporting to automatically monitor customer sentiment, agent activity and performance, and other real-time and historical call center KPIs.
9. Direct Customers to Additional Support Channels
Social media isn't your only support channel, but it is the one many customers go to first.
When facing higher contact volumes and customer service requests on social media, refer clients to additional support channels like call center phone numbers, email addresses, or knowledge base links. Include support operating hours for each channel, and specify your time zone.
10. Don't Ignore Public Customer Complaints 
Though it's certainly tempting to either ignore or fight back against complaints and low reviews posted on social media, agents with proper customer service skills do the opposite.
To avoid further damaging your reputation, don't delete negative comments or accuse the customer of exaggerating. Instead, publicly acknowledge and empathize with the customer, then ask them to provide the information needed to resolve the issue (name and account number, tracking number, etc.) If the problem is minor, you may be able to assist the customer by linking to a support page in your online knowledge base.
More serious customer issues should be taken to private messages whenever possible. If the customer doesn't respond, follow up with them. You can't please everyone, but social media gives your business a unique opportunity to give shoppers insight into your support process while showing you value your customers and their feedback.
What to Look For in Social Media Customer Service Tools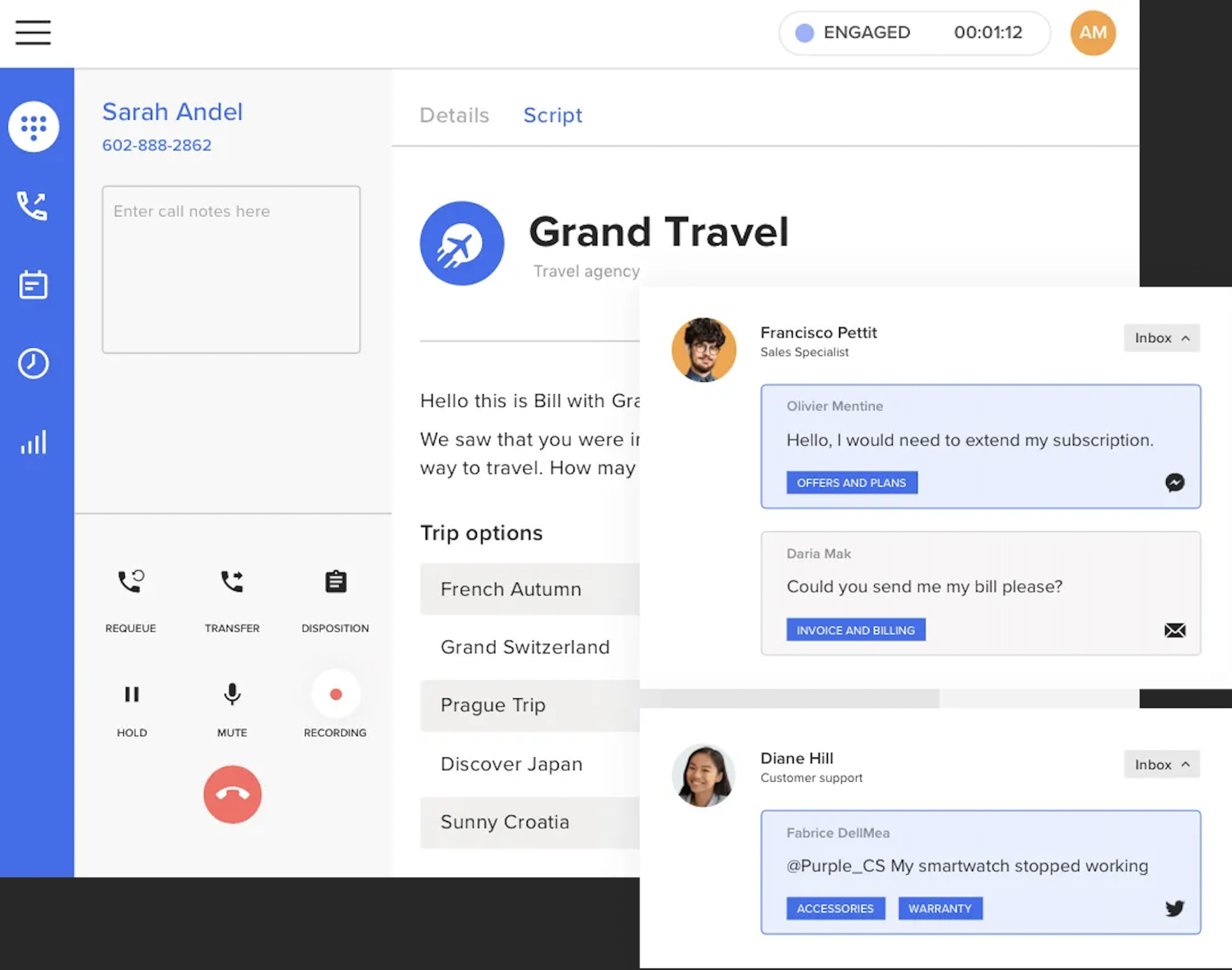 Key social media customer service management features to look for include:
Multi-Platform Compatibility and Shared Inbox: Provides access to multiple social media platforms and support channels in one interface with real-time conversation syncing, live customer:agent chat/interaction, searchable message history with filters and tags, intelligent routing, etc.
Automation: Two-way chatbots, canned responses, scripts and replies, automated in-conversation agent assistance via knowledge base integration, workflow automation, agent and post scheduling tools, etc.
Internal Knowledge Base/Wikis: Searchable hub for agent scripts, product/service documentation, canned responses, etc.
Third-party Integrations: CRM systems (Salesforce, HubSpot, and Zoho), chatbots (LiveAgent, Ada AI Chatbot), helpdesk platforms (Zendesk, Freshdesk), marketing and sales tools (Gong, Later, Buffer), team chat/collaboration apps (Asana, Slack, Monday.com), social media analytics tools (Hootsuite Analytics, Sprout Social)
Customer Reviews: Customer surveys and reviews with reputation management
Social Media Monitoring: Cross-platform mention tracking, trend analytics, keyword monitoring, link tracking, competitor reports, engagement data, paid promotional tools, social selling
Live/Historical Analytics: Custom/template-based real-time reporting and KPI tracking for CSAT and NPS scores, average handle time, customer sentiment, topic clustering, agent activity, etc.
Mobile Apps: Apple iOS and Android mobile applications with live custom push notifications, agent inbox access, device switching, etc.
Examples of Great Social Media Customer Service
Below, we've outlined three examples of excellent customer service across different social networks.
The Apple Support Twitter Account
The Apple Support Twitter account is a masterclass in effective social media customer service.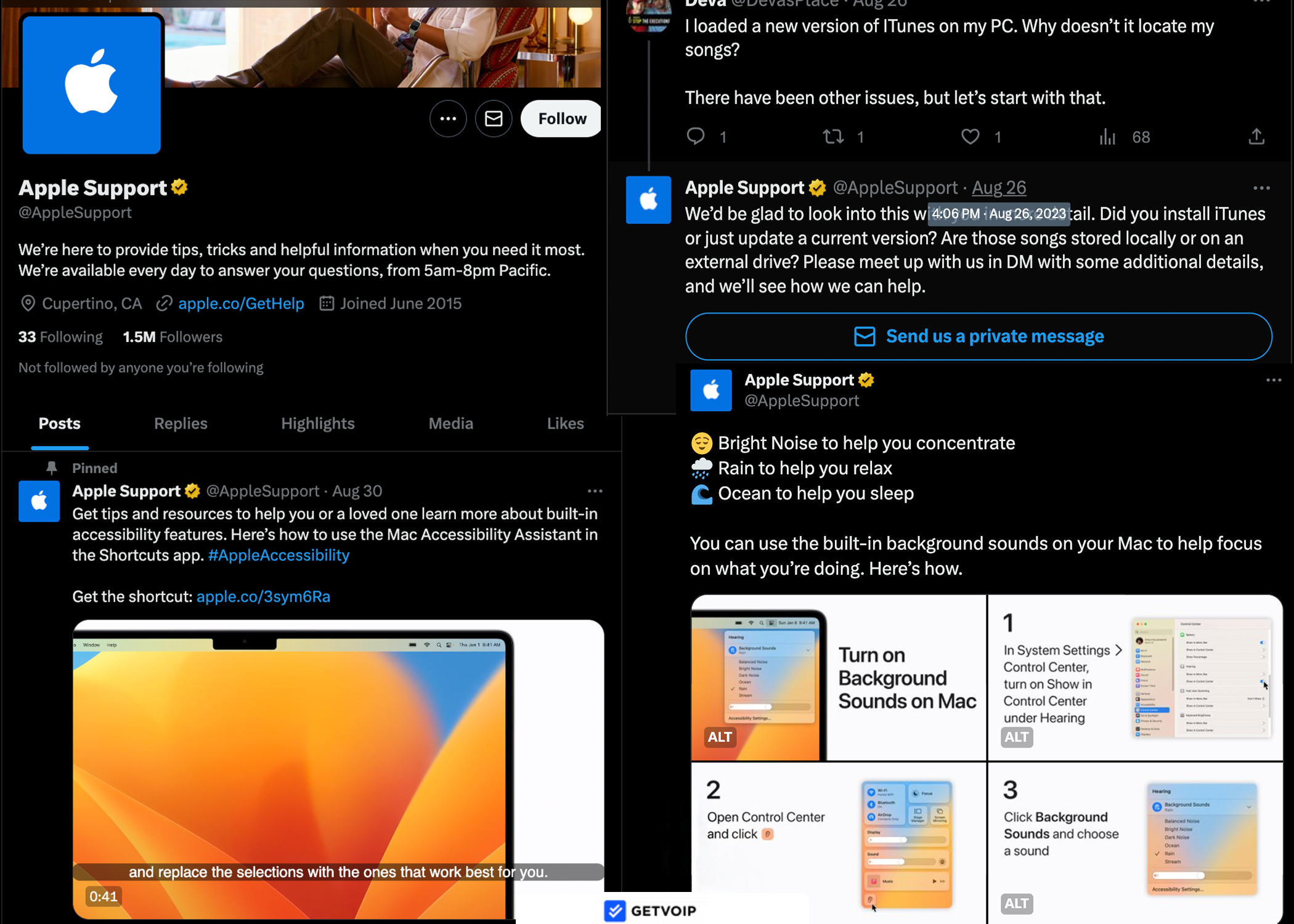 The profile is entirely dedicated to customer support, lists support hours in the account description, and proactively posts closed-captioned video tutorials teaching customers how to access advanced features and solve common problems.
When responding to customer support requests, Apple uses a combination of canned responses, automation, and personalized answers from live agents. Apple's responses also include a clickable link directing customers to their private Twitter inbox.
Airbnb's Instagram and Social Listening 
When devastating fires broke out across Hawaii in Summer 2023, Airbnb came under fire for seemingly refusing to refund customers who had booked vacation rentals in the area.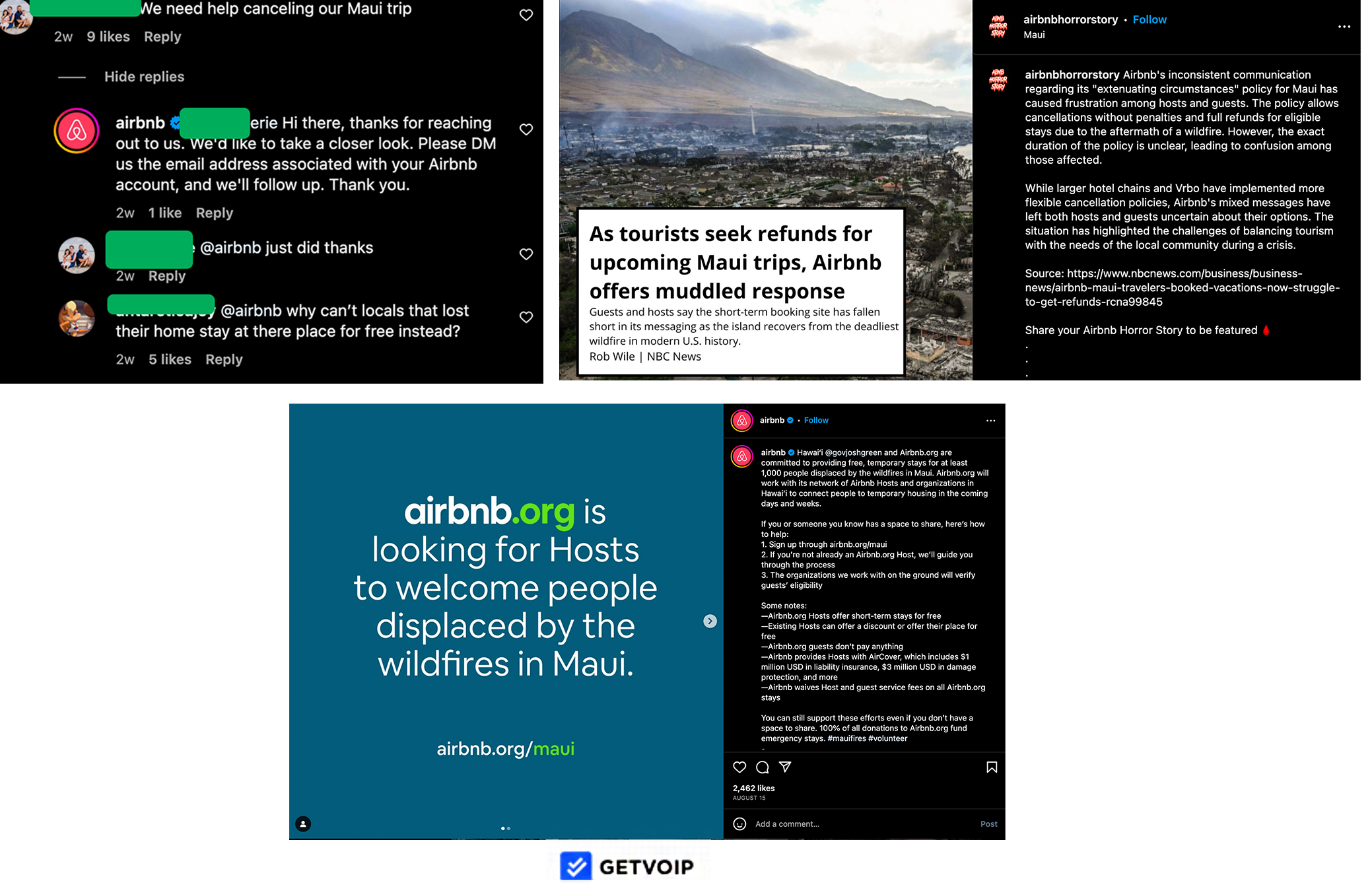 In addition to posting angry comments on Airbnb's Instagram page, IG users accused Airbnb of profiting off disaster and ignoring Hawaiins' needs for emergency shelter on their own accounts and elsewhere. Airbnb was facing a clear PR disaster, but practicing social listening helped them to understand customer perspectives.
Instead of ignoring the issue, Airbnb responded to the criticisms by directly replying to customer comments, announcing initiatives to find free temporary housing for at least 1,000 displaced Maui residents, and refunding guests for canceled trips.They even included the link to their Maui donation/volunteer page in their bio.
Walmart's Social Media Message Support
This Facebook Messenger exchange between Walmart and a customer highlights the strengths of making automated chatbot messaging, canned responses, and interactive questions a part of your social media customer service strategy.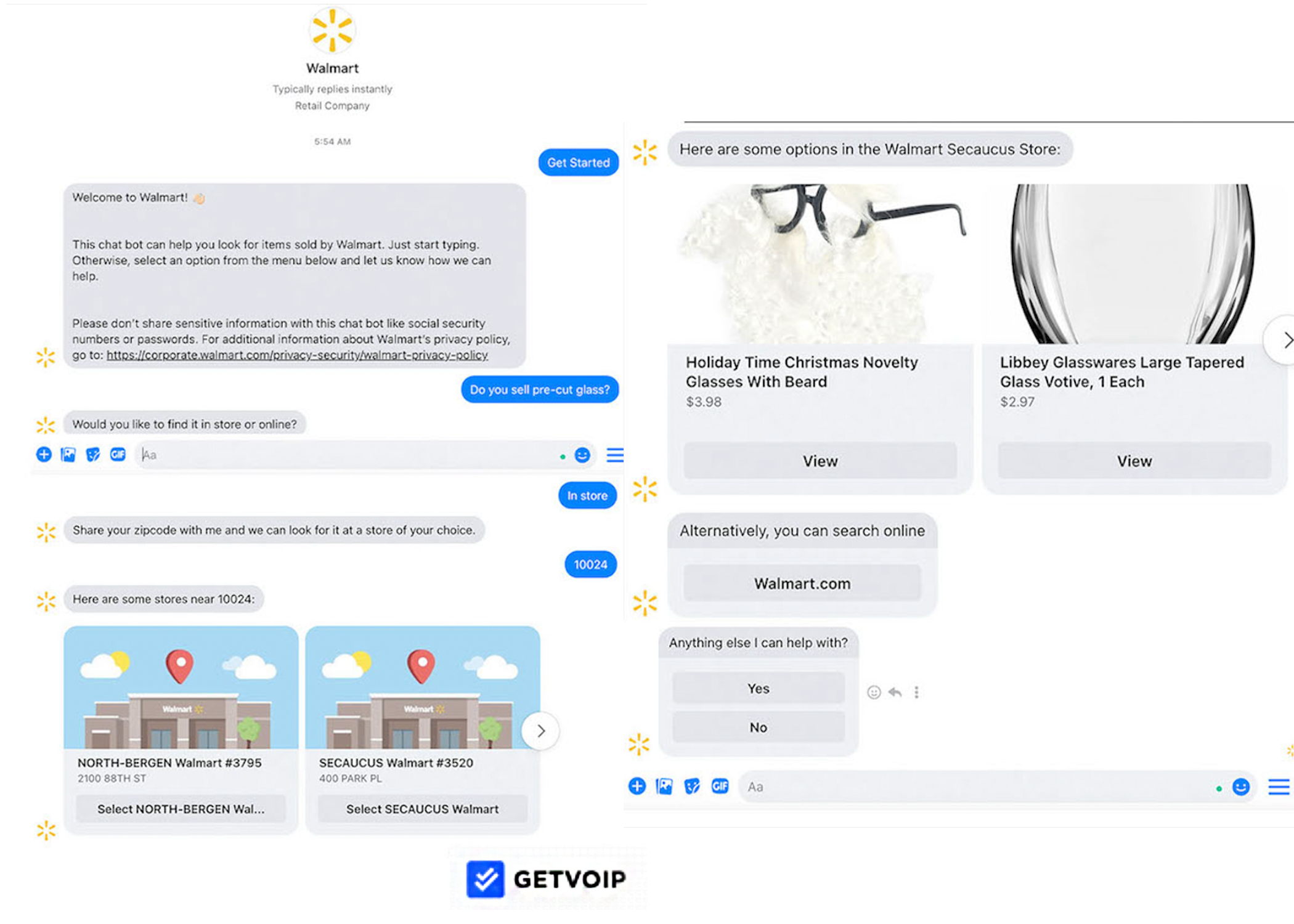 The chatbot provided the customer with an estimated wait time, information about local stores, pickup and delivery options, several product options, product photos, and even privacy recommendations and alternative search methods.
Social Media Channels in CCaaS Solutions
Quality Contact Center as a Service (CCaaS) solutions include social media channels as a part of their voice and digital customer engagement suites–alongside website chat, SMS, email, and VoIP voice calling.
Contact center software offering omnichannel customer support ensures customers have plenty of options–and that customer support teams aren't overwhelmed. Conversation history is updated and synced across channels in real-time, team members can access notes from other agents, and third-party CRM data is instantly available.
Social media establishes a direct link between businesses and consumers, making it equally effective for customer service and conversational commerce.
Social Media Customer Service FAQs
Below, we've answered top social media customer support FAQs.
Businesses can handle social media customer service by using automated chatbots, live agent interactions via comments or messaging, and social media software that integrates with internal wikis/knowledge bases and CRM systems with agent scripts, canned responses, and customer data.  Choosing a platform with a unified inbox ensures agents can respond to omnichannel customer support inquiries in one space. 
Businesses can talk to customers on social media via public comments, private direct messages, or by proactively posting troubleshooting tips and answers to common questions. When interacting with customers on social media, be personal, courteous, prompt, and keep answers straight to the point. Tag customers in responses, follow up when needed, keep your tone respectful and professional, and don't ignore or delete negative comments. 
Social media is good for customer service because it's convenient, allows businesses to send immediate automated responses via direct message or public comment, builds brand recognition, and increases consumer trust. It also provides businesses with an unparalleled opportunity to interact with their customers on a more personal level.