RingCentral already stands out because the provider is recognized as a leader in the Gartner Magic Quadrant for UCaaS, but what about their web conferencing? This has become increasingly critical because many businesses are shifting towards remote work. For this reason, both audio and video business communications help close the gap between teams. 
These types of solutions also close physical gaps; a solution like what's offered by RingCentral helps international teams feel more connected by fostering easy communications despite geographical distances. In this guide, we're going to show you what RingCentral conference calls have to offer as well as what they can and can't do for those looking to bridge the gap between teams and customers.
What are RingCentral Conference Calls?
RingCentral conference calls are a way that team members can communicate and collaborate with each other. These conference calls are done using video or voice and are accessible using any device, whether it is a desktop, tablet, or smartphone. RingCentral conference calls have some limitations for each type of call. For example, there is a 500-participant cap for video and a 1000-participant cap for audio online meetings. For most small businesses, this is more than sufficient.
RingCentral is a reasonable option for multiple types of businesses. First, they are known for their four-tiered pricing structure. This provides conference options for businesses with varying budgets. Not every tier is equal, but each provides essential functionality, and the business can always scale up to another plan as they grow. 
Communication through this provider is also useful for larger organizations. For businesses with multiple international offices, RingCentral has international dial-in numbers and high definition video for streamlined communication across vast geographical distances. Participant caps are also high for both audio and video conference calling, so larger teams won't be constricted.
A Breakdown of Audio Conferencing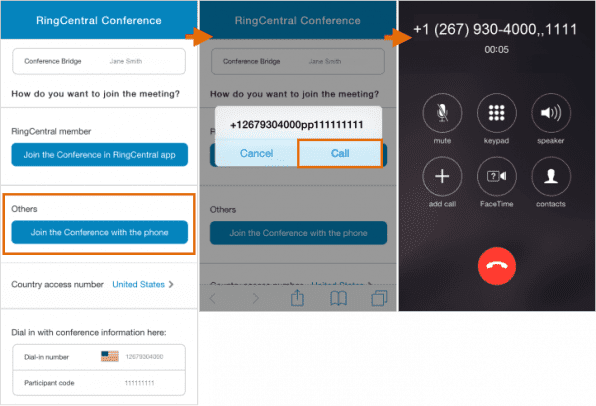 Audio conferences are basically a phone call that allows your team to communicate with each other simultaneously. So, instead of one person making five calls to reach each member of the team, an audio conference will help the entire team connect with a single call.  To connect, each person will dial into the conference line that is sent by the host. There is also a one-click connect option for those who prefer to use a device that they cannot dial in on. Here are some audio features that stand out:
Unlimited Audio Conferences
One of the most convenient aspects of RingCentral audio conference calls is the fact that participants don't need to be on the RingCentral network to join. This will allow a team to communicate with another team and bring potential clients or customers into the conversation. Each conference call lasts only six hours, but if you need more time, there are no limits on the number of calls that are made.
With these types of audio calls, there are no limitations in place restricting who joins that call. There are also no restrictions on the number of conferences that a user can host, and each call has a maximum limit of 1,000 attendees. To begin audio conference calls, presenters must have a RingCentral Office subscription. Attendees don't need to download any application to join; they simply need to be sent an invite for the call.
Conferencing Across Devices
Audio conferences are accessible from desk phones, Windows or MAC computers, and smartphones. Both Apple and Android phones have apps that work with RingCentral conference calls.  If you need to travel in the middle of a call, the conference can easily switch devices during the conference. 
To access a message on any device, all you need is to use the one-tap connection instead of an access code. Invitations are sent to potential participants by text messages to make mobile conferences easier. Invitations are also sent by email, which makes it so that calls on any device are straightforward. Gmail integration that an SMB may have will look like this: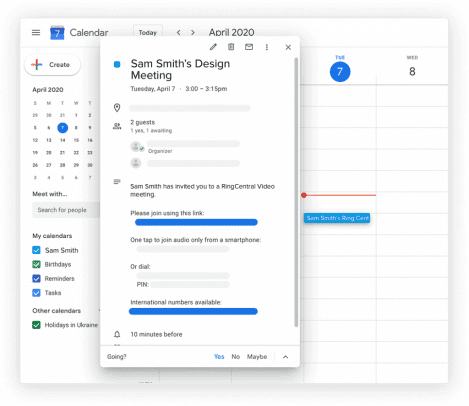 Easy International Conferencing
If you have team members across the globe, then international conferences are something that you'll have to consider as well. If you are using a local number for the conference, then participants can simply dial into the number to join. Local numbers are available in more than 50 countries, and this is a method of communication that has no additional charge as long as they have an invitation.
There are also toll-free virtual phone numbers available in more than 80 countries. This allows international participants to access the audio call without acquiring fees for the call. During a call, the host can set up the conference to have up to 20 toll-free numbers available to be used by meeting attendees across the globe.
Fine-Tuned Meeting Controls
In these types of audio conferences, the host of the meeting will have access to fine-tuned controls. If you are in control of the call, you will be able to mute individuals on the call, enable call recording, and terminate the call at any time. Call flip is also available to participants so that they can easily switch devices on the go.  
As the host, tabulating the number of participants in the conference in easy to manage, and you will even be able to hear alerts that will inform you when someone enters or leaves. Unwanted participants can easily be blocked from calls as well.
A Breakdown of Video Conferencing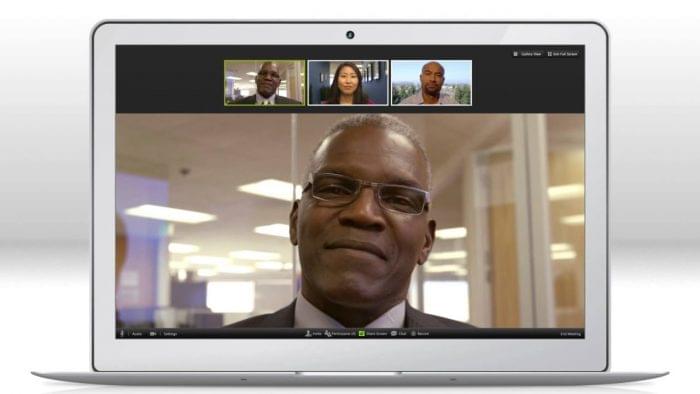 Video-based conferences on the platform take team meetings up one step further and give them the chance to meet face-to-face, even though they are located in different areas of the globe. This allows team collaboration with up to 500 individuals with ease. 
RingCentral video has inbound numbers available in more than 40 countries, so a global meeting takes seconds to connect, and several features make this type of call reliable and worth considering for an SMB.
Reliable Conferencing Feeds
When engaging in a video-based conference, both the audio feed and the video feed are high definition. This ensures that your meetings are always clear and engaging, so your team remains on the same page when it comes to tasks. 
RingCentral also has a high level of stability with a five-nines uptime guarantee. This means that they guarantee that their service will be up 99.999% of the time, which only leaves a little more than five minutes of downtime a year.
Interactive Screen Sharing
Instead of simply looking at the presenter or other attendees during video conferencing, there are options that allow you to share applications, presentations, whiteboards, and files while engaged in the meeting. This helps the host share information with the participants and keep them engaged. 
With everyone taking part in the meeting, your team becomes more efficient. Attendees will be able to have remote access to the screen that is being shared so that they can interact with it. This can be useful when a team is trying to solve an issue and a team member on the call has a solution that they can show everyone. 
In addition, sharing can be done with up to 500 participants, so this will accommodate large teams when they need to get together and discuss projects. It will also be a great tool to use when a team needs training. 
Need to demonstrate how to use a particular solution? Application sharing helps you to share only the details of the app that you're demoing. This is useful when you don't want attendees to see any information or applications that you might be running simultaneously on your machine.
Face-to-Face Meetings
When you have a team, it's always best to make sure that there are face-to-face meetings occasionally. With RingCentral video, the team can have the same effect of being in a meeting room without travel expenses. It also eliminates the time that it takes participants to travel to be in the same space.
Invites are sent out either individually to each person or in a group, which makes sending an invite to a full team a simple task. In fact, calendar integrations that the entire team uses daily are also useful when quickly inviting attendees to the video conferences.
RingCentral Meetings is designed to work seamlessly when it's synced with Microsoft Outlook. Scheduling a meeting, invite participants to the conference, updating meeting details, and starting meetings are done with a few clicks. iCal or Google Calendar also makes attending meetings and sending invitations easy on your mobile device.
The call will be accessible on desktop computers for anyone located in an office or who would like to use a softphone. However, RingCentral video also makes it possible to be part of the conference call on a tablet or a smartphone for participants that need to remain mobile.
Easy to Create Breakout Sessions
During large conference calls, sometimes, the host decides to divide the group into smaller sessions, which are called breakout sessions. These sessions allow for a more hands-on learning approach that will permit more members of the group to participate. These smaller groups also allow the team to brainstorm and return to the larger group easily after some time has passed.
With RingCentral video, up to 50 breakout groups can be created simultaneously from the same conference. In addition, when participants are in these smaller groups, they will have access to functions like screen sharing to enhance their productivity and help focus the training group. Video, audio, whiteboards, and chat can be shared across screens.
Where Does RingCentral Conferencing Stand Out?
There's a virtual contingent of conference platforms on the market, especially in the world post COVID-19, so what makes RingCentral stand out above the rest? In GetVoIP's RingCentral user reviews, we've found that customer reception is largely positive. Here are some of the most positive aspects of the service according to these reviews and our own platform analysis:
There are no limits on the number of conference calls that can be made or whether they can be done simultaneously. 

RingCentral uses Secure Real-Time Transport Protocol (SRTP) and Transport Layer Security (TLS) to make sure that all of the data is protected and

packet loss

is prevented.

They monitor all audio and video calls to check for suspicious activity to prevent

VoIP security

breaches.

RingCentral has phone and online chat support that's available 24/7.

There's an online knowledge-base for common questions that you may have regarding RingCentral conference calls.

The RingCentral portal is easy to navigate so that you quickly change conference settings.

The host doesn't have to be present during conferences.

There's a wide variety of desk phones and conference devices that are compatible with the service. RingCentral will also assist in the provisioning of devices that they do not sell.
Are There any Weaknesses?
RingCentral conferencing isn't perfect. We analyzed the features of the solution and took a look at what some RingCentral customers were saying about the meeting capabilities of the platform. Here's where the cloud phone system falls behind:
Only 100 remote employees can join conferences remotely with the Standard Plan. This increases to 200 with the Premium Plan and tops out at 500 for Ultimate. This could hinder large companies.

Conference links sometimes fail to send the recipients to the actual conference.

Screen takeover is limited to desktop devices.

RingCentral video doesn't have end-to-end encryption for video feeds.

Unlimited audio conferences are only available with the Standard plan and above.

While 500 meeting participants for HD video and 1,000 for audio are strong, there are conference solutions with up to 2,500 participant counts (Civicom).
How to Get Set Up With RingCentral Conferencing
Initiating conference calls using RingCentral is relatively easy. Once you log into the RingCentral business phone system, you select Conferencing from the options. The system will then ask you to select a dial-in number for participants to use when they are connecting to the conference. Hosts that are connecting will require a host code, which is used when the conference is started. Whenever a user begins a RingCentral conference, they are automatically considered the host of the conference, but if they arrive after the meeting has started, they will need the code.
Once an attendee dials in, they will also need a participants code to connect securely. This prevents spurious users from connecting to the conference. When setting up the meeting, hosts also have the ability to create up to 20 international inbound numbers for users overseas. These are tailored to the confirmed participants and helps them avoid international calling fees. When setting this up, a link to all of the international numbers will be created for attendees to use.
For those hosts that will not be immediately available, the conference solution also has a "Join before host" feature that allows the participants to begin the meeting. This is useful for those situations where stakeholders assign their teams to work on projects and develop strategies before they arrive for the meeting. 
Additionally, hosts have the ability to add attendees during an actual conference. From the RingCentral app, the invite with text and the invite with email options remain available. There's also an "Add Participants" button that allows you to enter the phone number or name of individuals that you wish to add to the conference. Each of these features is useful for impromptu conferences – you simply start the meeting and add the participants as you go. There's also a plus icon that permits you to add attendees from your RingCentral contacts.
Conferences are available from an office with a desk phone, RingCentral Phone desktop app (softphone), and Android or iPhone smartphone devices. For the mobile app, the software is easily downloadable via the Google App Store or the Apple App Store.
Does RingCentral Have the Right Conferencing Features?
As a solution for connecting teams or even meeting with customers, RingCentral is more than adequate for most businesses. It's useful for businesses forced to social distance and is a strong solution for businesses with disparate offices with vast geographical distances. 
Attendee caps are also very competitive with this solution. Compare RingCentral to providers like BlueJeans, which has a cap of 100 participants, and you'll start to see how RingCentral is a robust solution for larger companies. The provider already won out in our RingCentral vs Dialpad piece this year, and it also works well as an alternative to several other web conference providers.
If you're looking for a provider that has extensive web conference features similar to RingCentral, check out our interactive tables about the leading web conferencing software providers, and compare RingCentral to Zoom here. We provide in-detail reviews and will show you the pros and cons of each.