RingCentral and Dialpad are two of the best business VoIP options available on the market today. They both offer VoIP-based business phone systems that have key features for keeping teams communicating.
In this comparison we'll take a closer look at RingCentral vs Dialpad and will help you choose the best solution for your business.
Quick Links: 
What is RingCentral?
RingCentral is a cloud-based business communication solution that provides its customers with VoIP, messaging, video conferencing, contact center services and more.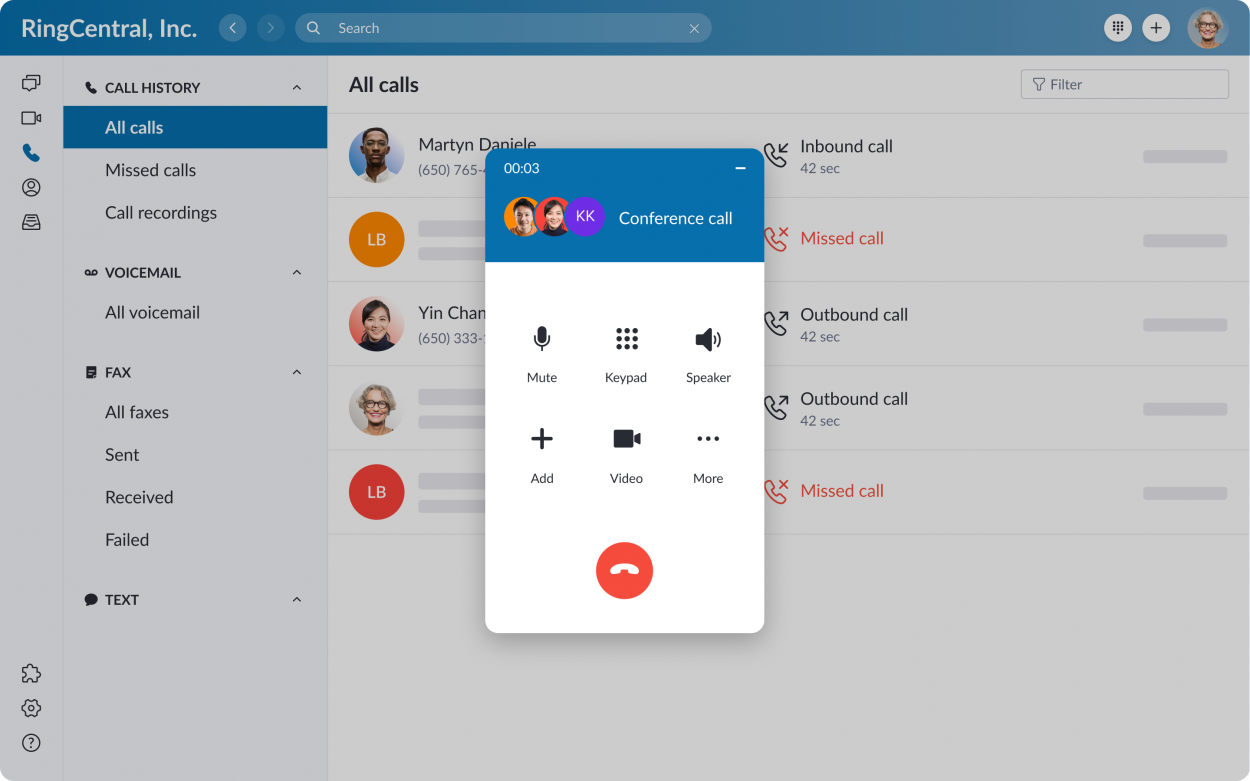 With three plans that each grant unlimited phone calls and SMS for RingCentral customers, it's not much of a surprise that the company is steadily making gains in the industry. These plans vary enough to fit any business size – Core has the features for small businesses and Ultra will suit organizations that are larger and need advanced features like call center management.
What is Dialpad?
Dialpad is a VoIP solution with unified communications features that's more aligned exclusively for small to mid-sized businesses. Dialpad pricing and plans include a three-tiered structure that is slightly leaner than RingCentral but this provider is much cheaper when billed by the month or even by the year.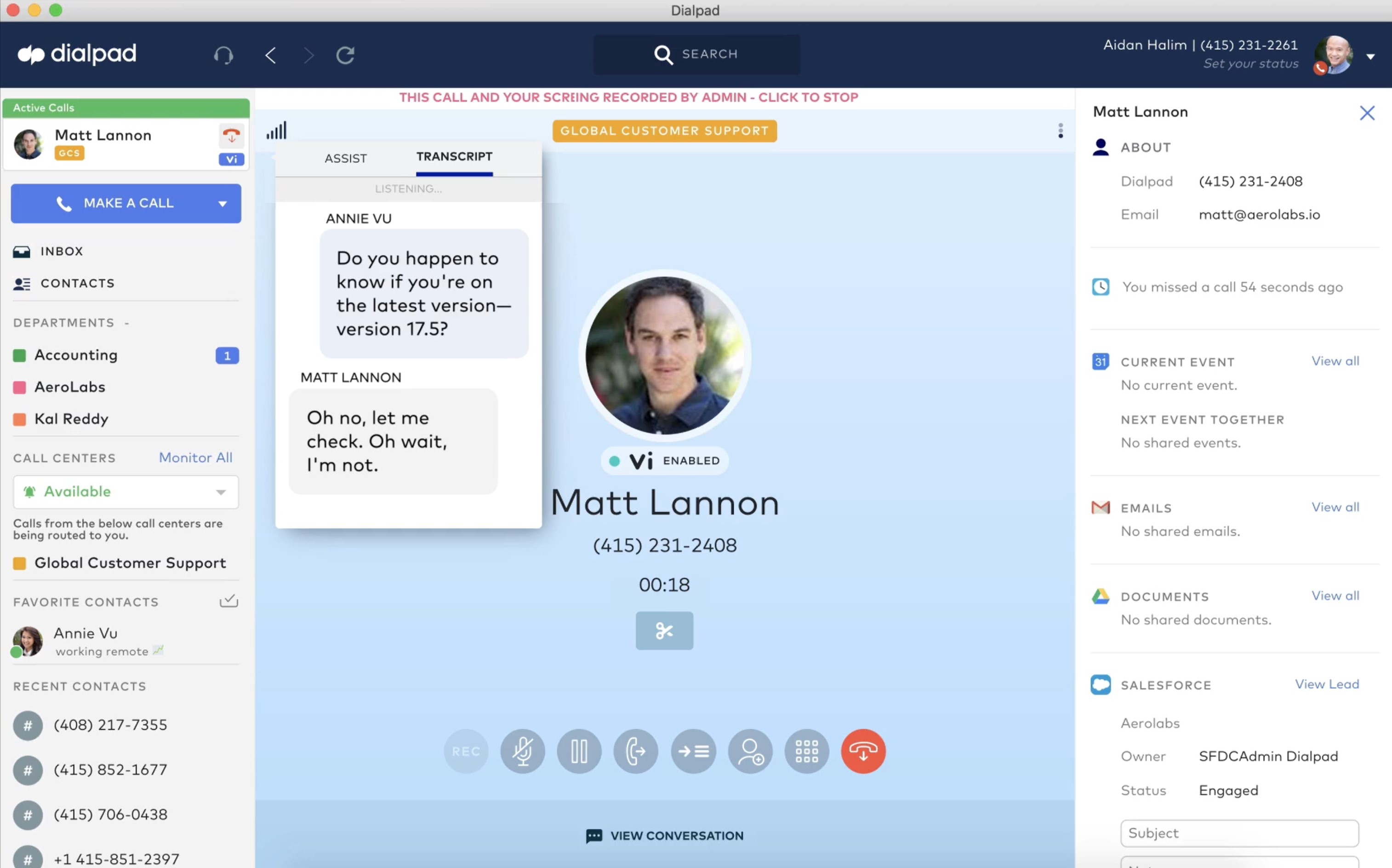 Dialpad supports desk phones, desktop software, and has its Android and iOS softphone apps. The company also provides access to thousands of local and toll-free numbers for your business. Inbound calls will ring on all connected devices on your Dialpad account simultaneously, or you can program them to be run in a preset rotation.
RingCentral vs Dialpad: Comparison at a Glance
Here's a glimpse at some of the competitive features of both Dialpad and RingCentral.
| | | |
| --- | --- | --- |
| | RingCentral » | Dialpad » |
| Pricing (billed annually) | Starting at $20 | Starting at $15 |
| Free Trial Duration | 14-day | 14-day |
| Salesforce Integration | Advanced | Pro |
| Support | Starts at Core – chat and phone | Starts at Standard -web and chat. Phone service starts at Pro |
| HD Video calling | Core and above | Standard and above |
| Call recording | On-demand in Core, Automatic in Pro | Standard and above |
| Visual Voicemail | Yes | Yes |
RingCentral vs Dialpad: Detailed Feature Comparison
Now that we've had a look at the features of each plan as well as a look at pricing, how does each of these perform when directly compared? When comparing the two providers, we took a look at how some key business features faired against each other.
Direct Inward Dialing Numbers
Also known as virtual numbers, direct inward dialing numbers (DID), allow businesses like yours to set up numbers that your customers use to reach your organization. DID numbers allow customers to reach your business via a toll-free number, a vanity number, or a local number.
Both RingCentral and Dialpad have all of these as well as DID numbers overseas, which are important if you're expanding into new territories and want to help locals to reach your brand without long-distance fees.
When it comes to vanity phone numbers, which include easily identifiable numbers like 1-800-YOUR-BIZ and toll-free and local numbers, both service providers are pretty evenly matched. That being said, for international local numbers, RingCentral comes out ahead – they have coverage in 80+ countries compared to Dialpad's 50. If you are a company trying to create a global presence without opening call centers and offices in those parts of the world, then you'll have more options with RingCentral.
Video Chat
Both RingCentral and Dialpad offer video conferencing via RingCentral Video and Dialpad Meetings. Of the two, RingCentral is by far the newest having only been announced recently during the COVID-19 pandemic as a means of facilitating work from anywhere requirements. Both Dialpad Meetings and RingCentral Video are available in all pricing plans under each provider.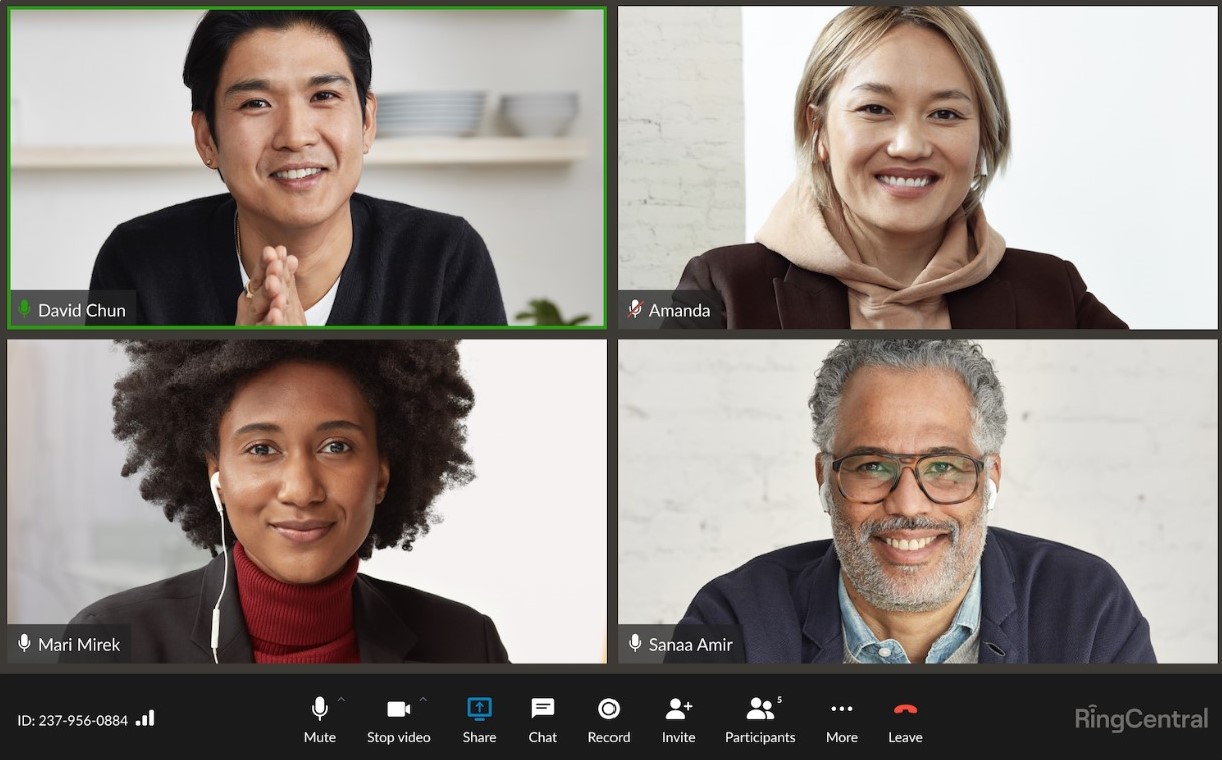 Both of these offer easy meeting scheduling, hosting, and joining, and both offer conference call analytics that displays important KPIs like call minutes, usage levels, and Quality of Service (QoS). Still, both platforms have a key weakness – neither supports video conferencing in Safari or Firefox, which are a significant portion of the global browser market share. Dialpad supports both Chrome and Edge browser and has video conferencing support at a cheaper price point, which causes it to pull ahead.
Integrations
Dialpad and RingCentral PBX systems both have multiple phone system integrations. Integration with popular software means that you and your team won't have to switch applications when there's a need to call and meet. Salesforce, which is a Customer Relationship Management solution, is probably the most important because it keeps track of all customer interactions from your business, but there are a few others that help manage processes. Here's a breakdown of some of the integrations from both service providers:
| | |
| --- | --- |
| Dialpad | RingCentral |
| Salesforce | Salesforce |
| Zendesk | Zendesk |
| Domo | Servicenow |
| Front | RingCentral Archiver |
| G Suite | Box |
| Hubspot | Oracle |
| Kustomer | Microsoft Dynamics 365 |
| Microsoft Office 365 | Microsoft Office 365 |
| Okta | Okta |
| OneLogin | Zoho |
| ServiceNow | Amazon Web Services |
| Slack | Slack |
| Zapier | Zapier |
| Azure Active Directory | Theta Lake |
While this is an exhaustive list from Dialpad's app marketplace, RingCentral has hundreds more on their own featured apps marketplace. If you want to integrate with several programs and systems, RingCentral comes out far ahead.
User Experience
A VoIP provider's system and interface should be intuitive, easy to navigate, and should make information readily accessible. Both Dialpad and RingCentral are popular with their customers.
Here are a few user reviews of their platforms that account for ease of use:
RingCentral:
"For me, the Admin Portal is a little difficult and not so intuitive. It can be challenging to manage all the settings if you do not know what you are doing." Andrew B.
Dialpad:
"I have tried other virtual phone systems and my experience with Dialpad has been the best. It is simple to set up, administer, and run for an office of less than 10 people. I am not a tech/ phone person and it works great." Tom M.
Many of the reviews of each platform state something similar: RingCentral's UI tends to be a bit harder to get around than Dialpad's more intuitive interface.
During our reviews of the platforms, the clear winner in the Dialpad vs RingCentral battle for user experience is Dialpad. First, Dialpad brings it home with its platform's messaging functionality. The business messaging platform syncs all messages received to every device so that you have the same messaging information on your Android or iPhone as you would on your desktop app. With RingCentral, there are several places to find messages across the platform, so it's lacking that "single source of truth" experience.
Conference Calling
Conference calling is critical for VoIP services, especially for providers that are focused on unified communications, and both RingCentral and Dialpad have video conferencing solutions that work on any device that's connected to either network.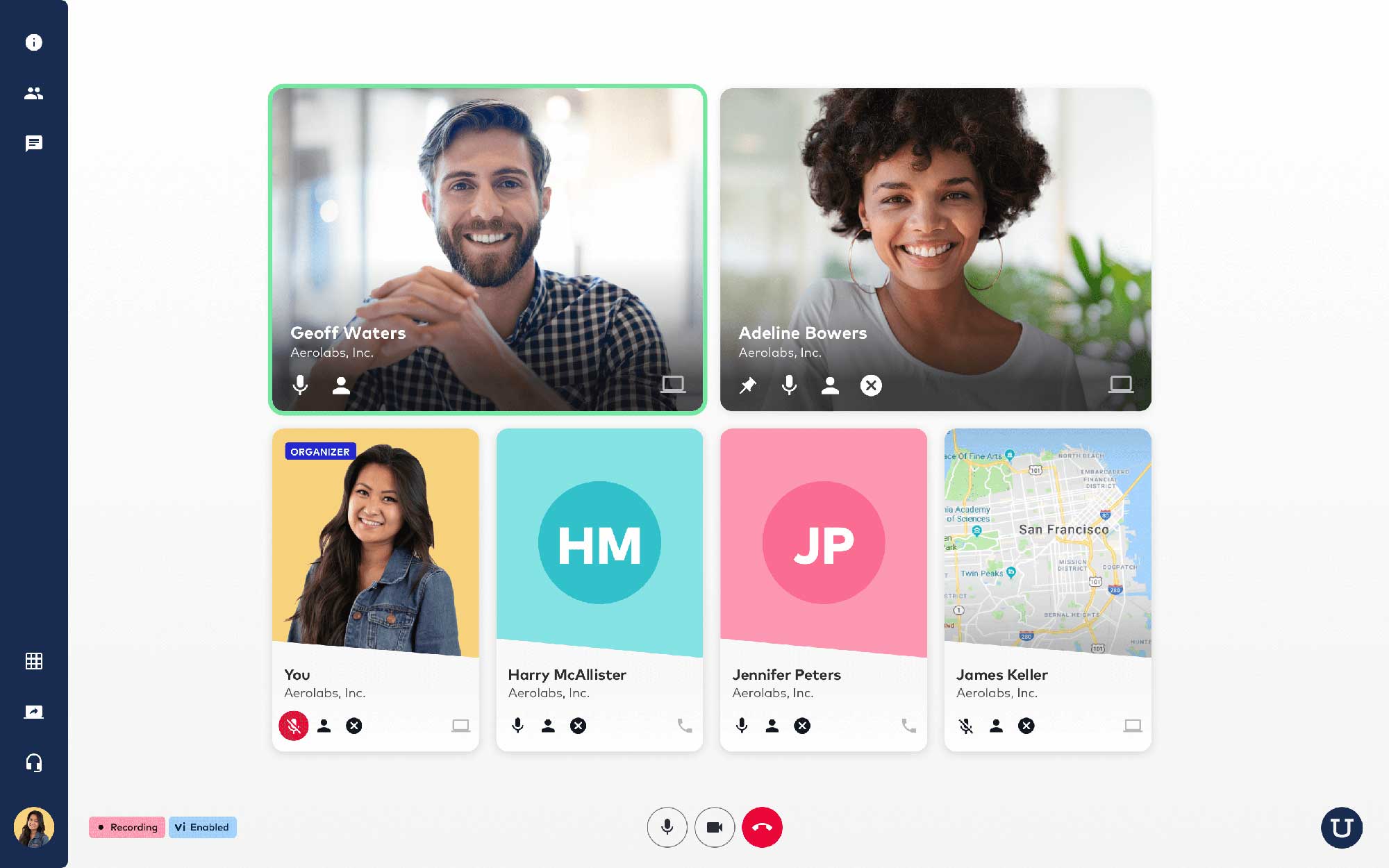 Both RingCentral and Dialpad offer conference options with their second tier plan, but Dialpad limits the meeting duration to 5 hours while RingCentral offer up to 24-hour meeting duration. Of course it's hard to imagine someone having a meeting this long, but in our evaluation it defined a better solution.
Chrome Extension
Dialpad and RingCentral Both Dialpad and RingCentral have Chrome extensions which make it a lot easier to access their service since you can make calls from within your browser.
At the time of writing, both extensions have also received updates a few days ago which means they're still actively maintained by the service providers behind them.
On the RingCentral front, you'll be able to schedule meetings or join ongoing sessions in just a couple of clicks. This is great for urgent calls since you won't have to spend extra time launching the desktop app.
You'll also be able to access the RingCentral message hub where you can respond to faxes, voicemails, and texts. If you're trying to unify your communication channels, the RingCentral extension will be invaluable.
Dialpad's Chrome extension is very useful too since you'll be able to call or text someone just by clicking on a number in your browser. Of course, you can set a list of exempted sites so you can easily copy numbers without calling.
If you use Gmail then the Dialpad extension lets you call someone directly by clicking on their contact card  (visible upon hovering over their name.) Beyond that, the Dialpad doesn't have too many bells and whistles
Call Quality
At the end of the day, the main reason most companies get a VoIP solution is to make calls that are cheaper and more reliable than legacy alternatives. If your provider doesn't offer solid call quality, what's the point?
Dialpad launched its 100% uptime SLA this year which is impressive considering most VoIP providers never felt the need to go past their five-nines guarantees.
That being said, RingCentral's 99.999% uptime SLA means the maximum downtime per quarter is 78 seconds. In our eyes, the difference between five minutes of annual downtime and none is pretty trivial.
In our experience, both the call quality and uptime of RingCentral have been superb. You'll see even higher levels of quality when you're conversing with other RingCentral customers.
DIalpad is younger than RingCentral so they have more proving to do but they too have great call quality. Furthermore, their calls have no perceptible delay which is already a step above some of their older competitors.
RingCentral vs Dialpad: Plans and Pricing
Let's take a look how both providers compare when looking at their plans and pricing.
RingCentral Plans and Pricing
RingCentral has three different plans that vary in price depending on the business size and needs. These plans can be paid for monthly or annually, but opting to pay annually will save your company up to 33%. New subscribers qualify for a free trial period that is limited to five users. The trial period gives each user 14 days and 50 minutes of domestic calls to try out the VoIP phone service before committing.
Core
The Core Plan is a system that is for dialing and messaging. It's only $20 per month, per user, if paid annually. Paying monthly increases the billing rate to $30 per month.
Local business phone or toll-free numbers are provided for the Core plan. Additional toll-free numbers or local numbers cost a small fee of $4.99 to add, and if your business would like to have a vanity number, it will require a one-time fee of $30. Toll-free minutes are limited to 100 with the Core plan. Additional minutes cost 3.9 cents per minute.
Your business receives unlimited calls within the US and Canada with Core. SMS and MMS messaging has no upward limits of texts, but customers can only send messages to a maximum of 50 recipients at once. With voicemail transcription, RingCentral converts audio messages to text format to make it easier to review messages at-a-glance.
Documents can easily be shared with team members in messages as well thanks to RingCentral's team chat features. Mobile apps are available for Apple or Android users to make and receive calls, texts, and join meetings.
Up to 100 participants are permitted in video conferences, and the duration meetings scale up to 24 hours.
Advanced
The Adavanced plan is designed for messaging, dialing, and video chatting. This plan costs $35 per month, but if the bill is paid annually, the rate is lowered to $25 per month. With the Advanced plan, your business gets everything that is included in the Core plan, but there are a few changes and some additional features.
Business phone numbers are available in over 90 countries, and 1,000 toll-free minutes come with the plan. Faxing and audio conferencing are also unlimited with the Advanced plan. Call recording is available with both on-demand on automatic settings for inbound and outbound calls. Advanced call management controls are enabled for monitoring conversations and coaching, which include call whispering, call barging, and more.
A multi-level auto-attendant answers every call and directs the caller to the appropriate department. Calls can be manually recorded at any time, on any device. Also, 24-hour chat and phone support is offered at this tier and above. Integrations with Salesforce, Zendesk, Canvas, and more are available to enhance your business apps, and custom integration helps you gain insight from your data.
Ultra
The Ultra plan offers the same calling, text, and video chatting options as the Advanced plan, but it adds more integrations that could prove useful to larger companies and increases the number of video conferencing participants from 100 to 200. The Ultra plan has a monthly fee of $45, but if the premium is paid annually, it is decreased to $35 per month.
Businesses that have this plan get 10,000 toll-free minutes. Users log in with a single sign-on across devices, so passwords will not need to be remembered. Also, shared phones have access to voicemails, messages, and other features as long as the user is logged in.
Real-time business and device analytics and alerts are available to gather data and report metrics to your team. Also, storage is unlimited for businesses that have this plan; this includes documents, contracts, images, and voice and video recordings.
Dialpad Plans and Pricing
All three Dialpad plans have monthly and annual payment options, but if you opt to be billed monthly, your payment will be about $15 more each month. There is a 14-day free trial that new customers use until they are ready to commit to a plan.
Standard
The Standard Plan, which is the base-level plan for Dialpad, is offered for $15 per month for customers who pay the bill annually. If you opt to pay monthly, this plan will cost you $20 per month. The plan includes unlimited calling, SMS, MMS, and group texting in the US and Canada. International call services are available in 50 countries. Basic call functions like call forwarding, call queuing, faxing from a phone, and voicemail greetings are also part of the Standard plan.
Businesses that choose to use the Standard plan will receive local and toll-free numbers. When routing calls, the hold music that the customer hears is customizable. Real-time call analytics are available for Standard plan users who need to monitor calls, but they will not be automatically recorded. Integrations with this plan include G Suite and Office 365.
Customer support for users is limited with this plan; only web and chat functionality is available on weekdays. Support teams are not available on the weekends for tier-1 users.
Pro
The Pro plan is $30 per month, with a discounted price of $25 per month if the bill is paid annually. It includes all of the features that come with the Standard plan, but additional features have been added as well. This plan is for use by multiple offices, so it works for more businesses with larger footprints. International numbers are also provided at this level.
With call routing, the Pro plan provides hold queues and holiday hour routing so that customer calls get through at more times. All calls will be automatically recorded with this plan, and the real-time call center analytics are more advanced. More integration is available with the Pro plan, which includes Slack, Zapier, HubSpot, Salesforce, and more. Phone support and 24/7 support coverage is also added at this level.
Enterprise
The Enterprise Plan is the next level to consider, but pricing statistics are only available through direct contact with the company. The plan does require the company to have a minimum of 100 seats per license. Enterprise includes everything that comes with the Pro plan, but it also includes SCIM provisioning, which stands for System for Cross-Domain Identity Management. This allows you to delete or add accounts for external systems.
Real-time call analytics will be customizable at the Enterprise level. Also, additional integrations with Azure AD and Okta are made available.
RingCentral vs Dialpad: Pros and Cons
RingCentral Pros
Team Collaboration: All the key team collaboration features can be found on RingCentral. This includes task management, file sharing, and team messaging. You also have the option to integrate other tools like Asana, Monday, or Trello as needed.
Extensive Integration Support: RingCentral has over 200 integrations for you to choose from. This expands upon its already expansive catalog of native features to create a truly versatile platform.
Detailed Analytics: The RingCentral Analytics portal lets you send out customized reports with various KPIs. These include average call duration, quality of service, first call resolution, and 30 metrics that you can monitor live.
Large Capacity: RingCentral video conferences can support up to 200 participants at once. This is more than most companies will need and still double the capacity you'd get with the paid version of Dialpad Meetings.
Unlimited Storage: The unlimited storage is a perk reserved for customers on the ultimate plan. It may seem pricy but when you factor in the money you're saving on third-party cloud solutions everything starts to make more sense financially.
RingCentral Cons
Learning Curve: Since RingCentral has so many native features, new users may face a rather steep learning curve. Certain UI elements on the mobile app could also be improved to be more intuitive.
Dialpad Pros
Free Video Conferencing: Unlike RingCentral that locks video conferencing to its Standard plan, Dialpad Meetings is available for all users. However, you'll have to deal with the 45-minute time limit if you don't plan to upgrade.
Voicemail Transcription: The transcription feature is available on the base plan but that's not the most impressive part. What truly got our attention is the fact that Dialpad's transcriptions tend to be more accurate than most alternatives.
International SMS: While international SMS is only available on the pro plan, it can be a nice addition for companies with offices in multiple regions. Not only does international SMS cut down on calling fees but it's also more convenient.
Unlimited Video Recordings: Those who upgrade to the business version of Dialpad Meetings will be able to create unlimited video recordings. This makes it easy to build up an archive of completed conferences and review all the talking points at a later date.
Local Number Support in Over 50 Countries: Dialpad lets you use local numbers in over 50 countries. This builds trust with the communities that your business operates in while also making it easier for customers to reach you no matter where they are.
Dialpad Cons
Small Meeting Capacities: The free video conferencing is limited to 10 participants. This can pose a challenge for larger companies. However, those who plan to upgrade or generally have small meetings anyway shouldn't have to worry about it.
Which Provider Should You Choose?
This was a close one, but RingCentral with its three tiers of plans that are packed with features edges out the competition. It also doesn't hurt that RingCentral has many more app integrations compared to Dialpad. Both of the two business VoIP providers have tiers that are also dedicated to SMBs, but if you're going to be going full enterprise, RingCentral's Ultimate tier has firmly laid-out pricing and a bevy of features that will even allow you to open up your call center.
Dialpad just doesn't compete in this regard, especially since they don't have any form of call monitoring for call center agents outside of reviewing recordings once the call has completed.
While RingCentral may have taken the crown in our comparison, Dialpad still has features that some may prefer over the competition. For instance, Dialpad is much cheaper than RingCentral, which makes it a good go-to solution for smaller businesses that want features at a lower cost per user.
Not sure if either provider fits your business needs? We have a list of the top hosted PBX solutions that will help your business move calling and UC to the cloud.