Our Verdict: Zoom is better for companies that need phone+chat or video+chat, while RingCentral is better for those who need all three communication channels. Depending on the plan, Zoom combines phone+chat, video+chat, or all three channels, while RingCentral includes all three on every unified communications plan.
Both providers offer advanced phone features like call monitoring, ACD, and IVR–but Zoom offers them at a lower price. RingCentral provides more customizable and filterable analytics, plus AI-based call routing rules.
We Recommend Zoom if You Need:
Specific communication channels: Zoom offers plans with phone and chat, video and chat, or all three
Low-cost routing and queueing: Zoom Phone includes call routing, queues, and call distribution rules starting at $10 or $15 monthly–25% cheaper than RingCentral
International calling: Zoom supports unlimited domestic calling in your choice of a country outside the US, plus an add-on for unlimited calling to 19 countries
We Recommend RingCentral if You Need:
All-in-one UCaaS: All MVP plans include VoIP, video, and chat, starting at $20–cheaper than Zoom for companies that need all channels
Customizable business analytics: RingCentral's analytics track more KPIs and trends, which you can filter by user, data, or time period
Intelligent call queueing: RingCentral's call queueing and routing rules use AI to distribute calls based on agent availability, adapting to queue wait times
Learn more about
RingCentral
RingCentral vs Zoom: Summary
Here, we compare RingCentral vs. Zoom across various unified communications categories.
Category
Winner
Pricing and value
Zoom

Zoom Phone offers more advanced telephony features at a lower monthly cost.

Channel flexibility
Zoom

Zoom offers plans without phone and without video, or with all three.

User experience
Tie

Both RingCentral and Zoom offer easy-to-use and intuitive interfaces, on desktop and mobile.

Phone system
RingCentral

RingCentral's phone system offers better call analytics, with business numbers in more countries.

Team messaging
RingCentral

RingCentral's team chat supports not only file sharing but also task management, which Zoom doesn't have.

Video conferencing 
Tie

RingCentral offers advanced AI features like automated summaries, while Zoom supports live streaming to YouTube and Facebook.

Analytics and reporting
RingCentral

RingCentral's business analytics lets you create personalized data by comparing particular KPIs, trends, users, and queues over custom timeframes.

Integrations
Zoom

Zoom integrates with over 2000 apps, and RingCentral with over 300.
What is RingCentral?
RingCentral is a business communications platform that unifies cloud-based calling, SMS texting, team messaging, video meetings, and advanced analytics within the RingCentral App interface for desktop and mobile devices. Each plan includes a toll-free or local virtual phone number, with unlimited calling in the US and Canada.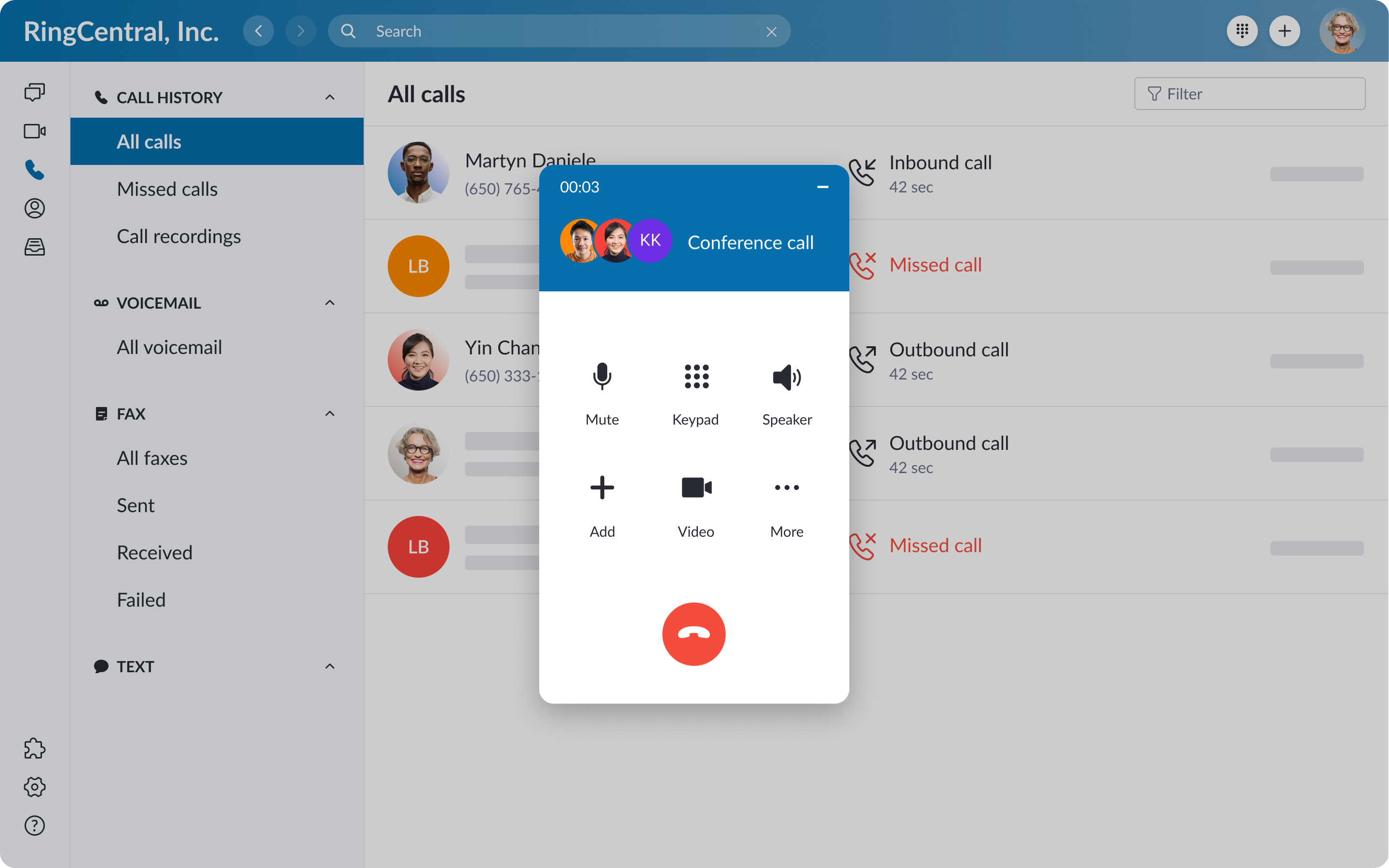 What is Zoom?
Zoom is a unified communications platform that unifies video meetings, team messaging, VoIP telephony, and SMS into a desktop and mobile app. Low-tier Zoom One plans only support video and team chat, while higher-tier plans add Zoom Phone–a cloud-based phone system with routing features and unlimited domestic calling in the US or another country.
RingCentral vs. Zoom: Feature Comparison
Below, we compare important features of RingCentral vs. Zoom.
Voice Calling Features
Summary: Both providers offer advanced telephony features like IVR, call monitoring, ACD, and call parking–but Zoom offers them at a lower price. However, RingCentral offers more adaptive call-distribution rules and customizable analytics.
Zoom Phone offers better value for unlimited international calling, while RingCentral MVP offers DID business numbers from more countries.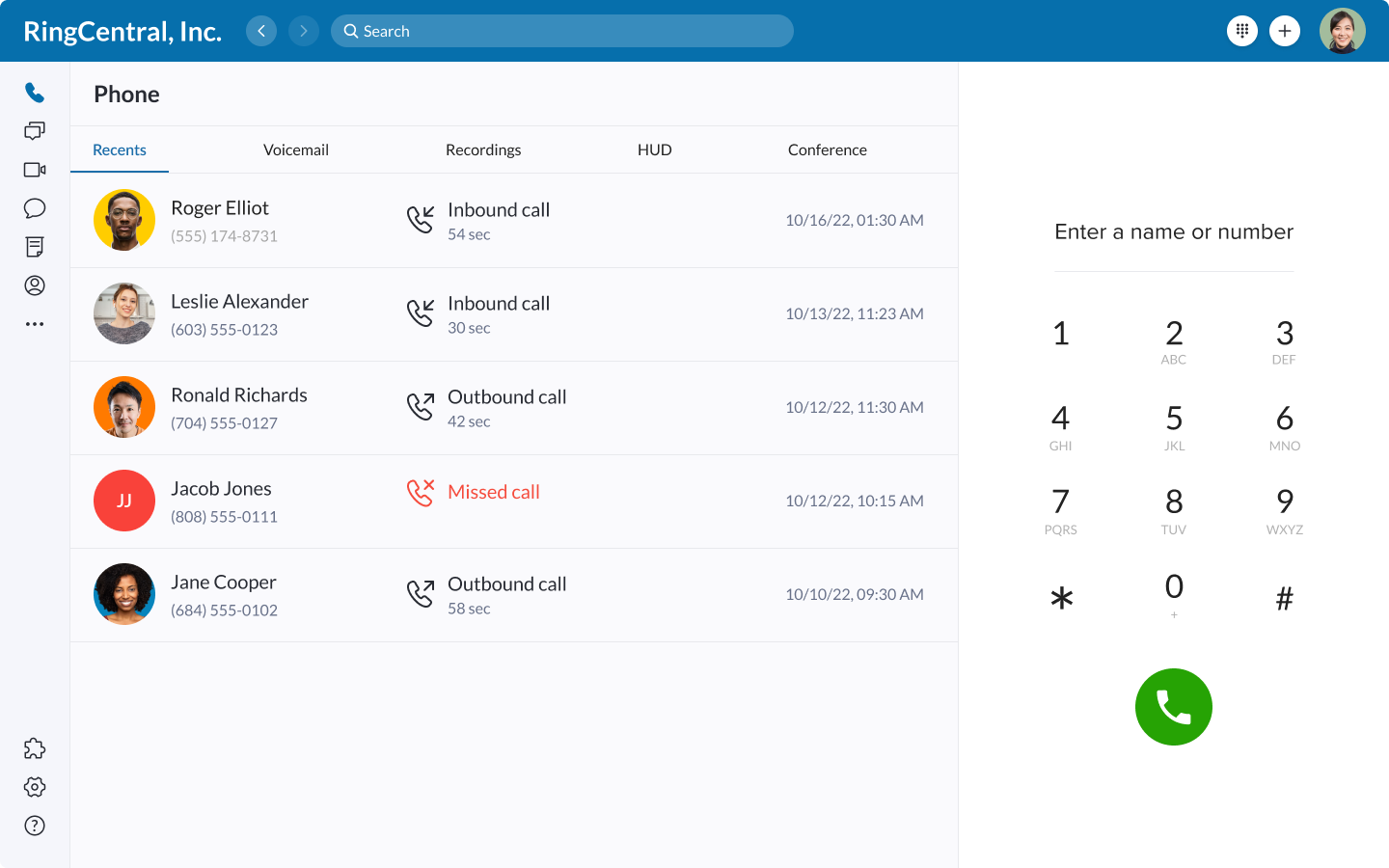 Shared Features
App accessibility: Both RingCentral MVP and Zoom Phone are accessible via desktop and mobile apps
Toll-free, vanity, and local numbers: Both providers offer these types of business numbers
International business numbers: Zoom Phone and RingCentral MVP both offer phone numbers based around the US and internationally
Calling area: RingCentral MVP supports unlimited calling in the US and Canada, while Zoom Phone offers metered calling, domestic calling in the US, or domestic calling in one of over 40 supported countries
Multi-level IVR: Both platforms let you design IVR call flows that provide customers with self-service routing menus to reach particular users or audio messages within your phone system
Ring groups: Link agent phone numbers together to share inbound call responsibility until someone answers. Customize the ring order, like simultaneous ring or round-robin.
Call queues: Organize callers into a queue when agents are busy. Agents can view queued calls.
Voicemail transcription: Virtual voicemail includes transcription and voicemail audio, with forwarding to email and SMS
Call monitoring: Supervisors can jump between agents' calls to listen quietly, "whisper" guidance, barge into the call, or take over the call entirely
Call recording: Record calls automatically or on-demand, storing recordings for review and sharing afterward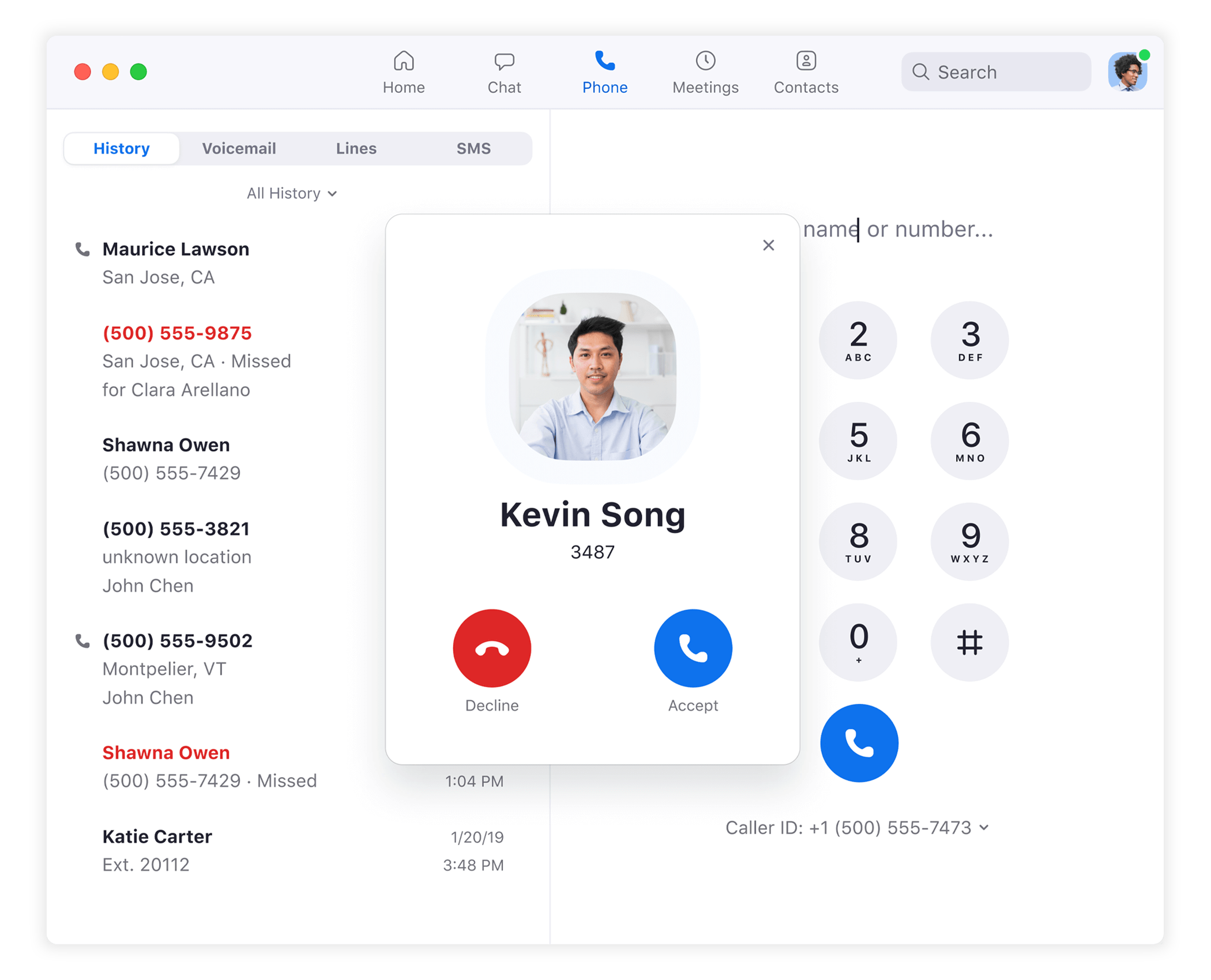 Differences
Custom user roles: RingCentral enables administrators to set custom roles for specific users, to customize access and permissions
International number availability: RingCentral offers phone numbers from 80 countries, while Zoom Phone only offers DID numbers from 20 countries
Pricing style: Zoom Phone offers per-minute call pricing or regular unlimited calling in the US. The Global Select plan offers domestic calling in a country outside the US.
International calling: Zoom Phone offers an add-on for unlimited calling in 19 countries
Team Messaging and SMS Features
Summary: Both RingCentral and Zoom include team chat and file sharing across all plans. RingCentral's chat adds built-in task management. Zoom Phone supports unlimited SMS within the US, Canada, and Australia, while each RingCentral plan has a monthly per-user SMS limit.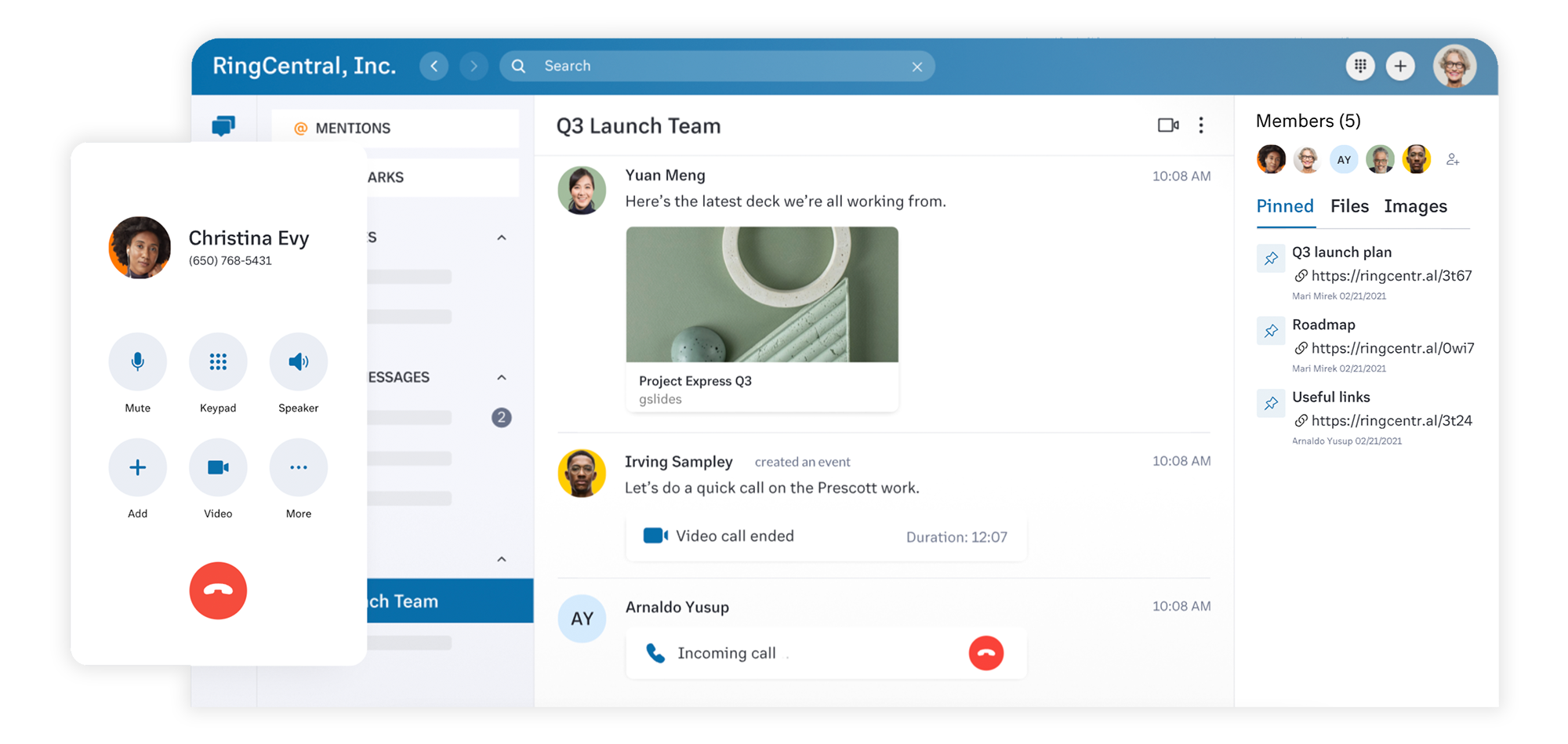 Shared Features
Team chat: Direct messaging and team-chat channels in the app's UCaaS interface. Agents can monitor teammate availability. Both providers support unlimited team messaging.
Desktop and mobile usage: Send chat messages and SMS texts from the desktop or mobile app interface
File sharing: Share files, documents, and images
Storage: Store and organize files in folders
Search history: Users can search chat history by user, file, or message content
Integrations: Both providers support roughly 80 integrated apps with their messaging platforms. Messaging integrations include calendars, notifications, linked conversations on Slack and Asana, and safe message archiving.
Differences
Texting limits: RingCentral plan has a monthly per-user texting limit. The Core plan limits each user to 25 monthly texts, Advanced limits to 100, and Ultra to 200. Zoom supports unlimited texting from US, Canada, and Australia numbers.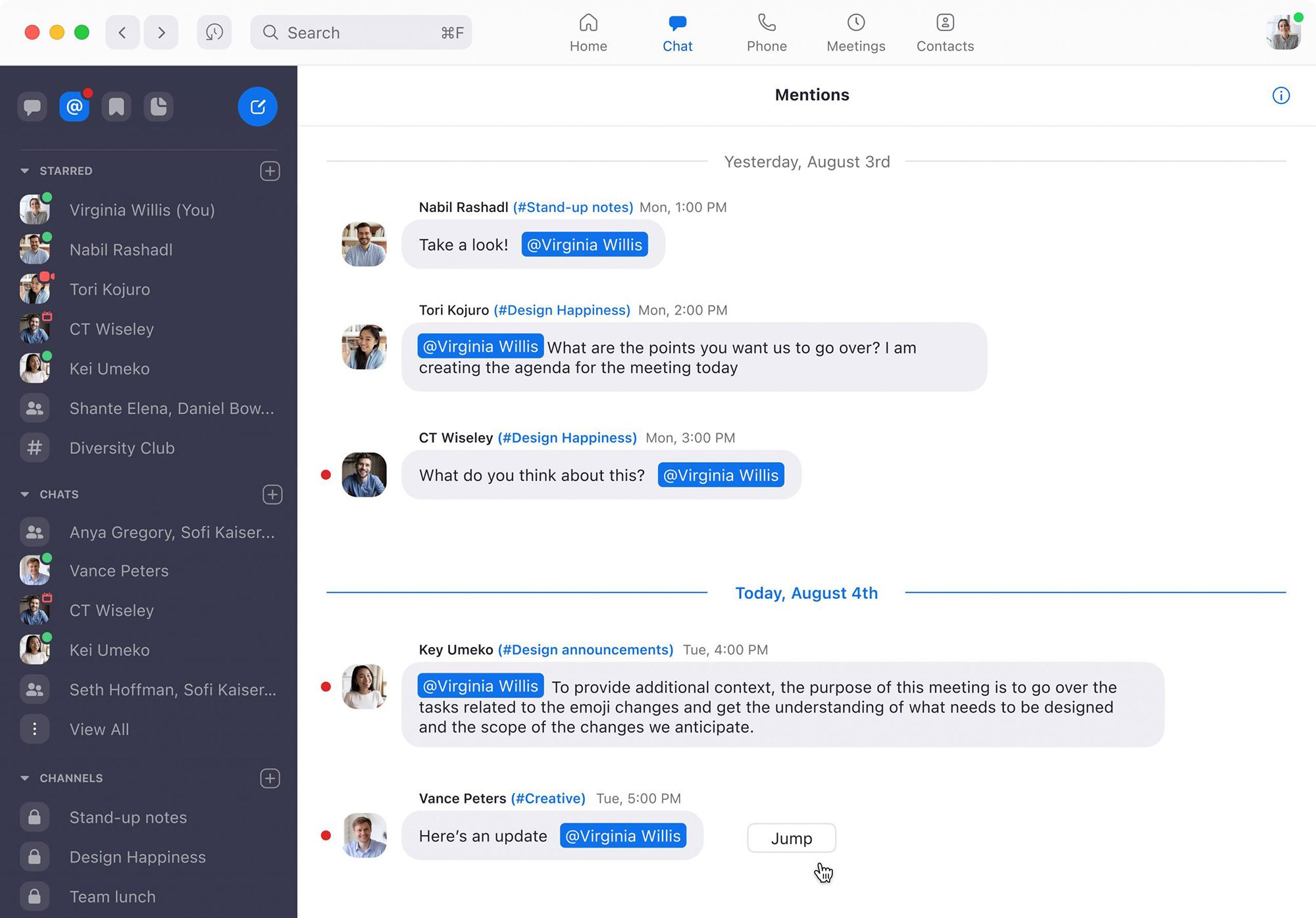 Video Conferencing Features
Summary: Zoom One video meetings support more participants, with collaborative features like polls, live streaming to other platforms, and translated captions. RingCentral AI Meetings boast virtual-assistance tools like automated summaries and highlight reels.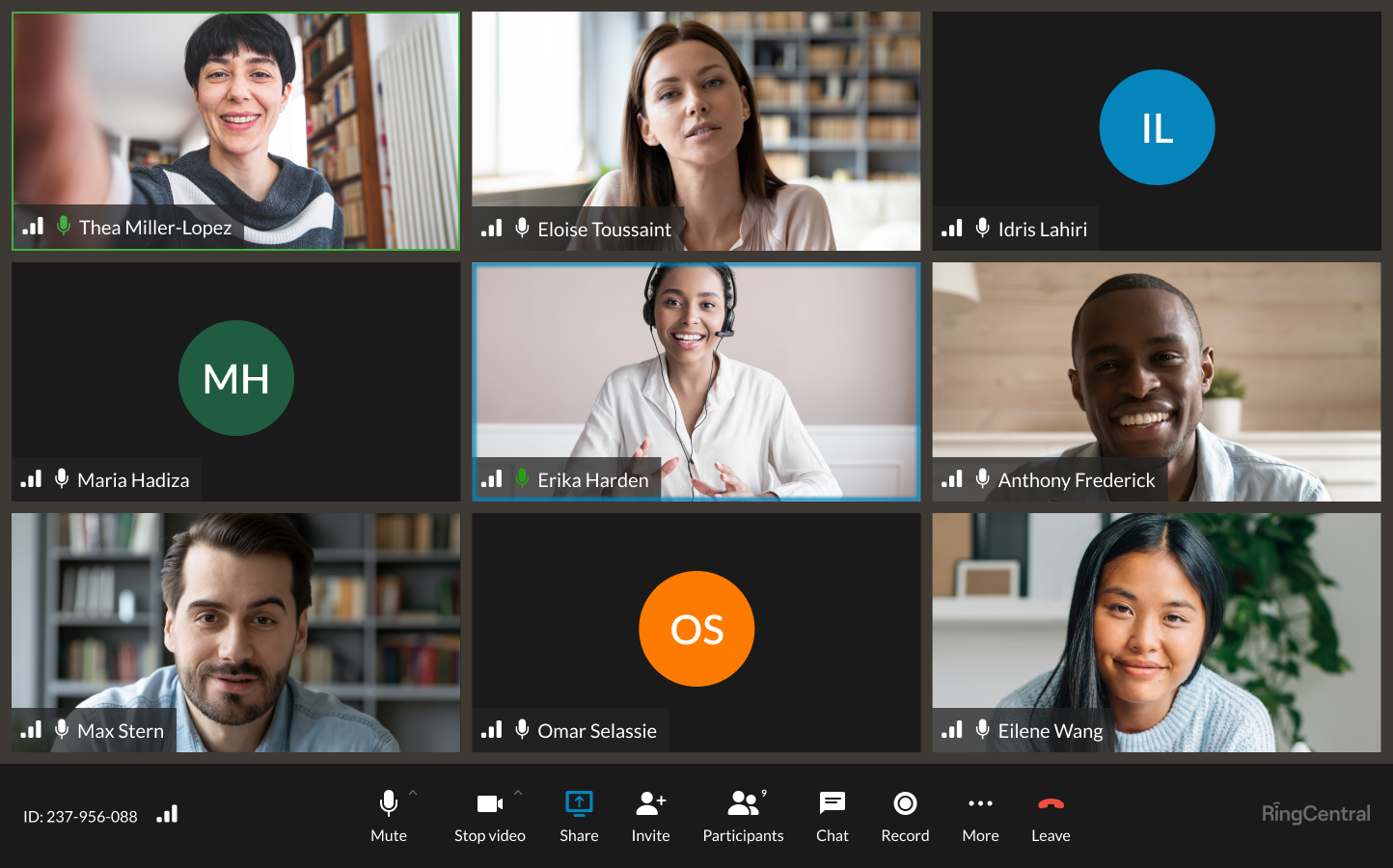 Shared Features
One-click invites: Send participants a meeting link that they can join with one click from mobile or desktop devices–no download needed
Calendar syncing: Once scheduled, sync meetings with calendar apps like Microsoft Outlook and Google Calendars
Device-switching: Switch from desktop to mobile mid-meeting
Screen sharing: Share your screen with meeting participants
Annotations: Draw and write directly on your screen, broadcasted for everyone to see
Breakout rooms: Break the large meeting into smaller groups, for more personal and private interactions
Meeting recording: Record and reuse video records
Chat: Participate in a running chat during the video meeting
Live captions: Transcribe all speech in real-time, distinguishing who's talking
Virtual backgrounds and presentations: Overlay the presenter's face upon any background–virtual, screen share, video, or a slide deck–for engaging presentations
Whiteboards: Teammates can work together in real-time on collaborative whiteboards to sketch ideas, design with shapes, post images, and add sticky notes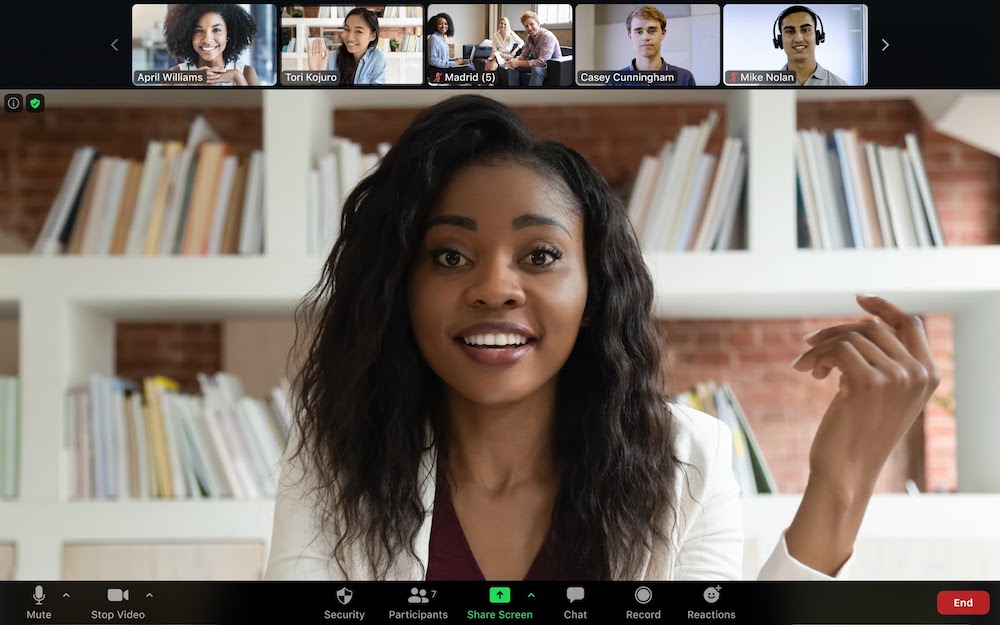 Differences
Time limit: RingCentral video meetings have no time limit, while Zoom meetings are capped at 30 hours
Participant capacity: RingCentral video meetings support up to 200 participants on the Ultra plan, while Zoom Meetings support 300, 500, or even 1000 participants on the Enterprise plan
Translated captions: Zoom meetings provide captions in multiple languages, plus live-translated captions in over a dozen languages
"Fun" features: Zoom supports a few uniquely engaging features like avatars, in-meeting polls and quizzes
Live streaming: Zoom supports live streaming across platforms, such as YouTube and Facebook Live
AI features: RingCentral stands out with virtual-assistance features including live transcriptions and automated post-meeting summaries, which include highlight reels, main topics, and action items
Analytics and Reporting 
Summary: RingCentral's Business Analytics offers greater customization, data visuals, and more metrics than Zoom's Analytics. However, only RingCentral's Advanced and Ultra plans include analytics. Zoom offers more basic analytics on all plans.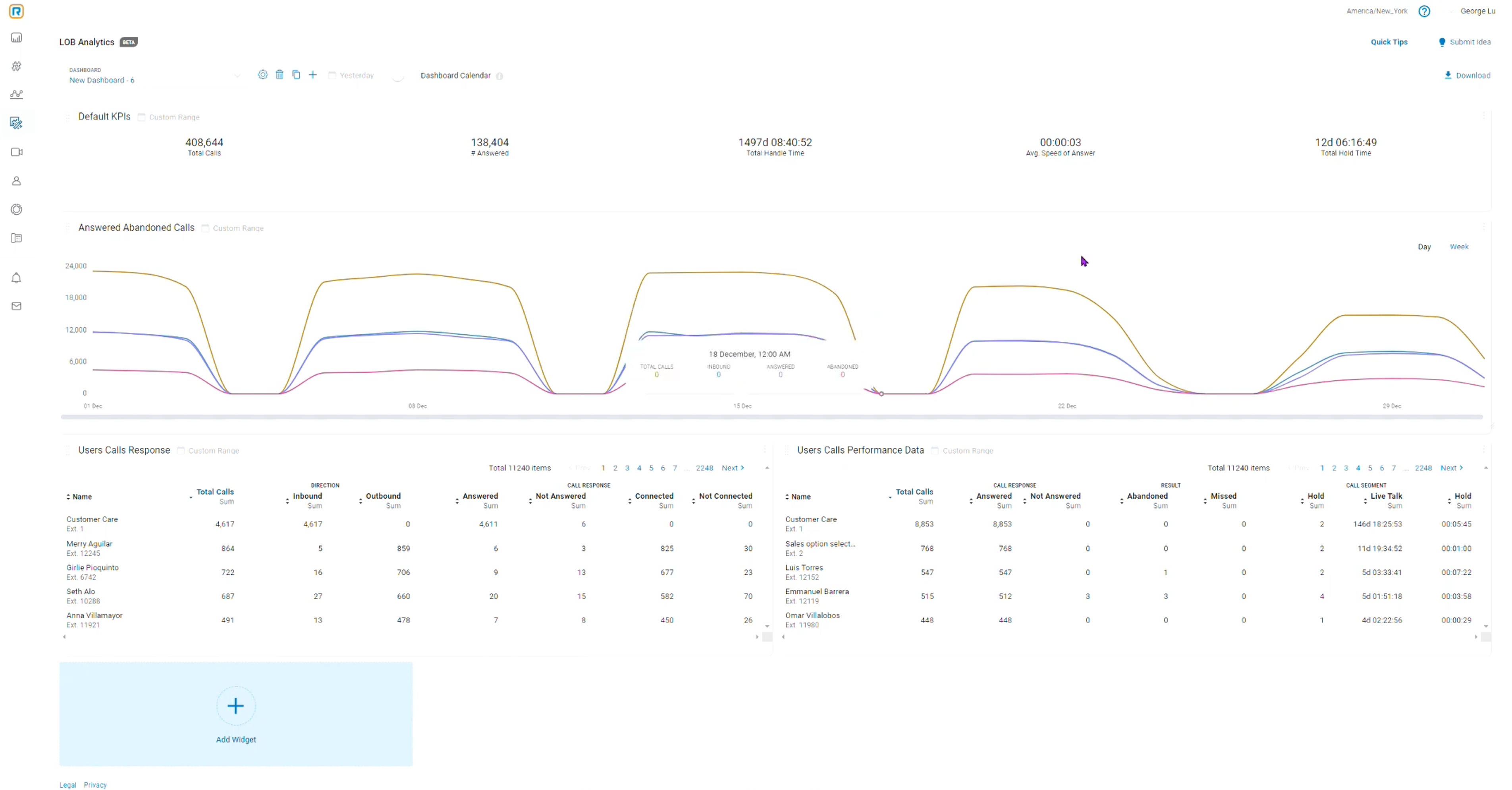 Shared Features
Historical and real-time reports: Both RingCentral and Zoom offer real-time and historical reports. Customize your report to drill down into certain users, KPIs, or time periods.
Data visualization: Both platforms display metrics visually with graphs and comparative charts
Usage: Track call center activity and channel adoption with statistics like call volume, inbound vs outbound calls, answered vs missed calls, etc.
Quality of service: Monitor the performance of video and calls, drilling down into each particular device and local network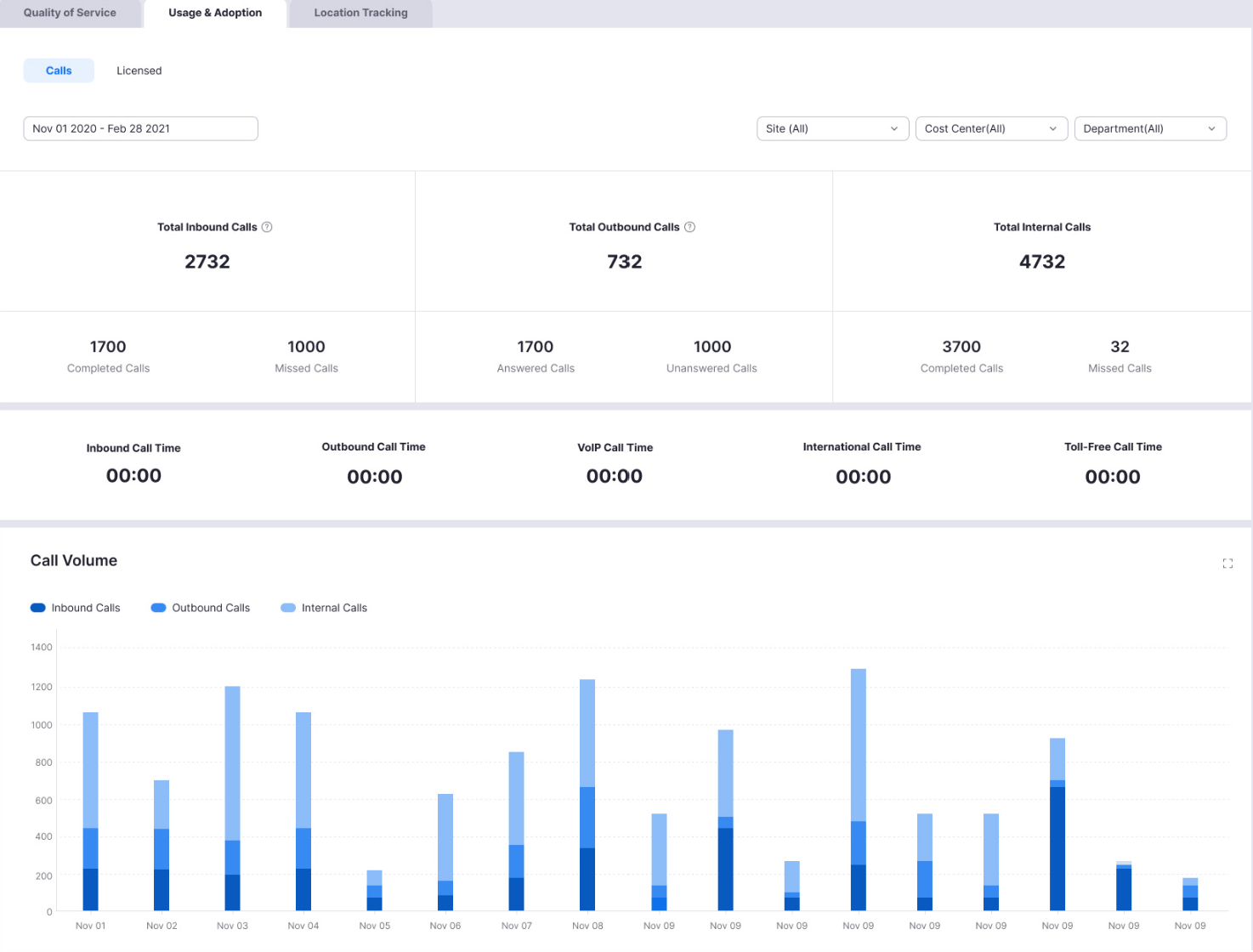 Differences
Availability: Zoom Phone and Zoom One include analytics on all plans, for applicable channels. RingCentral includes reports only on the Core plan, regular analytics on the Advanced plan, and advanced analytics on the Ultra plan
Metrics and KPIs: RingCentral's Business Analytics offers extremely detailed KPIs. The software tracks data and trends for call holds, calls parked, queue and ring group activity, and more. Zoom reserves some of these metrics for the Power Pack add-on, which costs extra.
Customization: RingCentral's Ultra plan lets you build custom dashboards that compare trends and metrics across timeframes and users
Integrations
Summary: Zoom offers over 2000 integrated third-party and native apps, with the most popular ones available on all plans. RingCentral offers over 300 apps but reserves some of them for the Advanced plan.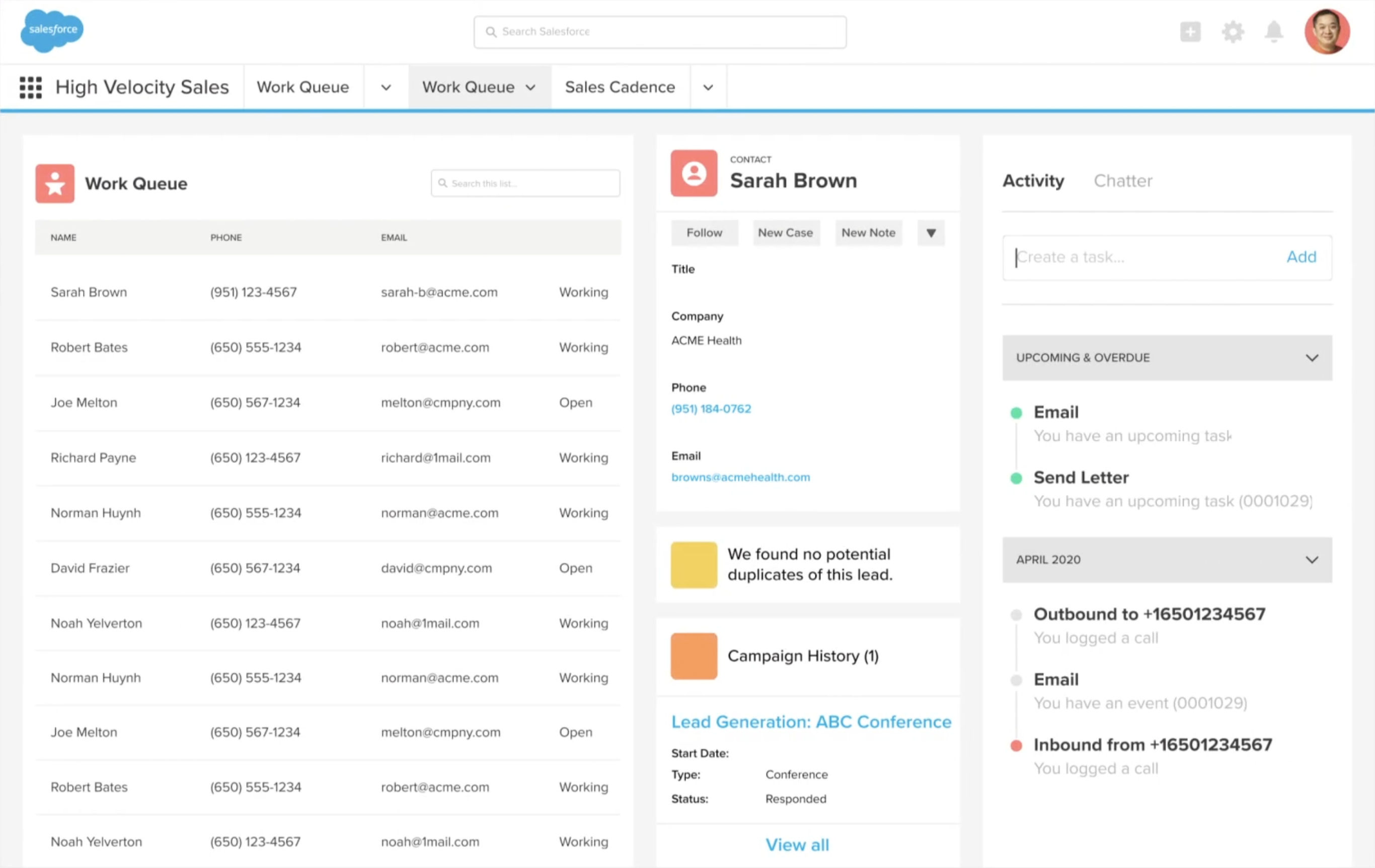 Shared Features
Phone and meetings APIs: Zoom and RingCentral offer APIs for phone and meetings, enabling your other apps to communicate with your UCaaS or business phone system
CRM integrations: Zoom and RingCentral both offer integrations with popular CRM platforms like Salesforce, HubSpot, and Zendesk
Analytics integrations: Both support integrations with analytics tools like Chorus.ai, Gong, and Salesforce
Collaboration apps: Both providers unify all communication channels with collaboration apps like Microsoft Teams, Google Workspace, Slack, and Asana
Sales tools: Conversational intelligence and sales support apps like Gong, Modjo, Wingman, and more
Calendars: Calendaring apps like Microsoft Outlook and Google Workspace
Productivity apps: Apps for productivity automations, like Google Drive file sharing, MailChimp, and Jira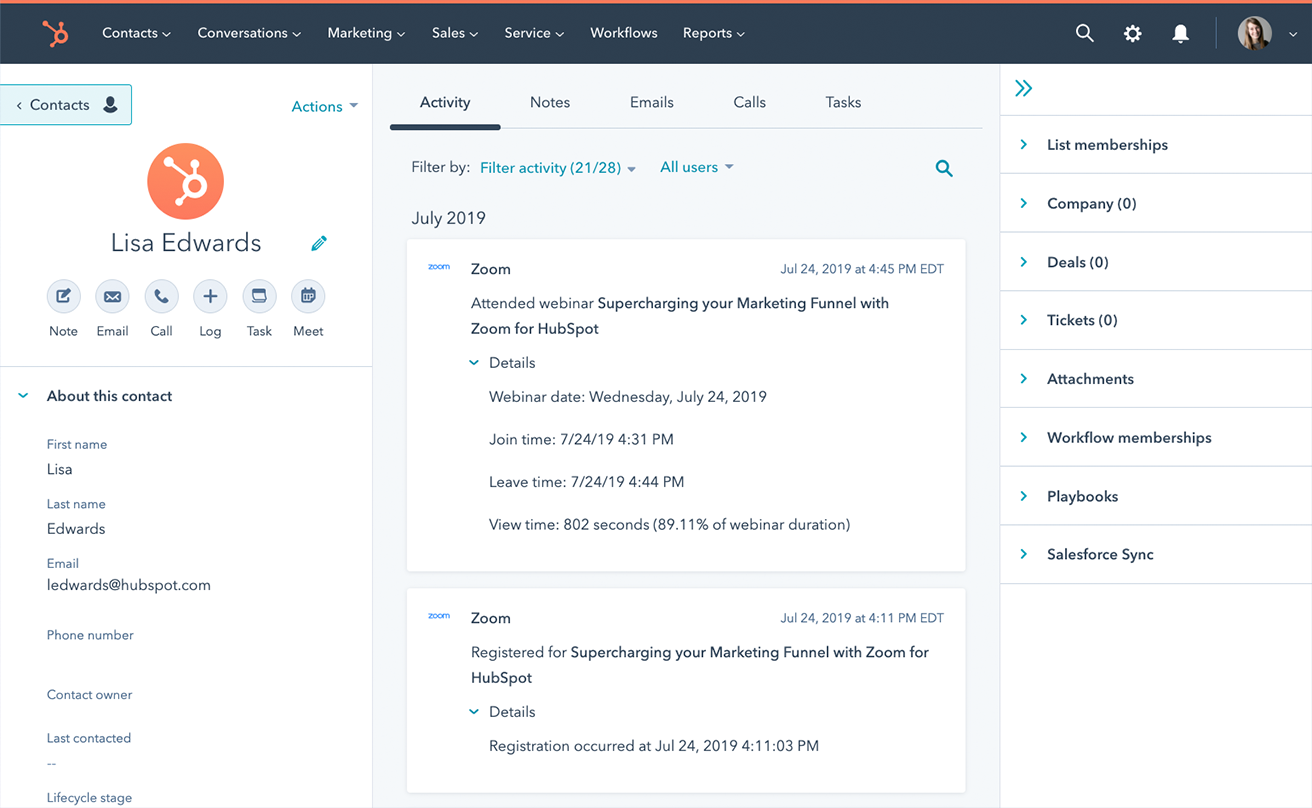 Differences
Availability: Zoom Phone supports all plans with a handful of popular integrations: Slack, Microsoft, Google, and Salesforce. RingCentral offers Google and Microsoft apps on the Core plan, with other popular integrations reserved for the Advanced plan
Team chat API: Zoom One includes a programmable API for team chat, while RingCentral does not
App focus: RingCentral offers more apps for phone, team chat, and SMS–while Zoom offers many more apps for video meetings
Add-Ons and Other Plans
Summary: RingCentral offers add-ons and additional plans for webinars, AI live-agent support, and a contact center. Zoom offers add-ons for real-time queue analytics, international calling to 19 countries, and a contact center.
Shared Add-on Features
Contact center: Both Zoom and RingCentral enable you to upgrade to a contact center, with advanced real-time queue monitoring. Contact centers have custom quote-based pricing.
DID phone numbers: Purchase additional toll-free or local numbers for roughly $5 per number. International numbers cost closer to $15.
Differences
International calling: Zoom Phone supports an international calling add-on starting at $10 per month, that enables unlimited calling to 19 countries
Live AI sales support: RingCentral's RingSense for Sales software provides AI-powered insights and coaching for sales and supervisor support
RingCentral vs Zoom: Pricing Overview
Summary: RingCentral's UCaaS plans include voice, video, and team chat starting at $15 monthly per user. Zoom offers two products: Zoom Phone includes phone+chat starting at $10 monthly, and Zoom One includes video+chat starting at $12.50 monthly.
RingCentral Pricing
RingCentral MVP offers 3 pricing plans that range from $20 to $35 monthly per user:
Core ($20 monthly): Desktop and mobile app with unlimited calling in the US and Canada, 25 monthly SMS per user, 100-participant video meetings, multi-level IVR, basic call queues, on-demand call recording, 100 toll-free minutes per account
Advanced ($25 monthly): Adds advanced call queues and routing rules, automatic call recording, 300+ integrations including Salesforce, Essential business analytics, 100 monthly texts per user, and 1000 toll-free minutes per account
Ultra ($35 monthly): Expands to 200 video participants, 200 monthly SMS per user, and 10,000 toll-free minutes per account, adds advanced analytics
Zoom Pricing
Zoom Phone offers 3 pricing plans that vary according to how calls are charged. Each Zoom Phone plan includes the same features–IVR, queueing and ACD, team chat, call monitoring, call recording, and more.
US & Canada Metered ($10 monthly per user): Pay-per-minute calling everywhere and unlimited domestic texting, with a US & Canada number
US & Canada Unlimited ($10 monthly per user): Unlimited calling and SMS in the US & Canada, with an available international calling add-on
Global Select ($20 monthly per user): Unlimited domestic calling in one of 48 supported countries, plus a US and Canada number and a direct dial number from your chosen area
Zoom One offers 5 UCaaS plans with video+chat or video+chat+voice.
Basic (Free): 40-minute meetings with up to 100 attendees per meeting, 3 basic whiteboards, team chat, mail and calendar service, and advanced collaboration features like breakout rooms and screen sharing
Pro ($15.99 monthly per user): Meetings up to 30 hours, 100 attendees per meeting, Zoom's premium apps, 5 GB recording storage, polls, and reporting
Business ($19.99 monthly per user): 300 participants in video meetings, unlimited whiteboards, adds branding and recording transcripts
Business Plus ($25 monthly per user): Adds Zoom Phone, translated captions, and 10 GB of cloud storage
Enterprise (custom pricing): Supports 500 to 1000 attendees per meeting
RingCentral vs Zoom: Pros & Cons
RingCentral MVP Pros
Each plan includes all three major communication channels–VoIP, video, and team chat
International business phone numbers in roughly 80 countries
AI-enhanced video meetings
Task management built into team chat
RingCentral MVP Cons
Limits each user's monthly SMS
Some teams may not need all three communication channels
Unlimited calling area limited to North America
Zoom Pros
Great value for teams that only want voice+chat or video+chat
Metered plan makes a cost-effective option for teams with low call volumes
Global Select plan works well for teams who do business in another country
International calling add-on is affordable
Zoom Cons
Pricing can add up quickly if users want voice, video, and chat
Analytics are basic, lack live reporting
FAQs
Here, we've answered some of the most commonly asked questions about Zoom vs RingCentral.