The main difference between RingCentral vs Zoom is that Zoom prioritizes video, while RingCentral prioritizes phone and chat.
Zoom One and RingCentral MVP are two of the most popular unified communications providers, with each offering bundled plans including key collaboration channels like VoIP phone, video, SMS, and internal chat.
Both UCaaS platforms have distinct advantages and disadvantages, depending on which channels your company prioritizes and the features and third-party integrations your team needs.
This article will help you choose between RingCentral vs Zoom by comparing each provider's available pricing and plans, user experience, features and functionality, and more.
Jump to ↓
RingCentral vs Zoom at a Glance
While Zoom One includes four key communication channels (voice, video, team chat, SMS), its Meetings video app is the clear star of the show.
Zoom Meetings offers advanced in-call features like dynamic whiteboarding, breakout rooms, and engagement tools like live polling and screen sharing. However, Zoom One's cheapest two plans–the free Basic plan and the Pro plan–only include Meetings, not Zoom Phone or Zoom Chat.
RingCentral MVP, on the other hand, does not include video calling in their basic Essentials plan, but does offer internal chat, SMS, and VoIP calling. Further, their phone system boasts advanced call management and voicemail features like voicemail-to-email and ring groups.
RingCentral MVP
Zoom One
Pricing
4 plans from $19.99 to $49.99 monthly per user
5 plans from free to over $250 monthly per user
Key Features

Ring groups
Auto attendant
Workflow management in chat
Advanced video insights
Call flipping

Video whiteboards
Admin monitor, whisper, barge, takeover
Intentional queueing
Share anything (whiteboards, video, and more) in chat

Available Communication Channels

Phone
SMS
Team chat
Video

Phone
SMS
Team chat
Video

Integrations
Over 300 integrations, including:

Salesforce
Jira
Microsoft Teams
Hubspot

Over 1900 integrations, including:
Customer Support Options

RingCentral community forum
RingCentral Support knowledge base
Customer support via voice and chat

Zoom community forum
Zoom Support knowledge base
Customer support via voice and chat

Best For
Companies wanting an affordable collaboration system with phone, chat, and SMS
Companies that want a video-first collaboration platform
What is RingCentral MVP?
RingCentral MVP (Message, Video, Phone) is a business communications platform that unifies VoIP voice calling, SMS texting, internal chat, video meetings, and advanced analytics within the RingCentral App interface for desktop and mobile devices.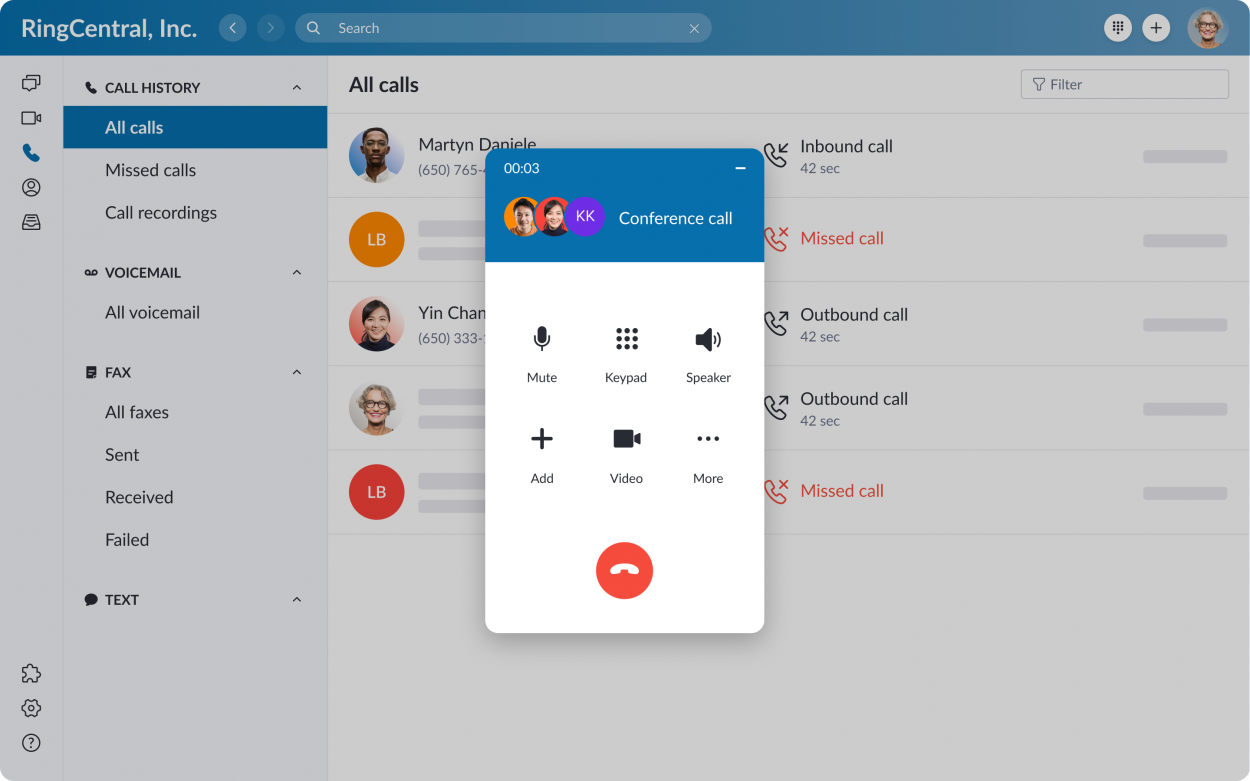 What is Zoom One?
Zoom One is an internal communication and collaboration platform that unifies VoIP calling and intelligent routing capabilities, SMS, virtual meetings, digital whiteboards, and team collaboration tools and chat in a single interface for desktop and mobile access.
RingCentral vs Zoom: Feature Comparison
Below, we've compared standout features for RingCentral vs Zoom.
RingCentral MVP Voice Calling Features
With RingCentral's Cloud PBX VoIP business phone system, make HD-voice business phone calls anywhere you have internet, on any device or directly in your web browser.
Purchase local, toll-free, or vanity phone numbers around the world directly from RingCentral, or port in existing numbers.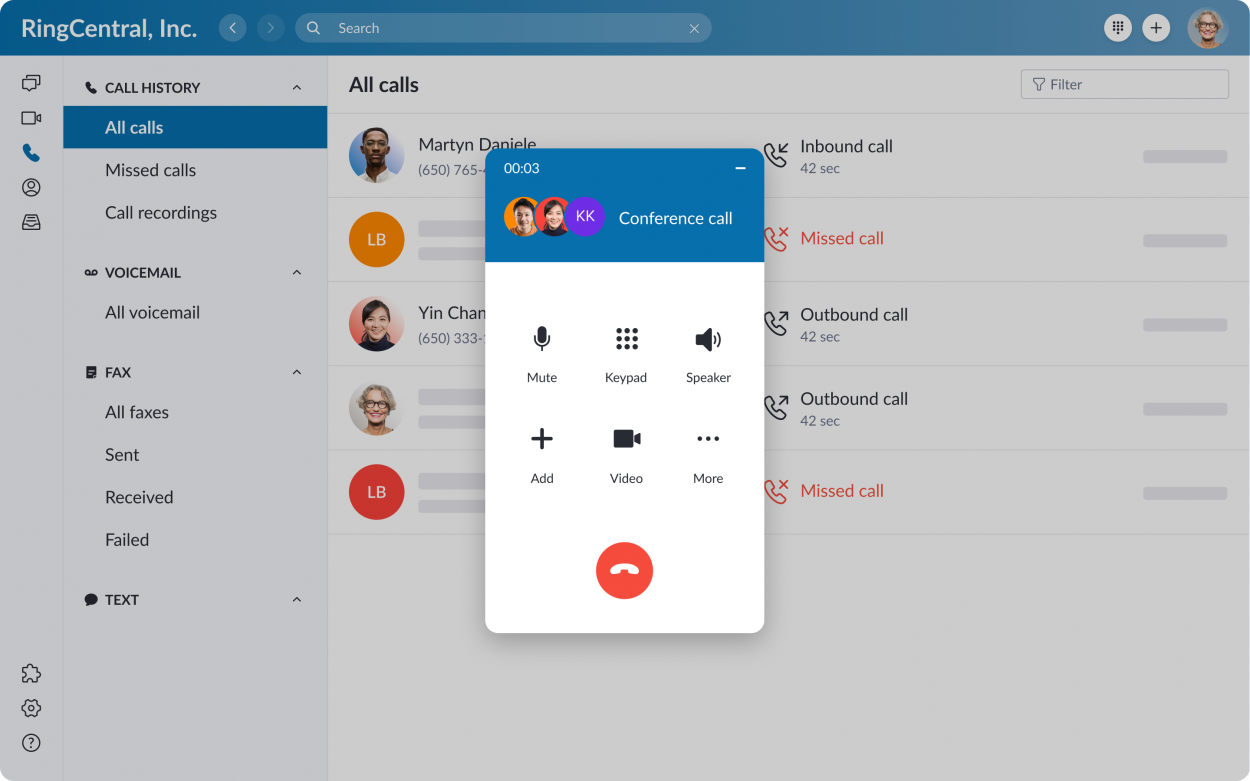 Call Management Features
Audio Conferencing: Host up to 1000 participants on unlimited audio conference calls
Auto-Attendant: Use a voice recording or text-to-speech to create a customer self-service IVR menu, where customers can use DTMF to reach agents, departments, messages, or a dial-by-name directory
Answering Rules: Use call routing to direct customers to specific agents, sub-menus, or voicemail  messages based on business operation hours, date, and call center location, setting alternate options for after-hours calls, special events, and holidays
Route by ID: Route incoming calls by caller ID or caller location, setting special options for priority customers and separating business and personal phone calls
Ring Groups: Create call  groups to receive simultaneous or sequential inbound calls to increase first contact resolution rates and optimize call queues
Call Forwarding: Automatically forward incoming calls to multiple phone numbers for the same agent or department, and customize the call ring time before forwarding calls to the next number
Call Flipping: Flip calls between devices with one click, so you never interrupt discussions even when transitioning out of the office
Call Recording: With call recording, record inbound and outbound calls on demand or automatically, and review, stream, or download stored cloud recordings in a searchable virtual menu
Voicemail Features
Voicemail-to-Email and Voicemail-to-Text: Receive and forward business voicemails in an email or SMS, accessible on any device
Voicemail Routing: Assign missed-call notifications to specific users, based on time of day or incoming caller ID
Visual Voicemail: View and search all voicemail recordings and details in a visual log, accessible on desktop and Apple iOS or Android mobile app
Unlimited Fax
Send and receive unlimited virtual faxes on any device.
Zoom One Calling Features
Zoom Phone, included in Zoom One, is a cloud-based phone system enabling users to make HD voice calls over the internet or with cellular data, on any device.
Use the Zoom phone network to make unlimited domestic calls in the US, toll-free calls to 29 countries, and PSTN calls to 88 countries.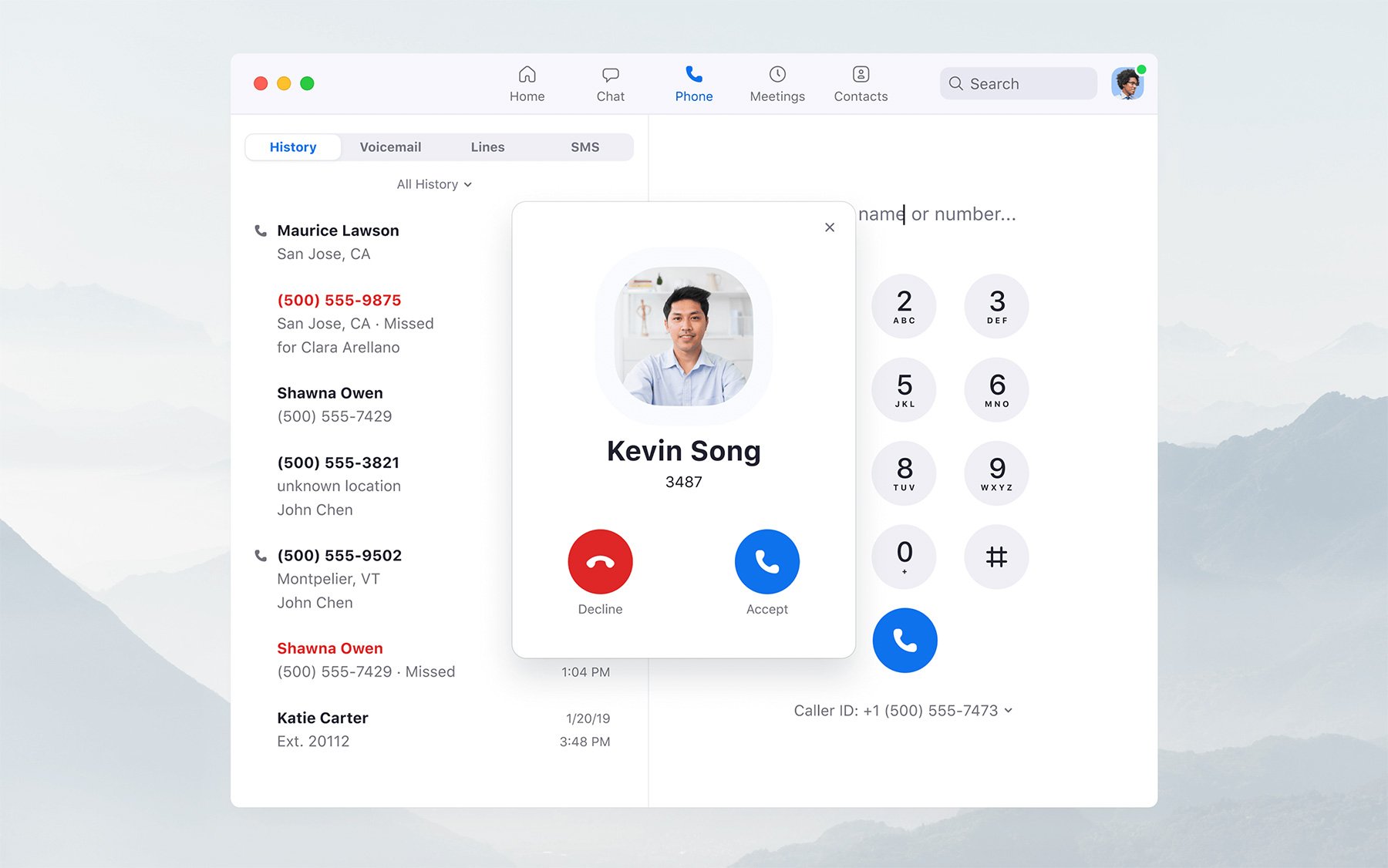 Call Management Features
Call Hold, Transfer, and Forward: Agents can hold, transfer, or forward incoming calls to another user
Voicemail Transcription: All voicemails are transcribed, with voicemail transcriptions stored in a log, searchable by keyword or name
Elevate to Meeting: Transition internal or customer phone calls into Zoom video meetings with one click
Monitor, Whisper, Barge, Takeover: Administrators can quietly listen in on agent conversations with call monitoring, privately make suggestions to an agent, jump in to speak on a call, or take over the call entirely
Auto-Attendant IVR: Create unlimited, multi-level call center IVR menus to route inbound customers to queues, voicemails, extensions, or voice mailboxes
Intentional Queueing: Define queue distribution and queue overflow rules
Global Routing: Set call routing rules based on small business hours or follow-the-sun capabilities that auto-route calls to active agents
Shared Line: Call agents can place sessions on hold so managers can easily jump in and take over the call
Hold Music: Play music or pre-recorded messages to callers in queue, provide wait time updates
Virtual Voicemail and Call History: Access all missed calls and voicemails in a searchable virtual menu
Scaling and Administrative Tools
Bring Your Own Carrier: Keep your existing PSTN landline provider contract and phone numbers, but still enjoy all Zoom One features via BYOC
Number Porting: Transfer existing phone numbers from your cellular or landline provider
Admin Portal Controls: Administrators can manage capabilities, roles, and routing options for all numbers and devices within the company account
RingCentral MVP Messaging and SMS
RingCentral MVP includes business SMS for customer communication, and internal chat for one-on-one or channel-based collaboration.
MVP's internal chat dashboard, accessible via mobile or desktop browser, allows you to send one-on-one messages or create group conversations with team members–you can even add external participants, like customers. Several features–like live video rooms and to-do lists–set RingCentral apart from competitors.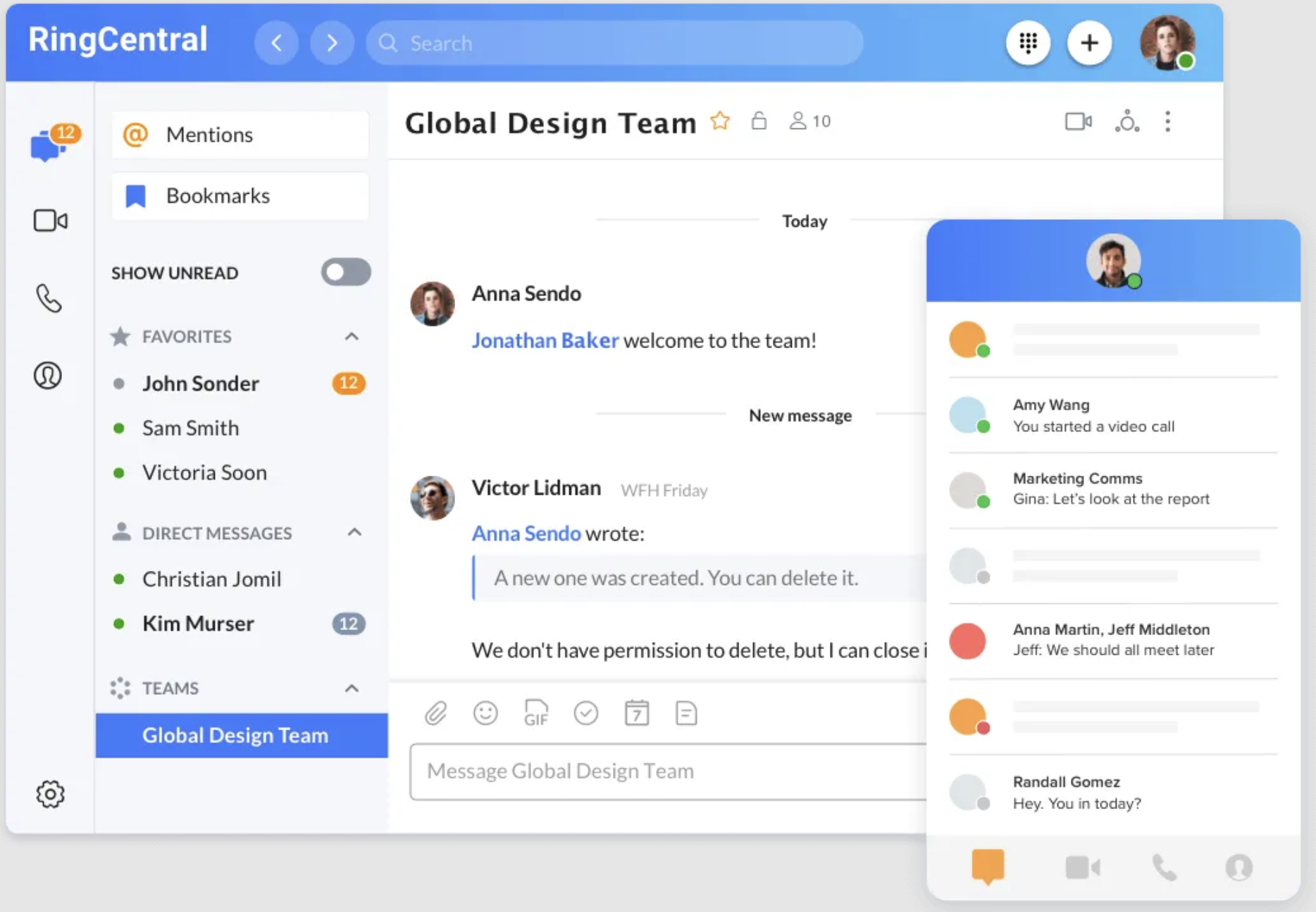 Internal Messaging Features
Transition to Video or Call: Transition online meeting chat to a phone call or video meeting via one-click calling
File Sharing and Pinning: Share files and pin important documents to the conversation for easy access
Searchable: Search conversations by participants or keyword, bookmark individual messages, conversations, or shared files
Workflow Management: Create and assign task and to-do lists to keep team members in sync with project progress and avoid workflow overlaps
Live Video Rooms: Set up ongoing (always-on) live video rooms for groups, so members can pop into an ad hoc video meeting
SMS Messaging
Send SMS and MMS text messages from any business phone number–via desktop or mobile. Integrate SMS APIs to scale outbound messaging and send up to 250,000 daily bulk messages with RingCentral's High Volume SMS packages.
Zoom One Messaging and SMS
Zoom chat enables team members to collaborate internally using an intuitive instant-messaging interface available on desktop or mobile.
View team members' statuses and user presence updates, send one-on-one messages or group messages to custom channels and integrate Zoom chat with external messaging platforms like Microsoft Teams and Slack to connect with external users.
Instant Messaging Features
Escalate to Call or Video: Transition from chat to call or video with one click
Share Anything: Share video meeting recordings, chats, whiteboards, lines of code, customer contact profiles, and more
Organization Tools: Group channels into folders, star priority contacts, pin valuable messages and documents
Custom Notifications: Customize notification settings for unread messages, keywords, groups, and contacts, to only get pinged under certain circumstances
Search: find contacts, messages, and information quickly with chat's search bar
SMS Messaging
Send and receive SMS and MMS messages, internally and with customers, using the Phone tab in the agent menu.
Messaging From Auto-Attendant Number: Send and receive SMS messages from an auto-attendant or queue-assigned business number
International Texting: Use a domestic number to text recipients anywhere in the world (international numbers cannot send text messages)
Group Messaging: Text up to 10 phone numbers at once
RingCentral MVP Video Conferencing
Host HD video meetings of up to 200 participants on desktop and mobile devices.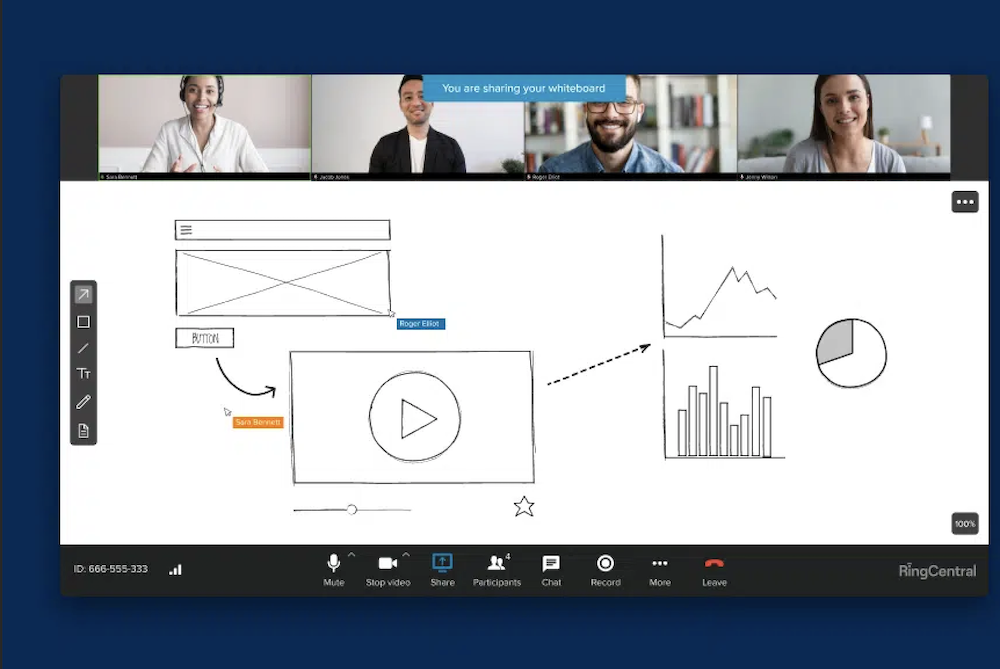 RingCentral video conferencing software includes host tools–link generation, participant viewing, and mute–as well as advanced meeting features like:
One-Click Access: Send participants a meeting link that they can join with one click–no download needed
Unlimited Meeting Time: Run your 200-participant meetings as long as you like
Device-Switching: Switch from desktop to mobile mid-meeting
Annotations: Draw and write directly on your screen, broadcasted for everyone to see
Breakout Rooms: Break the large meeting into smaller groups, for more personal and private interactions
Meeting Recording: Record and reuse video records
Chat: Participate in a running chat during the video meeting
Advanced Insights: After meetings, share key details with autogenerated meeting summaries, key topics, highlighted excerpts, and full transcripts
Live Transcription: Transcribe all speech from the meeting live in real-time
Presentation Mode: Overlay the presenter's face upon any background–virtual, screen share, video, or a slide deck–for engaging presentations
Whiteboard: A collaborative whiteboard where participants can sketch ideas, post images, and add sticky notes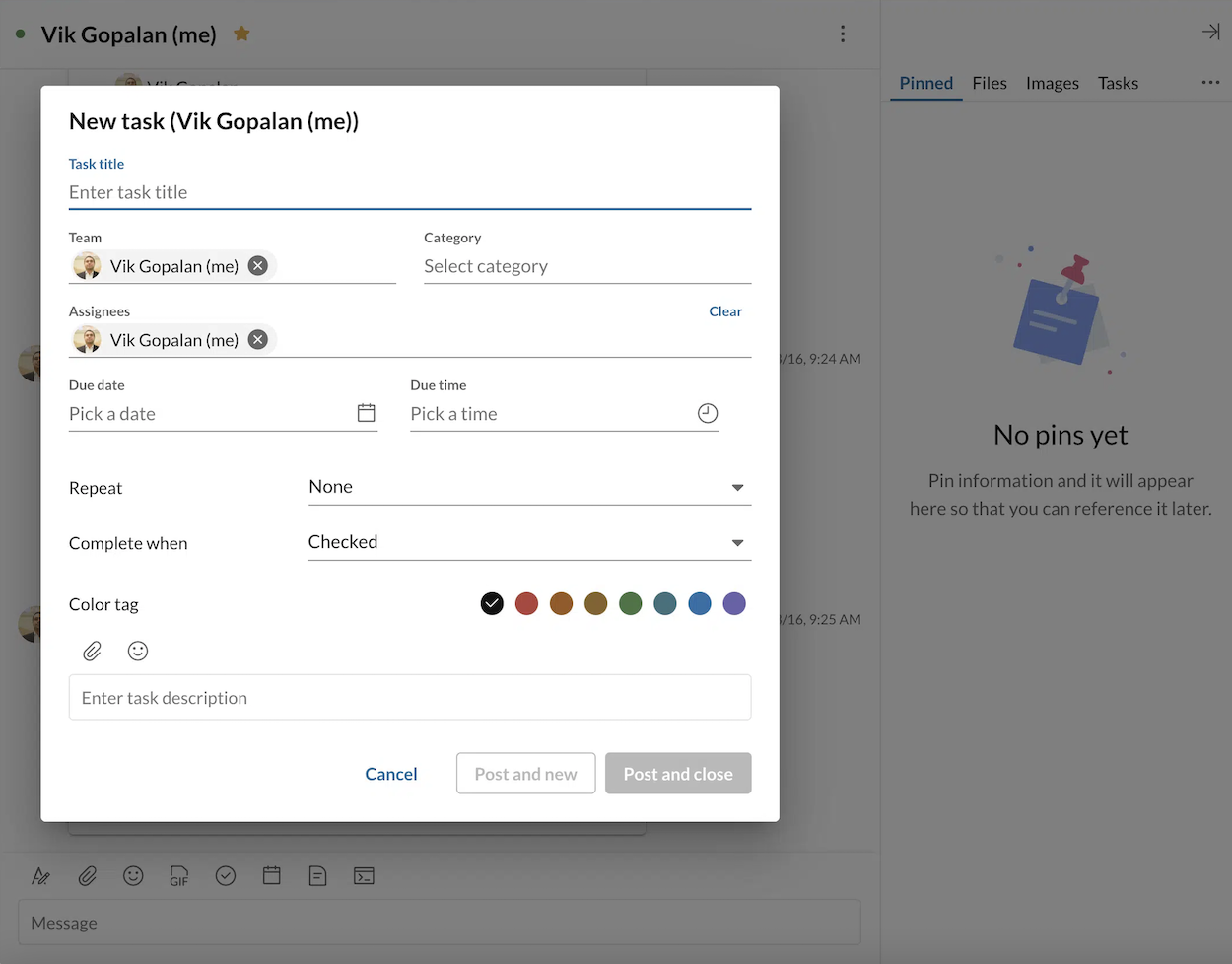 Zoom One Video Conferencing
Use Zoom Meetings to host HD-video conferences with up to 1000 participants and 49 simultaneous video screen streams–far more than most competitors offer.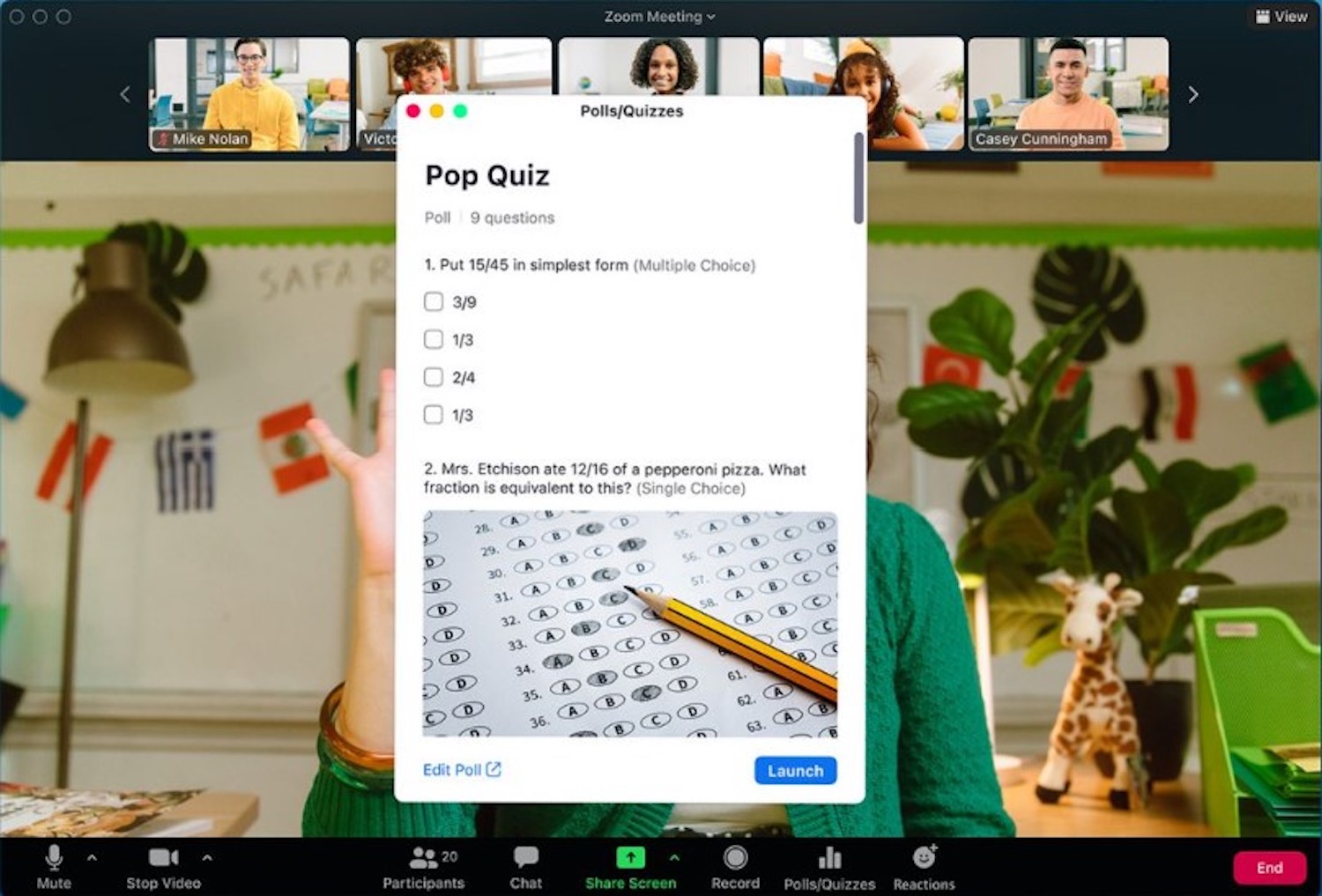 Zoom Meetings are accessible via desktop and mobile, encrypted and passcode-protected, and support useful collaboration features like:
Calendar Syncing: Sync Zoom Meetings with your calendar system–including Outlook, Gmail, and iCal–to schedule routine meetings and ensure the whole company stays on the same page
Engagement Tools: Connect with meeting participants through capabilities like filters, reactions, hand raising, music, and polls
Chat: Host a running chat during video meetings, and share the transcript afterward
Meeting Recording and Transcripts: Record and share meetings and live transcriptions via email or chat to share via email or chat
Background Noise Suppression: Improve audio transmission from participants in busy areas or homes, with background noise suppression
Virtual Background and Immersive View: Customize your Zoom Meeting background, or use a slide deck as your background with Immersive View
Zoom Whiteboard
Zoom Whiteboard is a collaborative canvas, available during and outside of meetings, where team members can draw, share images, create shapes and designs, chat, use sticky notes, and more:
Templates: Frame users' ideas with Zoom's pre-created templates, including Venn diagrams, journey maps, and flows
Smart Connectors: Illustrate flows, webs, and idea maps with various shapes and lines
Shareable: Easily share online whiteboards with team members and chat contacts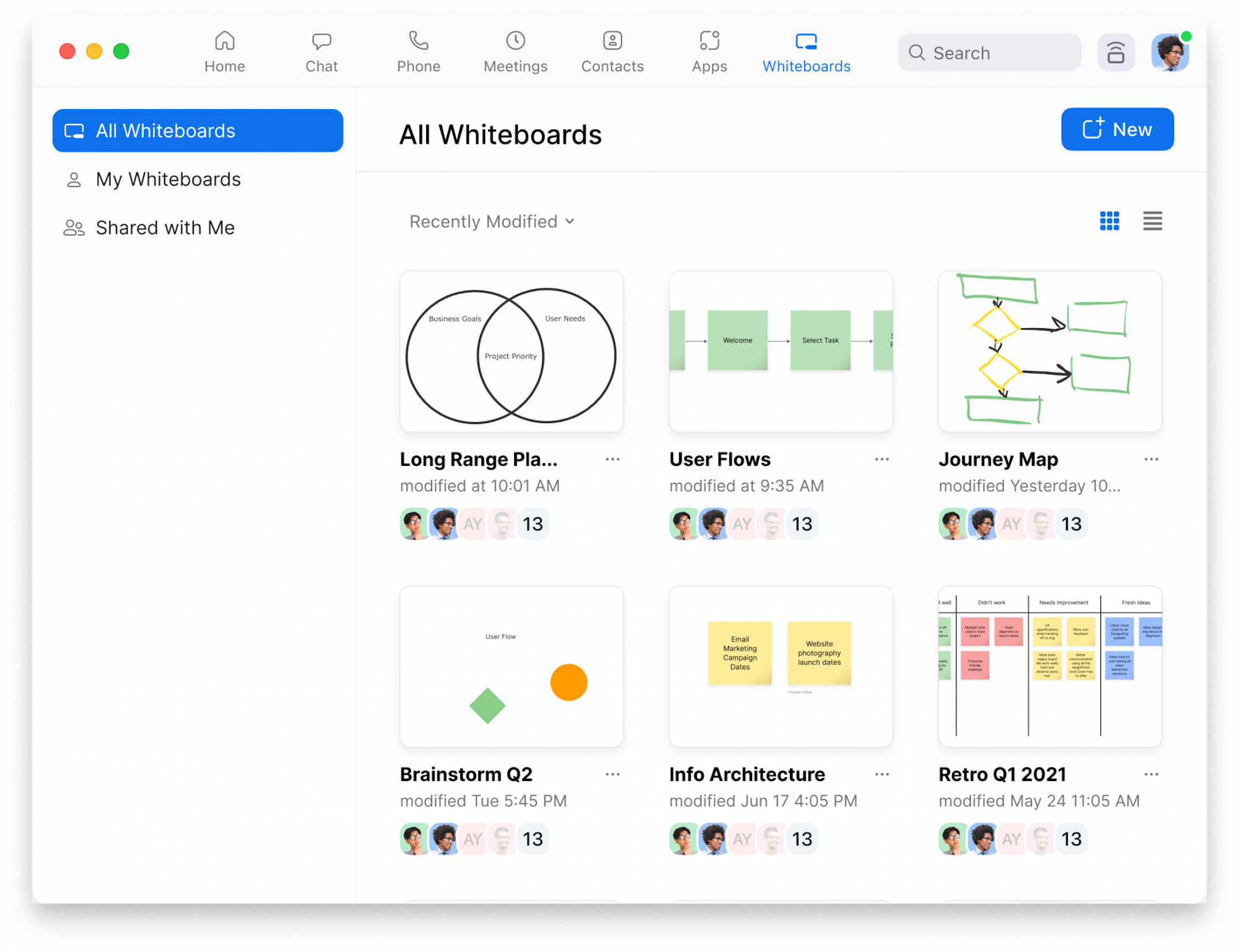 RingCentral MVP Analytics and Reporting Tools
RingCentral offers real-time call center dashboards and historical reports covering queue performance, agent and contact center activity, call quality, and more.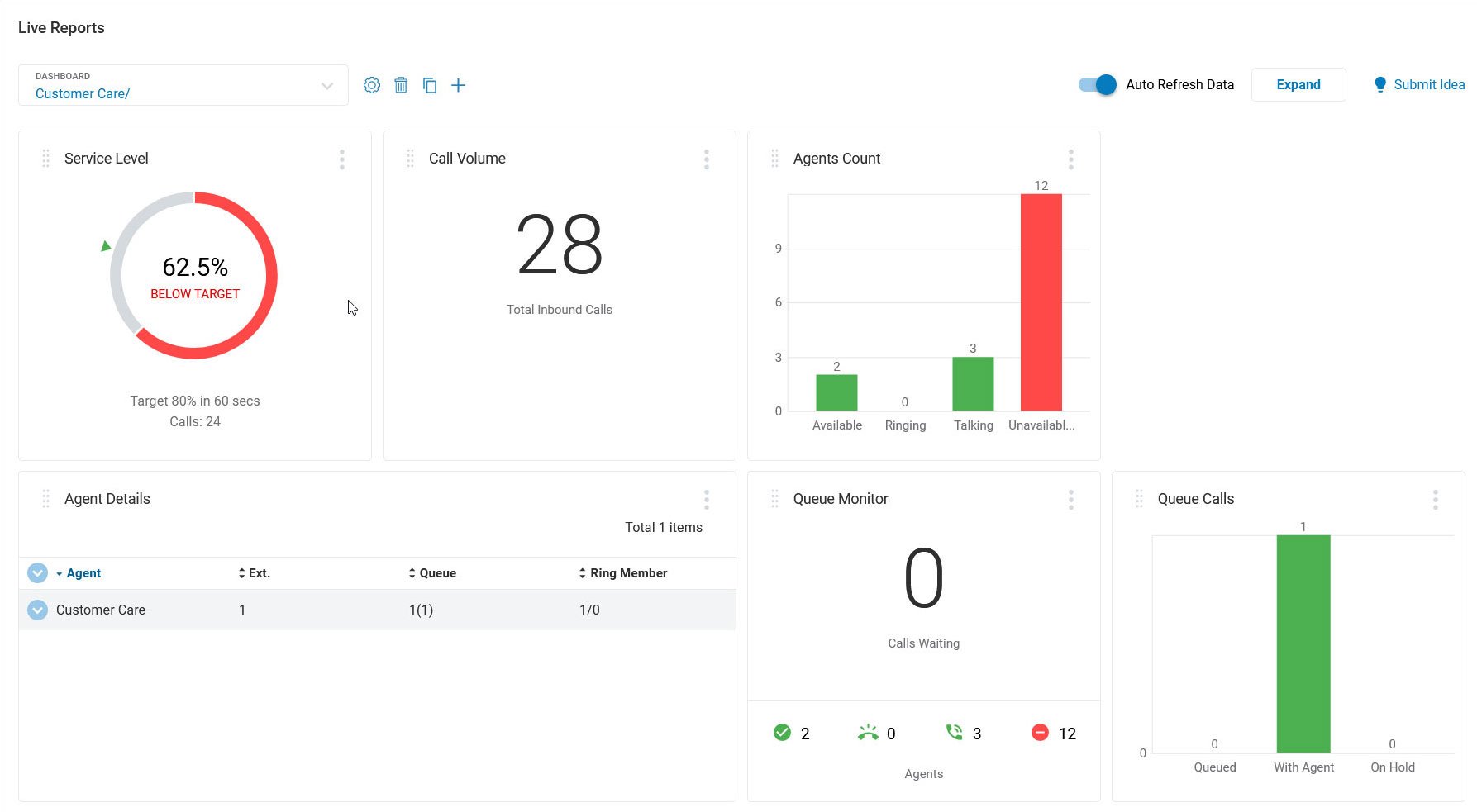 Call Management Analytics
Call Presence Monitoring: A live view of which team members are available, on a call, or have a call ringing, so administrators can quickly transfer calls to available agents during high call volume periods
Call Logs: Logs of all inbound and outbound calls and faxes, listing phone number, caller name, call type, call time, and duration. Download and play any call in the call log, or set up daily, weekly, or monthly log delivery
Call Center and Agent Performance Analytics
Monitor the performance of individual agents or entire contact center teams to ensure that all agents are using call time effectively, and to optimize available agents.
Key call center metrics include:
Total calls
Number of answered calls
Missed calls
Number of voicemails
Average wait time
Average inbound and outbound call duration
Total calls taken
Average calls per hour or per day
Channel Usage Statistics
Gain insights about channel activity by the hour, day, week, or month– to adjust staffing, routing and channel offerings in accordance with trends.
Review data like: 
Number of calls, videos, or messages
Number of active company users and percentage of overall company using each channel
Usage by department and team
Quality of Service Reports
Average call quality
Call quality vs volume over time
Performance by channel, device, location
Zoom One Analytics and Reporting Features
Zoom One offers a robust suite of analytics dashboards and reports, providing insights and visuals about usage, quality, infrastructure, and hardware performance across channels.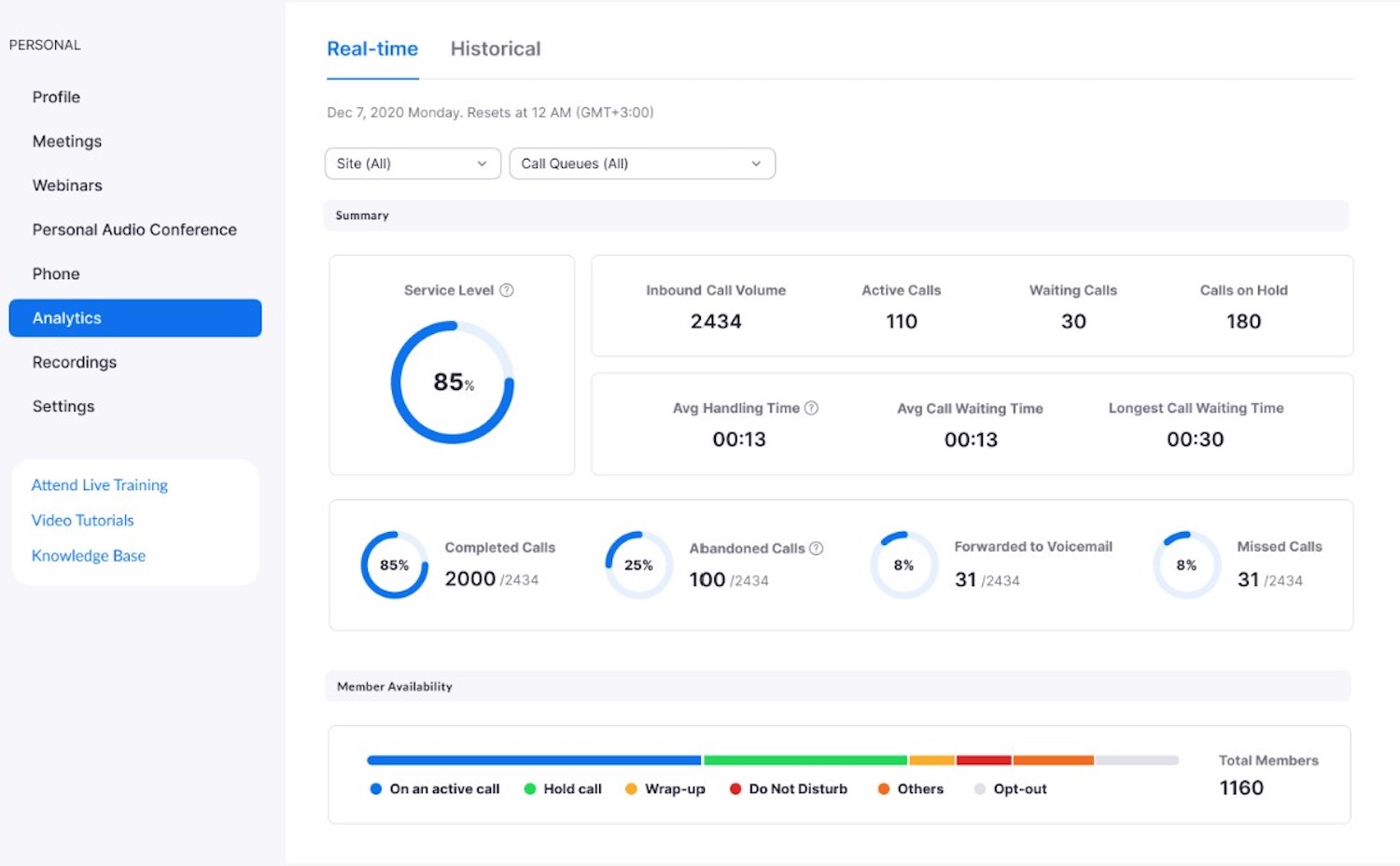 Meetings Dashboards
Meeting and Webinar Quality: MOS scores ranking audio and video quality
Live or Historical Meeting Reports: Date, start time, end time, duration, and capabilities used during the meeting
Usage: Meetings usage over time, measured by the number of meetings, participants, minutes, and more
User Feedback: The main issues reported by meeting participants
Phone Dashboards
Quality of Service: QoS across inbound and outbound calls. Click into individual calls for time-specific audio quality fluctuations
Usage and Adoption: Real-time and historical usage metrics like number of inbound and outbound calls, total call time, missed calls, and more
Chat Dashboards
Location Data: Top 10 countries where customers use your channels
User Rankings: Top 10 most active chat users within your company
Usage: Daily chat messaging usage
Chat Reporting: Chat history records for all users–number of chats sent, chat type, and media included
RingCentral MVP Integrations
RingCentral MVP integrates with over 300 hundred apps and offers APIs for your developers to create custom workflows using the RingCentral platform.
Integrations include:
Salesforce CRM
Jira workflows
Microsoft Teams
Theta Lake
Social media platforms like Facebook
Velvetech
Chili Piper
Hubspot
Skype, and more
Zoom One Integrations
Zoom One's features integrate with over 1900 applications, and Zoom offers APIs as well.
Integrations include:
Hubspot
Marketo
Zendesk
Slack
Calendly
OneLogin
Zapier
Microsoft Teams, and more
RingCentral MVP Add-Ons
Additional International, Local, or Toll-Free Numbers: Additional business phone numbers around the world, starting at $4.99
RingCentral Rooms License: Use Rooms to set up a live web conferencing room using an iPad, video bar, or video kit
RingCentral Webinar: Set up webinars and virtual conferences with up to 10,000 participants and 100 panelists, with engagement, quality, and performance analytics. Webinars include Q&As, polling, and recording.
High Volume SMS: Use RingCentral's bulk SMS app to send automated SMS for appointment reminders, marketing promotions, announcements, and more
Zoom One Add-Ons
Zoom Whiteboard: Unlimited whiteboards
Large Meetings: Increased meeting capacity
Cloud Storage: For streaming and downloading video recordings
Audio Conferencing: Enable toll-free and outbound calling for premium countries
Zoom Phone Power Pack: With real-time queue analytics, historical reports, and a different messaging interface
Zoom IQ for Sales: Live AI conversational intelligence
RingCentral vs Zoom: Pricing Overview
Below, we've outlined each provider's pricing plans.
RingCentral Pricing Overview
RingCentral pricing and plans include 4 MVP paid plans, ranging from $19.99 to $49.99 monthly per user with a 14-day free trial option.
The lower-tier plans feature non-video communication channels–phone, SMS, team chat–while the higher tiers add in video, analytics, larger video audiences, and advanced reporting dashboards.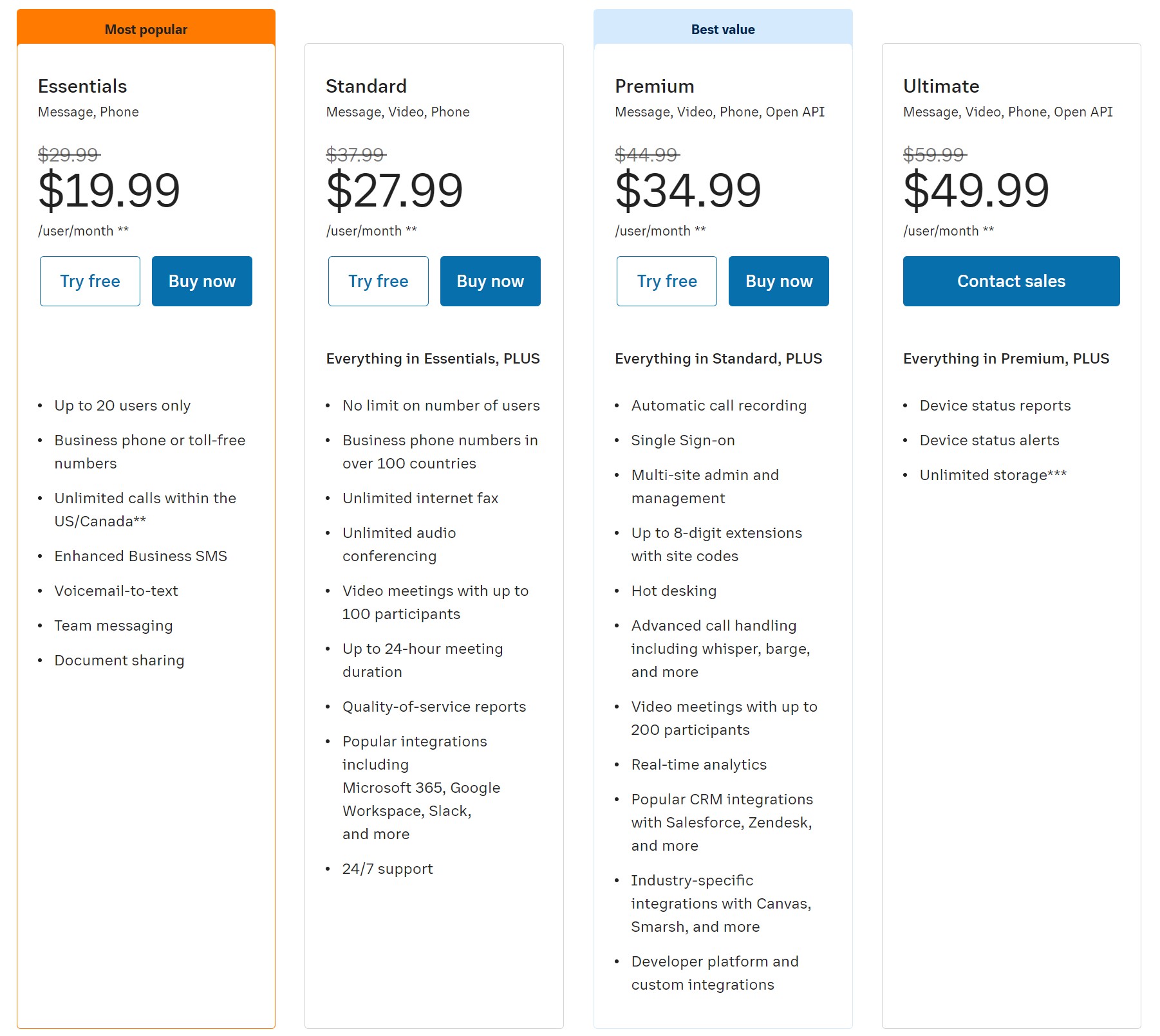 Zoom Pricing Overview
Zoom One comes in 5 plans, costing up to $25 monthly per user, including a free plan option.
Users should note that the three lowest tiers–Basic (free), Pro, and Business–only offer Zoom Meetings and Whiteboard. Zoom Phone, SMS, and non-Meetings chat are only available with Zoom One Business Plus and Enterprise plans.
Multiple users can share a single Zoom license. For more specific information on sharing licenses, contact Zoom.
In addition to phone, SMS, and chat, the higher-plan tiers add support for more concurrent whiteboards, larger video meeting audiences, and analytics.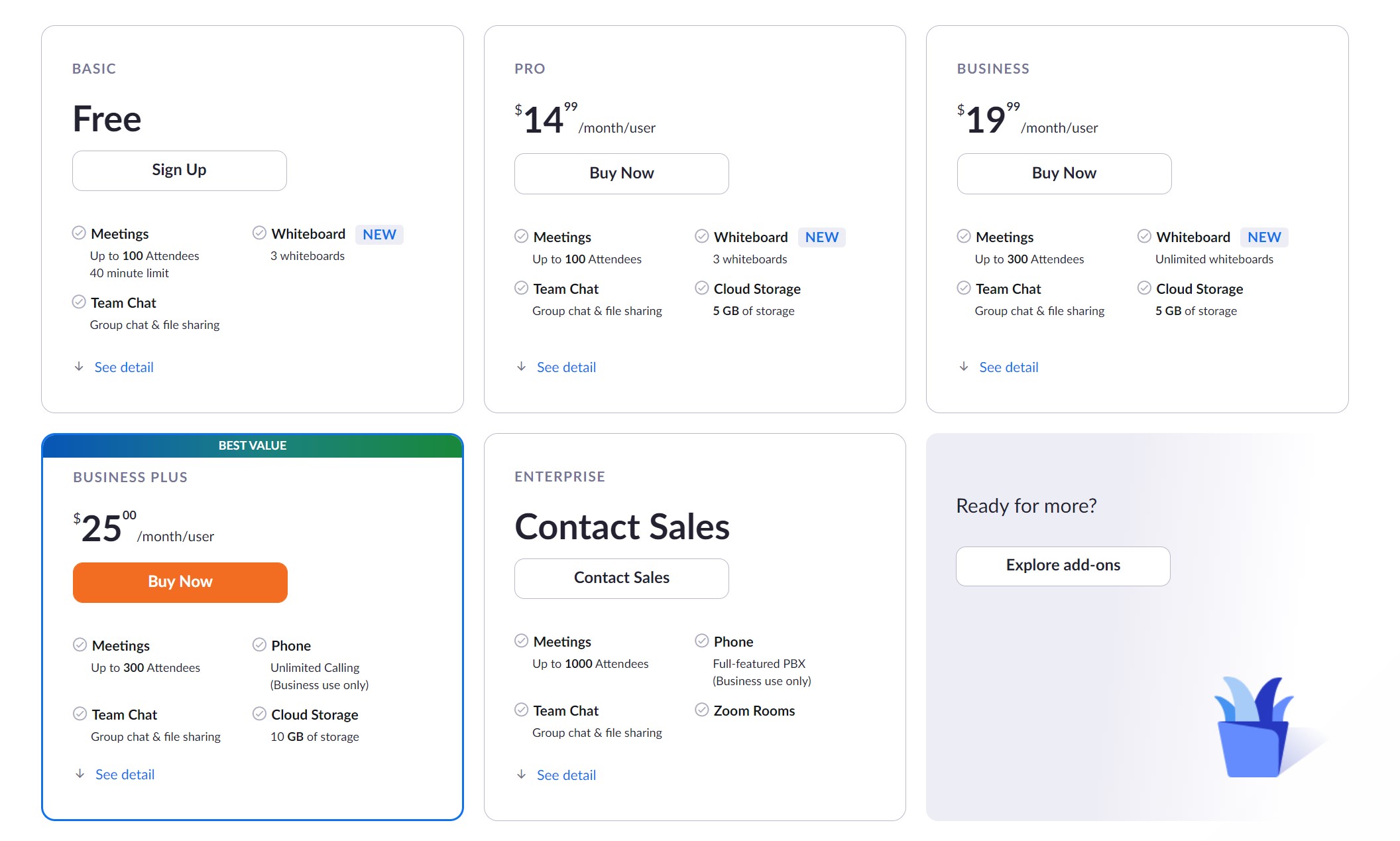 RingCentral MVP Pros & Cons
Here are the pros and cons of using RingCentral MVP.
| | |
| --- | --- |
| RingCentral MVP Pros | RingCentral MVP Cons |
| Low-cost plans | Sometimes the call audio lags or echoes |
| Includes voice calling in the basic plan | Phone lines occasionally don't switch to voicemail |
| Task assignment within internal messaging | Difficult to get live tech support |
| Easy to transfer calls, user-friendly interface | Occasional dropped calls |
Zoom One Pros & Cons
Here are the pros and cons of using Zoom One.
| | |
| --- | --- |
| Zoom One Pros | Zoom One Cons |
| Tons of integrations | Basic plans only support 3 simultaneous whiteboards |
| Advanced whiteboard and video conferencing tool features | No phone, SMS, or chat in low-tier plans |
| Offers a free plan | Analytics are basic |
| Easy-to-use interface | No one-click call flipping |
RingCentral vs Zoom FAQs
Here, we've answered some of the most commonly asked questions about Zoom vs RingCentral.
RingCentral plans cost between $19.99 and $49.99 monthly per user, with a year-long commitment.
Yes. Every RingCentral meeting offers end-to-end encryption, requires a password, uses single sign on, and authenticates users.
Zoom Phone is Zoom's VoIP phone system, capable of making internet calls around the world, with voicemail and advanced VoIP features like auto attendants.
Yes. Zoom Phone can connect to the PSTN and call landline phone numbers.