What to Look for When Reading Reviews
Retain Objectivity – Identify the purpose of the review. Is the review factual, emotional, or opinion based.
Comprehension – Does it capture all the points of the provider. Look for a comprehensive scope within a review.
Check the Dating – Providers change over time. Look for the most current information to fairly assess a company.
Identity – Anonymous reviews diminish credibility and the authority of the source. Look for the reviewer's validity.
Featured Business VoIP Reviews
Provider

Features

Price

Setup

Reviews

More Details

Nextiva

Amazing Service Guarantee

Includes 45+ Premium Features

Works with Most IP Phones

Unlimited Calling & Faxing

$19.95

Free

64 Reviews

Vonage Business

Award-winning Business VoIP Phone System

Unlimited Calling, Faxing, Video Conferencing

24/7 U.S Based Customer Support

Plans as Low as 19.99/mo*

$19.99

Free

92 Reviews

RingCentral

Leader in Cloud Business Communications

Includes 100+ Premium Features

Unlimited Calls/Fax/SMS/Conferencing

Trusted by Over 350,000 Businesses

$19.99

Free

138 Reviews

Mitel

Mobile First Cloud Communications

Contract Buyout - We'll Pay All Your Fees

Award-winning 24/7 Customer Support

Unlimited Calling/Faxing/Conferencing

$19.99

Free

53 Reviews

MegaPath

Cloud Phone Service. Built for Business.

Includes 50+ Business-Class Features

No user minimums. $19.95/mo/unlimited

Easy set-up. Professional Install.

$

Free

7 Reviews
Featured Residential VoIP Reviews
Provider

Features

Price

Setup

Reviews

More Details

Vonage

Advanced Voicemail System

Call Waiting

Easy Set Up

$9.99

FREE

15 Reviews

1VoIP

All-inclusive Premiere Features

Unlimited Calling Plans

Email Access to Voicemails

No Term Commitment

$8.97

FREE

15 Reviews

Phone Power

Unlimited Calls + HUGE Savings

Free Equipment & Activation

45+ Free Calling Features

Free Calls to U.S. & Canada

$8.33

1

11 Reviews
How Our Editors Rank and Review VoIP Providers
Our extensive reviews and rankings are composed of 6 main factors: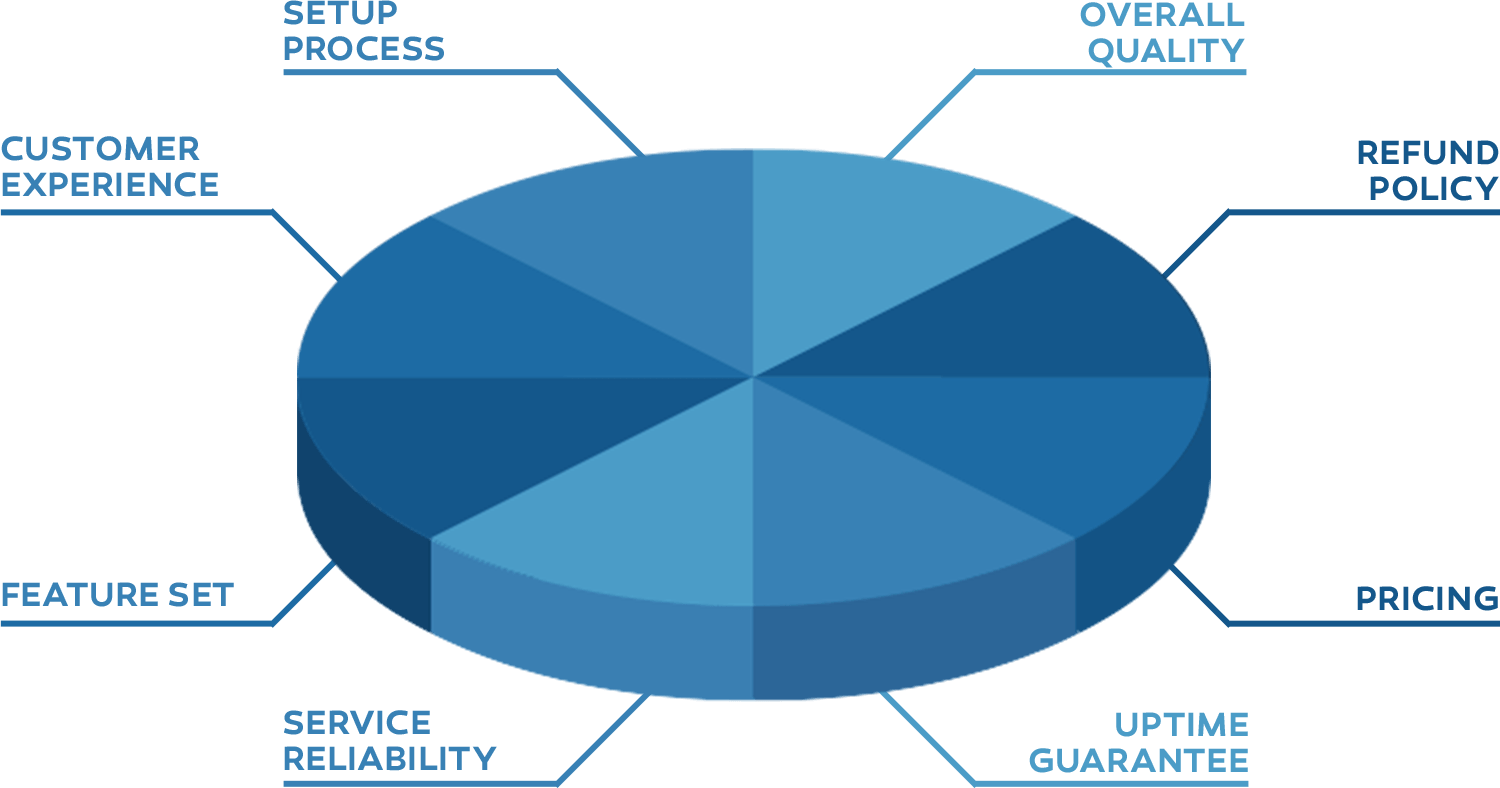 Product Quality

How good or bad is the performance quality of the service/product offered? Are there any discrepancies such as echo, delay, etc.? If so how prominent were they, and how long were they affective?

Refund Policy

Does the service provider offer a money back guarantee? If so, what is it? Potential customers should be able to trial a services and get a full refund if they are not satisfied.

Setup Process

How much effort did it take to get up and fully running? Assistance from the provider or manufacturer Needed? If so why? What are the provider's commonly known setup issues?

Pricing

Details pricing options and points, as well as early termination fees, equipment charges, flexibility of pricing, monthly charges, etc. Represent the cumulative cost value of service with this provider.

Customer Experience

Encapsulates users interactions with the company's support department. Includes tech support, sales, email correspondence, navigation of user portal, and overall experiences with the service and provider's customer-centric resources. Details feedback on live reps – were they knowledgeable, was there long wait times, etc.

Service Reliability

Cover factors that affect the availability of the service including, outages, disaster redundancies, uptime, tech support availability and more. Users should note the affects of the provider's scheduled downtime – i.e. how long was it down, maintenance, updates, etc.

Uptime Guarantee

What is the service provider's guaranteed uptime? Do they deliver what they promise?

Features

Outlines the features offered and included, as well as hands-on experiences of them. Includes exclusive offerings, add-on features, scalability/flexibility of these features. Also accounts for quality, availability, and pricing of these features.
Disclosure: Our team of editors work hard to offer you invaluable and up-to-date reviews on all the communication service providers out there. In order to provide you with this free service, we collect referral fees from service providers displayed on our site. We assure you that this does not influence any of the content we publish, but only supports our honest efforts to offer you the best and most transparent comparisons. For more info regarding this disclosure email contact@getvoip.com.
Our Tips For Buyers…
VoIP offers different solutions designed to fit various needs. With that, there are hosted VoIP solutions, in which a provider delivers and manages service(s) to you, and on-site solutions which require you to supply, manage, and maintain the necessary hardware. Both solutions dictate different levels of user involvement – as both solutions work differently to provide the same end result service. Though both options allow you to handle the basic functionality of the selected system, more advanced options are also readily available via user control panels.
Equipment and network quality can greatly impact the quality of calls; therefore, you want to be sure that you have chosen the best option, and have all the necessary equipment. As households and businesses vary in size and need, so do the equipment requirements. VoIP requires a sufficient broadband connection with bandwidth. (Note: the amount of bandwidth needed is determined by the amount of simultaneous users) Also users should be sure their internal network is fit to handle all the data (use our speed test tool to determine). Additionally, you should be sure your phones can support Voice over IP transmitting. In doing this, users will need SIP ready phones, or for non IP phones you will need a analog telephone adapter.
While VoIP offers tremendous cost efficiency in comparison to landlines, you should be aware that cost savings is relative to your calling needs. Installation and equipment fees are relative to the selected setting and system. Additionally, all startup and operating costs are determined based on the vendor and plan selected. In regards to calling plans, many services have additional fees for add-on features as well as international calling. VoIP calling is typically unlimited within the US and Canada; however, many times connecting to special lines or mobile phones can incur extra charges. Users should determine their needs before seeking out a vendor. Aside from need, users' infrastructure also plays a large part in determining the overall cost efficiency of switching to this solution. If you will require an elaborate solution, costs will typically reflect this.
Use our QuoteMatch™ Tool to get started with Business VoIP.
Instantly compare bottom line pricing from award-winning providers: