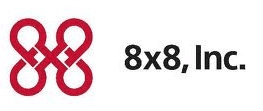 8×8, Inc., a leading provider of cloud communications, and one of GetVoIP.com's top recommended business VoIP services, has just announced that they have been granted two patents by the U.S. Patent and Trademark Office:
On June 19, 2012, 8×8 Inc. was issued U.S. patent # 8,204,206, entitled "Systems and Methods for Selection of a Communication Path." This is a patent describing a new way for for an agent in a networked contact center to more quickly connect with a caller. In practical terms, this means that if you call a customer service representative or a help desk at a company that 8×8 serves, you will be connected more quickly and more easily to an agent, who will help you.
On May 8, 2012, 8×8 Inc. was awarded U.S. Patent # 8,174,556, entitled "Videoconferencing Arrangement Having Multi-Purpose Digital Still Camera." This patent refers to a new system that can connect a conventional digital still camera, using a modular (standardized and multipurpose) terminal, to 8×8's videoconferencing system. With 8×8's new technology, you can use a digital still camera to video conference the same way you would use a digital video camera.
Source: 8×8 Press Release
For More: Click here to learn more about 8×8, Inc. products, user reviews, services, and pricing.