Today's hybrid teams rely on omnichannel cloud communication platforms like Webex to connect and collaborate in real time.
Video conferencing replaces in-person meetings, team chat messaging prevents cluttered email inboxes, and VoIP voice calling offers automated customer self-service.
The Webex alternatives in this post offer competitive advanced features and team collaboration tools at a variety of price points.
What is Webex?
Cisco Webex is a communication and collaboration cloud platform known for unifying voice calling, video meetings, team chat, analytics, and in-meeting features like file sharing and whiteboarding in one desktop and mobile app.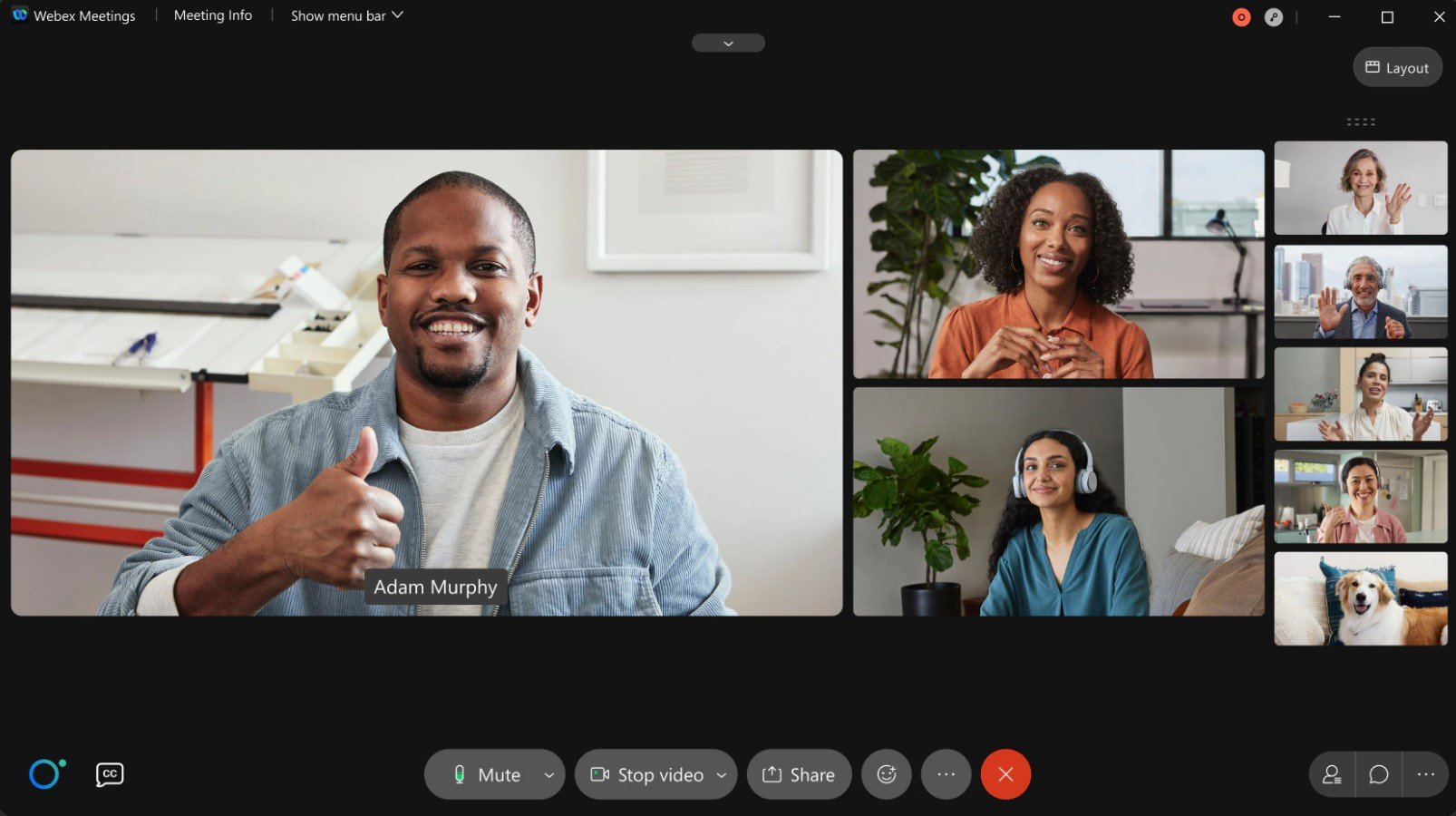 Webex's VoIP business phone system includes call management features like call merge, IVR, call forwarding, call hold, call queueing, do not disturb, visual voicemail, and audio conference calls for up to 6 participants.
One-click video calling transitions voice calls or chat conversations to web conferencing, where background noise removal, speech enhancement technology, and AI gesture recognition ensure excellent video quality. Custom backgrounds and layouts, automatic transcription, virtual whiteboards, breakout rooms, and post-meeting highlights are especially standout Webex video chat features.
What are the Best Webex Alternatives?
Below, we've compared the top Webex alternatives:
Microsoft Teams is a messaging and collaboration app with a video conferencing platform, VoIP phone, and real-time chat.
Its feature-rich desktop and mobile apps integrate with over 250 third-party platforms (Zoho, Salesforce, Slack, social media platforms, etc.) while providing standout native features like virtual cafes, 30-hour web conference time limits, and chat-based task automation.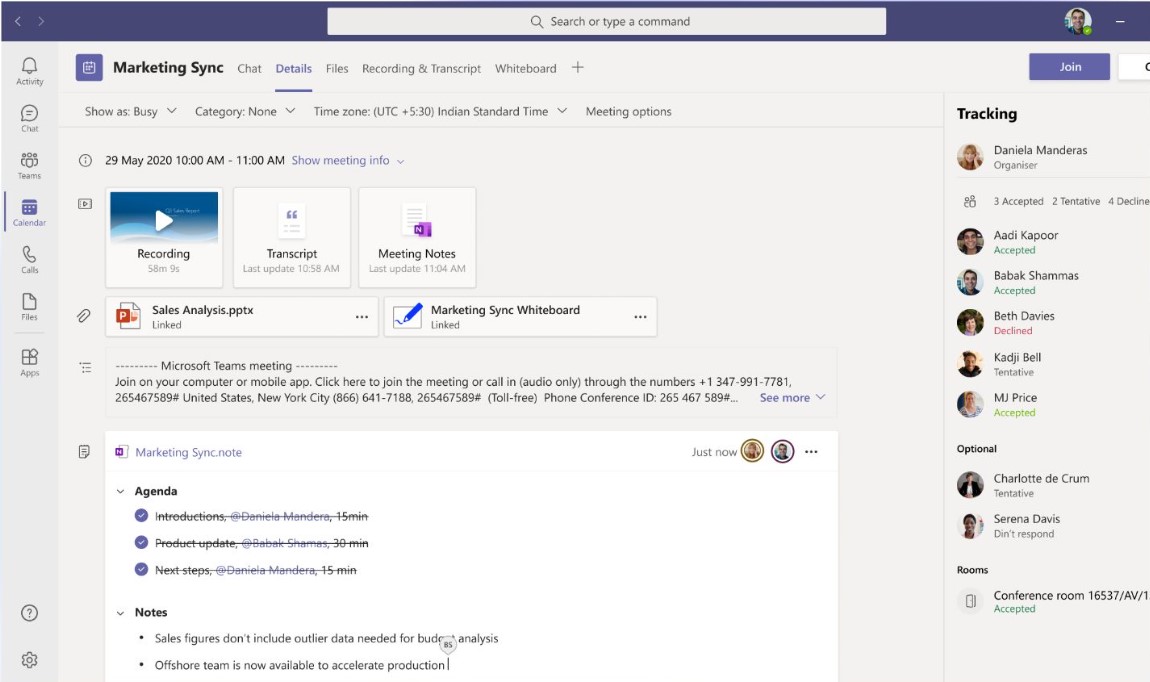 Key Features
Meetings "Together Mode":  During meetings, place each participant's video stream in a shared virtual scene, such as a coffee shop, creating a fun and team-oriented tone
Microsoft Apps web collaboration: Teams share, access, and simultaneously edit web versions of Microsoft Word, Excel, and PowerPoint files. This allows teams to prepare presentations, data, and text while chatting and managing to-do lists through the Tasks app.
Tasks App: Unifies all of your tasks from Outlook, To Do, and shared tasks in Planner to offer an at-a-glance workflow overview. Sort tasks by importance, due date, and task type, or view the tasks assigned within each of your chat groups.
Power Virtual Agents App: Design omnichannel AI bots with natural language understanding (NLU) and Natural Language Generation (NLG) to manage customer-facing and internal team tasks, access knowledge bases and calendars, and route customers to appropriate agents
Other features:
Webinars with up to 10,000 attendees (Business Standard plan)
Meeting screen sharing, breakout rooms, and virtual backgrounds
Meeting recording and transcription
Chat search
Add external users to chat groups
Microsoft Teams Pricing and Plans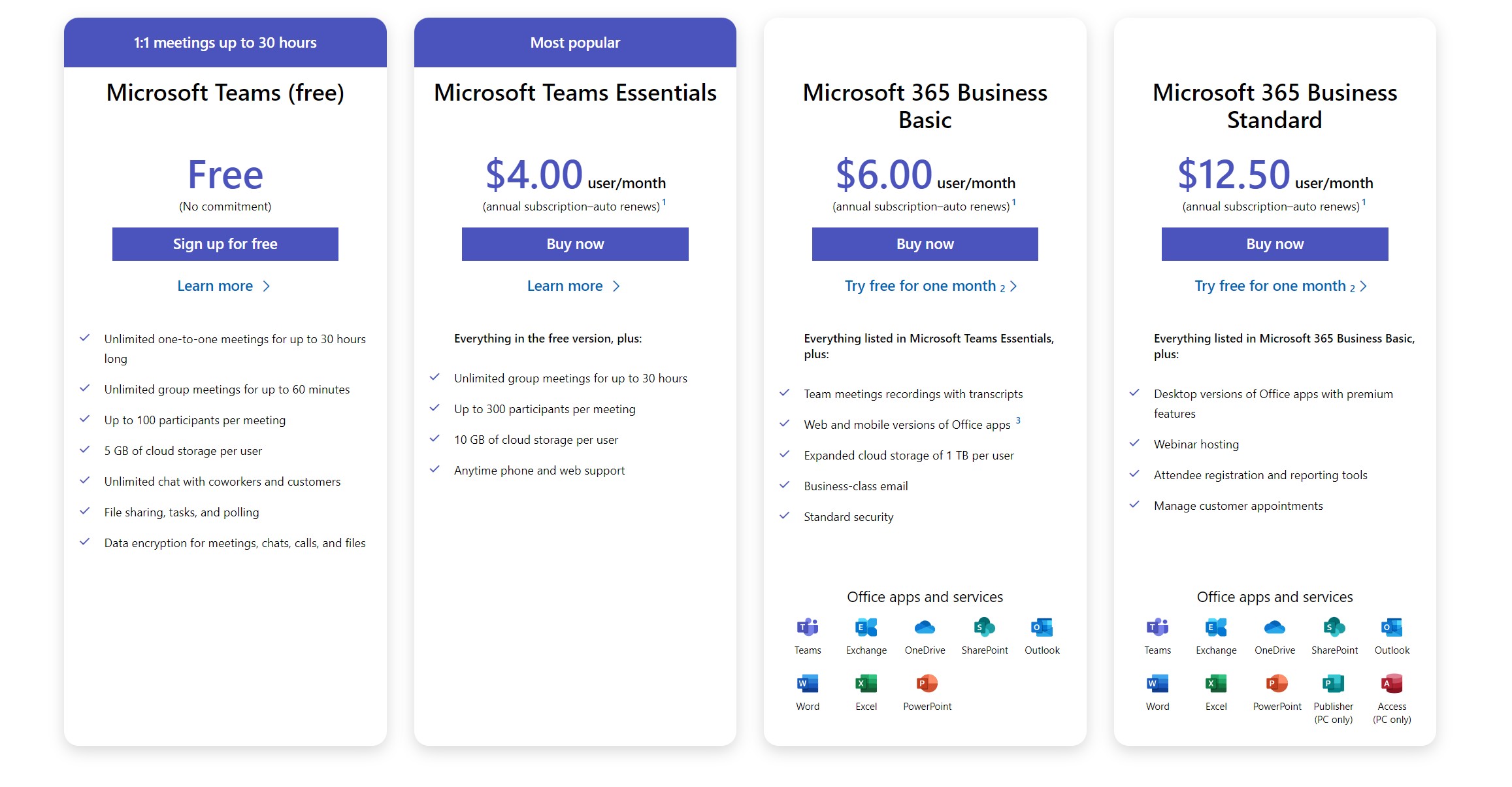 What Users Like and Dislike about Microsoft Teams
What Users

Like

about Microsoft Teams
What Users

Dislike

about Microsoft Teams
Collaboration on Microsoft Word, Excel, and Powerpoint
Many of the tools and apps are confusingly similar
Tons of useful app integrations and APIs
No notifications for duplicated team/channel names
Budget-priced plans
Cannot replicate a whole team–must manually re-add users in new team
Why Microsoft Teams is a Good Alternative to Webex
Microsoft Teams' network of over 250 built-in apps lets users customize their experience and enhances core channels with features like annotations, bot creation, business flow builders, and team collaboration within Word, Excel, and PowerPoint.
Zoom One, built around the popular Zoom Meetings, provides a video-optimized internal collaboration platform.
The free Basic plan, the Pro plan, and the Business Plan include only chat, video, and whiteboard features–Zoom Phone and SMS come with the Business Plus and Enterprise plans. All plans include Zoom Meetings features like whiteboards, breakout rooms, in-meeting instant messaging, emoji responses, and more.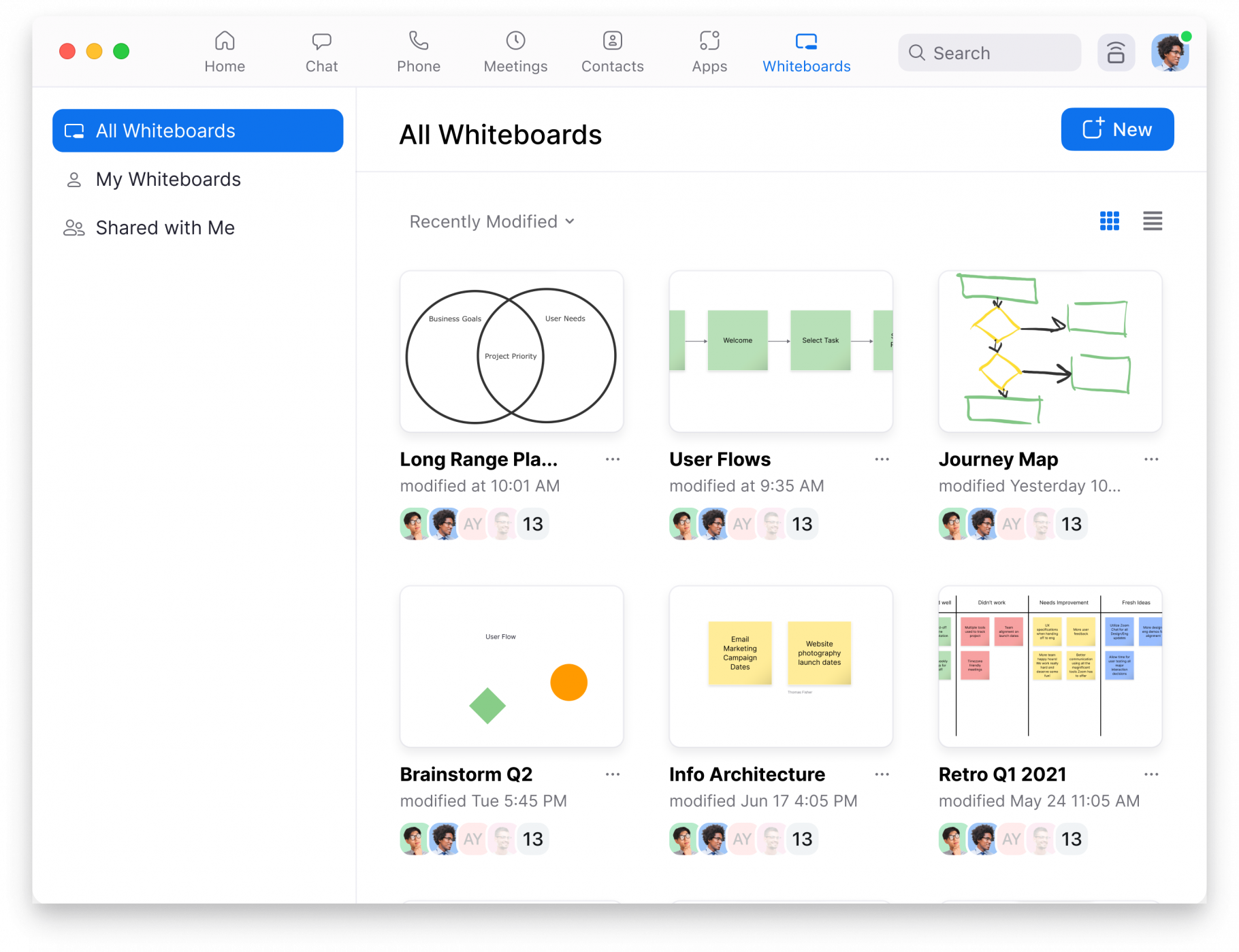 Key Features
Whiteboards: Zoom Whiteboards gives groups a blank canvas with drawing, annotation, and ideation tools to bring ideas to life. Perfect for touch screen presentations or remote brainstorming, whiteboards have multicolored paint brushes, shapes, smart connectors, sticky notes, and comments. They are shareable and editable both in and outside of virtual meetings.
Automated video captions: Zoom Meetings and Webinars auto-generate live voice transcriptions that are accessible in the Zoom cloud post-meeting
Real-time reporting: Zoom offers omnichannel historical and real-time usage statistics with insight into current call queues, your team's favorite Zoom features, usage by country and agent, and more
Meetings features: Zoom Meetings include participant engagement features like filters, up to 9 user spotlights, pinned screens, audience polling and surveys, meeting co-hosts, meeting waiting rooms, and more
Other features:
Meetings recording
Barge/Monitor/Whisper/Takeover
Branded email templates for meeting invites
Zoom Pricing and Plans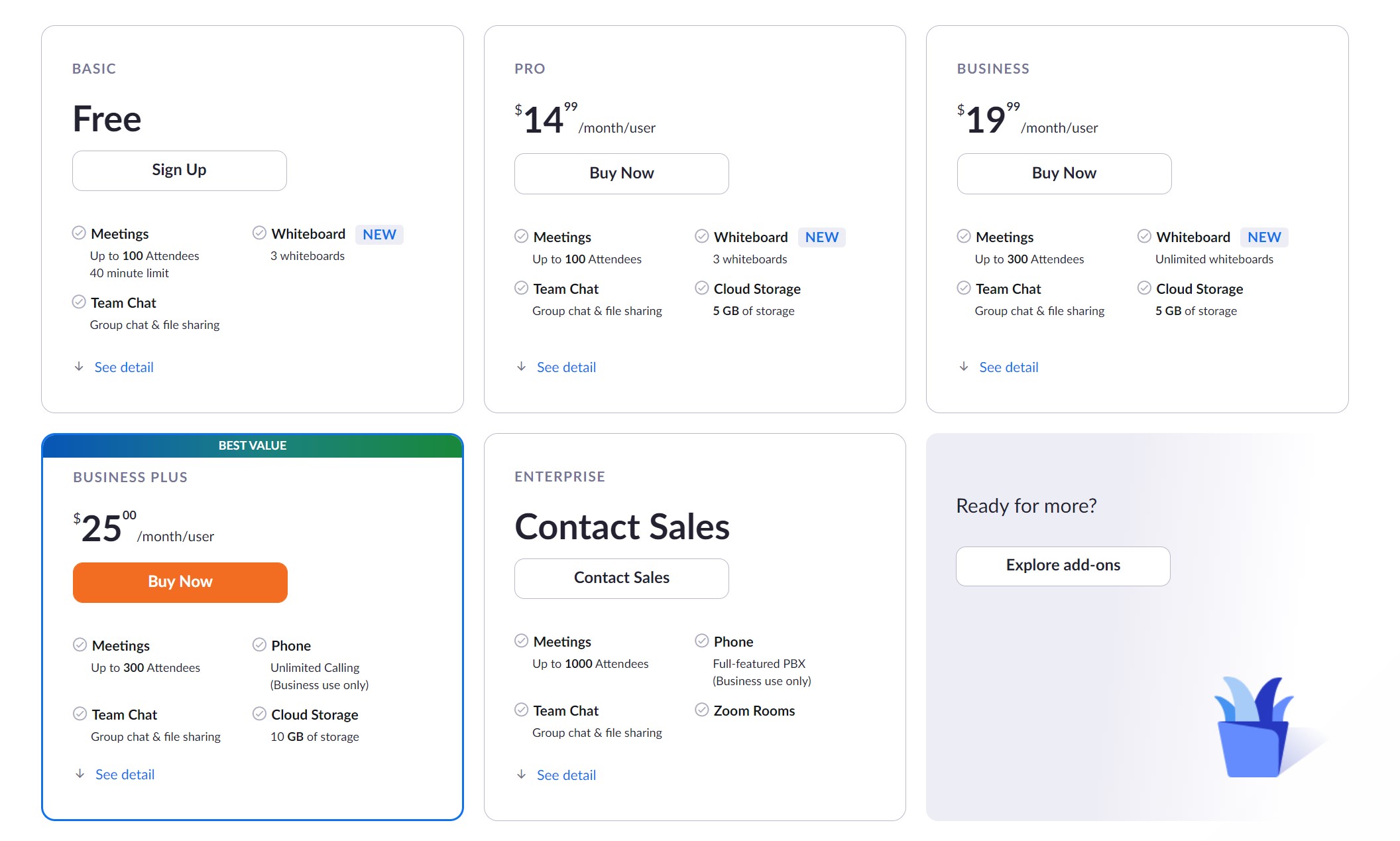 What Users Like and Dislike about Zoom
What Users

Like

about Zoom
What Users

Dislike

about Zoom
Wide variety of video features across plans
No voice calling in low-tier plans
Free video conferencing tool
40-minute time limit on Basic plan meetings
Can share and edit whiteboards outside of meetings
Cannot delete comments during meetings and events
Why Zoom One is a Good Alternative to Webex
Zoom's video features exceed the competition to cover use cases from education to eCommerce, health, finance, events, sales, the justice system, and much more. The downside? Companies that also want VoIP calling will have to upgrade to the Business Plus plan.
GoTo's business collaboration platform, GoTo Connect, combines VoIP calling, video meetings, and chat with call management capabilities like a drag-and-drop dial plan editor, advanced ring strategies, do not disturb, and unlimited call queues. GoTo Meeting includes useful collaboration features, but only hosts up to 150 participants maximum–less than the competition.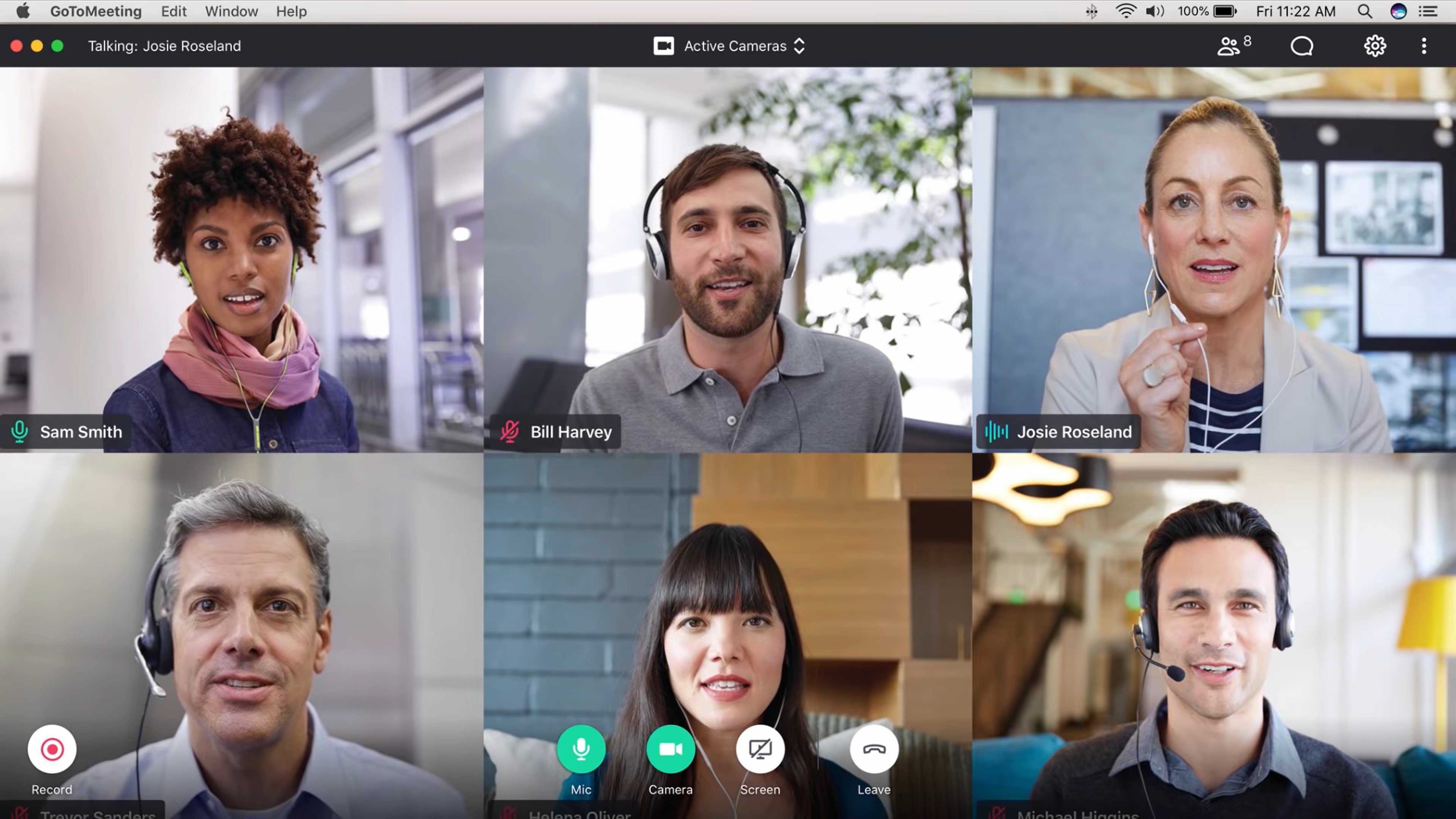 Key Features
Custom call flows: With the visual plan editor, create custom call flows that map out the incoming caller's self-service journey. Combine tools like auto attendants and voicemails, with actions like scheduling appointments and prompting for a password, to route callers to the correct destination or service.
Call forwarding: Desktop and mobile (Apple iOS, Mac, Windows, Android) call forwarding to internal and external phone numbers, agents, call groups, voicemail boxes, etc
One-click video conferencing: Switch from a chat into a group or one-on-one meeting with a single click
Meeting scheduling: Easily create, schedule, add co-organizers to, and set a duration for one-time or recurring video meetings. View all meetings in your calendar app, and set automated meeting reminders.
Other features:
Virtual Voicemail
Screen, application, web browser, and desktop sharing
Call monitoring
Call analytics
GoTo Connect Pricing and Plans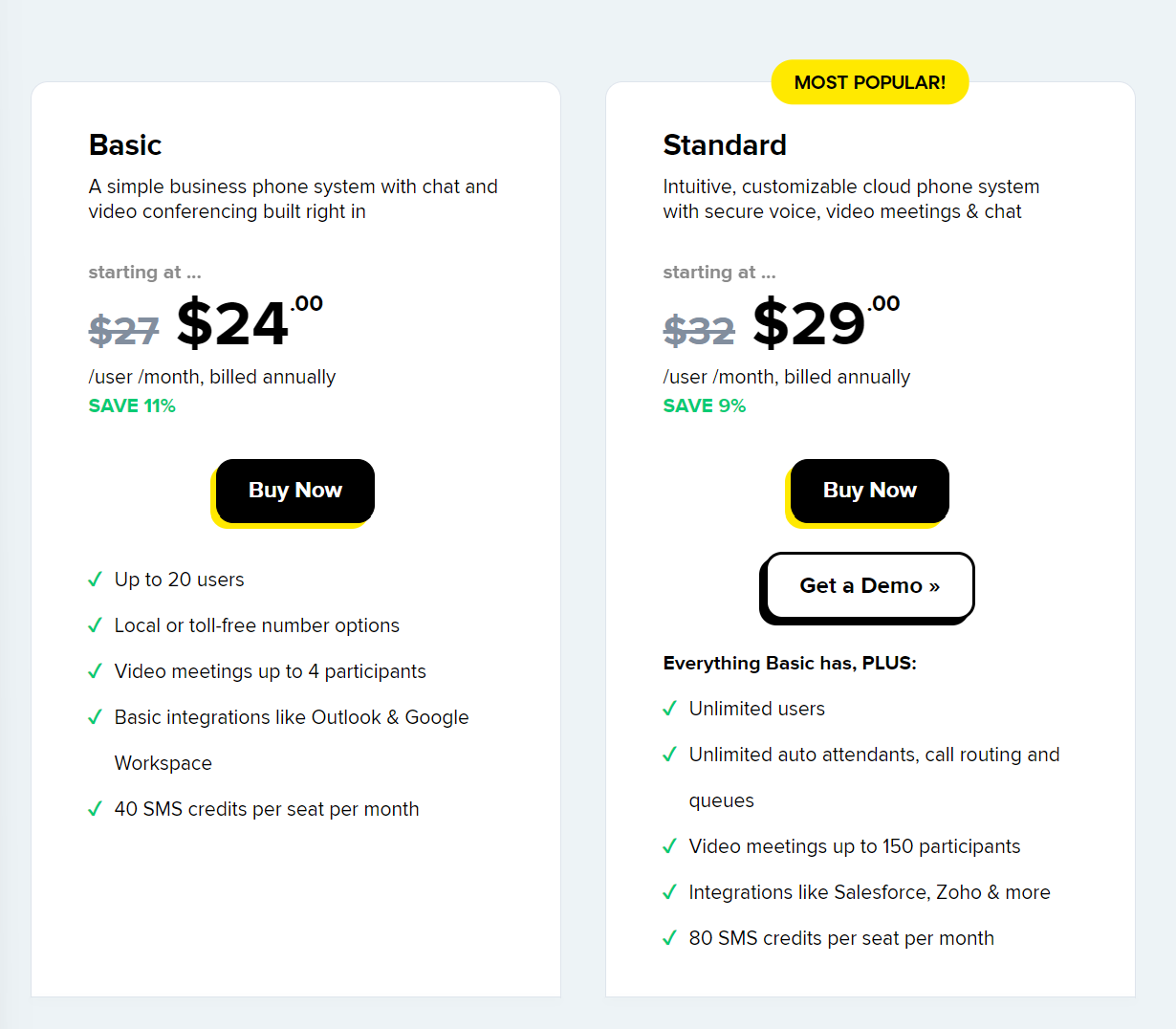 What Users Like and Dislike about GoTo Connect
What Users

Like

about GoTo Connect
What Users

Dislike

about GoTo Connect
All plans offer core channels: voice, video, chat, SMS
Basic plan limited video meetings to 4 participants
Unlimited auto attendants
Plans are on the pricy side
Standard plan offers 50+ country unlimited calling area
Does not offer many integrations
Why GoTo Connect is a Good Alternative to Webex
GoTo Connect offers all the essential collaboration features–voice, video, chat, SMS, call routing, IVR, and analytics–with a whopping 50+ country calling area on the Standard plan. However, GoTo Connect is a little pricy, and the Basic plan restricts each account to one usage of several call center features, like ring groups, call queues, and auto attendants.
Dialpad's Business Communication platform packs a surprising breadth of advanced features, even into their cheapest plan. All Dialpad plans include unlimited calling, SMS, chat, and 5-hour video meetings with up to 10 participants. While large teams should take note of the small video meeting capacity, Dialpad's advanced AI and meeting engagement features make it a great option for a small business.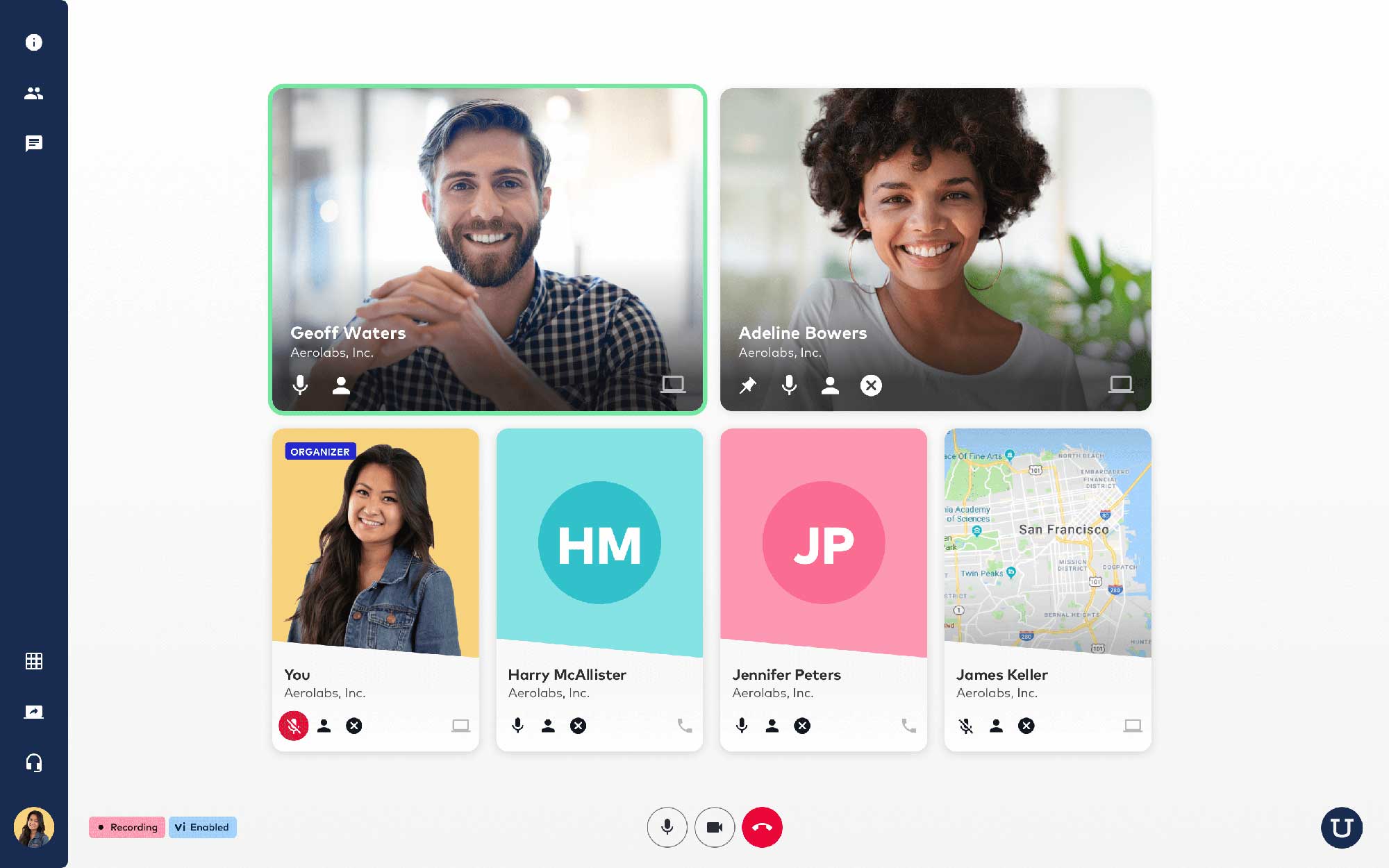 Key Features
Video-conferencing: Dialpad video conferences feature personal meeting IDs and allow users to join from any desktop or mobile browser with no download. Schedule meetings directly from your Google Workspace or Microsoft 365 calendar. In meetings, enjoy unlimited audio recording, a waiting room, chat, virtual backgrounds, and whiteboarding.
Real-time call transcriptions: Dialpad AI transcribes calls in real-time, providing an in-meeting transcript history and access to shareable post-meeting transcriptions. AI notes important meeting moments, keywords, and action items, turning them into agent-assigned tasks post-meeting.
Live speech coaching: During live voice call transcription, Dialpad AI identifies keywords indicating customer sentiment and intent, triggering in-call agent assistance pop-ups with suggested topics, actions, and information pulled from the internal knowledge base
Post-call summaries: After each phone conversation, agents automatically receive a call summary email containing the recording, participant list, transcript, action item to-do list, a highlights list, and notes
Other features:
Voicemail transcription
Unlimited video meetings
Real-time analytics and reporting
Single sign-on security
Dialpad Pricing and Plans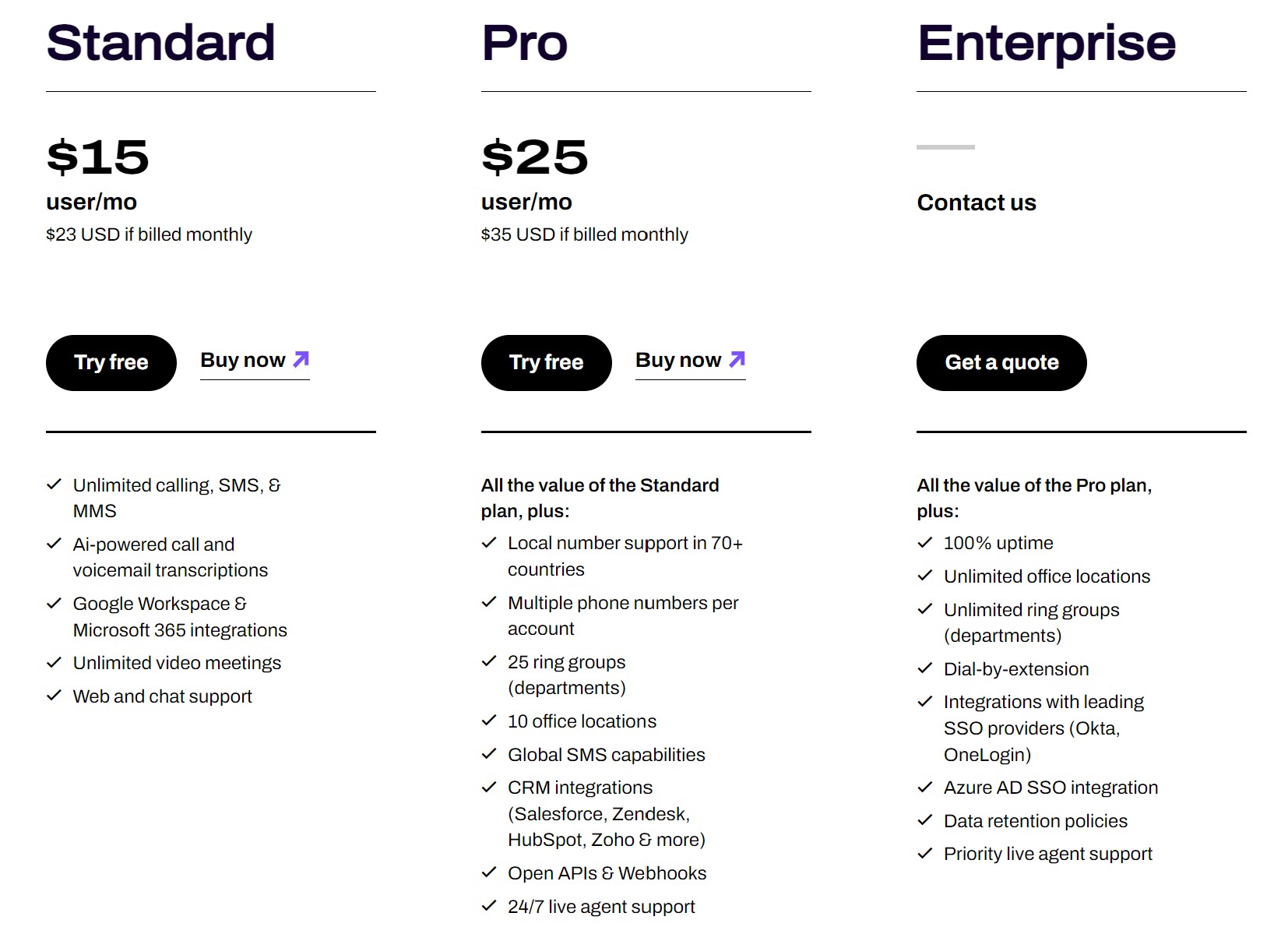 What Users Like and Dislike about Dialpad
What Users

Like

about Dialpad
What Users

Dislike

about Dialpad
Live AI agent support
Analytics don't include call quality
Affordable plans with key collaboration channels
Video conferencing 10-participant maximum
Device handoff
Voice latency on calls
Why Dialpad  is a Good Alternative to Webex
Dialpad's plans include everything a small company needs in a collaboration platform, plus video features like a waiting room, whiteboarding, and virtual backgrounds. Dialpad's AI is the most agent-supportive on this list, with live transcriptions, real-time coaching, and automatic post-call summaries.
Nextiva's Business Communications plans unify Nextiva's VoIP business cloud phone system, team chat, video conferencing software, and SMS into one dashboard on desktop and mobile apps. A side menu displays agent notifications on each channel, plus an inbox that compiles inbound notifications across channels.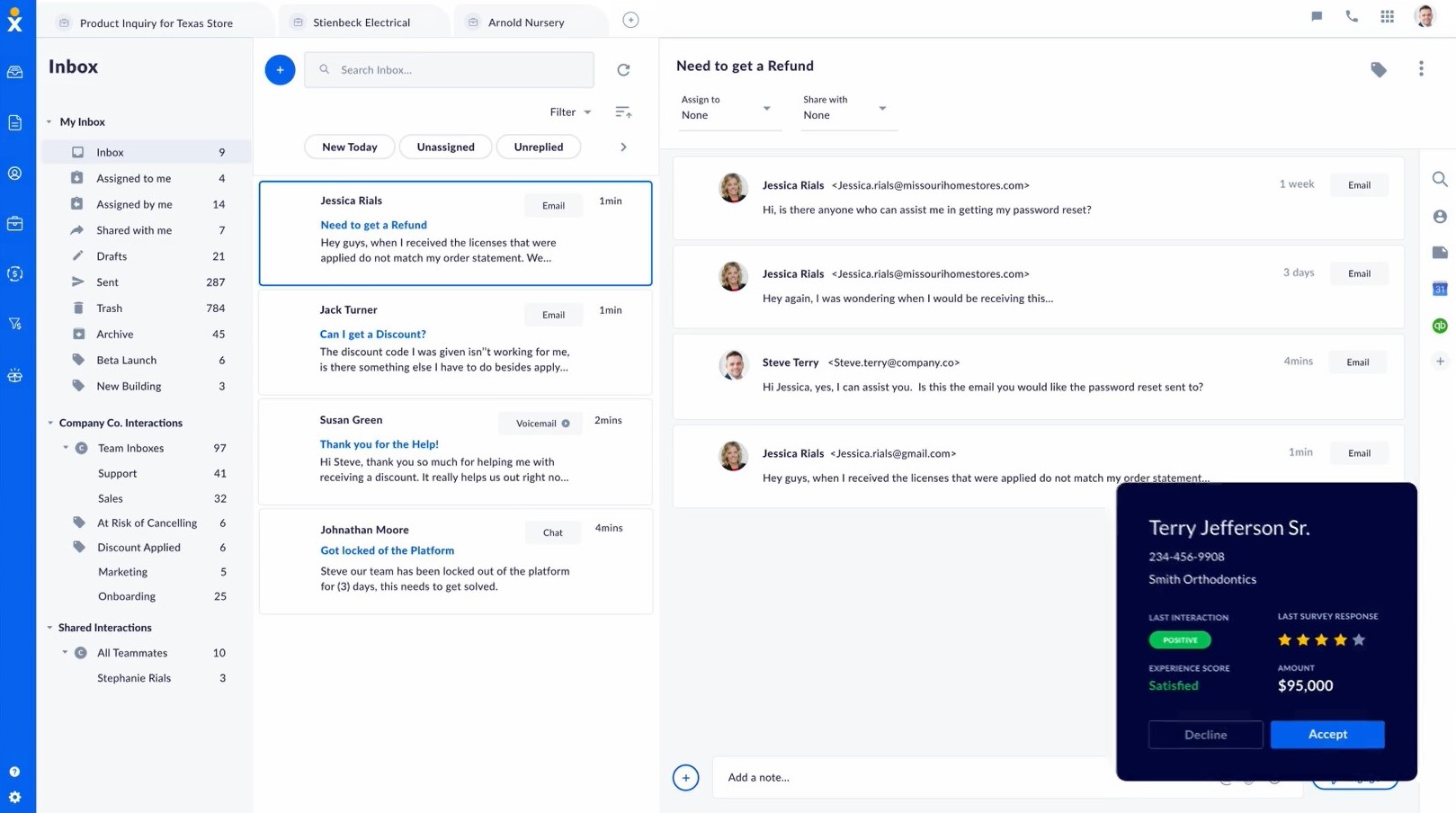 Key Features
Call Pop: Inbound calls trigger a pop-up on the agent screen  showing key customer data (contact info, last survey response, sentiment, account value, CSAT score, etc.) This data is pulled from Nextiva's native CRM tool or your preferred third-party CRM software.
Automations: With the Enterprise plan, automate cross-channel outbound customer communications–welcome messages, surveys, campaign sequences, and more. Set action triggers and use templates that auto-fill with customer information.
Virtual voicemail, voicemail-to-text, and voicemail-to-email: Agents access voicemail audio recordings or transcriptions from desktop/mobile devices, email, or via SMS text–then return customer calls with one click
Customer journey AI: Natural Language Processing analyzes conversations, providing live agent assistance and customer experience scores in an interactive graph format
Other features:
Call recording
Multi-level auto attendant
Unlimited fax
Free local and toll-free number
Nextiva Pricing and Plans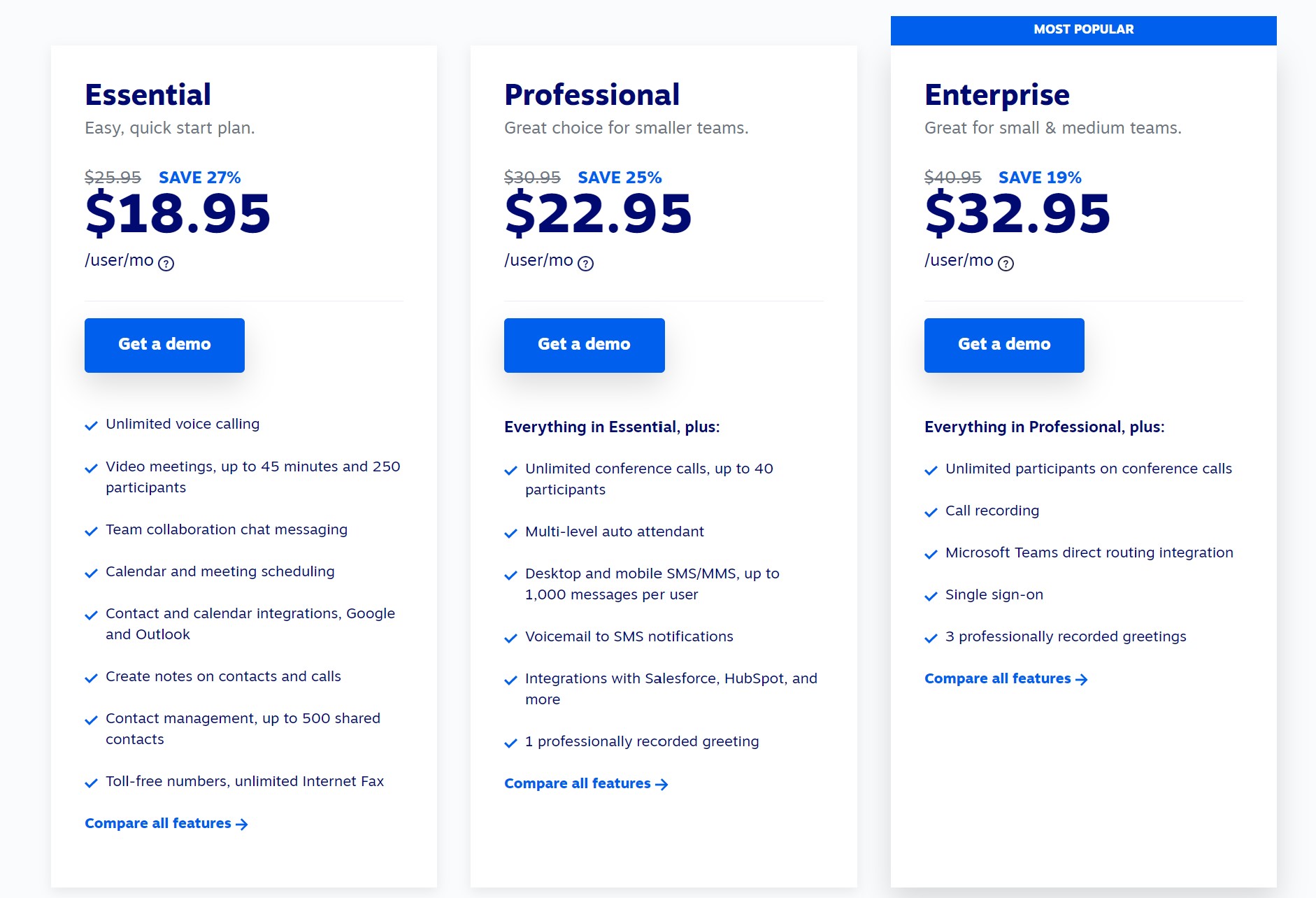 What Users Like and Dislike about Nextiva
What Users

Like

about Nextiva
What Users

Dislike

about Nextiva
Automated outbound messages
SMS in Essential plan
Call Pop for agent support
Limited integration options
Easy to access inbound messages
Unreliable audio quality
Why Nextiva is a Good Alternative to Webex
Nextiva offers workflow and outbound messaging automations, analytics, and agent-support tools that Webex does not. Given that Nextiva's Essential plan doesn't include chat and video conferences, the Enterprise plan provides the best overall value.
RingCentral's MVP (messaging, video, phone) UCaaS platform brings team chat, VoIP, and video meetings into a mobile or desktop application. In chat, teammates can share files, whiteboards, and task-management to-do lists. One-click HD video supports high-quality meetings with up to 200 participants, whiteboards, chat, and AI capabilities.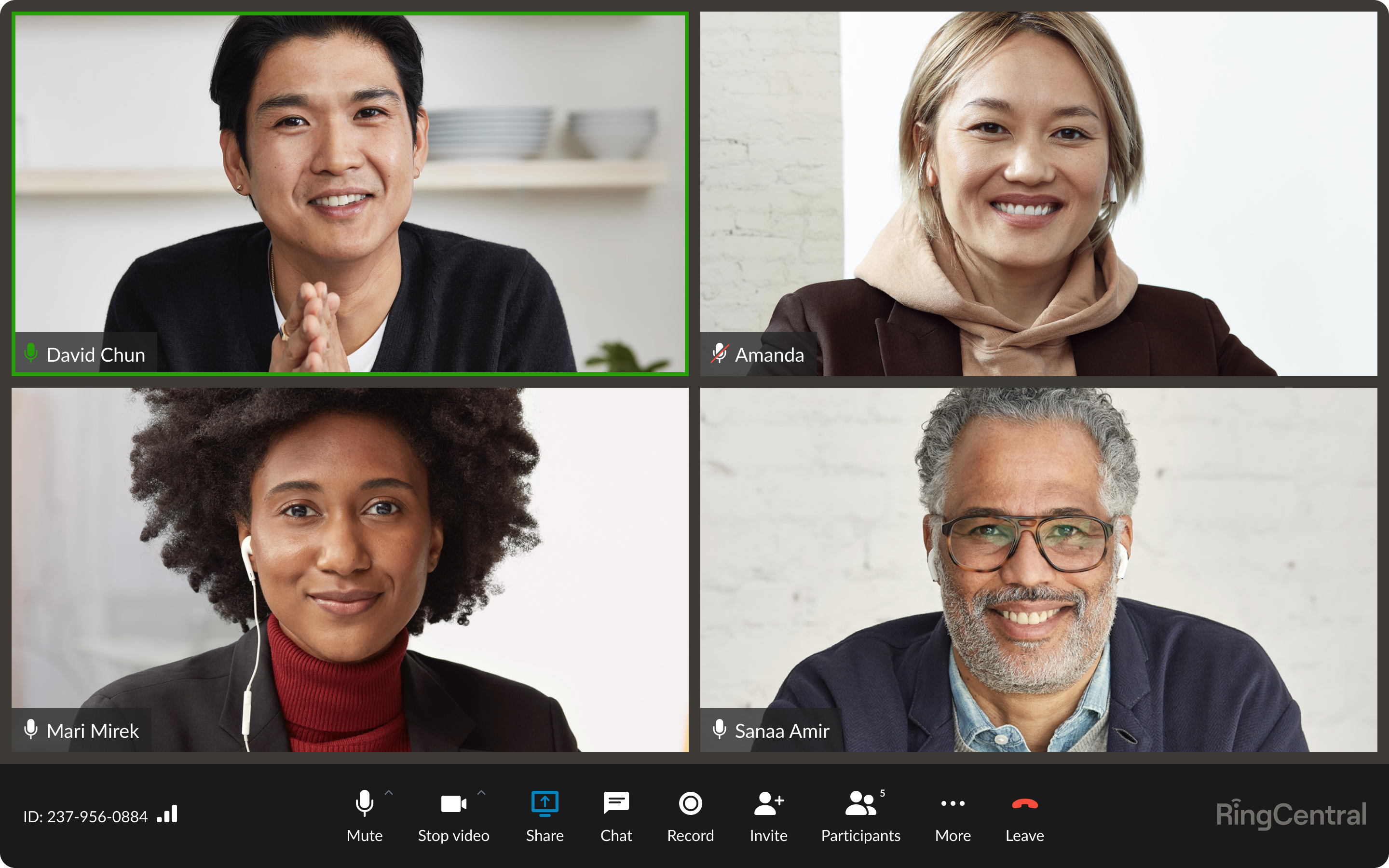 Key Features
Messaging built-in task management: RingCentral chat conversations feature built-in project management for team members to assign tasks and due dates, and update task status. Each conversation's Tasks tab tracks all tasks assigned within that chat, displaying assignees, completion status, task category, and a task-specific chat.
Team huddle: Each group chat contains a team huddle, a persistent online meeting room
Live meeting transcription: During video meetings, start live transcription with one click. Latecomers can scroll back through transcriptions to catch up or search for keywords. All transcripts are stored in the RingCentral cloud and downloadable afterward.
Advanced meeting insights: Post-meeting insights from RingCentral AI include a summary of meeting keywords, snippets, topics, video highlights, and full meeting transcripts
Other features:
One-click call flipping
Video auto-follow
Whiteboard
Breakout rooms
RingCentral Pricing and Plans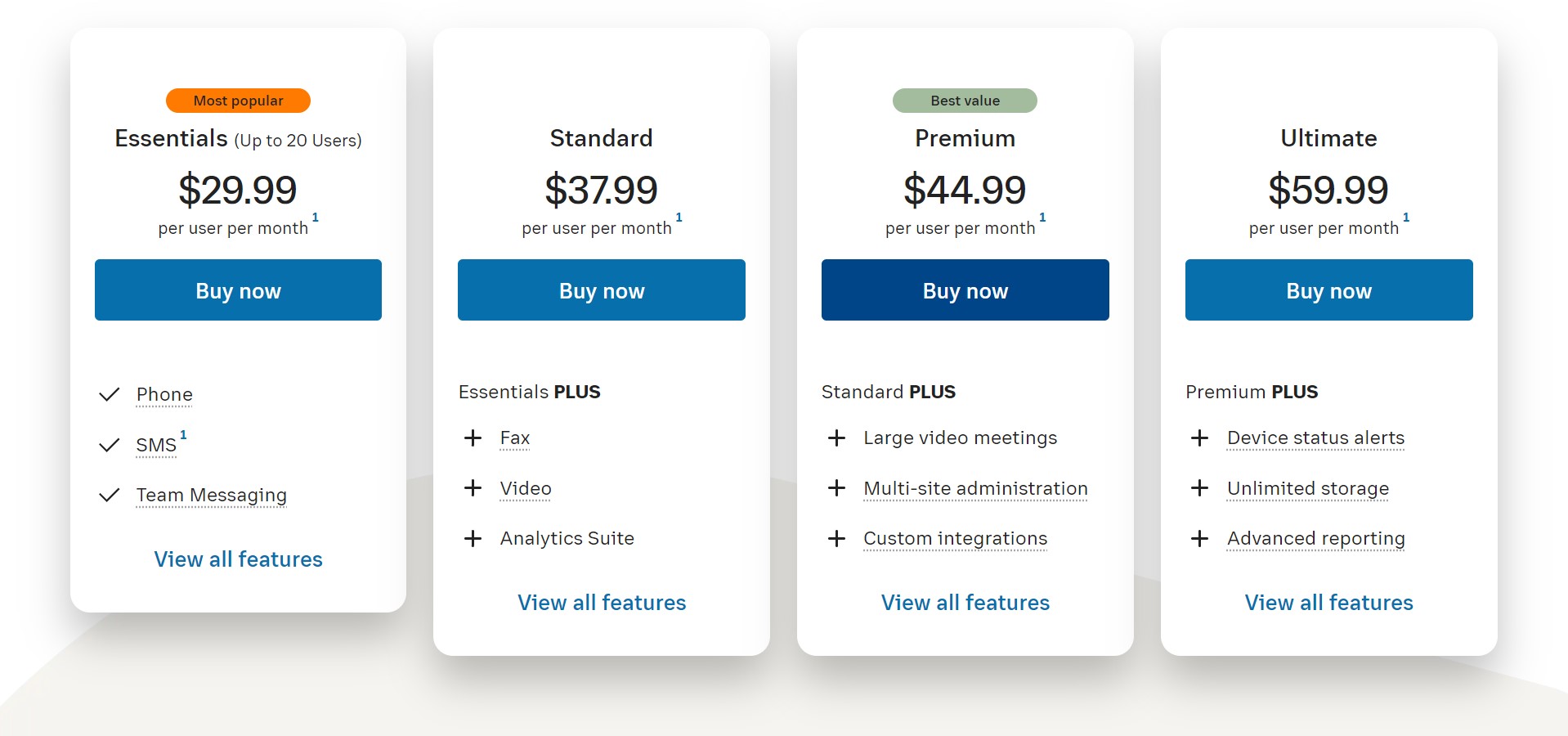 What Users Like and Dislike about RingCentral
What Users

Like

about RingCentral
What Users

Dislike

about RingCentral
Unified communication interface has a high ease of use
Initial setup can be difficult
Task management built into chat
Missed call notifications sometimes lag several hours
Easy to hop into a video or call from chat
No video in Essentials plan
Why RingCentral is a Good Alternative to Webex
RingCentral offers advanced voice, messaging, and call routing features like video transcription and post-meeting insights, multi-level IVR, and task management functionality built into messaging.
BlueJeans, Verizon's desktop and mobile video meeting software, offers a highly affordable Standard plan where up to 100 participants can meet for an unlimited amount of time. In addition to 5 hours of meeting recording, BlueJeans offers advanced video features like spatial Dolby audio, analytics, transcription, and AI meeting support.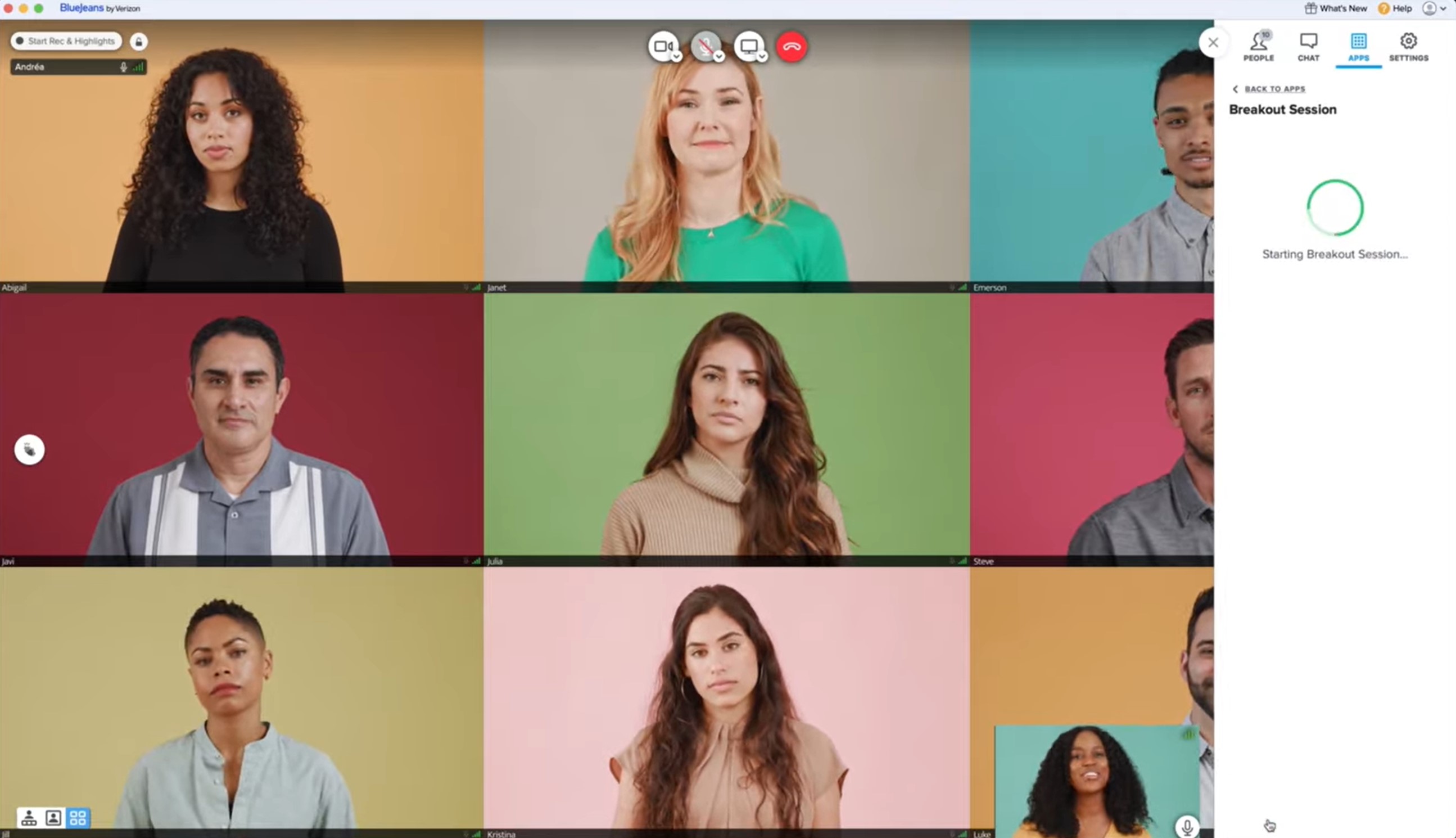 Key Features
Smart Meetings: Smart Meetings combines participant efforts and AI support to record and create meeting highlights, summaries, and key action items to facilitate documentation and follow-through. Tag important discussion points within the transcript, rank and upvote tagged highlights, assign tasks with email notifications, and access meeting recaps that brief the whole meeting in just a few minutes.
Dolby Voice and HD video: Dolby-engineered HD voice technology suppresses background noise, optimizes bandwidth, equalizes loud and soft speech styles, and makes speech clear and decipherable even with simultaneous speakers. Bluejeans' spatial audio conferencing tool originates each speaker's voice from a distinct location within the computer speakers' sounds, giving the impression that participants are in different locations, like in person
Breakout sessions: Hosts can create and monitor up to 75 random or pre-assigned breakout sessions per meeting
Interactive collaboration: Collaborate with screen sharing, co-annotation, or infinite-canvas whiteboards with custom text, brushes, shapes, images, sticky notes, and more for up to 25 simultaneous users
Other features:
25-screen gallery view
Virtual backgrounds
Join from any device
Meeting transcription
BlueJeans Pricing and Plans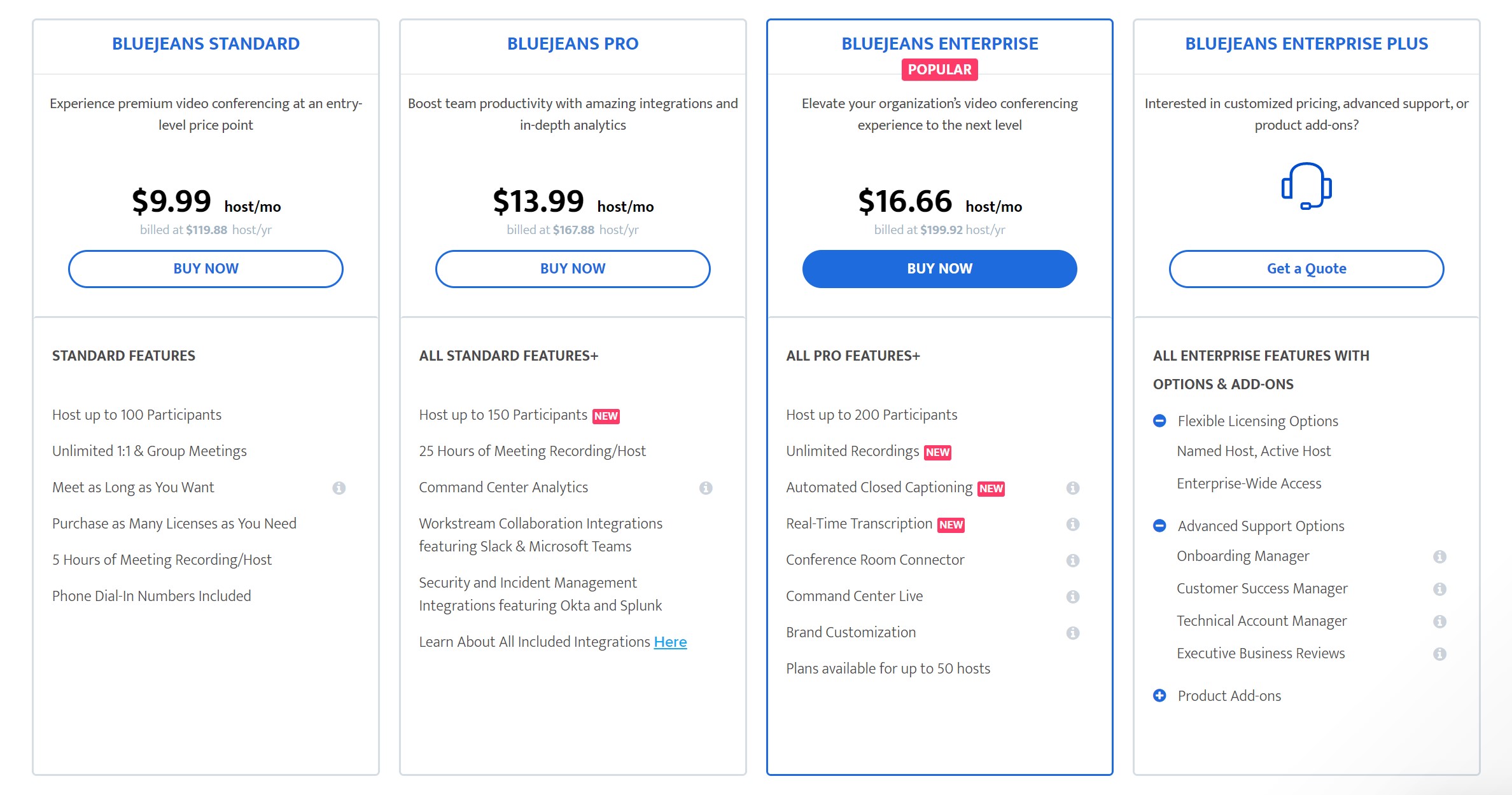 What Users Like and Dislike about BlueJeans
What Users

Like

about BlueJeans
What Users

Dislike

about BlueJeans
Excellent audio quality
No messaging or VoIP calling
User-friendly Breakout sessions
Lacks file sharing capabilities
No download required to join meetings
Collab whiteboard can be too complex to use
Why BlueJeans is a Good Alternative to Webex
Tools like Dolby spatial audio, a collaborative whiteboard, meeting transcriptions, and meeting insights take the BlueJeans video conferencing solution to a higher level than Webex meetings.
Google Workspace is a communication platform that unites a wide library of Google Apps–Gmail, Drive, Calendar, Google Meet (formerly Hangouts), Chat, Docs, Sheets, Slides, Forms, and more. It includes additional business-grade services not included in these apps' free plans: custom business email domains, extra cloud-based storage in Gmail and Drive, longer group meetings with advanced interactive features, a Google Chrome extension, extra security features, and more.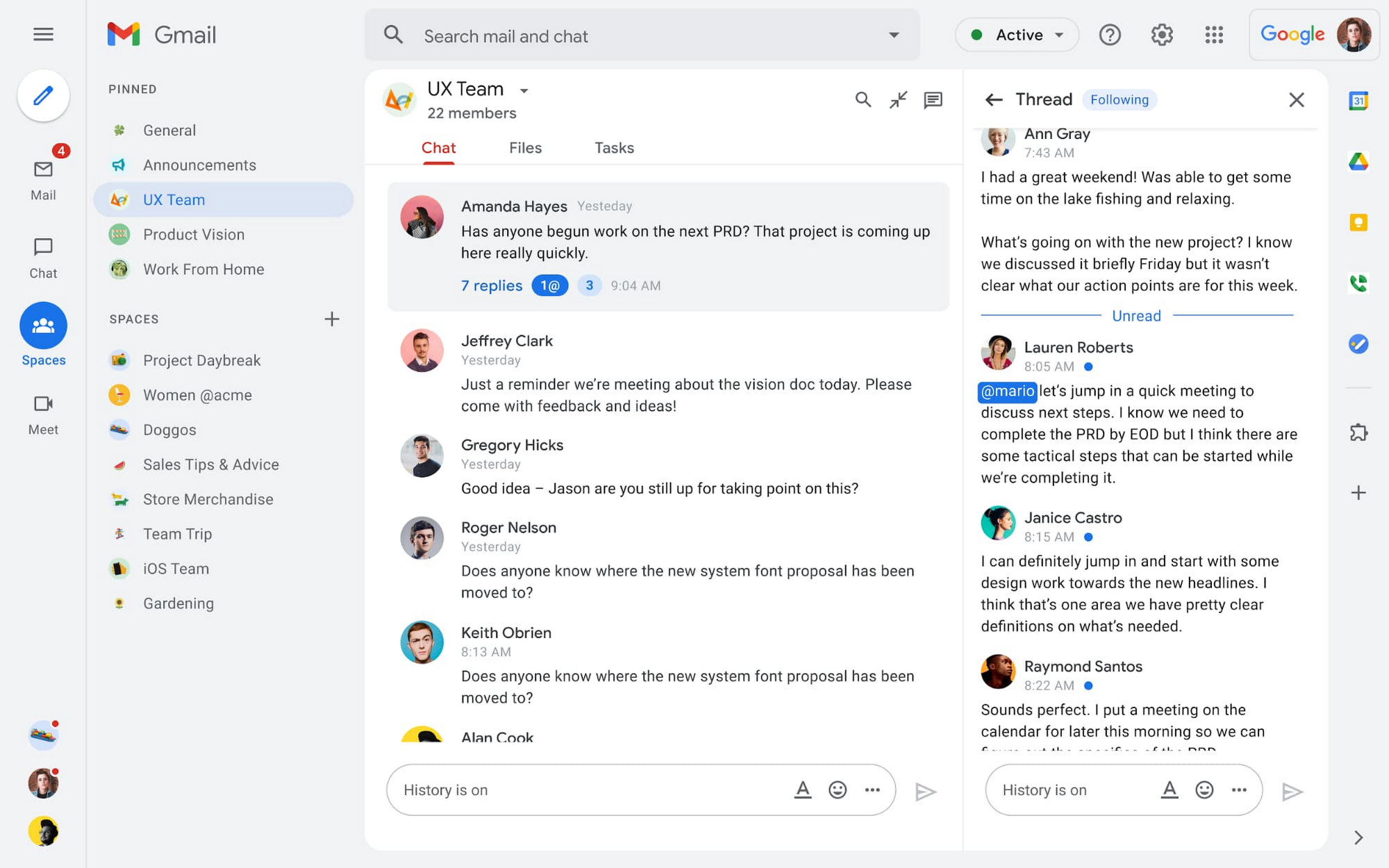 Key Features
Custom email: Create a personal email for team members, with a custom email domain, then access all business emails in the familiar Gmail and Workspace layout
Advanced collaboration tools: Hundreds of users can simultaneously co-edit, share, and chat within files from Google Sheets, Slides, and Docs–or connect via Google Jamboards, Google Workspace's digital whiteboard.
Calendar sharing and appointment booking pages: Share calendars and availability with an open audience, allowing customers and teammates to view available times and book appointments, consultations, and meetings
Work Insights: Admin can customize a Work Insights dashboard, a reporting tool providing digestible charts and insights about Google Workspace team use, work patterns and productivity, and cross-team collaboration
Other features:
Advanced chat rooms
Up to 500 video participants
Noise cancellation
Meeting phone dial-in
Google Workspace Pricing and Plans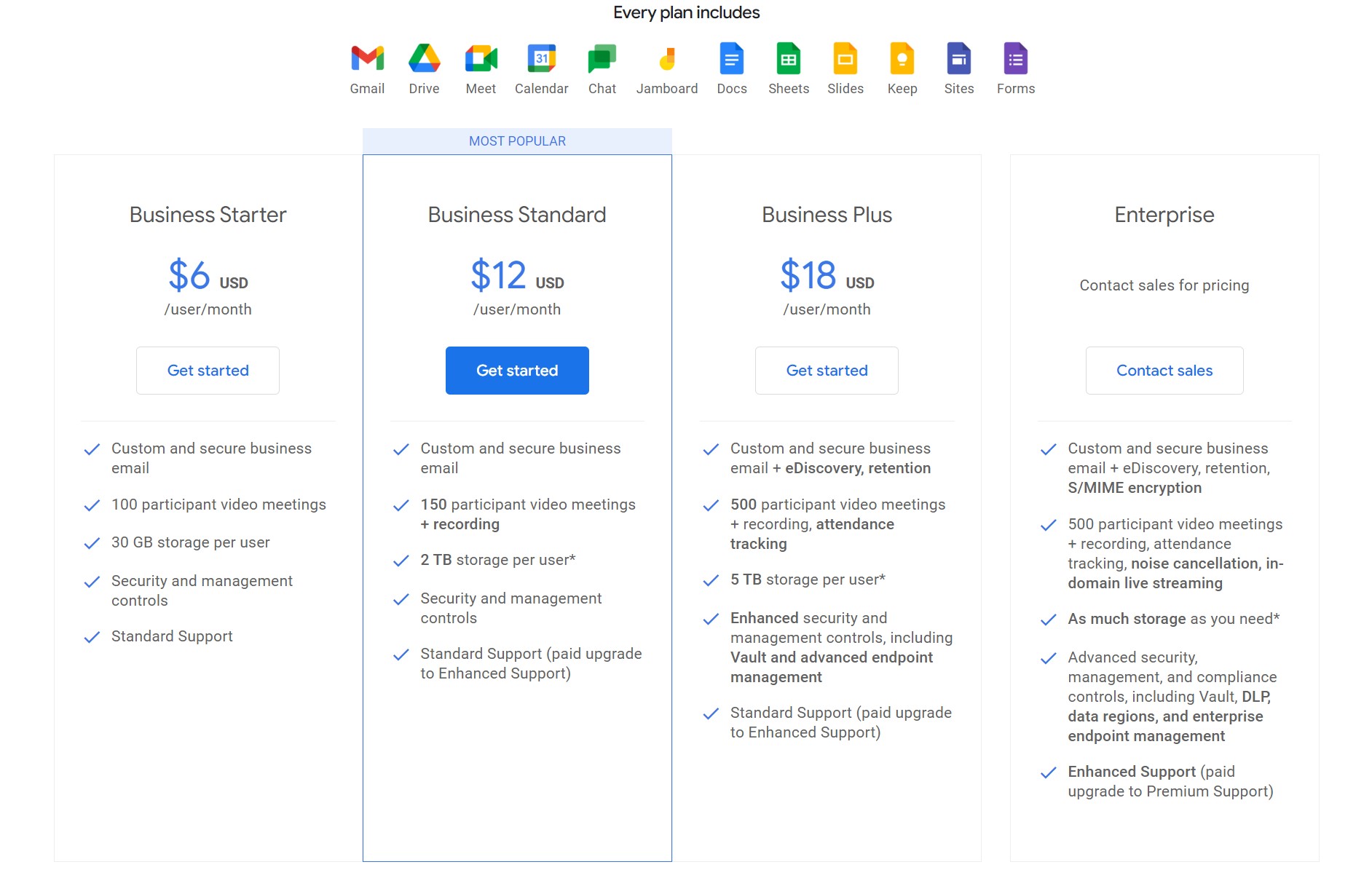 What Users Like and Dislike about Google Workspace
What Users

Like

about Google Workspace
What Users

Dislike

about Google Workspace
Familiar interface for most users
Free tier cannot add custom domain names
Seamless unification of all Workspace apps
Each added email inbox costs the same, regardless of usage
Intuitive and simple file sharing
Google Drive can feel disorganized sometimes
Why Google Workspace is a Good Alternative to Webex
Google Workspace provides a wider range of apps and capabilities than most competitors, with unmatched interconnectedness. Transitioning between Docs to Calendars to Gmail, you hardly notice that you're switching apps. Document sharing and collaboration feel just as seamless.
Webex Pros & Cons
Webex's video meetings support advanced features like post-meeting transcriptions, hand gesture recognition, collaborative whiteboard, meeting recording, live polling, chat, and breakout rooms. The VoIP phone system includes basic call management features, while the messaging allows file sharing, emojis, and the option to create group threads.
However, compared to the competition, Webex lacks some important calling and messaging features that competitors offer: ring groups, analytics, call reporting, AI agent support tools, and task management features.
| | |
| --- | --- |
| Webex Pros | Webex Cons |
| Advanced video conferencing features, with 1000-participant capacity | Scrolling through meeting participants requires reloading each person's video |
| Few dropped calls | Meeting recording sometimes doesn't work |
| Easy-to-use interface | No ring groups or AI agent support |
| Screen pausing during video presentations | Plans are pricier than some competitors with similar features |
Webex Alternatives FAQs
Here, we've answered some of the most common questions about Webex alternatives.
Yes. While Webex offers a free version, so do Microsoft Teams and Zoom One.

Yes. Webex offers softphone calling through mobile and desktop apps.

Yes. Free Webex meetings have a 40-minute time limit.

Yes. Webex offers meeting toll dial-in via phone, with coverage in 56 countries.