Box and Dropbox are two of today's top cloud-based file storage platforms. Both offer software applications to organize all kinds of documents and media, co-author files in real time, and even create new projects from scratch.
This article will place Box and Dropbox head to head, comparing their pricing, storage options, key features, ease of setup, security, and integrations.
Jump to↓
An Overview of Dropbox vs Box
While Dropbox and Box are both cloud-based platforms for file storage and document collaboration, Dropbox features a stronger mobile app and photo management solution, while Box offers built-in workflows and e-signature editing.
Dropbox
Box
Free version?
Yes
Yes
Pricing
6 plans from $10 to over $25 monthly per user
6 plans from $5 to over $35 monthly per user
Storage
From 2 TB to unlimited storage for businesses
Unlimited storage on all business plans
Key Features

Generated content links
Automatic mobile camera uploads and photo sync
Live content co-authoring
File requests

Box Notes, a built-in CMS
E-signatures
Customized workflows
Advanced file search

Integrations
Over 100 applications, including:

Google Suite
Slack
Canva
Autodesk
Zoom

Over 1500 applications, including:

Zapier
Workato
Salesforce
Servicenow
Asana

Best For
Companies and individuals emphasizing media storage, or those who plan to access content from mobile
Small companies prioritizing e-signature requests, or siloed teams needing workflow automation
What is Dropbox?
Dropbox is a file-hosting platform that stores your files in the cloud, so you can access them from any device at any time. Available in a desktop, browser, and mobile app, Dropbox allows you to organize and manage all sorts of files–everything from media, to documents, to CAD design files–keeping them synced between multiple users and all devices.
Users can share and co-edit documents in real time, directly within Dropbox.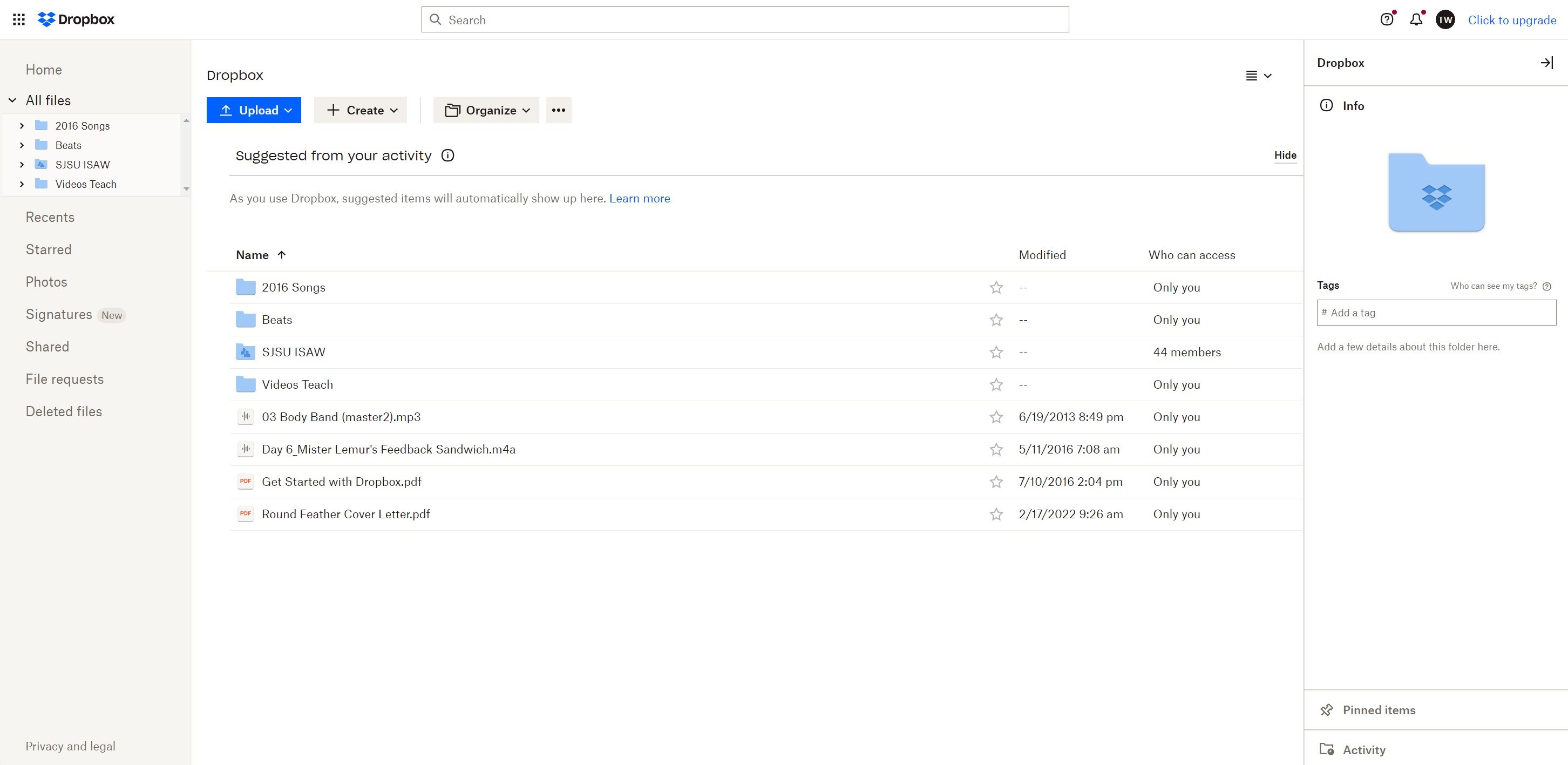 What is Box?
Box is also a cloud-based file-storage platform, but with more of an emphasis on document co-editing and collaboration. It includes a variety of unique collaboration tools–like triggered workflows, automated e-signature creation, and built-in CMS functionality for co-editing new documents.
While Box doesn't sync photo storage with mobile devices as seamlessly as Dropbox does, Box still offers access and syncing across all devices: browser, desktop for Windows and Mac, and mobile for Android and iOS.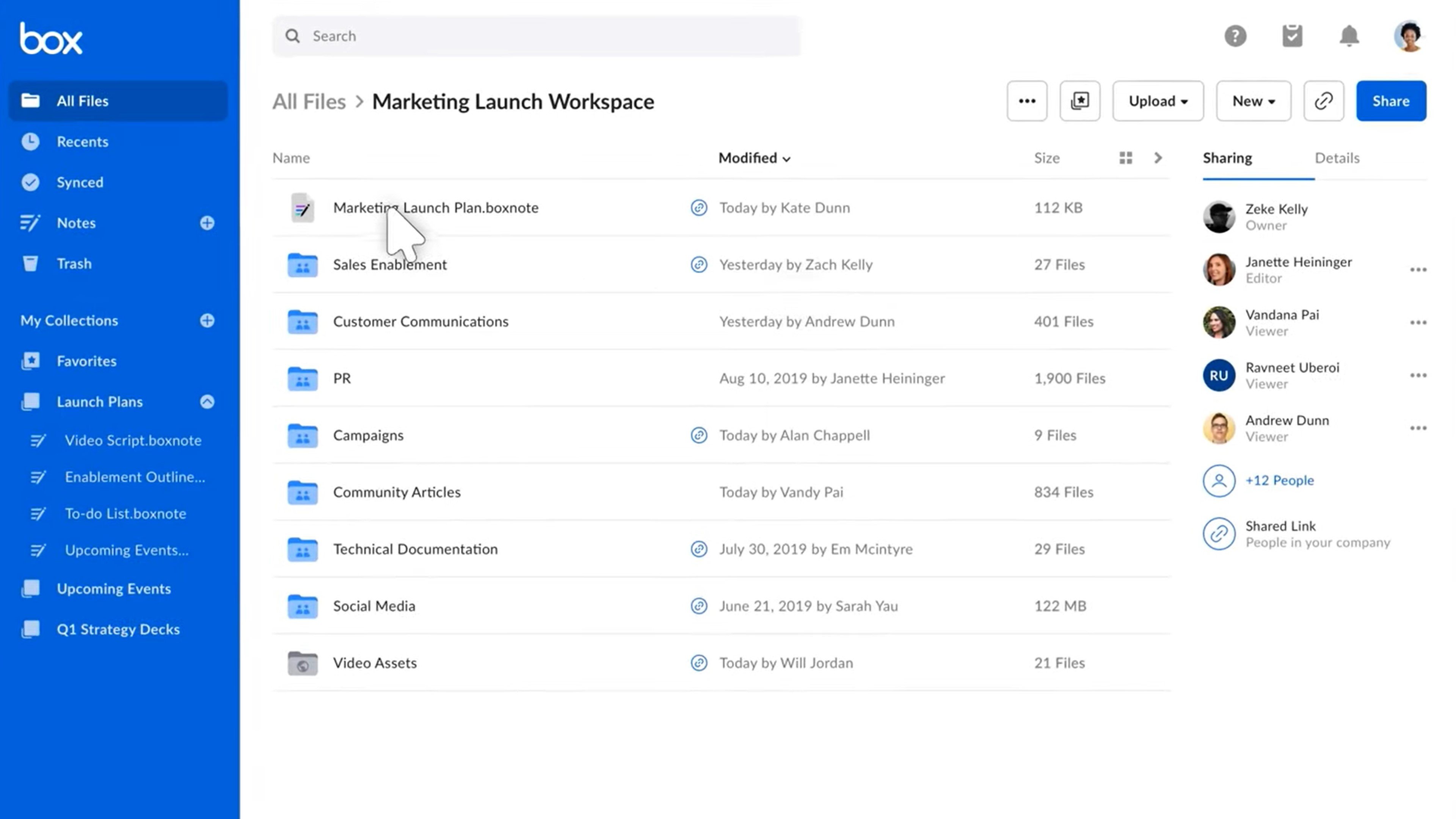 Storage and Pricing Comparison
Both Dropbox and Box offer free and paid plans with a wide range of storage capacity–from 2 GB to unlimited storage space–intended for all types of use cases: individuals, solopreneurs, families, small businesses, and Enterprise companies.
Dropbox Storage and Pricing
Dropbox offers 7 plans: the free Basic plan and 6 paid plans that increase in account and storage size. The Basic plan offers 2 GB of free storage with basic features on up to 3 devices. Dropbox business plans offer from 2TB up to unlimited storage per user, with no device limit.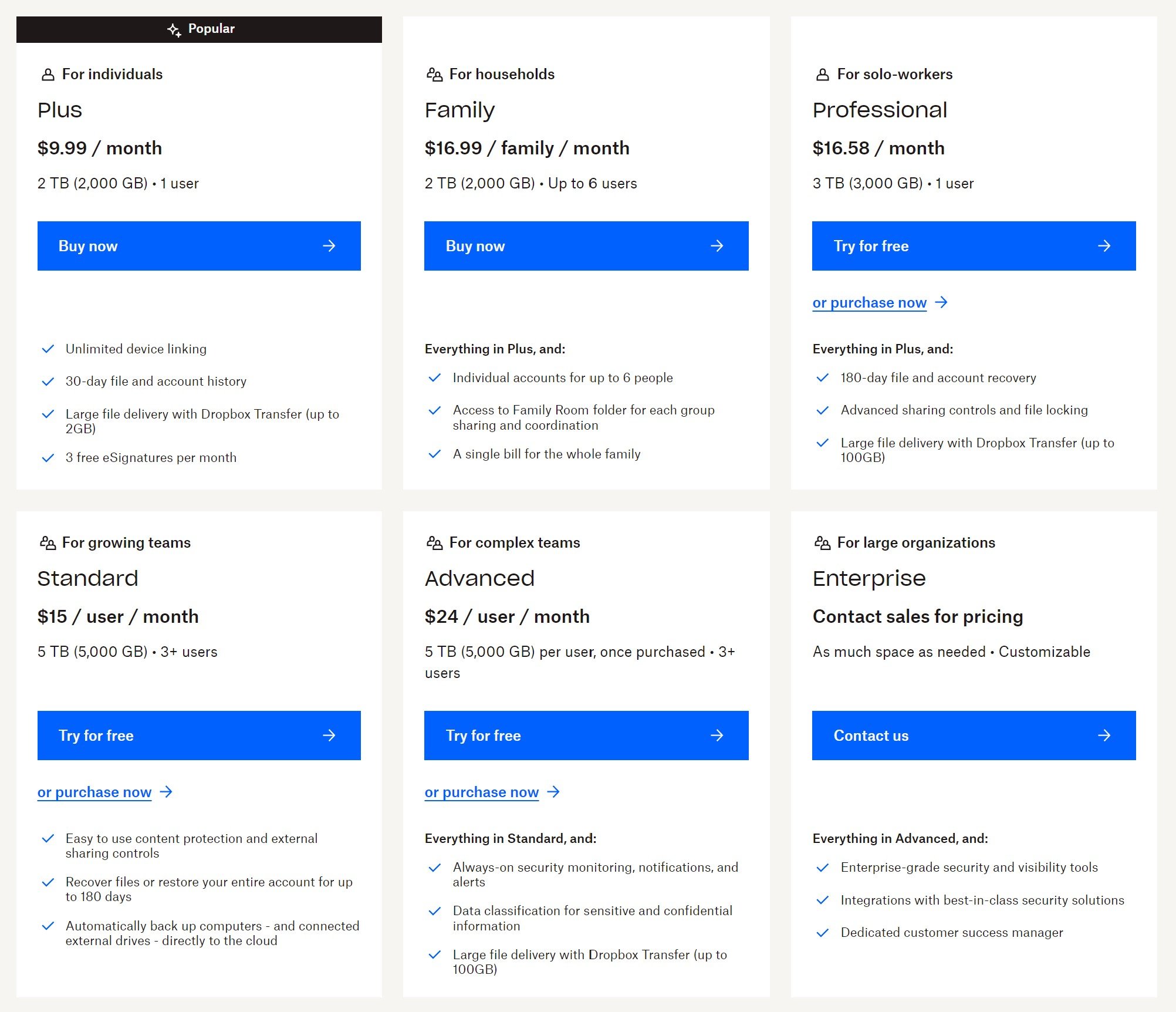 Box Storage and Pricing
Box offers 7 plans: a Free plan and 6 Business plans. The Free plan includes 10 GB of storage, while each Business plan offers unlimited storage. All paid Box plans include collaboration features, e-signatures, workflow automation, and more.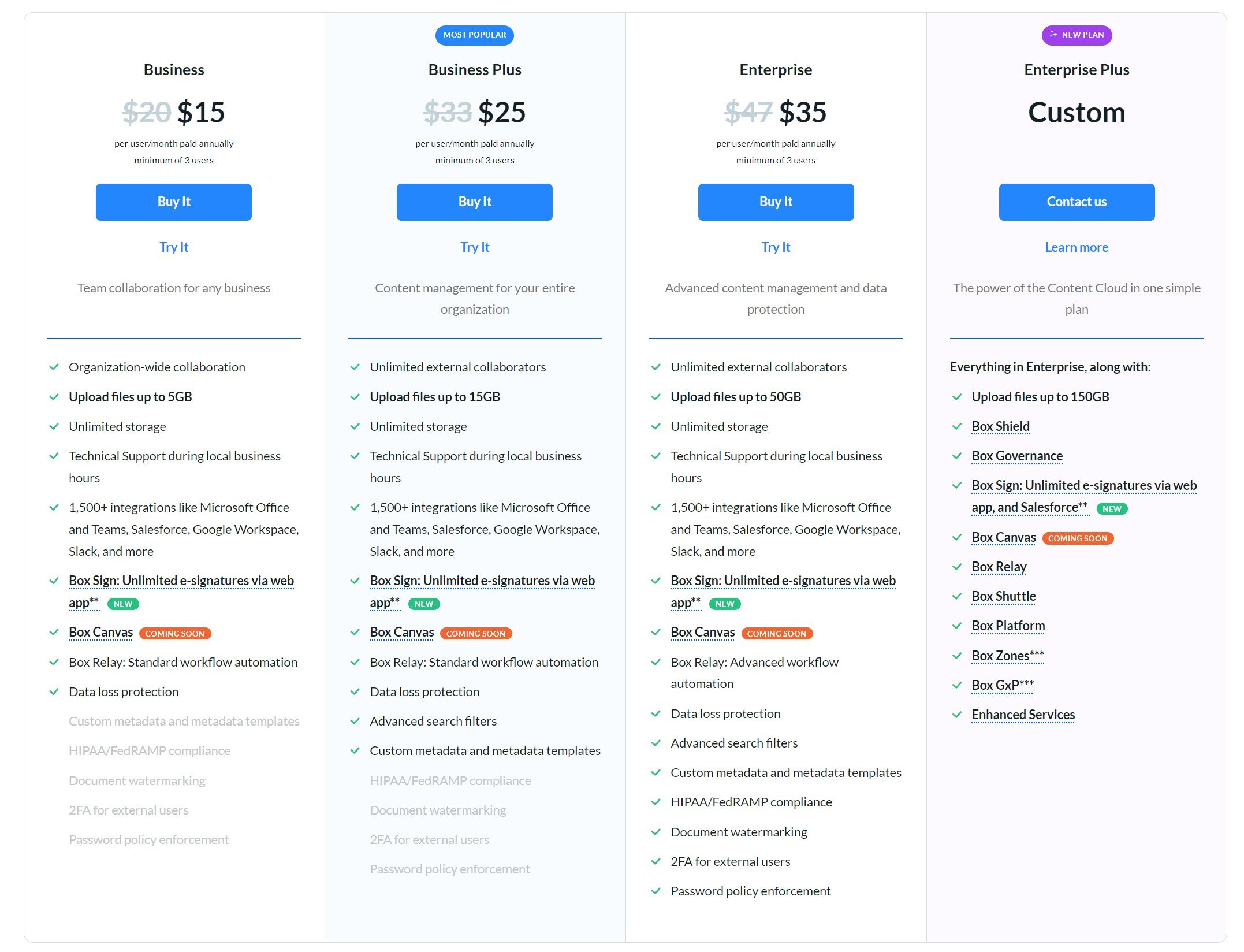 Key Features of Dropbox and Box
Below, we compare the most notable features of Dropbox vs Box.
Dropbox Key Features
Dropbox's key features include:
Cloud Storage
File and Folder Management
Collaboration
Photos and Media
Cloud Storage
Dropbox provides cloud storage services for hundreds of file types: photos, videos, documents, presentations, CAD files, and everything in between. The interface organizes these files in a drag-and-drop interface, instantly syncing them on the Dropbox app across all of a user's devices: computer desktop, web browser, and mobile.
Dropbox backs up all your uploaded files with a cloud-based version, in case the original device gets lost.
File and Folder Management
Upload and download files of any size and type, directly to Dropbox–or create Microsoft Office and Google Workspace documents directly within the app. Create and name folders to share content with individuals, groups, and teams inside or outside of your organization. The Dropbox home screen arranges folders based on activity and recency, with a drag-slider to customize the icon display.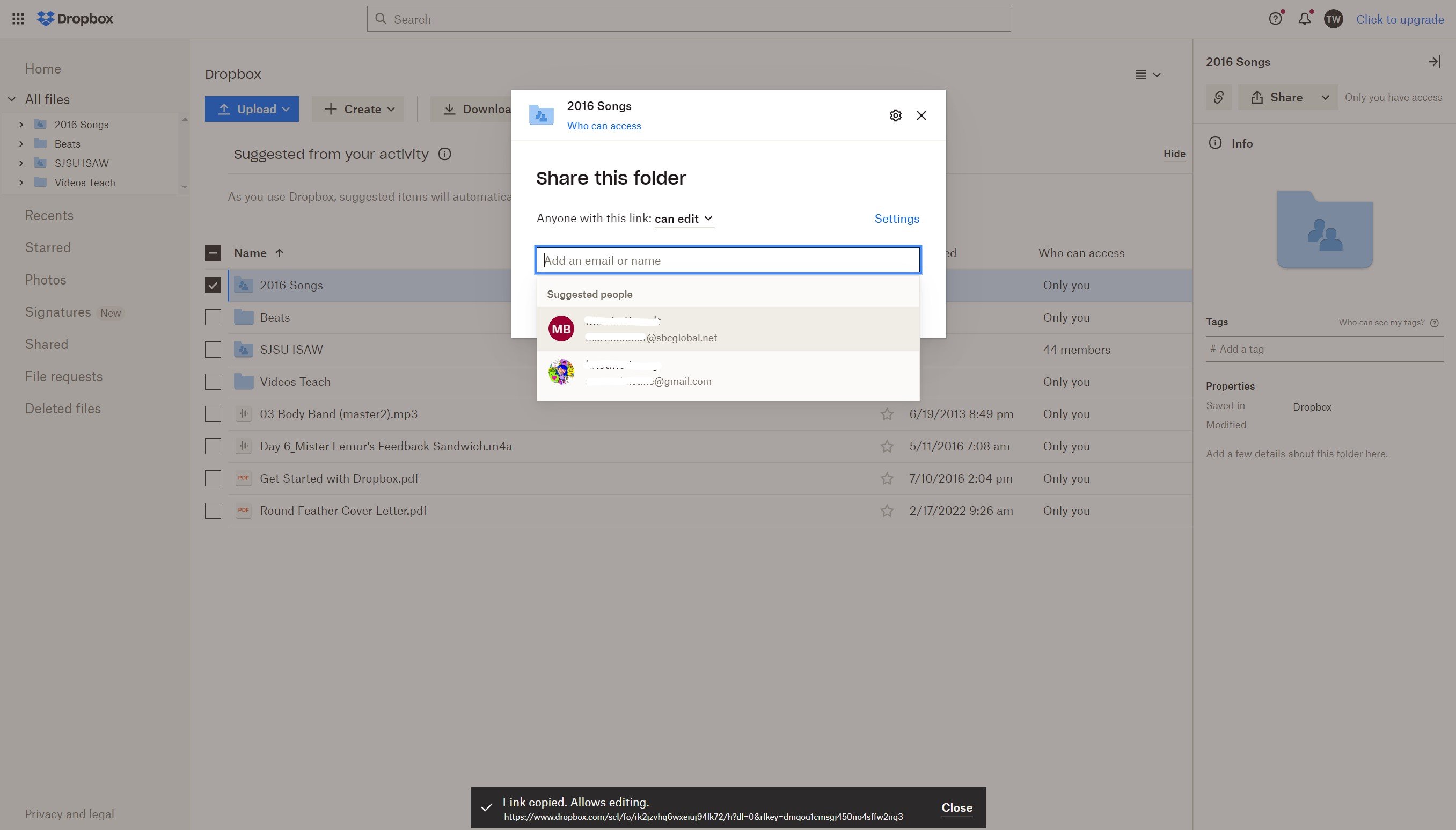 A spacious, intuitive drag-and-drop format enables you to easily copy and move content–adding, editing, and organizing files and folders. Each file view displays the file size, last date modified, and modifier. Hovering over a document displays a file preview with collaborator comments.
File and Folder Management Tools:
One-click upload and download: Download each file in multiple size options
Copy and drag files: Create shared folders and personal folders
Open files with your choice of connected applications: Adobe, Google Docs, Microsoft Office, design and drawing applications like Photoshop, and more
Dropdown tools for each file and folder: Rename, Delete, Add Comment, Pin (to various groups or folders), Star, Save As (on your device), Version History, Copy Link, Share, Transfer, and Copy
Collaboration
Share and sync all Dropbox content with team members or external users–even those who don't have Dropbox. When one user edits, modifies, or deletes a synced file, it updates across all users and devices, notifying each of the recent activity. Users can monitor each file's changes over time, and access previous versions.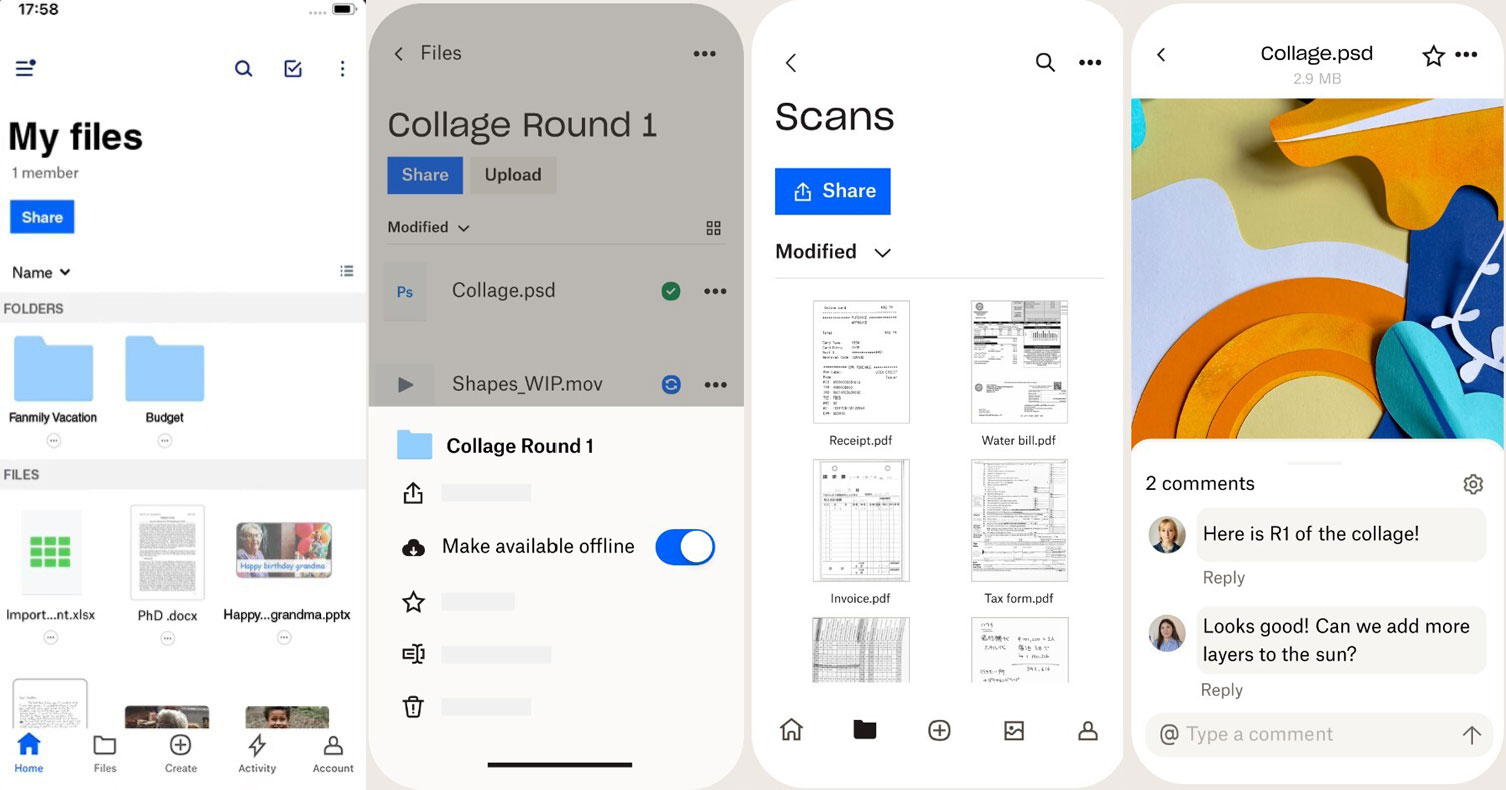 Share and collaborate live on documents, slides, photos, design files, and other file types. When you invite someone or share a file with them, Dropbox autogenerates an invite email–even if they don't have a Dropbox account. Authorized users can comment on the whole file or a particular part, tagging teammates to initiate targeted conversations about projects.
More Collaboration Features:
Customized permissions: Customize shared-file access permissions–each user's ability to view, edit, comment, share, and download
Commenting: Comment on any file type–including photos and videos–tagging other users to create threads. Create regular comments or task comments, which give teammates a button to "resolve" the comment once they complete the task.
Dynamic comments on media files: Comment directly on files–even videos and photos–with text and drawing tools, indicating particular sections or components, for more specific feedback. Dropbox videos allow time-based comments, that indicate a particular portion of the movie.
Link generation: With one click, Dropbox generates a shareable link for any project, which you can paste into emails, text messages, social media, and more. Customize shared link permissions, and set link expiration dates for security purposes.
File requests: Send invites to teammates, requesting they add files to a folder. Give your request a title, describe the request, indicate the folder for uploaded files, set a deadline, and finally create the request. Share file requests by entering the user's name and email address, or share by link. Clicking the link navigates invitees to a Dropbox screen where they can easily drop files into the folder–even if they don't have a Dropbox account.
Photos and Media
Dropbox offers dynamic media organization and backup, organizing your photos and videos for easy management, and automating uploads from your devices–including mobile. Photos are organized in a grid display, with a slider to customize display size.
Since Dropbox syncs content across all devices, when you upload a file from one device, Dropbox automatically populates your other approved devices with that media.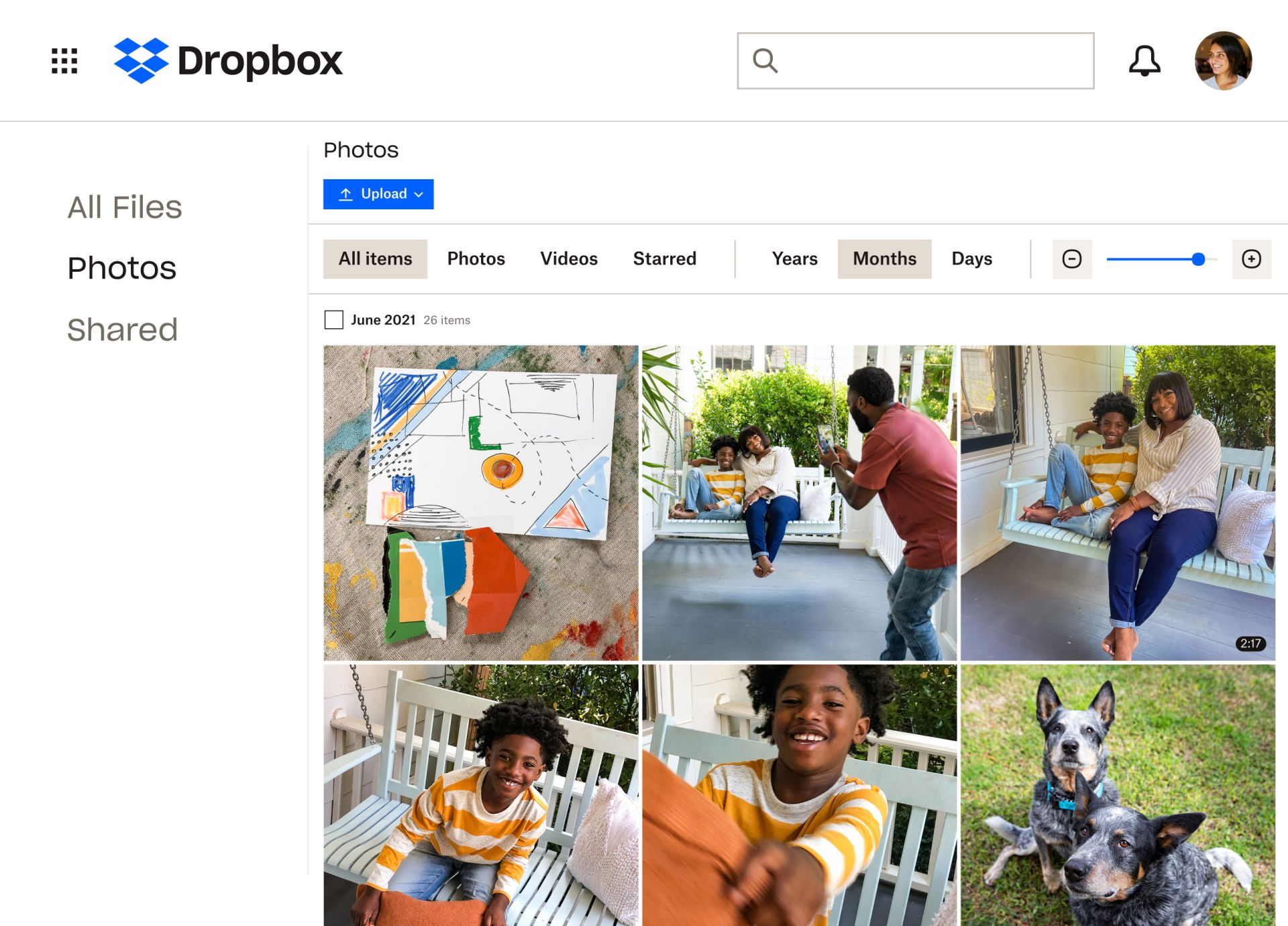 Media Features:
Mobile camera uploads: Sync Dropbox with your phone or tablet, to automatically sync and back up all photos and video
Desktop photo sync: With the Dropbox app installed on your computer, all photos automatically appear in folders accessible from Windows File Explorer or MacOS Finder. Any folder adjustments you make automatically update across devices.
Screenshot backups: Set your desktop and mobile app to automatically send screenshots to Dropbox
Document scanning: Use the Dropbox mobile app to scan and back up receipts, generated whiteboards, and paper documents–turning Dropbox content into scanned PDFs
Image previews: View previews for dozens of image types–including JPEG, PNG, TIFF, GIF, app-specific formats like Photoshop, raw files like CR2, plus iOS HEIC photos–without installing any new software
Tagging: Tag people in images
Shareable links: Just like with all other Dropbox file types, generate shareable links to invite other users to view and collaborate on Dropbox media
Box Key Features
Box's key features include:
File Storage and Sharing
Collaboration
Workflow Tools
File Storage and Sharing
Like Dropbox, Box stores all types of files–documents, slides, photos, videos, design CAD files–even large files up to 15, 50, or 150 GB on the Custom plan. Upload files from your computer or phone in seconds, syncing each file across devices and users. Create and share folders for intuitive drag-and-drop organization.
Create new projects from scratch: cloud files like Google Docs and Slides, or Microsoft Office files like PowerPoints and Excel sheets. Create Box Notes–Box's built-in content management system with customization options, formatting styles, and design tools. Every Box file type can be shared and co-authored in real-time, with up to 30 simultaneous users.
The home screen organizes folders and files by activity and recency, displaying basic information like date modified, last active user, and file size. Hovering over any file–on any device–displays a visual preview, along with the comments. Clicking a file opens the full view, where you can get to work on a document and monitor activity: notes, tasks, recent versions, and changes.
The Box app's left-hand menu lists quick-access categories: All Files, Recents, Synced Content, and Notes. Underneath, view your own customized collections and favorites.
Collaboration
Box offers a range of collaboration tools including document sharing and co-authoring, link generation, live CMS content creation, and task assignments–applicable across all file types.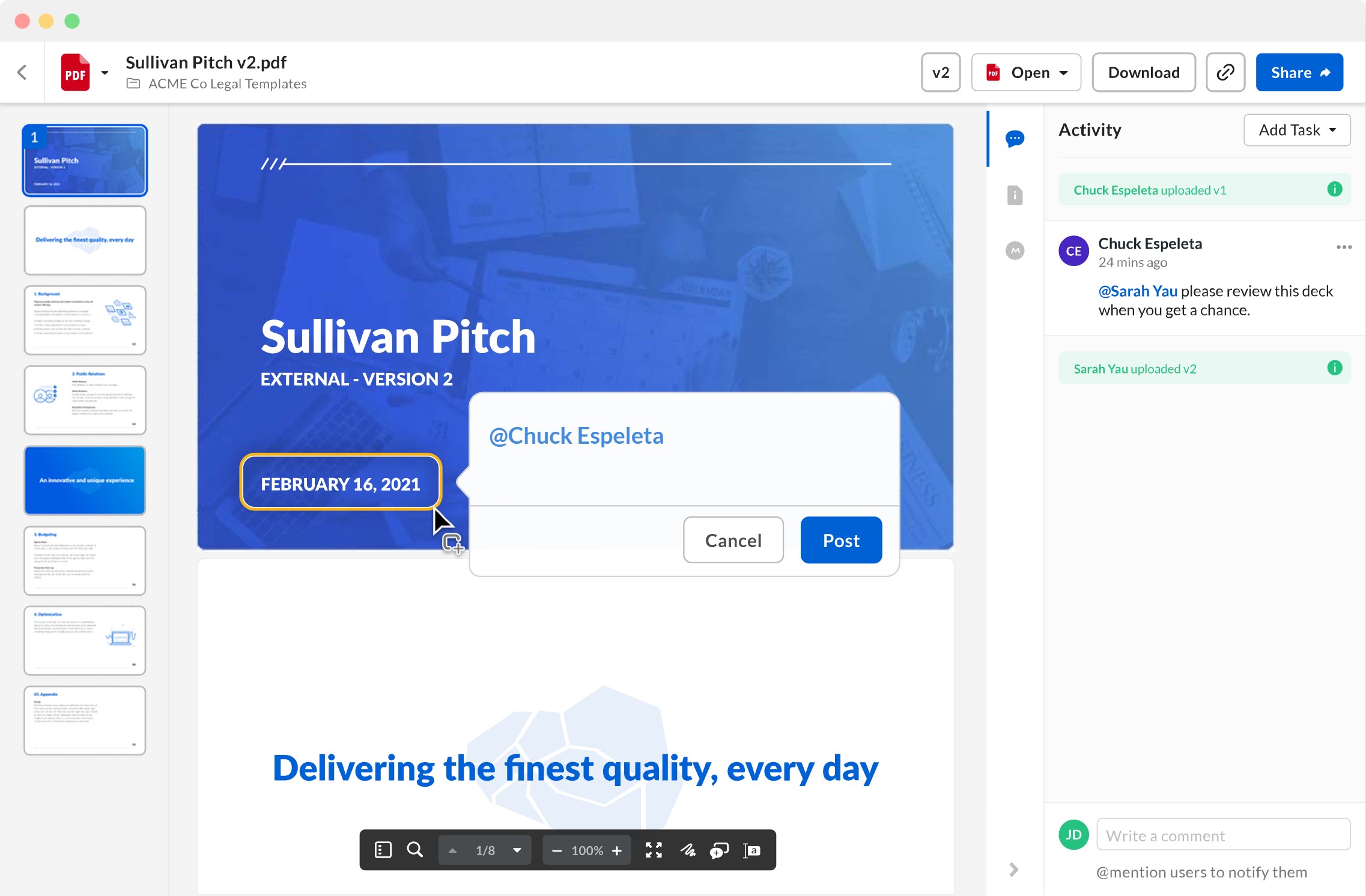 With one click from the home screen or inside a project, invite teammates and external users to collaborate on a project. Add new collaborators by name or email, customize their access permissions, add a message, and send the invite–pinging them with an in-app activity notification and an email linking directly to the project. Sync Dropbox invite messages with other communication apps like email, Slack, or Microsoft Teams. As soon as the content is shared, it syncs across users' folders.
Users can comment on a whole project, or offer feedback on a specific section with a draggable box and attached comment.
More Box Collaboration Features:
Customizable permissions and user access
Link generation: Shareable and embeddable links for each project. Set link expiration dates and embed access permissions within each link.
File security: Lock files to prevent changes, disable downloads, or create access passwords for any shared project
Real-time editing and co-authoring: Co-author documents, slides, spreadsheets, and media from various apps–Microsoft, Google, Adobe–with simultaneous co-editing for up to 30 users
Dynamic commenting: Make comments on the document, drawing boxes and tagging users to make discussions and feedback more specific
Task assignment: Within a comment, assign tasks to specific users or groups. Choose each task's type–General Task, or an Approval Task that users can mark as complete.
Box Notes: A collaborative content-creation tool acting as a built-in CMS, where up to 30 simultaneous users can co-author and create structured, text-based documents like guides, manuals, designs, and more. Create from scratch or use Box Notes templates. Up to 30 simultaneous users can design CMS tools: tables, embedded images and videos, a formatting toolbar with options like headers and font, and organizing elements like a table of contents.
Workflow Tools
Team administrators can build custom workflow sequences based on triggers such as document creation, edits, and file requests. Instantly generate links for file requests, making it easy for teammates to contribute to folders.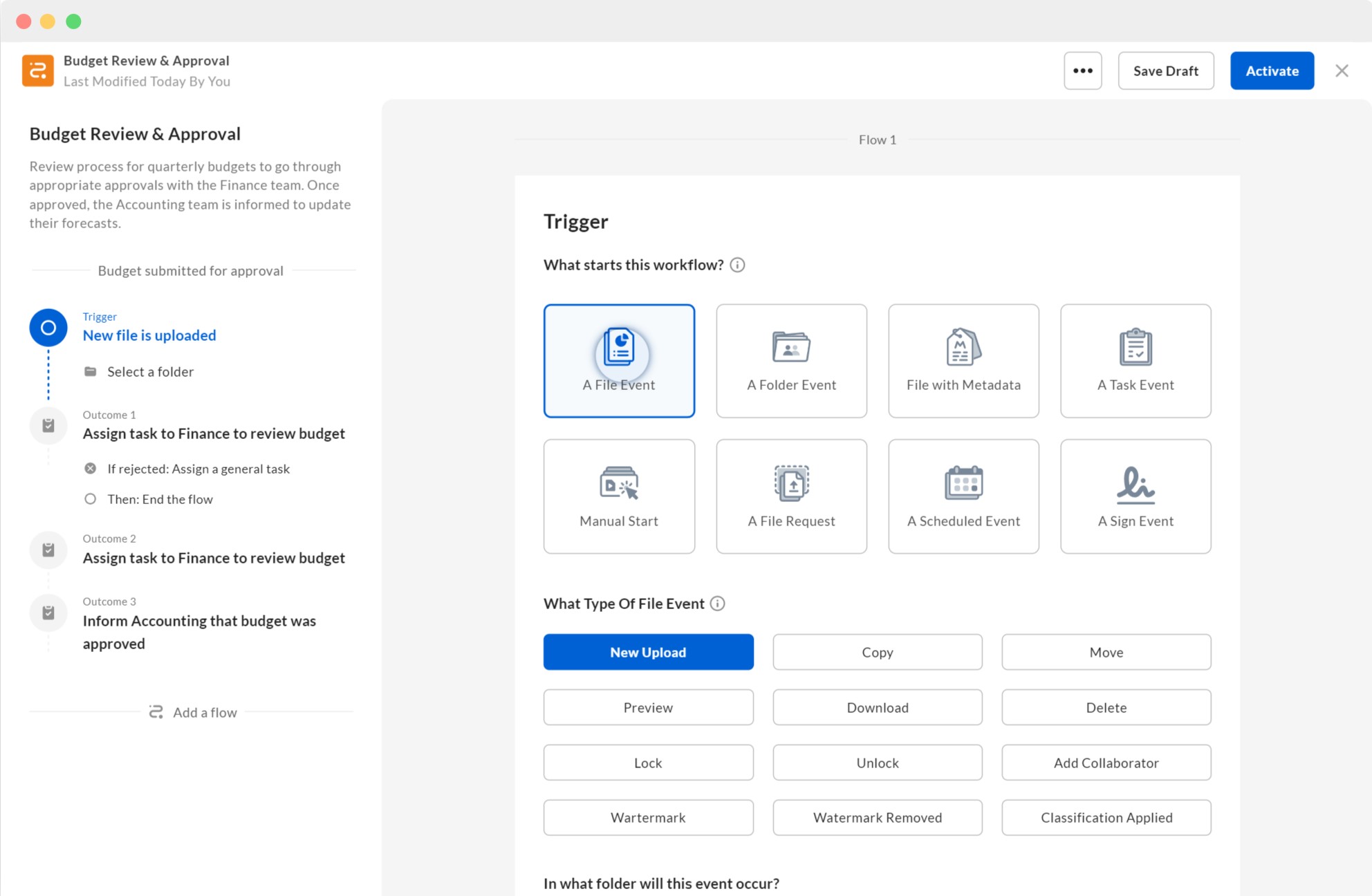 All Box plans include built-in e-signature tools, enabling invitees to fill out forms and sign documents in a variety of ways.
Box Workflow Tools:
File request: With a couple of clicks, add a file request form to any folder in your box, generating a link guiding the invitee to submit a file to the folder, regardless if they have Box or not
Custom workflows: Create custom, automated workflows triggered by certain events–file or folder event, file with metadata, task event, manual start, file request, scheduled event, sign event. Customize the follow-up actions–file event, folder event, add metadata, or assign a task–building self-sustaining workflows. Schedule time-triggered workflows for certain days, weeks, or months, on repeated schedules.
E-signature requests: Turn any project into a signable document. Choose a file, select the users you want to sign it, and invite them–add an email subject and message, which automatically emails the form to the person. Customize how you want the file to be signed–signature, initials, name, email, miscellaneous input, stamp, date signed, company, title, checkbox–and customize formatting like font and size. The user can type right into the sign fields, drawing their signature by hand or choosing from default options.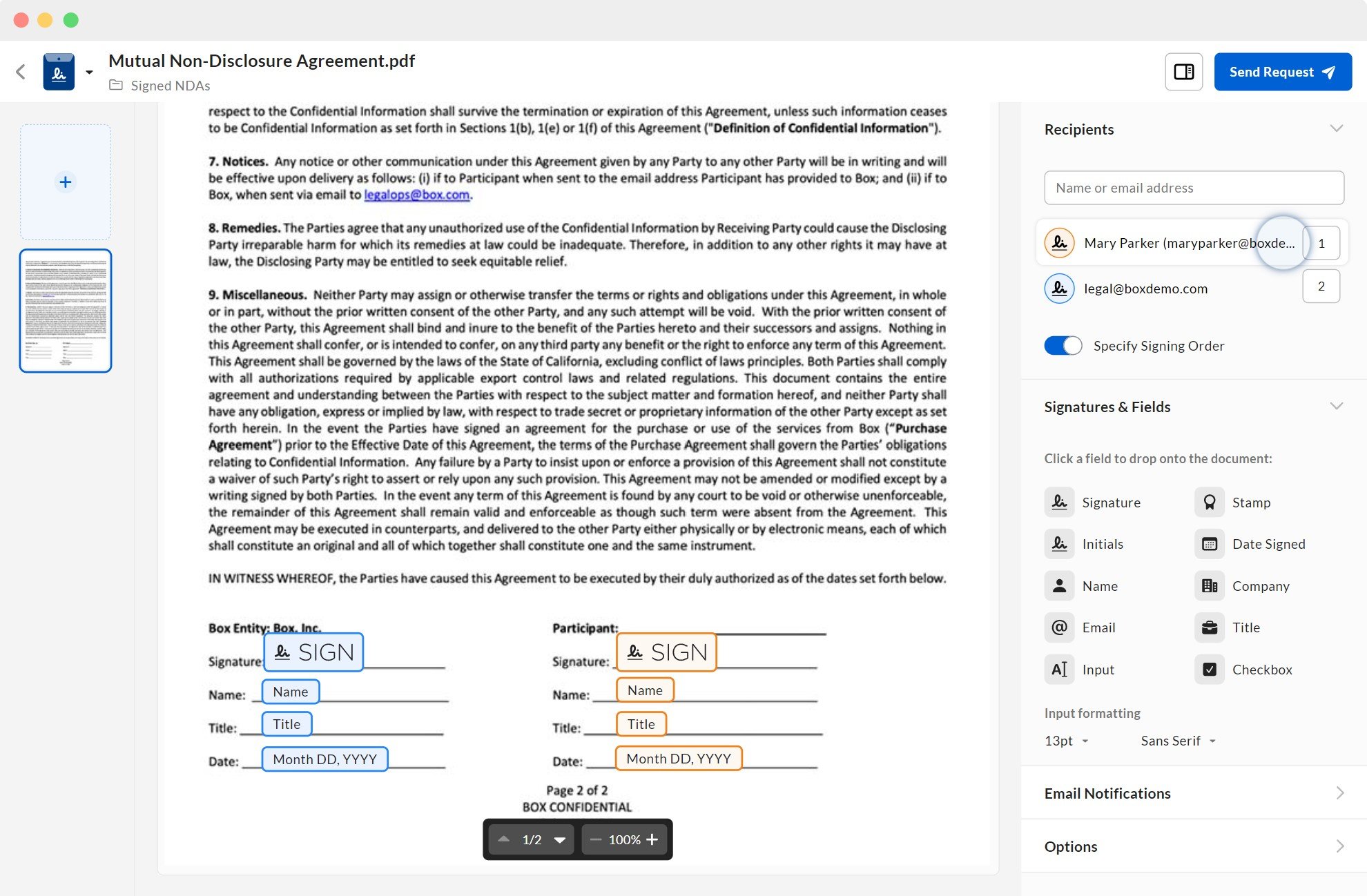 Ease of Setup
Here, we compare how easily one can get started with Dropbox vs Box.
Dropbox Ease of Setup
Dropbox users can access the app from any device, with an easy-to-use display and experience that carries over across devices. Most Dropbox tools–such as file upload and sharing, project and folder creation, link generation, and permissions–require just a few clicks.
The desktop app's interface is intuitively organized. Upload any file type with one click, create and name folders, and drag files into the folders. Make folders personal or shared, and easily control share settings and added members.
The Dropbox homepage offers suggested folders and files based on your recent activity. A search bar helps you locate any piece of content, sorting by file type, user, activity date, and more.
Home Sidebar Menu Categories:
Recents
Starred
Shared
File requests
Deleted files
Box Ease of Setup
The Box home screen provides intuitive access to all files, folders, and creation tools. Add files and media from your device, create new cloud content, or create a Box Note directly from the main screen. Customize the display size of each image with a draggable slider.
Atop the screen, use a search bar to find particular content, filtered by…
Content: file type, time of last update, owner, tag, size
Metadata: Custom attributes added to files that help narrow down your search. For example, activity and approval status
Left-Hand Menu Items:
Security and Privacy
Here, we've compared security features for Dropbox vs Box.
Dropbox Security and Privacy
All Dropbox plans and accounts are covered with the same cloud security. Dropbox uses multiple layers of protection across a distributed cloud infrastructure, keeping all content protected.
From a user's perspective, Dropbox offers multiple features to control usage and access.
Dropbox Security Features:
Access controls: Customize access controls for each of a shared file's users. Set viewing and editing access, and sign-in requirements such as passwords or PIN numbers.
Two-factor authentication (2FA): Requires any user seeking to access the folder or file to enter a second step of authentication–a six-digit code or a security key
Folder permissions: Choose to give participants editing or view-only permissions. Share specific subfolders without sharing the whole folder.
Remote wipe: If you lose a device, remotely clear all files from that device's Dropbox account
Content-sharing link expiration dates
Box Security and Privacy
Box's platform offers security and protection features on a network-wide level, and on a user-specific level. Every Box file is automatically encrypted with AES 256-bit encryption, protecting each file from unauthorized users.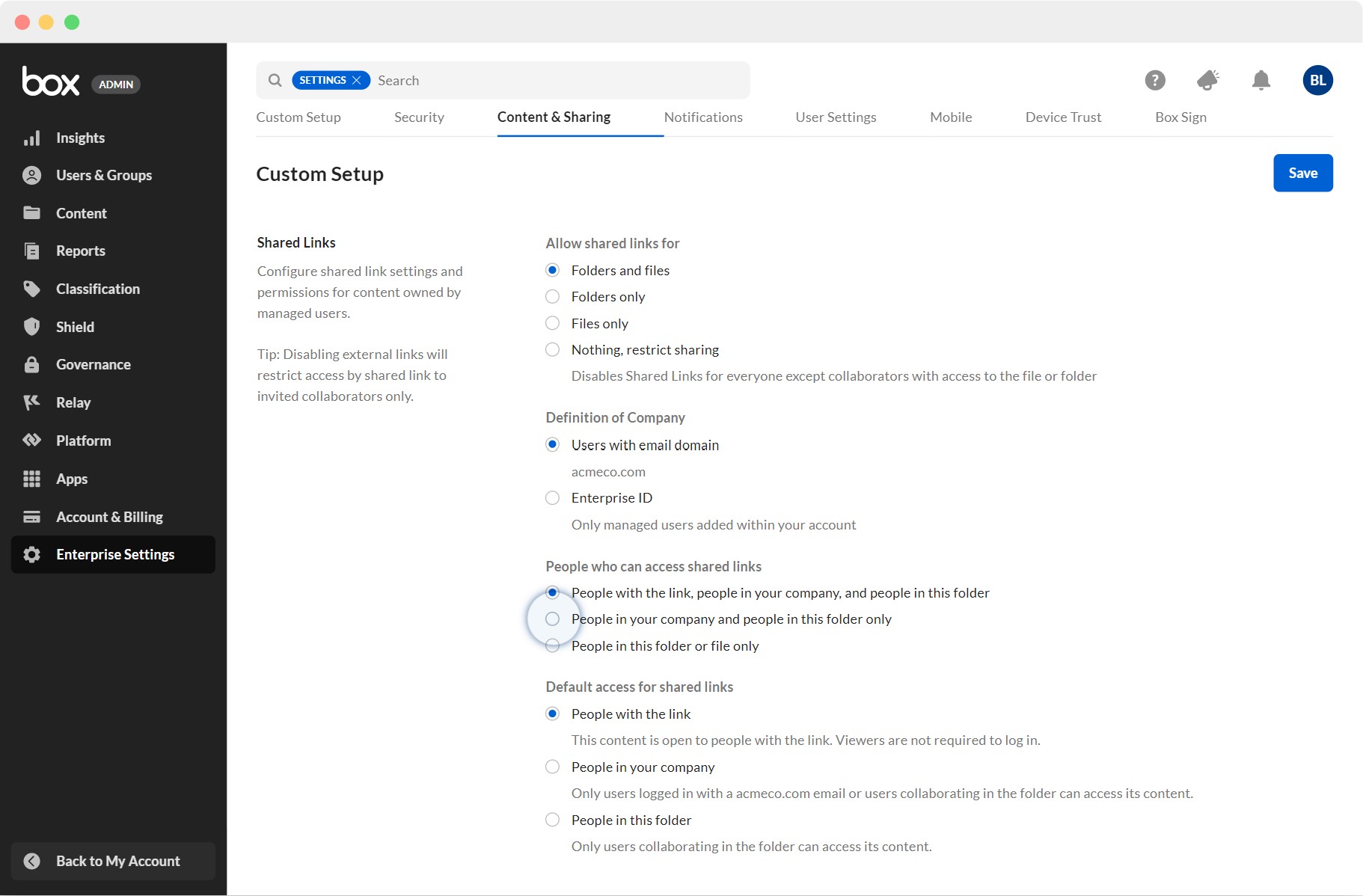 User-Controlled Box Security Features:
File-sharing permissions: Password controls for shared files, and 7 options for permission and access roles–Co-Owner, Editor, Viewer Uploader, Previewer Uploader, Viewer, and Previewer
Admin controls: For company-wide accounts, the admin chooses what types of files can be shared, who can share files, and each user's access abilities: Download, Upload, Preview, Generate Link, Edit, or Delete
File classification settings: Classify files as "sensitive", "legal", or other custom classifications. New files are automatically analyzed and are classified if they contain sensitive information and language. Create access rules and settings based on content classification.
Document watermarking: Displays each file user's name and time of access for watermarked documents
Malware protection: Suspicious user activity alerts that are auto-generated. Create malicious content rules, enable deep scan of all Microsoft content, set priorities for notifications about detected security issues, then customize automated actions in response to identified malicious content. For example, restrict downloads and set automated alerts when potential malicious content is identified.
Box Shield dashboard: A menu displaying the full details about all potentially malicious content. Details include the content's priority level, placed restrictions, upload date and time, and the user who uploaded it.
Content lifecycle management: Customize each document's edit availability, setting how long it remains available to certain users after being shared. Customize retention policies to meet different types of compliance–HIPAA, FINRA, and more.
Customize file history settings: Choose the number of previous versions allowed (if not unlimited) before Box starts deleting the oldest versions
Integrations
This section compares the integrated apps available in Dropbox vs Box.
Dropbox Integrations
Dropbox offers integrations with over 100 applications, for all types of use cases: accounting, communication, design, education, eSignature, productivity, workflow automation, and more.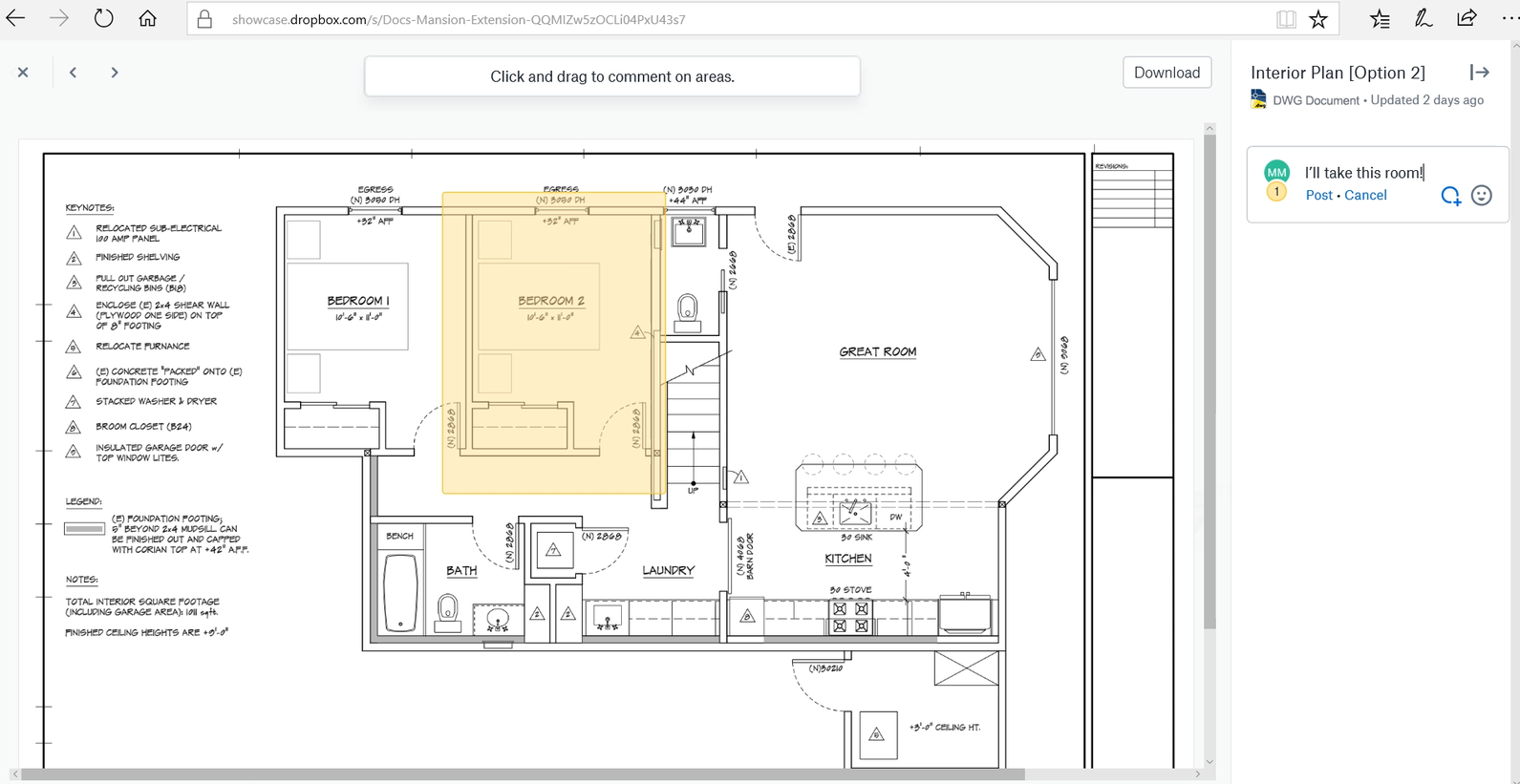 Standout Dropbox Integrations:
Google Suite: Create, edit, and share Google Sheets, Slides, and Docs right within Dropbox
Microsoft: Create documents in Dropbox and edit them in Microsoft, syncing all edits automatically. Co-author Microsoft documents simultaneously with teammates inside Dropbox, adding comments and feedback.
Dropbox Capture for Windows: A windows app enabling you to record screenshots, GIFs and videos live on your screen, with markups and voiceover.
Slack: Combine Slack comments with Dropbox content and comments
Adobe: Dropbox generates high-quality previews for Adobe files, including Photoshop, Illustrator, and XD. Annotate particular parts of images for detailed design feedback.
Zoom: Teams can start Zoom meetings from Dropbox files, save recorded Zoom meetings in Dropbox, and easily present Dropbox content during Zoom meetings.
Autodesk: The AutoCAD app allows you to view, open, and edit Autodesk DWG and CAD design files right within Dropbox.
Canva: Open any Dropbox image in Canva instantly, and save it to Dropbox directly from Canva
Box Integrations
Box offers over 1500 connected apps, including integrations for productivity, collaboration, workflows, and security.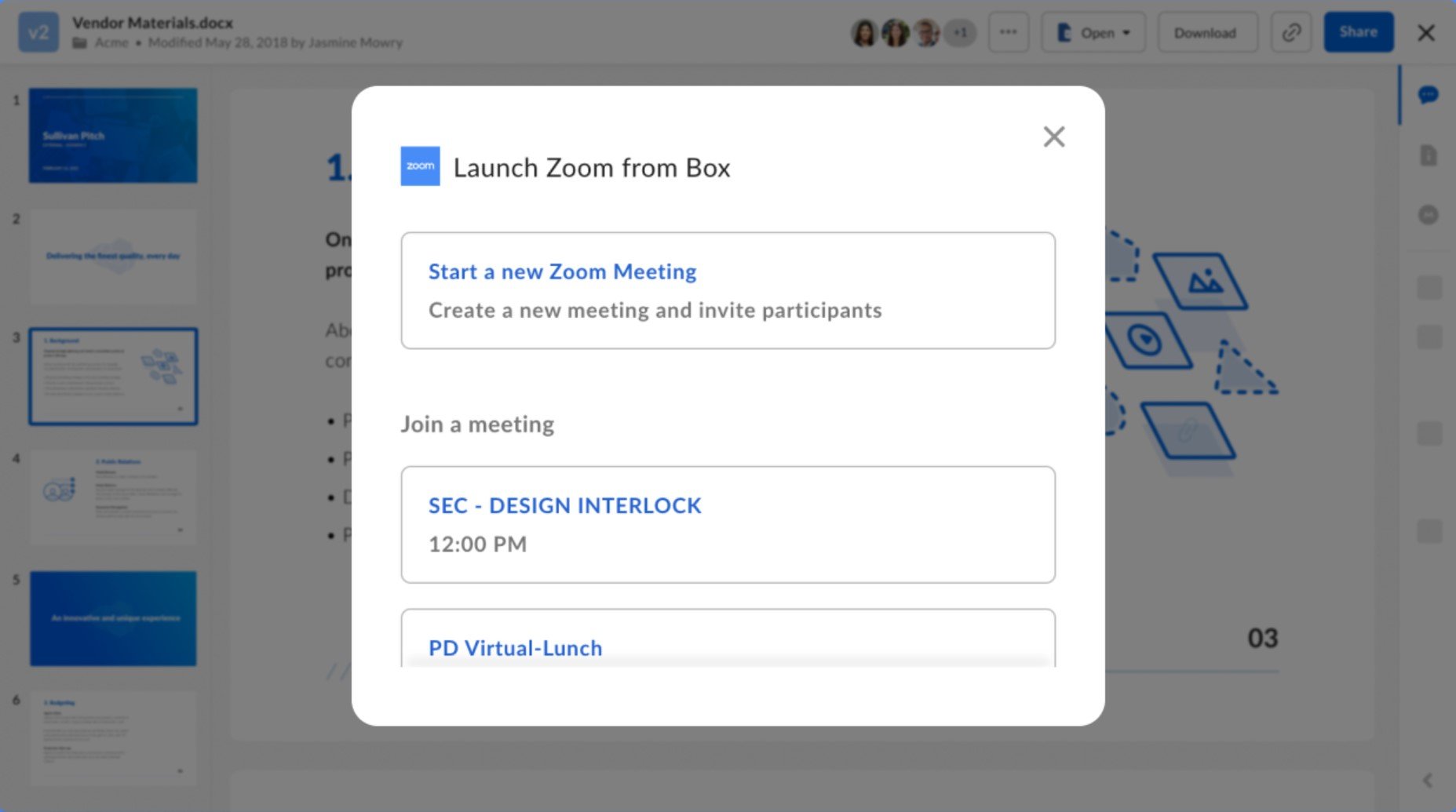 Standout Box Integrations:
Zapier: Connect via Zapier to thousands of other apps for automatons in Box
Workato: Create automate multi-app workflows involving Box tasks and files
Smartsheet: Attach Box documents to Smartsheet tasks
Salesforce: Access all Box content within Salesforce records and data
Zoom: Initiate and join Zoom meetings directly from Box. Also easily share and preview Box files within Zoom.
Asana: Associate and keep Box files with each Asana task, for relevant users to track and access directly from Asana
Which Should You Choose – Dropbox or Box?
The best cloud storage solution for your company depends on your collaboration needs, as well as the amount and type of content you plan to manage.
Dropbox makes a great all-purpose file-management solution, but its photo storage and device synchronization stand out. You can automatically upload screenshots and mobile photos directly to Dropbox, organizing albums with a high degree of customization. However, most of Dropbox's business plans have a file-storage maximum capacity.
On the other hand, if your company wants to store a large library of content on a budget, each Box business plan offers unlimited storage–starting at just $15 monthly per user. Further, if your company is siloed and wants automated workflows or e-signatures, Box offers these features built-in.