The increase in remote work and global teams makes video conferencing tools an essential part of any business communication stack–but they are often expensive.
Using free online meeting platforms connects global coworkers and clients while lowering operating  costs. These free meeting apps also provide access to advanced features like screen sharing and team collaboration tools to elevate business presentations, employee training sessions, and more.
In this article, we outline the best free video conferencing providers, their top features, and their ideal user base.
Best Free Video Conferencing Apps
Below, we'll take a closer look at the top free web conferencing apps and compare their free features, pros & cons, and best use cases.
Zoom
Zoom is a virtual meeting and collaboration platform with a free web conferencing app offering breakout rooms, virtual whiteboards, document co-editing, and end-to-end meeting encryption. Its free plan, Zoom Basic, includes an unlimited number of 40-minute meetings for up to 100 participants.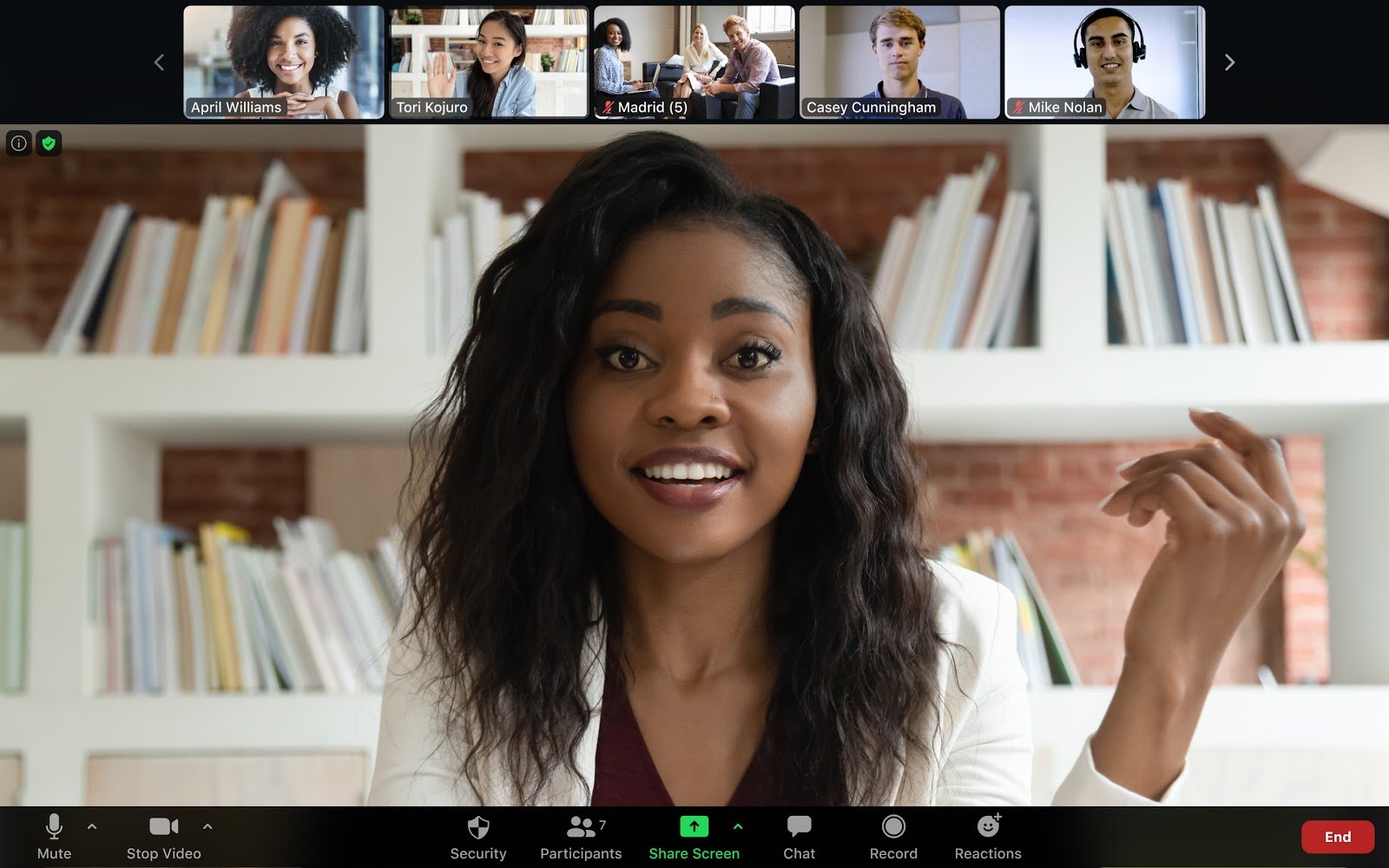 Best Free Features
Some of the best video conferencing features included with Zoom's free version are:
Team chat
Whiteboards (up to 3)
Automated meetings captions
Spotlight (allows the host to spotlight up to 9 attendee videos so that they will always be displayed regardless of the speaker)
Waiting room
Host controls
Local meeting recording
Breakout rooms
Virtual backgrounds
Pros
High level of security (end-to-end encryption, host controls, waiting room, etc.)
Many advanced features included in the free version (recording, breakout rooms, etc.)
Ubiquitous, easy to use platform
Cons
Short duration for the free version (40 minutes)
No telephony features in the free version
No cloud storage in the free version
Who It's Best For
Zoom is best for small remote teams that need a secure video conferencing platform and collaboration tools, but do not require other unified communication features.
Google Meet
Google Meet is an enterprise-grade video conferencing services platform built on Google's popular and secure global infrastructure. Its lightweight, intuitive interface is lightweight, user-friendly and integrates with other Google Workspace tools like Google Calendar, Google Docs, Google Drive, and more.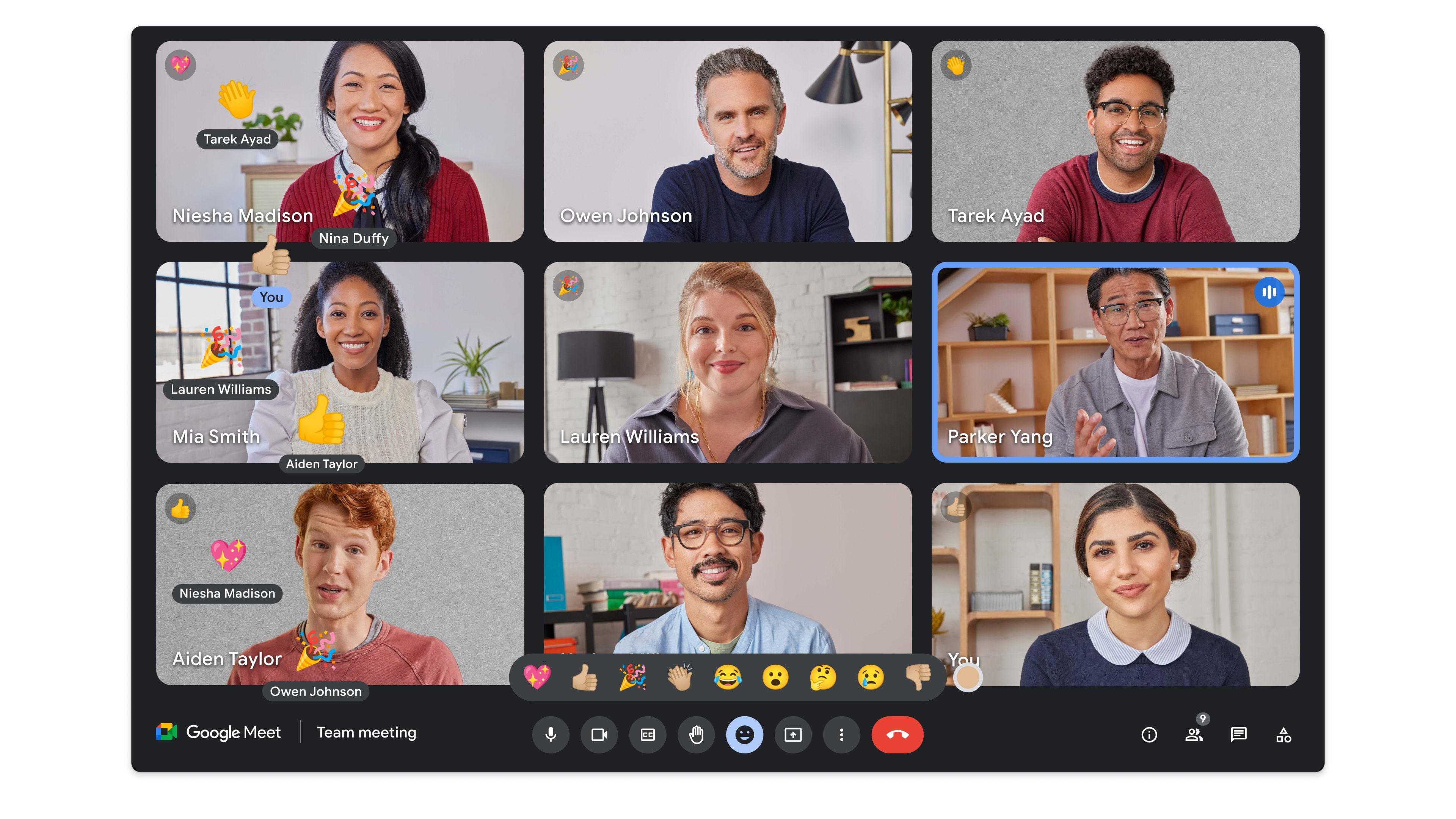 Anyone with a Google account can access the free version of Google Meet, which offers 60-minute meetings for up to 100 participants.
Best Free Features
Top features included with the free version of Google Meet are:
2-step verification
Team messaging
Digital whiteboard
Shareable meeting link
Screen sharing
Shared calendars
Pros
Highly secure platform with 2 step verification and encryption
60 minute meeting duration in the free version
Minimalist interface
Cons
Very limited features in the free version (no noise cancellation, hand raising, breakout rooms, etc.)
Recordings saved to Drive only in paid version
Lack of telephony features
Who It's Best For
Google Meet is best for companies that are already using Google products such as Calendar and Workspace.
GoTo Meeting
GoTo Meeting is a feature-rich HIPAA compliant web conferencing platform designed to work alongside other GoTo products like GoTo Connect, GoTo Webinar, and GoTo Contact Center. GoTo Meeting's free version allows 40-minute meetings for up to 3 participants.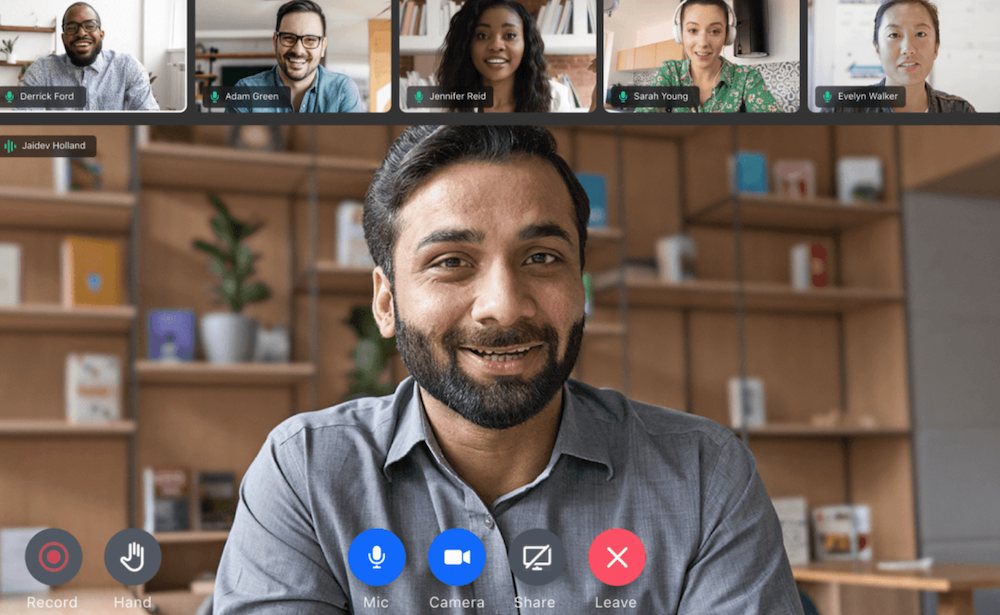 Best Free Features
GoTo Meeting's top free video conferencing features are:
Screen sharing
One-click meetings
In-Meeting chat
Mobile App
Pros
Free version includes screen sharing
High level of security with SSL encryption
HIPAA and GDPR compliant
Cons
Participant limit (3) is very low compared to competitors
Duration limit (40 mins) is short compared to competitors
No recording in the free version
Who It's Best For
GoTo Meeting is best for solopreneurs and freelancers that need a reliable video conferencing platform to meet with clients or with only one or two other people at a time.
Cisco WebEx
Cisco Webex combines enterprise quality video conferencing, messaging, and more on one unified platform. Cisco users can scale up to add on WebEx capabilities like business VoIP calling.
WebEx Meetings offers a robust free version allowing up to 100 participants to meet for 40 minutes.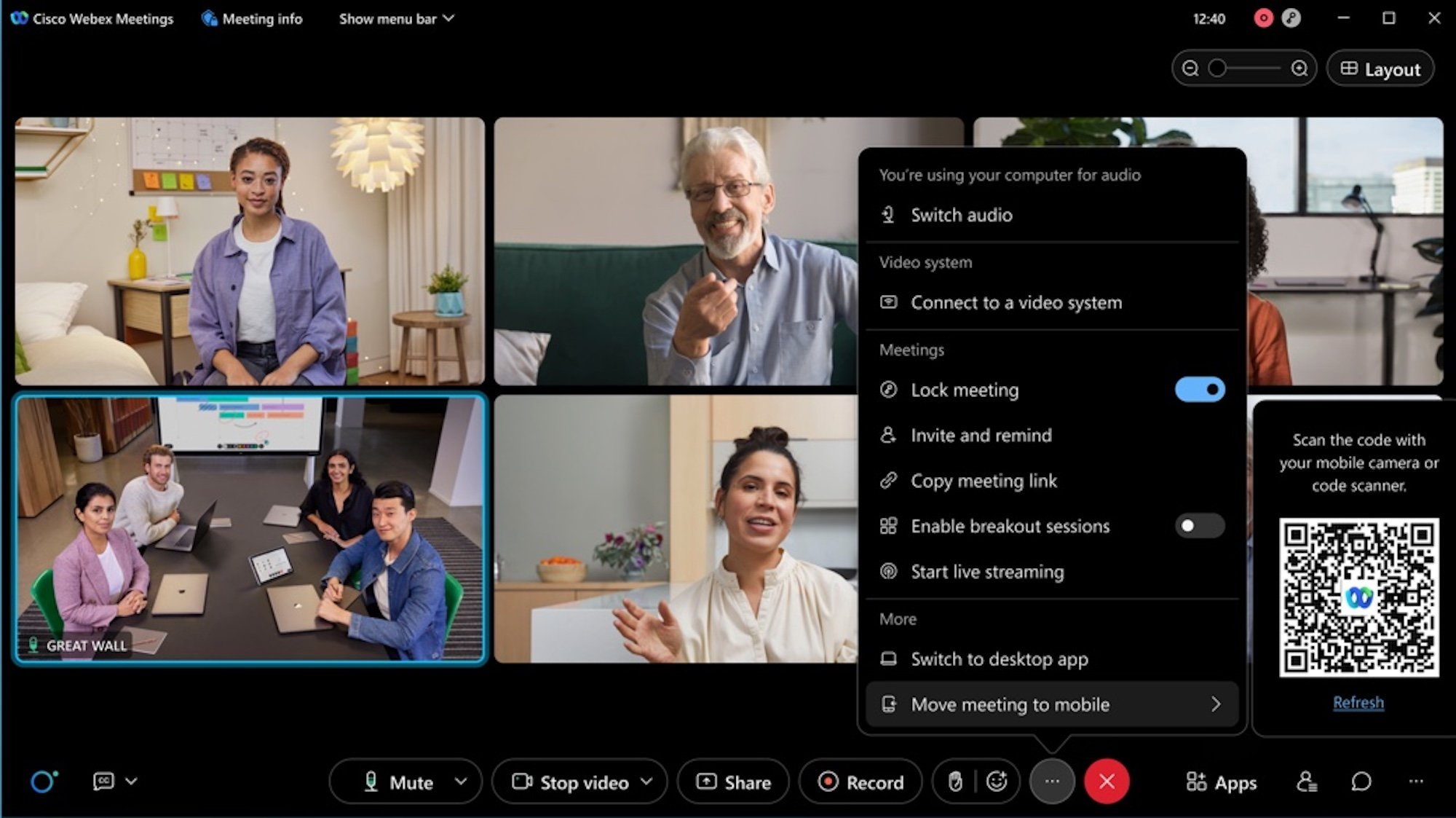 Best Free Features
Top free Webex meetings features include:
Screen sharing
Unlimited whiteboard
1:1 and team messaging
Local meeting recording
Video messaging
Add meeting co-hosts
Live reactions with hand gesture recognition
Pros
Video and team messaging included in the free version
Up to 100 participants in the free version
High level of security with end-to-end encryption (E2EE) and HIPAA compliance
Cons
Calling features only included in paid plans
Voice commands are only available in paid versions and only in English
Platform has many features and a complex learning curve
Who It's Best For
Cisco WebEx is best for SMBs that are experiencing rapid growth and are looking to scale in the near future. It is a great choice for companies that will need the ability to host webinars or require CCaaS features.
Microsoft Teams
Microsoft Teams is a robust video conferencing software platform with a free plan that lets up to 100 participants meet for an hour. Teams offers advanced collaboration tools like mobile screen sharing, integrates with other Microsoft 365 apps like Outlook, and lets free users make VoIP calls to anyone with a Webex account.  As with all Microsoft products, the level of reliability and security is high.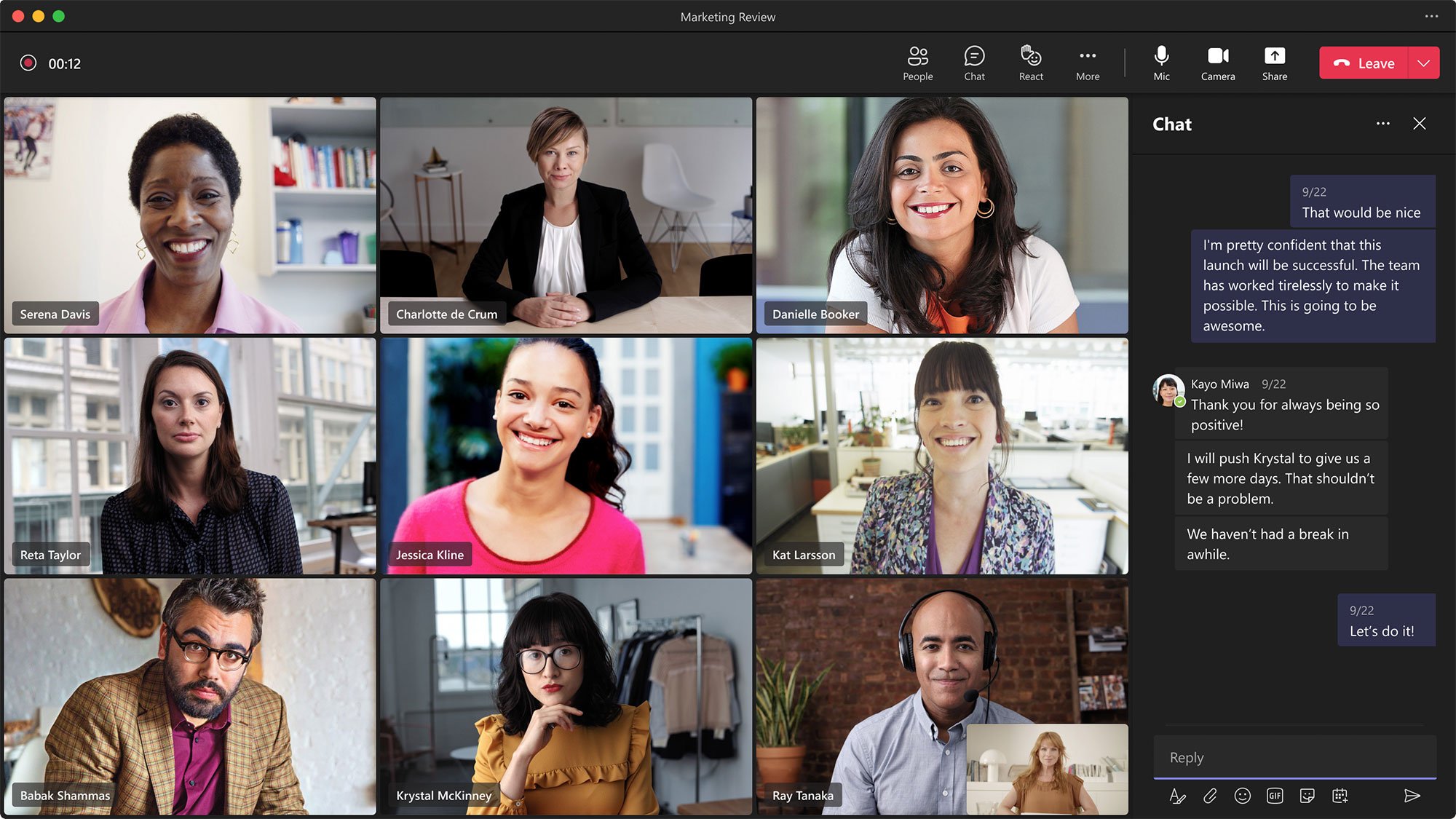 Best Free Features
Top Microsoft Teams free features include:
In-meeting public/private chat
File sharing
Tasks and polling
Breakout rooms
HIPAA/BAA compliance
Unlimited 1:1 meetings for up to 30 hours
Local storage meeting recording
Pros
HD audio with voice optimization and background noise removal
60 minute duration limit on group meetings is higher than most competitors
Data encryption for meetings, chats, calls, and files
Cons
Free version does not include other Microsoft services such as Excel and Word
No live customer support in the free version
Platform is made to work with other Microsoft applications and may not integrate smoothly with non-Microsoft apps
Who It's Best For
Microsoft Teams is best for companies who are already using other Microsoft 365 and need a full service video meeting solution.
Dialpad Meetings
Dialpad Meetings is an AI-powered collaboration platform offering browser-based web conferencing for desktop and Android or Apple iOS mobile devices. Up to 10 users can meet for a maximum of 45 minutes on the free plan.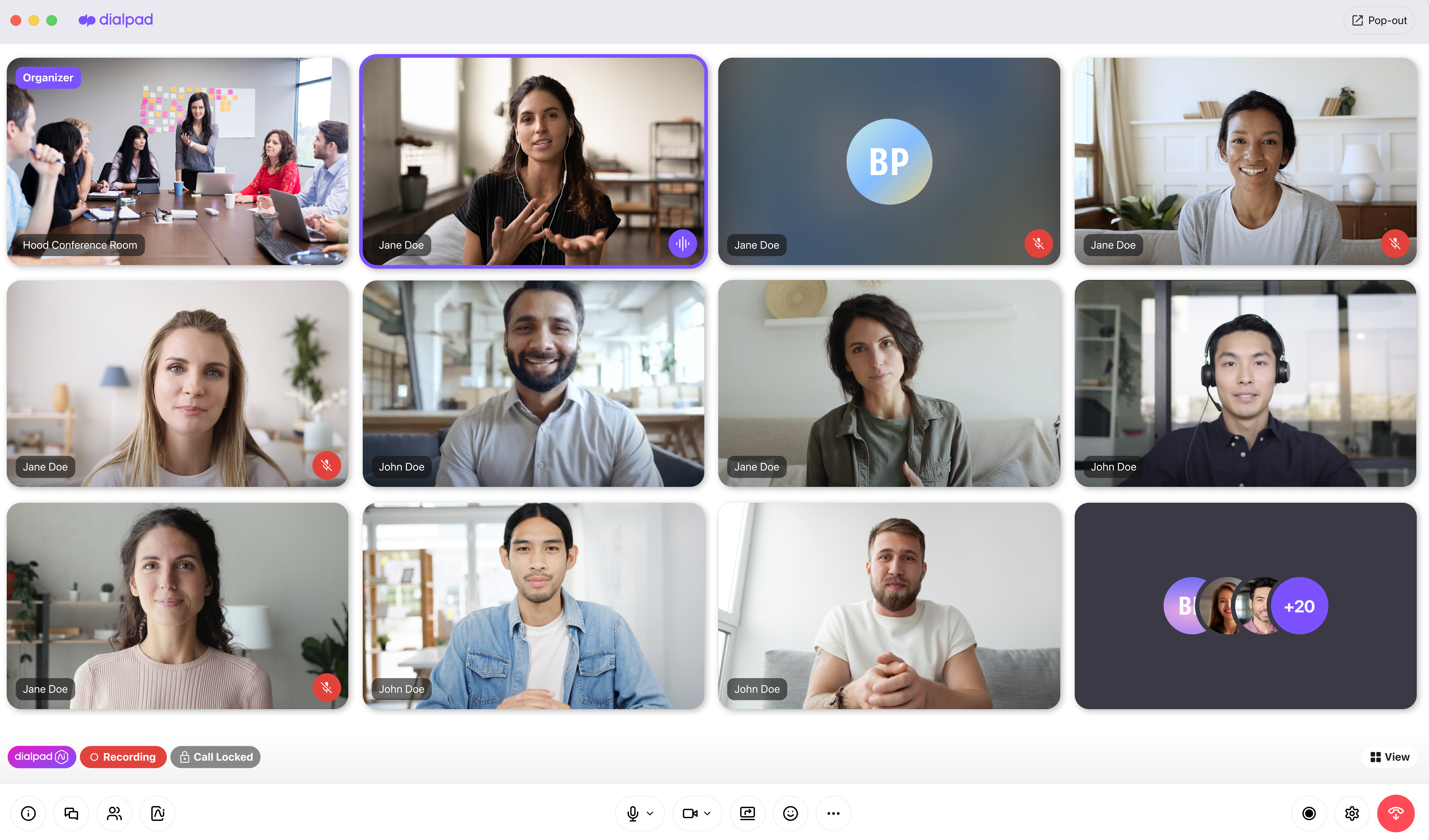 Best Free Features
Top features in the Dialpad Meeting free version include:
Unlimited audio recording
No-download meeting access (ideal for browsers like Google Chrome)
Virtual backgrounds
Host controls
Meeting lock and waiting room
Background noise reduction
Screen sharing
End of meeting reminder
Pros
Meeting lock and host controls included with free plan
Screen sharing and virtual backgrounds included in free version
Many integrations including Salesforce, Miro, Hubspot, and calendar integrations
Cons
Low participant cap compared to competitors
Built-in AI features (such as transcription) are not included with the free version
No end to end encryption
Who It's Best For
Dialpad Meetings is best for small businesses and remote teams that need a platform to host small, short check-ins.
Zoho Meeting
Zoho Meeting is an online meeting and webinar solution that includes collaboration and remote work tools such as screen sharing and reporting. Zoho enables users to host webinars and share multiple video feeds. The free version of Zoho Meeting lets up to 100 participants/100 webinar attendees meet for 60 minutes.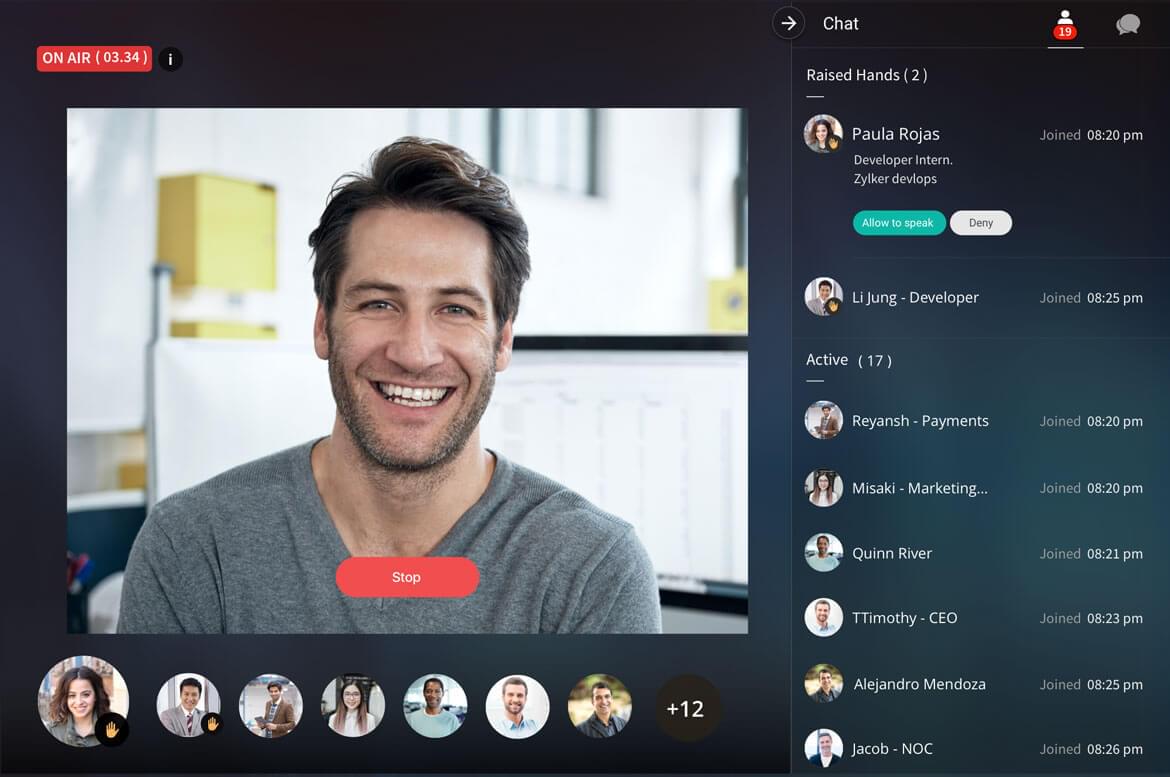 Best Free Features
The top Zoho Meetings free plan features include:
Screen and file sharing
Meeting notes and chat
Hand Raising
Multiple video layouts
Basic reports and analytics
Virtual background
Virtual Whiteboard
Pros
High duration limit compared to competitors
Basic reporting and analytics included in the free version
Webinar capabilities included in the free version
Cons
Users can only make phone calls with the paid versions
Meeting lock and co-hosts only included in paid versions
Recording offered as an add-on only
Who It's Best For
Zoho Meeting is one of the only web conferencing providers that includes webinar tools in its free version, making it a great choice for businesses that are looking to host webinars.
Livestorm
Livestorm is a browser-based video conference and webinar platform that includes a host of organization, engagement, and analytic tools. With Livestorm, companies can host real-time events and make them available for on-demand playbacks. In Livestorm's free version, up to 30 attendees can meet for 25 minutes and enable 25 simultaneous speakers.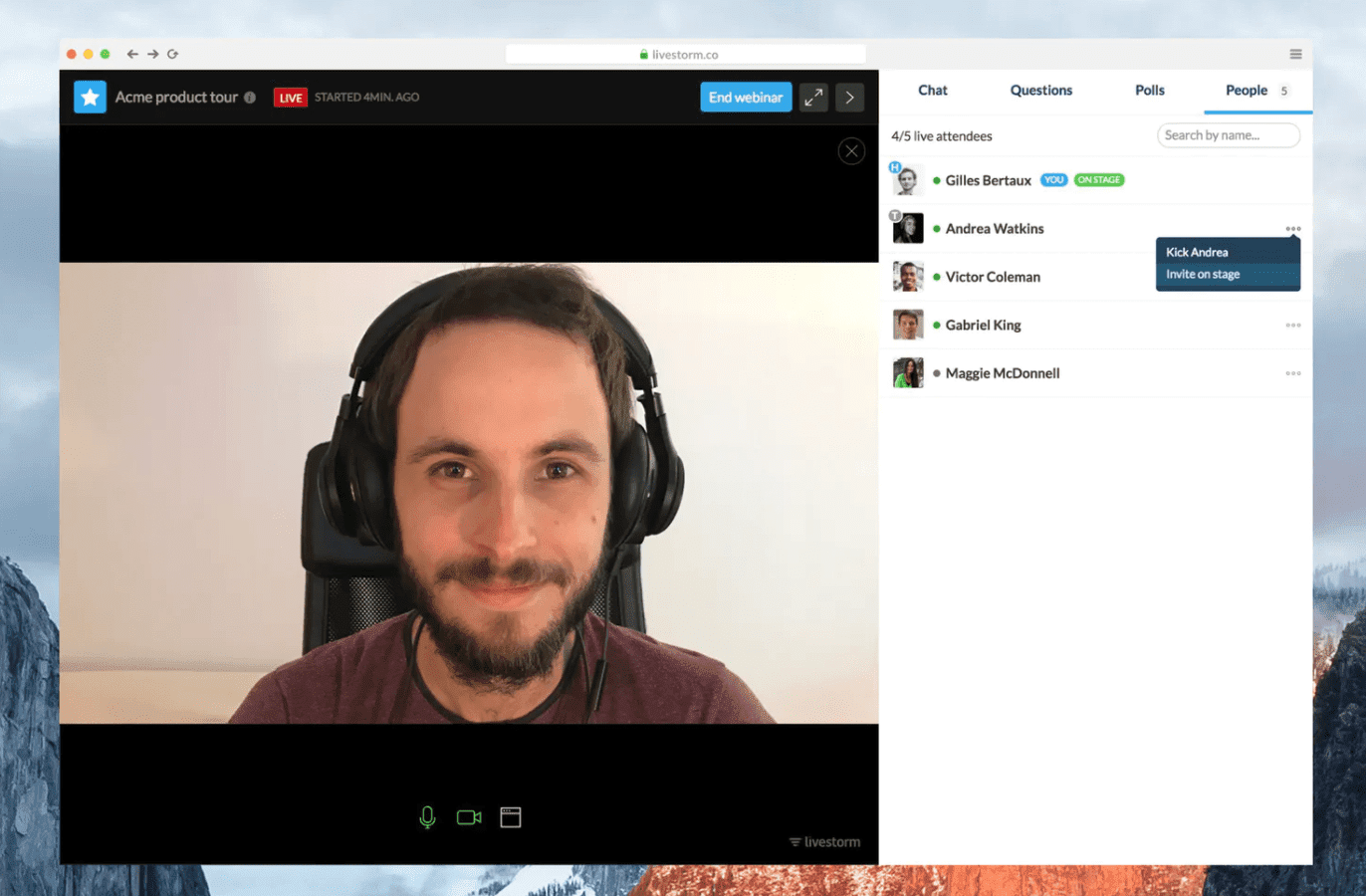 Best Free Features
Top Livestorm free version features include:
Automation tools like customized reminders and follow-up emails
Breakout rooms
Custom branding
Polls
Analytics
Zapier integration
Pros
Analytics and custom branding included in the free version
GDPR compliance
Paid versions are expensive compared with competitors
Cons
Low meeting duration of only 20 minutes
Low participant limit
Replay viewers limited to 30 per month
Who It's Best For
Livestorm's free version is best for businesses that need advanced features such as custom branding and breakout rooms but don't require a long meeting duration time. Livestorm is also a good choice for companies that are planning to scale up and host webinars with on-demand viewing options.
TeamViewer
TeamViewer is an all-in-one SaaS solution that offers a free video chat tool for up to 5 meeting participants to meet for an unlimited amount of time.
It uses data compression technology to deliver high quality HD video and audio services along with a number of video conferencing features.
TeamViewer can be used on any operating system including Windows, iOS, or Android, and on any computer or mobile device such as a tablet or smartphone.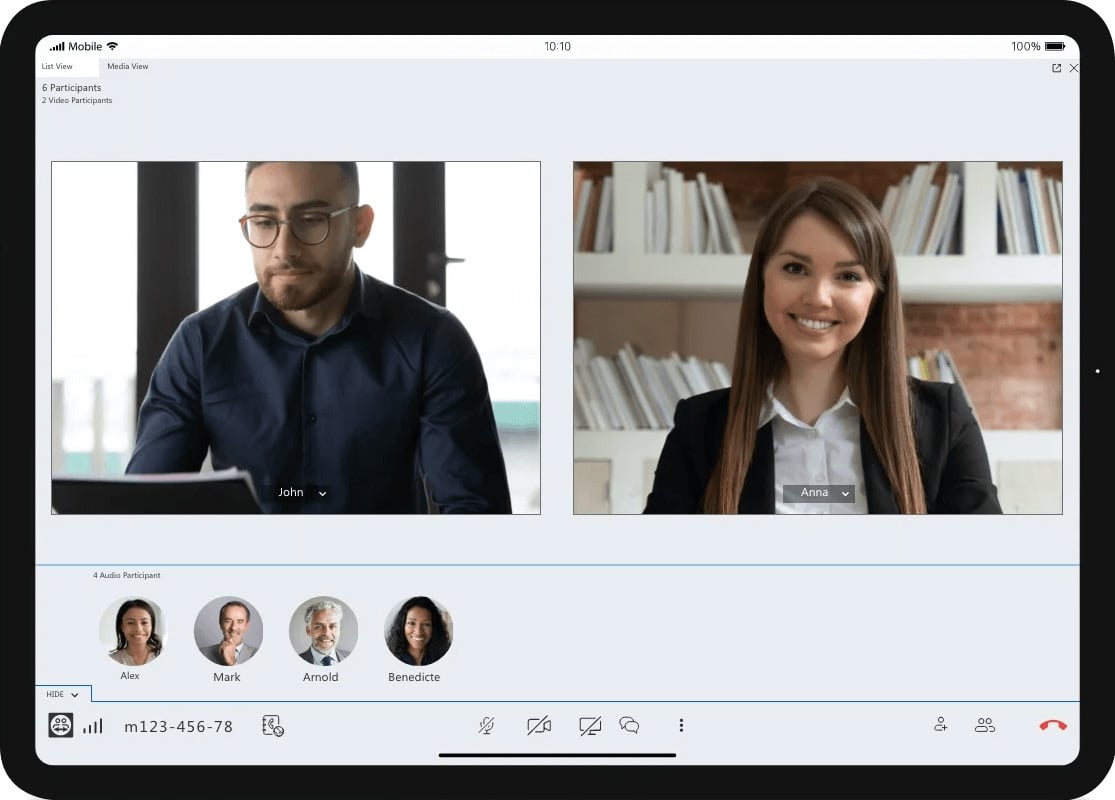 Best Free Features
Top free TeamViewer features include:
In-meeting chat
Screen sharing
Audio conferencing
File sharing
Meeting lock
Pros
Includes end-to-end AES (256-bit) encryption and malware protection
HIPAA compliant
No time limits
Cons
Very low participant limit (5) compared to competitors
Lacking many video features such as virtual backgrounds and whiteboard
Lacks analytics and reporting capabilities
Who It's Best For
TeamViewer is best for companies that need to be able to conduct longer team meetings between only a few people, such as design firms that need a way to schedule meetings with clients.
Skype
Skype became a household name as one of the first free web conferencing software solutions. Now owned by Microsoft, Skype offers users a wealth of advanced features and tools as well as a generous free version. Skype's free version allows for up to 100 participants to meet for up to 24 hours.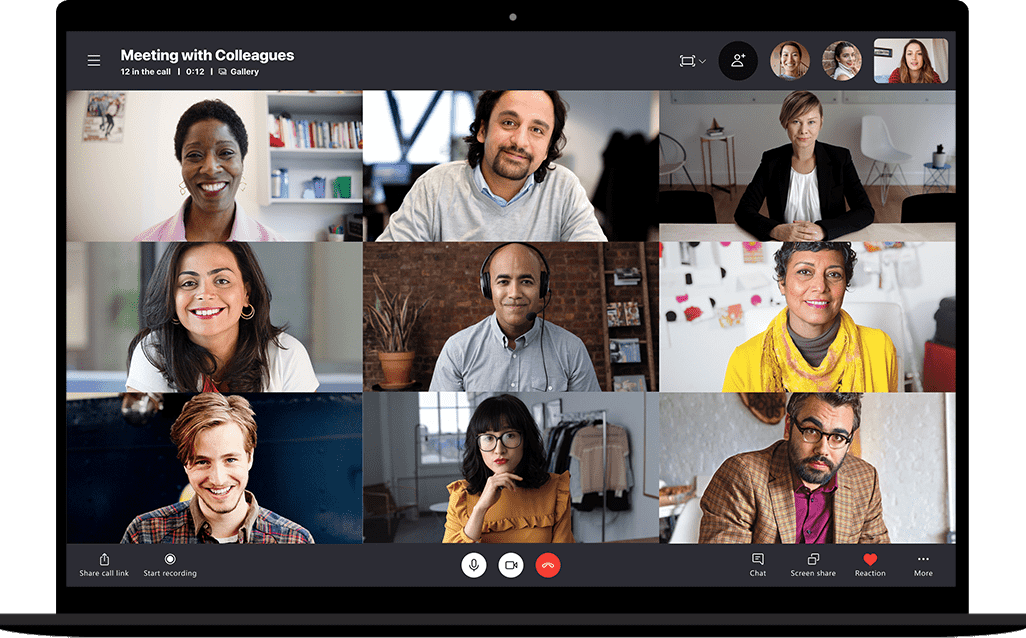 Best Free Features
Top Skype free version features are:
Background blur
Screen sharing
Recording
Personal invitation links
Chat functionality and access to chat history
Pros
High participant limit (100) compared to competitors
Long meeting duration (24 hours) compared to other providers
Live captions and subtitles available for audio or video calls
Cons
Some users complain of low video and audio quality compared to competitors
Lack of integrations with non-microsoft apps
Free version has intrusive ads
Who It's Best For
Skype is best for SMBs that need to host larger meetings and are already using Microsoft products such as Office 365.
Jitsi
Jitsi is an open source video conferencing platform that is completely free to all users.  The open source format and WebRTC compatibility makes Jitsi an extremely flexible and scalable solution, and allows for unlimited users to meet for an unlimited length of time. The only restrictions are related to bandwidth and power limitations.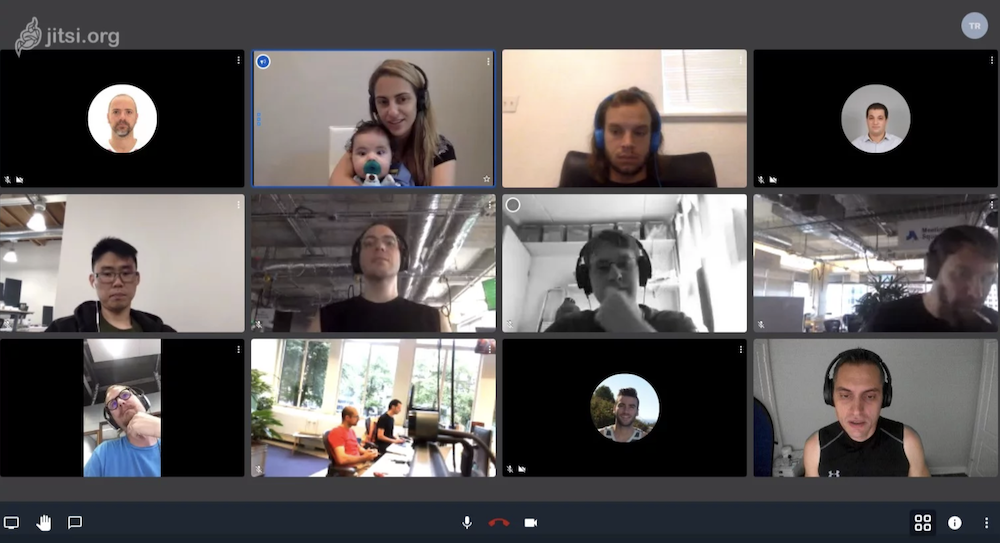 Best Free Features
The best free Jitsi features are:
Lock protected rooms
In-transit encryption by default
Screen sharing
Pros
High level of security
Flexible, open source platform
No participant cap
Cons
Steep learning curve
Some users complain video quality is subpar compared to competitors
Not many features
Who It's Best For
Jitsi is best for tech savvy companies that need a customizable and affordable video conferencing solution.
Slack
Slack is a team collaboration and communication platform that includes a video conferencing feature. Slack enables co-workers to engage in group chats via topic-based threads or communicate through direct messages. Users can also build workflow automations in the Slack app. Slack's free version includes only 1:1 video meetings (called "Huddles") with no time limit.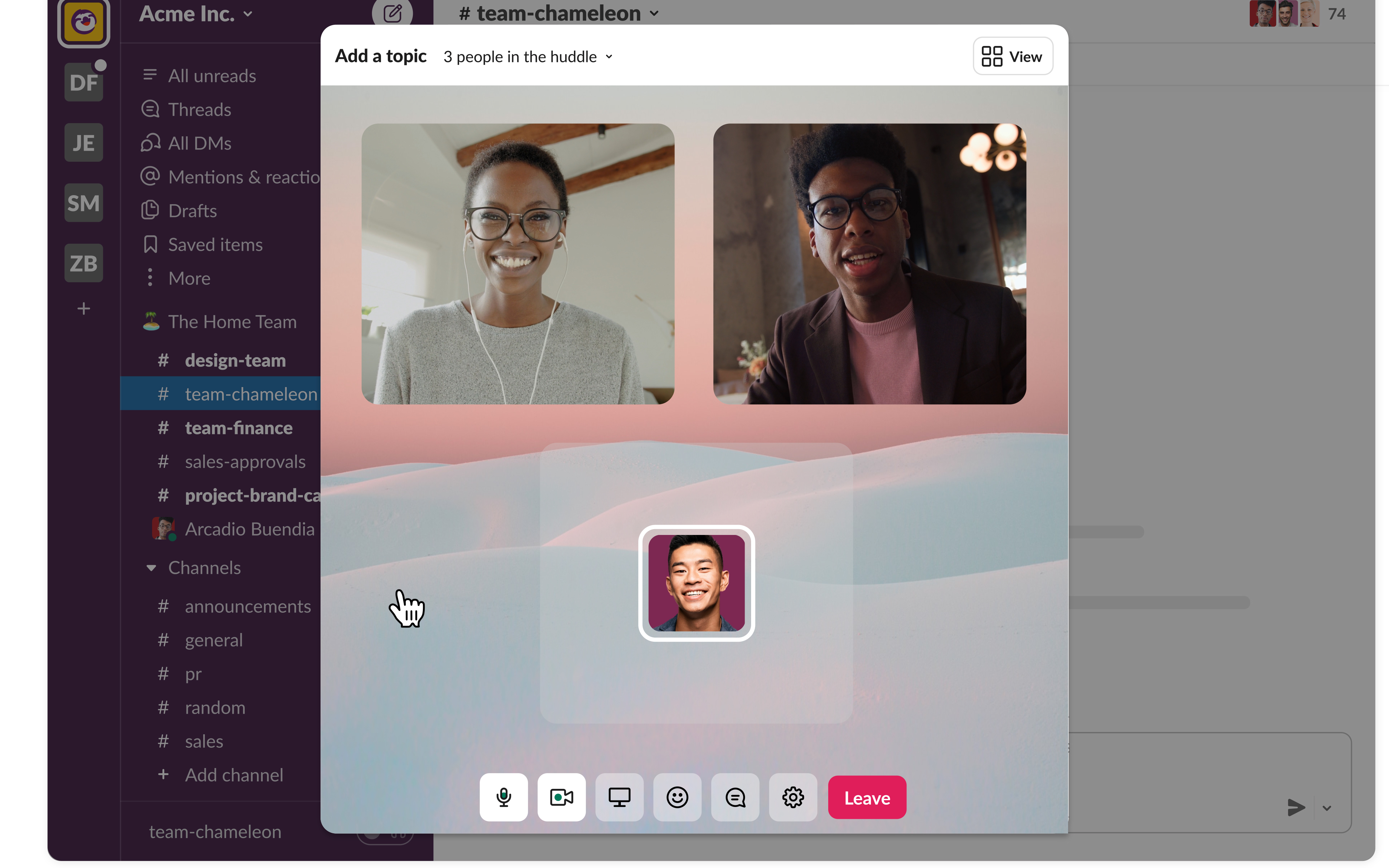 Best Free Features
Top Slack free plan features include:
Send/receive audio clips
Screen sharing
Up to 10 integrations
2 factor authentication
Encryption in transit and at rest
90 day access to file/message history
Pros
Highly secure and reliable (99.999% uptime)
No meeting time limits
Paid versions are affordable compared to competitors
Cons
1:1 video meetings only unless you upgrade to a paid version
Not many video features
Workflow builder is only available in the paid version
Who It's Best For
Slack is best for small remote teams that communicate mainly via chat and text but need to occasionally conduct one-on-one face to face meetings.
FreeConference
FreeConference is a video and audio communications platform that offers a "pay what you can" pricing model. FreeConference has a high participant cap of 1,000 with an unlimited meeting duration. It does, however, have a limited feature set. FreeConference displays the active speaker and five simultaneous feeds at a time.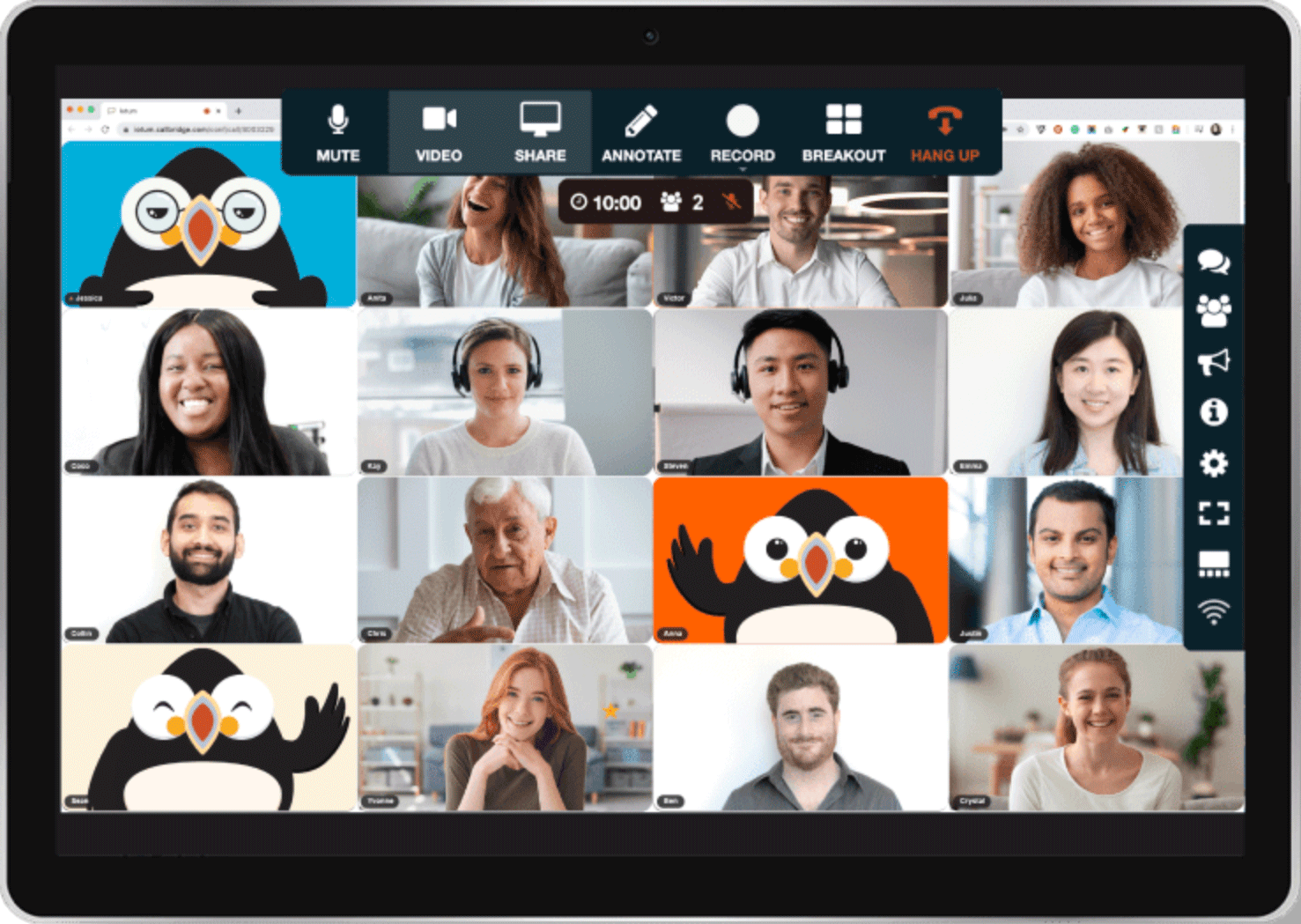 Best Free Features
The top FreeConference features are:
In-meeting chat and attendee list
Video recording with 1 GB cloud storage
User reports
24/7 email and phone support
Meeting lock
Pros
Allows up to 1,000 participants
No meeting time limits
User friendly platform
Cons
Limited features
Inconsistent call quality
Who It's Best For
FreeConference is best for startups and small teams that need an easy to use platform and access to live customer support.
What to Look for in a Free Web Conferencing Platform?
The best free web conferencing platform depends on the specific needs of the business. Here are some things to keep in mind when choosing a provider:
Video and audio quality: Make sure the platform can provide clear video and audio quality for all participants. User reviews often address call quality.
Screen sharing: A screen sharing feature is important for collaboration during video meetings.
Chat: A chat feature is helpful for participants to communicate with each other during conferences.
Recording: The ability to record the conference is useful for reference or for participants who could not attend live.
Security: Make sure the platform is secure and includes features such as encryption, two factor authentication, waiting room, and meeting lock.
Ease of use: The platform should be easy to use and navigate in order for team members to get the most out of it.
Support: Most free web conferencing platforms do not offer live customer support, but it's important to take a look at the knowledge base to ensure information is up to date and organized.
Integrations: If your company is already using other software or CRMs, you will want to ensure that the video conferencing platform can integrate with those systems.
Paid vs Free Video Conferencing Software
| | | |
| --- | --- | --- |
| | Free | Paid |
| Meeting duration | 40-60 minutes | Up to 24 hours |
| Number of participants | Up to 100 | Up to 10,000 |
| Video quality | HD video and audio | HD video and audio |
| Screen sharing | Sometimes included | Always included |
| Recording | Local only or not available | Included with local and cloud storage |
| Breakout rooms | Sometimes included | Always included |
| Virtual backgrounds | Sometimes included | Always included |
| Integrations | Basic integrations | Advanced integrations |
| Customer support | Self service only | Live phone, chat, and email support |
What is the Best Free Video Conferencing Software?
Zoom: Best for Remote Teams: Offers a number of easy-to-use features such as breakout rooms, screen sharing, and whiteboarding, making it ideal for remote teams to stay connected and work together on projects.
Zoho Meeting: Best for Webinars and Online Events: The ability to host up to 100 participants and 100 webinar attendees, along with features such as file sharing and live streaming make it a great choice for online events.
Cisco Webex: Best for Education: Popular in the education sector for features like screen sharing, whiteboard and video messaging, which facilitate collaboration and learning.
Google Meet: Best for Freelancers: The low participant limit keeps meetings focused. The platform offers a high level of reliability and security and is perfect for freelancers to use when meeting with clients.
GoTo Meeting: Best for Healthcare: Popular in the healthcare sector due to a high level of security and reliability along with HIPAA compliance and healthcare integrations (Epic, curve, etc.)
Jitsi: Best for Developers: Due to its flexible, open source platform, Jitsi is a great pick for developers that wish to customize their video conferencing solution.
FAQs