Dialpad Talk and Zoom Phone are two top UCaaS solutions that unify a VoIP business phone system, SMS, team messaging, and sometimes video into an omnichannel dashboard for internal and customer-facing communications.
Each provider combines routing features, call management tools, reports and analytics, AI, and communication channels.
This article will place Dialpad Talk and Zoom Phone head to head, comparing their features, pricing, pros, and cons.
Jump to↓
Dialpad vs Zoom at a Glance
The main difference between Dialpad Talk and Zoom Phone is that Dialpad offers a full omnichannel solution with calling, chat, SMS, and video, while Zoom omits video but provides a pay-as-you-go calling option for users with small call volumes.
While both UCaaS solutions are among the most affordable of their competitors and include routing tools like IVR and ring groups, Dialpad offers more AI features and integrations than Zoom does.
Dialpad Talk
Zoom Phone
Pricing
3 plans from $15 to over $25 monthly per user
3 plans: a metered plan for $10 monthly per user, an unlimited plan for $15 monthly per user, and a global plan for $20 monthly per user
Key Features
– Call and voicemail recording and transcription
– Unlimited small-group video meetings
– AI agent support
– Real-time sentiment analysis
– Call recording
– Call handoff between devices
– Barge/Monitor/Whisper/Takeover
– Unlimited IVR
Available Communication Channels
– Voice
– SMS and MMS
– Team chat
– Video meetings with 10 participants
– Voice
– SMS and MMS
– Team chat
Integrations
Salesforce, Slack, contact center software, Microsoft, Google
Salesforce, Slack, contact center software, Microsoft, Google
Customer Support Options
– Knowledge base
– Community forum
– 24/7 chat, web tickets, and voice support
– Knowledge base
– Community forum
– 24/7 chat, web tickets, and voice support
Best For
Small teams seeking a unified communications solution with video and AI features
Companies with low per-agent call volumes, seeking a phone- and messaging-focused UCaaS solution
What is Dialpad Talk?
Dialpad Talk is Dialpad's business phone system, with VoIP HD calling and 100% uptime across phone, desktop, and browser apps.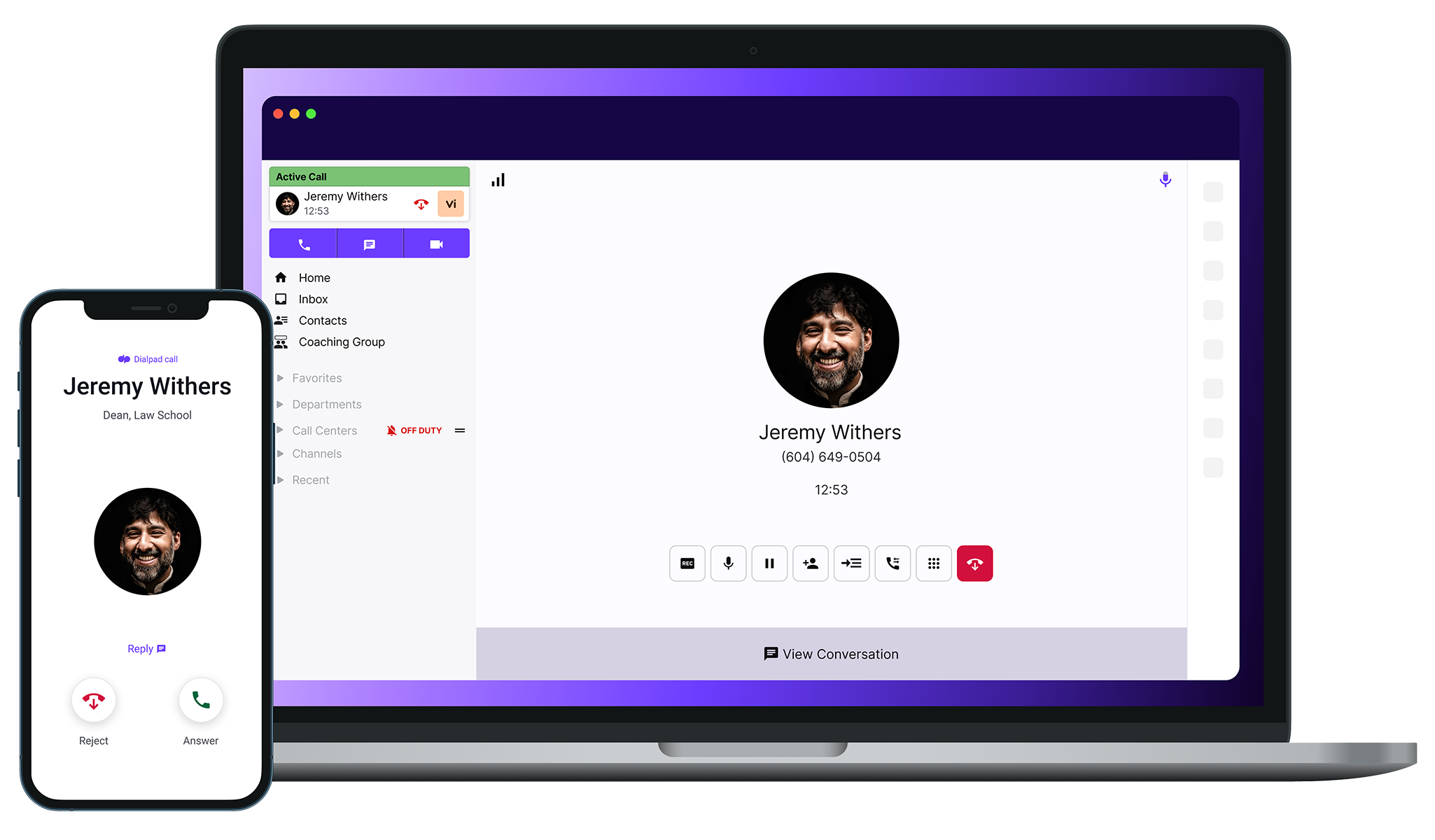 With toll-free and local numbers available in over 50 countries, Dialpad's calling plans include unlimited inbound and outbound calling within your country, the US, and Canada.
Dialpad Talk comes as part of Dialpad's business communications UCaaS platform, so its routing, voicemail, and AI-powered call transcription features come bundled with small business video meetings, real-time analytics and call summaries, SMS, and internal team messaging.
What is Zoom Phone?
Zoom Phone is Zoom's cloud-based phone system that provides VoIP calling. This UCaaS solution includes team messaging, SMS, call management features, voicemail, call routing, reporting, third-party software integrations, and more–organized in agent and admin dashboards on desktop or mobile apps across Android and iOS.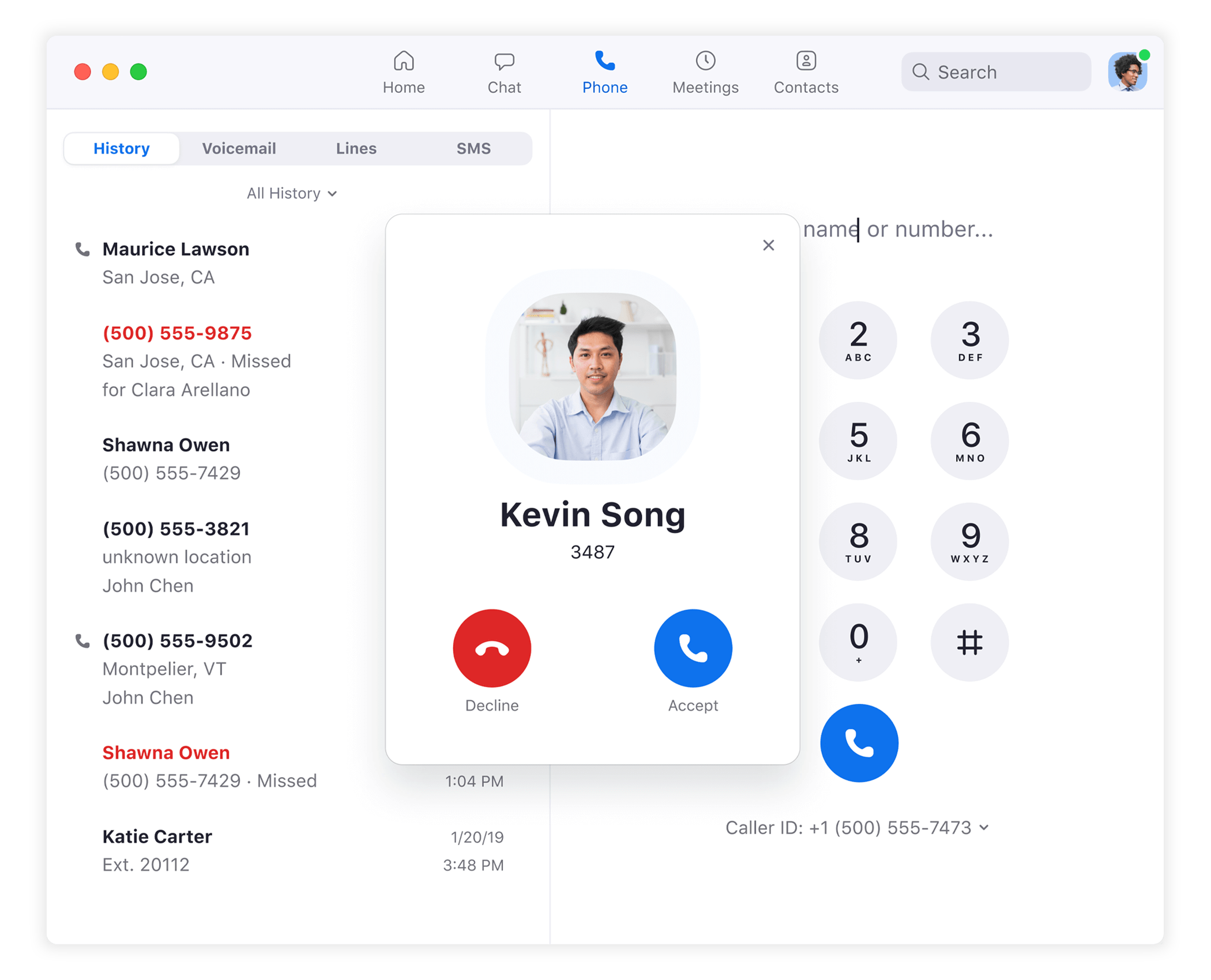 Purchase virtual business numbers, including local and toll-free numbers around the world, or port in your pre-existing number, to make unlimited HD-voice calls within the US and Canada or one of Zoom's 40+ supported countries.
Dialpad vs Zoom: Feature Comparison
Below, we've compared the top features for Dialpad Talk vs Zoom Phone.
Dialpad Talk: Call Routing and Queueing
With custom auto attendants, business hours, queues, routing rules, and greetings, Dialpad provides complete control over how you handle and route incoming calls.
Assign a business phone number to a self-service IVR that routes customers via DTMF to a company user, voicemail, message, or announcement.
The IVR routing tree is easy to set up, with configurable multi-level menu options and messages you create via type-to-talk or audio recording, with natural language understanding (NLU) and translation into 12 languages.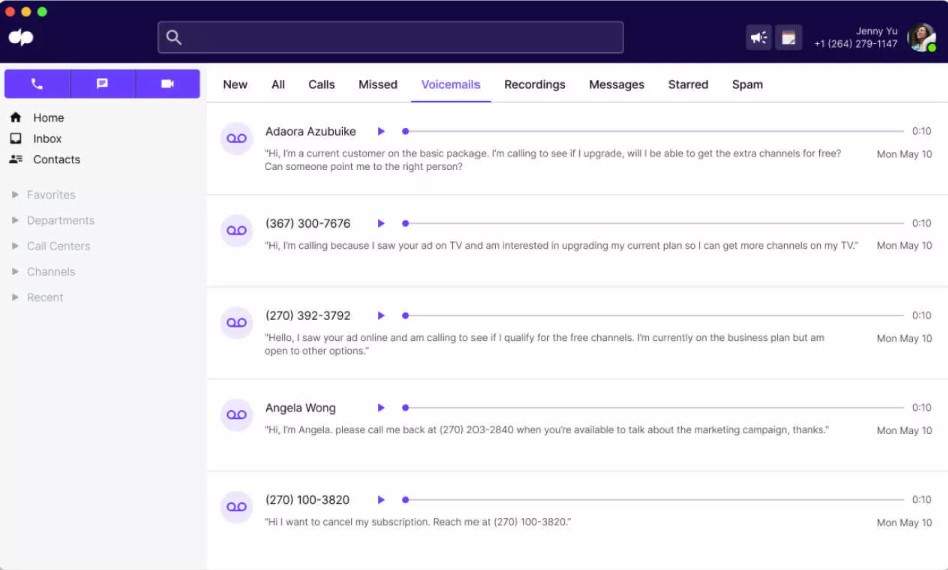 Dialpad also includes these routing, voicemail, and queueing features:
Ring groups: Create ring groups for agents and departments to share inbound call responsibility. Customize ring style–longest idle, fixed order, or round robin.
Department hold queues: Create department hold queues for when agents are busy. Customize by business hours, set a maximum queue length, choose a greeting and hold music.
Queue prioritization: Prioritize queues so that even when your contact center is overloaded, important calls quickly reach the needed agent.
Skills-based call routing: Prioritize agents within each queue to receive calls based on their proficiency, rated 1-100.
Geographic routing: Route incoming calls by area code.
Visual voicemail: Notifications, playback, and transcription for each voice message–shareable via team messaging.
Zoom Phone: Call Routing and Queueing
Zoom Phone offers unlimited auto attendants, automatic call distribution (ACD) groups with custom queueing, and routing business hours.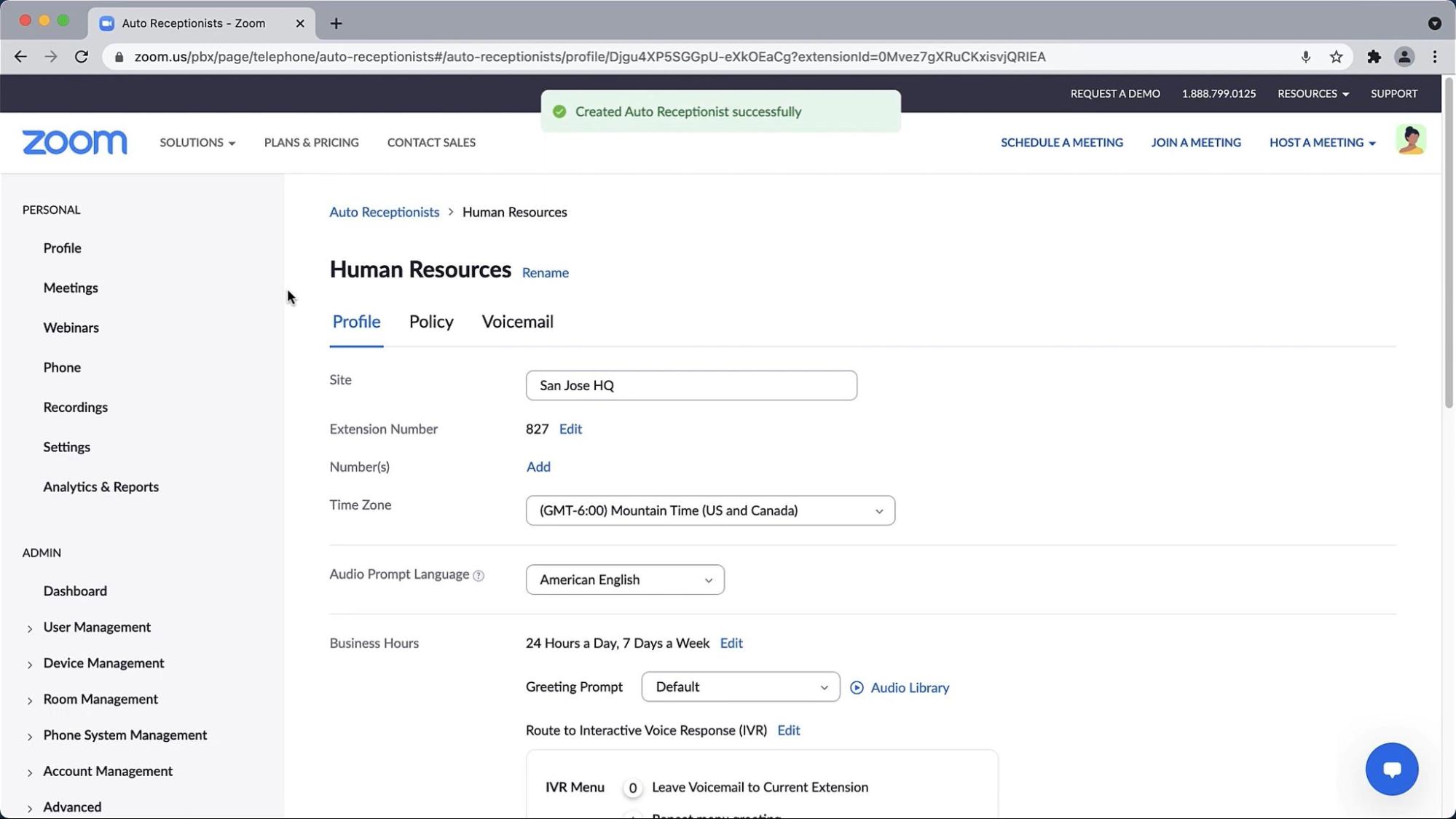 Duplicate and save unlimited auto attendant menu templates–routing incoming callers to voicemail, custom messages, users within your company, common area phones, call queues, and new IVR menu levels.
Customizable Call Queue Features:
Business hours
Follow-the-sun call routing
Individual-agent business hours
Greeting prompt
Call distribution ring style–simultaneous, sequential, rotating, longest idle, or group rotating
Hold music and audio
Max wrap-up time for agents between calls
Options for receiving new calls while on call
Max wait time or queue length, and overflow routing options
Visual voicemail with playback, plus downloadable and shareable transcription
Dialpad Talk: Omnichannel Features
Dialpad's business communication plans include the following omnichannel features:
Internal team messaging: Send unlimited 1:1 or team web-chat messages. Share files, react with emojis, create devoted channels, and jump directly from chat into video meetings.
Unlimited SMS and MMS
Video meetings: Schedule HD-video online meetings up to 5 hours long, with up to 10 participants, joinable on mobile or desktop with no download. Meetings include chat, a waiting room, screen sharing, virtual backgrounds, and collaborative whiteboards.
Agent dashboard: All channels display in the left-hand column of the agent's workspace dashboard, where agents receive activity notifications and can respond in any channel with a few clicks.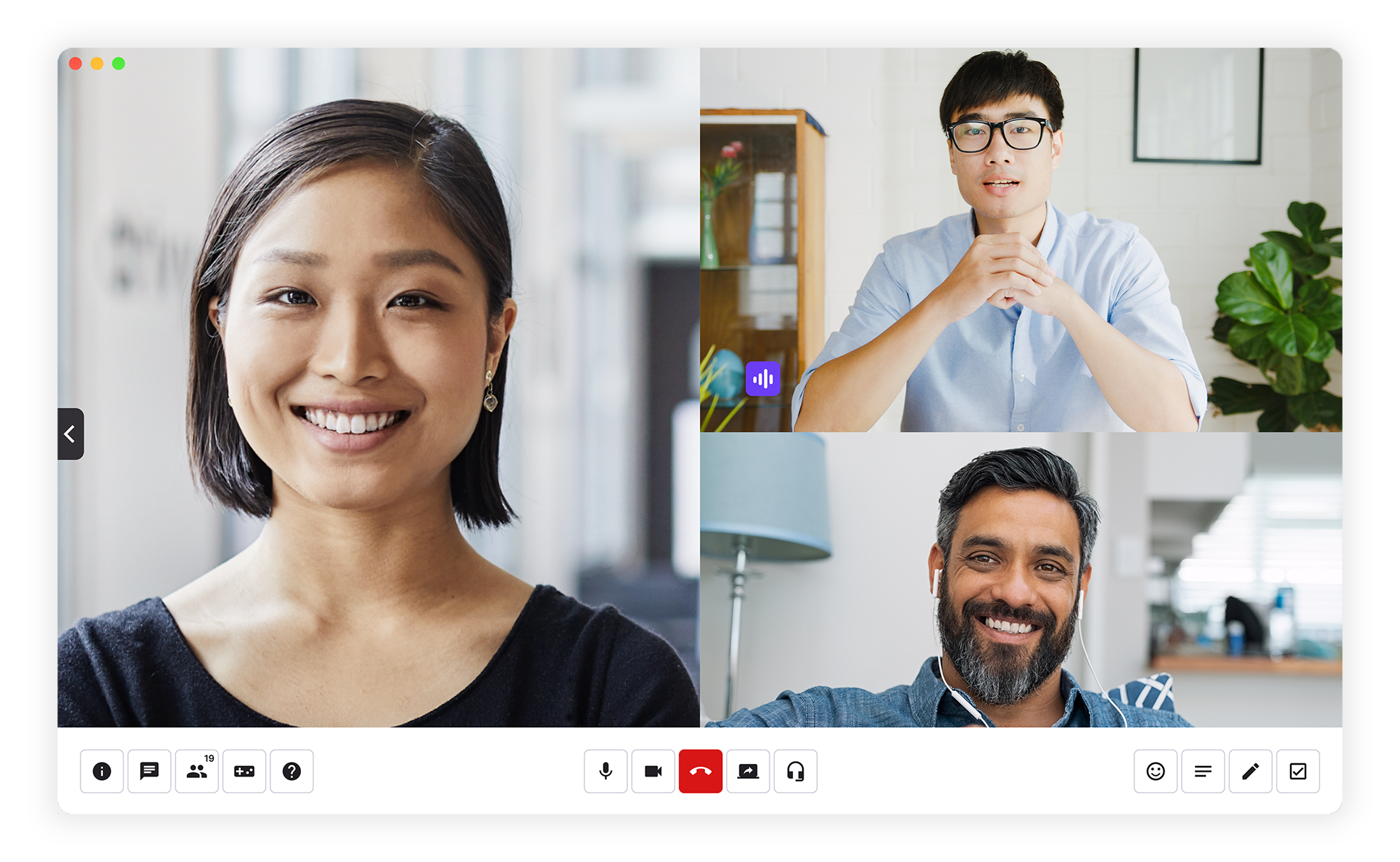 Zoom Phone: Omnichannel Features
Zoom Phone includes these omnichannel features:
Team chat: 1:1 and group chats to internal team members and external Zoom users. Share files, images, emojis, chats, and create unlimited channels with ease of use.
Limited Zoom Meetings features: Elevate and transfer calls to Zoom Meetings or Zoom Rooms for web conferencing.
SMS and MMS within US and Canada
Agent dashboard: Agents handle all internal and customer-facing communications in a user-friendly omnichannel workspace. Simply click on a call to view details, playback options, and transcript. Clicking on a contact name enables call, text, or chat.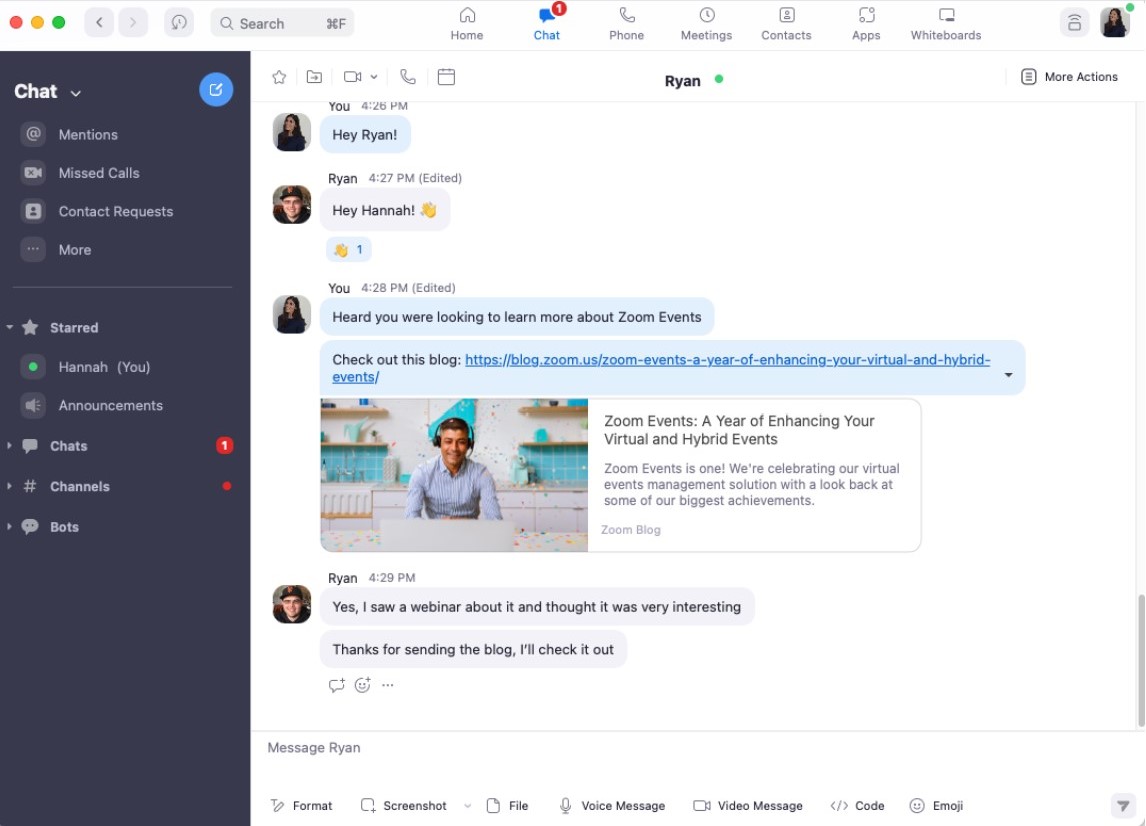 While Zoom Phone does not include the full Zoom Meetings video-conferencing suite, Zoom One's free plan integrates seamlessly with Phone, including features like screen sharing and whiteboards.
Dialpad Talk: Call Recording and Transcription
Dialpad users can record phone calls, conference calls, and video meetings on any device, with one-click start and pause.
Recordings are logged with the caller's name and the call duration, for future download and easy email sharing. Coaches can  make recording playlists for training purposes.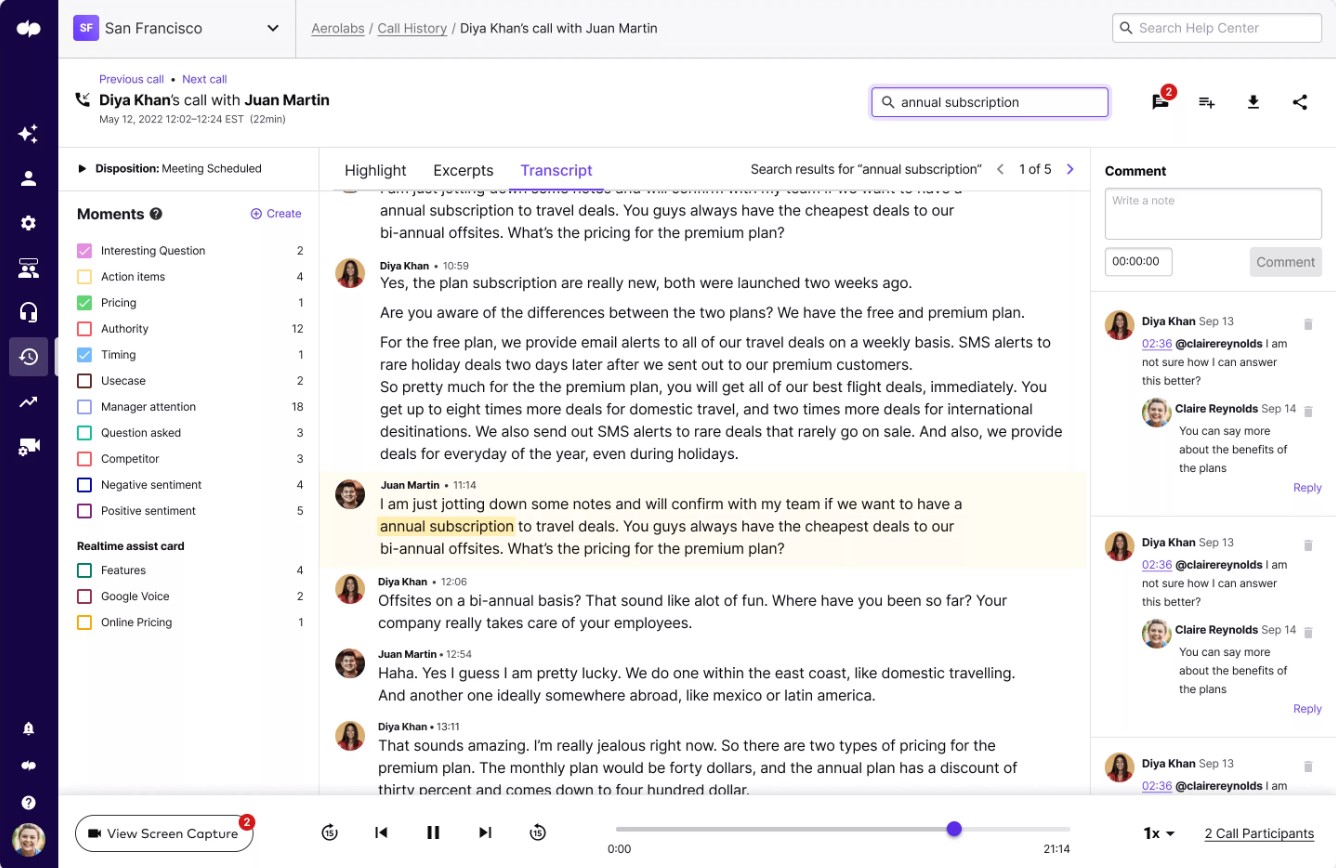 Each call is transcribed in real-time, offering agents a running transcript that distinguishes between speakers, so agents can always identify speaker and speech. Over time, Dialpad natural language processing (NLP) AI increases transcription accuracy as it learns industry-unique speech and vocabulary.
Zoom Phone: Call Recording and Transcription
Users can access automatic and ad-hoc call recordings on any device. Customize the message that plays for participants before call recording begins, or trigger a beep tone signifying call recording.
Each call recording generates a transcript, archived together in the call log for future searching and access.
Dialpad Talk: Call Management Features
Dialpad agents and administrators can utilize the following call-management features:
Call parking: Park up to 100 simultaneous calls in communal parking lots, for other team members to take over.
Call monitor, whisper, barge, and takeover: Administrators and supervisors can offer private support that only the agent can hear, jumping into the conversation or taking it over.
Call forwarding
Flipping between devices
Automatic spam detection and call blocking
Call transfer
Three-way calling
Zoom Phone: Call Management Features
Zoom Phone includes the following call management features:
Call elevation to Zoom Meeting: Seamless transition to meetings, without the customer having to download anything
Call delegation: Executives can delegate administrative assistants t0 make and receive calls on their behalf
Call monitor, whisper, barge, and takeover
Call transfer
Call forwarding
Call blocking
Call hold
Call park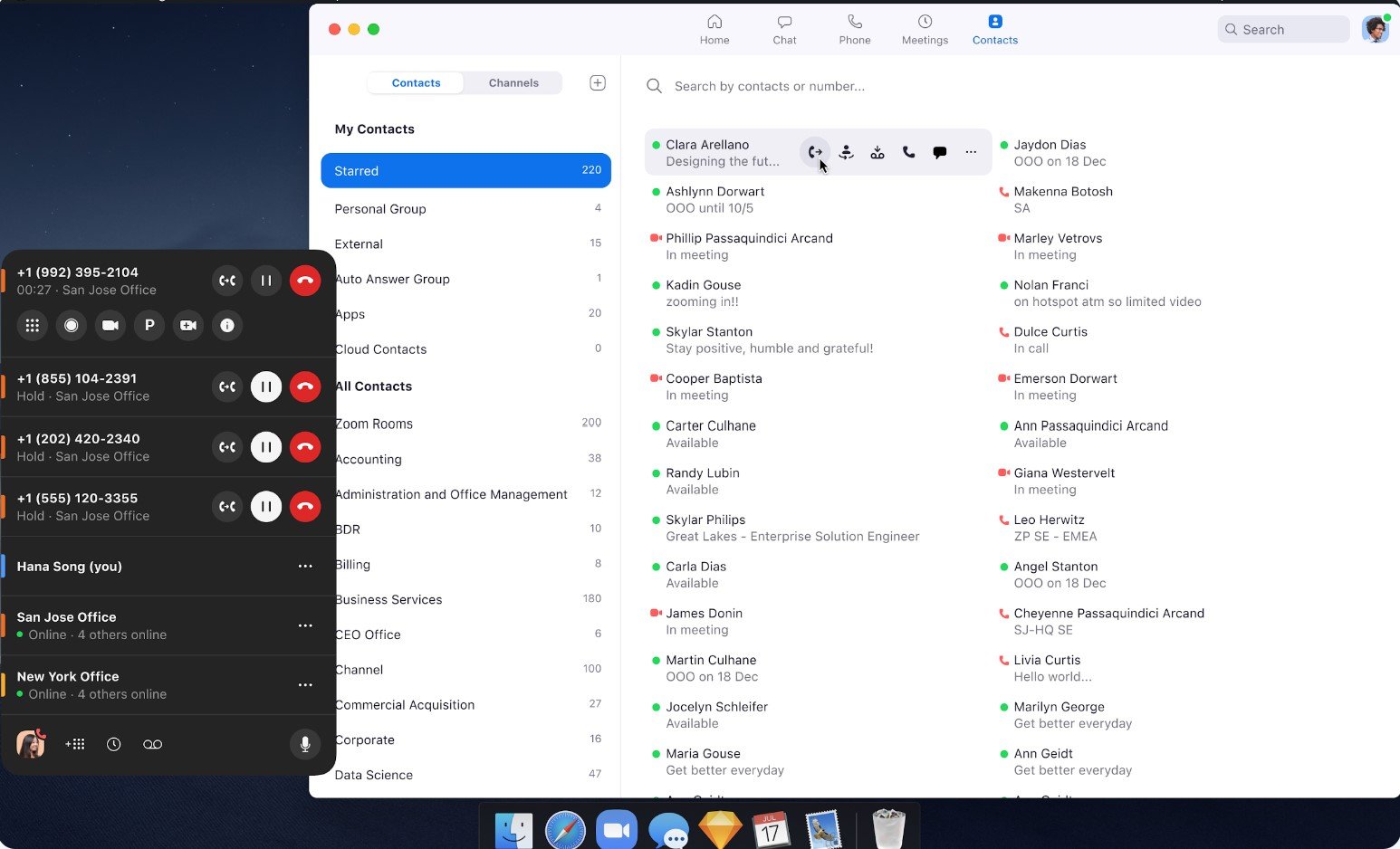 Dialpad Talk: Call Reporting and Analytics
Dialpad offers the following real-time and historical dashboards, reports, metrics, and KPIs:
Real-time and historical dashboards: Call center dashboards display call volume, average answer time, IVR usage, missed calls, abandoned calls, average handle time, keyword and topic occurrences, percentage of calls meeting SLAs, CSAT scores, channel and device usage, and more.
Custom, scheduled reports: Build custom reports with favored metrics, users, and channels–delivered daily, weekly, or monthly.
Weekly emailed summaries: Receive automated weekly email summaries containing trends and changes in critical call center KPIs.
Heat maps: Visual displays illustrating call volume and speed to answer by the time of day and day of the week.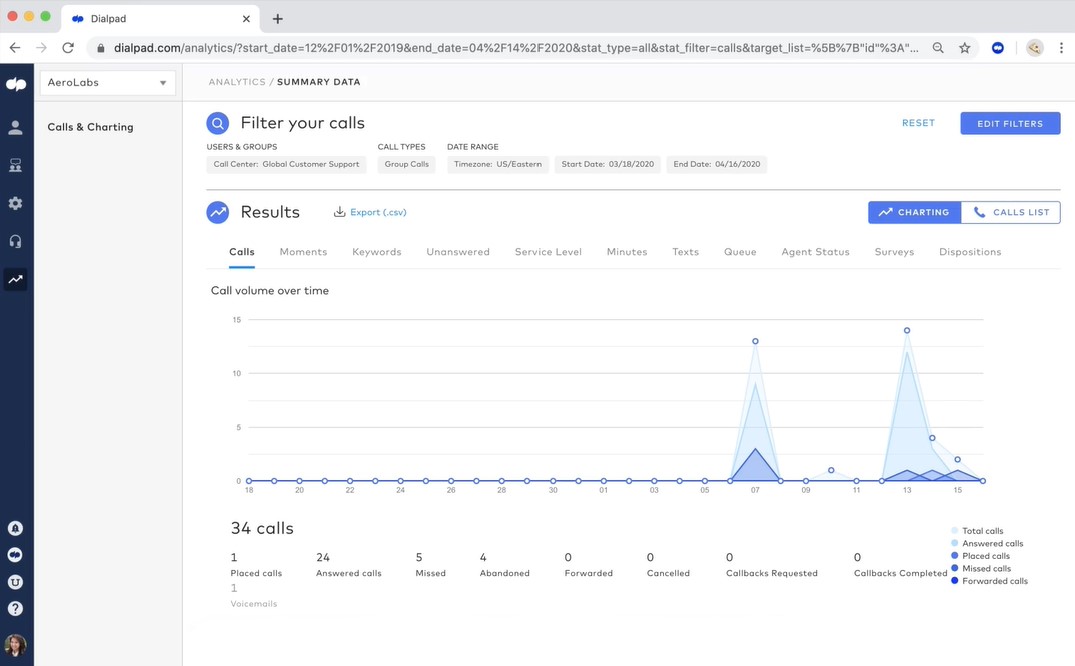 Zoom Phone: Call Reporting and Analytics
While regular Zoom Phone plans only include call logs with basic reporting, Zoom's Power Pack add-on delivers advanced historical and real-time analytics, including:
Customizable queue dashboard: set up a real-time queue dashboard with metrics like service level score, call handling time, call wait time, number of active vs waiting vs held calls, the percentage of calls completed vs missed, declined calls, forwarded calls, and more.
Quality of service reports: mean opinion score (MOS) by calling site, for calls made and calls received
Usage and adoption reports: Inbound and outbound call volume, calls completed vs missed, average call time, and more.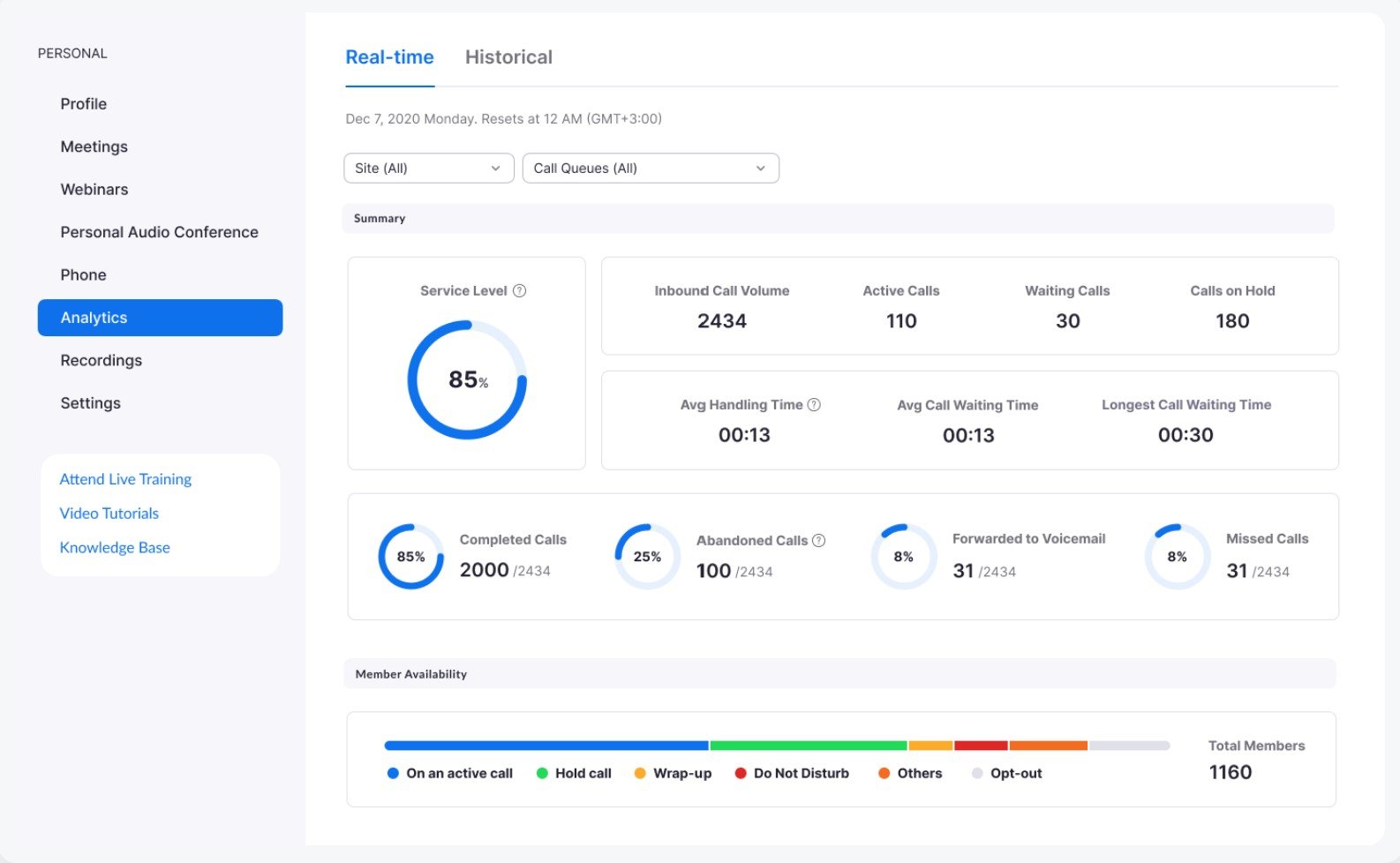 Dialpad Talk: AI 
Dialpad AI includes the following features:
In-depth post-call summaries: Access summaries containing the call's transcript, action items and to-do lists, highlights, and manual agent notes.
Live sentiment analysis: AI evaluates real-time negative or positive sentiment, displayed in the queue dashboard so supervisors can keep tabs on calls requiring extra attention. Afterward, sort conversation transcripts by keyword to find exactly when the tone shifted.
Real-time agent assist: Create real-time assistant cards–scripts, reminders, knowledge base articles, and notes–that automatically trigger on an agent's screen when keywords are mentioned.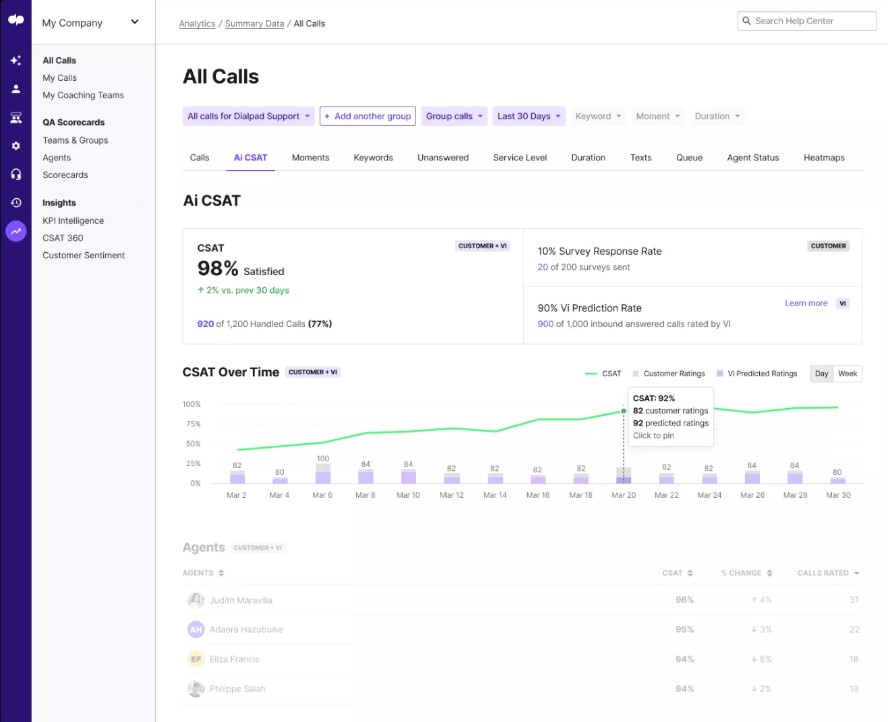 Zoom Phone: AI
Zoom Phone doesn't have any built-in AI features. However, their separate sales-focused conversational intelligence platform, Zoom IQ for Sales, includes the following features:
Post-meeting analysis: Transcription insights, conversation sentiment, engagement scores, and action items.
CRM integration: Conversation-derived insights update your CRM with lead and customer details and trends.
Conversational analysis: View AI-generated conversation insights like talk-listen ratio, talking speed, patience, and use of filler words
Recording playlists: Curate playlists of recording snippets for training
Dialpad Talk: Integrations
Dialpad Business Communications plans include the following app integrations:
Google Workspace
Salesforce
Open APIs and webhooks to build your own integrated apps
SSO apps–Okta, Azure, OneLogin
Microsoft Teams
Hubspot
ServiceNow
Zapier
Zendesk
Slack
Zoom Phone: Integrations
All Zoom Phone plans include the following integrations:
Salesforce
Slack
Contact center software
Microsoft Teams and 365
Google
Dialpad vs Zoom: Pricing Overview
Each Dialpad Talk plan includes voice, SMS, chat, and video meetings. The Basic plan features AI-powered transcriptions, the Pro plan adds ring group capacity and 70-country local number support, while the Enterprise plan enables unlimited office locations.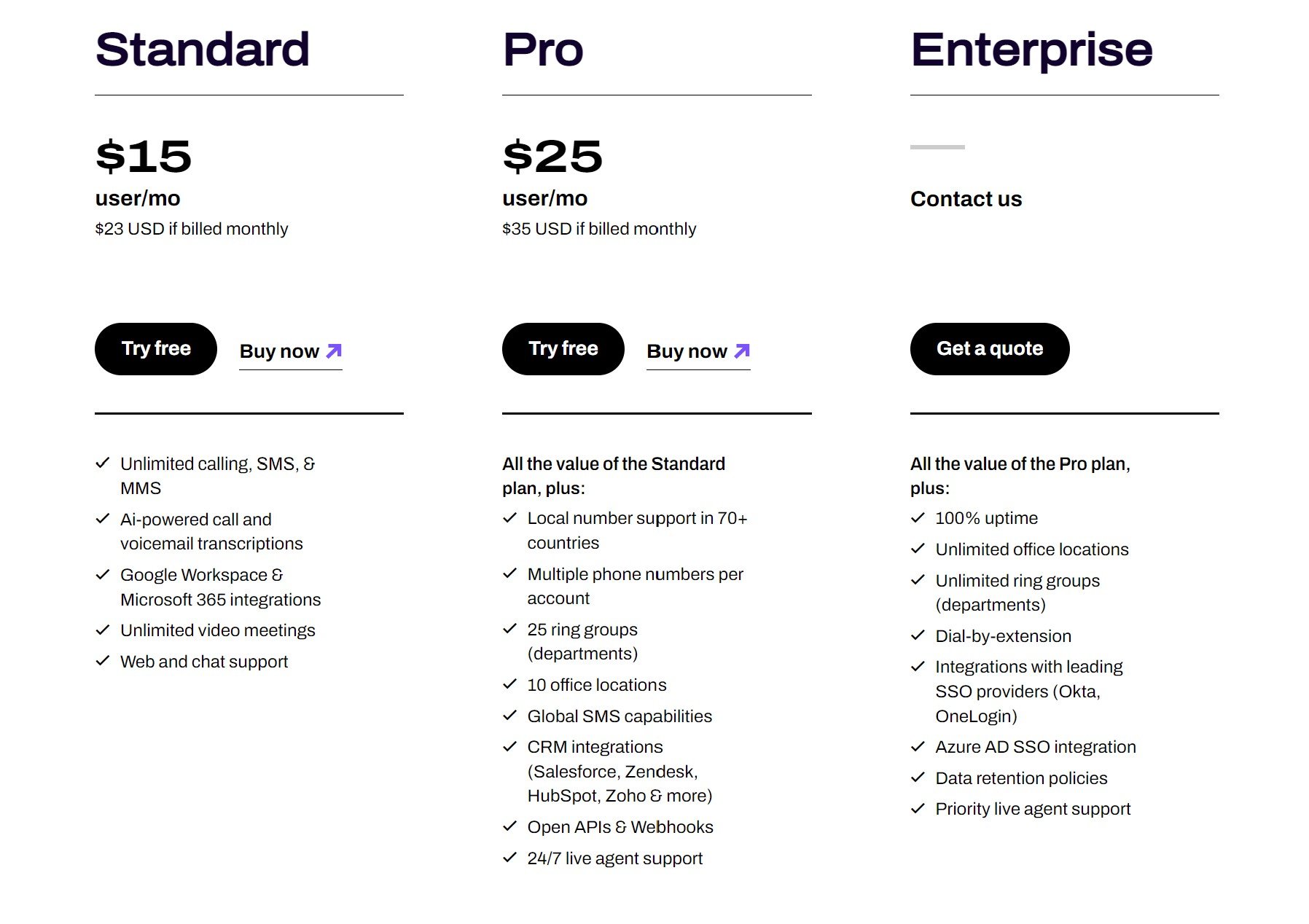 The best Zoom Phone pricing plan for your company depends on where you do business, and how many calls you plan to make daily. The Metered plan offers an affordable monthly rate but charges pay-per-minute calling rates. Since most Zoom alternatives don't offer pay-as-you-go in a UCaaS solution, this is a great option for companies with small daily per-user call volumes. The Unlimited plan covers US and Canada, while Pro Global Select provides unlimited domestic calling in one of over 40 countries.
Zoom also offers add-ons with unique advanced features, like the Power Pack add-on with enhanced analytics at $25 monthly per user.

Dialpad Talk Pros & Cons
Dialpad's pricing outmatches all of its competitors when considering that each plan includes key channels–voice, video, and chat. Its most basic plan comes with real-time AI assistance and voice transcription–features normally reserved for higher-tier plans.
While Dialpad's meetings last 5 hours, the participant capacity is only 10. This makes it an unusable option for many medium-sized or large teams and prevents webinar hosting.
Zoom Phone Pros & Cons
Zoom's pay-as-you-go calling plan has a $10 monthly base rate, a great option for users who make just a handful of daily calls while utilizing messaging, domestic SMS, and Zoom Meetings. User reviews praise Zoom's easy setup.
However, Zoom's low-tier plans lack some functionality that competitors offer–call recording, transcription, and AI assistance. Further, basic Zoom plans offer lackluster analytics. A full analytics suite requires purchasing an add-on.
Dialpad vs Zoom FAQs