Zoom may be best known for its video conferencing platform Zoom Meetings, but the powerhouse provider has been consistently growing its overall communications stack.
In addition to Zoom Phone, Zoom Events, and the Zoom One UCaaS tool, the provider launched Zoom Contact Center in February 2022.
Whether you're in the market for a Contact Center as a Service solution tailored to work with existing Zoom tools, or if this is your first time shopping for contact center services, our Zoom Contact Center guide breaks down everything you need to know.
We'll cover Zoom Contact Center pricing and plans, available features and communication channels, integrations, user experience, and more.
Compare contact center software
from top providers
What Is Zoom Contact Center?
Zoom Contact Center is an omnichannel CCaaS solution designed to enrich video-first business communication with additional channels like voice calling, business SMS texting, and website chat.
Zoom Contact Center gives remote and in-house teams access to Zoom Meetings, Zoom Phone, UCaaS capabilities, and high-level integrations within a single dashboard.
Available on desktop and mobile devices, Zoom Contact Center helps businesses cut communication costs and maximize ROI, offer voice and digital customer self-service options, and improve collaboration with both internal teams and clients.
Zoom Contact Center Pricing and Plans
All Zoom Contact Center pricing is quote-based, starts at $79/user/month, and is only accessible as an add-on to an existing Zoom One Business plan ($199.90/user/year.)
Per-user licensing pricing with annual or monthly billing is available, and all PSTN/Voice minutes are billed at metered rates.
All Zoom Contact Center plans include:
Webchat, SMS, video conferencing, voice calling
Video waiting rooms
Agent profile management
Built-in contact center analytics
Routing profiles
Native Supervisor and Agent Experiences
As of this writing, four paid Zoom Contact Center add-ons are available:
Zoom Virtual Service Phone Number (From $60/year): Virtual phone number with limited outbound calling capabilities
Zoom Toll-Free Phone Number (From $60/year): Billed at per-country rates, free to customers calling your business
Cloud Contact Center Storage (From $120/year): Up to 5TB/month, MP3/MP4/M4a formats, store, stream, and download recordings
Zoom Virtual Agent (Pricing unlisted): Conversational AI and Chatbot self-service, available as a standalone tool or as a contact center add-on
Key Zoom Contact Center Features
Below, we've outlined the most important Zoom Contact Center features:
Agent Inbox
The Zoom Contact Center Agent Inbox is the omnichannel agent interface where team members can navigate between channels, receive automatic interaction assignments, update their user presence, view performance-based metrics, collaborate with other users, and access third-party tools.
Regardless of communication channel, all agent engagement messages (customer interaction assignments) are displayed within one single inbox.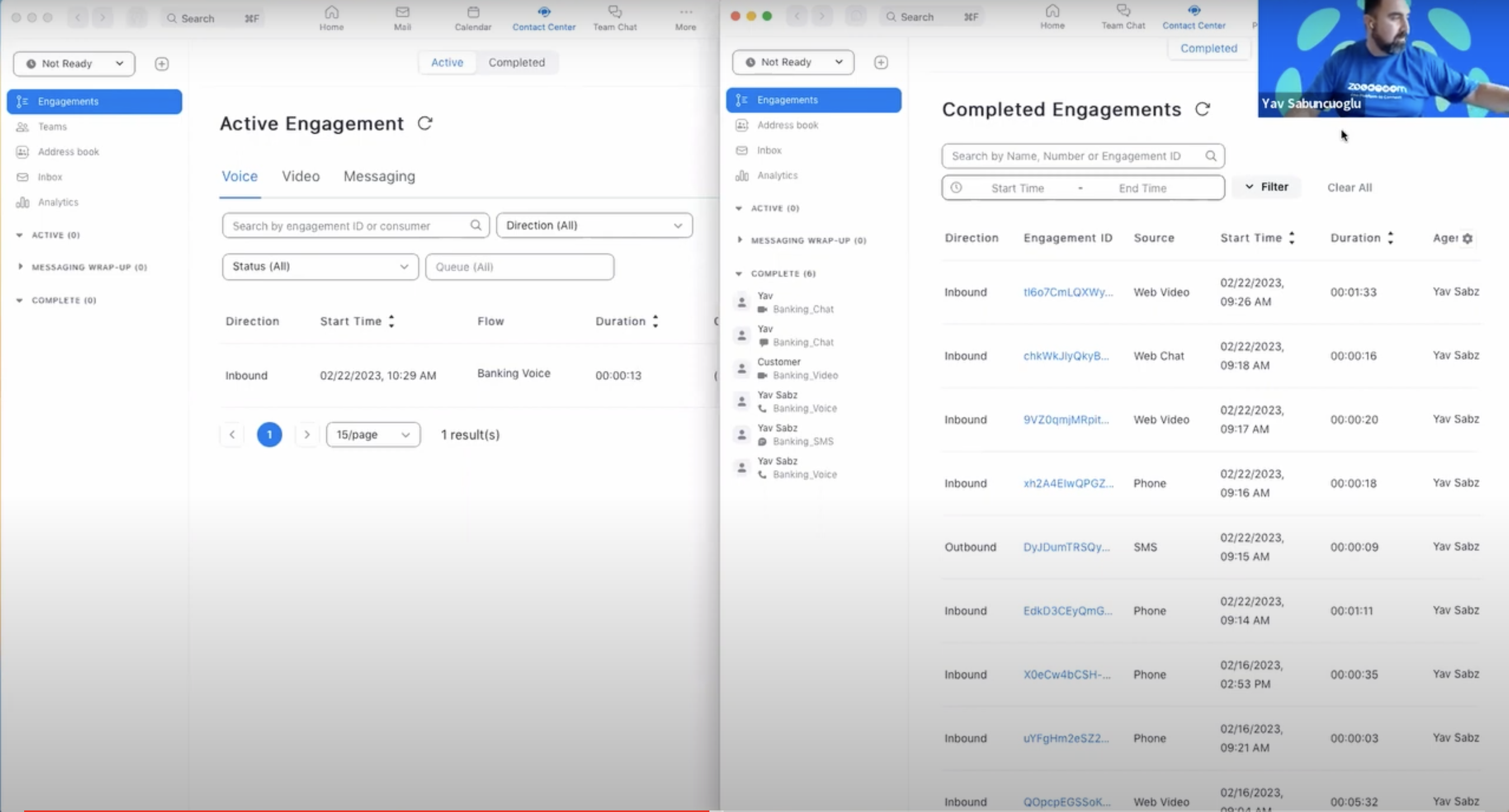 When agents mark themselves as "Ready," they'll automatically receive tasks according to predetermined, admin-created routing profiles that can be edited at any time.
Routing profiles ensure customers are always connected to the best available agent, and are made up of essential agent data like:
Skillsets, skill proficiency levels, and prioritized skills
Assigned contact queues/agent groups (call queues/ring groups)
Agent schedules/business hours/availability
In addition to communicating directly with customers and collaborating internally, agents can use the inbox to view streamlined interaction history, add post-interaction notes, access and edit customer account and contact information, and set disposition codes.
Voice Calling
Zoom Contact Center offers inbound and outbound cloud-based voice calling via Zoom Phone, a native VoIP business phone system and call center platform.
Admins can port in existing numbers, assign user extensions, and/or choose from local, international, toll-free, and vanity phone numbers. All PSTN voice minutes are metered.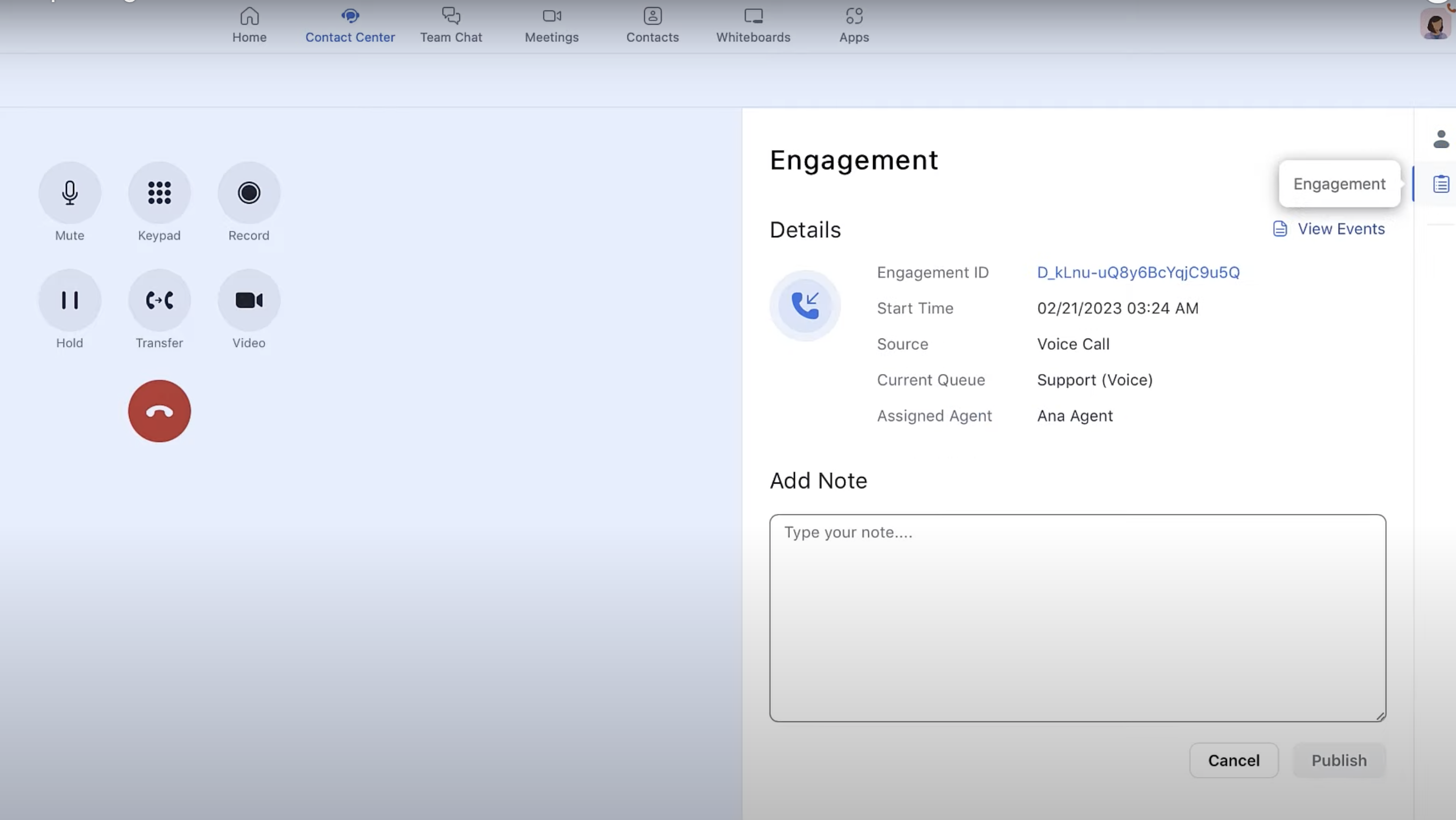 Basic VoIP features like warm/cold call transfer, visual voicemail, call queuing, 3-way ad-hoc conference calling, call flip, call forwarding, call blocking, call delegation, call park, and ACD/IVR are included to optimize and streamline phone communication and boost customer satisfaction.
The top Zoom Contact Center voice calling features include:
Call Recording and Transcription: Automatic, on-demand, custom, and pause-resume call recording plus live call transcription and cloud recording storage
Call Routing: Simultaneous, Sequential/List-Based, Longest Idle, Round Robin, and Group Rotating call routing methods
Call Monitoring: Call barge, call whisper, call takeover, live call monitoring
Video Calling
Zoom Contact Center leverages the power of Zoom Meetings–best known as an internal team video conferencing tool–to allow agents and customers to meet instantly via a video call.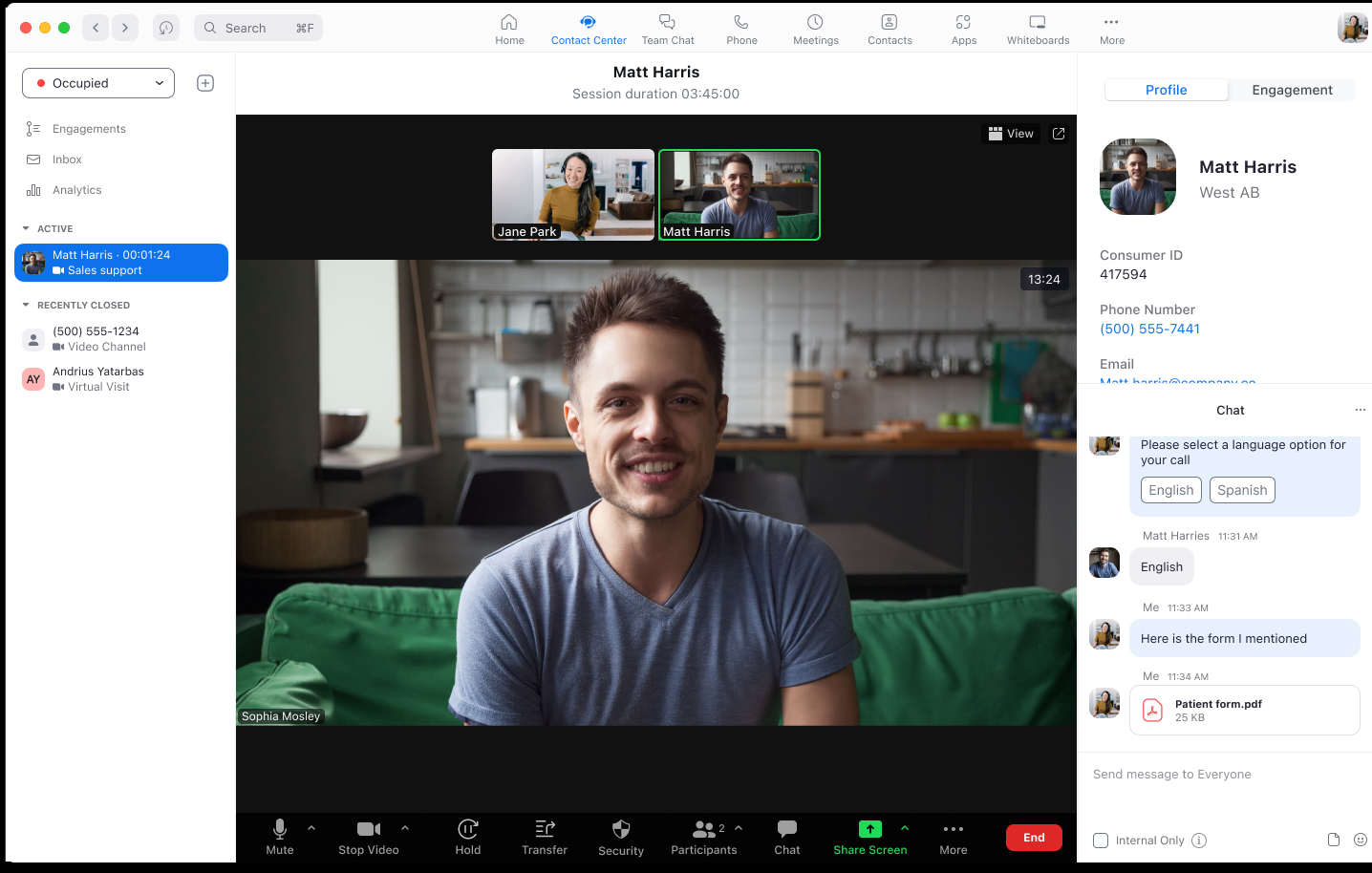 Consumers can choose to escalate any customer support interaction to a video call to receive face-to-face help from agents. Screen sharing, interaction recording, video call transfer, in-meeting chat, captioning, and security controls are all available to the agent during an active video call.
Agents can receive inbound calls from customers, and make outbound calls to them, at any time.
The Zoom Contact Center Waiting Room plays relevant support videos, shows images, and plays announcements on the customer's screen while they wait on hold for the agent to join the video call.
SMS Texting and Live Chat 
Zoom Contact Center offers live two-way SMS and MMS messaging between agents and customers.
Customers can text individual agents they work with already, or a designated support phone number to be placed in a queue and routed to the ideal available agent.
With MMS, customers and agents can share documents, GIFs, JPG, and PNG images.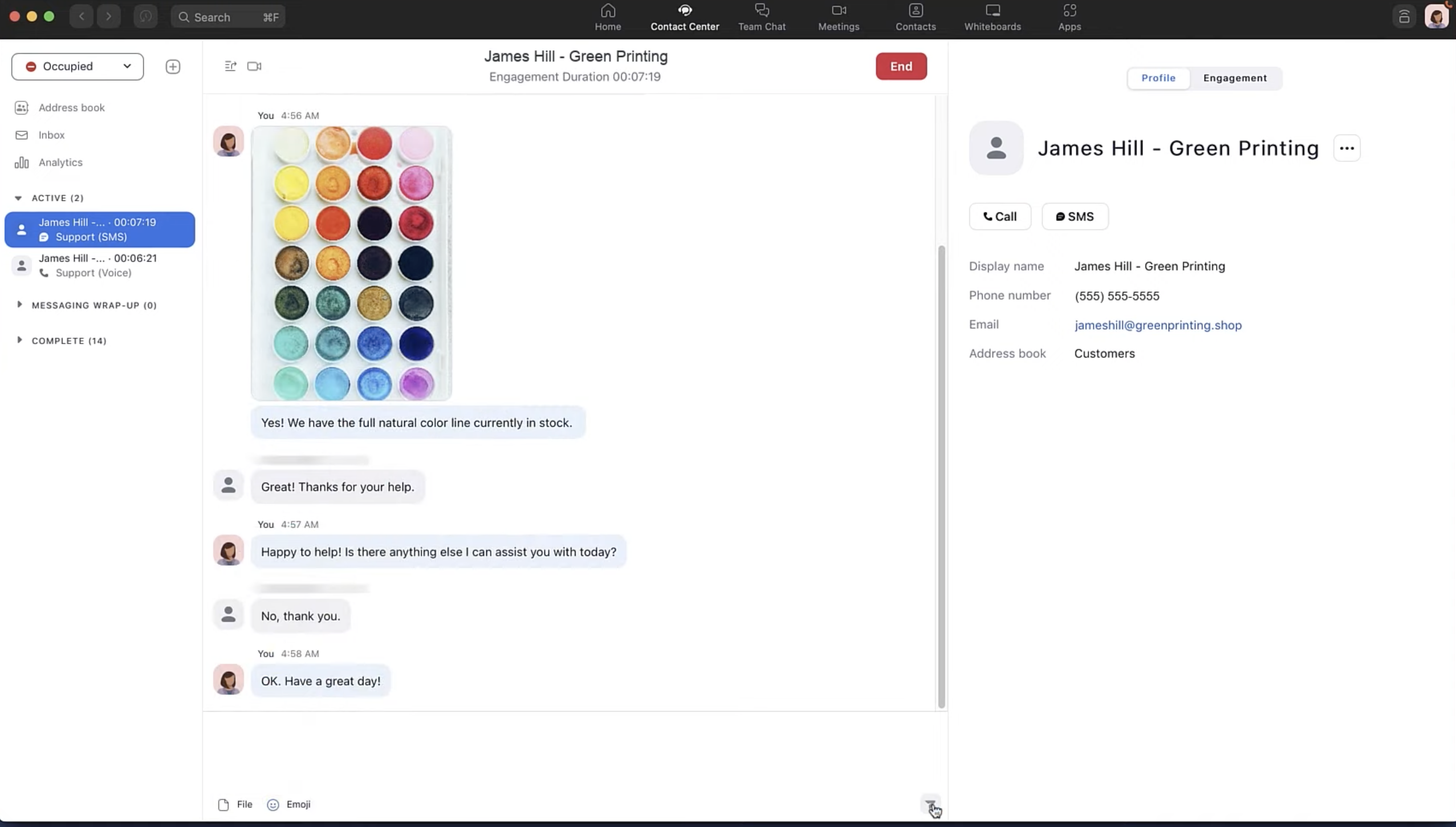 Zoom SMS self-service lets customers connect with an AI-powered automated chatbot to either entirely resolve their issue–or ensure they get the best live support possible.
When an agent receives an assignment, they'll be able to review all prior messages the customer sent to the bot, ensuring they're prepared for the interaction. If needed, agents can escalate the messaging exchange to a live phone or video call, or transfer the customer to a more qualified agent.
Zoom live chat is also available by embedding the chat widget into your company website or existing mobile application, and includes the same features as SMS texting.
Within the live chat interface, agents can escalate the interaction to a voice or video call, transfer the customer to another agent or to another queue, format their responses, share files, and add emojis.
Virtual Agent and Chatbot
Zoom Contact Center offers an omnichannel AI-powered chatbot to increase agent productivity and improve the customer experience via self-service support.
Admins can add the chatbot to their website, SMS or website chat messaging tools, existing mobile applications, and social media profiles.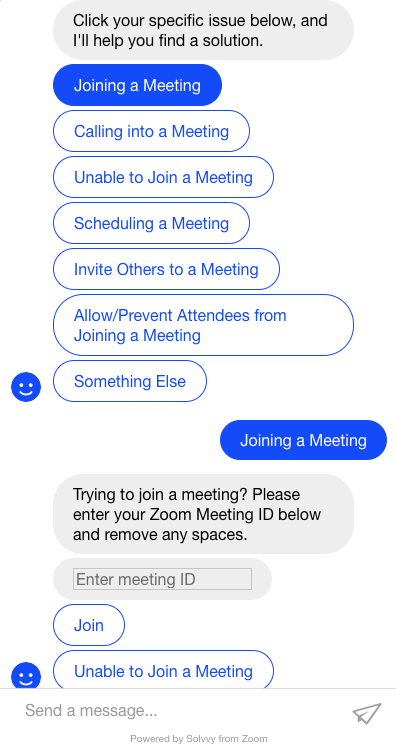 Powered by machine learning, the chatbot tool integrates with existing CRM tools and knowledge bases. It then suggests next steps according to client data and Natural Language Processing.
The chatbot will completely entirely resolve the issue without involving a live agent, or intelligently hand off the interaction to a qualified available agent. Customers choose their preferred communication channel (video call, phone, website chat, voice call) before speaking to a live agent.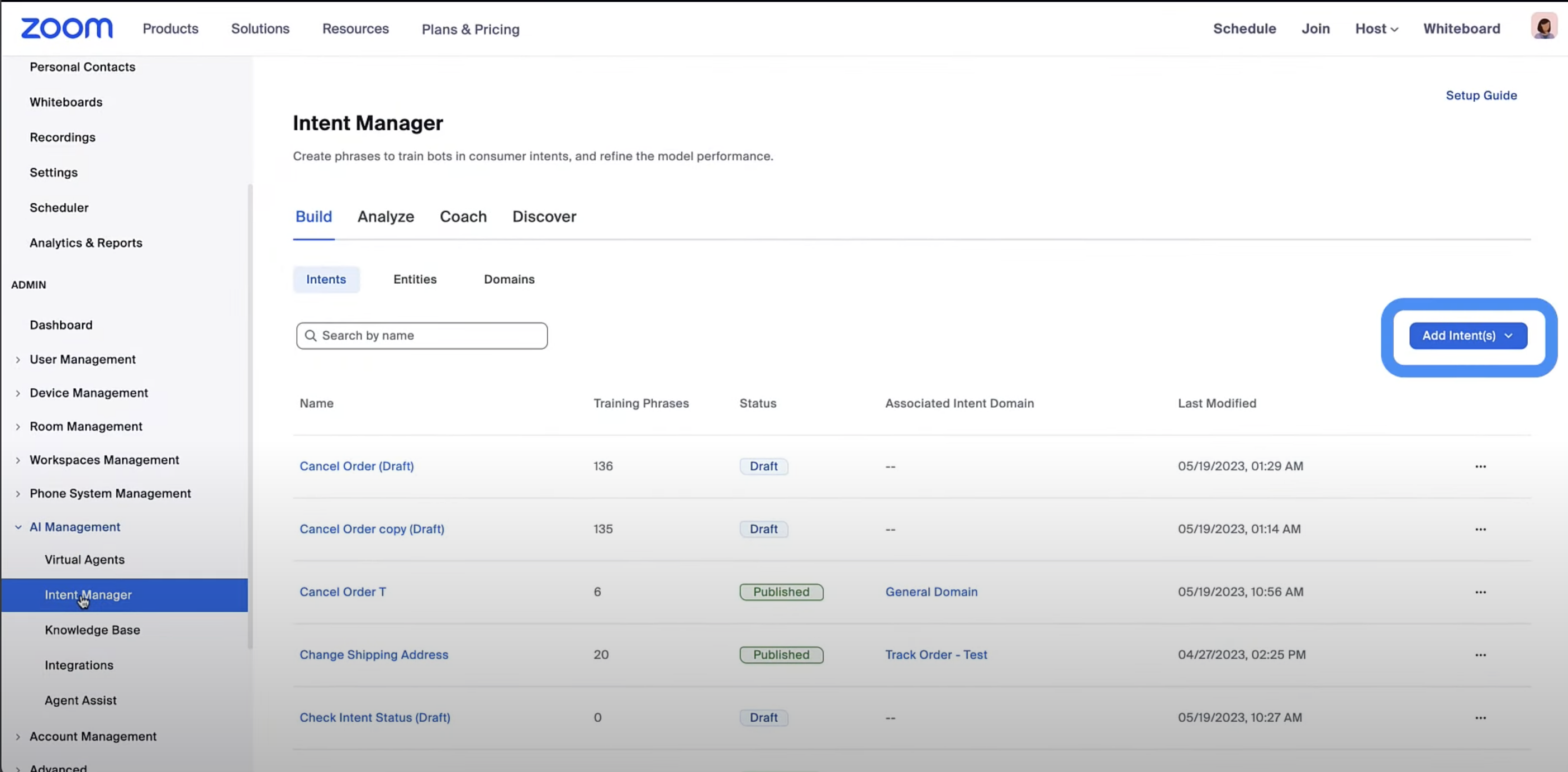 Before speaking to the customer, agents can review all CRM data, chat history, and all other information the chatbot collected–so customers don't have to repeat themselves.
Additional chatbot features include intent management, knowledge base integration, and routing path editing via the Flow Editor.
UCaaS and Team Collaboration
Zoom offers some of the best unified communication and team collaboration tools on the market today.
Internal video conferencing with Zoom Meetings allows 300+ meeting attendees to connect for up to 30 hours per session. Within a video meeting, users can access collaboration tools and essential third-party apps. Hosts can share presentations, enable real-time meeting transcription and translated captions, record meetings, and access in-meeting tools like polling, hand raising, Q&As, and live streaming.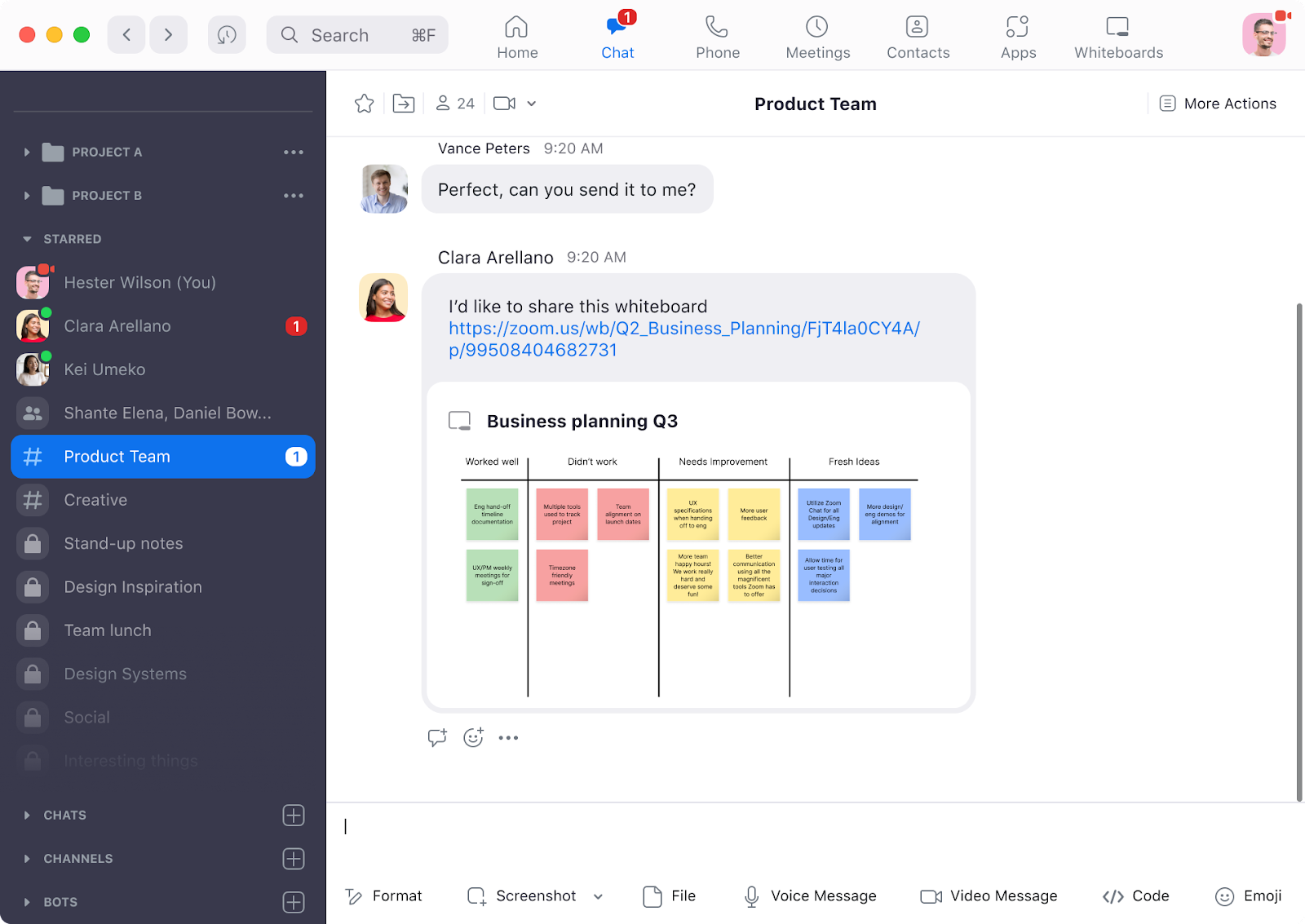 Persistent and in-meeting team chat messaging lets team members instantly connect in company-wide or custom public/private channels. Within the Zoom platform chat interface, users can share files, access stored files, mention other colleagues, record audio messages, and more. Custom real-time push notifications ensure no one misses key information and updates.
Additional collaboration tools include:
Screensharing: Users can share their entire screens, a single application, a web browser, access remote screen control, and co-annotate on shared files
Whiteboard: Team members can access a virtual interactive whiteboard with smart connectors, shapes and drawing tools, sticky notes, comments, co-annotation, file sharing, custom and premade templates, whiteboard saving/sharing, etc.
Breakout Rooms: Meeting hosts can divide video meeting attendees into several random or pre-assigned small groups, then return everyone to the larger meeting after a set period of time (ideal for team-wide check-ins and brainstorming sessions)
Analytics and Workforce Management
Zoom Contact Center offers real-time and historical analytics in addition to call logs and QoS reports. Custom and premade reporting templates with a variety of metrics and KPIs are available.
Reports can be filtered, tagged, downloaded, shared/exported, or viewed directly in-dashboard.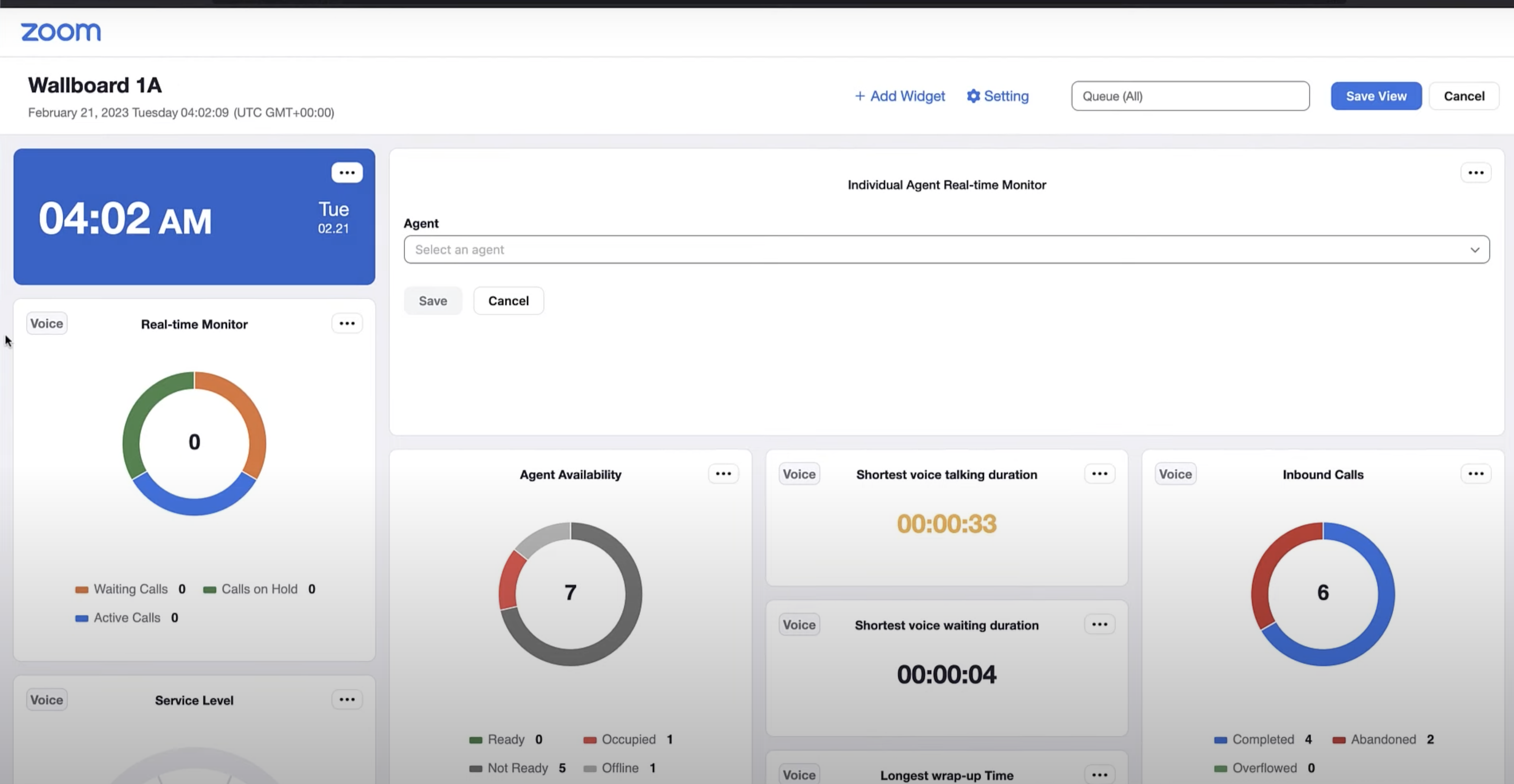 Real-time metrics include the Active Engagements tab and Active Agent tab, which show:
Average wait time
Current queue activity
Agent first message speed
Hold duration (voice only)
Current interaction status (callback requests, ringing, assigned, completed, etc.)
Wallboards for the past 24 hours
Historical reporting metrics include: 
Percentage of missed, declined, and completed calls
Agent availability and status reporting
Average speed of answer (by channel)
Average wrap-up duration (by channel)
Average agent talk time (by channel
Outbound:Inbound Engagement ratio
Transfer rate
Flow duration
Engagement Monitoring allows admins to monitor real-time and completed engagements (customer-agent interactions) by queue, channel, group, agent, etc.
Admins can view the Engagement ID number, engagement duration, additional agent notes, agent name and status/time in, customer contact information, the start time and direction of each interaction, and the specific Engagement Flow (routing path) used.
Managers can also monitor video engagements in real-time without notifying anyone in the meeting–ideal for performance reviews and quality management. As with phone calls, admins can barge or takeover video calls, or chat with an agent.
Monitoring, barge, and takeover tools are also available within messaging engagements.
Recently, Zoom has announced Workforce Management features like adherence monitoring, scheduling, workforce optimization, and more. As of this writing, they are still in beta.
Zoom Rooms and Hardware
Zoom Rooms are custom physical conference rooms with corresponding meeting room hardware.
Starting at $499/year/room, they are ideal for Zoom Contact Center users with a physical office, or in-house teams needing to connect with remote or geographically diverse employees and clients. Additional hardware includes speakers and microphones, in-room whiteboards, television screens, mounted cameras, and even specialized lighting.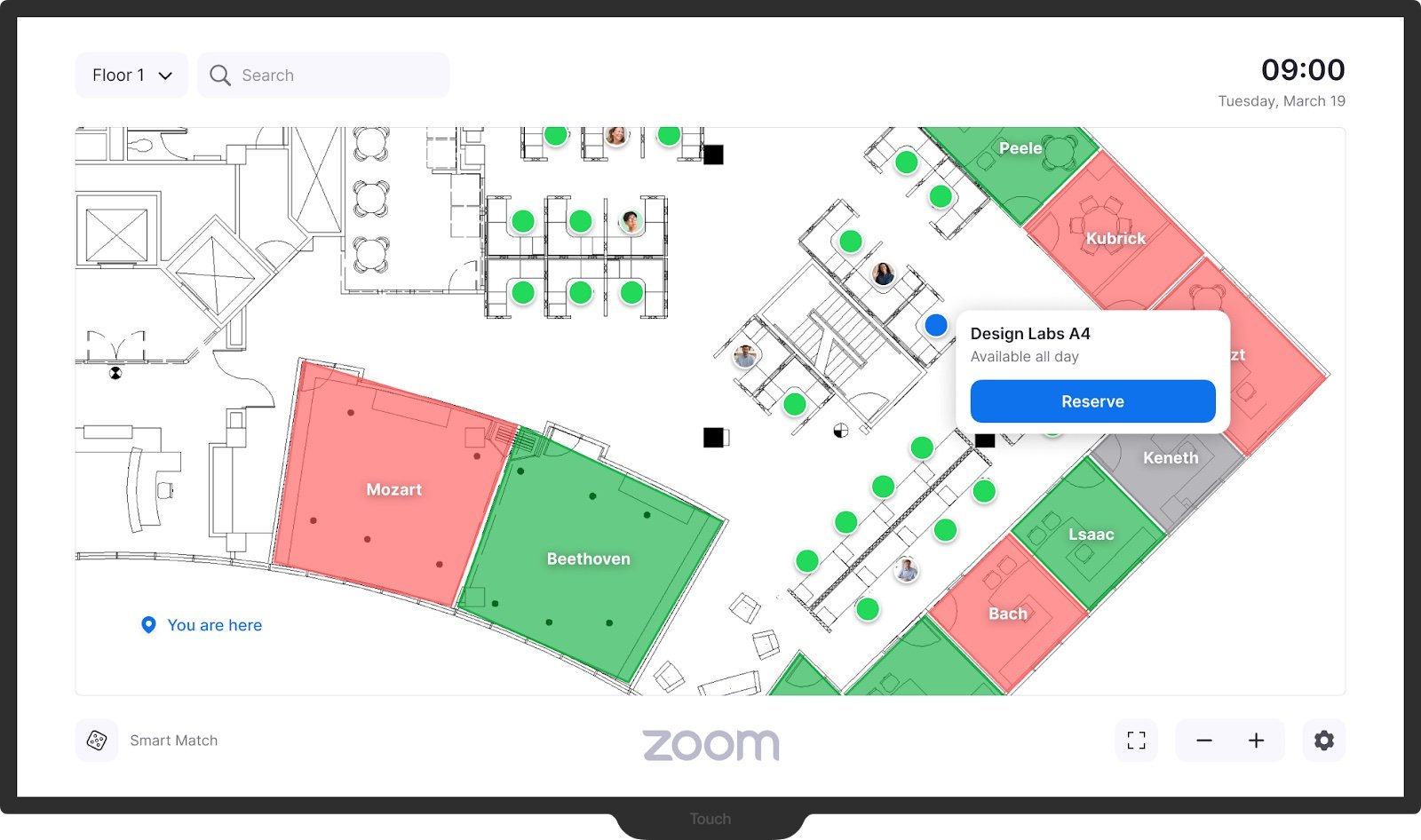 Zoom Room users can access digital signage, workspace reservation systems, conference room connectors, and scheduling displays.
Interactive Kiosks are in-office virtual receptionists displays allowing visitors to make a quick video call to check in before an appointment, fill out paperwork, ask questions, and if needed, connect with anyone in the building.
Zoom Contact Center Integrations
Zoom Contact Center users can choose from over 2500 third-party software integrations and custom APIs, including:
CRM Apps: Salesforce, Zendesk, HubSpot, Freshworks CRM, Pipedrive, Microsoft Dynamics 365, Zoho CRM
Collaboration Tools: Asana, Slack, Microsoft Teams, Google Workspace, Smartsheet, monday.com, Miro, ServiceNow
Marketing and Sales: Marketo, Chorus.ai, Intercom, Gong
Other Essential Apps: Zapier, Smarsh, Epic, Otter.ai, Okta
Zoom Contact Center Security and Support
Below, we'll cover Zoom Contact Center's available customer service and support plans, security services, and network reliability.
Security 
Zoombombing and past privacy concerns have caused Zoom to upgrade their overall approach to security.
Zoom compliance, security, and privacy standards include: 
Meeting waiting rooms, password-protected meeting rooms, meeting locks, remove participants, call blocking
Single Sign-on (SSO), multi-factor authentication, and end-to-end encryption (E2EE)
HIPAA, PCI, and GDPR compliance
24/7/365 network monitoring with real-time alerts
Third-party security audits
As of this writing, Zoom Contact Center does not offer a guaranteed SLA uptime. However, an SLA is available via the Premier+ Support Plan.
Support
All Zoom Contact Center plans include access to the online Zoom Knowledge Base, Zoom Community forum, chatbot support, live chat and live phone support, and the web ticket submission portal.
Additional customer service and support is available via paid Premier and Premier+ support plans, which include:
24/7 global support access via phone, self-service and chatbot, web ticket, and live chat
Automated notification and escalation
Technical Account Manager
API/SDK support
Zoom Contact Center Pros and Cons
The Zoom Contact Center user experience is generally positive–with a few caveats regarding the number of features still in beta.
Below, we'll outline the pros and cons of Zoom Contact Center based on user reviews, our own experience, and how it fares compared to competitors.
What We Love About Zoom Contact Center
Zoom Contact Center's sleek, uncluttered, and familiar interface is one of the best things about it.
Zoom Meetings and Zoom Phone users will have no trouble integrating the Contact Center solution into their communications stack, and those working outside of the Zoom universe shouldn't expect a major learning curve.
The setup process is quick and easy, and attractive to businesses without an in-house IT team.
Additional Zoom Contact Center advantages include:
High number of available pre-built third-party integrations and APIs, plus a thriving developer community
High-level scalability allows businesses to start with a free Zoom Meetings plan then gradually move up to a full-fledged omnichannel contact center at their own pace
Robust mobile application, especially for on-the-go video meetings and team collaboration
Zoom is constantly improving all their software solutions, meaning users have access to the new developments and features on a near-constant basis–ideal for staying ahead of business competitors
What Needs Improvement 
The biggest problem with Zoom Contact Center is that its relative novelty limits its available features.
Many essential CCaaS features, especially regarding outbound calling and AI-powered self-service, are either still in beta or are not yet available at all.
While this doesn't mean you should avoid Zoom Contact Center altogether, your specific business needs may be better served by purchasing Zoom Phone or Zoom One with add-ons like Zoom Phone Power Pack and Zoom IQ for Sales.
Additional Zoom Contact Center drawbacks include:
Limited support information available on the Zoom website and knowledge base
Workforce Management capabilities, including forecasting, adherence monitoring, scheduling, etc. have not yet been released (even in beta)
Flow Editor, though it has a drag-and-drop interface, is overly complicated, especially when compared to competitor interaction routing and call flow design tools
Quote-based pricing/lack of transparent pricing details means it's hard to know if Zoom Contact Center offers good value for money
Who Is Zoom Contact Center Right For?
Zoom Contact Center is best for:
Industries reliant on video-first communication, or businesses of any size that have multiple internal/external video conferences per week (telehealth, education, tech support, marketing, etc.)
Teams with a high number of third-party applications they want to condense into a single platform
Mostly remote or blended teams that need access to high-level collaboration tools like virtual whiteboards, persistent chat, file sharing, breakout rooms, screen sharing with co-annotation, etc.
Current Zoom Meetings, Zoom Phone, and/or Zoom One users that want to upgrade to a CCaaS tool with a familiar interface
Zoom Contact Center is not right for:
Businesses (of any size) heavily reliant on inbound and outbound voice calling
Enterprise-level businesses needing to automate the entire support process to keep more agents free/manage high contact volumes
Teams requiring native, high-level WFM and WFO functionality
Small businesses or startups with a strict budget and limited communication needs
Top Alternatives to Zoom Contact Center
Below, we've outlined the top 5 Zoom Contact Center alternatives.
| | | | |
| --- | --- | --- | --- |
| Provider | Pricing | Top Features | Best For |
| Talkdesk | 4 plans from $75-$125/user/month and up | Customer Experience Analytics, Conversation Design Tool | Teams needing a CCaaS tool with high-level integrations and AI-powered features |
| Genesys | 5 plans from $75.00-$150.00+/month and up | Outbound Auto Dialer, Predictive Routing | Enterprise-level teams needing workflow automation tools and omnichannel customer self-service |
| NICE CXone | 4 quote-based plans | Agent Assist Hub, Enlighten AI | Contact centers that communicate with customers across a high number of different channels daily |
| Five9 | 4 plans monthly plans from $149-$229/month and up | Difwebsgital Engagement, IVA | Midsize-large teams with a high daily call volume and a focus on workforce optimization/quality monitoring |
| 8×8 | 3 plans from $85-$140/user/month | Conversatio IQ, WEM Suite | Remote support teams focused on personalized service and customer service primarily via phone call |