Our verdict: Dialpad is best for small teams seeking collaborative video meetings and an intricate VoIP phone system, while Nextiva is best for medium-to-large teams with high call volumes inside the US.
Both Dialpad and Nextiva offer unlimited domestic VoIP calling, video conferencing, team chat, and SMS texting. However, Dialpad offers more advanced phone-system features like call queues and live AI-agent support, alongside collaborative video tools like auto-generated summaries. Nextiva's video meetings support more participants, and the desktop and mobile app has a user-friendly interface.
We Recommend Dialpad if You Need:
Advanced phone-system features: Dialpad offers some business phone-system features that Nextiva doesn't have, such as built-in call queues, live call transcription, and real-time analytics
Advanced video-meeting features: Dialpad video includes advanced collaboration tools like auto-generated summaries and transcripts, virtual backgrounds, and waiting rooms
International business presence: Dialpad supports international SMS texting and provides business phone numbers in over 70 countries
We Recommend Nextiva if You Need:
Large-capacity video meetings: Dialpad's Essential plan supports video meetings for unlimited participants. Companies with big teams will benefit from the expanded capacity.
A user-friendly UCaaS app: Nextiva's desktop and mobile app have an easy-to-use agent dashboard, organizing all tools and channels in the left-hand menu
Contact and task management: Nextiva's contact and call notes feature enables teammates to coordinate who should respond to calls and tasks
What is Dialpad?
Dialpad is a cloud-based phone system and unified communications solution bundling VoIP calling, SMS text messaging, video meetings, and team web chat into a desktop, browser, and mobile app. Dialpad powers multichannel communications with real-time AI insights, call routing tools and queues, recordings, live transcriptions, and phone system analytics.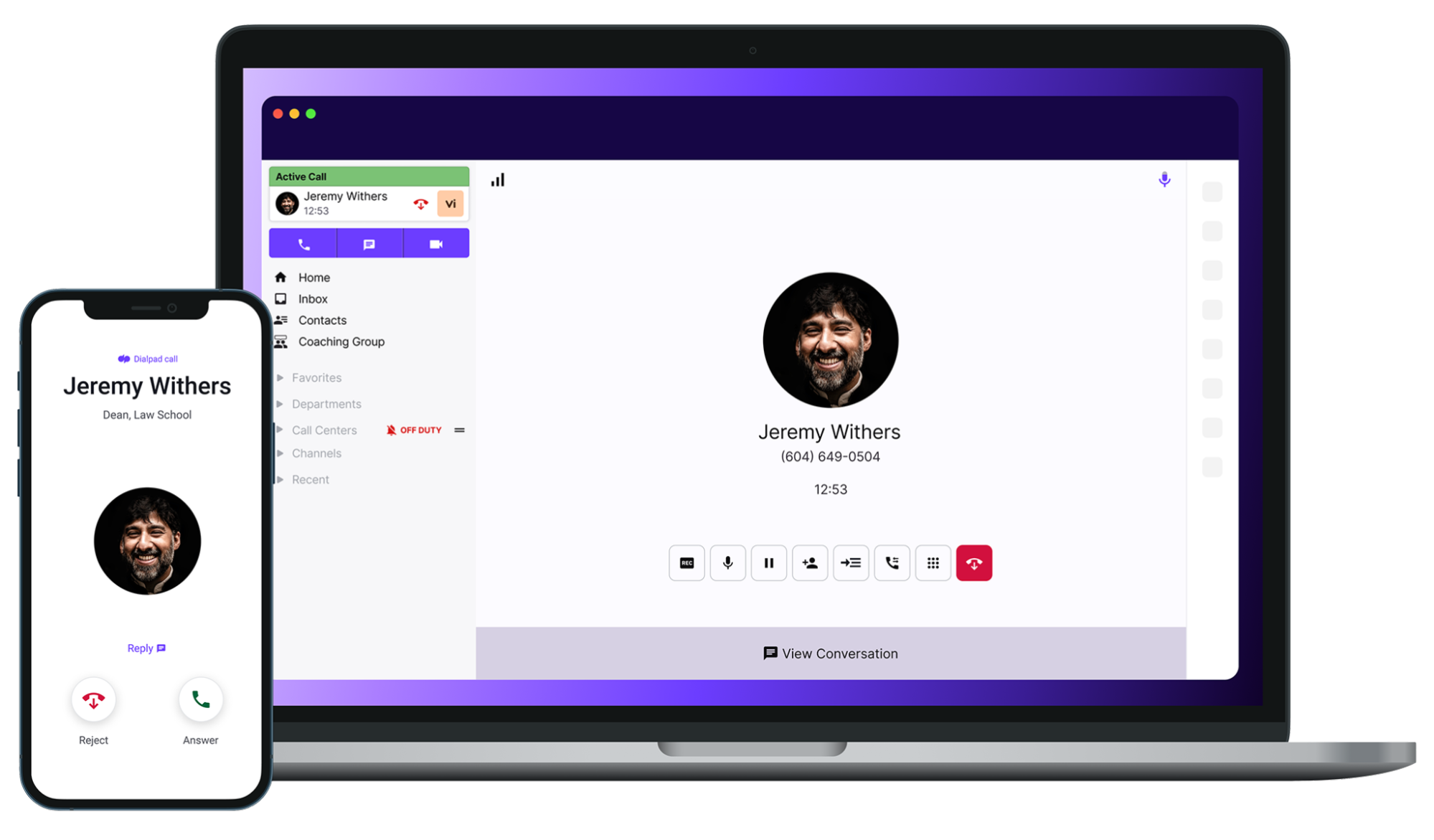 What is Nextiva?
Nextiva is business communications software unifying VoIP phone service, SMS, video conferencing, and team chat. Nextiva's app, NextivaONE, is accessible on desktop, browser, and mobile. The UCaaS tool includes a toll-free number with each plan, voicemail features, a multi-level auto attendant, and team collaboration features like threaded conversations and file sharing.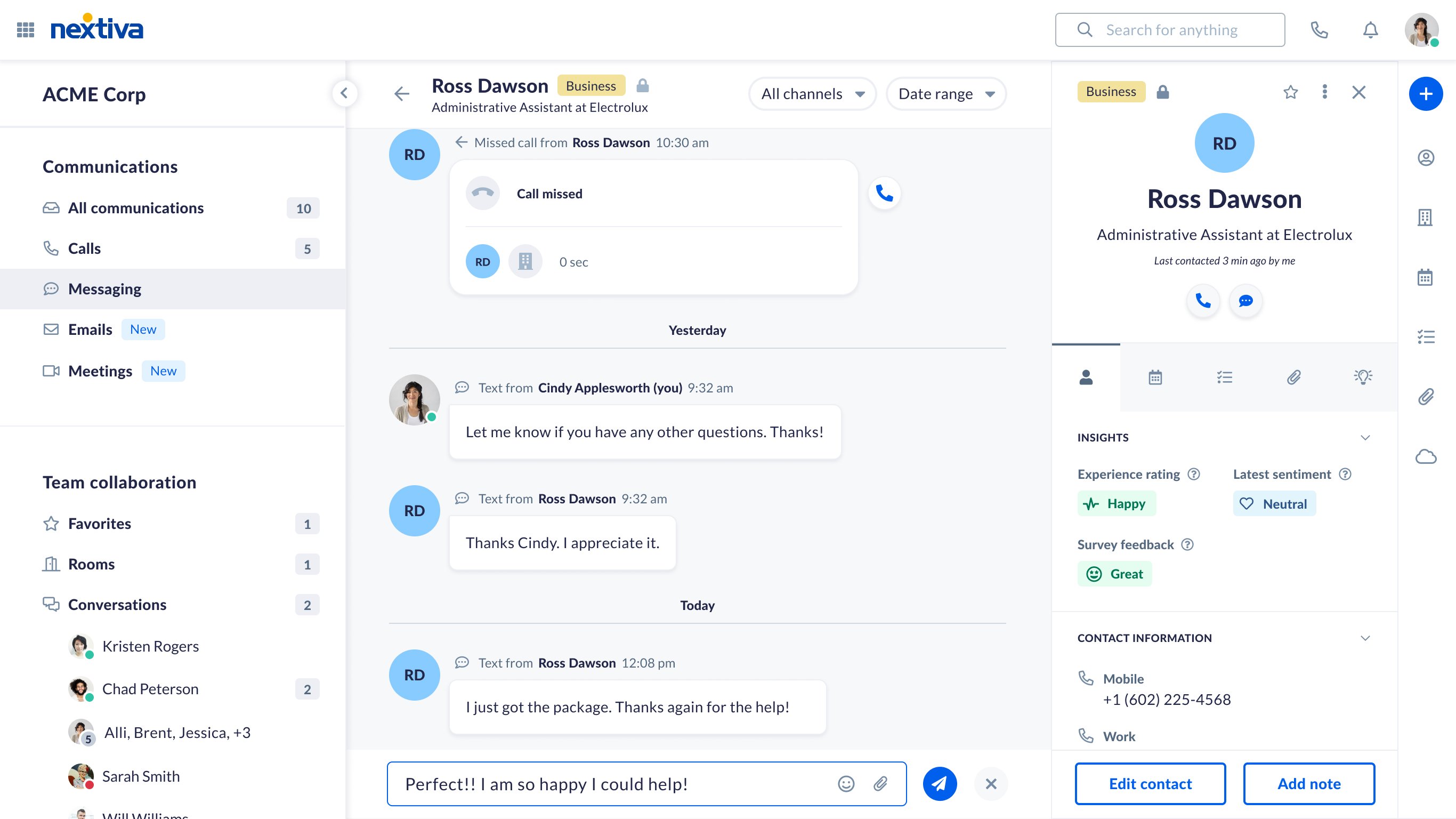 Dialpad vs. Nextiva: Pricing Overview
Dialpad Pricing
Dialpad offers three UCaaS plans which range from $15 to over $25 monthly per user.
Standard ($15 monthly): Dialpad app on desktop or mobile, unlimited calling in the US and Canada, 5-hour AI meetings for up to 10 users, unlimited SMS in the US, team chat, AI-powered call and voicemail transcriptions, AI meeting features, real-time analytics, 3 ring groups, multi-level auto attendant
Pro ($25 monthly): Expands to 25 ring groups, adds global SMS support and international numbers in 70+ countries, CRM integrations
Enterprise (Custom pricing): 100% uptime guarantee, unlimited ring groups, SSO integrations
Nextiva Pricing 
Nextiva offers three business communication plans, ranging from $18.95 to $32.95 monthly per user:
Essential ($18.95 monthly): Nextiva desktop and mobile app, unlimited voice within the US and Canada, a toll-free and local number per user, one-on-one video meetings lasting 40 minutes, team chat with threaded conversations, basic auto attendant, call logs, virtual voicemail, and 1,500 toll-free minutes per account
Professional ($22.95 monthly): 1,000 monthly SMS per user, 3,000 monthly toll-free minutes, 40 video participants, adds popular CRM integrations, multi-level auto attendant
Enterprise ($32.95 monthly): Expands to 2,000 monthly SMS per user, 12,500 monthly toll-free minutes per account, adds call recording and voicemail transcription
Dialpad vs. Nextiva: Feature Comparison
Here, we compare key features of Dialpad vs. Nextiva:
Phone System
Summary: Dialpad and Nextiva both offer cloud-based phone systems with unlimited calling in the US and Canada, virtual and toll-free numbers, and routing tools. However, Dialpad offers international business phone numbers and live call transcription, while Nextiva offers more ring groups.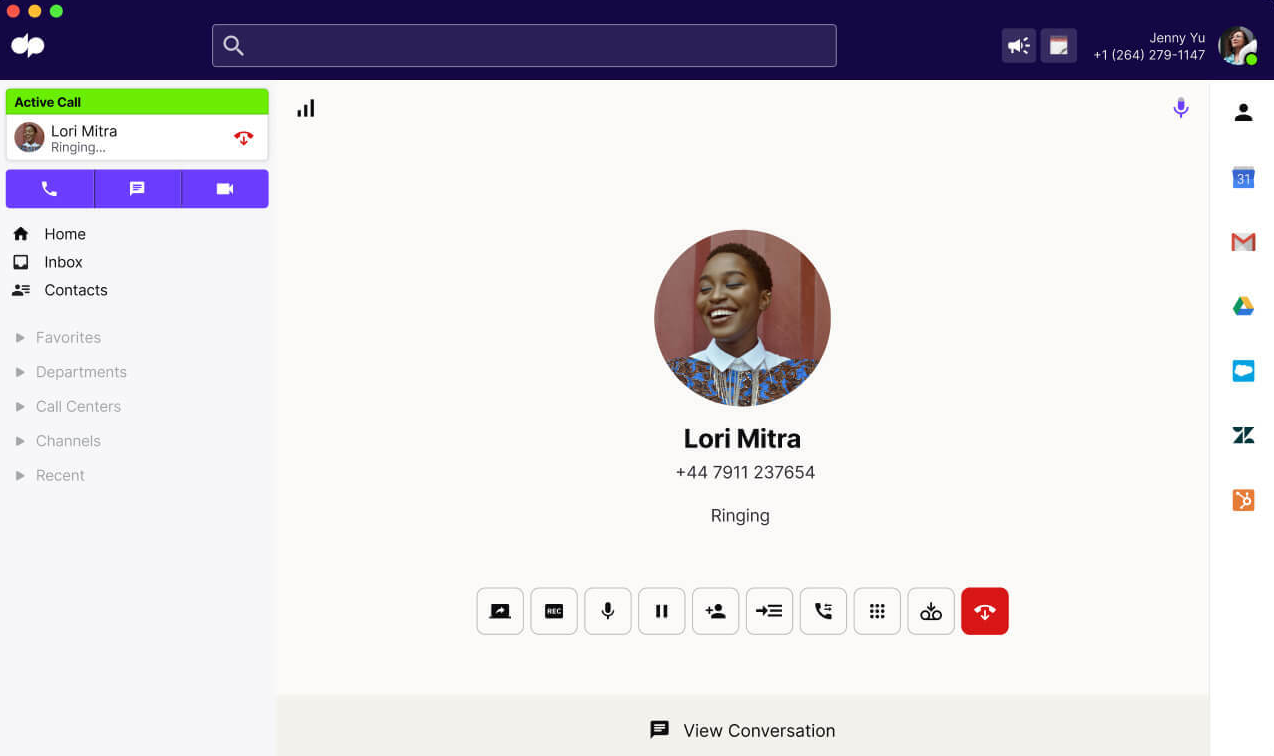 Shared Features
Desktop, mobile, and browser apps: Both Dialpad and Nextiva offer unified communications apps on desktop, browser, mobile for iPhone, iPad, and Android. The UCaaS apps include click-to-call functionality and multichannel communications available from a unified agent dashboard.
Softphone functionality: Make calls directly from the app on any device, operating your contact center without requiring a desk phone
Unlimited calling in the US and Canada: Both cloud-based phone systems support unlimited VoIP services throughout the US and Canada, with metered per-minute rates for international calls
Local, toll-free, and vanity numbers in the US: All plans include a toll-free or local virtual business number with each sign-up. You can also purchase additional numbers from a US-based area code of your choosing, and Dialpad offers international business numbers.
Multi-level auto attendant: This enables you to create a self-service phone menu that routes customers to users, queues, or pre-recorded announcements. Both VoIP providers offer multi-level auto attendants and IVR. Dialpad includes this on all plans, while Nextiva includes a single-level IVR on the Essential plan and a multi-level IVR on the Professional and Enterprise plans.
Virtual Voicemail with transcription: A virtual voicemail box that organizes inbound call records, with the ability to forward audio and contact information via email or SMS. Return phone calls with one click. Both platforms include virtual voicemail on all plans.
Voicemail transcription: Automatically transcribes all your voicemails into text, which you can read on your phone or desktop. Forward transcripts and audio by email or SMS. Dialpad includes voicemail transcription with all plans, while Nextiva only includes it with the Enterprise plan.
Call flipping: Users can answer calls on multiple devices or transfer live calls between devices–like a linked phone, desktop, or tablet
Call controls: During active calls on mobile or desktop, agents have access to several live call management options–transfer, forward, mute, or hold
Call parking: Agents can transfer inbound callers to a communal parking space, where teammates can view the call and retrieve it
Contact management: Import contacts from an external database or CRM system, and share up to 500 contacts among the whole team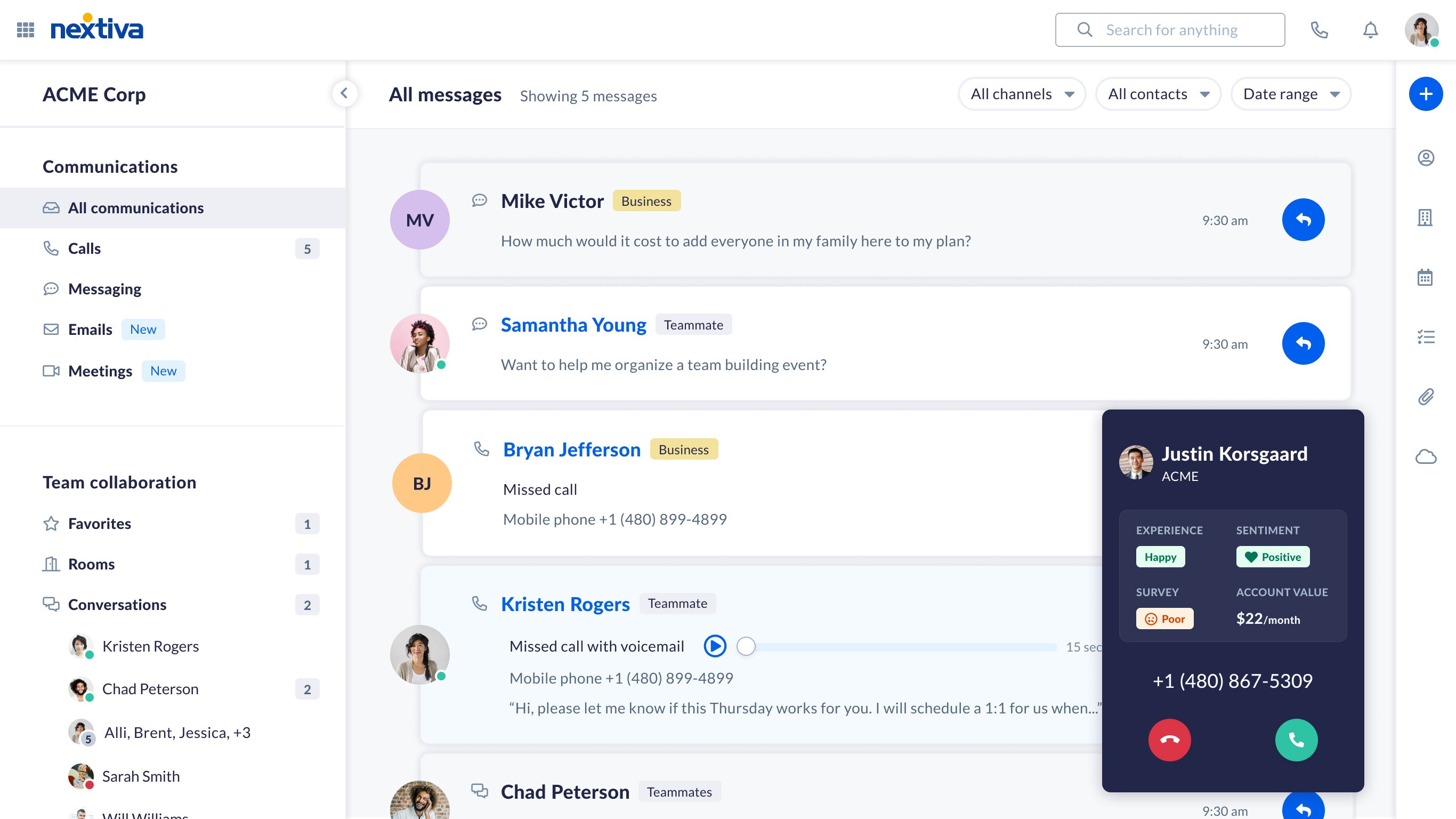 Differences
International business numbers: Dialpad's Pro plan offers business phone numbers in over 70 countries, while Nextiva only offers DID numbers within the US
Ring group access: Nextiva offers unlimited ring groups on all plans, while Dialpad limits ring groups to 3 on the Standard Plan and 20 on the Pro plan. Dialpad's Enterprise plan supports unlimited ring groups.
Real-time call transcriptions: Dialpad supports real-time call transcription on all plans, while Nextiva does not offer this feature
HD voice audio codec: Dialpad provides higher audio quality than Nextiva due to their support for more advanced audio codecs. While Nextiva supports only the G.711 codec, Dialpad supports the more modern G.722 and Opus codecs.
Call notes: Nextiva enables users to leave notes on contact profiles, messages, and call records–helping team members collaborate regarding phone support
Call queues: Dialpad's Pro and Enterprise plans include hold queues, which organize inbound callers into a virtual line while they wait for a virtual agent to become available. Nextiva UCaaS does not support call queues, although ring groups have some similar functionality.
Team Messaging and SMS
Summary: Nextiva and Dialpad both include user-friendly team chat messaging and SMS texting within the US. Dialpad supports unlimited team chat rooms and international texting, while Nextiva limits each user's monthly texting allotment and only supports texting in the US.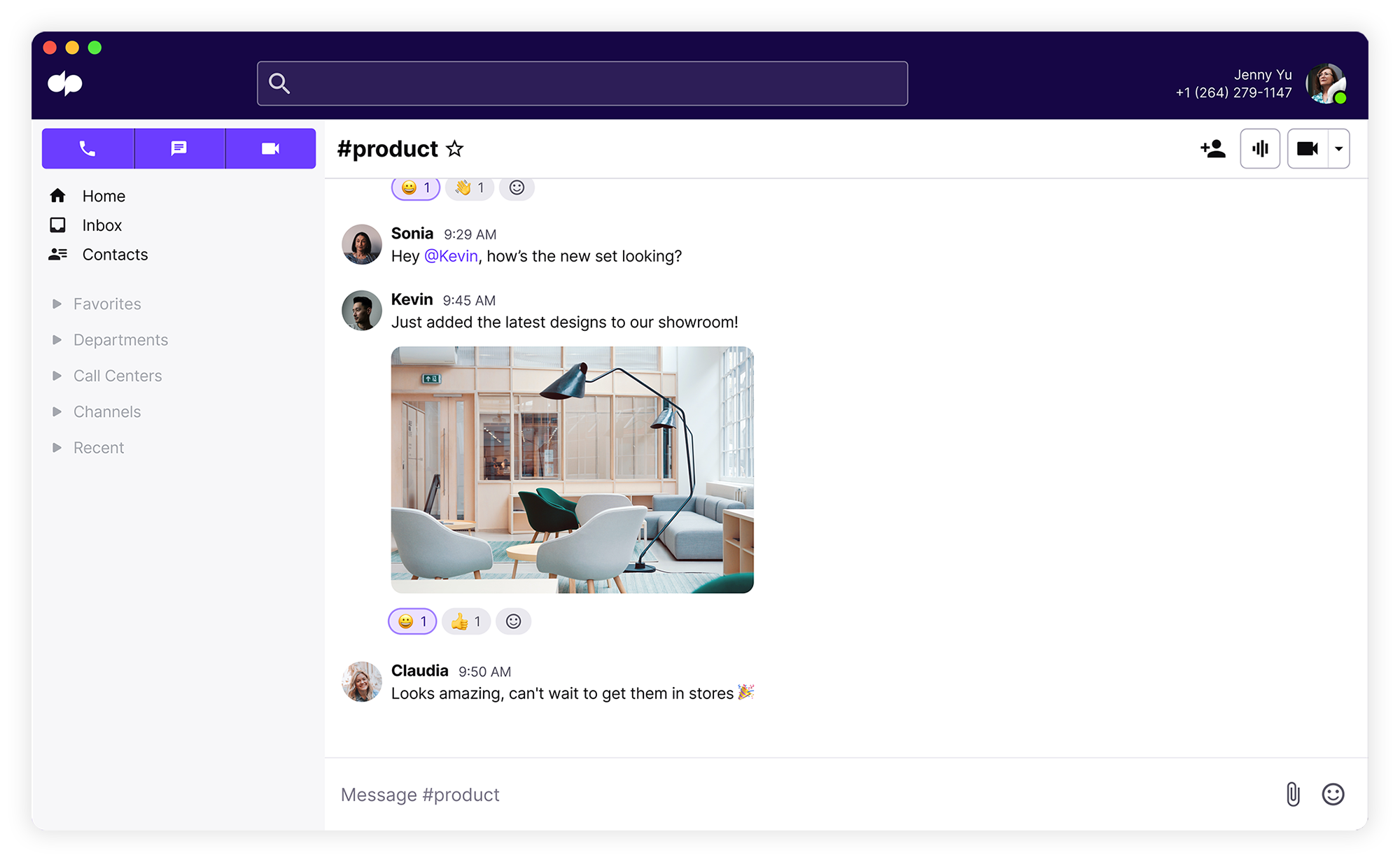 Shared Features
1:1 and group chats: Both service providers support one-on-one and group chats from the mobile or desktop app. View internal contacts in the app's left-hand menu, view teammate availability, and manage searchable conversation histories with all teammates.
Team chat rooms: Create team chat rooms that hold an unlimited number of teammates, with collaboration features like threads, file and meeting sharing, and one-click access to impromptu video calls and conference calls
File sharing: Share documents and files via chat. Organize files in folders and search by file name.
Emoji responses: Respond to teammate messages with emojis
Internal and external texting: Send and receive SMS text messages from the Dialpad or Nextiva app on any device. Use texts to send links or images.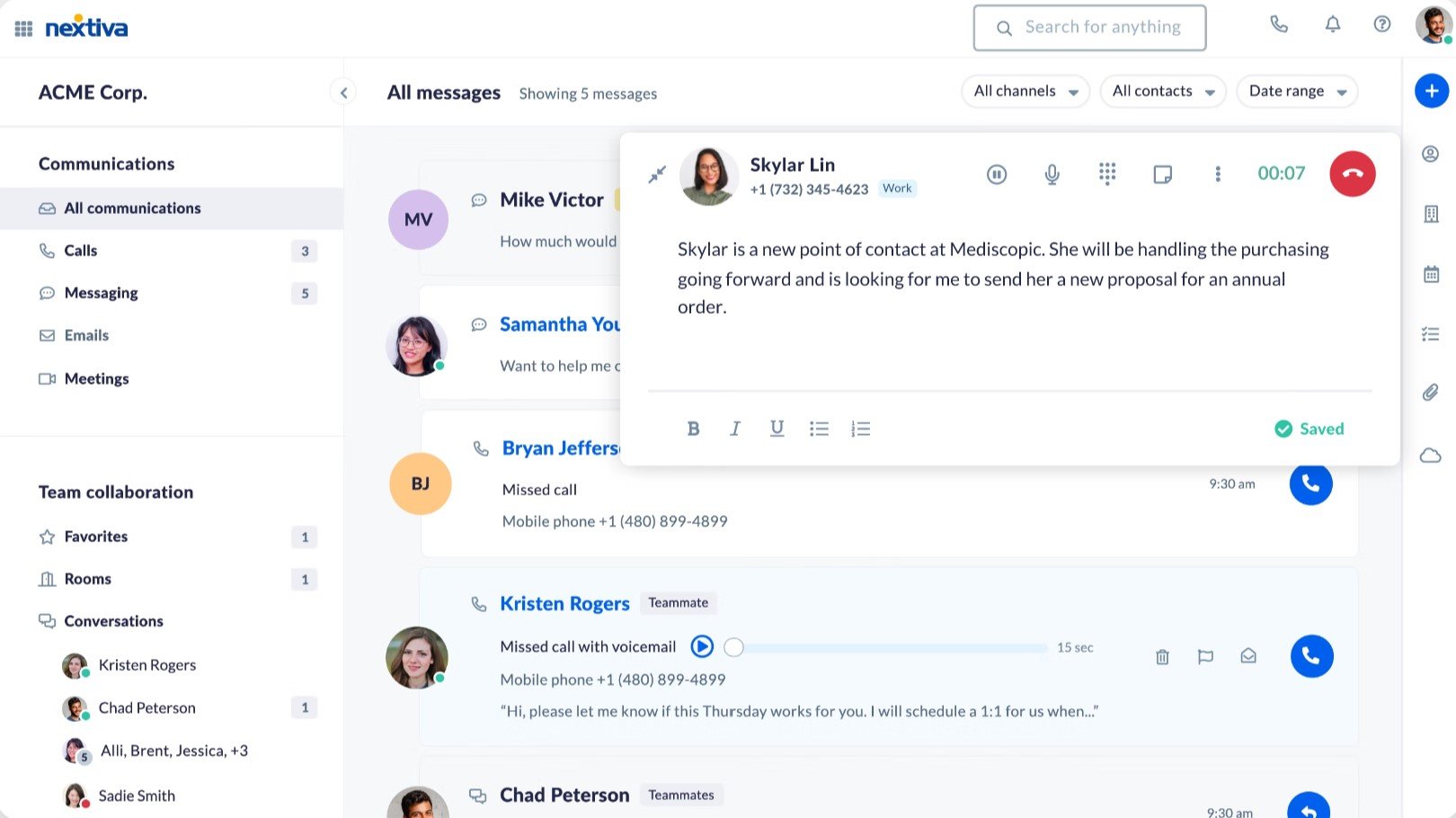 Differences
SMS texting limits: Dialpad supports unlimited texting within the US and Canada on all plans, while each Nextiva plan has a built-in texting limit. Nextiva's Essential plan does not support texting, the Professional plan limits each user to 1000 monthly SMS, and the Enterprise has a 2000 monthly text limit per user.
Team room limits: Dialpad users can create unlimited team rooms, while Nextiva users can only create 3 concurrent team rooms
International texting: Dialpad supports texting to international numbers at a per-SMS rate, while Nextiva only supports texting to US-based numbers
Video Conferencing
Summary: Nextiva and Dialpad include virtual video meetings with built-in scheduling, screen sharing, and chat. Nextiva has a larger participant capacity on the Professional and Enterprise plans but with a 45-minute time limit. Dialpad meetings run much longer and include more collaboration tools like breakout rooms and virtual backgrounds.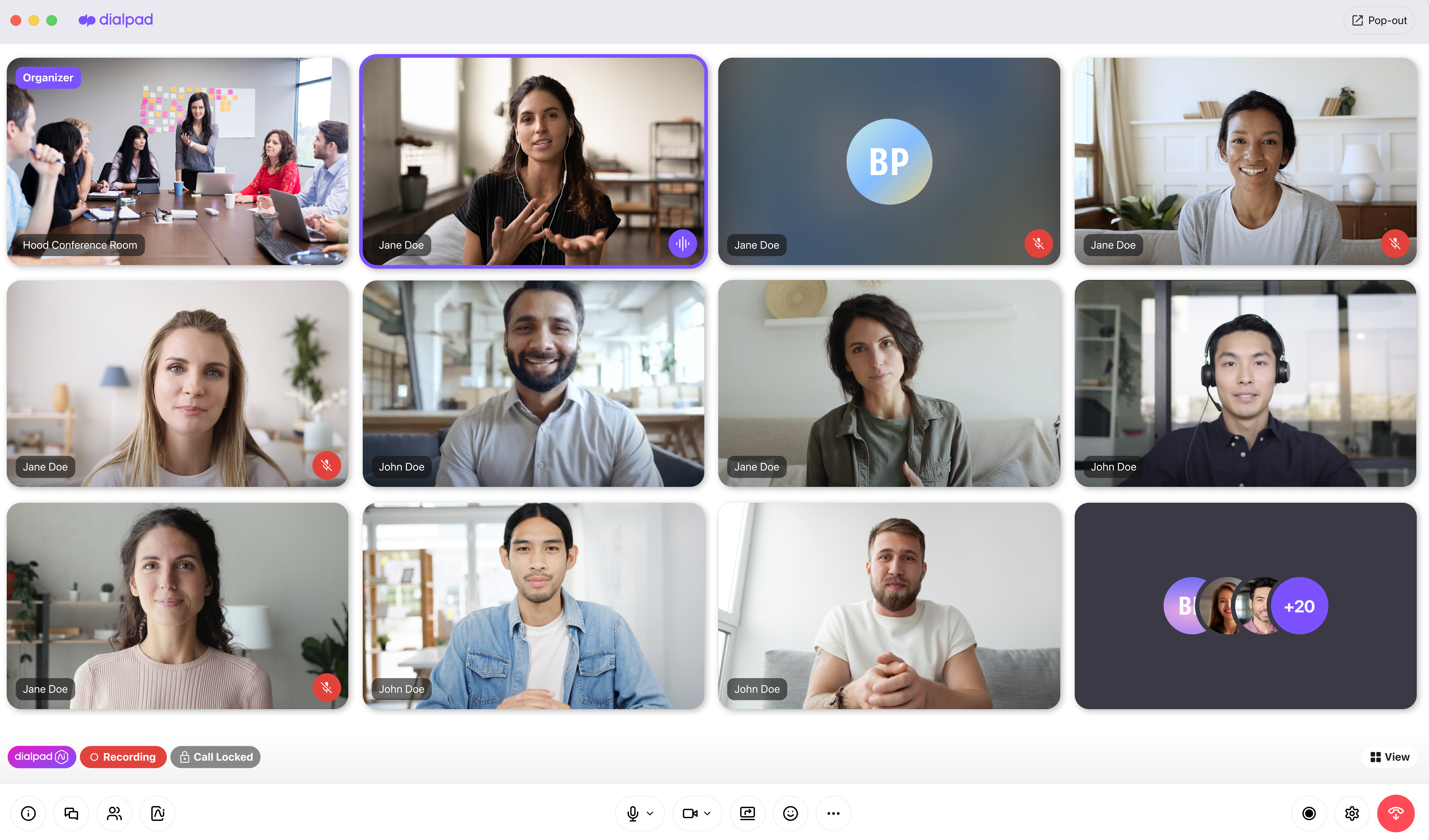 Shared Features
Multi-device access: Dialpad and Nextiva support virtual video conferencing, which users and invitees can access from desktop, browser, or mobile. Join meetings through the Dialpad or Nextiva app, or through an invite link.
In-app scheduling and invite links: Users can schedule meetings within the Dialpad or Nextiva app, inviting internal teammates or external participants. Creating a meeting generates a unique invite link and meeting ID, which users can send to customers. Meetings sync and update calendar integrations like Microsoft Outlook and Google Calendar.
Screen sharing: Meeting participants can share their screens from desktop or mobile, selecting a window or whole-screen view to present to the whole group
Meeting chat: Video meetings display a running chat box where users can send messages, files, and emojis. Participants can send private direct messages or participate in a whole group chat.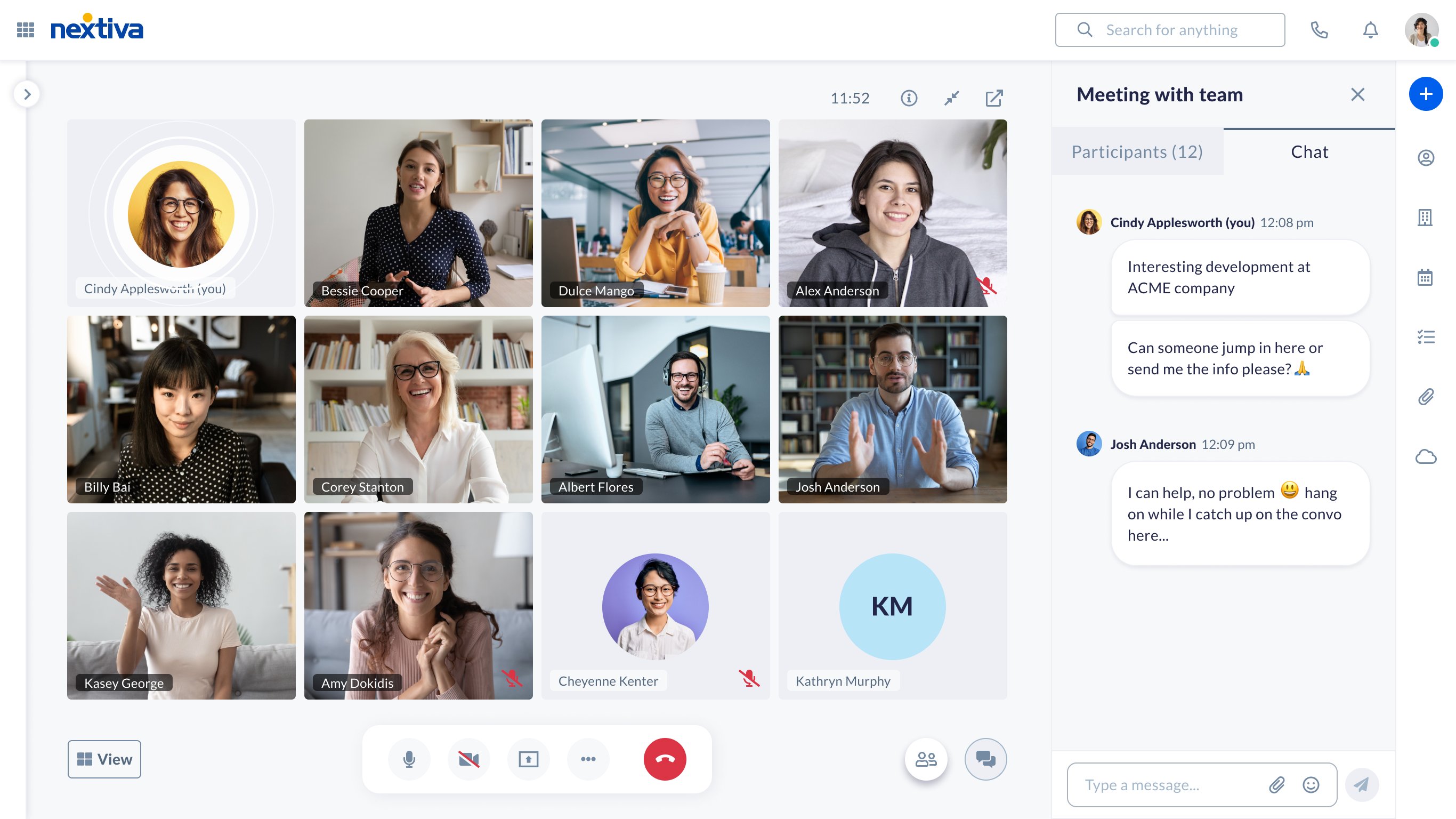 Differences
Participant capacity: Dialpad meetings hold ten users on all plans. Nextiva's Essential plan only supports one-on-one meetings, the Professional plan supports 40 participants, and the Enterprise has an unlimited participant capacity.
Time limit: Dialpad video meetings have a 5-hour time limit and Nextiva meetings have a 45-minute limit
Advanced collaborative features: Dialpad video meetings include advanced collaboration features like a waiting room, virtual backgrounds, and an integration with Miro for live whiteboarding
AI features: Dialpad meetings include advanced AI features like live transcriptions and auto-generated recaps with a summary, action items, and meeting highlights
AI And Automations
Summary: Dialpad offers AI-based automations on all plans, including real-time call transcriptions, live speech coaching, and automated post-call summaries. Nextiva's Enterprise plan offers workflow-management automations–follow-up customer surveys, welcome emails, and agent notifications when tasks pass their deadline.
Dialpad AI and Automations
Dialpad includes these AI tools on all plans:
Real-time call transcriptions: During calls, agents can display a running transcription onscreen, to understand customer speech and scroll back to recall earlier details
Live speech coaching: AI analyzes transcripts to provide live pop-ups with agent coaching and suggestions, including recommended response scripts and feedback on conversation elements like pace
Automated post-call summaries: Dialpad AI generates a post-call summary that bundles meeting transcripts with key action items, moments, and sentiment fluctuations. Key moments include dates mentioned, email addresses, interesting questions, and more. Users can search transcripts and share summaries via chat.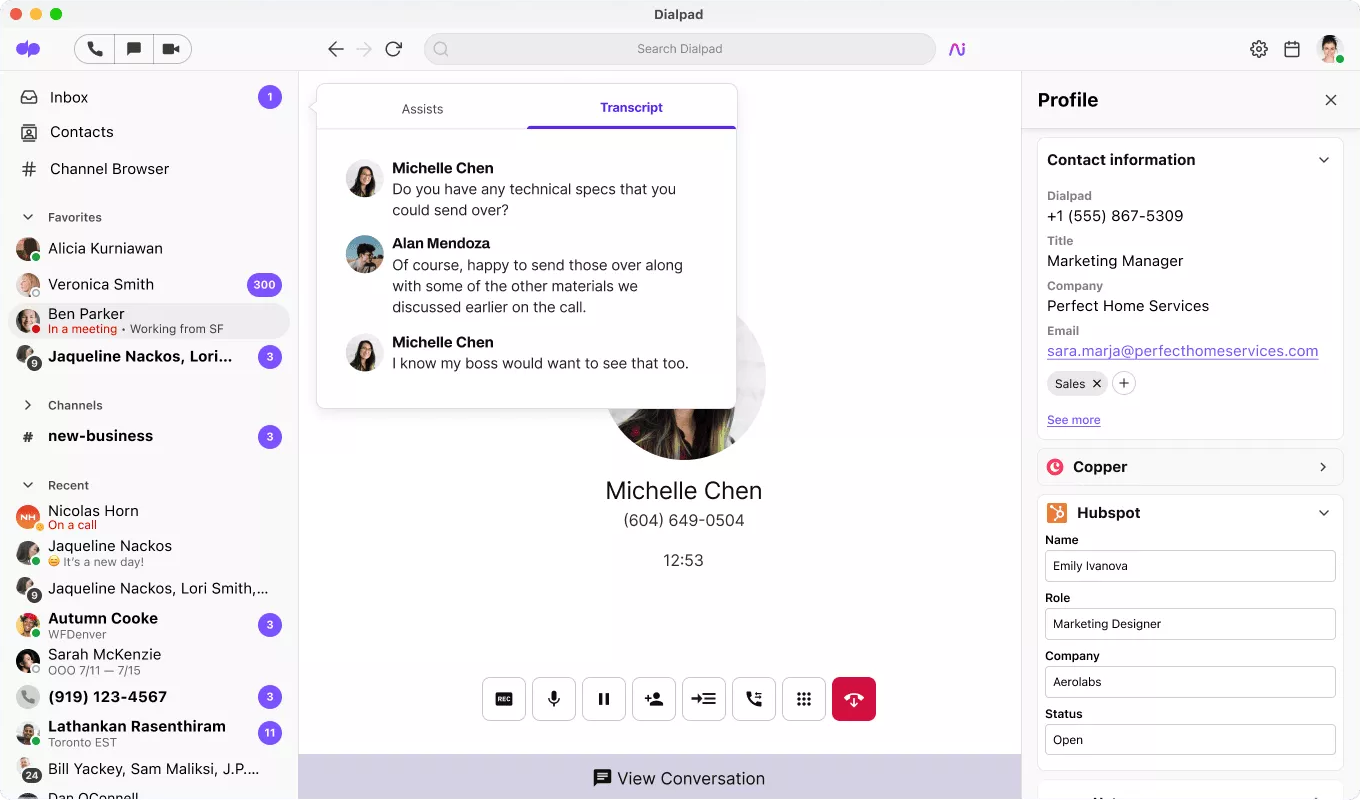 Nextiva AI and Automations
The following automations are only included in Nextiva's Enterprise plan:
Automatic welcome emails: Automate multichannel outbound welcome sequences utilizing messages, surveys, campaigns, and more
Real-time agent suggestions: AI analyzes live call transcription to recommend scripts, relevant links, and relevant articles based on detected conversation subjects
Automatic surveys and follow-up messages: Send automatic surveys after every customer interaction, with follow-up messages depending on survey responses
Automatic reminders: Notify team members about forgotten tasks past the deadline
Reporting and Analytics
Summary: Dialpad includes real-time analytics and reports on all plans, while Nextiva reserves them as a paid add-on. NextivaONE's UCaaS plans only include basic call logs, although the paid Call Analytics add-on has some dynamic features and visuals tracking usage and call activity.
Dialpad Reporting and Analytics
Dialpad plans include these real-time and historical reports, call center analytics, and KPIs:
General call analytics: An overview of center activity including active calls, missed calls and missed-call percentage, abandoned calls, internal vs. external calls, and active agents. This report is viewable live and over custom historical timeframes.
Heat maps: Call volume patterns and average answer speed by weekday and time of day, to help administrators forecast business needs for staffing
IVR analytics: Statistics about which auto attendant menu items are most popular with customers, to track customer needs and trends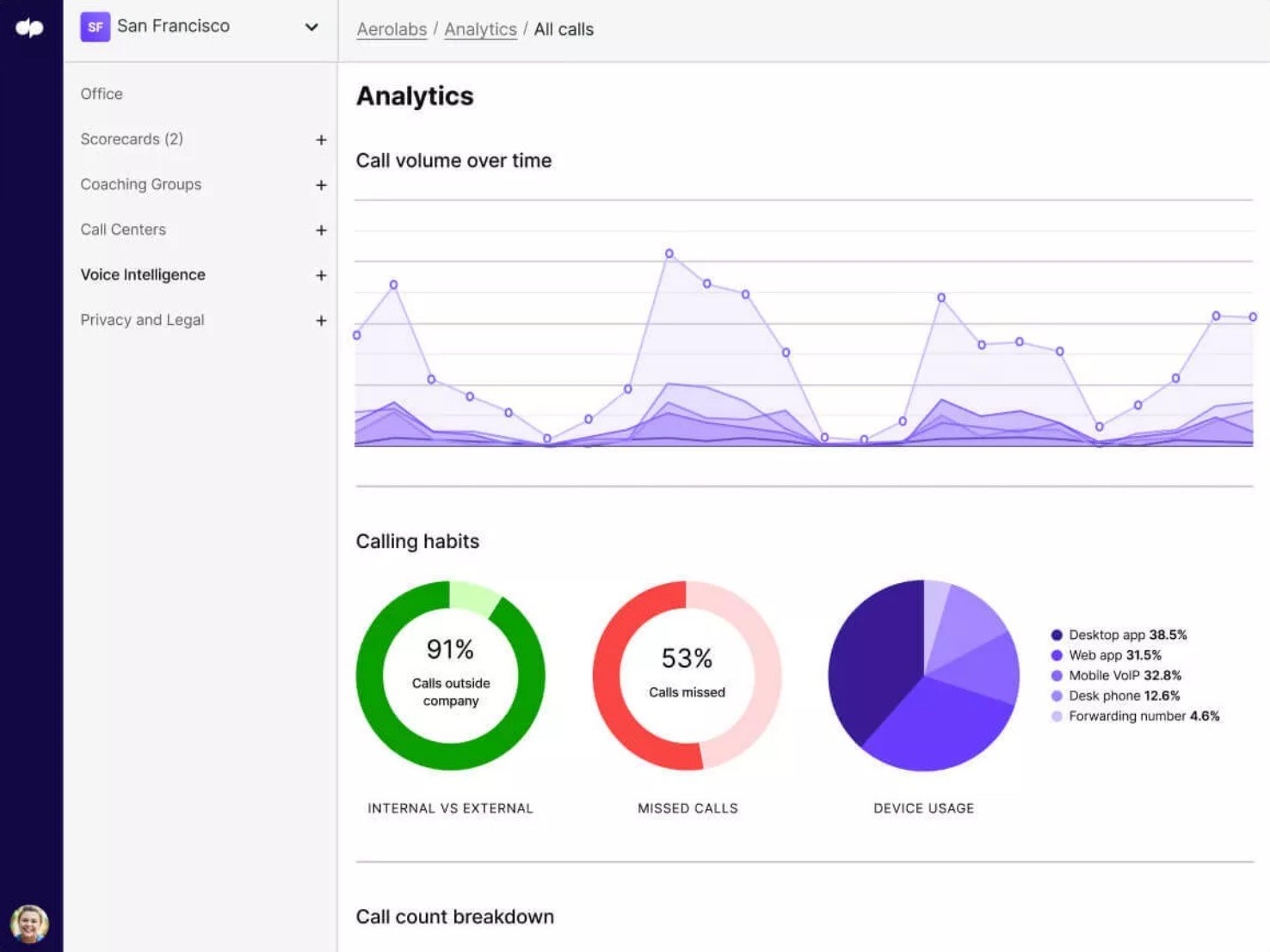 Nextiva Reporting and Analytics
Nextiva's regular plans only include call log reports, which provide critical information like caller, recipient, call time and date, and call duration. However, Nextiva's Call Analytics add-on costs $5 monthly per user and includes the following features: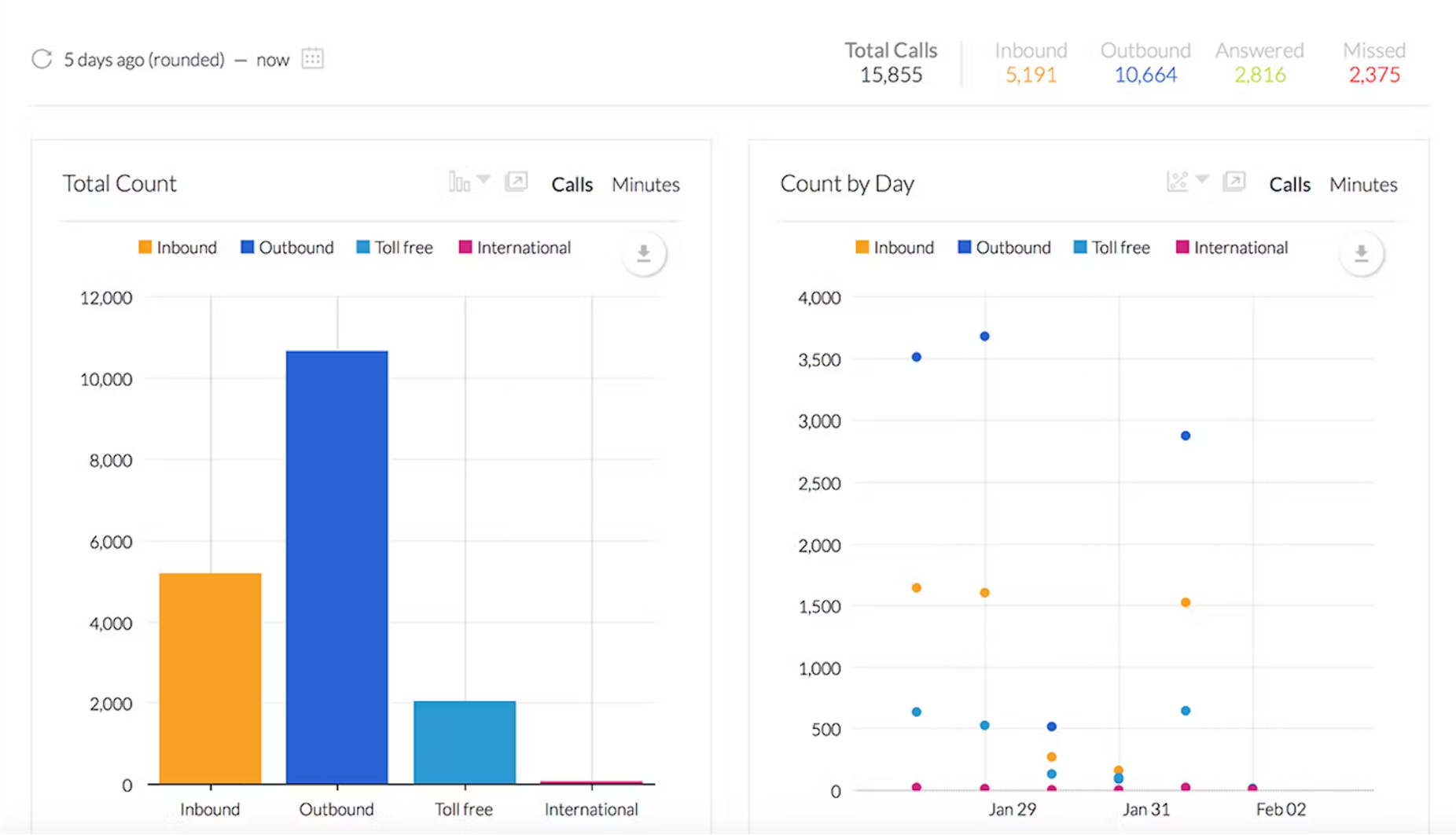 Features in Nextiva's Call Analytics Add-On:
Call reporting: Live and custom historical views of call center metrics, like inbound and outbound call volume, answered calls, and missed calls
Performance wallboards: Customizable real-time wallboards displaying key call center statistics in color-coded panels, for easy tracking of the metrics you want to focus on
Trend analysis: Compare performance trends between time periods, employees, locations, or campaigns. Comparable metrics include total calls, average calls per user, average talk time, and more.
Gamification: Increase employee engagement with employee performance leaderboards
Bundled call recording: Access and share each call's recording, accessible within the call log
Location reports: View call activity by location, including city, state, and country
Integrations
Summary: Dialpad integrates functionality with 70 third-party applications, while Nextiva offers 19 integrations. However, both platforms offer integrations with popular CRM platforms, calendar apps, and ticketing solutions. Dialpad offers some unique apps with analytics and communication tools.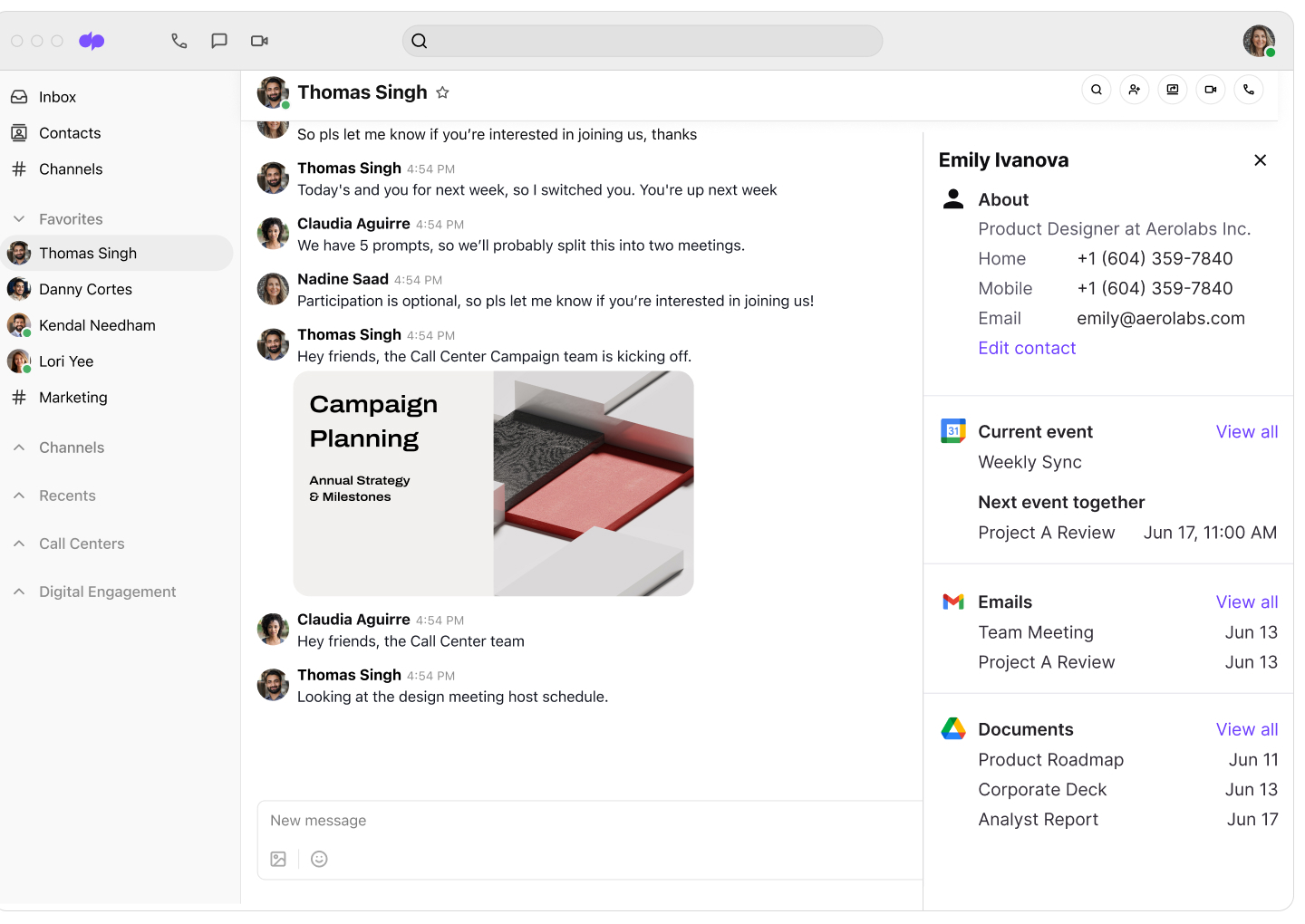 Shared Integrations
CRM platforms: Integrate contact information and tasks with popular CRM platforms like HubSpot and Salesforce
Ticketing platforms: Sync inbound queries and tickets with third-party customer-management apps like ServiceNow and Zendesk, for efficient customer support
Calendar integrations: Schedule and sync meetings with third-party calendar apps like Google Calendar and Microsoft Outlook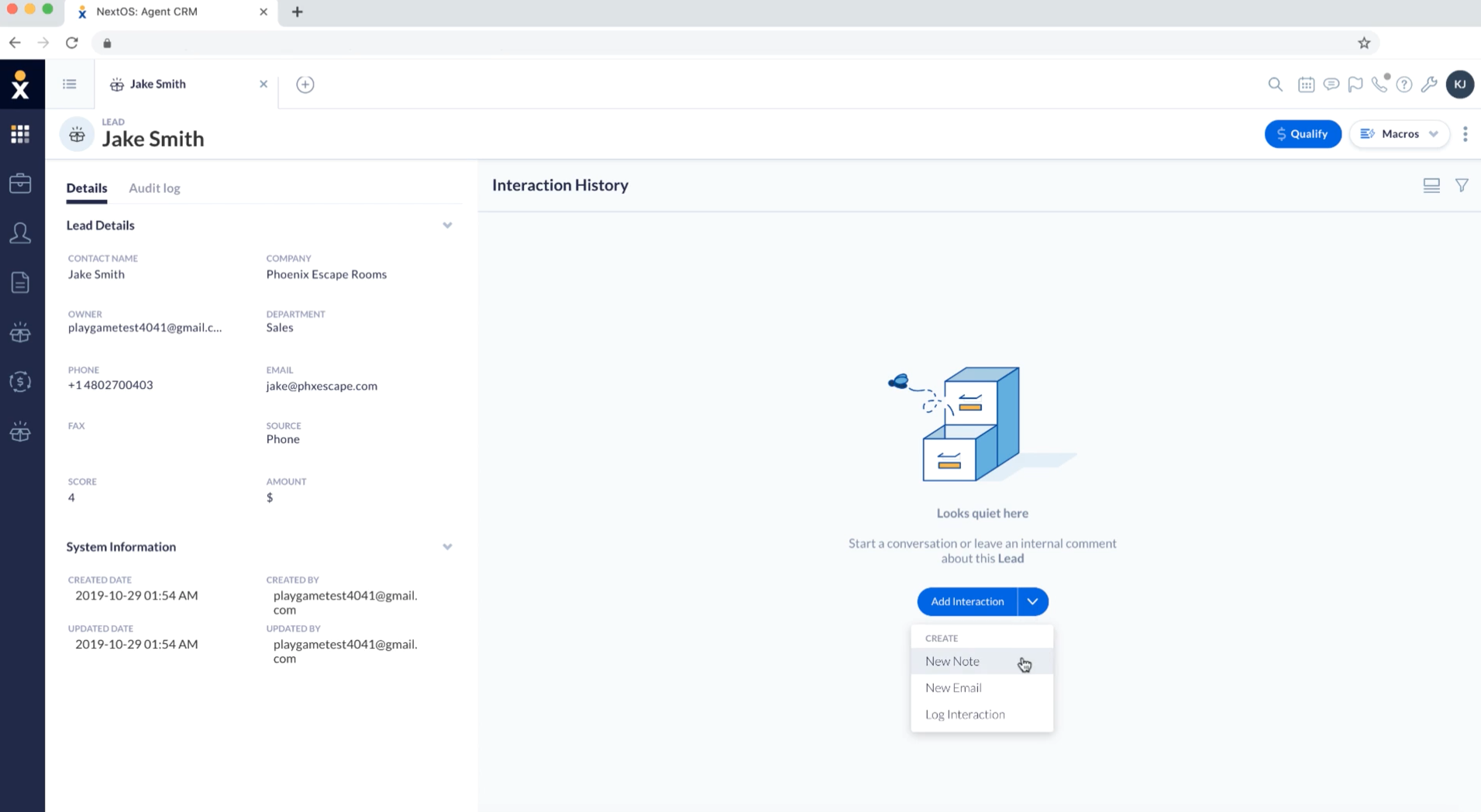 Differences
Communication apps: Dialpad syncs messages and tasks with communication apps like Slack
Analytics: Dialpad integrates UCaaS metrics and insights with analytics engines like Chorus.ai and Gong
Dialpad Pros & Cons
Dialpad Pros
AI features: Dialpad includes real-time AI call support and video-meeting summaries, which few competitors offer
International phone numbers: Dialpad's phone system offers international business numbers in over 70 countries, enabling a local presence overseas
Unlimited team chat rooms: Dialpad users can create unlimited team chat rooms, with collaborative features like one-click team huddles and file sharing
Dialpad Cons
Small video-meeting capacity: Dialpad meetings only support 10 participants, making it a better fit for small businesses
No visual call-flow builder: While Nextiva has a drag-and-drop conversation designer to build IVR call flows, Dialpad offers a more traditional dropdown-menu style
Can feel overwhelming: Dialpad's abundance of AI features can feel overwhelming for users who are new to the UCaaS platform
Nextiva Pros & Cons
Nextiva Pros
Large video-meeting capacity: Nextiva's Enterprise plan supports unlimited video-meeting participants
Ease of use: Nextiva's user interface feels intuitive and simple, unifying all of an agent's channels and internal contacts
Contact management: The ability for agents to make notes on contacts and calls facilitates team collaboration
Nextiva Cons
Meeting limitations: Nextiva's video meetings have a short 45-minute time limit, and lack many useful collaborative features that competitors have. Further, the Essential plan only supports one-on-one meetings
SMS limitations: The Essential plan does not include SMS, and the Professional and Enterprise plans both place a limit on each user's monthly SMS volume. Some users may find this restrictive.
No built-in analytics: The Core plans only include call logs, and analytics require an add-on. This is frustrating because many alternatives offer analytics as a built-in feature.
Dialpad and Nextiva both offer strong phone systems with VoIP calling, collaborative video meetings, team chat, and texting. However, the best fit for your team depends on your budget and business needs.
If you're looking for live AI call support and collaborative video meetings and don't mind the limited video-participant capacity, Dialpad is a good fit.
If you want an easy-to-use VoIP app with unlimited calling in the US, Nextiva is a good choice.