Most VoIP providers double as UCaaS providers since their business phone systems include not only call routing and management, but multichannel communication, automations, and analytics.
This article compares Dialpad vs Nextiva, outlining their pricing, features, pros, cons, and which one you should pick.
Jump to ↓
Dialpad vs Nextiva at a Glance
While Dialpad offers a more affordable and collaborative business communication solution for small teams, Nextiva offers larger-capacity video meetings and unlimited auto attendants that suit medium and larger businesses.
Dialpad's plans come at budget prices and include advanced features like real-time voice transcription, AI-generated meeting insights, and real-time analytics. While their video meetings include engaging collaboration features, they cap at 10 participants, making it difficult for larger companies to use Dialpad for video collaboration.
While Nextiva does not match Dialpad's AI capabilities or plan affordability, it does offer 250-participant video meetings across all plans, plus auto attendants and ring groups that can support large companies. Nextiva's Enterprise plans also include AI and sales tools.
Dialpad »
Nextiva »
Pricing
3 plans from $15 to over $25 monthly per user
3 plans from $19 to $33 per user
Key Features

Real-time call transcriptions
Live speech coaching
Automatic post-call summaries
Collaboration whiteboards

Auto attendants
Ring groups
Collaborative team spaces

Available Communication Channels

Video meetings
Team chat
SMS

VoIP calling
Video meetings
Team chat
SMS

Integrations
11 integrated apps, including:

Salesforce
Microsoft Teams
Hubspot
ServiceNow
Slack

Open APIs to integrate Dialpad capabilities into your application, and 21 integrated apps, including:

Salesforce
Microsoft Teams
Hubspot
Zendesk
ServiceNow

Customer Support Options

Knowledge base
Community forum
24/7 email, chat, and phone support

Knowledge base
Community forum
24/7 email, chat, and phone support

Best For
Small teams seeking a feature-rich, collaborative business communications solution on a budget
Medium-to-large teams planning to utilize auto attendants and video meetings, or those seeking to spend extra on outbound sales tools
What is Dialpad?
Dialpad is a cloud-based phone system and unified communications solution bundling VoIP calling, SMS text messaging, video meetings, and team web chat into a desktop, browser, and mobile app.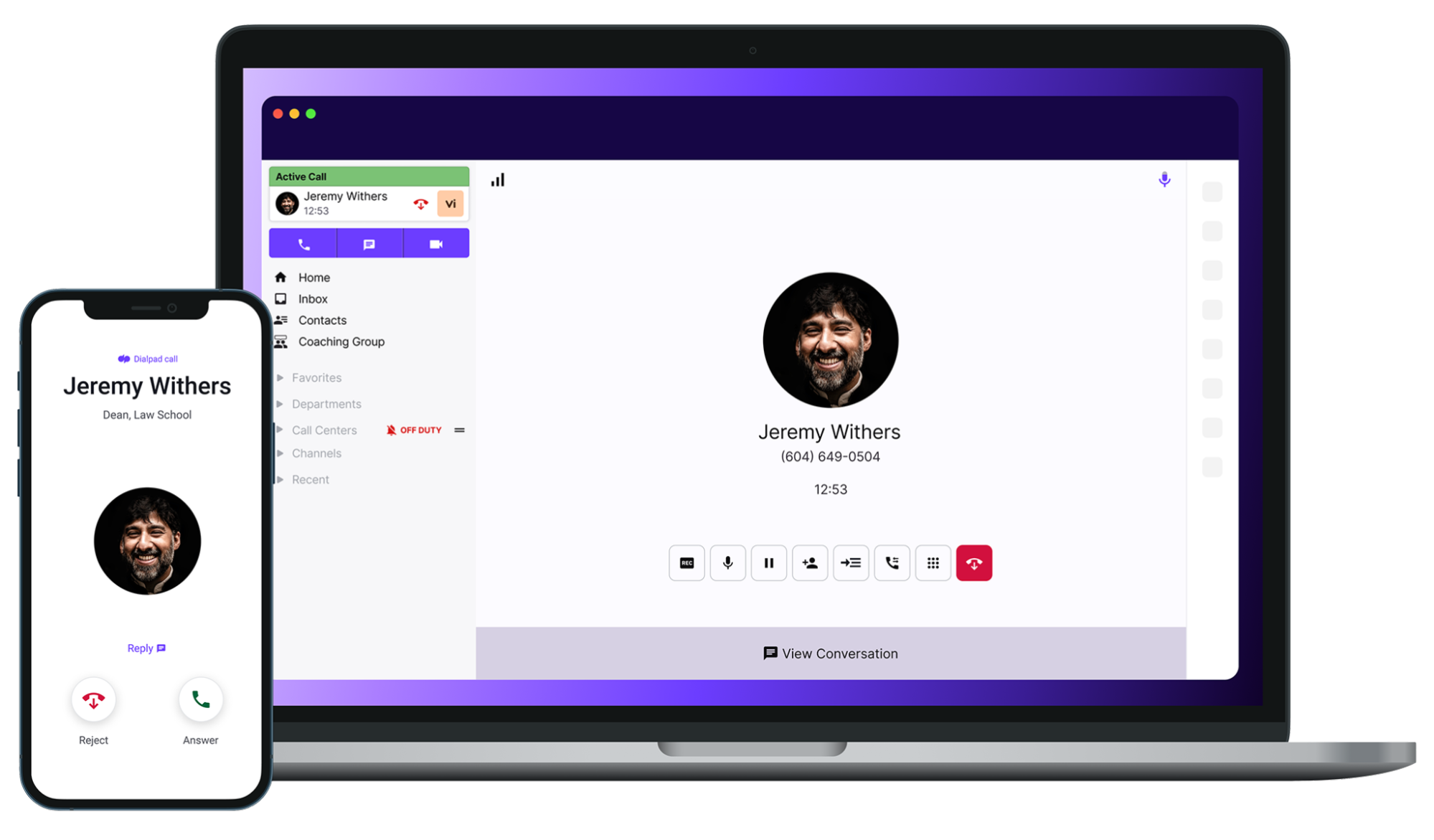 From the Dialpad app dashboard, agents can manage conversations with any contact across channels, view notifications for conversation activity, search conversation history, and initiate telephony, video, and messages with one click.
Dialpad powers multichannel communications with real-time AI insights, recordings, live transcriptions, and analytics.
What is Nextiva?
Nextiva is business communications software unifying VoIP phone service, SMS, video conferencing, and team chat in an app accessible on desktop, browser, and mobile.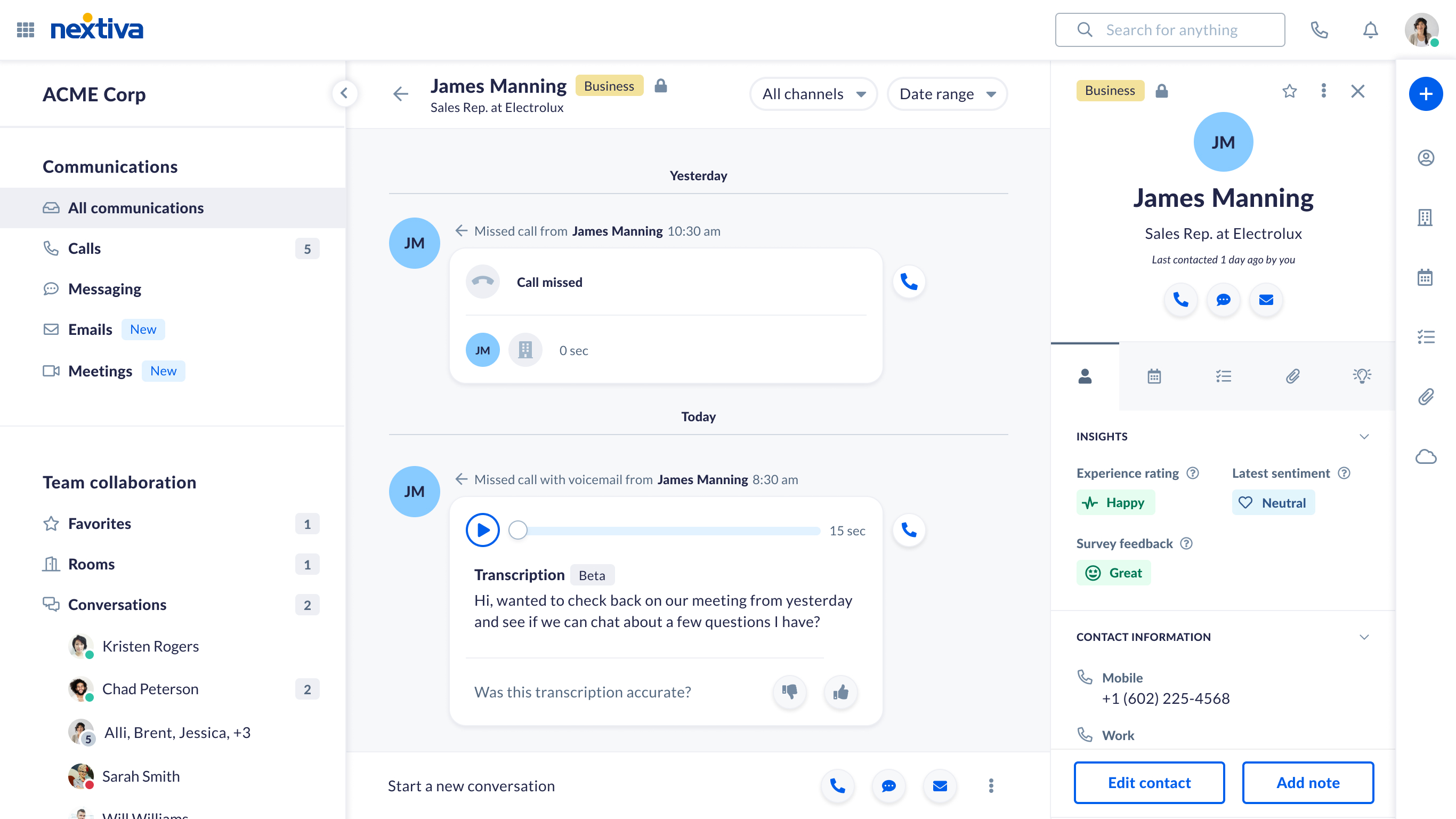 The app interface dashboard lets agents access contacts and manage conversations across all channels, receiving notifications when a thread or conversation warrants attention.
A great fit for medium-to-large companies, Nextiva includes dynamic video collaboration features, large participant meeting capacity on its basic plan, and free business phone numbers for each subscribed user.
Dialpad vs Nextiva: Pricing Overview
Dialpad's pricing is more affordable than most competitors, and all plans include voice, video meetings, chat, and SMS. Each user subscription includes 1 local number and unlimited calling within your country plus the US and Canada, an awesome benefit to countries outside the US.
Each higher-tier plan provides more ring groups, supported office locations, and integrations. However, users should note that the 10-participant video-conferencing maximum remains across all plans.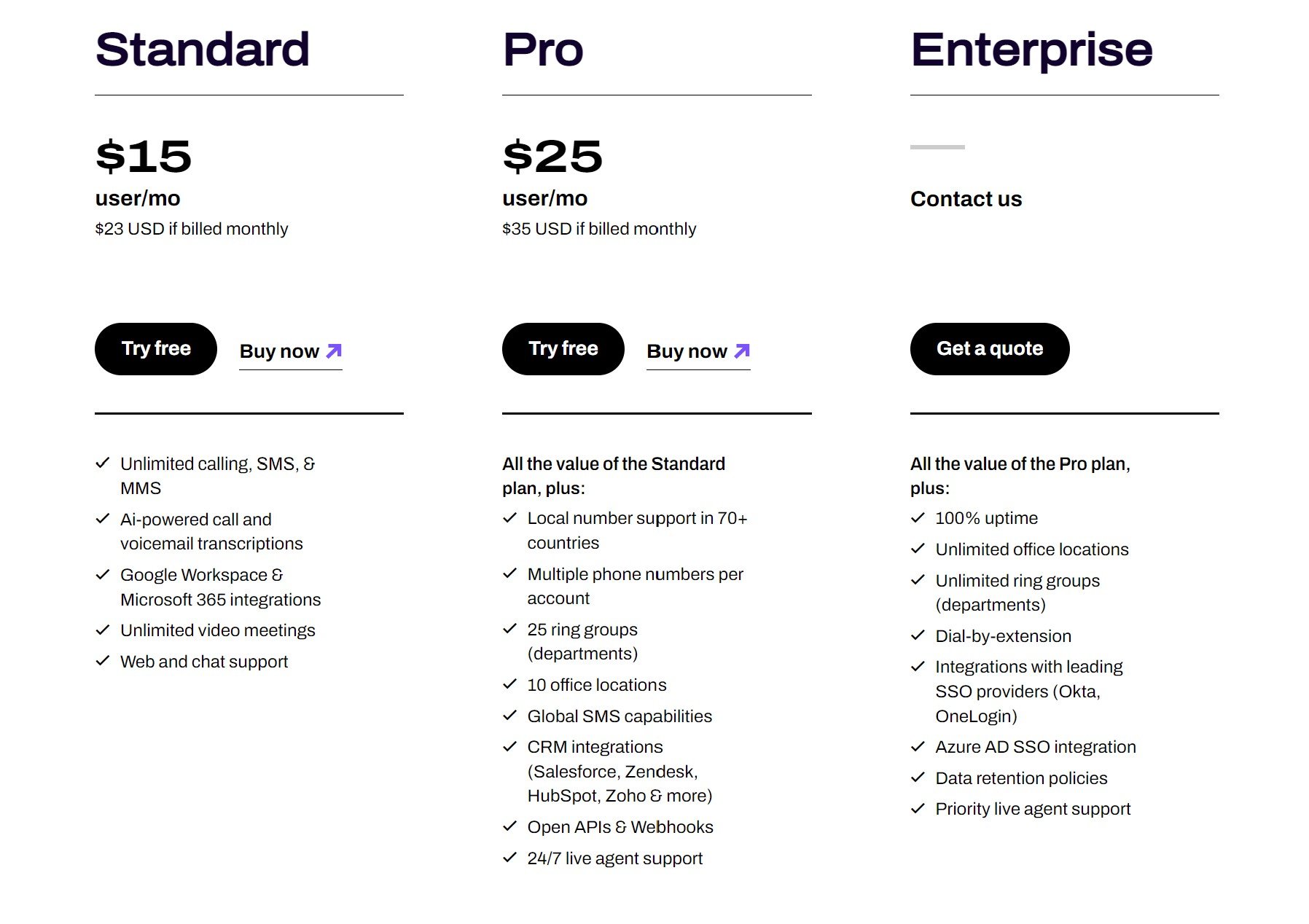 Nextiva's plans are slightly pricier than Dialpad's but still an affordable and balanced option compared to some alternatives. Each Nextiva plan includes a spacious 250-participant meeting capacity, plus unlimited basic routing features like ring groups and auto attendants.
The Essential plan includes all channels except SMS, added with the Professional plan. Each higher-tier plan expands available integrations, video-conferencing features, and recording capabilities. While all plans include call logs, real-time queue analytics are available as an add-on.
Nextiva's Enterprise plan offers AI tools to enhance sales pipelines.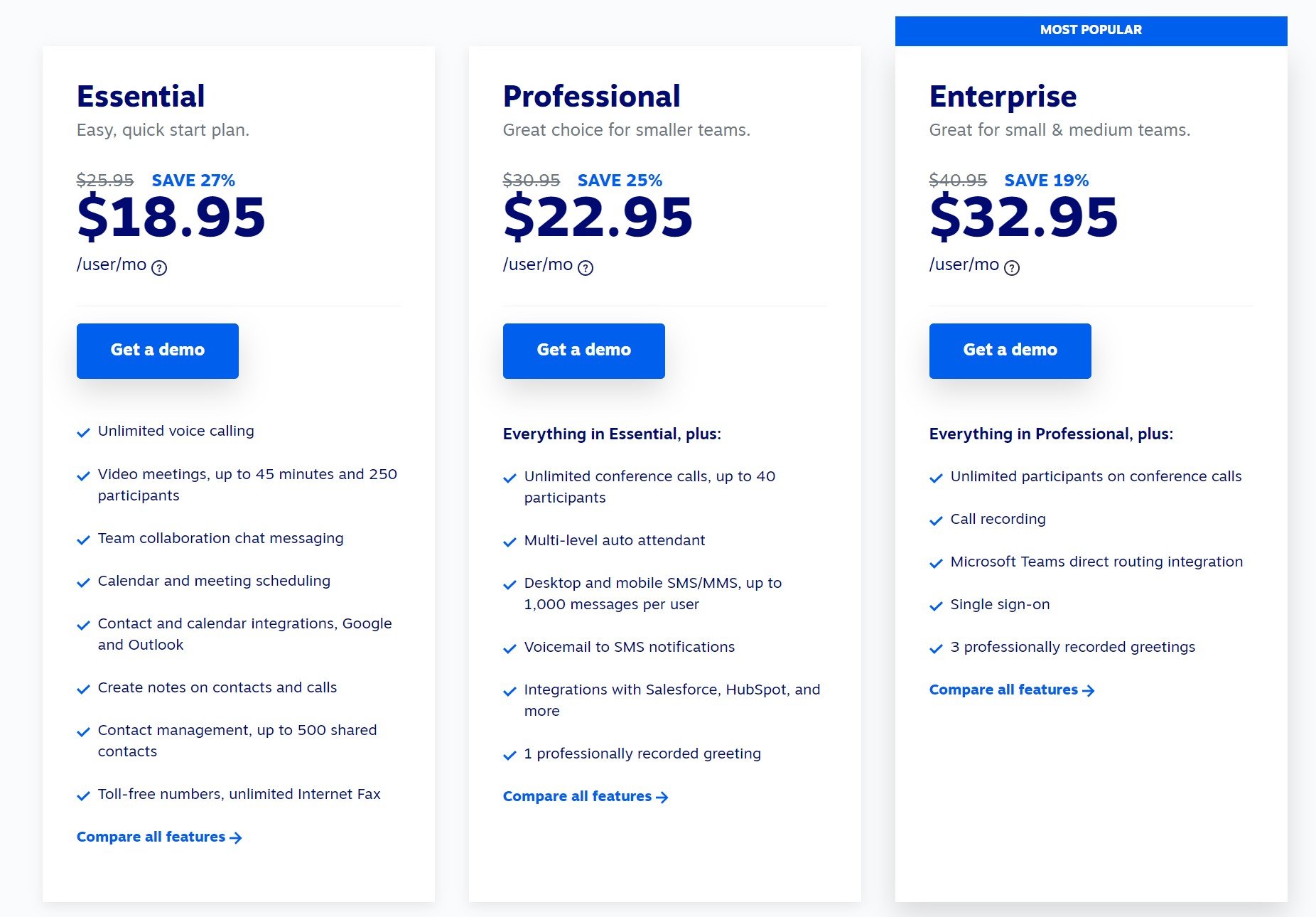 Dialpad vs Nextiva: Feature Comparison
Here, we compare key features for Dialpad vs Nextiva.
Dialpad Phone System
Dialpad's virtual phone system includes routing features like multi-level auto attendants and ring groups, live AI assistance during and after calls, real-time call queue analytics, and customizable business hours.
Upon sign-up, each subscribed user receives one local phone number for any-device calling with softphone functionality. Receive calls from any number, landline or VoIP, through Dialpad's web-based PBX. Port in your pre-existing numbers and purchase additional toll-free, vanity, and VoIP numbers in over 50 countries.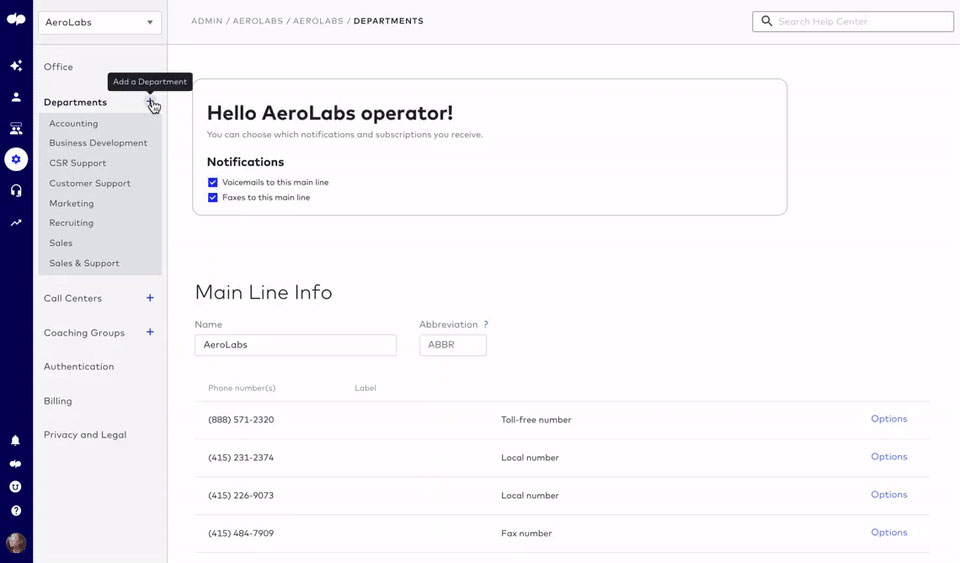 Each Dialpad plan includes unlimited calling within the US, Canada, and your billing country.
Dialpad Phone System Features:
Multi-level auto attendant: Customize an inbound self-service routing menu with dial-tone options that navigate customers to phones within the company.
Ring groups and hold queues: Group phone numbers to share inbound calls, distributing tickets evenly among a department's agents. Customize group ring style–round robin, simultaneous ring, longest idle, or preset order.
Custom call routing: Call routing rules based on business hours and agent availability. Customize ring style and duration, business hours, fallback and forwarding options, and direct-to-voicemail options and messages.
Visual voicemail: An organized and searchable voicemail log, with voicemail transcription and voicemail-to-email.
Call management: Call forwarding, call parking, call blocking, automatic spam detection.
Call recording
Nextiva Phone System
Nextiva's VoIP phone system, included with all business communication plans, offers unlimited calling in the US and Canada, plus per-minute international calling to over 50 countries.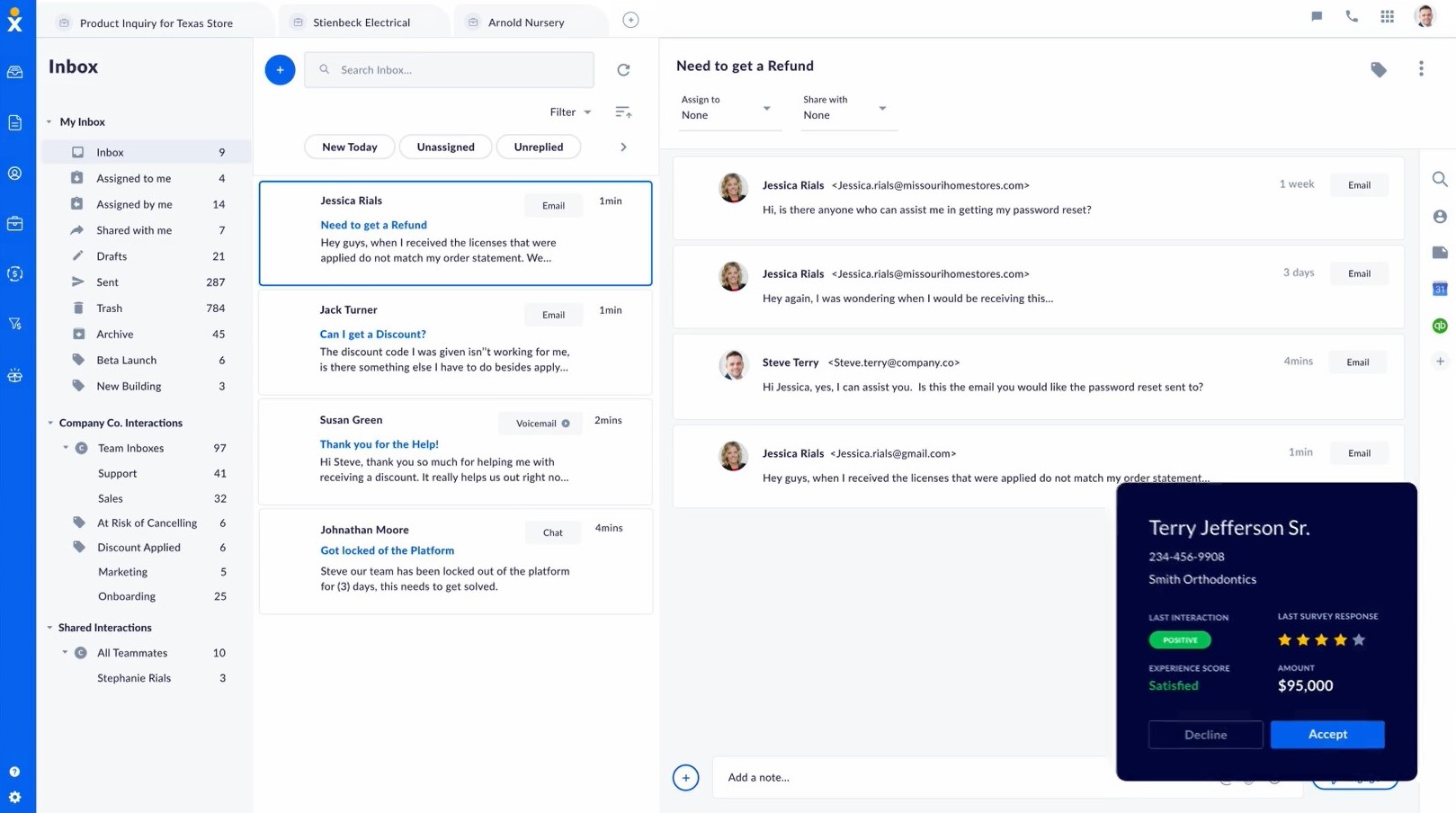 Users receive a free local and toll-free number upon sign-up but can also port pre-existing numbers, or buy toll-free, local, and vanity numbers worldwide. Make HD-voice calls and utilize softphone functionality from the Nextiva app, or create conference calls and send SMS texts with just a few clicks.
Users should note that hold queues are not included with regular plans but are available as an add-on, like real-time analytics and some video collaboration features. Still, some included VoIP services–like ring groups, call hold, and auto attendants–provide queue-like features.
Nextiva Phone System Features:
Call flow builder: A drag-and-drop menu to design call flows, combining actions and modifiers like business hours, DTMF phone menus, users and teams, voicemail messages, and transfer functionality.
Voicemail productivity features: A visual and searchable voicemail log with voicemail transcriptions, voicemail to email, and voicemail to SMS.
Call management: Call transfer, call forwarding, call parking, do not disturb, and mute.
Call pop: Each inbound call triggers a pop-up displaying caller information, like contact details, sentiment score, recent survey results, and contract value. Plans include between 100 and unlimited pops. CRM integration enhances the information displayed.
Ring Groups: With simultaneous ring
Call hold: With customizable hold music and call waiting
Call flipping between devices
Unlimited multi-level auto attendants
Dialpad Team Messaging
In Dialpad's Team Messaging tab, agents can create and manage SMS texts, 1:1 webchats, and internal group-chat channels dedicated to projects, teams, or topics.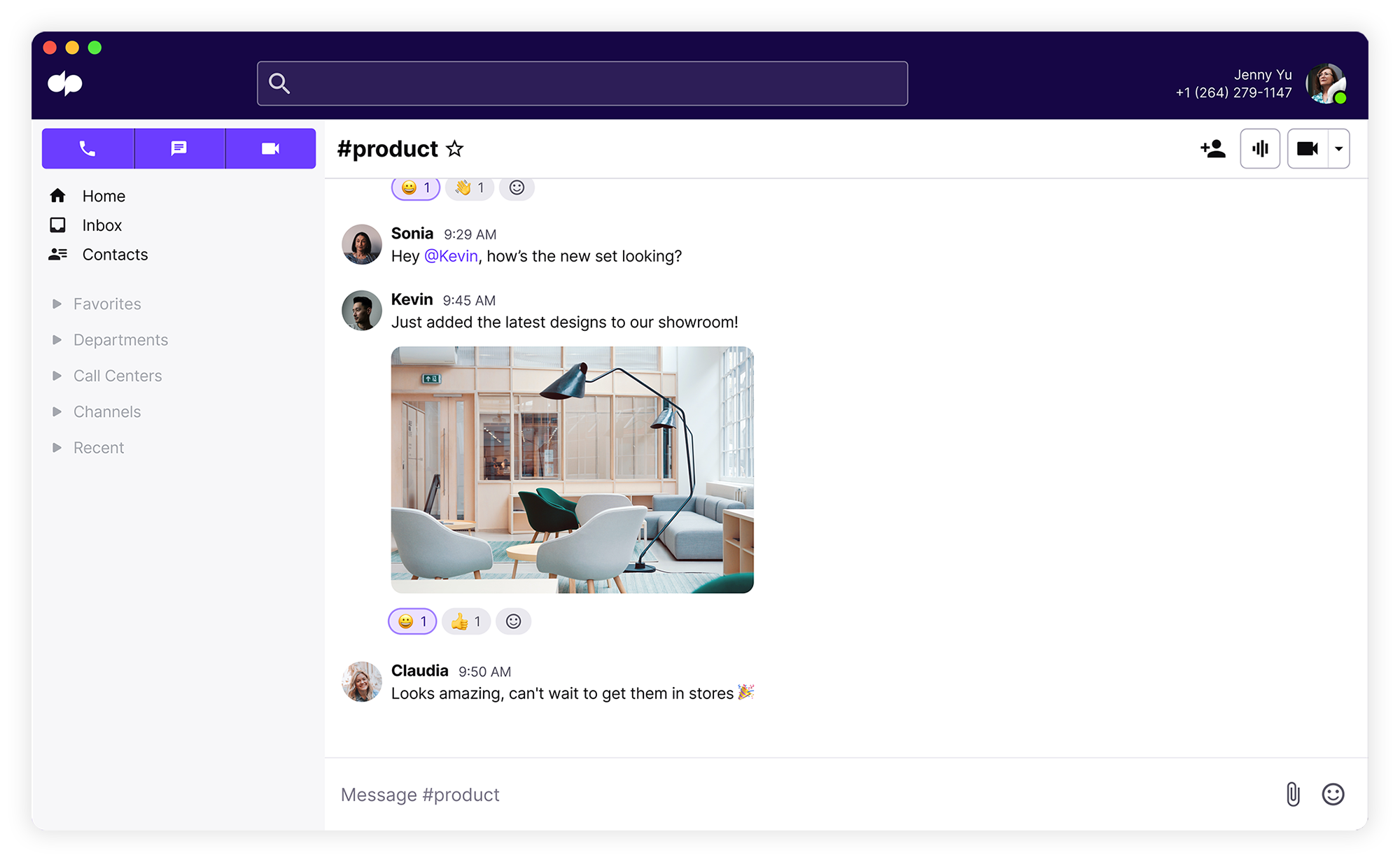 Create unlimited chats and channels, where participants can send videos, photos, and files, react with emojis, and even connect apps like Google Drive. A top-screen search bar enables users to sort their whole conversation inbox by user, file, or keyword.
At any time, team members can utilize one-click buttons to jump into an ad hoc call or video. Status and presence updates keep all team members in the loop.
Nextiva Team Messaging
NextivaONE supports 1:1 internal chat messaging, group messaging, and up to 3 concurrent team collaboration rooms.
Teammates can send instant messages to each other at any time by clicking a user's profile and selecting Send a message. Send text audio, video, documents, and images in 1:1 team chats.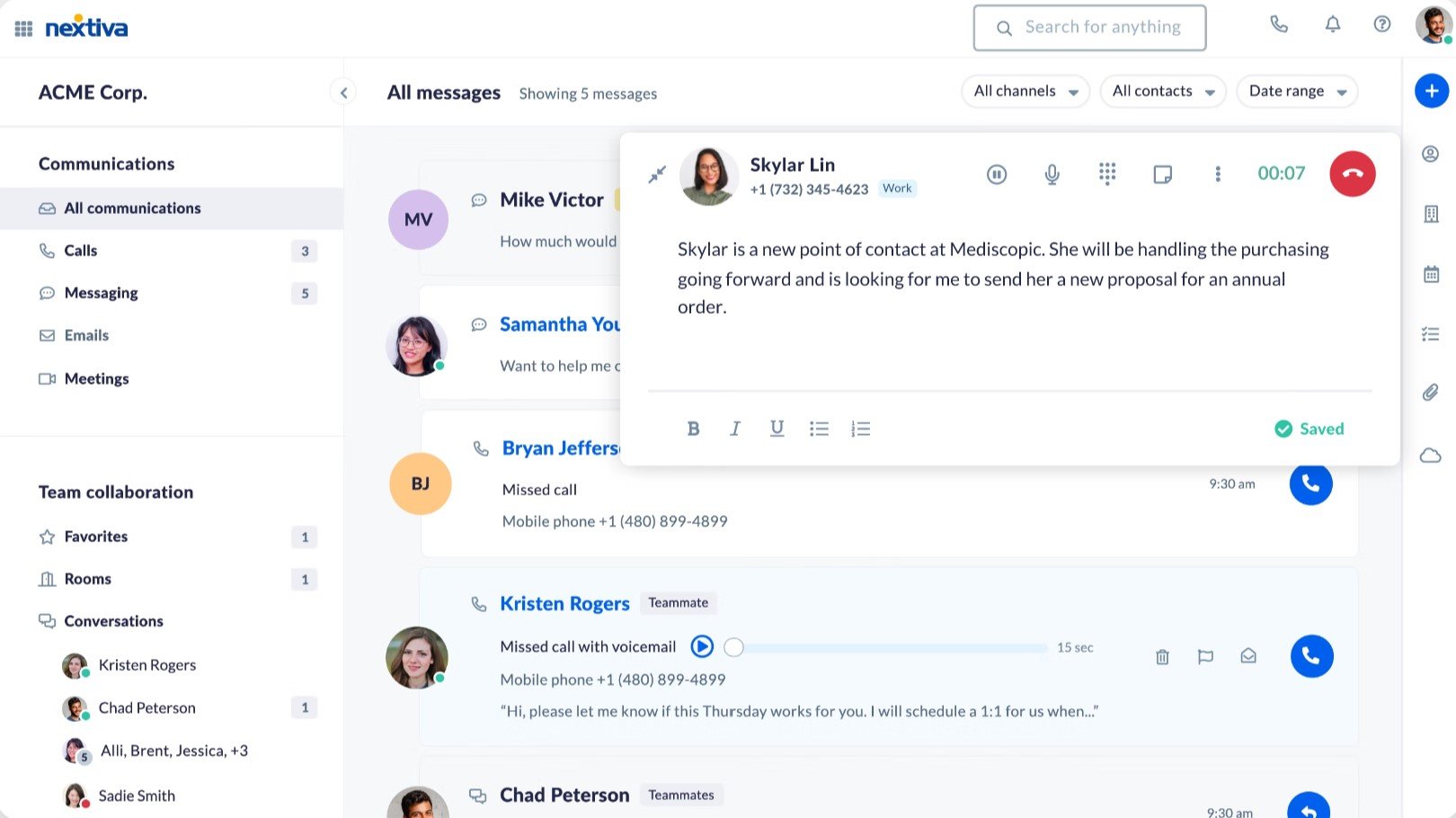 Rooms provide a collaboration hub where dozens of participants can chat, create smaller sub-conversation threads, share files, or jump into ad hoc video meetings and calls with one click. Shared files and user information are automatically stored and organized in the right-hand menu.
A user's active rooms are always displayed in the left-hand menu for one-click access, providing updates for all new conversation activity.
Dialpad Video Conferencing
Host unlimited Dialpad HD-video meetings, which last up to 5 hours and support up to 10 participants.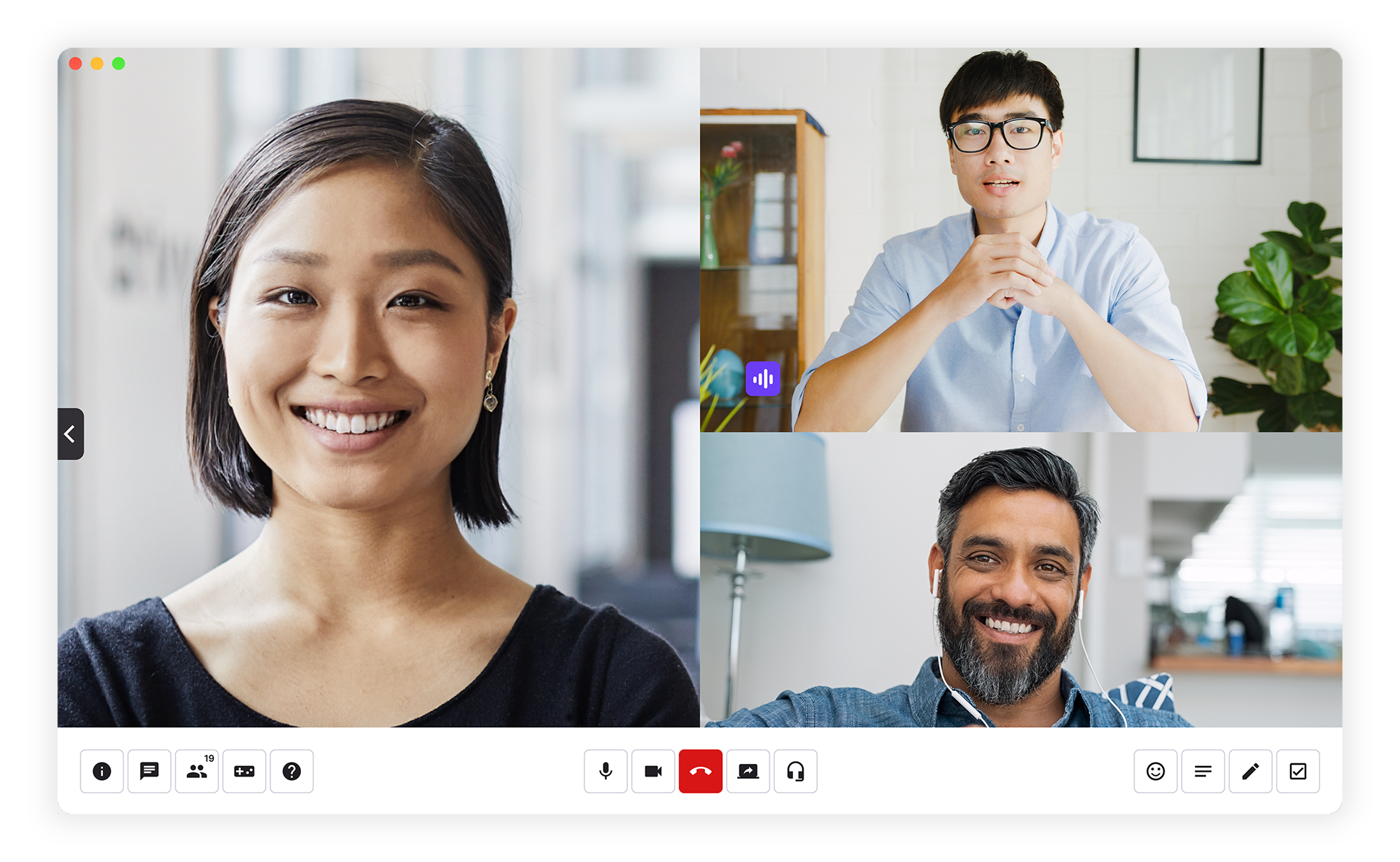 Create and schedule meetings within the Dialpad app via integration with Google Workspace or Microsoft 365, syncing calendars among attending teammates. When creating the meeting, hosts can customize the meeting ID and wait music. Users can dial into any meeting from any device: desktop, mobile, iPhone, or Android.
Dialpad Video Meeting Collaboration Features:
Unlimited audio recordings
Nextiva Video Conferencing
Nextiva users can host unlimited video meetings, which last up to 45 minutes and support 250 participants.
Create, schedule, and invite participants with Nextiva's built-in calendar functionality, or integrate with Google and Microsoft Outlook calendar apps.
Nextiva Video Meeting Collaboration Features:
Live streaming to YouTube
Video conference recording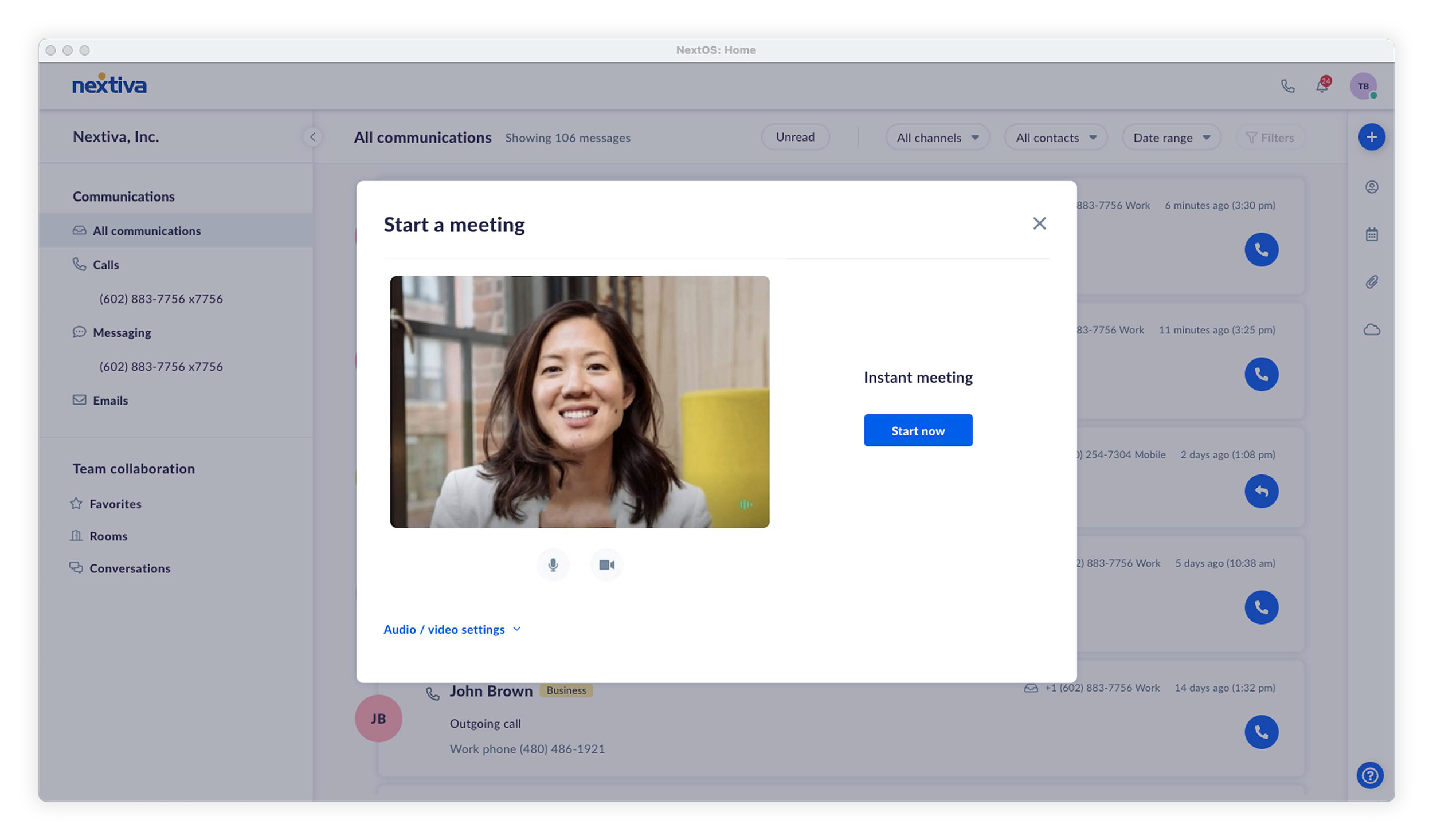 Dialpad AI and Automations
Dialpad business communication plans include a surprising breadth of built-in AI features that assist agent and teammate performance across channels. For the price, no competitor can match the value and ease of use that Dialpad provides when it comes to AI support.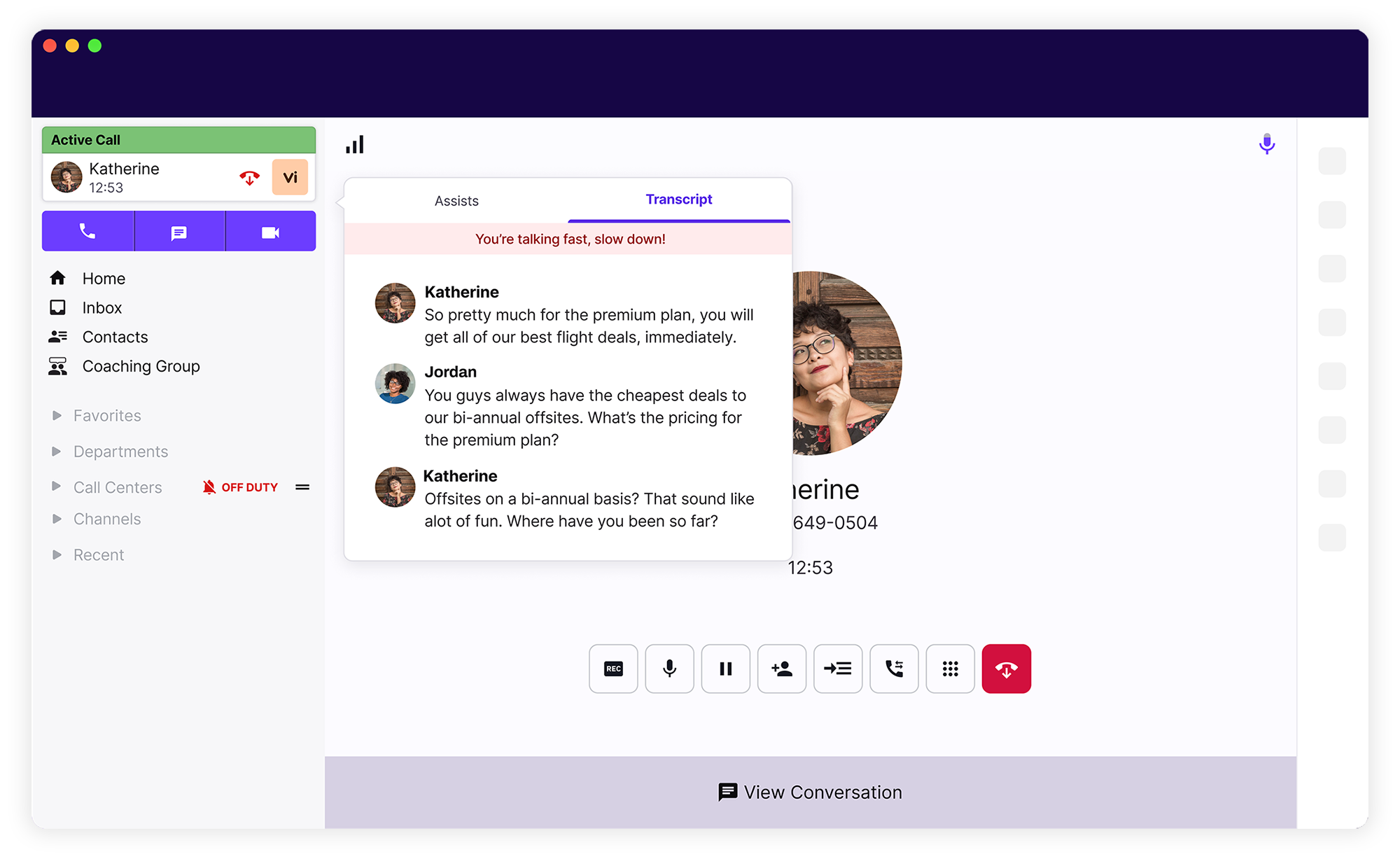 Dialpad AI and Automation Features:
Real-time call transcriptions: During calls, agents can display a running transcription onscreen, to understand customer speech and scroll back to recall earlier details.
Live speech coaching: AI analyzes transcripts to provide live pop-ups with agent coaching and suggestions, including recommended response scripts and feedback on conversation elements like pace.
Real-time predictive CSAT score: Live customer satisfaction analysis, to keep agents and supervisors informed about conversation sentiment, with live opportunities to improve it.
Automated post-call summaries: Dialpad AI generates a post-call summary that bundles meeting transcripts with key action items, moments, and sentiment fluctuations. Key moments include dates mentioned, email addresses, interesting questions, and more. Users can search transcripts and share summaries via chat.
Nextiva AI and Automations
For companies seeking a business communication platform for outbound sales and marketing campaigns, Nextiva's Enterprise plan offers some effective automations.
Automations and AI in Nextiva's Enterprise Plan:
Automatic welcome emails: Automate multichannel outbound welcome sequences utilizing messages, surveys, campaigns, and more.
Real-time agent suggestions: AI analyzes live call transcription to recommend scripts, relevant links, and relevant articles based on detected conversation subjects.
Automatic surveys and follow-up messages: Send automatic surveys after every customer interaction, with follow-up messages depending on survey responses.
Automatic reminders: Notify team members about forgotten tasks past deadline.
Dialpad Reporting and Analytics
Dialpad plans include these real-time and historical reports, call center analytics, and KPIs:
General call analytics: An overview of center activity including active calls, missed calls and missed-call percentage, abandoned calls, internal vs external calls, and active agents. This report is viewable live and over custom historical timeframes.
Heat maps: Call volume patterns and average answer speed by weekday and time of day, to help administrators forecast staffing needs.
IVR analytics: Statistics about which auto attendant menu items are most popular with customers, to track customer needs and trends.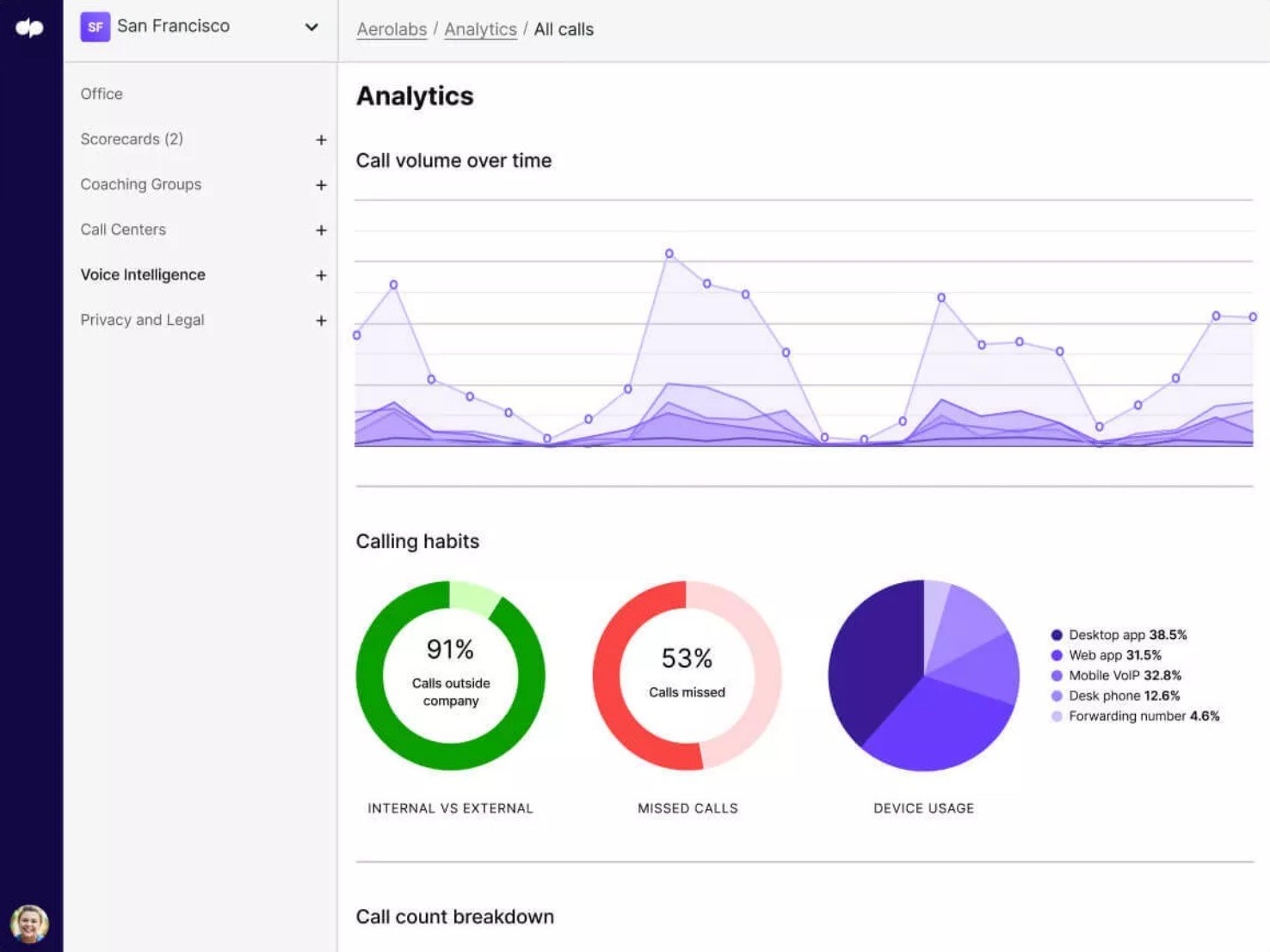 Nextiva Reporting and Analytics
Nextiva's regular plans do not include analytics or live queue reporting–they only include call log reports, which provide critical call information like caller, recipient, call time and date, and call duration.
However, Nextiva offers a Call Analytics add-on for $5 per user, with real-time KPIs, visual depictions of stats, wallboards, and more.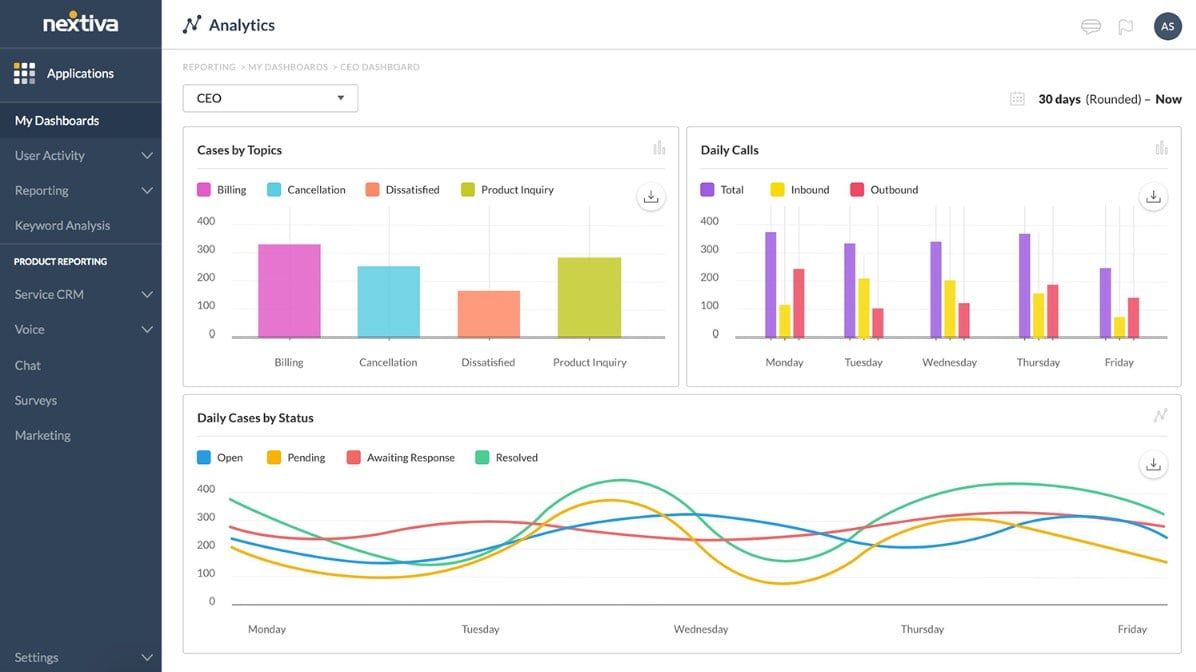 Features in Nextiva's Call Analytics Add-On:
Call reporting: Live and custom historical views of call center metrics, like inbound and outbound call volume, answered calls, and missed calls.
Performance wallboards: Customizable real-time wallboards displaying key call center statistics in color-coded panels, for easy tracking of the metrics you want to focus on.
Trend analysis: Compare performance trends between time periods, employees, locations, or campaigns. Comparable metrics include total calls, average calls per user, average talk time, and more.
Gamification: Increase employee engagement with employee performance leaderboards.
Bundled call recording: Access and share each call's recording, accessible within the call log.
Location reports: View call activity by location, including city, state, and country.
Dialpad Pros & Cons
| | |
| --- | --- |
| Dialpad Pros | Dialpad Cons |
| AI agent support and call summaries | Small video-meeting participant capacity |
| Whiteboards for meeting collaboration | No visual call-flow builder |
| Unlimited team chat rooms | No live video streaming |
Nextiva Pros & Cons
| | |
| --- | --- |
| Nextiva Pros | Nextiva Cons |
| Large video-meeting capacity | Short meeting time limit |
| Task tracking in Cospaces | No SMS on free plan |
| Free local and toll-free number with each plan | Limited analytics options on regular plans |
Which Phone System Should You Choose?
The best phone system for your company depends on your size, budget, feature needs, and location.
Small companies seeking to maximize the bang for their buck can't find a better value than Dialpad. The provider offers advanced features like AI agent assistance, real-time video transcription, and post-call summaries, in addition to useful collaboration video features like whiteboards. Companies outside the US and Canada should look to Dialpad as well since they offer unlimited calling within those countries plus your billing country.
On the other hand, companies planning to host large video meetings–or those who would like to live-stream–should favor Nextiva. While their 45-minute meeting cap is a drawback, their 250-participant limit dwarfs Dialpad's capacity options. While Nextiva lacks some video collaboration features and only supports 3 team collaboration rooms, they do offer useful routing tools like auto attendants and ring groups.