As a small business owner, the chances are high that you've already implemented some form of cloud communication at your company.
Most businesses use cloud technology for applications like phone systems, contact center software, file sharing and storage, and CRM solutions.
Cloud-based systems provide numerous advantages over premise-based communication solutions, including cost savings, reduced maintenance, and high security standards.
If you're thinking of moving business communication to the cloud, one of the first steps to consider is a cloud IVR system.
But what is cloud IVR, what advantages does it offer small businesses, and which provider is the right fit for you? We'll discuss all that and more in this post.
Cloud IVR systems from
top providers
Quick links:
What is Cloud IVR?
Cloud IVR (Interactive Voice Response) is a solution that allows customers to make payments, connect to relevant agents, and more by interacting with automated voice prompts.
Pre-recorded call menus read out messages like "Press 3 to connect to the billing department," or "Briefly state the reason for your call."Customers can opt to respond by speech or by entering numbers into their phone keypad.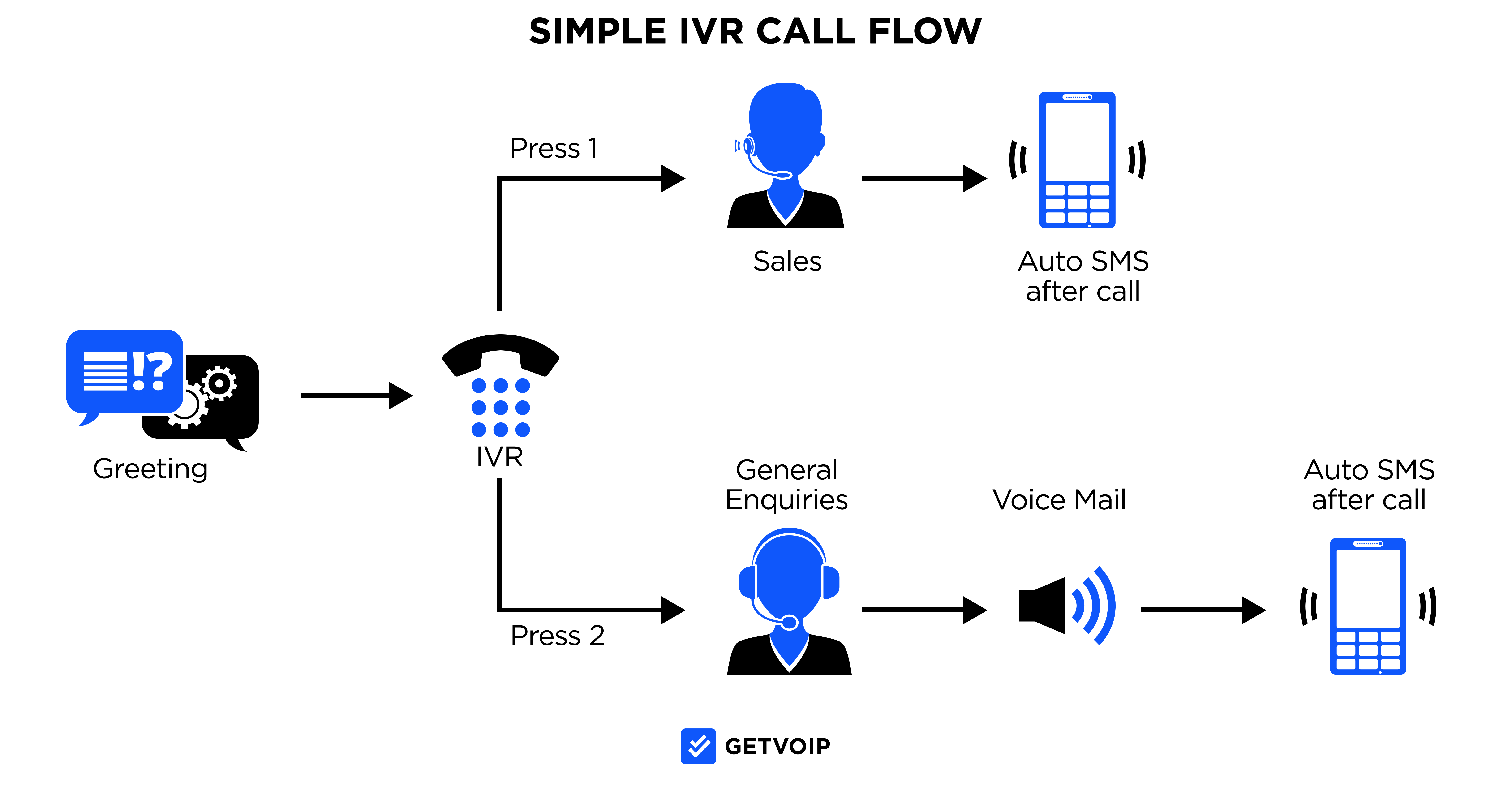 Using DTMF (Dual-tone multi-frequency) tones, voice recognition, and Natural Language Processing, the IVR system interprets what the caller needs assistance with and routes their calls to agents or additional IVR menus and voice prompts accordingly.
In other words?
Cloud IVR functions just like a regular IVR system, except that it operates within the cloud.
This means companies do not have to create, own, and manage an in-house IT infrastructure, on-premise IVR applications, and data centers.
Instead, the service provider owns the server that hosts the IVR platform. Companies rent space on that server by purchasing the provider's cloud-based IVR tools, which are accessed and operated over the Internet.
Cloud-hosted IVR operates via a consumption-based pricing model, which means that companies will pay only for the number of resources they use on the server at large (usually via a monthly subscription with available add-ons or paid upgrades.)
The cloud eliminates the need to purchase on-premise PBX (Private Branch Exchange) that provides Automatic Call Distribution and IVR features.
Instead, cloud IVR uses SIP (Session Initiation Protocol) to provide IVR capabilities, transferring legacy IVR data and functionalities to the cloud.
Cloud-based IVR is scalable, monitored 24/7, and provides advanced IVR features without requiring companies to hire their own developers and maintain/manage their IVR systems in-house.
Benefits of Cloud IVR
Though companies of all sizes benefit from IVR solutions, they're especially beneficial for small businesses or startups that don't have the resources for a fully-staffed contact center but still want to increase customer engagement.
They offer advanced features that allow for a high level of customer self-service, prevent you from having to hire more agents to deal with increased call volumes, optimize the agents you do have on staff, and keep operating costs down.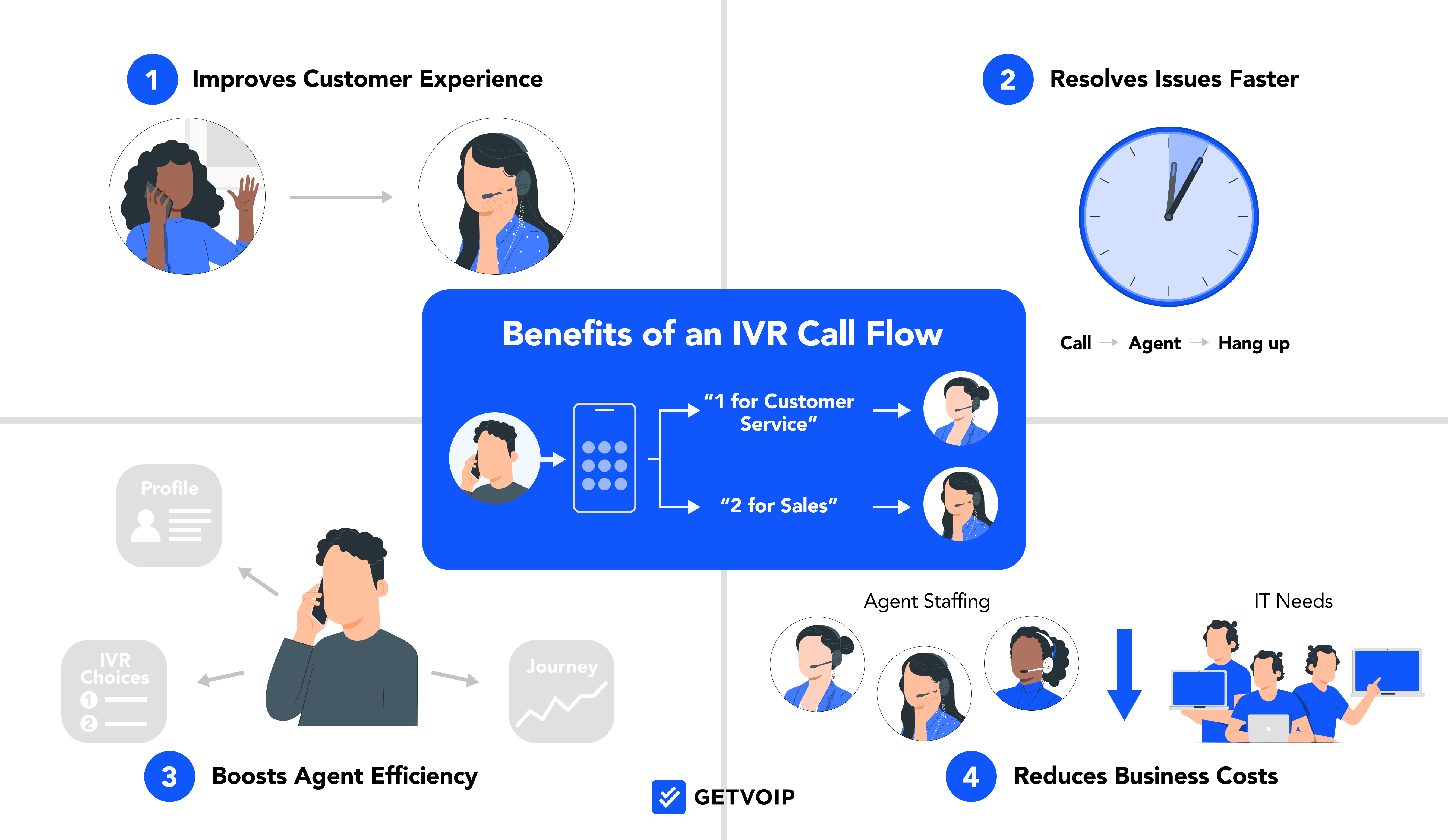 Advanced IVR Features
While on-premise IVR systems offer basic features, having access to advanced features often means expensive upgrades, constant API additions, and the need for an in-house development team.
Cloud IVR solutions, on the other hand, include robust features as a part of their packages and allow you to add-on even more features for an affordable price point — with just a few simple clicks.
Beneficial cloud IVR features include:
Omnichannel support (SMS messaging, online payment portals, chatbots, etc.)
Multilingual call menu options
Call center software and CRM integration
PCI-compliance and tokenization for fraud prevention
Caller Authentication
Advanced call path design
Agent ring groups
Automatic callbacks
AI and machine learning
Outbound IVR
Analytics and reporting
Operational Cost Savings
Cloud-based IVR has a much lower cost when compared to in-house IVR.
The average in-house system costs $1,460 per line, while cloud-based solutions cost just over $800 per line.
In addition to helping companies save on the costs of on-premise cloud hosting, IVR platforms decrease the average cost per call.
Since your small business will need to pay for inbound calls by the minute, it makes sense that a system that decreases the need for additional calls will save you serious money.
Plus, if customers can help themselves, they won't need to wait on hold for long periods of time — providing another avenue for savings.
Long hold times are one of the biggest reasons for high call abandonment ratings, which makes sense given that many of consumers say they won't spend more than one minute on hold.
Improved Customer Experience
Given that the majority of customers would rather handle their support issues on their own than speak with an agent, effective self-service solutions are a must.
Cloud IVR offers a high level of customer self-service, allowing customers to check account balances, pay bills, access the product or service knowledge base, and make reservations without having to speak to a representative.
Interactive Voice Response also improves the customer experience by:
Decreasing hold times
Freeing up more agents to take calls when human interactions are needed
Simplifying the payment process
Integrating with CRM tools to provide current customer information/order history
Sending outgoing reminder notifications
Offering customer callbacks
Increased Agent Productivity
Cloud IVR optimizes call center agents in several ways.
First, IVR used in virtual telephony increases first call resolution rates (FCR).
If customer service inquiries are resolved during the first interaction, the need for time-consuming (not to mention expensive) follow-up calls is eliminated. By providing not only essential information to callers, but also giving them the tools to solve their problems quickly, IVR has a positive impact on FCR rates. This means agents can spend more time selling and resolving more complex customer issues than on follow-up calls that all deal with similar issues.
Additionally, the advanced call routing and agent segmentation capabilities of IVR mean that agents will only be connected to customers that they have the required training and product/service knowledge to help. Agents won't lose time talking to customers that they, realistically, won't even be able to help.
Instead, customers can schedule a callback time if the desired agent is unavailable, or follow voice prompts to ensure they connect with a knowledgeable and available agent.
Finally, IVR helps to evenly distribute the workload among agents, optimizing your agents through ring groups that can be accessed based on the customer's call menu responses.
Ring groups are a group of agents that all have the same training/work in the same department. Admins can have all agents in a ring group rung simultaneously, opt for round-robin call distribution, or use most-idle call routing.
This prevents one agent from doing an enormous amount of call handling and customer support while the rest of your available agents do next-to-nothing.
Who Should Use Cloud IVR?
Though businesses in any sector would do well to take advantage of the above IVR benefits, cloud-based options have particular use cases that may make them an especially good fit for your company.
Common use cases include:
Energy/utility companies providing customers with a way to pay a one-time bill, set up recurring payments, check account balances, transfer services, and receive outbound emergency alerts via automation
eCommerce shops that use IVR to provide order verification and shipping updates, manage product returns, send out exclusive offers, or remind customers when it's time to refill an order
Business marketing departments to send automated customer satisfaction surveys, place outgoing calls for offers/campaigns, manage customer reward programs, and conduct customer journey research
Hospitality/hotel management to let callers book, reschedule, or cancel reservations, manage room service and other guest requests/services, and send wake-up calls
Personal service providers like hair salons and spas to confirm, schedule, and reschedule appointments
Hospitals and small medical practices to let patients make appointments, provide health insurance information, pay/manage medical bills, and refill prescriptions
Top Cloud-Based IVR Providers
The following table provides a comparison of top Cloud IVR services, their pricing and top features, as well as information on the kinds of businesses that would most benefit from each cloud platform.
Provider
Pricing
Top Features
Best For
Twilio
Pay-as-you-go Price: $0.001/call flow execution

Enterprise Price: $10,000/month for unlimited flow executions

Text-to-speech for recording call menus, IVR communication via WhatsApp and Facebook Messenger
Businesses looking for a highly customizable solution with excellent IVR payment capabilities
AVOXI
AVOXI Virtual Phone Number Plans from $12.49/month with metered minutes to $39.99/user/month with unlimited US/Canada local minutes
Excellent integration capabilities, unlimited call menus
Companies that need an international IVR solution and have numerous IVR scripts/call menus per department or location
CloudTalk
3 available contact center plans: Start Plan for $25.00/user per month, Essential Plan for $30.00/user per month, and Expert Plan for $50.00/user per month. Custom pricing also available.
Call-to-fax and call-to-conference room routing, "Go-To" call flow design tool
Businesses that need a complete contact center solution with a strong IVR component, remote teams that need calls to be forwarded directly from the IVR system
Vonage
IVR is available with the Vonage AI Services Package, which has a $5,000 setup fee and charges $0.05/minute
Conversation Analyzer, integrates with existing software/applications to add IVR capabilities
 Businesses that need their IVR tools to integrate with Salesforce, companies that use IVR systems for basic customer support but still rely primarily on live agents
Twilio
Twilio IVR is a cloud-based communications API that allows users to build their own IVR from the ground up.
Users can pick and choose which IVR features/functionalities they need, providing not only a completely customized solution, but also a cost-effective one.
The Twilio Studio provides a simple drag-and-drop interface for users to configure call paths, assign caller IDs, manage phone numbers, and input customer data. Users can also integrate their existing CRM software with Twilio IVR to instantly access more detailed customer information.
Additional Twilio IVR features include:
IVR communication via voice, WhatsApp, and Facebook Messenger
Ability to loop prerecorded IVR audio files
Speech recognition with real-time transcriptions
Self-service and agent-assisted PCI-compliant payment via phone
Automatic pause/resume recording (tokenization) to protect sensitive credit card data
9 credit card payment methods
Voice insights/analytics
Connects to payment gateways Stripe, Chase, Base, and CardConnect
Mobile phone and desktop computer access
Text-to-speech
Call queuing
Outbound IVR (appointment confirmation, payment reminders, etc.)
For more information about this platform, read our complete review of Twilio pricing and features.
AVOXI
AVOXI Cloud IVR is included with the purchase of an AVOXI virtual telephone number or as a feature of their cloud-based contact center solution.
Their solution allows users to offer multilingual phone self-service options in over 170 countries while providing advanced call routing options including time-based routing, skills-based routing, round-robin routing, and more.
It also offers a highly personalized IVR experience by collecting past data and CRM customer information to "learn" customer preferences, keep track of past purchases/orders, and remember past interaction history.
Additional AVOXI features include:
Integration with third-party tools like SugarCRM, Intercom, Shopify, Help Scout, Freshdesk, Zendesk, and HubSpot
Voicemail transcription
Call queuing
Call recording
Call forwarding to multiple devices/phone numbers
Virtual attendant
Call controls
Call activity reports
Check out our AVOXI review for additional details.
CloudTalk
CloudTalk IVR is a multi-level IVR system that is one of the main features of its complete cloud call center software solution.
Its Call Flow Designer tool makes it easy to add options like welcome messages, time-based call routing, designated business hours, and more. Admins can opt to have the IVR send calls related to specific subjects or needs sent to individual agents, a preferred agent, or a group of agents within a ring group.
Callers can even be routed to conference rooms via IVR, which makes working with remote teams and external partners convenient.
The standout feature is the "Go-To" tool within the call design flow, which allows admins to duplicate and reuse specific parts of a call path — meaning you can add call patterns associated with one phone number to another.
Additional IVR features include:
Call-to-fax routing
Personalized voice prompts/hold music
Routing to voicemail
Forward-to-phone from IVR
Call recording
Emailed IVR reports at set intervals
Automatic callbacks
Vonage
Vonage Intelligent IVR is a Voice API that allows users to add IVR APIs to existing software or applications.
One of its standout features is the Conversation Analyzer, which is an excellent way to evaluate calls that are routed to agents from the IVR tool. The Conversation Analyzer shows the length of the call, the average talk time and hold time, and a comparison of the time the agents spoke in relation to how much the customer spoke.
The Analyzer can also be used with IVR tools to understand which subjects/categories customers call in about the most, the overall level of IVR tool effectiveness, and which scripts were used.
Additional features include:
Text-to-speech greetings and user input responses
Call recording and transcription
Salesforce integration
Real-time data
Callbacks from SMS messages
Our complete Vonage breakdown provides additional information on features and capabilities.
Cloud IVR FAQs
Below, we've compiled a list of the most common cloud-based IVR FAQs.