Aircall and RingCentral are two popular business communication platforms–but they each have very different feature sets, levels of scalability, and available communication channels.
One provider offers a UCaaS system that combines voice calling, video conferencing, messaging, and extensive team collaboration tools into one customizable dashboard. The other offers a user-friendly business phone system with the features you need to upgrade–but not overwhelm–your call center.
With differences this vast, choosing the wrong tool would mean disaster for your team–and your customers.
In this post, we'll outline the key differences between Aircall vs RingCentral, helping you to see which provider fits your budget, your communication and collaboration needs, and integrates with your essential third-party apps.
Aircall vs RingCentral: Key Differences To Know
The main difference between Aircall vs RingCentral is that Aircall is a call center software, while RingCentral is a cloud business phone system, unified communications, and intelligent contact center provider. Aircall also has a 3-user minimum, while RingCentral will even cater to a single-user calling solution
The below table provides a quick overview of the main points of comparison between RingCentral and Aircall, which we'll explore in more detail throughout this post.
Aircall »

RingCentral »
Pricing

Essentials Plan: $30/user/mo, 3-user minimum
Professional Plan: $50/user/mo, 3-user minimum
Custom Plan: Quote-based, 10-user minimum

RingCentral MVP Business Communications: 3 plans from $20-$45/user/month
RingCentral Contact Center: 4 quote-based paid plans

RingCentral Video Pro:

1 free plan, 1 paid plan from $11.99+/user/month

RingCentral Webinar: From $29.17/host/month
RingCentral Rooms: $39/room/month
RingSense for Sales Conversation Intelligence: 3 quote-based license types 

Key Voice Calling Features

Power Dialer
Call Routing
Insight Cards

User Presence Monitoring
Virtual Voicemail
Call Delegation

Key Video Calling Features
No native video calling features

Virtual Whiteboarding
AI Meeting Insights
Webinar Solutions

Key Messaging and Team Collaboration Features 

SMS (not MMS)
Warm Transfer
Shared Call Inbox

SMS/MMS,
Team chat messaging
Task management

Key Integrations
100+ pre-built integrations including:

Zapier
HubSpot
Slack
Salesforce
ZohoCRM
Zendesk

300+ pre-built integrations including:

Google Workspace
Salesforce
Microsoft 365
Zendesk
Zoho

Best For
In-office call centers, small businesses, and startups under 10 that communicate almost exclusively via voice calling, or that want to use separate third-party messaging, team collaboration, or video calling tools
Remote/blended teams needing a scalable unified communications solution with all-in-one messaging, video, phone, and team collaboration
What Is Aircall?
Aircall is a cloud business phone system provider offering scalable call center features designed to improve the customer experience and streamline sales and support business processes.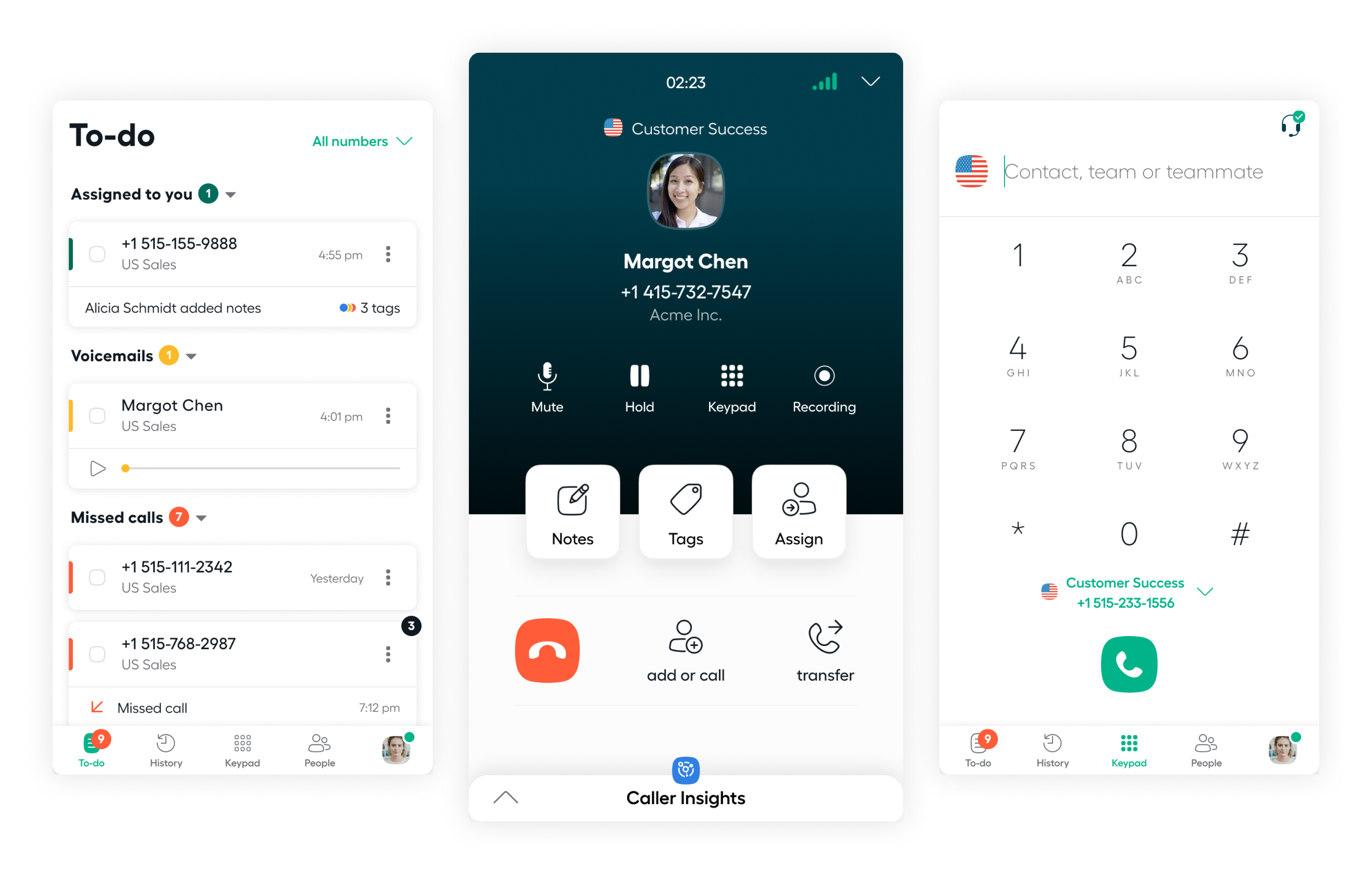 Because Aircall is designed specifically for inbound and outbound call centers, it doesn't include native video conferencing or team chat messaging.
These additional communication channels are available exclusively via third-party integrations and APIs, allowing teams to continue using their existing video and chat tools while significantly upgrading their business phone system.
What Is RingCentral?
RingCentral is a cloud Contact Center and UCaaS provider best known for RingCentral MVP, a Business Communications solution streamlining messaging, phone, and video into one interface.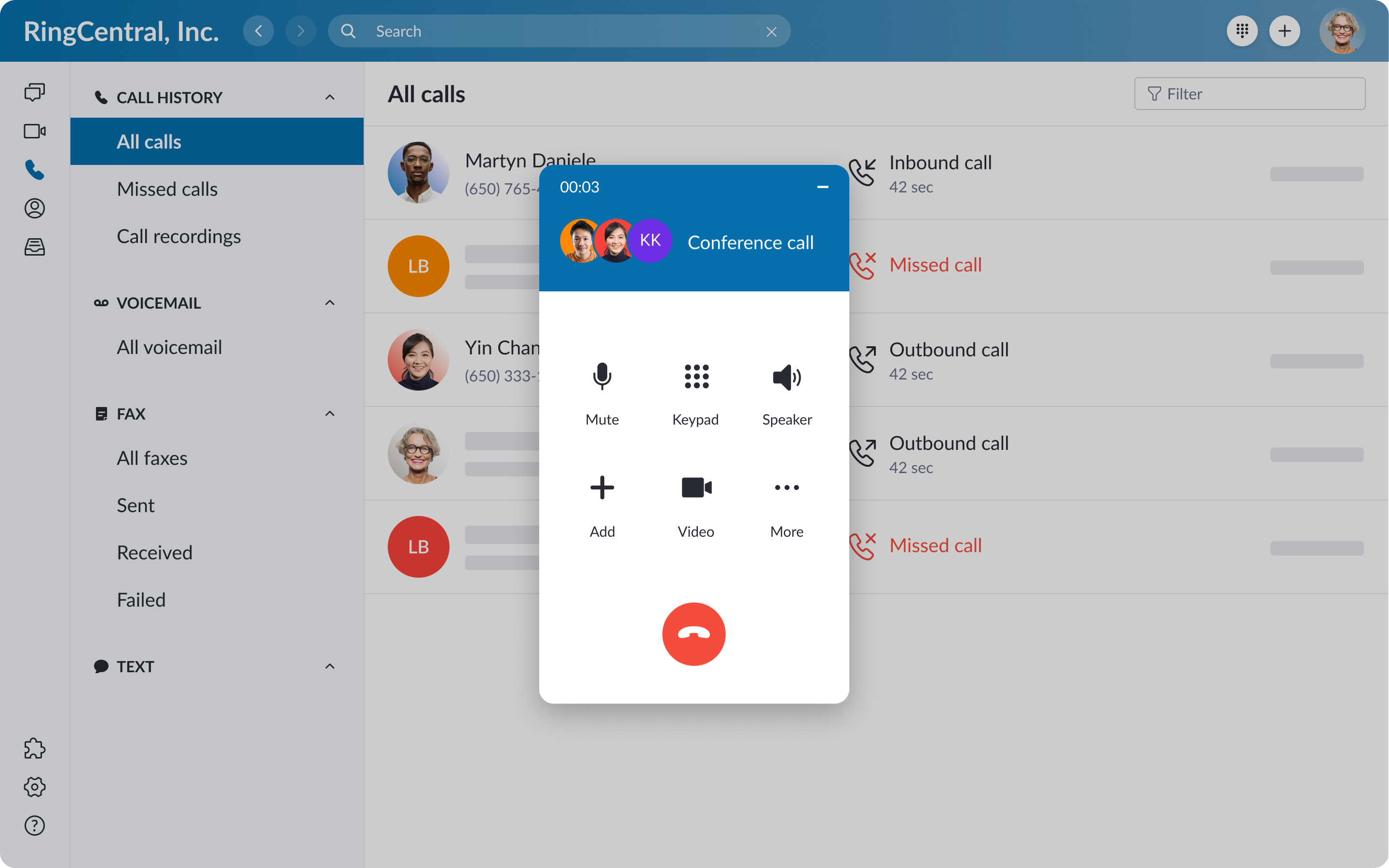 RingCentral MVP provides a scalable, out-of-the-box unified communication platform requiring little (if any) additional development
RingCentral Contact Center, which can be added to existing MVP plans, is an inbound/outbound omnichannel contact center solution offering enterprise-level capabilities like advanced analytics, IVR, and Conversation Intelligence.
RingCentral vs Aircall: Feature Comparison 
This head-to-head comparison of how RingCentral and Aircall approach the most essential business software features, customer support, pricing, and security standards will help you choose the right provider.
Aircall Voice Calling
Aircall offers unlimited inbound, outbound, and internal VoIP calling within the US and Canada on local, toll-free, vanity, and international numbers in over 100 countries. IVR-only phone numbers, user extensions, and phone number porting are also available.
Users can make/receive calls in the softphone Aircall App for desktop and mobile browsers as individual users or as a part of an Aircall Team.
A Team is Aircall's version of a traditional ring group–a customized group of agents with similar schedules, skills, language abilities, locations, job titles, or within a department. The Teams feature speeds up and optimizes the call distribution, call management, and IVR setup processes.
For example, admins can set up simultaneous ringing to all Team member phones, randomly distribute calls to Team members, and set maximum call queue times per Team.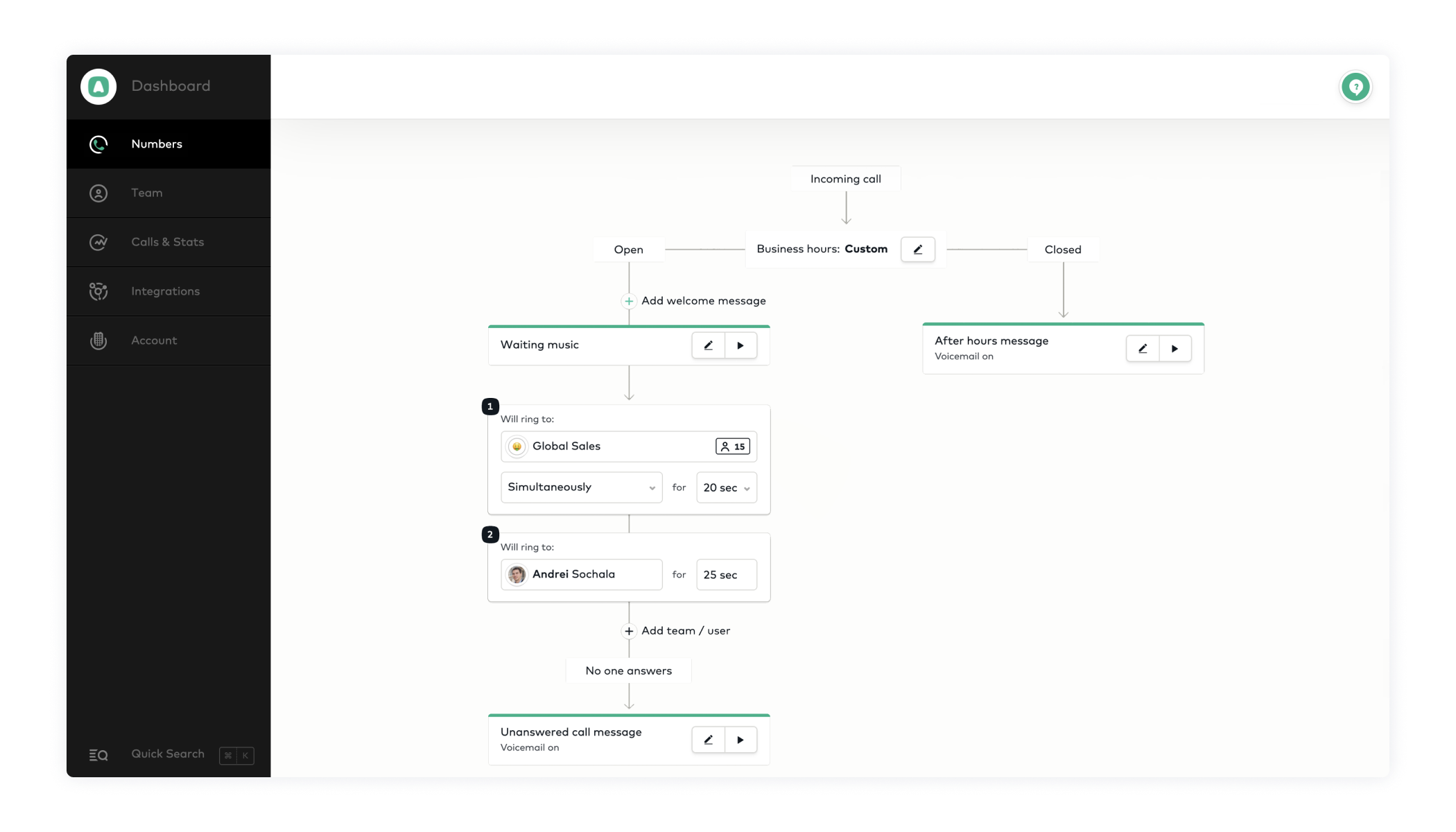 Aircall also includes several call routing strategies and call handling variables, such as:
Priority Line Routing: Sends VIP callers to the top of the queue
Respect Queuing Time: Calls remain in the Team queue for the complete "maximum ring time," regardless of other Team member/user statuses
User Status Variable: directs calls according to real-time user presence (Available, in a call, in wrap-up time/after call work, unavailable, offline)
Longest Idle Routing
Business Hours routing/TIme-Based Routing
Current call volume
Number of available agents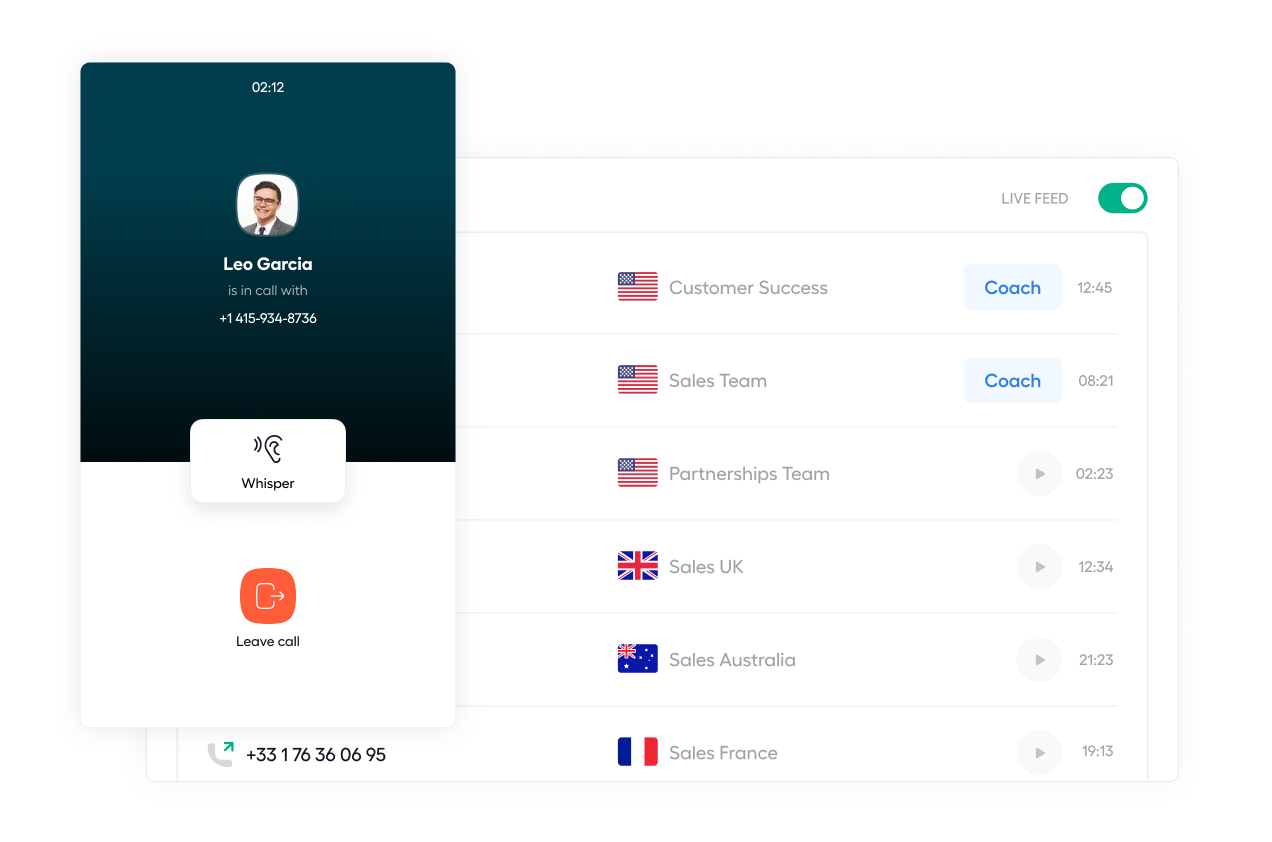 Additional Aircall voice calling features include: 
Ring on Speakers: Custom ringtones and high-volume notifications that ring to external speakers, desktop/mobile speakers, headsets, etc. to prevent missed calls
Parallel Calls: Place a current call on pause, start a separate call, then switch back and forth between the two calls (ideal for training, getting information from other agents, etc.)
Drag-and-drop IVR call flows with text-to-speech greetings and custom hold music
Automated callbacks
Real-time call routing and call queueing modifications
Bulk agent modifications and actions
Unlimited concurrent calls
Call Monitoring and Call Coaching
Call tagging with automatic call syncing
Call Whisper
Call recording (automatic, pause-resume, on-demand)
Call forwarding
Click-to-call
RingCentral Voice Calling
RingCentral offers unlimited VoIP calling in the US and Canada via local phone numbers in 200+ area codes, toll-free numbers, international numbers in over 40 countries, and custom vanity numbers. Number porting and user extensions are also available. 
Cloud-hosted virtual PBX from RingCentral provides HD calling via Tier-1 carrier networks, up to 8 shared lines (16 desk phones per line), and Direct Inward Dialing (DID). Key features like call forwarding, hot desking, call park, and call flip to enable in-call device switching increase mobility and flexibility.
RingCentral's across-device User Presence Monitoring makes it easy for team members and managers to see which agents are available, on a call, or on hold in real-time–whether they're using their desk phone, smartphone, or the RingCentral App for desktop computers. Managers can monitor up to 70 agents simultaneously via desk phone expansion modules, which use visible lights to indicate agent status.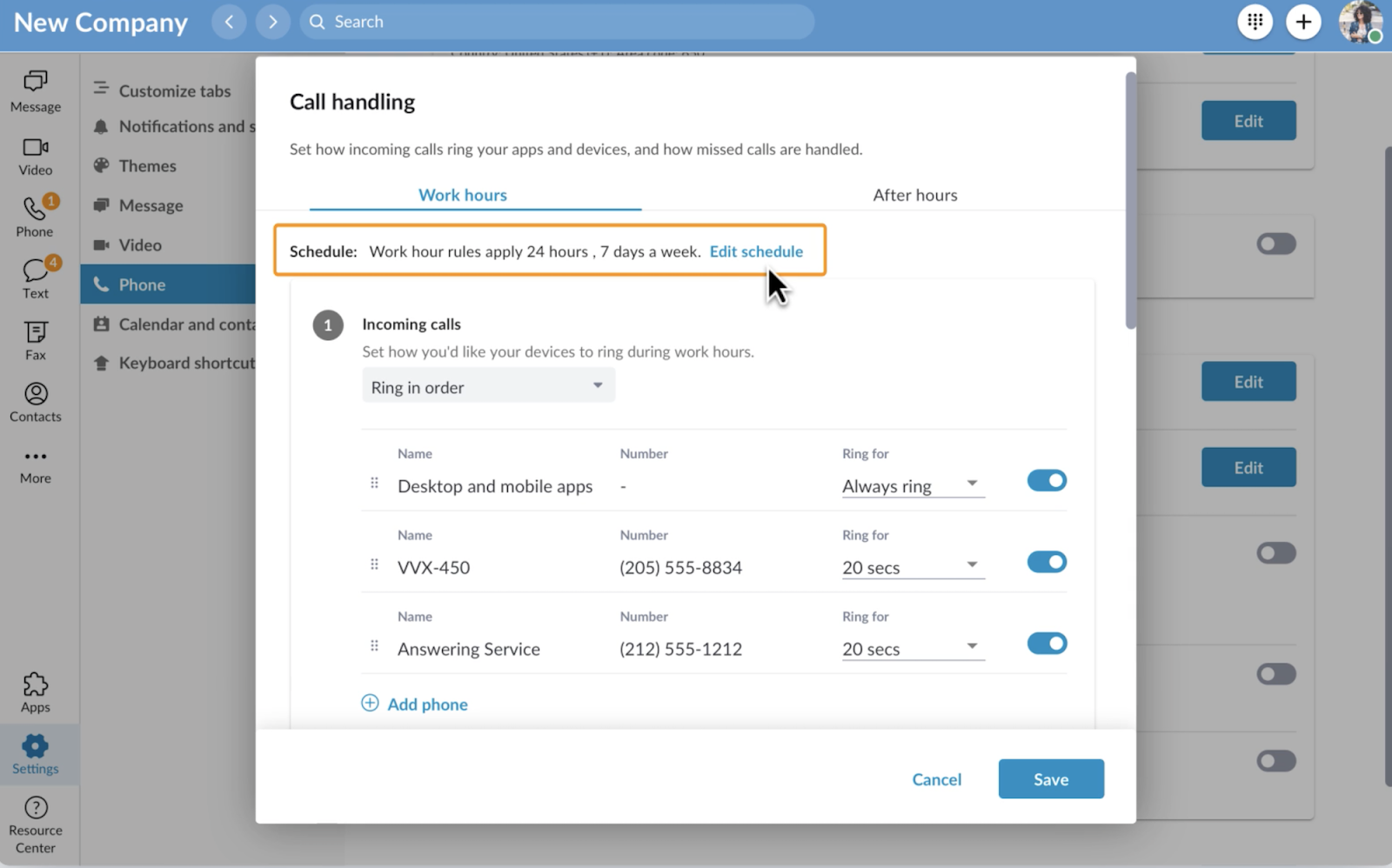 Virtual Voicemail capabilities are available for departments and user extensions, allowing users to access written transcripts and audio recordings of voicemail messages on any device. Users can customize voicemail notifications and view full voicemail transcripts–even while on an active phone call–directly within the RingCentral softphone app or via email.
RingCentral instantly displays all voicemail messages and transcripts in a searchable list that includes the time of message receipt, the caller's name/contact information, and the length of the message. From there, users can save or delete messages, use auto-dials to return the call, or choose another option like forwarding voicemails to another user. All voicemail messages are automatically stored for up to 30 days. Default, customizable, and professionally recorded voicemail greetings are available.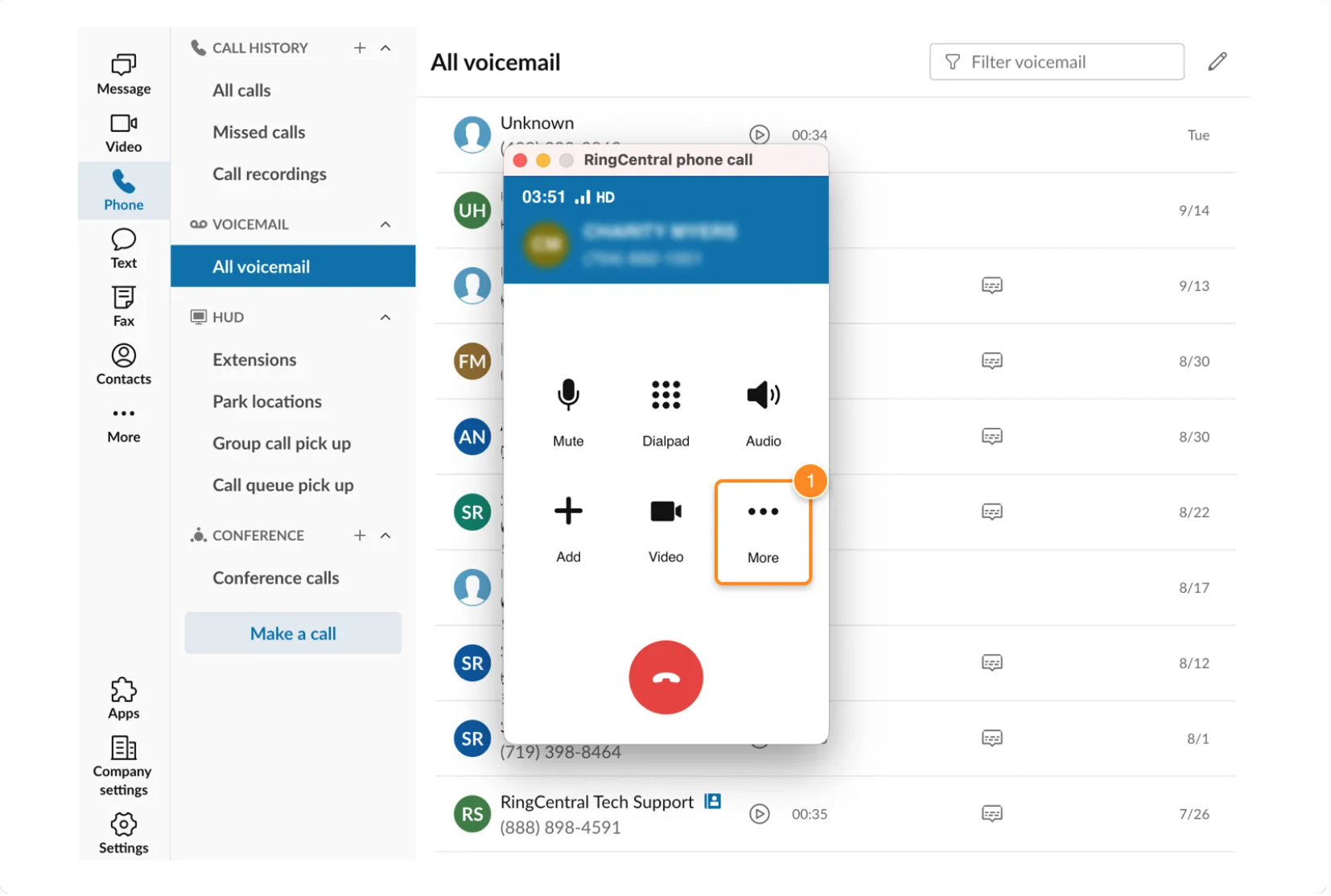 Other key RingCentral voice calling features include:
Call Delegation: Assign up to 10 assistants to manage calls on behalf of an executive, or assign up to 10 executives to one assistant
RingCentral RingOut: Click-to-call directly within the RingCentral interface and access one-click calling within an application, document, file, email, website, etc.
Call Screening: Use Caller ID to screen calls, block calls, send calls to voicemail, etc.
Multi-level Auto-Attendant and IVR: Automated, pre-recorded messages and call menu prompts offering inbound callers increased customer self-service
Call Routing and Answering Rules: Manage inbound call flow paths with routing strategies like time-based, relationship-based, schedule-based, list-based, etc.
Virtual Faxing: Desktop and mobile device faxing via email and cloud storage providers
Call Monitoring: Listen in on live phone calls, use call whisper to give real-time advice to agents, or use call barge to takeover a current call
Call Recording: Automatic or on-demand call recording, download or playback autosaved recordings for up to 90 days
RingCentral Video Conferencing
RingCentral Video (formerly RingCentral Meetings) is a no-download, AI-powered web conferencing app allowing up to 200 users to meet for up to 24 hours.
RingCentral Video is included in all MVP and Contact Center plans except the Essentials Plan, but is also available as a free standalone app with a free version (RingCentral Video Pro) and a paid version (RingCentral Video Pro+, $11.99/user/month.)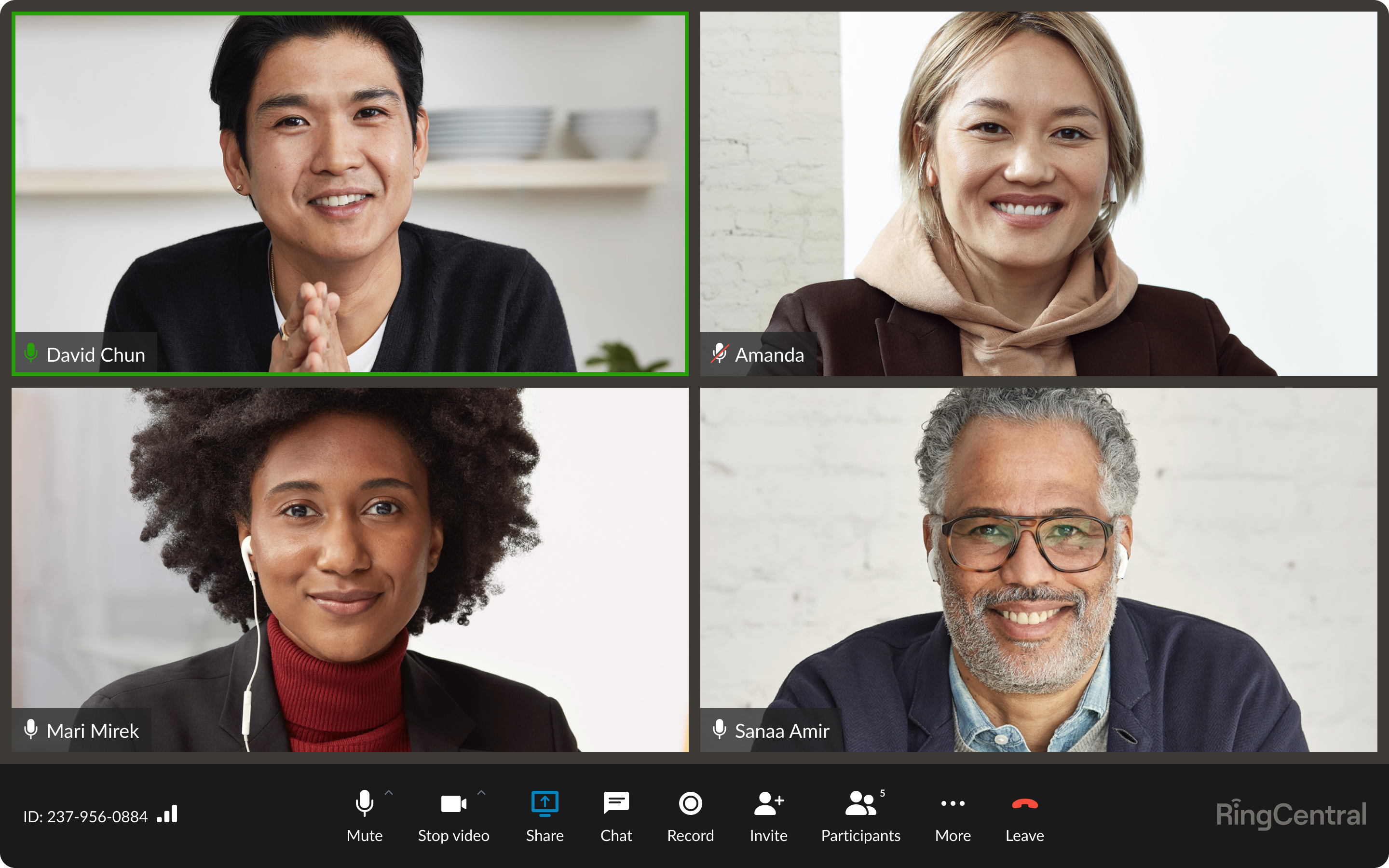 The biggest downside here–and with RingCentral MVP in general– is that RingCentral Essentials users can't integrate their Video Pro/Pro+ Plans with their MVP accounts, effectively preventing them from true unified communications across messaging, phone, and video (though they can access their standalone Video plan separately.)
RingCentral Video offers features on par with popular video calling platforms like Zoom and Dialpad, including numerous team collaboration tools ideal for today's remote and blended workforce.
Note that RingCentral Video is the platform's preferred audio conferencing tool, as, unlike RingCentral phone conference calls, Video allows for up to 1,000 audio-only participants.
RingCentral Video's Virtual Whiteboarding tool includes a pointer to differentiate board collaborators, color-coded sticky notes, a text highlighter, shape templates, a drawing tool, and lets users add images to boards. All whiteboards can be saved, and the tool's bird's-eye and "Bring Everyone To Me" views keep team members on the same page.
In addition to gallery and active speaker views, the AI-powered Auto-Follow feature automatically tracks and optimally re-frames even moving meeting participants. Three available AI presentation modes let active speakers choose between Overlay, Newsroom, and Conference Room views–and all views automatically adjust light levels and let users apply filters.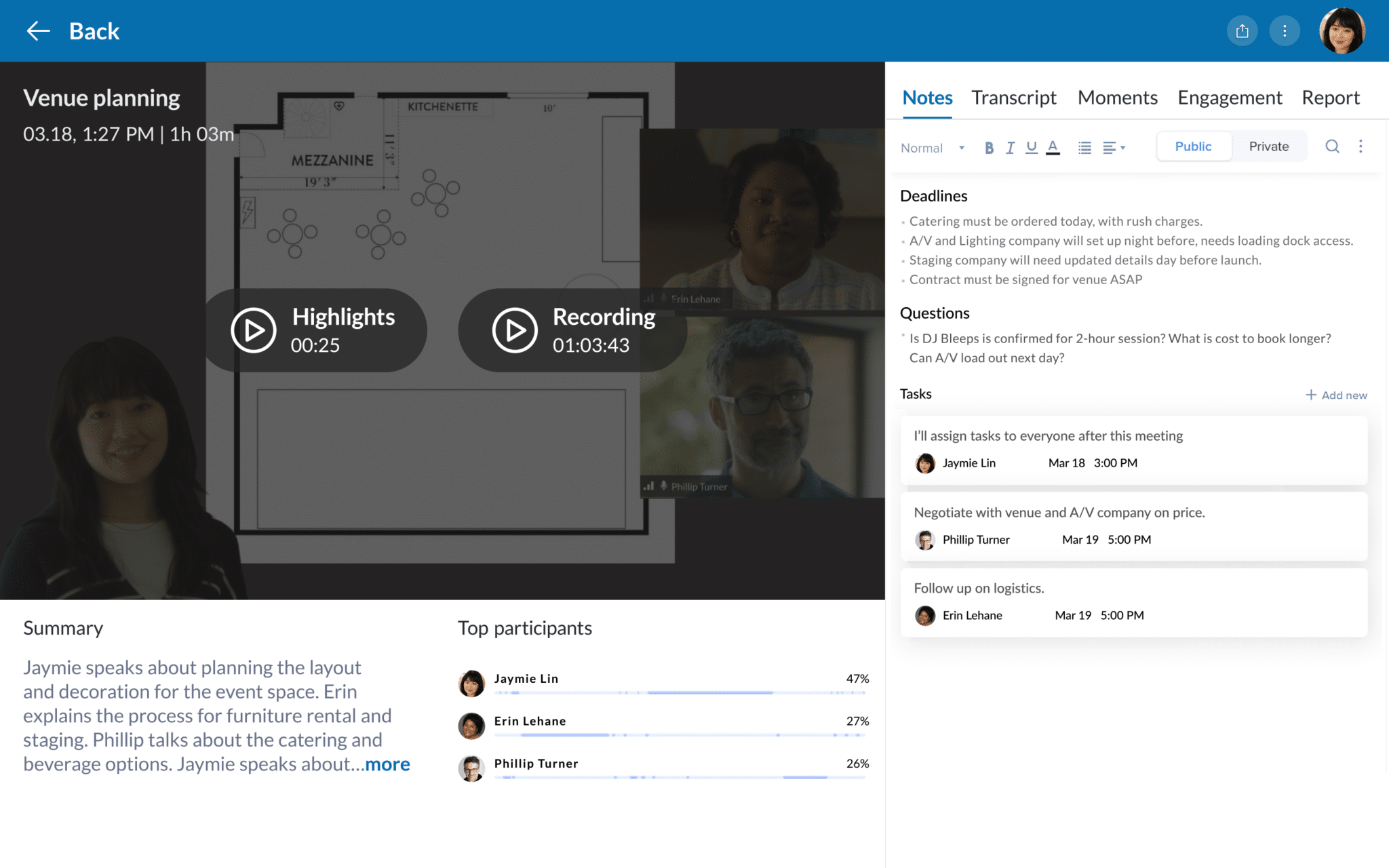 Finally, advanced AI Meeting Insights generate automatic Meeting Summaries and video highlights, allow users to read through and search meeting transcripts with differentiated speakers, identify meeting keywords and topics, and soon, access automated action items and meeting notes.
Other RingCentral Video features include:
In-meeting chat messaging with file sharing before and during meetings
Screen sharing with co-annotation
Virtual hand raising
Pre-assigned and random breakout rooms (up to 50 rooms per meeting)
Meeting recording with local and cloud storage, share recordings
Call Me (dial-in) and Call Out (receive a call) meeting access
Live meeting transcription and closed captioning
One-click ad hoc video calling within the RingCentral App
Meeting scheduling with two-way calendar syncing (Microsoft 365 and Google Workspace), scheduling delegation
AI-powered noise reduction
Always-on Team Huddle Room and Personal Meeting IDs
Virtual Backgrounds
Simultaneous meetings
Participant reactions
Aircall Video Conferencing
As of this writing, Aircall does not offer any native video calling features, nor does it offer pre-made integrations with popular third-party video calling apps like Zoom, Dialpad, Nextiva, Google Meet, or RingCentral.
RingCentral Messaging and Team Collaboration
RingCentral MVP messaging capabilities include SMS/MMS texting as well as in-video and persistent instant chat messaging.
Basic business text messaging with up to 1,000 characters/text is available via RingCentral Enhanced Business SMS–though it has some limitations. Enhanced Business SMS allows users to send/receive 15-60 messages/hour, up to 1,000 inbound/outbound messages every 24 hours and caps individual recipients per message at 50. Users can send/receive images, audio, files, and videos.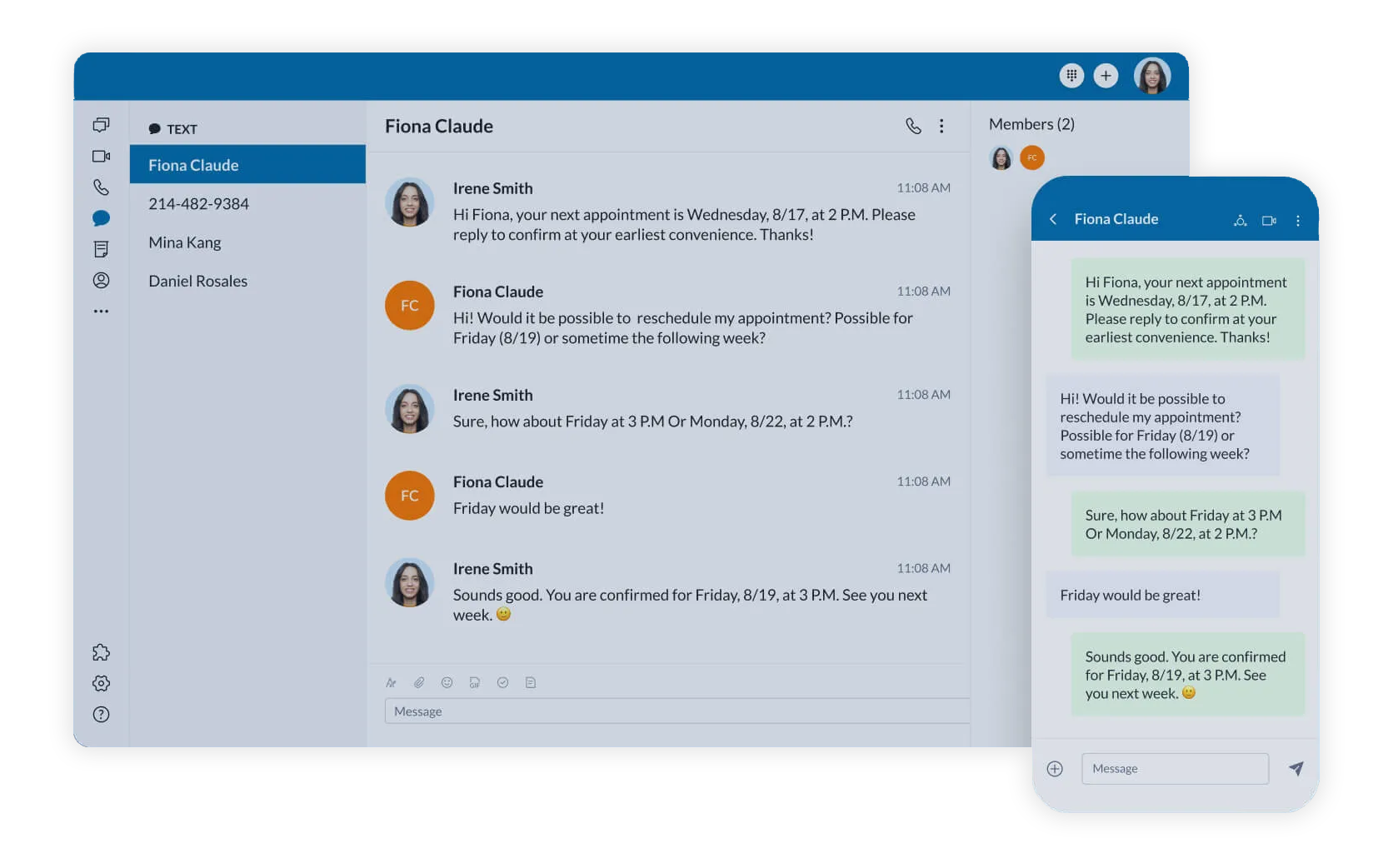 High-volume texting features like automated texts, reminders and notifications, chatbots, and two-factor authentication are available only with the RingCentral High Volume SMS add-on, which starts at $0.0085/message.
Enhanced Business SMS texting from RingCentral includes features like: 
Desktop and mobile texting
One business phone number for calling, texting, and faxing
Up to 5,000 stored text/user
Emojis/GIFS
Text message search bar
Group texting for up to 10 people
The RingCentral Team Messaging App for instant chat offers far more opportunities for real-time communication and team collaboration than texting and is also available for both desktop and mobile devices.
Users can chat one-on-one with Direct Messages, with 3 or more users via Group Conversations, or in larger public or private channels called Teams. RingCentral Teams are managed by select Team Admins that can invite other members, limit user permissions, and generally manage the channel.
The Conversation List sidebar makes it easy for users to view, search, filter, favorite, and manage notifications for all their current chats, teams, and conversations. The Conversation List also shows user @mentions, notifications, tasks, calendars, and bookmarked messages.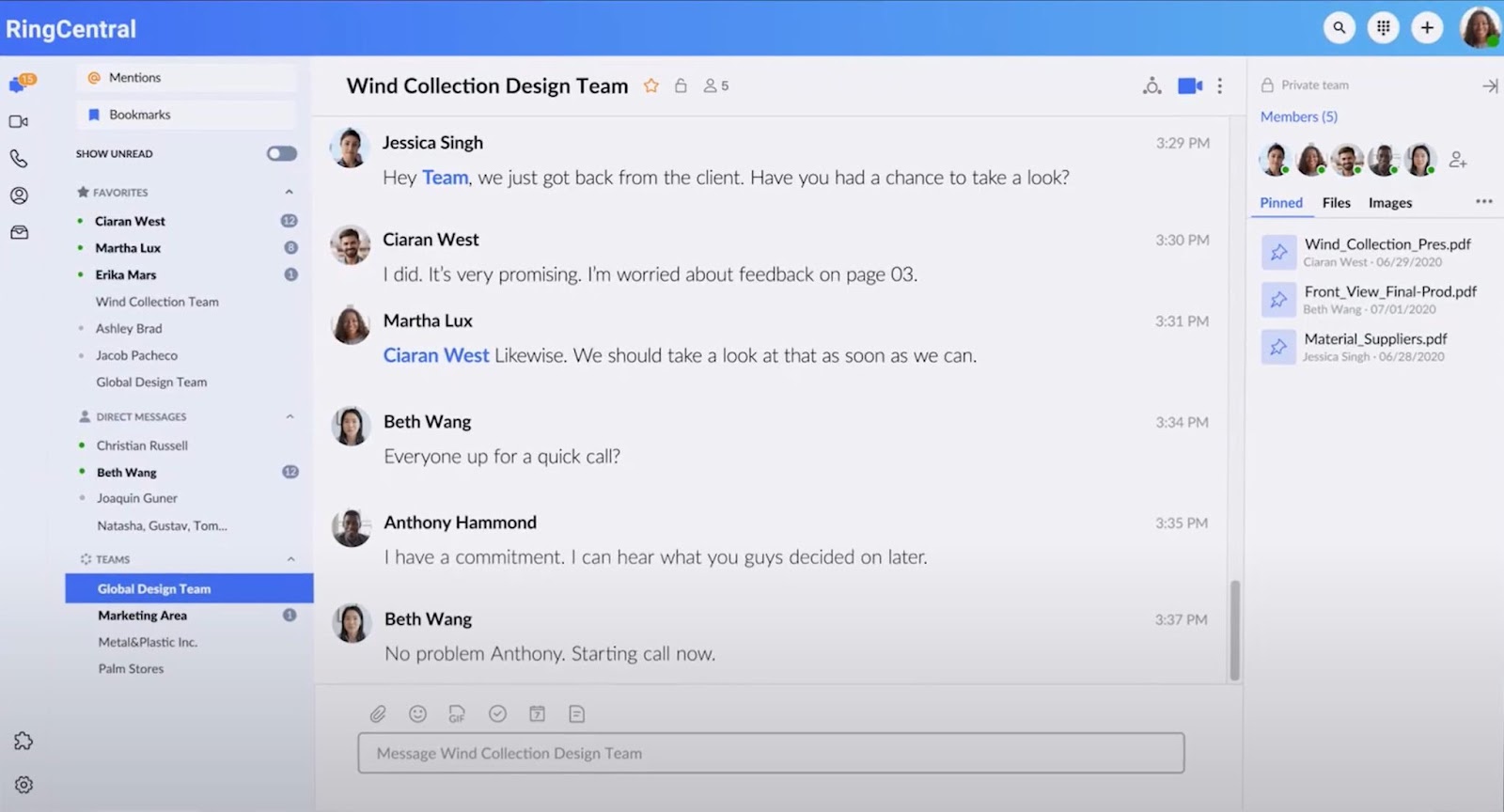 As within RingCentral video meetings, users can also access team collaboration features within the persistent chat interface.
Within each chat, users can share and view files, create tasks, integrate/access third-party apps, tag other users, pin important messages, events, or notes, and access one-click video or phone calling with screen sharing.
RingCentral's native task management feature is especially helpful, as it allows users to create tasks for themselves or others and share them in conversations, groups, and chats.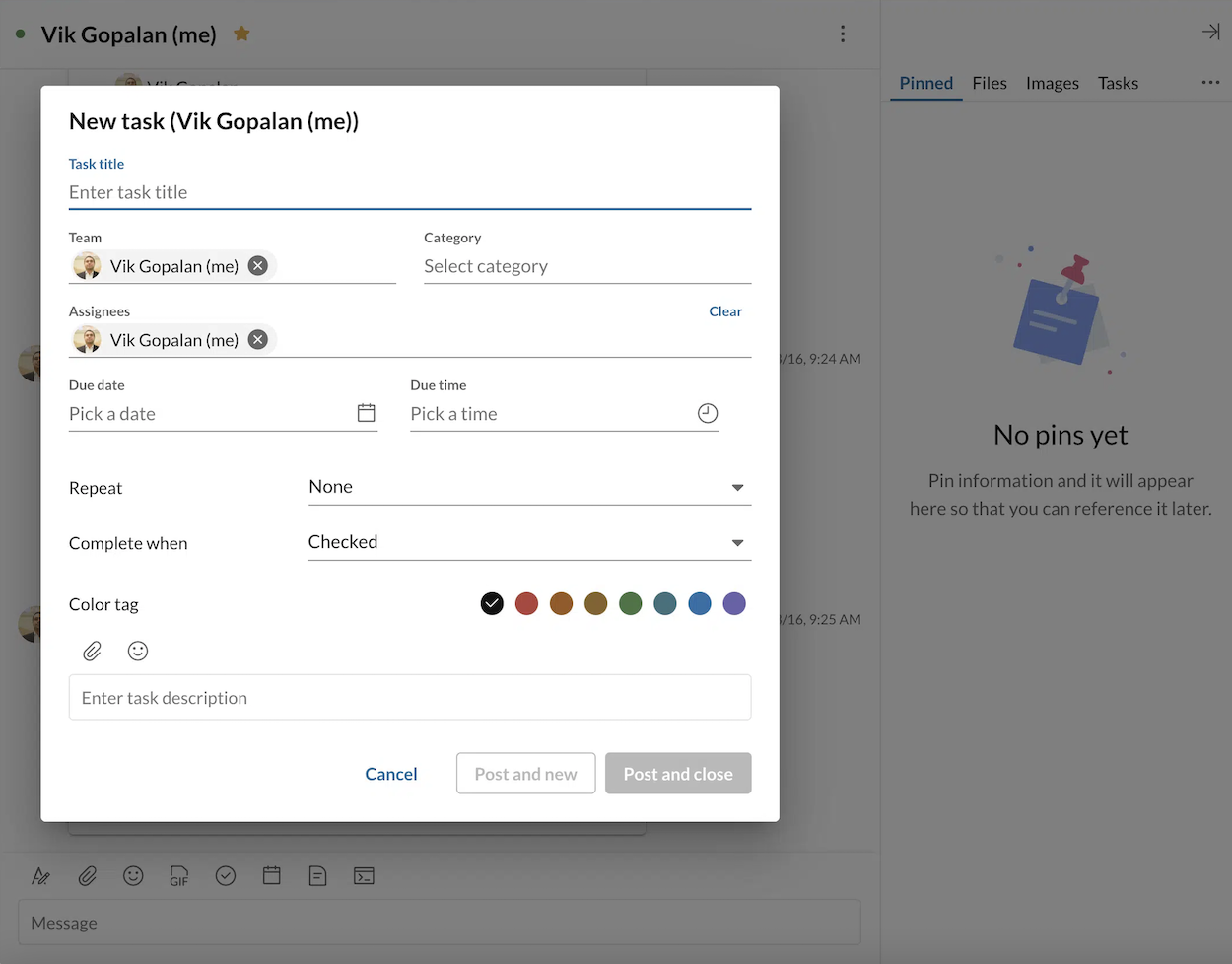 Task creation and management features include:
Set/manage task due dates and times
Search tasks via task filter
Assign tasks to individuals or teams
Add task titles, descriptions, categories, and color codes
Set recurring tasks
Add task conditions
Mark tasks as complete/incomplete
Aircall Messaging and Team Collaboration
Since it doesn't offer native chat messaging or collaboration tools like whiteboarding, task management, and video calling, Aircall can't compete with RingCentral here.
That said, Aircall offers unlimited inbound SMS Texting (and 4,000 outbound messages/month) on all plans–but for US, Canada, UK, France, and Australia phone numbers only.  MMS isn't supported, meaning users can't text images or videos.
As of this writing, Aircall only offers one-on-one SMS, meaning that no native group/bulk texting is available. Users needing bulk texting can integrate Aircall with third-party platforms like HeyMarket, Textline, and Sakari.
Aircall SMS capabilities include: 
Emoji and link sharing
Apple iPhone and Android mobile texting, desktop texting
Message history
Contact saving and editing from SMS
Message push and badge notifications
In terms of collaboration, Aircall has a warm transfer feature, which lets agents speak during the call transfer process.
The agent transferring the call can give the receiving agent ket conversation context, client information, and more to ensure the new agent is prepared with the right sales pitch or customer support. Warm transfers increase first call resolution rates, improve customer satisfaction rates, and make it easy for agents to provide more personalized customer service.
While Aircall lacks the task management features of RingCentral, it does offer shared contacts and Shared Call Inbox with call tagging, call commenting, and call assignment.
The Shared Call Inbox lets agents simultaneously view and respond to calls that require a follow-up, need input or assistance from another team member, or that need a related task to be completed.
Shared Inboxes can be company-wide, team-wide, private, or individual, functioning much in the same way a to-do task management app might. This evenly distributes the workload, prevents key tasks from being overlooked, and even lets agents view call history and assign each other calls. Call comets with user tagging allow agents to give each other further details.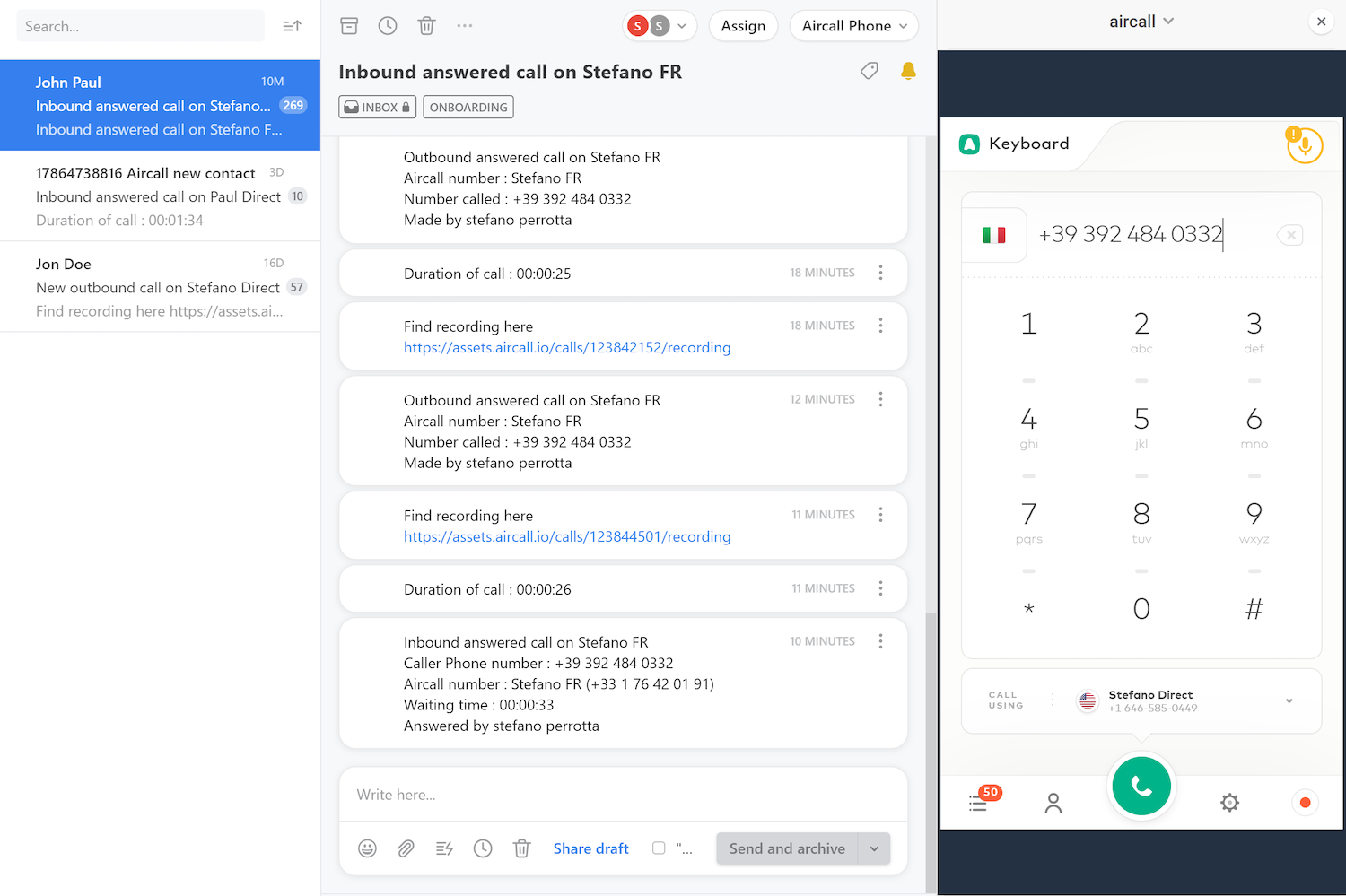 Best of all, agents can review call recordings, agent notes, tags, and stored voicemail messages directly from the Shared Inbox–so all the information they need is always at their fingertips. Agents and admins can opt for missed call and callback notifications, mark tasks and calls within the Shared Inbox as complete or update their status, and color-code and tag calls for easier organization.
RingCentral Analytics and Reporting
RingCentral MVP Analytics monitors over 30 real-time and historical KPIs, distilling key information into customizable or pre-made interactive reporting templates accessible in the Analytics Portal. (Note that Essentials users only have access to call logs.)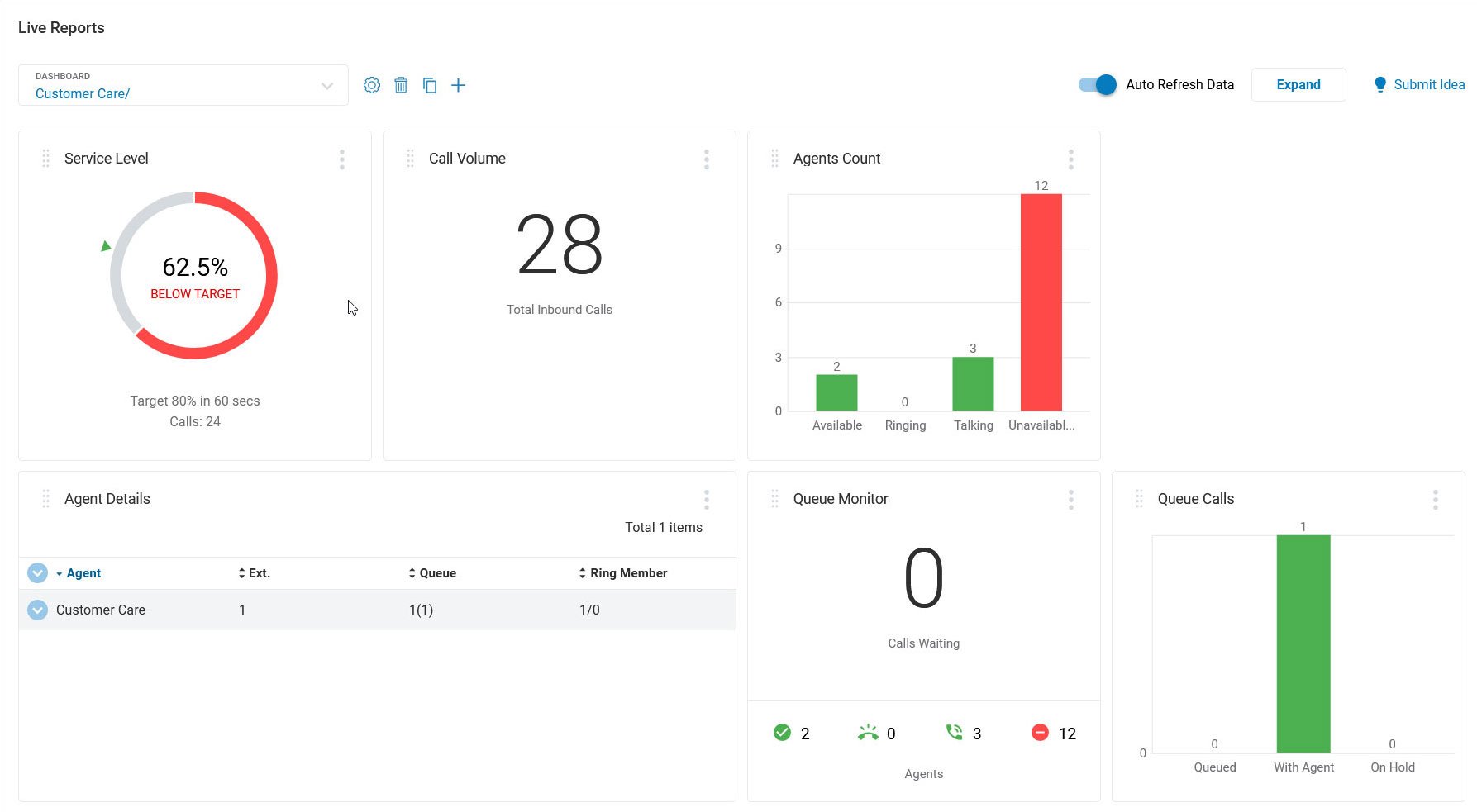 The most popular RingCentral analytics let admins monitor call activity, queue activity, and user (departments or individual agents) activity.
Admins can subscribe to real-time custom alerts when performance numbers reach a certain threshold, and monitor KPIs like: 
Number of inbound calls
Percent of inbound calls answered, missed, abandoned, sent to voicemail, transferred, etc.
Average speed of answer, call handling time, hold time, etc.
Aircall Analytics and Reporting
Aircall offers advanced real-time and historical analytics in addition to standard call histories, but its best reporting tool by far is its Live Activity Feed.
The Live Activity Feed gives agents and managers a real-time, birds-eye view of the most important call center metrics and KPIs–all via digestible interactive charts, graphs, and filters.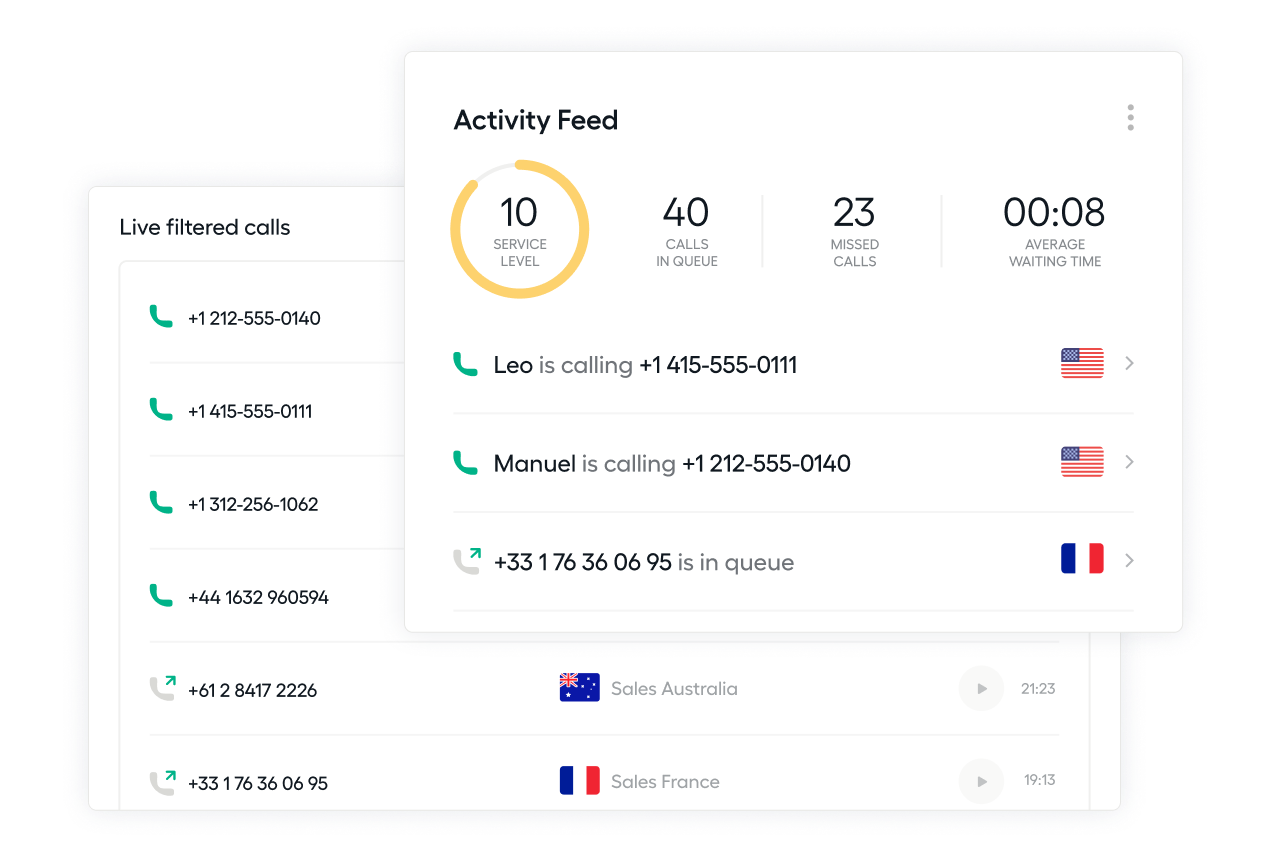 Within the live feed, admins can see which agents are on calls, the contact name or number they're calling, the number of current calls in queue, the number of missed calls in the past 30 minutes, the average call wait time, and the average service level. Admins can see not just real-time agent status, but also how long each agent has maintained their current status.
Historical Aircall Analytics can be filtered by agent, phone number, time zone, date range, department/Team, and call tags. While there are few customization options available for historical analytics in Aircall, most users will find the available KPIs more than they need.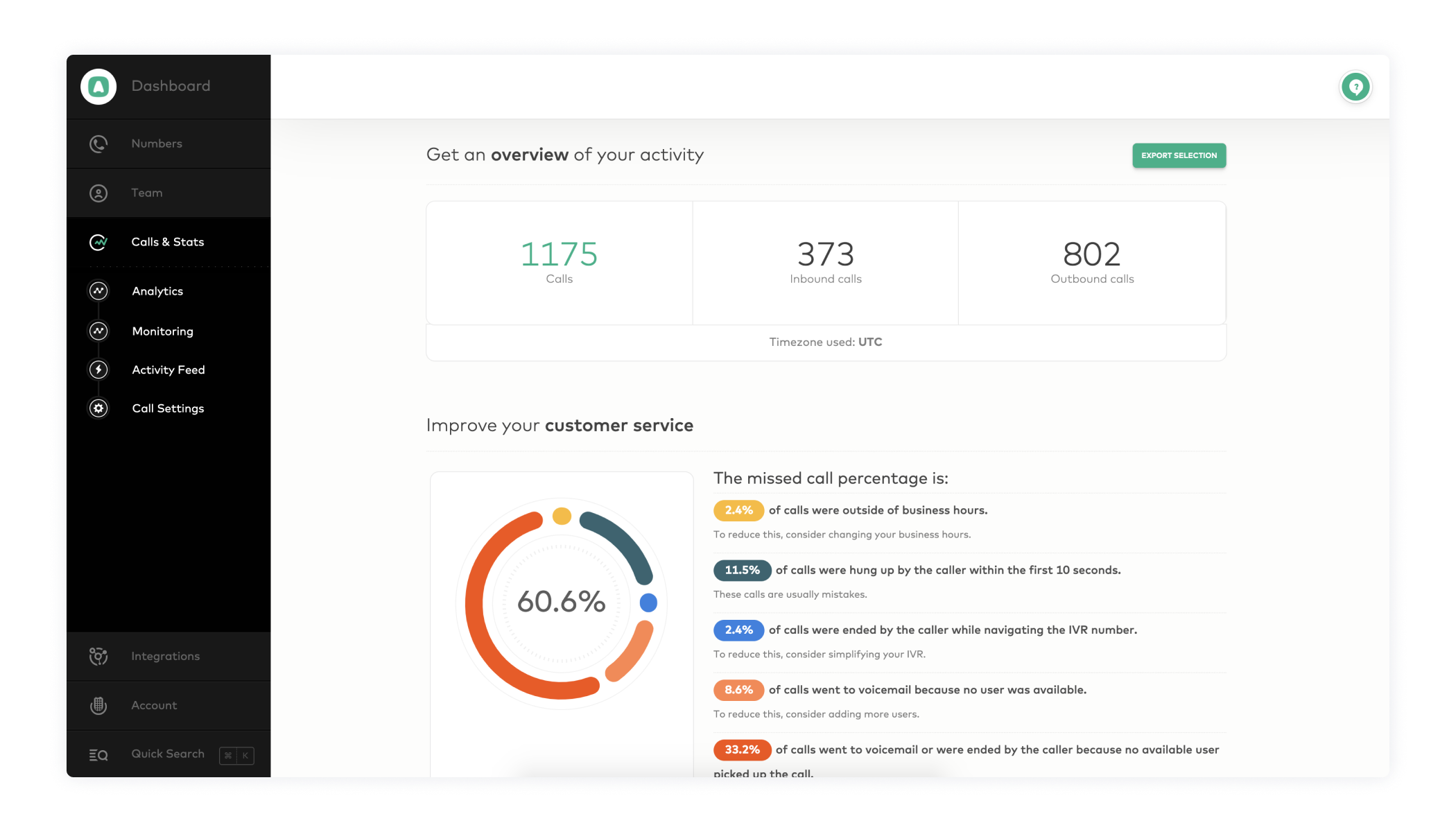 Aircall historical metrics and reports can be shared and downloaded, and include: 
Most popular call tags
Call types and trends over time
Average call duration, call wait time, call handling time
Agent status/availability
Agent rankings for talk time, number of missed calls, etc.
Most common reasons for missed calls
Total call volume, total missed calls, inbound:outbound call ratio
RingCentral Contact Center 
The RingCentral Contact Center includes advanced omnichannel communication features on over 20 digital channels, automated outbound dialers, and workflow optimization tools like workforce management, IVR call flow design, interaction and feedback management, and detailed real-time and historical analytics.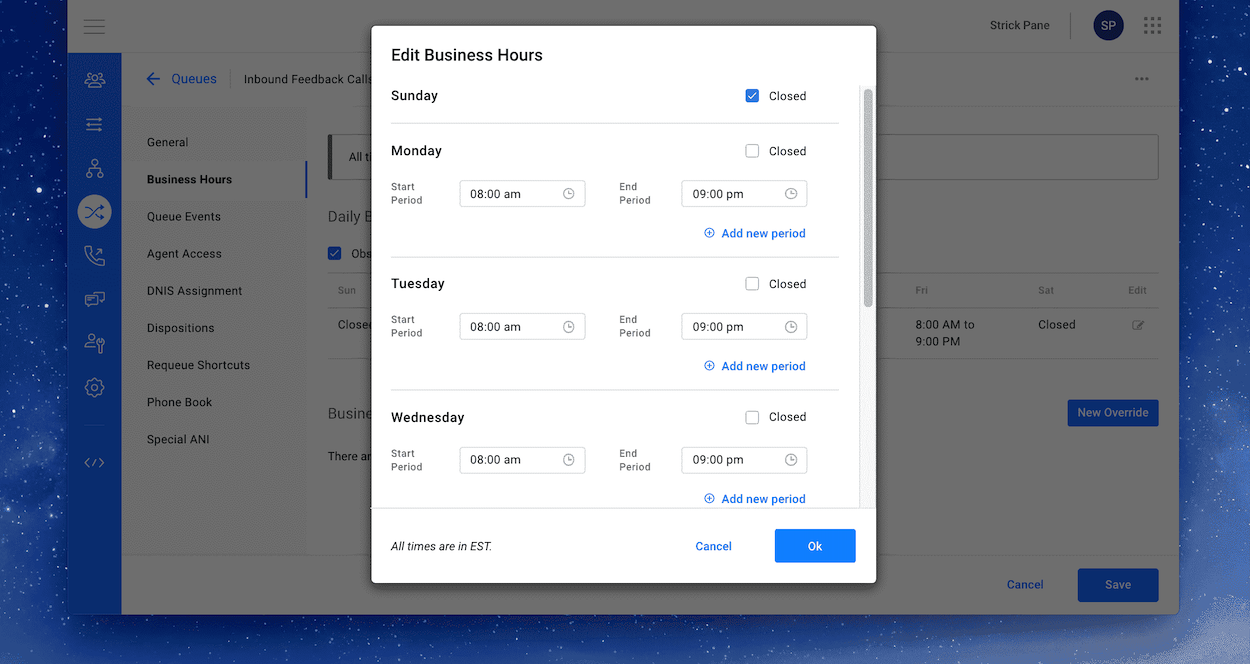 These tools, in addition to the MVP features, improve internal and external communication, increase productivity and sales, and create a stronger digital customer experience.
Agents and customers can connect on social media platforms like Facebook and Instagram, messaging apps like WhatsApp, and more.
The RingCentral Contact Center lets agents co-browse and share their screens with customers to improve the support process, includes channel-based and skills-based routing, and even offers in-conversation, AI-powered smart agent suggestions. Admins can also deploy customer service and support chatbots, track customer interactions and feedback, and allow agents to ask for approval before taking action.
Additional RingCentral Contact Center features include:
CRM Screen Pops
NPS, CSAT, CES, and more customer surveys
Campaign management
Agent coaching and performance gamification
Advanced speech and text analytics
Workforce management and optimization
Aircall Power Dialer and Number Panel
Though Aircall doesn't offer native omnichannel contact center capabilities, one of its best large-scale call center features is its automated outbound Power Dialer, bolstered by its Number Panel tool.
The Power Dialer integrates with Salesforce, Google Sheets, or your preferred CRM software to simplify campaign list creation and penetration. Power Dialers eliminate the need for manual dialing by automatically placing the next call on an agent's lead list when they've completed their current call.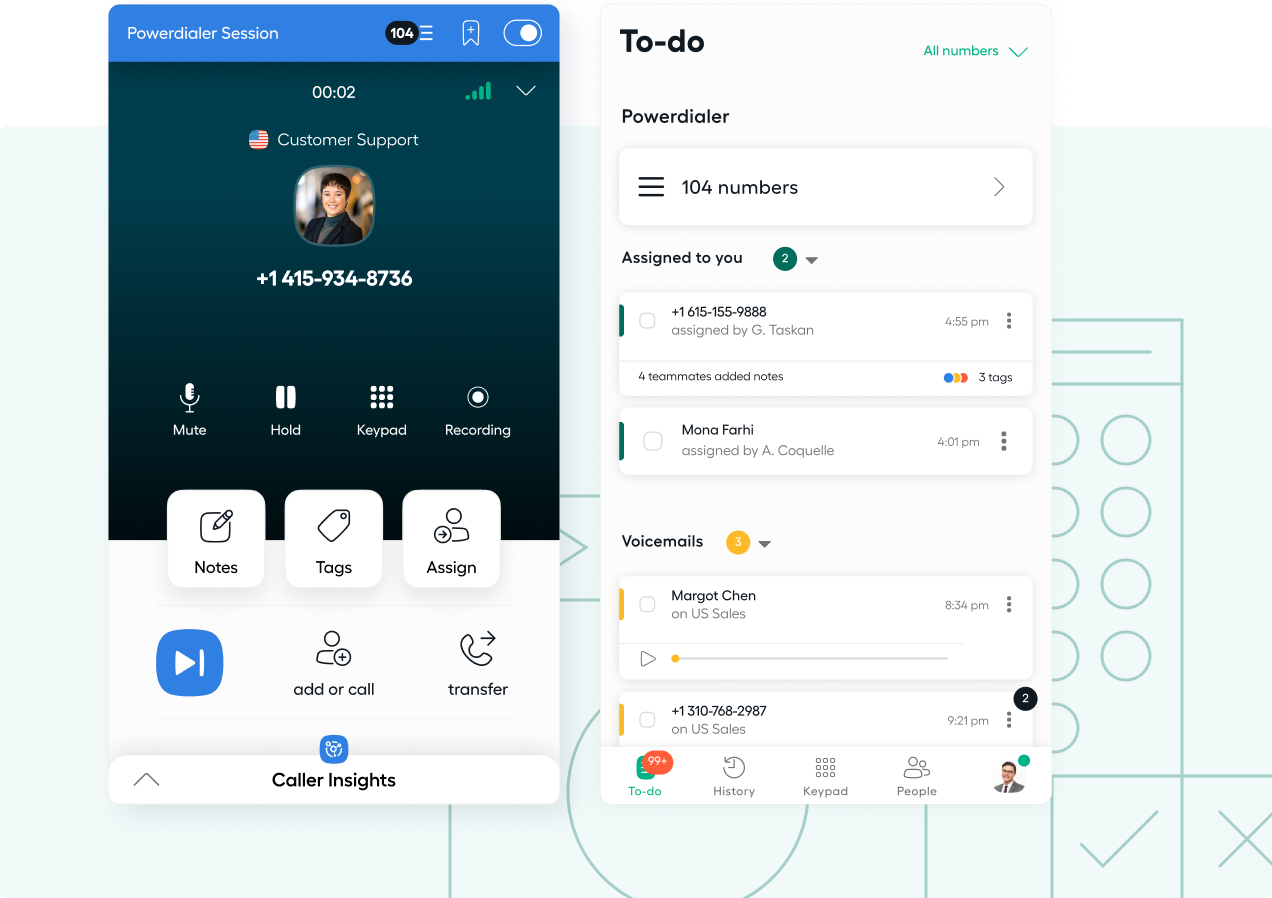 To ensure nothing is overlooked, admins can add in after-call work time so agents can take notes, tag calls, or assign calls to other team members before moving to the next number. CRM Call Pops, called Aircall Insights, prepare agents for calls by automatically displaying relevant client/lead information and notes stored in your CRM system.
Using the Aircall Dialer Microsoft Edge or Chrome extension, Aircall automatically highlights business phone numbers from web pages you visit–and lets you choose up to 5 local number formats to display.
Users can click these highlighted numbers to enable one-click dialing within the Aircall Phone app. They can also navigate to the Number Panel to store these numbers–as well as any detected contact information linked to a number–in a Power Dialer lead list for future calls.
From the Number Panel, users can edit and reorder these saved numbers, or begin the dialing session. Aircall automatically scrubs invalid or duplicate numbers from the Panel, and automatically adds them to contacts in your CRM system.
Note that as of this writing, Aircall's Power Dialer can only store up to 1,000 phone numbers per list.
RingCentral Integrations
RingCentral comes with developer APIs and over 300 pre-built third-party integrations available in its App Gallery, including:
Google Workspace and Google Chrome Extension
Microsoft 365
HubSpot
Salesforce
Slack
Microsoft Teams
MailChimp
Zoho CRM
JIRA
GitHub
Zendesk
Aircall Integrations
Aircall integrates with about 100 third-party applications–a lower number when compared to competitors, especially given the lack of native collaboration, chat, and video conferencing features. Though Aircall does offer access to APIs and webhooks on all plans, it limits API developer support to its most expensive Custom plan. Another strike against Aircall is that Salesforce Service and Sales Cloud integrations aren't available on the most affordable Essentials plan.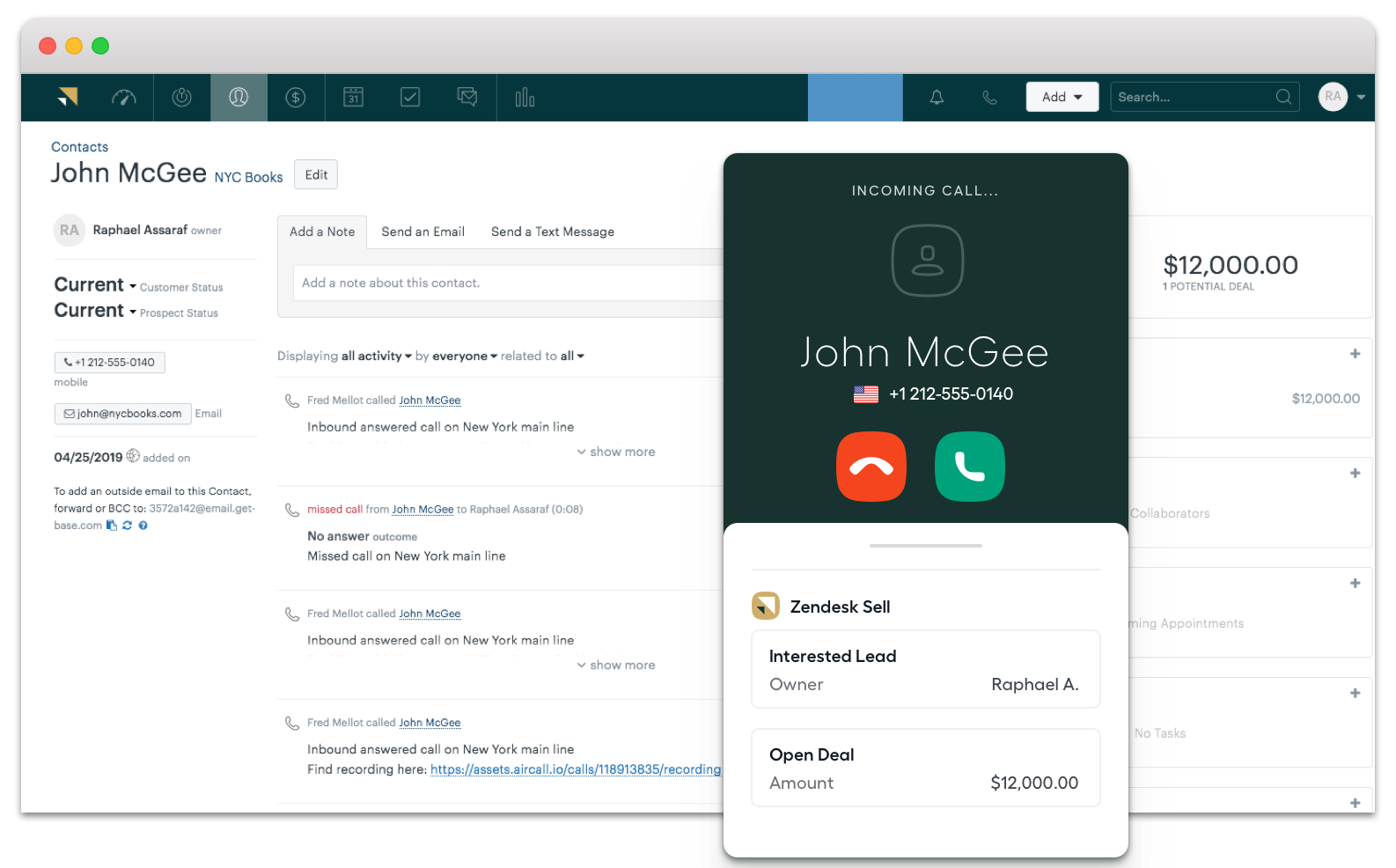 These integration and API support limitations mean Aircall is ideal for teams that don't use Salesforce and/or that don't mind switching between applications for different communication channels or business tools.
Aircall App Marketplace integrations include: 
HubSpot, Pipedrive, ZohoCRM, SugarCRM, Zendesk Sell
Freshdesk, HelpScout, Zendesk CTI
Microsoft Dynamics
Monday.com
Intercom, Crisp
Alloy Automation
BigCommerce, Shopify, SnapCall
Sakari, HeyMarket
Aircall Security and Customer Support
Aircall offers phone, email, support ticketing, and multilingual live chat support to all users on all plans. While live chat is available 24/5 to all customers (unavailable Saturday/Sunday,) Aircall doesn't specify phone and email support hours.
That said, Aircall really shines in its onboarding process, which includes a well-organized, step-by-step onboarding portal for all customers. It walks customers through the basics of Aircall like dashboard navigation, team creation, phone number setup, call quality assessment, integration setup, call tagging, and analytics.
Further support is available via live training sessions, on-demand webinars, or a survey-based custom dashboard setup worksheet emailed to you and tailored to your specific setup and operational needs. HIgher-tier plans include priority customer support, personalized onboarding sessions, and a dedicated account manager.
Best practice tips, FAQs, and an interactive knowledge base round out Aircall's excellent customer service.
Aircall has a 99.99% uptime, 7 global redundant data centers, and offers end-to-end encryption. It's especially known for its Opus codec-powered high call quality, which includes live network monitoring with push notifications and in-call descriptions of common VoIP problems like jitter and latency. Even better, these notifications come with clickable links to find solutions.
Additional Aircall security standards and certifications include: 
HIPAA, GDPR, and PCI compliance
FEDRAMP and SOC 2 compliance
Data backups and third-party penetration testing
Post-call rating feature (users rate the quality of all inbound/outbound desktop/mobile Aircall calls)
RingCentral Security and Customer Support
RingCentral is known for offering 24/7 phone and chat support–but a closer look brings that claim into question.
Though all RingCentral plans have 24/7 website chatbot support and can create an online support ticket helpdesk request at any time, only Premium and Ultimate MVP users have truly 24/7 phone support. Further, live agent chat hours on the RingCentral website only show availability between 8:00 AM-10:00 PM Monday-Friday, 10:00 AM-7:00 PM on Saturday, and 11:00 AM-8:00 PM on Sunday.
However, RingCentral does offer some of the best customer self-service in the industry, including online classes and webinars via RingCentral University, written and video tutorials in its searchable online knowledge base, support from other users in the online forum, FAQs and detailed blog posts, and more.
RingCentral offers a 99.999% uptime, translating to under 30 seconds of downtime a month. All its video conferencing tools are HIPAA and HITRUST-compliant, ISO 27018-certified, and allow hosts to add, remove, mute, and block participants in addition to other user permission controls.
All RingCentral products have a transparent security strategy and privacy policy, which include: 
SOC 3, PCI, HIPAA, HITRUST, GDPR, FINRA compliance
15 Geo-redundant global data centers
24/7/365 network monitoring
QoS analytics
TLS and SRTP end-to-end encryption
Meeting waiting rooms and locks
Single Sign-On (SSO) and Multi-Factor Authentication (MFA)
E911
RingCentral vs Aircall: Comparing Pricing and Plans
Aircall Pricing
Aircall offers 3 paid plans for a minimum of 3 users, with pricing for its Essentials plan starting at $30.00/user/month when paid annually. Its Professional plan, which also has a three-user minimum, costs $50.00/user/month when paid annually, but allows for an unlimited number of teams. Aircall also offers a Custom plan, which carries a 10-user minimum and requires quote-based pricing. A 7-day free Aircall trial is available.
All Aircall plans include:
1 local or toll-free business phone number with unlimited inbound and unlimited simultaneous outbound calling in the US/Canada
Unlimited inbound business SMS texting in the US/Canada, 4,000 outbound texts/month
Click-to-call, warm transfers, after-call work, ring on speakers
Number blocklist
Call routing and call forwarding
Voicemail by email, custom voicemail
Mac/Microsoft desktop and mobile iOS and Android softphone app with real-time desktop notifications
IVR, call queueing, CTI, custom hold music and messages, business hours
Ring groups, shared contacts, conference calling, call rules, shared call inbox
Assign and comment on calls, call tags
Call recording, pause-resume recording
Extensions
Basic Analytics, 6-month analytic history
Email support, phone support, live group onboarding sessions
APIs and Webhooks
Integration with 100+ tools including  Zendesk, HubSpot, Slack, Zoho, Intercom, and Pipedrive
Additional numbers are available for $6.00/number/month, as are bundled international minutes (pricing varies by country.) No other add-ons/upgrades are listed.
Additional Aircall pricing plans and details are outlined in the table below:
Essentials Plan
Professional Plan
Custom Plan
Pricing
Annual: $30.00/user/month

Monthly: $40.00/user/month

Annual: $50.00/user/month

Monthly: $70.00/user/month

Custom pricing
Maximum Number of Teams
3
Unlimited
Unlimited
International Outbound Calling 
Bundled pricing available, costs vary by country
Bundled pricing available, costs vary by country
Unlimited
Analytics
Basic, historical only
Advanced, real-time and historical analytics
Advanced+, custom real-time and historical analytics
Call Monitoring/Call Whisper
X
✓
✓
Mandatory Call Tagging
X
✓
✓
Power Dialer
X
✓
✓
Salesforce Service and Sales Cloud Integrations 
X
✓
✓
Queue Callback
X
✓
✓
Dedicated Account Manager and Personalized Onboarding (15-user minimum)
X
✓
✓
Priority Customer Support With SLA
X
X
✓
API Developer Support 
X
X
✓
RingCentral Pricing
Below, we'll outline pricing options for RingCentral MVP Business Communications, RingCentral Video Solutions, and RingCentral Contact Center plus Conversation Intelligence add-ons.
RingCentral MVP Pricing
RingCentral MVP Business Communications, the foundation for all other RingCentral software, offers 3 paid plans from $30-$45+/user/month (annual and monthly pricing is available.)
A limited free trial is available for 5 users with 50 minutes of domestic calls/user, and volume discounts are available for 50+ users.
All RingCentral MVP plans include: 
1 business local or toll-free phone number with unlimited US/Canada calling
Enhanced Business SMS
Team messaging with document sharing and limited storage
HD video conferencing for up to 100 participants with AI Meeting Insights, live transcription, whiteboarding, collaborative notes, screen sharing with desktop control, and breakout rooms
Call presence, notifications, call screening, call park, call flip answering rules, call forwarding, call transfer, hot desking
APIs and basic integrations with, Google Workspace, Microsoft Office 365, etc.
Unlimited audio conferencing
On-demand call recording
Multi-level IVR and auto attendant
Shared lines
Basic call queues
Voicemail-to-text/voicemail-to-email
HD Voice with AI noise cancellation
Mobile apps for iOS and Android
Available add-ons include: 
Additional Toll-Free/Local Numbers: $4.00/line/month
High Volume SMS: $0.0085/message (inbound/outbound)
Additional International Numbers: $5.99/user/month
Additional Vanity Numbers: $30.00 one-time fee
Additional International Toll-Free Number: $14.99/line/month
The table below outlines RingCentral MVP Pricing and plans: 
Core Plan
Advanced Plan
Ultra Plan
Pricing 
Annual: $20/user/mo

Monthly: $30/user/mo

Annual: $25/user/mo

Monthly: $35/user/mo

Annual: $35/user/mo

Monthly: $45/user/mo

Monthly Toll-Free Minutes
100
1,000
10,000
Enhanced Business SMS
25/user/month
100/user/month
200/user/month
Video Conferencing
100 meeting participants
100 meeting participants
200 meeting participants+unlimited meeting lengths, unlimited file sharing, enterprise video call features, unlimited whiteboarding
Call Recording
On-demand
On-demand and automatic
On-demand and automatic
Call Monitoring
Basic call monitoring
Call monitoring, call barge, call whisper
Call monitoring, call barge, call whisper
 Call Queues
Basic
Advanced call rules and routing
 Advanced call rules and routing
Analytics
Basic call logs only
Call logs+Essential Business Analytics
 Enhanced Business Analytics Suite+Custom Business Insights
 Storage
 Unlimited video recording only
Unlimited video recording+1 year recording retention
Unlimited file storage, team messaging storage, video recording storage+1 year recording retention
Integrations
APIs+Google and Microsoft applications only
300+ integrations and APIs
300+ integrations and APIs
Online Faxing
X
Included
Included
RingCentral Contact Center Pricing
RingCentral Contact Center offers 4 paid plans, but pricing isn't listed on the RingCentral website and is quote-based.
All RingCentral Contact Center plans include access to the RingCentral MVP Ultimate Plan capabilities, as well as:
ACD with skills-based routing
Click-to-call
Advanced IVR (Interactive Voice Response) with visual call flow designer/editor
90+ real-time reporting and historical reports
The table below outlines the differences in RingCentral Contact Center plans. 
| | | | | |
| --- | --- | --- | --- | --- |
| | Essentials | Standard | Premium | Ultimate  |
| Advanced Voice Recording | Basic only | ✓ | ✓ | ✓ |
| 30+ Digital Channels with Omnichannel Routing | X | ✓ | ✓ | ✓ |
| Quality Management | X | X | ✓ | ✓ |
| Screen Recording | X | X | ✓ | ✓ |
| Performance and Workforce Management  | X | X | X | ✓ |
RingCentral Conversation Intelligence Contact Center Add-On Pricing
RingCentral RingSense for Sales is a Conversation Intelligence add-on for Contact Center users designed to enhance productivity, improve contact center activity insight, manage agent performance, and more.
Three license types are available on a quote basis only: Observer, Coach, and Professional. 
The Observer Lisncese includes features like:
Competitive mnetion tracking
Call recording, highlights, and call summaries
Seach, filter, and discover trends/analytics by topic and keywords
AI playlists
Win/loss trend analytics
The Coach License includes all Observer features plus: 
Rep performance/call quality scoring and trend analysis
Soft skill agent analytics plus personalized agent coaching
Internal KPIs/benchmarks with alerts
Roles-based access
Pre-built and custom performance tracking analytics and notifications
The Professional License includes all Coach features plus:
Real-time CRM data screen pops and integration
Soft-skill metrics/benchmarks
AI-powered call filtering by score, team, rep, deal phase, close date, activity, etc.
Interaction notes/summaries, conversation highlights, automated CRM syncing
Omnichannel interaction data syncing
Intelligent deal analytics, deal risk alerts/warnings, buying signal notifications, etc.
RingCentral Video Solutions Pricing
RingCentral offers four video communication options: RingCentral Video Pro, Video Pro+, RingCentral Webinar, and RingCentral Rooms.
RingCentral Video Pro
RingCentral Video Pro is available to anyone as a free standalone app, regardless of whether or not they have a paid RingCentral account.
All RingCentral MVP plans include RingCentral Video Pro, which provides features like:
Video meetings for up to 100 participants on desktop and mobile devices
Whiteboarding, file sharing, in-meeting notes, task management, in-meeting chat messaging
Real-time meeting transcription
Meeting Intelligence capabilities like meeting highlight reel/summary, AI-generated topics/keywords/chapters, meeting recordings
Screen sharing with co-annotation and remote control
10 hours of meeting recording and 7 days cloud recording retention
Collaborative note-taking
Users can upgrade to the RingCentral Video Pro+ plan for $11.99/user/month to access the following additional features:
200 meeting participant cap plus large meeting add-on option
100 hours/1 year of recording retention
E2EE
Single Sign-on
CRM and industry-specific/advanced integrations, plus APIs
RingCentral Webinar
RingCentral Webinar pricing begins at $27.17/host/month when paid annually.
Webinar features include:
Unlimited number of monthly webinars with no-download attendee access
Unlimited webinar recording storage
In-app (mobile) webinar scheduling, management, and facilitatation
In-webinar polling/Q&A
Backstage prep/practice sessions
Post-webinar debriefs with hosts
Customizable/branded registration forms and emails
Integration with third-party marketing automation tools
Automated reminders and follow-up emails
Social link sharing
Save and share webinar registrant/attendee lists
Live stream to third-party platforms (beta)
RingCentral Rooms
RingCentral Rooms offers physical conference room equipment, setup, and customization options, with pricing starting at $39/room/month.
RingCentral Room features include:
One-click/touchless meeting join
Dual screen support
Real-time Room monitoring and alerts
Voice-activated controls
Ability to join third-party meetings (Zoom, Webex, etc.)
In-meeting device switching (desktop to mobile/vice versa)
Wireless content sharing via Bluetooth
Rooms as a Phone System setup
RingCentral Pros & Cons
The below pros and cons table outlines the overall RingCentral user experience, according to user reviews and our hands-on experience.
| | |
| --- | --- |
| RingCentral Pros | RingCentral Cons |
| RingCentral MVP provides an intuitive, scalable, competitively priced all-in-one business phone system across all plans, a free video calling tool, and the ability to upgrade to Contact Center and Webinar systems | RingCentral MVP's most affordable plan (Essentials) is unusable for many businesses as it doesn't offer video calling/integration with RingCentral Video Pro/Pro+ include call recording, multi-level auto attendant, real-time analytics, call monitoring, SSO, etc. |
| AI-powered video features create automated written meeting summaries, video highlight reels, topics, keywords, and tasks–making meetings even more efficient and keeping those who missed the meeting in the loop | All RingCentral Video plans–even the most expensive option–cap meeting participants at 200, and RingCentral Webinar is still in Beta |
| RingCentral MVP comes with hundreds of pre-made third-party integrations, allowing users to continue using existing tools or add on no-code capabilities a la carte | Some key industry-specific and CRM integrations including Salesforce, Zendesk, ServiceNow, Canvas, and Smarsh are not available on the two most affordable RingCentral MVP plans |
| Excellent customer support options including superior Online Knowledge Base, access to RingCentral University webinars and video tutorials, 24/7 support chatbot, community forum | RingCentral claims all MVP plans have 24/7 phone and chat support, but 24/7 phone support is really only available to Premium and Ultimate users, and 24/7 chat support doesn't guarantee a connection with a live agent–often, only a chatbot is truly available |
| 99.999% uptime thanks to built-in redundancy alongside 7-layer security, end-to-end encryption, and advanced host/admin controls | RingCentral Contact Center doesn't offer a competitive feature set, and access to the best Contact Center features are available only on the most expensive Ultimate Plan |
Aircall Pros & Cons
The below pros and cons table outlines the overall Aircall user experience.
| | |
| --- | --- |
| Aircall Pros | Aircall Cons |
| High ease of use and low learning curve thanks to Aircall's intuitive interface, lack of overly complex AI-based features, customized dashboard setup survey, and onboarding portal | Lacks native video and team chat/collaboration tools |
| Most affordable plan includes numerous features only available on pricier competitive plans, such as call queues, call recording, call assignment, shared inbox, etc, | Most affordable plan allows for a maximum of just 3 Teams and lacks Salesforce integration, automated callbacks, live activity feeds, call monitoring, and access to the Power Dialer |
| Reliable service and high call quality thanks to global network redundancy,  in-call network alerts, and real-time push notifications that identify and describe service interruptions or other issues | Significant price jump of $20/user/month between most affordable plan and mid-range plan, meaning Aircall lacks the scalability of many of its competitors |
| Multilingual phone, live chat, and email support (plus ticketed support portal) available for all plans | Surprising lack of third-party integrations with popular video applications like Zoom, RingCentral, Dialpad, and even Google Meet–especially given the absence of a native video calling tool |
| Insight Cards integrate with over 100 tools and third-party apps to provide real-time sales and support customer information, conversation history, and notes from other agents–in addition to warm transfers | Limited features/functionalities in general, including a maximum of just 5 conference call participants and no call waiting feature, may automatically rule out Aircall for many businesses |
Who Should Use Aircall? 
Aircall is best for small to medium-sized in-office call centers that rely almost exclusively on inbound, outbound, and conference voice calling for business communications.
Sales and support teams using Aircall may occasionally communicate one-on-one with customers or other agents via text message. However, because they're all working in the same physical location, they don't truly need internal video conferencing capabilities as they can have in-person meetings.
Though businesses using Aircall may use basic chat apps, they don't require near-constant real-time team collaboration and communication. If Aircall users do rely on an instant messaging tool, it's one they want to continue using.
Aircall users don't want an all-in-one UCaaS solution like RingCentral.
Not only do these teams want to avoid paying for features they don't need, but they also don't want to have to learn an entirely new software system from the ground up. If Aircall users need advanced features or new communication channels down the line, they'd prefer to access them via third-party integrations.
Businesses that choose Aircall need affordable call center software with intuitive, standard features like IVR, call recording, and call routing. They don't need extensive automations, AI-powered tools, or virtual collaboration tools.
Who Should Use RingCentral? 
RingCentral is best for SMBs needing an out-of-of-the-box unified communications tool offering voice calling, SMS and team chat messaging, and video conferencing in one user-friendly interface.
RingCentral users access their business phone system on multiple devices and in numerous locations throughout the day and need a business communications tool that offers an equally robust desktop and mobile app.
Though businesses using RingCentral may have a mostly remote, geographically diverse team, their workplace is still a highly collaborative environment requiring both real-time and asynchronous communication. Therefore, RingCentral users place a high importance on video calling, in-meeting collaboration tools like whiteboarding and file sharing, and team chat messaging.
Though primarily focused on optimizing internal communications, RingCentral users may want the option to scale up to an omnichannel contact solution–or at least want the ability to customize their all-in-one business communications tool via third-party integrations. They want hosted, off-site, cloud-based solutions that don't require in-house developers, extensive knowledge of coding and APIs, or expensive IT support.