RingCentral, one of the early veterans in business VoIP services is still going strong to this day with new technologies on the horizon. They are a business communication provider with a complete UCaaS platform to offer, and much more than that.
Presenting their products as business communication solutions to businesses of all sizes, RingCentral pricing plans offer something for everyone. Whether you're looking for a full UCaaS platform or just a few useful tools to boost your business communication, you may find your solution here.
Ever since the acquisition of Glip, they have been working on expanding its business communication systems, and they now have lots of different solutions to offer, from cloud business phone systems, team messaging software, to RingCentral customer engagement platforms. There's a lot of products to explore, so let's find out what exactly is on the table here.
RingCentral Products Overview
RingCentral, like other Grasshopper alternatives, provides solutions for all businesses, regardless of the size. Their solutions include products such as cloud-based phone systems, online messaging & video meetings, contact centers, support centers, internet faxing and much more. Overall, the products are packed with features that provide powerful tools for efficient, modern business communication.
There are 7 RingCentral pricing tiers offered to customers:
RingCentral Office — All-in-one cloud-based phone system
Individual products:
RingCentral Meetings — Online meetings, video conferencing, team messaging
RingCentral Desktop App — Team messaging software
RingCentral Fax — Online internet fax, anywhere & from any device
RingCentral Contact Center — Call center software with cloud-based solutions and softphones
RingCentral Engage — Customer support platform with multichannel features
RingCentral Office is a powerful cloud phone system with over 50 features, and it's also the main product for business communication. Users can also choose to use the other six products that are offered individually, making the RingCentral pricing plan modular.
Now, we're going to go over each of these products covering its features, and also explore the RingCentral pricing structure works so that you can get a better understanding of what you're getting for your budget.
Let's start with Office since it's the most important product coming from any RingCentral pricing plans.
RingCentral Office
RingCentral Office is a cloud phone system that integrates phone, video, messaging, meetings, and analytics in one solution. With Office, you can say goodbye to ancient PBX systems and hello to new, cutting-edge communication technology hosted in the cloud. This feature-rich phone system will allow you to efficiently communicate your day-to-day business operations using cloud phone systems, HD video, messaging, fax, and more.
How Does Ringcentral Office Help Your Business?
The phone system is simple to set up with an ease of use perfect for larger teams. Office allows you to easily connect with all team members on the same platform, using multiple devices. Whether your team members want to use desktop computers or mobile devices, all they have to do is install & set up the RingCentral Office app.
You have to ability to communicate through multiple devices using the smartphone or desktop app, and you can also integrate other apps such as Google, Zendesk or Salesforce. In short, RingCentral Office provides you with a lot of flexibility when it comes to communication.
The phone system is packed with modern features such as cloud PBX, mobile apps, local numbers, vanity numbers, toll-free numbers, call managing, intercom, paging, business voicemail, fax and more. On top of that, your business administration can make use of features like call monitoring, call logs, multi-site management, and analytics portal with QoS & performance reports. You can also hold meetings, webinars, and web conferences using HD-quality video & audio capabilities.
Security is also guaranteed with their VoIP phone service, and you even get the ability to assign roles & grant permissions for a little bit of that extra security. All things considered, Office is a powerful product that you can leverage for as low as $19.99 per user if you take on a yearly pricing.
RingCentral Office Pricing & Features
There are four plans available for RingCentral Office — Essentials, Standard, Premium & Ultimate.
Different RingCentral plans bring different features, and we're here to help you decide which plan to choose for your business. Pricing is largely based on team size and commitment, and you can get better deals if you're buying for 100+ users with annual payment plans. Committing to a yearly RingCentral plan seems to be the best option, and you are to pay $19.99/month per user for the Essential Plan, or $49.99/month per user for the Ultimate plan.
If you prefer to pay monthly instead, they have plans that cost you an additional $10/month per user.
Here is a full list of features for all four Office plans:
ESSENTIALS
STANDARD
PREMIUM
ULTIMATE
Pricing
Annually – $19.99/user/mo

Monthly – $29.99/user/mo

Annually – $24.99/user/mo

Monthly – $34.99/user/mo

Annually – $34.99/user/mo

Monthly – $44.99/user/mo

Annually – $49.99/user/mo

Monthly – $59.99/user/mo

Unlimited phone calls
Yes
Yes
Yes
Yes
Toll-free minutes
100 mins/mo
1,000 mins/mo
2,500 mins/mo
10,000 mins/mo
Unlimited Business SMS
Yes
Yes
Yes
Yes
Call management & phone system administration
Yes
Yes
Yes
Yes
Phone rental options: desk and conference phones
Yes
Yes
Yes
Yes
Mobile apps for iOS and Android
Yes
Yes
Yes
Yes
High-definition (HD) voice
Yes
Yes
Yes
Yes
Visual voicemail and voicemail to email
Yes
Yes
Yes
Yes
Team collaboration
Yes
Yes
Yes
Yes
Integrations with Microsoft®, Google, Box, and Okta
Yes
Yes
Yes
Yes
24/7 Customer support
Yes
Yes
Yes
Yes
Professional implementation
Yes
Yes
Yes
Yes
Multi-level auto attendant
No
Yes
Yes
Yes
Internet fax
No
Yes
Yes
Yes
Call logs and reports
No
Yes
Yes
Yes
Quality of Service Reports
No
Yes
Yes
Yes
Automatic call recording
No
No
Yes
Yes
Multi-site support
No
No
Yes
Yes
Custom app development and deployment
No
No
Yes
Yes
Integration with Salesforce.com, Zendesk®, and Desk.com + More
No
No
Yes
Yes
Single Sign-on
No
No
Yes
Yes
Voicemail transcription to text
No
No
Yes
Yes
Video Conferencing
4 people per meeting
4 people per meeting
100 people per meeting
200 people per meeting

Multi-site admin and management

No
No
Yes
Yes
No
No
Yes
Yes
No
No
Yes
Yes
Now, the Essential plan ($19.99/user/month) should cover the basics for modern phone systems, however, you're limited to 10 users, 100 toll-free minutes per month, and you miss out on some of the features. The Premium plan ($39.99/user/month) will get you access to all features, but you don't get as much user access & free minutes as with the Ultimate plan ($49.99/user/month).
As we can see, the more expensive plan offerings allow businesses to host more members in meetings, more toll-free minutes, and access to more advanced features such as multi-site support, CRM integration, automatic call recording and more.
Additionally, businesses can expand their system with additional local phone numbers at these rates: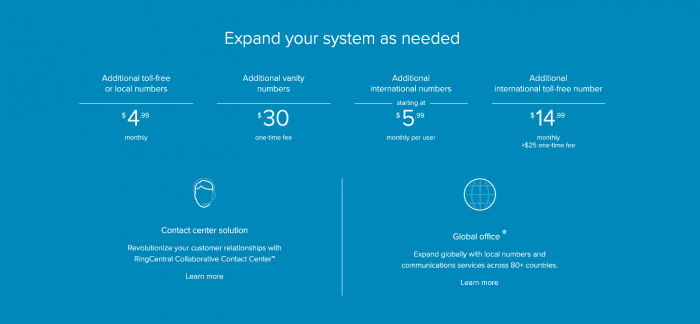 Overall, RingCentral Office is a powerful all-in-one tool for business communication, and there are tons of useful features available with both essential & ultimate plans.
If your business doesn't require all this technology, you can instead choose to invest in some of the products that are offered individually. They have plans tailored to offer products for specific needs, and you get the chance to spend less money each month.
RingCentral Meetings
RingCentral Meetings is the first individual product that offers you the ability to host & experience high-quality online meetings with dozens of team members from multiple devices. In short, Meetings allows you to create a call group with over 100 participants, share screens & apps, chat, use a whiteboard, annotations, and much more. You get access to HD video, multiple device support, team messaging, and additional add-ons.
If you require this individual product, Meetings comes at three separate pricing tiers:
Free — $0/user/month
Essentials — $14.99/user/month
Advanced — $19.99/user/month
All three plans come with different features, more minutes, longer meeting durations, and the decision comes down to your team's needs.
Let's take a look at features from each of the three plans:
| | | | |
| --- | --- | --- | --- |
| | FREE | ESSENTIALS | ADVANCED |
| Unlimited 1:1 meetings | Yes | Yes | Yes |
| Group meetings with up to 100 participants | 40 minutes limit | Unlimited meeting duration | Unlimited meeting duration |
| Desktop and application sharing | Yes | Yes | Yes |
| Simultaneous screen share | Yes | Yes | Yes |
| Whiteboarding | Yes | Yes | Yes |
| Annotation | Yes | Yes | Yes |
| Private and group in-meeting chat | Yes | Yes | Yes |
| Team messaging and collaboration | Yes | Yes | Yes |
| Integration with Outlook®: one-click scheduling | Yes | Yes | Yes |
| Join meetings from computers, iPhones, Androids, landlines, and room systems | Yes | Yes | Yes |
| Local recording (*MP4 and M4A) | Yes | Yes | Yes |
| Secure meetings (*secure web access (HTTPS) and Secure Socket Layer (SSL) encryption) | Yes | Yes | Yes |
| Phone support* | No | Yes | Yes |
| Reporting | No | Yes | Yes |
| Schedule Meetings for Me | No | Yes | Yes |
| Single Sign-on | No | Yes | Yes |
| Call Me/Call Out | No | Yes | Yes |
| Outbound local PSTN minutes for Meetings Call Me | No | 1,000 minutes per license | 2,500 minutes per license |
| Advanced team messaging and collaboration | No | Yes | Yes |
| Dashboard with real-time reporting | No | No | Yes |
| Available SLA | No | No | Yes |
All three plans give businesses access to great features for conferencing. Choosing a paid RingCentral pricing plan provides access to more advanced features such as reporting and unlimited calling duration which is a decent deal if your business is heavily reliant on online meetings.
RingCentral Desktop App
RingCentral Desktop App is a downloaded software that allows you to efficiently communicate with your team members, manage tasks, hold conference calls or share screens. If your team needs powerful messaging software with file sharing, you should consider giving the RingCentral Desktop App a shot.
When it comes to RingCentral pricing on their Desktop App, you can get it for free!
The app gives you access to more video capabilities, as well as compliance exports & data retention policies. Unlimited chat, storage, guest users, teams, calendars, task management, notifications, third-party app integration, and 24/7 live support. Again, the only reason to pay is if you're looking to take advantage of screen sharing features in case you don't have access to RingCentral Meetings software.
Overall, RingCentral Desktop App is a great add-on tool for team messaging with your subscription. Here's a complete breakdown and our review of RingCentral's desktop app.
RingCentral Fax
RingCentral Fax is a software that allows businesses to send & receive faxes through the internet without the need for a fax machine. It's a modern alternative that generates fax numbers so that you can send faxes anytime, anywhere, and from any device. Using RingCentral Fax gives you the ability to easily send online faxes to any machine, and also receive them in your email inbox, removing the need to use outdated methods.
Apart from efficient and secure faxing, RingCentral Fax also integrates with cloud storage services such as Box, Dropbox, and Google Drive which gives users the additional flexibility to fax documents using a desktop or mobile device.
The fax feature comes with RingCentral pricing tiers divided into four types: Fax 750, Fax 1500, Fax 2500, and Fax UNLIMITED.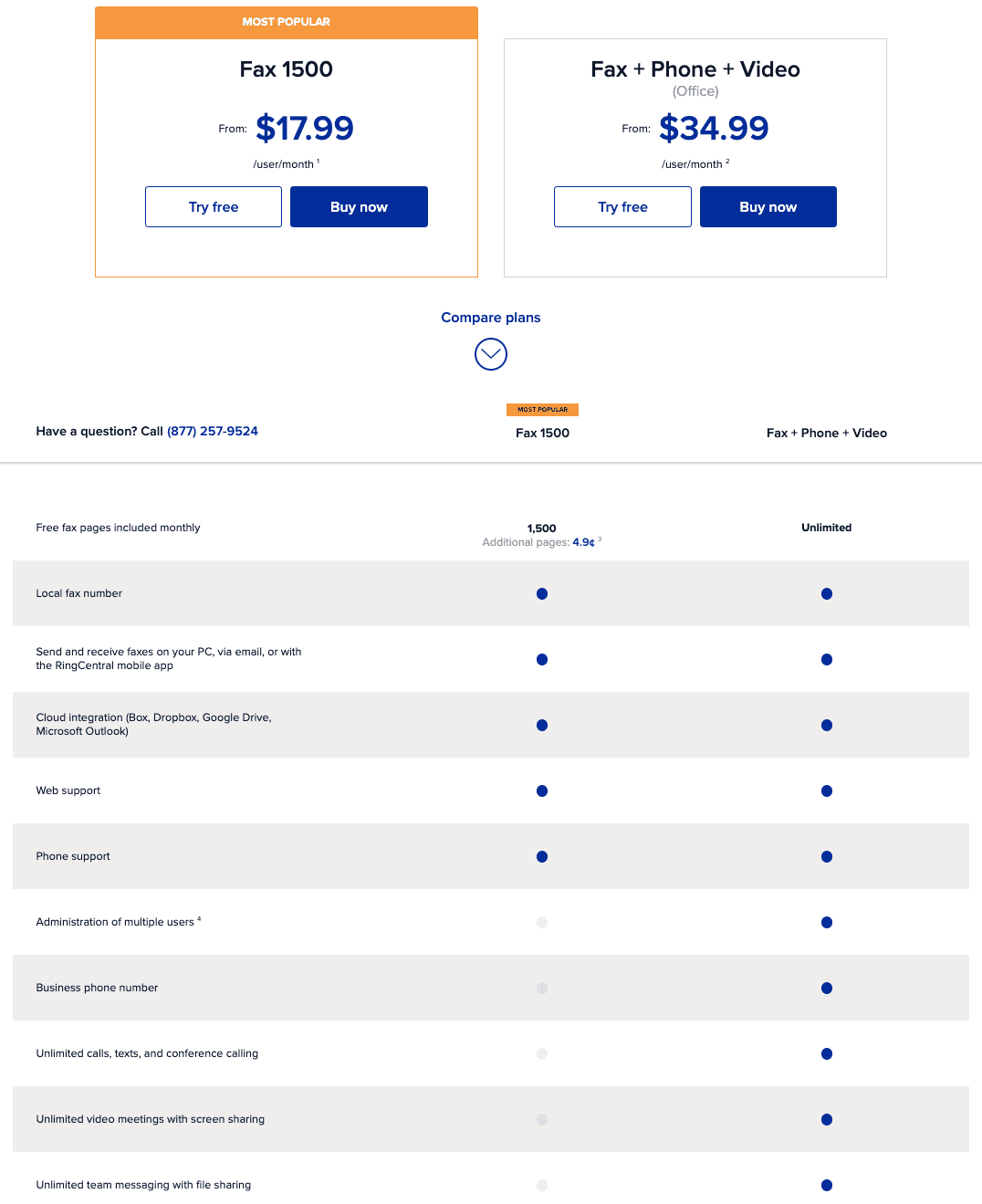 An annual subscription starts as low as $12.99/month and goes up to $39.99/month for the UNLIMITED plan. The main difference with these plans is the number of available pages each month, as well as desk phone support & cheaper additional page prices for more expensive plans. All plans allow for adding additional numbers for $4.99 per month.
If your business relies heavily on faxing, committing to the FAX UNLIMITED plan will ensure you never have to worry about your output load again.
Contact Center
RingCentral Contact Center is a powerful solution for call center operations. Whether you're looking for tools to help with your inbound, outbound or internal agent operations, this solution has something to offer. RingCentral Contact Center provides businesses with 7 products that can be used to improve the call center experience using features like skills-based routing, auto-attendants, omnichannel routing, collaborative centers, workforce optimization, call management interface, and real-time analytics & reports.
The software also seamlessly integrates with CRM solutions such as ZenDesk, Salesforce, ServiceNow and others.
Your business can use RingCentral Contact Center to build a powerful call center software compatible enough for agents to answer customer needs with whatever technology or headsets they like. The tools allow for custom answering rules to keep your team efficient.
There are three RingCentral pricing plans: Basic, Advanced, and Ultimate. Each plan opens up more additional features, so let's explore them all quickly.
| | | | |
| --- | --- | --- | --- |
| | BASIC | ADVANCED | ULTIMATE |
| Service | Inbound voice | Integrations and omnichannel | Blended outbound dialers |
| Voice | Yes | Yes | Yes |
| Standard IVR and ACD | Yes | Yes | Yes |
| Advanced IVR and ACD | No | Yes | Yes |
| Omnichannel capabilities | No | Yes | Yes |
| | No | Yes | Yes |
| | No | Yes | Yes |
| | No | Yes | Yes |
| | No | Yes | Yes |
| Outbound Features | No | No | Yes |
| | No | No | Yes |
| | No | No | Yes |
| | No | No | Yes |
| | No | No | Yes |
As we can see, the basic plan features standard IVR & ACD capabilities, while the more advanced plans give us access to omnichannel capabilities and extra outbound features.
Pricing is per quote based, so it's hard to give estimates at which plan is best. The plans have been shaped to make the Advanced plan the most popular option given the increasing need for omnichannel communication.
RingCentral Engage
Finally, we have the RingCentral Engage platform that's built to deliver the next generation in customer service. The Engage platform is Omni-digital which allows businesses to collect messages from all channels to one platform, improving agent productivity and increasing customer satisfaction. Smart routing, call forwarding, Omni-digital channels, unified platform, and real-time analytics & KPI tracking is everything your business needs to take customer care to the next level.

This solution will help your business to reduce costs & the need for manpower, as well as increase overall customer satisfaction. This platform works for businesses who are dealing with customers on multiple different channels.
This platform will allow you to merge conversations from your social accounts, live chats, email, review sites, and your customer's favorite messaging apps all onto one single platform which helps your agents to efficiently manage all customers requests. Pricing is based on quotation, and the platform is relatively new so it's hard to tell how well it exactly performs.
The Bottom Line
It is always difficult to give generalized recommendations for VoIP providers since every organization fits specific requirements. However, RingCentral offers a very strong case for businesses that place a high emphasis on team collaboration and communication.
With a powerful unified communication platform powered by integration & other technologies, RingCentral pricing certainly stands out among the crowd of competitors. The products are packed with features, yet still simple enough to handle. This company has everything to offer for teams that thrive with collaboration.
Overall, RingCentral pricing plans offer a compelling package of products, and it's up to you to take advantage of all the features that can allow you to build a powerful communication platform.
Frequently asked questions
RingCentral's pricing structure depends on the products you purchase, as well as the maximum number of users you need.
RingCentral Office ranges in price from $19.99/user per month to $49.99/user per month. RingCentral Glip offers one free plan and a paid plan that costs $11.99/user per month and up. The RingCentral Contact Center is priced individually, so users need to contact a representative for a quote. 
Users can purchase up to 20 phone lines. If additional lines are needed, contact your RingCentral representative. 
Note that there are no setup or activation fees associated with RingCentral. 
A more complete pricing breakdown is available in the above post, or on the RingCentral pricing and plans page.
As of this writing, RingCentral Office offers a free trial period of 30 days. Additionally, any hardware purchased from RingCentral has a 30-day return policy.

According to the RingCentral website, the minimum requirements are: 
For Windows 7 or later: 
2 GHz (32-bit or 64-bit) processor

Minimum of 1 GB of RAM

300 MB of hard drive space
For Mac OSX Yosemite or later: 
Intel®  processor

Minimum of 1 GB of RAM

300 MB of hard drive space
No, RingCentral does not charge for number porting. 
The minimum suggested bandwidth for VoIP calling in RingCentral is 92Kbps per call. 
Yes. Meetings is an online video calling platform, while Conferencing is mostly an audio-only meeting tool. Click here to learn more about the differences between the two. 
What is the suggested bandwidth for VoIP calling with RingCentral? 

The minimum suggested bandwidth for VoIP calling in RingCentral is 92Kbps per call.