With so many options out there for Call Center software, it's really easy to get lost in the information overload. Besides the vast number of provider options, the massive feature lists always seem to include different names — as if they want to confuse you on purpose. It can be incredibly difficult to compare options without a clear idea of what you need, and these over-packed feature lists just drown us in options.
Now, some features are standard and expected, like automatic call distribution, ring groups, or even agent scripting. Most solutions will also offer dedicated agent desktop portals, and screen-pops that deliver agents information about who is calling.
But now, with a new focus on providing the absolute best customer experience possible, contact centers need a new set of tools. With the goal of connecting as many channels as possible into one seamless experience (or just providing the best support possible), these feature lists just keep growing. It is not enough anymore to have talented agents and great calling strategies (for example, by following these cold calling tips).  Your agents need the right software to give them the right information right when they need it.  To help guide those who are searching, we wanted to pinpoint what we feel are the best cloud phone system features your contact center needs to create the best customer experience possible.
At this point, everyone knows what an IVR is, and most people probably hate them with the passion of a thousand burning suns. (I know I do.) And, I'm sure I'm not the only one that screams "AGENT" until the robot voice finally complies.

An IVR is completely necessary for any phone support, but there really is a better way to go about it. We all know how powerful artificial intelligence is becoming, and we know how much it will benefit businesses; however, it will provide a huge boost to contact centers in particular.  More specifically, your contact center can completely transform its IVR by integrating AI.
With tools like automated speech recognition and sentiment analysis, your IVR can understand why someone is calling, and even pinpoint the emotion they might be feeling.  Or, what if the IVR could greet callers by name, and guess what the issue is based on their order history? IVRs can be so much more than just a robotic voice that feels like it stands in the way of callers.
What if your customers never even had to leave your business' app to receive the support they need? The best way to ensure a positive customer experience is to simply remove the friction in the entire support process. One simple way to help remove friction for mobile-focused users is to add mobile-focused support.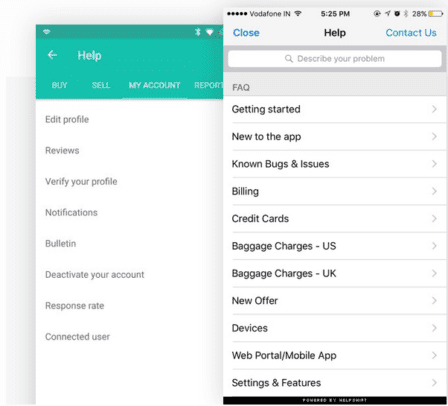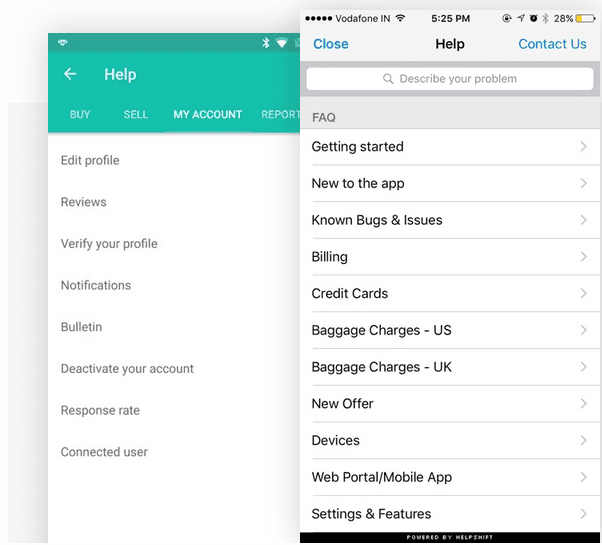 With solutions like Helpshift, your business can establish an entire support center right inside an existing mobile app. Between a visual IVR to select the specific option the client needs, self-service options, or even the ability to connect directly to an agent, in-app support is a crucial key to establishing that complete omnichannel experience.
While I agree in the popular sentiment that most businesses should focus less on apps and more on other solutions like chatbots, I still understand and recognize the need for apps. Not every business needs one, but those that rely on apps will greatly benefit from this added connection. Think of in-app support as the mobile equivalent of a support chat line to your business' website. Go where the customer already is, even if that's directly inside your mobile app — don't make them come to you. Heck, Facebook is even transitioning chatbots to allow for these functions.
While they haven't taken off as the next big thing, that's not to say chatbots are worthless just yet. In fact, they're far from it. I'll be one of the first to make fun of chatbots and liken them to generic canned responses that are no help at all. However, they truly do have their own use cases and shining moments. The best way to think of chatbots is as the first line of defense for your contact center.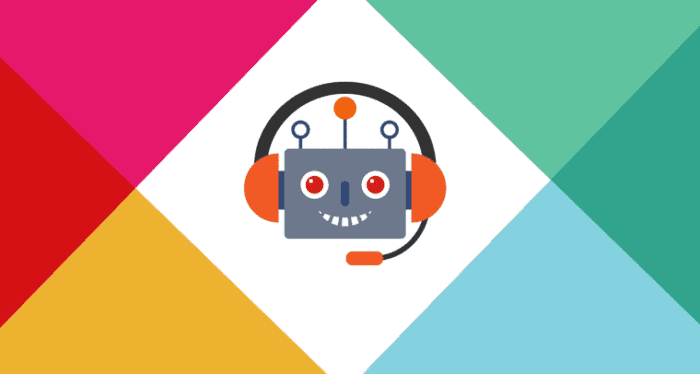 If anything, one can think of chatbots as a text-based IVR system. Just like we need to bolster our IVR with powerful AI to give the caller the direct assistance they need, we need to bolster chatbots into powerful AI-powered assistants. As the first line of defense, chatbots equipped with AI can act as more than just an IVR — with that crucial routing just one step of the puzzle.
Chatbots should be utilized for the most basic support requests to allow your business to free up human agents for more complex issues. If someone just needs to check the status of an order or ask a simple question, chatbots are the right tools for the job. Remove the burden from your agents, who have to deal with these basic routine questions all day, while removing the time sink that phone support demands of callers for otherwise trivial support requests.
Dedicated Agent Numbers and Voicemail
For the ultimate personalized customer experience, outfit your agents as more than just nameless robots repeating the same script over and over again. With dedicated numbers and business voicemail greetings for each agent or specific teams of agents, callers can receive what feels like a dedicated support rep. Of course, this might not make it the best call center software for an extremely high volume contact center — but even then specific dedicated teams can take advantage, say for high-value purchase or cloud service support. The idea is that agents can supply callers with a dedicated, direct phone number, which will generally be accompanied by an agent desktop to handle everything.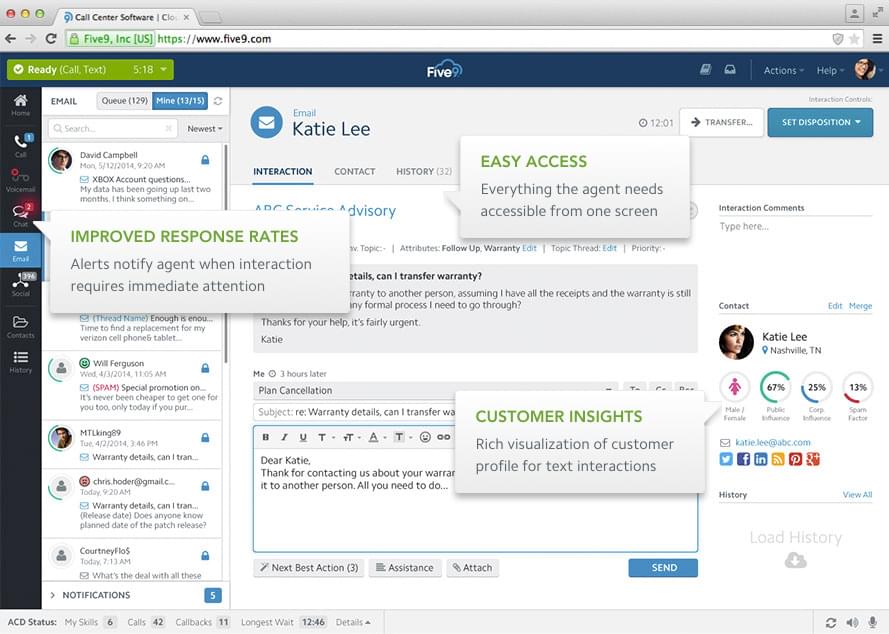 This no dialing extensions or figuring out how to work the company directory means a simpler, personal experience for callers. A seamless experience with what feels like a personal support rep will elevate the support your contact center can provide. Dedicated voicemail for each agent is almost necessary at that point, allowing the agent to still receive requests or follow-ups when they're on the line. Add in voicemail transcription as well so agents can quickly read through emails instead of listening to lengthy voicemails, but that's another great feature in itself too.
Creating a smooth and consistent customer experience across all of your channels should be the main goal for your contact center. To help create a seamless customer journey, tools like click-to-call act as the bridge between otherwise separate islands of contact.
The concept of click-to-call is a simple one: a link or button on your website will directly connect users to your contact center by establishing a phone call, VoIP session, or SMS conversation.

Some CTC services even allow users to input their phone number online, and have the contact center call them, either right away or at a specific time. Reducing the friction in the customer experience comes down to connecting the channels, allowing users to receive the support they need without jumping through unnecessary hoops. Google even offers a free guide to build in a CtC button right on your website. CtC aren't bound specifically to buttons either, links can be sent in emails or web chats, or even placed directly into banner ads.
Real-Time AND Historical Reporting
To help improve your contact center and customer experience, it would help if you could first understand what exactly needs to be improved with data. Historical reporting is, of course, great at providing a long-term analysis of what's going on: contact center managers can look for patterns or trends, peak hours, and routine downtime.
Analyzing the data can then lead to necessary improvements, such as staffing more agents during peak hours, or hiring seasonal teams for when increased calls tend to come in. But historical reporting, at the same time, doesn't tell the entire story. Even more powerful real-time reporting allows managers or agents to take a peek into what's happening at that exact moment.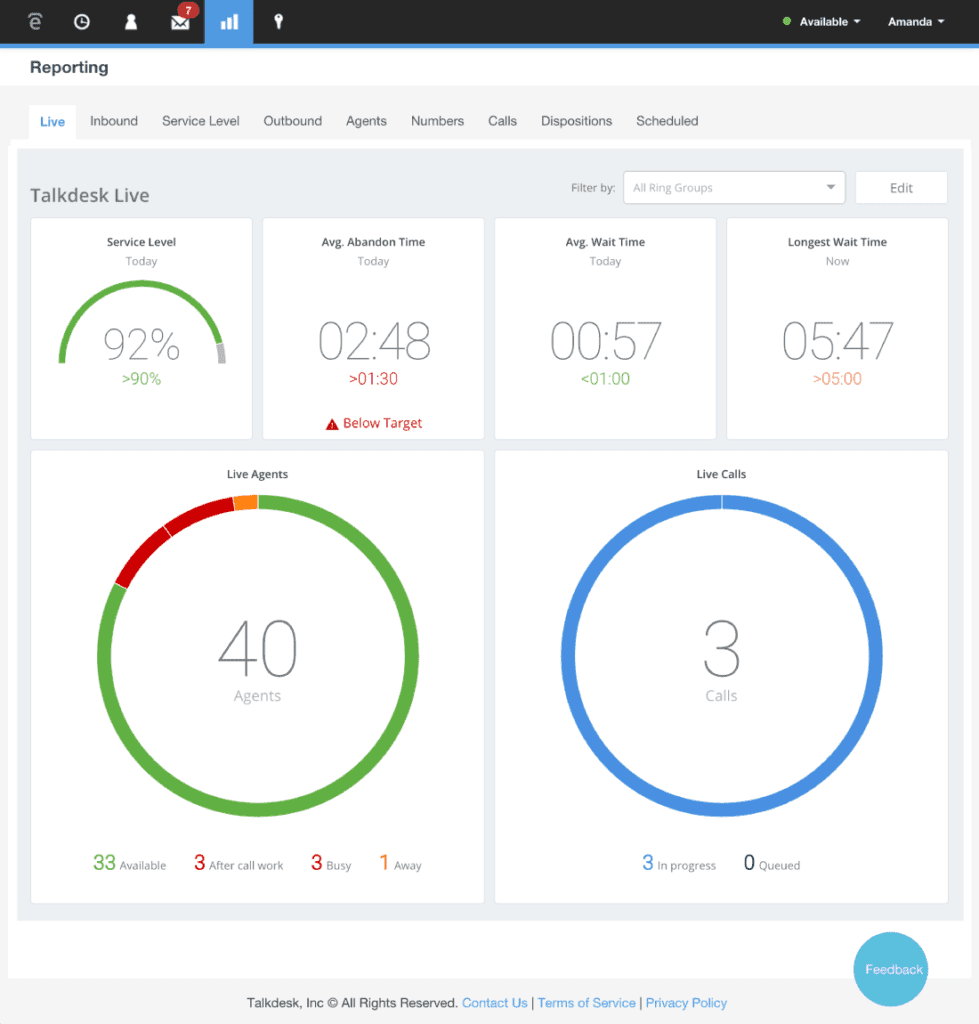 Real-time reporting metrics reveal exactly what's happening in your contact center, such as how long agents are on calls, or how far agents stray from quality guidelines or even scripts. With a real-time look at what's going on, managers can quickly shift priorities and focus on reacting to any issues as they occur, not just down the road.
Now, combine real-time analytic monitoring with AI like natural language processing. These tools can provide even more information — such as the caller's current sentiment or emotion — for an in-depth idea of what exactly is going on in that call between agent and user.
It's one thing to have a simple routing system that will simply hand off the newest caller to whatever agent is available — that's fairly simple. But, it's another thing to have a routing system that is intelligent enough to hand off callers to a specific agent or department.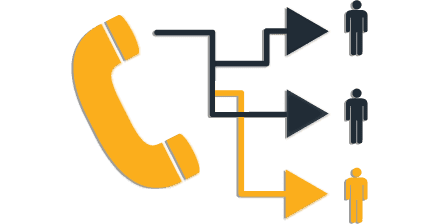 This is where skills-based routing comes in. With a predetermined guideline for agent skill levels, the system can utilize IVR and ACD information to decide exactly which agent should handle a particular call. For example, if the IVR sees the caller asking a very simple request, then skills-based routing will send that caller to a free low level agent.
But, if that caller is complaining about a complex high-end issue they encountered when using the product, the routing system can locate the most knowledgeable agent, perhaps one with particular experience with this specific issue. As your contact center grows, and the number of products or solutions you offer expands, the need for an intelligent routing system will grow as well.
No one wants to have to wait on line, especially if that means sitting with a phone to one's ear for over an hour. Improving the customer experience is about removing the friction and pain points normally felt by users, and a perfect example of this is a queue callback feature. Instead of forcing callers to wait on hold and listen to some boring music loop over and over again, offer to have an agent call them back whenever one is available.
The benefits here can actually be twofold. First, it allows users to walk away from the phone and not feel tied down, wasting time. This leads to a decrease in call abandonment, since users aren't growing impatient while waiting on hold. They're free to go back to whatever it was they were doing until they receive a phone call.
The second benefit is that it allows your agents a bit of breathing room to process the next call and ready all the necessary information. Agents can take the time to read over the user's relevant account information already logged in a CRM before dialing back, allowing them to provide a more personal experience and, hopefully, a quicker resolution.