Via a single updated partnership and one 'fresh' alliance – cloud communication tool developer; RingCentral massively beefed up its stack.
Now, RingCentral/Theta Lake customers can access several new and FREE features, like advanced archiving and eDiscovery. Features like eDiscovery help companies identify, collect and produce electronically-stored information (ESI); in the event of a lawsuit or investigation. 
"FREE Advanced Archiving" is also available and lends RingCentral customers access to its global service provider platform. All this builds on a March 2022, $50 M Series B funding round announcement that included heavy hitters RingCentral, Salesforce, Cisco, and Zoom.
RingCentral also beefed up its free SMS capabilities with the texting platform for businesses and contact centers, Textel. Founded in 2014: the customer experience platform has a few aims, to increase customer engagement, improve contact center performance, and drive revenue. The duo plan to bring robust SMS and MMS capabilities to their respective customers.
RingCentral's latest partnerships are poised to bring a lot of advantages to subscribers – and could be a game-changer for the cloud-based communications provider, which recently also announced a solid first quarter. 
For the first quarter of 2022, RingCentral's total revenue increased 33% year-over-year to $468 million. And subscriptions revenue increased 35% year over year to $440 million. The Firm's Annualized Exit Monthly Recurring Subscriptions (ARR) increased 35% year over year to $1.9 billion, and its mid-market/Enterprise ARR increased 46% year over year to $1.2 billion.
RingCentral is on somewhat (of) a winning streak, and its latest free offerings seem to indicate as much, too. I will take you through how the company is giving back with a breadth of new and (helpful) features; designed for businesses of all sizes to leverage: free of charge.
The RingCentral/Theta Lake Saga
Ok, back to the Theta Lake/RingCentral romance. Theta Lake announced that it plans to expand integration with RingCentral. It will now include a free version of Theta Lake's Security and Compliance Suite. The pair have worked together on native integration, which is (now set) to provide advanced archiving and search capabilities. 
They say that they want to enable more efficient monitoring of all RingCentral MVP communications, including voice, RingCentral Video, team messaging, SMS, fax, etc. Users will also gain access to another valuable tool, RingCentral's Global Service Providers platform; (which includes access to) AT&T Office@Hand, Avaya Cloud Office, BT (British Telecom), Telus, Unify Office, etc.
The new offering makes sense, as Theta Lake and RingCentral have a well-established (over three-year-long) partnership whereby; Theta Lake provides RingCentral customers with compliance review, supervision, and archiving tools, typically on a large scale and paid. 
"The latest expansion of the service will mean that RingCentral MVP customers now have access to free, advanced security and compliance across all RingCentral recorded content (free of charge)." 
This includes Archiving; Archive Connector; Supervision for RingCentral messaging, SMS, faxes, voice, and video.

Rich eDiscovery and Search Capabilities – Theta Lake offers robust eDiscovery leveraging hundreds of search filters and metadata. 

There is even (free-form) text search across what gets spoken (voice transcript), shown on screen (screen share, webcam), shared (files/documents), or written.

Comprehensive capture for RingCentral MVP – messaging, voice and audio conferencing, RingCentral video, SMS, and fax.

AI-based surveillance of recordings to automate risk detection and data leakage, supervise contact center, agent phone calls: and be alerted of HR violations.

And a connection with legacy email archives/cloud storage systems like AWS and Azure.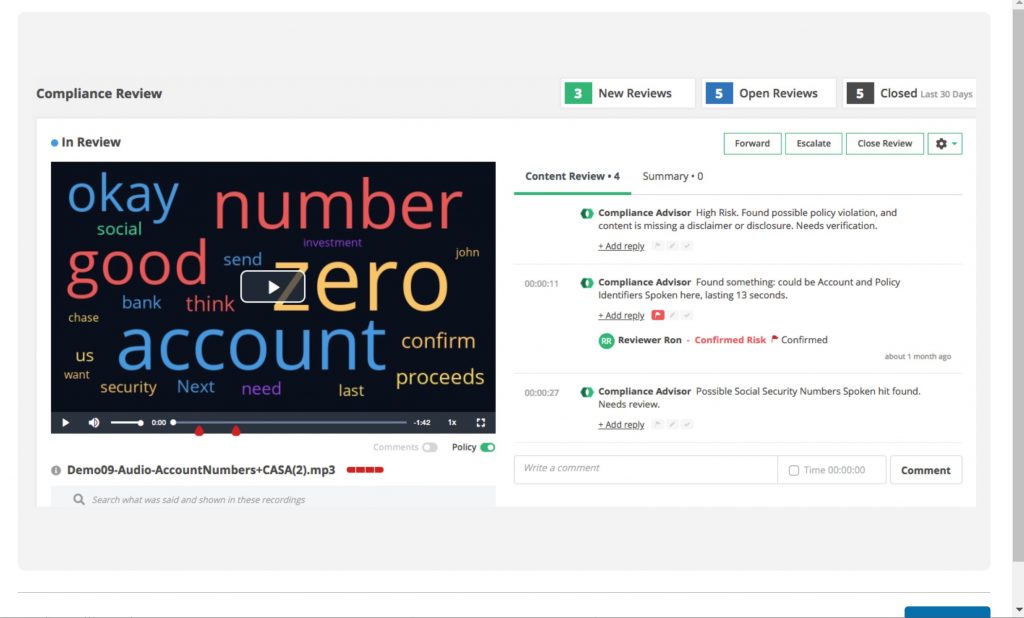 Since 2019, the duo has seen a whopping 1,700% growth in customer bookings from its joint customers. Theta Lake technology is compliant with regulatory requirements like SEC 17a-4, Freedom of Information Act, FERPA, and MiFID II, all (in the hopes) of providing RingCentral customers with customizable workflows to efficiently scale the compliance review and supervision process, looking to reduce the potential data breaches.
Highlights from the RingCentral Textel Partnership 
Textel also partnered with RingCentral, looking to bring multi-directional SMS and MMS texting to customers. Regarding the partnership, I have (been told) that it is: 
"Built seamlessly into the RingCentral Contact Center, Textel's integration lets users have a flexible, two-way dialog with their customers via SMS and MMS from their existing business numbers and DIDs."
Ultimately, the goal would be to get contact centers to reduce vital metrics like average hold time. It would also aim to improve stats like customer satisfaction ratings. It will even offer up a handful of (useful) features like:
Agent-initiated and mass outbound texting

Agentless textbooks

Interactive Text Response (ITR)

Call deflection and group texting
And it comes with full transcript reporting and analytics functionalities so management can make adjustments to core technologies and processes as needed.  
Textel integrates with RingCentral's Unified Communications as a Service (UCaaS) platform, too. Through it: businesses can leverage SMS and MMS for mobile lead generation, website conversion to chat, booking appointments, reminders, promotions, and cross-department communications. This is possible via the RingCentral unified app available on desktop, web, and mobile devices. 
CX is the New Battle
With companies across the UC world scrambling to keep up with the latest customer service trends, RingCentral has long been at the vanguard of CX innovation. 
RingCentral has announced offerings like RingCentral Rise, a strategic and secure communications platform built for global service providers. Deemed RISE; (or Resources, Innovation, System integration, and Experiences); it is essentially a new duly-branded unified cloud communications solution aimed at the service provider market. 
And that market has long flocked to selling RingCentral offerings in droves thanks to the firm's ability to innovate on the CX front. It is a part of the growing number of companies realizing the importance of being where customers are, not where you want them to be. 
It is also among the many companies in the industry that seem to realize that lackluster customer service experiences never cut it. According to Freshworks, 52% of customers stopped buying from a company during the pandemic (as a result of) their response times and insensitive communications – providing many firms with a little extra incentive to get things right the first time around. 
This is, of course, in regards to CX and the extension of solid experiences that boost a company's image.