Voice over Internet Protocol (VoIP) is a communication technology that transports voice calls and other business communication data via the Internet as opposed to the copper wires of the PSTN. VoIP's advanced features, high quality audio, and cost savings have made traditional landline telephones nearly obsolete,
Today's VoIP providers offer far more than just voice calling alone. Functionalities like video conferencing, call routing strategies, Interactive Voice Response, and business process automations have helped make VoIP a 20-billion-dollar industry.
Should you make the switch to VoIP telephony? Discover the top VoIP advantages and disadvantages below.
VoIP services starting at
$10/mo
VoIP Advantages
Here's the list of VoIP advantages:
Lower Costs
Significantly lower operating costs is one of the biggest–and the most talked-about–benefits of VoIP.
Legacy phone systems require expensive hardware and equipment, constant maintenance and upgrades, a lengthy setup and installation process, and lots of hidden fees.
Any business switching to VoIP will save 49-69% on monthly communication costs..
How?
First, legacy (PSTN) phone lines cost about $40 per line while one business VoIP line costs about half that.
Additionally, traditional phone systems generally add on per-minute charges for long-distance calls.
With VoIP systems, free unlimited calling in the U.S. and Canada is standard. Further, international calling is often available in bundled pay-as-you-go minutes or unlimited bundled monthly plans. Businesses that make regular international calls will be able to save even more by switching to VoIP.
While traditional phone systems require the end user to pay for costly in-house maintenance, VoIP providers are responsible for upgrading, monitoring, and maintaining the software offsite in the cloud. This means VoIP has little to no maintenance costs–and works with your existing desktop and mobile equipment.
Though some companies choose to purchase VoIP hardware like headsets, IP desk phones, or speakers, all you really need to operate a VoIP phone system is a working Internet connection with sufficient bandwidth, an ethernet cord, and/or a wireless connection.
Finally, traditional PBX phone systems come with very few features, (voicemail, caller ID, call waiting, three-way calling) requiring businesses to purchase separate software to access business texting, web conferencing, and IVR.
On the other hand, Business VoIP and UCaaS solutions provide a plethora of advanced communication features at no extra cost.
Portability
Portability is another advantage of VoIP, especially for remote, hybrid, or highly mobile teams.
Because VoIP operates online, users can access their phone systems from anywhere with a working Internet connection–ideal businesses with workers across time zones and locations. VoIP also works with any Internet-enabled desktop or mobile device, offering iOS or Android apps, web browser-based calling, and a softphone interface.
VoIP keeps teams, executives, and customers connected no matter where they are, allowing 24/7 instant access to contacts, files, and features.
Many VoIP providers also include robust team collaboration spaces for video chatting, instant messaging, file sharing and co-editing, and whiteboarding tools for seamless ideation.
Switching to VoIP helps meet the needs of today's remote, on-the-go workforce–lowering operating costs even further without sacrificing communication.
Better Voice Quality
In the early days of VoIP, landline analog phones still offered a higher call quality and more reliable phone service.
Over the last ten years, however, VoIP call quality has advanced thanks to HD voice, global points of presence, partnerships with tier-1 carriers, and automatic bandwidth adjustment.
Now, VoIP technology delivers more consistent, higher-quality calling than landlines with an SLA-guaranteed uptime of at least 99.9%.
Voice quality and other common VoIP problems are usually due to a poor Internet connection. Issues like broken audio, jitter, and latency are often caused by overloaded bandwidth and can be fixed by an upgrade to higher-speed Internet of at least 5-25 Mbps.
Advanced Features
New, impressive VoIP features designed to streamline workflows and improve the customer experience are always in development –with artificial intelligence (AI) and machine learning taking the lead in recent years.
For example, live call sentiment analysis uses speech recognition and Natural Language Processing (NLP)  to scan all inbound and outbound calls for keywords and phrases that indicate a positive, negative, or neutral customer sentiment. Managers can review all call center activities in real-time, assessing call queues, agent efficiency, customer satisfaction rates to further optimize business communication strategies. Business VoIP and CCaaS providers such as Dialpad and Nextiva offer this feature.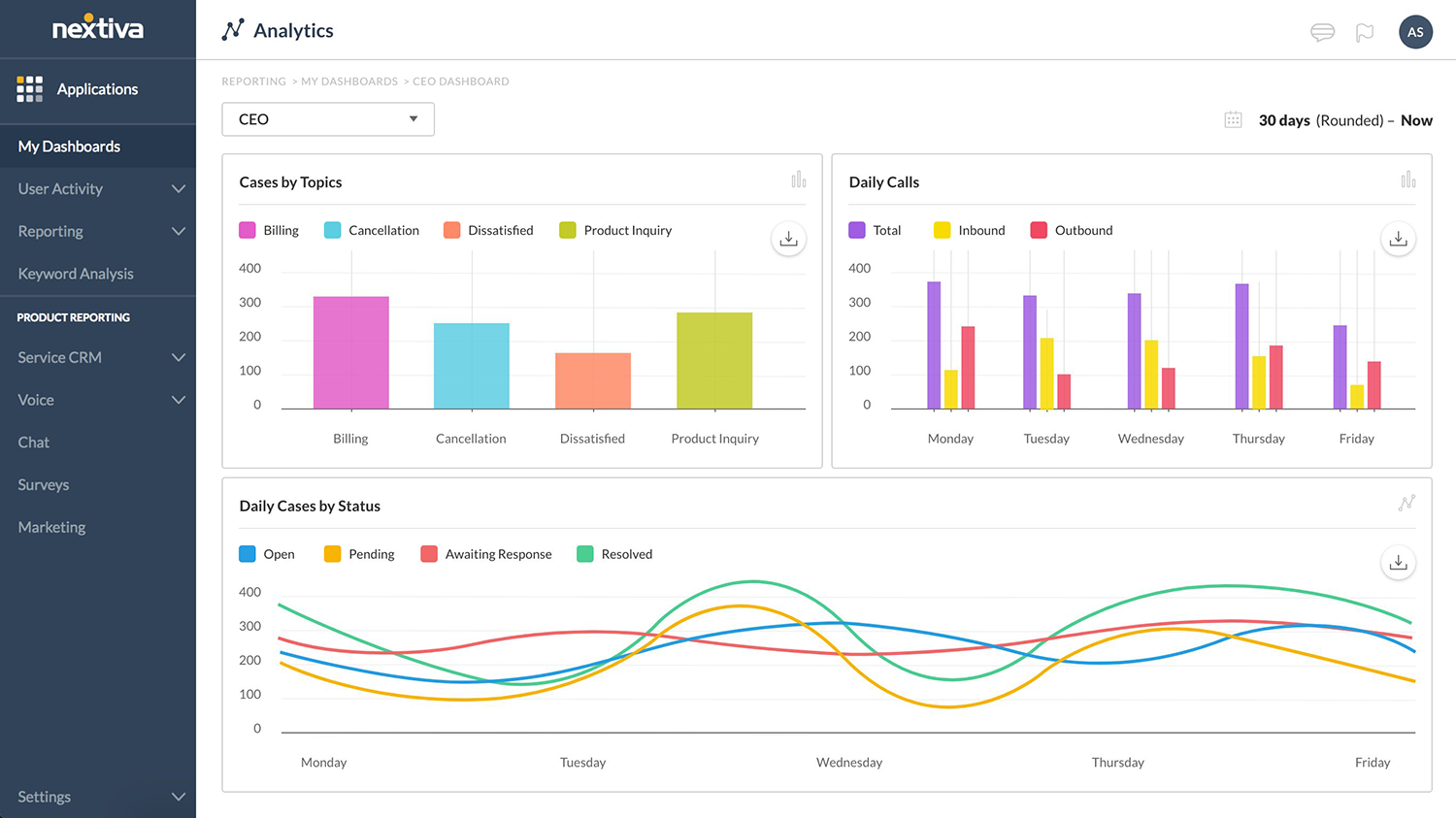 Another great example is the Vonage AI Virtual Assistant, which acts as a digital receptionist. The Virtual Assistant can answer all inbound calls, converse with callers using conversational AI, offer relevant solutions, provide menu options, and forward calls–all without involving a live agent.
These are just two examples of many cutting-edge VoIP features designed to make businesses more efficient and productive. Not to mention standard VoIP features that are rarely (if ever) available with landlines such as IVR menus, call routing, call forwarding, video chat, SMS/MMS texting, efax, conference call, and many others. Access to advanced features is not just something nice to have–it's something customers expect, spurs on business growth, and saves your team time and money.
Greater Accessibility
Because VoIP is wireless and portable, it's much more accessible than traditional business telephony.
This lets managers expand their hiring pool outside of the business' brick-and-mortar location, and connect with remote employees regardless of location. This level of geographic diversity makes 24/7 customer service and support feasible and affordable–and keeps employees happy. Many VoIP providers also offer live translation features and multi-lingual support so colleagues can communicate across language barriers.
Increased Security
Though VoIP security had a rough beginning, today's providers offer high-level remote monitoring with real-time security alerts and access control.
VoIP has become just as–if not more– secure than traditional landlines because of security features like:
Two-Factor Authentication (2FA)
Spam blocking
Fraud prevention
24/7/265 network monitoring
HIPAA, GDPR, SOC 3 Type 3, HITECH, PCI compliance
End-to-end encryption (E2EE)
Automated data backups
Meeting waiting rooms, meeting host controls
Call blocking
Live security notifications and reporting
Easily Scalable
Traditional PBX phone systems are difficult and expensive to scale. Adding in a new legacy telephone line or office location requires purchasing not only additional lines from your phone network provider, but also new hardware, wiring, and even phone jacks.
VoIP, on the other hand, is known for its quick and easy scalability. Additional lines–and user seats– can be added online instantly by buying only the new phone number–no complex setup or wiring required.
Plus, users can choose from multiple VoIP virtual phone numbers, including local, international, toll-free, and vanity options.
Add-on features like extra storage space, new communication channels, professionally-recorded greetings and more can be added by scaling up to a higher-tiered plan, or purchased individually on an as-needed, a la carte basis.
This level of scalability is especially ideal for newer businesses or teams needing a highly customized business phone system.
Supports Multiple Communication Channels
Though voice communication is still a popular way to communicate with companies, millennials and Gen Z customers are increasingly choosing to communicate with businesses via text, email, live chat, and social media–none of which are supported by traditional telephone systems. Consumers today expect to be able to connect with businesses on at least 3 channels.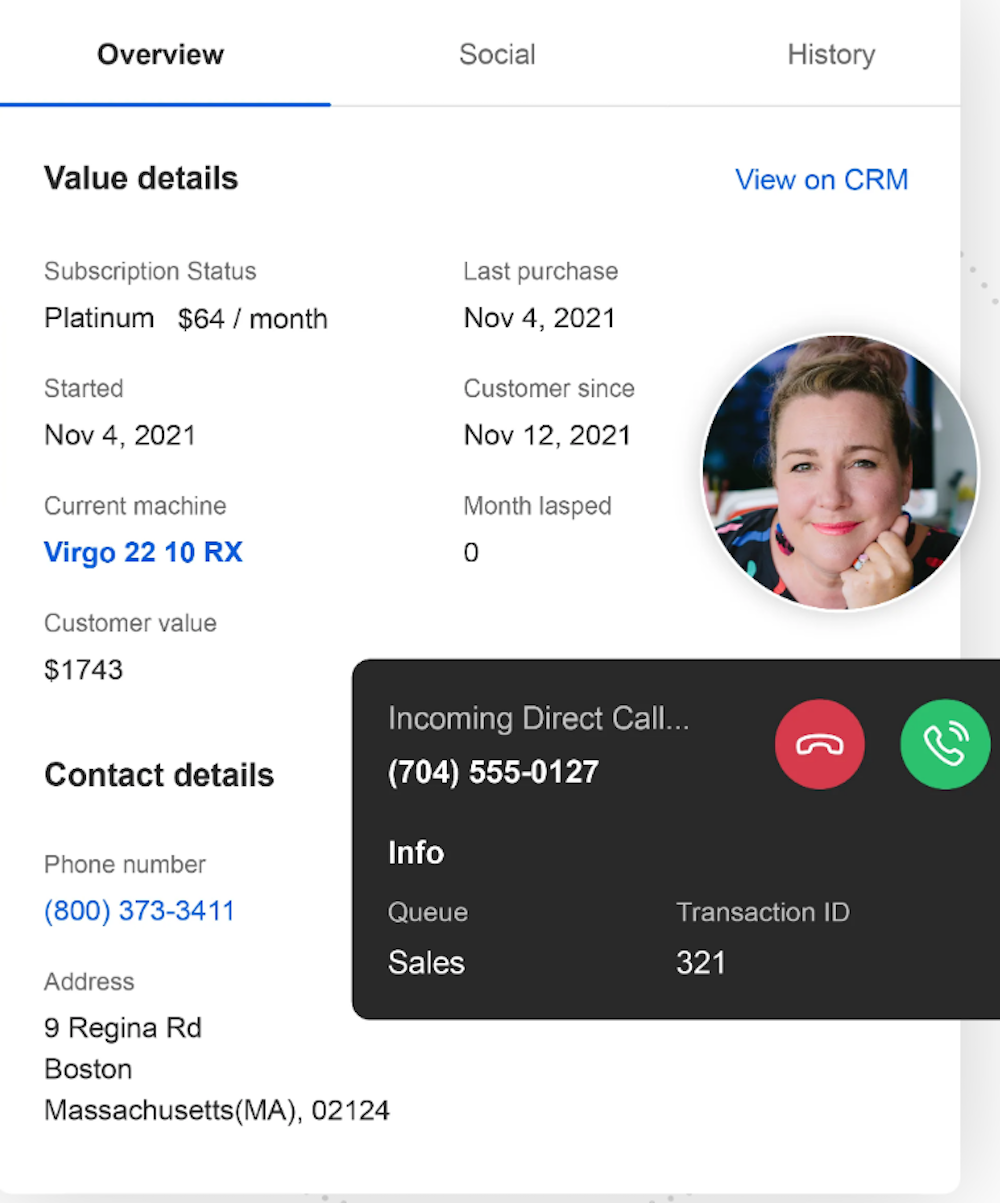 With Business VoIP and omnichannel platforms, users can communicate with customers across multiple channels, switch channels in the middle of a conversation, and access customer information and communication history at any time. This prevents customers from repeating themselves and speeds up resolution rates.
VoIP Disadvantages
Now let's have a look at the disadvantages of VoIP systems:
Requires Good Internet Connection
The biggest disadvantage to virtual telephony is that it requires a high-quality VoIP router and a reliable Internet connection. At least 5-25 Mbps is recommended for VoIP calls as well as other features such as video conferencing. Fortunately, the cost of Internet service has been decreasing as broadband connection speeds increase. The initial setup costs for Internet service are also much lower than those of a landline-based PBX system.
Needs Continuous Power Supply
Because VoIP operates via the Internet, an uninterruptible, continuous power supply is required.
While landline phones, which run on copper wires, will remain stable during a power outage or emergency, VoIP phones will not. VoIP users have to choose between having their business completely disrupted until power is restored, or investing in an expensive, somewhat bulky backup power supply.
Latency and Jitter
VoIP works by sending small packets of data across the Internet and then reassembling those packets at their destination/recipient IP address.
Packet loss occurs when these data packets fail to reach their destination, resulting in dropped calls. Jitter occurs when packets do reach their destination, but arrive in the wrong order, resulting in unintelligible calls.
Jitter and packet loss are usually a result of network congestion. Quality of Service (QoS) features to protect packet streams carrying VoIP data.
Latency is a lag in time between when you speak and the person on the other end of the line hears what you say. Latency can usually be fixed by ensuring that devices have the latest updates installed and that the hardware being used (headsets, IP phones, etc.) is recommended and supported by the VoIP provider.
Doesn't Support Emergency Calls
The 911 emergency system was created when landlines were the only option, and the system is built for traditional telephony systems.
Landline phone numbers are associated with a physical address and devices are not portable, so it is easy for emergency services to know the location of a person calling 911 from a landline, even if they are unable to communicate their location.
VoIP service conversely is designed to be mobile and portable, so the caller will not necessarily be located at their "billing address" at the time of an emergency call. When you add in the fact that VoIP is rendered inoperable in a power outage, connecting with services in an emergency becomes complicated. Even with cell phones, emergency services have had to use GPS to locate callers.
Many VoIP companies provide a service called Enhanced 911, or E911, which allows users to provide a physical address to emergency services for every VoIP number.
While this doesn't solve the problems of multiple/incorrect locations or a loss of power, it's better than nothing.
Next Generation 911 (NG911) is an IP-based emergency services plan currently being implemented in some parts of the U.S. and Canada. NG911 uses WiFi, bluetooth, and other geographic information systems to locate callers, allowing the public to send in information via voice, text, and video.
Should You Make a Switch to VoIP?
If you've read this far and still aren't convinced to make the switch, consider that copper wire telephony systems will soon become obsolete.
VoIP has few disadvantages–and those that remain are quickly being remedied–while its benefits continue to grow and evolve with customer and business needs.
For individuals, startups, small businesses, enterprises, call centers, and really, any business that makes phone calls or has business communication, VoIP is the way to go. It's only a question of which VoIP service provider will best serve your business needs.
Overview of Best VoIP Providers
Here is a quick overview of the top VoIP providers.
Provider
Pricing
Key Features
Best For
Dialpad
Plans start at $15/user/mo

100% uptime
Voicemail Transcription
Unlimited video meetings

Enterprises and Contact Centers
Nextiva
Plans start at $18.95/user/mo

Screen sharing
Multi-Level Auto Attendant
Call Recording

Businesses of any size
RingCentral
Plans start at $19.99/user/mo

Team messaging
Real-Time Analytics
250+ integrations

Large Businesses, Enterprises and Contact Centers
Zoom Phone
Plans start at $10/user/mo

Calling Queues
International Calling Add-on
Toll-Free Numbers

Startups and SMBs, International and remote/hybrid teams
Vonage
Plans start at $14.99/user/mo

Call Flip
Virtual Assistant
Company Call Recording

Startups and SMBs
FAQs
Below, we've answered some questions about VoIP advantages and disadvantages.