Choosing the right VoIP router is an overwhelming but essential process.
After all, fast Internet speeds and high-quality, consistent service are the backbone of your entire Voice Over IP (Internet Protocol) experience – no pressure.
In addition to ensuring that your VoIP router is compatible with your existing hardware and VoIP software, you'll need to consider your budget, the number of users, security, and more.
Don't worry – we've done the hard work for you in this overview of the best VoIP routers for business and home. We'll also define key router features and go over the types of routers you can choose from.
Disclosure – The GetVoIP team writes about stuff we hope you'll like and strives to offer the best recommendations we can. Our team has affiliate partnerships and may collect a referral commission from your purchase based on our recommendations. This does not influence the content we publish, but only supports our honest efforts to offer you the best and most transparent information. All recommendations are based on our own independent research and hands-on experience.
Table of Contents
An Overview of Best VoIP Routers
We've hand-picked the best VoIP routers and outlined them in the table below to provide a quick review of each routers' key performance metrics, strengths, drawbacks, and stand-out features.
Router
Starting Price
Quality of Service (QoS)
VoIP Support
Wi-Fi 
Frequency Bands, Wi-Fi Speed
VLANs
LAN Ports
WAN Ports
Stand-out features
Warranty
ASUS RT-AX88U
$349.99
Yes
H.323, SIP
802.11ax

(Wi-Fi 6)

Dual-band, 6000 Mbps
Yes
GB, 8
GB, 1
-Wi-Fi 6, with 4x the network capacity

-6000 Mbps Wi-Fi speed

-ASUS AiMesh and AiProtection

3 years
SonicWall TZ270
$596.37
Yes
H.323, SIP
802.11ac (Wi-Fi 5) Wave 2
Dual-band, 2000 Mbps
Yes
GB, 5-10
GB, 2
-Capture Advanced Threat Protection and Real-Time Deep Memory Inspection

-Next-generation firewalls

-SD-WAN capabilities

90 days for software, 1 year for hardware
Cisco 900 Series 
Starting at $689.50
Yes
SIP ALG
N/A
N/A
Yes
GB, 4
GB, 1 or 2
-Dynamic failover protocols

-Triple Data Encryption Standard

-Perimeter security with application inspection firewall

1 year
Synology RT2600ac
$180.00
Yes
No, but does offer load balancing
802.11ac (Wi-Fi 5) Wave 2
Dual-band, 2530 Mbps
Yes
GB, 4
GB, 2
-Synology Router Manager core technology

-Smart Connect band steering

-Security Advisor

2 years
TP-Link Archer AX6000
$279.99
Yes
No, but it does have MU-MIMO and OFDMA
802.11ax

(Wi-Fi 6)

Dual-band, 6000 Mbps
Yes
GB, 8
GB, 1
-Wi-Fi 6

-6000 Mbps wireless speeds

-HomeCare with TrendMicro intrusion protection

-Range Boost

2 years
Netgear Nighthawk X10
$399.99
Yes
H.323, SIP
802.11ac (Wi-Fi 5) Wave 2
Tri-band, 7000 Mbps
Yes
GB, 6
GB, 1
-Industry-leading 7000 Mbps wireless speeds

-Plex Media Server

-Quad Stream, with 4 data streams per band

1-year
Adtran NetVanta 3430 with VPN
$1,514.99
Yes
SIP ALG
N/A
N/A
Yes
Fast Ethernet, 8
Fast Ethernet, 2
-Voice quality monitoring and mean opinion score

-Can support up to two T1s

-Rapidroute

-Adtran Operating System

5 year
Linksys EA 8300 Max-Stream
$199.99
Yes
No
802.11ac (Wi-Fi 5)

Wave 2

Tri-band, 2200 Mbps
Yes
GB, 4
GB, 1
-Seamless Roaming

-Smart Connect

-Linksys App, with firmware auto-updates

3 years
ASUS RT-AC68U
$129.99
Yes
H.323, SIP
802.11ac (Wi-Fi 5)
Dual-band, 1900 Mbps
Yes
GB, 5
GB, 1
-AiProtection pro with TrendMicro

-AiMesh to create wireless network

-ASUSWRT intuitive dashboard interface

3 years
TP-Link Archer VR2800
$314.65
Yes
SIP ALG
802.11ac (Wi-Fi 5) Wave 2
Dual-band, 2800 Mbps
Yes
GB, 3 or 4
GB, 1
-DSL modem router

-NitroQAM boosts wireless speeds 25%

-Tether app and TP-Link ID with intuitive interface

2 years
Best VoIP Routers, Reviewed 
Below, we'll take a closer look at the key features and functions of the above VoIP routers.
If you come across a term or feature you don't know, check the Features to Look for in a VoIP Router section below.
The ASUS RT-AX88U, a dual-band router, boasts high network speeds, strong security, and numerous features that make it a cut above the rest.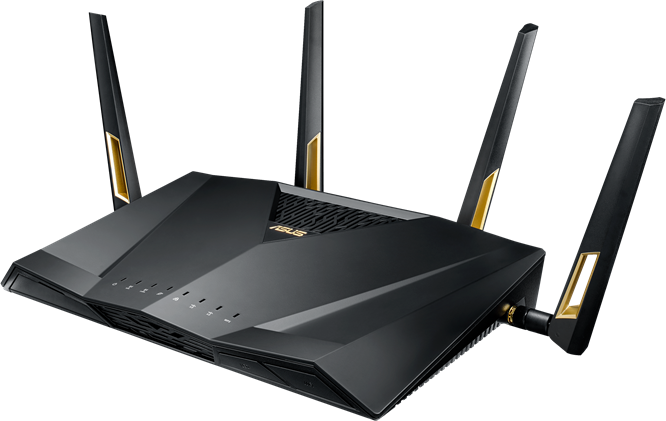 Its 802.11ax (Wi-Fi 6) technology offers 6000 Mbps Wi-Fi speed and a VoIP traffic capacity that's 4 times higher than legacy Wi-Fi–ideal for workforces reliant on lots of simultaneously used VoIP devices.
ASUS' RangeBoost Technology extends Wi-Fi coverage, while its 1.8GHz quad-core CPU keeps connections stable and running at high speed. This makes it the perfect choice for larger office spaces, home-based businesses, showrooms, or even warehouses.
Any business or homeowner will certainly appreciate ASUS' approach to commercial-grade security, AiProtection Pro. In addition to instant automatic updates and programmable parental controls, AiProtection conducts regular IPS scans to guard against cyberattacks, identify malicious websites, and block device connections in the event of a virus or other cyber attack.
The 8 LAN ports are among the highest of any router on our list, allowing you to secure a local wired network or certain wired devices like desktop computers or external hard drives.
Key Features:
Next-gen 802.11ax (Wi-Fi 6) Standard
6000 Mbps Wi-Fi speed
OFDMA and MU-MIMO Technology
Target Wake Time power-saving lengthens battery life
8 LAN Ports and 4 antennas
Adaptive QoS
ASUS AiMesh compatibility extends Wi-Fi range by up to 80%
ASUS AiProtection for data security
The SonicWall TZ270 is a security-first business VoIP router that also offers strong features for data prioritization and network reliability.

Security-focused users will appreciate that this router uses next-generation firewalls (NGFWs) to automatically inspect all incoming and outgoing data packets and applications within the network. These firewalls also provide DDoS protection and biometric authentication for remote access.
The SonicOS offers TLS and SSL for encryption, firmware backup, threat monitoring updates, and the Enhanced Dashboard offers real-time updates on network traffic, connected devices, security activity monitoring, and user activity.
Especially noteworthy are SonicWall's Capture Advanced Threat Protection (ATP) and Real-Time Deep Memory Inspection (RTDMI), which analyze and block unfamiliar potential malware by reviewing inbound/outbound traffic and device memory. This technology protects against malware, ransomware, viruses, spyware, filters traffic and URLs, and more.
Dual WAN ports provide automatic failover, so if the system detects any intrusion, it shifts data handling to a backup server.
In addition to the security options, this router provides great data-routing control. SD-WAN capability manages each WAN connection for incoming data packets, choosing the best route for each packet. Combined with data control features like QoS and MU-MIMO, the SonicWall TZ270 ensures that VoIP data retain priority and quick data transmission.
Key Features:
Next-generation firewall with threat protection suite for high-level security
Dual-WAN ports for automatic failover and load balancing
Up to 10 ports with built-in storage and external storage up to 256GB
SD-WAN capability for varied types of connections
QoS and MU-MIMO for data/bandwidth control
Capture Advanced Threat Protection (ATP)
Real-Time Deep Memory Inspection to block unfamiliar malware
The Cisco 900 Series wired routers, supporting a variety of connectivity types (broadband, Ethernet, and wireless LTE WAN), offer a great balance of enterprise-class security, speed, and data-control features critical for VoIP.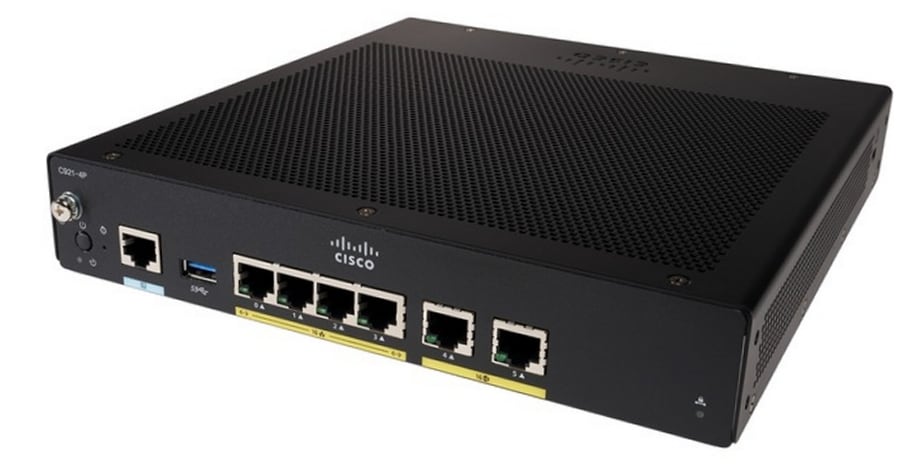 Meeting VoIP needs for 100% uptime and continuity, the 900 Series' double WAN ports offer load balancing and dynamic failover protocols, such as Virtual Router Redundancy Protocol (VRRP) and Hot Standby Router Protocol (HSRP). This router can also run multiple devices simultaneously with no performance degradation.
The Cisco 900 series reduces any risks to your company's data with multilevel security features, including network perimeter security with integrated application inspection firewall, high IP-speed Security Triple Data Encryption Standard (3DES), enforced security policy with intrusion prevention, high-performance VPN, and next-generation encryption for secure network communication reliable for the next decade.
For those monitoring router functionality remotely, Cisco Configuration Professional Express and Cisco DNA give full visibility into and control of network configurations and applications.
Key Features:
Integrated security features
Dual-WAN ports for failover protection and load balancing
Dynamic failover protocols: VRRP and HSRP
Can run multiple devices simultaneously with no performance degradation
Perimeter security with application inspection firewall
High-speed Triple Data Encryption Standard (3DES) Security
Supports broadband, Ethernet, or LTE WAN
This dual-band router features the security and convenience-focused Synology Router Manager (SRM) core technology,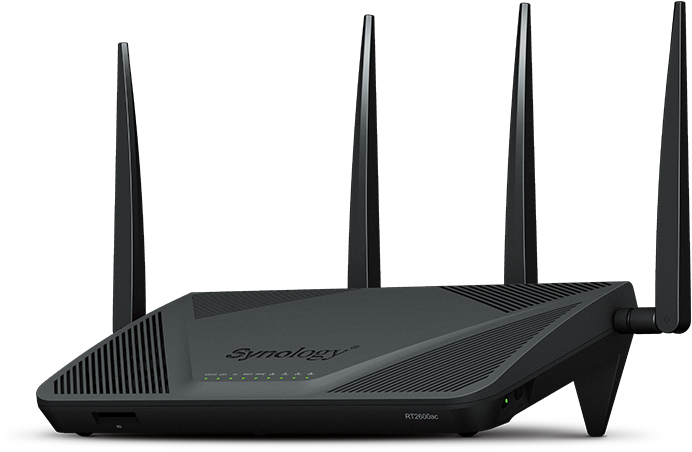 with a variety of useful features combining ease of use, threat and intrusion protection, maximized bandwidth coverage, and data-packet-routing optimization.
SRM provides smart Wi-Fi with an easy-to-use interface, along with Smart Connect, a band-steering technology that points your device to whichever W-Fi band provides better coverage at that location, seamlessly switching between bands when useful. SRM-provided detailed usage reports allow you to view and customize the usage of each device in your network.
For those aiming to maximize security, this Wi-Fi router features an easy-to-use Security Advisor, built-in IPv4 and IPv6 firewalls, and an Intrusion Prevention package to prevent malicious attackers from infiltrating your devices.
The Synology RT2600ac provides great data-traffic-management capabilities, with advanced traffic monitoring via hardware-accelerated Layer 7 traffic control, QoS, MU-MIMO, and dual WAN ports for load balancing, so VoIP data keeps all the bandwidth it needs to function smoothly.
This device can create cloud storage servers where your whole network and company can access stored data, and advanced VPN capabilities allow your team members to access the internet without compromising private information.
Key Features:
Synology Router Manager (SRM) core technology
Smart Wi-Fi with an easy-to-use interface
Smart Connect band-steering technology
Layer 7 Traffic Control, MU-MIMO, and QoS for data traffic control
Security Advisor
Intrusion Prevention package
Detailed usage reports about network devices
The dual-band TP-Link Archer AX6000 offers all the security and bandwidth-control features inherent within 802.11ax (Wi-Fi 6), along with 8 LAN ports and a 2.5 Gbps WAN port for great internet throughput and speed.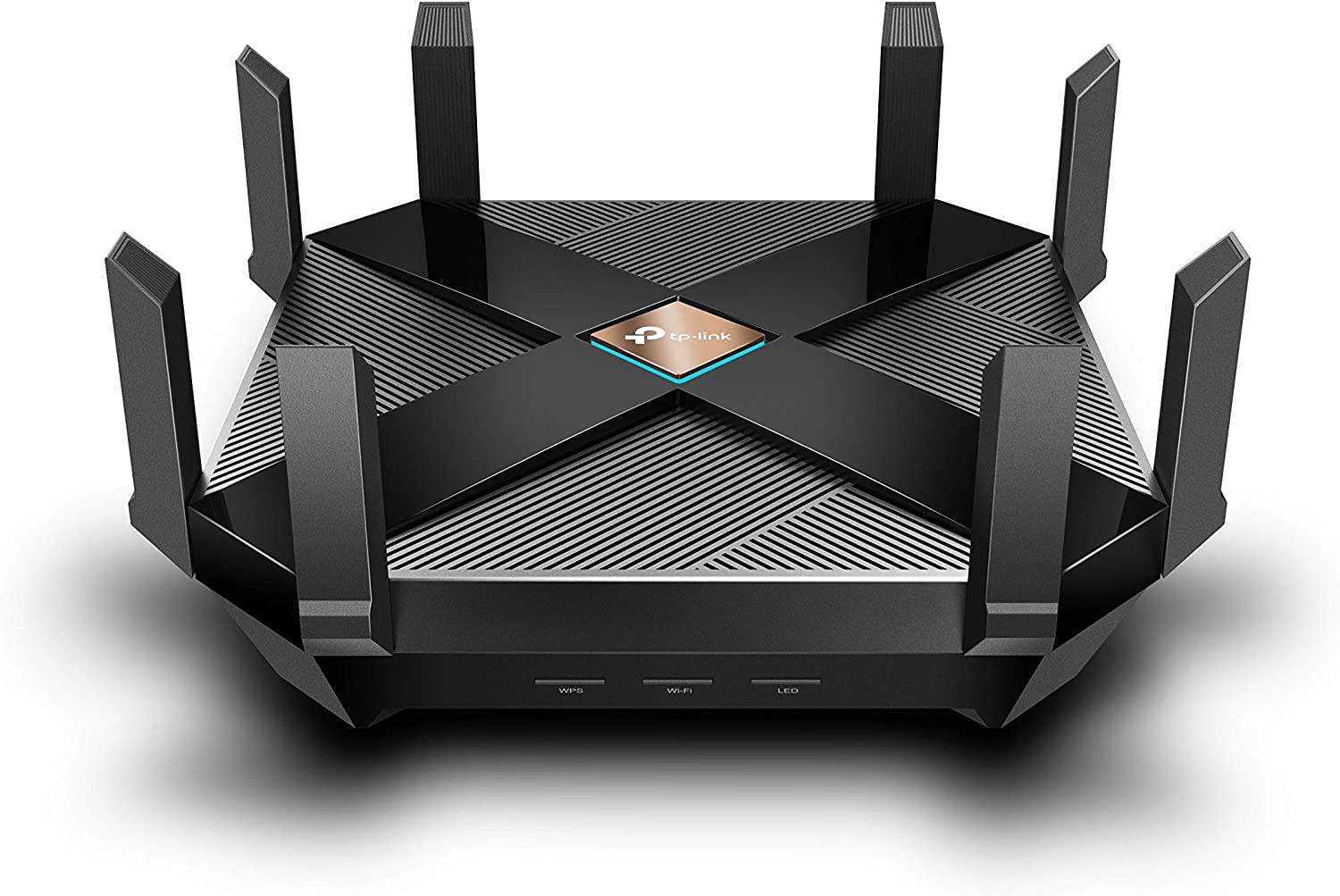 Wi-Fi 6 technology gives this router a host of benefits, including 4x higher performance, 4x larger capacity, 3x faster speed, and boosted coverage compared to previous Wi-Fi generations, like 802.11ac (Wi-Fi 5).
OneMesh, supported by the Archer AX6000, allows you to link it up to other TP-Link routers, creating a wireless network extending to larger areas, like big homes or office buildings.
The TP-Link AX6000 has 8 antennas for the Wi-Fi signal to reach every nook and cranny in your home or office, with Range Boost to enhance the receiving sensitivity. With MU-MIMO and OFDMA options, you can direct this boosted signal directly to your VoIP devices.
This router's Airtime Fairness feature, providing equal bandwidth to every connected device, can be helpful if you use the router only for VoIP devices, but advanced QoS makes it easy to override this feature and assign bandwidth to devices as you like.
The TP-Link AX6000 features HomeCare (which works for small businesses too!), powered by TrendMicro, that uses built-in intrusion prevention to protect every device from cyberthreats and viruses that can otherwise sneak in through downloaded material.
Key Features: 
Next-gen 802.11ax (Wi-Fi 6) standard with 6000 Mbps wireless speeds
8 LAN ports
Strong 5GHz band ideal for small businesses or home offices.
8 antennas with Range Boost for strong network signal
Airtime Fairness can distribute data evenly among devices
HomeCare with TrendMicro has strong built-in intrusion protection
OneMesh connects TP-Link routers to form an extended wireless network
The tri-band Netgear Nighthawk X10 boasts industry-leading wireless speeds at 7000 Mbps with Wi-Fi 802.11 ac (Wi-Fi 5) Wave 2. Combined with a powerful 1.7GHz quad-core processor, this makes it the best choice for media-streaming purposes in addition to offering the key VoIP-supporting features.
Plex Media Server hosts all of a network's media right at users' fingertips. Companies can store videos, pictures, guides, and whitepapers, right on the router–easily accessible to everyone, with no computer storage needed.
Quad Stream allows four data streams per each of the three Wi-Fi bands, maximizing connection for everybody in the network. Taking this connection further, the NightHawk X10's Enhanced Active Antennas feature Wi-Fi amplifiers on top of each antenna (4), providing cleaner and stronger receive signals for amplification from your wireless device.
The Netgear Nighthawk App allows users to easily set up and connect the router to their mobile device, enabling a variety of useful services like internet monitoring, speed tests, internet pause, and traffic meters to check out data usage, and guest-network setup.
We recommend this router for small businesses looking to take advantage of VoIP as well as media downloading.
Key Features:
Fastest Wi-Fi speed in the industry
Plex Media Server, to store all media directly on the router
Quad Stream with four data streams per band
Enhanced Active Antennas with Wi-Fi amplifiers on top of each antenna
Nighthawk App for easy setup and router oversight
Instant downloads and backup
MU-MIMO and QoS for data traffic control
While this router might be a bit pricey and overkill for smaller VoIP teams, the Adtran NetVanta 3430 Router is loaded with features built for managing an abundance of VoIP traffic at once.

As a modular access router, the NetVanta 3430 can support up to two T1s, or two separate ISP connections, which use fiber optic cables to each carry 60 times more data than a normal modem connection–if your company uses fiber optic cables, this option will allow you to transport a ton of data, with great security and backup options if one connection fails.
The Adtran Operating System (AOS) provides a powerful, high-performance stateful inspection firewall that can protect against DoS attacks. Additionally, the AOS can provide an inherent URL-filtering package without using an external server.
RapidRoute technology enables this router to deliver high data-packet throughout for IP Telephony, corporate connectivity, and internet access for the whole connected team, with 8 fast Ethernet LAN ports and 2 WAN ports as a means of establishing this connected network.
Particularly beneficial for VoIP, the Adtran Netvanta 3430's Voice Quality Monitoring (VQM) technology offers up-to-date feedback about call and voice quality, helping VoIP-focused companies troubleshoot any issues as soon as they arise.
Key Features:
Can support up to two T1s at once
Adtran Operating System (AOS)
Stateful inspection firewall
RapidRoute technology for optimized data routing
Voice Quality Monitoring (VQM) for VoIP quality feedback
10 fast ethernet ports (8 LAN and 2 WAN)
This tri-band wireless router offers combined 2200 Mbps speeds on 802.11ac (Wi-Fi 5) Wave 2, utilizing two 5GHz bands to create a strong network in the rooms or space immediately surrounding the router.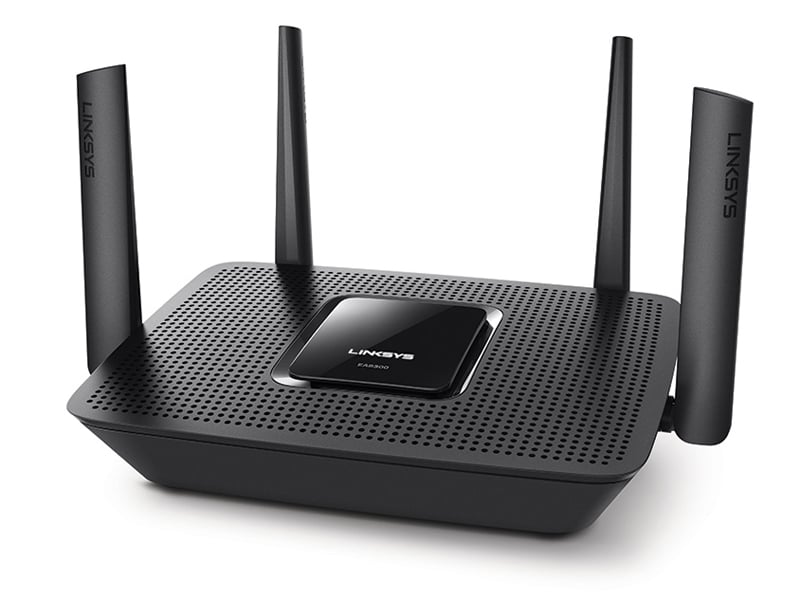 For companies with larger spaces to cover, seamless roaming keeps users connected to the strongest Wi-Fi signal, so they can move around freely in-network with uncompromised signal quality. Smart Connect adds to the seamlessness, always choosing the best radio band for each device depending on location and signal strength.
IPv6 and IPv4 SPI firewall and DoS protection guard the network against threats.
Advanced beamforming technology focuses the Wi-Fi signal directly on devices, so bandwidth and coverage aren't wasted. For those wanting to cover a larger area, like an office building or large floor, seamless roaming and Smart Connect adapt to networks created with Max-Stream Range Extenders, expanding the range.
The Linksys App provides intuitive instructions for quick and easy router setup, and auto-updates from Linksys keep the EA8300 Max-Stream functionality current and secure.
Key Features:
Tri-band technology with total speeds up to 2.2Gbps
Seamless roaming utilizes the strongest Wi-Fi connection per device
Smart Connect selects the strongest band for each device
Advanced band steering
Linksys App with easy setup
Auto Updates
MU-MIMO, QoS, and advanced beamforming
The dual-band ASUS RT-AC68U offers a balance of features maximizing security, local Wi-Fi network creation, bandwidth data control, and speed–at the most affordable price on this list.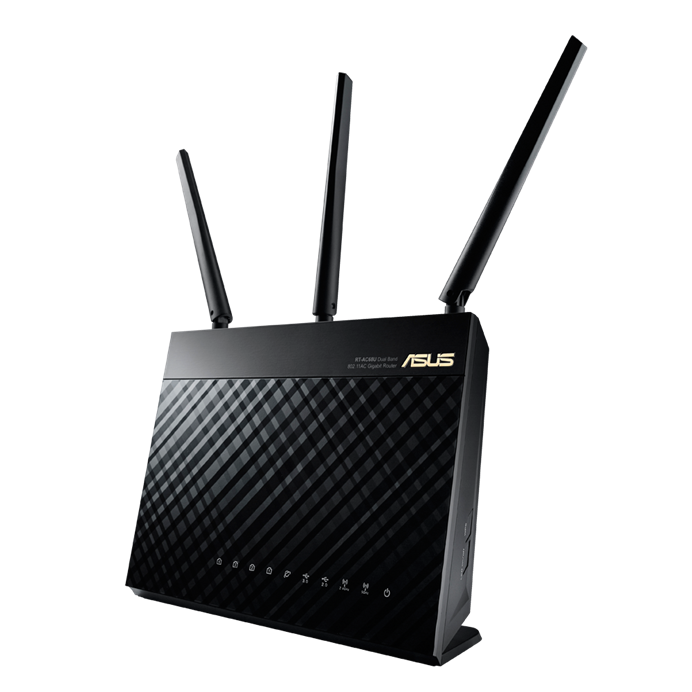 The router provides commercial-grade security through AiProtection Pro with TrendMicro, while parental controls allow administrators to block content and access a dashboard to observe how network devices are using their data
TurboQAM Wi-Fi acceleration boosts wireless speeds higher than other Wi-Fi 5 routers. Paired with AiRadar, which uses beamforming and ASUS RF fine-tuning to strengthen the signal over a larger coverage range, this connection creates a reliable and wide-spanning wireless network.
For companies creating a wireless network over a large office building, the ASUS AiMesh creates a flexible Wi-Fi network with multiple ASUS routers (like the RT-AX88U, also on our list). This means you can add ASUS routers in the future while still using your old ones.
This router's ASUSWRT dashboard interface makes it intuitive to set up, monitor, and control network applications. 30-second router setup, multi-device detection, and flexible settings make it easy to use this interface to control tools like QoS and failover mode, securing the stability of your VoIP data.
Key Features:
AiProtection provides network security
AiMesh allows connection to other ASUS routers for network creation
Most affordable price on this list
ASUSWRT intuitive dashboard interface
TurboQAM Wi-Fi acceleration for boosted 802.11ac speeds
AiRadar with beamforming and ASUS RF fine-tuning for a strong, focused signal
The Archer VR2800's ability to act as a DSL modem router sets it apart from other routers on this list. Especially for companies and homes in remote areas with poor internet accessibility, this router's DSL connection is an affordable option to access broadband speeds of up to 100Mbps on VDSL or ADSL, capable of supporting VoIP data.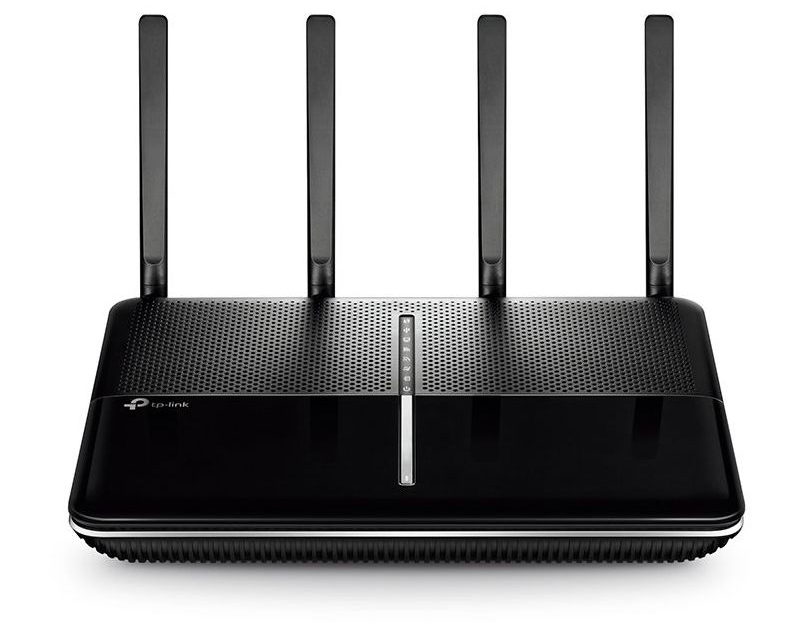 Since this modem doubles as a wireless router, you can use it to set up wired or wireless local networks, even in remote areas using a DSL connection. NitroQAM boosts already-fast wireless speeds (up to 2167Mbps on the 5GHz band) by 25%, creating a strong VoIP-supporting wireless network with wide coverage, further enhanced by beamforming.
An intuitive web user interface and TP-Link ID make it easy to set up and remotely manage your network from a business phone or tablet, even far from the network. The Tether App, available in iOS or Android stores, facilitates this.
The LAN/WAN port accepts connection from cable or fiber modem, and the USB ports support dongle connections that make this router a great main or backup internet connection. It not only acts as a router and modem, but it can support other local devices, like printers.
Key Features:
Can work as a DSL modem router
DSL connection supports internet in remote areas
NitroQAM technology boosts 2800 Mbps wireless network speeds up to 25%
2 USB ports support 3G/4G dongle connections for backup internet and failover
Tether App and TP-LINK ID, with an intuitive web interface, allow easy setup and network management
Features to Look for in a VoIP Router
Below, we'll list the most important features of a VoIP router.
Quality of Service (QoS)
Quality of Service (QoS) is a router feature that lets users prioritize certain traffic, guaranteeing that prioritized data services keep running flawlessly even with high traffic.
Users prioritize traffic based on IP address, application, data rules, or the user's role. When someone aims to use a router for a lower-priority function, they receive less bandwidth from the router than users with more important functions.
In a VoIP call, milliseconds of audio get placed into audio data packets for transfer over the IP network, which then travel to the receiver's network. VoIP phone calls, normally clearer than typical analog office phones, rely on the quick, orderly exchange of data packets between users. However, when a router without QoS uses first-in-first-out (FIFO) prioritization on a router congested with traffic, VoIP data packets get slowed, delivered out of order, or dropped altogether. This leads to jitter, latency, poor sound quality, and even dropped calls–any of which can frustrate customers and lose a sale.
QoS makes sure that your VoIP applications and services take top priority, keeping calls running smoothly.
Dual- or Tri-Band (For Wireless Routers): Coverage, Speed, and Bandwidth
Each wireless router utilizes two wireless frequencies, or "bands": 2.4 GHz and 5 GHz.
The 2.4 GHz band provides wide square-foot coverage with weaker bandwidth, while the 5 GHz band covers a shorter radius with higher bandwidth. Dual-band routers have one band for each frequency, while tri-band routers have one 2.4 GHz band and two 5 GHz bands.
Each wireless router description lists the number of bands along with a speed, listed in megabits per second (Mbps) or gigabits per second (Gbps). For example, the RT-AC68U is dual-band with speeds up to 1900 Mbps.
The speed in Mbps also explains how much bandwidth the router's wireless network provides. This is key because networks must provide enough bandwidth to transmit data quickly, avoiding latency. Since VoIP services require large amounts of data, wireless routers must provide sufficient bandwidth to avoid call lags, jitter, buffering, and drops.
A good VoIP router must be at least dual-band, with both 2.4 GHz and 5 GHz frequencies. Consider a router's speed in relation to your required bandwidth per network device to ensure the router supports your network.
OFDMA (Orthogonal Frequency Division Multiple Access)
OFDMA (Orthogonal Frequency Division Multiple Access) is built into the latest version of Wi-Fi: 802.11ax, or Wi-Fi 6. It optimizes data transfer within a network, compared to previous editions.
OFDMA transmits data packets simultaneously–instead of one-by-one–between a network's multiple devices, utilizing bandwidth efficiently.
How does this improve VoIP functionality?
With its simultaneous, parallel data transfer, OFDMA allows faster, more reliable data transfer from VoIP devices, meaning decreased latency and better call quality.
All Wi-Fi 6 routers include OFDMA technology, and it's a worthwhile feature to factor into your router decision.
MU-MIMO
Similar to OFDMA, MU-MIMO (multi-user, multiple inputs, multiple outputs) technology makes Wi-Fi channels more efficient through simultaneous message receipts and bi-directional data transmission.
Wi-Fi 5 (802.11ac) Wave 2, which includes an earlier version of MU-MIMO, only supports downlink transmission of data packets, and only on the 5GHz band; Wi-Fi 6 MU-MIMO, improves upon earlier versions by offering increased efficiency for both uplink and downlink transmission, on the 5 GHz and 2.4 GHz bands.
This means that Wi-Fi 6 MU-MIMO offers the best-efficiency data transfer of any Wi-Fi, taking advantage of bandwidth for the most users at once, with the largest coverage area.
WAN and LAN Ports
Every router includes multiple LAN ports and at least one WAN port: both types are important for VoIP–especially when using a wired connection between your VoIP phone system and your router.
The WAN (Wide Area Network) port connects your router to the modem and ISP, and the LAN (Local Area Network) port connects the router to local devices (computers, VoIP phones, etc.) via Ethernet cable.
While a router usually has one WAN port, some routers include two, connecting your router to multiple modems or ISPs at once. This dual WAN option brings additional benefits for VoIP, including load balancing and automatic failover.
Load balancing sets a traffic threshold with one internet connection–when that connection's traffic meets the threshold, the router automatically shifts new traffic to the other internet connection, ensuring that your VoIP audio data packets don't compete with lots of traffic.
Automatic failover ensures that in an emergency situation, like a failed internet connection or DoS attack, your local connection keeps running. When the primary internet connection is compromised, automatic failover shifts the connection to the backup, maintaining data flow.
LAN ports connect your local devices to the router via Ethernet cable. A wired cable connection provides speed and security advantages over wireless, so your company connects all of its VoIP devices to the router via Ethernet cable. While many routers provide 4-8 LAN ports, you can use a switch to convert a single LAN port into several more, expanding your local network.
VLANs
VLANs allow you to segment your physical network into smaller, distinct virtual networks and subnets.
Normally, this requires expensive physical wires and switches. Routers with built-in VLAN create the separation virtually, with no extra materials.
Why are VLAN capabilities useful for VoIP?
Call integrity requires that VoIP data packets take top network priority. VLAN allows you to tag audio data packets, separating them from the rest of the network, to apply QoS specifically to voice packets.
In short, VLAN helps you prioritize your VoIP voice data packets over the rest of your network traffic for high-quality calling.
H.323 and SIP Support
H.323 and SIP are IP signaling standards that describe protocols and standards for multimedia communications systems.
Supporting these standards ensures your router optimally transmits audio data packets from your device to your router VoIP provider, the receiving network, and vice-versa.
The Main Types of VoIP Routers
Below, we'll overview the five basic router types:
Wired routers
Wireless routers
Edge routers
Core routers
VPN routers
Type 1: Wired Routers
Wired routers use Ethernet cable connections to link the modem/ISP on one end, and the network's local devices on the other. Wireless routers, on the other hand, connect to local devices wirelessly, via Wi-Fi.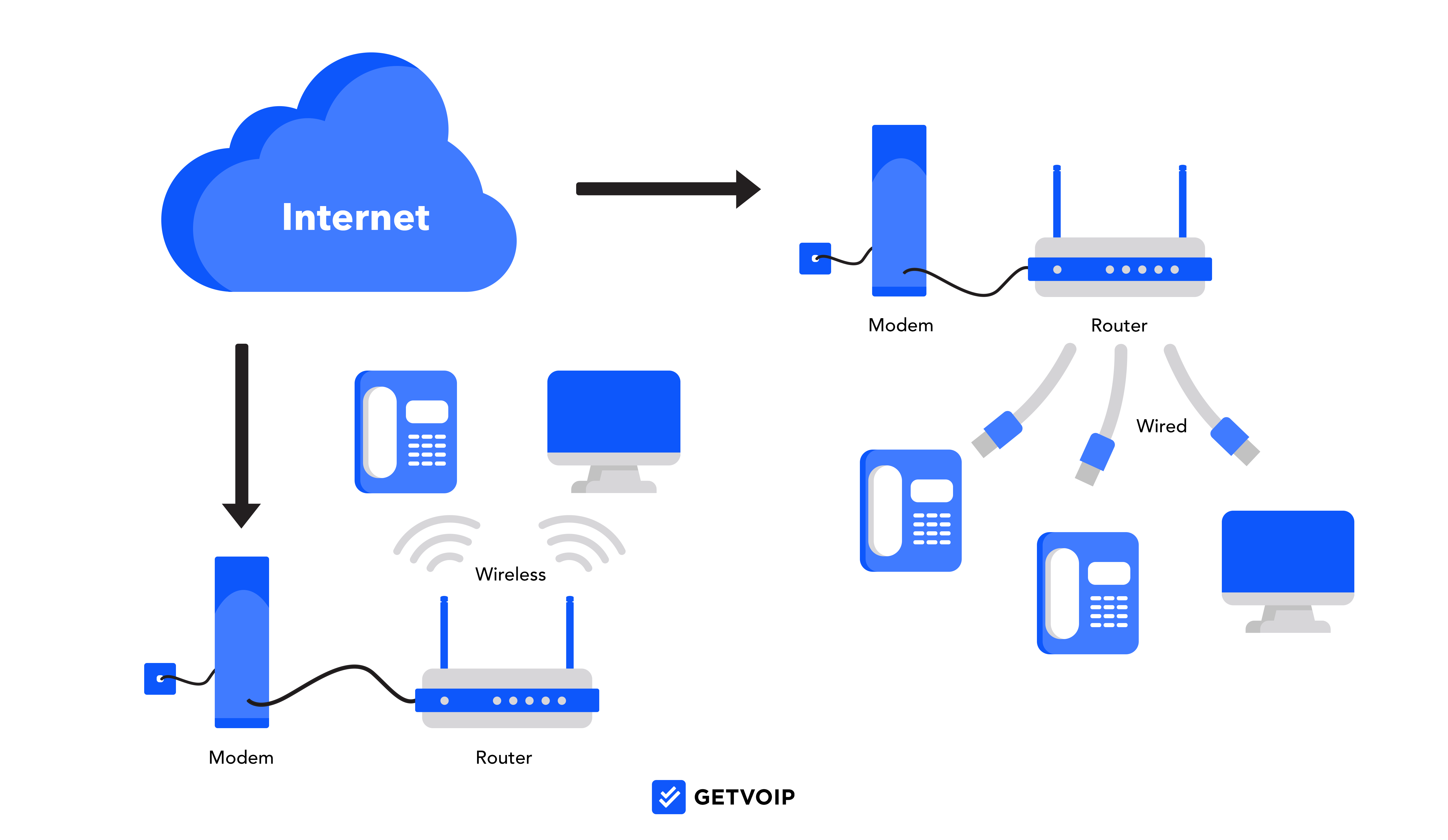 Though wireless (Wi-Fi) routers provide convenience through a remote connection and avoid the hassle of wire tangles all over the office, wired routers still provide a few distinct benefits:
More advanced firewalls, leading to better security
Fewer signal drops
Lower latency
Faster connection speed (especially noticeable with high-data traffic, like VoIP or video conferencing)
A reliable connection that doesn't risk interference from conflicting networks
Usually, companies running VoIP prefer wired connections over wireless for these benefits.
Type 2: Wireless Routers
Wireless routers connect to a modem via Ethernet cable, similarly to wired routers; but wireless communicate with local devices (you guessed it) wirelessly.
Wireless routers send out signals at two frequencies (5GHz and 2.4GHz) that balance bandwidth and coverage.
Homes and small businesses offering public services (coffee shops, libraries, restaurants) usually opt for wireless networks for a few reasons:
Convenient to access (no plugging in) for phones or laptops
Can connect a lot of devices at once (no need for LAN ports)
Easy to keep neat, with no wires
Fast and secure enough for most routine consumer activities
With Wi-Fi 6 technology, wireless services offer more bandwidth, coverage, and security than ever before. Wireless routers with Wi-Fi 6 (or even Wi-Fi 5 Wave 2) can typically reliably support a VoIP or video conferencing service; however, if your company aims to use the router for several high-traffic services at once, you may opt for a wired connection. Luckily, wireless routers usually have LAN ports that allow users to connect to local devices through cable.
Type 3: Core Routers
Core routers, usually required only by large organizations with vast local networks and very high data requirements, are the fastest and most powerful routers in the world – and therefore, the most expensive.
A core router is basically a massive network's first point of contact with the core internet, and it must then transmit data to a variety of smaller networks around it. Only the handful of highest-performing routers in the world can earn the title of a "core router."
If your company utilizes a large amount of data, with a lot of traffic over a large number of hubs, routers, and bridges, you might use a core router to support the network's data transmission.
Type 4: Edge Routers
Edge routers, which sit at the edge of ISP (internet service provider) networks, receive data from core routers and spread that data across connected networks, stabilizing data flow and communication among those networks.
For example, if a company or school has several networks present across a campus or city, edge routers sitting on the boundaries of each network communicate to ensure that data spread among each network in a uniform fashion.
Type 5: VPN Routers
A VPN router provides all the functionality of a regular router, with the addition of providing VPN (virtual private network) protection for all devices connected to it.
VPN protection masks the IP address of each device under it, hiding users' online activity from cybercriminals, businesses, and governments trying to snoop around into a users' private internet activities.
Additionally, VPN encryption allows users to connect via a VPN tunnel to the internet anywhere in the world, bypassing local restrictions blocking access to certain websites or internet features.
While VPN routers provide a long list of benefits, they do have a few drawbacks:
Expensive
A quick drop-off in speed when more devices connect simultaneously
Which VoIP Router Should I Choose?
Each router listed above has features to maximize your service from top VoIP service providers, but the router that best fits your needs depends on your setup and context for using VoIP. To get a better idea of this, consider the following questions:
What is your company's budget for a VoIP router?
Will you use this router for other data besides VoIP?
How many people will use this router at once for VoIP, over how large of an office or home? How many remote agents do you have?
How important is fast internet speed, network security, or coverage area?
Do you plan to use Wi-Fi or a wired connection to connect your VoIP devices to the router?
With these questions in mind, return to the router table and descriptions to make the most informed decision possible.
VoIP Router FAQs 
Below, we'll answer a few common questions about VoIP routers.
No–nearly all modern routers will support VoIP data. However, some routers offer features that make them a more optimal choice for VoIP, including:
MU-MIMO and orthogonal frequency division multiple access (OFDMA)
Quality of Service (QoS)
Faster internet speeds and higher bandwidth
H.323 and SIP, protocols designed for running a VoIP session
Yes. Taking the Ethernet cable that came with your VoIP phone: 
Plug one end into the Ethernet port labeled "SW" or "Internet" 
Next, plug the other end of the Ethernet cable directly into an Ethernet port on your router, modem, or switch 
To connect your computer and your VoIP phone to the router using just one Ethernet port, plug your computer's Ethernet cable into the VoIP phone's ethernet port labeled "PC".
Yes – as long as your Wi-Fi has sufficient bandwidth to prevent latency, jitter, and dropped calls. Most modern VoIP phones have Wi-Fi capabilities built-in, while some require an additional dongle to allow a Wi-Fi connection.
If using Wi-Fi, we recommend having a separate VoIP wireless network with data-traffic management tools like MU-MIMO, beamforming, and QoS to prioritize VoIP data packets.
No. Since VoIP service relies on an internet connection to make calls, you will not be able to make VoIP calls without an internet connection.