VoIP, or Voice Over IP, technology has rapidly grown to become a standard method of telecommunications for both business and residential users. The VoIP telephone system is highly accessible and offers a number of advantages over traditional landline phone systems. These advantages are vast and range across everything from cost efficiency to quality features. VoIP providers and services are constantly achieving higher levels of acceptance, and have also become much more reliable and cheaper than ever before. It is inevitable that VoIP will eventually replace traditional phone service – in fact, phone companies are already taking advantage of VoIP technologies to offer cheaper long distance rates. While VoIP continues to grow, so do the service's advantages.
The first and main advantage of VoIP telephone service is the cost. Yes indeed, VoIP services are much more cost effective due to the fact that the service is built on top of the Internet. VoIP sends voice data over the internet, which is much cheaper compared to a landline. As a result, the cost is much lower. In using the internet to send calls, VoIP services also utilize bandwidth much more effectively. As statistics dictate, around 50% of voice conversation is silence. VoIP fills this silence with data to more effectively utilize the available bandwidth in data communication channels.
VoIP providers charge a much lower monthly fee for local, long distance and international calls than nearly all traditional phone companies, and in some cases, you can even get unlimited local and long distance calling for one low flat monthly rate. In using VoIP every call is a local call (even if its long distance). Many call plans allot for the unlimited options stated above for as little at $10 a month. Additionally, if you have a high speed Internet connection (DSL or cable), you can make PC-to-PC calls to any location for free.
While the cost of VoIP is low, the features that come standard with the service make the pricing seem even better. VoIP service plans are usually bundled with many free features, such as caller ID with name, call waiting, conference calls, call forwarding, etc. While traditional phone companies normally charge additional monthly costs, these features are included in the already low price of VoIP. A number of providers also offer further add-on features, which are subject to additional monthly charges. This allows users to further individualize their service to fit their needs best. Along with service feature, VoIP is a quality low cost alternative to add in addition to an existing traditional phone line. As traditional phone companies charge for additional features and local and long distance rates, VoIP provides the necessary features and calling plan(s) and still allows you to save money even with having both lines.
Aside from cost and feature, another great advantage of VoIP service is increased mobility and portability. With VoIP, you can make calls wherever you have access to an internet connection. All you need to do is log in to your VoIP account. VoIP offers a flexible network layout, which makes it possible for you to utilize technologies such as ATM, SONET, Ethernet, etc. This flexible structure also allows VoIP to be used over WiFi networks. VoIP completely eliminates the complex connections inherent in traditional landlines. VoIP services also offer flexibility in the type of media being transmitted. As VoIP is based on Internet Protocol (IP) it can handle media types such as images and video and text along with voice.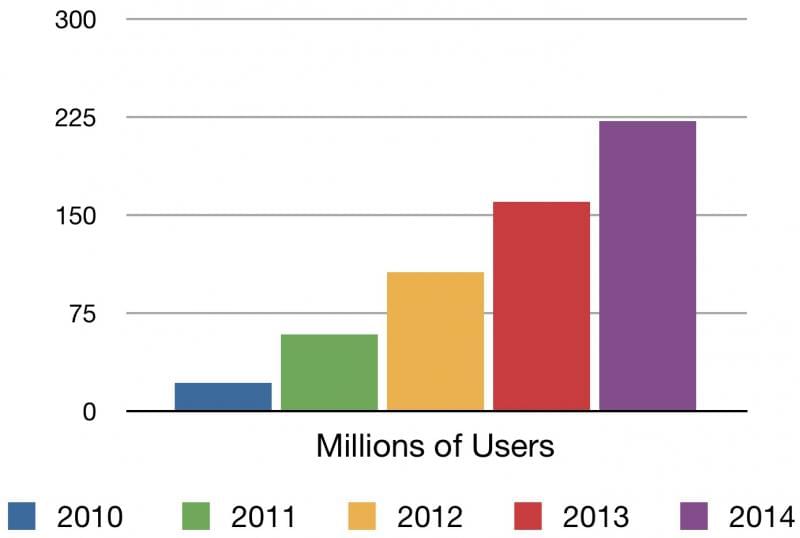 Additionally, many VoIP providers now offer mobile apps for both Android and iOS platforms. In using these apps, your mobile device is transformed into a VoIP handset. This allows you to access your VoIP service, and all its features, directly from your mobile device. Mobility and portability offer a tremendous advantage over that of traditional landline phones. In fact, according to In-Stat (Scottsdale, Arizona) Mobile VoIP has and will continue to grow its user base 10 times over five years (as represented in the chart).
Another big advantage of VoIP lies within its rate of development. It is easier for network developers to develop and deploy new and emerging applications for data communication using VoIP. This is largely due to VoIP's consolidating of data types, which makes routing and signaling more flexible and present. Additionally, the prospect of adding and implementing VoIP software into web browsers and servers gives e-commerce a more productive and completive edge.
If you are looking to save money on your phone service while gaining features and flexibility, we strongly recommend making the switch to VoIP. There are many VoIP providers, and even more service plans out there. Our in-depth coverage of all leading providers will make it easy for you to choose a VoIP Provider. Whether you're looking for Business VoIP Providers or Residential VoIP, we have all the information you need to make the right choice.
Additional Reading
– Free VoIP Features You'll Never Have to Pay For
– Unified Communications Brings It All Together