Omnichannel customer support channels today include popular digital channels like live chat, social media messaging, and business texting–but over half of consumers say phone support still provides the fastest resolution.
Cloud-based phone systems like Zendesk Talk enhance the overall customer experience while streamlining internal workflows, providing an engaging, efficient, and personalized customer journey.
Zendesk Talk, designed to be used in combination with the Zendesk Service suite, lets agents access the same support ticketing tools and functionalities for both voice and digital channels within one unified interface.
This way, teams can easily configure answer bots and structured help centers, connect with customers on multiple channels, and optimize routing strategies based on holistic analytics.
Read on to learn more about Zendesk Talk's available features, pricing, and overall user experience.
What is Zendesk Talk?
Zendesk Talk is an integrated cloud-based phone system built into the Zendesk customer service platform, allowing call center agents to offer digital and phone helpdesk support within the same interface.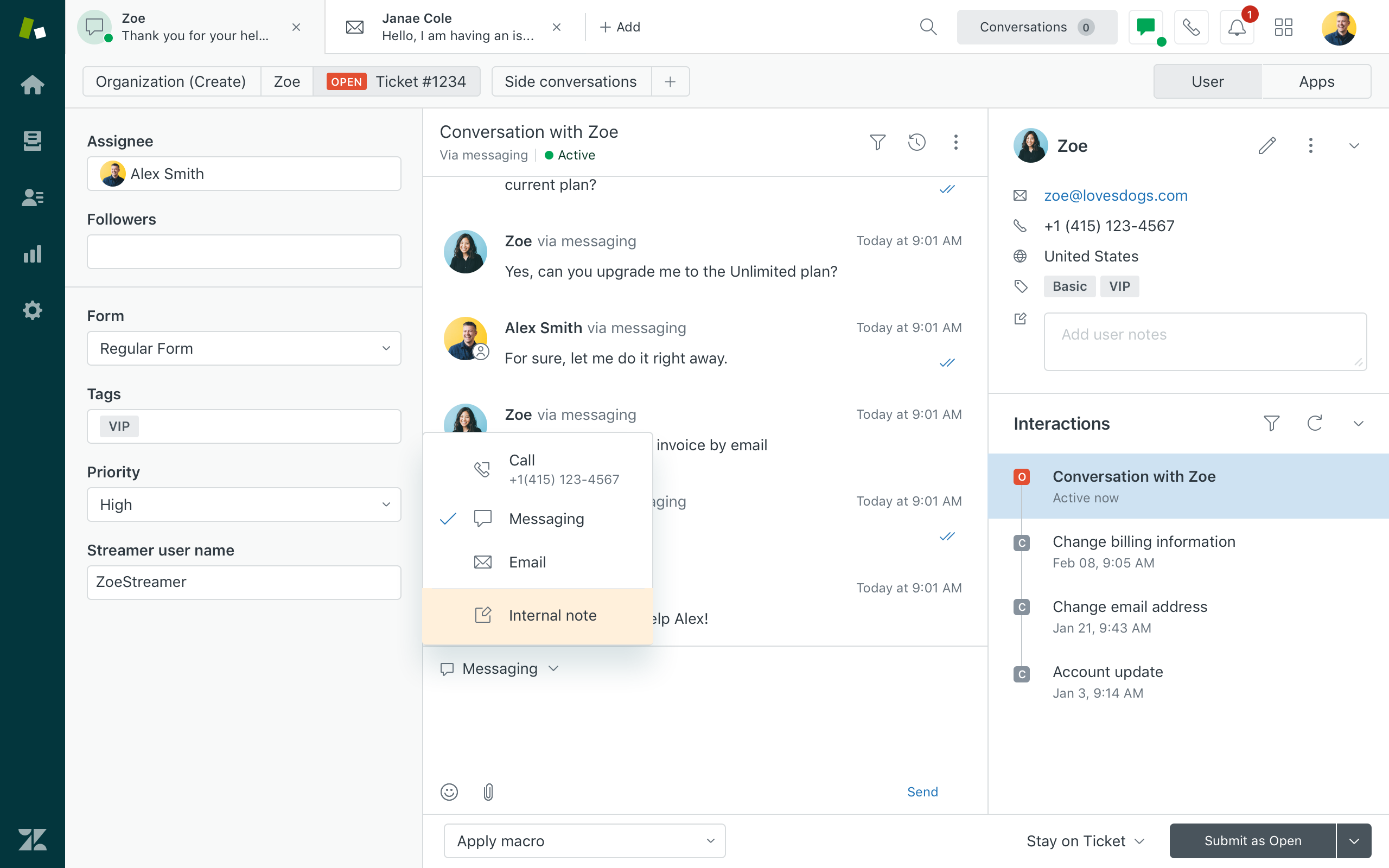 Companies use Talk to provide customer phone support, improve agent efficiency, and increase customer satisfaction with voice calling features like automatic ticket creation, call recording, call queue management, and group routing.
Zendesk Talk Pricing
Zendesk Talk is included in the Zendesk Service Suite, which offers three bundled plans for SMBs and an enterprise plan. Zendesk will also build custom enterprise plans starting at $215 per agent/month.
Note that you cannot use Zendesk Talk as a standalone product, and that a Talk business phone number must be purchased with any of the Suite plans.
You can choose a toll-free or local number from 75+ countries or port in an existing number. Per-minute pricing must also be purchased as an add-on. Local phone numbers start at $2 per month, inbound calls from the U.S. and Canada cost $0.037 per minute, and outbound calls (in the U.S. and Canada) are $0.022 per minute. You can also purchase bundled credits and receive a volume discount.
Here is a breakdown of Zendesk Service Suite plans:
Team
Growth
Professional
Enterprise
Annual Price
$49 per agent/mo
$79 per agent/mo
$99 per agent/mo
$150 per agent/mo
Monthly Price
$59 per agent/mo
$99 per agent/mo
$125 per agent/mo
$199 per agent/mo
Key Features

Live chat
Incoming email authentication
Automatic ticket creation
Call recording
Social channels
Custom business rules with triggers and automations

Up to 5 help centers with advanced article view permissions
Up to 100 AI-powered answer bots
AI-powered contextual article recommendations

Operating hours
Skills based and trigger based routing for live chat
IVR
Call monitoring and barging
Conference calling
Call blocking

Call offering time limit
99.95% SLA
Automatic Email archiving
Up to 300 help centers with advanced theme customization and structured content up to 6 levels deep
Analytics with customizable live dashboards
Zendesk Talk Partner Edition
The Zendesk Partner Edition API allows users to integrate Talk with their preferred third-party call center platform. The Partner Edition is included in all Zendesk Support Suite plans.
Featured telephony partners include Five9, NICE inContact, and Amazon Connect.
The Partner Edition also integrates with more than 90 Customer Relationship Manaagement (CRM), communication, and collaboration tools like Zoho CRM, Slack, Salesforce, Zapier, and more. The CTI toolkit lets developers add any additional features and integrations, and further customize the platform to better meet your business needs.
The Partner Edition allows agents to continue to use the tools they're comfortable with while still benefiting from Zendesk's multi-channel capabilities. It also prevents agents from having to switch between multiple interfaces and tools when resolving a customer support issue.
Note that features of the Partner Edition will vary according to your chosen call center software provider.
Zendesk Talk Features
In adding phone capabilities to Zendesk, Talk allows agents to pick up right where they left off on conversations–regardless of which communication channel they're using.
Omnichannel syncing means that a phone support conversation started with one agent can be finished by another agent on a completely different channel, like a social media web widget or mobile app messaging. All communication history, prior interaction notes, and integrated CRM details are synced in a singular interface.
Though Talk can be customized with integrated Zendesk App Marketplace tools and more, it comes with an excellent set of standard features, including:
Call management features
Voicemail
Business Text Messaging
Call Recording
Dashboards and reporting
Below, we'll offer a breakdown of what sets these features apart from Zendesk competitors.
Call Management Features
Talk's call management features allow agents to forward calls from their desk phones to their personal smartphones, home landlines, or any other number, allowing for greater employee flexibility fit for today's mobile workforce.
Most importantly, past customer data automatically pops up when an inbound call comes in, ensuring agents are properly prepared for the call. When the call ends, Zendesk automatically generates a support ticket to close out or take notes on the interaction.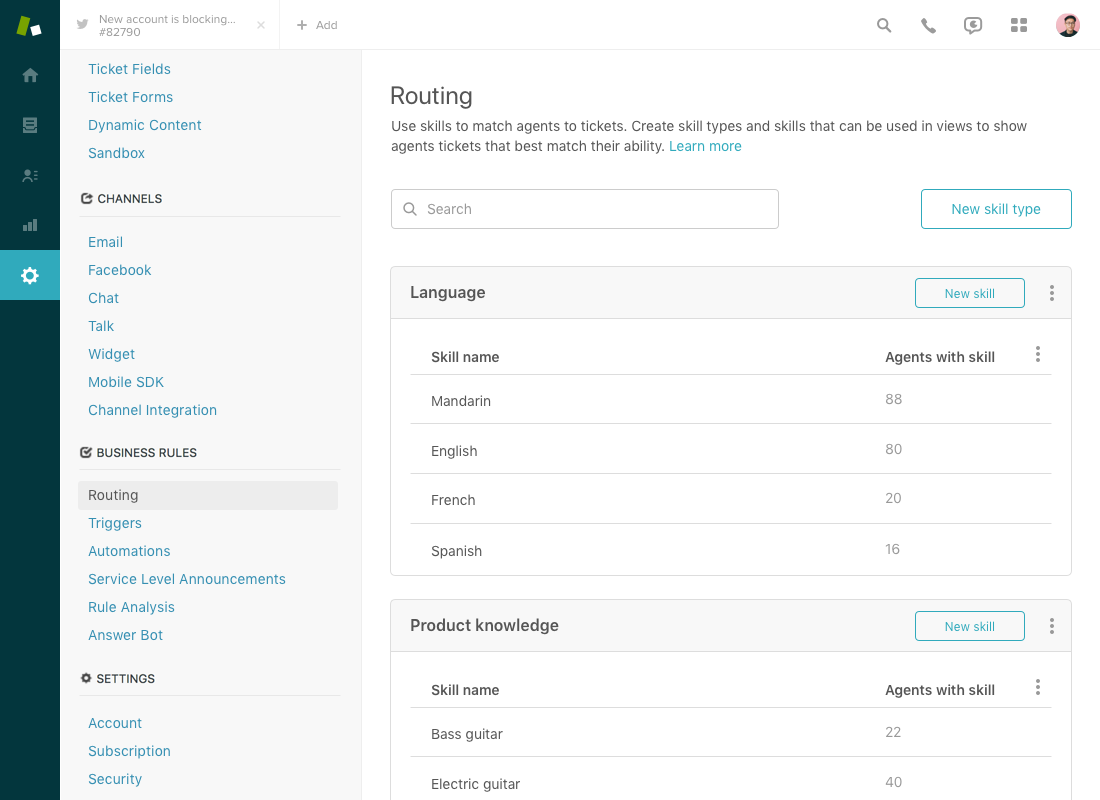 Additional call management features include:
Call routing (group, overflow, and after-hours routing)
Caller ID and call blocking
Call monitoring and barging
Conference calling
Request a callback
Mute, hold, and warm transfer
Call wrap-up time limits
Priority numbers
Call quality notifications
IVR
Interactive Voice Response (IVR) is an automated calling phone tree menu that guides customers to the right agent/department based on their support request.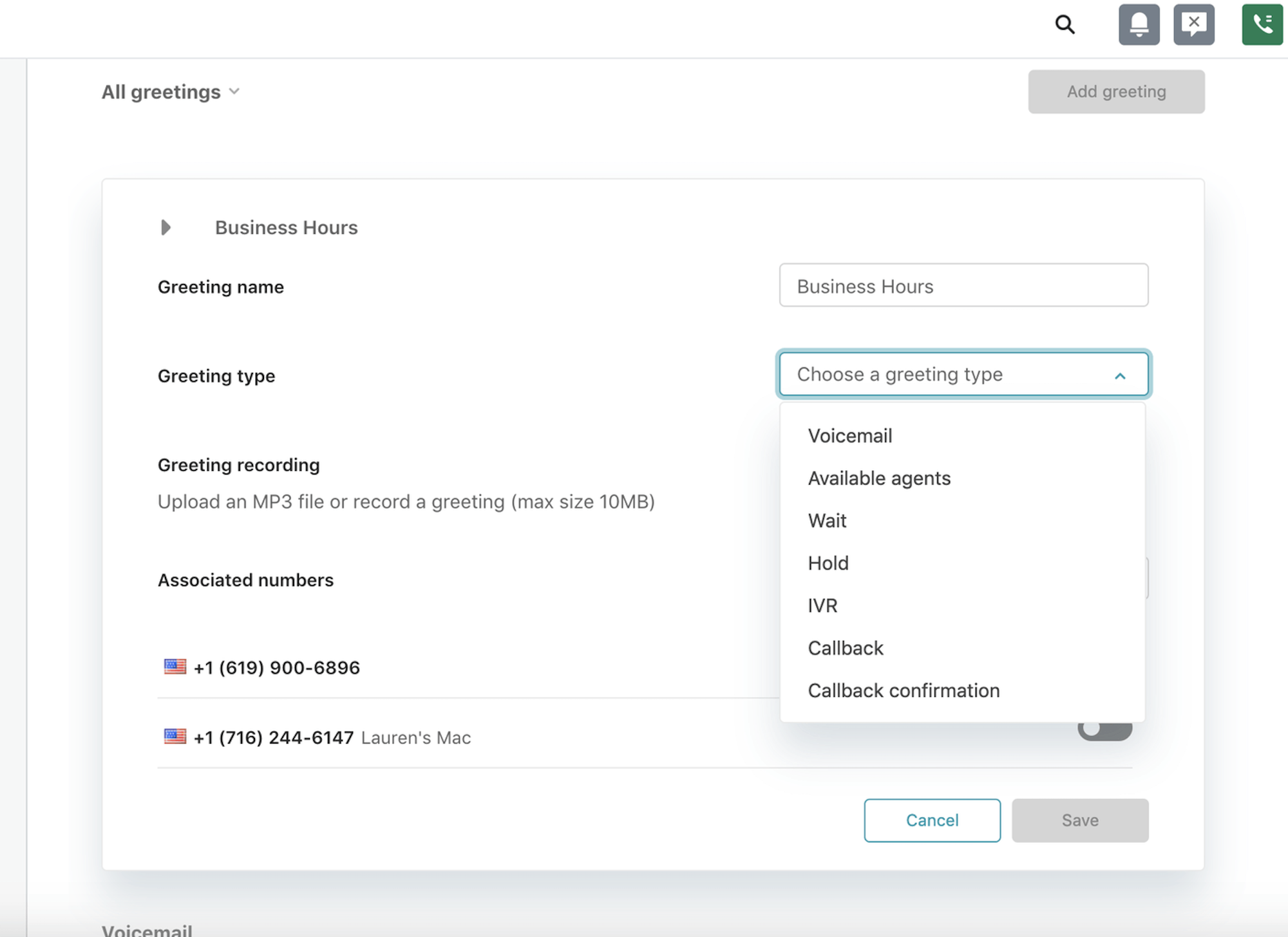 Multi-level IVR menus can also answer many frequently asked questions, automate the data collection process, or provide customer self-service that eliminates the need for customers and live agents to ever connect.
Automatic Call Districution (ACD) and call routing options can be set according to business hours and schedules, agent or call group skillsets, existing customer relationships, customer requests, and more. IVR is only included in the Professional and Enterprise plans.
Zendesk's IVR options include multiple ring group assignments, increasing the likelihood of connecting callers to a live agent and decreasing the number of customer callbacks and voicemail messages agents must manage.
IVR not only increases first contact resolution rates and provides 24/7 customer support, but it also lowers operating costs, decreases call center agent turnover, and improves customer satisfaction levels.
Voicemail
In addition to leaving voicemail messages for agents after being routed through call menu options, Zendesk Talk's voicemail feature lets callers opt to be directly connected to a representative's voicemail box, avoiding long call queues and IVR messages.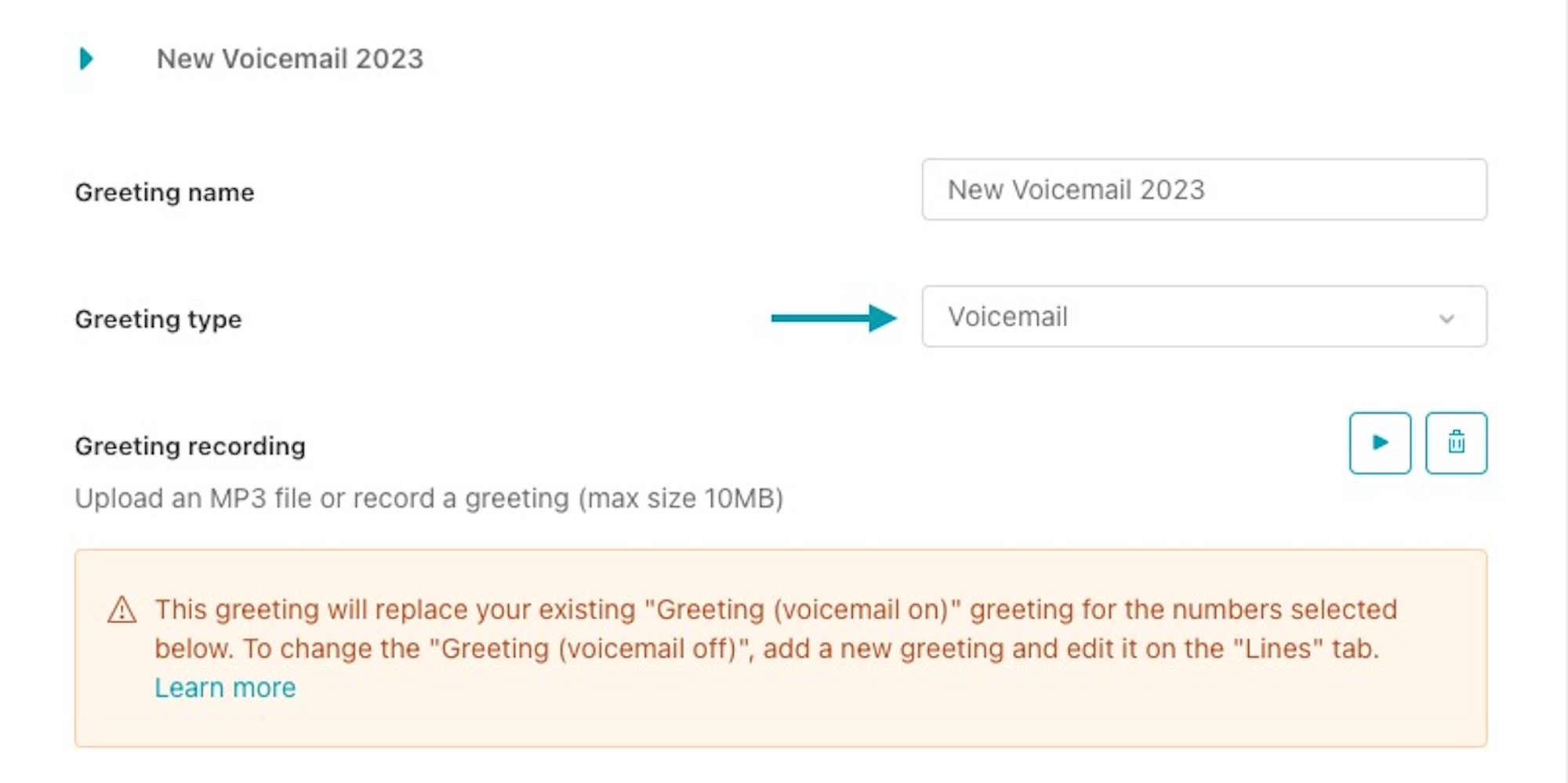 Zendesk allows users to record customized greetings that can direct callers to additional phone numbers or let clients know when you're out of the office. Every voice message generates an automatic ticket, ensuring that no request gets lost.
Voicemail transcription allows admins to create automated triggers based on set words like "callback" "refund," or "bill pay," ensuring that these calls are routed to the correct agent/department.
Business Text Messaging
In addition to making phone calls with Talk, agents can also communicate via SMS text message using the same Talk phone number they make voice calls with, or any other business SMS platform. Zendesk's texting feature enables users to find new ways to help customers with notifications, updates and proactive texts.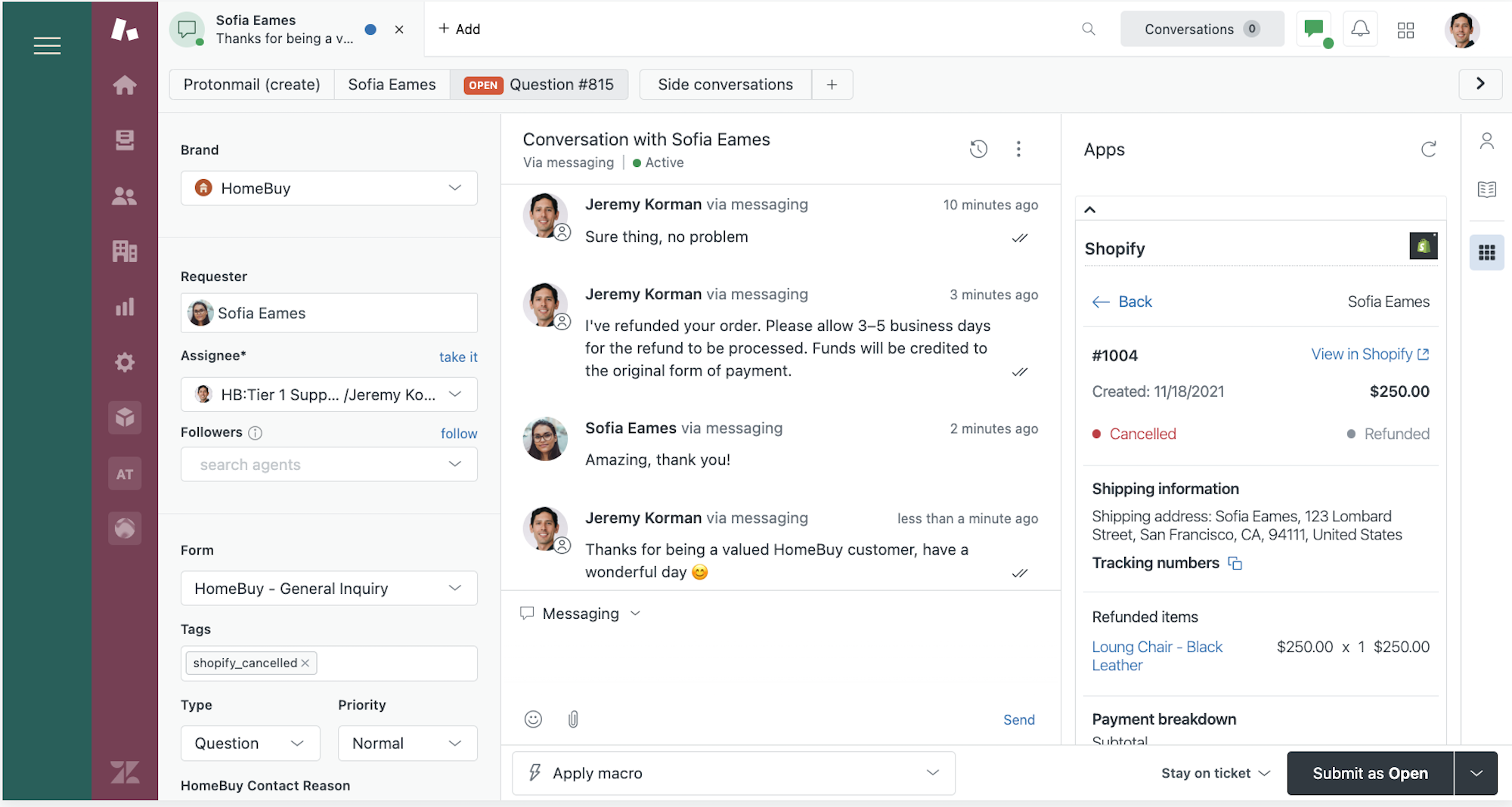 Text must be purchased as an add-on and Zendesk users pay per text. SMS messages in the U.S. through Verizon cost $0.013 per text, any other provider costs $0.009 per text. Bundled packages are available for a discount. Users also have the option to purchase a separate number from Zendesk for texting for $1 per month.
Zendesk's texting feature allows users to:
Send automated text responses
Alert agents when a ticket needs attention
Start a text conversation with proactive outbound texts
Create a proactive ticket
Respond to texts within a new ticket
Call Recording
Call recording is included in all Zendesk Service Suite plans, but Professional and Enterprise plan users have access to advanced call recording controls.
Call recording capabilities include:
Customer opt-in/opt-out
Pause/resume recording
Download call recordings
Set recording storage duration
Enable automatic recording deletion
Dashboards and Reporting
Talk offers insight into some of the most important historic and real-time call center metrics including call abandonment rate, average number of inbound and outbound calls over a set period, and omnichannel engagement.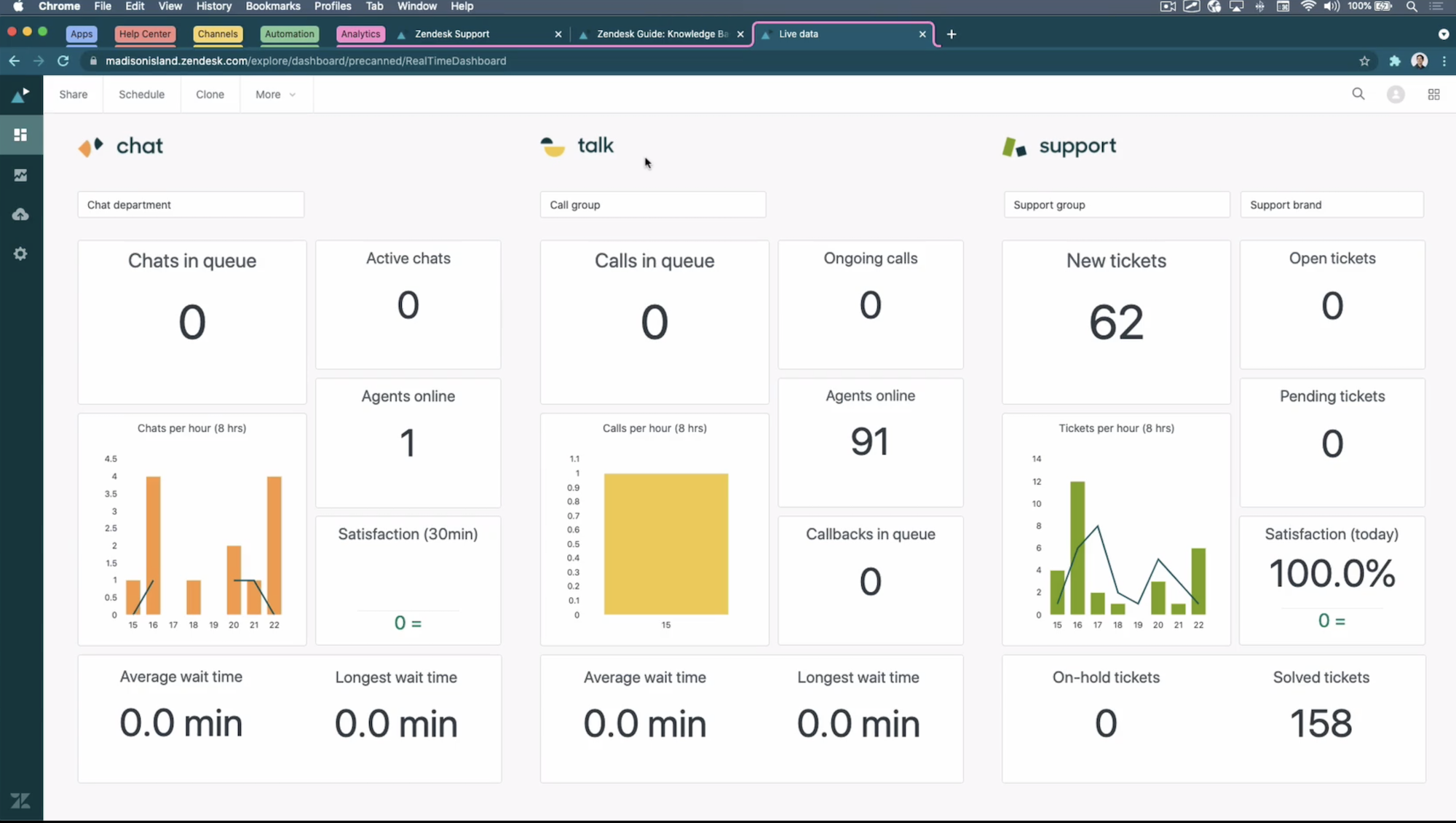 Admins can use pre-built dashboards or create custom real-time dashboards and historical reports. Reports can be exported in CSV, Excel, or PDF format.
Zendesk Benchmark enables users to ​​compare themselves against their peers on key benchmark metrics such as customer satisfaction, first response time, and ticket volume.
The Zendesk dashboard gives admins the functionality to filter data according to 8 main tabs:
Tickets: Contains data regarding tickets created in the Zendesk account.
Efficiency: contains reports regarding agent efficiency such as first resolution time.
Assignee Activity: Displays metrics such as requester wait time median and number of solved tickets.
Agent Updates: Displays comments and updates made to tickets by agents.
Unsolved Tickets: Shows the details of open and unsolved tickets that require attention.
Backlog: Displays open ticket activity over a selected date range.
Satisfaction: Displays customer satisfaction (CSAT) scores for tickets.
SLAs: Shows SLA metrics such as SLA achievement rate and SLA breached tickets.
Professional and Enterprises users have access to additional reporting and analytics including:
Custom data exploration (create custom metrics, charts, filters, and dashboards using a point-and-click experience)
Scheduled dashboard delivery
Dashboard sharing
Live agent activity dashboard
Pre-built live dashboard
Customizable live dashboards
Visual data alerts
Refresh rate of 1 hour (other plans have a refresh rate of 24 hours)
Who Should Use Zendesk Talk?
Zendesk is ideal for small businesses looking to improve customer service with a combination of VoIP, omnichannel contact center, and CRM functionality. Detailed customer service surveys and follow-up emails make it easy to compare CSAT scores across multiple communication channels, while analytics and reporting tools allow managers to identify common customer questions — improving agent training and call scripts as a result.
More specifically, financial agencies use Talk's automated IVR system to allow customers to pay bills, check accounts, and even answer basic loan application questions over the phone. This either eliminates the need for these customers to connect with a live support team representative, or ensures that they connect with the best agent based on their loan qualifications or account inquiries.
Government agencies, schools, and healthcare facilities have used Talk to streamline and speed up telephone communications impacted by COVID-19 regulations, closures, and contact tracing. Users can call in to get up-to-the-minute updates regarding possible exposure, test results, or even to report cases. Zendesk Suite's Professional and Enterprise plans are HIPAA compliant and are a great choice for healthcare organizations.
Online retailers rely on Talk to update customers about their order status and delivery times, transfer callers to the right product specialists, and to connect with vendors and suppliers when inventory is running low. If you're not so keen on Zendesk talk, it's a good idea to try some Zendesk alternatives.
The Downsides of Using Zendesk Talk
The biggest drawback to Talk is its price. Users not only must have a Zendesk Service account to access Talk, but they also must purchase a local or toll-free Zendesk Talk number (or port an existing number) along with minutes.
Additionally, if text messaging is needed, users must pay per text message or purchase bundled credits. Zendesk is therefore not an ideal choice for high volume contact centers.
In order to get access to advanced–and even some basic calling features such as monitoring, advanced call recording features, and IVR–users must purchase one of the more expensive service plans (Professional or Enterprise).
Therefore, Talk isn't the right choice for companies that aren't ready or able to invest significantly in phone communications within their omnichannel plan.
Another drawback of Zendesk is a lower reliability compared to competitors. Zendesk offers a 99.95% uptime SLA only to enterprise plan users.
Finally, when it comes to customer service, Zendesk Suite plans only include digital support, digital onboarding and customer self-service. Zendesk only offers 24/7 live phone support as an add-on.
FAQs