Today's contact center software includes live and automated omnichannel communication capabilities alongside cutting-edge analytics, machine learning, and advanced collaboration tools to improve the agent and customer experience.
Cisco Webex Cloud Contact Center offers flexible, customizable solutions that optimize the customer journey, increase employee engagement, and eliminate communication silos.
This Webex Contact Center review outlines available plans, standout features, user experience, and the top Webex alternatives.
Learn more about
Webex Contact Center
What is Webex Cloud Contact Center?
Webex Cloud Contact Center is a cloud-based omnichannel CCaaS solution leveraging AI to offer digital-first customer experiences, context-driven agent support, and data-backed workforce optimization.
Webex empowers inbound/outbound customer service and business communications across: 
Voice calling
SMS text messaging
Website chat
Social media
Email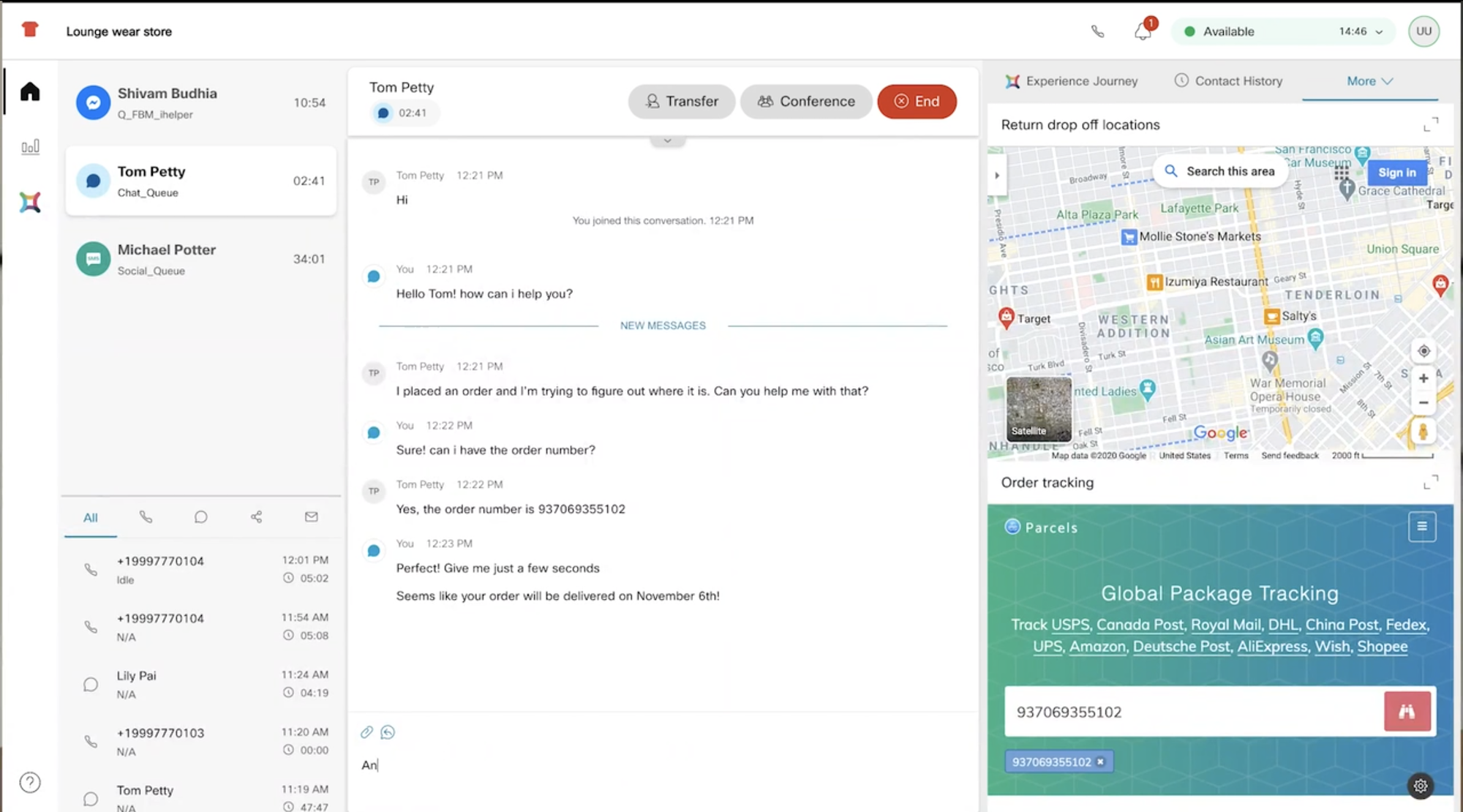 Agents can access these channels, review interaction history, respond to customers in real-time, and more within a unified agent inbox.
Webex Contact Center also includes an internal communication and team collaboration feature suite for seamless video meetings, chat messaging, and voice calling.
Pricing and Plans of Webex Cloud Contact Center
Webex Cloud Contact Center is available only on a quote basis, and there is a lack of transparent information regarding the pricing structure as a whole.
Webex Cloud Contact Center offers two concurrent or named pricing plans: Standard and Premium.
Key differences between the plans are outlined below.
| | | |
| --- | --- | --- |
| Feature | Standard Plan | Premium Plan |
| Maximum Number of Concurrent Agents | 1,000 | 24,000 |
| Inbound/Outbound Voice Calling | ✓ | ✓ |
| Call Recording, Touch Tone IVR, Automated Callback, Preview Dialing | ✓ | ✓ |
| Intelligent Routing and Queueing  | ✓ | ✓ |
| Standard CRM Connectors | ✓ | ✓ |
| Website Chat and Email Digital Channels | ✓ | ✓ |
| 24/7 AI-Powered Customer Self-Service (Voice and Chat Virtual Agents) | ✓ | ✓ |
| Team Collaboration (Video Meetings, Team Chat Messaging, Whiteboarding, etc.) | ✓ | ✓ |
| Social Media Messaging (Facebook Messenger, WhatsApp, etc.) | X | ✓ |
| SMS Messaging | X | ✓ |
| Supervisor Monitoring, Barge, Agent Coaching | X | ✓ |
| Analytics and Reporting | Basic | Advanced |
In addition to these core features, businesses can purchase Webex Contact Center add-on capabilities, including:
Webex Workforce Management: Dynamic drag-and-drop scheduling, forecasting, adherence monitoring, etc
Webex Workforce Optimization: Speech analytics, sentiment analysis, workflow automations, predictive Net Promoter Score, phrase clouds, etc.
Outbound Campaign Management: Do Not Call list management, call list segmentation, etc.
Webex Devices: Compatible conference room and collaboration hardware and equipment (IP phones, interactive boards, cameras, etc.)
Key Features of Webex Contact Center
Below, we'll outline the most essential Webex Cloud Contact Center features.
Agent Desktop 
The Agent Desktop is an omnichannel inbox showing Webex Cloud Contact Center agents all open conversations and allowing them to communicate with customers in real-time across voice calling, chat messaging, SMS, email, and social media.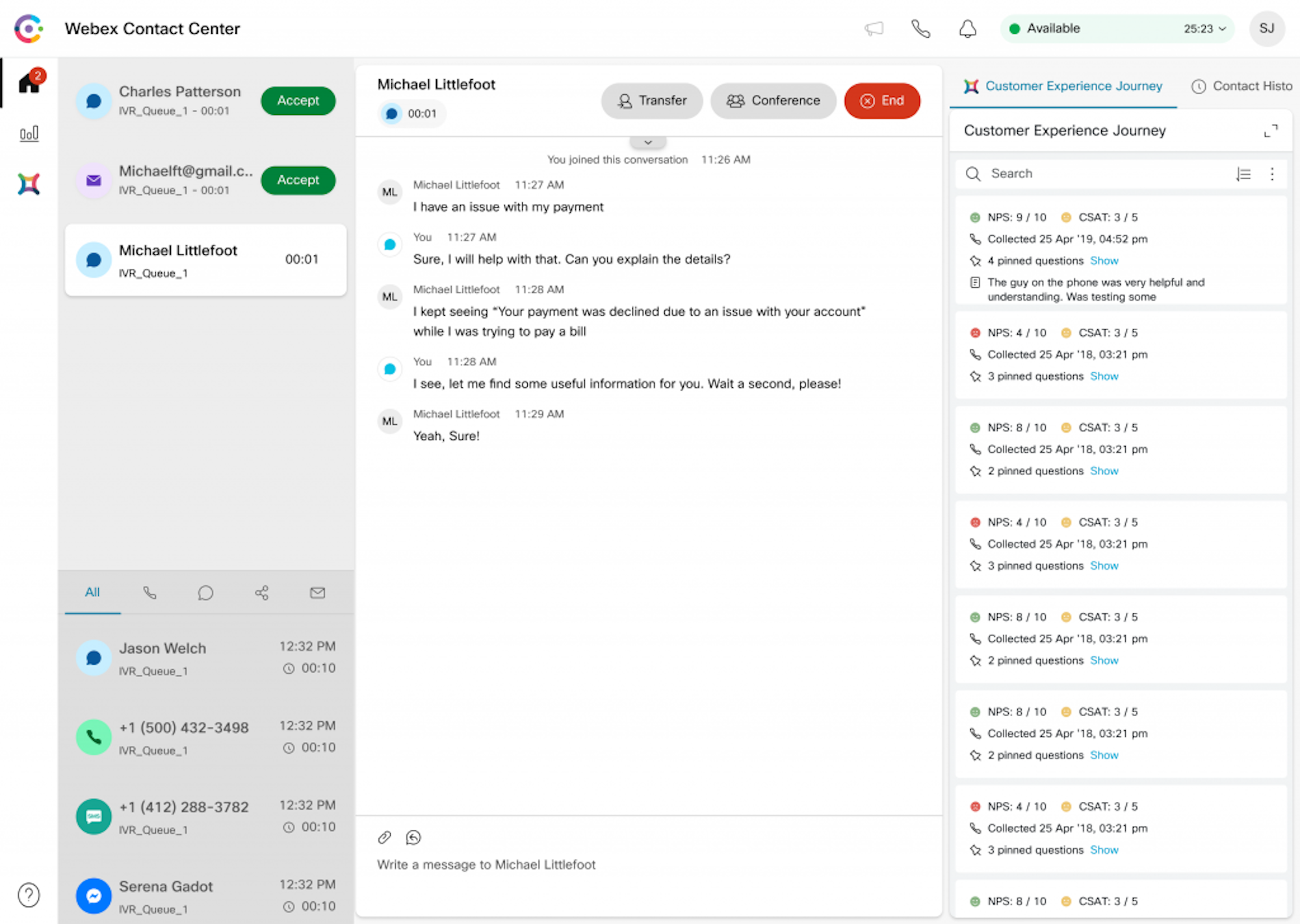 The Task Pane lets agents toggle between communication channels, review and accept incoming/assigned interactions and queues, and view their recent contact list.
The Agent Desktop optimizes and contextualizes all customer:agent interactions, providing one-click access to:
Conversation history and prior customer experience scores (CSAT, NPS, etc.)
 Virtual agent/IVR transcripts with relevant information customers provided to auto attendants before requesting to be transferred to a live agent
Essential customer information (including CRM data) via screen pops
Internal knowledge base data like agent scripts, canned responses, etc,
Assigned tasks and individual agent performance analytics
Agents can customize their Desktops by adding third-party or building custom REST API widgets that enable in-conversation order status and delivery tracking, map access, current promotion reminders, and more. Agents can easily handle simultaneous interactions across channels without missing a beat.
Users can update their Agent State within the Desktop to share their current availability and status with supervisors and coworkers. Agents can mark themselves as available, unavailable, or choose from a variety of custom Idle Codes. Popular Idle Codes include "In a meeting," "On a Break," "On Vacation," etc. Contact routing strategies automatically adjust according to agent states. Agents will not receive any interactions when in an Idle State.
After an interaction is complete, agents can review and set custom and automated wrap-up codes like "Resolved Customer Service Request," Schedule Follow-Up," "Sale Made," "Scheduled appointment,"  "Disconnected," etc.
The Webex Contact Center Agent Desktop provides access to key in-conversation capabilities that enhance the customer experience, such as: 
Agent Answers (Context-based automated AI agent assistance)
Access in-conversation consult with other users or transfer interactions to more qualified agents
Receive in-conversation coaching from supervisors
Place callers on hold
Initiate conference calls
Add/update call notes (written on via text-to-speech)
Update customer contact information
Voice Calling
The Webex Cloud Contact Center solution offers advanced VoIP voice calling with unlimited local and long-distance calls on desktop and mobile devices (international calling is billed according to country code.)
Essential VoIP telephony features include: 
Call recording, transcription, monitoring, barge, whisper, and in-call coaching
Call waiting, call hold, call transfer, call forwarding, call queueing
Audio conferencing
ACD and IVR
Automated callback
Visual voicemail and voicemail-to-email
Outbound Campaigns 
Available as an add-on, Webex Contact Center offers an advanced outbound voice solution, Outbound Campaigns, designed to streamline lead list penetration and maximize the number of calls agents can make in a day.

In addition to predictive, preview, and progressive dialing auto dialing modes, outbound campaigns offer limited mass text messaging campaign options.
Key outbound Campaign features include: 
List list uploading from databases or third-party tools
Lead list segmentation via custom business rules (with live segmentation adjustments)
Phone number prioritization
Preset campaign runtimes, dialing modes, and configure contact-specific redialing rules
Campaign summaries with disposition filtering
DNC management and lead list scrubbing
Set custom disposition timers/wrap-up codes
Share contacts across multiple campaigns
Digital Channels
Digital channels within the Webex Cloud Contact Center include website chat messaging, social media messaging, SMS, and email. 
Automated intelligent virtual agents and live agent interactions are available on all digital channels, but in this section, we'll cover live agent:customer interactions only.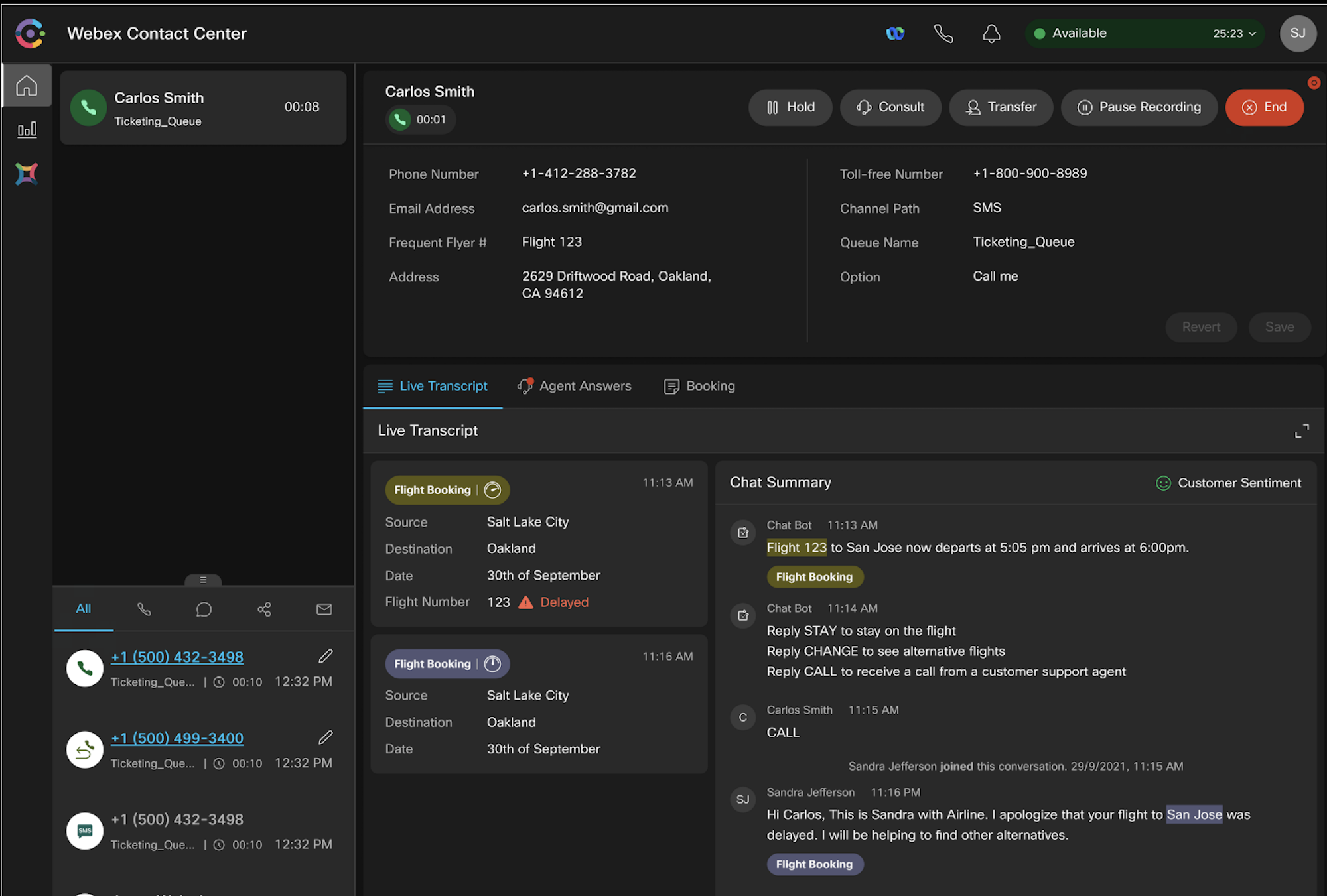 Email
Webex automatically reviews email subject lines to identify trigger words and phrases that ensure the email is routed to the best available agent/queue. 
Once an agent is assigned an email, they can reply in a rich text or plain text format, add attachments, loop in additional agents via email forwarding, and access standard response templates.
Webex offers native email capabilities but also integrates with popular third-party email platforms like Gmail and Outlook.
Additional email features include: 
Custom greetings and email signatures
Transfer emails
Wrap-up/disposition codes
CC/BCC emails
Conversation groupings
SMS and Social Media Messaging 
Webex includes access to business text messaging on desktop and mobile devices, as well as social media messaging via platforms like WhatsApp and Facebook Messenger.
SMS and social media messaging have similar features, including: 
Multi-session contacts across social media platforms
Custom wrap-up codes
Customer interaction history via SMS and specific social media platform
Interaction transfer
In-conversation agent consulting
Chat Messaging 
Chat messaging lets customers connect to contact center agents via an embedded website chat messaging box.
Within the website chatbox, agents have access to prior Virtual Agent interactions and any pre-chat initial forms the customer filled out.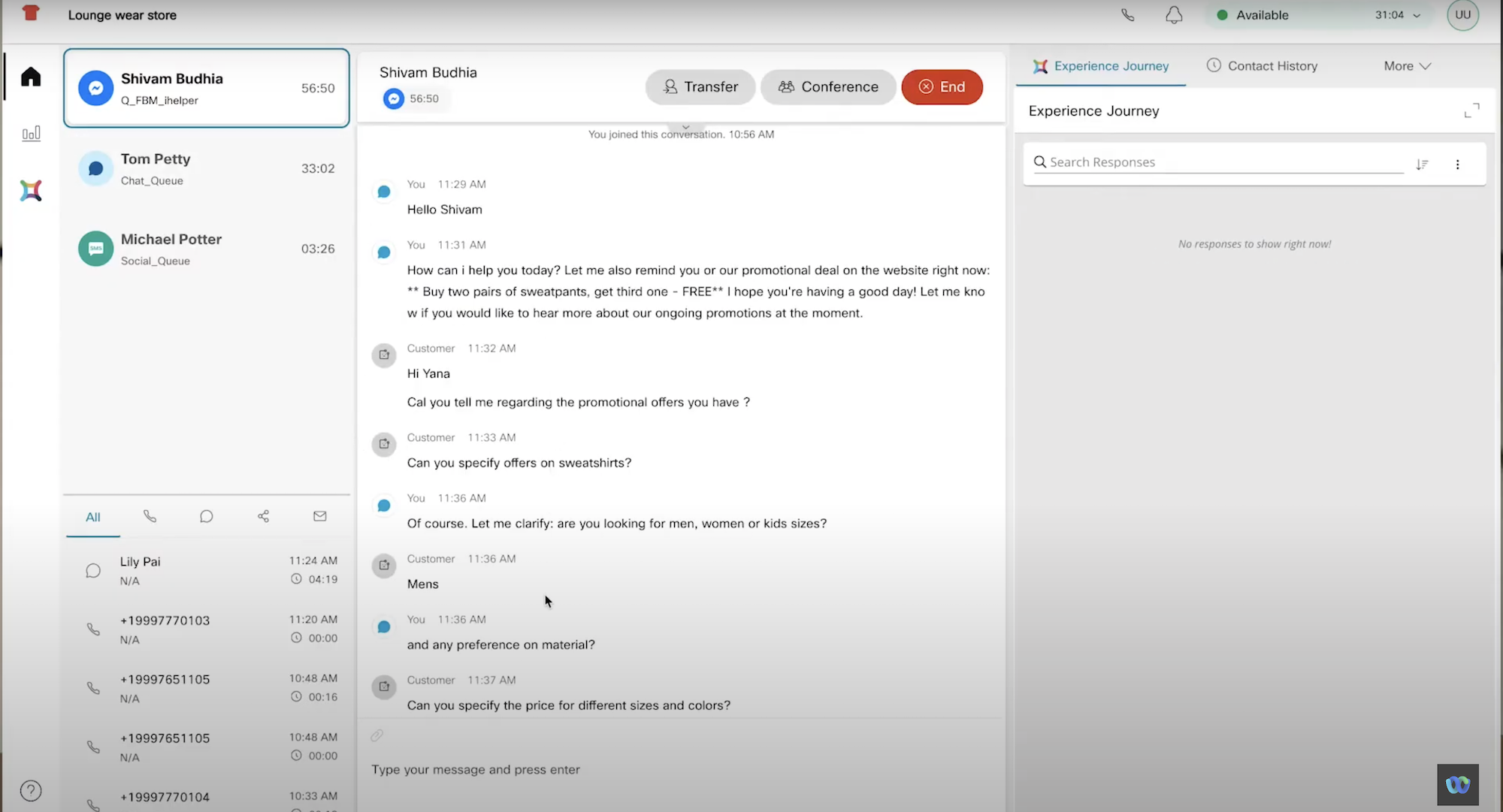 Key chat messaging capabilities include: 
Group chat with two agents and a customer
Chat transfer (to queue or agent)
Custom routing strategies
Branded chat bubbles
Up to 5 multi-session chats per agent
Chat wrapup codes
Canned responses
Virtual Agents
Virtual Agents are AI-powered voice and digital bots that use Conversational AI, machine learning, text-to-speech, keyword recognition, and Natural Language Processing (NLP) to provide automated assistance to customers without connecting them to a live agent.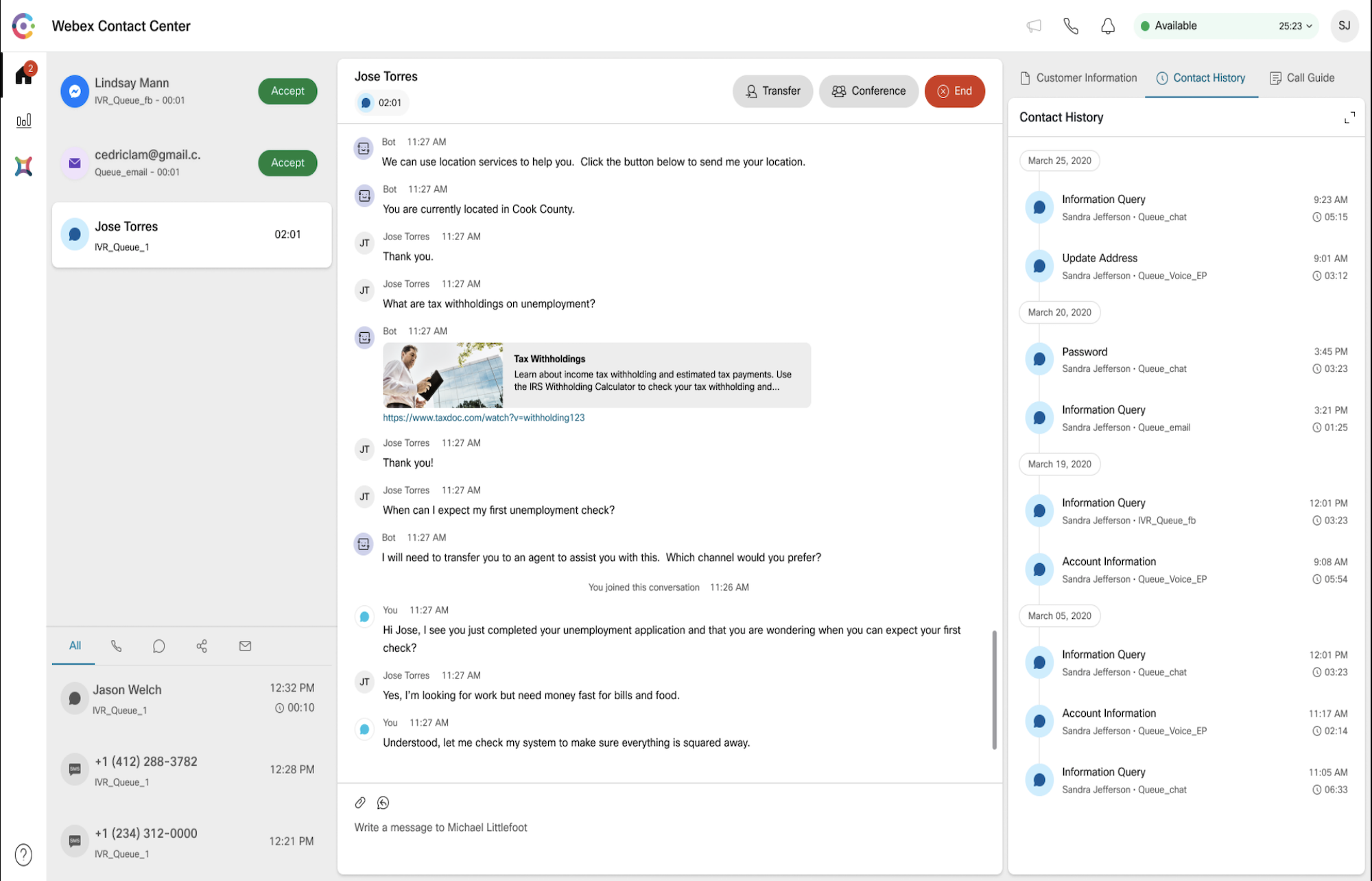 Virtual Agents provide 24/7/365 customer self-service and can be completely customized via the Webex Bot Builder or Google Dialog Flow integration. Interactions can be escalated to a live agent at any time.
Website chatbots let customers get instant order status updates, product suggestions, automated support, and help to qualify leads before connecting them to a live agent. Users can create more basic "Question and Answer" bots, or rely on advanced "Task Bots" to collect key customer information, analyze customer intent, and use NLU to complete customer requests.
Voice-based virtual agents use IVR and speech recognition to automatically direct inbound voice callers to ideal agents, or completely resolve the customer's issue without an agent. Users can speak or enter in their responses to pre-recorded call menu prompts, and Natural Language Understanding provides relevant answers, directs their call, or routes them to another IVR sub-menu.
Conversational AI allows customers to speak naturally,  while drag-and-drop flow builders make it easy to adjust IVR call paths at any time.
Omnichannel Contact Routing
In addition to completely automated support via chatbot or IVR, Webex Contact Center offers advanced omnichannel contact routing to optimize contact flow paths.
Managers can use the drag-and-drop Flow Designer tool to add template-based or custom nodes (components) to voice and digital queues, set triggers and single or multi-level resulting reactions, link activities, and create event response flow paths.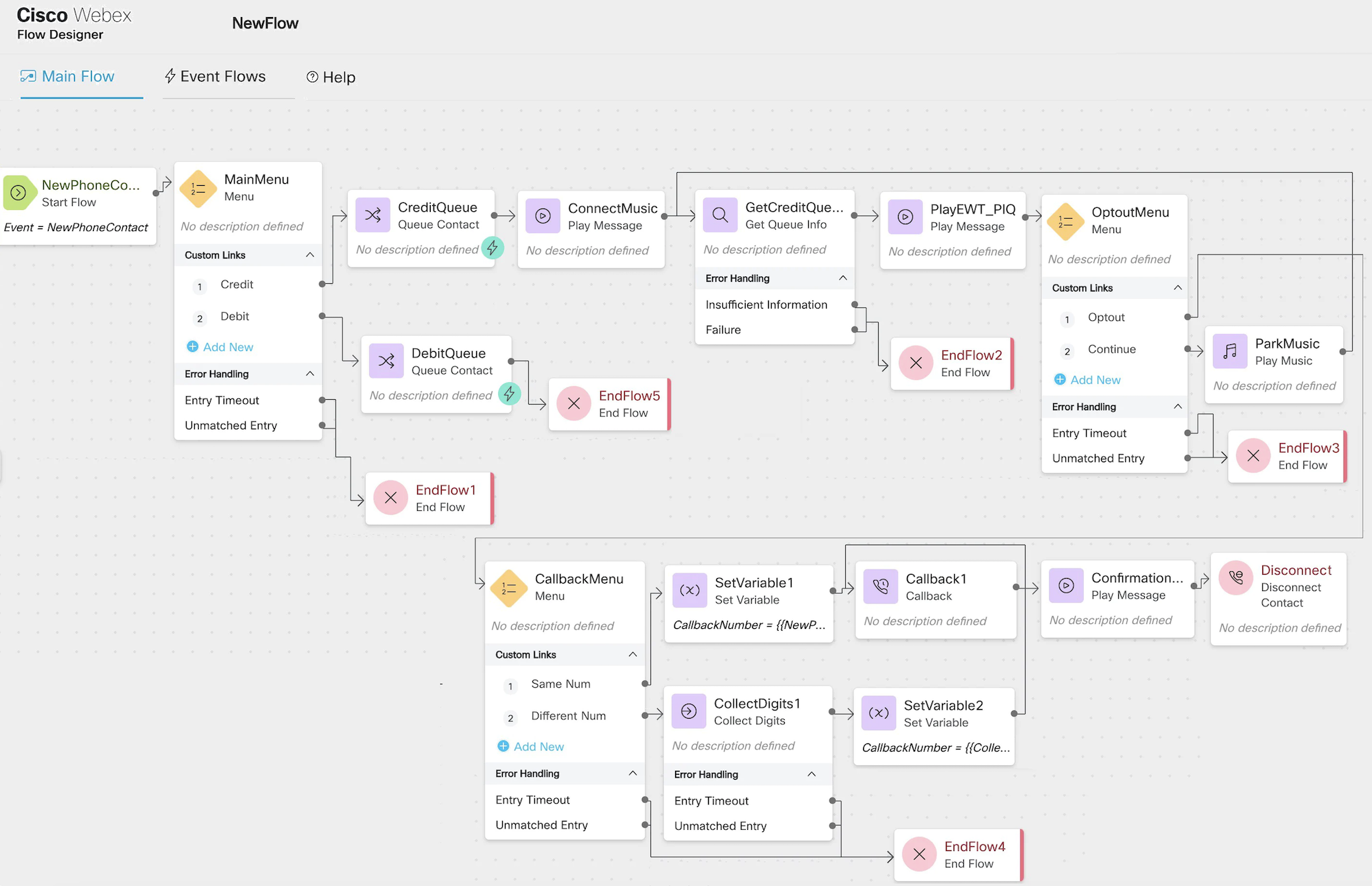 Admins can choose from several different routing strategies, including: 
Skills-based Routing
Longest Idle Routing
Preferred Agent/Last Agent Routing
Language-based Routing
These routing strategies and call flows can be assigned to call queues, teams, virtual agents, IVR menus, ring groups, individual agents, email interactions, and social media/website messaging. Interaction contact flows can be completely customized for both live and automated interactions.
If-then contact flow options, hold music, and rules-based routing are also available, and call flows can be adjusted at any time.
Workforce Optimization and Workforce Management
Webex WFO and WFM tools, available as add-on features, provide detailed agent performance analytics, employee engagement tools, and optimize employee schedules.
Within the Supervisor Control Hub, admins can:
View multi-channel forecasting (long and short-term) for budgets, seasonal planning, 

Access skills-based scheduling suggestions, PTO management, shift bidding, and employee planning tools

Review schedule adherence monitoring results 

Integrate payroll systems

Enable automated employee evaluations
Employees can manage their own schedules, request time off, participate in employee performance gamification, review employee training assignments, and personalize their Agent Dashboards.
Collaboration AI Portfolio
The Webex Cloud Contact Center Collaboration AI Portfolio is an all-in-one video meeting, team chat, whiteboarding, and calling suite designed specifically to optimize internal communications.
It provides access to Webex's top AI-powered collaboration tools:
Webex Meetings
Webex Meetings is a video calling tool that lets up to 1,000 participants meet for a maximum of 24 hours.
Users can schedule or start instant meetings in one click from the messaging interface, switch between desktop and mobile devices during a meeting, and access in-meeting chat.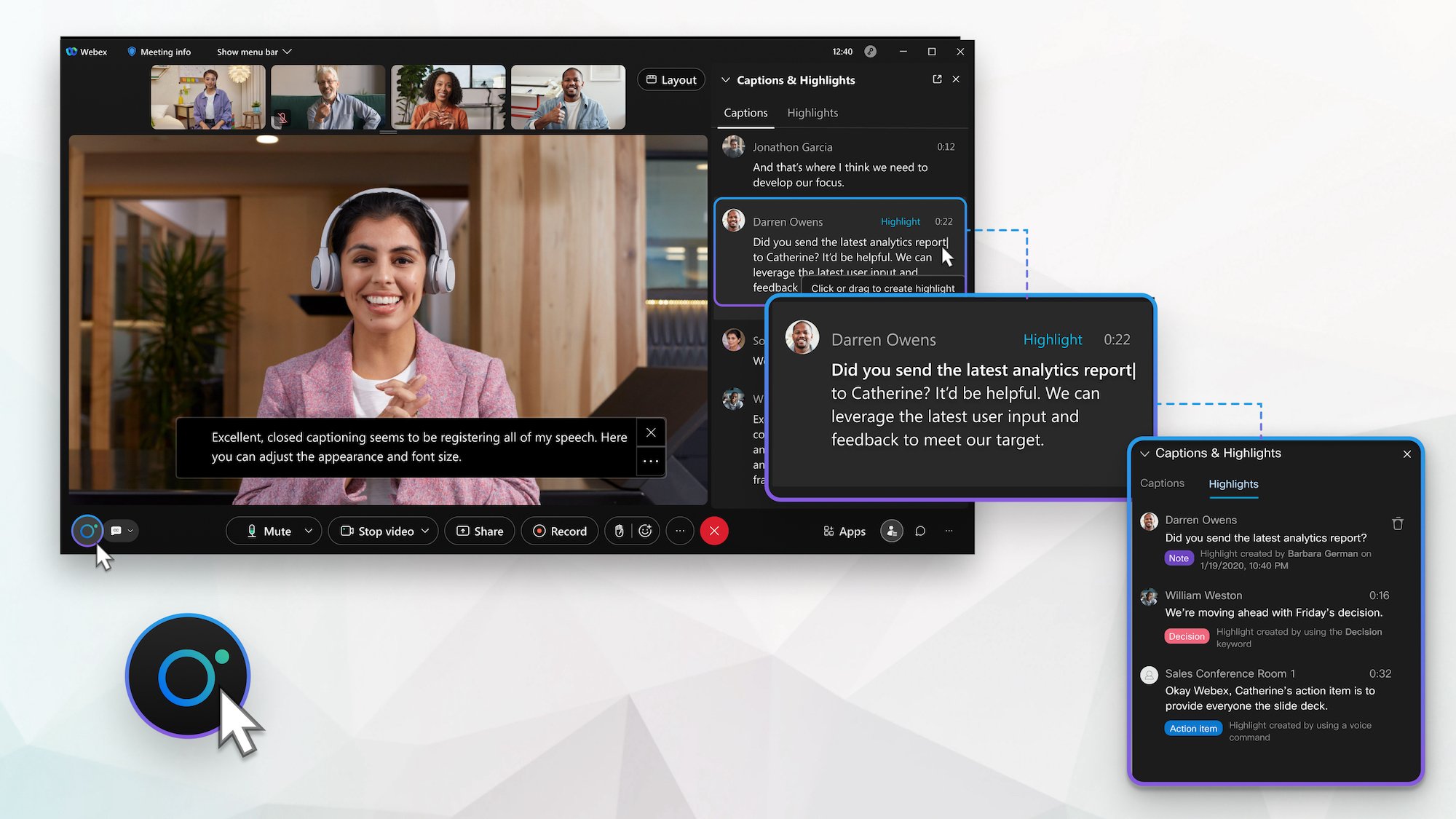 The Meetings AI Audio Intelligence feature provides automatic background noise removal, distinguishes between foreground and background speakers in crowded places, and comes with a music mode.
The Intelligent Webex Assistant offers real-time closed captioning and post-meeting transcriptions, responds to in-meeting voice commands to create notes, hand gesture recognition, meeting highlights and summaries, action items, and more.
Additional Webex Meeting features include:
Meeting recording and storage
Desktop and mobile screen sharing ( full screen, application, files, whiteboard)
Gallery, Pin Participant, Immersive, Presentation, Active Speaker views
In-meeting polling, note taking, virtual hand raising
Breakout rooms
Virtual backgrounds
Live Streaming to YouTube and Facebook
Alternative hosts
Dial-in access
Third-party calendar tool integration
Whiteboarding
The whiteboard tool lets multiple team members annotate a virtual whiteboard in and outside of video meetings, with user tracking to prevent miscommunications.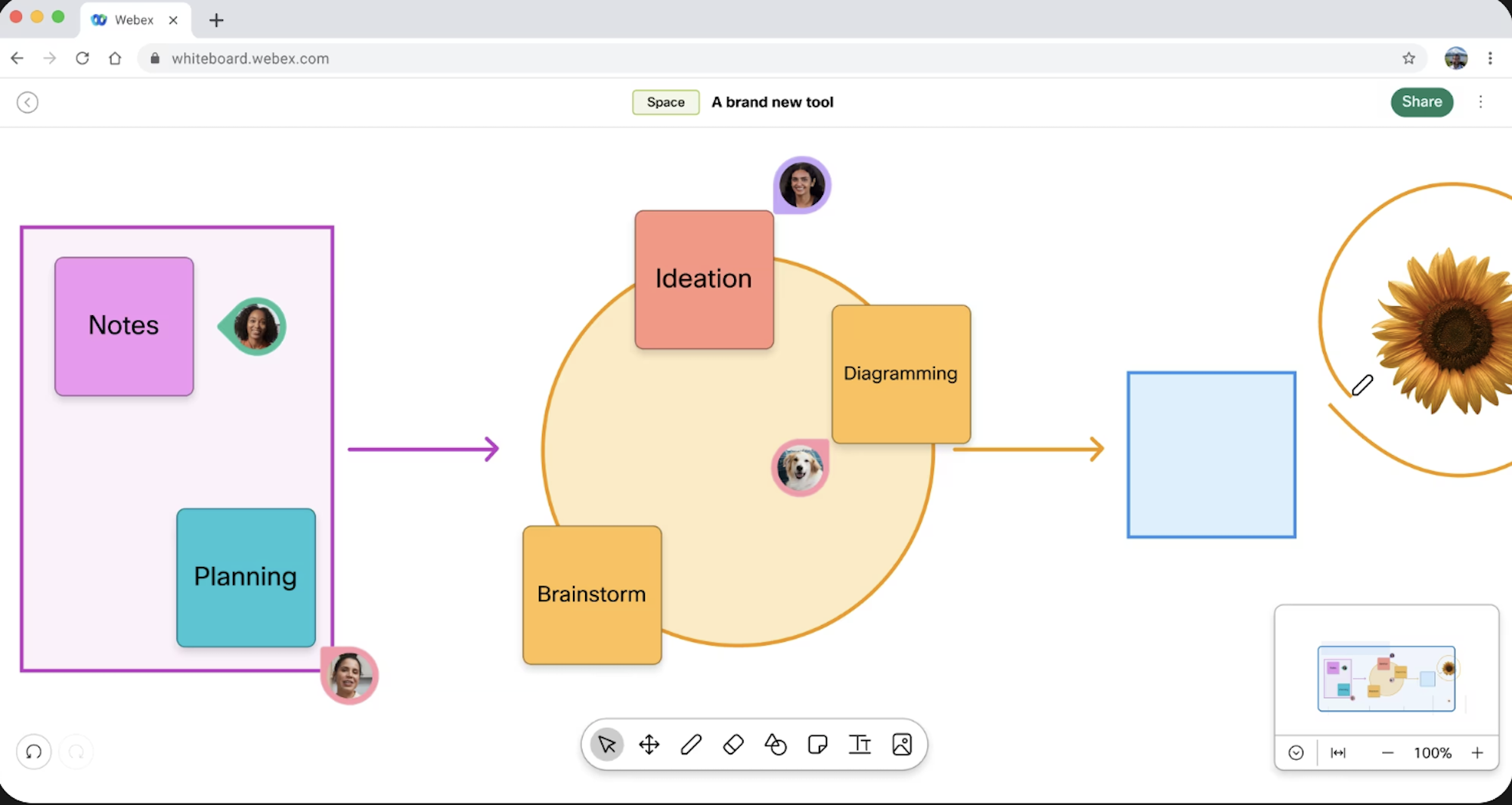 Whiteboard features include: 
Image upload
Emoji reactions
Sticky notes
Drawing tools
Color-coding
Pointers
Add text, sticky notes, shapes
Edit and save whiteboards
Messaging
Webex Messaging provides an asynchronous native chat interface that lets users create public and private channels, direct message each other, share and co-edit files, and review files shared in previous meetings.
Additional Webex Messaging capabilities include: 
@mention users
Unlimited messaging and file sharing
Forward, pin, mark as unread, quote, and flag messages
Set favorite contacts
Message threading
Message reactions via GIFs, emoji, etc.
Searchable message history
Agent status updates
Task management tools
Spaces
Spaces are dedicated collaboration hubs that let related team members connect with each other via chat, phonecall, or video meeting at any time. Within Spaces, users can share project files and relevant links, manage tasks, track project progress, and more within one unified interface.
Think of Spaces as department-wide, campaign-wide, company-wide, or project-wide channels.
Analytics and Reporting
The Webex Contact Center offers customizable and template-based analytics for both real-time and historical contact center activity.
The Supervisor Reporting Dashboard, which can be configured by channel, team, and queue,  offers real-time updates on:
Number of contacts in progress
Contact abandonment rate
Average CSAT
Number of total contacts handled
Agent states
Call queue lengths
Supervisors and admins can also set performance thresholds and enable real-time notifications for specific metrics.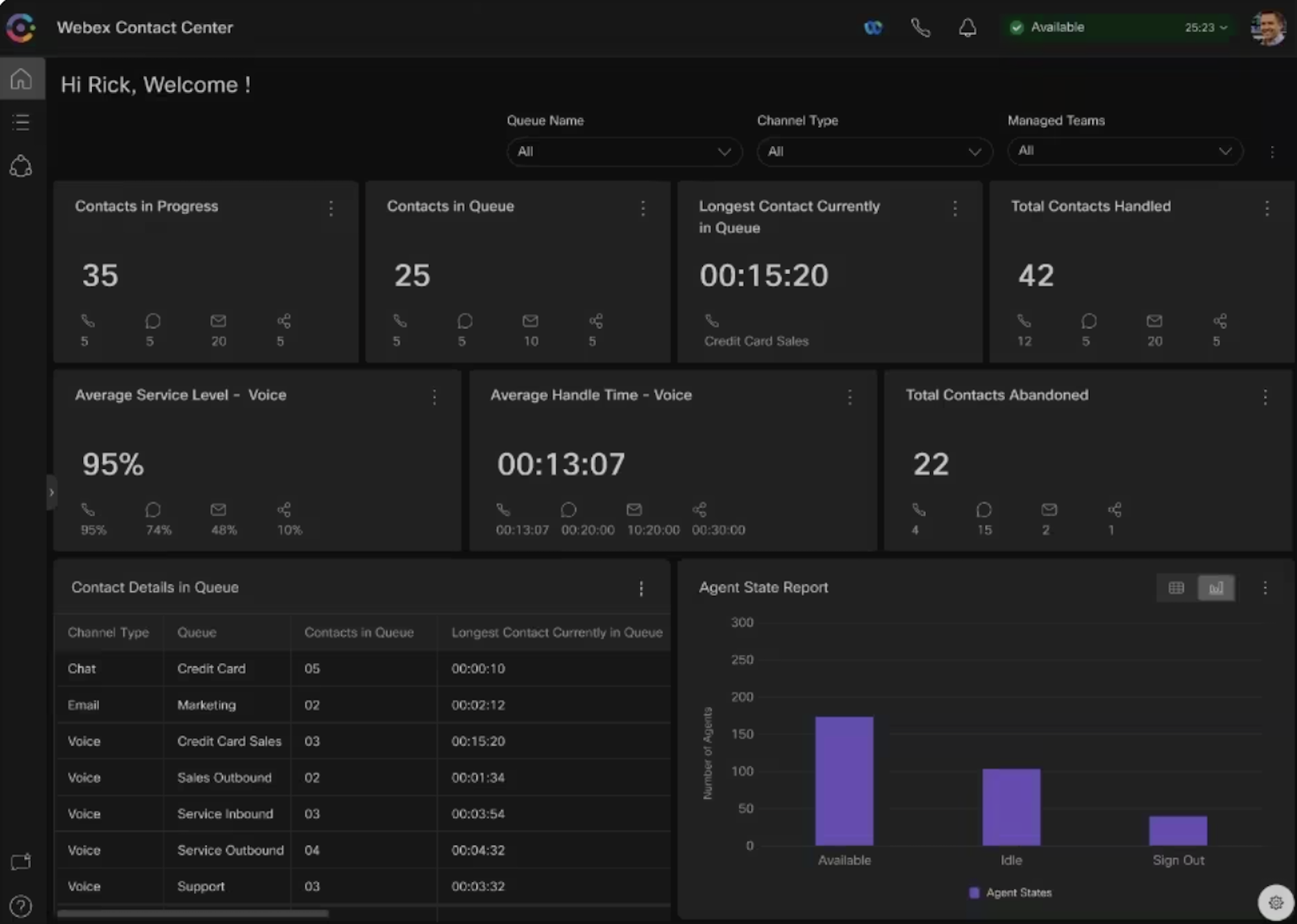 Both agents and admins can review Proactive Customer Experience Insights at any time to review contact center KPIs like FCR, AHT, current CSAT and NPS scores, and customer sentiment analysis.
Webex Experience Management, available in all Contact Center plans, provides a 360-degree look at the customer journey with more advanced reporting features. This includes speech and text analytics that create word clouds of common customer phrases, conduct theme analysis, and use machine learning to evaluate customer sentiment.
Other Experience Management analytics include: 
Customer journey mapping
"What If" forecasting
Root cause analysis
Predictive analytics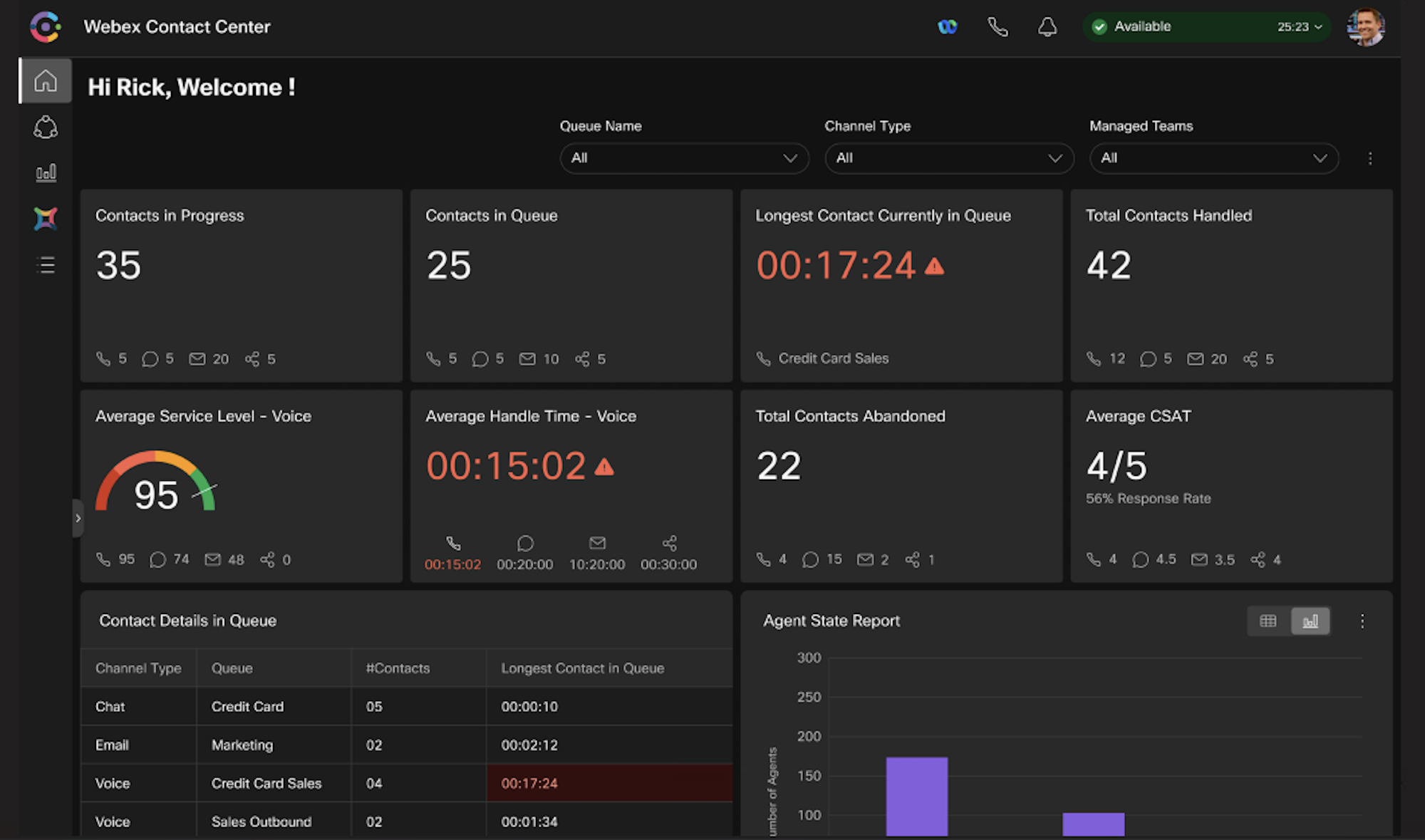 Admins can also create customer surveys that are automatically shared after every interaction across channels. They can be sent via QR code, email link, IVR, and more.
Surveys can be customized with 25 question types, visual effects, automatic survey suggestions, and more.
All reports can be downloaded and shared.
Webex Contact Center Integrations
Though perhaps best known for its high-level Microsoft Teams integration, Webex Cloud Contact Center offers pre-built integrations with top business applications like:
Salesforce
Zendesk
Microsoft 365 and Dynamics
Google Suite
Hubspot
Outlook and Google Calendar
Slack
Marketo
Pipedrive
Miro
JIRA
OneDrive, box, Google Drive
Webex also offers Custom Connectors and APIs that make it easy for developers to add any functionalities and apps to their Contact Center.
Webex Contact Center Security and Support
As a Cisco product, Webex has high security and customer support standards for all its software–and its Contact Center solution is no exception.
Security, Network Reliability, and Compliance
Webex takes a zero-trust approach to security, offering a 24/7 incident response team, regular third-party penetration testing, threat monitoring, and end-to-end encryption.
24/7 monitoring, 10+ global data centers for network redundancy, and automated data backups provide a 99.99% uptime.
Webex user and admin security controls include: 
Single Sign-On (SSO)
DDoS prevention
Multi-factor authentication and biometric verification
Remote device wiping
Role-based and IP-based access control
Meeting locks, meeting passwords, and meeting participant control
PIN locks for BYOD devices
Custom idle time outs
Webex security and compliance certifications include: 
GDPR
HIPAA
HITRUST
FedRAMP
SOC 2 Type II and SOC 3
ISO 27001
Customer Service and Support 
Webex Contact Center technical support, powered by Cisco, comes in three available plans: Basic, Enhanced, and Premium Plans.
All Webex Contact Center plans include Basic customer support, which offers 24/7 support via phone, live and automated chat, email, and ticket/case submission in the online portal.
Basic support also includes a 1-hour response time, access to the user community and a searchable online knowledge base with video tutorials and on-demand webinars.
Information on Advanced and Premium support plans are shown in the image below, though pricing is not listed.

Cisco Webex Contact Center User Experience
Recognized as a leader in the CCaaS space by the Gartner Magic Quadrant and outperforming competitors like Avaya, Genesys, and 8×8 in Aragon's Research Globe Report for Intelligent Contact Centers, it's clear Webex Contact Center offers numerous benefits to agents, admins, and customers alike.
Before we elaborate on the Benefits of Webex Contact Center, we've created a pros and cons table summarizing the user experience.
| | |
| --- | --- |
| Webex Contact Center Pros | Webex Contact Center Cons |
| Agent Desktop provides a seamless omnichannel experience with key functionalities one click away | Lack of a transparent pricing structure means it's difficult to estimate the value for money, lack of overall scalability |
| Superior AI-powered team collaboration tools like video calling, persistent chat messaging, Spaces, and whiteboarding | Some standard contact center features, like WFO/WFM and outbound campaign management, are available only via paid add-ons |
| All Contact Center plans include 24/7 support across phone, chat, email, and online support portal | SMS texting and social media messaging are not included in the Standard plan Social media and SMS text messaging |
The top Webex Contact Center benefits are:
Excellent ROI
A Forrester study found Webex Contact Center provides a 262% ROI in 3 years–and completely paid for itself within 13 months.
Switching to Webex, especially from an on-premise call center, offers significant cost savings on hardware, maintenance, and in-house IT support.
Automation features like omnichannel Virtual Assistants help businesses avoid hiring additional agents and leave reps with more time to work on making sales.
Intelligent routing, queue management, customer callbacks, and in-contact agent assistance work together to lower customer hold times, decreasing cost per contact as a result.
Higher CSAT Scores 
Webex increases customer satisfaction by providing 24/7 self-service, improving customer support quality, and keeping wait times low.
Insights from analytics and customer surveys highlight gaps in agent training, poor scheduling practices, and common customer pain points–so managers can address these issues before they get worse.
Customers can connect to team members on their preferred channels and choose from live or automated support.
CRM integrations, omnichannel conversation history, agent assist, and canned responses meet customer needs and make support interactions efficient, accurate, and personalized–all while ensuring the customer doesn't have to constantly repeat themselves to multiple agents.
Increased Agent Retention Rates
Contact Centers have a notoriously high employee turnover rate–and the costs associated with having to hire a new replacement cut into company profits.
Webex Cloud Contact Center leverages automation, team collaboration, and quality management to increase employee retention rates, decreasing turnover by 48%.
Webex video meeting, whiteboard, and chat tools foster a sense of teamwork and cut down on internal miscommunications, while task management tools clarify employee expectations.
Automated voice and digital customer support cuts down on the number of live customer service agent assignments, allowing team members to spend more time on preferred projects.
Workforce Management and Optimization features prevent team members from getting overburdened with work, allow representatives to manage their own schedules and PTO, and provide clear, actionable feedback on agent performance.
Performance gamification, live agent coaching, and persistent team chat boost employee engagement and put employee recognition front and center.
Alternatives to Cisco Webex Contact Center
The table below provides a quick overview of top Cisco Webex Contact Center alternatives, with information about pricing, top features, and ideal user base.
Pricing
Top Features
Best For
Five9
4 monthly plans:

– Core Plan: $149/month

– Premium Plan: $169/month

– Optimum Plan: $199/month

– Ultimate Plan: $229/month

– Five9 Dialer: Predictive, Power, Progressive, Preview auto dialing modes, real-time DNC list management and TCPA compliance

– Digital Engagement: SMS, website, and social media messaging with intelligent omnichannel routing, IVAs, concurrent messaging

– Outbound call centers focused on lead list penetration

– Teams needing to increase First Contact Resolution Rates across voice and digital channels

NICE CXone
4 quote-based plans:

– Customer Engagement Plan

– Essentials Plan

– Core Plan

– Complete Plan

– Agent Assist Hub: Voice and digital live agent assistance with knowledge base integration, canned responses, suggested next steps, call scripts, customer data cards

– Smart Self-Service: Omnichannel self-service empowered by Enlighten AI to measure 100% of customer interactions

– Enterprise-level contact centers with a high daily voice call volume

– Teams heavily reliant on AI and IVAs to automate the majority of omnichannel customer support requests

Zoom Contact Center
– Quote-based pricing only

– Add-ons from $5/month

– Outbound Video Calling: Video customer support calls with live caption, screen sharing, CRM data, call transfer, in-meeting chat messaging

– Active Engagement Assignments: Real-time agent self or manager-assigned voice and video interactions, including a click to connect feature

– Current Zoom One or Zoom Phone users ready to upgrade to a CCaaS solution

– Lower volume remote/blended contact centers prioritizing personalized live support customer support via video call

Talkdesk
3 paid plans:

– CX Cloud Essentials: $75/user/month

– CX Cloud Elite: $95/user/month

– CX Cloud Suite: $125/user/month

– Quote-based Custom Experience Cloud packages

– Customer Experience Analytics: 900+ historical KPIs for custom and pre-made reports, AI-powered omnichannel interaction analytics, feedback analysis, performance management with leaderboards and agent challenges

– Conversations: Unified omnichannel agent inbox and with interaction routing, filtering, conversation history, note taking, contact management, CRM data pops, voicemail database

– Omnichannel contact centers needing advanced real-time and historical analytics to optimizes workforce management and contact routing paths

– Teams needing CCaaS tools with a robust standard feature set alongside advanced integrations and APIs

Genesys Cloud CX
4 paid plans:

– CX 1 Plan: $75/month

– Cloud CX2 Digital: $90/month

– Cloud CX2 Voice+Digital: $100/month

– Cloud CX3 Digital+WEM: $130/month

– Cloud CX3 Digital+Voice+WEM: $150/month

– Outbound Auto Dialer: Preview, Progressive, Predictive, and Agentless Dialing modes with outbound IVR, lead list DNC management, scrubbing, and segmentation, customer opt-ins

– Predictive Routing: Real-time call routing and call path suggestions, comparison testing, optimized routing benefits summary

– Remote call centers needing outbound automation features

– Teams needing high-level, built-in third-party integrations to consolidate business software to one platform
Who is Webex Cloud Contact Center Best For?
Webex is best for enterprise-level contact centers with a high daily contact volume across multiple channels prioritizing:
AI-powered automated customer self-service
High-level customization via APIs, widgets, and integrations
Actionable WFO insights
An intuitive agent interface with an omnichannel inbox, simultaneous interaction handling, and AI Agent Assist
Because the Cisco Contact Center solution is designed for seamless integration with other Webex products, it's also ideal for current Webex Events, Webinars, Meetings, and Calling users ready to scale up to a full-scale CCaaS platform.
Given that the Cisco Collaboration Flex Plan includes pay-as-you-go access to Webex Contact Center and works alongside existing hardware, it's a great option for businesses that want to transition from premise-based call centers to the cloud.
FAQs
Below, we've answered the top Webex Contact Center FAQs.