Modern VoIP providers are redefining the term "business phone system". This is because they offer advanced virtual features: multiple communication channels including chat and video, customizable routing options, real-time analytics, AI support, and more.
Two of today's top providers blurring the lines between a business phone system and a unified communications solution are GoTo Connect and Zoom.
This article will place GoTo Connect and Zoom Phone head to head, comparing their pricing, key features, pros, and cons.
Jump to ↓
GoTo Connect vs Zoom at a Glance
The main difference between GoTo Connect and Zoom Phone is that GoTo Connect offers a larger unlimited-calling area, while Zoom provides cheaper plans and a pay-as-you-go option.
GoTo Connect's Standard plan support unlimited international calling within a network spanning 52 countries–a number outmatching many of its competitors. Additionally, GoTo Connect offers built-in video meetings and a drag-and-drop flow builder, neither of which Zoom includes.
However, Zoom offers highly affordable pricing plans: a metered option with a base rate of just $10 monthly per user, and an unlimited calling plan within the US and Canada that comes out to $15 per user.
GoTo Connect »
Zoom Phone »
Pricing
2 plans from $24 to $29 monthly per user
3 plans from $10 to $20 monthly per user
Key Features

Dial plan flow builder
Call recording
Ring groups
Call queues

Call recording
Voicemail transcription
IVR
Call queues
Call monitor, whisper, barge, takeover

Available Communication Channels
Integrations
12 integrations including:

Salesforce
Slack
Zoho CRM
Zendesk
Google

9 integrations including:

Salesforce
Slack
Contact center software
Microsoft
Google

Customer Support Options

Knowledge base
Community forum
24/7 phone and message support

24/7 global support via phone and email
Best For
Companies with a customer base and staff spread across multiple countries
Phone-focused companies with exclusively domestic customers and internal staff
What is GoTo Connect?
GoTo Connect is a virtual phone system and business communications solution that unites VoIP calling, SMS texting, video meetings, team chat messaging, plus contact-center features like call routing, queuing, and analytics.
Within a mobile and desktop app, agents can interact with internal teammates and external customers across all communication channels, switching between them seamlessly from any app touchpoint. Menu notifications keep agents aware of all activity updates.
Administrators can easily manage GoTo Connect's virtual PBX system with the quick setup of local, toll-free, and vanity numbers globally, or the option to port in business phone numbers. GoTo Connect offers 99.999% uptime, plus unlimited calling within the US, Canada, and over 50 countries.
Learn more about
GoTo Connect
What is Zoom Phone?
Zoom Phone is a cloud-based phone system uniting VoIP calling, team chat, and SMS, plus virtual telephony features like routing, call recording, and call center monitoring tools.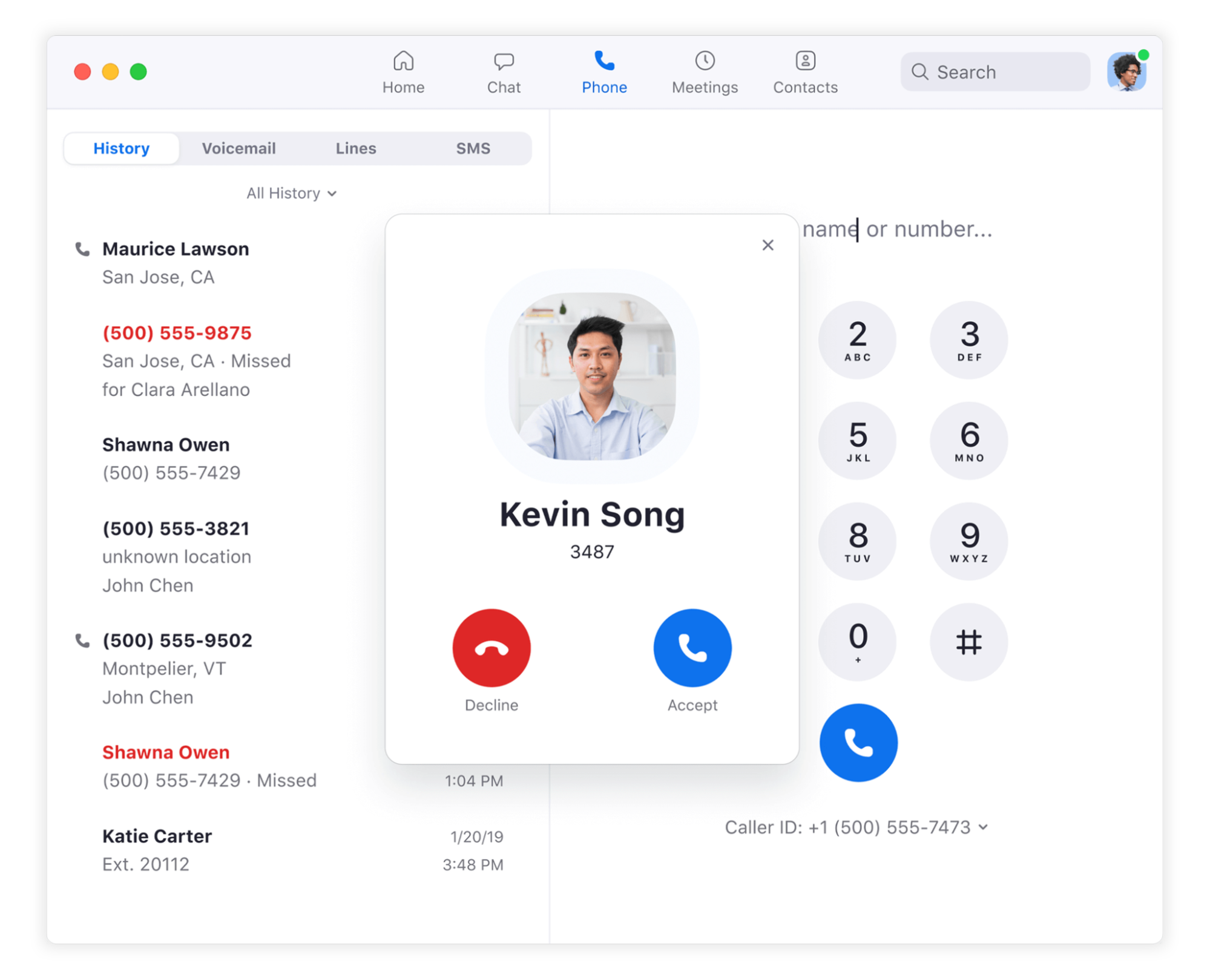 While Zoom Phone itself doesn't include video conferencing, the solution integrates within the same desktop and mobile interface as Zoom One–which offers collaborative video-conferencing features and a free plan.
Zoom is known for its interface's ease of use, allowing users to jump between communication channels while interacting with team members and customers. Zoom offers pay-as-you-go or unlimited domestic calling options, plus an add-on for unlimited calling to 19 countries. They support PSTN coverage to 49 countries, with local, toll-free numbers, and number porting.
Learn more about
Zoom Phone
GoTo Connect vs Zoom Phone: Pricing Overview
GoTo Connect offers a small-business pricing plan capped at 20 users, with unlimited calling in the US and Canada, 4-participant video meetings, and one of each core routing feature–auto attendant, dial plan, and ring group. The Standard plan has unlimited users, international calling, and routing features, and 150-participant video meetings. The contact center add-on offers features like analytics, monitoring, and real-time queue updates.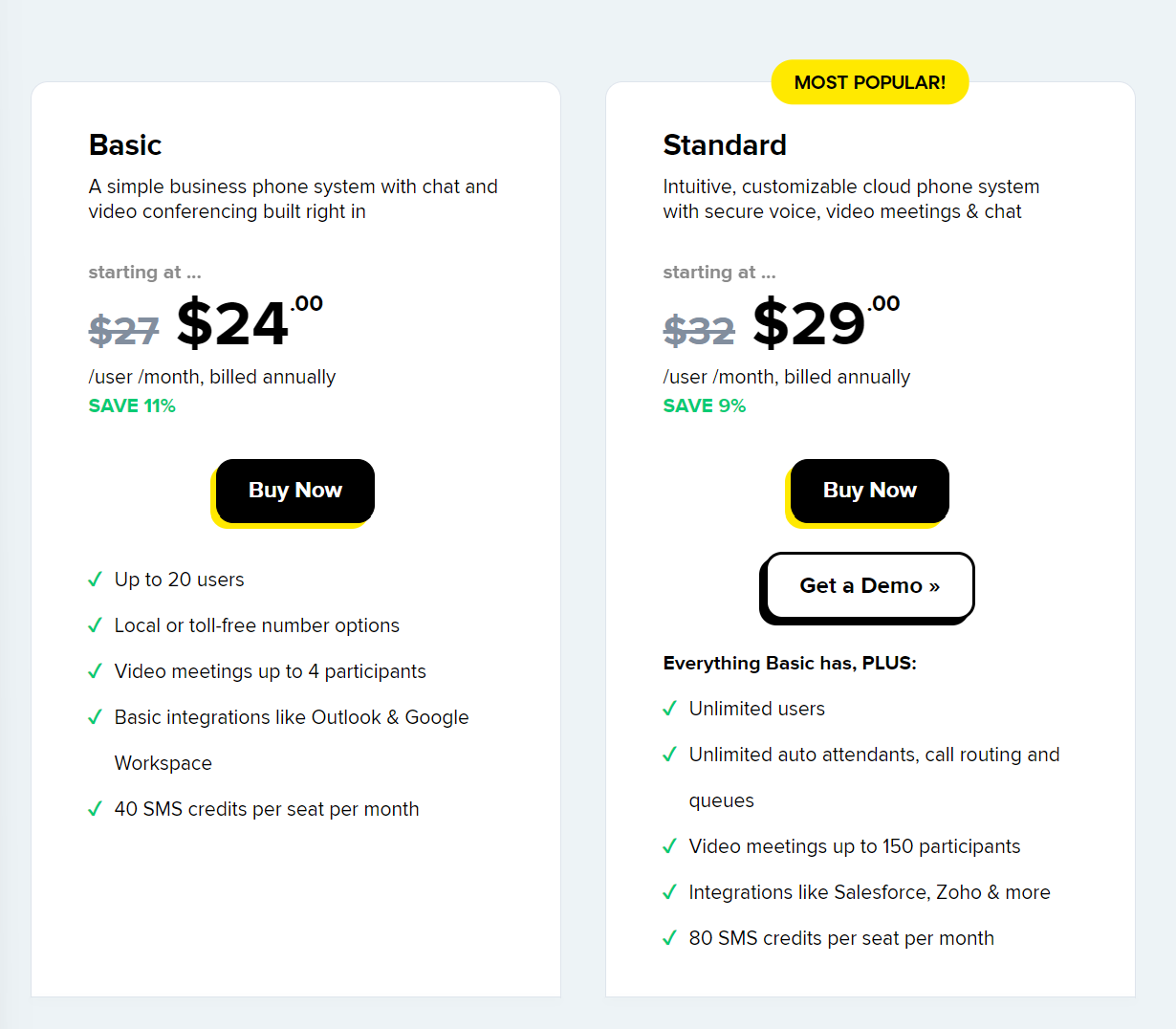 Zoom Phone offers a US and Canada pay-as-you-go plan, a US and Canada unlimited plan, and a domestic plan for global customers based outside the US. The metered plan offers a cheap rate for companies with small daily call volumes averaging below 8 minutes per user. The unlimited US and Canada plan also has a rate that beats most competitors.

GoTo Connect vs Zoom: Feature Comparison
Here, we've compared the essential features of GoTo Connect vs Zoom Phone.
GoTo Connect Phone System
GoTo Connect offers worldwide virtual phone numbers with easy setup, easy number porting, plus unlimited extensions.
Agents can make and receive phone calls from any device, including Android and iOS. Within the mobile and desktop interface, simply clicking on a user's name pulls up their contact information and one-click calling.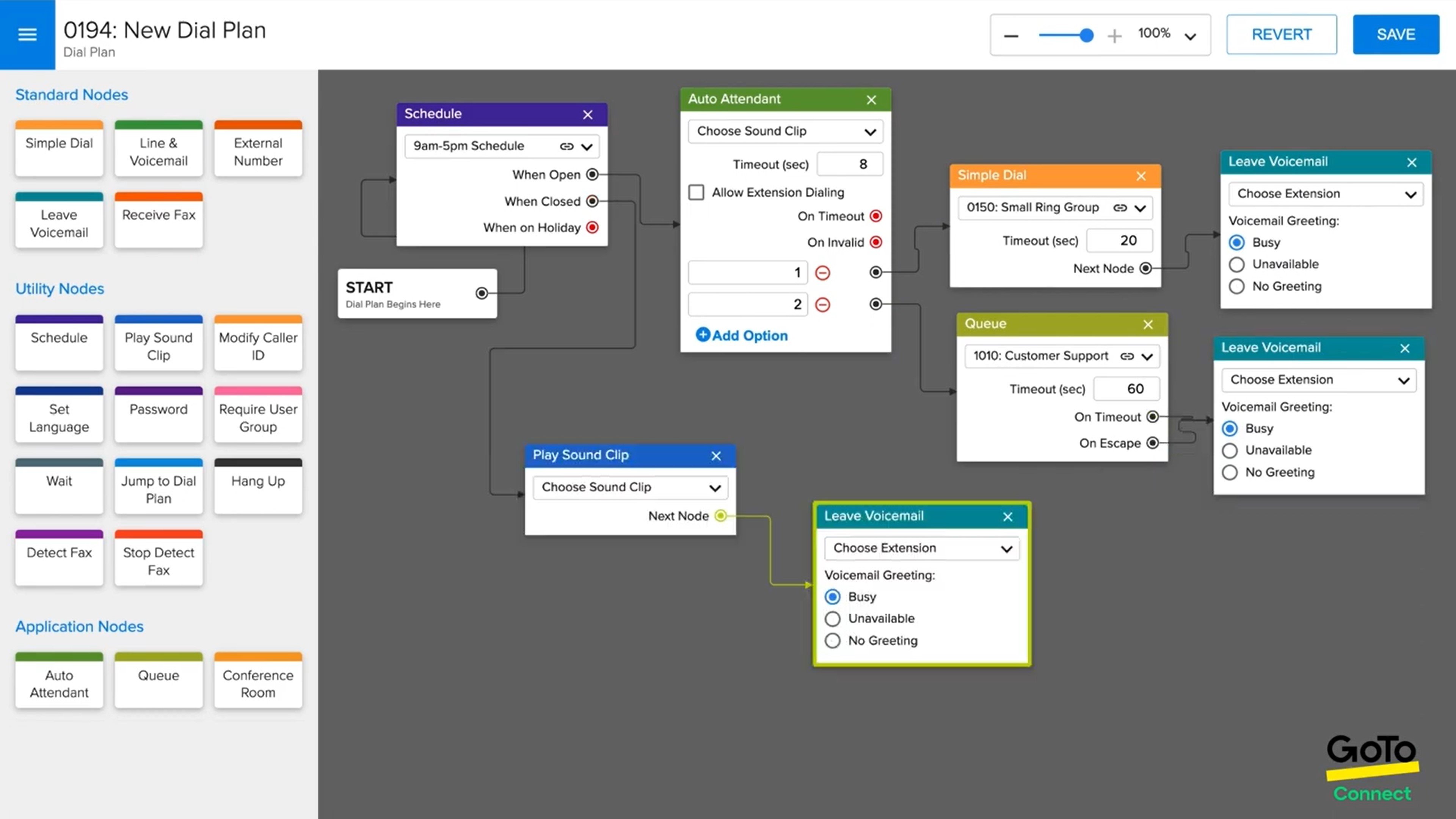 GoTo's phone system includes the following routing and call-handling features:
Visual dial plan editor: A drag-and-drop flow creator for administrators to customize dial plans that route incoming calls and handle customer actions. Combine auto attendants, business hours schedules, routing dial options, announcements, call queues, and directions like voicemail, set language, and password requirement.
Ring groups: Group user devices to ring simultaneously in response to inbound calls, improving customer experience with minimal wait times.
Call queues: Distribute inbound calls between qualified agent groups, with customer hold queues and the option for automatic agent callback.
Auto attendant: Customize self-service IVR routing menus that connect customers to users, voicemail inboxes, and announcements via DTMF options adjusted for business hours.
eFax: Send and receive faxes directly from email.
Instant response: Set automated response texts that reply to customers when they reach a busy agent's voicemail.
Call handling: Call park, forward, transfer, mute and Do Not Disturb.
Monitor/whisper/barge/takeover: An admin monitoring tool for supervisors to listen in on agent conversations, suggest live feedback privately, join the conversation, or take it over entirely.
Call recording
Zoom Phone System
Zoom Phone offers VoIP telephony with pay-as-you-go and unlimited calling options within the US and Canada, or unlimited domestic calling in another country.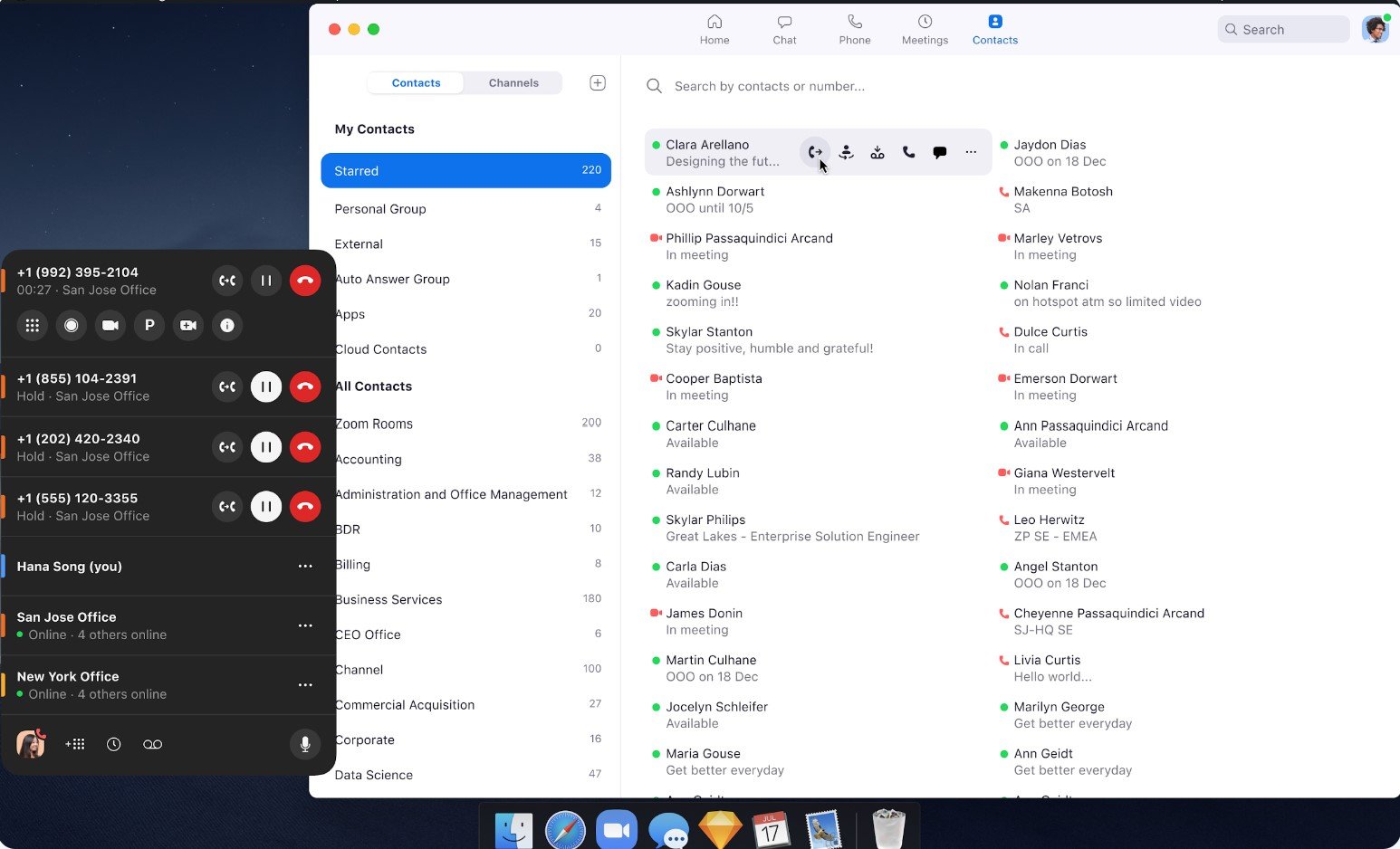 The Zoom Phone app embeds alongside Zoom's video-conferencing and chat capabilities, with a built-in dial pad, contact list, customizable voicemail, and visual voicemail inbox. Zoom's mobile and desktop apps support softphone functionality, allowing HD voice calls anywhere–from any device–without extra hardware or desk phones.
Users can hand off between devices mid-call and escalate calls to meetings with one click.
Zoom Phone includes the following routing and call-handling features:
Unlimited IVR
Automatic call distribution (ACD) or queue groups
3-way ad hoc conference calls
Voicemail transcription
Call recording
Holiday and business hours scheduling
Call forwarding and transfer
GoTo Connect Messaging
With GoTo Connect, agents can create 1:1 and team web-chat conversations, and send SMS and MMS messages. Agents can create unlimited chat channels for projects or departments, which provide the option to jump into a conference call or video conference.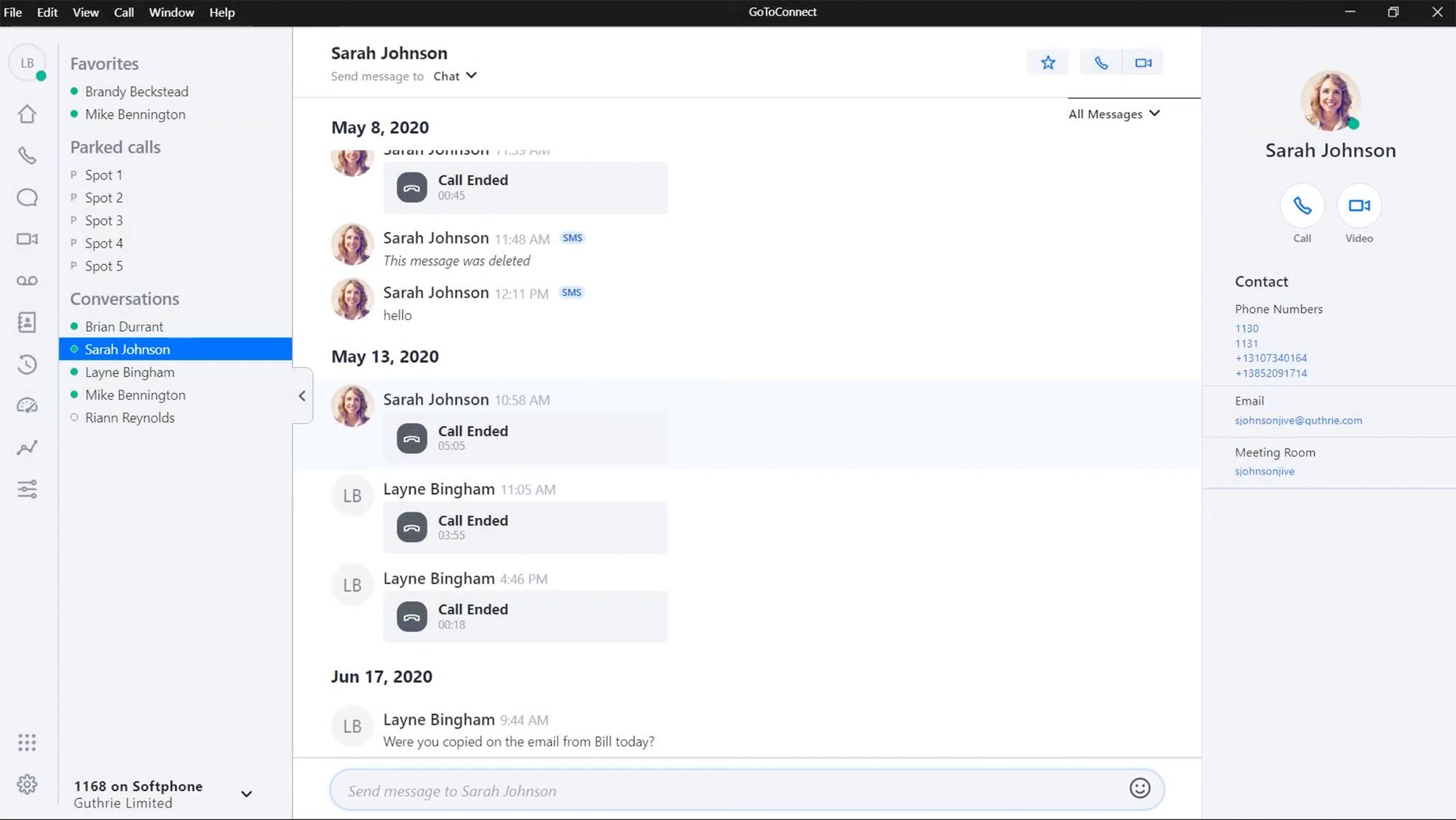 Clicking on a contact's name brings up interaction history, including all calls, SMS, and chat messages. Here, agents can chat, share files and images, and react with emojis, plus the option to jump into an ad hoc call or video meeting with one click.
Zoom Messaging
The Zoom Chat tab hosts all of an agent's 1:1 chats and channels, where agents can access a variety of media sharing and collaboration tools. To use chat features to their fullest, Zoom users should also download the free version of Zoom One.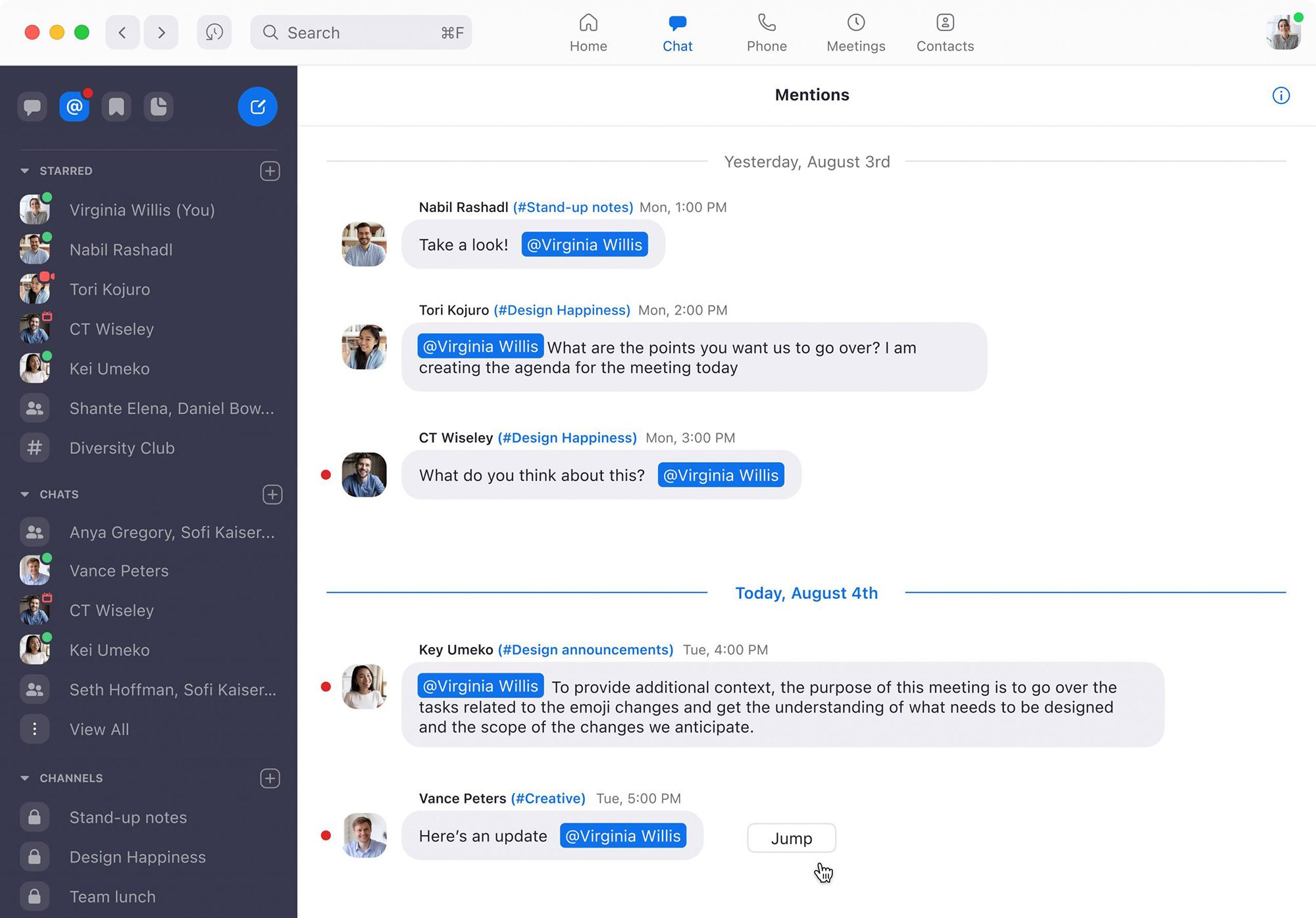 Within chat, agents can create folders to organize document and file sharing. Users can collaborate live on files, work simultaneously on up to 3 whiteboards, and integrate workflow APIs from third-party apps like Jira. Zoom chat integrates with Microsoft Teams and Slack for universal messaging across platforms.
Within any chat, one-click buttons escalate into a pop-up video conference or call.
GoTo Connect Video Meetings
GoTo Connect video meetings, which support up to 250 participants and 25 onscreen webcams, are built directly into web and mobile apps. This means that users can create and schedule meetings in their Calendar tab, managing their own and teammates' meeting calendars–generating an invite link that enables access on any device with no download required. The large meeting capacity can even support webinars.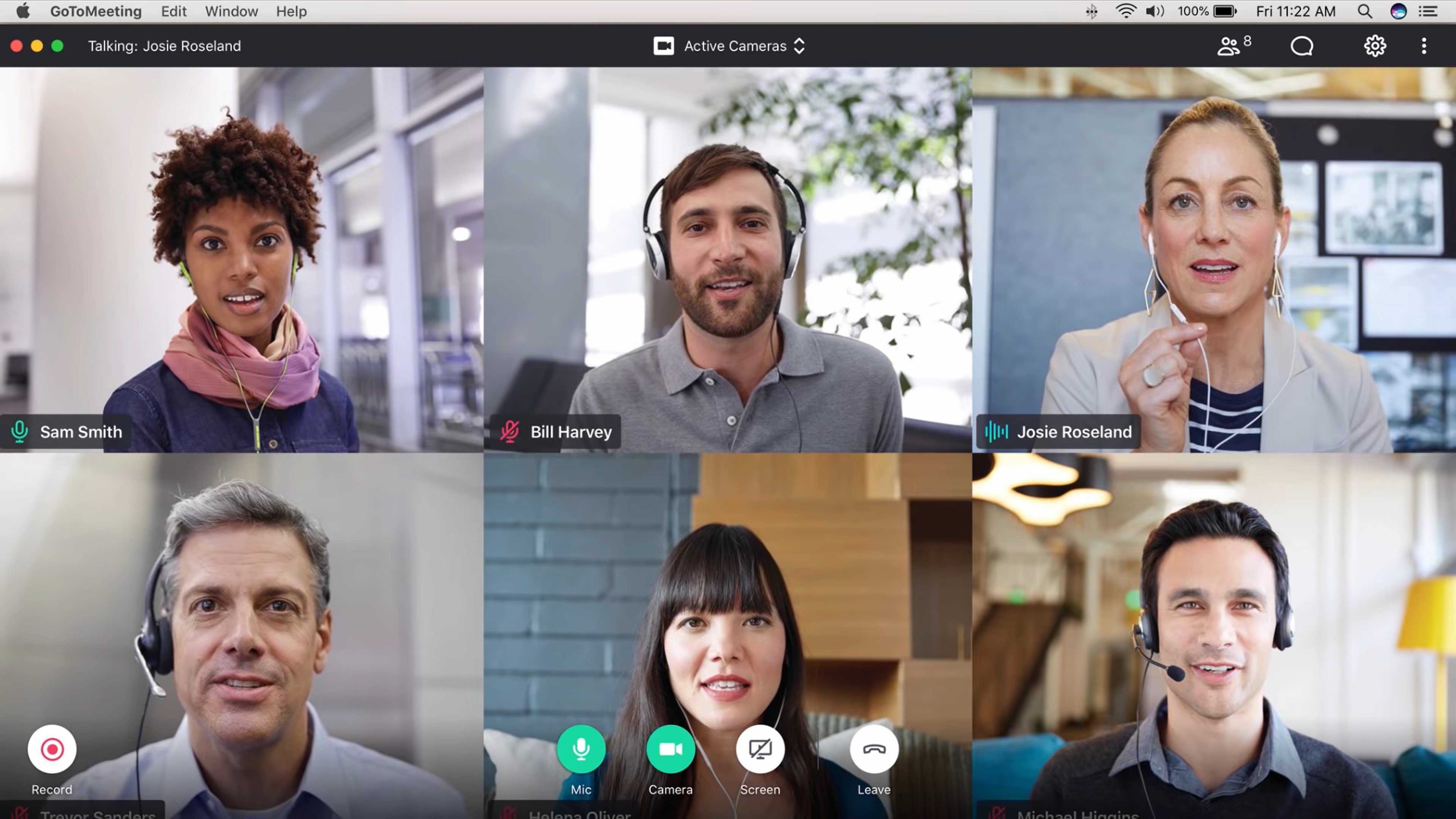 GoTo video conferences include the following features:
Screen sharing: Share screen from mobile or desktop, with Select Display to share only the parts of your screen that you want to share.
Drawing: Onscreen collaborative drawing tools, including markers, pens, and highlighters, that multiple teammates can use at once.
Presenter switching: The option for any participant to present to the group without having to request permission.
Custom background: Select an image or blurred background
Organizer controls: Screen sharing start and pause, pass presenter role, and mute
Unlimited meeting duration on Standard plan
Zoom Video Meetings
While Zoom Phone plans don't include video conferencing, the Zoom app unites Zoom Phone within the same interface as Zoom One, which features robust video conferencing capabilities in a free plan.
We recommend signing up for Zoom One's free plan alongside a Zoom Phone paid plan. Zoom meetings are limited to 40 minutes but support up to 100 attendees.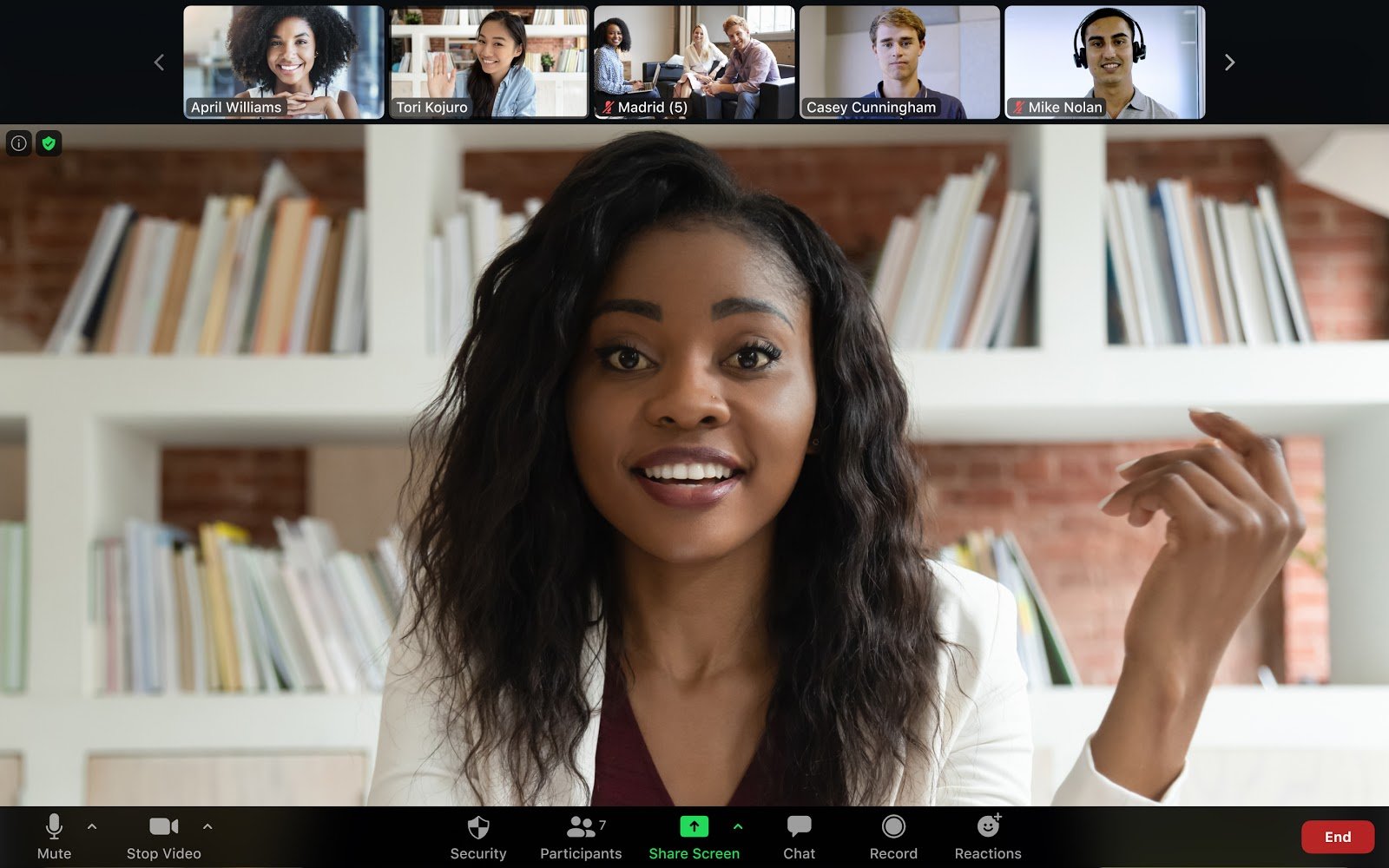 Zoom One video meetings include the following features:
Editable whiteboards: 3 collaborative canvases where dozens of teammates can draw, insert shapes and images, type, and add sticky notes.
Automated real-time captions
GoTo Connect Reporting and Analytics
Reporting and analytics features included with all plans:
Call logs: Searchable call history containing basic information for each call, including start time, end time, call duration, and initiating party.
Standard plan reporting and analytics:
Real-time analytics: Included on the Standard plan, real-time analytics inform agents about customer sentiment and offer live feedback.
Caller hold-time reports: Informs agents about how long a caller has been on hold.
Reporting and analytics included with the Contact Center add-on:
Real-time supervisor dashboard: Live overview of queue performance, with the overall activity breakdown, calls in queue, call progress, call resolution rate, agent availability, and more.
Call analytics: Reports and graphs that identify queue call performance and traffic by time of day, day of the week, length, location, and issue.
Resolved conversations across channels: Displays which channels generate the most activity–sorted across agent, chat type, chat queue, and status.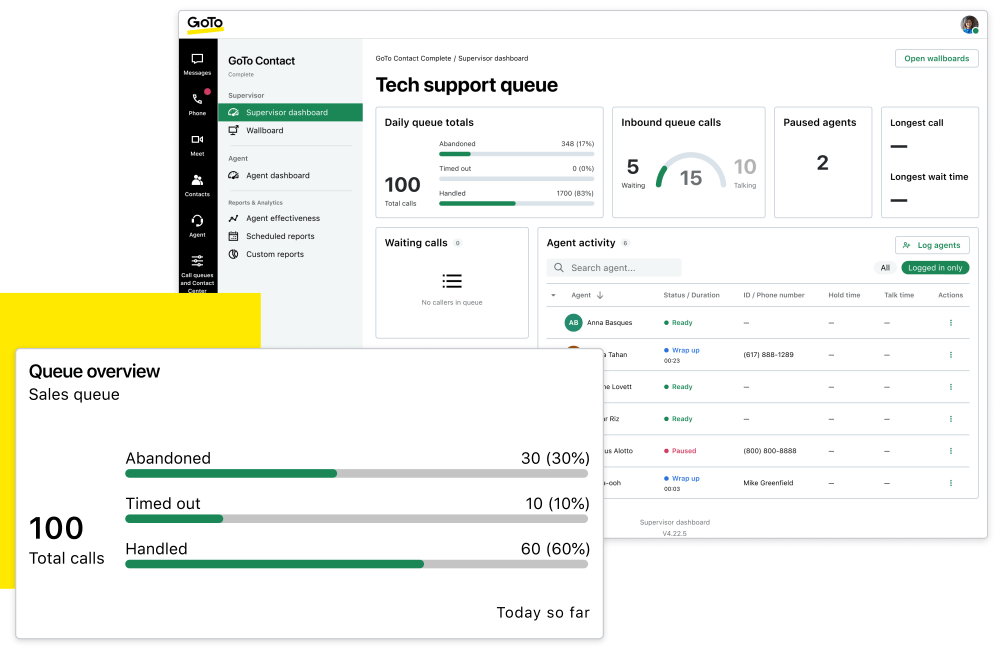 Zoom Phone Reporting and Analytics
All Zoom phone plans include the following reports and dashboards:
Quality of service reports: Mean Opinion Score (MOS) across devices, channels, and calls
Call logs
Zoom's Power Pack add-on includes the following call center analytics:
Real-time call queue analytics: Graphs and statistics displaying SLA success rate, call volume, inbound and outbound calls, total call time, and call volume by time of day.
Historical call queue analytics: Call queue visuals, statistics, and trends over select historical time periods for KPIs including call volume, call time, and an overall call summary.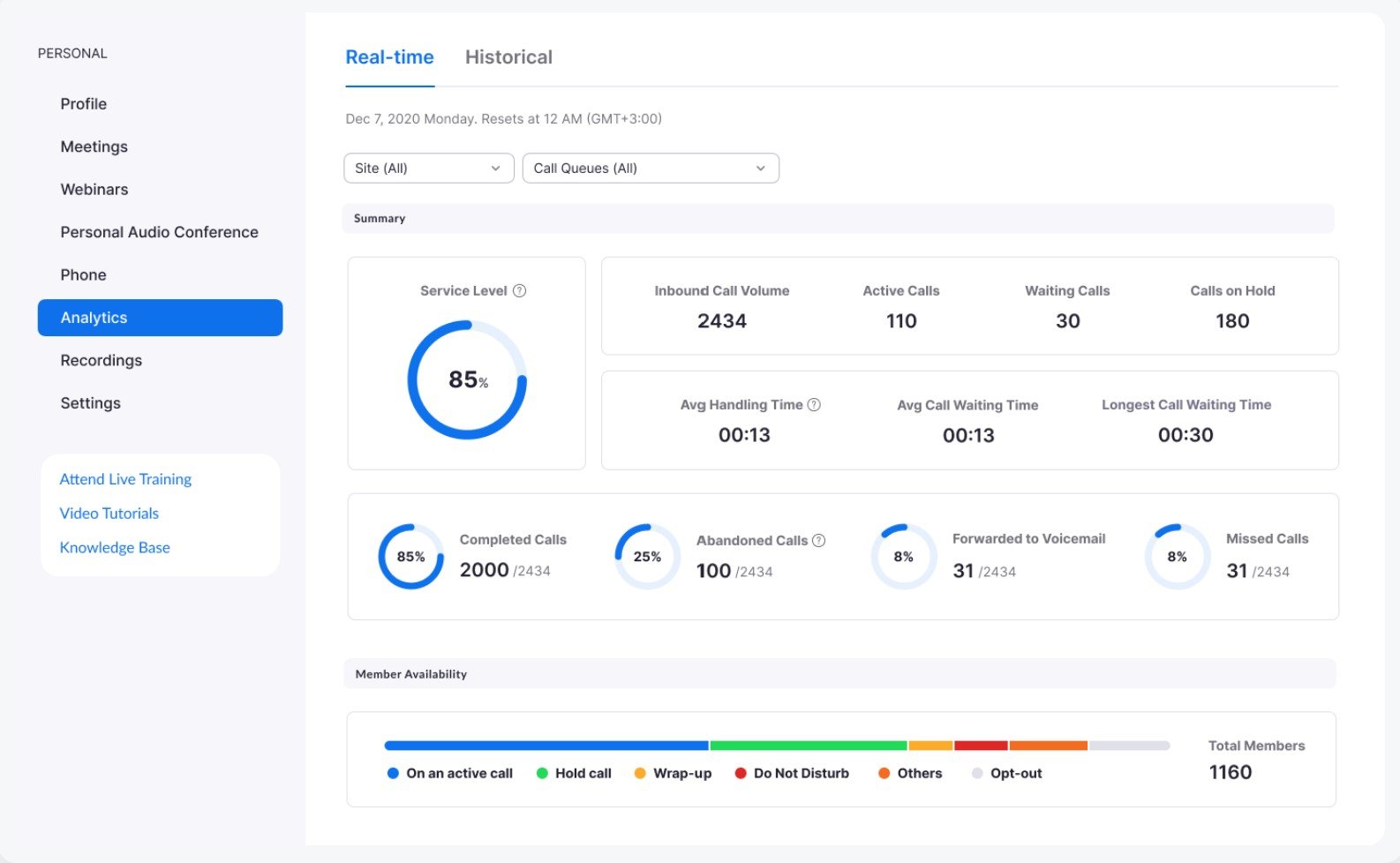 GoTo Connect Pros & Cons
| | |
| --- | --- |
| GoTo Connect Pros | GoTo Connect Cons |
| Massive unlimited calling area on Standard plan | Small total and video-meeting user capacity on Basic plan |
| Real-time AI assistance on Standard plan | Some integrations–like Salesforce–are confusing to connect |
| Very few dropped calls | The app freezes sometimes, requiring screen refresh |
Zoom Phone Pros & Cons
| | |
| --- | --- |
| Zoom Pros | Zoom Cons |
| Crystal-clear audio | Native reporting and analytics are basic and minimal |
| Easy to add and remove users | No built-in video with Zoom Phone |
| Interface is easy to use | Lacks a drag-and-drop IVR flow builder |
GoTo Connect vs Zoom Phone FAQs
Yes. GoTo Connect video meetings–and all the features in Meetings–are included with GoTo Connect.

No, but GoTo Connect does offer a 14-day free trial for up to 5 users on the Standard plan.
Yes, Zoom can call landlines by connecting to PSTN legacy phone systems.
On Zoom Phone's metered plan, inbound calls are free and outbound calls range from 3 cents within the US up to $1.50 per minute for the most expensive international calls. On Zoom's unlimited plans, all domestic calls are free.