Our Verdict: Dialpad is better for teams seeking a collaborative UCaaS platform with calling, team chat, and video conferencing, while Grasshopper is better for teams seeking a basic VoIP phone system with just phone and SMS.
We Recommend Dialpad if You Need:
Team collaboration: The UCaaS app supports team collaboration with team chat and video conferencing, with advanced features like file sharing, calendar integrations, and meeting transcriptions
Analytics and AI: All plans include real-time analytics. Meetings and phone calls include AI features like call and voicemail transcription, agent support suggestions, and auto-generated summaries
Routing and queueing: Dialpad has a multi-level IVR, call queues, and ring groups–features that enable customer self-service and complex inbound call routing
We Recommend Grasshopper if You Need:
A simple interface: Grasshopper's easy-to-use mobile and web applications make it an excellent fit for teams just getting started with VoIP, who don't need advanced collaboration features
VoIP and SMS: Grasshopper only supports two communication channels–calling and texting–without video or team chat. Teams that only want VoIP and SMS will find Grasshopper a cost-effective option
Shared phone numbers: Each plan includes a preset number of business phone numbers, supporting unlimited users and multiple extensions. This pricing structure offers strong value for teams that share phone numbers among multiple users.
Learn more about
Grasshopper
What is Dialpad?
Dialpad is a business communications platform unifying VoIP calling, SMS texting, team chat, and 10-participant video conferencing. The Dialpad UCaaS app is available on desktop or mobile and includes advanced phone system features like multi-level IVR, call queueing, ring groups, and real-time analytics.
The app supports team collaboration with team chat threads, file sharing, and video collaboration with AI-generated summaries, live captions, and waiting rooms.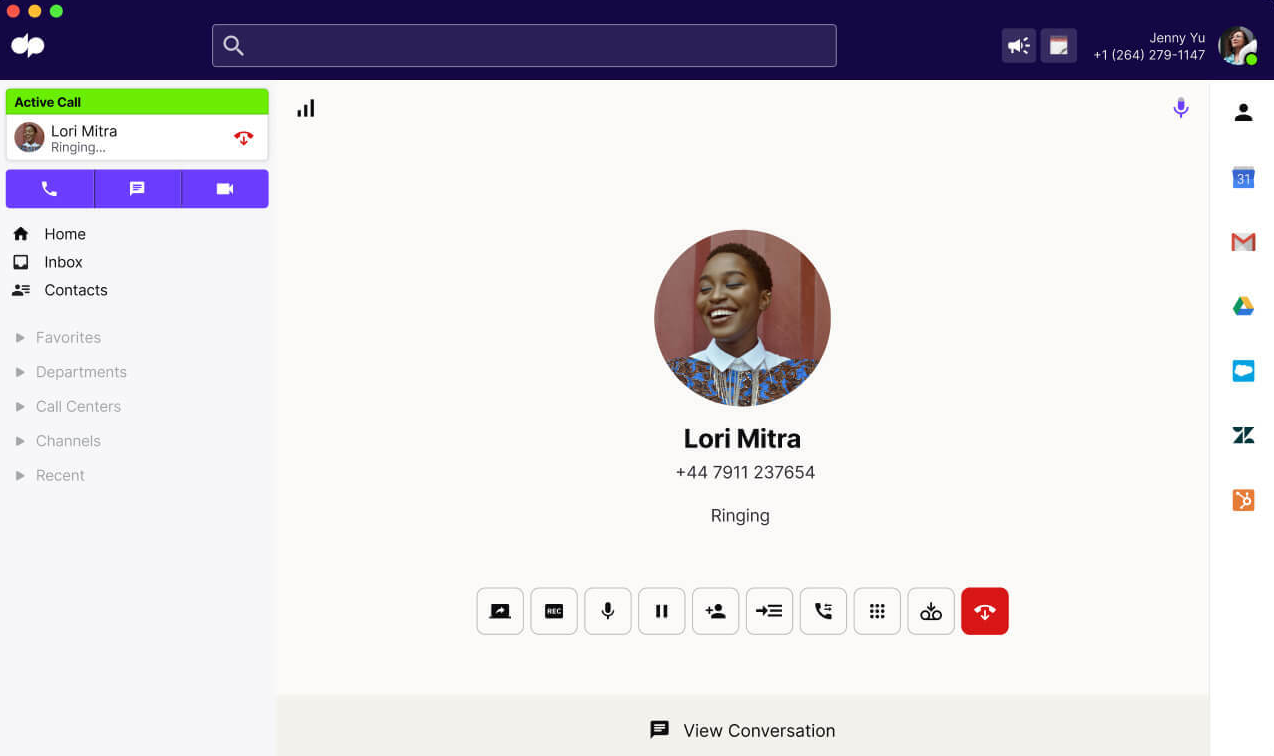 What is Grasshopper?
Grasshopper is a cloud-based phone system with VoIP calling and SMS texting. The desktop and mobile apps support unlimited voice and SMS within the US, with phone numbers from area codes throughout the US.
The phone system does not include advanced routing features but does have essential call controls like voicemail and call forward, hold, and transfer. Users can set custom greetings, configure automated text replies, and track call history with one-click callbacks.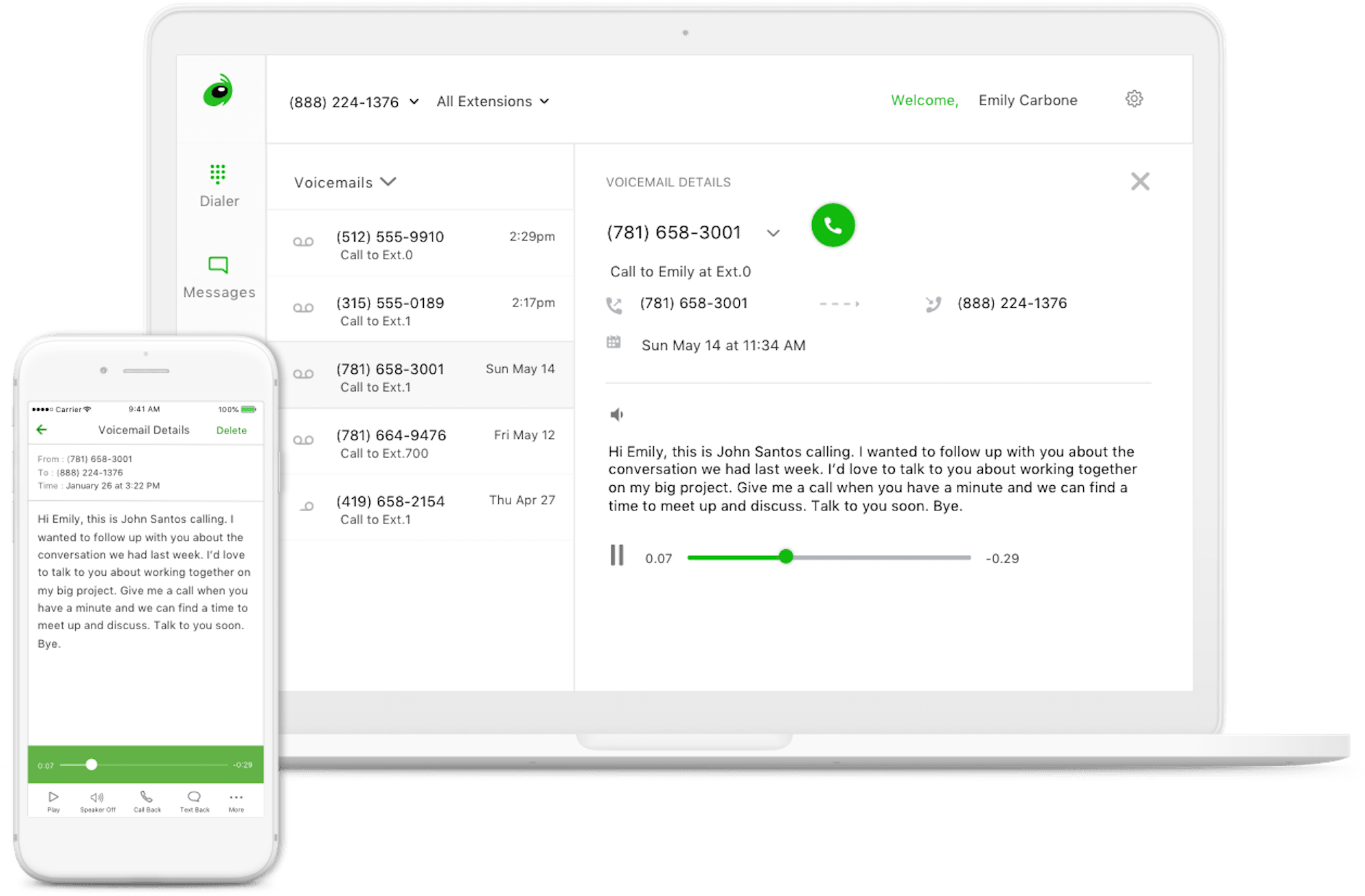 Dialpad vs. Grasshopper: Feature Comparison
Below, we compare Dialpad vs Grasshopper across 5 key features.
Voice Calling Features
Summary: Both Dialpad and Grasshopper offer VoIP calling and virtual numbers in the US, but Dialpad offers more advanced routing and queueing features. Dialpad offers multi-level IVR, live call transcription, a wider unlimited calling area, and DID numbers in over 70 countries. Grasshopper offers call controls, voicemail, and basic call logs.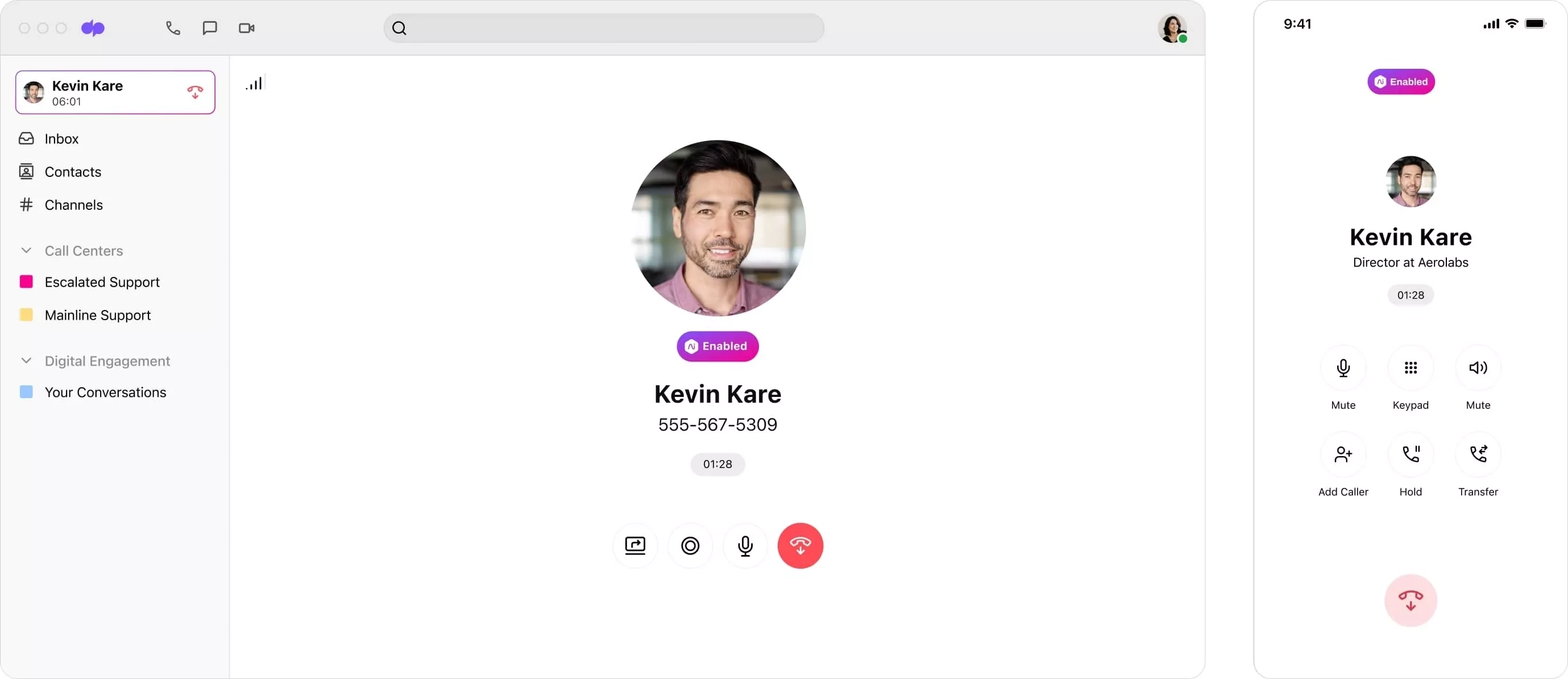 Shared Features
Desktop and mobile apps: Both Grasshopper and Dialpad offer mobile and desktop apps that provide access to all calling features. Users can access contact lists, click-to-call, voicemail, and communication channels with a few clicks.
VoIP calling: Make VoIP calls anywhere directly from the desktop or mobile app, by using the Internet. Both providers support unlimited calling in the US, with per-minute charges for international calls.
Toll-free or local numbers: Both VoIP providers offer toll-free or local DID numbers throughout the US
Extensions: Add extensions to a phone number to share it between multiple users
Voicemail: Access voicemail logs from the VoIP dashboard. Search voicemails by user, listen to voicemail messages, and read the voicemail transcription. Forward voicemails and transcription to email.
Call controls: Call management features like call hold, call forwarding, and call transfer
Extensions: Use multiple user extensions to share business phone numbers between multiple teammates
Custom greeting: Record a custom audio greeting on each phone number
Call logs: Both platforms record outgoing and incoming calls on a log with caller ID, date, and time. Access call records within the VoIP app and search by contact name or date.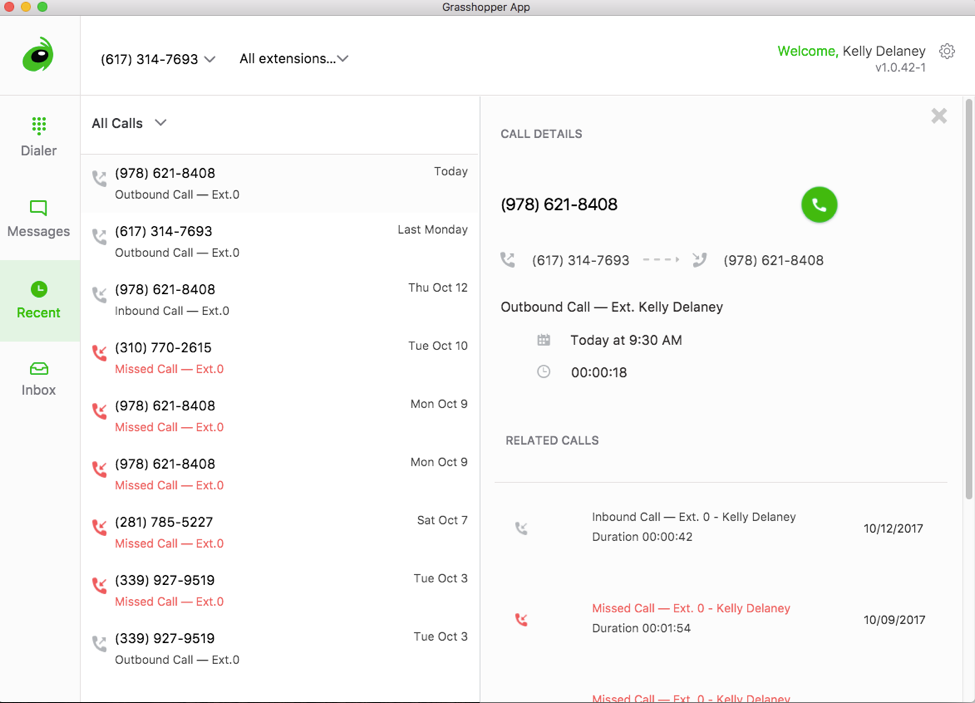 Differences
Unlimited calling area: Dialpad supports unlimited calling in the US, Canada, and your domestic country–if it's not the US. Grasshopper supports unlimited calling in the US only.
Virtual phone number availability: Dialpad's Pro and Enterprise plans offer virtual phone numbers from over 70 countries around the globe, while Grasshopper only offers phone numbers in the US.
Call queueing: Dialpad includes call queueing, which organizes inbound calls into hold queues when agents are busy. This is a great feature for companies that handle a lot of inbound calls to various departments.
Multi-level IVR: Dialpad offers multi-level IVR and custom call routing on all plans. These features provide customers with a self-service menu to route themselves to the right agent or departments, handling inbound calls more efficiently.
Real-time analytics: Dialpad offers live call analytics that track call center activity, usage, and call quality. These reports include real-time and historical data that admins can customize according to user, department, KPI and metric, and historical timeframe.
Call transcription: Dialpad provides real-time call transcriptions to support agents during live calls
Recording: Dialpad supports automatic and on-demand call recording, while Grasshopper does not offer this feature
Messaging and SMS
Summary: Dialpad and Grasshopper both support SMS texting within the US,  but Grasshopper supports unlimited texting while Dialpad has a 250-SMS limit each month before a user incurs charges. However, Dialpad has advanced team messaging features that facilitate collaboration and file sharing.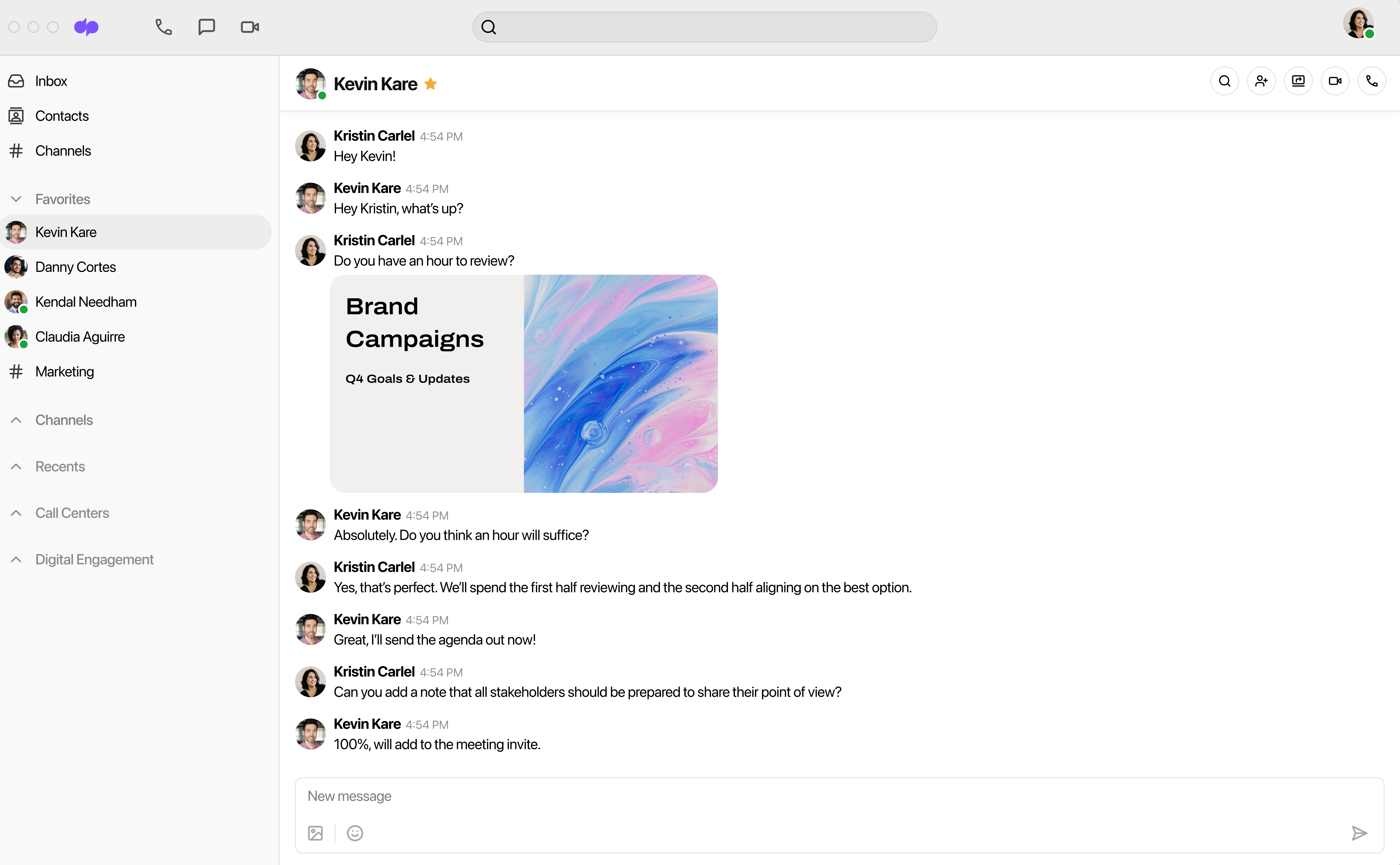 Shared Features
SMS texting: Both solutions support SMS texting directly from the desktop or mobile app. Send and receive texts on any internet-connected device, including Android or iPhone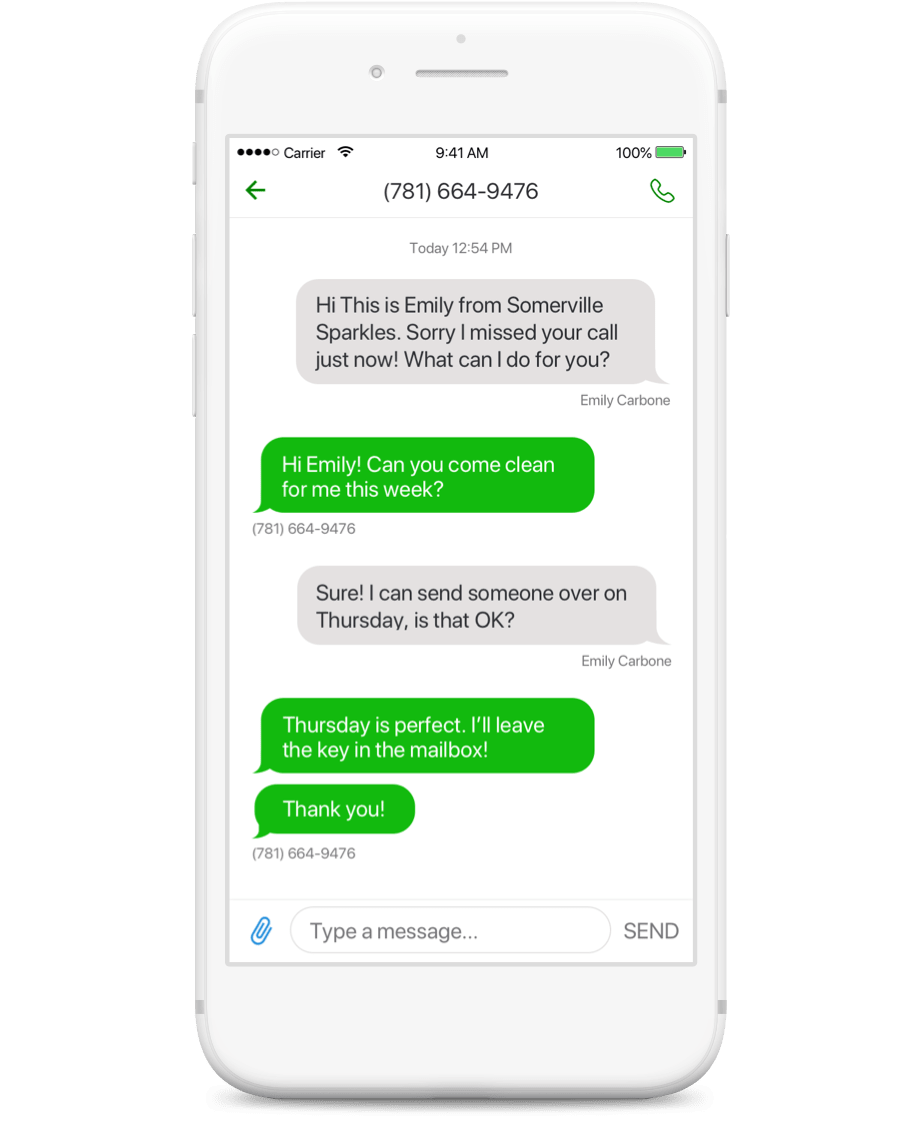 Differences
Texting limitations: Grasshopper supports unlimited texting throughout the US, while Dialpad includes free texting up to 250 outbound monthly SMS per user. Beyond 250, Dialpad charges $.008 per text message.
International texting: Grasshopper users can only send and receive texts to US phone numbers, while Dialpad users on the Pro plan can text international numbers
Team messaging: Dialpad supports internal team messaging with 1:1 chat, group chat, and whole-team chat rooms. Whole-team channels include other collaborative features like file sharing, one-click team huddles and audio conferencing, and emoji responses.
File sharing: Dialpad users can share files via team chat, storing the files in folders for organization and later retrieval
Automatic response: Grasshopper users can set an automated text response that instantly replies to new callers when the agent is unable to answer
Search: Dialpad users can search files and messages
Availability monitoring: Dialpad users can check teammate availability in the dashboard's left-hand column, with green, red, and yellow lights indicating user status
Video Conferencing
Summary: Dialpad offers AI video meetings for up to 10 participants, featuring collaborative tools like virtual backgrounds, screen sharing, chat, and whiteboards. Grasshopper does not offer video conferencing.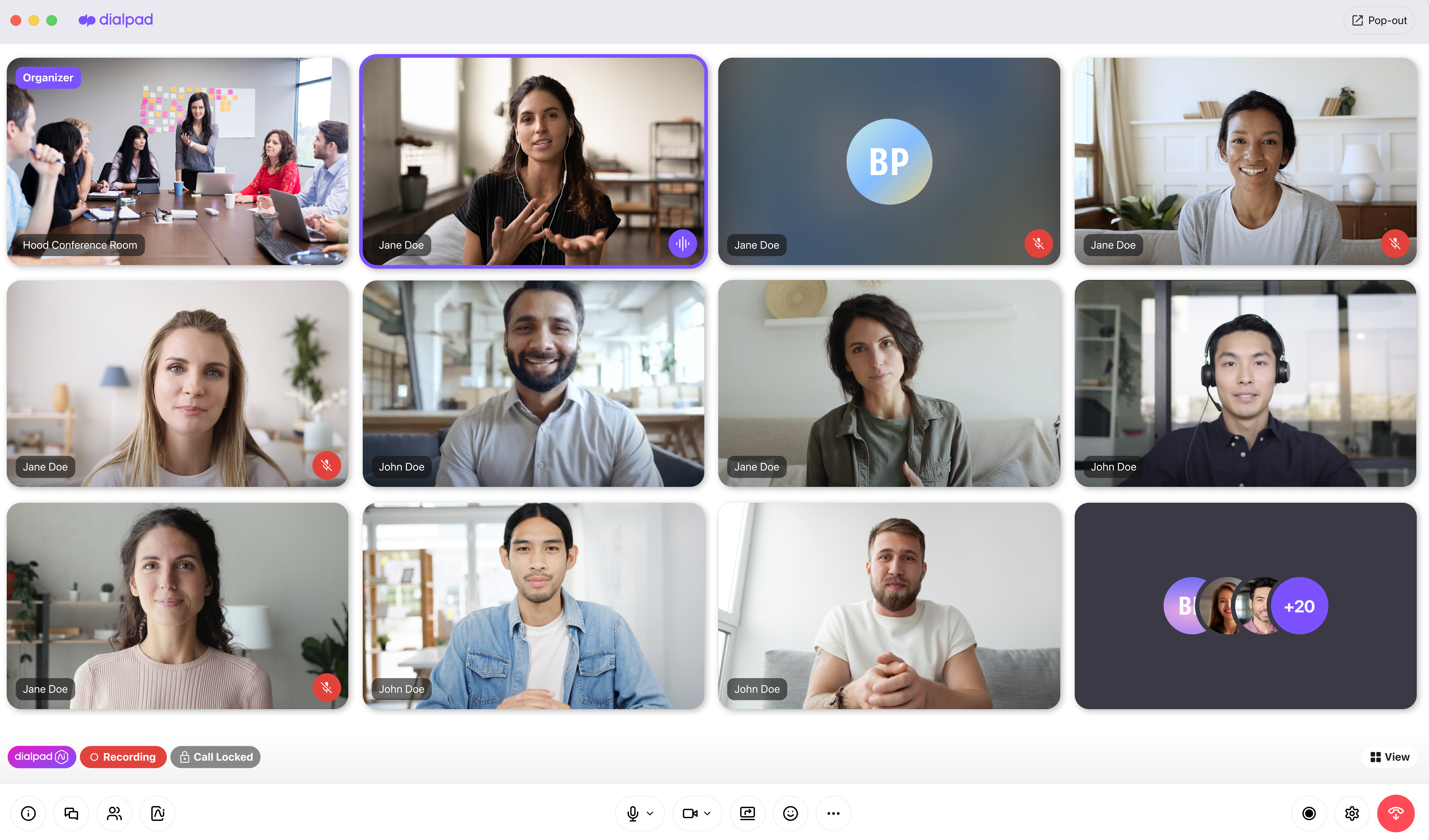 Dialpad Video Conferencing Features
Capacity and length: Dialpad meetings hold up to 10 participants and last up to 5 hours
Accessible on any device: Users and invitees can access Dialpad video meetings on desktop or mobile, using the app or an invite link from a PC, Mac, or iOS system. Invited participants can join meetings by tapping the link, with no download required.
Recording: Meetings include unlimited audio recordings and a limited number of video recordings. Contact Dialpad for more details about recordings.
Meeting controls: Each participant can turn their mic or video on or off. Hosts can lock meetings, mute and unmute participants, or kick participants from a meeting.
Multiple layouts: View meeting participants in multiple arrangements. Dynamic view shows the most recent speakers, Grid view shows everyone, Filmstrip view arranges each participant's video atop the screen, and Spotlight view highlights the current speaker.
Chat: Meeting participants can send 1:1 messages or participate in a running group chat during meetings
Screen sharing: Any participant can share a window or screen with the group, from a desktop or mobile device
AI transcriptions and summaries: All meetings include artificial intelligence support tools like auto-generated recaps with a summary and action items
Waiting room: Hosts can choose to hold new attendees in a waiting room before the host lets them in. The host can view the waiting room and select who enters the meeting.
Virtual backgrounds: Attendees can blur their backgrounds, set a custom image as the background, or choose one of Dialpad's preset background options
Scheduling: Schedule meetings directly in Dialpad or in Google Workspace or Microsoft 365, syncing meetings between calendars
Reporting and Analytics
Summary: Both Dialpad and Grasshopper offer basic call logs, but Dialpad offers real-time analytics with detailed KPIs and metrics about call volume and user activity. Dialpad's analytics are significantly more advanced, also including Quality of Service (QoS) reports for call performance.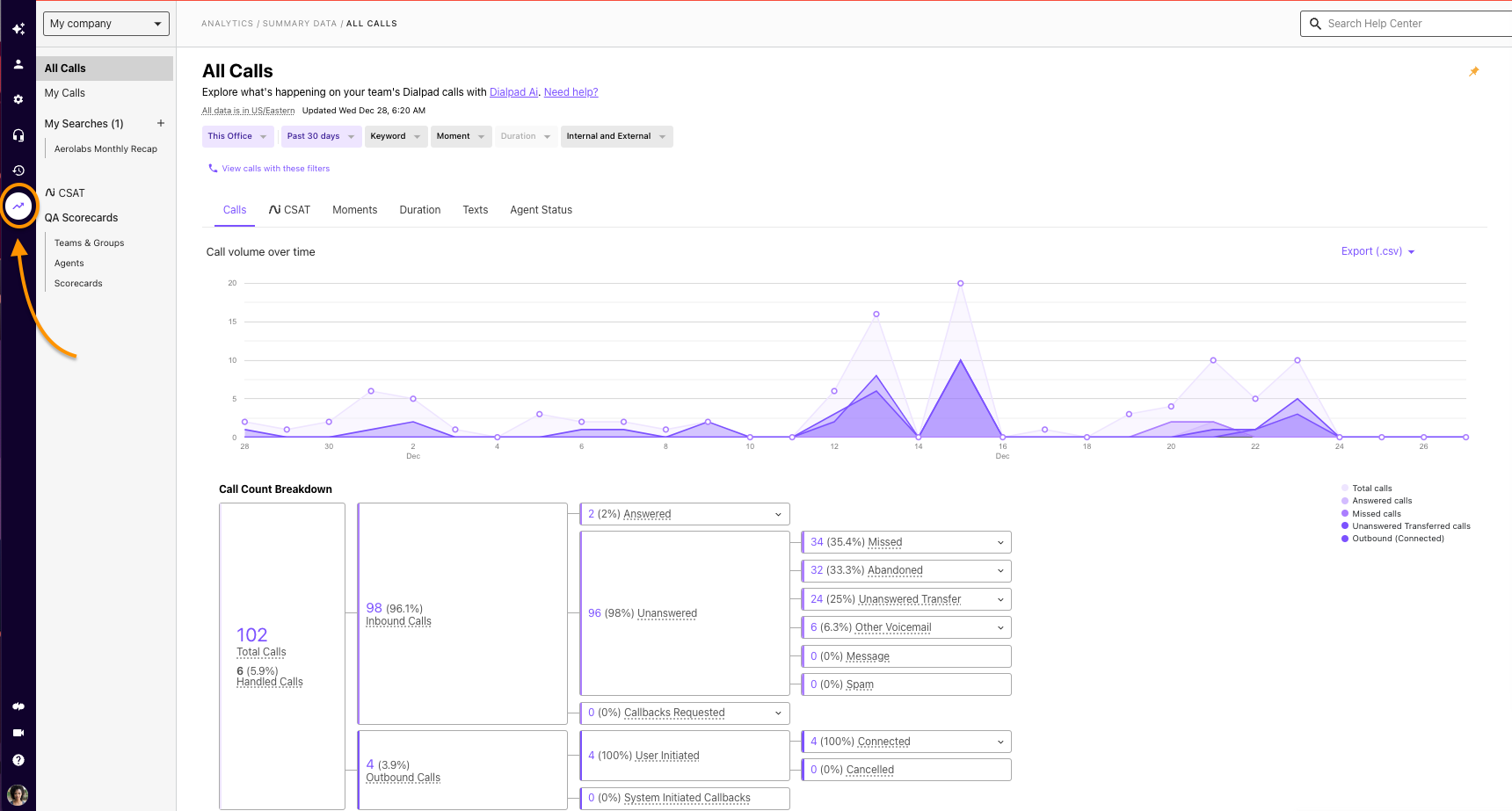 Shared Features
Call logs: Both include detailed call logs, which record all inbound and outbound call activity along with basic information like date, time, and caller. Users can search call logs by name or date, and call contacts back with one click.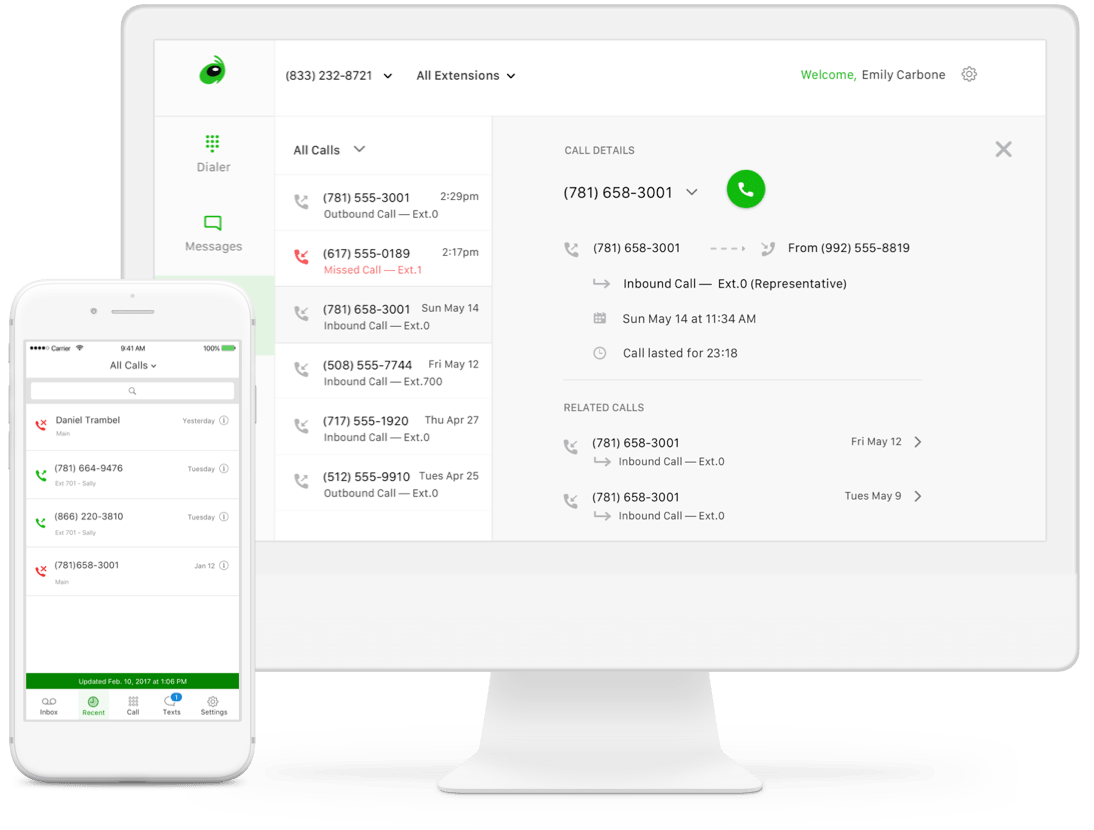 Differences
Real-time analytics: Dialpad provides real-time and historical analytics for calls, meetings, and messaging activity. These KPIs and metrics track inbound and outbound call and messaging volume, missed call percentage, queue statistics, and usage rates for all team members. Administrators can sort these visuals and KPIs by user or historical time period.
Quality of service reports: Dialpad tracks call and meeting quality for all UCaaS and contact center activity. Administrators can trace issues to a particular device, call, or location to drill down into the cause. These reports help companies guarantee strong phone support and customer support.
Dialpad vs. Grasshopper Pricing Overview
Below, we compare pricing for Dialpad vs. Grasshopper.
Dialpad Pricing
Dialpad offers 3 UCaaS plans that range from $15 to over $25 monthly per user.
Standard ($15 monthly): Desktop and mobile apps, one phone number per user, unlimited VoIP functionality within the US, Canada, and your country, unlimited 10-participant AI meetings, team chat with file sharing, 250 monthly SMS per user, unlimited call queues, multi-level IVR, 3 ring groups. Includes basic integrations like Microsoft Office 365 and Google Voice.
Pro ($25 monthly): Adds business phone numbers from 70+ countries, 25 ring groups, global SMS texting, Microsoft Teams integration, CRM integrations like Salesforce, HubSpot, and Zendesk, multiple phone numbers per account
Enterprise (quote-based price): Guarantees 100% uptime, supports unlimited ring groups
Grasshopper Pricing
Grasshopper offers 4 plans which range from $14 to $80 per account. The plans vary by the number of supported users, included phone numbers, and extensions.
Each plan offers the same phone-system features: Desktop and mobile apps, unlimited VoIP and SMS in the US, voicemail, reporting, and call controls.
True Solo ($14 per account): 1 user, 1 phone number, and 1 extension
Solo Plus ($28 per account): Unlimited users, 1 phone number, 3 extensions
Partner ($46 per account): Unlimited users, 3 phone numbers, 6 extensions
Small Business ($80 per account): Unlimited users, 5 phone numbers, unlimited extensions
Dialpad vs. Grasshopper Pros and Cons
Below, we briefly outline Dialpad's and Grasshopper's pros and cons.
Dialpad Pros
Advanced video meetings: Dialpad's AI video features are unmatched by any other UCaaS provider on the market, enabling highly collaborative and automated small-team meetings
Custom inbound routing: Each Dialpad plan includes multi-level IVR, call queues, and ring groups–three tools that make inbound routing more intricate and efficient
Affordable plans: At $15, Dialpad's Standard plan packs more advanced features than many alternatives offer in their higher-tier plans. This makes Dialpad a great value.
Dialpad Cons
Small video meetings: Dialpad only supports 10 video participants per meeting, limiting its collaborative potential for large teams
Overwhelming: Users new to VoIP, or who want a simple phone system, might feel overwhelmed by Dialpad's advanced features
SMS limits: Agents can send up to 250 texts per month before incurring a $0.008 fee per SMS. While small, this fee might add up for users who text frequently.
Grasshopper Pros
Unlimited calling and SMS: Grasshopper supports unlimited VoIP and SMS within the US, across all plans. For companies that do all business inside the US, this can unlock major value.
Ease of use: Grasshopper's business phone system is simple and user-friendly on desktop and mobile, making it a good option for those using VoIP services for the first time
Unique pricing structure: Grasshopper's whole-account pricing style provides strong value for teams that plan to use extensions and share one phone number among multiple users. Further, the Solo and Solo Plus plans work well for startups and entrepreneurs.
Grasshopper Cons
No video or team chat: Grasshopper is a virtual phone system, not a unified communications platform. This means it lacks collaborative tools that competitors offer, like video conferencing and team messaging.
Lack of international numbers: Users can purchase local and toll-free numbers in the US, but Grasshopper does not support international DID numbers like some competitors such as RingCentral or Nextiva
Minimal routing tools: The VoIP solution includes extensions and simultaneous call handling, but it lacks essential call distribution tools and self-service options like auto attendants, call queues, and ring groups
FAQs