The size of your team, your current budget, required vs optional communication features, and more all influence your final office phone system buying decision.
Dialpad and Grasshopper, while both well-respected business communication solutions, are very different in terms of capabilities, costs, and overall compatibility with existing hardware and software.
This direct comparison of both business phone system providers' pricing, features, customer support and service, value, and user experience will help you make the right choice for your small business.
Table of Contents
Dialpad vs Grasshopper: At a Glance
While Dialpad is clearly the best option for smaller teams looking for a feature-rich platform, Grasshopper is right for teams needing an easy-to-use VoIP phone service without a high learning curve.
If you're in a rush, use this summary table to get a quick comparison of Dialpad vs Grasshopper.
Dialpad
Grasshopper
Pricing
3 Paid Plans for $20.00-$30.00/month
3 Paid Plans for $29.00-$89.00/month
Integrations
30+ integrations including Google Workspace, (formerly G Suite), Office 365, Slack, Salesforce, and HubSpot
Skype
Video Conferencing
10 to 100 participants
N/A
Uptime
100% uptime
99.999% uptime
Support

Live chat (24/7)
Phone support (24/7)
Knowledge base

Email (24/7)
Phone support (24/7)
Knowledge base

Encryption
256-bit AES encryption (HIPAA-compliant)
No listed encryption
Compatible Hardware

Polycom VVX Series (201, 230, 300/310, 301/311, 400/410, 401/411, 500, 501, 600, and 601)
Polycom VVX x50 Series Obi-edition (250, 350, and 450)
Polycom Trio Series (8500, 8800, and C60)
Polycom Soundstation IP 6000 and 7000

Obihai Obi300 (ATA)
Obihai Obi1000 Series (1032 and 1062)

Works on top of existing landline plans
iOS 10
Android 5
Windows 7
Mac OS X 10.9

Best For
Teams of any size looking for an affordable and feature-rich platform
Startups or small businesses who want a scalable calling-only VoIP experience
How We Compared Dialpad vs Grasshopper
We used the below criteria to compare Dialpad vs. Grasshopper.
Calling Features: We evaluated which provider offered a more robust set of VoIP calling features like call routing strategies, call forwarding, call recording, and virtual voicemail
Auto-Attendant and IVR: We checked to see which auto-attendant and IVR system was easier to use
Analytics: We reviewed the historical and real-time analytics of the two solutions to see which platform offered more valuable KPIs and reporting templates
Integrations: We compared available third-party integrations and APIs for both solutions to see which provider had the larger app gallery and developer community
Scalability: We evaluated available singular add-on features and bundled feature sets to see which platform offered a better, more cost-effective level of scalability
Call Quality: We tested the audio, reviewed audio-related features, and read user reviews to see which platform had a better and more consistent call quality experience
Security: We looked at the VoIP security features and protocols on both platforms to see which option provided the highest level of data protection
Hardware: We browsed the hardware compatibility of both providers to see which company had the more diverse selection to choose from
Cross-Platform Compatibility: We downloaded and tried both platforms' mobile apps to see which offered the most complete experience on smartphones and other mobile devices
Ease of Use: We reviewed the account setup and customization processes to see which platform was easier to install and learn to use
Customer Support: We connected with customer support teams from both providers to see which agents were quicker to resolve tickets and evaluated available support channels
Pricing: We looked at the plans from both providers to see which one was more affordable and offered greater value for the price
Dialpad vs Grasshopper: Direct Comparison
The detailed head-to-head feature and functionality comparisons below will help you find out whether Grasshopper or Dialpad is the right virtual phone system for your needs.
Calling Features
Dialpad's Department feature, seen in the image below, makes it easy to create new teams and shared lines of up to 30 local and toll-free phone numbers.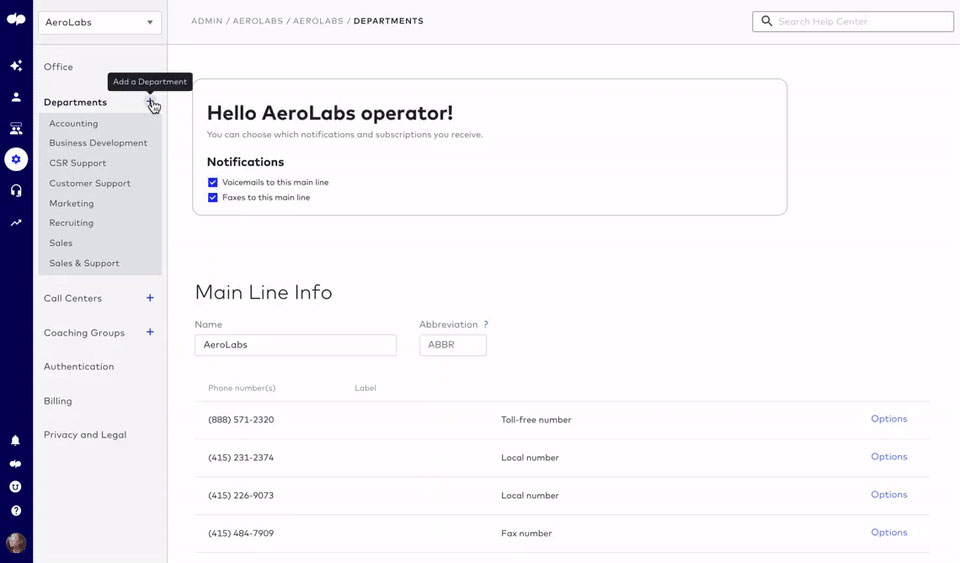 Each Department can have up to 25 simultaneous Operators (users) who can answer calls, respond to Department voicemails, and send/receive Business SMS text messages to better manage call flows. Departments can have specific operating hours, custom holiday hours, or 24/7 availability. Dialpad views each Department as a kind of small-scale call center.
Other Dialpad calling features include:
Automatic or on-demand call recording
Custom caller ID
Custom ring duration
Call hold time limits of up to 300 minutes, call queue size of up to 50
Voicemail transcription, forwarding, voicemail-to-email, and detailed voicemail inbox
International Calling  and Unlimited Calling within the United States
Dialpad's comprehensive set of "standard" VoIP calling features, along with more provider-specific options like Departments and highly customizable call queues help teams scale without sacrificing support quality.
Grasshopper offers barely any call management features – granted, Grasshopper isn't developed and marketed as a feature-packed phone system. However, users can create local, toll-free, and vanity phone numbers, and port in existing numbers.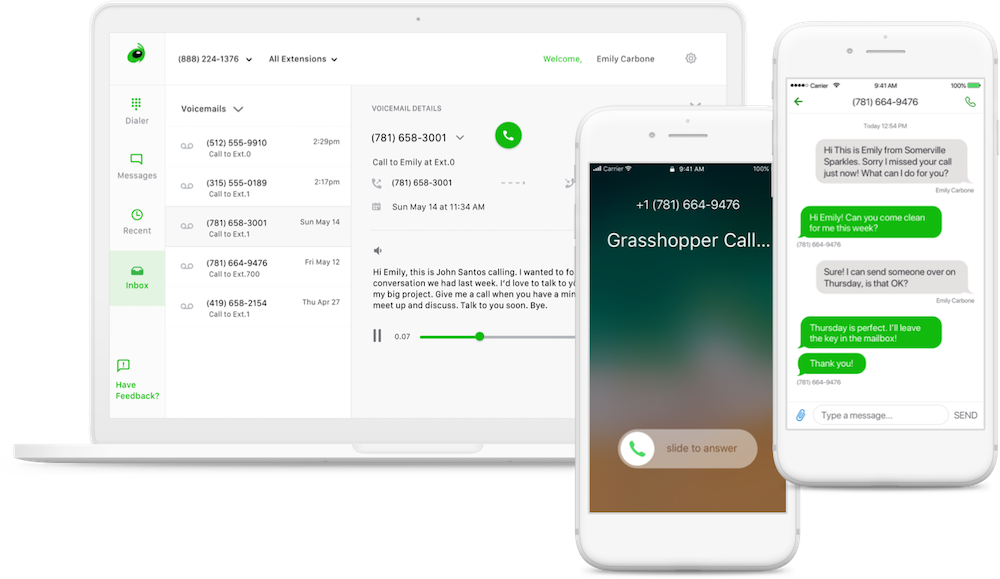 The platform also has an instant response feature that can help you capture new leads by sending an automatic response through text. These messages (with a 160-character limit) help you connect with first-time callers even if you aren't around to take their call just yet.
Other than that, don't expect too much out of Grasshopper since it's not really developed and marketed as a feature-packed option.
Winner: Dialpad is the clear winner when it comes to features.
Auto-Attendant and IVR
Dialpad's auto-attendant lets you forward calls to up to five numbers including VoIP desk phones or smartphones on iOS and Android. It also lets customers dial by name to make self-serve call routing a breeze on their end.
Available routing options include Round Robin, Skills-Based, Most Idle, Fixed Order, Simultaneous Ringing, Hours-Based, and more — offering quite a lot of flexibility for your routing flow!
Grasshopper's auto-attendant functionality centers around its Ruby Receptionist. This makes it possible for small businesses to impress customers and get new clients. You'll be able to quickly toggle Ruby on or off through your Grasshopper mobile app as well.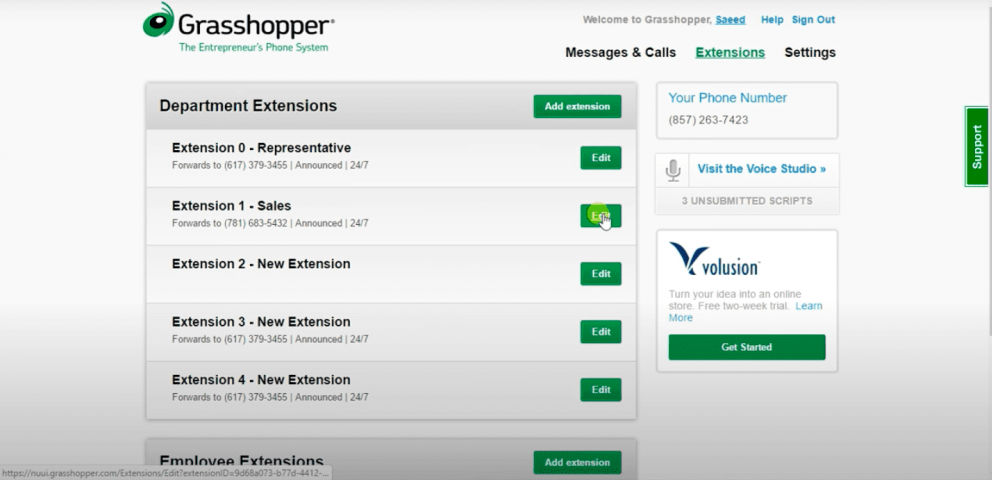 Grasshopper lets you either record your own custom greeting for the auto attendant or use their Professional Voice Studio at a reasonable price. You can also edit extensions and call forwarding rules anytime in the auto-attendant settings.
Finally, you can utilize Grasshopper's simultaneous call handling to ensure that callers are automatically forwarded to the next available number whenever they reach a line that's busy or unable to answer — significantly reducing the number of missed calls across the board.
Winner: Dialpad's auto-attendant experience on mobile devices and its dial-by-name features get it the win in this category.
Analytics
Dialpad supports real-time tracking through its easy-to-use dashboard with a rather clean UI. Dialpad's voice intelligence auto-transcriber, Vi also tracks trends in customer sentiment and commonly occurring keywords, even providing assist cards to your agents to help them respond.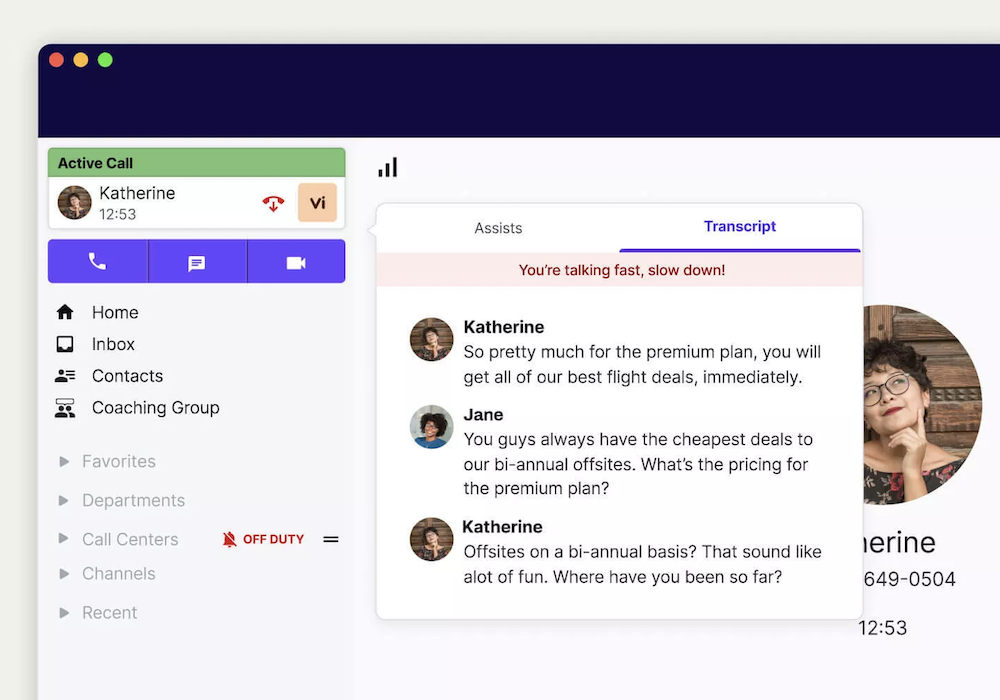 Using natural language processing, Vi is able to easily transcribe and format conversations while distinguishing between speakers. This means you won't have to guess who said what, unlike with other real-time transcription solutions. Supervisors can also use Vi to monitor the call sentiment of ongoing conversations so they know what to expect before joining in.
Additional call tracking analytics and KPIs Dialpad monitors include:
# of Placed Calls
# of Answered Calls
# of Missed Calls
# of Abandoned Calls
# of Forwarded Calls
# of Canceled Calls
# of Voicemails
# of Total Minutes
# of Outbound Minutes
# of Inbound Minutes
# of Texts
# of Texts Inside the same company
# of Texts outside company (to external or non-Dialpad phone numbers)
% of Calls Internal vs External
% of Device Usage
You can also create scheduled reports with custom filter criteria to ensure Dialpad sends you periodic updates on key analytics.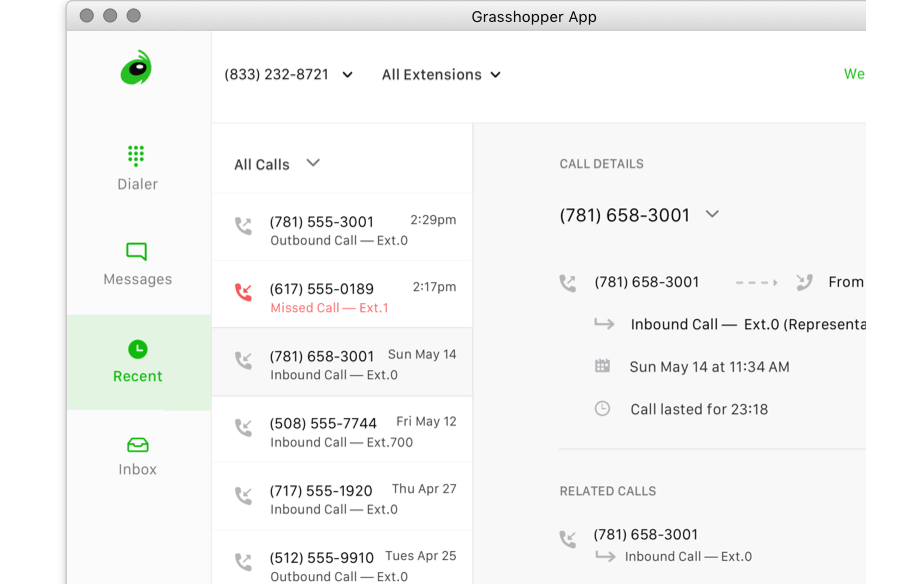 Grasshopper only tracks call metrics. As such, the reports you'll be able to generate are limited to:
Usage Reports: The number of minutes are being used and the average call length
Detail Reports: Miscellaneous call details for a given period
Activity Reports: A breakdown of voicemails, faxes, and hang-ups
Winner: Dialpad takes the win due to its comprehensive real-time tracking, AI capabilities, and in-call assists for agents.
Integrations
Dialpad has integrations with multiple collaboration, customer service, and CRM tools. These include Google Workspace, Office 365, Microsoft Teams, Slack, Salesforce, HubSpot, Zoom, Miro, Intercom, Zendesk, and more.
Grasshopper doesn't support integrations at the moment but claims they hope to soon. This is primarily because it's aimed at customers who want a cheap, reliable, and call-centric subscription.
Winner: Dialpad takes a decisive victory in the integrations department with Grasshopper not having any available integrations at the moment.
Scalability
Dialpad has the lower entry price since its plans start at $20/month for each user or $15/user per month with annual billing. That said, entry prices don't tell the full story when it comes to true scalability.
Grasshopper's cheapest plan, the Solo tier, comes in at $26/month which is significantly more expensive than Dialpad. However, the Small Business package that's inclusive of five numbers only costs $80/month (billed annually) putting it in line with Dialpad's entry pricing.
Winner: It's a tie on the scalability front, but small business owners will love getting more features for the same price with Dialpad.
Call Quality
Dialpad has become known for crystal clear audio quality and unmatched uptime guarantees. Unlike the five-nines SLA, you'd find with most competitors, Dialpad is the first provider to offer a 100% uptime guarantee.
Dialpad's Global Voice Network offers several international points of presence and Split-Cloud Architecture to ensure the call travels over the best carrier-grade network, offering superior audio quality.
Grasshopper's call quality has a reliable track record as well. It's worth noting that some customers have experienced audio quality glitches when using the mobile app so you should factor that into your buying decision.
Winner: Dialpad's consistently superb call quality and 100% uptime SLA get it a decisive win.
Security
Dialpad puts a lot of emphasis on security and privacy on its platform. It relies on the Google Cloud Platform to get enterprise-grade and HIPAA-compliant 256-bit AES encryption. Your data is also stored at several locations to keep it easily available but still extremely secure.
Since Grasshopper is short on features, don't expect much on the security side of things.
Grasshopper doesn't even offer native two-factor authentication, meaning users must rely on third-party MFA solutions like SAASPASS to keep accounts secure.
Winner: Dialpad is the clear winner with 256-bit encryption while Grasshopper doesn't even have native 2FA.
Hardware
Dialpad's hardware compatibility mostly consists of phones from three brands.
Polycom:
VVX Series (201, 230, 300/310, 301/311, 400/410, 401/411, 500, 501, 600, and 601)
VVX x50 Series Obi-edition (250, 350, and 450)
Trio Series (8500, 8800, and C60)
Soundstation IP 6000 and 7000
Yealink:
Obihai:
Obi300 (ATA)
Obi1000 Series (1032 and 1062)
Grasshopper is designed to work on top of your existing landline plan, so hardware compatibility will vary. In terms of software compatibility, you'd need iOS 10 or later and at least Android 5 to operate it on mobile devices — with Windows 7 and Mac OS X 10.9 for PCs.
Winner: Dialpad takes the win for direct compatibility with desk phones which you can actually buy through the Dialpad website itself.
Cross-Platform Compatibility
The Dialpad mobile application averages a four-star rating between the Google Play Store and Apple iOS App Store, though there are a few bugs regarding caller ID that need to be ironed out. Still, it helps that you can take your work wherever you go and still receive AI-powered post-call summaries.
Grasshopper is a bit more inconsistent across operating systems. Its iOS app has a 4.8-star rating with an intuitive UI and most of the basic features you'd need. However, the Android version only gets a 3.8-star rating due to frequent texting bugs.
Winner: Dialpad gets the win for a consistently reliable experience on both operating systems, but iOS users may prefer Grasshopper.
Ease of Use
Dialpad's clean and modern desktop apps and softphone interface makes the platform easy to use from the get-go. That said, the learning curve can take a while purely because of the VoIP service provider's amount of available features.
Since Grasshopper focuses all its attention on the core product instead of offering additional features, its platform is inherently easy to use. Most customers will likely get the hang of the software within the first hour of using it.
Winner: Both platforms are easy to use, but Grasshopper gets a narrow victory for its simplicity and thus shorter learning curve.
Customer Support
The below table outlines available customer support channels for each business VoIP system.
| | | |
| --- | --- | --- |
| | Dialpad Support Channels | Grasshopper Support Channels |
| Live Chat | Yes (24/7) | No |
| Email | No | Yes (24/7) |
| Phone | Yes (24/7) | Yes (24/7) |
| Knowledge Base | Yes | Yes |
Dialpad may not have email support, but they're a lot easier to reach through live chat or their support hotline. Their knowledge base also feels more navigable compared to the documentation on Grasshopper's end.
That said, Grasshopper does offer email support through help@grasshopper.com. All in all, Dialpad has a slight edge with the margin coming down to preference.
Winner: Dialpad wins since it supports live chat which most consumers prefer.
Dialpad vs Grasshopper: Pricing and Plans
Pricing is another factor to consider when choosing between these two platforms. Dialpad has a more affordable entry price but it doesn't include desk phone support. On the other hand, Grasshopper has appealing five-number bundles but sports a higher entry price.
Dialpad Pricing
Dialpad does have the cheaper entry price since its Standard tier only costs $20/month for each user (or $15/month with annual billing.)
The Standard tier does offer a lot of integrations for Google Workspace and Office 365, unlimited business SMS, and voicemail transcription. However, upgrading to the Pro version would unlock desk phone compatibility and Dialpad's full app gallery of integrated business communications platforms and collaboration tools.
Grasshopper Pricing
Grasshopper's Solo plan, when billed monthly, starts at $29/month per user which puts its entry price higher than Dialpad. That said, it's quite clear that most people using VoIP for personal communications or freelancing would be better served by other solutions.
When it comes to business, Grasshopper's pricing structure makes a lot more sense. Subscribing to the Small Business plan on an annual basis would put your per-number cost at just $16/month while also getting unlimited extensions.
Dialpad Pros and Cons
With so many features, it's hard to highlight all of them in a single article. However, there are three unique benefits that should be taken into consideration for your final purchase decision.
Pro #1: Chrome Extension
Dialpad's Google Chrome extension means business communication is always one click away.
Upon installing the extension, you'll be able to start calls directly from someone's contact card on Gmail.
Click-to-call works with the extension too which means you'll be able to call any number by simply clicking on it through your browser.
The extension also works on Edge, Firefox, or other Chromium browsers.
Pro #2: Free Video Conferencing
Anyone with a Dialpad Talk subscription gets free video conferencing for up to 10 participants with Dialpad Meetings. The free version also comes with a 45-minute meeting time limit.
Upgrading to the paid plan for $15.00-$20.00/user per month allows for up to 100 meeting participants and removes the time limit altogether.
Overall, it's hard to complain about free video conferencing and unlimited meeting recordings.
Pro #3: 100% Uptime
While five-nines uptime has been the industry standard for decades, Dialpad changed that. On January 11, 2021, they sent out a press release announcing a 100% uptime SLA for all users.
This unprecedented uptime is thanks to Dialpoad's unique software architecture, which requires no maintenance or update downtime windows.
As a result, Dialpad users never have to worry about downtime hurting their business operations.
Dialpad Cons
You'd be hard-pressed to find cons for Dialpad beyond rare bugs like some reports of incoming calls failing to ring. It's also worth noting that you won't be able to use desk phones unless you upgrade to the Pro tier of Dialpad.
Grasshopper Pros and Cons
While Grasshopper may not have too many features to cover, there are a few benefits worth mentioning.
Pro #1: Custom Numbers
Grasshopper helps businesses establish a professional reputation through vanity, toll-free, and local numbers.
Here's a brief overview of each type of custom number you can create with Grasshopper and how they benefit your business:
Vanity Numbers: Vanity numbers make your brand more memorable since it lets you use a phrase or word in your hotline, like 1-800-BUYLIGHTS
Toll-Free Numbers: Toll-free numbers make your business more accessible to customers while also bolstering your credibility. It may seem odd, but using an 800 number can have a big impact on how people perceive your company.
Local Numbers: If you're trying to expand into new markets, using a local number can make you look more appealing to the customers in that area. It also makes it possible to extend the reach of your business without creating new brick-and-mortar locations.
Note: Users can also port existing vanity, toll-free, or local numbers into Grasshopper
Pro #2: iOS App
Grasshopper has mobile apps for both Android and iOS platforms. However, as mentioned above, the Android version is a lot more buggy and received significantly worse reviews compared to its iOS counterpart.
Still, iPhone users have a positive cross-platform experience with Grasshopper as their service provider. It could be worth polling employees on whether they use Android or iOS before choosing Grasshopper over Dialpad.
Pro #3: 99.999% Uptime
Grasshopper does fall short when it comes to features and integrations. That being said, it does partially make up for that with a five-nines SLA and reliably consistent uptime. It's not quite on the same level as Dialpad's 100% uptime, but it gets fairly close.
Grasshopper Cons
Most of the drawbacks of using Grasshopper stem from the fact that it lacks most features we've come to expect from other providers.
Whether it's video conferencing, task management, file sharing, or integrating a CRM you'll likely have to pay extra for third-party tools.
Which Provider is Right for Your Business?
The below table offers insight into who should or shouldn't use Dialpad, and further details are available in our complete Dialpad review.
| | |
| --- | --- |
| Dialpad Is Best For | Dialpad Is Not Right For |
| Teams looking for third-party integrations | Organizations looking for desk phone VoIP on a budget |
| Freelancers who want an affordable solo plan | Businesses who want bulk discounts |
| Companies who need 100% uptime | Those looking for a simpler user experience |
| Businesses that want free video conferencing | Teams that need more than 100 participants on video calls |
The table below outlines which businesses will get the most from Grasshopper, and which types of businesses would be better served by a Grasshopper alternative like Dialpad or Nextiva. More information is available in our complete Grasshopper review.
| | |
| --- | --- |
| Grasshopper Is Best For | Grasshopper Is Not Right For |
| Local businesses or entrepreneurs who want to switch to VoIP | Teams looking for an all-in-one platform |
| Remote teams who need affordable calling | Those who want a feature-rich experience |
| Organizations who need unlimited extensions | Businesses that need video conferencing |
| Contact centers that use iOS devices | Solo users |
Dialpad vs Grasshopper: Which is the Winner?
All things considered, it's clear that both solutions are viable in their own right, but that their core offer is fundamentally targeted toward different audiences.
If you're a small business looking to get a calling-only VoIP experience at a reasonable price, then Grasshopper is a strong pick.
On the other hand, freelancers or remote teams that want a more modern and feature-rich platform would be best served by Dialpad with its affordable entry-price + large integration gallery.
Really, it all comes down to what you need and how much you're willing to spend.
Our Business VoIP overview offers information on additional providers like RingCentral, Vonage, and more.
FAQs: Dialpad vs Grasshopper
Below, we've answered some of the most popular FAQs when comparing Dialpad vs. Grasshopper.
Dialpad Talk is a cloud phone solution that makes it easier for teams to stay connected through voice, video, instant messaging, and various third-party integrations across all platforms.
Dialpad Talk does not have a free plan but you can get a 14-day free trial before signing up to its entry-level plan that costs $15-$20/month for each user. Dialpad Meetings (for web conferencing) does have a free version.

Yes, Grasshopper has virtual faxing capabilities that allow you to both send and receive faxes.

Yes, Grasshopper's toll-free rate for inbound and outbound calls is $0.06 per minute.