Web conferencing software is essential to connecting a remote workforce, preventing miscommunications, and improving team collaboration. In addition to internal communications, companies use video conferencing tools for external, face-to-face meetings with clients and prospects.
As video calling becomes the new normal, replacing the standard office phone system for countless workplaces across numerous industries, project managers need to research which tool is the right choice for their teams. RingCentral and Zoom are two of the top options, especially for those who have already compared Microsoft Teams, Skype for Business, and join.me pricing.
Our RingCentral vs Zoom breakdown compares the features, pricing, and plans of these two team communication titans.
But is RingCentral better than Zoom, or vice versa?
What is Zoom and How Does it Work?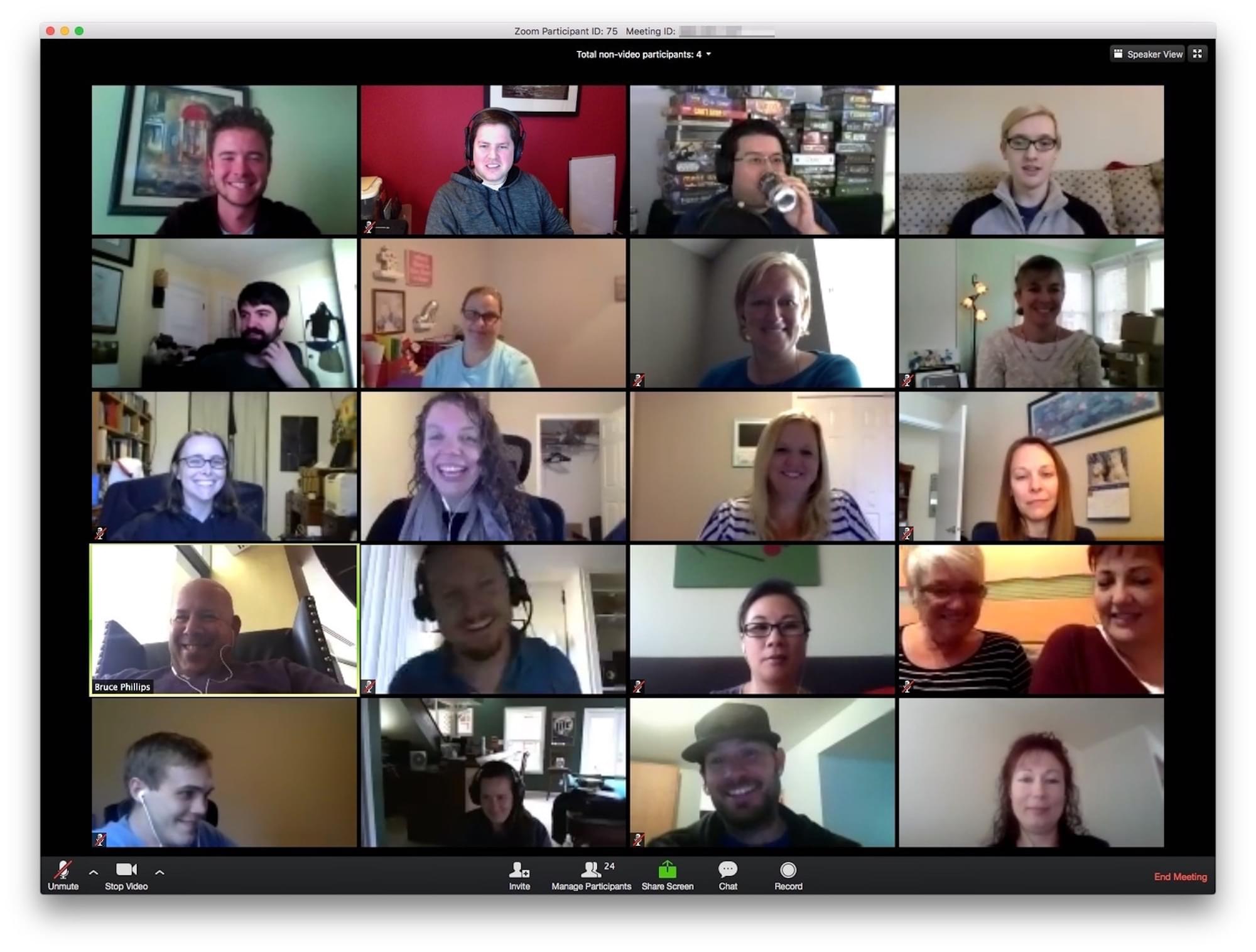 As of this writing, Zoom is the most popular cloud-based web conferencing software and team communication tool.
Zoom's success is influenced by its numerous use cases, including Zoom for Educators, healthcare, government, and financial sectors. It also allows users to reduce the overall number of applications used for team communication, preventing users from having to switch between multiple apps within a single meeting or workday.
It boasts a client list including Fortune 500 companies and household brand names like Delta Airlines, Groupon, Nasdaq, FINRA, and Uber. It's ideal for both remote employees and in-house team communication, and also allows users to easily connect with those outside of their organization such as clients, freelancers, or other businesses.
Meeting hosts choose from one of Zoom's four plans, (including a free option) and they must download the Zoom desktop application to schedule or host meetings. While a Zoom account isn't required to receive a Zoom meeting invitation, anyone who wishes to attend a Zoom meeting must also download the Zoom app. It is free for a limited number of guests to attend a Zoom meeting.
Hosts can invite guests via a URL link or through an email invitation, and break up larger meetings into Zoom Rooms for smaller focus groups.
What is RingCentral Used For?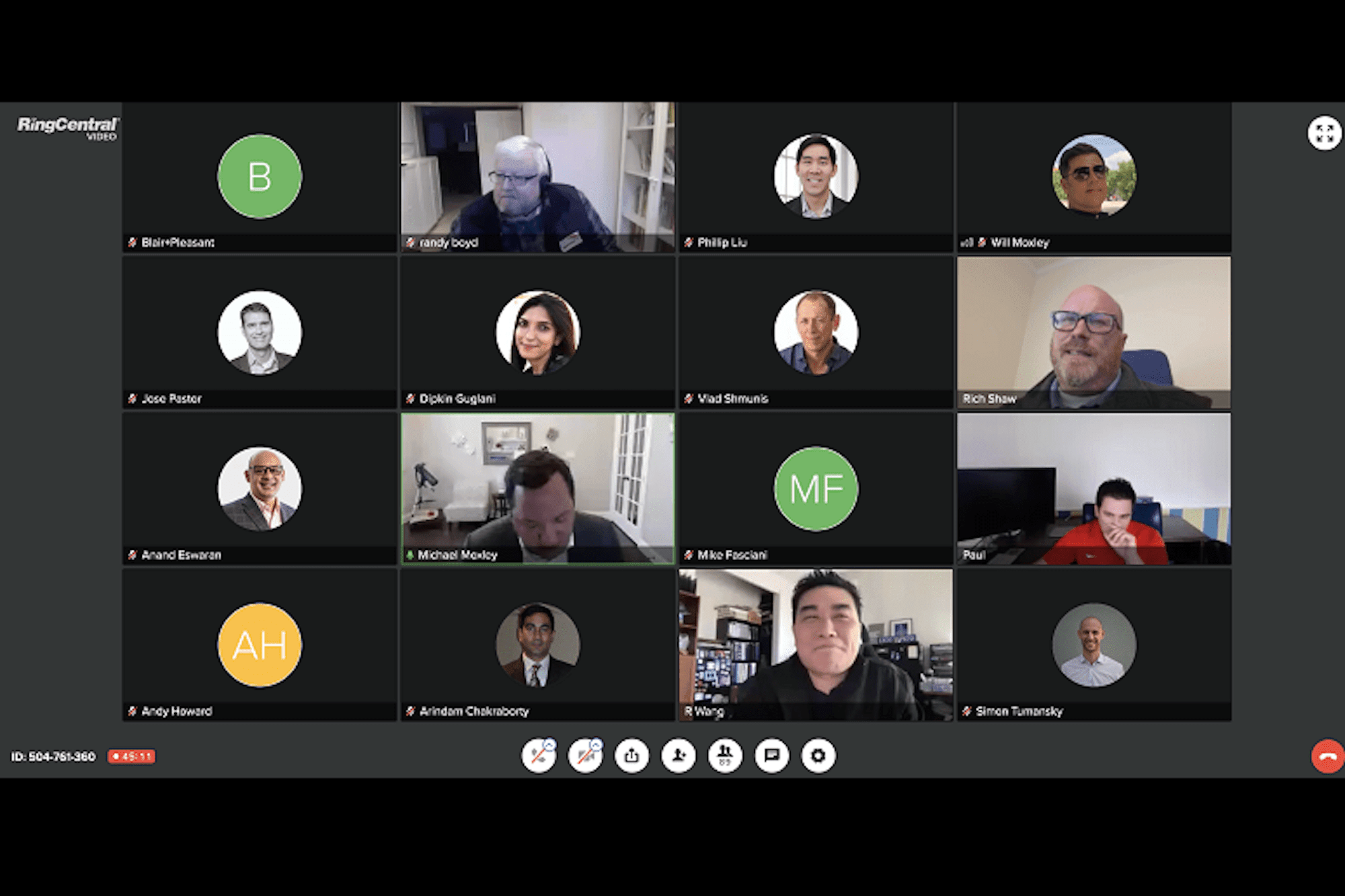 Like Zoom, RingCentral Meetings is also a cloud-based video conference software that helps team members and clients from all across the world connect face-to-face.
Though RingCentral Meetings doesn't have as impressive of a client list as Zoom, its still the preferred video calling tool of the American Bar Association, Canal+, Del Monte, and more. This proves that, unlike many Zoom alternatives, RingCentral serves a wide variety of industries.
Unlike Zoom, meeting attendees are not required to download the RingCentral software to attend a meeting. Instead, a set number of attendees can join meetings for free simply by clicking the predetermined meeting URL or by entering it on the RingCentral website.
Meeting hosts, however, must download the RingCentral software, selecting one of the tool's three plans.
Before the Meeting: RingCentral vs Zoom Basic Features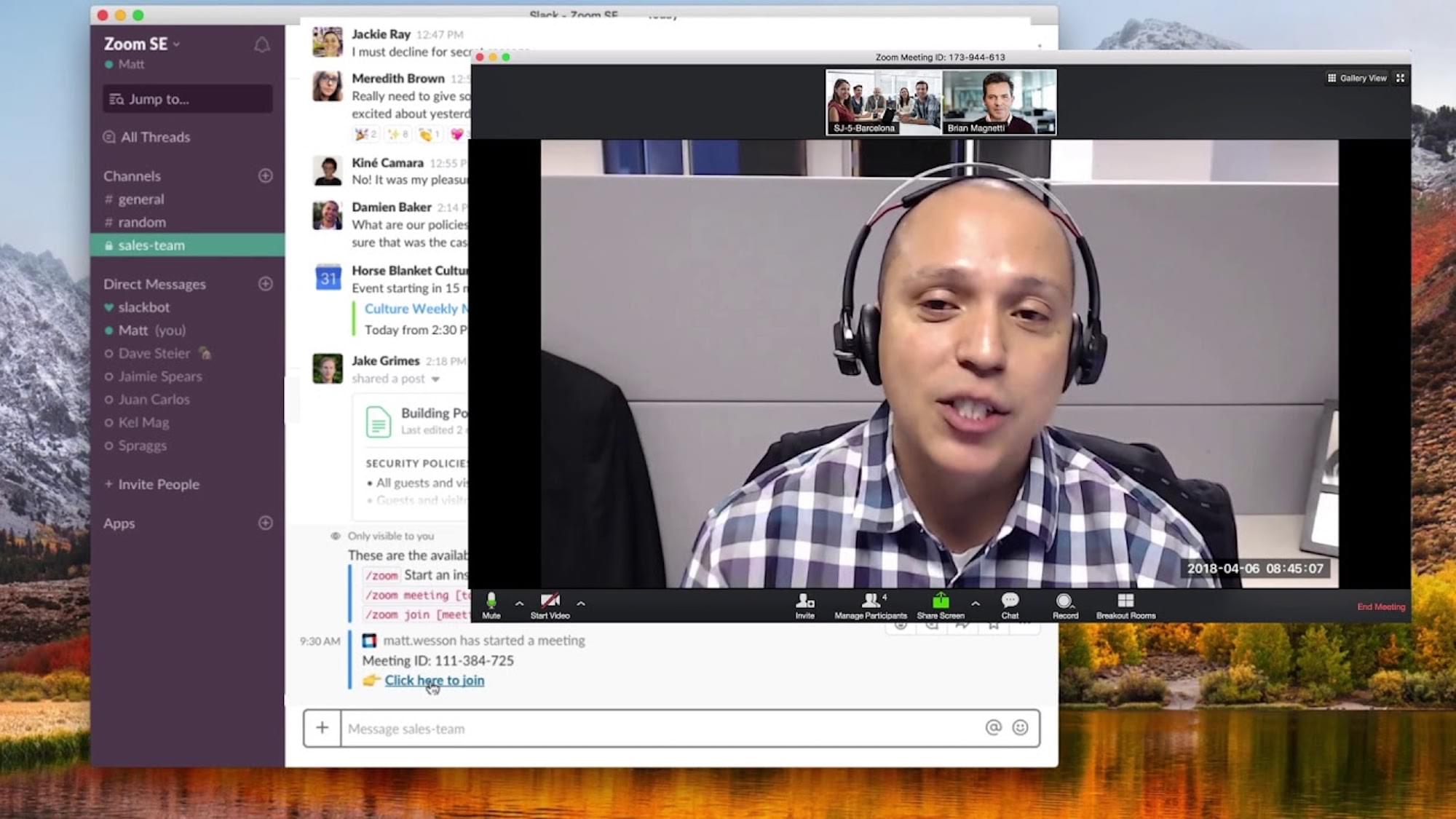 While Zoom requires all meeting attendees to download the software while RingCentral does not, there are other features to compare before the meeting even begins.
Below, discover more about each tool's security features, ease of use, scheduling tools, software integrations, and more.
Privacy and Security
Zoombombing and concerns over data privacy are the biggest reasons why teams look for Zoom alternatives — but are RingCentral security features any better?
Zoom and RingCentral both offer single sign-on, two-factor authentication, HIPAA compliant video conferencing features, GDPR compliance, and BAA contracts. Both tools also offer a waiting room and password-protected meetings, allowing hosts to ensure that only authorized guests can enter.
Hosts on both tools also can mute/unmute participants, prevent guests from entering a meeting room before the host joins, remove or add users, and lock the meeting once it has started. Hosts on both platforms also have control over who is and is not allowed to use their video camera or share their screen during a meeting.
While both tools have a high level of host controls, when it comes to data privacy and encryptions, RingCentral is the better choice. RingCentral provides end-to-end encryption, TSL, and SRTP security. Zoom, however, does not offer end-to-end encryption. Additionally, Zoom was heavily criticized for sharing personal user data with Facebook. Since RingCentral doesn't use Facebook SDK, this isn't an issue.
Winner: RingCentral  
Integrations
While both RingCentral and Zoom have robust native features, integrating other familiar software with these video conferencing platforms lets team members continue to use tools they're already familiar with.
Zoom has its app marketplace and API capabilities and integrates with numerous apps, including:
Skype and Skype alternatives
Salesforce
Slack
GSuite
Glip
Microsoft Outlook
Office 365
Google Drive
Microsoft OneDrive
Dropbox
Facebook
Zapier
RingCentral also has an app gallery and API configuration capabilities as well as integration with popular team collaboration and communication tools like:
Slack and Slack alternatives
Salesforce
Microsoft Outlook
Office 365
GLip
Zendesk
Trello
GSuite
Microsoft Teams
Asana
Mailchimp
At first glance, it would seem as though these two tools are close to equal in terms of app integration. However, the user experience with integration on these two web conferencing platforms is quite different.
RingCentral users consistently bring up problems with app integration in reviews, especially when it comes to RingCentral's recently updated GSuite integration. Zoom users, however, often mention in reviews how simple the integration system is, and how few issues they experience.
Winner: Zoom
Mobile App
Both Zoom and RingCentral have mobile apps compatible with both mac iOS and Android devices. While both mobile apps don't offer the same amount of features as their desktop counterparts, which one is the better choice?
On Zoom, users can see up to four video screens simultaneously, choose a background, and access screen sharing capabilities. While the chat messenger feature is available on Zoom mobile, user reviews consistently make note of the fact that using the chat feature on a mobile device is too complicated and not worth the hassle of constantly switching screens back and forth.
Zoom's mobile app allows for file sharing, sending/receiving meeting invitations, and even has a driving mode feature to keep users safe on the road.
RingCentral's mobile app allows for a video conferencing solution, screen sharing, chat messaging, and notifications. While user feedback suggests that RingCentral's chat messenger app on mobile is superior to Zoom's, users encounter more problems overall with the RingCentral mobile app.
RingCentral's notification system often fails to work properly, causing team members to miss important meetings. Users also mention problems with properly importing contacts into the RingCentral mobile app, and take issue with the lack of a do not disturb feature.
Winner: Zoom
Scheduling
When scheduling a meeting in RingCentral, hosts set the time/date, meeting duration, topic, and password. Hosts can also schedule recurring meetings and create their meeting ID as opposed to a randomly generated one. Emails, text messages, or private messages, are then sent to participants, RingCentral lets users make updates/changes to scheduled meetings, and automatically send these updates to guests. RingCentral also offers both international and local dial-in meeting access via a business phone or cloud phone system. All upcoming scheduled meetings are automatically entered into a host/attendee's preferred calendar app. RingCentral does not allow users to schedule meetings unless they have a calendar app installed — there is no in-app scheduling tool.
Unlike RingCentral, Zoom offers a "meet now" option that allows users to quickly transition from a chat to a video call or simply host a spontaneous meeting to clear up a sudden issue. Additionally, Zoom allows for both in-app and calendar meeting scheduling. This gives Zoom the advantage over RingCentral when it comes to scheduling.
Zoom lets users set recurring meetings, passwords, and even allows users to schedule meetings for other people. Zoom generates random meeting IDs and creates specific URLs. Like in RingCentral, Zoom hosts set the date, time, duration, and topic of the meeting — but can also provide a brief meeting description.
Winner: Zoom
RingCentral vs Zoom: Comparing In-Meeting Features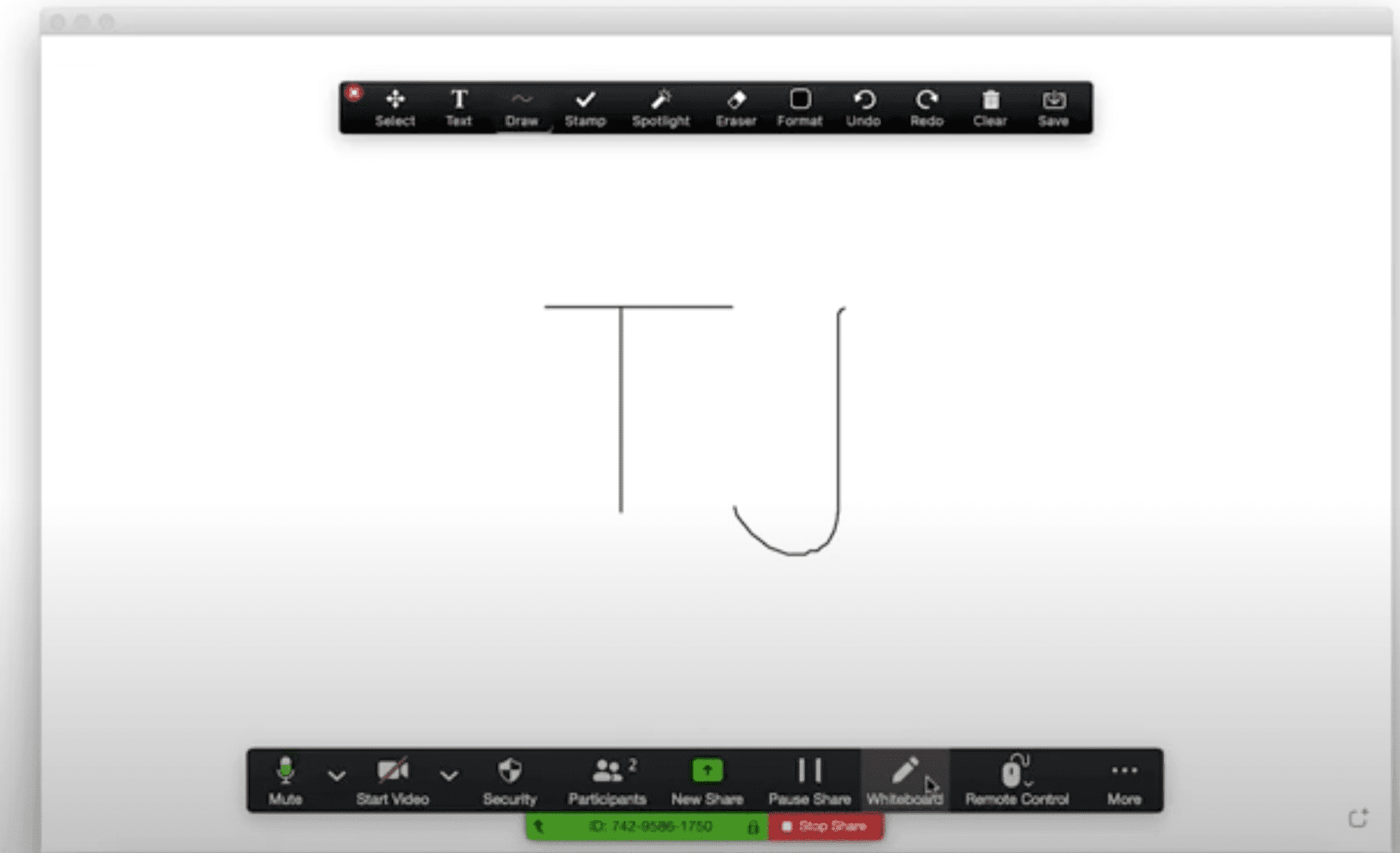 Hosts play the main role in scheduling and organizing the meetings, but in-meeting features benefit both hosts and attendees.
Below, find a breakdown of the in-meeting features of Zoom vs. RingCentral.
Video Calling Quality
RingCentral has a 99.999% uptime, 30fps HD video, and dynamic resolution. Users can also test live streaming to ensure they have the best video quality possible before the meeting begins.
Zoom's video quality is similar to RingCentral's, offering a 30fps rate, HD video, and HD audio. However, Zoom has temporarily disabled full Group HD video, preventing users in larger meetings from experiencing 1080p.
Zoom's video quality is often mentioned negatively in user reviews, as many have experienced freezing, low-quality, grainy video, and lags. This is likely due to the high amount of current Zoom users.
To improve the quality of live streaming, consider investing in a video conferencing web camera.
Winner: RingCentral 
Meeting Recording
When recording meetings on RingCentral, users can manually or automatically make unlimited recordings of meeting VoIP audio, video, and public chat messages. Users can share complete meeting recordings via a link, or share only specific meeting highlights with team members. Recordings can only be stored on local devices, not in the cloud, and recordings aren't available on mobile devices.
Zoom call recording is available for both desktop and mobile meetings, and recordings can be stored locally or in the cloud. It also sends out a recording disclaimer to all meeting participants and allows users to enable recording manually or automatically. Zoom also lets users decide how long they'd like to store the recordings and offers auto-deletion.
Winner: Zoom
Screen Sharing
While screen sharing apps allow users to share their screens with other team members from desktop and mobile devices, both RingCentral and Zoom have native screen sharing capabilities.
Zoom allows for screen sharing in both the Gallery and Active Speaker views, meaning that users can see everyone in the meeting in addition to the shared screen. In addition to sharing their entire desktop or a singular app, Zoom users can also share live audio, pre-recorded videos, PowerPoint and Keynote presentations, and whiteboards. Users may also annotate the shared screen, uploaded screenshots, or the whiteboard.
In Zoom, multiple meeting participants can share their screens simultaneously, and the host can give or remove remote control privileges to anyone in the meeting.
RingCentral's screen sharing feature allows users to share their entire desktop screens, but not, like Zoom, individual applications. It also lets users share PowerPoint presentations, whiteboards, and videos. Users can male real-time notes and annotations on shared screens. RingCentral's video optimization tool for screen sharing ensures that shared screens aren't blurry and are fully optimized for a full-screen view, which is especially valuable during a presentation.
Like Zoom, RingCentral also has a pass presenter tool so anyone in a meeting can share their screen. However, RingCentral only allows for up to two users to share their screens at once, meaning that RingCentral meetings using screen share are more limited than Zoom's.
Winner: Zoom
Chat Messenger
Zoom and RingCentral offer a real-time chat messenger tool that allows users to communicate with each other during video communications. Both platforms allow for public, one-on-one, and small group chat messages. RingCentral and Zoom make it easy for authorized users to upload, share, and edit files via messenger in real-time.
Based on user reviews alone, as both tools have fairly similar chat messenger tools, Zoom has a better chat feature. RingCentral users often complain that it's too difficult to use the chat feature on mobile devices.
Winner: Zoom
Whiteboard Tool
Both Zoom and RingCentral have a whiteboard feature that lets meeting hosts and participants annotate and take notes in real-time. Users of both platforms can also save and share whiteboards after the meeting has ended.
Zoom, however, also offers pre-made stamps, shapes, and spotlights for a more dynamic and time-saving whiteboarding experience. Zoom whiteboarding is also available for desktop and mobile.
RingCentral, however, only allows users to enable the whiteboard feature via desktop and iPad, not smartphones.
Winner: Zoom
Meeting Analytics
Both RingCentral and Zoom offer meeting analytics and reporting tools to help gauge attendance, engagement, and attention.
RingCentral's analytics include data on who has attended meetings, who was invited to them and declined, and how long each employee remained in the meeting. This helps to identify specific endpoints so hosts can refine their meeting strategy. It also shows activities that guests took during a meeting, like recording or sharing their screens.
Zoom takes a step further by not only providing data on guest lists, meeting attendance, and endpoints, but also information about which devices attendees used to access the meeting. Users can set a specific date range to better understand data trends. Zoom also displays information on the top 10 users, such as the number of messages sent, how many total minutes they've spent in meetings, and more. Zoom even provides information about the attendee location.
Though Zoom used to have an employee attention tracking feature, the backlash from users caused the company to permanently disable the feature on April 2, 2020.
Winner: Zoom 
RingCentral Pricing and Plans vs Zoom Pricing and Plans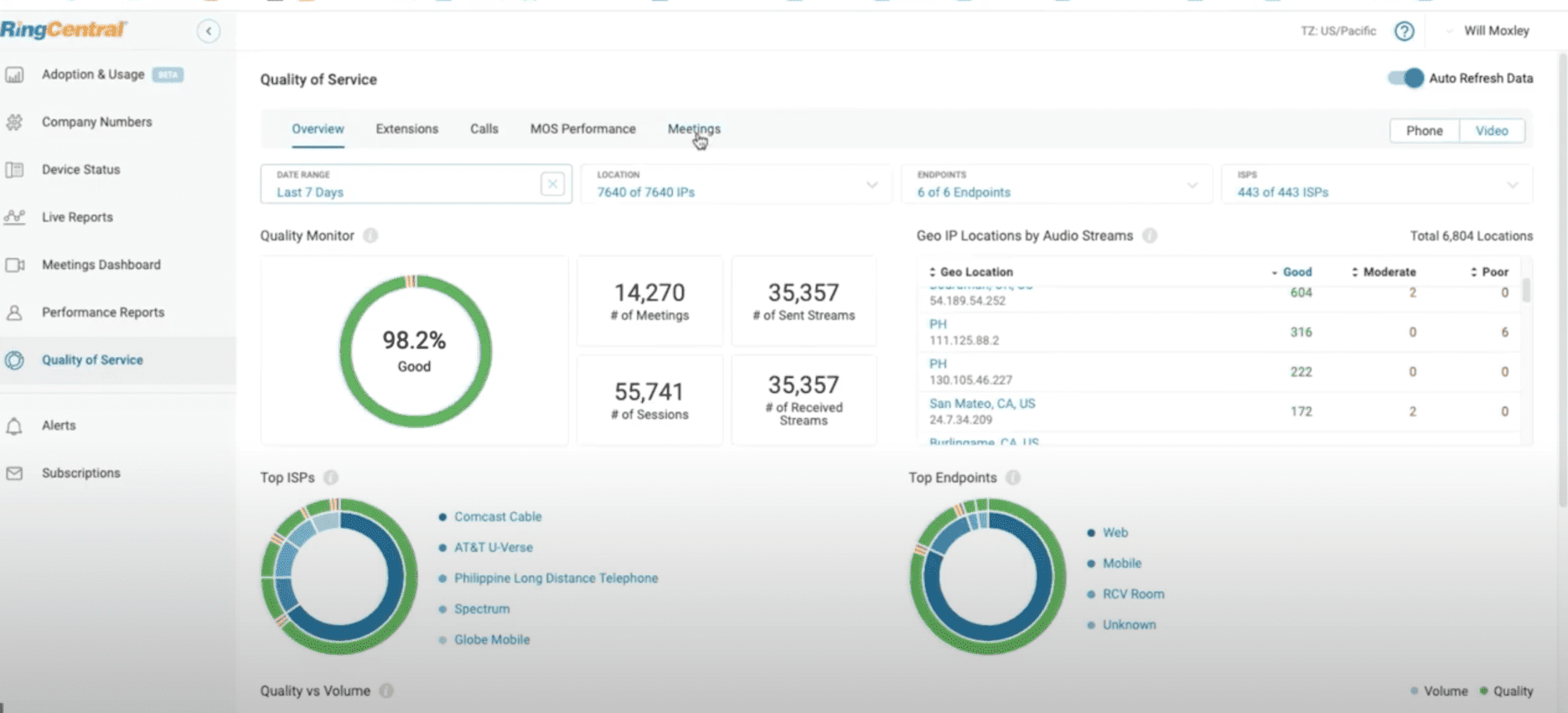 Zoom and RingCentral are, perhaps surprisingly, almost identical when it comes to the cost of their plans.
Users, therefore, should pay much closer attention to the features and limitations of each specific plan as opposed to their price points.
RingCentral vs Zoom: Which Has the Best Free Video Calling Plan?
Both Zoom and RingCentral offer free video calling plans that are, as the below tables indicate, nearly identical.
| | | |
| --- | --- | --- |
| Features | RingCentral Free Plan | Zoom Free Plan |
| Up to 100 meeting attendees | ✓ | ✓ |
| Unlimited 1:1 meetings | ✓ | ✓ |
| 40-minute meeting limit | ✓ | ✓ |
| Whiteboarding feature | ✓ | ✓ |
| Chat messenger | ✓ | ✓ |
| Simultaneous screen sharing | ✓ | ✓ |
| Local meeting recording | ✓ | ✓ |
| SSL and data encryption | ✓ | ✓ |
| Unlimited storage and integrations | ✓ | N/A |
| Unlimited Integrations, paid additional storage | N/A | ✓ |
Given Zoom's security issues and the fact that RingCentral offers free unlimited storage, RingCentral has the best free plan. Additionally, while Zoom requires users to upgrade to more expensive plans to get a customized meeting room, URL, RingCentral offers a meeting URL within its free plan.
Comparing RingCentral vs Zoom Paid Plans
Zoom offers three paid plans, while RingCentral offers two video calling plans.
The two tables below spell out Zoom and RingCentral's pricing structure and plan features.
Zoom
Zoom's three paid plans include all of the above free features and:
| | | | |
| --- | --- | --- | --- |
| Features | Zoom Pro | Zoom Business | Zoom Enterprise  |
| | $14.99/month per host | $19.99/month per host | $19.99/month per host |
| | Up to 100 participants with available attendee add-on | Up to 300 participants with available attendee add-on | Up to 300 participants with available attendee add-on |
| Meeting length up to 24 hours | ✓ | ✓ | ✓ |
| 1GB cloud recording storage | ✓ | ✓ | Unlimited Storage |
| Unlimited cloud storage | N/A | N/A | ✓ |
| Custom Meeting URL | ✓ | ✓ | ✓ |
| Customer Success manager | N/A | N/A | ✓ |
| Meeting data/analytics | ✓ | ✓ | ✓ |
| Executive business reviews | N/A | N/A | ✓ |
| Custom emails and company branding | N/A | ✓ | ✓ |
| Recording transcripts | N/A | ✓ | ✓ |
RingCentral
RingCentral's two paid plans include all of the above free features and:
| | | |
| --- | --- | --- |
| Features | RingCentral Meetings Essentials | RingCentral Meetings Advanced |
| | $14.99/month per user | $19.99/month per user |
| Unlimited meeting length | ✓ | ✓ |
| Phone customer support | ✓ | ✓ |
| Data reporting and analytics | ✓ | ✓ |
| Automatic meeting scheduling | ✓ | ✓ |
| Single Sign-on | ✓ | ✓ |
| Call-in/call-out | ✓ | ✓ |
| Call in meeting minutes | 1,000 minutes | 2,500 minutes |
| Real-time dashboard reporting | N/A | ✓ |
| Available SLA | N/A | ✓ |
Should You Use Zoom?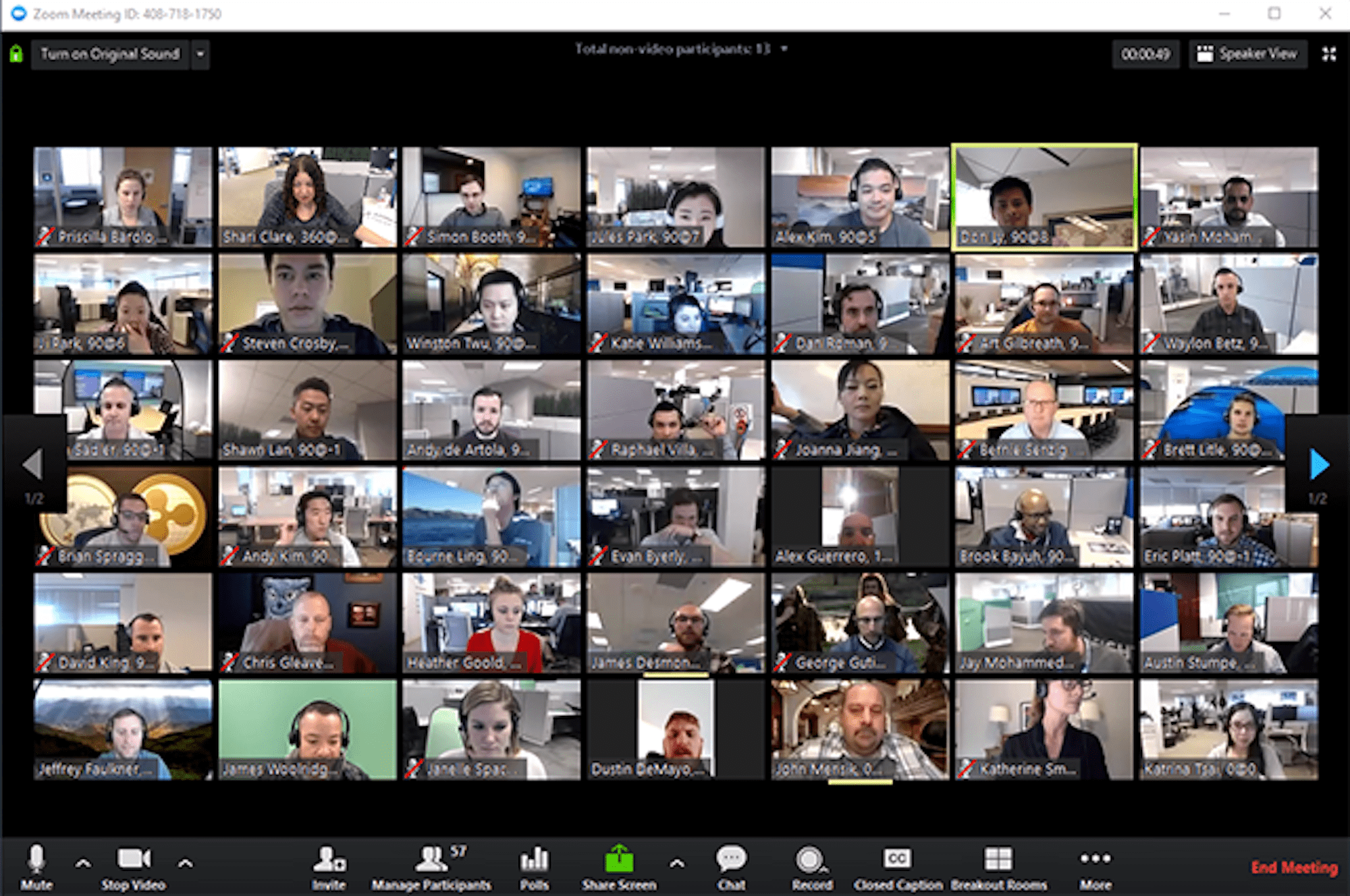 Zoom has a user-friendly and intuitive interface, offers an impressive list of features, and integrates seamlessly with online collaboration tools.
However, Zoom's biggest downfall is the lack of consumer trust in its security.
Zoom's security problems have become such a hot-button issue that, were it not for the gravity of them, Zoom would easily be labeled the superior platform in the RingCentral versus Zoom debate.
While Zoom has made some efforts to improve its security, in May of 2020, hackers accessed about half a million user login details.
Additionally, Zoom's security policy still enables the company to access user meetings, though Zoom insists this wouldn't happen. Recently, reporting uncovered the fact that Zoom routes much of its user data through servers in China, which makes many users uneasy.
A small business or a company in industries with strict compliance and regulatory standards have outright forbidden the use of Zoom already.
That being said, Zoom's features cater especially well to large enterprises who need to start meetings at the drop of a hat. It's also ideal for companies that want to host webinars or online events, as well as businesses with remote team members that frequently need to rely on mobile video calling software.
Who Should Use RingCentral?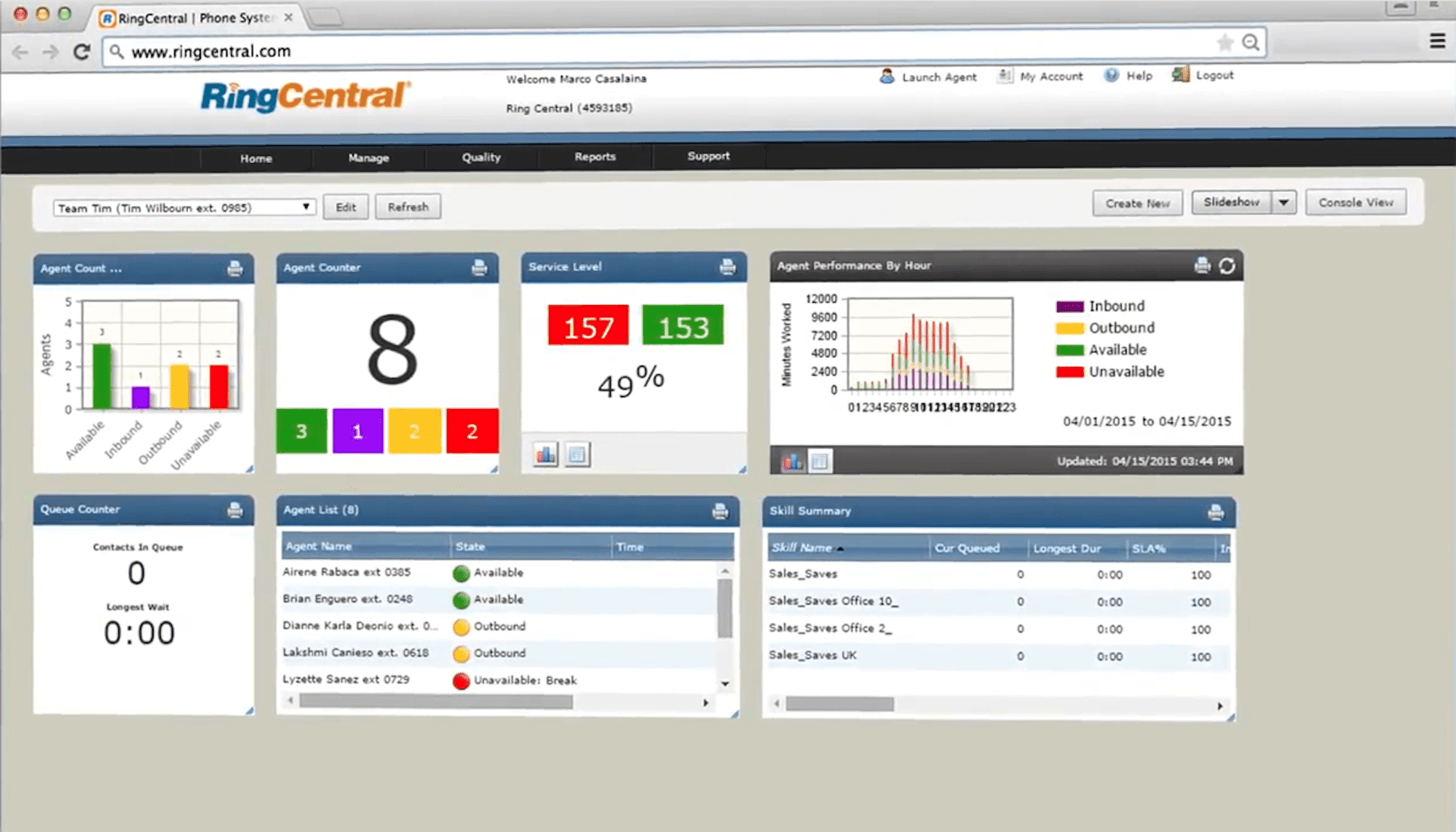 RingCentral's security features succeed where Zoom fails — but unfortunately, the features RingCentral offers simply aren't as comprehensive as Zoom's are.
For smaller companies or those especially concerned about security, the sacrifice of certain features may be well worth it. The same goes for younger companies that need a free plan, as RingCentral's free option is superior to Zoom's.
Larger companies, however, will be frustrated by RingCentral's 100 participants cap and lack of an Enterprise plan as Zoom has. While RingCentral offers paid for larger meeting caps, the added cost can be tough to swallow.
RingCentral vs Zoom: Which One is Better?
Companies with more serious security concerns and requirements should choose RingCentral, while companies that prioritize features and larger meeting sizes should go with RingCentral. The only thing that stands in the way of Zoom being the clear winner in the war of RingCentral vs Zoom is the latter's current security problems. If Zoom finds better and more immediate ways of addressing these issues soon, then we suggest you choose it over RingCentral.
Curious to see how Zoom stacks up against other video conferencing software?
Be sure to read our side-by-side comparisons of Zoom vs GoToMeeting and Zoom vs WebEx before you make a final decision on the best web conferencing platform.