Over 40% of remote and in-house teams communicate via video conferencing. Having the chance to connect face-to-face, in real-time, prevents miscommunications, allows for a high level of team collaboration, and cuts down on travel expenses.
But not all video calling tools are created equal.
Limits on meeting duration and number of participants, frozen screens and video lag, and security vulnerabilities don't just frustrate employees and clients — they can also have far more serious consequences.
Plus, you need to ensure the business video conferencing tool you choose has the features to fit your company's unique needs.
This post is a head-to-head comparison of RingCentral vs Zoom, two of the most popular video communication solutions. Read on to see how these tools stack up against one another in terms of pricing, plans, features, and user experience.
Table of Contents
What is Zoom?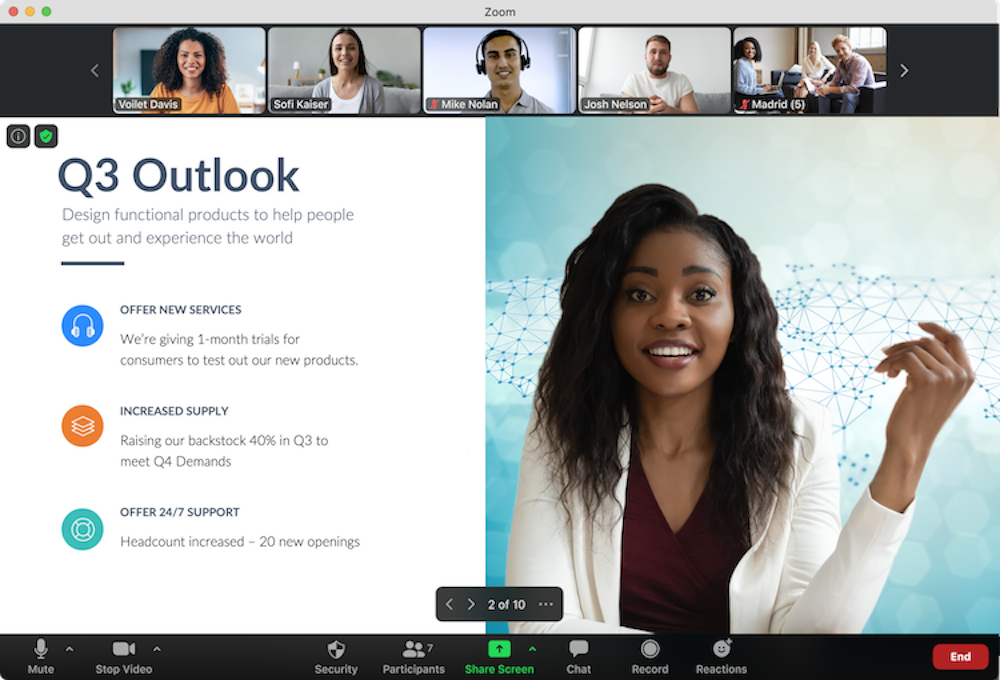 Zoom is a cloud-based web conferencing software and team communication tool used by Fortune 500 companies like Delta, FINRA, Uber, and Nasdaq.
Zoom exploded in popularity in early 2020 due to the COVID-19 pandemic, when its user base increased by a whopping 354%. However, the unprecedented level of growth was not without its problems — issues like Zoombombing and privacy concerns surrounding user data caused many to reconsider using the platform. As a result, popular Zoom alternatives like Cisco WebEx, Microsoft Teams, and 8×8 entered more prominently into the video meeting arena.
However, Zoom addressed these concerns and remains a Gartner Magic Quadrant Leader in the UCaaS space. It also launched Zoom Phone, an enterprise-level business VoIP telephone solution.
Zoom remains the go-to web conferencing platform for countless teams within the education, healthcare, government, and financial sectors, especially as it offers specialized plans for these industries. Anyone can join a Zoom meeting, but participants must download the app in order to attend (in other words, it's not possible to join a meeting directly from your Firefox or Chrome web browser.)
As of this writing, Zoom offers one free plan and three main paid plans, along with four optional add-on bundles.
What is Glip by RingCentral?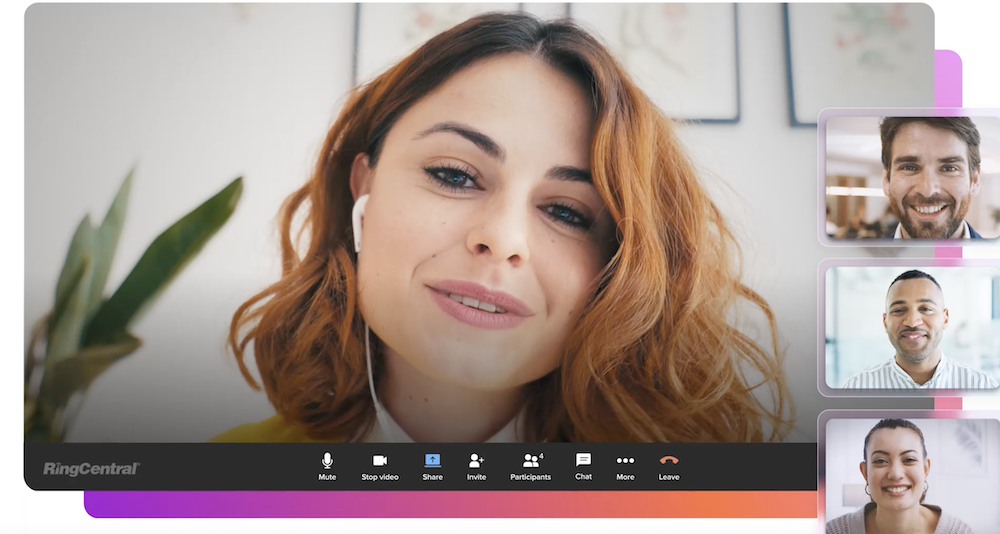 Glip by RingCentral is a new video calling and team chat solution from RingCentral, one which far surpasses its original web conferencing tool, RingCentral Meetings.
Designed for today's hybrid business environment, it lets users meet directly from their web browsers without the need to download an application. (Note, however, that the meeting host must use the Glip app.)
RingCentral user feedback played a large role in Glip's design, which resulted in the creation of the Smart Video Meetings™ experience. This means that, in addition to video communication, it also offers in-meeting team chat, file sharing, task management to streamline workflows, and more.
Features are designed to be just as useful in organizing what happens before and after meetings as they are during the meetings themselves, preventing many common business miscommunications.
Glip is especially popular within the nonprofit, education, retail, and remote customer service sectors.
As of this writing, Glip has one free plan and one paid plan.
RingCentral vs Zoom Feature Comparisons
Below, we offer a head-to-head comparison (with a declared winner per category) of the most essential video calling platform features from Zoom and RingCentral.
They are:
Video Quality and Views
Meeting Scheduling
Chat Messaging and Team Collaboration
Meeting Recording
Integrations
Mobile App
Meeting Analytics
Video Quality and Views
RingCentral Glip has a 99.999% uptime, 30fps HD video, and dynamic resolution. Users can also test live streaming to ensure they have the best video quality possible before the meeting begins.
It offers gallery view, active speaker view, and click-and-drag adjustable screen size. It also has a background noise reduction tool, allowing for a high overall audio quality. Glip shows up to 16 simultaneous screens.
Zoom also has 30fps video quality, gallery views, a click-and-drag adjustable view, and active speaker view. Zoom's gallery view can show up to 49 simultaneous screens. Unlike Glip, however, Zoom offers filters, a "touch up my appearance" feature, and allows you to adjust your video quality for lower lighting.
Both RingCentral and Zoom offer virtual backgrounds, which allow you to choose from premade background images or upload an image of your own. This helps hide clutter in your space, makes meetings more personal and fun, or allows you to improve your branding strategy by uploading an image with your company's logo.
Winner: Zoom, as it shows more simultaneous screens and offers advanced filters and lighting adjustments that Glip does not.
Meeting Scheduling
Both Zoom and Glip allow for scheduled and on-demand meetings, and both allow users to instantly transition from a chat message to a video conference.
You can pre-schedule Zoom meetings in the desktop or smartphone app, from within the Zoom web portal, or from your Outlook or Google Calendars, once integrated. Depending on the plan you have, you can schedule your own meetings and also be able to schedule them for others in your organization.
Once you've chosen the date and time for your Zoom meeting, you can give it a password, enable the waiting room feature, name the meeting and declare its topic, and use an automatically generated meeting ID or your personal meeting ID number.
Zoom meetings can be scheduled as one-time meetings or recurring meetings. You can also enable upcoming meeting alerts and email notifications to participants at custom intervals.
Glip allows you to schedule one-time or recurring meetings from within your Glip account, your Google Calendar, or from Office 365. It also offers two-way syncing with your preferred calendar app.
As with Zoom, Glip allows you to schedule meetings for yourself or for others.
Best of all, Glip has its own native calendar feature, which makes keeping track of upcoming meetings even easier. You can create calendar events for specific teams, called Team Events, that are automatically plugged into each team member's Glip calendar. The Glip calendar then shows the date, time, and title of each meeting, who created it, and which teams will be in attendance. You can also color-code your meetings.
Winner: Glip's native calendar function, which also automatically integrates with its chat messaging tool, offers a level of customization and clarity that makes it the winner.
Chat Messaging and Team Collaboration Features
Zoom's in-app team chat messaging tool makes it easy for users to send private one-on-one, team-wide, or entirely public messages during a video call without disrupting the larger meeting.
Users can tag and mention one another, take and share screenshots, react to messages with emojis, and upload files within the chat interface. Zoom also supports uploading links, pre-recorded videos, PowerPoint presentations, Excel spreadsheets, images, code snippets, and audio messages.
To make it easy to find important conversations and contacts, Zoom chat lets you star channels and people and provides a searchable chat history. Chats are instantly synced across your connected devices and can include both internal and external participants.
The chat tool also has a presence indicator to make it easy to see who is online and available, who is away from their computer or idle, and who is away for the day. It also offers custom notification settings, so that you don't get overwhelmed by alerts from chats that aren't as time-sensitive as others.
Plus, all Zoom chats are SOC 2 compliant and end-to-end encrypted, support multi-factor authentication, and offer single-sign-on, which adds several layers of security.
In addition to chat messaging and video calling, Zoom also offers team collaboration features.
Users can create and vote on polls, use the virtual hand-raising feature, or use the whiteboard feature to share ideas in real-time just as they would at the office. Plus, Zoom's whiteboard feature also has preloaded images, templates, and icons to speed up the process. Users can freehand draw on the whiteboard or type in numerous different colors.
Zoom also offers real-time co-annotation features, meaning that users can all edit files and take advantage of instant syncing and file version control. This prevents team members from working on older versions of a file. Remote control and the pass presenter feature is especially helpful for training webinars and customer service.
Zoom also has excellent screen share features, allowing users to share their entire desktop views or a single application. Shared screens can be annotated. Meeting participants can share their screens simultaneously, and side-by-side views make it easy to get a clear view of two shared screens at once.
Glip's chat tool also allows for user mentions, messages, and user favorites, and both private and public messages for internal and external users. It also lets users create message threads, "like" messages, and shows current team member status/presence. As with Zoom, Glip also has a message history search bar to make it easy to find essential older messages.
Glip screen sharing lets you share your entire desktop screen or singular applications and give remote control access to other users.
You can also create teams both during or before video calls, and opt to make the team public or private. You can share your screen during Glip meetings, and upload an unlimited amount of files you can co-annotate with other team members. Your Glip workspace automatically stores all of your files and integrates with Google Drive, so you'll be able to see all of your important project files in a single interface.
One of Glip's best features is its in-app note-taking tool. You can write your own notes during a meeting, view and update any past notes, see shared notes from other teams and conversations, and share your own notes with other users.
However, Glip's real standout collaboration feature is its built-in task management function.
Users can create, view, and assign tasks, see updates on tasks they've assigned to other users, view upcoming tasks, color-code them, and even view completed or past due tasks. There's even a checklist format that makes it easy to keep track of which tasks you've completed. You can add multiple assignees to a task, upload files, create descriptions, set due dates, and more.
Winner: Glip offers a clean and intuitive chat interface, advanced task management capabilities, and note-taking capabilities, making it the clear winner here.  Both tools allow for users to instantly transition from a chat to a video call, upload and edit files, and share their screens. Glip's biggest omission is that, as of this writing, it does not have a native whiteboard tool, but that can be easily fixed with an integration.
Meeting Recording
On Zoom's free plan, only local recording (meaning records must be stored on devices) is offered. However, paid plans allow users to choose between local and cloud recording. Note that only hosts and co-hosts can begin recording and that all participants will be notified that they are being recorded.
In addition to audio and video, Zoom also automatically records the meeting chat log. Users can start recordings on mobile Android and iOS devices and can buy additional storage for their Zoom accounts if needed.
Zoom also offers advanced recording features like automatic audio transcripts, timestamps, the ability to record only audio files, and auto-deletion of recordings after a set amount of time.
Glip can hold up to 100 hours of mobile and desktop cloud recordings of audio and video for a maximum of one year. Note that, as with Zoom, it's possible to order more cloud storage if needed. You can also automatically send out recordings of the meeting to all participants once the meeting has ended.
Glip also allows users to send out recordings of meeting highlights and snippets.
This makes it easy for those who weren't able to attend to get the most essential information without having to rewatch the meeting in its entirety. This is an especially valuable feature when sharing meeting clips with upper management, who need to know only the most important things discussed. Users can also easily upload a Glip recording to YouTube.
As with Zoom, only the meeting host has the privilege to start and stop recording.
Both Glip and RingCentral allow you to pause and resume recording at any time during a meeting, which allows for greater privacy and the chance for a quick personal conversation.
Note that, as of this writing, transcription of video conferences in Glip is possible only via third-party integration.
Winner: Zoom. Glip's easy-to-use meeting highlights recording feature might make it the clear winner, but the fact that it offers no transcriptions and doesn't appear to be able to record chat messages makes Zoom the winner by default.
Integrations
With Glip, you can only access third-party integrations (outside of Office 365 and GSuite Google Workspace) with a paid account.
Glip integrates with:
Asana
Zoho
Google Drive, Dropbox, Box, and OneDrive
Zapier
Microsoft Teams
Salesforce
Trello and Wrike
Zendesk
Mailchimp
Twitter, Instagram and Facebook
Slack and Slack alternatives
Freshdesk
Basecamp
Click here for additional information on Glip integrations.
Zoom offers more robust integrations than Glip does, in addition to allowing integrations on its free plan.
Top integrations include:
Skype
Salesforce
Slack
GSuite
Glip
Microsoft Outlook
Office 365
Google Drive
Microsoft OneDrive
Dropbox
Facebook
Zapier
More integrations are available on the Zoom App Marketplace.
Winner: Because Zoom offers integration and API functionalities on its free plan, and because it has more available integrations, it's the clear winner here. Additionally, RingCentral users consistently bring up problems with app integration in reviews. This may be due to the fact that Glip integrations are a relatively new feature.
Mobile App
Both Zoom and RingCentral have mobile apps compatible with both mac iOS and Android devices. While both apps don't offer the same number and type of features as their desktop counterparts, which one is the better choice?
On Zoom, users can see up to four video screens simultaneously, choose a background, and access screen sharing capabilities. While the chat messenger feature is available on Zoom mobile, user reviews consistently make note of the fact that using the chat feature on a mobile device is too complicated and not worth the hassle of constantly switching screens back and forth.
Zoom's mobile app allows for file sharing, sending/receiving meeting invitations, co-annotation, screen sharing, and even has a driving mode feature to keep users safe on the road.
The Glip smartphone app lets users access chat messages, stored files, video conferencing with up to four simultaneous screens, conferencing calling, task management, and integrated team calendars.
Screen sharing and co-annotation features are also available on mobile. Glip also lets you instantly switch devices during a meeting, allowing you to easily transition from a desktop video meeting to a mobile one.
Winner: Glip's phone app has better user reviews, offers more advanced functions than the Zoom app, and lets participants switch between devices during a live meeting.
Meeting Analytics
Both RingCentral and Zoom offer meeting analytics and reporting tools to help gauge attendance, engagement, and attention.
RingCentral's analytics include data on who has attended meetings, who was invited to them and declined, and how long each employee remained in the meeting. This helps identify specific endpoints so hosts can refine their meeting strategy. It also shows activities that guests took during a meeting, like recording or sharing their screens.
Glip analytics also show live and historical data regarding user location, devices, and by user.
Zoom goes one step further by not only providing data on guest lists, meeting attendance, and endpoints, but also information about which devices attendees used to access the meeting. Users can set a specific date range to better understand data trends. Zoom also displays information on the top 10 users, such as the number of messages sent, how many total minutes they've spent in meetings, and more. Zoom even provides information about the attendees' locations.
Though Zoom used to have an employee attention tracking feature, the backlash from users caused the company to permanently disable the feature on April 2, 2020.
Winner: Zoom has a bit more advanced analytics capabilities than Glip does, as of this writing. Additionally, some basic Zoom analytics are available on the free plan, but any analytics at all on Glip require you to have a paid account.
Zoom vs RingCentral User Experience
The two tables below outline the top Zoom and RingCentral Glip pros and cons based on hands-on experience, user reviews, current features and capabilities, and more.
| | |
| --- | --- |
| Zoom Pros | Zoom Cons |
| A large user base means frequent updates, bug fixes, helpful user forums, and fast notification of any issues  | Requires all users to download the app, which can be frustrating, especially given frequent updates |
| Excellent team collaboration issues make replicating the in-office environment on a video call possible, especially for file sharing/editing and whiteboarding | Lingering security and user privacy concerns  |
| Allows for up to 500 meeting participants, with the option to increase that number with a paid add-on | Prioritized and timely customer support, especially the kind required by Enterprise-level companies, requires the purchase of a "Premier Support" package |
| Zoom breakout rooms let users participate in smaller brainstorming sessions during meetings, then rejoin to share their ideas with the larger group | Users consistently mention the audio quality needs improvement |
| | |
| --- | --- |
| Glip Pros | Glip Cons |
| Superior video quality with an uncluttered interface | Only allows for up to 200 participants maximum, even on the paid plan |
| The free plan allows meetings to last for up to 24 hours | Only has one paid plan, meaning less flexibility in regards to pricing |
| Advanced native task management and calendar features | More basic features, even with paid plans, especially when it comes to the available integrations |
| Overall ease of use and low learning curve, simple installation process as well | Because Glip for RingCentral is a newer tool, some support documentation and detailed information about features and functionality is lacking  |
Zoom vs RingCentral Glip: Pricing and Plans
The below table compares Glip and Zoom's free plans, Zoom Basic and RingCentral Glip Pro.
| | | |
| --- | --- | --- |
| Features | Zoom Basic | RingCentral Glip Pro |
| Maximum Number of Meeting Participants | Up to 100 | Up to 100 |
| Maximum Meeting Duration | Up to 40 minutes | Up to 24 hours |
| Maximum Number of Meetings per Month | Unlimited | Unlimited |
| Meeting Recording | Local recording only, recordings stored as MP4, MPA, and txt formats (no cloud storage) | Up to 10 hours of cloud recordings with a 7-day retention period |
| In-Meeting Team Chat Messaging | ✓ | ✓ |
| On-Demand and Pre-Scheduled Meetings | ✓ | ✓ |
| Virtual Waiting Room | ✓ | ✓ |
| Desktop, Application, and Screen Sharing and Co-annotation | ✓ | ✓ |
| Whiteboard Tool and Polling | ✓ | X |
| In-Meeting Device Switching | X | ✓ |
| Dial-In Access | X | ✓ |
| Meeting Password | ✓ | ✓ |
| HIPAA/BAA Compliance | X | ✓ |
| File Sharing and Task Management | File Sharing Only  | ✓ |
| Breakout Rooms | ✓ | X |
| Integrations | ✓ | Meeting Scheduling with Office 365 and Google Calendar Only |
Winner: Draw, as it depends on the specific features you need from your platform. If unlimited meetings are your number-one priority and you're willing to compromise on collaboration features like breakout rooms, whiteboard, polling, and advanced integrations, then go with Glip. But if you have shorter meetings that rely on several third-party applications, breakout rooms, and whiteboarding tools, Zoom's free plan is the better choice.
RingCentral Glip has only one paid plan, the Glip Pro+ Plan, which costs $11.99/user per month.
The paid Glip Pro+ Includes:
Host up to 200 participants
100 hours of cloud recording per user with 1 year of recording retention
Meeting call-in/call-out with 500 minutes included (Have participants receive a call to enter meeting)
Delegate meeting scheduling (another user can schedule a meeting for you)
Third-party business app integrations
Advanced admin controls
Advanced analytics
Message data export, unlimited or set time period message data storage
24/7 live support agents
Compatible with RingCentral Rooms add-on
The below table compares the three main Zoom paid plans.
| | | | |
| --- | --- | --- | --- |
| Features | Pro Plan | Business Plan | Enterprise Plan |
| Pricing | $14.99/license per month | $19.99/license per month | Quote-based |
| Maximum Meeting Duration | 30 hours | 30 hours | 30 hours |
| Maximum Number of Meeting Participants | 100 | 300 | 500+ |
| Recording and Recording Storage | Local and 1GB Cloud Storage per License | Local and 1GB Cloud Storage per License  | Local and Unlimited Cloud Storage |
| Telephone Dial-In Meeting Access | ✓ | ✓ | ✓ |
| Streaming | ✓ | ✓ | ✓ |
| Advanced Reporting and Analytics | ✓ | ✓ | ✓ |
| Live Transcription | ✓ | ✓ | ✓ |
| Cloud Recording Transcripts | X | ✓ | ✓ |
| Branding  | X | ✓ | ✓ |
| SSO | X | ✓ | ✓ |
| Dedicated Customer Success Management | X | X | ✓ |
Winner: Even though Glip's plan is more affordable, the fact that RingCentral offers only one paid plan means that Zoom is the winner here. Plus, Zoom has a higher meeting participant cap and more advanced features that don't require a subscription to the most expensive plan to access.
Who Should Use Zoom?
Zoom is ideal for large-scale or enterprise-level companies that use video conferencing on a near-daily basis for both internal and external communication.
Though primarily considered a tool for geographically-diverse and remote teams, it's also an excellent in-office tool for meeting with clients or having shareholder or department-wide meetings.
Telehealth providers frequently use Zoom as their preferred platform for virtual healthcare appointments (learn more about Zoom for Healthcare features in our review.)
Zoom for Educators is also the go-to platform for many teachers at the high-school and university level for remote classrooms and virtual distance learning.
Especially with the recent addition of Zoom Phone system, it's also a good solution for businesses of any size that are in the market for a UCaaS application that focuses primarily on video communications. (The Zoom United Business plan, which combines meetings, PBX/VoIP business phone, voicemail, and chat capabilities with third-party CRM integrations and more, is a strong UCaaS contender.)
The standard Zoom platform likely isn't a wise choice for those looking to host large-scale virtual conferences. The Zoom Video Webinar, which allows for up to 10,000 view-only attendees, advanced registration features, and both on-demand and live webinars, is a better tool for online events.
Note that due to past security concerns and data breaches, some companies — especially small businesses and those in the healthcare and financial sectors — have outright forbidden the use of Zoom. In general, those within industries with high security and regulatory concerns should avoid using Zoom.
Who Should Use RingCentral Glip?
RingCentral Glip is a beginner-friendly online meeting platform that will primarily benefit SMBs that have a handful of video meetings on a weekly basis, but that do not use video conferencing as their primary mode of business communication.
It's also ideal for companies that need a more basic video calling tool — in other words, businesses that just want to meet face-to-face from anywhere when needed, not those that need advanced features and integrations with other software.
Glip is an excellent tool for one-on-one video meetings, so it works well for virtual job interviews, individual sales pitches, loan application reviews, tutoring sessions, product review meetings, or even virtual workshops and masterclasses.
It's also a good option for businesses that are highly mobile, as Glip makes it easy to switch devices in a meeting with the click of a button.
That being said, businesses that need advanced features and higher meeting participant caps will likely be unsatisfied with Glip. In general, it's not the best choice for larger companies with over 50 employees or businesses with advanced team collaboration needs.
Larger companies that still want access to the Glip platform should consider RingCentral Office, the unified communications solution from RingCentral. Read our complete RingCentral review to learn more.
Other Popular Video Conferencing Platforms to Consider
When comparing RingCentral vs Zoom as a video conferencing solution, it's clear that Zoom is the better choice for larger teams, while Glip is ideal for smaller ones.
Still not convinced that either option will give your company what it needs?
Don't worry — there are plenty of other options. Check out our quick review and comparison of top web conferencing software for 2021, or read our detailed breakdowns of top providers like Join.me, Cisco WebEx, GoToMeeting, and more.