When transitioning your business phone system from landline to VoIP telephony, SIP trunking and VoIP are strong options. Both types of phone systems offer internet-based VoIP calling for your whole network.
While SIP trunking and VoIP overlap in many ways, each phone system has unique use cases and features.
This article will compare SIP trunking vs VoIP, outlining their pros and cons, similarities and differences, and when to use each.
Jump to↓
SIP Trunking vs VoIP Overview
SIP trunking is a phone-system setup that enables your IP PBX phone system to make VoIP calls via the internet or PSTN, while VoIP is voice calling over the internet. SIP trunking is a setup method, while VoIP is a communication capability.
While SIP trunk providers and cloud-hosted VoIP providers both offer VoIP, the two services differ in some ways.
SIP Trunking
Cloud-Hosted VoIP
Pricing
$12-$26 monthly per user, depending on features and metered vs unlimited calling
$10 to $40, depending on features and communication channels
Key features

Toll-free numbers
Call analytics
Call recording

Auto attendant menus
Queueing
Internal team chat

Communication channels
On-premise hardware required
IP PBX
None
Installation
Requires IT or professional experience
No experience required
Integrations
UCaaS, CCaaS, and CPaaS platforms
UCaaS and CCaaS platforms, CRM systems, calendar apps
Best for
Companies that already have an IP PBX system or UCaaS communication tools without voice
Companies without an IP PBX system that want additional phone-system features, like routing and queueing
What is VoIP?
VoIP (voice over internet protocol) is a digital phone-system technology that allows users to make voice calls over the internet.
Unlike traditional phone systems–which use the public-switched telephone network (PSTN) to make calls over wired landline–VoIP enables voice communication by transmitting data packets wirelessly, or over Ethernet.

Put simply: VoIP uses the internet to make calls, while traditional landline phone systems use cable wires.
When a VoIP user makes a call from an internet-connected device, like a computer or a mobile phone, codecs within that device capture audio frequencies and turn them into data packets, sending these data packets through the local area network (LAN) router, then through the VoIP gateway or session border controller (SBC). The SBC then chooses where to send the data: to an endpoint along the PSTN, to a local user sharing the same wide-area network, or to another VoIP user connected to the internet somewhere in the world.
While SIP trunking is one way to enable VoIP for your business phone system–through an onsite IP PBX–you can also enable VoIP through a hosted PBX (private branch exchange) system where a VoIP provider handles phone system maintenance.
VoIP Pros
The pros of choosing VoIP, compared with SIP trunking or traditional phone lines, include the following: 
Easy setup and maintenance
Affordability
Scalability
Advanced features
Third-party app integrations
Mobility
Easy Setup and Maintenance
A VoIP phone system is easy to set up and maintain, especially if you opt for a hosted PBX VoIP service.
While you can set up a self-hosted VoIP system using an onsite IP PBX and SIP trunk, a hosted PBX system takes all setup and maintenance responsibility off your hands. With a cloud-hosted PBX system, your VoIP provider–such as RingCentral, Nextiva, or Dialpad–maintains the PBX, including all software and hardware upgrades.
With a cloud-hosted VoIP solution, you're up and running in minutes. Visit your provider's website, select a subscription, and you can begin making calls instantly. Since most modern VoIP providers offer softphone functionality, you can make calls directly from your phone or laptop without having to purchase any additional hardware.
Affordability
VoIP saves costs in a variety of ways: it eliminates your monthly PSTN landline payments by using your internet system for calling, it typically offers unlimited calling within the US and Canada, and it saves money through additional bundled features like conference calling and routing.
Scalability
VoIP phone systems are more scalable than legacy PBX landline systems–allowing you to easily add and remove users, and manage phone numbers–because VoIP establishes phone connections wirelessly. Therefore, VoIP avoids the hassles associated with PRIs–physical copper telephone lines that connect landline phones to the PSTN.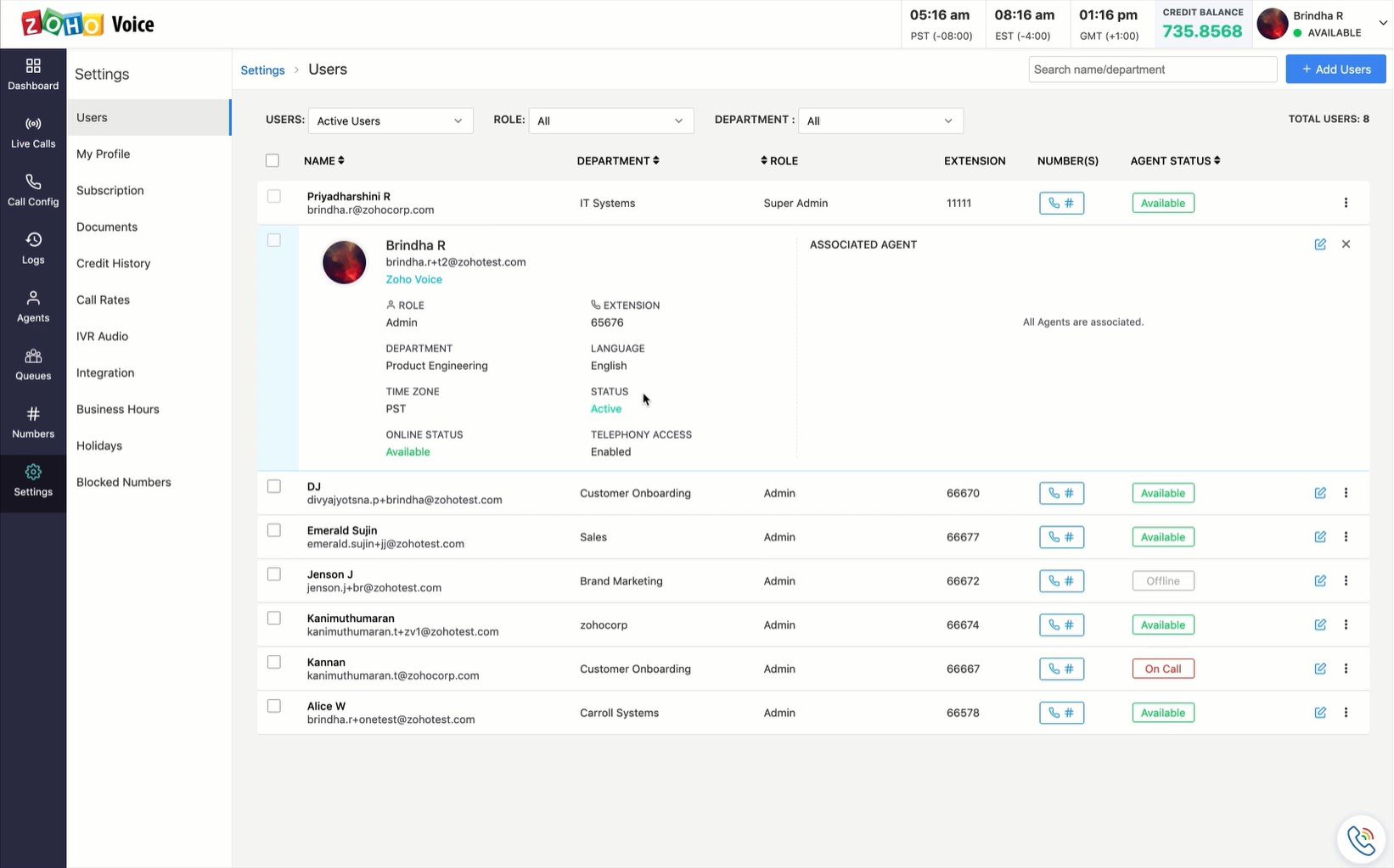 Landline PRIs (primary rate interface) make scaling difficult and expensive because adding new users requires purchasing and installing new copper wires into your onsite PBX system. On the other hand, scaling a VoIP phone system is all done virtually, allowing you to add the exact number of user seats and phone numbers you need. You can purchase DID numbers from a VoIP provider and cancel with just a few clicks, adding or removing users in minutes. Compared to legacy PBX, VoIP makes it much easier to set up new branches and scale your workforce.
Advanced Features
Many VoIP providers–such as Vonage and OpenPhone–bundle VoIP service with other advanced phone-system features, like voicemail, routing, and queueing.
These virtual features, bundled into most VoIP pricing plans, include self-service IVR menus, call queues, ring groups, skills-based routing, custom routing orders, voicemail transcription, and more.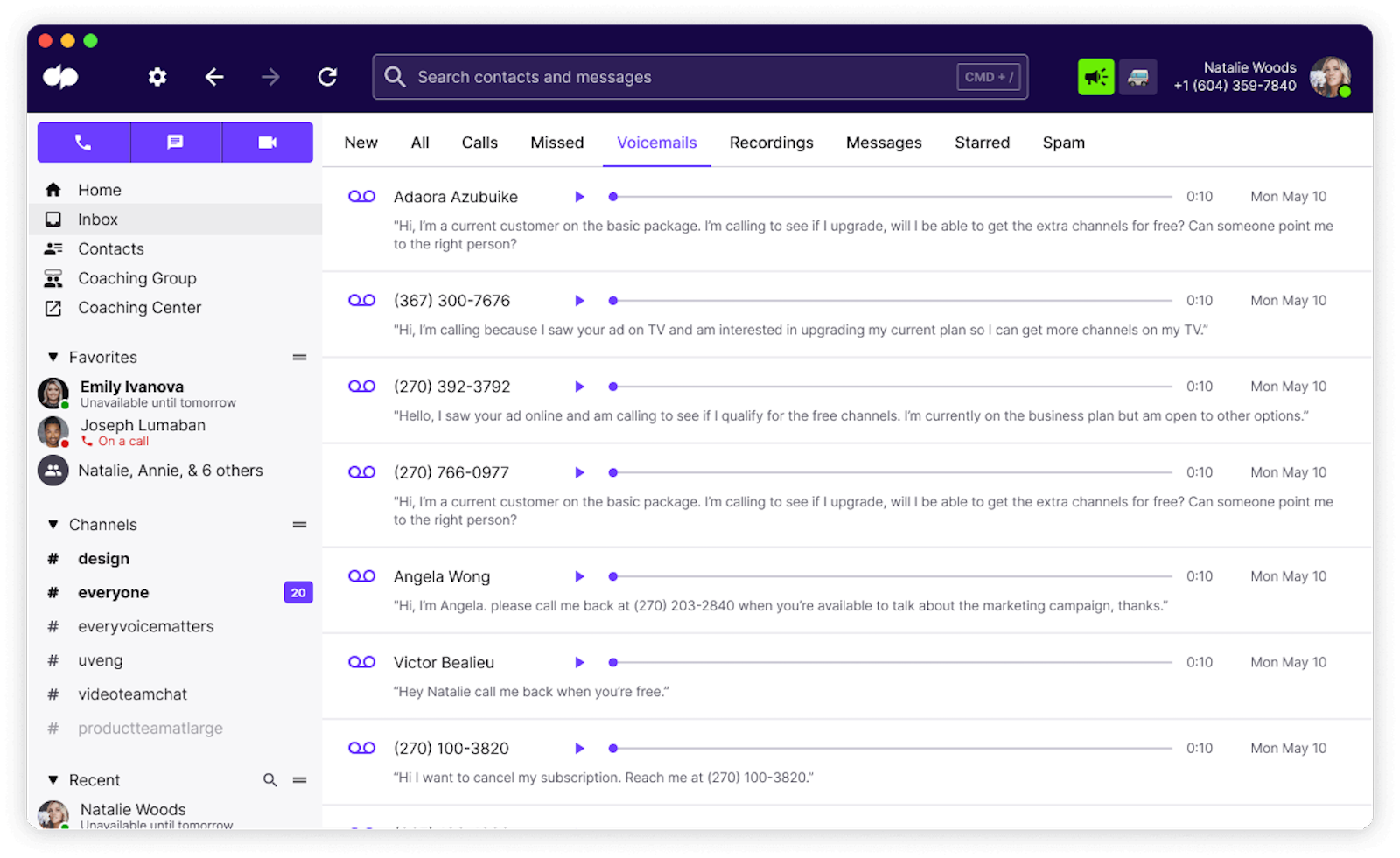 While a SIP trunking service can support these features, this typically requires you to seek out third-party UCaaS vendors that offer them. Subscribing to a VoIP pricing plan, with all phone-systems features built into the software, makes it much easier and more affordable to access a wide variety of phone system features.
Third-Party App Integrations
VoIP phone systems make it much easier to integrate voice calling with your other tools: CRM systems, UCaaS platforms, collaboration apps, and calendaring apps.
Most VoIP telecommunications providers offer user-friendly agent and supervisor dashboards that combine tools across apps into one interface, allowing agents to collaborate, serve customers, and gain relevant background information–all in one place.
Mobility
VoIP users can make business phone calls–from their business phone number–wherever they have internet. This means that VoIP users can do business from their phone or laptop in a coffee shop, library, at home, on vacation, or in the car using cellular data.
A VoIP app subscription offers more mobility than SIP trunking or a legacy PBX system.
VoIP Cons
Compared to SIP trunking or a legacy PBX system, virtual VoIP has a few disadvantages:
Requires internet connection
Can waste money on features you don't use
May waste pre-existing onsite PBX
Requires Internet Connection
While VoIP's ability to make calls over the internet is a major advantage in terms of cost consolidation, mobility, and scalability–VoIP does require an internet connection, which is a con when you lose your internet connection for some reason.
If your building's power goes out, for example–or if your internet provider suffers an outage–you will not be able to make VoIP calls.
Can Waste Money on Features You Don't Use
Most VoIP providers' pricing plans include multiple tiers, each with a pre-bundled suite of features. While this format allows you some flexibility to pick the pricing and features that meet your business needs, it inevitably leads you to pay for some features you won't use.
For example, many VoIP pricing plans include features like business fax, video conferencing with hundreds of participants, and call analytics–while these features have valuable business use cases, you are still required to pay for them even if you don't use them.
May Waste Pre-Existing Onsite PBX
If you already have a legacy PBX or onsite PBX system in your office building, the PBX hardware will go to waste when you sign up with a hosted VoIP provider. Hosted VoIP providers manage the PBX for you.
Still, while VoIP setup may add some extra cost early on, it typically ends up saving medium-sized businesses a few thousand dollars per month, making it a wise choice to switch to hosted VoIP technology as soon as possible.
What is SIP Trunking?
SIP trunking is a phone-system setup that connects an IP PBX system to both the internet and the PSTN, allowing users to call any phone number–by using just an internet connection. SIP is short for session initiation protocol, which dictates the initiation and end of live data transfer sessions, like VoIP.
As such, SIP is a service that enables VoIP to occur. SIP trunking enables IP PBX systems to connect SIP protocol functionality–and therefore VoIP–to the PSTN. SIP trunking bridges the gap between local internet calling–on an IP PBX–and nonlocal PSTN calling.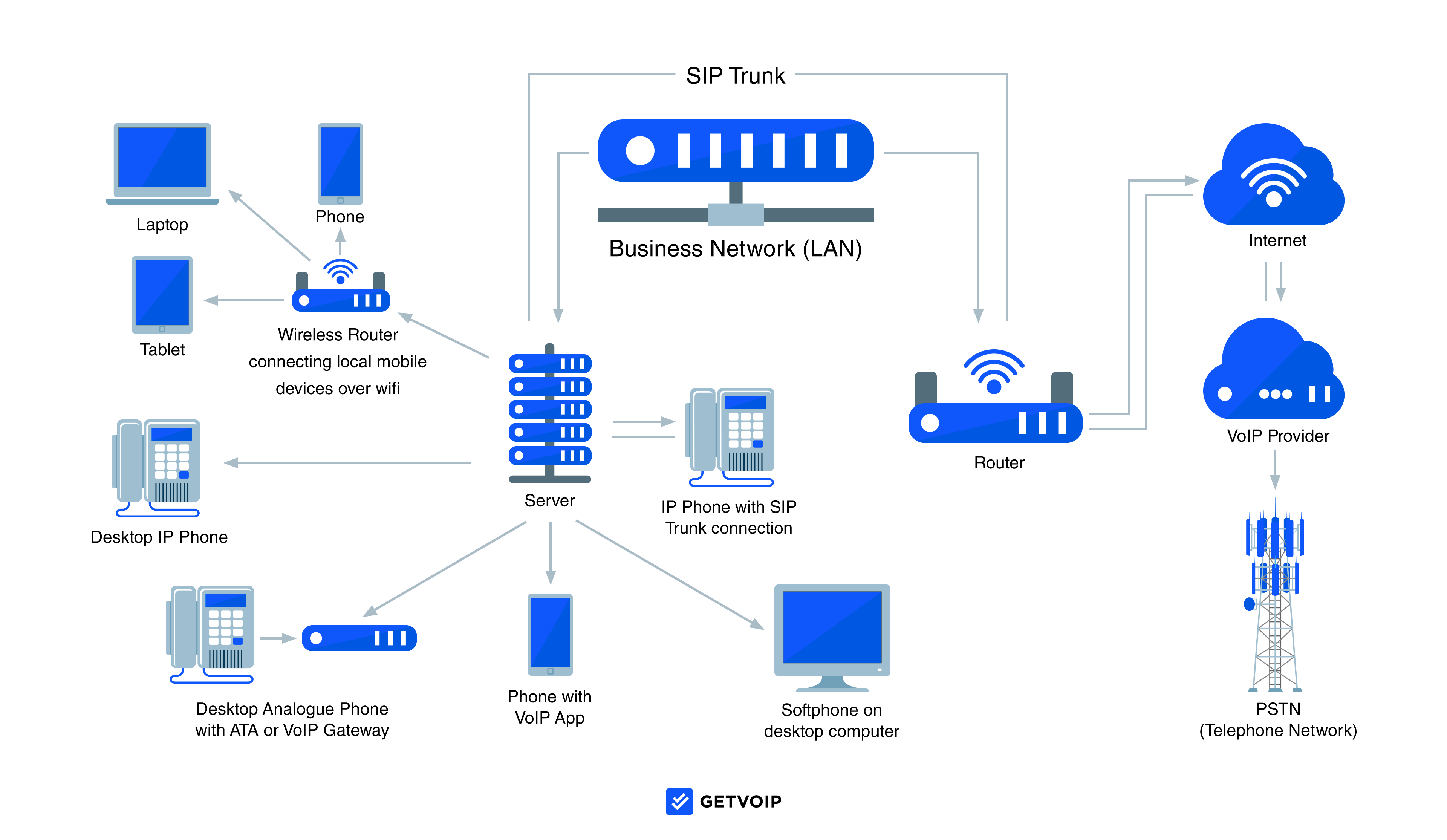 To connect a business' IP PBX to the PSTN, SIP trunks utilize a session border controller (SBC)–which can be a piece of hardware that connects to your router or IP PBX server, or a virtual software that you download onto a server on your computer, IP PBX, or router. The SBC functions at the end–or border–of your local area network (LAN) to connect it to the PSTN and internet, securely determining when to initiate and end data-based communication sessions such as VoIP.
A landline legacy PBX uses cable PRI lines for wired connection only, limited to making calls via the PSTN. Alternatively, an IP PBX system is limited to making VoIP calls by transmitting data across a virtual network, such as a company's wide area network (WAN) or the internet. A SIP trunk combines them, allowing internet users to make calls using PSTN, the internet, or a combination of the two.
Most SIP trunk providers connect SIP and VoIP functionality to the IP PBX you already use, offering monthly payment structures with unlimited calling in North America and metered calling around the world.
SIP Trunking Pros
Compared to legacy PBX or a hosted VoIP subscription, SIP trunking offers several pros:
Communications SaaS Integrations
Add-on Features
HD voice quality
Unlimited domestic calling
No additional hardware
Communications SaaS Integrations
Many SIP trunk providers–like Twilio and Bandwidth–offer a voice solution that integrates directly with your other business communications tools–like UCaaS, CCaaS, and CPaaS platforms. You can access your SIP-supported VoIP calling directly within your UCaaS app dashboard or from the agent's contact center interface.
Add-on Features
Many SIP pricing plans include add-on features, such as toll-free numbers, local numbers in custom area codes, number porting, call recording, and call analytics.
Toll-free numbers enable your VoIP phone system to make and receive phone calls at no cost to your customer, no matter where they call from. SIP providers offer toll-free and local numbers from area codes around the United States, allowing large and small businesses to establish a local presence around the globe.
HD Voice Quality
SIP providers utilize high-quality codec software, which detects and transmits a wide range of audio frequencies–including HD voice. Compared to traditional landline calls, SIP offers much better call quality.
Unlimited Domestic Calling
SIP trunking providers typically offer monthly subscription-based pricing–paid per user per month–with unlimited calling inside the United States and Canada. If your team has high inbound and outbound domestic call volumes, you will probably save money with SIP trunking, compared with your previous landline phone service provider.
No Additional Hardware with Virtual SIP
Virtual SIP trunking does not require any additional hardware–only an IP PBX system and an internet connection. You don't need to purchase and install any new phone lines, or buy any handsets–your agents can make calls using softphone functionality from their computers or mobile devices.
SIP Trunking Cons
Compared with hosted VoIP and traditional landlines, SIP trunking has a few drawbacks:
Security
Requires sufficient network bandwidth
Fewer built-in features than VoIP
Security
Compared to a PSTN landline phone system that transmits an audio signal, SIP trunking presents a security risk because it transmits audio via data packets, which can be intercepted if you don't use firewalls to protect your network.
However, if your LAN routers, WAN servers, and IP PBX are set up properly, security will not be a major issue with SIP trunking.
Requires Sufficient Network Bandwidth
SIP and VoIP consume a lot of bandwidth. When you switch call your network's voice calling from landline to SIP, this places much higher bandwidth demands on your network and router. Especially if you have a live call center where many agents make calls at once–compounded by other features like video conferencing and app usage–you may need to invest in a second router or a more powerful router, to support the increased bandwidth that SIP requires.
Luckily, most SIP trunking providers and routers offer quality of service (QoS) settings that allow you to prioritize VoIP traffic over other network data, protecting call integrity.
Fewer Built-in Features Than VoIP
Compared to VoIP, SIP trunking usually offers a relatively basic variety of features.
Most VoIP solutions include a wide array of features–call queuing, analytics, routing features like auto attendants and ring groups, multimedia messaging, video calls, team chat, advanced voicemail, and more. Conversely, SIP trunking plans typically include just a few features–call analytics, local and toll-free numbers, and sometimes call recording–but usually not much else.
Compared dollar for dollar, VoIP phone systems usually offer better value than SIP trunking plans.
What is the Difference Between SIP Trunking and VoIP?
The main difference between SIP trunking and VoIP is that SIP trunking utilizes your onsite IP PBX system to provide VoIP and PSTN calling, while VoIP solutions are remotely hosted in the cloud by your VoIP telecom provider.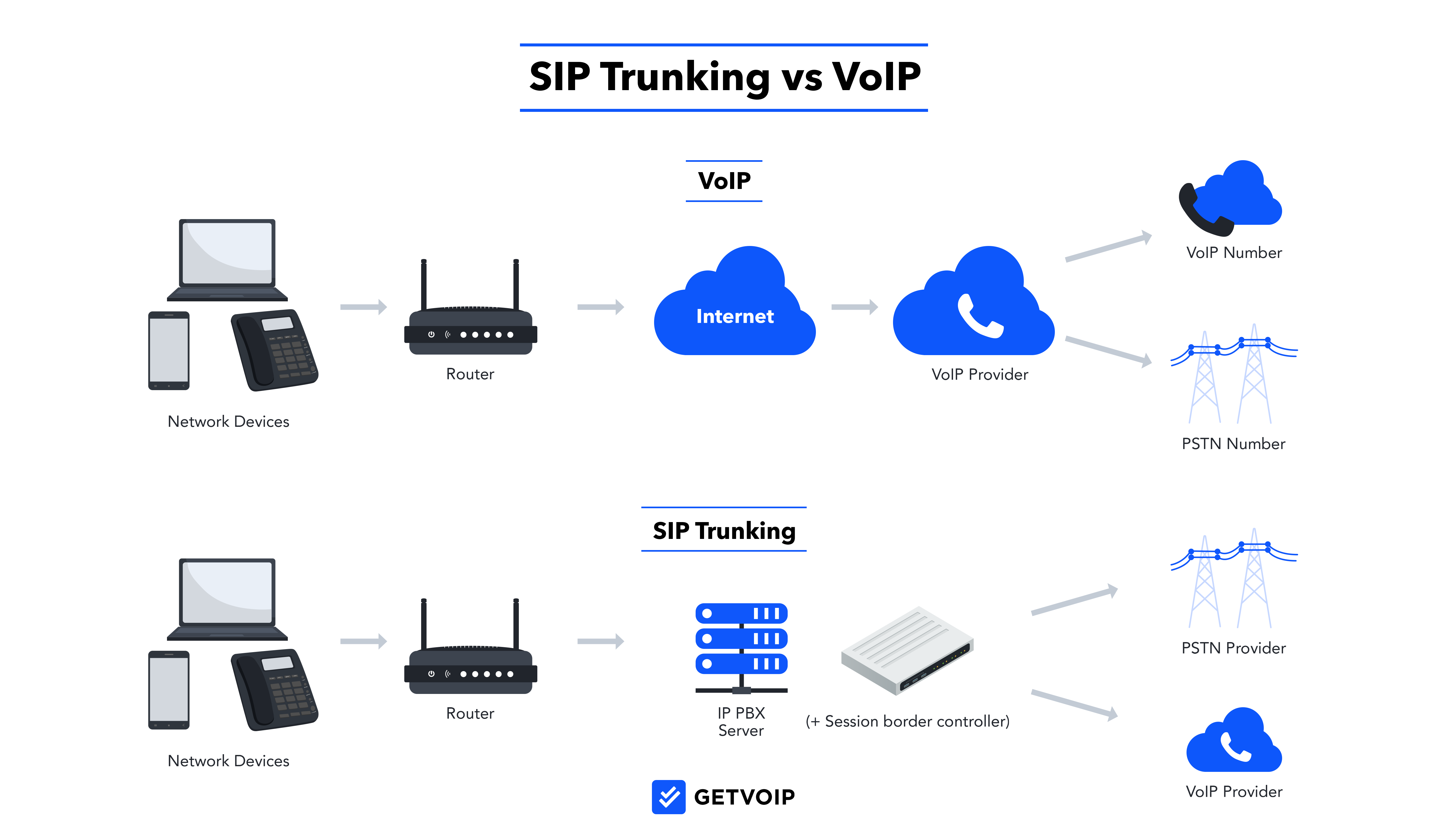 However, SIP trunking and VoIP aren't directly comparable–SIP trunking is a phone-system setup that utilizes your onsite IP PBX system, while VoIP is telephony over the internet. SIP trunking is a setup method, and VoIP is online calling itself. In fact, SIP trunking is one way to provide VoIP functionality. VoIP is the result of SIP trunking, and you can't have SIP trunking without VoIP. However, you can have VoIP functionality through other setup methods besides SIP trunking.
SIP trunking providers–like Twilio and Bandwidth–offer virtual session border controllers (SBCs) that enable your IP PBX to provide VoIP calling for all users in your network. VoIP providers on the other hand–like RingCentral and Nextiva–host the IP PBX and SBC in the cloud, so you're not responsible for any onsite hardware.
Which of the Two Solutions Should You Use for Business?
Below, we've compared when your business should use VoIP vs SIP Trunking.
When to Use VoIP
If you don't have an IP PBX: If you don't already have an IP PBX, you're better off simply using a cloud-hosted VoIP provider that doesn't demand any hardware purchase
If you don't have a unified communications platform already: If you don't already have a UCaaS platform, a cloud-hosted VoIP provider probably offers the variety of features and communication channels you want–including SMS and team instant messaging–all in one software program
If you have complex routing and queueing needs: Most cloud-hosted VoIP pricing plans offer routing and queueing features, which you can manage in the phone system app. It's easier to manage a complex routing system virtually, instead of with an onsite IP PBX system.
When to Use SIP Trunking
If you already have an IP PBX system: If you already have an IP PBX onsite, you can easily use it for VoIP with a SIP trunk
If you have communication tools without voice: If you already have communication or UCaaS tools–like video conferencing or team chat–you can utilize a SIP trunking provider to add VoIP functionality alongside your pre-existing features and multimedia communications