Customer billing issues, late payments, and  complex payment options aren't just frustrating–they also pose a serious threat to your business's bottom line.
Automated payments via self-service IVR streamline the billing process, save agents time, and improve the customer experience.
In this post, we'll discuss what IVR payments are, how they work, why your business needs them, and top providers.
IVR systems from
top providers
Quick links:
What is an IVR Payment?
An IVR Payment is a VoIP phone system feature that guides callers through automated Interactive Voice Response prompts to complete transactions, often eliminating the need to connect to a live agent.
There are two main types of IVR payment options: Agent-Assisted or Self-Service.
Agent-Assisted payment processing uses IVR to collect essential customer information, directing the caller to the ideal representative to answer any customer questions, resolve any outstanding issues, and complete the payment.
Self-Service payment –the most popular IVR method–bypasses the agent entirely, processing the payment on its own and providing 24/7/365 access to payment options.
While voice payments are still widely used, digital secure payment methods are also available. Most IVR payment systems include a variety of online payment options, in addition to IVR payment via phone call.
In addition to processing one-time voice and digital payments, IVR payment collection and processing capabilities include: 
Omnichannel payments (phone payments and payments via SMS, website chat, social media messaging, etc.)
Recurring payments
Voice or SMS payment confirmations and receipts
Click-to-pay link sharing
Online payment portals with customer document management
Custom mobile app for payment processing
Real-time IVR payment reporting and analytics
Payment plans/installments
Refund processing
Receivables management
Account and available credit lookups
Credit card decline management
CRM integration and CTI screen pops
Merchant account activity monitoring and alerts
Call routing strategies, drag-and-drop call flow design
Custom greetings
IVR and live agent call scripts
Outbound Voice/SMS payment reminders or collections notices
How Do IVR Payments Work?
IVR payments work by allowing customers to make payments, track account balances, and monitor other billing issues over the phone instead of in person or online.
Interactive Voice Response payment follows the same process as traditional IVR technology, but has billing-specific capabilities and is required to be PCI compliant (and sometimes, HIPAA compliant).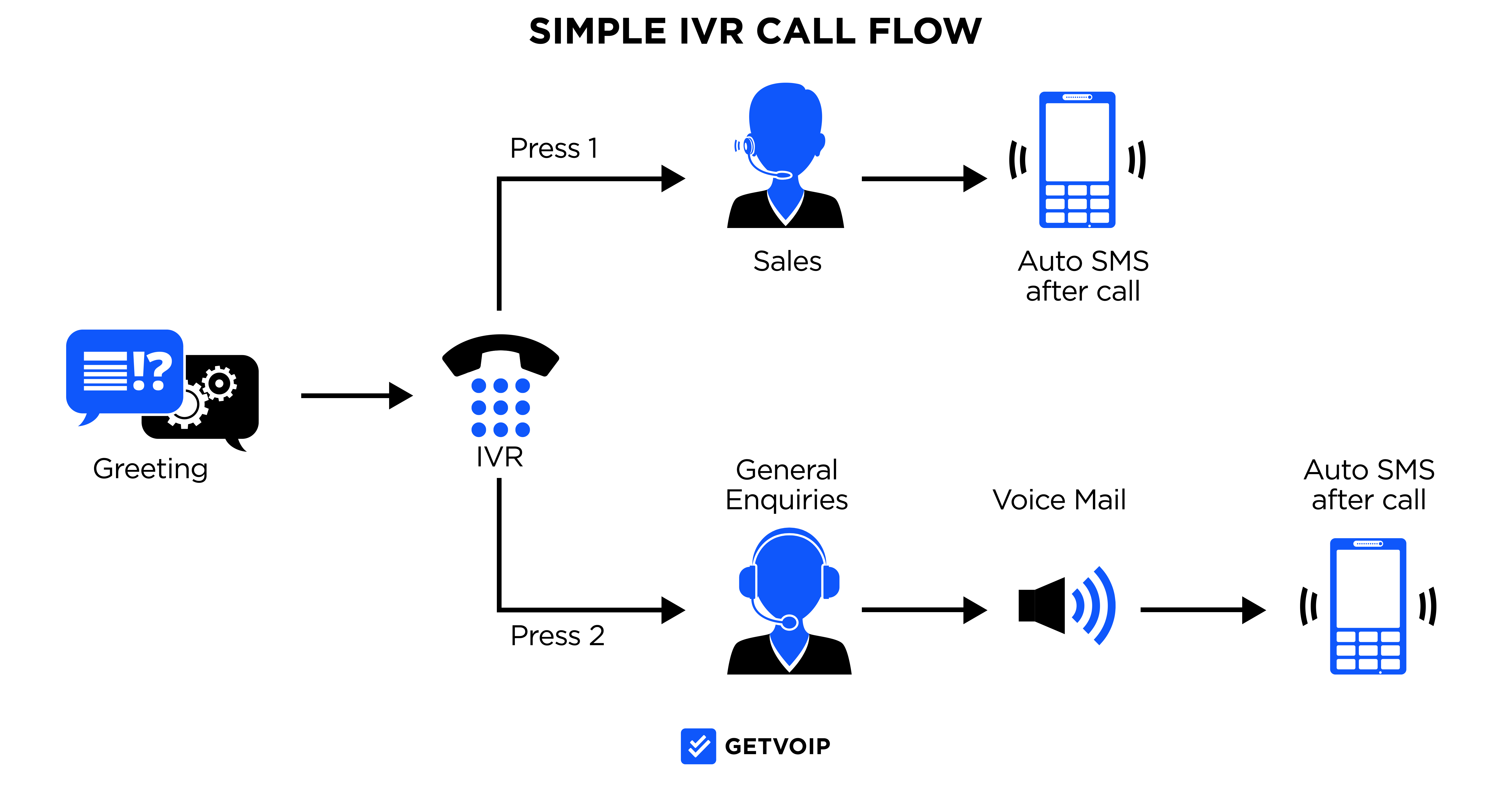 Pre Recorded auto attendant scripts and voice prompts help callers provide payment information like debit and credit card numbers, contact or account information, invoice date, or eCheck number (for ACH payments.)
Customers can either speak the information directly into the IVR system, or key it in via DTMF tones.
Using Natural Language Processing (NLP), speech recognition, machine learning, and other call management features, IVR analyzes customer responses. Based on the customer's requests, the software can determine if the IVR payment can be completely automated (self-service) or if additional support is needed (agent-assisted.)
If self-service is possible, the IVR platform automatically processes the payment and provides a confirmation via voice, email, or SMS.
If further assistance is required, IVR routes the customer to the best available representative or schedules a time for an automated callback.
In most cases, the payment process is completed in under five minutes.
Are IVR Payments Secure?
IVR payment platforms are required to PCI compliance standards to protect sensitive customer financial data and Personally Identifiable Information (PII.)
Created by American Express, Discover, Visa, and Mastercard, PCI DSS compliance (Payment Card Industry Data Security Standard) is a 12-step process regulating the way customer payment information is stored, shared, and processed.
PCI Compliance requirements are: 
Install/maintain firewalls
Use/update antivirus software
Protect stored customer and card data
Create/maintain a company security and privacy policy
Create/maintain secure applications, software, systems, etc.
Regular security process testing
Restrict and secure physical access to cardholder information
Monitor cardholder data and network access
Assign IP addresses/unique IDs to each user
Avoid using vendor default passwords
Encrypt cardholder data transmission across public networks
Only share cardholder information on a need-to-know basis
In addition to NACHA and PCI compliance regulations, quality IVR payment providers offer security features like:
HIPAA/HITECH compliance
Offsite hosting
Customer data masking (blocks customer payment information from agent view)
Biometrics and voice recognition
Two-factor authentication and SSO
Advanced user verification tools
Passwords and security questions
Real-time security alerts
Benefits of IVR Payments
Some IVR benefits are obvious: like streamlining payment processes and keeping agents free to assist with more complex customer calls and service issues.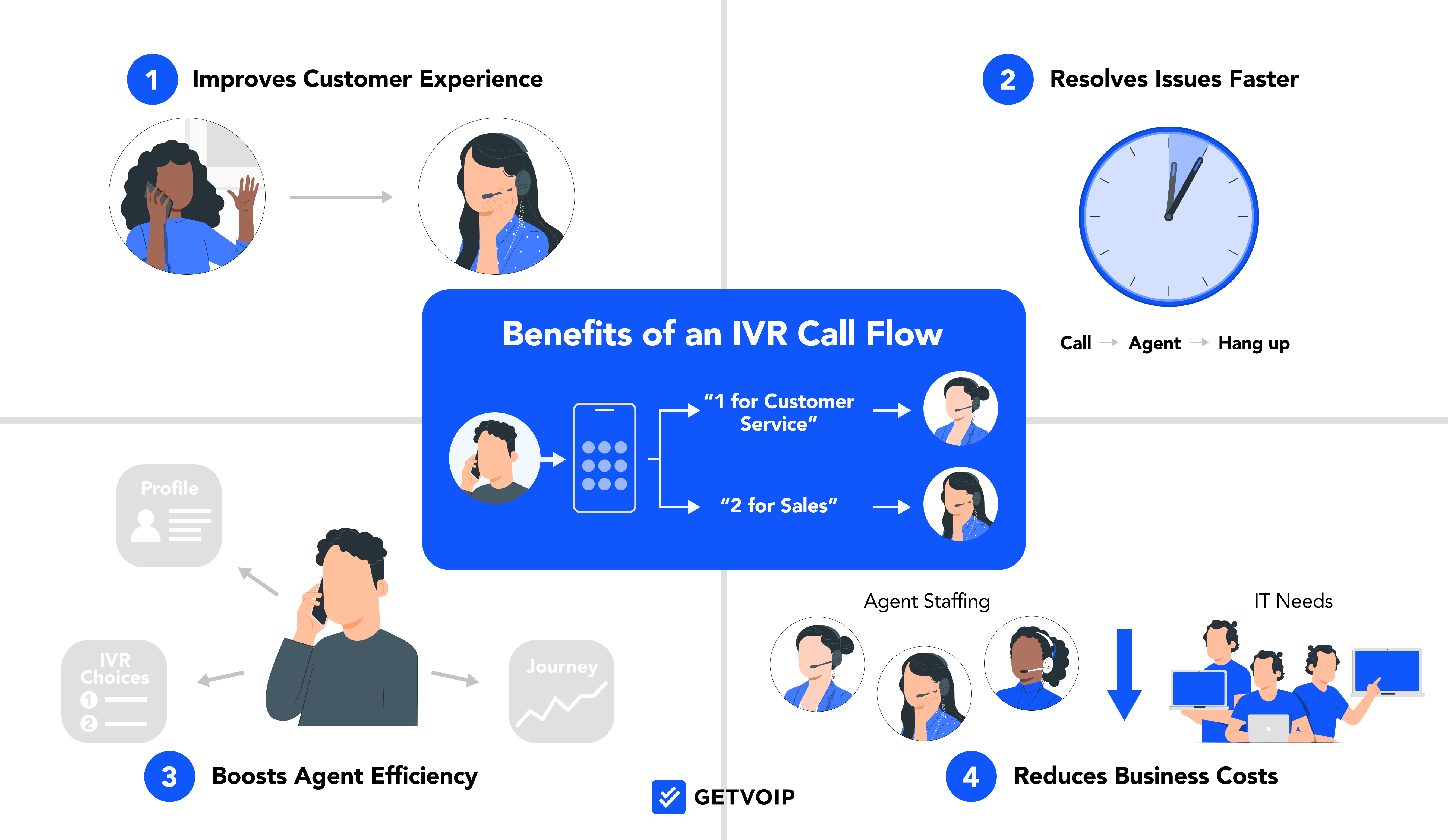 But using IVR to collect and manage customer payments offers additional business benefits, including:
Fewer Late Payments 
Late customer payments impact profitability, make it difficult to fulfill other orders, and can lead to financial insolvency.
IVR payment features like automated omnichannel payment reminders, recurring payments, financing options, and stored credit/debit card information dramatically decrease late payments while providing customers with flexible and reasonable payment options.
Customers are also more likely to pay on time when they can make convenient, 24/7 self-service payments on their own schedules. IVR also makes it easy for customers to quickly update billing information, preventing declined payments due to outdated addresses, expired cards, or closed bank accounts.
Because IVR keeps more agents free, even if customers need to speak to a representative to resolve a payment issue, they're much more likely to connect to a live agent upon first contact.
Lower Operating Costs
Credit card processing fees can run up to 3.5% of the total transaction–and additional fees for chargebacks, late payments, and other incidentals further cut into profits.
However, IVR-enabled ACH bank transfers have much lower fees than traditional credit card transactions, potentially saving your business thousands annually.
Automated payment options help businesses avoid hiring additional agents to manage high call volumes–and make it easy to optimize existing agents.
IVR payments also speed up the billing dispute resolution process–a huge drain on both agent resources and the company budget if unresolved. For every $1.00 spent, each chargeback fee costs businesses an average of $1.50.
An IVR system stores detailed call logs, analytics, customer information, and transaction history that cuts down on false or inaccurate claims, shortens call handle time, and increases first contact resolution rates.
Increased Customer Satisfaction
IVR payments boost customer satisfaction rates by:
Offering 24/7/365 service
Dedicated business phone numbers for payment management
Providing omnichannel payment methods
Eliminating required human interaction (and the accompanying call hold times)
Providing flexible payment plans/options
Including multilingual menu options
Sending instant payment confirmations
Automating the time-consuming recurring payment process
Storing multiple payment methods for the future
Sending automated payment reminders to help customers avoid late fees
Top IVR Payment Providers
IVR payment is available as a standalone application or as a feature of call and contact center software. This post focuses only on the best standalone IVR payment providers, outlined in the table below:
Provider
Top Features
Best For
Agile Payments 

– Payfac capabilities 

– Completely customizable IVR payment solutions

– Pay-by-Text Virtual Terminal 

Businesses of any size with existing call or contact center software that needs customizable IVR payment processing capabilities

REPAY (Formerly BillingTree)

– Custom invoice templates 

– Fully automated voice-based IVR payments

– Customer Messaging Management

Businesses concerned with late payments that need industry-specific integrations, fully automated omnichannel payment processing, and want to offer customers a variety of acceptable payment methods

Key IVR

– Warm Transfer

– Omnichannel Click-to-Pay

– Custom mobile payment apps

Niche businesses or online retailers that process a high volume of daily payments across communication channels, but don't want to completely automate the payment process  
Agile Payments 
Agile Payments provides voice-based IVR payment in addition to a wide variety of custom payment management integrations and solutions.
Instead of offering an out-of-the-box payment processing tool, Agile Payments lets customers pick and choose the specific features they need.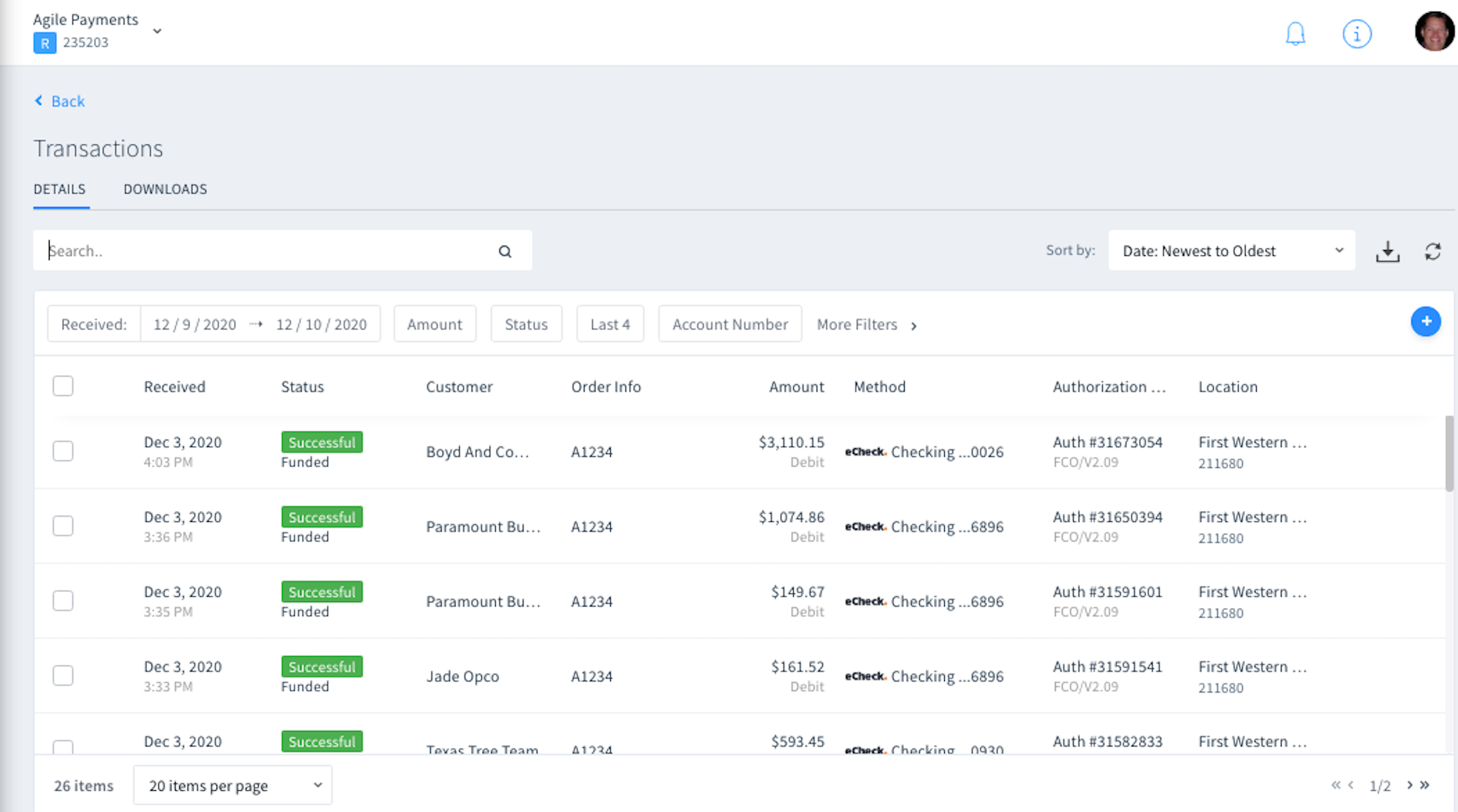 Agile provides inbound and outbound IVR payments via phone call, website, SMS, and email. Businesses can choose from 20+ languages, upload bill definition files, and add convenience fees.
IVR payment processing tools can be:
Created, installed, and managed by Agile (businesses must contact Agile to make changes)
Created and configured by Agile (businesses can access and edit IVR call flows and menu options in an online dashboard)
Created, configured, and maintained by the business (Agile provides IVR payment as a Service)
As of this writing, Agile Payments only offers IVR payments via touch tone keypad, not speech recognition.
Top Features
Agile's Bill Pay feature is a web-based billing and invoice lookup tool to further streamline the IVR payment process, while its Payfac (Payment Facilitator) capabilities allow businesses to process payments for their own clients.
The Pay-by-Text Virtual Terminal enables business SMS credit card/ACH payments, two-way customer-agent texting with attachments, text message templates and campaigns, contact list uploading, automated responses, and batch payment capture.
The terminal also enables recurring payments and payment scheduling, customizable email receipts, payment reporting and analytics, and backup payment methods.
Additional Agile Payments features include: 
Payment gateway integration
Payment as a Service to add payment solutions to existing applications
Push payments
Fraud reduction via bank account and identity verification
Credit card decline management
Instant payouts to circumvent the accounts payable process
Website payment integration with stored payment methods, custom form and data fields, and deposit reconciliation
Instant bank account verification to validate bank account balance, ownership, history, standing
Pricing
Agile Payments pricing is quote-based and depends on the type of IVR payment module and customization options. Complete IVR payment design, implementation, and management pricing begins at $500.
Best For
Agile Payments is best for businesses with an existing CCaaS or call center platform that want to integrate completely custom IVR payment processing capabilities into it.
REPAY Realtime Electronic Payments
REPAY (formerly BillingTree) is an omnichannel payment processing platform offering payments via automated IVR, an online billing portal, SMS texting, link sharing, and the REPAYit™ mobile app for Apple/Android.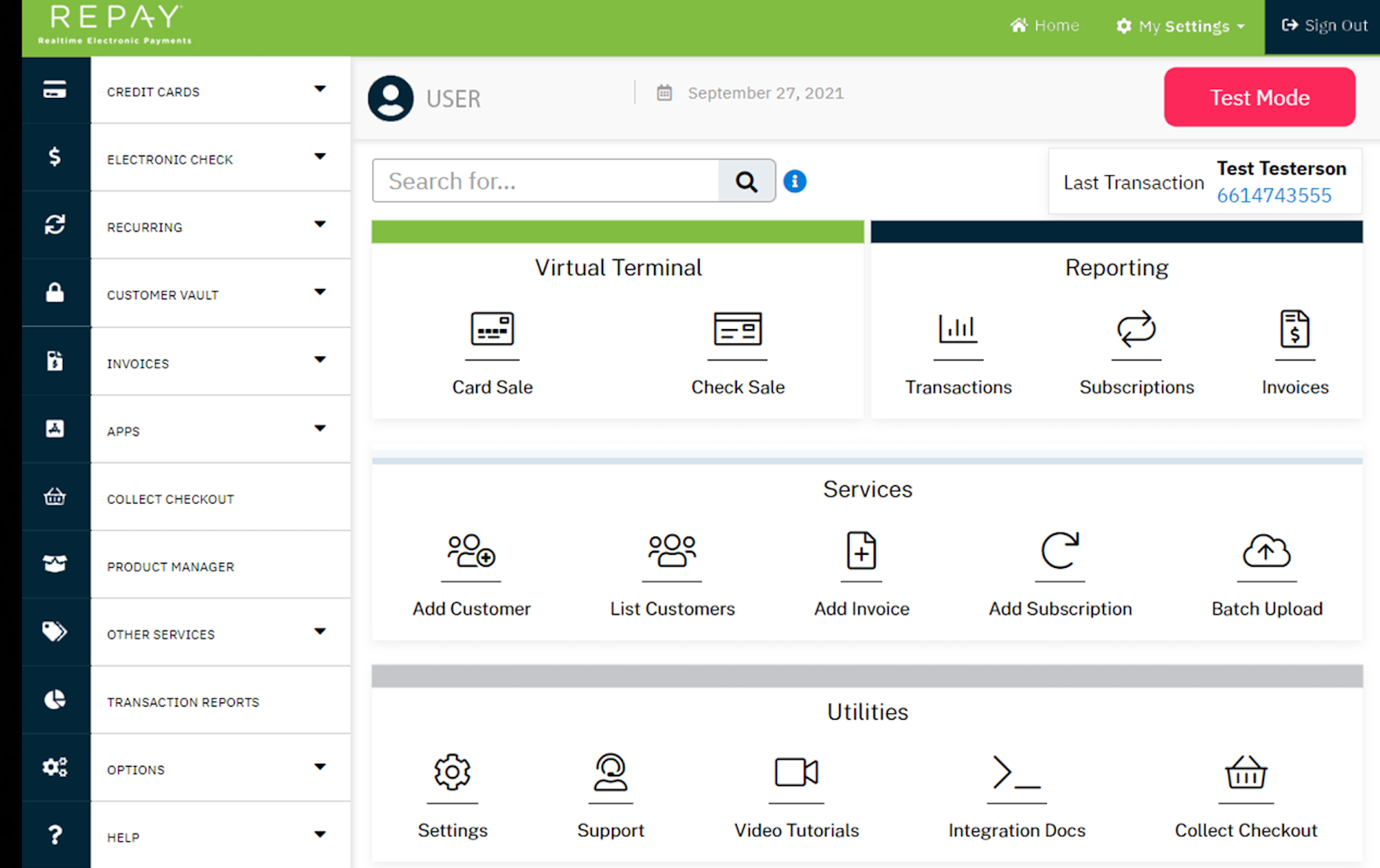 REPAY offers debit card, credit card, ACH, and digital wallet payment processing. Customers can even convert cash into digital payments using REPAY's eCash feature.
Though REPAY offers fully automated IVR payments only–meaning there's no option to be transferred to a live agent if needed–customers receive an SMS confirmation text, reference number, and can save their preferred IVR payment method for future use. REPAY even lets businesses add convenience fees for IVR payment processing.
Top Features
REPAY's desktop and mobile online payment portal offers Single Sign-On (SSO), payment method storage, and pre-populated billing statements and invoices, and  future-dated, recurring, and one-time payment options. REPAY offers completely customizable branded portal design.
Customer Messaging Management tools let businesses send statements, confirmations, billing updates, paperless documents, and more via link sharing, QR code, email, SMS, or directly in-portal. Users can automate custom, trigger-based outbound payment reminders, import customer lists, integrate REPAY with their CRM software, and even monitor messaging engagement.
Another standout feature is REPAY'S Accounts Payable platform, which lets businesses onboard their vendors to automate outbound electronic payments, set payment preferences, approve and track payments, and create single-use vendor payment cards.
Additional REPAY features include:
Custom invoice templates and billing documentation (digital and paper)
Instant Funding via Visa and Mastercard for loan approval and automated payment
Custom reporting
Chargeback management
Integrations with 60+ third-party tools including BigCommerce, Magneto, Woo Commerce, Sage Tech, Intuit Quickbooks, Microsoft Dynamics 365 Business Central, and LoanPro
Pricing
REPAY pricing is quote-based and varies according to business' desired custom features and applications.
Best For
REPAY is best for businesses looking for automated omnichannel payment processing software with industry-specific integrations, advanced in-portal billing and document management, and many different accepted payment methods.
KeyIVR
KeyIVR offers fully automated and in-conversation IVR payments across voice and digital channels.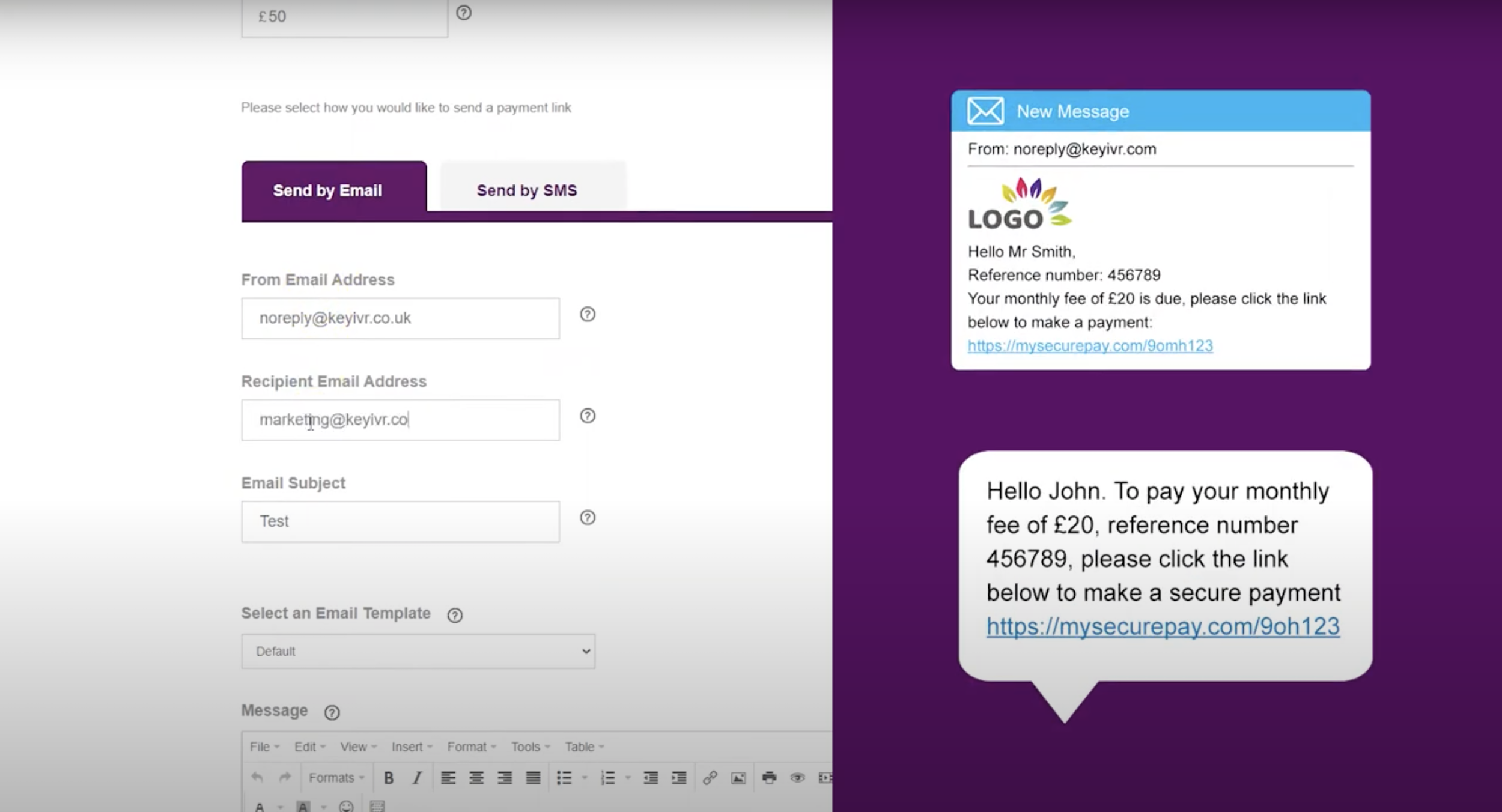 In addition to voice-based IVR payments, businesses can collect payments by sending customers a PCI-compliant click-to-pay URL link via SMS, social media message, WhatsApp, email, or website chat. Messages can be personalized, accessed on desktop and mobile devices, and unique payment links are generated for each transaction. Customers can also pay online via a customizable website payment portal or even pay using Amazon Echo and Alexa.
KeyIVR accepts payments via credit/debit card, Open Banking/bank account, and cryptocurrency.
Top Features
KeyIVR offers three live IVR payment options: Agent Assisted, Warm Transfer, and Outbound.
The Agent Assisted payment method facilitates real-time communication between agents and customers–but all sensitive credit card/financial information is masked to ensure agents cannot see or hear payment details. In this method, the entire call automatically takes place on a PCI-DSS-compliant line.
KeyIVR's Warm Transfer payment method lets agents manually transfer live calls to a session border controlled line when the customer indicates they are ready to make a payment. Though agents can view the customer's progress in the payment process, all sensitive information is masked. In this method, the call is transferred to the most secure line before payment information is collected.
The Outbound payment method lets agents place calls from the PCI-DSS compliant line and provides masked real-time payment progress tracking.
Additional Key IVR features include:
Concurrent licensing and multi-agent logins
CRM, billing system, SFTP, and custom API integrations
Real-time analytics
Custom/branded mobile payment apps for Apple/Android
Tokenization for secure customer card number storage
Automated Direct Debit and Electronic Funds Transfer
Recurring payments with multiple payment frequency options (weekly, monthly, etc.)
Payment accepted/fail notifications
Pricing
KeyIVR pricing is quote-based and includes customization options for advanced integrations, branded applications, and more.
Best For
Key IVR is best for large-scale businesses that need to collect omnichannel payments, want to accept cryptocurrency, and prefer a variety of agent-assisted payment options across a highly secure platform.
KeyIVR is especially popular with utility providers, travel agencies, parking lots/garages, and taxi/private driver services.
Who Should Use IVR Payments?
IVR software streamlines billing and payment processes across all industries, but enterprise-level corporations that process a high daily or weekly order volume will see the biggest benefits.
Popular IVR payment use cases include: 
Finance and Banking: Debt collection, credit card and loan payments, fraud management, settlement payouts, balance updates, installment payments, etc.
Healthcare: Collecting medical bills/setting up payment plans, processing insurance claims, prescription billing, paying for upcoming appointments, etc.
Service Providers: Managing subscription-based services, setting up recurring/one-time service fees for storage space, utilities, car payments, property management, house cleaning, plumbing, etc.
Nonprofits/Political Campaigns: Collecting one-time/recurring donations (inbound or outbound IVR), selling benefit or event tickets, etc.
Retail and eCommerce: Updating customer payment info, storing credit cards, managing one-time or recurring micro-loan payments, retailer-specific credit card billing and rewards program payouts, etc.
FAQs
Below, we've answered the top IVR payment FAQs.