Please note – as of August 2023, BlueJeans has been discontinued and no longer available. 
If you've considered BlueJeans video conferencing for your small business in the past, you may have felt disappointed by its overall lack of functionality compared to other video calling providers.
But if it's been a while since you've checked out BlueJeans, you'll be surprised by the drastic improvements, new features, and upgraded interface the tool now has to offer.
In other words?
There's no better time to give BlueJeans a second look.
In this post, we'll walk you through the dramatically improved web conferencing, virtual events, and team collaboration platform.
Learn why many now no longer consider BlueJeans as just an alternative to big industry names, but instead as a serious competitor to them.
Compare
video calling solutions
Quick links:
What Is BlueJeans Video Conferencing?
BlueJeans is a cloud-based video conferencing app designed to improve business communication and foster seamless team collaboration within today's digital workspace.
In May of 2020, Verizon acquired BlueJeans, a move that brought a much-needed makeover to the platform. Since the acquisition, BlueJeans has debuted new products, more advanced features, and a completely new look.
In addition to its best-known Virtual Meetings product, BlueJeans now offers applications for webinars/virtual events.
If you've considered BlueJeans in the past but made another choice based on available functionalities, it's the right time to give it another look.
An Overview of BlueJeans Products
| | | | | | |
| --- | --- | --- | --- | --- | --- |
| BlueJeans Product | BlueJeans Meetings | BlueJeans Events | BlueJeans Rooms | BlueJeans Gateway | BlueJeans Telehealth |
| Pricing and Plans | 3 paid plans from $9.99-$16.66+/host per month | 3 pricing tiers from $41.67/100 users per month $57.50/500 users per month | Hardware priced individually, interoperable with existing hardware, annual software license required (contact sales for more details) | Starting from $39.00/month per room for 19 rooms, quote-based deployment options are available | Pricing available on per visit or bundled pricing, contact sales for a quote |
| Top Feature(s) | Smart Meetings | Moderator App | Command Center | One-touch meeting join | Pre-appointment virtual check-in |
| Best For | Small hybrid teams that meet at least once daily and need an easy-to-use video calling tool without excessive collaboration features. These teams need a way to easily and effectively condense/share the most important details from each meeting so non-participants know key meeting decisions and highlights. | Smaller-scale webinars and virtual events that don't require excessive attendee participation, but do offer live streaming and webcasting via YouTube and Facebook | Hybrid teams needing a way to connect the in-house conference room with remote team members | Existing Microsoft Teams users that want to keep their existing hardware with BlueJeans | Healthcare professionals offering virtual medical appointments/consultations that require HIPAA-certified web conferencing platforms that integrate with industry-specific software like Epic |
BlueJeans Meetings
BlueJeans Meetings is a cloud-based video conferencing platform and the foundation for all other BlueJeans products.
Up to 200 participants with 25 simultaneous screen views can participate in unlimited meetings.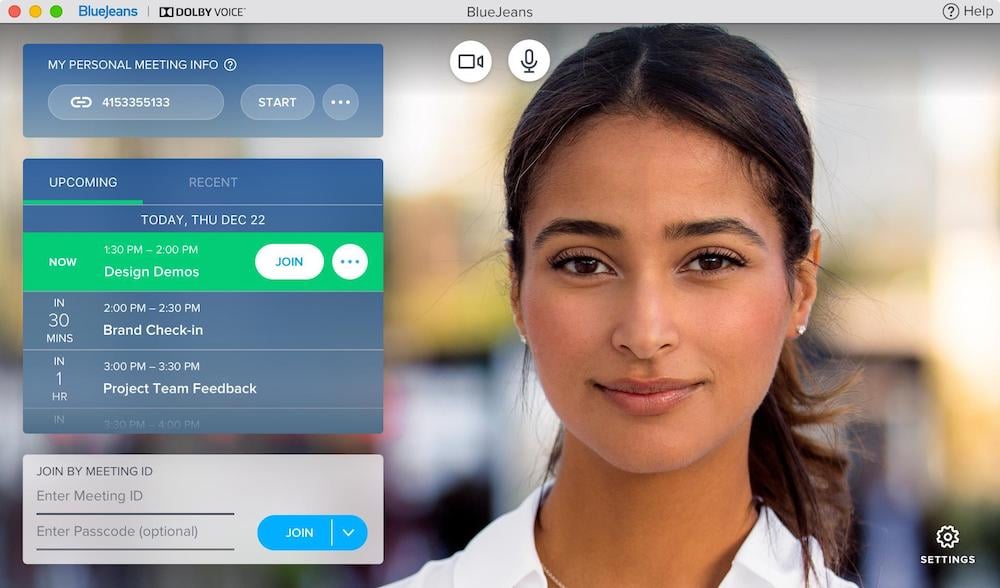 The BlueJeans Meeting interface with options for how to join meetings is shown.
As shown in the image above, Internal attendees can join via desktop or mobile app, web browser, meeting link, Room System, or with a meeting ID and passcode. External participants can join via browser by clicking on the meeting link in their email or calendar invitation. Though they have the option to download the BlueJeans app to join, it's not required. Audio-only participation and one-click video meetings are also available.
Basic BlueJeans Meeting features include:
Meeting scheduling with title, description, start/end times, ability to set recurring meetings
In-meeting chat messaging, screen sharing, remote desktop control, file sharing
Participant list
Host Controls (participant mute/unmute, turn participant video on/off, add/remove participants, enable/disable screen sharing, auto-record, meeting lock)
Personal Meeting ID or One-Time Meeting ID
Google Chrome, Firefox, Safari, Opera, Internet Explorer, and Edge browser support
Randomized or pre-assigned in-meeting Breakout Sessions for up to 75 groups
Real-time audio language interpretation (5 languages maximum/meeting)
Real-time closed-captioning
Virtual Backgrounds, (included and custom images) Background Blur with controllable levels
Pricing and Plans
BlueJeans Meetings has four paid plans from $9.99 to $16.66+/host per month when billed annually, or $12.49 to $19.99+/host per month when billed monthly. A seven-day free trial is offered.
The screenshot below outlines available BlueJeans Meetings pricing and plans. Add-on pricing is not publicly listed, but available add-ons include Committed Audio, Direct Connect, Meeting Assist, and Premium Access in China.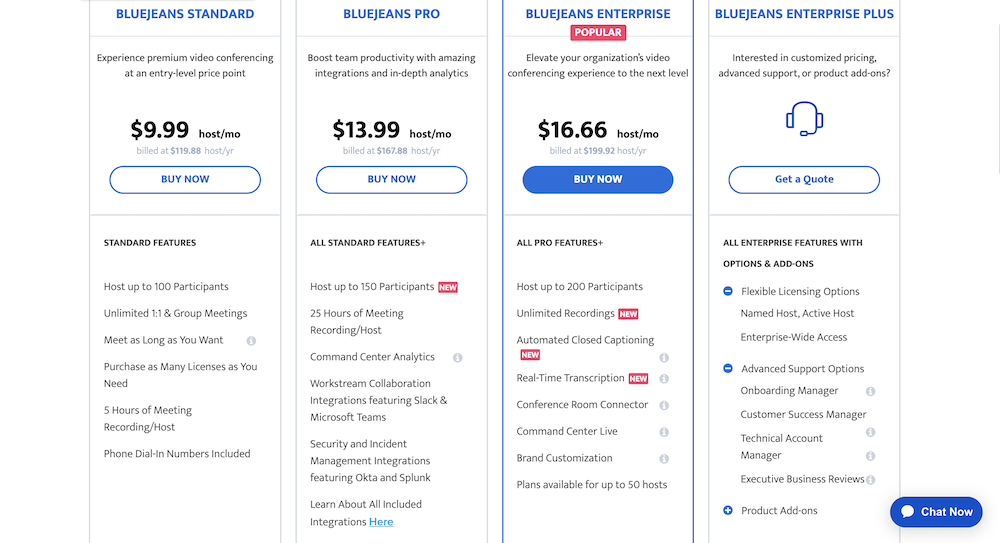 Standout Features
Below, we'll take a closer look at what we think are the best features available with BlueJeans Meetings. We chose to highlight these features based on hands-on testing, praise from BlueJeans current user reviews, and the uniqueness of the feature capabilities.
Audio and Video Quality
Thanks to its partnership with Dolby Voice, BlueJeans boasts one of the highest audio qualities we've ever tested. It includes optional background noise and music suppression, spatial audio adjustments, and automatic volume leveling to keep participant voice levels equal. You can hear the difference for yourself on this page of the BlueJeans website.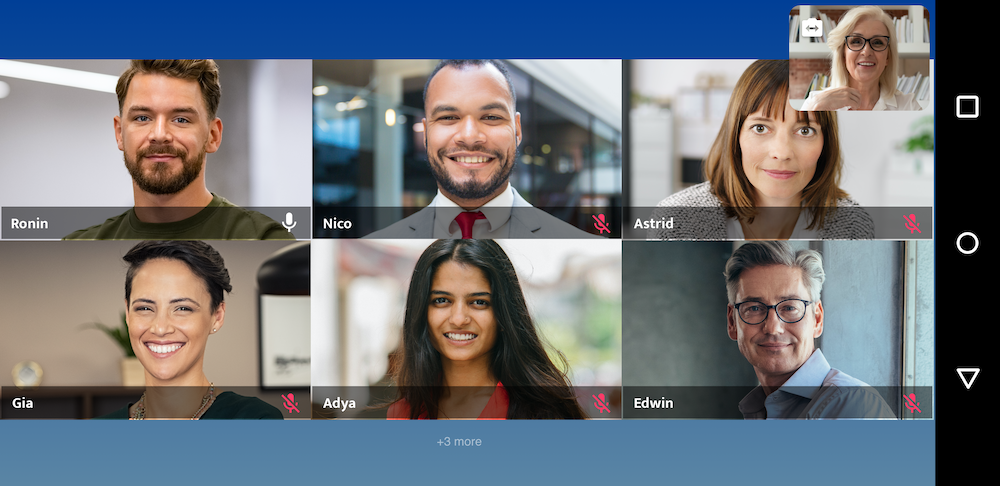 Its HD video quality (illustrated in the above image) is just as strong as its audio, and comes with meeting views like Gallery View, Active Speaker View with recent speaker thumbnails, or Self View with a visible real-time mic status/audio quality bar. BlueJeans automatically adjusts individual participation stream sizes in larger meetings to ensure the clearest possible video.
Our favorite is the new Floating View, which keeps the BlueJeans app "on" in the background of a user's device so they don't have to constantly open/close it. Users can see their self view, and current chats, hear audio, and see meeting videos while multitasking. They can re-enter the full view at any time with one click.
Smart Meetings
The Smart Meetings feature is by far the best tool BlueJeans has to offer. It's an intelligent, AI-powered productivity tool designed to help teams have fewer, but more effective, meetings. It eliminates the need for note-taking and increases meeting engagement.
It also ensures team members unable to attend key meetings have a digestible and accurate summary of the most important topics, action plans, and responsibilities.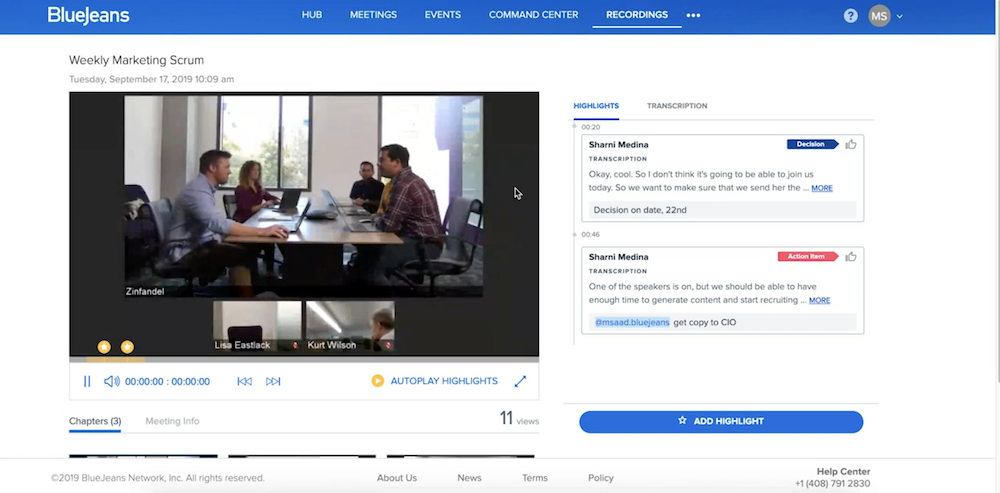 The Meeting Highlights feature lets all participants create an in-meeting Highlight (seen above) when essential information is discussed. Essentially, the tool "flags" the highlight's location in the transcription and video recording. Users can categorize Highlights as "Action Items," "Descriptions," or "New Topics." Highlights can be upvoted by attendees who also agree it's important, deleted if superfluous or repetitive, and commented on, and edited. Attendees can tag specific users/participants when assigning tasks in the comments section of the highlights.
Once the meeting has ended, any tagged user – even if they weren't able to attend the meeting – is automatically sent a meeting highlight reel along with the full meeting recording and transcription. Users can autoplay only meeting highlights to save more time.
Team Collaboration Tools
With its focus on hybrid workplaces, it's no surprise BlueJeans offers a plethora of team collaboration tools.
There are the standard features, like application, browser, or whole-screen screen sharing, and remote desktop control.
But BlueJeans elevates these basics through features like shared content magnification, which allows users to zoom in and out on shared screens for stronger visuals. Users can also share videos that they've uploaded before the meeting, or clips they want to share instantly. The Presentation Mode makes slide sharing in PowerPoint and other presentation tools easy, too.
In the "Apps" section of the Meeting screen (shown below) users have access to additional in-meeting collaboration tools, including Whiteboarding, Team Chat, Breakout Sessions, Facebook Live streaming, Meeting Highlights controls, and File Sharing/Annotation.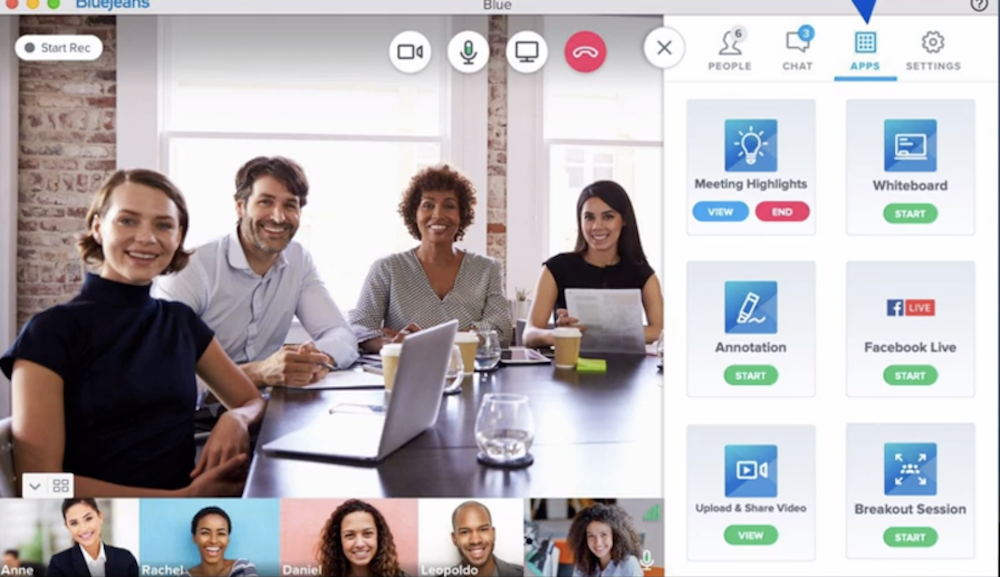 The Annotation tool lets users make updates and co-edits to shared files during a meeting. Users can choose markup colors, add text and select font size, undo or remove edits, or freehand draw on the screen. It's best to think of it as a whiteboard tool specifically for uploaded files, not a line-by-line editing tool.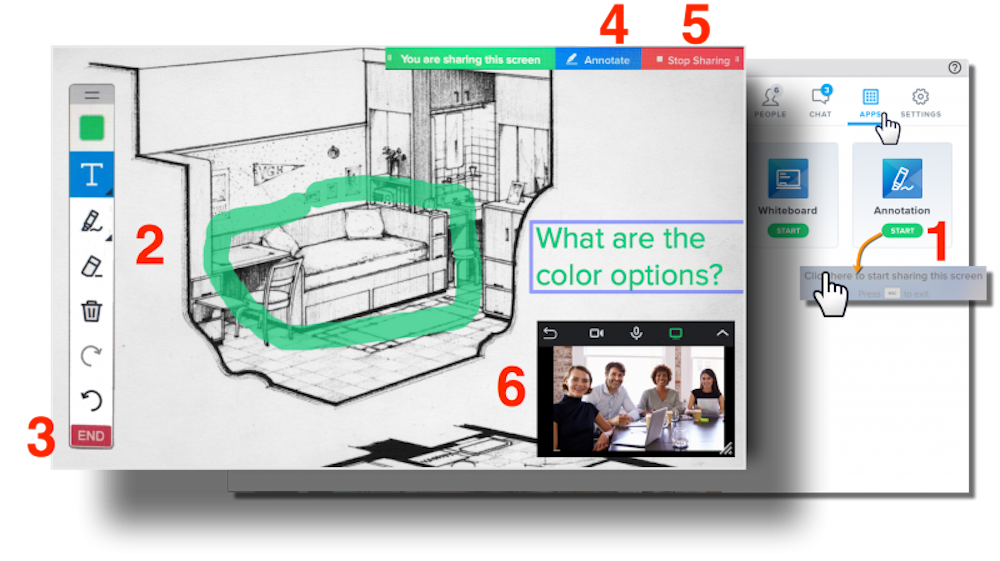 The Whiteboard tool is quite similar to the Annotation tool, except it's a shared blank screen accessible and editable to all participants. Users can select font color, type, and size, write and move text, freehand draw, and undo/delete edits.
Meeting Recording and Transcription
BlueJeans has competitive audio and visual recording features and well-organized recording/transcription storage.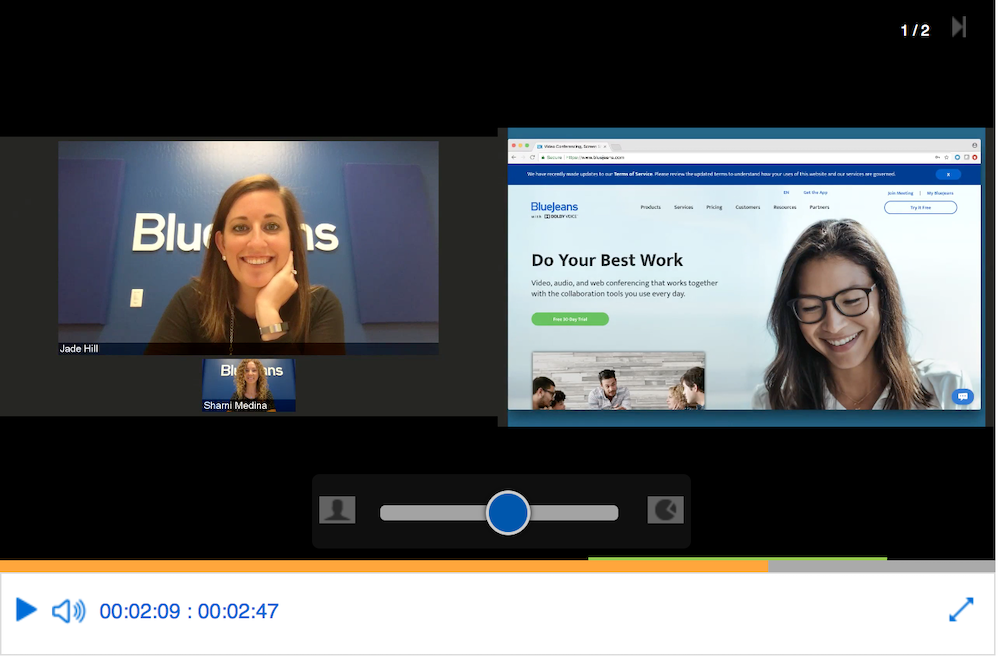 Moderators can record meetings on-demand or automatically – either way, all participants are notified they're being recorded. Video streams, screen shares, closed captions, and presentations are recorded and even downloadable as separate streams for easier organization. Recordings can be paused and restarted at any time. All meeting recordings are automatically uploaded into the Moderator's BlueJeans account once the meeting ends.
Recording playback speed can be adjusted and shared via email or link. Recordings can be shared with:
Anyone with the link
All meeting participants
Specific users
Private access (host only)
BlueJeans records up to two hours at a time before starting a new recording session, called a Chapter. New Chapters also begin if the recording is restarted after a pause. Some may find this helpful, while others find it more difficult.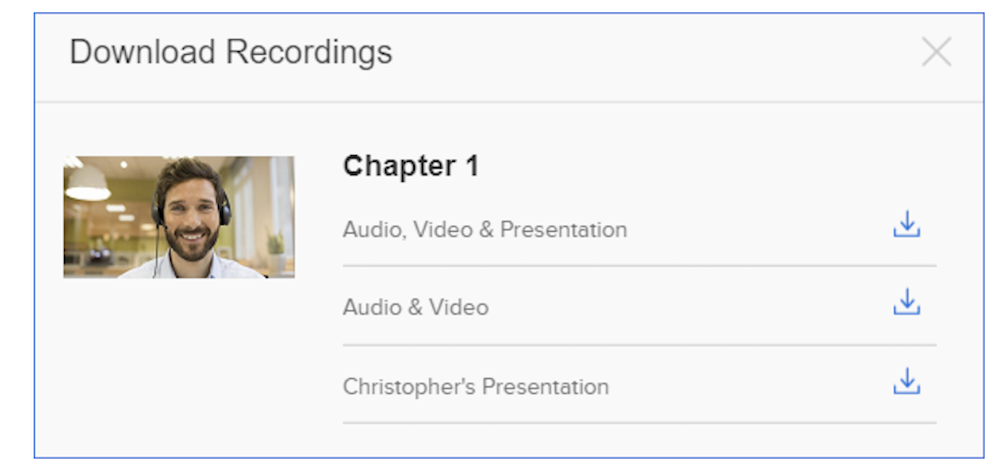 The downside here is that in-meeting chat messaging is not recorded, though users can download or save meeting chats only during a video session – not after. Note that chats are saved in txt format on your device. Both public and private chat channels can be downloaded/saved.
Recordings are stored in the cloud and can be stored indefinitely or deleted after a set number of days/weeks.
User Experience
The user experience for BlueJeans Meetings is overwhelmingly positive – a big change from before the Verizon acquisition.
The highlight is the overall intuitive nature of the interface, especially when it comes to the user dashboard. It's easy to see upcoming meetings, schedule new ones, and change meeting views in real-time when needed. Even the chat window automatically minimizes after 10 minutes without use, allowing for an uncluttered screen that keeps everyone focused and engaged with the speaker.
| | |
| --- | --- |
| BlueJeans Meetings Pros | BlueJeans Meetings Cons |
| Intuitive, easy-to-use interface | Lack of persistent chat means chats can only be saved during Meetings, which leads to lots of lost chats and a likely reliance on persistent third-party chat tools like Slack |
| Excellent audio and video quality | File Annotation tools are for more basic file highlights and notations, not for line-by-line edits. Users will likely need to screen share in tools like Google Docs to truly co-edit |
| Smart Meeting feature simplifies collaboration and saves time | Meeting recording editing is only available with third-party Panopto integration, and Standard users only get 5 hours of recording access |
BlueJeans Events
BlueJeans Events is a webinar, webcast, and large-scale meeting platform designed to simplify every aspect of virtual events while keeping them as immersive as their in-person counterparts.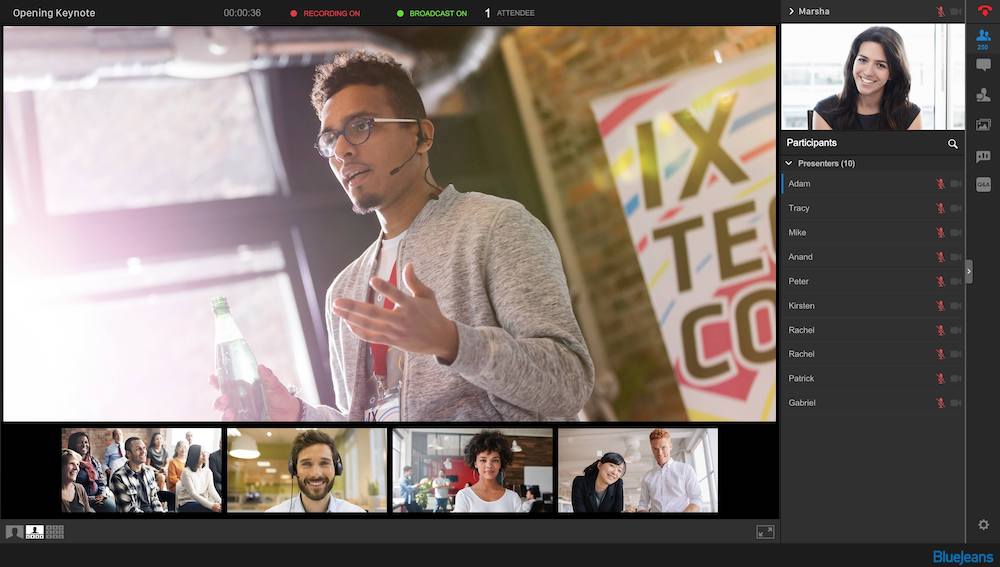 Up to 150,000 attendees and 150 presenters can participate in a BlueJeans Event, while the platform's Facebook Live and YouTube Live integrations let businesses stream them to millions more.
Pricing and Plans
BlueJeans Events has a somewhat confusing pricing model. Though there are technically only two plans, the Standard plan offers increments of 100, ($41.67/month) 200, ($50.00/month) and 500 ($57.50/month) seats.
The Large-Scale Plan offers custom pricing and allows for up to 150,000 users. Pricing is also available on an annual basis with a 16% savings.
Therefore, users needing over 500 participants are forced to upgrade to the more expensive custom Large-Scale plan, which isn't ideal.
The below image outlines pricing and plans for BlueJeans Events.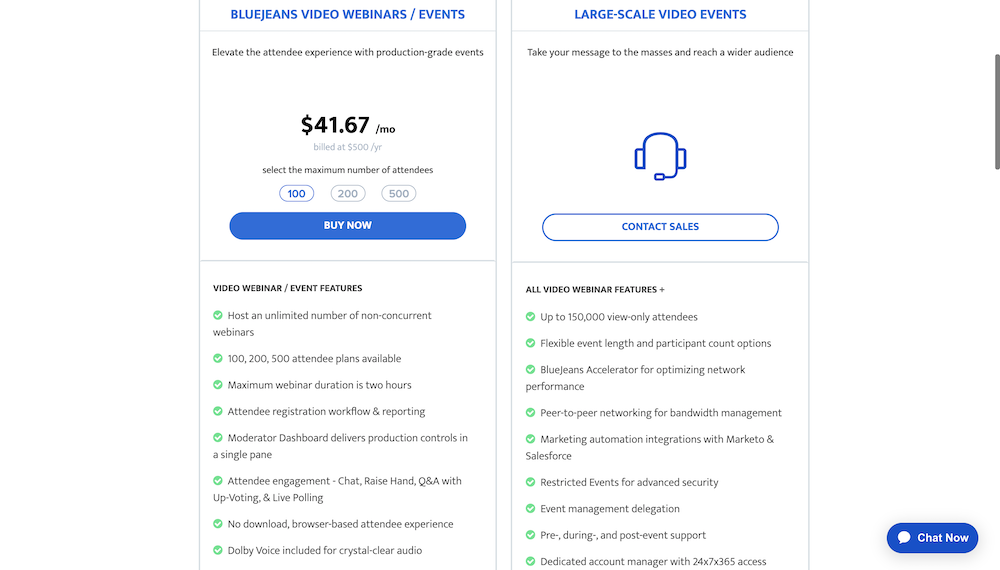 Standout Features
Event Scheduling
It's easy to schedule an upcoming event or view past event recordings in the BlueJeans Events dashboard, shown below.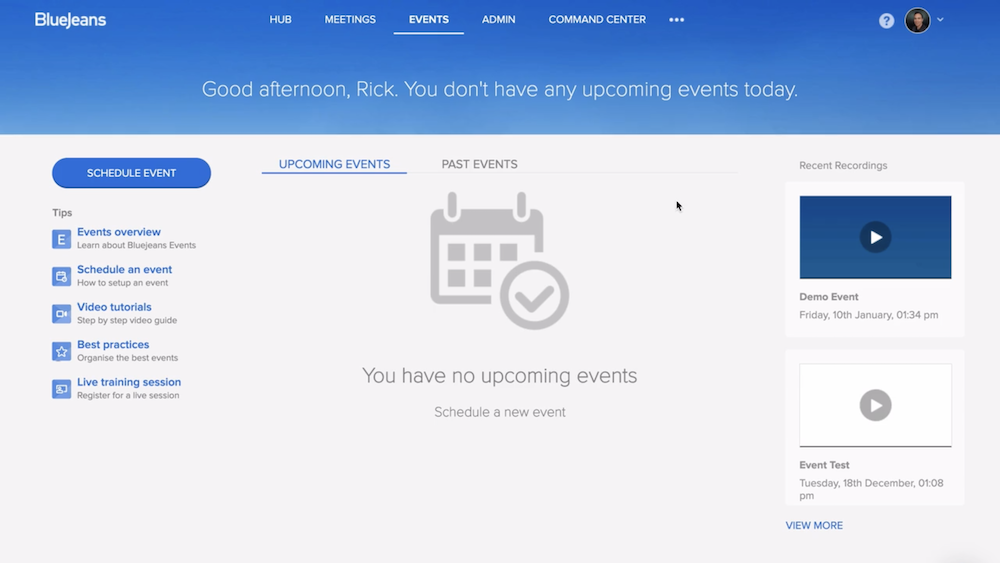 When scheduling, Event hosts specify the event time, description, time, size, duration, and whether or not the event is recurring. Users also choose if this is a Restricted Event (open only to your employees or accessible by invitation only) or a public one. Hosts can choose to require attendees to register, add any default branding, and create custom welcome and thank you messages.
The event scheduling/invitation creation is also done when hosts decide on the event settings. These include whether or not they'll allow in-meeting features like event chat, attendee display count, attendee search, virtual Q&As, virtual hand raising, and automatic recording.
Hosts also have the chance to designate each invitee as a Presenter, (can share video, audio, and screen) Moderator, (control over events and invite attendees), or Attendee (can only listen and view but can ask to participate during the live event.)
Invitations can be sent by email or directly in the BlueJeans App.
Registrations are then displayed in the "Upcoming Events" tab, as shown below.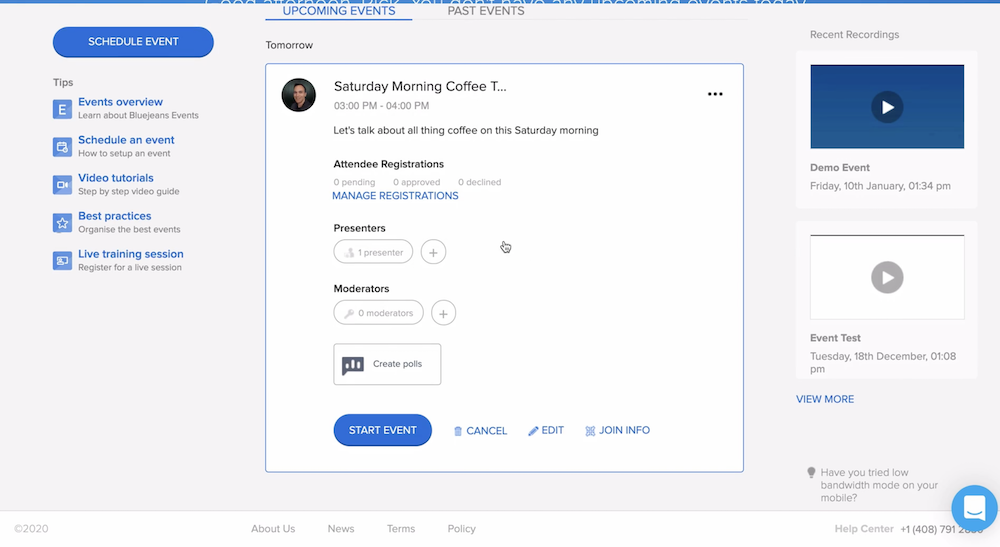 Moderator App
The Moderator App is an in-meeting interface that only moderators and presenters have access to during a live event.
It allows admins to view their own screen, a list of participants and their information, to adjust video layouts, and to stop/resume recordings at any time.
What's especially convenient is that everything happening in the webinar space is shown on one screen simultaneously, preventing the need for application and window switching that causes uncomfortable silences and confusion that make presenters appear disorganized and scattered.
The app also lets moderators and presenters view, approve, and answer Q&As in real-time, as well as view and share poll results and share screens or content with attendees. Plus, presenters can participate via desktop, in-room meeting equipment, or mobile devices.
In-Meeting Collaboration and Participation
BlueJeans Events includes lots of in-meeting interactions available to both attendees and presenters/moderators. There is even an Event Attendee Engagement option that gives in-person attendees the same interaction options as virtual participants.
Interactions include public and private in-event chat, virtual hand raising and Q&As, and in-meeting polls. Any attendee can be promoted to a presenter during a live event.

Event polls can be created both before and during an event, and each can have up to 6 answer options. Moderators decide when to start polls during live events and access real-time poll results. They can choose whether or not to share those results with event attendees. Afterward, all polling data is sent to event moderators to share or keep private.
Attendees can send their questions for the Q&A ahead of time for pre-approval or can send them via the attendee dashboard during the event. All Q&As must be approved by a moderator.
Finally, presenters can upload content before the event and can share their screens with attendees at any time during the event.
Live Streaming
BlueJeans also lets events presenters/moderators stream their events to Facebook Live and YouTube Live.
Up to 150 presenter screen streams can be shown simultaneously, and moderators can adjust video layouts during the Livestream itself. Social media Livestream attendees can also use interactive tools like the above-mentioned Polling and Q&A features, as well as make comments in real-time in lieu of the traditional "chat" feature.
Even presenter screen sharing and content sharing are available on Livestream.
Plus, events are recorded and posted to social media directly after the event ends, meaning they'll be accessible to anyone as long as admins choose to leave them posted publicly. This lets users get the most marketing and engagement "mileage" out of their virtual events, even after they're over.
Facebook and YouTube Analytics provide users with detailed event analytics, as well.
User Experience
Overall, BlueJeans Events has a positive user experience, due in large part to its ease of use (as is the case with the Meetings product.)
That said, it's likely not the best virtual events platform for sales-focused webinars or virtual events that require extensive participant engagement, as its interaction features are a bit less robust than other solutions like Webex Events.
Still, BlueJeans Events is an ideal platform for town-hall meetings, company-wide seminars or ongoing training, or even special events like awards ceremonies and holiday gatherings.
The below BlueJeans Events pros and cons table provides additional information.
| | |
| --- | --- |
| BlueJeans Events Pros | BlueJeans Events Cons |
| High attendee and presenter capacity, plus the option to Livestream via social media | Private chat is not available between participants, but only between participants and the moderator |
| Ease of scheduling events and keeping track of registration within the events dashboard, plus upcoming event schedules and reminders | Polls only allow for multiple choice answers, no option for attendees to write in long-form answers |
| The Moderator App feature is an excellent way for presenters and moderators to stay organized and avoid technical difficulties during a virtual event | No overflow attendees are allowed to enter past a plan's maximum and no smaller attendee seat add-ons, so many users end up paying for expensive features they don't need just to allow for more attendees |
BlueJeans Rooms
BlueJeans Rooms is the video conferencing provider's physical conference room configuration and hardware offering.
Simply put, it's like having a traditional "board room" for meetings, but designed specifically to connect remote and in-office teams. Custom Rooms are available for both BlueJeans Meetings and BlueJeans Events.
Since BlueJeans Rooms works with over 19,000 conference room setups, it's easy to create the space of your dreams. BlueJeans may be able to incorporate your existing hardware into your team's Room, as it's compatible with Poly, Cisco, Lifesize, and other devices. Rooms also include IT management, onsite installation, and Rooms management and access control via the Command Center.
The Command Center interface (shown below) lets admins view real-time meeting analytics and insights, historical meeting data, network stability, and offers live meeting controls.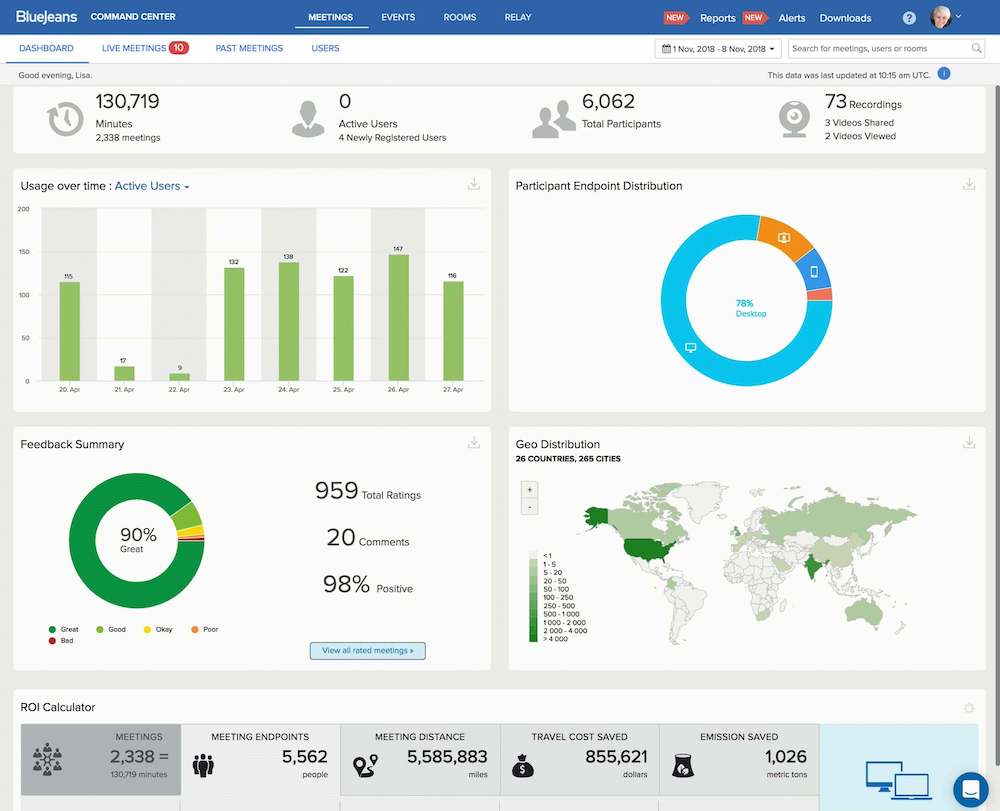 Key features include:
Microsoft and Google Calendar integrations
Wireless screen sharing and screen projection
Smart sensor technology allows access to rooms via a smartphone scan
Multi-screen support
Touch-screen whiteboards for freehand drawing, text, and file-sharing/editing
BlueJeans Rooms pricing is based on the hardware and plans your business needs, but prices begin at $49.00/month according to the BlueJeans website.
BlueJeans Gateway
BlueJeans Gateway is a CVI (cloud video interop) solution designed to connect BlueJeans and Microsoft Teams users without needing to make major infrastructure changes, allowing for greater overall collaboration.
This means BlueJeans users can keep any existing hardware (like equipment for the above-mentioned BlueJeans Rooms) and use their personal video devices to link with Teams users within the BlueJeans platform.
Best of all?
Endpoint connections are established easily, via a one-touch collaboration system.
The BlueJeans Gateway is Microsoft-certified and works with Cisco, Poly, and Lifesize devices.
BlueJeans Gateway has a free 30-day trial. Pricing options, shown in greater detail below, start at $39.00/ room per month for up to 19 rooms.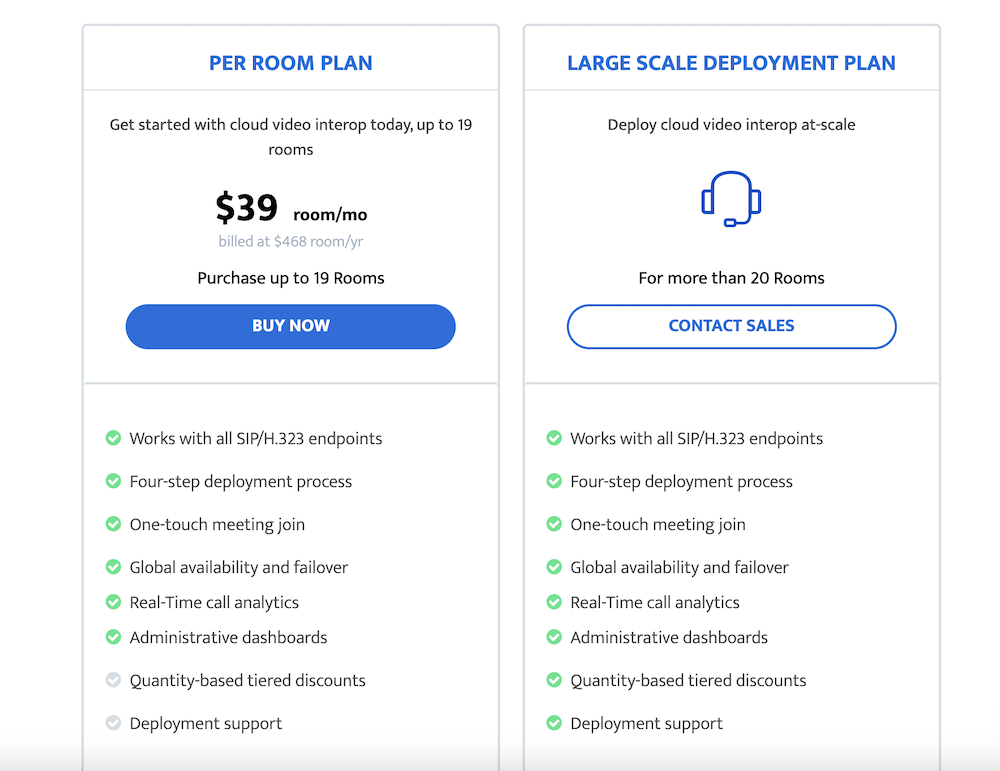 BlueJeans Telehealth
BlueJeans Telehealth is a HIPAA-certified web conferencing system that lets medical professionals connect to patients virtually from anywhere in the world on their preferred devices.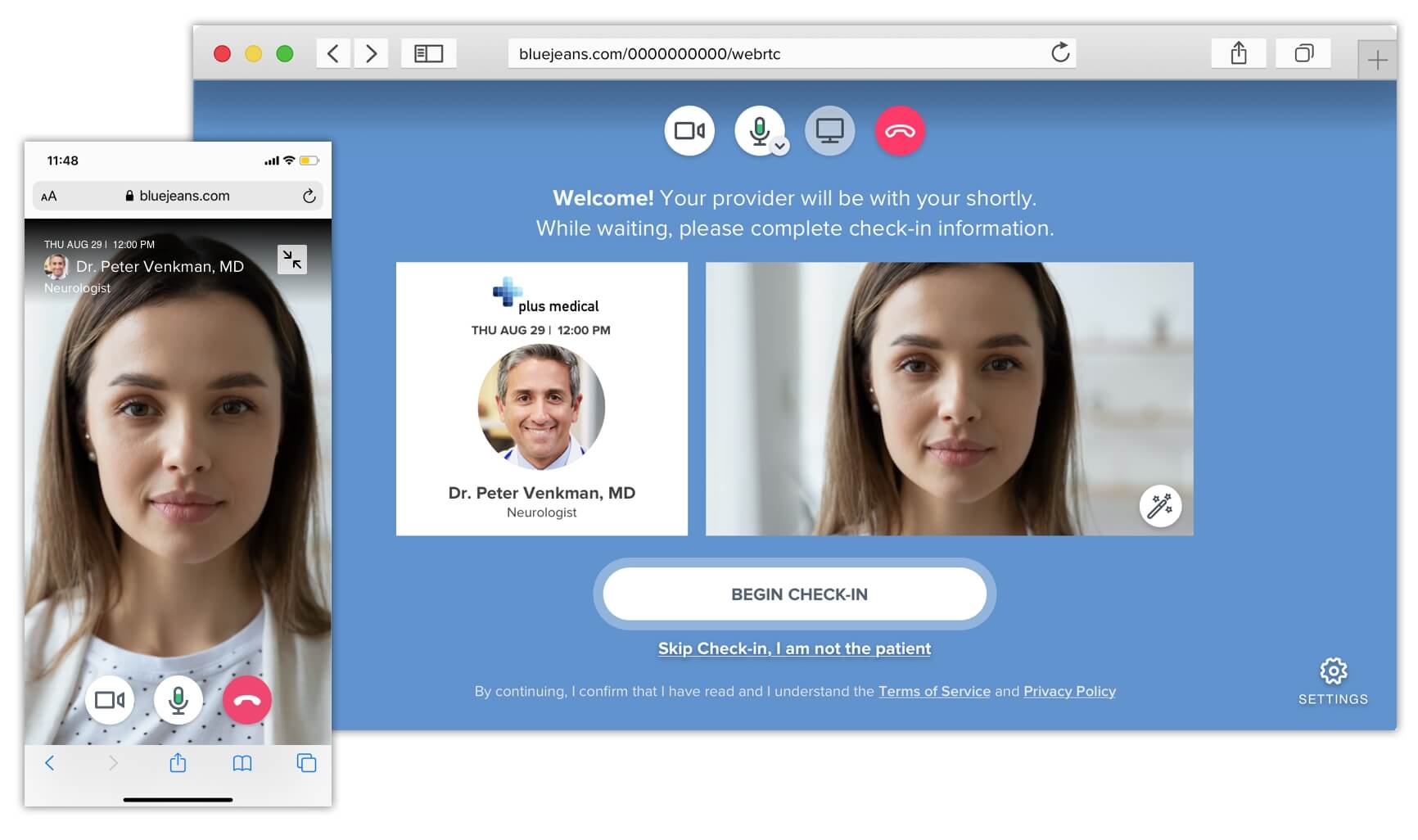 BlueJeans Telehealth is much more than just a simple virtual healthcare meeting app – it also collects valuable patient data, sends reminder notifications, and assists with scheduling and follow-ups.
Patients can join from their browser with a single click – no need for them to download the BlueJeans app. Accessibility options like closed captioning, screen reading options, and color contrast visuals ensure everyone is equally taken care of.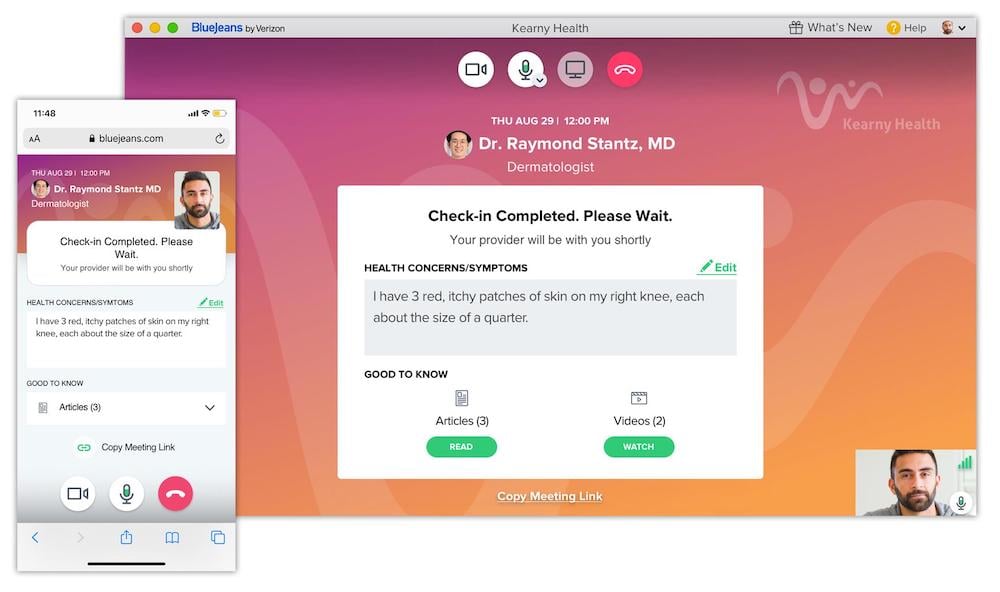 As shown in the above image, patients can describe their symptoms and leave notes for their medical provider, complete check-in forms before the appointment, take pre-appointment custom surveys, and even upload videos or images. Medical professionals can also share informational documents and videos with patients in the app before the appointment.
The Telehealth platform integrates with industry-specific tools like the Apple Health App, Epic, and other key EHS systems. Medical interpretation services from AMN Language Services for over 200 languages, ASL included, are also available. Users can even brand their virtual doctor's office.
Pricing for BlueJeans Telehealth is available on a custom basis. Contact the provider for a quote.
BlueJeans Mobile App
BlueJeans has an Apple iOS and Android mobile application that is quite comparable to the desktop app. In fact, BlueJeans says it has the highest-rated video conferencing apps for Android and Apple users.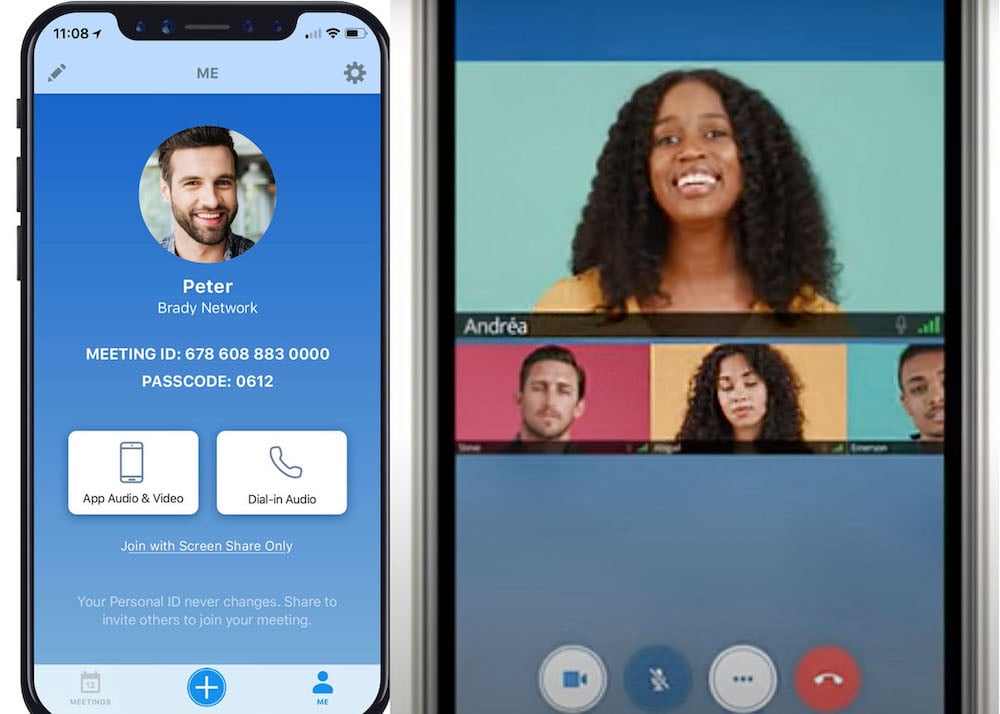 Users can join meetings as a host or participant via passcode, link, or directly from the BlueJeans meeting calendar.
Audio-only communication, mute/unmute, closed captioning, virtual hand raising, meeting scheduling, participant viewing, and even file sharing are all available features in the mobile app. Safe Driving mode keeps on-the-go workers focused and safe, while Intelligent Bandwidth Management automatically alerts users when network connections are degraded and makes recommendations to restore optimal service.
Users can even change their mobile meeting layout and use the in-meeting chat feature. Screen sharing and recording features are also available, but whiteboard and annotation do not appear to work on mobile devices as of this writing.
BlueJeans Integrations
In addition to the Microsoft Teams Gateway, BlueJeans offers a somewhat limited number of other integrations via its App Network.
They include:
Slack
Salesforce
Google Calendar
Outlook
Zoho
Trello
Alexa for Business
Facebook Live
YouTube Live
Canvas
Epic
While integrations with a few major tools like Asana, Monday.com, and Gmail are missing, the good news is that BlueJeans has an active API and SDK developer community, accessible here.
BlueJeans Security and Customer Support
BlueJeans has a strong policy in place for in-meeting security and privacy.
Hosts can use random Meeting IDs, enable two-factor authentication for meeting participants, password-protect meetings, and encrypt meetings. Meetings can be locked and participants can be removed at any time.
BlueJeans also sends failed login notifications and password change recommendations to alert users of specific activities. It promises a 99.9% guaranteed uptime.
Additional BlueJeans security certifications and standards include:
ISO27001 Certified Data Centers
24/7/365 physical server security
SOC II Type 2 and SOC 3 compliance
HIPAA, GDPR, and CCPA compliance
End-to-end AES-256 bit encryption
Firewall protection
HTTPS authentication
SSO
Third-party vulnerability scans
BlueJeans provides above and beyond customer support, even hosting daily Monday-Friday Live Q&A Sessions (more information can be found here.)
All customers – even those on the Standard Plan – get 24/7 chat and phone support. Online support ticket creation is also available.
BlueJeans offers live training webinars in addition to detailed on-demand video tutorials in its new and drastically improved online knowledge database. BlueJeans has recently updated all its training videos and how-to guides (admittedly, long overdue) to make onboarding and learning how to use its features incredibly easy.
Those needing advanced support can purchase paid advanced options, including an Onboarding Manager, Customer Success Manager, Technical Account Manager, and even Meeting Assist agents to help plan and prepare for larger events.
BlueJeans Alternatives
The below table offers a brief overview of the top 5 alternatives to BlueJeans video conferencing.
| | | | | | |
| --- | --- | --- | --- | --- | --- |
| Platform | Zoom Meetings | GoToMeeting | Webex | Microsoft Teams | Google Meet |
| Pricing and Plans | 1 Free Plan, 3 Paid Plans from $149.00-$240.00+/license per year | 3 Paid Plans from $12.00-$16.00+/user per month | 1 Free Plan, 3 paid plans from $15.00-$25.00+/user per month | 1 Free Plan, 4 Paid Plans from $4.00-$12.50+/user per month | 1 Free Plan, 2 Paid Plans for $7.99+/user per month |
| Best For | SMBs that communicate via video daily and need advanced collaboration tools (whether native to Zoom or via third-party integrations | Small teams of 10 and under that want to take advantage of AI and automation capabilities within video calls | Medium to large-scale businesses that frequently host webinars and need omnichannel communication solutions | SMBs that host frequent high capacity video meetings and need comprehensive native collaboration/communication features | Small teams that need a basic free video calling tool that integrates with existing Google Workspace tools (Gmail, Docs, Sheets, Drive, etc.) |
| More Information | Our Zoom Review | Our GoTo Meeting Review | Our Webex Review | Our Microsoft Teams Review | Our Google Meet Write Up |
We offer head-to-head comparisons with the details you need to choose between your top contenders, like this piece on Webex vs GoToMeetingor Zoom vs Webex.