You're ready to upgrade to a paid web conferencing software, and you've narrowed down your top two options to Cisco WebEx and GoTo Meeting.
With over 324 million users, WebEx is the more popular of the two. 90% of WebEx users say the video calling platform has improved team collaboration, and over 80% of WebEx users state WebEx has sped up their overall decision-making process. In addition to connecting with an existing webcam, WebEx also offers its own video hardware and equipment.
GoTo Meeting also has millions of users and was recognized by Gartner as a leading online conferencing software. Additional tools like GoTo Webinar and GoTo Training allow for even more specific use cases.
Let's take a closer look at the two solutions and see which is better for video conferencing.
Compare top providers for
video calling
Video Calling Features of GoTo Meeting and WebEx
When evaluating any video conference software, users shoulder consider:
Available viewing formats
Meeting time limits
Maximum number of attendees
Meeting recording capabilities
The below table provides a head-to-head comparison of the most basic video meetings features in Cisco WebEx vs GoTo Meeting.
| | | |
| --- | --- | --- |
| Video Calling Feature | WebEx | GoTo Meeting |
| Maximum Number of Attendees | 1,000 | 250 |
| Maximum Number of Monthly Meetings | Unlimited | Unlimited |
| Maximum Meeting Length | 24 hours | Unlimited |
| Gallery View | ✓ | ✓ |
| Active Speaker View | ✓ | ✓ |
| VoIP Audio | ✓ | ✓ |
| HD Video | ✓ | ✓ |
| Meeting Recording | ✓ | ✓ |
| Meeting Transcripts | ✓ | ✓ |
Note that both WebEx and GoTo Meeting offer webinar software, WebEx Events and GoToWebinar respectively, that offer a much higher meeting attendee limit. Both tools can host up to 3000 audio-only attendees and include many more features than free webinar platforms do, such as handouts and audience spotlight tools.
In addition to connecting with an existing webcam, WebEx also offers its own video hardware and equipment. GoTo Meeting users can add-on GoTo Room, an all-in-one video conferencing equipment kit.
The below images offer a comparison of views in Webex vs GoTo Meeting, giving you a better understanding of each tool's interface.
The GoTo Meeting Interface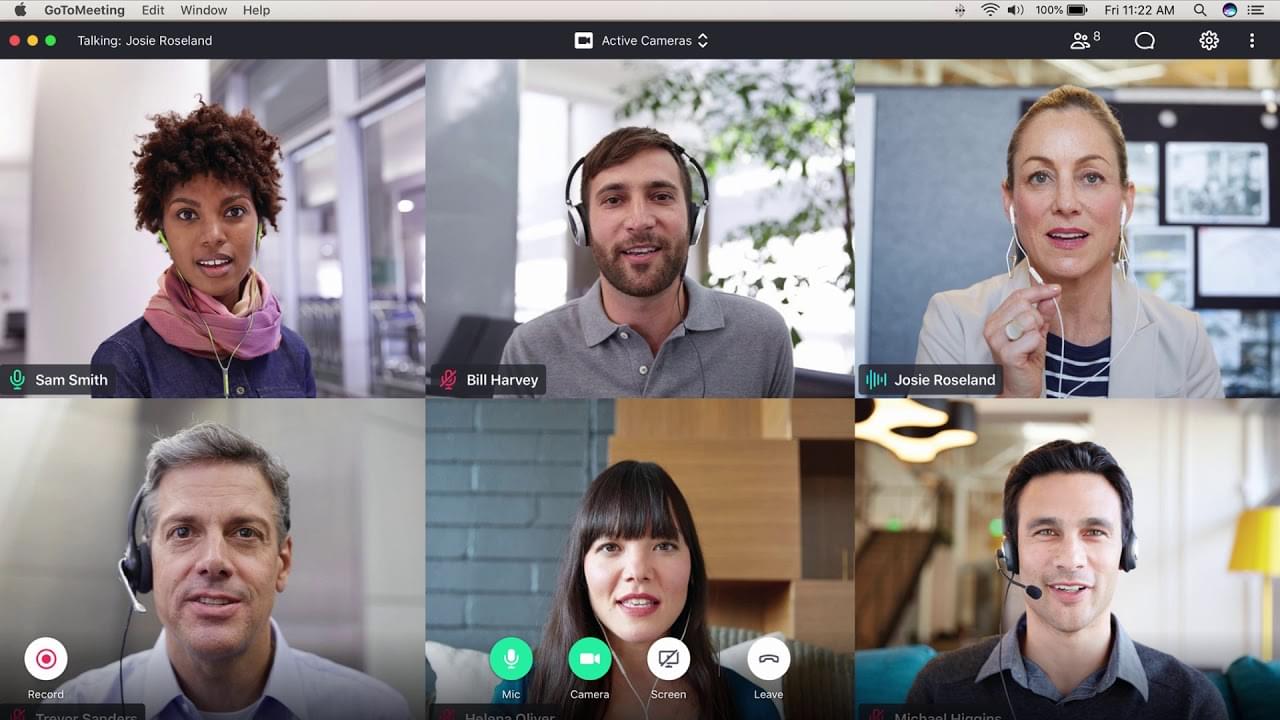 The Webex Interface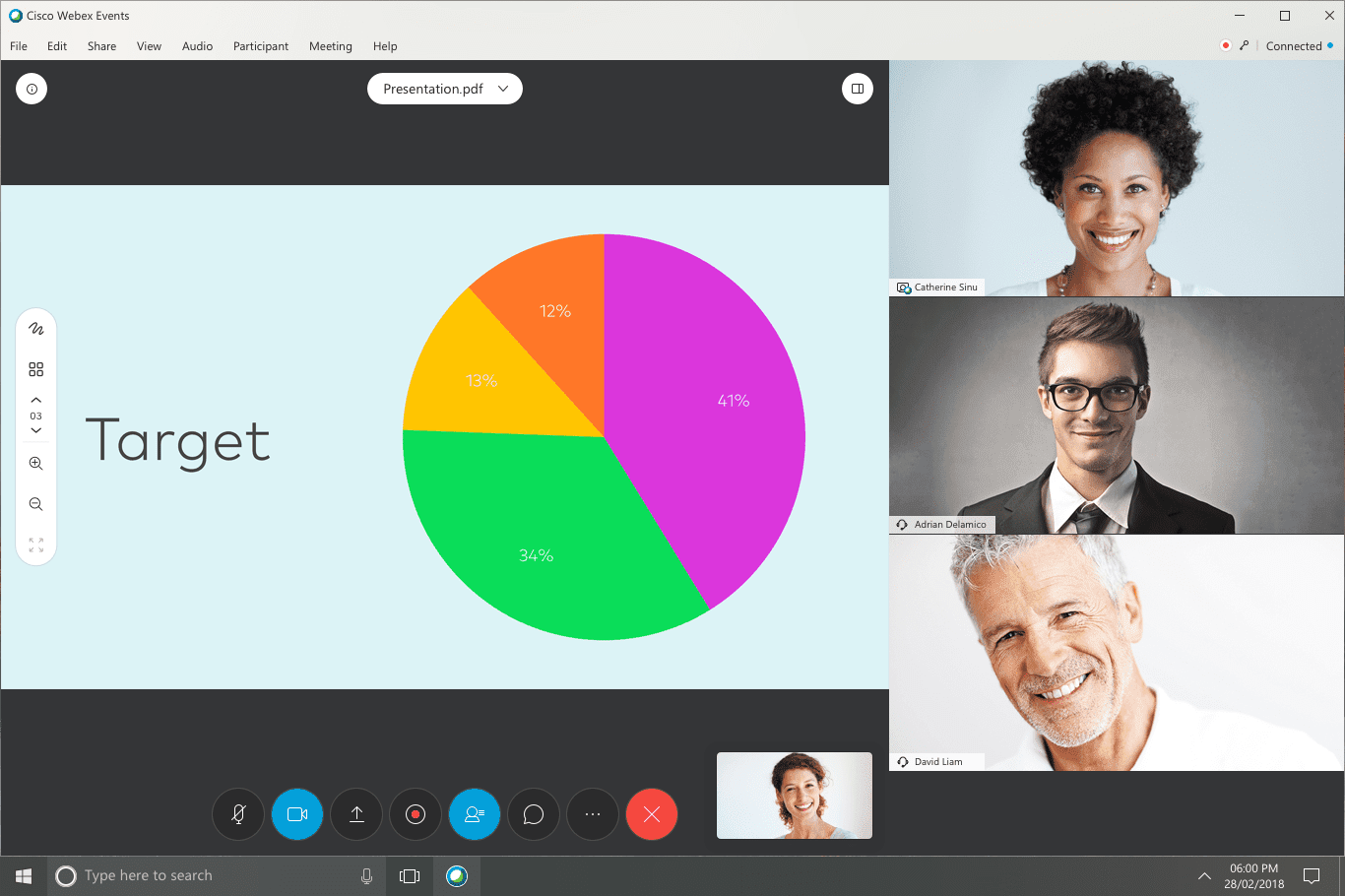 WebEx vs GoTo Meeting Feature Comparison
Features like screen sharing, one-click meeting join, mobile apps, and overall user experience are all things to evaluate when analyzing WebEx vs GoTo Meeting.
Scheduling and Joining Meetings
Scheduling and joining meetings in GoTo Meeting and WebEx is easy and intuitive, and both tools provide very similar ways to do so.
For example, both WebEx Meeting and GoTo Meeting offer a one-click meeting option so users can instantly start a meeting. Users can join via audio and video, or with audio or video only.
Both video conferencing tools also allow users to:
Schedule via Outlook and Google Calendar
Schedule recurring meetings
Create personalized meeting rooms
Join meetings via link
Join meetings without an account
Join or schedule meetings from a mobile device
Use the "Call Me" feature to join meetings
Dial into meetings via phone
Winner: Draw 
Meeting Host Controls
Host control features like the ability to lock meetings after they've started keep meetings secure in the age of Zoombombing and other video calling hacking issues.
The below comparison table illustrates the host control capabilities in WebEx vs GoTo Meeting
| | | |
| --- | --- | --- |
| Host Control Features | WebEx | GoTo Meeting |
| Meeting Password Protection | ✓ | ✓ |
| Add/Remove Participants | ✓ | ✓ |
| Meeting co-hosts | ✓ | ✓ |
| Meeting Lock | ✓ | ✓ |
| Meeting Waiting Room | ✓ | ✓ |
| Make Attendee Host | ✓ | ✓ |
| Pass Presenter Feature | ✓ | ✓ |
| Mute/Unmute participants | ✓ | ✓ |
| Restrict attendee audio conferencing, video, or screen sharing | ✓ | ✓ |
| Remote Control | WebEx Events only | ✓ |
The major difference between host control features for GoTo Meeting vs WebEx is the ability to assign co-hosts. In GoTo Meeting, co-hosts are referred to as "co-organizers," and have all the capabilities that a standard meeting host would have.
Cisco WebEx, however, allows only for "alternate" hosts — users authorized to start a meeting if the main host is late or cannot attend the meeting. These alternate hosts can't edit the meeting in any way, and they must already have a host account with Cisco Webex.
Unlike GoTo Meeting, WebEx does not offer remote control with its standard video conferencing. In order to control another person's screen in WebEx, users must upgrade to WebEx Events.
Winner: GoTo Meeting
Team Collaboration Tools
Team collaboration features like a virtual whiteboard, screen sharing, and chat messaging help meeting attendees share ideas in real-time.
Chat Messaging
WebEx and GoTo Meeting both have instant messaging tools in addition to integrating with Slack and top Slack alternatives.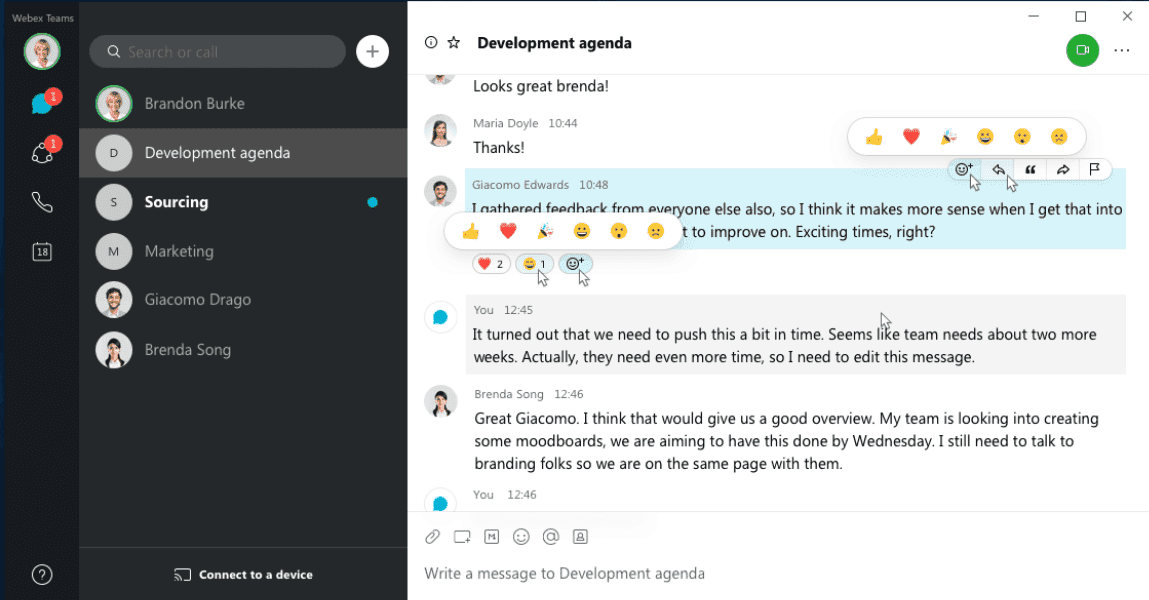 However, GoTo Meeting's chat feature, Business Messaging, must be enabled, while Webex's chat tool comes standard. Both chat tools allow users to set a status (available, in meeting, etc.) and offer real-time desktop and mobile push notifications, However, WebEx's chat tool is better since it offers a searchable message history, threaded messaging, and the all-important ability to share GIFs and emojis.
Screen Sharing
GoTo Meeting and Webex allow users to share their entire screens or single programs for specific application sharing. Anyone with permission is able to share their screen with attendees.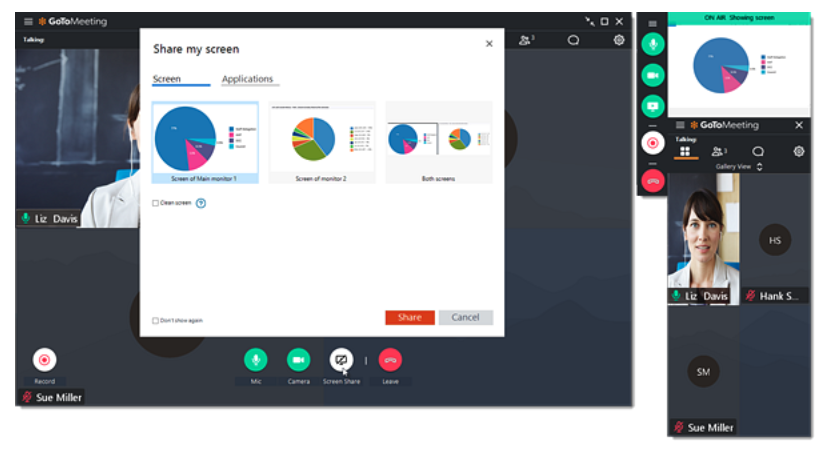 WebEx and GoTo Meeting also offer real-time screen annotation, mobile screen sharing, and integration with popular free screen sharing apps.
Virtual Whiteboard
Cisco WebEx includes whiteboard capabilities in all of its plans, allowing users to share ideas, drawings, and notes in real-time. WebEx whiteboards can also be edited and shared after the meeting is over.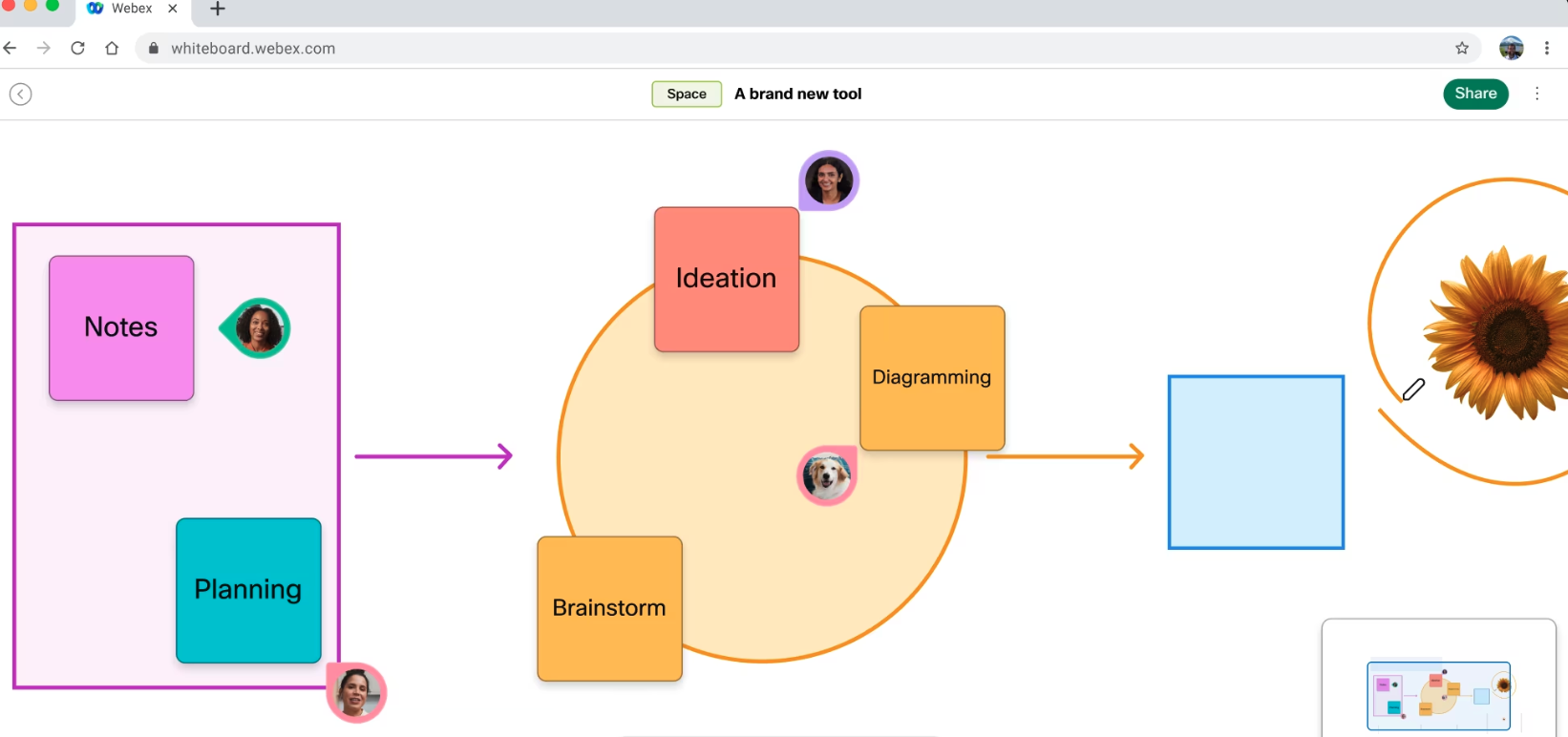 GoTo Meeting's whiteboard feature is a bit more robust than WebEx's. It offers a virtual laser pointer, a highlighter, a pen tool, and an arrow for drawing extra attention to something.
File Sharing and Editing in GoTo Meeting and WebEx
WebEx offers in-meeting file sharing and editing via screen sharing, Microsoft OneDrive, SharePoint, and other integrations.
Stored files are also searchable, and WebEx offers up to 10GB of cloud storage space.
As of this writing, GoTo Meeting does not offer native file-sharing or storage options on its standard plans.
File sharing, referred to as "Handouts" in GoTo Meeting, is available only as a paid add-on. The only way to share files for free in GoTo Meeting is through a third-party app integration or screen sharing.
WebEx also includes team communication options like virtual hand raising and attendee polling and surveys. These features are not available in GoTo Meeting and are accessible only in GoToWebinar, LogMeIn's virtual event software.
Winner: WebEx
WebEx vs GoTo Meeting Pricing
GoTo Meeting's three paid plans are Professional, Business, and Enterprise. WebEx also offers three paid plans, Starter, Plus, and Business.
It's possible to pay annually or monthly for any WebEx or GoTo Meeting plans, though users can save more by opting for a one-time yearly payment.
WebEx Pricing and Plans
WebEx offers two paid plans outlined below:
Meet Plan ($14.50 per license/month): Host unlimited meetings for up to 200 participants and up to 24 hours in duration. Everything in the free plan is included plus advanced features such as closed captions, meeting highlights, live polling, co-hosts, and recording encryption.
Enterprise Plan: Host unlimited meetings for up to 1,000 participants and up to 24 hours in duration. Additional features include simultaneous interpretations, FedRAMP authorization, and unlimited cloud recording.
GoTo Meeting Pricing and Plans
GoTo Meeting offers three feature bundled plans outlined below:
Professional Plan ($9.60 per organizer/month): Host unlimited meetings with up to 150 participants with no time limits. Features include screen sharing, hand raising, and breakout rooms.
Business Plan ($12.80 per organizer/month): Host unlimited meetings with up to 250 participants with no time limits. Features include unlimited cloud recording, meeting lock, and note taking.
Enterprise Plan: Host unlimited meetings with up to 250 participants with no time limits. Features include InRoom link, customer success manager, onboarding, and training.
Can You Use WebEx for Free?
In addition to a free 14-day trial of paid plans, Cisco WebEx offers one of the best free plans out of any video conferencing solution.
It's Free Personal Plan includes:
100 meeting participants
Unlimited meeting length and number of meetings
Whiteboard tool
File sharing and editing
Ability to record meetings
Personal Room
Instant one-click meetings
Chat messaging
Online customer support
Note that file sharing, app integration, and in-app file editing are not available on the Free Personal plan.
Can You Use of GoTo Meeting for Free?
While GoTo Meeting also offers a 14-day free trial and an entirely free version, it doesn't include nearly as many of the features as WebEx's free app does.
GoTo Meeting's Free plan includes:
Up to 3 participants
40-minute meeting length
Unlimited number of meetings
Chat messaging
Constant one-click meetings
File sharing, recording, and app integration are not available on the Free GoTo Meeting plan.
WebEx and GoTo Meeting Mobile Apps
Both WebEx and GoTo Meeting offer mobile apps that are compatible with Android and iOS devices. Since mobile collaboration tools make it easy for users to attend meetings and improve team communication from anywhere, they're a must-have for any business.
WebEx's mobile app features include:
Screen sharing
Gallery view
Voice command
Mobile meeting recording
Meeting scheduler
Online meeting calendar
Instant one-click meeting
Mute/unmute
Video Background
Chat messaging
List of meeting participants
Waiting room feature
File and screen annotation
GoTo Meeting's mobile app features include:
Screen sharing
Gallery view
Mobile meeting recording
Meeting reminder notifications
Chat messaging
Voice command
One-click meeting start
Tablet-only meeting drawing tools
Winner: WebEx
User Experience
User experience is one of the most important aspects to look at when choosing which video calling tool is right for your small business or nationwide company.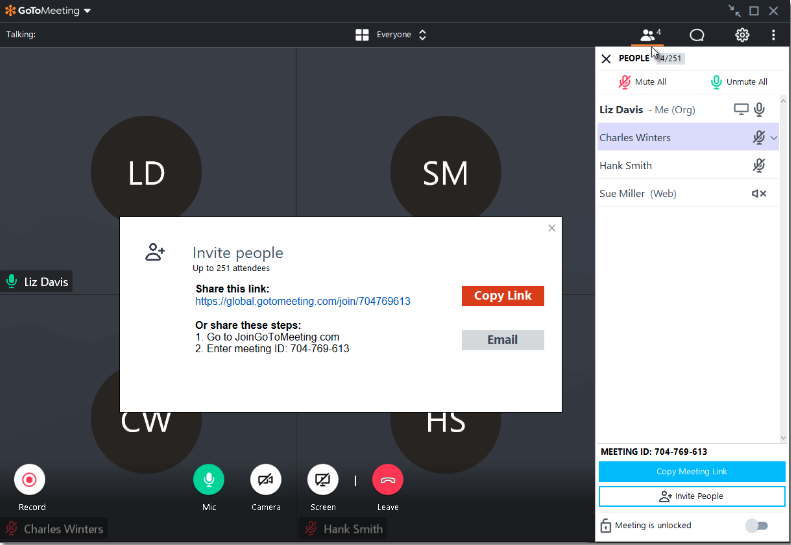 User reviews of WebEx and GoTo Meeting consistently mention the below pros and cons.
Webex Pros
Ease of use
Reliable, few tech problems
High-quality video
Linux compatible
Strong admin controls
Integrations with free online collaboration tools
Frequent product updates based on user feedback
WebEx Cons
Costly
Few customization options
Users can't create web meetings for another host
Lack of remote control
GoTo Meeting Pros
Drawing tool
Strong cross-device compatibility
Affordable
High-quality screen sharing
Intuitive meeting scheduling
GoTo Meeting Cons
Missing key engagement features
Control panel interface isn't user-friendly
Frequent audio delay
Automatic deletion of cloud recording
No branded meeting rooms
Who Should Use WebEx?
WebEx is especially popular in the retail, education, and computer software industries.
Since WebEx is a HIPAA compliant video conferencing tool, it is ideal for medical professionals and therapists.  Its top clients include Humana, IBM, Puma, Office Depot, Pzier, and UnitedHealth Group, proving its success among high-level, nationwide corporations with thousands of employees.
WebEx is the better choice for teams that rely heavily on mobile as opposed to desktop devices, as well as for remote teams who primarily collaborate on file via video conference calls.
However, newer or smaller businesses will likely find that WebEx's plans often cause them to pay for features they don't need.
What Is GoTo Meeting Best For?
GoTo Meeting is used primarily by nonprofits and companies that work within arts and culture.
Well-known companies using GoTo Meeting include the Make a Wish Foundation, the National Multiple Sclerosis Foundation, and Penguin Random House.
It's ideal for businesses that are primarily looking for a better way to make video calls, not those that do a high level of collaboration and real-time editing over video chat.
Is WebEx Better Than GoTo Meeting?
Our own research and feedback from WebEx and GoTo Meeting users show that WebEx is preferable to GoTo Meeting, despite its higher cost.
Details like WebEx's better overall mobile app, better file-sharing capabilities, and free plan including features that even some paid plans are what ultimately makes it the victor of the WebEx vs GoTo Meeting battle.
User feedback shows that WebEx is also much more reliable in terms of uptime, customer support, and video quality than GoTo Meeting.
Interested in seeing how WebEx stacks up against other top video conferencing tools? Our head-to-head Zoom vs WebEx comparison will tell you whether or not WebEx is able to hold its own against the most popular video calling software of the moment.